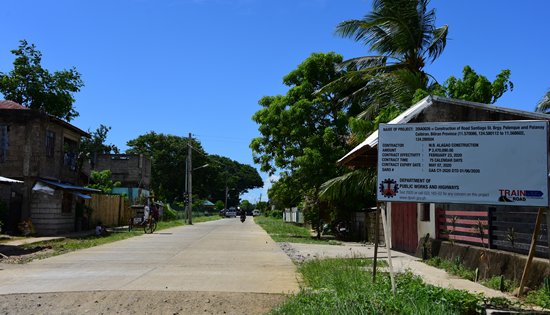 Completed P2.5M construction of road situated in Santiago St, Brgy. Palenque in Caibiran town.
2 access road projects in Brgy. Palenque, Caibiran, Biliran completed
By DPWH-Biliran
June 22, 2020
NAVAL, Biliran – Two road concreting projects leading to essential establishments in Caibiran town have been completed by the Department of Public Works and Highways (DPWH) Biliran District Engineering Office (DEO).
The said projects are located at Santiago Street and Mocorro St., both in Brgy. Palenque with a total length of 0.284-kilometer two lane road.
David Adongay Jr., District Engineer said that these roads were prioritized because the existing concrete road already shows deterioration and may cause accidents to motorists.
"The newly completed projects are deemed important as these roads both lead to essential establishments of the town," said Adongay.
Situated along this road projects are Caibiran Elementary School and Palenque Rural Health Unit (RHU). These roads also lead to the Municipal Hall Building and Gymnasium of the town.
According to Adongay, residents, students, health workers, patients and motorists traveling along these roads are the beneficiaries of these projects. They can now enjoy a convenient travel and a safer transport of goods and other services.
Both projects have a total amount of P3.7M under contract with W.B. Alagao Construction. The projects were both implemented under 2020 Local Infrastructure Program (LIP).
Moreover, Biliran DEO has also completed the P1.1M road construction at Rizal St. in Brgy. Palanay and the P2M road construction at Brgy. Victory both in Caibiran town.