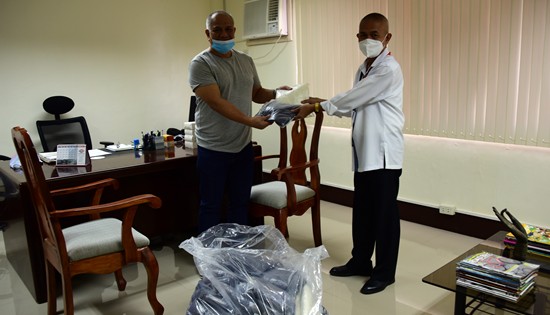 Assistant District Engineer Alfredo L. Bollido (right) handed a total of 60 pcs. washable Personal Protective Equipment (PPE) to the Biliran Provincial Hospital (BPH) in Naval Biliran through Dr. Edgar Veloso (left) , Biliran Provincial Health Officer on June 02, 2020.
DPWH-Biliran DEO donates protective equipment to frontliners
By DPWH-Biliran
June 8, 2020
NAVAL, Biliran – In an effort to mitigate the spread of Coronavirus Disease 2019 (COVID-19), the Department of Public Works and Highways (DPWH) Biliran District Engineering Office (DEO) donates Personal Protective Equipment (PPE) to front liners in this province.
David P. Adongay Jr., District Engineer said that a total of 120 pcs. washable PPE has been donated to selected health facilities and response units as a simple way of showing support to the front liners in the battle against COVID-19 pandemic.
"Our front liners are considered new heroes today, protecting us from the unseen enemies, so it is just right that we armed them with the equipment during this war against COVID-19 pandemic," said Adongay.
Meanwhile, Alfredo L. Bollido, Assistant District Engineer who spearheaded the distribution of PPE to front liners expressed his strong support and respect to all workers in the frontline.
"This is just a simple way to thank our front liner workers in their heroic acts. In this time of crisis, I wish them to stay healthy and safe to continue serving and helping our people in need.," Bollido said.
On June 02, 2020, a total of 60 pcs. PPE was delivered to Biliran Provincial Hospital, 10 pcs. to Bureau of Fire Protection (BFP)-Naval, and 20 pcs. PPE to Rural Health Unit (RHU) -Naval.
On June 04, 2020, RHU-Almeria also received a total of 10 pcs. PPE and BFP Provincial Office got 20 pcs.
Biliran Province recorded its 1st confirmed case of COVID-19 on Wednesday, June 03, 2020 as announced by Naval Town Mayor Gerard Espina.
Meanwhile, DPWH-Biliran DEO continues to observe strict safety precautionary measures to protect employees and prevent the transmission of COVID-19 in the workplace following DPWH guidelines on basic personal hygiene, workplace sanitation and social distancing measures under Department Order (D.O.) No. 34 series of 2020.