1 NPA terrorist killed, M16 rifle and explosives seized in Pinabacdao, Samar
By DPAO, 8ID PA
May 13, 2020
CAMP LUKBAN, Catbalogan, Samar – Retooled Community Support Program (RCSP) Team of the 46th Infantry (Peacemakers) Battalion, Philippine Army encountered not less than five (5) CPP-NPA Terrorists (CNTs) in Barangay Layo, Pinabacdao, Samar today, May 13, 2020 at about 10:30 in the morning. The encounter ensued when government security forces responded to an information provided by the locals on the presence of an armed group conducting extortion activities.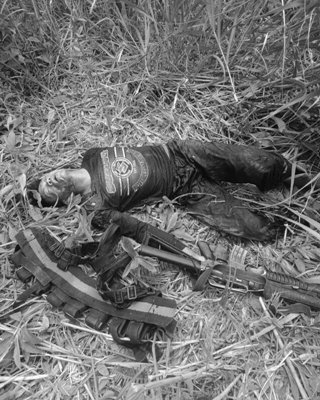 After a 10-minute firefight, the rebels retreated leaving behind their dead comrade with one M16 rifle w/ attached M203 Grenade Launcher; one Improvised Explosive Device (IED) approximately weighing 5 kilograms; one blasting cap; one bandolier with one long magazine for M16 rifle loaded with 10 rounds ammunition; two rounds of ammunition for M203 Grenade Launcher and ammunition for AK47. There was no casualty on the government side.
Lieutenant Colonel Rhomel R. Langcauon, Commanding Officer of 46IB, lauded the RCSP Team for their efforts and the residents for providing the Army with timely and vital information that led to the successful security operation.
Colonel Camilo Z. Ligayo, 801st Brigade Commander, in his statement, "This is a display of the intensified support of local communities to the government, denouncing the atrocities and activities of the rebel-terrorists. It is a tragedy that another rebel loses his life as a victim of this senseless armed struggle in an attempt to defend a futile ideology. If they only considered the call to return to mainstream society, unnecessary deaths in encounters like this would have never occurred."