DTI launches 'Pag-Asenso' live weekly TV sitcom
By CHITO D. DELA TORRE
April 10, 2006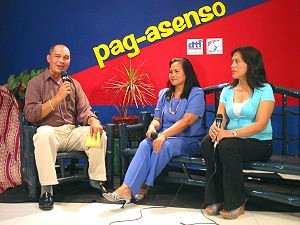 Pag-asenso TV Talk Show with host Ariel Donceras at left.
CATBALOGAN, Samar – The Department of Trade and Industry provincial office here has taken one step ahead of its usual promotion programs and services by launching on Wednesday (March 29) noon "Pag-Asenso", a live television program via local channel 7 of Decobeam Cable Television Services here.
Hosted by DTI's information officer Ariel Donceras and directed by senior trade and industry development specialist Nicerio Cinco, Pag-Asenso gives way to the different programs of the various government agencies with whom DTI has existing coordinative agreements.
Donceras said in his opening spiel that throughout the Philippines, this is the only program of its kind which uses the television media. Other DTI provincial offices are using the radio medium, he said.
The Mach 29 launch had for its guests representatives of the Philippine Information Agency, Department of Labor and Employment, Department of Agrarian Reform, Technical Education and Skills Development Authority, Philippine National Police, and Department of Science and Technology. Each guest thanked the DTI for this kind of program that will henceforth be a weekly one-hour live TV sitcom directly managed by the DTI.
In her message, DTI provincial in-charge Ruthelma Samonte relayed the felicitations of regional director Cynthia Nierras who could have been the principal guest were it not for a pressing and more important engagement that she had to attend to.
PIA officer-in-charge Ninfa B. Quirante endorsed the live telecast and urged the general public to keep glued to the program every Wednesday and participate by calling in their comments, reactions or questions, as much as they do in the Thursday live radio program of PIA over DYMS in Catbalogan.
Engr. Ray P. Gaspay, cable operations chief of Decobeam, said that the only role that the CATV network has is providing a permanent telecasting cable direct from Decobeam to the Pag-Asenso studio which the DTI set up at the agency's southern section. Technical personnel from both the DTI and Decobeam jointly help keep the program's smooth and clear cablecasting.
Since the program is non-earning, DTI is not paying a single centavo to Decobeam and neither does it collect any amount for the participation of guesting agencies.
Samonte and Donceras both revealed that this TV program has long been conceived of by the DTI-Samar, except that it could be made possible that week after a thorough study and getting the participating agencies enlisted for regular appearance.
The launch was originally planned for 12 high noon but since line and control testing had to be made, it finally had to come about after the guests were treated to a meantime inaugural luncheon which featured a especially cooked tahong meat.
Cinco told this writer that the program, though yet without a name about five months ago, took a more concrete form during the DTI year-end national assessment and planning workshop in Luzon.
Pag-asenso also serves as a medium for showcasing significant achievements made in the expanded meaning of progress and development in which a peaceful and orderly social and business environment is a necessary ingredient to approximate success.
Rep. Figueroa completes another P10-M Covered Court project in 5 Samar towns
By RICKY J. BAUTISTA
April 8, 2006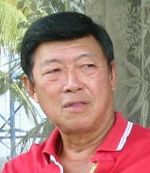 Congressman Figueroa
CATBALOGAN, Samar – Representative Catalino "Cata" Figueroa (2nd district – Samar) of the ruling Lakas Nacionalista Party has reported another six covered court projects worth millions of pesos, in at least five municipalities in his district, 100 percent completed.
In a recent turned over ceremony, Figueroa said he has again fulfilled his vow to most of his constituents especially the youths, to have their own "anti-bad weather" covered courts for their barangay affairs consumption.
The solon said these projects, considered as "priority projects" has been personally requested to him by several municipal and barangay officials under his congressional territory.
"For them to avail of our CDF (Country Development Fund), we allotted some P1.5 million to P2 million funds for each constructed courts in several Samar villages," the solon said.
From the months of January to March this year, the Samar solon has turned over completed covered courts in Brgy. Poblacion, Calbiga (worth P2-M); Brgy. Magaan, Zumarraga (P1.5-M); Brgy. Bac-hao, (P1.5M) and Brgy. Bagacay (P2M), both in Daram Island; Brgy. Bunu-anan, Catbalogan (P1.5M) and another P1.5 million worth of court project in San Sebastian Samar.
In behalf of their constituents, Mayor Neliptha Figueroa of Zumarraga, Mayor Arnold Abalos and other village representatives gave thanks to the solon during the separate turned over ceremonies held recently.
In his message, Rep. Figueroa has also announced that similar covered court projects (worth P1.5M) are now also on-going and in near completion in the villages of Brgy. Mabini, Basey; Brgy. Guintarcan, Villareal; Brgy. Cagutsan and Brgy. Silanga in Catbalogan, all in the second district of this province.
To recall, the solon said the covered court projects are just one of his priority infrastructure projects in his district along with farm-to-market roads, barangay roads, school buildings, executive buildings he accomplished last year.
Army vows to crush NPAs
By NINFA B. QUIRANTE, (PIA - Samar)
April 6, 2006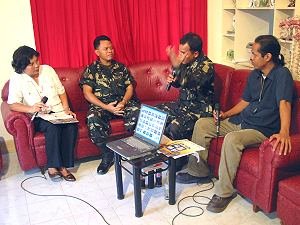 LtCol. Manuelito Usi explained to the media how the army is winning the battle against the CPP/NPA as the author at far left listens carefully.
CATBALOGAN, Samar – If there had been a series of skirmishes between the army and the NPA rebels these are legitimate encounters in a bid to vanquish the enemy. These were the bold pronouncements of the 8th Infantry Division, Philippine Army Inspector General LtCol. Manuelito Usi during the Catbalogan Cable TV Media Advocates Nucleus (CCATMAN) Weekly Kapehan.
Usi said that the troops are now in a full battle gear relentless operations to crush the enemies of the state. He said they will not be given a chance to recover and move about. Speaking both on TV and on radio where he was also guest in PIAs Huruhimangraw, Usi challenged the NPAs whom he calls enemies of the state to face the soldiers boldly.
He also called them "bobo" because he said they could not spell coffee and king flakes in the list that was part of the recovered documents in a camp overtaken by the government troops. The camp located in San Jose de Buan was believed to be serving as a hospital because of the equipments. The government troops also recovered a generator, and computers.
The official also said that the NPAs are recruiting low quality cadre because they could not recruit better ones, Usi noted. The Samar populace he said are now aware of the deception the NPAs employ, so they could not recruit the more educated ones.
Usi also mentioned that despite the left celebrating the 37th anniversary, this could be their loneliest anniversary, he said because of the series of defeats that the army has inflicted on them.
The army official said their success is partly because of the civilians who relay information about unusual activities in their area. The enemy, he said is now on the run and may eventually be cornered. They will be searched everywhere, even in the forest, in the hills and even in urban areas. The enemy, he said is everywhere. But we are closing in on them!, he fearlessly said over the radio.
As of 2004, Usi said that there are are just a little above a thousand NPAs where some 600 only are armed. The official believes that their (NPA) force has declined through the years. Though Usi is also concerned about the backing of some legal NPA fronts, he still boldly announced his quest to topple down the NPA and crush them in the battlefields.
While Usi was so passionate about his cause, his buddy Maj. Mangintonong Tocalo of the 8th ID Civil Military Operations Unit urged the rebels to surrender and avail of the government program on Bring a Rifle, Improve your Livelihood (BARIL) where an NPA can exchange his arms with a livelihood package that would sustain him as he returns to mainstream society.
KALICAS officers inducted, KAPUSO launched
By OSCAR A. LABRO
April 5, 2006
CATBALOGAN, Samar – More or less, 300 representatives from the different community associations of Samar, converged at the Samar State University, Mercedes Campus last March 4, 2006 at 9:00 in the morning. The whole day activity, which was also a reunion of leaders and community organizers, was initiated by the KALICAS (Katig-uban Han Mga Lideres Ug Community Associations Han Samar) convenors, Messrs. Doy L. Lontes and Fernando Niego. The overwhelming response to the KALICAS invitation was in time for the commemoration of the 3rd founding anniversary of the said organization.
KALICAS had its formal organizing last February 8, 2002 under the leadership of Mr. Rudy Raytos. With its primary purpose of equipping its members with livelihood opportunities as a registered cooperative, KALICAS initiators have presented project proposals and development programs for funding, which is expected to empower its members and ultimately bring socio-economic reforms in their respective communities.
The reunion was highlighted by the induction into office of the newly elected set of officers. A reorganizational meeting held last February 11, 2006 at the Boy Scout Bldg. Catbalogan, Samar resulted in the election of Mr. Federico M. Porcil as President; Parding S. Aban, Vice President; Susana M. Babon and Susana R. Marco, Secretaries; Marita L. Ecleo, Treasurer, Cecilia M. Poblete, Assistant Treasurer and Elmer P. Ponferrada and Celestina B. Abit, Auditors.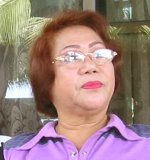 Mayor Nelip Figueroa
Hon. Catalino V. Figueroa, congressman for the 2nd District of Samar, did the honors of inducting the said officers. In an inspirational message delivered by the congressman immediately after the induction, he challenged the leaders present to be more responsive to the calls for good governance. He encouraged the group to be more participative in the social issues and be conscience-stricken in their succeeding choices of government officials to ensure that the basic needs of the Samarnons be effectively addressed. Hon. Figueroa fearlessly exposed and lambasted the poor governance and political priorities of the incumbent provincial chief executive, which he said, is adversely affecting the development of Samar, making more Samareños poorer and people's lives more miserable.
The KALICAS Anniversary was also graced by Hon. Neliphtha Figueroa, Municipal Mayor of Zumarraga and President of the Mayor's League of the Philippines, Samar Chapter. Mayor Figueroa proudly narrated her accomplishments in the municipality of Zumarraga with this statement, " Kun nabuhat ko ini ha Zumarraga, kaya ko liwat ini buhaton ha bug-os nga Samar, kun iyo kikinahanglanon an akon serbisyo." She further jokingly replied, "Deri la ako maglalakat o magjo-jogging…madalagan gud ako!", when asked for her possibility to run for a higher provincial position in the next local elections. It must be recalled that Mayor Figueroa was heard criticizing and condemning the kind of governance that the Samarenos are receiving from Governor Mila Tan. Her track record in the government service is now being placed under scrutiny by the voting public as a possible strong gubernatorial bet for the province.
Finally, the KALICAS disseminated an open letter for all Samarnons to get united in initiating socio-economic and political reforms. Simultaneous with the anniversary celebration, was the launching of the KAPUSO. This will serve as the political arm of the KALICAS. Hopefully, the KAPUSO will pursue its advocacies for a more transparent political agenda, corrupt-free bureaucracy, clean and honest elections and an empowered citizenry.
Eastern Visayas searches for "a beauty who cares for the environment"
By Philippine Information Agency (PIA 8)
April 3, 2006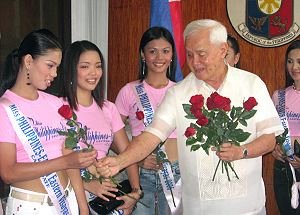 The Miss Philippines Earth Eastern Visayas beauties during their visit to Tacloban City Mayor Alfredo "Bejo" Romualdez.
TACLOBAN CITY, Leyte – The search for a true Filipina beauty who cares for and will truly help in the preservation of the environment is currently ongoing in Eastern Visayas. This is the Search for Miss Philippines Earth Eastern Visayas, Mr. Adonis Kintanar, the search chairman, revealed.
Mr. Kintanar said that the theme for the search is Woman of today: voice of environment, defender of nature and Mother of Earth. As the theme connotes, the search is looking for the woman who best elucidates a quintessential woman with the elements of beauty, grace, wit and love for Mother Earth.
The prejudging will be held on April 4, 2006, 12:30 in the afternoon at the MacArthur Park Beach Resort while the Pageant Night will be held on April 5, 2006, 7:00 o'clock in the evening, at the Leyte National High School Gym, Tacloban City.
The winners who will receive big prizes in cash and in kind, are expected to actively promote and get involved in the preservation and protection of Mother Earth, Mr. Kintanar, added.
Expected to act as judges are personalities from the Region who are known not only for their leadership skills, charismatic personalities, commitment to service and most especially for their keen eye for beauty.
Managing the Search is the Synergist Event Productions, the regional franchiser holder for this year's Miss Philippines Earth Eastern Visayas. This year's search is Carousel Productions' reinvention and improvement of the concept of beauty competitions for the new millennium.
The winner will hopefully be the epitome of the Eastern Visayan woman who is not only beautiful but socially responsible not only for her fellow Eastern Visayans but most especially endowed with natural devotion of caring and preserving the natural bounties of nature which abound in Region 8.
Solon pushes for free education for children with disabilities
Press Release
By Alliance of Volunteers Educators (AVE)
April 3, 2006
MANILA – Children with disabilities should be provided free public education and related services to integrate them into the mainstream early in life, according to a party list lawmaker.
"They may not belong to the average block but children with special needs or disabilities can learn and develop skills that would help them become productive members of society given the right education and support they need," Rep. Eulogio "Amang" Magsaysay of the Alliance of Volunteers Educators (AVE) said.
Magsaysay has filed House Bill 5312 seeking to provide children with special or individuals with disabilities the necessary tools to upgrade their education.
Magsaysay, an educator himself, stressed the importance of education as it paves the way for people with disabilities to focus and develop their strengths.
"We should allow these people to discover themselves, develop their skills and potentials and teach them to live freely and as independently as possible," Magsaysay said.
Magsaysay cited the case of Roselle Ambubuyog who, despite being blind, graduated summa cum laude at the Ateneo de Manila University and of Grace Padaca, a polio victim who is currently the governor of Isabela province.
"These ladies have risen above their disabilities with the support of their families and communities and through education," Magsaysay said.
Magsaysay said that by integrating these disabled individuals into society through good education and work opportunities, these disabled persons could have normal and productive lives.
"These persons with disabilities have the same aspirations like everyone else. By empowering them through education, we are strengthening our human resources as a nation," Magsaysay said.
Magsaysay also proposed the creation of the Bureau of Special Education (BspEd) in the Department of Education to be the principal agency to administer, carry out and undertake programs and activities concerning the education of individuals or children with disabilities.