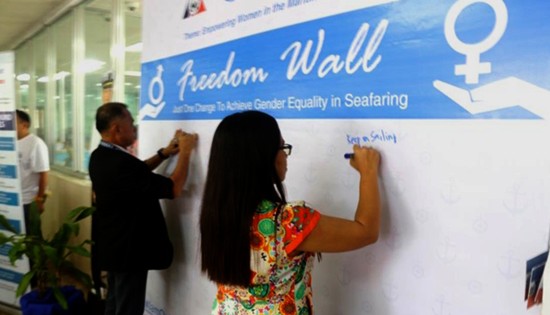 ED Maglunsod with DED Macadawan writing on the freedom wall for the DotS celebration.
NMP salutes the Filipino seafarers
By National Maritime Polytechnic
June 28, 2019
TACLOBAN CITY – Aiming to promote and highlight the timeless efforts and sacrifices of the seafarers globally, the National Maritime Polytechnic (NMP) joins the world in celebrating and honoring the noble men and women at sea during the International Day of the Seafarer on June 25, 2019.
The NMP being a premier and sole government maritime institution equally pays high respect to its seafarer-trainees, seafarer instructors and to the seafarer family members of employees.
The celebration kicked-off with the Mariners' Feud held at the NMP Training Building Annex. It showcased the wit and enthusiasm of the seafarer-trainees and seafarer instructors as they competed for the Mariners' Feud championship.
The contestants were Capt. Jose Bolito, Mr. Darryl S. Daiz, Mr. Donald B. Dollete, and Mr. Ronald O. Dellones (Team Bravo), Mr. Abraham Pingol, Ms. Clee-ann Marie Montehermoso, Mr. Darwin Taboada, and Mr. Owen Jay Vasquez (Team GOC Big Brothers), Capt. Jonifer Nuevas, Mr. Richard Mandreza, Mr. Julius Cabrera, and Mr. Alfonso Garces (Team Boga-Boga), and Engr. Primitivo Capacio, Mr. Henry A. Licardo, Mr. Veniez Llamas, and Mr. Jungie, Alas (Team Mandaragat). The players gone through hard levels but Team Boga-Boga emerged as the Mariners' Feud Champion.
A Tribute for the Seafarers program followed as Executive Director Joel B. Maglunsod gave his welcome address. Subsequently an intermission number from Ms. Reynisa Christine Ellarina, a seafarer's daughter added color to the program.
In a response speech, a Refresher Training for Basic Safety (BTR) trainee, Officer-In-Charge on a Navigational Watch (OIC NW) Pinky P. Ygoña said, "Over the course of my career as the only woman onboard general cargo vessels, I have come across a lot of situations which made me feel inferior. It is a fact that the maritime industry is a men-dominated profession. It is not alien to stereotyping but we should focus on the skills of a person. It doesn't matter what his or her gender orientation may be. We should be honing their skills and abilities to be better in what they do and create an environment of respect. Work would be easier because there is already respect. When there is respect there will be greater teamwork which will lead to improved productivity."
The program concluded with the distribution simple tokens and the floral offering rites which paid homage to the departed seafarers held at the NMP's Boat Davit Area.
The DotS was first celebrated in 2011, following its establishment by a resolution adopted by the Conference of Parties to the International Convention on Standards of Training, Certification and Watchkeeping for Seafarers (STCW), 1978 in Manila, Philippines, in June 2010. It adopted major revisions to the STCW Convention and Code. Likewise, the International Maritime Organization (IMO) considers the challenges and hardships the seafarers battles everyday worthy of double honor. It is then that the IMO designated June 25 as the International Day of the Seafarer with this year's theme "I am on board with gender equality".
As a response to the call for Gender Equality, the NMP continues to offer the Gender Sensitivity Training for Seafarers (GSTS) course aimed at increasing the trainees' level of awareness and appreciation on Gender And Development (GAD) concepts and addressing current gender issues in the maritime sector concerning the Filipino seafarers. The course is provided to trainees free of charge.
Throughout the week from June 24 to 28, 2019, a Photo/Freedom Wall at the Administration Building lobby was made available where everyone was encouraged to write what they would do if they were able to make just one change to achieve gender equality in seafaring. Likewise, selfies or photographs using cards bearing the #IAmOnBoard, the Social Development Goal (SDG) 5 icon, the DotS logo, and the #MakeOneChange, as a show of solidarity for gender equality in seafaring was also promoted.
Remarkably, the NMP also participated in the various activities organized by the Maritime Industry Authority (MARINA) relative to the DotS celebration at the Philippine Ports Authority (PPA) office. A mass was celebrated followed by the floral offerings for the departed seafarers that were participated by various agencies in the Region VIII.
Meanwhile, NMP continues to upgrade its facilities and provide maritime trainings required pursuant to the STCW Convention as amended in 2010 including value-adding courses towards improving the qualifications of Filipino seafarers for their employment acceptability and enhanced competitiveness. It also regularly conducts maritime studies to come up with policies for the improvement of the manpower sector of the industry.
Those interested in NMP research undertakings may visit the NMP website (www.nmp.gov.ph) and access the e-Research Information System Portal which is designed to gather inputs for NMP's research, dissemination of NMP completed researches and other articles pertaining to maritime research.
DPWH constructed 2 new school buildings in Calbayog City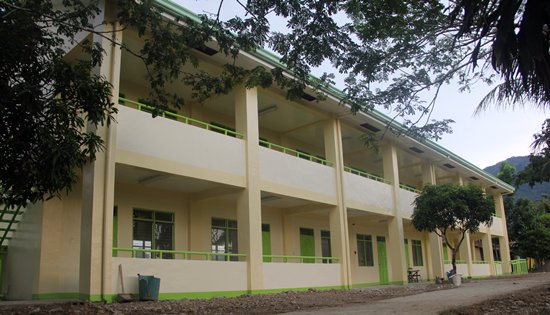 By GISSELLE G. PARUNGAO
June 28, 2019
CALBAYOG CITY – New school buildings at Pilar National Agricultural High School (PNAHS) and Calbayog East Central School (CECS) are completed through the Department of Public Works and Highways under the 2018 Basic Education Facilities Fund (Batch 1).
The two-storey, six-classroom school building at PNAHS will be taken up by grades 9 and 11 wherein two classrooms will be appropriated as computer and science laboratory. The new building will house 330 to 360 students. The institute only offers agricultural strand to senior high school students thus the name of the school.
On the other hand, the spacious three-storey, six-classroom building at CECS will accommodate 210 students from grades 3 to 4.
Constructing more school buildings will mean answering the cry for better amenities that will help in creating a good ambiance in the school area thus, making learning easier and more convenient. This will also lessen the over population of students in a classroom.
The Department of Education is always on the look-out on how to improve the educational facilities of every schools and the Department of Public Works and Highways is willing to work with the department in meeting that goal.
NMP joins Kalayaan Jobs and Business Fair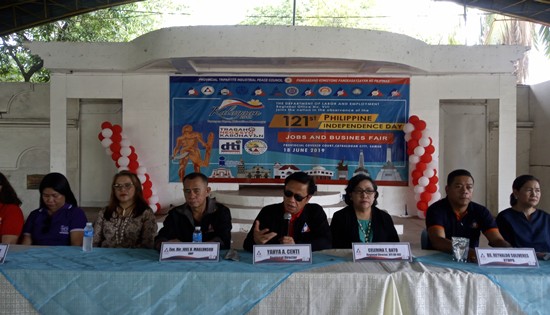 By National Maritime Polytechnic
June 28, 2019
TACLOBAN CITY – The National Maritime Polytechnic (NMP) memorializes the 121st Philippine Independence in Eastern Visayas by joining the Kalayaan Job and Business Fair of the Department of Labor and Employment (DOLE) last June 18, 2019 at the Provincial Covered Court of Catbalogan City.
The Jobs Fair with the theme "Tapang ng Bayan, Malasakit sa Mamamayan" started with a short program followed by the awarding of the livelihood grants.
Job vacancies were posted by sixteen (16) local and three (3) overseas employers including NMP's vacant positions.
A Trade Fair in view of the Trabaho, Negosyo, Kabuhayan (TNK) undertaking was participated by seventeen (17) exhibitors from the Samar Province.
In attendance to support the annual celebration were Executive Director Joel B. Maglunsod of National Maritime Polytechnic (NMP), Regional Director Gemma R. Poloyapoy of National Conciliation and Mediation Board (NCMB) OIC-Regional Director Mary Catherine O. Pastor of Overseas Workers Welfare Administration (OWWA), Board Secretary Reynaldo Soliveres of Regional Tripartite Wages and Productivity Board (RTWPB), Ms. Catherine D. Dasigan of National Reintegration Center for OFWs (NRCO), Engr. Maria Elena L. Diez of Occupational Safety and Health Center (OSHC) and Ms. Michelle C. Basal of Employees Compensation Commission (ECC), DOLE-Samar Field Office Officer-in-Charge, Engr. Aleksei Ceasar D. Abellar, Samar Province Police Colonel Dante Novicio, Brigadier General Alex D. Luna of the 801st Infantry Brigade, Philippine Army, Department of Trade and Industry Regional Director Celerina T. Bato, Public Employment Service Office (PESO) Manager of Catbalogan City, Mr. Albert Hilary L. Ramos and Philippine Information Agency (PIA) Samar Coordinator, and Ms. Golda Meir T. Tabao.
The said Jobs Fair brought the jobs closer to the jobseekers particularly those from the Samar island. NMP records show from 1983-2018, five-hundred forty (540) trainees from Catbalogan, Samar availed the NMP training programs with two thousand seven hundred sixty-two (2,762) certificates issued.
In the same way, the NMP also marked the commemoration of the Philippine Independence Day through a Flag Raising Ceremony last May 28, 2019 held in front of the NMP Admin. Building.
Meanwhile, the NMP continues to upgrade its facilities and provide maritime trainings required pursuant to the Standards of Training, Certification, and Watch keeping for Seafarers (STCW) Convention as amended in 2010 including value-adding courses towards improving the qualifications of Filipino seafarers for their employment acceptability and enhanced competitiveness. It also regularly conducts maritime studies to come up with policies for the improvement of the manpower sector of the industry.
Those interested to take NMP training programs may visit the NMP website www.nmp.gov.ph and its Facebook page (www.facebook.com/nmptrainingcenter) where all related information on NMP trainings are available.
Nalihugan-Rawis Road in Gandara, Samar now open to motorists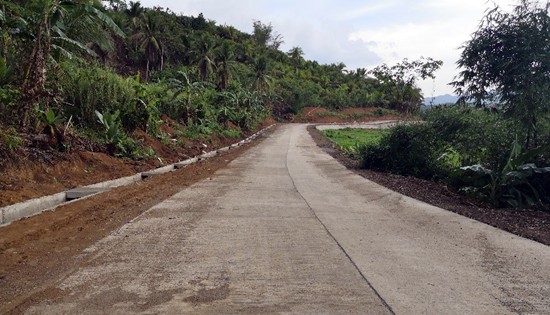 By CHENZI MAY UY
June 28, 2019
CALBAYOG CITY – With the completion of phase-2 construction of a 6.10-meter-wide concrete pavement, motorists can now conveniently pass through the Nalihugan-Rawis road in Gandara, Samar.
Beforehand, there was only a narrow and bumpy trail between the neighboring barangays. The residents of Barangay Rawis and the succeeding barangays had to take a boat trip along Gandara River to reach the Gandara Poblacion.
The works included concreting of a total length of 723 meters.
This project is part of the local infrastructure program of DPWH Samar First District Engineering Office (SFDEO), which aims to increase access and connectivity in the district.
The DEO has also recently completed the construction of a road linking barangays Sto. Niño, Sidmon and Macugo, which is directly connected to the Gandara-Matuguinao Road. Another road construction project linking barangays Rawis and Burabod in the same municipality is already nearing its completion.
DPWH completes eight classrooms in Carigara, Leyte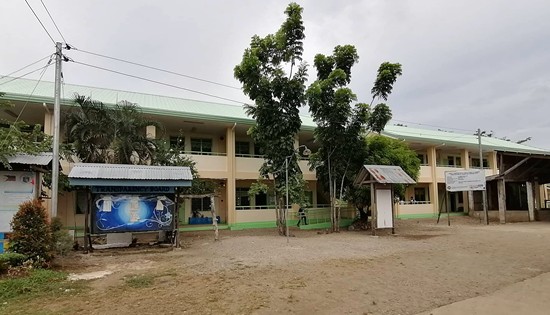 By DPWH 2nd LED
June 28, 2019
CARIGARA, Leyte – The Department of Public Works and Highways (DPWH) field office here has recently completed the construction of two-unit 2-storey four-classrooms at Jugaban National High School in this town funded under the 2018 Basic Educational Facilities Fund (BEFF).
BEFF is an annual budget for the school building program of the Department of Education and the DPWH. The fund also covers site inspection, the improvement and maintenance of existing school facilities, the acquisition of school supplies among others.
Gerald Pacanan, DPWH Leyte 2 district engineer said that each unit of this new school building has four classrooms complete with toilets and other facilities.
"We always make sure that each building follows the proper standards and programs set by the department. We conduct several inspections during and after construction to check if there are issues or problems even in the smallest details," said Pacanan.
With a total allocation of P19.3 million, Pacanan added that this is part of the government's efforts to improve the quality of education in the country by providing more conducive learning environment for students.
According to Anecita Empino, school head of Jugaban National high school, they have a total of 1,954 students from grade 7 to grade 12.
She added that these new school buildings will be used by grade 10 students. Overall, the district is tasked to implement a total of 25 school building projects amounting to P368 million funded under the DepEd Basic Educational Facilities Fund for 2018.
P289M mitigation structures to ease flood problems in Leyte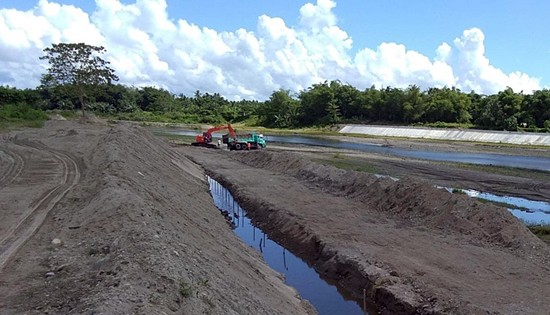 By DPWH 2nd LED
June 28, 2019
CARIGARA, Leyte – To strengthen infrastructure for flood risk mitigation, the Department of Public Works and Highways Leyte Second District Engineering Office has commenced the construction of P289.74 million flood mitigation structure projects.
District Engineer Gerald Pacanan said that there are already 4 ongoing projects which include construction Can-isak Riverbank in the town of Barugo worth P15 million, construction of flood control structure along Manloy River in Carigara worth P20 million, and construction of Luan Seawall in Dulag, Leyte worth P17 million and construction of Daguitan-Marabong River flood control in Brgy. Batug, Dulag, Leyte worth P42.47 million.
"This is a priority project of the government as it aims to provide solution to the frequent flooding and protect the residents and properties in these low-lying areas of the district," added Pacanan.
On top of these projects, the office will also undertake eight construction/ rehabilitation of flood mitigation structures and drainage systems within the district.
Among these projects are the P84 million in Binahaan river K001+540 - K002+255 and K002+255 - K002+880 in Pastrana, Leyte; P30 million Carigara River in Sitio Bariis of East Visoria to Brgy. Canal and P20 million in East Visoria all in Carigara, Leyte; P7.5 million Poblacion Zone 2 seawall, P10 million Balud seawall, and P10 million Domiri river in Brgy. Culasian all in Capoocan, Leyte, and the P30 million Himanglos river in Brgy. Santarin to Brgy. Hilaba in Barugo, Leyte.
The district engineering office targets to start construction of all flood mitigation projects before the rainy season and complete them within its calendar days.
DPWH widens six bridges in Leyte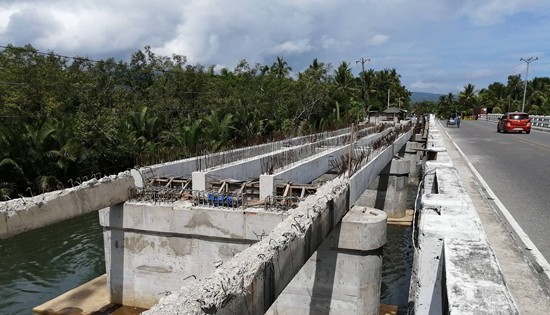 By DPWH 2nd LED
June 28, 2019
CARIGARA, Leyte – Multi-million bridge widening projects will be implemented by the Department of Public Works and Highways to expand significant road networks in the second district of Leyte.
District Engineer Gerald Pacanan said that a total amount of P188.487 million has been allocated for these projects funded under the General Appropriations Act of 2019.
Out of six projects, four bridges are underway namely the P31.721 million Carigara bridge and P4.701 million Barugohay bridge both in Carigara town along Palo-Carigara-Ormoc road, Hibuga bridge along Mayorga-La Paz road worth P13.665 million and Ibawon bridge amounted to P92.80 million in MacArthur.
"To complement the widened national roads and accommodate voluminous number of motorists, these two-lane bridges will be expanded to four lanes," Pacanan added.
Widening projects will also be done in Tunga bridge in Tunga, Leyte funded at P30.02 million and Atipolo Daco bridge Capoocan worth P15.58 million both along Palo-Carigara-Ormoc road.
The engineering office is mandated to maintain 55 bridges with a total length of 2.266 kilometers in the second district of Leyte.

DAR-8 Regional Director Sheila Enciso (2nd from left) cuts the ribbon signifying the opening of the mini-trade fair at the DAR Regional Office compound on Wednesday. Assisting her are (from left) Assistant Regional Director (ARD) for Agrarian Reform Beneficiaries Development and Sustainability Program Ismael Aya-ay, Provincial Agrarian Reform Program Officer II (PARPO II) Paulina Canales of Leyte, ARD for Administration Ma. Fe Malinao, PARPO I Teresita Alde of Eastern Samar, PARPO I Danilo Lozada of Southern Leyte, PARPO I Alma Peñero of Leyte, and PARPO II Gilbert Apilado of Eastern Samar. (Jose Alsmith L. Soria)
DAR opens mini-trade fair
By JOSE ALMITH L. SORIA
June 27, 2019
TACLOBAN CITY – A mini-trade fair featuring farmers' products was opened yesterday morning at the Department of Agrarian Reform (DAR) Regional Office compound in this city.
Products ranging from agricultural to processed foods and handicrafts were produced by the different agrarian reform beneficiary organizations (ARBOs) throughout Eastern Visayas.
The said trade fair which is among the activities lined up in relation to the 31st anniversary celebration of the Comprehensive Agrarian Reform Program (CARP) will run until June 28.
At the Leyte booth, various types of rice (red, black, white, glutinous rice, etc.), organic eggs, fruits and vegetables including vermicasts are available.
At the Eastern Samar booth, several processed foods such as cassava chips, banana chips, noodles with seaweed, brewed coffee, tablea, coco vinegar, salabat, and calamansi concentrate are available. Handicrafts and vermicasts are also sold here.
At the Northern Samar booth, products available are piñato, tablea, pili products, coco sugar, vinegar, and tuna in oil. They also have vermicasts and handicrafts.
Meanwhile unique products at the Samar booth, are canton noodles with squash which has already been issued with license to operate (LTO) by the Food and Drug Administration (FDA), and white cheese; while unique products at the Southern Leyte booth are guyabano tea and orchid pots.
According to Assistant Regional Director Ismael Aya-ay, this trade fair is a venue to showcase the products of the ARBs. He added, that this is an evidence that the ARBs are gaining grounds in their respective levels.
Aya-ay likewise disclosed that these products will be showcased too during the Agrilink/ Foodlink/ Aqualink 2019, a national agribusiness exhibition organized by the Foundation for Resource Linkage and Development, Incorporated (FRLDI), to be held at the World Trade Center in Pasay City on October 3-5, 2019.
He further disclosed that the theme for that said event will be "Climate Resilient Agriculture: A must for Region 8".
Related to this, Regional Director Sheila Enciso instructed the DAR Provincial Offices to assist the ARBOs in coming up with the best products for that national event. This is an opportunity for them to attract institutional buyers, she added.
DPWH kicks off construction of 2019 infra projects in Leyte 2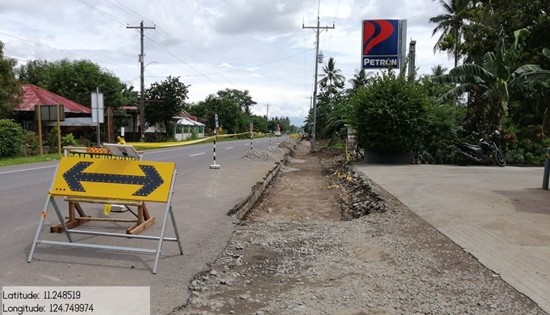 By DPWH 2nd LED
June 27, 2019
CARIGARA, Leyte – The Department of Public Works and Highways (DPWH) Leyte second district engineering district has already started construction of the various infrastructure projects under the 2019 General Appropriations Act (GAA).
According to Gerald Pacanan, DPWH Leyte II District Engineer, implementation of the 2019 projects was delayed due to late approval of the annual budget.
President Rodrigo Duterte signed the national budget on April 15 with some vetoed items including the P75 billion insertions applied by congressmen covering public works projects.
For this fiscal year, Leyte 2 is tasked to implement 87 projects worth P1.57 billion covering road and bridge improvement projects and construction of other government facilities. Of which 21 of these projects are already ongoing which include 2 major road rehabilitation, 4 bridge widening, and 15 barangay road projects.
"We strictly require contractors to immediately start the project upon receiving the notice to proceed. This is because we want to avoid further delays and for them also to finish the project within its time duration," Pacanan said.
Meanwhile, among the high impact projects that the department will implement are the P50 million, P73.5M, and P89.8M road rehabilitation projects along Jaro-Dagami-Burauen-La paz road, P92.8M Ibawon bridge in La Paz town, P100M road pavement project along Burauen-Mahagnao road, P93.9M road improvement works along Palo-Carigara-Ormoc road and also along this road network is the implementation P179M road widening projects.
P2.9M livelihood grants for farmers, PWDs in MacArthur, Leyte
By NORMA RAE S. COSTIMIANO, DOLE-8
June 27, 2019
TACLOBAN CITY – A total of P2,962,250.00 livelihood funds were released by the Department of Labor and Employment to the local government unit of MacArthur, Leyte during the 2nd Quarter North Leyte PESO Managers Meeting last June 20, 2019 at the ABC Hall, LGU Compound, MacArthur, Leyte.
Present during the simple turnover of livelihood checks are Ms. Bernardita Navarra, DOLE North Leyte Field Office Head, Hon. Rene Leria, Mayor of LGU MacArthur, and Ms. Fedelina Pica, PESO Manager of MacArhur, Leyte. Representatives of recipient associations were likewise present to witness the awarding of checks.
The said amount will be benefiting forty-three (43) persons with disabilities (PWDs) and one hundred forty-one (141) farmers from MacArthur, Leyte.
Mayor Leria was delighted during the turnover and expressed his sincerest thanks to DOLE. He said, "In behalf of LGU-MacArthur, I would like to extend my heartfelt gratitude to DOLE for these funds. I am sure these funds will go a long way for our deserving beneficiaries".
Ms. Navarra on the other hand said that DOLE will always be ready to extend assistance because it is one of the reasons why it exists. She likewise reminded the beneficiaries to be good stewards of their livelihood projects.
"We are doing the best we can so we'll be able to be of service to you because that is why we are here as a government agency. I just want to urge our beneficiaries to really be united in handling your livelihood projects for your own benefit too", said Ms. Navarra.
Breakdown of approved projects are as follows: Photocopying Center Project of the MacArthur Persons with Disability Association amounting to P463,200.00; Poultry Farming and Chicken Egg Production of the Lanawan Farmers Association amounting to P499,050.00; and Provision of 4-wheel Drive Tractors of General Luna Integrated Farmers Association and LIDAROIMMA Irrigators Association amounting to P2,000,000.00.
DTI mandates translations for English, Filipino, or both for business and marketing materials
By DTI-CPG
June 27, 2019
MAKATI CITY – Department of Trade and Industry (DTI) Secretary Ramon Lopez signed last 21 June 2019, Department Administrative Order (DAO) No. 19-09, Series of 2019, which mandates the translation of signages, billboards, advertisements, brochures, flyers, notices, advisories, labels, price tags/lists, menus, receipts, and other business marketing materials to English and/or Filipino.
The policy move was prompted by the surprise inspection conducted by the DTI in a Chinese food park located in Las Piñas City last 10 May 2019.
During the said inspection, all 33 food stalls were found to be using signages, price lists, and receipts in the Chinese language only. According to the DTI, this is a form of deceptive, unfair, or unconscionable sales act since non-Chinese speaking consumers are not provided with easily understandable information pertaining to the products and services that they need.
"With this new DAO, we are enhancing the protection of consumers on their right to accessible information that can help them in making wise purchase decisions. Presenting information on products and services in foreign languages other than those officially recognized and used by the consumers are deemed unfair and discriminatory, thus, inimical to their interest," said Sec. Lopez.
In the DAO, the translation into English or Filipino of the marketing paraphernalia of a business must be visible, and printed and/or written legibly. The use of Filipino language in this case is not limited to Tagalog but also includes regional and provincial dialects.
To ensure its accurate translation, business establishments are now required to secure a certification from the Embassy of the country whose language is sought to be translated to, or from its accredited translator or interpreter, or any competent individual or institution duly recognized by the DTI.
Business establishments and entities found to be violating any of the provisions of the DAO shall be imposed with penalties ranging from P1,000.00 up to P300,000.00 depending on the capitalization and frequency of offense.
Erring businesses shall likewise face the cancellation of their business name certificate that was issued by the DTI, and revocation of business registration, permit, license, and any other regulatory clearances upon the recommendation of the Department to appropriate government agencies or units.
All business establishments and entities are given one month following the effectivity of the DAO to comply with the provisions of the Order, which will take effect 15 days after its publication in two newspapers of general circulation.