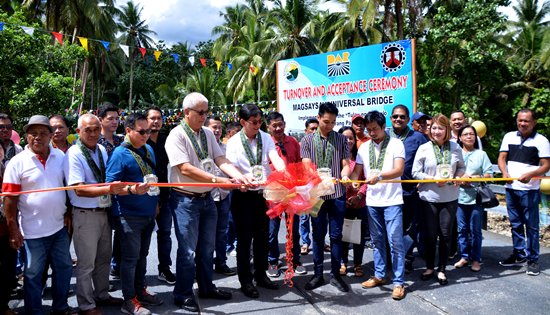 DAR Undersecretary, Bernie Cruz; OIC-Project Director of the DPWH, Rodrigo Delos Reyes; Javier Mayor, Michael Dragon Javier; and Leyte 5th District Representative, Carl Nicolas Cari (4th, 5th, 6th, and 7th from left, respectively) cut the ceremonial ribbon during the inauguration of the "Tulay ng Pangulo para sa Kaunlarang Pang-Agraryo" project. (Jose Alsmith L. Soria)
DAR turns over "Tulay ng Pangulo" in Javier
By JOSE ALSMITH L. SORIA
December 9, 2019
JAVIER, Leyte – Residents of Barangay Magsaysay and nearby villages in this fourth-class municipality applauded with joy as they witnessed the inauguration and turnover last week of the bridge that would eventually change their lives.
In his welcome message, Magsaysay Barangay Chairman Raul Abueva said school children would now be able to attend their classes regularly even during rainy days.
For Carmelita Mamalias, transporting of farm products would be a lot easier now.
Mamalias shared that prior to the construction of this bridge, residents in the area cross the stream thru a spillway which is flooded during heavy rains making it impassable.
Undersecretary Bernie Cruz of the Department of Agrarian Reform (DAR) led the inauguration and turnover of the first "Tulay ng Pangulo para sa Kaunlarang Pang-Agraryo" project implemented in Eastern Visayas.
Cruz disclosed that the P9.7-million project was funded under the French Government thru Compagnie Francaise d'Assurance pour le Commerce Extérieur (COFACE).
He further disclosed that the 28-linear meter bridge, implemented in coordination with the Department of Public Works and Highways (DPWH), used pre-fabricated materials imported from France.
Thus, Cruz reminded the recipients to take care of the project and maintain it to be in good condition always so it could still be used by the next generation.
According to him, the materials used in this project are the same materials used in the construction of the Eifel Tower. "Paghinawakan nyo ang tulay, parang nakarating na rin kayo sa France at tinitingnan yung torre," Cruz jokingly said during the occasion.
Meanwhile, OIC-Project Director Rodrigo Delos Reyes of the DPWH advised the residents in the area to report to the local government unit any damage seen in the project so it could immediately be repaired.
In acceptance, Mayor Michael Dragon Javier repeatedly thanked DAR and DPWH officials that finally the bridge, which according to him, was requested in 2013 by his father, the former mayor, Leonardo Javier Jr., is now being inaugurated.
Javier stressed the benefit this bridge would bring to his town. "This is a sign of progress, a sign of success for this town," he added.
About 10,000 residents from this barangay and five other nearby villages are expected to be benefited by this project, wherein 293 are agrarian reform beneficiaries.
With this bridge, this area becomes an alternate route in going to adjacent municipality, Abuyog.
Joining Javier in accepting the project was Leyte's fifth district representative, Carl Nicolas Cari, who also committed to help in the maintenance of the project.
Javier likewise acknowledged, during the said occasion, previous projects DAR poured in this municipality, which included six farm-to-market roads with a combined amount reaching P96.8-million.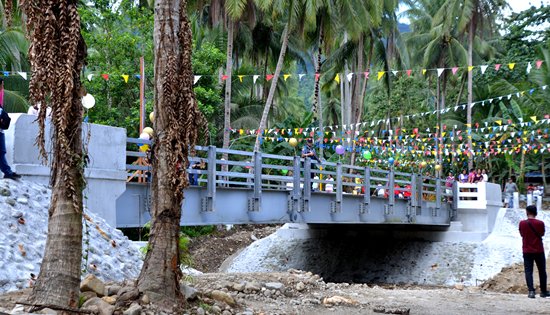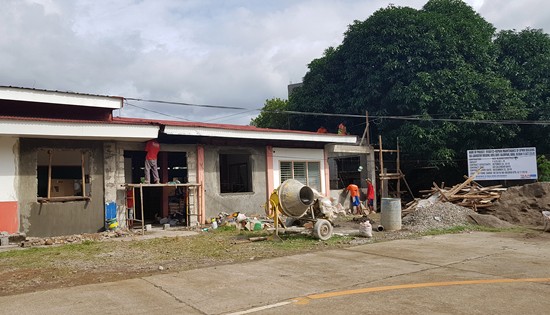 DPWH-Biliran DEO's repair/maintenance of Quality Assurance Section (QAS) laboratory testing building is on-going with 80% accomplishment as of November 30, 2019 under contract with W.B. Alagao Construction. The completion of this building will provide additional space for Materials Engineers to conduct more material laboratory testing and space for storage of additional equipments.
DPWH-Biliran DEO gears for two-star materials testing laboratory
By DPWH-Biliran
December 9, 2019
NAVAL, Biliran – The Department of Public Works and Highways (DPWH) Biliran District Engineering Office (DEO) is gearing for a two-star materials testing laboratory to further enhance its quality testing services.
David P. Adongay Jr., District Engineer said that they are slowly complying with all the requirements needed to qualify for a two-star rating, starting with the renovation of its laboratory testing building.
"At present, the Quality Assurance Section (QAS) laboratory testing is being renovated in order to expand its total floor area which is one of the requirements needed to be complied to qualify for a two-star materials testing laboratory," said Adongay.
The said project was allocated with a budget of P470,901.18 under contract with W.B. Alagao Construction.
"The renovation will also enable the district to procure additional testing equipment because of the additional area where the procured equipments can be stored. The increase in number of equipments will result to the increase of test being offered within the district," he added.
Engr. Ronald Sebios, Project Engineer reported that the project is on-going with 80% accomplishment as of November 30, 2019. It has a target completion date of December 22, 2019.
The system classifies testing laboratories into One-Star, Two-Star or Three-Star categories based on the following criteria: Availability of testing equipment and apparatus, Competence/Accreditation of Personnel, Observance of health and safety standards, Working area of the laboratory, Calibration of apparatus/equipment and Third-party certification.
On May 29, 2018, the DPWH QAS-Biliran DEO was given a Star Rating Certification for having satisfactorily complied with the provisions of Department Order No. 126, Series of 2016 Amendment to D.O. No. 11 Series of 2013 "Star Rating of DPWH Regional and District Materials Testing Laboratories" thereby classifying and categorizing it as a one-star materials testing laboratory.
The QAS of DPWH Biliran DEO is responsible for conducting various test of construction materials to ascertain that all materials incorporated into the work meet the minimum requirement by the DPWH.
Karapatan: Close to 400 political prisoners arrested under the Duterte regime
By KARAPATAN
December 6, 2019
QUEZON CITY – Today, December 6, human rights group Karapatan and Kapatid, along with other people's organizations, trooped to the Boy Scout Circle in Quezon City to call for the release of all political prisoners. The said mass action highlighted the plight of political prisoners and the ongoing injustices in jail, the issue of criminalization of activists and human rights defenders, and the weaponization of the law and legal processes to silence dissent.
According to data released by Karapatan as of November 2019, there are now 629 political prisoners in the country; more than half, or 382, were arrested under the Duterte government. Of this figure, there are 50 elderly, 93 women, 113 sickly, 11 peace consultants, and 5 were minors during the time of arrest.
Karapatan Deputy Secretary General Roneo Clamor said that these figures are staggering. "The numbers reflect the vindictive, militarist and repressive position of the Duterte government. Duterte has already arrested more activists in a span of three years than his predecessor's entire six years. This is also indicative that the situation has progressively worsened, and that our laws have been increasingly weaponized to criminalize dissent."
Clamor linked the high number of trumped-up charges and arbitrary arrests to the government's repressive policies, foremost Executive Order No. 70 (s2018), which created the National Task Force to End Local Communist Armed Conflict (NTF-ELCAC). The structures and partnerships orchestrated by the NTF, particularly its Legal Cooperation Cluster, is tasked to draw up and file legal offensives against activists and human rights defenders.
"We continue to call for the immediate and unconditional release of individuals who were arbitrarily incarcerated as a form of harassment and persecution for their relentless fight for social justice. We deplore the Duterte administration for maintaining its militarist policy of criminalizing defenders and social activists. On the other hand, amid these attacks against critics, the regime and its corrupt bureaucratic machinery have been freeing convicted plunderers and perpetrators of human rights violations, killings, torture, disappearances, and harassment," he said.
"The double standard in our justice system is infuriatingly ironic. While political prisoners are painstakingly suffering inside filthy and cramped jails, the likes of Imelda Marcos, the wife of the former dictator, is now roaming free despite her conviction. Others like Gloria Macapagal-Arroyo, along with her corrupt officials in Philippine Charity Sweepstakes Office and Commission on Audit, are now absolved from graft cases in the Ombudsman. Other corrupt and vile, but rich individuals such as infamous Calauan mayor Antonio Sanchez, find loopholes by trying to buy their way out of justice. This happens because jail management is focused on profiteering and further perpetrating injustices even behind bars," added Clamor.
The Karapatan official said that this reeks of the gruesome state of the justice system under the Duterte regime, in which criminals are being absolved one after the other from the crimes they committed against the Filipino people, while peace consultants, social activists, human rights defenders, and administration critics continuously face the wrath of state persecution.
Clamor also noted how this same fate is being experienced in other countries, including Hong Kong, Venezuela, and Palestine, where tyrants continue to circumvent laws and use state machinery to suppress dissent and pacify the legitimate calls of victims and various sectors. Issues raised include unjust laws and neoliberal policies which continue to disenfranchise the poor and marginalized – concerns that are similar to those being experienced and criticized in the Philippines.
"Karapatan expresses its solidarity with the brave political prisoners around the world who suffer the unjust and inhumane consequences of standing in the line of fire. We reiterate that political prisoners are not criminals. They are courageous and exemplary individuals who did not waiver in advancing their political beliefs, regardless of the powerful forces that they are confronting. They are farmers, peasant advocates, workers, trade unionists, teachers, agriculturists, health workers, pastors, peace consultants, freedom fighters, community leaders, human rights defenders, and citizens who struggle for a better and humane society," he explained.
"The rising number of political prisoners indicates the worsening tyranny and repression in the country. Free all political prisoners! Resist tyranny! We likewise enjoin everyone to join us in the December 10 protest, in commemoration of International Human Rights Day," ended Clamor.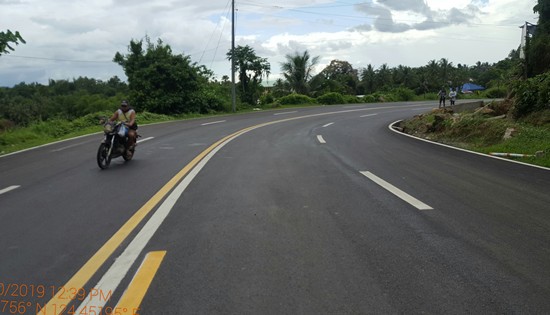 Completed P70.48M asphalt overlay project at Brgy. Lucsoon, Naval, Biliran along Naval-Caibiran Cross Country Road (NCCCR). The project was completed on November 09, 2019 under contract with B.M Marketing. It covers a total length of 5.276 lane km/ 2.6-kilometer. It also includes rehabilitation of damaged concrete road with a width of 3.05 meters, thickness of 0.28 m. and a total length of 0.117-kilometer.
P132.7M asphalt overlay project completed in Biliran
By DPWH-Biliran
December 6, 2019
NAVAL, Biliran – The Department of Public Works and Highways (DPWH) Biliran District Engineering Office (DEO) completes two asphalt overlay projects amounting to P132.7M.
David P. Adongay Jr., District Engineer said that asphalt overlays were implemented along the 2.2-kilometer road at Brgy. San Isidro in Biliran town along Biliran Circumferential Road (BCR) and at 2.6-kilometer road at Brgy. Lucsoon in Naval town along Naval-Caibiran Cross Country Road (NCCCR).
According to Adongay, the project entails the application of asphalt overlay on an existing concrete pavement with a width of 12.20 meters and a thickness of 50 mm. Rehabilitation of damaged concrete pavement was also included in the project.
Along BCR, Brgy. San Isidro, a damaged concrete pavement was improved with a length of 0.121-kilometer and 0.117-kilometer length along NCCCR, Brgy. Lucsoon, both with a width of 3.05 meters and a thickness of 0.28 m.
"The existing concrete roads paved many years ago already show signs of minor defects and when left unattended might deteriorate further," Adongay said.
The preventive maintenance project is designed to prevent further deterioration of the existing concrete pavement subjected to wear and tear of heavy equipment and vehicles.
"This project will earn the government savings in rehabilitating damaged pavement in the future," he added.
The completed project will provide a smooth riding surface for the traveling public as well as provide convenience in transporting agricultural and aquatic products to market.
NEC 2019 showcases top PH exporters, export enablers

By DTI-TPG-EMB
December 6, 2019
MAKATI CITY – The Department of Trade and Industry (DTI) through its Export Marketing Bureau (EMB), together with Export Development Council (EDC) and Philippine Exporters Confederation, Inc. (Philexport), recognized the top Philippine companies for their noteworthy export performance in 2018 during the National Export Congress (NEC) held at the Philippine International Convention Center (PICC) in Pasay City on December 06, 2019.
Also, DTI-EMB and Center for International Trade Expositions & Missions (CITEM) collaborated for the Export Enablers Exhibit which showcased trade regulatory government agencies, financial institutions, and private organizations.
The top exporters were acknowledged based on their track record, excellence, and innovation in the delivery of services. Their grit to achieve success and persistence to make Filipino products be globally competitive has contributed to the country's export revenue.
DTI Secretary Ramon M. Lopez, DTI-Trade Promotions Group (TPG) and Special Concerns Undersecretary Abdulgani M. Macatoman, DTI-EMB Director Senen M. Perlada, Philippine Exporters Confederation, Inc. (Philexport) President Sergio R. Ortiz-Luis Jr., Philippine Chamber of Commerce & Industry (PCCI) Chairman George T. Barcelon, and DTI Assistant Secretary Angelo B. Taningco presented the awards to 21 exemplary exporters of the country.
This year's Hall of Fame Awardee is Nestle Philippines, Inc. for Processed Food and Beverages. The Hall of Fame Award is given to exporters who were awarded consistently as Top Export Performers in the last three consecutive years.
The Top Sectoral Exporters Award were given to Amkor Technology Philippines Inc. for Electronics; B/E Aerospace B.V. (Philippine Branch) for Machinery and Transport Equipment; Lear Automotive Services (Netherlands) B.V. (Philippine branch) for Motor Vehicle Parts (Ignition Wiring Sets); Petron Corporation for Chemicals; Sumifru (Philippines) Corporation for Fresh Fruits; Platinum Group Metals Corporation for Minerals; and Cargill Oil Mills Philippines, Inc. for Coconut Oil.
Other awardees were L&T International Group Philippines, Inc. for Apparel and Clothing Accessories; Nestle Philippines, Inc. for Processed Food and Beverages; SCAD Services PTE. Ltd. for Woodcrafts (Builder's Woodworks); FPF Corporation for Travel Goods and Handbags; and Millenium Ocean Star Corporation for Fish Shrimps and Prawns/Fresh or Preserved.
Moreover, the Excellence Award for Services Sectors were awarded to Synergy88 Group of Companies for Animation Services; Suyen Corporation (Bench) for Franchising Services; GameOps, Inc. for Game Development Services; ADEC innovations, Inc. for IT-BPM Services (Knowledge Process Outsourcing); and Alliance Software, Inc. for IT Services (Software Development).
The Excellence Award for Services Sectors is given to exporters who were excellent in their respective fields and have shown a praiseworthy contribution to the industry.
Furthermore, the Most Outstanding Ripples Plus Awards were conferred to Primex Coco Products for Luzon; Profood International Corporation for Visayas; and PHILBEST Canning Corporation for Mindanao.
The Most Outstanding Ripples Plus Award was based on Philippine Statistics Authority's (PSA) ranking for micro, small, and medium enterprises (MSMEs). This is also a recognition of these exporters' remarkable success in penetrating global markets.
The exporters' recognition aims to inspire the country's exporting community to continuously innovate and improve. It is also to acknowledge their hard work and a testimony of the robust partnership of the government and the private sector in pursuing inclusive growth and improving the exports' development through innovation.
Meanwhile, in line with the NEC's theme "Driving Exports through Digital Transformation," the organizers featured the services of the following organizations during the Export Enablers Exhibition held simultaneously with the NEC at the Mezzanine of the Plenary Hall PICC: Bangko Sentral ng Pilipinas (BSP), Board of Investments (BOI), Bureau of Fisheries and Aquatic Resources (BFAR), Bureau of Import Services (BIS), Bureau of Internal Revenue (BIR), CITEM, Cobena, and DTI-EMB / 1Export Trade and Services Inc.
Also featured were FedEx Express, Food and Drugs Administration (FDA), Highly Succeed, Inc. Intellectual Property Office of the Philippines (IPOPHIL), Keepr Storage PH, Landbank of the Philippines (LBP), Optical Media Board (OMB), Philippine Coconut Authority (PCA), PHILEXPORT, Philippine Fiber Industry Development Authority (PHILFIDA), Philippine International Trading Corporation (PITC), Philippine Trade Training Center (PTTC), Small Business Corporation (SBCorp), Strategic Trade Management Office (STMO), UnionBank | UBX, Vesl, and World Trade Center (WTC).
The NEC is the highlight event of the National Exporters' Week (NEW). Every first week of December is the annual celebration of the NEW per presidential proclamation 931, Series 0f 1996 and House Resolution 33. It highlights the government and the private sector's commitment to continuously work together to sustain export promotion and development.
Villar's capitalistic views have no place in public service – ACT
ACT Press Release
December 6, 2019
QUEZON CITY – Appalled by Senator Cynthia Villar's statement yesterday about closing down small and 'underperforming' schools, the Alliance of Concerned Teachers (ACT) Philippines questioned the senator's 'integrity in holding a public post.'
"It is unbelievable for such irresponsible and anti-student comment to come from one of the top officials in the land who is expected to uphold the Constitution, which outrightly mandates the State's responsibility to provide free, quality education to all Filipinos," lamented Joselyn Martinez, ACT Chairperson.
Media reported that Sen. Villar gave the comment in reaction to the country's poor performance in the 2018 Programme for International Student Assessment (PISA). Martinez chided the senator, saying that such 'capitalistic view that reward is the ultimate driving force of man has no place in public service.'
"It is a big insult to our teachers who sacrifice daily to teach despite wanting state support, not because of what they will get in exchange, but out of their real love for Filipino children and genuine sense of public service," Martinez stated.
Martinez asserted that schools should be erected wherever Filipino children are as their right to education needs to be fulfilled by the state. In stark comparison to Villar's proposal, which Martinez said is 'tantamount to depriving Filipino children of their right to education, especially those in the far-flung areas.'
"Sen Villar's comment shows of her sheer ignorance of the problems that beset the public education system and her unfortunate refusal to be part of the solution. As a Senator, she could have pushed for higher budget to education, substantial pay hike for teachers, review of the education curriculum, and other reforms that would improve the quality of education," Martinez said.
Martinez stressed that the declining quality of education is not due to teachers' and students' lacking drive to excel but due to problems on government subsidy, efficient implementation of programs, creation of enabling environment, and the curriculum's orientation, content, and direction.
"We challenge Sen. Villar to spend a month teaching in a far-flung barrio for her to see the sacrifices of teachers and how eager our students are to learn. While at it, she can also join the communities in planting crops so that she may correct her many misconceptions on farmers," dared Martinez.
The comment referred to the remark Villar made at the heat of the protests over her authored Rice Tarrification Law about how farmers are asking too high a price for palay when a five-peso-per-kilo income should be enough for them.
New paved road connects 3 barangays in Almagro, Samar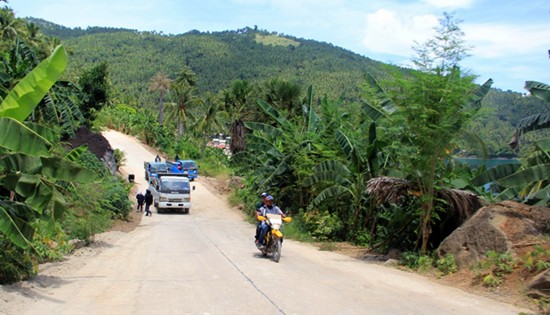 By CHENZI MAY D. UY
December 5, 2019
CALBAYOG CITY – The road construction project linking barangays Lunang I, Lunang II, and Talahid in Almagro, Samar, is now complete. The finished pavement extends over a total length of 2,469 meters, approaching the barangay of Costa Rica.
According to the Department of Public Works and Highways, the road is part of a bigger circumferential road construction project in the island municipality.
As it is built on the inner mountainous side of the island, riprap slope protection was built into the road for stability. Drainage canals were also built to keep the pavement flood free and safe to use even in heavy rainfall.
At six (6) meters wide, the new road offers greater mobility and ease of traffic for motorists. Although there aren't too many vehicles in Almagro at present, the provision of a wide road ensures the thoroughfare will accommodate future growth in vehicle population.
The road will also help local tourism. Some of the island's budding tourist attractions include an exotic diving resort in Keriketi, a museum of endangered species, caves, rock formation, and an iconic lighthouse.
The P50-million project benefits not only the barangays it covers but also the island municipality as a whole.
20IB and LGU Gamay, Northern Samar showcases resiliency against calamities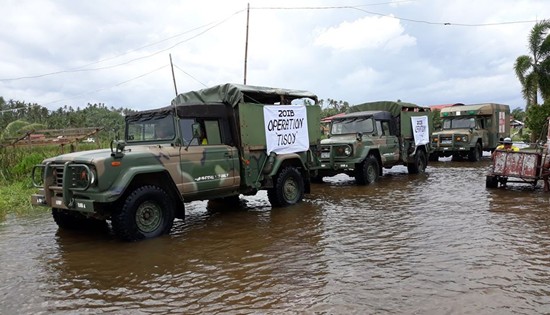 By DPAO, 8ID PA
December 5, 2019
CAMP LUKBAN, Catbalogan, Samar – The 20th Infantry (We Lead) Battalion of the 8th Infantry (Stormtroopers) Division once again demonstrated its being the protector of the people in its area of operations that include Northern Samar as the unit conducted Disaster Rescue and Relief Operations (DRRO) during the onslaught of Tropical Storm "Tisoy" on December 2, 2019.
"We Lead" troopers responded to the call of duty by augmenting the Municipal Disaster Risk Reduction and Management Office (MDRRMO) and Peace, Law Enforcement and Development Support (PLEDS) Cluster both of Gamay Municipal Task Force to End Local Communist Armed Conflict (MTF-ELCAC) in Northern Samar and rescued 216 families who were trapped by the flash floods caused by intermittent rains, thereby preventing any casualty in the area.
The Humanitarian Assistance and Disaster Response (HADR) operations of 20IB and Local Government Unit (LGU) Gamay, Northern Samar dubbed as "Operation Tisoy" includes rescue and relief operations as well as immediate road clearing operations which is still ongoing as of this report.
"The lessons taught by Super Typhoon "Yolanda" six years ago, made us more resilient, empowered and proactive to withstand disasters that might befall upon us anytime. The mitigation measures being implemented by the LGU through its Local Disaster Risk Reduction and Management Office and the military with the cooperation of the local residents prevented the loss of lives, limbs and properties" Major General Pio Q. Diñoso III, Commander of 8th Infantry (Stormtroopers) Division said.
DOLE gives early Christmas gifts to 100 child laborers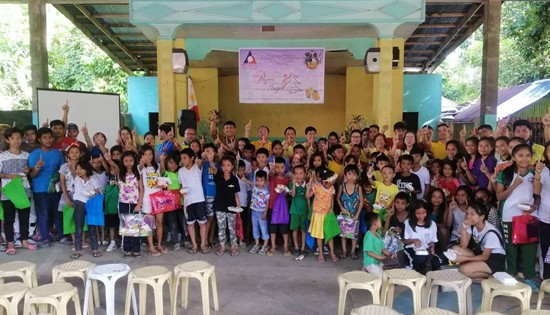 By NORMA RAE S. COSTIMIANO
November 29, 2019
TACLOBAN CITY – Christmas came early for one hundred child laborers as they received gifts from the Department of Labor and Employment Regional Office VIII through the Project Angel Tree conducted on November 28, 2019 in Hilongos, Leyte.
With the theme, "Children should not work in fields, but on dreams", DOLE RO VIII in coordination with the local government unit of Hilongos, gave away different school supplies as early Christmas gifts.
Mr. Virgilio A. Doroja, Jr., DOLE Senior Labor and Employment Officer and regional focal for Child Labor Prevention and Elimination Program (CLPEP) gladly shared during the occasion that Project Angel Tree, one of the components of CLPEP, aims to improve the economic and social conditions of child laborers and their families.
"Through this Project Angel Tree, we at DOLE are hoping to assist our child laborers and help them leave the bondage of child labor. Aside from these school supplies, we are also providing assistance to their parents in the form of livelihood", said Mr. Doroja.
Mr. Doroja likewise informed that the parents of the identified child laborers were organized as a group for them to avail livelihood grants from DOLE.
"The assistance doesn't end with the gift-giving. We have organized their parents into a group and provided them orientation on our livelihood program. With the provision of livelihood we hope to augment the income of their families, so that this children will no longer work but concentrate on their studies", Mr. Doroja added.
Project Angel Tree is a component of the DOLE Child Labor Prevention and Elimination Program which provides an array of social services that range from food, clothing, educational assistance or school supplies, and even work and training opportunities made available by sponsors or benefactors ('angels') to child laborers and their families.