Eastern Samar observes Magellan landing at Homonhon
By Philippine Information Agency (PIA 8)
March 14, 2008
TACLOBAN CITY, Leyte – The entire province of Eastern Samar will celebrate the Magellan Landing at Homonhon Island in the municipality of Guiuan on March 16, 2008 with a mass, a re-enactment and program, Guiuan Mayor Analiza Kwan disclosed.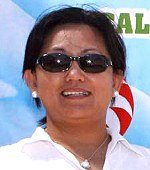 Mayor Analiza Kwan
Mayor Kwan said that the commemorative program will be held at the Landing site with all the 8 barangays in Homonhon Island and 1 barangay of Suluan participating. A Barrio Fiesta will follow, Mayor Kwan said.
The observance of the anniversary of Magellan Landing started Thursday, March 13, Mayor Kwan said, with the opening of Exhibits at the Guiuan Plaza. The exhibit is an array of the best products of Guiuan and the various municipalities of Eastern Samar.
On March 15, a Medical and Dental Mission will be conducted at Homonhon, Mayor Kwan quipped. Other activities are the Search for Miss Homonhon and other cultural activities.
Finally, on March 16, the activities will start with the offering of the Holy Mass and will be followed by a re-enactment of Magellan Landing and the commemorative program.
Eastern Samar had been a significant backdrop of the country's rich colonial history through the island of Homonhon, where Ferdinand Magellan first set foot on Philippine soil in 1521 on his way to conquer the Philippines for the western world.
In his account, Pigafetta, the chronicler aboard Magellan's ship, describes the island of Humumu, now Homonhon, as so: "We found two fountains of very clear water, we called it the `Waters of Good Signs,' having found the first sign of gold in the said island. There also can be found much white coral and tall trees that bear fruits smaller than an almond and look like pines. There were also many palm trees, some of the good kind, some of the bad. Thereabouts are many neighboring islands. Hence, we called them the St. Lazarus Archipelago because we stayed there on the day and feast of St. Lazarus."
Kalahi Provincial Inter-Agency Committee outlines three pressing unmet needs in Samar
By NINFA B. QUIRANTE (PIA Samar)
March 14, 2008
CATBALOGAN CITY, Samar – The first ever Kalahi-CIDDS Provincial Inter-Agency Committee (PIAC) has outlined three basic unmet needs that Samar folks bear.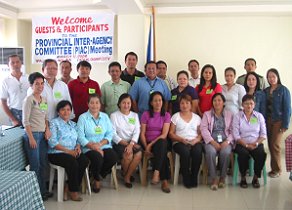 In the presentation of the Kalahi-CIDDS Regional Project Manager Celeste Madlos said that Samar folks have very limited or no access to potable drinking water, have very low income and have less education.
During the first ever PIAC meeting held Tuesday at Waling-Waling Inn Catbalogan City, Madlos lamented over the gripping reality that faces an average Samareño.
The lady manager said that since the inception of Kalahi in Samar, her team has observed the three unmet needs. She posed the challenge to the group that some 6-12 year old children are not in the elementary schools and that 13-16 year old teeners are also not in school.
She said that it is impossible to think that the people do not have access to potable water because anyone can observe that public faucets are seen everywhere, maybe she said the families do not boil their drinking water.
As to the issue of children not being in school, she said that school up to the secondary level is free and wonders why families do not send their children to school.
She urged the 'good men and women' of Samar to help Kalahi realize its noble aim of poverty reduction in the province.
Whereas, the country's poverty ranking rate is 26.9% in 2006 and Region 8 has increased from 35.3% in 2003 to 40.7% in 2006, in the data presented, Samar's poverty incidence has worsened from 38.7% in 2003 to 40.2% also in 2006.
Madlos said that although Kalahi is not a 'matching type' of project where the unmet needs are immediately answered, still, she said that Kalahi through the grant and the local counterpart of the MLGUs and the barangays have constructed 70 water systems as of this writing.
Other projects include day care center, pathways, farm to market road (FRM), drainage, bridges and other physical structures in the barangay deemed necessary.
Five municipalities including Paranas, Pinabacdao, Sta. Margarita, Sta. Rita and Tarangan are Kalahi areas.
Of these, it is Pinabacdao which has the most number of sub-projects numbering to 37 which are now completed. Pinabacdao enrolled in Kalahi in 2003. The latest municipality to join the project is Villareal which replaced Zumarraga that has disengaged from the program.
Madlos posed a challenge to the group to support in sustaining the project. Although a bit discouraged by the seeming indifference of the Provincial Government of Samar as gleaned from its zero counterpart, Madlos said, she is not giving up.
"We never give up in terms of development," the lady manager boldly announced.
Further, the lady urged the department heads present, including some Non-government organizations (NGO) and the civil society to become a showcase of convergence; drumbeat the programs on poverty alleviation and to meet regularly and be one with them in the administration's flagship program of fighting poverty.
Leyte gave P2.4M for EVRAA delegates, hopes to retain championship crown
By Provincial Media Relations Center (PMRC Leyte)
March 14, 2008
TACLOBAN CITY, Leyte – In a bid to retain its championship crown both in the elementary and high school level won during last year's regional sports meet in Baybay City, the provincial government of Leyte is shelling out P2.4 million for athletes, coaches and officials to this year's Eastern Visayas Regional Athletics Association (EVRAA) Meet.
The whole Leyte delegation would be about 1,000 in all who would vie in the different field of sports at the EVRAA Meet in Catarman, Northern Samar on March 24-28, 2008.
Leyte Governor Carlos Jericho Petilla said the amount shows the province's full support in honing the sports skills of the young people in the province and as a way of showing gratitude for representing the province well in such sports competitions.
For the part of the provincial government, the governor added that developing sports talents is among the thrust of his administration in the likes of the conduct of the Leyte Boxing IDOL, hoping to discover local talents who may be properly trained to compete in the national sports arena and even in the international scene.
During the Leyte Division Meet in Babatngon, Leyte in December, the governor to give out cash incentives to Leyte's athletes who would win gold medals in the Eastern Visayas Regional Athletic Association Meet.
He said, he wanted the cash incentive to serve as an inspiration for the athletes to work harder in polishing their competitive sports talents and in maintaining discipline in their chosen field.
"It's the least we can do to promote our sports activities in the province," Gov. Petilla said.
New power rate increase is a mess – Evardone
By ALICE NICART (PIA Eastern Samar)
March 13, 2008
BORONGAN CITY, Eastern Samar – In an apparent concern for his constituents Governor Ben Evardone expressed disgust over ESAMELCO's hazy explanation why in the midst of a recent natural calamity, it would ever gather enough guts so as to increase the monthly billing for electric consumption as indicated in a notice it fielded last week.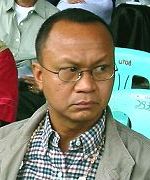 Governor Ben Evardone
James Hopp, Board Chairman of the electric cooperative however, tried hard enough to convince the Governor, the mayors and the rest of the Provincial Development Council (PDC) members in an urgent meeting Tuesday, but he seemingly did not achieve his purpose.
San Julian Mayor Jorge Erroba detailed his strong accusation that ESAMELCO effected such an unexpected increase but he also jokingly relayed the stern warning of his barangay captains who said: should a line man comes to disconnect their line for unpaid dues with the exorbitant increase, the same will suffer a "civilian attack".
Also, Mayor Javier Zacate, President of Mayors League, questioned ESAMELCO for not conducting massive information campaigns or at least hold public consultations prior to their notice of the 124% increase.
Dolores Mayor Emiliana Villacarillo cited that for her January bill, she paid some P1,300 but with the new rate she is charged P2,850 which is more than doubled.
"It is such a great confusion," the lady Mayor exclaimed. "During this period when I was charged more, I was on a vacation outside the province and the refrigerator was unplugged; I really wonder how did it happen," Mayor Ewit wondered. She also said, that ESAMELCO people should make up their minds, otherwise, many will prefer to have their electric connections cut off, as they might opt for some more basic and urgent needs.
Hopp argued that the increase is a result of the P6.7M rental that TRANSCO is charging the electric cooperative. He said though, that he has cautioned the ESAMELCO Finance Department to make some preparations for the acceptance of the paying public, but apparently they did not heed to his story and instead pursued their intent and passed on the financial burden to the consumers just the same.
In order to settle things up, Gov. Evardone decreed that in the next PDC meeting which he is calling for next week (again) top managers of ESAMELCO must be in attendance for them to tell clear and definite answers. He also appealed for a temporary suspension in paying for the increased rate, and instead, only the previous rate should be paid.
Mayor Toytoy Germino of Can-avid, short to cool down the hot discussion suggested that it will be better if the P6.7M TRANSCO billing to ESAMELCO will be condoned saying that the province has just gone through a difficult situation as a result of the massive flooding.
Samar firefighters prove mettle on a 6-hour fire incident in Samar's capital city
By NINFA B. QUIRANTE (PIA Samar)
March 13, 2008
CATBALOGAN CITY, Samar – The team of Catbalogan City firefighters prove their mettle as they engaged in a firefighting operation that lasted for six hours.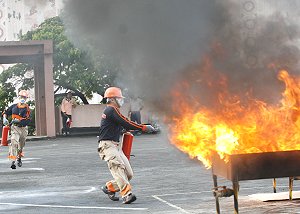 This drill is part of the preparation for the fire prevention month. (photo by REY BANIQUET)
Based on a spot report filed by John Castillo, duty investigator, it read that the fire call was tapped by one Reuben Yboa at about 12:00 midnight of March 11, 2008.
It was the Catbalogan Shopping Center located at Rizal Avenue, Catbalogan City which was on fire. Razed is a concrete three-storey building owned by Mike Mendoza.
The report added that fire trucks from Paranas and the Catbalogan Chinese Volunteer Fire Brigade also aided the firefighters in the operation.
However as of this time, the cause of fire and estimated damage is not yet known. No casualty and no one was injured in the incident.
Artemio Tabaranza, City Fire Marshall when interviewed said that he seeks new firefighting equipments to anticipate the city's booming businesses. If he would be asked, he said he would request for an aerial ladder truck to anticipate for high rise buildings in the new city.
He added that he would also request for hand held radio for better coordination and communication with those in the fire scene and the other firefighters. He said he would also request for a foam proportioner equipment.
A foam proportioning system is used to mix firefighting foam with a stream of water, when the foam extinguisher solution is delivered, it generates a foam which effectively extinguishes the flames of chemical and petroleum fires as well as Class A materials which would otherwise not be effectively extinguished by the application of water alone.
Tabaranza said he received a call then in October of last year from the city budget department asking him of his needs. It was then when he enumerated the things he needed.
However, up to now his office has not received any of those he requested.
In a call to the city hall, PIA learned that Mayor Coefredo Uy is in Manila and that OIC Perfecta Sabenicio was in charge.
Subsequent call to Sabenicio yielded negative results as she said she does not remember exactly the allocation the Sanggunian had for the fire department.
When PIA called the budget department, an employee said that a meager P75,000 a year is allocated to the city fire department.
Meanwhile, the city fire department said that this March being a fire prevention month, the department has done a kick off motorcade on March 1 and drumbeat the theme: Prevent fire, be informed, be prepared!
Tabaranza also said that they are conducting lectures in schools and offices about fire prevention for the whole month of March.
Come March 28, his staff would participate in a Fire Olympics in Tacloban City where his group's mettle would again be put to test.
Federation of Fil-Chi Chamber of Commerce turns-over 6 school buildings in Northern Samar
By Philippine Information Agency (PIA 8)
March 13, 2008
TACLOBAN CITY, Leyte – As a continuing fulfillment of its commitment to help in the national government's thrust to provide adequate school buildings to provide a conducive learning atmosphere for the Filipino youth, the Federation of Filipino-Chinese Chamber of Commerce and Industry, Inc., will turn-over and inaugurate six school buildings in Laoang, Northern Samar on March 13 and 14, 2008.
Mr. Henry Yaokasin, president of the Tacloban Filipino-Chinese Chamber of Commerce and Industry said that the donors and officers of the Federation from Manila will arrive at the Catarman Airport on March 13 at 7:00 o'clock in the morning.
The group will immediately travel to Laoang where the first stop will be at the University of Eastern Philippines Laoang Campus in order to inaugurate and turn-over a school building donated by Mr. And Mrs. Chua Beng Theng of Polymaster Industrial Corporation.
From there, the group will proceed at the Liceo de Bethlehem which was also donated by Mr. And Mrs. Chua Beng Theng of Polymaster Industrial Corporation.
The third school building which will be inaugurated is at theTalisay Elementary School, donated by Mr. And Mrs. Benito Cu Uy Gam of the Republic Hardware.
At Barangay Vigo, the group will turn-over a school building at Vigo Elementary School, which is also donated by Mr. And Mrs. Benito Cu Uy Gam of the Republic Hardware.
On March 14, the group will travel to Barangay Catigbian to inaugurate and turn-over a school building at the Catigbian Elementary School, donated by Linton Incorporated.
In the afternoon, another school building will be turned over at the Cabolaloan Elementary School at Barangay Cabolaloan. This school building was also donated by Linton Incorporated.
For the past five decades, the Federation has always been an advocate for corporate social responsibility. One of its major programs is the Operation: Barrio Schools, which involves the donation of two classroom buildings in areas where classrooms are needed. As the Federation's flagship project, Operation: Barrio Schools is the longest running and biggest private-sector-led development program focused on educational infrastructure.
Under the Operation: Barrio Schools, the Federation raises funds to finance the construction of standard 7x14-meter two-room school buildings. These school buildings are constructed out of donations from the officers and members of the federation and from benevolent organizations, families and individuals within the Chinese-Filipino community.