DTI encourages micro enterprises to avail of incentives under BMBE Law
By DTI-ROG
May 18, 2018
MAKATI CITY – The Department of Trade and Industry (DTI) encouraged underground micro entrepreneurs to make formal their businesses and avail incentives readily available to them through the Barangay Micro-Business Enterprise (BMBE) Law.
"We highly encourage micro enterprises to register their businesses and avail of the incentives under the BMBE Law," DTI Regional Operations Group Undersecretary Zenaida Maglaya said.
Maglaya explained that micro enterprises who have registered BMBEs can avail of government incentives that include exemption from payment of income tax for income arising from the operation of the enterprise, exemption from the coverage of the minimum wage law, special credit window from government financing institutions that will service financing needs of BMBEs, business assistance from other government institutions, as well as technology and marketing assistance.
Under Republic Act No. 9178 or the BMBEs Act of 2002, a micro enterprise is referred to as any business entity or enterprise engaged in the production, processing or manufacturing of products or commodities, including agro-processing, trading, and services whose total assets, excluding land, shall not be more than P3 million. Such assets shall include those arising from loans but not the land on which the plant and equipment are located.
Per statistics, 30.5% of 99.6% of total business establishments are micro enterprises (MSMEs). Micro enterprises also provide 62.8% or 2,372,678 employment to Filipinos.
BMBE certificates are registered free of charge at the Department of Trade and Industry (DTI) offices or Negosyo Centers. To date, there are over 800 Negosyo Centers nationwide that assist micro enterprises to facilitate BMBE applicants.
A total of 28,531 micro enterprises have registered under BMBE as of April 31, 2018 since DTI started accepting applications in January 2016.
Maglaya said formalization of business will not only help the entrepreneur but will also provide benefits to business and employment to Filipinos, which, in turn, will spur economic activities in the countryside.
The DTI issued Department Administrative Order (DAO) No. 16-01 last April 22, 2016 which provides guidelines on registering BMBEs at Negosyo Centers. Under DAO 16-01, DTI is the sole agency which shall issue a Certificate of Authority (CA) to registered BMBEs at Negosyo Centers or at DTI offices.
Prior to the issuance of the DAO, BMBEs must register at the city or municipal treasurer's office where the business is located.
Republic Act 9178 or the BMBE Act of 2002 recognizes the role of BMBEs as an essential driving force for the country's economic development. According to the law, BMBEs are "seedbeds of Filipino entrepreneurial talents and strengthening them would increase job generation, provide livelihood and augment Filipinos' quality of life."
P50M slope protection project completed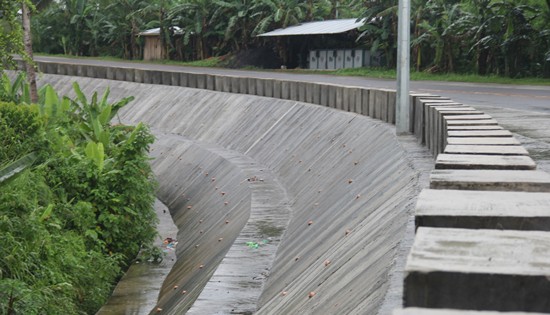 By JASON T. DELOS ANGELES
May 15, 2018
CALBAYOG CITY – The Department of Public Works and Highways -Samar First District Engineering Office completes the construction of 4,908 square meters of slope protection structures along Daang Maharlika in Rosalem, San Jorge, Samar.
It is under contract with Victoria Development and Construction Supply Corporation with a total appropriation of P50 million from the 2017 GAA fund.
Slope protection structures are designed to protect the soil surface from erosive forces and improve the stability of soil slopes that are subject to seepage or have poor soil structure.
"This project has a great benefit to us because it prevents road collapse in our area caused by the continuous heavy rains during the rainy season that weakened the soil surface," said Juley Mabahin, a resident of Rosalem.
The project is of great impact especially to the residents of Rosalem and motorists passing along the said road section since possible soil erosion landslides or collapsed of road will be prevented.
DPWH carries out P271.68M flood mitigation projects in Leyte
By DPWH-2nd LED
May 15, 2018
CARIGARA, Leyte – To elevate safety and security among flood-prone areas in Leyte, the Department of Public Works and Highways -Leyte Second District Engineering Office implemented a total of P271.68 million for Flood Control Structure projects.
Among the eight flood control projects, six are already on-going. These are the Binahaan River, Brgy. Tingib, Pastrana, Leyte worth P47.8 million; Sito Bariis, Brgy. East and West Visoria, Carigara, Leyte worth P48 million; Baliri River, Brgy. Salvacion, MacArthur, Leyte worth P36.3 million; Malirong River, Brgy. Tingib and Arabunog, Pastrana, Leyte worth P35.8 million; Himanglos River, Pob. I-II, Barugo, Leyte worth P37.9 million; and the seawall/breakwater of Poblacion Zone I, Capoocan, Leyte worth P8.2 million.
In addition, the construction of seawalls/breakwaters that will run along Balud Seawall, Capoocan, Leyte worth P6.7 million; and Brgy. San Jose-Brgy. San Rafael, Dulag, Leyte worth P50.8 million are up for realization this year.
According to District Engineer Carlos G. Veloso, these flood control projects will provide high-rise protection to the residents against storm surge and coastal flooding.
Veloso added that it is always the top priority of the department to protect and ensure safety of the people and of the community, especially those that are greatly affected by flooding during typhoon.
Moreover, the district assures the public that the projects will be completed according to the quality standards set by the department.
Army and PNP troopers recovers firearms in San Isidro, Leyte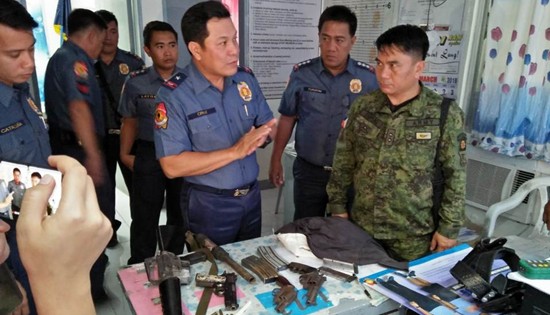 By DPAO, 8ID PA
May 14, 2018
CAMP LUKBAN, Catbalogan City – Joint troops of 78th Infantry (Warrior) Battalion, (78IB) 8th Infantry (Stormtroopers) Division, Philippine Army and Quick Reaction Team ( QRT) from Leyte Police Provincial Office (LPPO) seized high powered firearms and several war materiel at Sitio Sambalawan, Barangay Basod, San Isidro, Leyte on May 13, 2018 at 11: 35 in the morning.
According to Lt. Col. Danilo I Dupiag, Commanding Officer of 78th Infantry Battalion, while conducting ocular visit to his troops deployed in Isabel, Leyte, he received a report that the Quick Reaction Team of 2nd Company, Regional Public Safety Battalion (RPSB) of Police Regional Office VIII (PRO8) encountered undetermined number of unidentified armed men believed to be members of Private Armed Groups (PAGs) at Sitio Fortuna, Tabango, Leyte at 10 a.m. of May 13, 2018.
Troops of 78IB led by Lieutenant Jonathan R. Mayono and QRT of Leyte Police Provincial Office (LPPO) led by Police Senior Inspector Layug conducted joint pursuit operations at Sitio Sambalawan, Barangay Basod, San Isidro, Leyte. While tracking down the withdrawal route of said armed groups, they recovered one 5.56mm M16 colt rifle with serial number 4852268, one caliber 45 colt commander pistol with serial number 55682, one caliber .357 pistol with defaced serial number, one caliber .38 slub nose with defaced serial number, one improvised homemade shotgun, two empty long magazine of M16 rifle, two pieces live ammunition of 12-gauge shotgun, two loaded magazines of cal. 45 and several live ammunitions hidden under the bushes 30 meters away from the Barangay.
Lt. Col. Dupiag turned over the recovered firearms and other items to PI Gary Zaldy Ligutan, COP, MPO, San Isidro, Leyte on 4:30 p.m. of the same day in the presence of PCSupt. Gilberto DC Cruz, RD, PRO8 as part of the evidence in the filing of the case.
Maj. Gen. Raul M Farnacio AFP, Commander, 8ID expressed his appreciation to the operating troops of 78IB and PRO8 for their dedication and commitment in safeguarding the communities against Private Armed Groups while executing security preparations for the purpose of ensuring free, orderly, peaceful and credible conduct of 2018 Barangay and Sanguniang Kabataan Elections.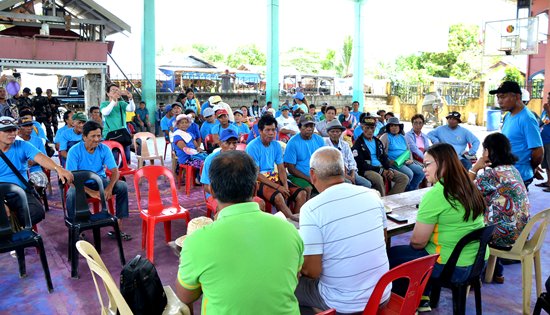 DAR officials headed by Regional Director Sheila Enciso (seated by the table, 2nd from R) brief the agrarian reform beneficiaries prior to the latter's physical installation into the former Capahi landholdings.
Agrarian beneficiaries take possession of awarded lands
By JOSE ALSMITH L. SORIA
May 11, 2018
ORMOC CITY – "Nalipay lang ko nga makabalik ko sa akong gitrabaho nga yuta." (I'm just happy to be back to the lot I was tilling.)
These were the words uttered by Clemente Arnaiz when asked why he broke into tears when the writ of execution issued by Leyte Provincial Agrarian Reform Program Officer (PARPO) Renato Badilla was read to them by sheriff, Joseph Catingub on April 24.
The writ of execution ordered the installation of the nine agrarian reform beneficiaries (ARBs) into three landholdings previously owned by Rustico Capahi.
Arnaiz, now 66, together with the eight other ARBs received their certificates of landownership award (CLOAs) from the Department of Agrarian Reform (DAR) to the above-mentioned properties two decades ago but were deprived entry by the previous landowner. According to Arnaiz, they were farmworkers in said landholdings.
DAR made several attempts to install them but failed due to strong resistance from the landowner.
On April 24, with the support of KAISAHAN, a non-government organization (NGO) assisting these farmers, the more than two decades of waiting ended when the nine ARBs were finally installed peacefully into their awarded lots under the Comprehensive Agrarian Reform Program (CARP).
DAR Regional Director Sheila Enciso, assisted by Badilla, led the physical installation of the ARBs into the three Capahi landholdings situated in Barangay Sabang Bao in this city following an agreement reached between the DAR management and the previous landowner.
According to Enciso, the landowner asked the DAR management that they be allowed to choose their retention area as stated under the law, among others.
Further, Municipal Agrarian Reform Program Officer (MARPO) Perpetua Sabaldan, who takes charge of the installation activities, disclosed that 26 more actual tillers in the three landholdings, with an aggregate area of 16 hectares, were likewise identified as potential beneficiaries.
This season, Enciso told the farmers, "you can already start tilling your respective areas", but reminded them not to forget their obligations to pay the tax as the owners now of the land.
Meanwhile, Sabaldan likewise disclosed that in September last year, 39 other ARBs were also installed into eight landholdings situated in Barangay Balion with a combined area of 36.8 hectares. The properties were also owned by the Capahis.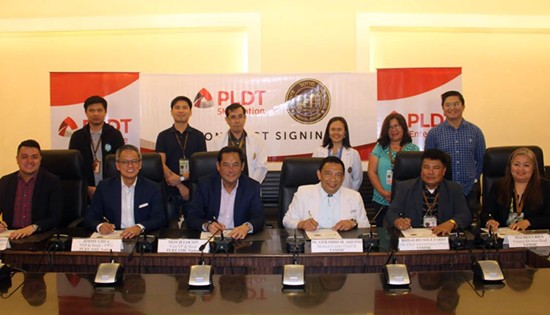 L-R: Business Head for Regional Visayas Niño Nanquil, AVP & Head for Corporate Relationship Management of PLDT SME Nation Jimmy Chua, FVP & Head of PLDT SME Nation Mitch Locsin, VSMMC Medical Center Chief II Dr. Gerardo Aquino, VSMMC OIC Chief Administration Officer Ronaldo Soletario, VSMMC Finance Division Head Maureen Bien.
PLDT SME Nation partners with VSMMC, drives digitalization of public healthcare sector
Press Release
May 11, 2018
CEBU CITY – PLDT Enterprise, the B2B arm of the country's leading ICT and digital services provider – through its small and medium business group, PLDT SME Nation – formalized its partnership with the Vicente Sotto Memorial Medical Center (VSMMC) in Cebu City, one of the country's premiere public health institutions.
Presently, the hospital serves as a treating and teaching facility for a diverse set of medical specializations and sub specializations, including internal medicine and neurosurgery. In an effort to further improve their services, VSMMC sought to upgrade their day-to-day operations through innovative technology.
With PLDT's provision of structured cabling, cloud services and premium connectivity, VSMMC's digital and communications technology capabilities are said to be comparable to most private corporations and organizations, including banks and insurance providers – signifying a promising future for the local public healthcare and service industry.
"I have to commend Dr. Aquino and the entire VSMMC management team for taking the lead in adopting digital practices to elevate their healthcare services. Even before the mandate for government agencies to move towards cloud, you were already at the forefront of disruptive medical and public service," said FVP & Head of PLDT SME Nation Mitch Locsin.
"We are honored to be part of your great leap towards a digital future and we look forward to being a part of your journey for more years to come," he added.
Dr. Gerard Aquino, Medical Center Chief II for VSMMC, said that the medical facility had chosen to partner with PLDT precisely because of its expertise in providing pertinent services and solutions. "No one wanted to believe that a public hospital could be powered by fiber optics, but I'd like to thank the PLDT Group for responding to our vision of growing into the digital world. With the company's track record as the most trusted service provider in the country, I don't think we have anything to fear throughout this period of innovation."
PLDT SME Nation continues to deliver the most up-to-date solutions, further advancing digital transformation across the country and region, in line with its mandate of nation-building.
560 pupils to benefit newly completed school buildings in Biliran
Press Release
May 10, 2018
NAVAL, Biliran – The Department of Public Works and Highways Biliran District Engineering Office (DPWH-DEO) has completed another batch of school buildings that will benefit more or less 560 pupils this coming opening of classes.
David P. Adongay, Jr., District Engineer reported that the district office has recently completed five school building projects with a total of 14 classrooms.
Under the 2017 Department of Education - Basic Educational Facilities Fund (DepEd-BEFF), Biliran DEO has been allotted a total budget of P367.6M for the implementation of 71 school buildings with a total of 210 classrooms.
Out of the 71 school building projects, 57 are now on-going while nine are Not-Yet-Started (NYS) with an overall accomplishment of 44.72% as of April 30, 2018.
Adongay said that the work activity for the nine school buildings were suspended due to the inaccessibility to the project site caused by typhoon Urduja last December, 2017.
"Yung roads papunta dun sa site hindi madaanan ng vehicles na maghaul ng materials kasi nasira nung Urduja," Adongay said.
"Hopefully, once maayos na yung kalsada, contractors will be requested to render overtime work para naman magamit ito ng ating mga estudyante sa darating na pasukan," he added.
The completion of the school building projects will provide students a place conductive to learning.
The recently completed projects are the P2.8M Construction of 1 Storey 2 Classroom (Toilet attached) at Talibong Elementary School, Cabucgayan, Biliran; Construction of 1 Storey 3 Classroom at Maurang Elementary School, Caibiran, Biliran; P3M Construction of 1 Storey 2 Classroom at Larrazabal Elementary School, Naval, Biliran; P4.4M Construction of 1 Storey 3 Classroom at Calumpang Elementary School, Naval, Biliran; and P4.5M Construction of 1 Storey 3 Classroom at Tubig Guinoo Elementary School, Kawayan, Biliran.
DPWH-Biliran DEO gears to acquire one star rating for material testing laboratory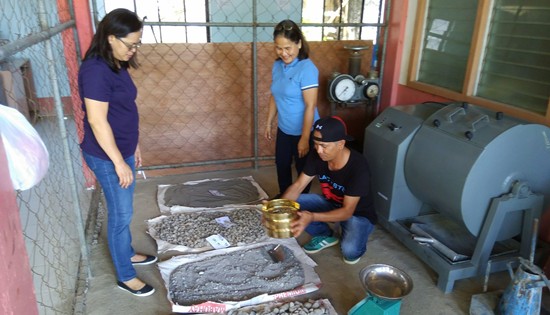 By GINISAR M. ROMERO
May 10, 2018
NAVAL, Biliran – To achieve a one star rating for the Material Testing laboratory of the Department of Public Works and Highways Biliran District Engineering Office (DPWH-BDEO), District Engineer David P. Adongay Jr. requests for a reassessment from the Bureau of Research and Standards (BRS), DPWH Central Office.
The re-assessment was conducted by Cielito C. De Guzman, Engineer IV, RDD and Susana D. Faustino, Statistician II, MTD on April 26-27, 2018 in pursuant to the Department Order No. 126 Series of 2016 (Amended to D.O. No.11) Series of 2013 - Star Rating of DPWH Regional and District Materials Testing Laboratories.
Department Order No. 11, Series of 2013 is being amended to emphasize that the Star Rating System for testing laboratories of the Regional and District Engineering Offices recognizes the need for capable laboratory technicians and Materials Engineers and complete and reliable testing apparatus/equipment.
The system classify testing laboratories into One-Star, Two-Star or Three-Star categories based on the following criteria: Availability of testing equipment and apparatus, Competence/Accreditation of Personnel, Observance of health and safety standards, Working area of the laboratory, Calibration of apparatus/equipment, Third-party certification.
All Regional and District Engineering Offices shall exert efforts to attain at least Two-Star and One-Star Rating, respectively. All laboratories with no star rating yet or with only One-Star Certification shall work towards their accreditation and/or upgrading.
"DPWH-Biliran DEO is hoping for a successful reassessment and acquire a one star rating this time," said Adongay.
The evaluation for upgrading of the star rating is conducted by the BRS only upon request by the concerned Regional/District Office and submission of proofs showing the improvements that warrant the upgrading.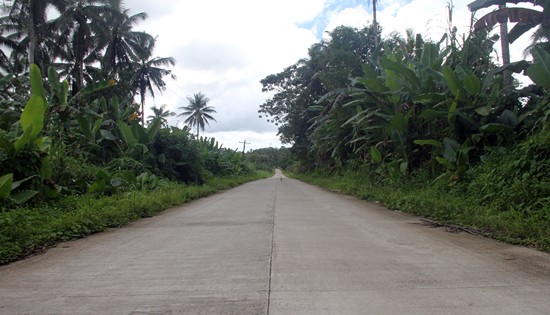 A completed road section of Gandara-Matuguinao Road.
P100-M Gandara-Matuguinao road to be completed this 2018
By MAE ANGELICA R. COMOTA
May 10, 2018
CALBAYOG CITY – DPWH Samar First District Engineering Office is set to complete the third and final phase of the road connecting the municipalities of Gandara and Matuguinao this 2018.
This project covers the concreting of 3.5 kilometers of road with 80 meters of slope protection works and 1.5 kilometers of concrete lined canal. It has an allocation of P100 million from the 2017 Payapa at Masaganang Pamayanan (PAMANA) Fund.
Considered as one of the two biggest rice-producing municipalities in the province, this road will provide faster and easier transport of goods between Gandara and Matuguinao which increases economic activity.
"Concreting of this road is part of the District office's multi-year programming. We started construction back in 2014 and as of last year, we have received a combined allocation of P270 million and over 10 kilometers of road have been concreted," said Project Engr. Allan Lanuza.
The District office will soon hold a ground breaking ceremony later this month.