DAR-8 Regional Director Sheila Enciso (4th from left), Assistant Regional Directors Ma Fe Malinao (4th from right) and Ismael Aya-ay (3rd from left) cut the ceremonial ribbon to formally open the mini-agraryo trade fair at the DAR Regional Office compound. With them are DAR provincial officials (from left) Teresita Alde (PARPO-I, Eastern Samar), Gilberto Apilado (PARPO-II, Eastern Samar), Renato Badilla (PARPO-II, Leyte), Paulina Canales (PARPO-I, Leyte) and Elisea Orapa (PARPO-II, Southern Leyte.
DAR commemorates 30 years of CARP, opens agraryo-trade fair
By JOSE ALSMITH L. SORIA
June 13, 2018
TACLOBAN CITY – A mini-agraryo-trade fair was opened on Monday morning at the Department of Agrarian Reform Regional Office compound in this city as the said agency started a four-day celebration in commemoration of the 30 years of implementation of the Comprehensive Agrarian Reform Program (CARP) in the county.
The trade fair highlights the celebration showcasing the growth of the agrarian reform beneficiaries (ARBs) from ordinary tillers to enterprising ARB organizations (ARBOs).
All five DAR provincial offices in Eastern Visayas were provided a booth for ARBOs products ranging from agricultural to handicrafts and processed foods.
Regional Director Sheila Enciso disclosed that DAR has provided more than 219,000 ARBs throughout the region with certificates of land-ownership award (CLOAs), while more than 413 ARBOs were organized into associations or cooperatives during the 30 years of CARP implementation.
Meanwhile, Assistant Regional Director for Program Beneficiaries Development (PBD) Ismael Aya-ay likewise disclosed that DAR has provided ARBs through the years with various support services such as infrastructures, common service facilities, trainings and facilitate too in availing of credit assistance.
He further disclosed that four processed food products produced by ARBOs in Leyte, Samar and Eastern Samar can now be sold on a larger scale after obtaining recently a license to operate from the Food and Drug Administration (FDA).
These are: "Banana Chips" by Omaganhan Farmers Multi-Purpose Cooperative in Tabango, Leyte; "Imbotido" by LIBERCON Multi-Purpose Cooperative in Hilongos, Leyte; "Pancit Canton" (squash and malunggay flavors) produced by San Roque Farmers Association in Daram, Samar; and "Cassava Chips" (sweet blend and garlic flavors) by ESEP ARC Cooperative in Salcedo, Eastern Samar.
On June 10, 1988, then President Corazon Aquino signed Republic Act No. 6657, otherwise known as the Comprehensive Agrarian Reform Law (CARL) to look after the welfare of the landless farmers and farmworkers to receive the highest consideration to promote social justice and to move the nation towards sound rural development and industrialization.
To commemorate the 30 years of implementation, DAR-8 kicked-off the four-day celebration thru a motorcade around the city on Monday morning and will end on Thursday by recognizing the support and contribution of various government agencies and non-government organizations during the past three decades.
This year's celebration theme is "CARP@30: DARe2change Pagbabalik tanaw sa 3 dekada ng repormang agraryo patungo sa ikalawang yugto ng pagbabago".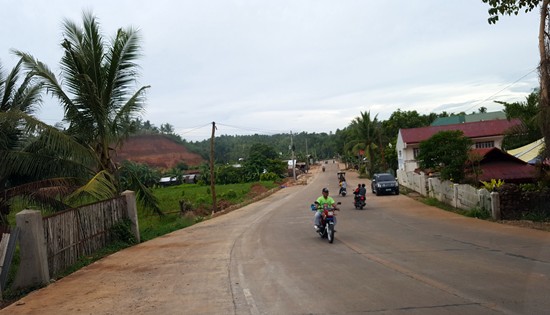 Widening of Biliran Circumferential Road (Brgy. Pulang Bato Section) is on-going with 70% accomplishment as of May 31, 2018 along with the other sections in Bilwang - Burabod, Mapuyo and Kaulanguhan. This project has a contract amount of P125M under 2017 implementation. It is target to be completed on June 30, 2018.
DPWH-Biliran DEO's 2017 projects is on-going with 74.16% accomplishment
Press Release
June 13, 2018
NAVAL, Biliran – David P. Adongay Jr., District Engineer of Biliran District Engineering Office is rushing for the completion of on-going 2017 projects.
As of May 31, 2018, the Department of Public Works and Highways (DPWH)- Biliran District Engineering Office has an accomplishment of 74.16% for 57 total projects under year 2017 infrastructure program.
Out of the 57 projects, 52 are completed while five projects with an allocation of P50M and above are still on-going.
Spilled-over projects of 2017 includes widening projects, rehabilitation of access road leading to Naval port, and Rehabilitations of Slope Protection Structures.
Having a negative slippage of 5.73% as of May 31, 2018, Adongay orders project engineers to closely monitor on the projects for fast completion.
"Hindi ibig sabihin na pag'pinabibilis natin ang trabaho ay dapat ma compromise ang quality ng project, dapat nandoon pa rin yung quality," Adongay said.
Meanwhile, Adongay informs that starting 2019, the department will be implementing a "cash-based appropriation" policy. This means that contractors' payment can only be done within a 15-month period.
"From the year the project was implemented and completed, contracts delivered at the end of the year can be paid during the 3-month Extended Payment Period (EPP) or from month of January to March only of the following year," Adongay said. This is in contrast from the present policy of the DPWH which is the "obligation-based appropriations" wherein the inspection, verification, and payment for contractors will run 24 months and beyond.
"This year 2018 is the transition period for contractors to be cognizant of the shift," he said.
According to Adongay, the shift will ensure that agencies will focus on executing the budget of the current year and not from prior years. This is part of President Rodrigo Dutere's Build, Build, and Build Program.
On the rehabilitation of Boracay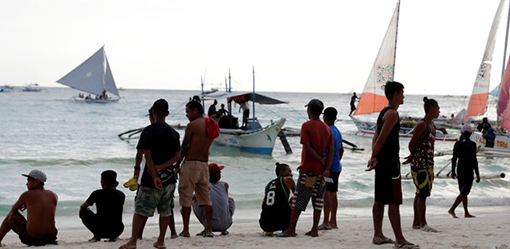 By NDFP RWC-SER
June 13, 2018
MANILA – The National Democratic Front of the Philippines Reciprocal Working Committee on Social and Economic Reforms (NDFP RWC-SER) said the Government of the Philippines (GRP) promise to carry out agrarian reform program in Boracay must start with free land distribution to farmers and indigenous people in the island.
The free land distribution component of a new agrarian reform program was agreed by both the NDFP and GRP at the RWCs-SER in the previous rounds of the peace talks.
After free land distribution, Boracay farmers should be given sufficient support services ranging from short to long-term assistance to aid them in developing and making the land productive for the local and national economy, the NDFP RWC-SER said, in response to President Duterte's remark that Boracay natives should sell their lands to big businesses.
Agrarian reform imbued with the spirit of social justice, indigenous peoples' rights, and working people's rights is the Filipino people's demand. We challenge the GRP to fast track the negotiations on CASER as when we resume formal talks this month, said Julie de Lima, chairperson of the NDFP RWC-SER.
Both parties must iron out the few remaining contentious issues and come out with a common draft for the Agrarian reform and Rural Development (ARRD) and National Industrialization and Economic Development (NIED) of the Comprehensive Agreement on Socio-Economic Reforms (CASER)," De Lima said.
She added that the Boracay case falls squarely within the ambit of agrarian reform and rural development because the GRP itself has classified a big bulk of lands at issue either as agricultural or suitable for agriculture.
A new and truly redistributive land reform program is necessary, as it would pave the way for a truly just and equitable agrarian reform to benefit the most qualified beneficiaries in Boracay "those who are actually tilling the land, or ready to till it, or to work the land in other productive ways such as agro-forestry, fishery, small-scale food processing, and the like. The Ati community, including those that have been displaced but willing to return, should be given priority. De Lima also stated that the issue of environmental justice must be served in implementing an agrarian reform program in Boracay.
In the last four decades, the environmental situation of Boracay has immensely deteriorated. The GRP agencies' aggressive and obsessive drive for tourist revenues has resulted in grievous human rights violations such as the displacement of its original occupants, the Ati community, including the killing of tribal leader Dexter Condez.
De Lima noted that there are various applicable provisions in the NDFP's CASER draft that the GRP may find enlightening. The rehabilitation of Boracay can, in fact, serve as a testing ground for the provisions of a signed agreement on agrarian reform and rural development.
NUSP: Limited slots, fees collection hound first year of free education
Press Release
June 13, 2018
QUEZON CITY – The National Union of Students of the Philippines (NUSP), a nationwide alliance of student councils, condemns the Duterte administration's maneuvers to limit the beneficiaries of free higher education.
Limited slots, facilities in public schools
"Not all Filipino youth will benefit from free education because government policy pushes state universities and colleges (SUCs) to limit the slots available for enrollees. Worse, the Duterte administration does not intend to improve campus facilities so that more students can be accommodated," said NUSP National Spokesperson Mark VIncent Lim.
In Bulacan State University, the country's third largest SUC, only 10,000 out of the 22,000 students who took the entrance exam will be accepted. Students and their parents have trooped into student council offices to seek for help regarding admission.
Last June 4, Cagayan State University (CSU) released the result of its college admission test held simultaneously in different campuses, and only about 4,750 out of 10,523 takers will be admitted by the school. Students took to the internet their grievances against the low passing rate in the said exam.
An official of CSU said that the "tough" entrance exam is required by law. "The government's reluctance to provide free education has led school administrators to impose stricter admission rules and reduce the number of beneficiaries of free education. Instead of pitting students against each other over the limited number of slots, the government must ensure access to free education by as many students as possible," said Lim.
Tuition, fees collection continue in several LUCs
NUSP also criticizes continued collection of fees amid the free education law. According to Lim, the collection of tuition and other school fees (OSF) from students of local universities and colleges (LUCs) persist as only 78 of the 107 LUCs nationwide are providing free higher education for A.Y. 2018-2019. "Many students still have to suffer from paying exorbitant and dubious fees amidst the clamor of the youth that the government immediately provide free education for all," said Lim.
In Metro Manila, students enrolled in only two (2) LUCs – Pamantasan ng Lungsod ng Maynila (PLM) and Pamantasan ng Lungsod ng Muntinlupa (PLMun) – out of 16 in the region will be granted free education. This means that thousands of students in LUCs still have to pay OSF this academic year. In the case of Pamantasan ng Lungsod ng Marikina (PLMar), students who live outside Marikina City are charged P17,000 upon enrollment.
Return Service System
Students who benefit from free higher education are required to undergo a Return Service System (RSS) wherein they are required to render pro bono service to the university through student assistantship or socio-civic activities.
"Free higher education is a right and a state obligation. It should be provided without preconditions. The government cannot understand that education must already be free and must not be paid anymore. The RSS serves as payment for the 'free education' that students are supposed to enjoy by this time," said Lim.
"As an income-generating scheme, RSS is compulsory such that students who will opt out of the RSS will be forced to pay full tuition and OSF. As a cost-cutting measure, RSS will give universities additional workforce from students who will render unpaid, forced labor. In several schools, free education beneficiaries must serve as student assistants in offices or libraries," added Lim.
Rise for education
"Apparently, the fight for free education for all continues. We call on the Duterte administration to backpedal on neoliberal policies on education that have kept millions of Filipinos out of school, and to fulfill its constitutional obligation to ensure that quality education is accessible at all levels," said Lim.
"On June 19, education advocates – students, parents, teachers, administrators, personalities, and public officials – will gather at the Rise for Education National Summit in UP Diliman to discuss the updates and prospects of our education campaign and to forge our plan of actions," he ended.
Copy-Paste: A bad practice in OPTs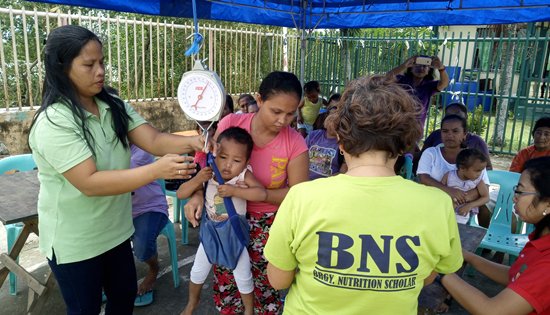 By RAY GASPAY
June 11, 2018
CATBALOGAN CITY – Copy-paste. This was the issue found and concern aired by the Municipal Nutrition Action Officers (MNAOs) of Babatngon and Capoocan, both of Leyte province, to media during the 2-day Media Caravan conducted on June 7-8, 2018 by the Harmonized Initiative of Media for the Spread of Good Nutrition in Region 8 (HIMSOG-8), a media arm of the National Nutrition Council 8.
"We do not believe that we are in the top rank of a municipality with a high prevalence of malnutrition in the region. We see the 'copy-paste' practice of some of our BNSs (Barangay Nutrition Scholars) as the culprit of this erroneous result in the OPT (Operation Timbang)", lamented the MNAOs during the open forum of the media visit.
The MNAOs argued that some of their BNSs, because of the urgency to submit their Barangay OPT result before the deadline, tend to copy the previous year's OPT result, consequently providing a wrong data entry with a higher rate of malnutrition.
When media asked that they should tell their BNS to conduct the weighing and growth monitoring activity with diligence, they claim that still some of their BNSs needs more training to perform the task well. Capoocan MNAO admitted that it is hard for her to demand better performance to her BNSs because they only received a minimal amount of P100-P300 a month honorarium from their barangay, and that her municipality cannot provide them additional pay.
In the 2017 Prevalence of Malnutrition result, Babatngon and Capoocan ranked 1 and 2 in the prevalence of stunting rate, ranked 29 and 92 in the prevalence of wasted and severely wasted, ranked 1 and 98 in the prevalence of underweight and severely underweight, and ranked 25 and 6 in the prevalence of overweight and obesity, all respectively from out of 134 municipalities in the region.
The HIMSOG-8 media caravan is an annual activity of the regional media group to visit selected municipalities in the region whose aim is to encourage LGUs to invest more and enhance its programs on nutrition. It is also a forum where issues of concern are discussed in detail, resolved or referred to the concerned office or officials for an immediate action.
This year's caravan centers more on eight (8) nutritionally depressed municipalities in the region.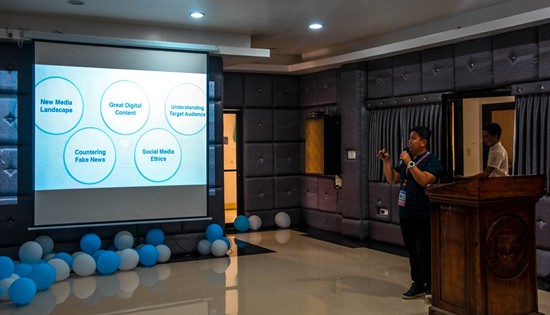 Randy Columbres, PIO staff of DPWH-RO 8, discusses the new strategy for countering fake news.
DPWH PIOs combat fake news
By BON JOSEPH N. ASTILLA
June 11, 2018
CALBAYOG CITY – In response to the proliferation of fake news, DPWH Public Information Officers (PIOs) from all over Region VIII tackle countermeasures and new media during their 2nd quarterly meeting cum workshop in Borongan City, Eastern Samar on June 7-8, 2018.
Besides from the usual news prints and radio broadcasts, there's a new media that is changing the way people across the world are entertained and consume information. These are blogs, virtual reality, online newspapers, digital games and the most popular, social media.
With more than 4 billion people using the internet for an average of 6 hours per day, going digital has become an essential part of everyday life for most. Unfortunately, this is also how fake news easily spreads.
Two years ago, "fake news" was not a term many people used but as of today, is seen as a threat. "Fake news is actually disinformation wherein the information is false and the person who is disseminating it knows it is false" said Mr. Randy Columbres, PIO staff of DPWH-Regional Office. It is an intentional lie.
As part of the strategy, PIOs are tasked to curate content in the dissemination of information. Curated content is searchable, reader-friendly, and potentially engaging because it showcases variety of thoughts and ideas melded into a central platform.
In this way, misinformation and disinformation will be avoided and it will safeguard the truth.
Traffic survey: aid for better road design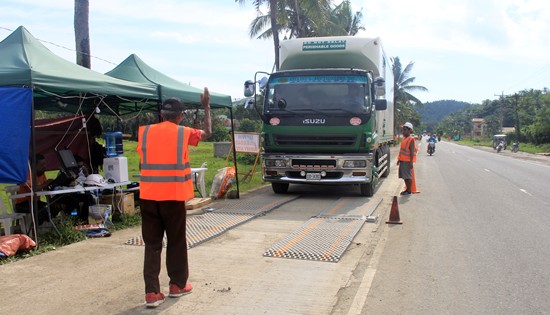 By MAE ANGELICA R. COMOTA
June 11, 2018
CALBAYOG CITY – The Department of Public Works and Highways -Samar First District Engineering Office with the Regional Office No. 8 - Road Traffic Information Applications (RTIA) Coordinator conducted the Annual Axle Load Survey along Daang Maharlika in Brgy. Cagsalaosao, Calbayog City. The survey period started from June 3 to 9, 2018.
Axle load is the total weight transmitted to the road by wheels connected to the axle of a vehicle. The axle load survey establishes load distribution and accurate forecast on traffic loading that a road will have to carry over its entire design life.
Traffic flow in the above-mentioned road section was normal as the load axle survey uses a new weighing motion scale allowing loaded trucks to be weighed without disrupting the motorists using the same road section.
A loaded truck rolls on the weighing scale while the attached monitor records the truck's gross weight and axle load. The survey team also takes note of the truck's plate number, number of seats, and load capacity.
The raw data collected will be submitted to the Regional Office for consolidation. Then, the consolidated data will be sent to the Central Office to determine the average axle load. If the average axle load is determined to be higher than established parameters, the thickness of the pavement will be revised to accommodate the change in axle load experience by the road.
Currently, the nationwide standard of thickness for pavement design is 28 centimeters.
"With Calbayog City's recent economic developments, the infrastructure needs to keep up. This survey comes at an opportune time as it will help us design and build better roads for the public," said District Engineer Alvin Ignacio.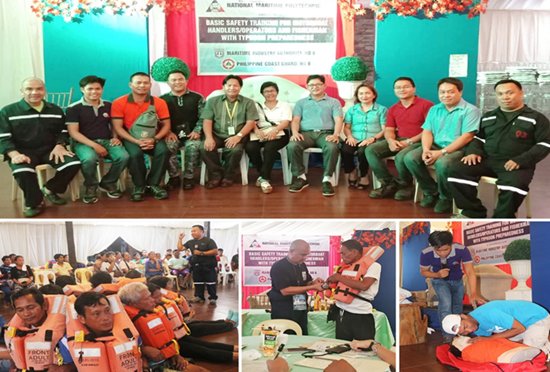 Motorboat handlers/operators and fisherfolks participate in the Basic Safety Training for MBHOF conducted by NMP in cooperation with PCG, MARINA and the LGU of Abuyog, Leyte.
156 motorboat handlers /operators /fisherfolks receive free training from NMP
Press Release
June 8, 2018
TACLOBAN CITY – The National Maritime Polytechnic (NMP), as part of its poverty-free zone program thrust, conducted for free, the Basic Safety Training for Motorboat Handlers /Operators /Fisher folks with Typhoon Preparedness (MBHOF) to one hundred fifty-six (156) motorboat handlers /operators /fisher folk's participants on 04-05 June 2018 at the Judgebar Restobar, Victory, Abuyog, Leyte. The training was held in partnership with the Philippine Coast Guard (PCG) and the Maritime Industry Authority (MARINA) Regional Office VIII.
The training was conducted taking in cognizant of the fact that maritime incidents and loss of lives are sometimes attributed to accidents involving marginalized vessels and motorboats, thus, the NMP, PCG, MARINA R.O VIII, and the local government of Abuyog realized the need to optimize its resources and harmonize its efforts to enhance the basic safety skills of the residents of Abuyog – motorboat handlers /operators and fisher folks to promote safety of life at sea.
The Basic Safety Training for MBHOF is aimed at improving the basic safety skills of local motorboat operators and fisher folks and expose them to new techniques in Personal Survival, Fire Prevention and Firefighting, Elementary First Aid and Personal Safety and Social Responsibility. Other salient topics are Rules of the Road, Typhoon Awareness and Marine Safety Requirements.
This was the first batch of graduates produced by NMP on MBHOF this year. Coordination with other LGUs in the region is currently being made for possible collaboration, thereby expanding the reach of beneficiaries for this program.
The MBHOF training is in conformity with the NMP Course Plan as approved by the Board of Trustees on 19 March 2007.
Meanwhile, NMP continues to upgrade its facilities and provide maritime trainings required pursuant to the Standards of Training, Certification, and Watchkeeping for Seafarers (STCW) Convention as amended in 2010 including value-adding courses towards improving the qualifications of Filipino seafarers for their employment acceptability and enhanced competitiveness.
Those interested to take NMP training programs may visit the NMP website (www.nm.gov.ph) and its facebook page (www.facebook.com/nmptrainingcenter) where all related information on NMP trainings are available.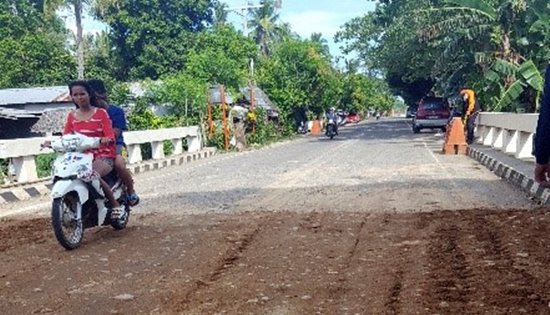 Santol Bridge along Biliran-Naval Road Section, Brgy. San Isidro, Biliran, DPWH Biliran District Engineering Office (DEO) is now preparing for the Program of Works (POW) for the restoration not only of the Santol Bridge Abutment but also of other bridges with damaged approaches and slope protection.
P64.9M fund allocated for the repair of damaged national roads and bridges in Biliran caused by typhoon Urduja
Press Release
June 6, 2018
NAVAL, Biliran – The Department of Public Works and Highways (DPWH)- Biliran District Engineering Office (DEO) received P64.9M to repair/restore damaged national roads and bridges in the province caused by typhoon Urduja.
David P. Adongay Jr., District Engineer said that the budget will be charged against the Disaster-Related and Emergency Rehabilitation Fund including National Bridges under the year 2018 General Appropriation Act (GAA), Republic Act (R.A) 10964.
"P49.1M is allocated for the repair/ restoration of 12 Bridge abutments and P15.8M for the repair/ restoration of six slope protections along the national road," said Adongay.
Biliran is one of the severely hit areas in Eastern Visayas Region during the onslaught of tropical storm Urduja on December 15-16, 2017 due to landslides and floods.
According to Adongay, preparation of Program of Works (POW) and Plans for the repair of said typhoon-damaged infrastructures is now on-going.
Slope Protection Structure subject for repair/ restoration are located at Sitio Cabradilla, Brgy. Bato, Biliran, Biliran along Biliran Circumferential Road (BCR); Slope protection along BCR, Brgy. Bato, Biliran, Biliran; Slope Protection along Naval-Caibiran Cross Country Road (NCCR) Cabadiangan Detour, Naval, Biliran; Slope Protection along NCCR, Macalpe, Brgy. Cabibihan, Caibiran, Biliran; and two Slope protections along BCR, Mokalbukal, Catmon, Naval, Biliran.
Subject for the repair/ restoration of bridge abutments are the Santol Bridge, Moog Bridge, and Busali Bridge at Biliran, Biliran; Mapuyo Bridge, Madao Bridge, Ungali Bridge and Tucdao Bridge at Kawayan, Biliran; Mapula Bridge and Mainit Bridge at Caibiran, Biliran, Talibong Bridge and Balaquid Bridge at Cabucgayan, Biliran and Bagongbong Bridge at Almeria, Biliran.
Adongay revealed that construction for the new CarayCaray Bridge and Catmon Bridge at Naval, Biliran will be included in the district's 2019 project implementation.
It can be recalled that said bridges were badly damaged during the onslaught of typhoon Urduja. These are among the major bridges that connects the province to mainland Leyte.
The Province of Biliran is one of the country's smallest provinces with a land area of 536 square kilometers and a population of 171,612 as of 2015. Formerly a sub-province of Leyte, it became an independent province in 1992.