Six-classroom building turned over to San Policarpo National High School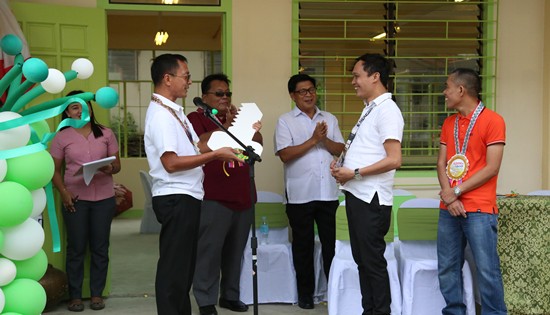 By CHENZI MAY D. UY
October 3, 2019
CALBAYOG CITY – September 11 marked the official turn-over of the recently completed two-storey, six-classroom school building to San Policarpo National High School.
After a short blessing ceremony, Department of Public Works and Highways (DPWH) Samar First District Engineer Alvin Ignacio presented the ceremonial key which was accepted by School Principal Milaner Oyo-a.
Following the minimum performance standards and specifications (MPSS) prescribed by the Department of Education, DPWH equipped the school building with a fire alarm system, automatic water sprinklers, fire escape, PWD ramp access, and sanitary restrooms. A roof-mount twin water storage tank was also installed.
San Policarpo NHS has a total of 2,395 students, 86 teaching staff and 8 non-teaching staff, all of whom will directly benefit from the addition of six ergonomic and comfortable classrooms.
DPWH believes the provision of a well-designed school building helps to enhance teaching effectiveness and student performance, hence its unwavering commitment to delivering quality educational facilities on behalf of DepEd.
2 MPBs in San Jorge, Samar nears completion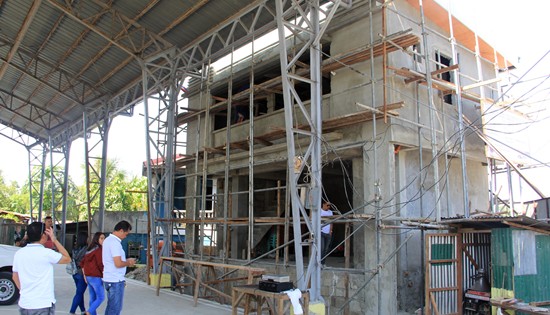 By CHENZI MAY D. UY
October 3, 2019
CALBAYOG CITY – Two multi-purpose buildings (MPBs) in San Jorge, Samar are nearing completion as of writing, according to the Department of Public Works and Highways Samar First District Engineering Office.
One of the buildings is located in barangay Aurora, amounting to 2 million pesos. The other MPB intended for Blanca Aurora Elementary School, amounts to 5 million pesos. Both projects are expected to be completed within the month.
In normal circumstances, these buildings serve as a venue for recreational, economic, social and medical mission activities. In times of calamity, they serve as a temporary evacuation center.
Traditionally, schools are used as evacuation centers. However, this practice disrupts the education of school children and places evacuees in dire conditions due to congestion.
This practice can be minimized, if not fully eradicated, with the construction of structurally sound buildings that can be used as temporary shelter in times of disaster as well as venue for local community events.
Given that typhoons are becoming a normal fixture in the lives of Filipinos, the provision of calamity-resilient MPBs addresses vulnerabilities to disaster and strengthens the resilience of local communities.

(Left photo) MOA signing with RSI; (Right photo) MOA signing with Gothong Southern Shipping Lines Inc.
NMP ties up with Roble Shipping, Inc. and Gothong Southern Shipping Lines Inc.
By National Maritime Polytechnic
October 1, 2019
TACLOBAN CITY – The National Maritime Polytechnic (NMP) forged a Memorandum of Agreement (MOA) with the Roble Shipping, Inc. (RSI) and Gothong Southern Shipping Lines Inc. last 18 September 2019.
The MOA signing with RSI conducted at the Conference Room of the Roble Shipping Office in Cebu City, aimed to address the critical issues specifically the widely reported accidents on mooring operations during docking/undocking maneuver resulting to severe injuries and even loss of lives of the vessels' crew members.
With the help of strengthening ties of cooperation and promoting exchange of information on maritime development particularly on training and research, the agreement signified a start of battling with the lack of knowledge, familiarization, experience, and poor on-board practices of crew members relative to high risk mooring operations as the common cause of the said accidents.
After the successful collaboration of RSI with NMP, last 28 March 2018 a Pilot Class on Safe Mooring Practices was conducted with twenty-four (24) participants.
Further, determining its positive impact to the staff and crew of RSI, the latter requested that the conduct of the course be continuously done for the benefit of the rest of their employees following a calendar of activities to be prepared by the RSI.
Accordingly, in its desire to increase awareness on safe and effective operation of a vessel crane, the Gothong Southern Shipping Lines Inc. collaborated with NMP to develop a company-specific course on Vessel Crane Operation.
In view of reports showing the majority of crane-related accidents caused by human error which may have resulted in safety risks and uncontrollable lost time, a proper training and familiarization with the operating instructions of the equipment is needed to obtain the knowledge and understanding on the principles and safety practices concerning vessel operation.
The MOA signing was conducted at the Gothong Southern Shipping Lines Inc. office in Cebu City with the agreement to have the course pilot tested at the Gothong Southern Office in Cebu City.
Meanwhile, the course is open to other companies and general public who may take interest in forging a MOA with NMP.
Likewise, to further strengthen cooperation toward developing and improving the quality of training programs offered for seafarers in the domestic trade, the NMP continues to develop STCW and value-adding courses as it is mandated to train and update the country's maritime manpower through the conduct of upgrading, specialized, and safety training courses.
Those interested in NMP research undertakings may visit the NMP website (www.nmp.gov.ph) and access the e-Research Information System Portal which is designed to disseminate NMP completed researches, present the Research Agenda and engage the industry stakeholders to collaborate in the research activities.
Army encounters NPA Terrorist anew, captures high powered firearms
By 802nd Infantry Brigade, 8ID PA
September 30, 2019
ORMOC CITY, Leyte – Operating troops from 93IB based in Brgy, Aguiting, Kananga, Leyte had a 10-minute fire fight with remnants of the Communist Terrorist Group of FRONT 41, SRC LEVOX, EVRPC in Brgy, Caghalo, Carigara, Leyte early this morning September 30, 2019.
Lieutenant Colonel Roberto Q Beatisula stated that they have been receiving reports from the communities in Carigara, Leyte for the previous weeks thus, they initiated focused military operations in the area.
Lieutenant Colonel Beatisula states that "we have monitored the NPA presence in the area with the help of the populace. This indicates that our people have enough of the terrorism of the NPA and wanted to have peace in their communities. Their disgust led them to report NPA terrorist presence in their barangay".
The encounter resulted to the capture of War Materiel including: 1-M16 Rifle, 2-M1 Garand Rifles, 2- M1 Carbine Rifles, 1- Improvised Shot Gun, 1-Hand Grenade an improvise explosives, Bandolier with Magazines for M16 Rifles and Carbine Rifle and some personal effects of the fleeing enemy.
He added that while there was no casualty on the government troops, the operating troops are still pursuing the NPA members who fled from the site whom he believes, are wounded based on the bloodstains in the encounter site.
Meanwhile Brigadier General Lope C Dagoy, Brigade Commander 802nd Infantry Brigade, Philippine Army said " This encounter speaks of the Army's commitment to end the insurgency here in Leyte. These communists have no place in the peace-loving people of Carigara.
I encourage you to heed the call of the communities, lay down your arms and avail of the enhanced comprehensive local integration program (E-CLIP) of the government before you will get killed in combat.
For those who are wounded due to this encounter, you have a choice, surrender, or die alone. I am sure your comrades have left you as they fled the area, the government is extending its hand for you to return to the folds of law, it is not too late for you to go back and be with your family" "We will actively support the program of the government to peacefully resolve all armed conflicts against peace loving people of Leyte, Southern Leyte and Biliran Let us condemn those who advocate violence and use arms," Dagoy added.
KBP, DILG lead Eastern Visayas Oplan Broadcastreeing 2019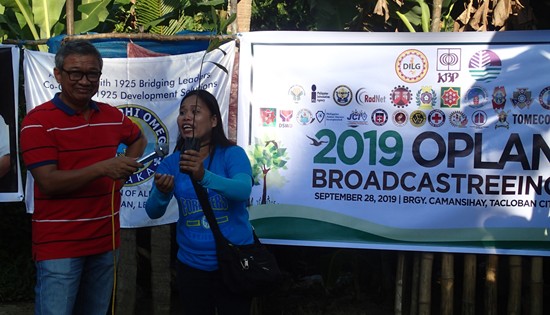 By MYLES JOSEPH E. COLASITO
September 28, 2019
TACLOBAN CITY – About 1,300 seedlings were planted by an estimated 600 volunteers led by the Kapisanan ng mga Brodkaster ng Pilipinas (KBP) and the Department of the Interior and Local Government (DILG) in the 2019 Oplan BroadcasTreeing Project held on September 28, 2019 in Barangay 98, Camansihay, Tacloban City.
The level and quality of involvement of participants was an improvement from the previous years, remarked Forester Jennifer Lamoste of the Community Environment and Natural Resources Office (CENRO) in Palo, Leyte. "The activity this year was participated by more sectors and many closely followed the instructions on how to plant the seedlings properly," she said.
The seedlings consisted of 1,000 Yakal, Bayok and Bunglas varieties from DENR Regional Office, 200 similar hardwood seedlings from CENRO Palo and 100 Pili seedlings from Department of Agriculture Regional Office.
A short program preceded the tree planting to ensure that participants understood and appreciated the importance of ensuring that the seedlings would survive. Punong Barangay Alejandro Reataza Jr. in his welcome remarks thanked participants for helping populate the hilly forest in their barangay.
On the other hand, the messages from DILG-8 Regional Director Artemio Cañeja, KBP Eastern Visayas Chairman Danilo Requiez, DMO III Alexander Casco (representing DENR Regional Director Atty. Crizaldy Barcelo) and Camansihay Upland Developers Association (CUDA) President Adam Esmerez centered on the need for sustained aftercare as part of the shift toward tree growing.
KBP Member stations that were represented include DYDR/PRTV 12 Tacloban; DYVL Aksyon Radyo; RMN Tacloban; Bombo Radyo Tacloban; DYTM Love Radio; DYCJ One FM; Magik FM; IBC-6/DYMP; DYFE FM; ABS-CBN Channel 2 Tacloban and MOR Tacloban.
Groups which joined this year's Oplan Broadcastreeing included the Philippine National Police Regional Office; Tacloban City Police Office; DENR Regional and CENRO-Palo offices; DILG Region 8; Department of Agriculture; 93rd Infantry Battalion and Army 546th Engineering Construction Battalion both under the 8th Infantry Division of the Philippine Army; Police officers undergoing the Officers Basic Course of the Philippine Public Safety College; Philippine Information Agency; Bureau of Fire Protection; Junior Jaycees; Tau Gamma Phi; University of the Philippines Runggiyan; Alpha Phi Omega; Philippine Red Cross; barangay officials and residents of Barangay 98 Camansihay, Tacloban; Leyte Province; CUDA; TACRU; Leo Club; Kilusang Pagbabago Tacloban; RADNET 5; Tacloban City Government and Alpha Mu Omega.
Oplan Broadcastreeing owes its start to a 2011 Memorandum of Agreement between KBP and DILG to support the National Greening Program. Since then, over 36,000 trees have been planted in Eastern Visayas through the activity. Oplan Broadcastreeing has been held annually in the region except in 2014, the year after Typhoon Yolanda struck.
Government troops encounter terrorist NPA in Mahaplag, Leyte; One high powered firearm recovered
By DPAO, 8ID PA
September 27, 2019
CAMP LUKBAN, Catbalogan City – Government troops under 78th Infantry (Warrior) Battalion, 8th Infantry (Stormtroopers) Division, Philippine Army encountered more or less 15 Communist New People's Army terrorists at Sitio Tay- ong , Brgy. Pinamunoan, Mahaplag, Leyte on September 27, 2019 at 7:40AM.
Initial report reaching this Headquarters, stated that the troops were responding to the veracity of information provided by the populace on the presence of an armed group rummaging for food and conducting extortion in the outskirts of the aforesaid barangay. Through a deliberately planned operation, the 78IB Warriors caught up on the NPA group. Thus, the firefight lasted for about 20 minutes that resulted in the recovery of following: one (1) M16A1 Rifle, 130 rounds of live ammunitions (5.56), three (3) long magazines for M16, four (4) Short Magazines for M16, one (1) Improvised Explosive Device (IED), one (1) Cellular Phone, one (1) Handheld Radio (Baofeng), medical paraphernalia and subversive documents with high intelligence value while NPA terrorists scampered to different direction. There was no reported casualty on the government side while undetermined on the NPA side.
Pursuit operations are currently ongoing for the purpose of locating and putting an end to the violent activities of the pocket NPA group in Southern Leyte.
Major General Pio Q Diñoso III AFP, Commander, 8ID, Philippine Army lauded the troops for the job well-done and also commended the populace for the success of the operation. "The internal security operations against these terrorists will be relentless and steadfast. The information shared by the populace shows they are already fed-up with the atrocities, deception and oppression committed by the terrorist NPA" Maj. Gen. Diñoso added.
Campus-led events mark end of #GlobalClimateStrike week
Students from Manila, Bacolod, Dumaguete lead the charge against fossil fuels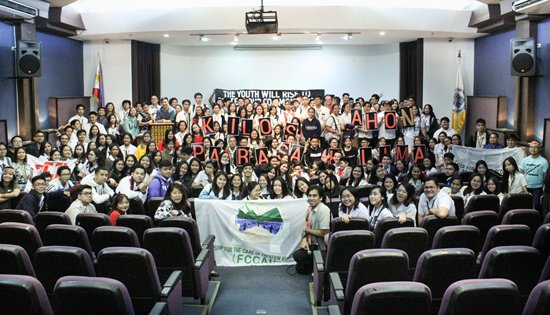 By Power for People Coalition
September 27, 2019
CITY of MANILA – UST students held symbolic tribute to Ondoy victims and heroes of the environment and pledged commitments to respond to the worsening climate crisis.
"Based on the latest Intergovernmental Panel on Climate Change (IPCC) report, we have less than 11 years to avert catastrophic climate change. We already know the consequences of this worsening climate crisis, and we can no longer put off ending the age of coal, one of the leading sources of our country's GHG emissions," said Atty. Avril de Torres of the Ecological Justice League of Youth Leaders (EJL), who organized the campus event.
BACOLOD CITY – Murang Kuryente -Negros, along with Youth for Climate Hope, Sanlakas, Social Action Center -Bacolod, and the Diocese of San Carlos organized a multi-sectoral people's conference on renewable energy at the Fountain of Justice, aptly entitled "KuREyente".
"Our victory against coal in Negros should be replicated across the country," Miggy Yulo of Y4CH stated. "We dare Cusi, as well as other coal proponents in the country to respond with urgency to the call of the environment, the consumers, and the future generations: end coal now."
This event was organized as part of the growing movement in the country against coal and fossil fuels, following the Diocese of Bacolod's climate emergency declaration last Wednesday.
"Discussions on energy and consumer-related issues shouldn't be done behind closed doors," stated Krishna Ariola of MK-Negros. "Electricity costs and energy sources are concerns that the public should have a say in."
Griderick Alila of EB Magalona Fisherfolk Alliance urged the local and national government to follow through with their commitment to support RE development, a cleaner and cheaper alternative to traditional energy sources such as coal.
This follows President Rodrigo Duterte's statement in his 4th State of the Nation Address to end coal and fast-track renewable energy development in the country.
"We are the ones directly impacted by climate change. Our livelihoods suffer because of drastic changes in weather patterns caused by exploitative industries that pollute our air and water," added Alila.
DUMAGUETE CITY – With the theme, Bangon: Parada Para Sa Klima, the climate strike in Dumaguete City was marked by a protest parade where organizations stated their commitments on their end to tackle the climate crisis.
"We are mobilizing in Dumaguete City because people here need to be more conscious about the climate crisis. As a University town, Dumaguete should be at the forefront of climate action in Negros Oriental, and this climate strike serves as a platform for us to speak out about the climate and environmental demands, both in the local and national level, and to call for immediate and long-term solutions for the climate crisis," said Jaya Ariola of the Silliman University Student Government Committee.
"It is not enough to just wake up. We need to rise up and actually do something. Like the sun, the wind, and the waves, we are a source of limitless energy. Let us not let the big polluters destroy the planet, along with our dreams and our futures. There is strength in numbers, and we will be unstoppable if we all resist together" she continued.
QUEZON – The youth from Atimonan, Quezon, where a 1,200 MW coal-fired power plant, also expressed their opposition to the dirty energy project.
"Ang pangako sa aming trabaho ng kumpanya ay hindi totoo. Nawalan pa nga ng kabuhayan ang marami sa aming mga kababayan dahil sa pagkasira ng kalikasan alang-alang sa coal-fired power plant. Ang balak na pagtatayo ng coal plant sa Atimonan ay magdudulot ng pagkasira di lang ng kapaligiran kung di ng aming kinabukasan. Bilang susunod na henerasyon kami ang tiyak na maapektuhan ng planong pagtatayo ng coal plant sa aming bayan."said Bianca Opalda of KAPAKANAN - Atimonan.
"Quezon is teeming with biodiversity and natural resources which exist in harmony with the lives and livelihood of its residents. The 1,200 MW Atimonan coal project has led to massive displacement, loss of livelihood, and poses threats to the environment, health, and safety of the people. We hope that our leaders take this opportunity to show that they are sincere in caring for the environment and the people," said Fr. Warren Puno, director of Ministry of Ecology at the Diocese of Lucena.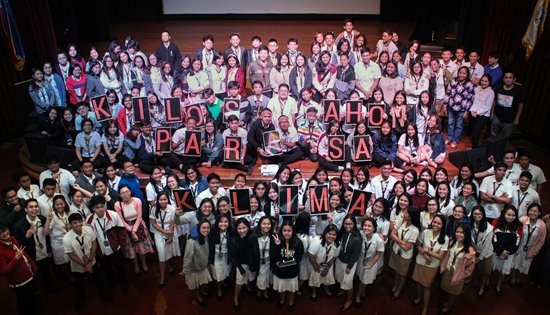 End-to-end Business Name registration launched for "Apply. Pay. Download."
DTI inks MOA with ePayment platforms for business name registration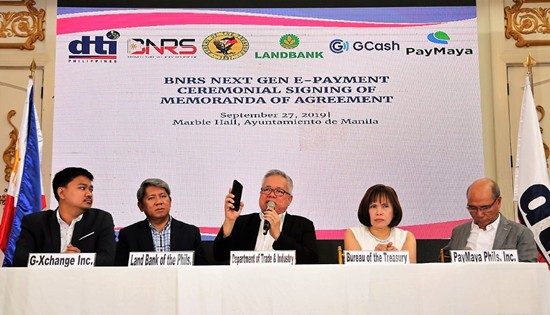 DTI Business Name Registrants can now pay online. The Department of Trade and Industry (DTI) partners with GCash, Paymaya, and Landbank to provide online payment options for business name registration.
By DTI-CIG-CB
September 27, 2019
INTRAMUROS, Manila – The Department of Trade and Industry (DTI) announced today that sole proprietors who wish to apply or renew their Business Names need not go to DTI offices to register but can instead transact online by following three steps: "Apply. Pay. Download." DTI Secretary Ramon Lopez signed three Memoranda of Agreement (MOAs) with ePayment platforms Gcash, PayMaya, and LinkBiz providing a suite of online payment options for the convenience of the transacting public.
Together with the Bureau of Treasury (BTr), Land Bank of the Philippines (LBP), G-Xchange, Inc. (GXI), and PayMaya Philippines, Inc., the DTI organized a ceremonial signing at the Ayuntamiento Building in Intramuros, Manila providing the public a variety of online payment options for DTI's Business Name Registration System Next Generation (BNRS Next Gen).
"Long queues and inefficient and slow services will soon be a thing of the past in government. At DTI, we are constantly improving our frontline services to become at par with international standards. Our agreement with ePayment platforms completes our Business Name Registration system as we are now able to provide our citizens the convenience of having to transact with DTI through their mobile phones in the comfort of their homes, or wherever they are, 24/7," said Sec. Lopez. The trade chief also said this is part of DTI's advocacy to promote Ease of Doing Business and the agency is committed to provide responsive and client-friendly services to the public.
According to Sec. Lopez, this initiative is in compliance with Republic Act (RA) No. 11032 or the Ease of Doing Business and Efficient Government Service Delivery Act of 2018. Section 9(e) of RA 11032 provides "That all government agencies shall develop electronic versions of licenses, clearances, permits, certifications or authorizations with the same level of authority as that of the signed hard copy, which may be printed by the applicants or requesting parties in the convenience of their offices."
"We are proud to be pioneering e-government by being one of the first to provide the public the experience of an end-to-end registration and making available various online payment options such as e-wallet, online banking or credit/debit cards. Automation is key to good governance. Through automation, we will provide easier, faster, and better service," said the DTI Secretary.
The MOA signing with the various ePayment providers signal the scaling up of DTI's online Business Name Registration service designed to deliver a more pleasant user experience, which is more convenient, transparent, and seamless.
PayMaya is the only FinTech company in the Philippines offering integrated consumer and merchant payment solutions. It is the first to give millions of Filipinos an e-wallet that allows cashless transactions at any time of the day, anywhere in the world, and from any device. For the merchant, PayMaya's universal payments platform enables them to accept all payment options, including credit, debit, prepaid cards and mobile wallets. PayMaya is the financial technology arm of Voyager Innovations, the leading technology company in the country backed by PLDT, KKR, Tencent, World Bank's IFC and the IFC Emerging Asia Fund.
GCash is the Philippines' #1 mobile wallet. Through the GCash App, customers can easily purchase prepaid airtime; pay bills at over 400 partner billers nationwide; send and receive money anywhere in the Philippines; pay using QR codes at over 60,000 partner merchants; and invest money at money market funds through the convenience of their smartphone. GCash have led the fintech services industry since its establishment in 2015. These advancements were made possible by the innovative culture of the company and its unending commitment to provide finance for all. GCash is a subsidiary of Mynt (Globe Fintech Innovations, Inc).
4th Regional Career Advocacy Congress conducted in EV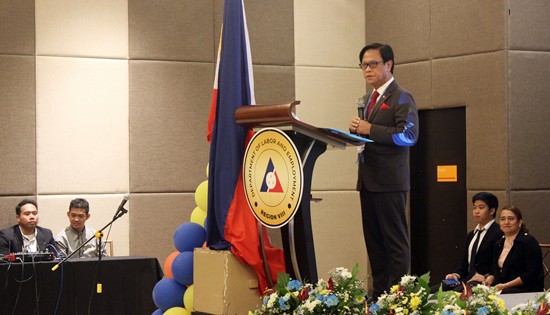 By NORMA RAE S. COSTIMIANO
September 27, 2019
TACLOBAN CITY – With the theme, "Developing Human Capital: Building A Better Future", the Department of Labor and Employment Regional Office VIII has successfully conducted the 4th Regional Career Advocacy Congress on September 19-20, 2019 at The Summit Hotel, this city.
The two-day congress was attended by around 175 delegates representing career advocates, educators, academicians and government leaders all over Region VIII.
DOLE RO VIII Regional Director Yahya A. Centi welcomed the participants and guests to the Career Congress.
"The theme for this congress is about how we can use technology together with people, how we develop people for technological future," said Director Centi.
He made emphasis on the idea that the main basis of competition will always be the human capital. He also challenged the participants to focus on the three components of human capital, namely: education, healthcare and world of work. He added that how well the educators do in their education system would be the leading indicator of where they will be in 20 years' time. Thus, they cannot do anything about their past but still hold power of their future.
"This Congress lays pathways for change that all of us dream," he added. He also asked the participants to focus their attention on the Congress for when they leave the sessions, they will surely bring honour to their own organizations.
The Career Congress was also attended by important individuals and representatives from different agencies, departments and bureaus tasked to share their knowledge and experiences to the selected participants.
Ms. Eden A. Dadap, Regional Focal Person for Career Guidance and President – EVNGCA of the Department of Education (DepEd) Regional Office VIII, discussed the "Roles of Guidance Counsellors and Career Advocates" while Ms. Evangeline G. Aviñante of the Bureau of Local Employment (BLE) tackled the "Government Perspective on the Development of Future Workforce".
Engr. Socorro Q. Ramos, City Education Supervisor II of the Commission on Higher Education (CHED) Regional Office VIII, shared her knowledge on the Development of Future Workforce: the Academe Perspective followed by a topic on Diploma Curriculum Level 5 Qualifications from Ms. Emy Fe P. Palmares, TESD Specialist II of the Technical Education and Skills Development Authority (TESDA) Regional Office VIII.
Engr. Ramil T. Uy, Senior Science Specialist of the Department of Science and Technology (DOST) Regional Office VIII, and Atty. Noemi C. Tan, Attorney III of the Department of Trade and Industry (DTI) Regional Office VIII, both shared the programs and services initiated by their own departments in reaching out to the students and the educators themselves who are in need of scholarships and mentoring on selected businesses.
On Day 2 of the congress, another series of interesting and important topics were given to the participants.
Director Victoria F. Esber of the Civil Service Commission (CSC) Regional Office VIII discussed about "Developing the Future Workplace: the Human Resource Perspective" while Ms. Luzviminda S. Guzman, Chairman of the Board of Guidance and Counselling of the Professional Regulation Commission (PRC) Manila, gave her message to all the delegates.
Ms. Guzman emphasized that guidance counsellors and advocates should always have a heart to help because that is what they should do. "Beautiful things happen to beautiful hearts," she stated.
The Congress ended with a message of thanks from the Over-all Event Coordinator, Ms. Salvacion A. Yepez. She also extended her congratulations to everyone involved in the success of the said event. (with reports from Mary Jane B. Abenoja)