80,908 informal settlers aided by housing sector in 2013
By OVP Media
January 18, 2014
MANILA – The government housing sector reported that in 2013, the drive to provide housing to informal settler families (ISFs), which is one of its priority projects, has helped a total of 80,908 beneficiaries across the country with a total funding amounting to P26.985 billion.
"In 2012, the number of beneficiaries assisted by the National Housing Authority through its various programs was 56,221 families, so there is a 44% increase," Vice President and Housing and Urban Development Coordinating Council head Jejomar C. Binay said.
The programs were aimed towards the resettlement of informal settler families (ISFs) living along danger areas in Metro Manila; those affected by infrastructure projects in Metro Manila and those living in danger areas in adjacent provinces; regional resettlement for local government units and indigenous peoples (IPs); and through the Community Mortgage Program (CMP) of the Social Housing Finance Corporation (SHFC).
Under the In-city housing program, 12 Low-Rise Building (LRBs) projects are under various stages of construction on NHA and LGU-owned properties which are expected to benefit some 6,560 families. So far, 876 units in Smokey Mountain, Manila and Disiplina Village, Valenzuela City have been completed and are ready for occupancy, while the construction of the rest of the units is ongoing and are expected to be completed by the middle of 2014.
Off-city housing also continued to be provided, particularly for families interested to have their own house and lot packages. 18,564 units were generated at NHA housing sites/settlements for the benefit of these ISFs for 2013.
The SHFC meanwhile implemented the High Density Housing (HDH) Program which provides funding for land acquisition, site development and housing construction proposals initiated by the affected families and communities themselves. The program was designed to complement the NHA's program for ISFs in danger areas in Metro Manila. For 2013, the SHFC Board has approved five (5) projects to benefit 2,786 ISFs with funding of more than P290 million.
8,008 units were generated in NHA resettlement sites for families affected by government projects such as the R-10 and C-5 Northern Link road projects, various infrastructure projects in Quezon City, Philippine Ports Authority and NAIA Expressway projects, and for families in danger areas in Bulacan, Pampanga, Laguna and Rizal.
The regional resettlement projects benefited from higher budget allocation and greater participation of LGUs with the implementation of 124 projects aimed at addressing resettlement requirements of LGUs outside Metro Manila.
As a result, the year 2013 yielded a total of 11,709 units for regional resettlement projects in Northern and Central Luzon, Southern Luzon, Bicol, Visayas, and Mindanao.
IP groups also benefited, with 25 projects implemented in 2013. To date, 37 projects to benefit 3,117 IPs are being implemented in various parts of the country.
The housing sector also reported that as of November 2013, 153 project applications to fund land acquisition have been approved under the CMP which amount to about P980.6 million and benefit 16,015 ISFs with tenure security on the land they occupy. This represents 79% of SHFC's target of 14,900 families for the full year and is 26% higher than last year's accomplishment of 9,287. Of this number, actual take-out for the year amounted to almost P714 million, benefiting some 11,800 ISFs.
Of the 153 projects approved for CMP funding, 12 are Localized Community Mortgage Program (LCMP) projects that would provide secure tenure to 1,124 ISFs. The LCMP is a derivative of the CMP where partner LGUs may apply for financing to accommodate their priority social housing projects.
A total of 2,889 ISFs were meanwhile awarded their individual titles from January to November 2013. These families have attained their goal of becoming homeowners after having fully paid their loans. The individual titles released this year exceeded SHFC's target of 2,000 titles by 44%.
Housing loan programs catering to employees from the national and local government as well as the private sector were also introduced in 2013. Pag-IBIG Fund widened the range of its borrowers, enabling more Pag-IBIG members to be homeowners by amending the guidelines of an existing housing program and creating a new housing program. NHA also continued its housing program for policemen and soldiers, which was started in 2011 under Administrative Order No. 19 issued by President Benigno Aquino.
According to the annualized January to November 2013 report, Pag-IBIG Fund's accomplishment in housing loan availment for 2013 is expected to reach 100% and 120% of its target in terms of loan value and number of units, respectively. About P44.7 billion worth of housing loans are projected to be granted by the Fund to finance purchases and construction of 60,983 housing units for its member-borrowers. Of these, 26% or 15,789 units valued at P12.5 billion are pending for take-out and are currently awaiting compliance with the Notice of Approval conditions such as payment of necessary taxes at the Bureau of Internal Revenue, transfer and/or annotation of mortgages at the Registry of Deeds, and securing the new Tax Declaration at the local government units for purposes involving purchase.
Pag-IBIG also created the Business Development Sector (BDS) which maintains and strengthens the Fund's dealings with developers and employers. The BDS seeks out developers that have not previously used the Fund's financing for their buyers and encourages them to partner with Pag-IBIG. It also offers the country's top employers with Employer Accreditation for housing loan processing, providing employers with faster access to Pag-IBIG's housing services such as housing loan prequalification, home or housing needs matching, and faster housing loan processing time. To date, Pag-IBIG Fund has accredited 25 employers, which include 15 private employers, six (6) national government agencies, and four (4) state universities/colleges.
The Fund also introduced a special lane in several branches for loans amounting to P1 million and above to facilitate faster processing.
The following are the programs offered for employees for 2013:
1. Affordable Housing Program. This program offers subsidized rates for the first ten (10) years for members with gross monthly income not higher than P17,500. Loans up to P400,000 have an interest rate of 4.5%, translating to a monthly amortization of P2,026.74, while loans up to P750,000 have a 6.5% interest rate and a monthly amortization of P4,740.51. At the end of the 10-year period of subsidized rates, the borrower will pick the re-pricing period of his/her choice.
2. Group Housing Loan Program. Housing for LGUs, employers, employee associations, and cooperatives is fast-tracked through this program, wherein project proponents are given access to a maximum loanable amount of P20 million for horizontal development and P40 million for vertical development. As of October 31, 2013, a total of 1,184 out of 1,715 LGUs (69%) have been briefed on the salient features of the program. Of these, 195 LGUs are negotiating with Pag-IBIG which could generate up to about 13,000 housing units.
The Bistekville project of the LGU of Quezon City, which is an undertaking among the LGU, the private land owner and the developer, demonstrates public and private partnership at work. Bistekville 2 will generate 894 housing units, each costing P400,000, with the project beneficiaries availing themselves of the End-User Program to finance their housing units.
3. Housing Needs Matching Program. In order to reduce the cost of owning a home, Pag-IBIG adopted the strategy of matching its members' housing need with available inventory of developers.
The first "Needs Matching" project in North Luzon, Hanjin Village, is a socialized housing project for shipyard workers of Hanjin Heavy Industries and Construction Company Limited or HHIC-Phil. The project will allow the employee-beneficiaries to pay for the land, land development, and house construction at significantly lower costs (an average of 65% of market value).
The project, consisting of 288,147 square meters of land in Castillejos, Zambales, is expected to generate 2,780 housing loan accounts with a total portfolio of P1.27 billion for the next three years. Another project in Mindanao is in partnership with the provincial government of Sarangani. Capitol Residences has 180 total saleable units, with each unit costing P400,000 to P500,000.
Housing units are packaged as 1-bedroom or 2-bedroom duplexes or 3-bedroom single attached units with a land area of 55 or 65 square meters per unit. Package price ranges from P399,000 to P599,000.
4. AFP/PNP Housing Program. NHA responded to the needs of the government employees particularly the military and police personnel by providing them decent and affordable housing. For the year 2013, NHA continued to implement Phase II of the AFP/PNP Housing Project though the development of 30 projects across the country which generated 20,680 units. To date, 29,810 units are under various stages of completion for Phase II of the project.
5. Other Services Resulting in Increased Resources. Pag-IBIG Fund implemented various measures which generated more members and increased collections in members' savings. Average growth rate from 2011 to 2013 is about 9%, or an increase from P21.9 billion to P26 billion. The huge increase in members' savings is attributed to the rising number of members who voluntarily upgrade their monthly savings. Although mandatory membership savings have not been increased since 1986, Pag-IBIG has been encouraging members to voluntarily increase their monthly savings so they can gain more benefits like higher loan entitlement and higher dividend amounts at the end of each year.
In line with Republic Act 10361 which instituted policies for the protection and welfare of domestic workers, Pag-IBIG Fund, together with SSS and PhilHealth implemented the Kasambahay Unified Registration System, which contributed to the increase in members' savings. The system enables a kasambahay or his/her employer to register only once with any of the three (3) agencies. Pag-IBIG also undertook pro-active efforts to register kasambahays and their employers using Pag-IBIG's own registration system for employers.
The housing sector also enhanced its partnership with various sectors to generate additional resources for housing, especially for the poor, and encourage the private sector to participate in housing projects.
In January 2013, the Revised IRR to govern Section 18 of Republic Act 7279, entitled the Urban Development and Housing Act, took effect. The Revised IRR provides for the different modes by which private developers can comply with the provision that at least 20% of total area or total project cost of subdivision projects should be allocated for socialized housing. The new guidelines allow compliance with the law through development of new socialized settlements, slum upgrading, joint venture with LGUs or other housing agencies and participation in the Community Mortgage Program.
In 2013, commercial banks and other financial institutions started rebalancing their loan portfolios to lessen their exposure to real estate as encouraged by the Bangko Sentral ng Pilipinas to maintain equilibrium between housing need and home construction. While this measure negatively impacts guaranty enrollments of the Home Guaranty Corporation (HGC), the agency promoted countryside home-lending through rural banks and microfinance institutions. Guaranty line applications from nine (9) rural banks were received, four (4) of which were already given guaranty lines. With HGC guaranty, their home-lending activities are expected to increase homeownership in their respective regions.
The HGC held a ceremony in September entitled "Mobilizing Funds for Countryside Housing Development" promoting this initiative. The ceremony highlighted the partnership between HGC and 17 member-banks of the Rural Bankers Association of the Philippines (RBAP) and one microfinance institution (MFI) to boost housing developments in the countryside.
In response to Vice President Binay's directive, the HGC also started coordinating with partner banks to encourage them to lend more for home construction and repairs in calamity areas, particularly those in Yolanda-affected areas.
Meanwhile, in order to strengthen public-private partnership towards the development of a sustainable housing finance system in the country and to be more competitive in the market, The National Home Mortgage Finance Corporation (NHMFC) also amended the guidelines of the Housing Loans Receivables Purchase Program (HLRPP). Under this program, NHMFC purchases seasoned housing loan receivables from originating institutions which will be turned into an asset pool for eventual issuance of securities or bonds for sale in the capital market.
The revised guidelines reduced the interest rates and the seasoning period of the amortizing borrowers prior to the sale or assignment to NHMFC, to encourage more originators developers to sell their loan receivables to NHMFC.
Through the conduct of road shows in the various regions, NHMFC was able to purchase 3,676 housing units worth P906.412 million from January to November 2013 representing 113.30% of its target. These housing accounts underwent the due diligence process to ensure the purchase of seasoned/quality mortgages.
The purchased receivables shall be used to back up the securities that NHMFC is expected to issue in 2014. This would be the third residential mortgage backed securities (RBMS) in the Philippines by a government agency, following Bahay Bonds 1 (BB1) in 2009 and BB2 in 2012. Bahay Bonds 2 was awarded the most "Innovative Listed Corporate Bond Issue of the Year" given by Philippine Dealing System Holdings Corporation & Subsidiaries (PDS Group) on 28 February 2013.
In line with the thrust of improving transparency and increasing stakeholder participation in government programs and projects, the SHFC signed once again a budget partnership agreement with the Partnership of Philippine Support Service Agencies, Inc. (PHILSSA) and the National Network of CMP Originators and Social Development Organizations for Low-Income Housing (CMP Congress) as Civil Society partners for the execution of its annual budget preparation. This agreement is in compliance with National Budget Circular No. 536 issued by the Department of Budget and Management on 31 January 2012 for Government Corporations to engage with Civil Society Organizations (CSOs) in budget preparation.
The SHFC also conducted nationwide Budget Consultation Workshops with CMP-Mobilizers (CMP-Ms) and other stakeholders to determine national funding support for CMP projects in 2014.
For the new year 2014, the shelter agencies vowed to intensify the implementation of its priority programs, which include the provision of permanent housing units for calamity victims, particularly those living in areas affected by typhoons Pablo and Yolanda declared as No-build Zones, as well as the continued resettlement of ISFs living in danger areas in Metro Manila.
Also included among the priority projects of the housing sector are the increase in the number of beneficiaries given security of tenure through the Community Mortgage Program, as well as the improvement of existing CMP areas through loans for site or home development.
The following are also marked as priority projects:
• Improve collection efficiency. For the CMP, the target collection efficiency rate for 2014 is 82%, compared to the existing 80% target;
• Develop the capacity of 250 Community Associations as well as Implementation Partners under the CMP and HDH programs;
• Implement organizational reforms, such as the establishment of SHFC regional hubs and pave the way for a decentralized operation;
• Push for legislative measures that would strengthen the housing sector such as the proposed Social Housing Finance and Development Corporation Charter;
• Undertake measures to increase funding to support the housing sector's programs such as NHMFC's secondary mortgage operations;
• Improve services and provide more benefits to Pag-IBIG members through the following programs and projects:
a. Privilege Card Benefits,
b. Full launch of Pag-IBIG HELPs,
c. Pag-IBIG-led Housing Projects.
• Diversify Asset Portfolio/Fund Generation Program and ensure higher Return On Equity;
• Intensify partnership with rural banks especially in calamity areas to encourage them to lend more for construction and repair of housing units of calamity victims;
• Intensify assistance to LGUs to fast-track the preparation/updating and approval of CLUPs.
"For this new year, we vow to continue pushing boundaries in our efforts to provide homes for our fellow Filipinos," Binay said.
Bicol communities winning battles against illegal commercial fishing
By GREENPEACE
December 13, 2013
LEGAZPI CITY – Bicol communities are on their way to winning their battle against illegal fishing, a joint team of stakeholders and NGOs said today in a press conference in Legazpi City.
The group is composed of fisherfolk, local government officials from Sorsogon City, Pilar, Donsol, Ligao, Pio Duran, and representatives from the Diocese of Sorsogon and Greenpeace Southeast Asia. They noted that the strong support of local government and civil society against illegal fishing activities in the area have been key in ensuring that the region's municipal waters remain solely for the use of local artisanal fishermen.
The announcement came at the conclusion of a week-long joint community patrol conducted in Burias-Ticao Pass. The joint patrol noted the absence of illegal fishers from December 9 to 12, 2013, during a season when illegal fisheries are rampant.
"Normally at this time of the year we get reports of rampant illegal commercial fishing activities out there at the seas in the evening," said Lito Pavia, Bantay Dagat head from Pio Duran, Albay. "This time no illegal fishing activities were reported. This was verified when we patrolled the blue strip of waters between the islands of Burias and Ticao in Masbate."
"A single illegal commercial fishing boat can rob 70 small municipal fishers of potential fish catch," added Pavia. "If we can just take out even one illegal commercial boat from the sea, it would mean an additional 729 kilograms per day or 175 metric tons per year of potential fish catch which can be shared by municipal fisherfolk."
Based on the initial report shared by Diom Ballebar of the Fisheries Regulatory and Enforcement Division of the Bureau of Fisheries and Aquatic Resources (BFAR) Region V, 20% of the registered commercial fishing vessels in the region are already looking for other fishing grounds. "This means that the multi-stakeholders campaign against illegal fishing around Burias-Ticao is paying off," Balleber said.
In July 2013, during the Oceans Defender Tour, the Greenpeace ship M/Y Esperanza together with BFAR Region V personnel patrolled these same waters and apprehended commercial fishing vessels without proper licenses and which use prohibited fishing gear.
Vince Cinches, Greenpeace Southeast Asia Oceans Campaigner said that Greenpeace together with the Bicolanos and an even bigger group of Ocean Defenders are here once again to raise the ante against illegal fishing activities. "Greenpeace believes that the strong, unwavering commitment of Bicolanos resulted in the reduction of illegal commercial fishing activities in Burias-Ticao Pass," said Cinches. "We strongly urge other provinces to do the same because the commercial fishing operations that got booted out of these waters will try to find other fishing grounds in other provinces and steal from municipal fisherfolk."
Meanwhile, Greenpeace welcomed the announcement made today by Albay 3rd District Representative Fernando Gonzalez regarding the creation of a composite enforcement team coming from Pio Duran and Ligao. The enforcement team will cover the western waters of Albay.
"We would like to lead by example," Rep. Gonzales said in his announcement. "We will make Pio Duran the center for fisheries and marine protection instead of a haven of illegal commercial fishers. I will push for a House Resolution that will institutionalize the initiatives done in the Bicol Region so it can be replicated in other areas of the country."
The alarming illegal fishing activities in the Burias and Ticao pass has prompted the Bicol Bishops led by Bishop Arturo M. Bastes of the Diocese of Sorsogon to write to President Aquino in 2010. President Aquino ordered the enforcement agencies in the region to immediately address the problem.
"After many years of hard work and sacrifice from many people in various sectors, fisherfolk are now reporting to us that they have noticed an increase of almost a kilo in their fish catch," said Bishop Bastes. "However, I tell these fisherfolk that this could be temporary as illegal fishers from nearby degraded fishing grounds might come here and fish again."
Greenpeace is calling on the Philippine government to take stronger measures to curb illegal fishing through:
1. No new commercial fishing licenses in recognition of the fact that fishing efforts have already exceeded the capacity of our natural resources to recover;
2. Stronger vessel registry and licensing systems. Even as no new permits are issued all existing fishing vessels must be registered to establish accurate data on fishing vessels; and
3. Maintaining the 15 kilometer zone for exclusive to municipal fisherfolk.
Environment leaders, groups acclaimed in the Gawad Bayani ng Kalikasan awards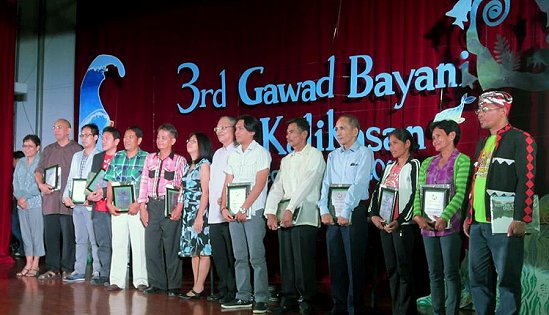 Press Release
December 7, 2013
QUEZON CITY – Six outstanding environmental advocates and groups confronting various environmental crises, especially the impacts of disasters and climate change, were awarded today in the Gawad Bayani ng Kalikasan (GBK) awards ceremonies at the Convention Hall of the Bureau of Soil and Water Management in Quezon City.
The GBK honors the struggles and sacrifices of individuals and organizations who selflessly devoted their time and energy to the protection of the environment and to the assertion of people's rights to benefit from a healthful ecology.
Now on its third year, the GBK recognized six awardee individuals and organizations:
• Armin Marin, a town councilor, church leader and incorruptible environmental campaigner based in Sibuyan Island in Romblon Province, considered by some as 'Asia's Galapagos' for its biodiversity and geographical uniqueness. Marin especially fought against consortiums of large-scale miners that aimed to exploit mineral resources in the island despite its being a protected area, and was killed in October 2007 with a fatal shot in a violent dispersal of a peaceful protest they staged against Sibuyan Nickel Properties Development Corporation. He only served as municipal councilor for three months.
• Wilhelmus Geertman, a Dutch missionary and executive director of the humanitarian organization Alay Bayan Inc. (ABI), dedicated 42 years of his life to activism in the Philippines until his murder in July 2012. From health and education, to community-based disaster management programs, Geertman and his colleagues rendered services that empowered local communities to rise up and help themselves. At the time of his death, Geertman was promoting the rights of peasants, workers, as well as campaigning against logging in Aurora province, large-scale mining operations and other environmentally destructive projects in the country.
• Rodne Galicha, a dedicated, vigilant guardian of the environment, a graduate of Philosophy and Arts Classical at the University of Santo Tomas and Central Seminary, also hails from the island of Sibuyan. Galicha is an active participant in environmental protection and conservation issues in his hometown, and was instrumental in the passage of a mining moratorium ordered by the governor of Romblon Province. Oftentimes invited as a speaker in international forums, Galicha was even trained as climate leader for Al Gore's The Climate Reality Project serving also as its Philippines district manager. From 2009-2013, he worked for Alyansa Tigil Mina (ATM) with Philippine Partnership for the Development of Human Resources in Rural Areas (PhilDHRRA) Legal Rights and Natural Resources Center (LRC-KsK/FoE) and Haribon Foundation for the Conservation of Natural Resources. He is now presently working pro-bono for Sibuyan Island Sentinels League for Environment Inc. (Sibuyan ISLE) as Executive Director.
• The Kababaihang Nagtataglay ng Bihirang Lakas (KNBL) is a women's group in Davao City, aspiring for food security and sovereignty through organic farming.. Beyond empowering others to engage in safe organic food production, KNBL was also successful in campaigning against corporate aerial spraying and field trials of the genetically modified BT eggplant. They also pushed for the passage of the Organic Agricultural Ordinance and its implementing rules together with other people's organizations and NGOs in Davao.
• The Magsasaka at Siyentista para sa pag-unland ng Agrikultura (MASIPAG) is a farmer-led network of people's organizations, non-government organizations and scientists that believes that agro-biodiversity is a vital resource in sustainable rural development and should be conserved and managed by farmers themselves. It has engaged in various multi-sectoral information and education initiatives, sustainable agriculture practices, lobbying from the local to national levels, and filing legal actions against genetically modified eggplant field testing.
• Awarded the most distinguished recognition in the 3rd GBK, the Kalumbay Regional Lumad Organization's campaigns have fought against logging, mining and plantations and defended indigenous people's rights in Northern Mindanao. In the process, their leaders' lives have been sacrificed, among whom are Jimmy Liguyon and Datu Mampaagi Belayong, Their struggles thus centered on extractive industries encroachment on ancestral domains, including the call for justice for the violation of their rights to ancestral domain.
"Through this award, I recognize with honor the indigenous peoples of our country who have been maintaining ecological balance and the women who have the unique strength and determination to protect our environment. It may be disappointing that my co-awardees, my colleague Armin Marin and Wilhelmus Geertman, are unable to receive their awards personally, I know that they are united with our land, our nature, and their lives can still be felt because land is life, nature is full of life. We may not feel their breaths but theirs are with the fresh and clean air the trees give. We may become endangered species under the red list of International Union for the Conservation of Nature, but our grassroots movements shall make a change to restore balance in nature. We belong to nature, we come from it. Whatever we do to ourselves, we do it to the rest of our brothers and sisters; and whatever we do to our brothers and sisters we do it to nature. We are all interconnected, we are one: We Are Nature," said Rodne Galicha, individual award recipient and author of a pocket-sized book 'We Are Nature: thoughts on emerging environment issues'.
Ms. Frances Quimpo, executive director of the Center for Environmental Concerns – Philippines, GBK's lead organizer, said "the Philippines has been experiencing the dire impacts of climate change – stronger typhoons, rising sea levels, extreme rainfall and other weather events, and disturbed water budget. The worst is yet to come, but the country, ironically, continues to host destructive and extractive industries that render our people more vulnerable to these hazards, than ever. The heroism of our farmers, fisherfolk, indigenous peoples, women, workers and professionals, their communities and organizations which directly face these dreadful challenges, deserve the country's acclamation. We dedicate the 2013 Gawad Bayani ng Kalikasan to our sisters and brothers who braved the impacts of Typhoon Yolanda. May the country rise up and finally learn from the tragedy and sacrifice they endure as of this moment."
GBK Awards Committee is headed by Most. Rev. Deogracias Iñiguez, DD, Bishop-Emeritus of Caloocan. Members of the Board of Judges include Bishop Iñiguez, Dr. Rene Rollon of University of the Philippine's Institute of Environmental Science and Meteorology, Dr. Teresita Perez of Ateneo de Manila University's Environmental Sciences Department, Dr. Helen Mendoza of the Philippine Network on Climate Change, and Dr. Joseph Carabeo of Alliance of Stewards for Authentic Progres.
The GBK is organized by the AGHAM-Advocates of Science & Technology for the People, Canadian Catholic Organization for Development and Peace, Center for Environmental Concerns – Philippines, Department of Environment and Natural Resources, Ecowaste Coalition, Central Visayas Fisherfolk Development Center, Foundation for the Philippine Environment and Panalipdan! Mindanao.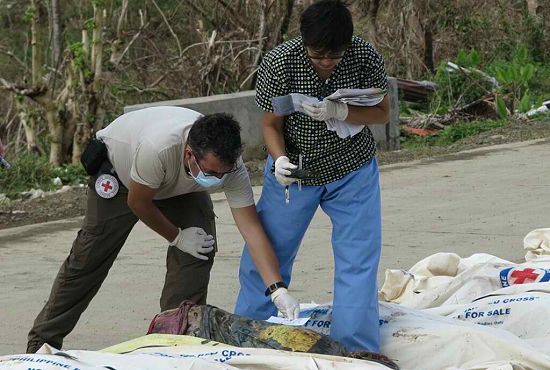 In Tacloban City, forensic experts Andres Patino (ICRC) and Raquel Fortun (University of the Philippines) work to ensure proper management and identification of the remains of Typhoon Haiyan victims. (ICRC/Jesse Edep)
Helping identify the dead
By ICRC
November 20, 2013
MANILA – The violence with which Typhoon Haiyan (Yolanda) struck resulted in the loss of many lives and caused many people to go missing. The International Committee of the Red Cross (ICRC) immediately sent a forensic expert to advise, coordinate and cooperate with the Philippine authorities on the proper management of the dead.
"There are certain procedures that should be followed to preserve the dignity of the victims and facilitate their identification," said Andres Patino, the ICRC's expert in humanitarian forensic action and the first forensic specialist to arrive in Tacloban. "The dead should be properly collected and placed in temporary burial places, to allow for forensic investigation later. Photographs should be taken, and any descriptive information and post-mortem data should be recorded."
In the current circumstances, with electricity and other basic necessities unavailable and most facilities destroyed, ensuring that these procedures are followed is very challenging. "At a meeting today with the local authorities of Tacloban and the Department of Health, we agreed on an emergency plan for the proper management of the dead which takes into account the scarcity of available resources."
The authorities have agreed to follow guidelines for the management of the dead developed jointly by the ICRC and the World Health Organization (WHO). The ICRC is closely coordinating its forensic action in the Philippines with the WHO through the Ministry of Health and also with the National Bureau of Investigations.
There is no public health justification for rapid mass burials. Contrary to what many people believe, the bodies of those who die in a natural disaster do not cause epidemics, and they are a negligible health hazard. It is probable that most victims of Typhoon Haiyan died of injury, drowning or fire; they are not likely to have had epidemic-causing diseases such as cholera, typhoid, malaria or the plague when they died. "There is only a small risk of developing diarrhoea by drinking water contaminated by the corpses [a risk smaller than that caused by the living] and that risk can be eliminated by routinely disinfecting and/or boiling water to prevent water-borne disease," said the ICRC expert. "In any case, most people avoid drinking water from any source that may have been in contact with dead bodies or other causes of contamination."
Hasty and uncoordinated burials of the dead without proper identification are a concern for the authorities and the ICRC, as they can be very painful for the bereaved. Improper and undignified management of the dead can traumatize families and communities, and may have serious legal consequences, as it may be impossible to recover and identify the remains later. The victims will simply be missing.
"People feel an overwhelming need to know what happened to their missing relatives," said Nancy Fournier of the ICRC delegation in Manila. "Families with no information on the whereabouts of loved ones are grief-stricken. Giving them the possibility to identify their missing relative [even dead] is crucial. They need to know what happened to be able to start mourning. That's why it is so important to handle remains carefully."
Around 35,000 people within the Philippines and beyond have so far asked the Philippine Red Cross to trace family members who have gone missing in connection with Typhoon Haiyan.