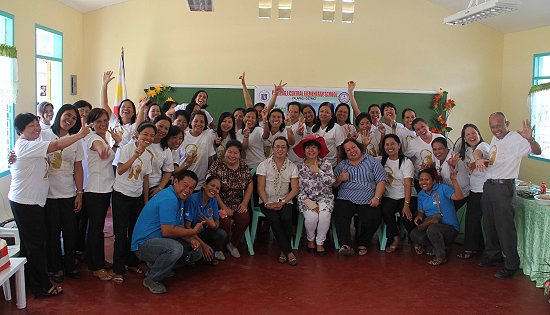 Photo shows teachers of Palapag I Central School with PLDT Head of Community Relations and Public Affairs Evelyn del Rosario and Northern Samar Board Member Florencio Batula during the turnover activity of a two-classroom building for the school.
PLDT, PBSP bring students closer to school with new classrooms
By PBSP
June 21, 2014
TACLOBAN CITY – To support the Department of Education's (DepEd) aim to bring more students to school this coming year, Philippine Long Distance Telephone (PLDT) Company with Philippine Business for Social Progress (PBSP) turned over three classrooms in the remote towns of Northern Samar.
These classrooms were turned over to Palapag I Central School (CS) of Barangay Asum in Palapag and Barobaybay Academy Mission School (BAMS) in Barangay Barobaybay of Lavezares in a two-day activity attended by PLDT Head of Community Relations and Public Affairs Evelyn del Rosario and PBSP Senior Relationship Management Officer Olive Jabido.
Aside from the classrooms, PLDT also committed to fund for the construction of a computer laboratory in Palapag I CS.
These projects are funded through the Motolite-PBSP Balik-Baterya Program, where companies are encouraged to donate their used lead acid batteries (ULABs) which are then bought and recycled by Motolite. The sales of the donations are used to fund several projects implemented by PBSP.
PLDT Head of Community Relations and Public Affairs Evelyn del Rosario shared that the company has been funding projects for education since it is closest to PLDT and PBSP Chairman Manuel Pangilinan's heart.
"MVP is the key to all these projects. And in PLDT, we always believe that education is the greatest equalizer. We also aim to help teachers and schools become globally competitive," she added.
Better Education
DepEd Northern Samar Schools Division Superintendent Officer-in-Charge Cristito Eco stated how the classrooms could contribute to the provinces' achievement of their targets given their previous year's poor performance.
He revealed that in the previous school year, Northern Samar only reached 96% participation rate out of 116,000 enrollees, which left 4,640 students who had not been going to school.
"This is a concern we have to address this year. But with the presence of new physical facilities like these new classrooms in our schools, I know this will encourage those 4,000 students to study again, which will eventually improve our performance indicators," Eco said.
In Palapag I CS, which is expecting more than 1,400 enrollees this school year, the classrooms will be used by its grade 5 & 6 students who used to share classrooms with the other lower grades.
On the other hand, the new classroom donated to BAMS will be used as a Technology and Livelihood Education (TLE) center for its high school students in preparation to the K-12 curriculum. It will be the first center of its kind in Barobaybay, with BAMS catering to scholars living in remote island barangays.
"With the new center, we know that our students will be more inspired to study because we are provided with an excellent physical setting conducive for learning," BAMS incoming principal Sr. Ma. Rosalina Luzon said.
"With the skills that they will learn using the classroom as a TLE center, they can always use these skills to find a job and continue what they want for their educational attainment later on," PBSP's Jabido also shared.
Balik-Baterya
Since its launching in 2006, the Balik-Baterya Program has cinched the support of 138 donor companies and collected more than P57 million worth of ULABs that allowed them to implement and support 89 projects across the country.
PLDT has been a partner of the program since 2008 and has become the program's top donor. With its ULABs, the company was able to provide 44 Learning Resource Centers or mini-libraries; construct roads, drainage systems and other facilities such as multi-purpose centers; and organize TB prevention programs.
PLDT is also the first company that used its ULAB donations to build classrooms and computer laboratories with equipment. With the addition of the newly donated classrooms, the company has already provided seven classrooms and two computer laboratories in the Visayas.
"We are slowly addressing the growing classroom backlog of the country so we could provide more classrooms to students who want to go to school. Our only hope is that the students will maximize the usage of this facility so they will have better learning experiences," Jabido added.
To the teachers, del Rosario said: "You are our modern heroes, and it is through you that we are successful in fighting illiteracy. Continue to inspire more students to learn since it is only through education that we can be at par with anyone."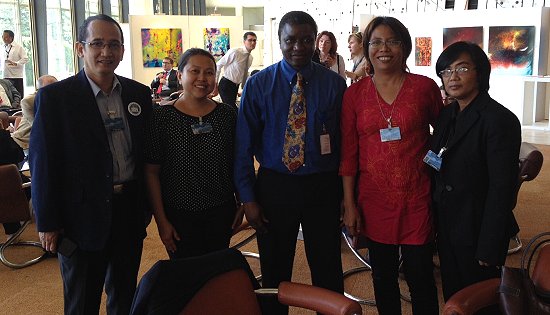 Delegation of Ecumenical Voice for Human Rights and Peace in the Philippines (EcuVoice) with Dr. Chaloka Beyani, UN Special Rapporteur on the human rights of internally displaced persons.
UN rights heads to visit PH
PH human rights group discussed concerns with UN special rapporteurs
By KARAPATAN
June 12, 2014
GENEVA, Switzerland – Human rights advocates of the Ecumenical Voice for Peace and Human Rights (EcuVoice), who are participating in the 26th United Nations Human Rights Council sessions, welcomed the information conveyed by two United Nations special rapporteurs on their official visits to the Philippines to conduct independent investigations on the human rights situation in the country.
UN Special Rapporteur on the human rights of internally displaced persons Dr. Chaloka Beyani is slated to conduct his official visit this year, while UN Special Rapporteur on the independence of judges and lawyers Gabriela Knaul has recently submitted her request to visit the country.
In a meeting with the UN mandate holders in Geneva, Switzerland, members of the EcuVoice delegation enjoined the independent experts to look into reports of forced evacuations due to military operations, forced evictions, the continuing displacement of typhoon Haiyan victims, and the attacks against human rights lawyers in the Philippines.
Representatives of EcuVoice apprised Dr. Beyani of the forcible evacuations caused by intensified military operations in a growing number of areas in the country, especially in Mindanao, where 60% of Armed Forces of the Philippines personnel are currently deployed.
"Peasant communities and indigenous tribes are driven away from their homes by extractive operations, tourism, and infrastructure projects such as dams. The plight of poverty-stricken indigenous communities in Talaingod, Davao del Norte and many other parts of Mindanao is exacerbated as big foreign and domestic mining companies encroach on their lands and ancestral domains," Karapatan secretary general Cristina Palabay explained to Mr. Beyani.
Typhoon survivor Rev. Irma Balaba said that "more than six months after super typhoon Haiyan (Yolanda) struck the Philippines, the survivors continue to languish in appalling conditions with scarce, if any, access to shelter, potable water, basic services, and sustainable livelihood, despite the outpouring of support from the international community."
Atty. Edre Olalia, secretary general of the National Union of Peoples' Lawyers (NUPL), provided updates for Knaul on the escalating tactics employed to jeopardize, not just the independence of lawyers and judges, but their very lives and personal security, particularly human rights lawyers. He pointed out the continuing killings of lawyers and judges as well as various attacks like labelling, surveillance, hacking of phones and emails, and filing of nuisance charges against rights lawyers.
The present case of NUPL officer Cathy Salucon was highlighted considering the specific and imminent threat against her. "The human rights lawyers in the frontline are also under attack and immediate steps must be taken by the international community on top of domestic efforts before things even get worse," Olalia pleaded with Knaul.
A UN mandate holder like Special Rapporteurs can only conduct a country visit upon formal invitation by the State on an official request. The Philippine government previously announced during the country's Universal Periodic Review in 2012 that it will officially invite Beyani, but the official visit has not materialized since then. The former special rapporteur on the independence of judges and lawyers and judges first requested to visit the Philippines in 2006, and has since reiterated this request. The Philippine government, however, has not issued an invitation.
Aside from Palabay and Olalia, the EcuVoice delegation includes Rev. Irma Balaba, assistant programme secretary of the Christian Unity and Ecumenical Relations programme of the National Council of Churches in the Philippines; and Dr. Angie Gonzales, Atty. Mary Kristerie Baleva and Julie Palaganas of the International Coalition for Human Rights in the Philippines.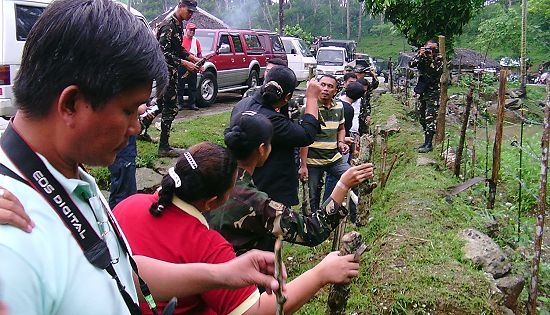 Soldiers and local media in a tree planting activity inside the 87IB camp.
Greening an army camp in Samar
By JAZMIN BONIFACIO
May 13, 2014
BRGY. POLANGI, CalbigaSamar – Soldiers of the 87th Infantry Battalion based in Barangay Polangi, Calbiga Samar started something they hope will last for years to come. They planted a tree.
Army camps like in Calbiga is different from traditional one. The soldiers demonstrated skills by planting trees in the tree park in an effort to develop a sustainable agriculture and agro forestry. This initiative of `trees for greener future' has worked well through, beautification of the barracks and rehabilitation of the entire camp through planting indigenous trees.
This is a park within the Army barracks, where the soldiers usually take their walk, hundreds of army soldiers mobilized to plant trees inside barrack compound.
In coordination with the office of Calbiga Mayor and the local office of the Department of Environment and Natural Resources (DENR), the 87th IB is establishing a tree park inside the army camp.
The initiative is in accordance with President Benigno Aquino 111, Executive Order No. 26, implementing the National Greening Program along government policy to pursue sustainable development for poverty reduction, food security, biodiversity conservation, and climate change mitigation and adaption.
The government's National Greening Program aims to plant 1.5 billion trees in 1.5 hectares of public land within a span of six years, from 2011 to 2016.
Lt. Col. Antonio B. Dulnuan Jr., Battalion Commander of 87th Infantry Battalion, is confident the initiative will give a boost to the participation of the military personnel in the greening program because of the sense of ownership that will be developed among them as they plant trees inside the ½ hectares Tree Park in Calbiga Samar.
The 87th IB has planted 50 seedlings of Rambutan, 115 seedlings of Red Lawaan and 115 seedlings of Mahugani.
It was learned that 87th IB covers the municipalities of San Jose de Buan, Paranas, Jiabong, Motiong, Daram, Hinabangan, Calbiga, Villareal, Pinabacdao, Talalora, Sta. Rita, Basey, Zumarraga, San Sebastian and Marabut all of Samar.
Soldiers from 87th IB encourage growing high nutrition crops and local food production. Producing a variety of resilient food crops, helping communities to diversify their nutritional sources, which is especially useful during extreme weather conditions. They as well are engaging rural communities, to help them address their needs for essential basic services such as water, fertile soil, and a healthy ecosystem through planting trees on critical watersheds.
Planting trees on public lands and mountain catchments helps to reduce environmental destruction – halting erosion through the retention of topsoil, harvesting of rainwater, and helps communities build their resilience to climate change.
Life of the Yolanda "no build zone" dwellers
By JAZMIN BONIFACIO
April 27, 201
TACLOBAN CITY – The devastation from the 2013 Super Typhoon Yolanda and storm surge will not soon be forgotten. And it's been five months now and the devastation of typhoon Yolanda in the city of Tacloban and in the entire Eastern Visayas region are still evident but so too are signs of progress.
And areas in the region worst hit by storm surge are still in the process of recovery, with many residents continuing to live in the tents cities along the no build zone areas.
With these, 'shelter' still the hottest issue in the city and to other nearby towns severely inflicted by huge tsunami-like surges seawater.
Respective government agencies, international organizations and non government organizations are doing steps to respond well to all of the possible help to be extended.
The local government of Tacloban is providing temporary shelter to displaced families, especially those families living in the no build zone areas.
According to Derrick Anido, city disaster risk reduction management chief officer, said that rebuilding homes do take some time, more so that the local government is fronted with problems like they don't have enough space for the relocation land for the relocation site.
With these, survivors living in the coastal areas, especially, those in the `no build zone' tried again to live in their ruined homes. They had to reconstruct again some shanty houses, made of tarpaulins as a roof and for others they put some wood on the side and for sure it won't stand up to a storm.
However, 'waray-waray' people (to what locals in Eastern Visayas fondly called), are known to be resilient people and they had the ability to use the support available to them in their environment to their advantage.
Pedro `Dodot' Cajipe, a father of 4 children, recalled how the water has gotten into all the houses in Costa Brava, San Jose and how fallen trees have broken most of the homes. Almost everything has been destroyed.
"Water has gotten into all the houses in our village… the storm surge has taken everything we earned, no food, no place to stay, no savings for us to buy private lots … away from this place in San Jose.' Dodot said.
People still have nowhere to go other than their shanty houses in the no build zone areas, and hundreds of them are facing threat of disease, contaminating drinking water or no water at all to drink.
It was learned also that victims of the typhoon are reluctant to stay longer in the tent cities because of some protection concerns which they think about for their children, particularly young girls.
According to Jenny Palahinog, a mother 4 children of Old Road Sagkahan, "dirimasayon an pagbalay yana, waray namon kwarta nga sadang ikatukod hin balay, labot la nga maupay nala didi bisan aadi kami ha no build zone, di man pirmi iton bagyo, problemako la di gihapon talwas adton mga anak labina an akon mga anak nga babayi."
Jenny was remarkably determined and resilient in the face of crushingly difficult circumstances. They had to sleep inside the tents on mattresses that rest on wooden and plastic pallets. Their food, beverages, clothing and other belongings were arranged neatly along the wall of the tent.
And according to Jenny, "you try your best to make it look like home".
While admitting that the living conditions at the tent city weren't safe and appropriate for children, Dodot, Jenny and all those living in the 'no build zone' areas wanted the government to take action. They've been living in the tent city, partly because they have no other place to stay. They vow to remain there until the government gives them housing.
ICRC operational update on the Philippines:
Strengthening the resilience of violence-affected communities
By ICRC
April 25, 2014
MANILA – In different parts of the Philippines, thousands of people affected by fighting need humanitarian assistance. In Zamboanga City, as elsewhere in Mindanao and the Visayas, the ICRC is helping communities to recover and rebuild amid long-standing cycles of violence and poverty.
"We have launched a major operation with the Philippine Red Cross to assist Typhoon Haiyan survivors in Samar, but we have certainly not forgotten the many thousands of people affected by armed conflict elsewhere in the Philippines," said Pascal Mauchle, head of the ICRC delegation in Manila. "We remain committed to helping them, as their needs are also immense."
Helping the displaced in Zamboanga
Seven months after fighting broke out in Zamboanga City between a faction of the Moro National Liberation Front and government forces, about 40,000 people are still displaced from their homes – many of which were destroyed in the fighting – and living in difficult conditions.
Most of the displaced are sheltering in tents, improvised wood and tarpaulin structures or bunkhouses along the Cawa-Cawa shoreline and especially in the Joaquin Enriquez Stadium.
"Displaced people are still largely dependent on assistance from government and aid organizations," said Gareth Gleed, in charge of the ICRC's activities in Zamboanga. "Malnutrition has resulted in children dying from preventable diseases. Supplemental feeding of children under the age of five and support to families with pregnant or lactating women are priorities in the drive to push down malnourishment rates."
Working closely with Philippine Red Cross, the ICRC is maintaining its efforts to improve hygiene and sanitation conditions and access to potable water and health care. It is enhancing the drainage system in the stadium and providing additional latrines. In Rio Hondo, where nearly 2,000 people have found shelter, the local health station has been renovated. Other health facilities treating the displaced population in Zamboanga have been given medical supplies to help cope with increased demand.
In addition, financial support is being channelled to the neediest in exchange for work or to help them restart income-generating activities. About 40,000 people who lost homes and livelihoods in the fighting have received cash without conditions, giving them the freedom to invest in what they need most. Cash-for-work schemes for about 1,200 displaced people are helping ensure that garbage is collected and disposed of in the Joaquin Enriquez stadium and along Cawa-Cawa shoreline. "Our aim is to help those who have lost everything regain control of their lives," said Mr Gleed.
Water, health care and livelihoods in Mindanao and the Visayas
In several remote areas of Mindanao and the Visayas, displaced and resident communities already living in poverty are struggling to cope with the added burden of violence and lack of security.
"Communities often rely on farming for survival, so we work with them to implement sustainable projects and improve crop yields," said Alan Colja, the ICRC's economic security coordinator in the Philippines. "Our approach is to allow communities to identify their own needs and priorities."
"For example, when a conflict-stricken community in Guihulngan, Negros Oriental, recently decided that it wanted to boost incomes by expanding its cut-flower business, the ICRC helped it set up a small cut-flower nursery and provided advice on increasing production."
In recent months, nearly 20,000 people in the upland municipalities of Magpet and Midsayap, in North Cotabato and Lope de Vega and Las Navas, in Northern Samar, received a variety of seed, farming tools, and training to increase crop production.
In addition to rebuilding livelihoods, the ICRC works to improve access to potable water and health care in isolated villages. Essential services can be seriously disrupted by lack of security, often because infrastructure falls into disrepair and vital supplies are not delivered. Where the quality of water has deteriorated, as it has for the 2,000 residents of Marcelo village in Negros Occidental province, ICRC engineers upgrade water supply systems and sanitary facilities.
To ensure that patients from all sides of the fighting with weapon-caused injuries receive the medical attention they require, the ICRC provides two hospitals in conflict-prone areas of Mindanao with medical supplies, as well as ad hoc financial support. The ICRC also supports the only centre in Mindanao providing artificial limbs and other devices for the physically disabled, with 12 patients fitted this year.
Hope amid despair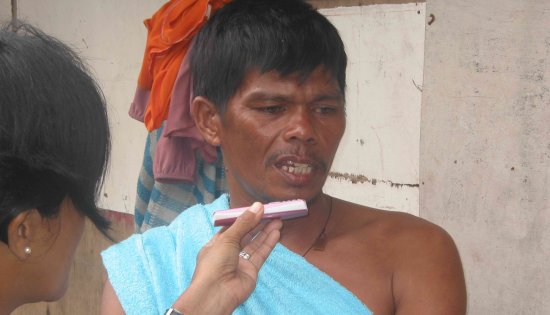 By JAZMIN BONIFACIO
April 24, 201
BRGY COSTA BRAVA, San Jose, Tacloban City – "I fight ….and I am fighting for my three young children…. that my children may not have to die so young…because of hunger."
Bonifacio `boning' Mabag, a 45 yrs old tricycle driver and a father, who lost 5 of his young children, and whose home was destroyed by typhoon Yolanda.
Mabag, was standing among the twisted wreckage of his home as he was interviewed, reliving the terror they felt while 30ft water and strong winds of 387 kph obliterated their neighborhoods and Mabag described how he and his wife and children took refuge.
"I and my wife were inside our house and holding our children", Mabag recalled.
"We thought we'd die ….GI sheets and debris started slamming on us." Mabag said.
Five of Mabag's children died, as they couldn't get hold anymore the strong winds and current of water as they try to hold on to the floating logs.
"I lost consciousness…. I tried to look for my wife and children….but I know they are just here somewhere," fighting back tears, Mabag told Samar News.com.
His 38-year-old housewife, Lorna, was then nine months pregnant when the typhoon occurred.
He exclaimed with joy as he spotted his wife and his two children after two days of searching along San Jose area, a coastal village in Tacloban City.
"I thought God just answered one prayer to let me be OK but he answered both of them," he said, before being led away from the debris with his wife.
Mabag spoke of his desperations as he tried to round up his family after the typhoon hit and his relief when he realized they (his wife and 2 children) were OK.
"Our hearts are broken for the parents that are wondering about the state of other children that have been hit, I know that there are families wondering where their loved ones are", Mabag said.
Family's death is one of many tragic stories to emerge from devastation of typhoon Yolanda. It was one of many heartbreaking stories that emerged in the hours after a deadly storm surge ripped through the city of Tacloban with incredible tales of survival.
Rescuers were looking under every single piece of debris for the missing.
More than five months now after the onslaught of typhoon Yolanda in the city, Mabag is determined to fight and he continues to hold on in faith that God is going to take him through this.
He went back pedaling tricycle (pedicab) for transporting goods and people as his means of livelihood.
"I fight ….and I am fighting for my three young children…. that my children may not have to die so young…because of hunger." Mabag said.
"So many times our problems cause us to think that God has forgotten us. It is hard to understand that the Source of our strength and our Provider in all things is already with us. When a situation seems hopeless, it is difficult to not grow weary and lose strength….. through the storm, we have the peace of knowing that `all is well' and we keep our eyes on our Savior." Mabag stressed.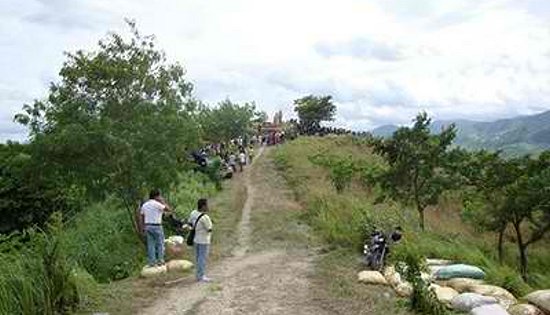 Site of the Maguindanao massacre. (Photo by Mark Navales)
Why Philippines is ranked 3rd dangerous place for journalists, activists
By Asian Human Rights Commission
April 17, 2014
HONG KONG – Recently, the Committee to Protect Journalists (CPJ) published its report ranking the country as 3rd "most deadly for journalists," next to Iraq and Somalia. In another report, the Global Witness ranked the country as the 3rd "most dangerous" for environment and land defenders worldwide, next to Brazil and Honduras, where indigenous people struggle for control of their lands.
The comments and analysis offered by the experts on the report, apart from their ranking of the country, explains that after over ten years of these routine, systematic and widespread attacks on human rights defenders in the country, we have yet to understand the system that allows these killings to happen.
Take for example, the comment by Rupert Abbott, Amnesty International's Deputy Asia Pacific Director, that "effective investigations and prosecution for crimes involving human rights violations are rare." From the AHRC work documenting cases for a decade now, it is not an issue simply of "rarity", but rather that effective investigation and prosecutions are prevented or obstructed. There is a distinction between rarity and from being obstructed.
In the Philippines, those who could have played an enormous role to ensure that the investigation and prosecution of cases – like the complainants, witnesses and families of the victims – have no protection. The absence of protection certainly results in the poor investigation and prosecution of cases. No police or prosecutors can ensure their investigation and prosecution is effective if they have no complainants, no witnesses and the families would not talk to them. No complainants means there is no case.
The police and prosecutors know this full well, but neither the police nor the prosecutors do anything about it. It is the problem of "not doing anything" by the State and its agents despite knowing the problem that prevents and obstructs any forms of an effective and adequate investigation. It is not a problem of a rarity of effective investigation. It is the inaction and acts of omission by the police and prosecution that makes effective investigations a rare phenomenon.
While it is partly correct that the problem of unabated extrajudicial killings in the Philippines is a "systemic problem in the country's criminal justice system"; however, our question is: is the country's system of justice founded and based on fundamental protection of the right to life? As we have seen, for many years, western countries, notably European countries, have invested so much in improving and developing the country's criminal justice institutions. The police are given training on effective investigation by foreign experts; so are the public lawyers and prosecutors on prosecuting.
Thus, if we rely on this thesis that the problem is purely "systemic" then it would assume that solutions could be improving the system, like training and building of the capacity for investigation and prosecution. Of course, we are not discounting the importance of training and capacity building; however, has there been any credible assessment that these methods prevented extrajudicial killings; or have they led to the arrest, detention and punishment of the perpetrators? No.
Not even those perpetrators from within the police and the military, the likes of retired military General Jovito Palparan have been arrested. One of the core problems in the Philippines is not the rarity of the effective investigation and prosecution from happening; or, the problem can be address by developing their capacity to investigate alone. The problem is that the security forces involved in extrajudicial killings, enforced disappearance and torture of human rights defenders could not be held to account by the law. They are rewarded, promoted and go unpunished.
So, how can the police and prosecutors carry out an effective investigation and prosecution respectively if the perpetrators are rewarded?
This pattern is not difficult to understand. In fact, within his own backyard, President Benigno Aquino III, in Hacienda Luisita, where seven farmers who were demanding the rightful distribution of their land were killed by the security forces on November 2004. None of those who killed the protestors were punished. In fact, six or seven more activists and the witness to the massacre were subsequently killed.
Also, the possibility of putting perpetrators in jail, like the "two suspects have been jailed" as mentioned in the Global Witness report also depends on who the perpetrators are, who are the victims and who they are associated with. There is deeply held bias and prejudice. The possibility of punishment for the perpetrators is often measured on this. Some could get some protection and relief; others do not have any at all.
In the experience of the AHRC, there is a pattern of unequal application of the law in arresting, prosecuting and detaining perpetrators to the murders of journalists and human rights and political activists. Only those persons whom the security forces and the government would consider as 'not a threat to the internal security and its interest' are likely to get some form of protection and relief.
For example, protective security was provided to Arthur Sapanghari, a broadcast journalist; and his family, as they were facing threats for reporting corruption, illegal logging and human trafficking in Bukidnon, Mindanao. Obviously, Arthur was provided security because he himself is involved, in the words of the police, "actively participates in the peace and order campaigns in Valencia City."
But how about those victims and those families who protest against the police? In cases where the policemen are themselves the perpetrators of extrajudicial killings? Do they provide protection to the complainants, witnesses and families? No.
The absence of protection is clearly demonstrated in the case of Myrna Reblando and her family. Myrna, widow of one of the victims of the Maguindanao massacre, has pursued prosecution against the local politicians, the police, soldiers and paramilitary forces responsible. In her case, she had to leave the Philippines because neither the police nor the prosecution could offer her adequate protection.
Her experience is similar to the case of Florence "Dom-an" Macagne, widow of Jose "Pepe" Manegdeg, a social activist who was killed by a soldier in November 2005. Despite her own and her family's repeated appeals: from the police and prosecution to adequately investigate her husband's case, and to provide protection to the key witnesses who had identified the soldier as the perpetrator, they did nothing. The court had to dismiss the case because the witnesses withdrew due to insecurity. The victims' family has to go in hiding due to insecurity.
The problem in the Philippines is deep and one that is yet to be understood both by the victims, their families, and those who could play a role to support them. Without adequately understanding the problems, the rituals of ranking, may help draw attention to them, but could not move and provoke new ideas that could help in resolving the problem.