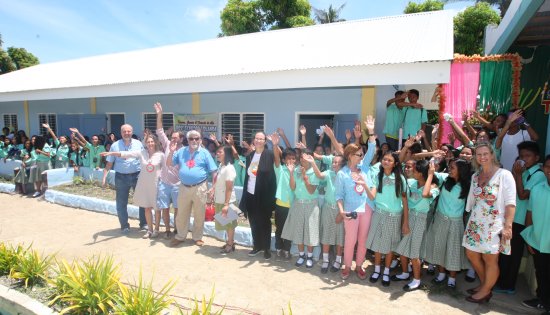 RAFI Board of Trustees Member Romy Ronquillo (fourth from left) leads donor partners and students and teachers of Maya National High School in having their photo taken in front of the newly-constructed school building. (Photo from RAFI-EDU)
RAFI, partners turn over school buildings
By CELINE AMPARO and GENEVIEVE CAÑETE, RAFI Comm. Interns
September 5, 2014
CEBU CITY – In fulfillment of their promise to help Yolanda survivors, The Ramon Aboitiz Foundation, Inc. (RAFI) and its international partners turned over five reconstructed classrooms last August 27 in Daanbantayan, Cebu.
RAFI, in partnership with Let's Help Philippines, Christ Leather Fashion, Pesch Family & Friends, Action Calligaro-Mueller Family & Friends, raised funds amounting to P3.4 Million to rehabilitate the school's heavily damaged classrooms after the onslaught of Super Typhoon Yolanda.
The international partners were a group of German businessmen who have long been living and doing business in the country and have been helping Yolanda survivors immediately after the devastation through relief operations and providing housing materials.
School Principal Eva Casinillo and the students of Maya National High School (NHS) in Daanbantayan were overjoyed to receive the two-classroom school building and another three-classroom single-storey building.
Casinillo said she was very grateful to the donors because not only that the students have their classrooms back, they now have better ones.
With stronger columns and beams, elevated flooring, roof insulation, and natural ventilation, the reconstructed buildings were designed to be disaster-resilient. Each classroom also has a lavatory, sink, toilet, concaved blackboards, and two ceiling fans.
During the ribbon-cutting and unveiling of the marker, the German donors were delighted to see their names imprinted on the stainless marker, happy that their efforts were also recognized.
Anthony Dignadice, RAFI Education Development Unit, said Let's Help Philippines' Miranda Konstantinidou and her employees forewent having a Christmas party last year and instead had their money donated to their Yolanda relief campaign.
Action Calligaro-Muller and Pesch Family and Friends, on the other hand, are private groups created after Yolanda hit the Philippines. The groups' objective was to provide emergency aid to those greatly affected by the super typhoon.
"They (partners) wanted to have a long term and sustainable community project to help schools and children, so they decided to partner with RAFI to help them find a school," Dignadice said, adding that donor Jurgen Pesch of Christ Leather Fashion invited the school to have its graduates apply for work in his company.
Daanbantayan Mayor Augusto Corro, Vice Mayor Gilbert Arrabis, municipal council member,Maya Barangay Captain Ali Abucay and barangay council members were also present to witness the turnover ceremony.
Romy Ronquillo, RAFI Board of Trustees member, expressed his gratitude to the donor partners, adding that if non-Filipinos are this generous, he hoped Cebuanos would also "be like them."
"One of the good things that Typhoon Yolanda did was to make the generous people come forward to provide and offer their help...and the nice thing about this is these people are foreigners," Ronquillo said.
Ronquillo further told the school that the best way to show gratitude to the donors is to take care of the building and maintain it properly.