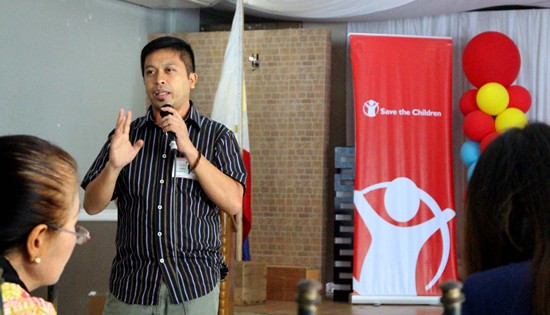 Roy Bautista Advocacy Manager of Save the Children discusses the importance of Children's Emergency Relief and Protection bill
Yolanda-battered Tacloban and Leyte backs children's protection bill during calamities
By Save the Children
June 25, 2015
TACLOBAN CITY – Tacloban City government and Leyte Provincial Council have signed recently resolutions of support pushing for the passage of House bill 5285 or the Children's Emergency Relief and Protection Act, a groundbreaking bill that seeks to provide enhanced relief and protection for vulnerable children caught in disasters.
As was one of the worst-hit areas by Typhoon Yolanda and 'center' of disaster in November 2013, the province of Leyte and its capital Tacloban city are critical areas of support for the bill.
Ned Olney, Country Director for Save the Children, thanked the provincial and LGU councils for their overwhelming support:
"Thousands of lives were lost in Tacloban and across Leyte to Typhoon Yolanda. Their children bore the brunt of the destruction and sorrow. These communities understand the critical importance of passing the Children's Emergency Relief and Protection Act. We welcome this support and we strongly urge the Congress and Senate to pass this quickly before the next typhoon season."
"We believe that the support of our local government units (LGUs) and the public sends a message that No Child should ever die again to a Typhoon."
The bill proposes that DSWD and other national agencies develop a comprehensive plan to enhance services, increase protection and services for children before, during and after disasters. Some of the noteworthy provisions include: improved family tracing for unaccompanied minors, disaggregated data collection to identify children, trainings on child-focused response, restoration of civil documents and setting up a mechanism to limit use of schools are not used as evacuation over an extended period of time.
Today, the Save the Children holds a policy forum to discuss the bill with over 100 representatives from LGUs, non-government organizations, community leaders and children in Tacloban.
In a short ceremony during the forum, Save the Children awarded plaques of appreciation to the province of Leyte, Tacloban City and over 10 municipalities across Leyte for passing resolutions of support addressed to the Senate and House of Representatives.