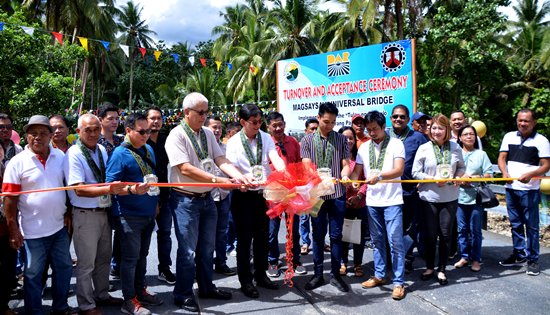 DAR Undersecretary, Bernie Cruz; OIC-Project Director of the DPWH, Rodrigo Delos Reyes; Javier Mayor, Michael Dragon Javier; and Leyte 5th District Representative, Carl Nicolas Cari (4th, 5th, 6th, and 7th from left, respectively) cut the ceremonial ribbon during the inauguration of the "Tulay ng Pangulo para sa Kaunlarang Pang-Agraryo" project. (Jose Alsmith L. Soria)
DAR turns over "Tulay ng Pangulo" in Javier
By JOSE ALSMITH L. SORIA
December 9, 2019
JAVIER, Leyte – Residents of Barangay Magsaysay and nearby villages in this fourth-class municipality applauded with joy as they witnessed the inauguration and turnover last week of the bridge that would eventually change their lives.
In his welcome message, Magsaysay Barangay Chairman Raul Abueva said school children would now be able to attend their classes regularly even during rainy days.
For Carmelita Mamalias, transporting of farm products would be a lot easier now.
Mamalias shared that prior to the construction of this bridge, residents in the area cross the stream thru a spillway which is flooded during heavy rains making it impassable.
Undersecretary Bernie Cruz of the Department of Agrarian Reform (DAR) led the inauguration and turnover of the first "Tulay ng Pangulo para sa Kaunlarang Pang-Agraryo" project implemented in Eastern Visayas.
Cruz disclosed that the P9.7-million project was funded under the French Government thru Compagnie Francaise d'Assurance pour le Commerce Extérieur (COFACE).
He further disclosed that the 28-linear meter bridge, implemented in coordination with the Department of Public Works and Highways (DPWH), used pre-fabricated materials imported from France.
Thus, Cruz reminded the recipients to take care of the project and maintain it to be in good condition always so it could still be used by the next generation.
According to him, the materials used in this project are the same materials used in the construction of the Eifel Tower. "Paghinawakan nyo ang tulay, parang nakarating na rin kayo sa France at tinitingnan yung torre," Cruz jokingly said during the occasion.
Meanwhile, OIC-Project Director Rodrigo Delos Reyes of the DPWH advised the residents in the area to report to the local government unit any damage seen in the project so it could immediately be repaired.
In acceptance, Mayor Michael Dragon Javier repeatedly thanked DAR and DPWH officials that finally the bridge, which according to him, was requested in 2013 by his father, the former mayor, Leonardo Javier Jr., is now being inaugurated.
Javier stressed the benefit this bridge would bring to his town. "This is a sign of progress, a sign of success for this town," he added.
About 10,000 residents from this barangay and five other nearby villages are expected to be benefited by this project, wherein 293 are agrarian reform beneficiaries.
With this bridge, this area becomes an alternate route in going to adjacent municipality, Abuyog.
Joining Javier in accepting the project was Leyte's fifth district representative, Carl Nicolas Cari, who also committed to help in the maintenance of the project.
Javier likewise acknowledged, during the said occasion, previous projects DAR poured in this municipality, which included six farm-to-market roads with a combined amount reaching P96.8-million.