Army reservists complete 5-day enhancement training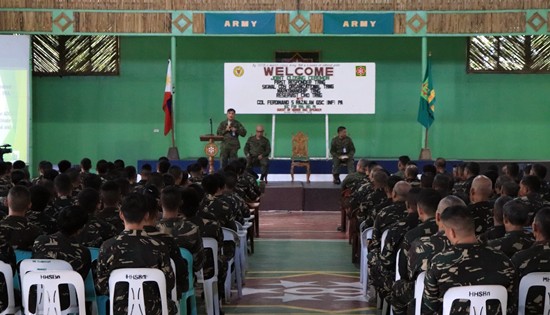 By DPAO, 8ID PA
December 12, 2019
CAMP LUKBAN, Catbalogan, Samar – A total of 287 Army Reservists coming from the different Community Defense Centers (CDCs) in the region successfully completed on their respective training courses facilitated by 8th Infantry (Stormtroopers) Division, Philippine Army through the Office of the Chief of Staff for Education and Training, G8 held at 8ID Covered Court on December 10, 2019 at 2:00 p.m.
This is in line with Republic Act 7077 Armed Forces of the Philippines (AFP) Reservist Act of 1991 otherwise known as An Act Providing for the Organization, Administration, Training, Maintenance and Utilization of the Citizen Armed Force of the Armed Forces of the Philippines and for Other Purposes.
Reservists are organized, trained, developed and maintained to ensure their readiness anytime to augment the regular force of the Armed Forces of the Philippines not only in times of conflict but also during emergencies arising from calamities, disasters and threats to peace and order including the need to provide humanitarian assistance in relief and rescue operations.
Courses undertaken are the following: First Responders' Training - 36 reservists from 806th (Biliran) Community Defense Center based in Naval, Biliran; Signal Company Organization Training - 56 reservists from 804th (Tacloban City) Community Defense Center based at Kuta Kankabato, San Jose, Tacloban City; Marksmanship Training - 135 reservists from 802nd (Eastern Samar) Community Defense Center based in Borongan, Eastern Samar and Reservist Civil-Military Operations (CMO) Training - 60 reservists from six (6) different CDCs in Eastern Visayas.
"As force multipliers of the Regular Force of the Armed Forces of the Philippines, our reservists are also our reliable partners in civil-military operations and other undertakings that contributes to nation building," explained by Col. Ferdinand S. Razalan, the Assistant Division Commander for Reservist and Retiree Affairs (ADCRRA) of 8th Infantry Division as the Guest of Honor and Speaker during the joint closing ceremony.