Army reserve officer gets recognition for exemplary performance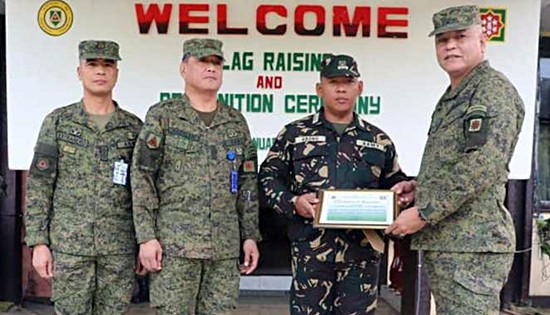 By DPAO, 8ID PA
January 13, 2020
CAMP LUKBAN, Catbalogan, Samar – An Army Reserve Officer from the 8th Regional Community Defense Group, Army Reserve Command (ARESCOM) Camp Downes, Ormoc City was given recognition by the 8th Infantry (Stormtroopers) Division, Philippine Army during the Flag Raising ceremony at the Openiano Field this morning, January 13, 2020 at 7:30 a.m.
1Lt. Pedro R. Abong, Jr. (Res.) was recognized for his outstanding accomplishment and proficiency during the conduct of Pistol and Rifle Marksmanship Training at 8ID Firing Range from December 5-6, 2019.
Among the 135 reservist shooters, 1Lt. Abong garnered a perfect score of 100 points and was adjudged a "top gun" by the training directorate.
Brig. Gen. Ramil M. Bitong AFP, Assistant Division Commander personally awarded the Certificate of Recognition to 1Lt. Abong. He was assisted by Col. Ferdinand S. Razalan, Assistant Division Commander for Reservist and Retiree Affairs (ADCRRA).
1Lt. Abong was grateful and proud for the recognition bestowed to him by the Command.
"It is just fitting to acknowledge the accomplishments made by our men from reserve force. As volunteers without compensation, they continue to carry on the dynamic and full interchange of support between the military and civilians. They continue to be our reliable partners in support operations as to nation-building, humanitarian assistance and disaster response," in a statement made by Brig. Gen. Bitong.