Todo-Todoc's increase amidst the crisis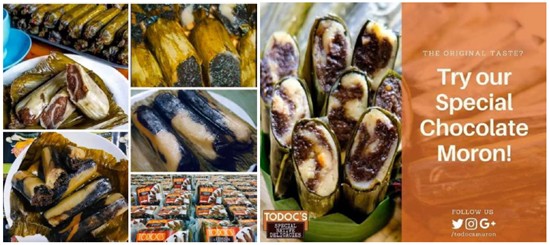 By DTI-Regional Operations Group
July 15, 2020
MAKATI CITY – 2020, is it the best year yet? Well, not for the younger generation. The recent restrictions on travel and other leisure activities affected the tourism industry everywhere. Far from happiness, most of Region 8's micro entrepreneurs who fall under the sector of tourism support were greatly affected. These are businesses who support the local tourism by offering a handful of sweet native delicacies.
Leah Hiangnan, a young traveler and entrepreneur/owner of Todoc's Special Native Delicacies, is already experiencing success from her thriving business selling chocolate moron (chocolate sticky rice pudding). It is a well-known native delicacy usually introduced and loved by visiting tourists, and pasalubong from every kababayan in Eastern Visayas. Her brand- Todoc's, is known to originate from Abuyog, Leyte, the true home of this delicacy.
Prior to the threat of the COVID-19 pandemic, her product was top-selling, she also has shipments to Manila, Cebu and Bohol.
For Leah, success is on her side, until recently she experienced unfortunate events in her life. Her father died this year, then comes the pandemic. Sadly, her orders for the Holy Week and Summer were cancelled due to low demand in tourism-support products and logistical concerns.
Everything seems to stop in her life. "Nahulop ko Maám, asa ko pamilngon an akon ibayad monthly sa akon loans para sa business operation," says Leah who emotionally shared her struggle on how she can pay her loans used to expand her business when their operations stopped. She also shared how her family is financially affected by the hiatus, especially that she gave birth to her first born. Good thing the financial institutions imposed moratorium for loan payments.
She was also concerned of the employees who depend their livelihood on hers. Twenty (20) of her employees instantaneously lost their jobs, and she could not support them either.
For some time, she paused and started to think of ways how she can advance forward. She was determined to move on and learn to navigate the unknown paths of the "new normal". With internet and a social media account, she started posting photos of her product online. It was a positive step, a few orders came.
Exactly May 1, 2020, she called out 7-10 employees and started the production of chocolate moron. They started to work twice a week. Though far from her daily production and 20 employees working for her, it was a good start. Soon enough, she will gain back her monthly income of P80,000-100,000.
Leah noticed that most orders are coming outside of the region. She searched further and found out that there is a high demand for native delicacies in Manila.
Now how would she deliver her products? Again, through online searching, Leah found a way. "Pasabay" services are the trend for micro entrepreneurs. Small logistics player in the region offer door to door delivery of products from small businesses to their linked businesses in Manila.
"Naghahanap ako Maám ng paraan para maka-kuha ng orders, mag-produce kami at maka-deliver," says Leah who was determined to seize every opportunity of getting bulk orders outside the region and delivering them.
Talking about disaster resilience, she is coping with the crisis by establishing a broader network and strengthening business ties with her partners while finding ways "paraan/diskarte" to make sure her business goes running.
Usually she sends her products in Cebu, Bohol and Manila, now, a door opened for Dumaguete with an initial order of 60 packs of chocolate moron.
Despite the spiking prices of raw materials for the production and the limited supply of sugar and milk, Leah will be producing 12,000 pcs of chocolate moron this week and expects more to come in succeeding weeks.
Leah will also process the delicacy in the water retort facility at the Food Innovation Center by DTI and DOST to extend the shelf life of her product. She considered the possible delays in logistics, and so, she wanted to ensure the consistency of her product's quality.
"I will always find ways to make sure that our business will always run by building new business linkages and stepping in for every opportunity I find," says Leah Hiangnan with full determination to keep her business at the middle of a crisis.