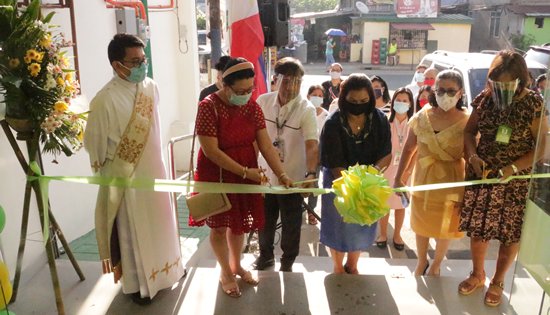 In the picture are (L-R) Rev. Mar Andreen Castillo, CARD SME Bank client Lilia Barcelon, CARD SME Bank President Aristeo A. Dequito, CARD MRI Managing Director Flordeliza L. Sarmiento, CARD SME Bank Executive Vice President and COO Cynthia B. Baldeo, and CARD SME Bank client Priscila Arzobal during the opening of the 35th branch in Nasugbu, Batangas.
CARD SME Bank opens new branch in Batangas; geared up for the new normal
By CARD MRI
July 30, 2020
SAN PABLO CITY – As we start to embrace the new normal brought by COVID-19 crisis, CARD SME Bank, a thrift bank and a member institution of CARD Mutually Reinforcing Institutions (CARD MRI), opened its 35th branch in Nasugbu, Batangas on July 27, 2020, and is now ready to serve its clients adapting to the new normal.
This is part of the expansion plans of the bank in promoting financial inclusivity for all. Said CARD SME Bank President Aristeo B. Dequito, "CARD SME Bank is now celebrating its 9th year of providing financial services to the communities. We started from small offices in 2011 but we remain steadfast in our mission in reaching more MSMEs and cater to their growing financial needs in CALABARZON region."
He also added that despite the COVID-19 pandemic, CARD SME Bank sees it not as a barrier in providing financial services. "There might be some changes in our plans because of the swelling number of cases of COVID-19 in our country, but our goal remains, to reach and help more communities by providing them access to financial products and services and better banking experience. We are here to build better post-pandemic banking services to our clients."
"Our investment in advance technologies has coped with the latest trends in banking. Our journey to digital innovations has led to more convenient banking experience to our clients. As we continue our transformation to digitization, our clients will soon experience hassle-free banking transactions anytime and anywhere using their mobile phones through the konek2CARD mobile banking app," he added.
The branch is strategically located at J.P Laurel St., Barangay 11, Nasugbu, Batangas, and expecting to serve more than 15,000 clients from eight branch-lite-units.
Present during the opening was CARD MRI Managing Director Flordeliza Sarmiento, CARD SME Bank Executive Vice President and COO Cynthia Baldeo, and CARD MRI clients and staff.
The thrift bank
CARD SME Bank is one of the banking institutions of CARD MRI that caters to the needs of thousands of MSMEs in the country.
The bank primarily offers various business loan products tailored-fitted to the needs of MSMEs such as flexible loan payment terms and options, and affordable interest rates. It also offers deposit accounts such as savings account for microentrepreneurs and kiddie savings for children, ATM, checking, time deposit, consumer loans such as car and housing loan, and domestic remittance service.
As of June 2020, CARD SME Bank already served 987,686 clients nationwide with 35 bank branches and 328 offices and a total asset of P7.7 billion.