DTI-Export Marketing Bureau hails exporter-turned-PPE maker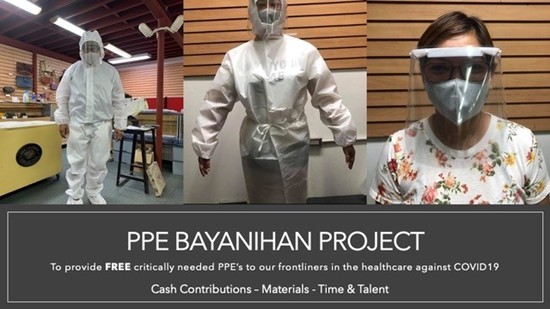 By DTI-TPG
June 9, 2020
MAKATI CITY – The Department of Trade and Industry-Export Marketing Bureau (DTI-EMB) hailed local Personal Protective Equipment (PPE) maker for spearheading the PPE Bayanihan Project for healthcare frontliners.
Since the country has been under quarantine, all but essential businesses are closed, including Leather goods manufacturer The Leather Collection (TLC).
The company, availing business matching services from the DTI-Export Marketing Bureau, was already exporting their products. But they had to shut down operations due to the covid-19 pandemic. Instead of being discouraged, TLC Chairman Federico Sevilla, Jr., and CEO Yolanda Sevilla used the time to spearhead the PPE Bayanihan Project for healthcare frontliners.
To date, they have donated over 15,000 PPE (face shields, isolation gowns, and jumpsuits) to 82 hospitals, rural health units, and health centers in Metro Manila, Laguna, Batangas, Bulacan, Nueva Ecija, Antique, Quezon, Leyte, Bataan.
The PPE Bayanihan Project began when the Fashion Design and Merchandising School of the College of St. Benilde (St. Benilde FDM) asked for materials to make Personal Protective Equipment (PPE). TLC gave water-resistant lining material and Benilde FDM acknowledged their donations in a Facebook post.
A friend of the Sevillas heard of their donation and donated P100,000 seed money to fund the project. Another donated rolls of water-resistant material. A third called to say he had a network of home-based sewers in Bulacan who could make the PPEs.
With all these elements in place, the PPE Bayanihan Project was launched. Its objective was and still is to provide our health care workers with PPEs since the demand for these was high and the supply scarce and were very important for protecting the health of the medical workers as well as prevent the transmission of COVID-19.
More friends and friends of friends got into the bandwagon – donating and soliciting donations, vetting requests for donations from hospitals, rural health units, health centers, and health care workers.
TLC functioned as the operations center: receiving and accounting for donations of money and materials; sourcing, qualifying and repurposing materials; product research and design; prototyping and approval of prototypes by anesthesiologists; coordinating production; receiving and dispatching finished goods which included face shields, isolation gowns, and coveralls or jumpsuits.
The PPE Bayanihan Project not only helped protect the front-liners but also allowed the Sevillas to leverage their experience in manufacturing; allowed volunteers to help stem the tide of contagion; and provided livelihood to home-based sewers in Guiguinto and Baliuag, Bulacan.