'Diskwento' Caravan continues roll out in Eastern Visayas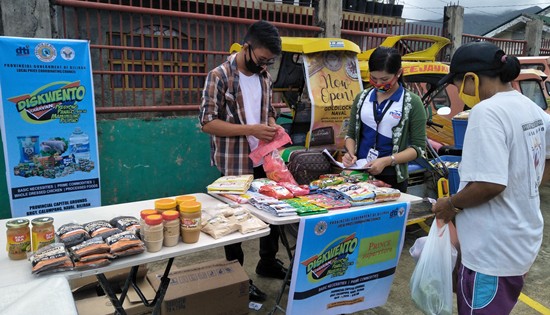 By DTI-ROG
May 26, 2020
MAKATI CITY – Addressing the needs of consumers for accessible and affordable basic necessities and prime commodities amid the COVID-19 crisis, the 'Diskwento' Caravan of the Department of Trade and Industry (DTI) has been continuously rolling out nationwide reaching even the rural and marginalized areas.
In Eastern Visayas, the rolling store has been catering more food among low-income families in Biliran. To date, DTI has conducted fourteen (14) runs of 'Diskwento' Caravan since April 16, 2020 in the province.
The caravan is in support and tie-up with the Office of the Provincial Agriculture Services (OPAS) of the Biliran provincial local government, the Department of Agriculture's (DA), the Bureau of Fisheries and Aquatic Resources' (BFAR) "Kadiwa ni Ani at Kita" Project under the help of Governor Rogelio Espina.
The products in the 'Diskwento' Caravan include instant noodles, coffee, canned sardines, soap, condiments; locally produced food products such as salted egg, ground robusta coffee, ginger tea/ salabat, tumeric, tablea, peanut butter, peanut brittle, papaya pickles, dressed chicken; and other available agri-fishery products like fresh fish, pork, vegetables and fruits.
The 'Diskwento' Caravan was seen to be effective and efficient for both sellers and market goers. The 14 runs have served twenty-five (25) Barangays or a total of seven hundred ninety-three (793) households in the Municipalities of Naval, Cabucgayan, and Maripipi.
Suppliers of Basic Necessities and Prime Commodities (BNPC) that were invited by DTI in Biliran generated total sales of P302,222.00. This serves also a good avenue for local distributors and suppliers to reach their target market and beef up sales from the drop due to the limited mobility of buyers.
"DTI will be in its forefront conducting more 'Diskwento' Caravans in other municipalities together with their LGU agricultural offices and the DA, to continually serve the masses while the province of Biliran is under a General Community Quarantine (GCQ)," said OIC Provincial Director Faustino V. Gayas, Jr.