Inflation rate in Eastern Visayas rebounds by 0.6% in November 2019
By PSA-8
December 23, 2019
TACLOBAN CITY – Inflation Rate (IR) in Eastern Visayas rebounded by 0.6 percent in November 2019 from 0.7 percent deflation in October 2019. This figure is 1.3 percentage points higher compared with the 0.7 percent deflation a month ago but 4.6 percentage points lower compared with the 5.2 percent IR recorded in the same period last year.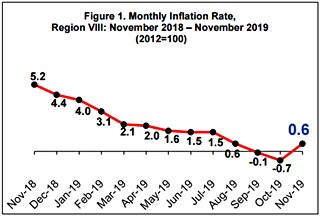 The regional IR is 0.7 percentage point lower than the 1.3 percent national average inflation rate in November 2019.
Leyte, Eastern Samar, and Northern Samar posted inflations in November 2019. Leyte and Northern Samar rebounded to 1.8 percent and 0.2 percent from 0.2 percent and 1.4 percent deflations in October 2019, respectively. Eastern Samar, meanwhile, decreased slightly to 0.6 percent in November 2019 from 0.7 percent in October 2019. On the other hand, Biliran, Southern Leyte and Samar posted deflations during the month in review. Biliran's deflation further declined to 1.5 percent from 1.4 percent in October 2019. Southern Leyte and Samar exhibited slower deflations at 1.4 percent and 0.2 percent from 2.6 percent and 1.1 percent deflations in October 2019, respectively. Biliran posted the lowest with 1.5 percent deflation. Leyte, meanwhile, recorded the highest IR during the month in review at 1.8 percent.
Majority of the commodity groups in the region exhibited increases in IR in November 2019 compared with their rates in October 2019. Alcoholic beverages and tobacco commodity group registered the biggest increase of 2.4 percentage points, from 4.7 percent in October 2019 to 7.1 percent in November 2019. This can be attributed to the price increases in both the indices for alcoholic beverages and tobacco.
Housing, water, electricity, gas and other fuels picked up by 2.1 percentage points, from 2.9 percent deflation in October 2019 to 0.8 percent deflation in November 2019.
The heavily weighted food and non-alcoholic beverages commodity group further registered 1.0 percent deflation during the reference month from 2.6 percent deflation in October 2019, an increase of 1.6 percentage points. Higher IRs were noted in majority of the food items, with fish index registering the highest increase of 4.6 percentage points pushing its IR to 4.4 percent in November 2019 from 0.2 percent deflation a month ago. Rice and bread and cereals indices continued to register deflations but at slower rate of 8.3 percent and 6.3 percent, respectively.
Transport commodity group increased by 1.0 percent during the reference month after registering zero inflation rate a month ago. This can be attributed to the index for operation of personal transport equipment which rebounded to 0.2 percent in November 2019 from a deflation of 4.3 percent a month ago.
The commodity groups of restaurant and miscellaneous goods and services, and clothing and footwear exhibited higher inflation rates during the reference month at 4.9 percent and 3.4 percent, respectively.
On the other hand, health and recreation and culture commodity group eased down by 0.4 percentage point, posting IRs at 2.9 percent and 1.4 percent, respectively, during the month in review.
IR for furnishings, household equipment and routine maintenance of the house commodity group exhibited a 0.2 percentage point decrease recording IR of 6.3 percent during the reference month.
Meanwhile, education and communication commodity groups retained their previous month's inflation rates.
The Purchasing Power of Peso (PPP) of the region remained at P0.80 in November 2019. This PPP implies that P100.00 in 2012 (base year) is worth P80.00 only in October 2019.
The PPP of Eastern Samar, Northern Samar and Samar weakened by P0.01 compared with its figure in October 2019. The rest of the provinces sustained their PPP last month. Biliran recorded the strongest PPP at P0.83. Leyte and Southern Leyte ranked second at P0.82, followed by Eastern Samar at P0.77. Northern Samar and Samar posted the weakest PPP at P0.75.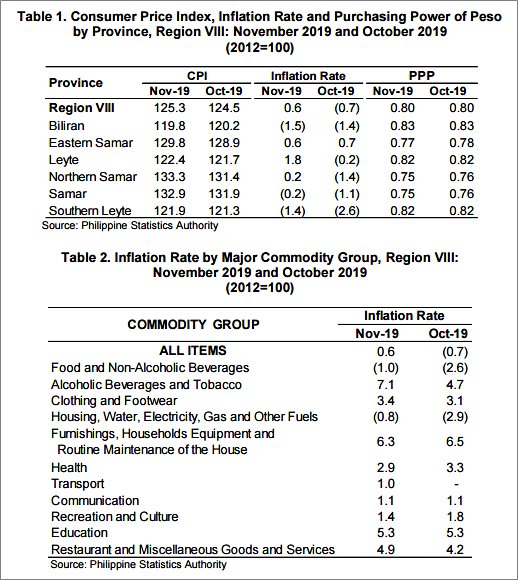 Samar First received a citation on Citizen's Feedback Management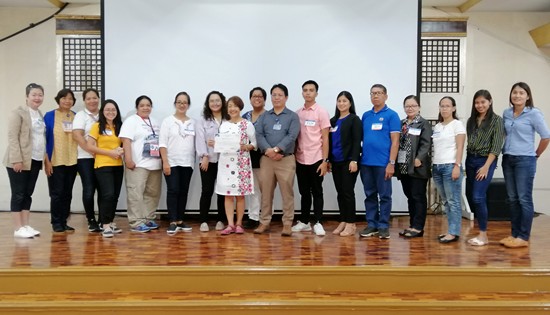 By GISSELLE G. PARUNGAO
December 22, 2019
CALBAYOG CITY – Samar 1st attended the DPWH Information Officers (PIOs) Communication and Advocacy Planning Workshop on December 13, 2019 at the Central Office, Port Area, Manila.
Regional Public Information Officers (RPIO) and District Public Information Officers from Regions 6, 7 and 9 were scheduled to attend on the said date. The workshop touched on the PIO Reportorial Requirements, Social Media Practices and Social Media Image Template among others.
Mr. Andro Gonzales, Community Affairs Officer IV of the Stakeholders Relations Service talked about the salient points on Ease of Doing Business otherwise known as Republic Act 11032 which supports and promotes transparency in the transactions of the government with the public.
He also discussed the Freedom Of Information (FOI) which gives every person the right to obtain information, documents or data from government bodies without having to give reasons except for Information covered by Executive Privilege, National Security, Defense or International Relations, Law Enforcement & Protection of Public & Personal Safety, Confidential Information for the Protection of Privacy of Persons, Confidential Information by reason of Official capacity, Prejudicial Premature Disclosure, Records of proceedings, Confidential information under banking and finance laws and other exceptions under laws, jurisprudence, and IRR.
He further added that even requests for CCTV footage cannot be released without the consent of all who were caught on CCTV camera unless it was ordered by the court. Minutes of meetings can also be given if and only if all who are in attendance have given their consent.
Ms. Mildred Villar also discussed the Citizen's Feedback Management Center (CFMC) which talks about the Customer Feedback Form and the status report for 2019 of the Citizen's Feedback Management Center.
The workshop concluded with the awarding of certificates wherein almost all were awarded to Region VIII such as, media coordination report award, most number of monthly news clippings, excellence award on Citizens Feedback Management as well as excellence award to District Offices in resolving all Feedback for 2019. Samar First was also given a citation award on Citizen's Feedback Management.
DTI, CARD renew P3 partnership with additional P100M for MSME microfinancing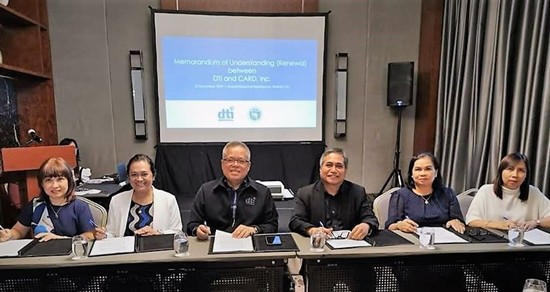 By DTI-OSEC-PRU
December 21, 2019
MAKATI – The Department of Trade and Industry (DTI) renewed its partnership with the Center for Agriculture and Rural Development (CARD), Inc., an NGO that provides microfinancing loans.
Through a Memorandum of Understanding signed last 16 December, CARD committed an additional P100 million of its funds for Pondo sa Pagbabago at Pag-asenso (P3) program. This brings CARD's total revolving fund for the P3 program since the partnership began in 2017 to P300 million pesos, which it will lend out to other beneficiaries to widen the reach of the P3 program to more micro borrowers.
P3 is DTI's program that provides low-interest, no collateral loans for existing micro, small, and medium enterprises (MSMEs). The program, managed by Small Business Corporation (SB Corp), is a response to President Rodrigo Duterte's directive to combat 5-6 loans. Through P3, entrepreneurs can borrow amounts from P5,000 to P200,000 from CARD and other accredited credit delivery partners.
Trade Secretary Ramon Lopez said that DTI benefits from the partnership since CARD supplements the P3.5 billion P3 allocation from the government with their own funds. CARD is also one of the biggest microfinance institutions in the Philippines, with 7 million borrowers nationwide.
Founder and Chairman Emeritus Dr. Jaime Aristotle Alip reported that CARD disbursed P600 million in P3 loans to around 56,000 borrowers since 2017. He also said that CARD targets to increase its P3 allocation to P100 million every year to reach 100,000 entrepreneurs.
Signing the agreement are (from L to R:) SB Corp President Luna Cacanando, DTI Undersecretary Blesila Lantayona, DTI Secretary Ramon Lopez, CARD Founder Dr. Jaime Aristotle Alip, CARD Inc President Flordeliza Sarmiento and Executive Director Jocelyn Dequito.
Waiters, cooks & dishwashers up in arms over repeal of service charge fee
By ALU-TUCP
December 21, 2019
QUEZON CITY – Workers group Associated Labor Unions-Trade Union Congress of the Philippines (ALU-TUCP) score a recent move of some business owners to repeal the collection of the service charge fee being enjoyed by all contractual and rank-and-file employees in restaurant, hotel and other service-oriented enterprises.
The management move came after the law on service charge fee collection was amended by Republic Act 11360 otherwise known as An Act Providing That Services Charges Collected by Hotels, Restaurants, and Other Similar Establishments Be Distributed in Full to All Covered Employees. The law was enacted by President Rodrigo Duterte last month.
Before the amendment, 85% of the service charge collected by establishments would be distributed to employees while the 15% are collected for management discretion for losses and breakages.
Reduction of benefits
"The repeal of some restaurants, hotels and service-oriented business enterprises of the service charge benefit is not in the intention of the revised service charge law. The revised Service Charge Law of 2019 which was approved by President Duterte last month turns over 100% of the service fees to all rank-and-file employees does not mandate or obligates employers and business-owners to discourage them from adopting the scheme or to rescind the practice altogether. This is not the intention of the law. Rather, the intention of the law is to improve the quality of service of businesses by incentivizing and empowering the best efforts of the employees and improve the workplace working conditions," said ALU-TUCP National Executive Vice President Gerard Seno.
Negatively impacted by the move are service industry workers including waiters, cooks, dishwashers, bartenders, customer assistants in restaurants. Other service industry workers affected are those working in gasoline stations, hotels, rest and recreation, and tourism.
DOLE must cure & correct flaw
The group said the management move clearly breaches the country's numerous judicial jurisprudence on principles of non-diminution of benefits of workers particularly the non-wage benefits already been enjoyed by the workers.
"In behalf of the working people and before the reduction escalate industry-wide, we therefore call on the DOLE to make the corrective measure and make immediate steps to cure this diminution of benefit among rank and file employees. We urge the DOLE to issue a supplementary corrective administrative order which cures this reduction of benefit and encourages business owners to retain and adopt the scheme that both improves the brand of service of the business and compensate the service the employees has rendered," Seno said.
Diminution creates workplace tension
ALU-TUCP spokesperson and advocacy officer Alan Tanjusay said some of these employees have approached them in person and through social media seeking assistance are furious over the development.
"The management's repeal of collection of the service charge fee will create tension in the workplace and hurt the relationship between employees and their bosses. It will certainly cause demoralization among the working force and impact on employee's productivity which will surely yield poor employees' output and adversely affects the unique quality brand of service that customers look for in the establishments. Thus, the repeal of collection of service charge fees constitute a diminution of benefit," Tanjusay said.
Service charge augment minimum wage
According to the group, the service charge fee substantially helps take home pay of service-oriented industry workers.
"Since the country's standard minimum wage rate is small and inadequate, management, business-owners must understand that lowly-paid waiters, cooks, dishwashers, order-takers and customer assistants and all other service industry workers look forward to the service charge collection because it substantially augment their take home pay. If this is remove, workers are in low morale," Tanjusay said.
Conviction of Ampatuan massacre masterminds a long-deserved win for families of victims – Karapatan
By KARAPATAN
December 19, 2019
QUEZON CITY – Human rights group Karapatan welcomed on Thursday, December 19, the conviction of 28 suspects, including Datu Andal Jr. and Zaldy Ampatuan, in the infamous Ampatuan massacre that brutally claimed the lives of 58 individuals, including 32 journalists who were supposed to cover the filing of the certificate of candidacy of then gubernatorial bet Esmael "Toto" Mangudadatu.
"We welcome the court's decision to convict Datu Andal "Unsay" Ampatuan Jr. and Zaldy Ampatuan, who masterminded the heinous massacre on November 23, 2009. This is a long-deserved win for the families of victims of the Ampatuan massacre, who waited a decade for such a decision. We attribute this victory to the tireless pursuit of justice led by the families of the victims, as well as journalists in the country. This is just the tip of the iceberg as the accounts point out to the culpability of other actors, who should likewise be held accountable for this heinous crime," Karapatan secretary-general Cristina Palabay said.
Palabay also assailed the acquittal of accused policemen: "It should be repeatedly registered that the Ampatuan massacre is a State-perpetrated atrocity that revealed the deep and extensive connection between State forces and the local elite. The role and culpability of State actors must never be whitewashed."
Moreover, according to her, this decision is not only a slap on the part of the Ampatuans, but also on their close ally, then President Gloria Macapagal-Arroyo, who was known for leading a regime plagued with human rights violations and impunity. Her government was infamous for committing human rights violations against journalists, dissenters, and social activists.
"We view the decision as headway, but we maintain that justice delayed is justice denied. With the fact that one of the accused Ampatuan was acquitted, some of the accused were out on bail and other legal remedies were accorded to the Ampatuans because of their friendship with powerful people, this decade-long trial is already a form of injustice for the families of the victims. Likewise, the fact that Gloria Arroyo basks in impunity and enjoys protection under the Duterte government is yet another indication that while there is triumph, it is incomplete," she said.
Palabay lauded the families of victims, journalists, human rights advocates, and individuals from civil society organizations who remained unswerving in the pursuit of justice for all the victims killed in the massacre, amid the relentless attacks and harassment perpetrated by the Ampatuans and their allies in the government.
"This only proves that years of hounding and demanding for justice pays off. As long as there is relentless efforts from families to exact justice and accountability, the fight will continue. Our justice system would have put this case in limbo if it were not for the resounding calls of families and journalists to remind the nation of this brutal crime. Many of our legal processes are subverted by murderers and plunderers to allow them freedom or simply wait for their crimes to be forgotten, but this case reminds us that impunity is not forever," she added.
The Karapatan official also urged the public to be "keen and vigilant" as Ampatuan's staunch ally, Macapagal-Arroyo, is back in power, citing the Duterte regime's efforts in rehabilitating human rights violators and criminals "who were once thrown in the garbage bin of history." She added that "with Macapagal-Arroyo being part of Duterte's immediate circle, along with other officials who share the same contempt for human rights, we are called on to remain vigilant."
Palabay noted that "the friendship of Duterte and Arroyo can result in the eventual pardon of the Ampatuans, despite a court conviction," citing the regime's abetting of top criminals and plunderers, including the Marcoses who are now absolved from graft cases involving billions of ill-gotten wealth.
"While welcoming the court's decision, we enjoin the public to remain vigilant in calling for the disbandment of private armies of warlords and politicians, as well as of paramilitary groups used by those in power to instigate state terror. More than ever, we need to be conscious of the worsening turn of the country's political climate, which is a fertile ground for criminals like the Ampatuans to plot their escape from accountability. Our conscience moves us to continue the fight for justice for all other victims of human rights violations," Palabay concluded.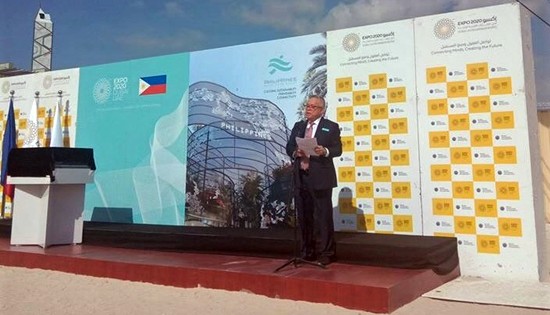 DTI Secretary Ramon Lopez delivering his speech at the site of the PH pavilion.
DTI chief leads international launch of PH Pavilion at the Dubai Expo 2020
By DTI-OSEC-PRU
December 13, 2019
DUBAI – Trade Secretary Ramon Lopez led the international launch of the Philippine pavilion last 12 December for the upcoming Expo 2020 Dubai. Located at the Expo's Sustainability District, the Philippine pavilion is a 1,300 square-meter structure housed in a 3,160 square-meter lot. It will be the biggest ever in the history of the country's participation in World Expos and the first time the Philippines is building from the ground up.
"We take pride in bringing the reality the vision of our beloved President Rodrigo Roa Duterte to take part in Expo 2020 Dubai, now being referred to as the World's Greatest Show of our time," said Sec. Lopez.
Sec. Lopez shared that Expo 2020 Dubai is a timely platform to enhance Philippine presence in the global marketplace and promote commercial and public interest in the Middle East, Africa, and South Asian Region.
"With the theme, Connecting Minds, Creating the Future, the Expo 2020 Dubai offers an environment for creativity, exploration, and global cooperation, which will contribute to our goal of vigorously advancing science, technology, and innovation as a strategy for long term growth, consistent with the Philippine Development Plan of 2017-2022," said Sec. Lopez.
He also sees the Expo as a way to cement the Philippines' reputation as a progressive nation rich in natural resources and skilled manpower; a beautiful country of panoramic destinations and proud heritage and culture spanning 4,000 years; and a nation of creative, compassionate, and caring people deeply connected in communities worldwide.
The Philippine pavilion is themed "Bangkota," the ancient Filipino word for coral reef, the world's biggest organism made up of smaller organisms and which is symbolical of the Filipinos. There are over 12 million overseas Filipinos in the world and around 700,000 of them are in the United Arab Emirates.
"With over 190 countries participating and the biggest presence of OFWs in UAE and the Middle East region, it is therefore a very wise decision for the President Rodrigo Duterte to have the Philippines participate in Dubai Expo 2020, and bring pride and inspiration to all the Filipinos in the region, and even worldwide," said Sec. Lopez.
The World Expo is a six-month expo held once every five years, where different countries showcase the best of what they have to offer. The Expo 2020 Dubai will run from 20 October 2020 to 10 April 2021.
The Philippines is not a regular participant of the World Expo, but it has been present in 12 World Expos since 1962. Its last participation was in the 2010 World Expo in Shanghai China, a specialized Expo in South Korea.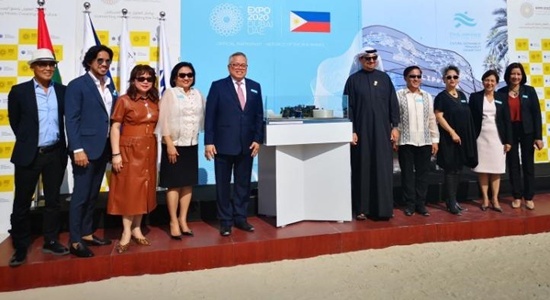 From L-R: Archt. Budji Layug, Archt. Royal Pineda, Alternate Commissioner General and DTI Asec. Rosvi Gaetos, PH Ambassador to UAE Hjayceelyn Quintana, DTI Secretary and Commissioner General Ramon Lopez, Expo Bureau Executive Director Najeeb Al Ali, Consul General Paul Raymund Cortes, Marian Pastor-Roces, DOST Asec Leah Buendia, DOLE Director Dominique Tutay.
Child actress Xia Vigor is Save the Children Philippines' first Child Ambassador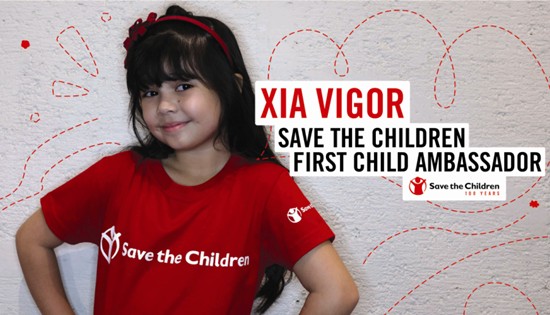 Press Release
December 12, 2019
MANILA – Save the Children Philippines welcomes child actress Xia Vigor as the First Child Ambassador who will help in promoting children's rights to grow up healthy, educated, and protected from all harm.
Xia, 10, who stars in the upcoming movie "Miracle in Cell no.7," an entry in the Metro Manila Film Festival (MMFF), said she is determined to bring positive change for every child. She also aims to inspire children, especially in marginalized situations to never give up their dreams.
As her first activity, Xia led a feeding program for children in a community in Navotas City. Save the Children Philippines implements Project NURTURE (Nutrition among Urban Poor Through Unified Response) to reduce the number of deaths of children under 5 years old in identified areas in Navotas City by implementing a nutrition-specific intervention focusing on the first 1,000 days of life.
"Whenever I meet other children, I always tell them to work hard to attain their dreams. I hope I can help them make those dreams become a reality with my new role as a Save the Children Child Ambassador," said Xia Vigor during her visit to Save the Children Philippines office in Quezon City.
Xia learned the importance of sharing her blessings at age 6 when she started joining her mother in outreach activities in the Mindoro provinces to distribute slippers and school supplies to children of Mangyan families.
She was moved to see young children go to school barefoot and without school supplies. Xia has also been active in campaigning for environmental protection and has joined tree planting and coastal clean-up activities.
Atty. Alberto Muyot, Chief Executive Officer of Save the Children Philippines said Xia fits the role of Child Ambassador because she is very smart, articulate, and has the empathy to children living in deprived situations.
"Children around the world are speaking of their rights, and Save the Children supports the realization of their right to be listened to, by providing a platform so they can speak up on matters that affect them," said Muyot.
Xia will take important roles in the launch of key global moments of Save the Children and help amplify the call for respect and fulfillment of children's rights and for the end to all forms of violence against children in the home, school and community settings.
She will also be active in fundraising activities during humanitarian response to help Save the Children bring life-saving emergency kits to children and their families affected by natural calamities, disasters, armed conflict and other emergencies.
Xia is an environmental advocate who has participated in tree planting activities. She once aspired to become a weightlifter and set up her own beauty salon.
The child actress now sets her eyes on becoming an advocate for children's rights.
Army reservists complete 5-day enhancement training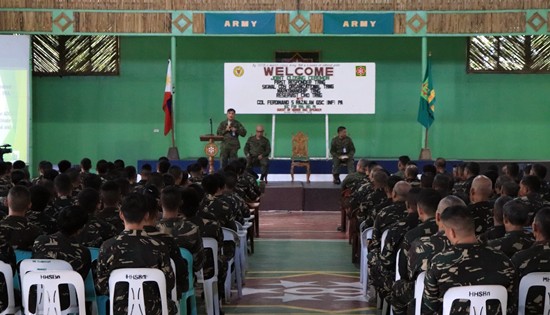 By DPAO, 8ID PA
December 12, 2019
CAMP LUKBAN, Catbalogan, Samar – A total of 287 Army Reservists coming from the different Community Defense Centers (CDCs) in the region successfully completed on their respective training courses facilitated by 8th Infantry (Stormtroopers) Division, Philippine Army through the Office of the Chief of Staff for Education and Training, G8 held at 8ID Covered Court on December 10, 2019 at 2:00 p.m.
This is in line with Republic Act 7077 Armed Forces of the Philippines (AFP) Reservist Act of 1991 otherwise known as An Act Providing for the Organization, Administration, Training, Maintenance and Utilization of the Citizen Armed Force of the Armed Forces of the Philippines and for Other Purposes.
Reservists are organized, trained, developed and maintained to ensure their readiness anytime to augment the regular force of the Armed Forces of the Philippines not only in times of conflict but also during emergencies arising from calamities, disasters and threats to peace and order including the need to provide humanitarian assistance in relief and rescue operations.
Courses undertaken are the following: First Responders' Training - 36 reservists from 806th (Biliran) Community Defense Center based in Naval, Biliran; Signal Company Organization Training - 56 reservists from 804th (Tacloban City) Community Defense Center based at Kuta Kankabato, San Jose, Tacloban City; Marksmanship Training - 135 reservists from 802nd (Eastern Samar) Community Defense Center based in Borongan, Eastern Samar and Reservist Civil-Military Operations (CMO) Training - 60 reservists from six (6) different CDCs in Eastern Visayas.
"As force multipliers of the Regular Force of the Armed Forces of the Philippines, our reservists are also our reliable partners in civil-military operations and other undertakings that contributes to nation building," explained by Col. Ferdinand S. Razalan, the Assistant Division Commander for Reservist and Retiree Affairs (ADCRRA) of 8th Infantry Division as the Guest of Honor and Speaker during the joint closing ceremony.