Katatapos ko lang po ng aking misyon bilang Commander ng 4th Infantry Division. At ngayon po, ako'y nasa inyong harapan bilang bagong Commander ng 8th Infantry Division. With all humility, and rest assured, wala po akong hangaring magyabang, I would like to inform you that:
Under my command, the 4th Infantry (DIAMOND) Division has been cited as the best Division in the entire Philippine Army; not just once but twice, and by two different Commanding Generals of the Philippine Army. Many changes have been implemented both in the promotion of camp facilities and equipment. More importantly, many victories have been won that reduced the communist terrorists to a level of insignificance in Regions 10 and 13. In the provinces of Misamis Oriental, Camiguin and Surigao del Norte, the presence of insurgents could hardly be felt or noticed.
All these were achieved at the 4thID, not because I am capable of doing miracles for only God can do that. Neither could these achievements be attributed solely to me. There were several major factors that made our accomplishments possible. First was teamwork. Second, which is closely related to teamwork, was investing in human development. This meant giving due recognition to people as the greatest asset in the organization. Our achievements were but proof to the correctness of the dictum that, and let me paraphrase, "when you invest in people, many things can be done and many victories can be achieved because the people themselves will strive to accomplish for themselves the goals of the organization." This could be what Dwight Eisenhower meant when he said that "Leadership is the art of getting someone else to do something you want done because he wants to do it."
I gave you a glimpse of what has been accomplished because I want to assure the Commanding General of the Philippine Army that I will do exactly what he said when he presided over the turn-over ceremony at Camp Evangelista last August 18. Sabi niya, "Major General Chan, sana'y gawin mo sa 8th Division ang mga bagay na ginawa mo sa 4th Infantry Division."
As I stand here today, I would like to express my gratitude to the leadership of the Armed Forces of the Philippines and the Philippine Army for giving me another opportunity to lead an infantry division. I do believe that it is in recognition of my ability that I have been assigned to the 8th Division. It's not an easy job, to come after the sterling performance of my predecessor, MAJOR GENERAL ART TABAQUERO. And so for this opportunity, I am extremely grateful. Samar is said to be where the first battalion formation of the New People's Army was organized. Samar is definitely a new and welcome challenge to me.
To MGEN ORTIZ, Sir, this mission is accepted with all my heart. I know that the 8th Division is not the same as the 4th Division. In fact, every Division has its own set of challenges. But with all the guidance that you have given me Sir, I know I will not fail. I will not fail the Armed Forces. I will not fail the Filipino people.
To MAJOR GENERAL ART TABAQUERO, rest assured that what you have started will be pursued with as much dedication and vigor. I will build upon your accomplishments. I will do what an officer must do, that is, to accomplish the mission at hand.
To the men and women of the 8th Division, I offer you my full, undivided commitment to serve. I will work with you, struggle with you and fight with you. Beginning today, I will make sure that not one of you will be left unattended. I am your commander, and I am your comrade. I will be here not only to give orders, but to listen as well. Hence, I expect you not only to obey but also to speak out, so that your voices may be heard. While we pursue the mission mandated upon the 8th Infantry Division, we shall also make sure that your well-being and welfare will be given utmost importance.
Together, let us strive to gain victory after victory. We will make this possible by ensuring that each one of you does not only have the will to fight but the capacity to fight as well. We will invest in ourselves, honing our skills and enhancing our morale; ensuring that every step brings us closer to the accomplishment of the mission of the division.
As we strengthen our capacities, we must also strengthen our unity and our solidarity because these would serve as the very foundation upon which we shall build our team. Our unity will be our strength. It will enable us to work as a team. Our team work will be our most complex weapon that will bring crippling blow against those who seek to undermine our democracy.
But, be aware, that we will fight not only on the basis of our will and capacity. To the men and women of this division, remember, that discipline shall be our guiding principle. As professional soldiers, we are bound to promote, protect and defend human rights. Let us do it not because we are required by law but because it is the right thing to do. Let respect for human rights become a commitment that we shall uphold at all times.
All these shall form part of our internal strategy.
But, we all know that the army cannot do it alone. Many chiefs of Staff have time and again indicated that insurgency is primarily an economic and political problem that requires economic and political solutions. The military solution is only part of the answer.
We need partners in the fight against the terror of the CPP-NPA. We need the local government units, government line agencies, non-governmental organizations, people's organizations, the church and the religious sectors. We need civil society support. After all, insurgency is a social menace. The communist terrorist movement is a concern of every citizen in the society. And lest I forget, the media plays a very important role in the quest for peace. Providing the people with the right information at the right time is essential. It is important for media to know that the army's desire is to bring lasting peace rather than to fight a war. Hence, media is an indispensable partner in our mission.
We will work within the framework of inclusive peace and development by forging alliances with other sectors and organizations. We will intensify civil military operations. As we support and ensure the security of government line agencies and local government units in the implementation of development interventions, we shall, at the same time, also intensify combat operations.
We shall design combat operations that will cripple the enemy's capacity to strike and sow terror. Hand in hand, civil military operations and the civilian government's development interventions shall render the communist movement irrelevant. Once we have crippled the armed component, the movement becomes irrelevant. This is how we will fight our war against the communists.
Right here and right now, at this very moment, let us proclaim the victory of democracy over the communist threat.
And so now, ladies and gentlemen, officers, enlisted personnel and civilian employees of the division, you have heard it. Buckle up. From this moment and until I relinquish my post as your Division Commander, wala ng atrasan ito. The only way to go is forward.
Magandang araw po sa ating lahat. May God bless us all. (Running time 0:16:01)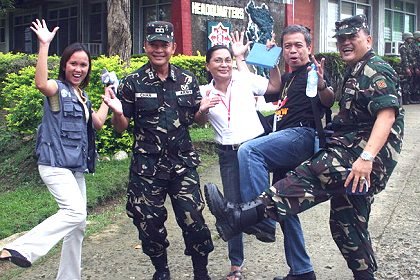 A wacky pose with the new 8ID CG Chan during his first day of assumption. From L-R: Faye Borinaga, MGen. Mario Chan, Emy Bonifacio, Ray Gaspay and LtCol. Freddie Tutaan.