Wanted CNT arrested in Kananga, Leyte
By DPAO, 8ID PA
June 20, 2018
CAMP LUKBAN, Catbalogan City – A joint Law Enforcement Operation of 78th Infantry (Warrior) Battalion and the Kananga Municipal Police conducted on June 13, 2018 resulted in the arrest of a wanted member of the CPP-NPA Terrorist in Kananga, Leyte.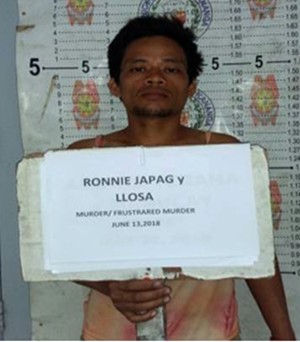 Lt. Col. Danilo I. Dupiag, Battalion Commander of 78IB identified the CNT as Ronnie Japag y Llosa, 30 yrs. old, a member of the Special Operations Group, Front Committee Leyte "LEVOX" operating in the areas of Carigara, Capoocan, Barugo, Tunga and Kananga all of Leyte Province. He was arrested inside his residence in Brgy. Mahawan, Kananga, Leyte. Llosa was responsible for the death of PFC Alvie F. Felix and SSg Aldie Pama. A warrant of arrest had been issued against the suspect for frustrated murder issued by the Regional Trial Court of Carigara.
The arrested CNT was turned over by the arresting team to the custody of Kananga Municipal Police Station for booking procedure and proper disposition.
Maj. Gen. Raul M. Farnacio, Commander, 8ID lauded the troops for a job well done and urged the CNTs to return to the fold of the law and take advantage of the Enhanced Comprehensive Local Integration Program of the government in order to live peacefully and to be of help again to the government for the development of Eastern Visayas.
GRP and NDFP representatives agree to continue peace negotiations and to overcome obstacles and impediments
By NDFP
June 20, 2018
UTRECHT, The Netherlands – Representatives of the NDFP Negotiating Panel headed by Chairman Fidel V. Agcaoili and representatives of the GRP headed by GRP Negotiating Panel Member Hernani A. Braganza met in Utrecht, The Netherlands on June 18-20, 2018. The GRP representatives sought to explain to the NDFP the decision of the GRP to postpone the mutually approved schedule of the formal meetings in the peace negotiations to take place in Oslo, Norway on June 28-30, 2018.
Representatives of the Royal Norwegian Government (RNG), including Special Envoy Idun Tvedt, sat in the meetings in their role as Third Party Facilitator (TPF).
The meeting could not start on time on June 18 because the GRP team had to seek clarification from its Principal of the statement made by GRP Presidential Spokesperson Harry Roque that the Third Party Facilitator had been dismissed. With the role of the TPF clarified, the meeting begun in the afternoon of the first day. The NDFP side assured the other side that the NDFP principal took note of the clarification. The role of the TPF is of key importance while there is need to hold formal peace negotiations in a foreign neutral venue in compliance with the pertinent provision in the Joint Agreement on Safety and Immunity Guarantees (JASIG).
The NDFP team listened to the explanation of the GRP team on the reasons for postponing the resumption of the formal talks and agreed that the peace negotiations continue despite the cancellation of the scheduled formal talks in Oslo on June 28 to 30. The agreements reached in the four rounds of informal talks in March, April, May and June 2018, remain valid and have the effect of continuing the peace negotiations under the direction of the principals and reaffirmation of previous agreements. In this regard, the two sides must comply with JASIG and its provision for a foreign neutral venue, consistent with the general practice of warring parties to negotiate peace outside of their country or their respective territories.
In the meantime, both sides expressed their intention to conduct separate unilateral consultations and in due course bilateral consultations according to their respective needs on the premise that the GRP and NDFP Negotiating Panels are mandated by their respective principals in accordance with existing agreements and that the GRP and NDFP are mutually determined to overcome obstacles and impediments to the peace negotiations.
The NDFP side will conduct consultations on the Comprehensive Agreement on Social and Economic Reforms (CASER) to review the remaining outstanding issues in the sections on Agrarian Reform and Rural Development (ARRD) and National Industrialization and Economic Development (NIED), as well as to polish its draft on Environmental Rehabilitation and Compensation and Upholding People's Rights in order to prepare for the continuation of negotiations on CASER. It will also hold unilateral consultations with its working group on Political and Constitutional Reforms (PCR).
Finally, the two sides expressed their commitment to protect and preserve the gains that had been achieved in the four rounds of informal talks that produced documents containing important agreements to move the process forward.
The NDFP delegation expressed its gratitude to the Royal Norwegian Government for their invaluable and unwavering support to the GRP-NDFP peace negotiations in their role as Third Party Facilitator.
Women's group launches campaign against Duterte admin 'economic violence' against women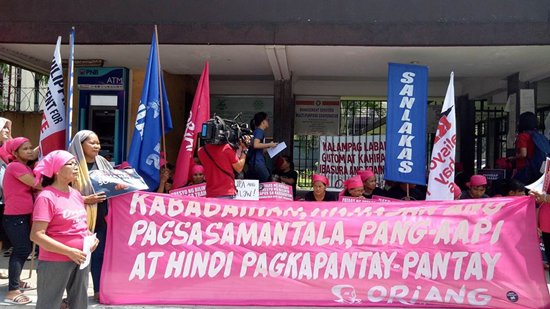 By ORIANG
June 20, 2018
QUEZON CITY – Hundreds of women held protest actions at the gates of executive department offices as the symbolic launch of a women's campaign against the supposed widespread 'economic violence' being committed by the Duterte administration against Filipinos and Filipino women.
The campaign followed what cross-sectoral women's group Oriang stated as a series of 'anti-poor' and 'anti-women' pronouncements and policies issued by the country's executive department and cabinet offices, with the most recent of them coming from the National Economic and Development Authority (NEDA) and the Department of Trade and Industry (DTI).
"The Duterte administration has unraveled itself to be both 'anti-women' and 'anti-masses' with its flagrant policies and patterns of behavior that undermine the dignity of women as persons and Filipinos' capacity to acquire basic necessities in order to live a decent life," said Oriang National President Flora Asiddao Santos.
She cited what she claimed to be the President's patterns of flagrant and very publicized misogyny coupled with the administration's series of policies, such as the TRAIN Law and its 'legitimization' of labor contractualization, which have not only targeted the poor while leaving rich corporations virtually untouched, but have also compounded on the increasing inaccessibility of basic goods and needs to Filipinos through 'promoting' insecure jobs, low wages, and rising prices of goods.
"Clearly, this administration is unapologetic in violating the basic rights of Filipino women and Filipino masses to live with decency and dignity," said Assidao Santos.
"We thus condemn it today for forcing every Filipino to suffer with 'empty pots and gnawing stomachs' (kalderong walang laman, sikmurang kumakalam) and fight back against its unbridled affront against the most marginalized in the country," she said.
The larger campaign of PALAG NA, a campaign against government policies on continuing high prices, joined the action through the participation of women from the member-organizations Freedom from Debt Coalition (FDC) and the Philippine Movement for Climate Justice (PMCJ), calling for an end to the misogyny and 'economic abuse' being propagated hand in hand by the administration.
"For years, the majority of Filipinos are suffering from hunger and poverty. But instead of alleviating the conditions of the people, this government enacted policies like the TRAIN Law, thereby making life more unbearable for them," said PMCJ Food, Land, Water, and Climate Change campaigner Jinky Esguerra.
According to Freedom from Debt Coalition Women's Committee Chairperson Malou Nuera, poor Filipino women, especially poor Filipino mothers, are at the intersection and stand to suffer most from rising prices and the rising affront of the administration against women.
"The negative effects of today's economic policies, such as increasing hunger and poverty, are experienced by Filipino mothers tenfold as the primary caretakers of the family and managers of domestic life," said Nuera.
"In addition to this, despite the very significant responsibilities they fulfill as women, Filipinas are belittled and demeaned by this administration through its tolerance and promotion of abusive deeds and language against women," she added.
Jointly, Oriang, FDC, and other organizations participating in the campaign demanded an end to the administration's 'targeting of the poor and the women.'
"The Duterte administration, with its 'anti-poor' policies and 'anti-women' behavior, has outright neglected the marginalized whom it had postured to serve. We march here today as Filipina masses to voice our outrage and to call on every Filipino to fight back against the continuing abuses of this government," said Oriang.
Highlights of Eastern Visayas' export and import statistics: March 2018
By PSA-8
June 19, 2018
TACLOBAN CITY – The region's total trade in goods in March 2018 amounted to $96.9 million, an increase of 21.6% over the value of $79.7 million registered in the same month last year. Total exports amounted to $77.2 million, which was 3.2% lower compared with the $79.7 million in March 2017. Total value of imports, meanwhile, was recorded at $19.8 million from zero imports posted in the same period last year.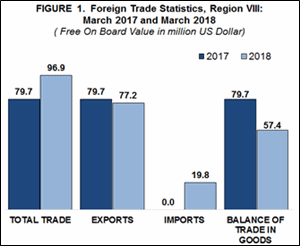 The region reflected a surplus in the total balance of trade in goods (BoT-G) amounting to $57.4 million in March 2018. This is 28.0% lower compared with the $79.7 million surplus recorded in the same period a year ago.
Exports
The region's total volume of exports in March 2018 was at 73.8 million kilograms.
Copper and Articles thereof was the major commodity group exported during the month with total revenue of $66.2 million, accounting for more than four-fifths or 85.8% of the region's total exports revenue in March 2018.
Animal or Vegetable Fats and Oils and their Cleavage Products; Prepared Edible Fats; Animal or Vegetable Waxes recorded $4.0 million export revenue, which accounted for 5.2% of the total export revenue. Fertilizers earned an export revenue of $3.3 million or 4.2% share of the total exports revenue. Ores, Slag and Ash exports amounted to $2.9 million, which shared 3.7% of the total exports. Inorganic Chemicals; Organic or Inorganic Compounds of Precious Metals, of Rare-Earth, of Radio-Active Elements or of Isotopes, meanwhile, recorded less than a million exports revenue ($0.8) or 1.1% of the total export revenue.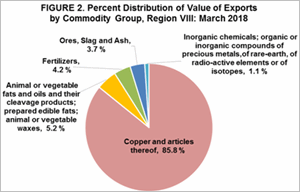 People's Republic of China was the top export market destination with recorded total exports revenue of $69.4 million or 89.9% of the region's total exports. United States of America ranked second with $4.0 million export revenue or 5.2% of the total exports in March 2018, followed by Vietnam with $3.3 million export receipts, accounting for 4.2% of the region's total exports. India recorded the least exports valued at $0.5millionor 0.7% of the total exports of the region.
Imports
The region's total imports amounted to $19.8 million in March 2018 with total gross weight of 136.4 million kilograms.
Inorganic Chemicals; Organic or Inorganic Compounds of Precious Metals, of Rare-Earth, of Radio-Active Elements or of Isotopes commodity group and Mineral Fuels, Mineral Oils and Products of their Distillation; Bituminous Substances; Mineral Waxes commodity group were the major imports during the month, both with total revenue of $5.7 million, each accounting for 28.7% of the region's total imports in March 2018.
The next largest imported commodity group was Salt, Sulphur, Earths and Stone; Plastering Materials, Lime and Cement, with imports value at $4.3 million, comprising 21.8% of the total imports in March 2018. It was followed by Miscellaneous Chemical Products with imports value of $2.6 million, 13.2% share to the total imports of the region.
The top import supplier of the region was Vietnam, which recorded a total imports bill of $7.8 million or almost two-fifths (39.7%) of the region's total imports. Indonesia ranked second with $4.6 million import bill or 23.1% of the total imports for March. Singapore ranked third with total imports valued at $2.4 million contributing 12.2% of the total regional imports.
Eastern Visayas registers 95.4% employment rate in April 2018
By PSA-8
June 18, 2018
TACLOBAN CITY – Employment Rate (ER) in Eastern Visayas in April 2018 was estimated at 95.4%, ranking fourth among the regions with high employment rate in the country (Table 1). This figure is lower than the 96.2% ER recorded in April 2017. Employment rate is the proportion of employed persons to total labor force.
Out of the estimated 3.2 million population 15 years old and over in April 2018, about 2.0 million were economically active or in the labor force. This number translates to a Labor Force Participation Rate (LFPR) of 63.2%. This figure is 1.0 percentage point lower compared with the 64.2% LFPR in the same period a year ago. Among the regions, Eastern Visayas registered the fourth highest LFPR.
The underemployed persons or those employed persons who express the desire to have additional hours of work in their present job or to have additional job, or to have a new job with longer working hours was estimated at 452 thousand. This is equal to an underemployment rate of 23.8%, lower than the 24.0% recorded in the same period last year. The region had the third highest underemployment rate in the country.
Meanwhile, about 92 thousand persons in the labor force were unemployed. This translates to an unemployment rate of 4.6%, higher than the 3.8% rate recorded in April 2017. Eastern Visayas ranked fourth among the regions with low employment rate.
Data were based on the preliminary estimates released by the Philippine Statistics Authority from the Labor Force Survey (LFS) conducted in April 2018.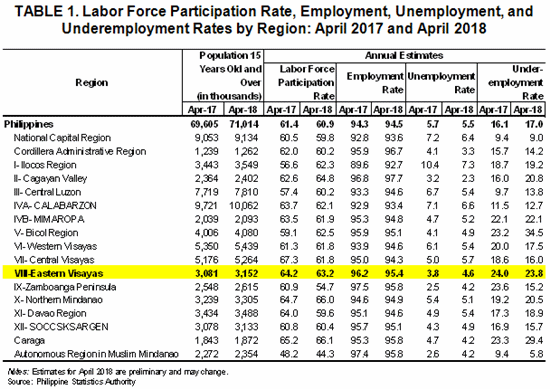 Eastern Visayas' inflation rate up by 5.8% in May
By PSA-8
June 18, 2018
TACLOBAN CITY – The annual Inflation Rate (IR) of Eastern Visayas went up by 5.8% in May 2018. This IR was 0.4 percentage point higher compared with the 5.4 percent IR a month ago, and 2.2 percentage points higher than the recorded 3.6 percent IR in the same period last year. The regional inflation rate was 1.2 percentage points higher than the 4.6 percent national average in May.
Four provinces in the region – Biliran, Leyte, Samar and Southern Leyte posted higher inflation rates in May with 1.2 percentage points, 0.1 percentage point, 0.5 percentage point, and 0.6 percentage point increases, respectively, compared with their figures in the previous month. On the other hand, Eastern Samar and Northern Samar registered 0.3 percentage point and 0.1 percentage point decreases in IR, respectively. Samar registered the highest IR at 7.5 percent, while Southern Leyte posted the lowest IR at 1.3 percent (Table 1).
By major commodity groups, Housing, Water, Electricity, Gas and Other Fuels posted the highest percent change in IR at 1.0 percentage point from April to May. Food and Non-Alcoholic Beverages followed at 0.4 percentage point.
Annual price changes in Transport, Alcoholic Beverages and Tobacco, Health and Education decreased from 3.6% in April to 3.5% in May.
Communication recorded zero inflation rate during the reference month, while Restaurant and Miscellaneous Goods and Services retained its previous month's rate of 1.6%.
The Purchasing Power of Peso (PPP) of the region was recorded at P0.81 in May 2018. This is weaker compared with the P0.82 PPP registered in the previous month. This PPP implies that goods and services worth 100 pesos in May 2018 only costs 81 pesos in 2012.
Biliran and Samar registered a 0.01 centavo decrease in the PPP compared with their figures in April. The rest of the provinces had sustained their PPP from last month. Leyte and Southern Leyte recorded the strongest PPP at P0.84. Biliran ranked second at P0.81, followed by Eastern Samar at P0.80 and Northern Samar at P0.77. Samar, meanwhile, posted the weakest PPP at P0.76. (Table 1).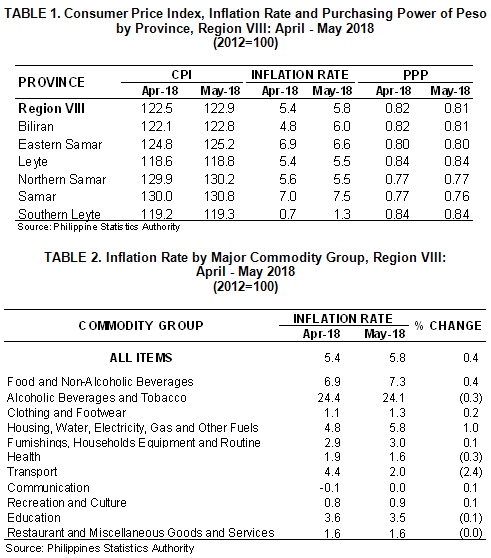 241 Candidate Soldiers took their oath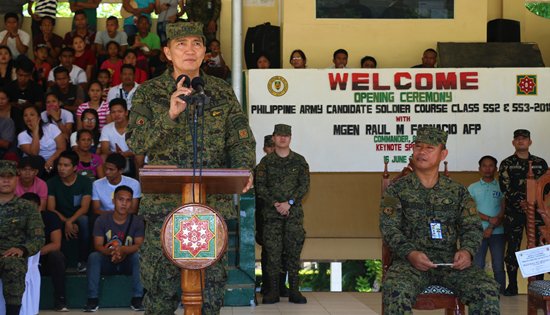 By DPAO, 8ID PA
June 16, 2018
CAMP LUKBAN, Catbalogan City – The Candidate Soldier Course Class 552 & 553-2018 composed of 241 new aspirants was officially opened at Headquarters 8th Infantry (Stormtroopers) Division, Philippine Army, Brgy Maulong, Catbalogan City, Samar with Maj. Gen. Raul M. Farnacio AFP, Commander as the Keynote Speaker, this morning.
The majority of the new selected batch of Candidate Soldiers came from Samar and Leyte provinces. On their educational profile, one is license professional; 51 of them are college graduates; 121 are college level and 68 are high school graduates with skills training from TESDA.
They will be honed for the duration of four months in basic military training and tactics and will serve as additional soldiers that will beef-up the personnel strength of the Stormtroopers Division.
Maj. Gen. Raul M Farnacio in his message, "To the 241 physically and mentally strong Candidate Soldiers, muli kong pinapaalala na ngayong araw ang hudyat at simula ng panibagong yugto ng inyong buhay. Sa inyong desisyon na pumasok sa pagsusundalo, gabayan nawa kayo palagi ng Poong Maykapal. Huwag ninyong bibiguin ang inyong mga magulang at lahat ng taong nagmamahal at nagtitiwala sa inyo at umaasa na mapagtatagumpayan ninyo ang hirap na ito. Kaya ninyong malagpasan ang lahat ng pagsubok. Tiwala sa sarili, positibong asal at pag-iisip ang inyong magiging puhunan at sandigan. Higit sa lahat, huwag na huwag ninyong kakalimutan ang pagtawag sa Panginoon para sa gabay at patnubay. 241 kayong nagsimula, hangad ko na 241 din kayong magtatapos at maging karapat dapat na tawaging STORMTROOPERS."
Immediately after the program Enlistment Clothing Allowance were distributed to our new recruits, the Army ensures that they have already their needed equipment upon the start of their training.
Soldier pays the ultimate sacrifice while on community service
By DPAO, 8ID PA
June 15, 2018
CAMP LUKBAN, Catbalogan City – The people of Northern Samar strongly condemns the terroristic attack of CPP-NPA at Brgy. Senonogan De Tubang, Silvino Lobos, Northern Samar on June 14, 2018 at 4:00 p.m. while the troops of 20th Infantry (We Lead) Battalion was conducting Community Support Program that resulted to the loss of life of Private Jay C. Aranzado (Inf) PA.
The fatality, Private Aranzado is 21 years old and is a resident of Brgy Molopolo, Macrohon, Southern Leyte who had a great passion to serve his fellow Visayans in Northern Samar. He just graduated from Candidate Soldier Class 463-2017. Sadly, because of blind ideologies of the said terrorists, his life ended.
Major General Raul M. Farnacio, Commander of the 8th Infantry Division, instructed the troops to be more cautious while on duty and he also directed Lt. Col. Noli F. Lapizar, Commanding Officer, 20IB in coordination with other military units in the area to press on the pursuit operations to put an end to the terroristic activities of CNTs against our people within our Area of Operations.
"We extend our deepest sympathies to the family and friends of Private Aranzado. He died protecting the people of Northern Samar in pursuit of peace and development." Farnacio added.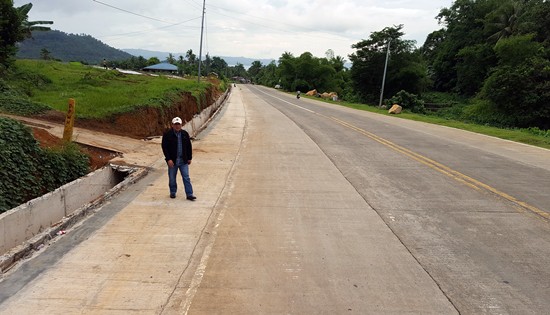 David P. Adongay Jr. District Engineer of Biliran District Engineering Office inspects on-going construction of drainage along Naval-Caibiran Cross Country Road (NCCCR), Naval, Biliran on May 31, 2018. This project is target to be completed on September 2, 2018.
DPWH-Biliran DEO's updates on 2018 project status
Press Release
June 13, 2018
NAVAL, Biliran – The Department of Public Works and Highways (DPWH) –Biliran District Engineering Office (DEO) continues progress for its 2018 project implementation. As of May 31, 2018, the office has a total actual accomplishment of 25.01% with a positive slippage of 0.39%.
P1.6B has been allotted to Biliran DEO for the implementation of 60 infrastructure projects based on the 2018 General Appropriation Act (GAA). Out of the 60 projects, 36 are on-going, six are completed and 18 are up for implementation.
David P. Adongay Jr., District Engineer accounted the delay of projects due to the damages caused by tropical storm Urduja on December, 2017 resulting inaccessibility to project sites.
Under preliminary and detailed engineering activities, Engr. Rosario B. Rosete, Chief of the Planning and Design Section reported that 57 were already completed while only three are on-going with an accomplishment 96.54% as of May 31, 2018.
The purpose of preliminary engineering is to gather the necessary data from the field as basis in the preparation of plans. Activities under this phase includes surveying, designing and programming.
For pre-construction phase, out of the 60 projects, 49 are completed, eight are on-going and three are Not-Yet-Started (NYS) with an accomplishment of 77.98% as of May 31, 2018.
The district had already advertised 57 and successfully bid out 56 out of 60 projects under FY 2018 GAA.
The office continues to monitor and fast tracks these projects in order to deliver a safe and quality assured infrastructures that will be beneficial to the end-users.