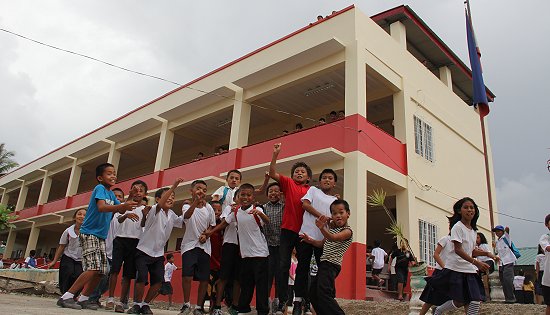 The students of Marasbaras Elementary School have their own sad stories to tell about Typhoon Yolanda but the new schoolbuilding donated by Coca-Cola Foundation/Coke Atlanta in partnership with Philippine Business for Social Progress gives them something to look forward to each day.
Helping Yolanda survivors start anew
One year after the typhoon, PBSP continues to lead the business sector's efforts in rebuilding the lives of school communities in the Visayas
By REGGIE MARIE B. BARRIENTOS
November 7, 2014
TACLOBAN CITY – It has been a year since Typhoon Yolanda (Haiyan), one of the strongest tropical cyclones to hit the country, reduced to wasteland the towns in Leyte and Eastern Samar, claiming thousands of lives, and washing out homes, schools, properties, and livelihood.
While the people have started to rebuild their lives with whatever little resources they have, many are still reeling from the trauma and loss of their loved ones.
But for the school communities being assisted by Philippine Business for Social Progress and its member-companies, partners, and donors, the reconstruction of their classrooms, provision of learning/teaching kits for students and teachers, supplemental feeding, and capacity building trainings are giving them something to look forward to each day – the promise of a better tomorrow through education.
The different ways of coping
Thirteen-year-old Sheila Caonte is still grieving for her father and grandfather who died while securing their home during the typhoon on Nov. 8, 2013. She and her three siblings, cousins, aunt, and uncle managed to survive after hiding in a bathroom of a commercial building in Tanauan, Leyte.
In spite of her great loss, the Grade 6 student from Bislig Elementary School dutifully reports for class every day, braving the heat and cramped spaces of their tent classroom for two noble reasons – to fulfill her father's dream for her to be a teacher, and to be able to share the gift of education to less fortunate children like her someday.
Caonte's classmate and friend Carol Almacin, 12, may be luckier than the former because her family is still complete and they have managed to rebuild their home with scrap materials right after the storm. But until now, Carol is suffering from a severe trauma after she and her siblings were tied to a coconut tree while braving the huge waves of the storm. Since classes resumed last December 2, she would hurriedly go back home every time it rained for fear that the horrific ordeal would happen all over again.
It's the other way around for Nicole Cordero, a Grade 5 student of Sto. Niño Elementary School, who would console her mother who was terribly shaken by the disaster. In the middle of her duties in the house, she would break down at the memory of the torrential rains. During the typhoon, Nicole and her two siblings sought refuge at her grandmother's home while her mother was the one who tried to salvage what was left of their home. Their father, a security guard, could not leave his work. To make it easy for her mom, Nicole would study hard and wake up early to help in the household chores. Her fervent prayer is for the Lord to not let another Yolanda happen again so her mother would no longer cry and recover from her trauma.
The ordeal was no different for sixth grader Daniel Sulit and his family who held on to the branches of a coconut tree during the storm, praying that they wouldn't be swept away by the giant waves. The next day, he had to search for his other relatives from the lifeless bodies strewn all over the place. Unlike other children who suffered severe trauma as a result of such ordeal, Daniel turned it into an opportunity to perform well in school. From being an average student, he is now at the top of his class at the Tugop Elementary School in Tanauan, Leyte. Daniel credits the Lord for this life-changing experience. He said that he vowed to study hard after the storm because the Lord gave him a second life.
Out of the many different stories of survival and resilience from the disaster, perhaps the most inspiring is that of the Lagarto family. Enriquita and Dioscoro got separated from each other during the storm. Enriquita fled with her five children to a safer ground while Dioscoro was still in their home when the huge waves engulfed it. While trying hard not to be swept away by the waves, provisions kept floating out of nowhere in his direction. First, uncooked rice, then came hotdog, cooking oil, and even kitchen utensils.
Right after the storm, the children aged 11, 10, 9, 6, and 4, took it upon themselves to help provide food for the family. At that time, their mother was sick and their father was injured. The eldest child, Christian Lagarto, led his siblings in picking up the galvanized iron sheets that were strewn all over their neighborhood, and selling them to make money. They earned P2,000 for it and immediately gave it to their father who was surprised and deeply moved. Later, the sixth grader from Bislig Elementary School also convinced his father to allow him and his siblings to sell 1.5 Coca-Cola bottles to their neighbors. Their 3-for-P100 promo was such a hit that they earned P4,000 capital money to use for reopening their sari-sari store.
The Lagartos are now doing brisk business through a bigger and well-stocked sari-sari store. The family is on their way to a bright future, thanks to their unwavering faith, loving parents, helpful children, and an entrepreneurial son who hopes to get a scholarship to finish school and help support his family.
Yolanda Heroes
Teachers Rosario Polenio of Bislig Elementary School and Tito Pajares of Marasbaras Elementary School have shown exceptional service and true heroism during the disaster.
Safely tucked in the comfort of their sturdy home in Tacloban, Rosario and her family took in seven families who rushed to their place to escape the monstrous waves that ravaged their homes. Even though she barely knew these people, Rosario fed them, clothed them, and kept them safe and warm in their home long after the storm was over.
Today, Rosario continues to play Good Samaritan, this time to her students who lost their parents and relatives by giving them the much-needed love, comfort, and care.
When Teacher Tito and his family returned to their house from his brother's place after the storm, he was devastated to find his home, and property earned after 27 years of working as a teacher, totally wiped out. Until now, he and his family are staying in a bunk house in Tacloban and still struggling to return to normal.
Nevertheless, Tito selflessly prioritized the needs of his students in Marasbaras ES by seeking for prospective donors who can help rebuild their school which was 70 percent destroyed by Typhoon Yolanda.
Soon enough, a six-classroom building called the Little Red Schoolhouse of Coca-Cola Foundation/Coke Atlanta has been built at the place through the assistance of PBSP, and is bringing immense joy to the Grades 4 and 5 eager students and teachers who couldn't wait to transfer to the new building.
"The building is so beautiful. At night, it glimmers in the dark sky, serving as a beacon and motivation for us to move on and continue reaching for our dreams," Tito said.
Project New Dawn
PBSP launched Project New Dawn last June 18 as its collective response to the long term rehabilitation needs of the Visayas region. The programs aim to assist in the immediate recovery and rehabilitation of areas most affected by the super typhoon. Some of these programs are on repair of barangay health stations, provision of motorized boats, mangrove reforestation and installation of potable water systems, among many others.
In education, PBSP member-companies, donors, partners, and aid agencies were able to give various kinds of assistance worth P167.51 million to Yolanda-affected schools in Tanauan, Tacloban, Marasbaras, Tugop, Bislig, Sto. Niño and Isabel in Leyte; Giporlos and Salcedo in Eastern Samar; Tabogon, Bogo, Daanbantayan, Bantayan island in Cebu; Inabanga, Bohol; and Estancia, Carles, and Lambunao, Iloilo.
These were in the form of classroom/school reconstruction and repair, provision of starter kits, teacher kits, school uniforms, shoes and chairs, supplemental feeding, psychosocial trainings for teachers, and capacity building trainings for parents, teachers, school heads, and the Local School Boards.
Among the benefactors are Dow Chemical Pacific Ltd, Epson Precision (Philippines), Inc. (EPPI), Telus/Navegar, CTBC, National Bookstore, Mondelez International, Intel Philippines, Felta Multi-Media, Inc., Coke Atlanta 2014/Coke Philippines, L'Oreal Philippines, Inc., GMA/Yes Pinoy Foundation, Flour Daniel, Insular Life, Deloitte Navarro Amper & Co. (Deloitte Philippines), We Can Be Anything, Ace Insurance, Lear Automotives, and the Australian government.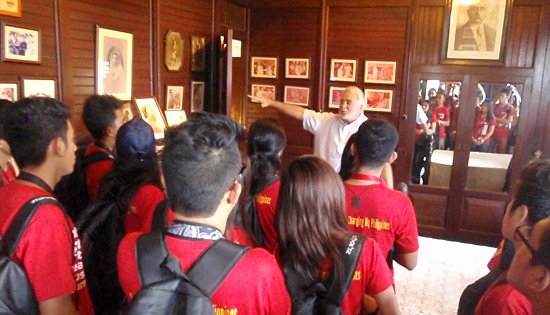 RAFI Vice President Jon Ramon Aboitiz (in white) speaks to delegates to the Aboitiz Future Leaders Summit inside the historic Don Ramon Aboitiz ancestral house in Cebu City.
Kool Adventure Camp facilitates team challenges for 9th AFLBS
By Ramon Aboitiz Foundation Inc.
September 4, 2014
CEBU CITY – Close to a thousand student leaders from different colleges and universities in the Philippines experienced powerful learning through the Ramon Aboitiz Foundation-Kool Adventure Camp (RAFI-KAC) during the 9th Aboitiz Future Leaders Business Summit (AFLBS) last August 15 to 16.
For the eighth time, KAC was tapped to provide integration and low initiative games and team-building exercises to the AFLBS delegates, who gathered at the Marco Polo Plaza Hotel for the summit themed "Significantly Changing My Philippines."
The summit aimed to provide student leaders with a refreshed outlook about the country. It also posed a challenge for the Filipino youth to step out of their collegiate mindset, look into the future and aspire to become among the country's promising leaders in the field they plan to pursue.
The summit featured plenary discussions, games, team-building exercises, work simulation, and business situations.
KAC also facilitated a pre-summit activity to give delegates a deeper understanding about the history of the Aboitizes, particularly learning about how the family handled its corporate office.
The participants also had time to paint benches at the Persimmon for beneficiary schools and visited Fort San Pedro, one of Cebu City's historical landmarks, while having the opportunity to know more on their fellow participants.
"My most significant learning after the Kool Adventure Camp team challenges during the summit was having the 'I CAN' attitude. Nothing will be left undone if I will do everything I can to get something done. 'I CANNOT' is a deadly option. Nothing is impossible if I would just give it all the best I got," said Harold Sapues, student delegate from the University of Cebu, on his experience with KAC.
Another AFBLS participant also shared that as leaders they must not think of themselves as above others in terms of status.
"One of the learning that struck me was the extreme pipeline activity of Kool Adventure Camp, where we needed to kneel down and pass through the obstacles to be able to transfer the ball to its target basket. I realized that as a student leader we need to humble ourselves in everything we do," said Caitline Perez of Mapua Institute of Technology.
University of Philippines Mindanao's Gian Paulo Paglinawan mentioned also the extreme pipeline activity in his learning, saying it taught him that he must also impart the same passion for change to others and to empower them.
"Most of the KAC activities taught me to enjoy the learning process and appreciate the efforts a person contributes to succeed at a specific challenge. I can personally contribute on significantly changing my Philippines...by passing on the knowledge and skills I learned from the summit," he said.
His fellow UP Mindanao student Jumarie Albit, on the other hand, mentioned the importance of communication and in listening to and understanding the people he deals with.
KAC has been offering adventure education programs on leadership and team development for youth and professionals in the last decade. It is a program under the leadership and citizenship focus area of RAFI.
For more information on KAC and its services, contact 260-9000 local 1001 and look for Althea May Santillan, or visit www.kac.rafi.org.ph or www.facebook.com/kooladventurecamp.


BUILDING BETTER. With the support of partners, RAFI has repaired and redesigned this two-classroom school building in Tapilon National High School, Daanbantayan, Cebu. The Foundation will complete in August the construction and repair of 184 classrooms in 46 schools and 20 day care centers in the northern Cebu towns of Bantayan, Daanbantayan, Madridejos, and Sta. Fe.
RAFI targets completion of school rehab in August
By Ramon Aboitiz Foundation Inc.
July 29, 2014
CEBU CITY – Cognizant of the need for an estimated 9,000 students to already have their classrooms back, the Ramon Aboitiz Foundation Inc. (RAFI) has assured that all 184 classrooms that are part of its rehabilitation efforts in northern Cebu would be ready for use by end of next month.
RAFI Education Development Unit Executive Director Anthony Dignadice said construction is ongoing at a rapid and efficient pace to ensure quality classrooms are built at the soonest possible time.
At 45 students per classroom, RAFI's Post-Yolanda School Rehabilitation Project would benefit at least 9,000 students in 46 schools in Daanbantayan, Madridejos, Sta. Fe, and Bantayan towns in northern Cebu.
"By the end of August, we are assured that 9,000 students are already able to have a much better classroom they can use already," Dignadice said.
He said the new classrooms are now designed to be more disaster-resilient compared to the old ones.
"We already showed the design to them and they were really clapping their hands… They were happy," he added.
Build back better
RAFI's school building design includes stronger column beams, elevated flooring, a lavatory and water closet, roof insulation and natural ventilation, two solid panel doors and jalousie windows per classroom, concaved blackboards, and two ceiling fans per classroom.
Having partnered with the Department of Education (DepED)-7, RAFI strove to repair existing classrooms and build new ones in the aftermath of Super Typhoon Yolanda.
With its target of building 184 classrooms and 20 day care centers in Daanbantayan town and the towns of Bantayan, Santa Fe, and Madridejos in Bantayan Island, RAFI collaborated with Metaphil in the construction and repair of school buildings, which is estimated to cost P247.5 million.
Of the 184 classrooms being built, 86 are in Daanbantayan, 48 in Bantayan, 42 in Madridejos, and eight in Sta. Fe. As to the day care centers, eight are in Daanbantayan, four in Bantayan, three in Madridejos, and five in Sta. Fe.
In particular, of the 86 classrooms in Daanbantayan, 73 are new constructions; 31 in Bantayan; 26 in Madridejos; and four in Sta. Fe.
Also, the construction and repair of classrooms in Sta. Fe are being funded in partnership with the League of Municipalities of the Philippines-Cebu Chapter, which set aside P4.4 million for the project. As counterpart fund, RAFI shelled out P3.16 million, while the local government unit allocated P962,600. The International Labor Organization also gave Sta. Fe P378,500 for the project.
Project update
Metaphil's Engr. Seymour Cabellero, in a project completion update, reported that as of June 30, repair of schools in Daanbantayan was already completed while construction of new classrooms was at 88.88 percent. For the schools in Madridejos, Sta. Fe, and Bantayan towns, repair was at 97.6 percent while construction of new classrooms was at 80.09 percent.
For the day care centers, repair in Daanbantayan was at 88.64 percent while construction of new ones was at 83.04 percent. For the Bantayan island towns, repair was 93.51 percent while construction of new day care centers was at 83.04 percent.
Dignadice said the most challenging to construct and/or repair were the classrooms in Botigues and Hilotongan islets in Bantayan Island, as the contractor needed the materials to be transported by motorized banca from the mainland.
"We also have to work with the tide. But based on our target completion date, we are still ahead of schedule by around 10 percent. We can safely say we can finish everything by August," Dignadice said.
Cebu Governor Hilario Davide III earlier asked DepED to hasten the restoration of schools for the students to have their regular classes inside classrooms already.
He said the Capitol was willing to assist DepED just so the new classrooms would be ready as soon as possible.
Makeshift classrooms
Since RAFI first evaluated the damage brought by Yolanda, it found out that many structures, including those that were just damaged but whose foundations did not conform to Metaphil standards, had to go, resulting to students not having classrooms when classes started last June.
To address this, RAFI and Metaphil constructed more than 100 temporary classrooms made of iron pipes and tarpaulins.
The temporary classrooms could be adjusted to provide better ventilation from the sweltering heat during sunny days and protection from the rain during a downpour.
Dignadice said RAFI chose to repair classrooms because "the love of learning also has something to do with the learning environment."
"We already have the School Rehabilitation Program (SRP) even before (Super Typhoon) Yolanda (came). So from the perspective of the SRP, we saw the need to improve the learning environment, especially the physical facilities of the northern Cebu schools," he said.
He was especially happy that even at a short period starting from the time it embarked on the project, RAFI has delivered on its promise to build not just a school building but 184 classrooms.
"In less than six months (after Yolanda struck), we have a clear response already as to how many schools we are targeting and the type of support we are giving," Dignadice said.
Army, police join hands serving depressed communities for development
By JAZMIN BONIFACIO
July 14, 2014
CARIGARA, Leyte – Soldiers and PNP are familiar sights today in rural areas and in conflict-affected communities, especially in Leyte and Samar. They cross rivers, climb mountains, reaching far-flung barangays with difficult terrain and accessibility, is undertaken to teach the farmers – the basic education, health, proper nutrition, values education, farming techniques, and income-generating projects, to help uplift them from the bondage of poverty and ignorance. And this, apart from their duties to help maintain peace and order.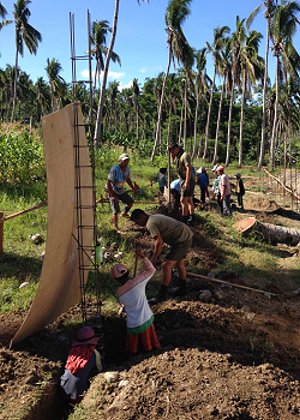 In line with the Peace and Development Program of the Philippine Army, troops of the `Charlie' company of the 19th Infantry battalion Phil Army and teams from Philippine National Police were warmly received by the barangay officials and residents of Brgy. Canlampay, Paglaum, Caghalo, San Isidro and Hiluctugan in Carigara, Leyte last July 2, 2014.
Barangay Chairman Narciso Llanza of Brgy. Hiluctugan said "I guess they are not here to bring war but to change the perception of my people what soldiers really are."
And Brgy chairwoman Aurora Quebec of Brgy Caghalo, Carigara, Leyte said, "we should be thankful that this time, the Army and Police is now in Brgy Caghalo as our partner in implementing peace and order in our barangay." She lauded as well the troops for their discipline and for showing genuine peace and development efforts to the people.
While Asterio Uribe, 57 yrs old, a farmer of Brgy San Isidro said "we feel safe and we thank the soldiers and the police for their care, compassion and understanding to us residents here in the village, it cannot be matched and we are proud to have them here in our barangay."
Meanwhile, in a separate interview with 1Lt. Jaime B. Tuguic Jr., company commander of the 19th IB, Charlie Company, said that deployed troops focused not only on people's safety, for territorial defense and securing the area, but also to unite and work hand in hand with the stakeholders, local executives and heads of agencies in order to solve the insurgency problem.
The Bayanihan Team of Charlie Company of the 19th IB together with the PNP jointly had to identify social issues and the team are known for their capabilities in bringing livelihood projects in communities in coordination with the local government agencies.
"Our goal is to cultivate synergy from stakeholders' network for the benefit of the communities" Lt. Tuguic said.
Their efforts helped reduce illiteracy rate in far flung barangays and reduced poverty. It empowers the rural people with knowledge, skills and values that will help them be a better person.
The truth according to Lt. Tuguic is that there are a lot of noise out there drowning out quite voices, and many people have stopped listening to the cries of their neighbors. Lots of folks have put their hands over their ears to drown out the sufferings. Some institutions have distanced themselves from the disturbing cries. But one thing beautiful for now is folks in poverty are no longer just a missions project but become a genuine friends and family with whom we laugh, cry, dream and struggle.
Communities exhausted after months of displacement in Zamboanga
By ICRC
July 3, 2014
MANILA – Nine months after fighting stopped between a faction of the Moro National Liberation Front and government troops in Zamboanga, a reported 40,000 people remain displaced from their homes, living in difficult conditions in overcrowded evacuation centres or hosted by relatives and largely dependent on humanitarian assistance.
Many of the displaced were trapped in poverty even before the clashes in September last year left them bereft of their homes and without the few assets they had possessed.
"Progress has been made in relocating a number of displaced people to transitional sites around the city," said Pascal Mauchle, head of the delegation of the International Committee of the Red Cross (ICRC) in the Philippines. "Nevertheless, efforts should continue to ensure that services such as water supply and sanitation are provided before moving people to these transitional sites. Especially now with the start of the rainy season, which will put additional strain on an already vulnerable population."
Poor sanitation practices and unsuitable facilities in evacuation centres along the Cawa-Cawa shoreline and the Joaquin Enriquez Stadium, still housing 17,000 displaced, create ideal conditions for the spread of disease.
Working with the Philippine Red Cross and in conjunction with the local water board, the ICRC is improving the sanitation and water supply in various evacuation centres and transitional sites. In recent months, the organization has also sought to strengthen the resilience of the displaced community through cash-for-work schemes and unconditional cash grants, benefiting nearly 50,000 people.
"These people struggle every day to make ends meet. Not knowing when they will be able to resume their normal lives is a tremendous burden on an already exhausted community," said Gareth Gleed, the delegate in charge of ICRC activities in Zamboanga.
Dora Kasim, a beneficiary of the cash grant programme, explained the ordeal experienced by her family: "We were living from seaweed farming, but when fighting broke out we had to flee and leave our home and belongings behind." When she and her family finally managed to return to their coastal village, nothing was left. "I was in a daze," said Dora. "Without any money to start over with, we depended on relief to feed our children. We received cash from the ICRC and used it to buy seaweed and a new paddle boat."
While they have slowly managed to restore their livelihood, Dora's family doesn't want to be relocated far from their farm and the children's school because they can't afford the transport. "It's a choice between feeding our children and having to pay for public transport. We can't afford both," she explained.
In a bid to improve the overall health situation, the ICRC is refurbishing health stations damaged in the fighting and providing medicines, other supplies and technical and financial support to the local health authorities and the Zamboanga City Medical Center.
In May, the ICRC set up a nutrition programme for malnourished children under five years of age and for pregnant and lactating women with a view to reducing the number of preventable deaths. So far 225 children and 32 women are being followed under this programme. In addition, multipurpose halls are being built in three evacuation centres to carry out hygiene promotion, nutrition and health-care activities.