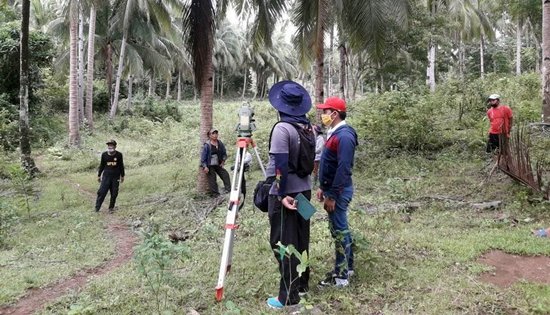 The survey team of the Department of Agrarian Reform (DAR) Samar Provincial Office conducts subdivision survey on an 8.4-hectare landholding covered by a collective Certificate of Land Ownership Award (CLOA) in Motiong, Samar. (Photo by Reynaldo Labine)
DAR subdivides lot in Samar town despite rise of COVID-19 cases
By JOSE ALSMITH L. SORIA
November 13, 2020
MOTIONG, Samar – Despite the continuous rise of coronavirus disease 2019 (COVID-19) cases in the province of Samar, the survey teams of the Department of Agrarian Reform (DAR) remain unstoppable in performing their tasks.
Last week, Engr. Enan Chua and Ferwell Aquino of the DAR Samar Provincial Office survey team proceeded to this town to subdivide an 8.4-hectare landholding covered by a collective Certificate of Land Ownership Award (CLOA) for the eventual issuance of individual titles.
According to OIC-Municipal Agrarian Reform Program Officer (MARPO) Constancio Mabag, the said collective CLOA was issued in 1996 to four agrarian reform beneficiaries (ARBs) under the government's Comprehensive Agrarian Reform Program (CARP).
Mabag disclosed that the area is situated in the upland barangay of Candumacol, some nine kilometers away from the town proper.
Meanwhile, the province of Samar, as of press time, posts the highest number of coronavirus disease 2019 (COVID-19) cases in Eastern Visayas with 2,383.
However, based on the Department of Health (DOH) data, 2,240 of them have already recovered, leaving a total of 143 active cases and 21 deaths. (with reports from Reynaldo Labine)
Eastern Visayas inflation rate declines to 1.8% in September
By PSA-8
November 6, 2020
TACLOBAN CITY – Inflation Rate (IR) in Eastern Visayas declined to 1.8 percent in September 2020. This figure is 0.5 percentage point lower than the 2.3 percent IR recorded in August 2020. The September 2020 IR of the region, however, is higher by 1.9 percentage points compared with the 0.1 percent deflation in the same period last year.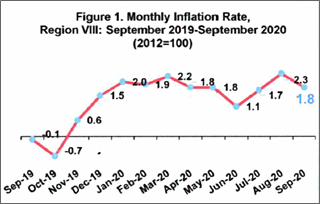 The regional IR is 0.5 percentage point lower than the 2.3 percent national average in September 2020.
Among provinces, Samar posted the highest IR in September 2020 at 5.3 percent. This figure is 1.0 percentage point higher compared with its 4.3 percent IR in August 2020. Southern Leyte and Eastern Samar also recorded increases by 0.1 percentage point, resulting to an IR of 3.1 percent and 1.6 percent, respectively.
Leyte retained its previous month's IR of 1.3 percent.
Alcoholic beverages and tobacco commodity group continued to post the highest IR at 7.6 percent in September 2020, followed by restaurant, miscellaneous goods and services at 4.7 percent.
Of the 11 commodity groups in the region, four (4) commodity groups exhibited lower IRs in September 2020 compared with their figures in 2020. The commodity group for housing, water, electricity, gas and other fuels declined by 2.2 percentage points from 1.5 percent IR in August 2020 to 0.7 percent deflation in September 2020. This can be traced to the continued decline in the index for electricity, gas and other fuels from 0.7 deflation in August 2020 to 6.8 percent deflation in September 2020.
The IR for furnishing, household equipment and routine maintenance declined by 0.5 percentage point from 3.2 percent in August 2020 to 2.7 percent in September 2020.
Compared with their figures in August 2020, the IRs for both clothing and footwear commodity group and health commodity group decreased by 0.2 percentage point settling down to 3.1 percent and 1.0 percent, respectively, in September 2020.
On the other hand, four (4) other commodity groups exhibited higher IRs in September 2020 compared with their rates in August 2020. Transport commodity group posted the highest increase of 2.2. percentage points, from 0.5 percent in August 2020 to 2.7 percent in September 2020. This can be attributed to the 4.7 percentage points increase in the index for transport services, from 1.4 percent in August 2020 to 6.1 percent in September 2020.
The IR for education commodity group went up to 0.4 percent in September 2020 from zero IR in the previous month. This increase is due to the 1.4 percent increase in the index for pre-primary and primary education.
The IR for restaurant and miscellaneous goods and services commodity group rose to 4.7 percent in September 2020, higher by 0.3 percentage point compared with the 4.4 percent IR a month ago. This can be attributed to the 0.3 percentage point increase for both indices of catering services and personal care.
The index for recreation and culture commodity group inched up by 0.1 percentage point, from 2.0 percent deflation in August 2020 to 1.9 percent deflation in September 2020.
Alcoholic beverages and tobacco, and food and non-alcoholic beverages commodity groups retained their previous month's IRs at 7.6 percent and 2.2 percent respectively. Meanwhile, communication commodity group retained its previous month's deflation at 1.7 percent.
The Purchasing Power of Peso (PPP) of the region remained at P0.79 in September 2020. This PPP implies that the goods and services worth P79.00 in 2012 is worth P100.00 in September 2020.
PPP in Northern Samar strengthened by P0.01 compared with its figure in August 2020. Biliran weakened by P0.01, while the rest of the provinces retained their previous month's PPP.
Biliran recorded the strongest PPP at P0.82. Leyte ranked second at P0.81, followed by Southern Leyte at P0.80, Eastern Samar at P0.77 and Northern Samar at P0.74. Samar posted the weakest PPP at P0.73.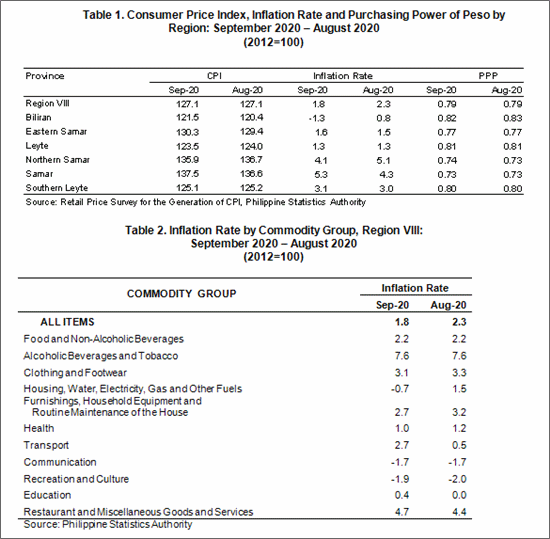 Pre-school show "Tish Tash" all set for worldwide distribution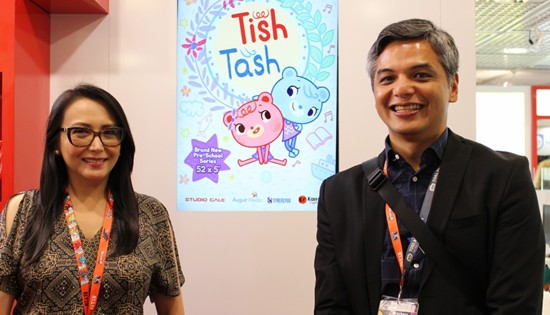 By DTI-Foreign Trade Service Corps
November 3, 2020
MAKATI CITY – Animated pre-school show "Tish Tash" will soon be enjoyed by kids around the world after leading kids entertainment specialist CAKE has inked a distribution deal with its producers – Korea's Studio Gale, Singapore's August Media Holdings, U.K.'s Karrot Entertainment, and Philippines' Synergy Entertainment Media.
"Tish Tash has huge potential – a fresh take on what it's like to have an imaginary friend, something most children have experienced and can relate to," said CAKE CCO & Managing Director Ed Galton.
"We are very excited to be working with strong partners from around the world, whose collaboration has resulted in a truly global approach," he added.
Synergy88 COO and Managing Director Jackeline Chua also expressed her excitement over this landmark deal.
"We're excited to see another show come to life and now distributed globally. It was a great collaboration with Studio Gale and August Media. Tish Tash is just one of the many shows that Synergy88 has co-produced with the best global entertainment companies," she said.
Chua also recounted how Synergy88's participation in the government sponsored outbound business missions in Cannes from 2016-2018 had opened opportunities for global partnerships.
"The company's portfolio of properties now spans across television, mobile and web platforms targeting pre-school kids all the way to millennials. We're truly glad that DTI-Export Marketing Bureau & FTSC (DTI Foreign Trade Service Corps) have been very active and supportive in promoting PH's global presence in the creative industry."
DTI Secretary Ramon Lopez welcomed this development, saying, "We have been pushing for the promotion of the economic potential of our creative industries globally and we are happy to see developments like this. The creative industry is a high value-adding sector, and the country has a natural competitive edge in this area, considering its rich pool of talents."
DT-FTSC Executive Director Anthony Rivera also added, "We will continue to collaborate with the creative industry stakeholders and government partners to help promote and develop opportunities in the creative sector such as in advertising, animation, film, game development and design among others. We hope to feature more of our creative capabilities and gain more access in international markets for Philippine made content."
Aside from "Tish Tash," Synergy88 also paved the way for the country's first Filipino animated series "Barangay 143," which aired on free-to-air television channel GMA 7 in 2018. It made headlines once again last Oct 1 as it premiered on streaming giant Netflix and made it to the top ten most watched titles for the week.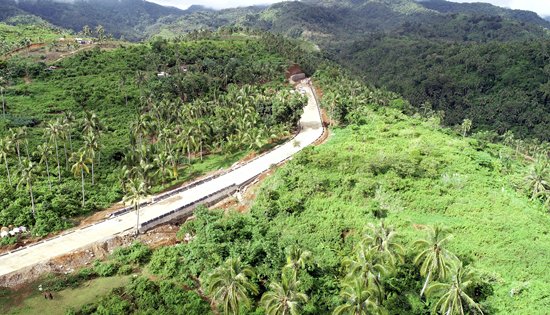 The aerial view of the on-going construction of access road leading to Talustusan Falls in Naval, Biliran. The project involves the concreting of existing gravel road and a rehabilitation of existing damaged paved road with a length of 1.215-kilometer two lane road.
Tourism road leading to Talustusan falls in Biliran now halfway complete
By DPWH Biliran
October 29, 2020
NAVAL, Biliran – The Department of Public Works and Highways- Biliran District Engineering Office's (DPWH-BDEO's) access road project leading to Talustusan Falls in Naval town is now halfway complete.
David P. Adongay Jr., District Engineer said that the project is being fast-tracked for completion on January 03, 2021, the revised expiry date.
"Not only the tourists will benefit from this project but also the farmers along this road project will enjoy a wider, safer, and convenient transport of agricultural products to market centers," said Adongay.
The improvement of access road leading to Talustusan Falls involves the road opening and concreting and rehabilitation of existing damaged paved road at Sitio Magtaran-an, Brgy. Talustusan with a length of 1.215-kilometer two lane road.
This project is implemented under fiscal year 2020 with a contract amount of P31.3M.
DPWH in convergence with the Department of Tourism (DOT) has allotted P105M under multi-year funding to enhance the hidden waterfalls in the province.
The fund will be implemented by phases from year 2020-2022 with a total length of 4.715-Kilometer two-lane road with a width of 6.10-meter and a thickness of 0.23-meter.
The completion of this project by phases will help boost tourism in the province. Walking time will also be reduced from 30-40 minutes to just 3-5 minutes to reach the waterfalls.

Effective 6:00 AM October 27, Caraycaray Bridge Detour along Biliran-Naval Section is open to all types of vehicles. DPWH-Biliran DEO in coordination with LM Baltonado construction complete the restoration works of the scoured approaches (Caraycaray Side) after being damaged by continuous heavy rains brought by Tropical Storm "Quinta".
Bridge detours damaged by TS Quinta in Biliran completes restoration
By DPWH Biliran
October 28, 2020
NAVAL, Biliran – The Department of Public Works and Highways (DPWH)- Biliran District Engineering Office (DEO) has completed the restoration works of the scoured approaches of the Caraycaray and Catmon Bridge detours.
David P. Adongay Jr., District Engineer informed that effective 6:00 AM on October 27, 2020 the Caraycaray and Catmon Bridge detours along Biliran-Naval section are now open to all types of vehicles (lightweight, four (4) wheels and heavy equipment).
Restoration works which involve backfilling were done in coordination with DPWH-BDEO and LM Baltonado Construction.
According to Adongay, DPWH-Biliran DEO is exerting their efforts and closely monitoring and coordinating with the contractor under contract with DPWH Regional Office VIII to restore the said detours for the safe passage of the motorists and the travelling public.
"These detours are deemed important as the construction of both Caraycaray and Catmon Bridges are on-going at present," said Adongay.
"Travelling public especially heavy equipment operators will no longer need to take a longer route to travel to the capital town of Naval and to its neighboring municipalities," the District Engineer added.
The District Engineer also acknowledges the help extended by Businessman Mr. Robert Juve Yao Ang to fast-track the repair of the detours.
The Caraycaray and Catmon detours were damaged due to continuous heavy rains brought by Tropical Storm "Quinta" on October 25, 2020.
China asked to listen to the people to make BRI "people-centered"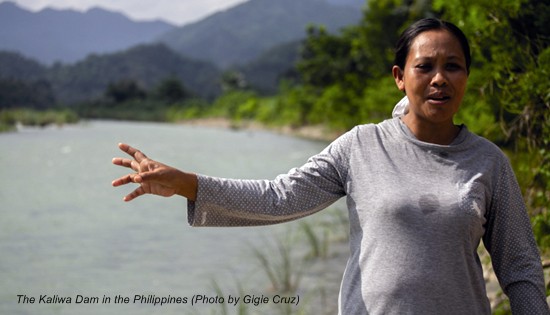 Press Release
October 28, 2020
MANILA – Eight national and Asian regional organizations based in the Philippines, Indonesia, Bangladesh, Pakistan, and Sri Lanka on Wednesday asked China to listen to the voices of the people in communities most directly affected by Belt and Road Initiative (BRI) projects.
In a virtual press conference, leaders of the organizations said appropriate consultations with the local communities transformed by the BRI projects would maximize social benefits, minimize investment risks, and make the BRI truly "people-centered."
A new book chronicling the effects of the BRI projects in the Philippines, Indonesia, Bangladesh, Pakistan and Sri Lanka turns the spotlight on the views of people affected by the BRI projects. The book was launched during the virtual press conference.
"Numerous books, studies, and research papers have been produced by governments, companies, economists, and investors about the BRI. The voices from the most important community, however, have not been heard," Lidy Nacpil, coordinator of the Asian People's Movement on Debt and Development (APMDD), said during the launch of "Belt and Road through My Village."
The "Belt and Road through My Village," co-produced by eight non-governmental organizations, is a collection of interviews with over 100 villagers who live on sites where BRI projects are being undertaken.
China's total investments in countries where BRI projects are ongoing reached USD 117.31 billion, according to the 2019 China Outbound Direct Investment Statistical Report released recently by China's Ministry of Commerce, the National Statistics Bureau, and the State Administration of Foreign Exchange.
As of end-2019, over 27,500 Chinese investors have established 44,000 direct investment enterprises in 188 countries and regions where BRI projects are located.
"The lives of billions of people in these 188 countries are being affected directly and indirectly, positively and negatively, and their lives are changed forever," Nacpil said.
The book project was led by the People of Asia for Climate Solutions (PACS) and APMDD, and supported by Asia Comms Lab, Philippine Movement for Climate Justice (PMCJ), Indonesia's Koalisi Rakyat untuk Hak Atas Air (KruHA: People's Coalition for the Right to Water), Coastal Livelihood and Environmental Action Network (CLEAN) in Bangladesh, the Pakistan Kissan Rabita Committee (PKRC), and the Centre for Environmental Justice (CEJ) in Sri Lanka.
The book covered seven major BRI projects. They are the Kaliwa Dam in the Philippines, the Jakarta-Bandung High-Speed Rail in Indonesia, the Barisal 350 MW Coal Power Plant in Bangladesh, the Bahawalpur Solar Power Park and Sahiwal Coal-Fired Power Plant in Pakistan, the Colombo Port City and the Colombo Highways in Sri Lanka. The total population being affected by these seven projects alone stands at more than 15 million.
Based on the interviews, renewable energy and road construction are among the most welcomed projects, while lack of communication and transparency, especially with communities on the sites of the projects, unfair employment practices, and social and environmental impacts are among the most frequently raised complaints.
The following are snapshots of the stories and quotes in the book:
Philippines: the Kaliwa Dam Project
Water crisis is a serious challenge for the growing population in Metro Manila.
Mike Santos, a barangay official from Barangka Drive, Mandaluyong City, said they had to mobilize fire trucks to distribute water to residents. Santos said even with the emergency water distribution, "residents were easily angered despite our efforts because they were getting impatient over the situation."
The Kaliwa Dam is part of the New Centennial Water Source projects to provide new water sources for Metro Manila and other nearby provinces. The project involves the construction of a 600 million liter-per-day (mld) capacity dam (73m high) and a conveyance tunnel that has a capacity of 2,400 mld (27.70km long, 4m diameter, around 200m deep).
Around 300 indigenous people will be displaced from their ancestral lands when the construction begins. Once completed, the project will inundate a large part of Barangay Daraitan in Rizal and several areas, including Barangay Pagsangahan and Barangay Magsaysay in Quezon Province. Residents of indigenous communities living along the Kaliwa River said they were not fully informed nor consulted about the project. "We remain clueless about the proposed dam," Maria Clara Dullas, 39, a resident of Daraitan, in Rizal province near Metro Manila, said. "The Metropolitan Waterworks and Sewerage Systems has not reached out to residents of Daraitan to explain its possible impacts on the community," she said.
Indonesia: the Jakarta-Bandung High-Speed Rail
Talking about the Jakarta-Bandung High-Speed Railway, 23-year-old student Nissa Nurmauluddiana said: "I think this is positive because there will be many transportation options to Jakarta, especially now, Bandung people who work in Jakarta or Jakarta people who are on business to Bandung always run out of train tickets."
The project was envisioned to be completed in 2019, but was delayed due to problems related to land acquisition and compensation to villagers and local workers. The total investment is estimated to be USD $5.5 billion. About 124,000 villagers have been affected by the construction of the railway.
According to KRuHA, which works closely with the local communities, some people protesting the land acquisition have been beaten and arrested. They are gravely concerned about reports of incidents of human rights abuses.
Silvi Febrianti, a college student from Gempolsari village in Bandung said: "until now, I have not heard any news from the government about our land compensation money. It's not clear enough when we will get it, and how much we will receive. I want to move as soon as possible."
Bangladesh: the Barisal 350 MW Coal Power Plant
Maliha Hossain, 38, a business woman, talked about the importance of electricity to her online business and to Dhaka. "In Dhaka city, there is an unlimited number of food courts and recreational activities, if electricity stops working, everything stops. This is a matter of great satisfaction. But for the last three years or more, we have been getting an uninterrupted electricity supply."
However, she also voiced her worries about possible air pollution from the coal-fired power plant project.
The Barisal coal-fired power plant project is expected to begin operations in 2022. The entire project will require 300 acres of land and the government is expected to buy power from this plant for a period of 25 years, according to the agreement. The project site is surrounded by land reserved for wildlife and fish sanctuaries. Villagers said they were forced to evacuate the land to give way for the project.
Abdul Malek Mosulli, 96, from Taltoli, is one of the hundreds of villagers who lost his house. "Local villagers protested, but police brought charges against innocent young men," he said.
Now the village is visibly divided into two parts: the high land acquired for the power plant and low land where the villagers relocated. With the recent floods, the relocation site has been underwater for months. There is no drinking water and no fish to catch. The residents are jobless. A number of people have become laborers at the plant site.
Pakistan: Bahawalpur Solar Power Park and Sahiwal Coal-Fired Power Plant
"Our lands have gone from zero to hero since the Quad-i-Azam Solar Power Park project was initiated in the area," Muhammad Iqbal, 62, a counselor in Chak 6-BC, one of the villages close to the solar power park in Bahawalpur, said.
The Quaid-i-Azam Solar is a 100 MW solar plant spanning 200 hectares of desert land, and Sahiwal Coal-Fired Power Plant, encompassing 690 hectares of fertile land, has an installed capacity of 1320 megawatts.
In a different village, Noman Bhatti, 40, was not happy with the Sahiwal Coal-fired Power Plant. "I'm still at a loss to understand why the most fertile land in the Punjab province has been selected to commission such an anti-agriculture project," Bhatti said. "We, the affected community, had approached the court of law to resist installation of the plant here. Some officials managed to blackmail most of the plaintiffs in the name of National Interest."
Sri Lanka: The Colombo Port City and Colombo Highways
In 2019, China and Sri Lanka signed an agreement to further fund and build the Central Expressway Project (CEP).
Tharushika Wickramasinghe, 25, talked about how she had changed her mind about highways near her house after experiencing the new conveniences: "I would like to see more highways coming up in the country and want the Chinese to help the Sri Lankan government to build more expressways."
The Colombo Port City was proposed in early 2012 by the China Harbour Engineering Corporation as the site for constructing the Colombo International Financial City. The project is expected to be completed by 2041 and will be on a 99-year lease.
Aruna Roshantha Fernando, a 49-year old fisherman, raised questions about it: "I don't think Sri Lanka needs such a big city port in Colombo. Only the rich people will benefit from this project. What happens to poor people like us who earn a living by the resources of the sea?"
"People-to-people connectivity is supposed to be the ultimate vision for BRI, alongside policy connectivity, infrastructure connectivity, trade connectivity, and financial connectivity," Xiaojun Wang, executive director of PACS, said.
All the testimonials are presented in the book in the native languages of the villagers, and have been translated into English and Chinese for international and Chinese audiences.
At the 75th Session of the United Nations General Assembly in September 2020, President Xi Jinping called on all major countries to act with leadership. "They should provide more global public goods, take up their due responsibilities and live up to people's expectations." This was a continuation of his call for China and host countries "to act on the principles of high standard, people-centered and sustainable development" at the 2nd Belt and Road Forum in Beijing in April 2019.
"In order to achieve true 'people-centered' vision for the BRI, China must work with host country governments and be more proactive in reaching out to the communities to be affected," Wang concluded. "Only when these voices are heard, will social, environmental, political and financial risks be minimized, and will real benefits and welfare improvements be shared by all involved."
Filipino startup wins in global pitch competition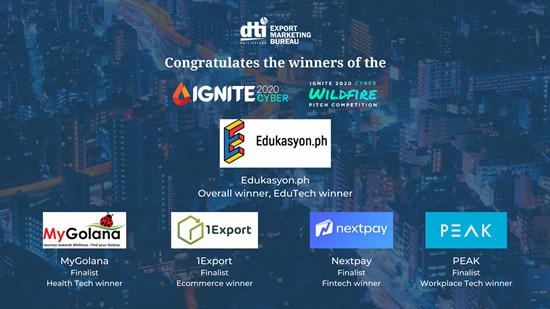 By DTI-TPG-Export Marketing Bureau
October 27, 2020
MAKATI CITY – Filipino startup Edukasyon.ph emerged as the overall winner in the Wildfire Pitch Competition, held during the Ignite 2020 Cyber Conference on 13-15 and 20-22 October 2020.
Receiving US$5,000 equity-free cash, Edukasyon.ph is an education technology platform that connects students to education opportunities. The startup was among the five startup finalists – four of which were founded in the Philippines.
The six-day conference was organized by Brainsparks, Dentsu, and TechShake and was supported by the Department of Trade and Industry-Export Marketing Bureau (DTI-EMB).
"DTI-EMB, as IGNITE's partner since their first conference in 2017, has always been a supporter of IGNITE's vision of bridging the gap between startups and corporates or non-tech industries, and at the same time promoting the PH startup ecosystem to the rest of the world," said DTI-EMB Director Senen Perlada, during his opening remarks on 22 October.
"This year's edition of IGNITE is a perfect example of how technology and innovation can address the needs of today and the post-pandemic world," he continued.
The conference featured several international speakers and a pitch competition for startups in the education tech, health tech, fintech, e-commerce, and workplace tech sectors. Winners for each sector delivered their three-minute pitches on the final day to determine the overall winner.
The other finalists were:
• MyGolana, a health tech startup providing affordable and accessible counseling solutions
• Nextpay, a fintech startup providing an easy solution for small businesses to manage and track their finances.
• 1Export, an e-commerce startup that is a one-stop, end-to-end platform helping small businesses in the Philippines export, by addressing concerns in terms of compliance and market access.
• PEAK, a Thai workplace tech startup that offers online accounting software that allows businesses to track business information instantly.
"Out of the five finalists, four of them are Philippine startups. It shows that the Philippines is not lacking in talent and potential as a startup ecosystem. The challenge now is creating an environment that will not only help startups survive but also thrive and take advantage of the new opportunities brought about by the pandemic," said Perlada.
DTI Undersecretary Rafaelita Aldaba said during her opening remarks on 13 October that "as the virus is contained and as [physical support] bolster the economy, along with global recovery we will be able to take advantage of emerging opportunities and challenges from shifting trade and investment preferences and changing forms of international productions in the wake of Covid-19 by fast tracking innovation and adapting new technologies with greater focus on more resilient, inclusive, and sustainable industrial recovery toward the post pandemic future."
Since 2017, Ignite Philippines has gathered the stakeholders from the startup ecosystem under one roof. The online event was attended by more than 1,200 participants from 25 countries.
PH gov't maltreatment of Nasino and child violated int'l standards on prisoners, children
Manhandling of Baby River funeral further exposes tyranny of Duterte gov't says global rights group
Press Release
October 23, 2020
QUEZON CITY – The International Coalition for Human Rights in the Philippines (ICHRP) and its chapters condemned the Philippine government's inhumane treatment of Filipina political prisoner Reina Mae Nasino following the death of her three-month-old Baby River. Statements from the global coalition reminded the Duterte's government that the acts of cruelty against Nasino and her child are violations of international rules on women prisoners.
"The treatment of Reina Mae Nasino and her Baby River from the State has violated international standards of treatment of prisoners and children," says ICHRP's chapter in British Columbia, Canada.
Human rights advocates from all over the world send their deepest sympathy to Reina Mae Nasino who not only has been cruelly deprived of her right to care and comfort her child, but also has been deprived of her right to cradle and see her baby at the funeral one last time.
The United Nations Rules for the Treatment of Women Prisoners and Non-Custodial Measures for Women state that women prisoners should be allowed to breastfeed their children. Expert medical research studies have evidenced that breastfeeding provides protection for infants against infections, including acute and prolonged diarrhea, and long-lasting active immunity.
Article 3 of the Convention on the Rights of the Child, to which the Philippines is a State Party, declares that "The baby's best interest shall be the primary consideration in all actions concerning children, whether undertaken by public or private social welfare institutions, administrative authorities, legislative bodies, or courts of law."
After immense public pressure, Philippine court was prompted to grant a furlough to Reina Mae Nasino to visit her baby's wake but with heavy security and in handcuffs.
"A legal right intended for prisoners but the Duterte government deemed it as privilege only to be given to its allies and powerful elite," says Asia Pacific Coalition for Human Rights in the Philippines spokesperson Sister Patricia Fox.
Since their separation, Baby River had fallen ill several times and on October 9th, Baby River died from acute respiratory disease at the intensive care unit of the Philippine General Hospital. According to ICHRP chapter in the United States, the Philippine government's handling of Baby River and Reina Nasino's case amounts to no less than torture.
"We are enraged and hold the Philippine government responsible for River's passing. Ultimately Duterte himself is responsible given his backtracking on promises to release political prisoners and Anti-Terror Law which demonizes, imprisons and kills activists," ICHRP-US spokesperson Drew Elizarde-Miller.
During the first three hours of "furlough" in which Nasino attended River's wake, state forces surrounded Reina and did not remove her handcuffs except so she could briefly wipe tears from her eyes. Obstructing free speech, the jail personnel further tried to prevent Nasino from speaking with the media. During the Baby River's burial, there were 43 heavily armed state authorities deployed and hijacked the burial procession from the family. Nasino was still unhandcuffed.
"We note the politics of selective accommodation and the blatant disregard for the principle of justice. Individuals and groups who committed crimes against the people are exempted from prosecution and accountability while the poor and those working on social justice issues are arrested and kept in jail on trumped-up charges," says ICHRP- British Columbia.
BotiCARD opens pharmacy in Oroquieta City
By CARD MRI
October 23, 2020
SAN PABLO CITY – BotiCARD opens its 12th branch in Oroquieta City in Misamis Occidental to provide its healthcare products and services to the local community on October 19, 2020.
To comply to minimum health protocols, CARD MRI executive committee members and senior advisers attended the branch opening via online conference. Said BotiCARD President Rosenda P. Aquino, "The pandemic will not be a hindrance in achieving our goal. At a time like this, we know that we are needed the most by our clients and the general public."

Reinforcing CARD MRI's mission
The Oroquieta Branch is the third branch of BotiCARD in Mindanao which is strategically located beside the CARD MRI Rizal Bank-Oroquieta Branch. Aside from the banking institution, CARD, Inc. (A Microfinance NGO) and CARD MBA are also present in the City. "With the additional force of the pharmacy of CARD MRI, empowering communities is already on the horizon. We are intensifying our approach to fight the different facets of poverty," said Aquino.
Aquino also added that, "BotiCARD is not an ordinary pharmacy. Aside from providing quality generic medicines, we also provide primary healthcare services to CARD clients and staff and the communities to ensure their wellness."
Meanwhile, CARD RBI President and CEO Elma B. Valenzuela shares her commitment in helping the institution meets its mandate of providing health care products and services to the community. With thousands of clients of the microfinance-oriented rural bank in the area, its staff are in full support by introducing the additional service of CARD MRI to its clients in Oroquieta. "As we are one with the overarching goal of CARD MRI in eradicating poverty, we will empower one another to also empower the local communities," said Valenzuela.
The direction towards a healthy community
The pharmacy advocates the use of generic medicines as it is more affordable and as effective as branded medicines. In partnership with the Microfinance and Health Protection (MaHP) Program of CARD MRI, it also provides free medical services through clinics located in various communities.
The institution is guided in achieving its mission by providing genuine service to its clients and the communities. "We will not wait for our clients to come, but we will bring our services closer to the communities to provide them equal and inclusive opportunities for all."
Armeda Villasin, one of the clients of CARD RBI in Oroquieta, shares that she is very much grateful for CARD MRI. "CARD is a good institution because it provides numerous benefits to its members to ensure that every family is secured."
BotiCARD also eyes to develop loanable medicine and wellness products to be offered to CARD clients to encourage them to prioritize their health.
Service realization
BotiCARD was an idea conceived from CARD MRI's partnership with Freedom from Hunger in 2011. Fighting poverty means not only providing access to financial products and services but addressing its different aspects. With poor health and inaccessible healthcare services, the poor will suffer even more. Boosting people's health and providing quality medicines and healthcare services are ways to break the vicious circle of poverty. This is BotiCARD's support to CARD MRI's mission in ending poverty in the country.
Linking art and biz through string art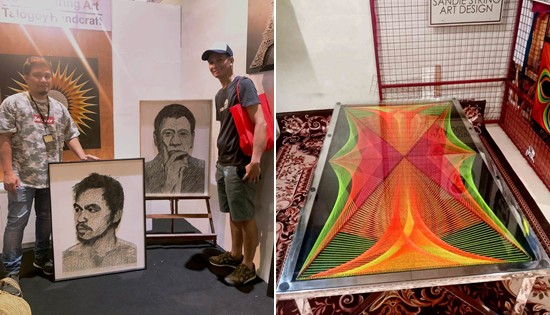 By DTI-Regional Operations Group
October 22, 2020
DAVAO CITY – In an artist's perspective, selling or marketing one's artworks could be as tedious as conceptualizing an output from scratch. But despite that, Sandie L. Padilla took the challenge by heart.
Padilla is among the fifth batch graduates of the Kapatid Mentor Me (KMME) program, an initiative of the Department of Trade and Industry (DTI) and Philippine Center for Entrepreneurship (PCE) aiming to guide and mentor entrepreneurs according to their needs, with the help of experts in different fields. This batch graduated last July 18, 2019.
Padilla, who owns and manages Sandie String Art Design, was hesitant about starting his business when he came back to the Philippines after working in Jeddah, Saudi Arabia for 6 years. However, with his love for the arts and his determination to have a sustainable livelihood, he finally decided to open this venture.
Padilla, who used to work as a coffee shop barista while still abroad, is armed with the kind of creativity and commitment to come up with something that is unique and eye-catching. The idea of having a business related to using strings to create portraits came into mind while he was busy making remarkable pieces through wire sculptures and coffee bean art during his work breaks. Innovativeness is innate in him, and this became his ticket to discovering his talent in crafting artworks through strings. Who could have thought that the long strips of thread can be used to produce portraits?
It was a eureka moment for him when he started doing string art, he said that he remembered doing it when he was still in elementary. When asked about his motivation to pursue this, he shared that it is the uniqueness and craftsmanship of string art.
When Padilla came back to Davao City, he did not pursue his passion for string art right away. He tried working as a promo-merchandiser in a shopping mall at first, however, he felt that something was telling him to pursue art instead of getting an eight-hour job.
While navigating on Facebook and checking on anything that got his attention, he came across the official page of Negosyo Center Davao City. Through it, he found out about the different programs and services that the Negosyo Center provides. That was when he realized that it would be great to begin working on his own business.
"I immediately thought of turning my passion in string art into a business opportunity," he narrated. From then on, he started attending various training activities, including those on how to run a business, and an orientation on how to avail a micro loan. With his unending interest in business, he enrolled in the KMME program, which provided his foundation as an entrepreneur through different sessions tackling the 10 modules.
Following his KMME graduation, the Sandie String Art Design started reaping the fruits of his labor, especially that Padilla participated in trade fairs, such as the Mindanao Trade Expo (MTE) and the renowned Manila FAME. This move made him earn between P15,000 and P77,000.
Despite the struggles he encountered as an entrepreneur, especially with being a newbie and the uniqueness of his concept, Padilla never lost the spark to go on. He is thankful to DTI, too, for walking with him in this journey.
The pandemic, which has affected business operations, did not stop him as well to continue with what he has started. Innovative as he is, Padilla maximized the social media and other means to widen his network, to sustain the expansion of his market. His untiring efforts resulted in new designs and the establishment of a bigger production area in his house.
He encouraged other artists to consider getting into business through the craft they love. For him, it is likewise a way to give back to the community where they operate.
"Ang kita sa abroad kay makita raman sad nimo diri sa Pilipinas basta og maningkamot ra man gyud diay ka (We can still earn here in the Philippines the amount we receive while working abroad if we continue to work hard)," he said.
It is Padilla's dream to help the persons with disability and women in several communities in the future. He said he will establish his own gallery or workshop for him to teach them about string art, and earn from it.
For those interested to buy Padilla's artworks, he can be contacted at 09665384644 or in his Facebook page, Sandie String Art Design.
CARD, Inc. adapts to the new normal with CARD Sulit Padala and konek2CARD
By CARD MRI
October 21, 2020
SAN PABLO CITY – As part of its mission to provide accessible services to its clients amid the COVID-19 health crisis, CARD, Inc. (A Microfinance NGO), a member of CARD Mutually Reinforcing Institutions (CARD MRI), opens more CARD Sulit Padala outlets in Visayas and Mindanao.
CARD Sulit Padala is now available in 116 CARD, Inc. unit offices nationwide. Through this domestic remittance service, clients can now pay for their loans and receive remittances not only from CARD, Inc. outlets but also from other financial institutions under CARD MRI namely CARD Bank, CARD SME Bank, and CARD MRI Rizal Bank which also have more than 300 outlets nationwide.
CARD Sulit Padala is also known for its "piso" or one-peso charge for first time money senders and its minimum rates for those sending remittances anywhere in the Philippines.
CARD, Inc. Executive Director Jocelyn Dequito highlighted the importance of CARD Sulit Padala as the country transitions to a New Normal. "As we adapt to a better normal, we want to continuously give our clients the easiest and convenient remittance services where they can experience a hassle-free sending and receiving of money anywhere in the Philippines," Dequito said.
Konek2CARD agents
Dequito also mentioned that their clients can now pay their loans through konek2CARD agents in their barangays. This is another way for the institution to bring an easier way of paying their loan dues wherein clients do not need to travel to CARD offices. "CARD is exerting more effort to adapt to the new normal and bring safer transactions to our clients. This initiative will surely help our clients especially this time when many of us are still carefully complying to health and safety protocols," said Dequito.
She also explained that expanding CARD's payment channels is beneficial to its million clients in the Philippines. "We encourage our clients to opt for our alternative ways to lessen physical contact and immobilize the spread of the virus and ensure their safety."
Army foils NPA's plan to disrupt gov't livelihood opportunities in Can-avid, E. Samar
By DPAO, 8ID PA
October 20, 2020
CAMP LUKBAN, Catbalogan City, Samar – The government troops repelled Communist NPA Terrorists (CNTs) who were planning to disrupt the implementation of government's livelihood trainings in two remote villages of Can-avid, Eastern Samar in a gunfight about 10A.M., October 20, 2020 in Barangay Salvacion, Can-avid, Eastern Samar.
According to Lieutenant Colonel Joven D Bugarin, Commanding Officer of 52nd Infantry Battalion, soldiers were sent in order to conduct security operations for the upcoming Agrikultura at Kabuhayan tungo sa Kaunlaran at Kapayapaan (AKKAP) Project launching on Thursday, October 22, 2020 in barangays of Boco and Balagon of Can-avid.
However, during the conduct of security operations the troops clashed with more or less 25 CNTs in Barangay Salvacion, Can-avid, Eastern Samar who scampered to different directions after the 15-minute firefight.
Three soldiers were wounded while an undetermined casualty was reported on the CNT's side.
"Traces of bloodstains in the area they abandoned suggest that many in the NPA were wounded," said LtCol. Bugarin.
Utilizing K9 teams, recovered were two anti-personnel mines (APM), blasting caps, and electrical wires that will be used by the NPA to sow terror.
To recall, on December 13, 2019, three innocent civilians were killed while 14 were wounded including two minors and an infant caused by NPA's roadside bombing in Barangay Libuton, Borongan City, Eastern Samar. While on April 2019, a nine-year-old boy died in another NPA bombing in Barangay San Miguel, Las Navas, Northern Samar. And recently, four civilians including two teachers were also wounded in an ambush in Barangay Tagbayaon, Jiabong, Samar.
"This only shows how cruel and heartless the NPA's are. They ignore the safety of the civilians and put their lives at risk for their own gain," LtCol. Bugarin added.
The livelihood training under AKKAP is part of the Provincial Task Force to End Local Communist Armed Conflict (PTF-ELCAC) program in order to address the insurgency problem in the remote Barangays in the town of Can-avid. At the same time, offer livelihood opportunities to the residents who have been suffering from poverty.
The Commander of 801st Infantry Brigade, Brigadier General Camilo Z Ligayo said the collaboration among the military, Local Government Units and different Government agencies were already in place but the CNTs hinder the implementation of the government programs and projects.
"Ang mga teroristang NPA ay salot at perwisyo. Sinasabotahe at pinipigilan nila ang pagpasok ng mga pangunahing serbisyo ng pamahalaan sa mga Geographically Isolated and Disadvantage Areas (GIDAs). Pinagkakait ng mga NPA na makaranas ng pag-unlad ang mga kababayan natin sa mga pinakaliblib na mga kumunidad. Mga Teroristang NPA ang tunay na pagpapahirap at nagpapanatiling mahirap dito sa buong Samar," BGen. Ligayo said.
Unrest in pineapple and banana workers
Japanese execs urged to stop unlawful layoffs at Dole Philippines, pineapple workers calls for reinstatement
By Associated Labor Unions
October 16, 2020
QUEZON CITY – Hundreds of unlawfully laid off pineapple and banana workers are calling for their reinstatement and thousands more are appealing to Japanese top executives to stop the illegal retrenchments of Dole Philippines Inc. employees in Polomolok, South Cotabato.
The Dole Philippines was acquired by Japanese firm Itochu Corporation from Dole Food Inc. in 2013.
The plant-level unrest was started by an on the spot termination on September 15 of 478 regular employees without just and authorized cause and amid the continuing hiring of more contractual workers from manpower cooperatives.
This ruthless retrenchment by Dole in a monocrop economy such as in Polomolok is both untimely and unconscionable. Management fully knows that there are no new jobs waiting for retrenched workers once they are terminated. The upstream and downstream economies of towns and cities built around plantation operations are very vulnerable to corporate attempts to bring down wages and to artificially bring down labor rights.
The effect of pandemic is negligible and cannot be used by Dole Philippines Inc. to justify the lay-offs given the resilience of its strong export markets. It has deep corporate pockets and the current troubles attributable to the pandemic are a mere blip. The termination is doubly painful to severed workers to lose their livelihood as the country's economy sink deeper into recession caused by the pandemic lockdowns.
In seeking redress, sacked employees sought the help of the labor federation Associated Labor Unions-Trade Union Congress of the Philippines (ALU-TUCP) and asked it to represent them in the government mediation and conciliation mechanism in the hope that they be reinstated back to work, said Sofriano Mataro, ALU Regional Vice President for Southern Mindanao Region.
Other disenfranchised employees fear they might suffer the fate of retrenched co-employees have asked the help of the labor federation to convey their appeal to Itochu Corporation top executives to stop any further unlawful lay off of regular workers in Polomolok.
Workers strongly believes the Dole Philippines middle executives are disempowering the right of more than 6,000 regular employees to organize a union and collectively bargain for better wages and benefits by the end of the year and undermine the legal procedure by replacing them with non-regular contractual workers without the knowledge and the consent of the top management.
Dole Philippines' management continues to replace regular workers it has retrenched and will be retrenching with contractuals, clearly establishing that they are just bidding down wages, eroding constitutionally protected workers rights, and maximizing profits in service of corporate greed. Targetting 32 core union leaders for retrenchment reveals that they are really engaged in union-busting.
"The relative Dole Philippines' labor-management shared industrial peace was broken by these unlawful termination and disrespect to the workers right to legally organize a union and negotiate for better wages and benefits. While employees still have hope with top management officials, we urge the Dole top executives to respond and intervene by ordering a stop to the unlawful termination, reinstate illegally laid off employees and ensure the workers' right to form a union and collectively bargain before the situation become worse, " Mataro said.
Dole Philippines profited immensely from our workers here. It is also time for them to restrain greed in the name of plain decency, he added.
With almost 20,000 plantation and cannery workers during peak operations, Dole Philippines Inc. is the biggest producer and marketer of renowned pineapple and banana fresh fruits, juices and by-products to the U.S, Middle East, Japan, China, Korea, Australia and New Zealand through its 16,000 hectares of pineapple and banana plantations and canneries located in South Cotabato.
It is a giant multinational which is not losing money since the agricultural export market remains vibrant. Over the last 15 years Dole Philippines' corporate earnings have been highly profitable, in no short measure, due to the labor productivity of its workers.


Engr. Rommel C. Lesigues facilitating the conduct of Oily Water Separator course through blended learning.
NMP adopts blended learning
By National Maritime Polytechnic
October 13, 2020
TACLOBAN CITY – In support to the government policies and priorities as articulated in the We Recover as One Report under the banner program "enabling a digital government and economy" toward mitigating the impact of COVID-19 pandemic and transitioning to a "new and better normal", the National Maritime Polytechnic (NMP) through its Curriculum Development Section (CDS), conducted a pilot class on Oily Water Separator (OWS) Course on 10 October 2020 (Saturday) adopting blended learning as teaching methodology.
The alarming effects of the COVID-19 pandemic have dramatically changed the existing education and training landscape to technology-based learning to minimize face-to-face contact and control the spread of the virus. The NMP's OWS Course in blended learning conforms with the reprioritization of government programs on adult learning in protecting the marine environment and in improving its accessibility to Filipino seafarers.
The pilot class was conducted to determine areas for improvement / refinement prior to its offering to ensure that loopholes, deficiencies, misalignments are identified and corrected. It was facilitated by Engr. Rommel C. Lesigues and attended by twelve (12) NMP trainees who during the said day, were billeted at the NMP dormitories.
The theoretical aspect of the course was delivered though an online or e-learning platform using Google Classroom and Google Meet applications and the practicum exercise and assessment were conducted through the traditional face-to-face method.
OWS is an advocacy program of NMP, developed with the aim of providing seafarers with a deeper understanding of Resolution MEPC.107(49) "Revised Guidelines and Specifications for Pollution Prevention Equipment for Machinery Space Bilges of Ships" to increase the effectiveness of shipboard oily waste management.
The offering of OWS will ensure compliance to paragraph1.1.5 of the said resolution, viz, Ship staff training should include familiarization in the operation and maintenance of the equipment and heighten seafarers' awareness in the effects of ships' daily operations to the environment and contribute for the attainment of the International Maritime Organization's (IMO) overarching objective to achieve safe, secure, and efficient shipping on cleaner oceans.
Moreover, another pilot class is scheduled to be undertaken come 17 October 2020 (Saturday) for the offering of the Updating Basic Training (BTU).
Also, the online Consolidated MARPOL 73/78 course and the blended Training Course for Instructors (IMO Model Course 6.09) and Assessment, Examination and Certification of Seafarers (IMO Model Course 3.12) are in the pipeline for their immediate offering.
Further, the development of the Vessel Crane Operator Course and the Freefall Enclosed Lifeboat Course in blended learning are for completion within the year.
Meanwhile, NMP continues to conduct face-to-face trainings with strict implementation of the Maritime Industry Authority's (MARINA) approved Post-Enhanced Community Quarantine Operational Plan and other health and safety protocols as required by the Department of Health (DOH), Department of Labor and Employment (DOLE), and local government unit (LGU).
Likewise, seafarers who are interested to avail of the NMP's FREE online classes on SHAPIMS, PADAMS, and GSTS may register through this link: https://nmp.gov.ph/online-course-offerings/.
Stakeholders who wish to validate the authenticity of their seafarers-employed with NMP issued certificates may visit www.verify.nmp.gov.ph. Also, those interested in NMP research undertakings may visit the NMP website and access the e-Research Information System Portal which is designed to disseminate NMP completed researches, present the Research Agenda, and engage the industry stakeholders to collaborate in the research activities.
Further, NMP encourages OWWA registered seafarers to avail of the NMP-OWWA (Overseas Workers Welfare Administration) Seafarers' Upgrading Program (SUP) and Skills for Employment Scholarship Program (SESP) which entitles the beneficiary to receive financial assistance for training costs from the OWWA.
RTF-8 ELCAC vows stronger coordination to attain peace by 2022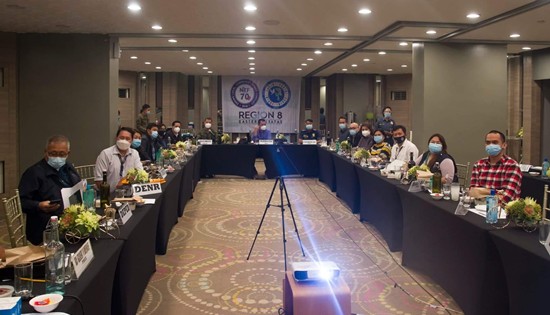 Press Release
October 12, 2020
TACLOBAN CITY – The Regional Task Force on Ending Local Communist Armed Conflict (RTF-ELCAC) on Friday, October 9, 2020 in a hybrid physical and virtual meeting presided by Secretary Eduardo Del Rosario, the Cabinet Officer for Regional Development and Security (CORDS) resolved to heighten agency coordination.
This was in view of the Regional Peace and Development Roadmap to attain a just and lasting peace by the year 2022. It was learned that the budget for the target barangays in 2020 was diverted to address the COVID-19 pandemic, but that the priority projects have been included in the proposed 2021 ELCAC budget.
CORDS Del Rosario informed that the National Task Force has been lobbying for the approval of the 2021 ELCAC funds which is being opposed by the Makabayan Bloc. The ELCAC funds is intended for PPAs of the barangays, and will not be released to the national agencies.
Eastern Samar Governor Ben Evardone shared that the Governors' League has passed a resolution to adopt the ELCAC Budget and has forwarded the same to the Senate and House of Representative copy furnished Makabayan Bloc.
Meanwhile the DILG and the Office of Civil Defense presented the accomplishments of the Regional Task Force on Emerging Infectious Diseases (RIATF-EID) as well as the Regional Task Force on COVID-19 (RTF-COVID 19) to provide the context to the peace challenges posed by the pandemic.
Meanwhile Leyte Governor Leopoldo Dominico L. Petilla, chair of the Regional Development Council, said that poverty is the greatest recruiter of insurgency. He stressed that the road to peace must always pass through economic development. To this, Governor Evardone who chairs the EV Regional Peace and Order Council, said that his province has formed an Anti-Poverty Team to focus its efforts in implementing projects intended to address insurgency.
CORD8 Del Rosario praised RTF8 ELCAC for its accomplishments. He said that the targets remain the same that's why the Task Force needs to implement its catch up plan. Various organizations should be invited so that there will be coordination and optimization of the resources. Meanwhile National Security Adviser Hermogenes Esperon commended RTF8 for being the first region to deploy the RCSP teams, which has resulted to several cleared barangays for 2020.
Meanwhile the Task Force passed a resolution endorsing the inclusion of the 93 barangays cleared in 2020 for possible funding in the 2021 budget Samar 2nd District Cong. Sharee Ann T Tan will be the "spokesperson or voice of Region 8" in Congress for the approval of funds. She requested from the NSC that she be given a copy of documents as proof to the approval of ELCAC funds. NSC will coordinate with Cong. Tan on this matter.
Under this proposal each target barangay will be given P20M. The menu of PPAs are the following:
• Farm to Market Roads (FMR) for P12M each (DA & DPWH)
• Schools for P3M each (DEPED)
• Waterworks and irrigation projects worth P2M each (DILG)
• Health stations at P1.5M worth each (DOH)
• Reforestation/ National Greening Project worth P1.5M each (DENR)
• A total of P1.86B for 93 barangays is being eyed for allocation to Region 8.
Gov. Petilla for his part expressed his gratitude to President Rodrigo R. Duterte and Senator Bong Go for approving the Kaulisihan funds in Baybay City, Inopan and Hilongos, all in the Province of Leyte. The approval of P640M worth of FMR projects was already endorsed by RDC8 for approval in the 2021 budget. DILG together with the NEDA Regional Office serve as the secretariat to the RTF8 ELCAC.
DOLE-RO8 grants P400-K livelihood for Biliran fisherfolks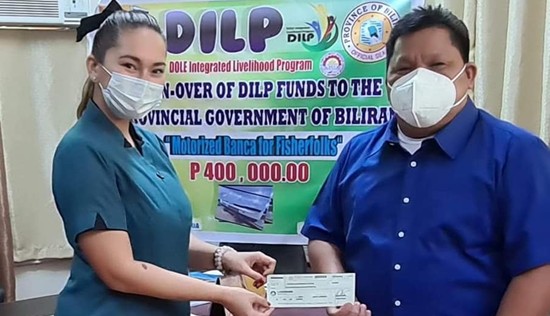 By NORMA RAE S. COSTIMIANO
October 9, 2020
TACLOBAN CITY – Some twenty (20) fishermen from different municipalities of Biliran will be the beneficiaries of the livelihood funds turned-over by the Department of Labor and Employment Regional Office VIII to the Provincial Government of Biliran on 08 October 2020.
Engr. Emmanuel Y. dela Cruz, Supervising Labor and Employment Officer and OIC-Chief of the DOLE-Biliran Field Office, successfully released to Ms. Gretchen Stephanie Espina, Executive Assistant of Governor Rogelio J. Espina the livelihood check amounting to P400,000.00 will be utilized for the procurement of wooden fishing boats with motor engine.
Ms. Gretchen Espina expressed her heartfelt gratitude to DOLE in behalf of Gov. Espina for the assistance received. She said that the support will be very helpful to the beneficiaries whose income rely solely on fishing.
"Big thanks to DOLE for granting our request for our fisherfolks here in the province. Thanks also to our active DOLE field officers for helping us facilitate the project. This will really bring joy and hope to our beneficiaries especially this time of COVID-19 pandemic", said Ms. Espina.
Engr. De la Cruz in response expressed commitment for continued delivery of labor and employment programs and services in the province. He likewise highlighted that DOLE will always and in all ways work for the provision of opportunities and hope to the Filipino workforce.
"Like what we always say to our program partners, DOLE will never cease delivering the needed services particularly in the field of labor and employment. We are all facing this pandemic with a strong commitment to bring opportunities closer to our workers and we are thankful as well to the help of the Province of Biliran", said Engr. De la Cruz.
The said grant was charged against the DOLE Integrated Livelihood Program (DILP) funds of the regional office.
Pre-registration for PHIL ID starts October 12 in Leyte
By PSA-8
October 9, 2020
TACLOBAN CITY – The pre-registration for the Philippine Identification System (PhilSys) in selected 32 provinces in the country will start on 12 October 2020 amid the COVID-19 pandemic by the Philippine Statistics Authority (PSA). In Eastern Visayas, Leyte is included in the 32 priority provinces with 30 cities/municipalities involved for 2020 pre-registration.
There are identified household heads of 313,147 from low-income households in Leyte provided by the Department of Social Welfare and Development. Additional of 313,147 adult members from the same households will also be interviewed during the pre-registration. A total of 626,294 individuals including household heads of low income are targeted to be pre-registered in Leyte before end of the year.
The first step in the registration process is pre-registration that involves going from house-to-house of pre-identified household heads to get their demographic information and to schedule a date for them to visit the registration center. The demographic information that will be gathered by PSA interviewers using tablet includes full name, sex, date of birth, place of birth, address whether Filipino or resident alien, marital status, mobile number and email address.
Meanwhile, the second step in the registration process is the biometric capturing of the pre-registered individuals in the registration center, which will start on 25 November 2020.
PSA takes the lead in the conduct of the PhilSys registration, with the assistance and support of various government agencies and all local government units (LGUs).
President Rodrigo Roa Duterte signed the Philippine Identification System Act or Republic Act No. 11055 into law on 6 August 2018, which establishes a single national identification system.
The PSA Regional Statistical Services Office VIII (PSA RSSO 8) humbly requests the public for their full support and cooperation to the PhilSys registration. The office assures the public that personnel who will be conducting the interviews are healthy and will observe the Department of Health (DOH) and Local Government Units (LGUs) protocols against COVID-19, such as wearing of face mask and face shield, physical distancing, proper hygiene and sanitation, and wearing of PSA ID.
PSA reassures the public that all information furnished by the registrants will be held strictly confidential and shall not be used as evidence in court for purposes of taxation, regulation or investigation as provided for in Republic Act No. 10625 or the Philippine Statistical Act of 2013. Further, PSA strictly complies with legal safeguards provided for by Republic Act No. 11073 or the Data Privacy Act of 2012.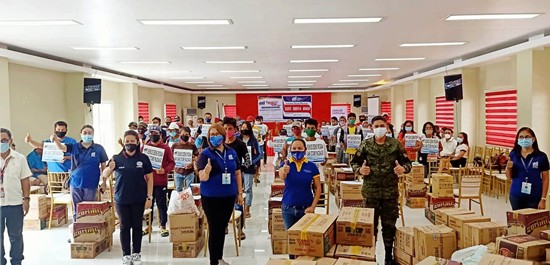 DTI Leyte OIC Prov'l. Director Araceli Larraga and staff, DTI Regional Coordinator for PPG Suzette Pablo, the 93IB, representative from LGU San Isidro, and former rebels who were provided with livelihood kits from DTI.
Former rebels in Leyte receives livelihood kits from DTI
By DTI-Regional Operations Group
October 9, 2020
MAKATI CITY – In 2019, more than 200 rebels surrendered in San Isidro, Leyte and were commended by President Duterte for cooperating with the government in ending local communist armed conflict through E.O. 70.
Through this whole of nation approach, the Department of Trade and Industry Region plays part in providing livelihood opportunities for these former rebels (FRs). DTI provides entrepreneurial training through the Negosyo Serbisyo sa Barangay and livelihood start up kits under the Pangkabuhayan sa Pagbangon at Ginhawa (PPG) Program.
A total of forty five (45) FRs from the municipalities of San Isidro, Calubian and Tabango Leyte received Livelihood Kit (Sari-sari Store). This is the first batch of the 262 rebels that will be given livelihood starter kits by DTI Leyte.
The activity was grace by DTI Leyte OIC Provincial Director Araceli D. Larraga, Hon. Remedio B. Veloso, mayor of San Isidro, Leyte and the 93 Infantry Battalion.
World Mental Health Day: New Red Cross survey shows COVID-19 affecting mental health of one in two people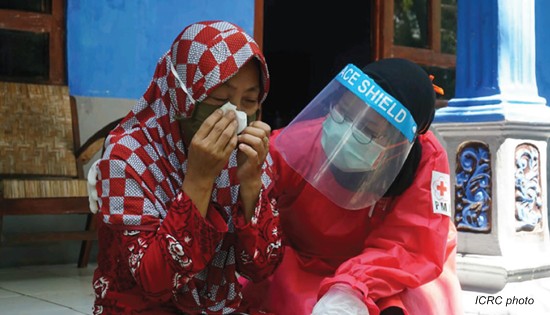 By ICRC
October 8, 2020
GENEVA – Half of all respondents (51 percent) in a seven-country survey said that the COVID-19 pandemic has negatively affected their mental health, an International Committee of the Red Cross (ICRC) survey found.
In a new report – "The greatest need was to be listened to: The importance of mental health and psychosocial support during COVID-19," – the International Red Cross and Red Crescent Movement demonstrates how the pandemic is adding an extraordinary level of stress and suffering on communities around the world. The outbreak is worsening existing mental health conditions, triggering new ones, and making access to mental health services even more scarce. It calls for urgent and increased funding for mental health and psychosocial support within humanitarian responses.
"The COVID-19 health crisis has exacerbated the psychological distress of millions of people already living through conflicts and disasters. Lockdown restrictions, a loss of social interaction, and economic pressures are all impacting people's mental health and access to care," said Robert Mardini, the ICRC's director-general. "Mental health is just as important as physical health, especially in crisis situations, when mental health needs are especially critical."
The report also highlights the urgent mental health needs of those who have been on the frontline of the pandemic, from medical staff, to volunteers, community workers, social workers, dead body collectors, community leaders and many others. Nearly three in four respondents to the ICRC survey – 73 percent – said that frontline health workers and first responders have more need for mental health support than the average person. They are often directly exposed to COVID-19, work long hours, and are invariably subject to stressful events and stigma when supporting disaster-affected communities. They need access to support and care to ensure they can continue to care appropriately for others.
"Mental health programmes are some of the least expensive interventions in humanitarian response, but they have a lifesaving and priceless impact on the lives of people who need them" said Jagan Chapagain, Secretary General of the International Federation of Red Cross and Red Crescent Societies (IFRC). "Now more than ever we must invest in mental health and psychosocial support for everyone – communities and carers alike – to help people cope, rebuild their lives and thrive through this crisis."
The Movement's recommendations for states, policy makers, mental health and psychosocial support advocates and practitioners include:
-Ensuring early and sustained access to mental health and psychosocial support services for people affected by the pandemic;
-Integrating mental health and psychosocial support in all responses addressing the needs arising because of the pandemic;
-Prioritising protection of the mental health and well-being of staff and volunteers responding to the humanitarian needs in the pandemic.
"COVID-19 is creating an historic opportunity to turn commitments into action. Failure to do so will prolong the crisis – in economic, social, and health terms," said Mr. Mardini.
Download RCRC MHPSS Covid19 Report
Samar 1 completes phase 2 of Barangays Macatingog-Dawo FMR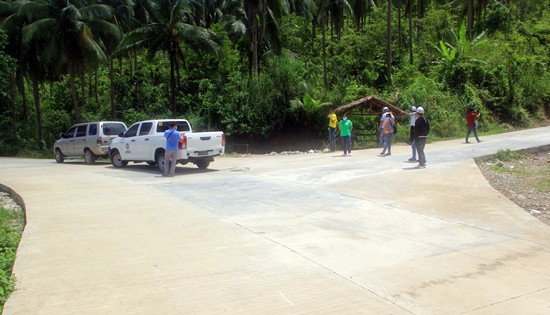 By GISSELLE G. PARUNGAO
October 8, 2020
CALBAYOG CITY – Samar First District Engineering Office completed Phase II of the Farm-to-Market Road (FMR) in Barangay Macatingog to Barangay Dawo.
The concrete road built at Barangay Macatingog spans 440 linear meters and a width of five (5) meters. The project continues at a junction in Barangay Dawo wherein another 170 linear meters of another concrete road was made with a 6-meter width.
This road will connect Barangay Macatingog to the rest of the Barangays that will allow them passage to Pilar Road and to the main highway going to the local markets. This connectivity of roads allows farmers and residents to travel faster thus, decreasing the income losses and safely transport their goods or produce to the markets.
This convergence project with the Department of Agriculture (DA) is allotted with more than P9.9 million. A continuous partnership with DA and DPWH will allow our farmers access to the local markets in a timely manner and increase agricultural productivity.
Oppura heads DPWH-Leyte 2nd DEO
By DPWH 2nd LED
October 8, 2020
CARIGARA, Leyte – The Department of Public Works and Highways (DPWH) Leyte Second District Engineering Office is now headed by Engr. Leo Edward L. Oppura in lieu of Engr. Gerald A. Pacanan, now assigned as Assistant Regional Director of DPWH-Regional Office V.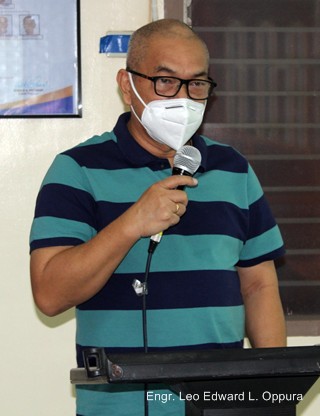 Oppura started his career in DPWH-Leyte 4th DEO as laborer. In 1997 he moved to Leyte 3rd DEO, Villaba, Leyte where he got his permanent position as Engineer II. He then was promoted as OIC-Assistant District Engineer in December 11, 2014.
Later in January 10, 2019, Oppura was appointed as the OIC-District Engineer of Capiz 1st DEO, Regional Office VI.
With his utmost dedication and hard work towards his job, he is now assigned to maneuver the Leyte 2nd DEO in Carigara, Leyte by virtue of Special Order no.65 series of 2020 dated September 7, 2020 signed by Secretary Mark A. Villar.
"I am grateful to work with you and I ask for your full-support, trust and dedication so that we will have a harmonious goal in achieving our targets," said Oppura.
He assumed office on September 28 after completing the 14-day quarantine health protocol set by the Department of Health due to covid-19 pandemic.
Meanwhile, Francisco Robin, Jr. will be his OIC-Assistant District Engineer.
Eastern Visayas registers 8.1% unemployment rate in July 2020
By PSA-8
October 6, 2020
TACLOBAN CITY – The unemployment rate in Eastern Visayas declined to 8.1 percent in July 2020 from a record-high of 14.3 percent in April 2020 but 3.9 percentage points higher compared with the 4.2 percent in July 2019. Eastern Visayas ranked 9th among 17 regions in the country (Table 1) with low employment rate. Unemployment rate is the proportion of unemployed persons to total labor force. Unemployed persons are persons in the labor force who are reported as without work; and currently available for work; and seeking work or not seeking work.
Out of the estimated 3.1 million population 15 years old and over in July 2020, about 1.9 million were economically active or in the labor force. This number translates to a Labor Force Participation Rate (LFPR) of 60.9 percent. This figure is 1.1 percentage point lower compared with the 62.0 percent LFPR in the same period a year ago. Among the regions, Eastern Visayas registered the seventh lowest LFPR.
Meanwhile, about 1.7 million persons in the labor force were employed. This translates to an employment rate of 91.9 percent or 3.9 percentage points lower than the 95.8 percent employment rate recorded in 2019 but 6.2 percentage points higher than the 85.7% in April 2020. Employment rate is the proportion of employed persons to total labor force.
Among the employed persons in July 2020, 0.8 percent worked for more than 48 hours per week due to ECQ/Lockdown/COVID-19 pandemic. Meanwhile, 13.4 percent of the employed persons worked less than 40 hours per week, for the same reason.
The underemployed persons or those employed persons who express the desire to have additional hours of work in their present job or to have additional job, or to have a new job with longer working hours was estimated at 360 thousand. This is equal to an underemployment rate of 21.2 percent, slightly lower than the 21.5 percent recorded a year ago. The region had the seventh highest underemployment rate in the country.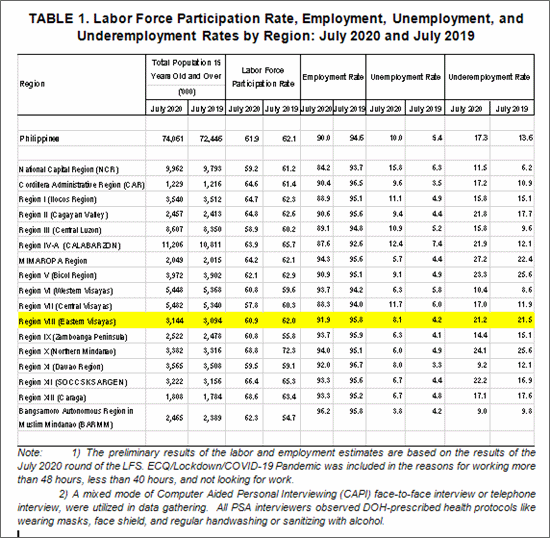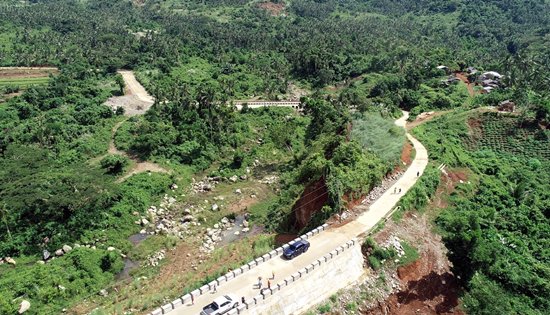 Completed road opening and concreting of access road leading to Germohenes Falls in Pinangomhan Village in Biliran.
P92M access road leading to Germohenes falls in Biliran completed
By DPWH-Biliran
October 6, 2020
NAVAL, Biliran – The road opening and concreting of access road leading to Germohenes Falls in Pinangomhan Village in Biliran town is now completed, District Engineer David P. Adongay Jr., reported.
The Germohenes falls is one of the undeveloped tourist destinations in the province because of inaccessibility to the site. Estimated walking time to reach the said waterfalls takes about 4-5 hours.
According to Adongay, the P92M project covers a total length of 2.90 kilometer road opening and concreting including the construction of 100-meter length spillway and a rehabilitation of 60-meter existing local road that was washed out by tropical storm Urduja in 2017.
The completed road project leading to Germohenes Falls will encourage more local and foreign tourists to visit the place. From 4-5 hours of hike, travel time will be reduced to just 5-10 minutes of vehicle ride and another 30 minutes of walk to reach the said waterfalls.
"This project also provides a safe and faster transport of farm products to the market centers such as coconut, rice, and corn and a convenient travel for the residents and farmers in going to Naval, the capital town and to other neighboring municipalities," Adongay said.
Livelihood Seeding Kits released to pandemic-affected micro-entrepreneurs in Biliran
By DTI-Regional Operations Group
October 2, 2020
MAKATI CITY – Several micro entrepreneurs were affected by this pandemic; this includes small sari-sari store owners, small-time pastry shops, and food vendors.
In mitigating the effects of this economic crisis, the Department of Trade and Industry pushed for a Livelihood Seeding Program-Negosyo Serbisyo sa Barangay (LSP-NSB) and Pangkabuhayan sa Pagbangon at Ginhawa (PPG) Program. Through this, DTI provides training and business restarter/recovery kits to existing qualified micro entrepreneurs affected by disasters, unfortunate events and those located in less developed areas.
"Ang Negosyo Centers ay nag-conduct ng NSB-LSP at PPG sa mga bara-barangay para mahanap ang mga nangangailangan ng livelihood package kits para tulungan makatayo muli through provision ng mga gamit," said DTI Biliran OIC Provincial Director Jorge Modesto.
On September 25, 2020, DTI Biliran Provincial Office started the distribution of recovery kits to 40 beneficiaries in the municipality of Naval and 20 in the municipality of Biliran. These kits were in the form of sari-sari store packages, pastries and native delicacies cooking implements and fish vending materials.
These programs were supported by the Local Provincial and District Government of Biliran and the respective LGUs of Naval and Biliran.
During the event, Congressman Espina sent his warm support to the MSMEs in Biliran through a video message, "This special program entitled Livelihood Seeding-Negosyo Serbisyo sa Barangay and Pangkabuhayan sa Pagbangon at Ginhawa is an epitome of relief and proof that Biliranons are never left behind and will never be. To all qualified 525 beneficiaries in the Province of Biliran, congratulations po!"
DTI Biliran is now on its last leg of distribution in Maripipi, Biliran with a total of 525 beneficiaries.
"Sa pamaraan na ito na bigay ng gobyerno, malaking tulong sa amin kasi sa aming mga pamilyang mahihirap, makakaahon kami ng konti sa araw-araw na pangangailangan," said Maria Cañete, PPG beneficiary in the Municipality of Naval.
Balik Probinsya Bagong Pag-asa beneficiaries receive livelihood grants from DOLE-RO8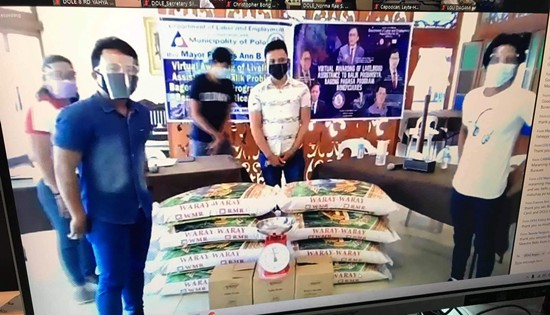 By NORMA RAE S. COSTIMIANO
October 2, 2020
TACLOBAN CITY – Some thirty-three (33) locally stranded individuals and beneficiaries of the Balik Probinsya Bagong Pag-asa Program receive livelihood assistance from the Department of Labor and Employment Regional Office VIII during the virtual awarding held on 29 September 2020.
Each beneficiary received eight (8) sacks of rice and one (1) unit of weighing scale for their rice vending business amounting to P19,900.00. The total amount of livelihood assistance released by DOLE-RO8 amounted to P656,700.00.
The turnover ceremony was graced by no less than Senator Christopher Lawrence "Bong" T. Go, DOLE Secretary Silvestre H. Bello III, DOLE-Undersecretary Benjo Santos M. Benavidez, Director Myles Rivera representing Director Eduardo D. del Rosario of the Department of Human Settlement and Urban Development and Leyte Governor Leopoldo Dominico L. Petilla.
Also in attendance were the Senior Officials of DOLE-RO8 led by Director Yahya A. Centi and Assistant Regional Director Amable Ildefonso C. Roa.
Director Centi informed that the awarding of assistance to 33 beneficiaries of North Leyte will only be the first and will be followed by another livelihood release for the LSIs who went home to Western part of Leyte.
Senator Bong Go in his speech underscored the intention of the BPBP program which is to provide hope and relief to LSIs struggling in Manila and other urban areas during this pandemic.
"By bringing them back to their respective hometowns, the program intends to give hope to our beneficiaries. This can only be successfully done with the coordination of our different agencies and the local government units," said Senator Go.
Meanwhile, Secretary Bello expressed his gratitude to Governor Petilla for opening the doors of Leyte for the LSIs to be home and reunited with their families. He likewise assured the beneficiaries that the labor department is doing its best to help the affected workers of the region.
"To our beneficiaries who will be receiving the assistance, continue to have the faith and courage. Even in this time of great uncertainties, please know that your labor department is doing its best to bring opportunities that will provide you hope of a better tomorrow", said Sec. Bello.
The good secretary also recognized the efforts of the men and women of DOLE-RO8 for their untiring efforts in providing assistance to the people of Eastern Visayas.
"Congratulations and thank you Director Centi, and to the men and women of DOLE Region 8, for your zeal and commitment in serving the people of Eastern Visayas. Continue to work with heads held high, burning with passion for true public service", Sec, Bello ended.
Edwin A. Balogbog, one of the beneficiaries from Barugo, Leyte expressed his heartfelt gratitude for the assistance received.
"I am really thankful for being one of the beneficiaries of the Balik Probinsya Bagong Pag-asa because I was able to go home safely to my family. Thank you also DOLE for the livelihood assistance we received, thank you so much", said Mr. Balogbog.
The beneficiaries who were part of the first batch of LSIs who went home to Leyte are from the following municipalities: Alang-alang, Babatngon, Palo, Tanauan, Tolosa, Barugo, Burauen, Capoocan, Dulag, Mayorga, Tunga, Julita, Dagami and Jaro.
Samar cops nab 5 wanted persons and 2 other offenders in a 7-day police operations
By Samar PPO
September 30, 2020
CAMP LUKBAN, Catbalogan City – Samar Police Provincial Office (SPPO) under the leadership of PCol Glenn Oliver Comision Cinco, Officer In-Charge, arrested 1 Most Wanted Person listed as Rank Nr. 3 of Municipal Level and 4 other wanted persons; and 2 illegal fishers during a 7-day province-wide police operations from September 21-28, 2020.
Personnel of Catbalogan City Police Station under the leadership of PLtCol Edwin F Barbosa, Chief of Police, nabbed 2 other wanted persons for violations of Sec. 22 (a) of R.A. 8282 (SSS Law) and R.A.9262 (Anti-Violence Against Women and Their Children Act of 2004), respectively.
Personnel of Basey Municipal Police Station under the leadership of PMaj Michael N Oraller, Officer In-Charge, nabbed 1 other wanted person for violation of P.D. 1602 (Illegal Gambling Law), who was then released after posting corresponding bail.
Personnel of Daram Municipal Police Station under the leadership of PMaj Zaldy A Cagampang, Officer In-Charge, nabbed 2 fishermen for violation of Sec. 64 (Use of Active Gear) of Municipal Fishery Ordinance No. 19 series of 2017, who were then released after paying the corresponding penalty.
Personnel of Gandara Municipal Police Station under the leadership of PCpt Joselito T Tabada, Acting Chief of Police, nabbed 1 MWP listed as Rank No. 3 of Municipal Level for the crime of Murder.
Personnel of San Jorge Municipal Police Station under the leadership of PCpt Michael Ray G Cañete, Acting Chief of Police, nabbed 1 other wanted person for the crime of Frustrated Homicide.
Through the intensified campaign of anti-criminality and illegalities under the helm of the present administration, PD CINCO firmly supports these advocacies and further encourages everyone to strengthen and reinforce the existing laws and policies to prevent and control crimes and maintain peace and order in the Province of Samar.
"Optimism is the faith that leads to achievement. I am very optimistic that we will continue to achieve our goals as we continue to perform our duties as snappy police officers and law enforcers," PD Cinco stated.


NMP Press Conference hosted by the PIA RO VIII on 18 September 2020.
NMP answers the call for a sustainable maritime future
By National Maritime Polytechnic
September 29, 2020
TACLOBAN CITY – The National Maritime Polytechnic (NMP) joins in celebration of the 2020 World Maritime Week themed as "Sustainable Shipping For A Sustainable Planet" and the 2020 National Maritime Week with the theme "Working Together as One for Sustainable Maritime Philippines".
As a kick-off activity for a week-long celebration, NMP collaborated with the Philippine Information Agency (PIA) RO 8 to drumbeat the Agency's programs and projects in relation to the Maritime Week Celebration to be featured in the online press conference dubbed as "PANININDUGAN: A Virtual Kapihan" hosted by PIA last 18 September 2020.
"NMP, as the sole government maritime training and research center of the country consequently plays a crucial role in the enhancement of skills and competencies of Filipino seafarers as articulated in our mission. Being the government's maritime training arm, NMP should therefore be able to lead in the country's efforts of grooming the Filipino seafarers to become the choice seafarers in the highly competitive arena of seafarers in the whole world.", NMP Executive Director Joel B. Maglunsod said in his message during the forum.
Different government agencies particularly the members of the Department of Labor and Employment (DOLE)-Regional Coordinating Council (RCC) also shared their activities and projects during the virtual Kapihan particularly those concerning the Filipino seafarers. Also present were various media personnel and PIA managers from different areas of the region.
Accordingly, during the 3-day Maritime Industry Symposium on 23-25 September 2020 spearheaded by the Maritime Industry Authority (MARINA), NMP was invited as one of the Reactors during the 2nd day wherein NMP highlighted its mandate on the provision of maritime training towards transitioning to the "new normal" specifically making NMP training programs accessible to seafarers even during the health crisis.
ED Jomag announced NMP's innovations that aside from the implementation of NMP's Post-ECQ Operational Plan that limits the number of trainees accommodated, the online courses on Prevention of Alcohol and Drug Abuse in the Maritime Sector (PADAMS) and STD/HIV/AIDS Prevention in the Maritime Sector (SHAPIMS) were launched last August 2020 while the Gender Sensitivity Training for Seafarers (GSTS) online course will follow which aims to improve the accessibility of the training to client-seafarers including those on-board ships and at the same time promote Gender and Development advocacy on fairness and equity in the workplace among male and female seafarers.
The online Consolidated MARPOL 73/78 course and the blended Training Course for Instructors (IMO Model Course 6.09) and Assessment, Examination and Certification of Seafarers (IMO Model Course 3.12) are in the pipeline for their immediate offering. Also, the development of the Vessel Crane Operator Course and the Freefall Enclosed Lifeboat Course in blended learning are for completion within the year.
Further, the review of two (2) non-mandatory courses titled Oily Water Separator and Updating Basic Training are ongoing for conversion to blended learning.
Relatively, the "Train Now Pay Later" Program was conceptualized to allow qualified cadets and graduates to undergo the required trainings subject to repayment after the first year of shipboard employment. This program will address the dilemma of many seafarers including the graduates from the Philippine Merchant Marine Academy who are unable to attend the required training courses due to the high cost of trainings and miscellaneous fees.
The implementation of the NMP-OWWA Seafarers' Upgrading Program and Skills for Employment Scholarship Program have likewise assisted the seafarers in availing of financial assistance to cover the costs of training fees.
These innovations are geared towards providing our seafarers with the necessary competencies for their enhanced employability that are aligned to the priorities in mitigating the impact of the COVID-19 pandemic and in transitioning to a "new and better normal".
"The NMP remains open for collaborative undertakings that give priority to our seafarers and maritime-allied professionals such that we altogether empower them with the technical competence as they face the challenges in these trying times.", ED Jomag stated in the Closing Program of the Maritime Week Celebration on 25 September 2020 hosted by the MARINA RO8.
Meanwhile, NMP continues to conduct face-to-face trainings with strict implementation of the Maritime Industry Authority's (MARINA) approved Post-Enhanced Community Quarantine Operational Plan and other health and safety protocols as required by the Department of Health (DOH), Department of Labor and Employment (DOLE), and local government unit (LGU).
Army official denounces killing of former rebel by NPA in Samar
By DPAO, 8ID PA
September 29, 2020
CAMP LUKBAN, Catbalogan, Samar – Major General Pio Q. Dinoso, III, the 8th Infantry Division Commander, denounced the NPA for killing one of their former comrades who returned to the folds of law.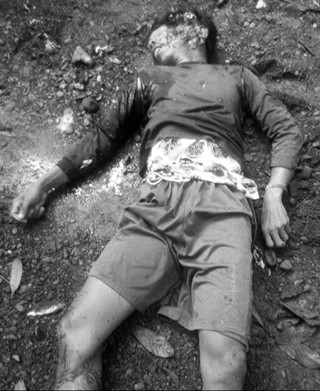 He said that the government forces will do everything in order to give justice to former New People's Army (NPA) rebel who was mercilessly killed by their comrades.
"We will make the Communist NPA Terrorists (CNTs) and their supporters accountable for the actions of their members who deprived their former NPA members to live peacefully with their loved ones," said Major General Diñoso.
He also calling on the Commission on Human Rights and self-declared human rights advocates like Karapatan Eastern Visayas chapter to condemn and take action for the lives of the victims who were mercilessly murdered.
This year about 5 former rebels were abducted and murdered while many civilians were victims of their enormity.
The condemnation came after a former rebel who surrendered to the government was brutally killed by Communist NPA Terrorists (CNTs) in Barangay Nagpapacao, Matuguinao, Samar, morning of September 28.
The victim was identified as Carlos B Diaz, 50 years old, who was shot several times on his head and different parts of his body by 8 CNTs while he was working at his farm in Barangay Nagpapacao, Matuguinao, Samar around 7:30 Monday morning.
The Commanding Officer of 19th Infantry Battalion, Lieutenant Colonel Jasper Justito M Pecson said that Diaz has been living peacefully with his family as a farmer after he surrendered last August 2018 when he was attacked.
"The New People's Army is doing atrocities in order to instill fear among their former members and supporters and even kill people in the communities who contradict their propaganda," Pecson said.
"Terrorist groups like the CNTs usually take advantage of the youth and locals who are living in isolated and depressed areas are highly vulnerable to false ideologies. But as the victims realize that they are just being used for the benefit of the communist organization, these rebel members and supporters can no longer get out of the group. Instead of allowing their comrades to enjoy peace and new life with their families, the Communist-NPA torture and brutally murder them, leaving them with no choice but to stay in the terrorist organization," Pecson added.
Fil-am, workers union, rights advocates laud new bill seeking end to PH military aid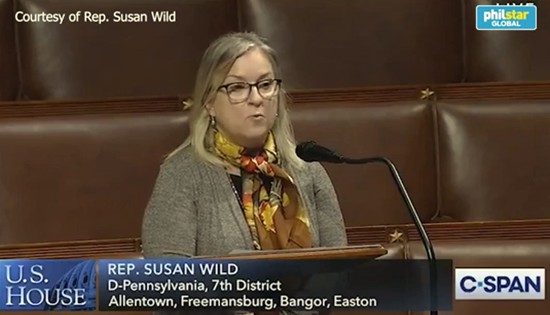 Human rights situation created by Duterte is what's "wild"
Press Release
September 25, 2020
The Communications Workers of America (CWA), The Malaya Movement, the International Coalition for Human Rights in the Philippines (ICHRP) and Kabataan Alliance held a Zoom press conference about the recent introduction of the Philippine Human Rights Act (H.R. 8313), led by Rep. Susan Wild (D-PA) and co-sponsored by 19 other representatives in response to the increasingly dangerous actions of the Duterte regime to punish and execute trade unionists and activists.
The newly-proposed Philippine Human Rights Act earned the irk of Presidential spokesperson Harry Roque describing the bill filed by Pennsylvania Representative Wild as a "very wild suggestion."
In an online post, The Malaya Movement was quick to tell Roque that it is the human rights situation in the country that is "wild." The reply was superimposed in a dictionary definition of "wilder" and "wildest" with the words "unstrained by reason or prudence" encircled. In bold letters, the group said "PH Gov't says PHRA is a "wild suggestion" but what is wild is the human rights situation they created. Time to pass the #PassThePHRA!"
"While Duterte has recently made comments to the United Nations calling for objectivity and non-interference on human rights issues in the Philippines, what is objectively clear to the world is the Duterte regime is tyrannical and laden with abuse and atrocities," said ICHRP Secretary General, Rev. Michael Yoshii. "We must withdraw U.S. military support from this growing dictatorship."
"Rodrigo Duterte's brutal regime is using the pretext of a so-called "Anti-Terrorism Law" to ramp up efforts targeting labor organizers, workers, and political opponents," said Rep. Susan Wild on the House floor today. "This law allows suspects to be detained by the police or military without charges for as long as 24 days and placed under surveillance for up to 90 days. Let us make clear that the United States will not participate in the repression. Let us stand with the people of the Philippines."
"We cannot stand idly by while Duterte kills labor activists one by one," said CWA's Senior Director for Government Affairs and Policy Shane Larson. "We must condemn it, and do every single thing within our power to stop it. And that starts with mobilizing to enact legislation like the Philippine Human Rights Act. CWA is committed to battling against the sorts of egregious labor and human rights abuses that are the reality facing the Filipino people under the Duterte regime and we are proud to be in this fight with all of you."
"This bill is the result of years of organizing by the Filipino-American community, as well as our allies, who refuse to be complicit in the oppression of the Filipino people," explained Nicanora Montenegro from the Malaya Movement. "Activists and organizers have worked hard to gain the support of our legislators, even as the Duterte government attacks us for speaking the truth. And we will continue to organize until we stop this tyranny and achieve genuine democracy for our people," Larson concluded.
"Filipino-American youth say enough is enough," declared Mikaela Tajo, a leader with George Washington University's Philippine Cultural Society, which is a member of Kabataan Alliance. "We demand more from our country, both of our countries. Lives are at stake with this bill, and we cannot sit idly waiting for others to take action. And now we're challenging you to do the same."
Address human rights violations or else
Earlier this year, Philippine President Rodrigo Duterte signed the Anti-Terrorism Act – a law that ICHRP has called the "last piece of the puzzle" in his government's martial law agenda. The law is clearly aimed at expanding the government's ability to target political opponents and activists. It allows suspects to be detained by the police or military without charges for as long as 24 days and placed under surveillance for up to 90 days.
The Philippine Human Rights Act blocks U.S. funds for police or military assistance to the Philippines, including equipment and training, until such time as human rights conditions are met. Specifically, the Philippines must meet the following conditions to lift restrictions set by the bill:
1. Investigating and prosecuting members of the military and police forces who are credibly found to have violated human rights;
2. Withdrawing the military from domestic policy;
3. Establishing protections of the rights of trade unionists, journalists, human right defenders, indigenous persons, small-farmers, LGBTI activists, and critics of the government;
4. Taking steps to guarantee a judicial system that is capable of investigating, prosecuting, and bringing to justice members of the police and military who have committed human rights abuses; and
5. Fully complying with any and all audits or investigations regarding the improper use of security aid.
Other organizations supporting the bill include: the AFL-CIO, SEIU, Teamsters, American Federation of Teachers, Ecumenical Advocacy Network on the Philippines, United Church of Christ - Global Ministries, United Methodist Church - General Board of Church & Society, Migrante USA, Gabriela USA, Anakbayan USA, Bayan-USA, Franciscan Network on Migration, Pax Christi New Jersey, Kabataan Alliance, and National Alliance for Filipino Concerns.

The Department of Agrarian Reform (DAR) Eastern Visayas now also adopts virtual problem solving session under the new normal.
DAR-EV adopts blended modality on problem solving session
By JOSE ALSMITH L. SORIA
September 25, 2020
TACLOBAN CITY – The Department of Agrarian Reform (DAR) in Eastern Visayas proved that modern technology can be of great help indeed at these times, when mass gathering is strictly prohibited as the whole world experiences pandemic caused by the coronavirus disease 2019 (COVID-19).
DAR officials, both from the central, regional and provincial offices, realized this after several issues delaying the implementation of the Comprehensive Agrarian Reform Program (CARP) were immediately addressed in the recently conducted integrated and blended learning session cum problem-solving with officials from the Registry of Deeds (ROD), Land Bank of the Philippines-Agrarian Operation Center (LBP-AOC) and the Department of Environment and Natural Resources (DENR).
DAR OIC-Regional Director Ismael Aya-ay said that though most of the participants were joining the session remotely, it proved to be a fruitful one, for many of the issues were resolved with the intervention of Undersecretary for Field Operations Office, David Erro; Assistant Secretary Jim Coleto; Director of the Bureau of Land Tenure Improvement, Joey Sumatra; and Director of Bureau of Agrarian Legal Assistance, Marjorie Ayson.
Undersecretary for Foreign-Assisted and Special Project Office Bernie Cruz also joined the online session and provided inputs related to Support for Parcelization of Lands for Individual Titling (SPLIT) project.
Aya-ay applauded when the chairman of the Project Management Executive Committee at the Land Registration Authority (LRA) Central Office, as relayed by ROD Regional Director Atty. Emeterio Villanoza, committed to work out the immediate release of the 39 RP titles covering 354.4 hectares pending in their office.
Once released, generation of Certificates of Land Ownership Award (CLOAs) in the names of the qualified agrarian reform beneficiaries (ARBs) will follow.
Meanwhile, DAR Central Office officials promised to do the follow-up for the activities at the central office level with the different concerned line agencies.
On the other hand, Assistant Secretary Coleto gave closure to the question that was confronting the LBP-AOC on whether a landholding issued with "Notice of Coverage" (NOC) prior to June 30, 2014 could still be covered under the Voluntary Offer to Sell (VOS) scheme even if the offer was done after the said date.
According to Coleto, Section 30 of the Republic Act No. 9700 stated that as long as an NOC was issued before June 30, 2014, the coverage may proceed. "Though the VOS was accepted on a later date, the process is still considered valid and it may still proceed following the said provision," he added.
This particular issue involves about 325 hectares and is now considered settled. "Under VOS, landowners shall be paid the corresponding five percent cash incentive in accordance to the law," Coleto stressed.
DAR Eastern Visayas regularly holds a quarterly problem solving session with line agencies to thresh out issues that hinder the smooth implementation of CARP in the region.
"If this pandemic will continue to threaten everyone, this office will adapt to the new normal so we could deliver our targets," said Aya-ay.
Furthermore, Chief of the Land Tenure Service Division, Francisco Diloy, disclosed that DAR Eastern Visayas has already accomplished 577 hectares or 27 percent of its 2,151-hectare target in Land Acquisition and Distribution for this year.
Leyte's League of Municipal Mayors commends DOLE-RO8
By NORMA RAE S. COSTIMIANO
September 22, 2020
TACLOBAN CITY – Recognizing the important role of the local chief executives in the successful implementation of the department's programs and services, the Department of Labor and Employment Regional Office No. 8 conducted a Virtual Collaborative Meeting with the Municipal Mayors' League of the Leyte on 18 September 2020.
The said collaborative activity was attended by around forty (40) participants composed of Municipal Mayors, Public Employment Service Office (PESO) Managers, DOLE-RO8 Senior Officials and employees.
Mr. Norman L. Uyvico, OIC-Chief of DOLE-North Leyte Field Office delivered the opening message and highlighted that DOLE's work in delivering the different programs and services to the public especially this time of pandemic will never be complete without the active support of the local leaders.
Meanwhile, Regional Director Yahya A. Centi, in his message, underscored the purpose of the collaboration with the league of mayors in Leyte, just like what was done by DOLE-RO8 previously with other provinces and districts.
"It is through this initiative that we as a government agency will be able to apprise local chief executives of the various programs geared towards helping our economy especially those greatly affected by the ongoing global health crisis. This will now serve as our avenue for an effective exchange of information which is indeed crucial in decision-making", said Director Centi.
Hon. Frances Ann B. Petilla, Mayor of LGU-Palo and President of the League of Municipal Mayors of the Philippines-Leyte Chapter, reciprocated the appreciation and recognition expressed by the DOLE-RO8. She commended the agency for all its accomplishments and committed to be more supportive in the delivery of DOLE programs and services.
"I'd like to thank and commend our labor department here in Region 8 under the steady leadership of Director Centi for always ensuring that our workers receive the necessary assistance. It is just suitable to say that we also as leaders in the local level need the help of NGAs like you in order to respond to our respective constituents. We need each other to make things work for the good of our people. And so I'm giving our 100% commitment for the furtherance of DOLE's programs here in Leyte," Hon. Petilla said.
Also during the meeting, Director Centi sought the help of the good president of the league to facilitate the liquidations of the livelihood grants released to the different municipalities for DOLE-RO8 to be able to provide more assistance to other workers in need.
One of the participants of the meeting, Mayor Ofelia Alcantara of LGU-Tolosa shared how DOLE through RD Centi's initiative was able to help her when she was a newly-installed mayor of the municipality. She said that in replicating the collaboration with other NGAs, she was able to bring the needed services of the people of Tolosa.
The virtual forum ended with a closing remarks from DOLE-RO8 Assistant Regional Director Amable Ildefonso C. Roa who likened the important linkage of DOLE and LGUs to that of a blossoming relationship. He also emphasized that DOLE will never get tired of doing its job, that is serving the Filipino workers in the best way possible.
"We will always be thankful for the opportunity to serve our workers here in the region for that is what we are here for as public servants", said ARD Roa.
DPWH-BDEO to complete Almeria bypass road by fourth quarter of 2020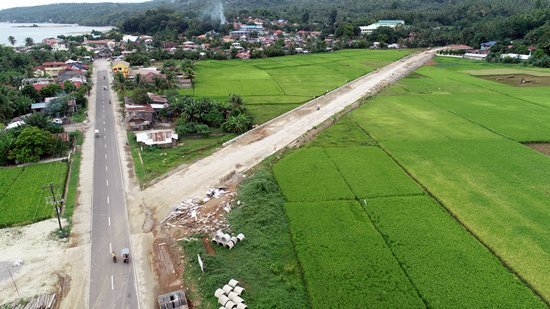 By DPWH Biliran
September 22, 2020
NAVAL, Biliran – Works are now on-going for the construction of Almeria Bypass Road project in Biliran which is set to be completed this year by the Department of Public Works and Highways- Biliran District Engineering Office (DPWH-BDEO).
David P. Adongay Jr., District Engineer said that the project is now in full swing and being fast-track for completion by 4th quarter of the year, 2020.
"Expect a wider and safer road and bridge when travelling in Almeria town as soon as this project will be completed," said Adongay.
The project starts from Sitio Daro traversing rice fields all the way to upper Look in Almeria town. It is implemented in two phases with a total length of 1.262 km. 4-lane roadway and a 20.0 ln.m Bridge (4 lanes) amounting to P95.8M.
First phase of the project amounting to P83.1M includes road opening, slope protection, bridge construction and a road concreting of a 0.879-kilometer four lane road while phase two of the project includes a 0.383 kilometer four-lane road concreting.
According to Adongay, the project was prioritized in lieu of the road widening project on the main highway of Almeria where numerous residents will be affected.
"As per inspection, bridge construction is already completed while road concreting is continuously done to meet the target date of completion," said Adongay.
World church leaders denounce rights violations in the Philippines, echo the call to "Stop the Killings"
Press Release
September 19, 2020
QUEZON CITY – "It is in the time of crisis that we come together as a people of God and stand in solidarity with one other. The call to end human rights violations is an act of allegiance and faithfulness to God and a call to say no to systemic injustice," said Rev. Dr. Collin Cowan, General Secretary of the Church World Mission in the International Ecumenical Convocation on the Defense of Human Rights in the Philippines on September 17.
World church leaders in the Convocation denounced the worsening rights situation in the Philippines and raised alarm on the violations experienced by rights defenders and organizations. "In the context of COVID-19 pandemic, human rights have been greatly exacerbated and worsened, in which context civil society space has even more drastically reduced," said Peter Prove, Director of the World Council of Churches (WCC) Commission for International Affairs.
The WCC is one of the partner organizations of the National Council of Churches in the Philippines (NCCP) that are closely monitoring the Philippines at the UN Human Rights Council (UNHRC), and has been advocating in behalf of the rights defenders here in the Philippines to the UN Special Mechanisms for many years. As part of its ongoing commitment, it continues to push and advocate for the members of the 45th UNHRC to vote for an independent and impartial investigation on the killings and Human Rights Violations under President Duterte as reflected on the report of the Office of the High Commissioner for Human Rights last June.
Derek Duncan, co-chair of the Asia Pacific Forum said that "US churches, in particular, are painfully aware of the troubled colonial history between the US and Philippines, which contributes to our nation's complicity in today's human rights abuses by both government and industrial-commercial structures in the Philippines". However, he emphasized that their continued advocacy with the US government remains of critical importance and their current advocacy "focuses on introduction of a robust Philippine Human Rights Act, an instrument which would 'suspend United States security assistance to the Philippines until such time as human rights violations by Philippine security forces cease and the responsible state forces are held accountable'."
The World Student Christian Federation (WSCF) also expressed concern "over the rights violations of human rights defenders, particularly the red-tagging of NCCP and the Student Christian Movement in the Philippines. The government's militarist policies have been an excuse to persecute, to kill and to shrink the space for civil society," remarked Marcelo Leites, Regional Representative of WSCF-Latin America and the Caribbean.
Christian Conference of Asia General Secretary Dr. Mathews George Chunakara also condemned the "[Philippine] government's act to stifle the voices and conscience of the people" and called to repeal the Anti-Terrorism Act of 2020. "The subversion of democratic rights during the martial law is back to be seen. There are many indications that the current President is going to the same direction as Marcos during the martial law era."
Rev. Dr. Chris Ferguson, General Secretary of World Communion of Reformed Churches, responded "If we were to keep silent, even the stones will cry out. We pledge to mobilize our own people, raise the issue to the international forums, bring together our families to advocate and work and be part of the global struggle against authoritarianism."
These were in response to the testimonies from church workers and human rights advocates who have been red-tagged, vilified, harassed, and charged with trumped-up cases. Among those who gave their testimonies were Sr. Ellen Belardo from the Rural Missionaries of the Philippines, United Church of Christ in the Philippines, Bishop Hamuel Tequis, Rev. Marco Sulayao of the Iglesia Filipina Independiente, Jane Molina Lee, widow of a drug war victim, and Clarizza Singson of Karapatan-Negros. Cristina Palabay of Karapatan gave the Philippine Human Rights situationer and Atty. Ephraim Cortez of the National Union of Peoples' Lawyers discussed the Anti-Terrorism Act and its impacts on the work of churches and humanitarian organizations.
Filipino church leader, Bishop Reuel Norman Marigza, General Secretary of the National Council of Churches in the Philippines, called on the international community for a continuous accompaniment and greater solidarity with the Philippines. "With you by our side in solidarity, accompanying us in our quest for justice, we may be afflicted and persecuted, vilified and harassed, charged falsely or imprisoned under made-up charges, yet we are not forsaken."
Before him, The Most Rev. Gerardo Alminaza, Bishop of the Diocese of San Carlos, gave one of the welcome remarks, said that the cries for justice and solidarity ring out and reverberate through the villages in the island of Negros which "shake the Church and quicken the hearts of her people". Ms. Ma. Cathrine Kay Almario, NCCP Vice Chairperson for the Youth also welcomed the participants who stated that the current administration must be held accountable for its crime against humanity.
The Convocation ended with the launch of a unity statement read by Rosmalia Barus, the Vice Moderator of the United Evangelical Mission, The Most Rev. Rex RB. Reyes, Jr. of the Episcopal Diocese of Central Philippines, Episcopal Church of the Philippines, and WCC Central Committee member, with Ms. Patricia Mari Mungcal of the NCCP. The said statement carries the message that the international ecumenical community will bear witness and keep watch with regards to the human rights situation in the Philippines. The statement also supports the recommendations of the United Nations High Commissioner for Human Rights, including recommendations from at least 24 UN human rights experts for the UN Human Rights Council to "establish an on-the-ground independent, impartial investigation into human rights violations in the Philippines". The signature campaign, initially signed by 20 international church institutions, will continue until September 24 while the 45th UNHRC Regular Session in Geneva is still on-going.