Surf in the City 2022 pushes for gender equality in male-dominated surfing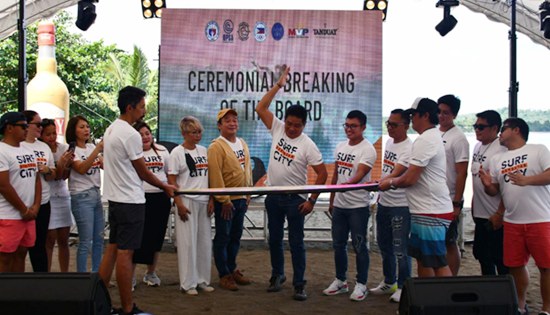 Borongan City Mayor Jose Ivan 'Dayan' Agda leads the breaking of the ceremonial surfboard to officially signify the start of the Surf in the City 2022. With him are Surf in the City Chairman Rupert Ambil, UPSA representative Ralph Tecson, Congresswoman Fe Abunda's representative Cora Basada, Governor Ben Evardone's representative and Eastern Samar Board member Atty. PJ Evardone, Surfrider's Club of Eastern Samar President Atty. Bryan Lassiter, and the Borongan City Councilors. (Photo by BCIO)
By VEE TOLENTINO-GUMBAN
November 26, 2022
BORONGAN CITY – Though sports have contributed significantly towards unifying different races and nations in events like the Olympics, gender inequality remains one of the most hotly-debated issues. Surfing, for example, is still mostly dominated by men.
Surf in the City 2022 in Borongan City, Eastern Samar has been making waves not only because it will award the biggest prize money in surfing competition history in the Philippines amounting to P1.1 million, but also for its aim to close the gap between the prize money in the Men's and Women's Division. The competition will award the same amount to winners from both categories.
In a press conference after the opening ceremony, Surf in the City Chairperson Rupert Ambil announced that more women athletes joined this year's competition. The equal prize money opportunity encourages these females to further develop in the sport.
"If hindi mo kayang i-explain kung bakit mas malaki ang prize money ng lalaki sa babae, eh, fundamentally, mali iyon. Tayo dito naniniwala sa strength ng all genders. It's really a statement from all of us, not only the surfing community but as representatives of Borongan City, Eastern Samar," Ambil said, citing gender equality and LGBTQ rights as "values that a Boronganon respects." (If you can't explain why the prize money for men is higher than for women, then there's something fundamentally wrong there. Here in Borongan, we believe in the strength of all genders. It's a statement from all of us, not only as a surfing community but as representatives of Borongan City, Eastern Samar.)
Meanwhile, John Carby disclosed that the United Philippine Surfing Association (UPSA) will not sanction a competition unless there is a counterpart male and female in both categories. The organization is also trying to include more women in their judging programs.
"We have a minimum standard set for our prize ranges. Borongan has gone beyond that, and also included an initiative to include equal opportunity for men and women. We celebrate, acknowledge, and applaud the initiative Borongan has done that nobody else has done. At this point, we hope other regions see it and increase it and put it into practice," Carby noted.
Surf in the City 2022 officially opens
This is the third time that Borongan City is hosting the event, which brings surfers from across the Philippines to the capital of Eastern Samar. Almost 250 participants from the provinces of Siargao, La Union, Ilocos Sur, Cebu, Eastern, Aurora, Sorsogon, Cebu, Catanduanes, Zambales, Camarines Norte, Leyte, Northern Samar, and Eastern Samar are registered to compete in this year's Surf in the City.
During the opening ceremony on Saturday, Borongan City Mayor Jose Ivan Dayan Agda said the city plans to institutionalize the event, as part of the local government's bigger goals of raising local surf athlete champions.
"The City Government will not just abandon this program. We intend to institutionalize this. Yes, we will come in sponsorship but we will see to it that the spirit of hosting the Surf in the City will not be compromised. That's the very purpose why we are holding a Sports Summit next year - because we intend to institutionalize everything," Mayor Agda said.
He added: "If there is really cooperation and unity politically, progress is what we can expect. There is no division among us. That is the Estehanon way and that is the Boronganon culture, we are united as one."
Gender-sensitive city
For women athletes participating in the competition, the equal prize money is a welcome development in the sport.
"Happy ako, excited, kasi hindi na bias. 'Yung galing ng isang surfer hindi naka-base sa gender, kumbaga pareho na yung tingin both male and female kasi same prize na eh," said Jessa Jundarino, a 21-year-old surfer from Borongan. (I'm happy and excited because it's not biased anymore. A surfer's skills are not based on their gender and it's good that the prize money now acknowledges this.)
The local government of Borongan has also implemented other initiatives to make the city more gender inclusive. It recently created several gender-sensitive comfort rooms along Baybay Boulevard, where the surfing competition is taking place.
The comfort rooms cover four cubicles designated for males, females, gender-neutral, and Persons with Disability (PWDs). Beach showers were also constructed for locals and visitors who engage in water and beach sports activities in the area.
San Jorge Municipal Police Station Building ready for occupancy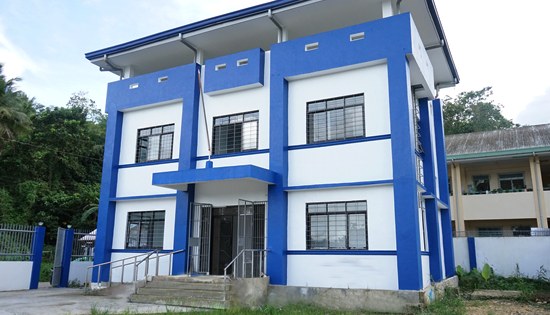 By GISSELLE G. PARUNGAO
November 25, 2022
CALBAYOG CITY – San Jorge Municipal Police Station building is now ready for occupancy by the Philippine National Police (PNP) personnel, says Samar First District Engineering Office.
Phase I of the building was also initiated by the office allowing the construction of the structure. Moreover, phase II of said building is now completed with a contract amount of P4.8 million under the Tatag ng Imprastrakura para sa Kapayapaan at Seguridad (TIKAS) Program.
The project aims to complete the necessary features of the building, thus, its scope of work includes window security grilles, front desk and directory board, tileworks and painting of the whole structure. In addition, perimeter fence and steel gate was constructed as well as solar led lights are installed.
The construction of the PNP building will reinforce their operations in San Jorge, and will boost the morale of the armed forces. This will also provide a more spacious area to better serve the public.
PH national surfing coaches train young surfers in Borongan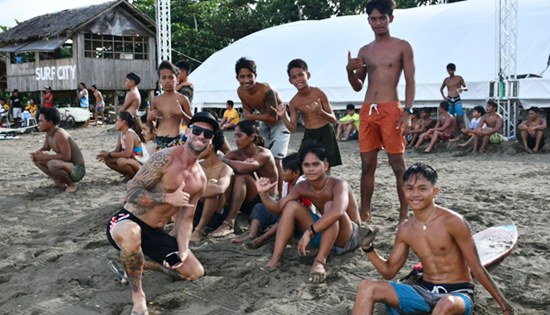 Mike Breuker, Strength and Conditioning Coach of the Philippine National Surfing Team, poses with the 'Groms' during the In and Out of Water Training held in Baybay Boulevard, Borongan City, Eastern Samar. (Photo by Borongan City Information Office)
By VEE TOLENTINO-GUMBAN
November 25, 2022
BORONGAN CITY – Days before the biggest sporting event in Eastern Visayas, Surf in the City 2022, more than sixty (60) local youth participated in the Groms Grassroot Program for young surfers here from November 24-25.
"Malaking tulong ito sa amin para matuto kami ng mga surfing techniques at disiplina sa sarili na rin, tsaka syempre libre na 'to kaya umattend talaga kami," said Kai, a young surfer from Bato, Borongan City. (This is a big help for us to learn about surfing techniques and self-discipline. Of course, we also attended because it's free.)
Though most of the participants will not join in the Surf in the City competition, everyone was all ears as Philippine National Surfing Team Head Coach John Carby encouraged the young surfers to become athletes through discipline, goal planning, and passion.
"Start a small plan and add discipline to your plan. Then use your passion to reach that goal. If you already reach that goal, push it a little bit higher. Let your passion be your flair," stressed Carby during his talk.
Carby also shared that surfing events such as Surf in the City in Borongan is a window of opportunity for aspiring surfers to hone their skills and eventually create a name in the surfing industry.
"You are the future of surfing. You have permission to dream big. You have permission to be who you want to be and to set the limit as high as you can when you want to represent your country in an international competition. You are the next generation of surfing," said Carby.
Mike Breuker, strength and conditioning coach of the Philippine National Surfing Team, then conducted an In and Out of Water Training with the participants. This was followed by a Surfing Techniques and Analysis Training on the second day of the program.
"Kahit hindi kami lahat mag-cocompete, umattend kami para matuto kami kung paano maging mabuting surfer at makatulong sa community na pangalagaan ang karagatan, kasi for awareness din ito," noted one Grom who refused to be named. (Even though we won't be able to compete, we attended to learn how to become good surfers and how to help the community by taking care of the sea. This is also for awareness.)
'Grom' is a shortened form of the slang term 'Grommet' meaning a child. In surfing lingo, grom refers to a child or an adolescent surfer.
The grassroots program of the United Philippine Surfing Association (UPSA) focuses on training youth or people under 18, and educating them on the values of surfing at the grassroots levels, such as a healthy lifestyle, discipline, and techniques or the athletic side of being a surfer for the future of the Philippine National Surfing Team.
Farmer organization from a remote Samar village receives farm equipment from DAR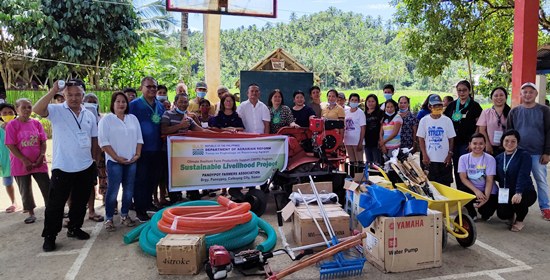 Samar Provincial Agrarian Reform Program Officer II (PARPO II) Alfonso Catorce turns over various farm equipment to the Panoypoy Farmers Association in Calbayog City.
By JESSA LABAGALA
November 23, 2022
CALBAYOG CITY, Samar – An agrarian reform beneficiaries organization (ARBO) from this city's far-flung village rejoiced as they received another set of farm equipment from the Department of Agrarian Reform (DAR).
"We thank you DAR for listening to our concerns, for granting us what you had committed," said Pedro Abajo, president of the Panoypoy Farmers Association (PFA), as he expressed gratitude to DAR officials for fulfilling their promise.
On October 21 this year, DAR Samar provincial chief, Alfonso Catorce, formally turned over to PFA a hand tractor with rotavator, a water pump with suction and discharge hose, a grass cutter and several garden tools.
Catorce disclosed that the said equipment, with a combined amount of P260,250.00 were funded under DAR's Climate Resilient Farm Productivity Support (CRFPS) project.
According to him, the distribution of common service facilities is in line with Agrarian Reform Secretary Conrado Estrella III's nine primary goals which include the provision of modern farm equipment.
PFA identified the above mentioned common service facilities as what they badly need in their daily farm activities, which DAR provided under CRFPS' Sustainable Livelihood Support to Disaster Affected Areas.
Abajo Shared that the newly acquired equipment "will surely benefit our members."
Thelma Alfaro, chief of the Program Beneficiaries Development Division (PBDD) reminded the recipient ARBO of their responsibility to maintain the equipment in good condition and provide a secured storage facility.
Meanwhile City Councilor Minda Pasacas, who is a resident of this village, and Barangay Chairperson Maria Princess Montaner, both expressed their gratitude to DAR for the never-ending support to the agrarian reform beneficiaries (ARBs) here. "From providing them lands to till, to livelihood assistance, to linking them to institutional buyers, and now PFA receives another set of farm equipment from DAR," said Montaner.
Municipal Agrarian Reform Program Officer (MARPO) Jose Arropo further shared that PFA is composed of 113 members, where 69 of them are ARBs. PFA is into hog raising and organic vegetable production, Arropo added.
DPWH-Biliran DEO holds year-end contractors' meeting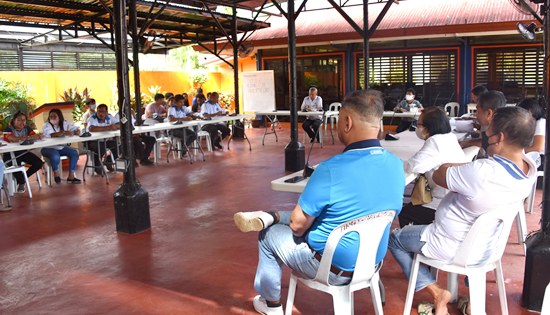 Press Release
November 22, 2022
NAVAL, Biliran – With only a month away before the year ends, the Department of Public Works and Highways (DPWH)- Biliran District Engineering Office (DEO) urged the contractors to fast-track its project implementation in a coordination meeting held on November 16, 2022.
Highlight of the said meeting is the implementation on its Prior Year (PY) projects from 2017-2021 which should have been completed on December 31, 2022.
"We have a problem on our PY projects that is why this meeting is called to address the problem especially that we have limited time before end of the year," said OIC-District Engineer (DE) Alfredo L. Bollido.
OIC-DE Bollido said that the district office failed to meet the 80% target on PY project implementation, with only 44.42% accomplishment as of October 31, 2022.
According to OIC-DE Bollido at least P381.6-M which is composed of 51 projects from year 2017 to 2021 are possible to be reverted to the National Treasury if contractors cannot complete their projects by end of this year.
Engr. Rosario B. Rosete, OIC-Assistant District Engineer (ADE) reported that of the 51 projects, 23 are still on-going on the construction, 25 are already completed but on-going on some minor corrections on the projects while three are now on the process for final billing.
Under Executive Order (E.O) No. 91 series of 2019 or known as Cash-based Budgeting System, contractors have only until a year to complete the construction of their projects with a three-month extended period on the following year to process payment.
According to OIC-DE Bollido, contractors' failure to finish their projects by end of the year will not only loss profit but will also be blacklisted to participate any bidding on DPWH projects nationwide for a year.
"Work double time and avail the good weather condition so that you can complete the projects by December 31, 2022," OIC-DE Bollido said to the contractors.
South Korea-based church holds graduation ceremony for over 100,000 Bible students, the largest in the world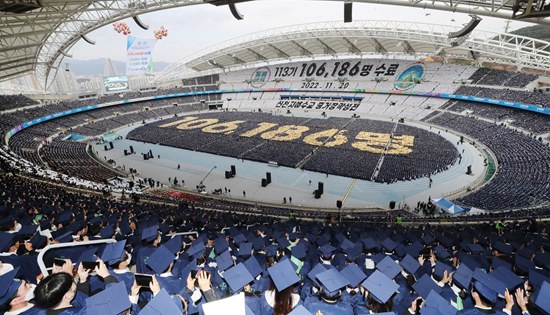 Press Release
November 21, 2022
DAEGU, South Korea – A graduation ceremony for Bible students from Zion Christian Mission Center (ZCMC) Class 113 was held at Daegu Stadium on November 20. With a total of 106,186 graduates from 79 countries including the Philippines, it was the largest in the world for a theological education institution.
ZCMC is the Bible education institution operated by Shincheonji (New Heaven and New Earth) Church of Jesus, a church based in South Korea. Their students completed a 9-month theology course that covers the 66 books of the Bible.
This is their second 100,000-person graduation, after almost 3 years. When the pandemic hit, the institution shifted to online learning and utilized the virtual platform to make their theology lessons more accessible to the public including pastors.
In a press conference held before the ceremony, Chairman Lee Man-hee shared, "When this world has become corrupt and is full of sin, God desires to carry out the work of recreation. That one book [Revelation] is actually the content of recreation... People have to become a new person, completely changed."
Among the graduates, there has been a significant increase in the number of pastors and seminarians for a total of 522 pastors in Korea and overseas.
One of the pastors, Heo Jeong-wook, presented his testimony at the graduation ceremony as a representative of domestic graduates. After 20 years of ministry, he said, "I only learned traditional theology at seminary, but I didn't know much about the Book of Revelation. I put aside the difficult words and only taught the words that are easy to convey to the congregation members. I repent that I was a sinner who added to and subtracted from the word of God." He added, "I have let go of everything I had and have come forward to the truth. I have completed this course by learning the real theology that leads to heaven, not human studies. I thank God for giving me a chance at life."
The organizers assured the participants on security measures being observed in cooperation with the local government, police and health officials, given the high concern about safety issues in Korea recently. "Above all, in order to hold the graduation ceremony safely, we prepared with safety as the top priority above all else", a church official said.
DAR-8 chief orders resurvey of CARP awarded lots in Balangiga to correct errors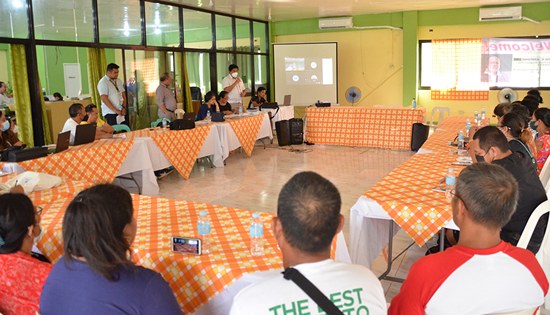 Protesting farmers from Balangiga, Eastern Samar thanked officials from the Department of Agrarian Reform (DAR) for the fruitful blended-mode dialogue which resulted to the resolution of their issues.
By JOSE ALSMITH L. SORIA
November 20, 2022
BORONGAN CITY, Eastern Samar – To correct the errors as the Department of Agrarian Reform (DAR) in this province implemented the Comprehensive Agrarian Reform Program (CARP), Regional Director Reynaldo Anfone ordered to re-survey the awarded lots in Balangiga town.
Anfone, who was at the moment in Manila attending a planning conference, joined virtually the dialogue with protesting farmers at the DAR Provincial Office in this city on Thursday and ordered Provincial Agrarian Reform Program Officer II (PARPO II), Lawyer Bryan Lassiter, to conduct the re-survey of the subdivided lots under Lot No. 2230 in Barangay Cag-olango in Balangiga to determine the correct area and assignment of lots based on the actual tillage of the farmer beneficiaries.
The erroneous survey was found out when the farmers complained that Simeona Bennet, a recipient of an individual Certificate of Land Ownership Award (CLOA) for Lot 2230-A, based on the approved survey plan (ASP), is not an actual tiller; while Elena Balagasay, who is actually cultivating the said lot, received her individual CLOA for Lot 2230-J.
Lassiter confirmed the allegations of the farmers which conformed with the findings of the DAR-Eastern Samar investigation team composed of the Chief of the Legal Division, Atty. Jane Arra Promeda; Municipal Agrarian Reform Program Officers (MARPOs) Ma. Flor Daganta and Glicerio Camenforte Jr.; Geodetic Engineer Renan Cadiente and Cartographer Saldy Corado.
Aside from the issue involving Bennet and Balagasay, other farmers within the 25-hectare lot also complained of erroneous survey, prompting Anfone to order the conduct of re-survey.
Further, Anfone likewise ordered the simultaneous identification of qualified actual tillers who will be awarded with individual CLOAs.
Furthermore, Anfone ordered the filing of petition for the cancellation of the two CLOAs issued to Bennet and Balagasay and issue CLOAs to the rightful occupants in this 25-hectare government-owned land (GOL).
Anthony John Jumauay thanked Anfone and the entire DAR workforce in behalf of the protesting farmers for a fruitful blended-mode dialogue facilitated by the Clientele Relations Service headed by Director Jayzon Collado.
Construction of cross-country roads in progress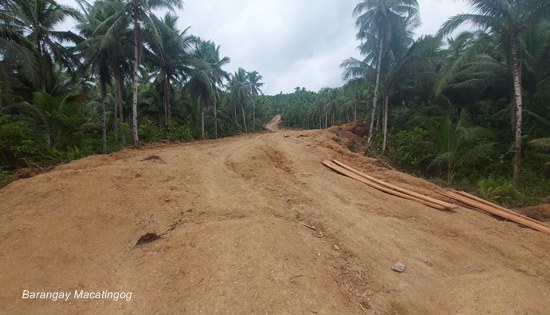 By GISELLE G. PARUNGAO
November 16, 2022
CALBAYOG CITY – An on-going construction of cross-country roads with a total contract amount of P187.5 million from Oquendo to Northern Samar will connect the northern portion of Samar, said OIC-District Engineer Raulito Yangzon.
This is a multi-year road projects which are targeted to be completed by 2024.
Phase I is an opening and gravel road which will start in Barangay Macatingog and will connect to the Municipality of Bobon, Northern Samar (Allen-Catarman Road).
Moreover, Phase II which is also a gravel road that will start from Barangay Sigo, along Oquendo-Pilar road and will traverse the isolated barangays of San Rufino and Cag-anahaw until it taps at Barangay Tarabucan along Calbayog-Catarman Road.
Both projects will span 4.293 kilometers and a width of 20 meters and each is allocated with P93.75 million.
Completing said road constructions will further develop those far-flung barangays and eventually promote peace and order. Furthermore, it will increase road network capacity and interconnectivity in the Island of Samar which will bring faster and more effective mobility from any parts of Samar.
New DAR-8 chief pays courtesy visit to Samar governor, congressman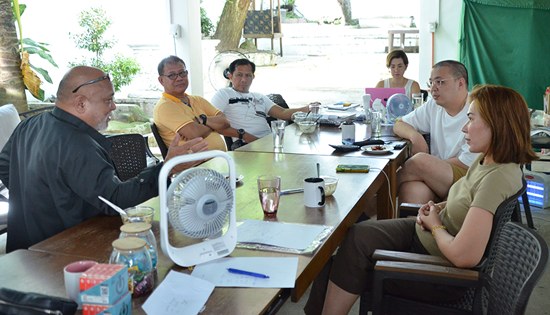 Newly installed Department of Agrarian Reform (DAR) Eastern Visayas regional director Reynaldo Anfone (left), pays a courtesy visit to Samar governor Sharee Ann Tan and second district representative Reynolds Michael Tan.
By JOSE ALSMITH L. SORIA
November 11, 2022
CATBALOGAN CITY – Securing a clearance from the Department of Agrarian Reform (DAR) and conversion of agricultural lots to give way to the construction of an airport in this city were among the issues discussed when DAR Eastern Visayas Regional Director Engr. Reynaldo Anfone paid a courtesy visit to Governor Sharee Ann Tan and her brother, Second District Representative Reynolds Michael Tan on Friday, November 4 this year.
During his meeting with the two Samar officials, Governor Tan consulted Anfone on how to go through these requirements so the provincial government and the Department of Transportation (DOTr) can proceed with the project.
Considering that the construction of the airport is a priority project of the Marcos administration, Anfone ordered Provincial Agrarian Reform Program Officer II (PARPO II) Alfonso Catorce, who was also present, to extend the necessary assistance to the local government unit (LGU).
Anfone, installed as the new regional chief of DAR on October 18 this year, included courtesy visits to local government officials to establish harmonious working relationship with the different LGUs as he went around the region the past two weeks.
Other issues discussed during the two-hour meeting were about activities related to End Local Communist Armed Conflict (ELCAC) particularly at the Calbiga-Pinabacdao Settlement, and funding for the construction of the DAR Provincial Office.
Governor Tan assured Anfone and Catorce the inclusion in the 2023 budget of the provincial government the funding requirement for the construction of the said DAR building.
Catorce disclosed that the lot where the DAR provincial office will rise was also donated by the provincial government.
According to him, at the moment they are only renting office space along corner San Francisco Street and Rizal Avenue here in this city.
Media groups submit complaints to UN experts before PH human rights review
Press Release
November 11, 2022
GENEVA, Switzerland – Media and academic groups submitted complaints to the office of United Nations Special Rapporteur on the Situation of Human Rights Defenders Mary Lawlor several days before the United Nations Human Rights Council conducts its universal periodic review on the human rights situation in the Philippines.
Pinoy Media Center (PMC), publisher of Pinoy Weekly, reported that then National Security Adviser Hermogenes Esperon has ordered the blocking of their website and 27 other organizations, which is still inaccessible to the public.
In its letter to Lawlor, the independent media outfit also stated that its website have also been subject to continuous cyber-attacks since 2018. The website www.pinoyweekly.org had also been hacked between November 17 and 18, 2021, the PMC said.
"Enforcing restrictions to access our website does not only violate our rights to freedom of the press, speech and free expression, which are guaranteed under the Philippine Constitution," PMC, though its executive director Angela Colmenares, said.
PMC added that copies of Pinoy Weekly's print editions have been confiscated and burned by members of the Philippine Army and the Bulacan Philippine National Police three times between September 5, 2019 and July 25, 2020 in Pandi, San Jose del Monte City and Norzagaray.
Bulatlat.com, the country's longest running alternative media outfit, also complained of its website's blocking by the National Telecommunications Commission last June 8 as well as incessant cyber-attacks using the Department of Science and Technology infrastructure assigned to the Philippine Army.
"Perpetrated by the state, the attacks are tantamount to content-based prior restraint and censorship," Bulatlat managing editor Ronalyn Olea said.
The submissions were made by the Philippine UPR (Universal Periodic Review) Watch, a network of church and human rights organizations, that is currently in this city to participate in the United Nations Human Rights Council review on the human rights situation in the Philippines on November 14.
Justice secretary Jesus Crispin Remulla is again expected to represent a high-level mission to represent the Philippine government.
Philippine UPR Watch also submitted to the UN experts a report on academic freedom developments in the Philippines by the Scholars at Risk Network.
The report said attacks and pressures on academic freedom escalated during the transition between the Rodrigo Duterte and Ferdinand Marcos Jr. governments.
"These have included the threat of red-tagging, anti-terrorism legislated, and censorship that undermine academic freedom and freedom of expression," according to the report.
As both Pinoy Media Center and Bulatlat, the academics said scholars and academic institutions have been subjected to red-tagging, it adds.
The report also cited the killing of two volunteer teachers of indigenous peoples' schools in February 2022 as well as former anti-insurgency task force spokesperson Lorraine Badoy's red-tagging of former Ateneo School of Law Dean Antonio La Vina.
Threats to academic freedom in the Philippines include the censorship of books in libraries of state universities by the Commission on Higher Education and the banning of the publication of books by the Komisyon ng Wikang Filipino, an attached agency of the Office of the President.
Philippine UPR Watch said that aside from Monday's review of the Philippines, the submissions are in anticipation of the official visit of UN Special Rapporteur on freedom of expression and opinion Irene Khan to the Philippines next year.
Declining trend in the number of registered births seen in EV
By PSA-8
November 10, 2022
TACLOBAN CITY – According to the latest Vital Statistics Report (January – December 2021) which was released on 13 August 2022, the number of registered live births by place of occurrence in Eastern Visayas is 56,105. This figure represents the total number of live births from the provinces of Biliran, Eastern Samar, Leyte, Northern Samar, Samar, Southern Leyte, and the highly urbanized City of Tacloban.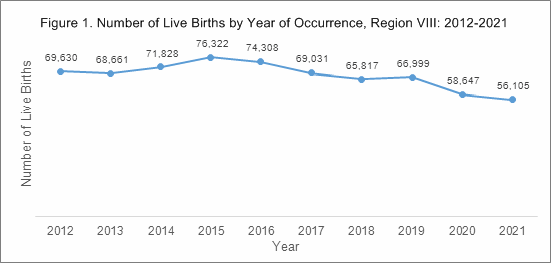 Figure 1 shows that there is a declining trend in the number of registered live births in Eastern Visayas from 2015 to 2021. The number of registered live births in 2021 is lower by 2,542 (4.3%) from the registered live births of 58,647 in 2020. Since 2015, the peak of the 10-year period, the number of live births is declining by an average rate of 4.9 percent annually, except in 2019 when a brief period of an upward spike occurred. The number of registered live births in 2021 is 29.0 percent lower than the 2015 record with 76,322 registered live births. (see Table 1)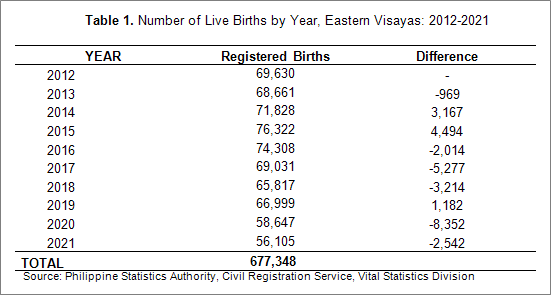 Among the six provinces and one highly urbanized city, the province of Leyte had the greatest number of registered live births by place of occurrence from January to December 2021, with 22,929 or 40.9% of the total registered live births in Region VIII. Leyte was followed by the province of Samar, with 9,795 (17.5%) registered live births. Northern Samar comes next, with 7,211 registered live births (12.9%). Biliran has the least number of registered live births with only 2,344 (4.2%), nearly 10 times fewer than Leyte's figure. The City of Tacloban, a highly urbanized city has registered live births totaling 3,379 (6.0%). (Figure 2 and Table 2)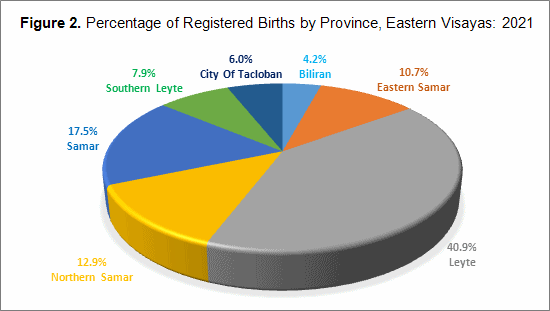 September recorded highest number of registered births
Figure 3 shows that the month of September had the highest number of live births in Eastern Visayas, totaling to 5,527 live births in 2021. September was followed by October, with 5,484 registered live births. The month of February observed the least number of 3,520 registered live births. (see Table 3)
More males born than females.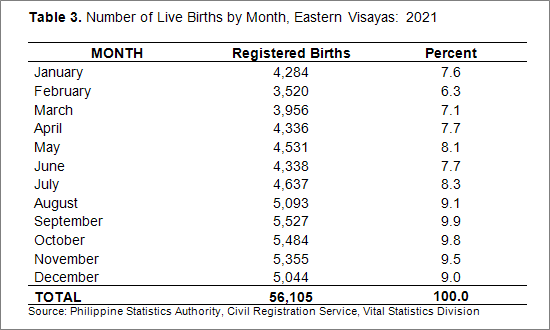 More males born than females
Eastern Visayas reported 2,165 (4.0%) more male registered live births than female live births, after recording 29,135 male births and 26,970 female births in 2021. This resulted to a sex ratio of 108 males per 100 female births. (see Figure 4 and Table 2)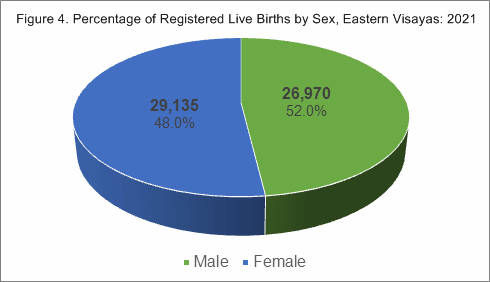 FAME+ Market Days 2022 releases new home, fashion, & lifestyle collection for int'l market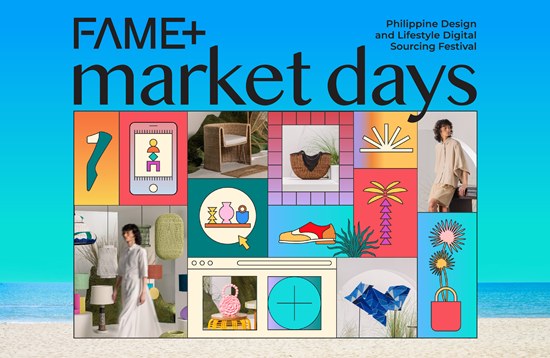 By DTI-TPG-CITEM
November 8, 2022
PASAY CITY – Emerging from the creative minds that continue to push the boundaries of Filipino artisanship, a new collection of home, fashion, and lifestyle pieces was unveiled at the digital sourcing festival FAME+ Market Days last October 21-22, 2022 via the online platform Hopin.
A total of 50 brands and manufacturers were able to develop more than 500 original designs for this year.
The new collection is housed under Design Commune, the culmination of the product development program by the Center for International Trade Expositions and Missions (CITEM). Design Commune is a main show feature at Manila FAME and a key section of its digital sourcing and storytelling platform www.fameplus.com.
In collaboration with design specialists Rita Nazareno and Gabby Lichauco, the collection this year revolved around the concept of 'Stitch'. Sewing traditions and tools of various cultures was the inspiration in crafting new indoor and outdoor pieces to showcase the versatility of Philippine artistry through a contrast of design disciplines.
The design specialists, in a talk on the first day of the event, expounded the creative process of Design Commune. "Guided by the sensibility of our personal universes, we are crafting grander stories together. This is how we are weaving worlds through the art of Stitch," Lichauco shared.
Cultivating a worldwide community through the digital sourcing festival
A total of 484 participants from different parts of the world attended the second edition of FAME+ Market Days 2022.
Assistant Secretary Glenn G. Peñaranda of the Foreign Trade Service Corps (FTSC) and OIC of Department of Trade and Industry-Trade Promotions Group (DTI-TPG) spoke at the opening ceremony. He highlighted that this edition is "geared to intensify business-to-business (B2B) efforts and continuously cater to the needs of buyers in different parts of the world." He also encouraged the attendees to support local businesses in their journey to the global stage.
CITEM's OIC Deputy Executive Director Ma. Lourdes D. Mediran, in her welcome message, said that the digital event is a key component in strengthening the FAME brand in the digital sphere. "The ultimate goal in staging this year's FAME+ Market Days is to spur an in-depth engagement with buyers as exhibitors present their design products," she added.
CITEM, the event's organizer, facilitated more than 100 business-to-business meetings among trade buyers and exhibitors that spanned for five days, from October 17 to 21. The trade buyers came from various countries such as the United States, Australia, China, Singapore, and India among others.
The two-day event augments the initiatives of FAME, the country's longest running export promotions program for MSMEs and artisan communities in the home, fashion, and lifestyle sectors. The program currently promotes 293 exhibitors and showcases 5,059 available products on its online platform www.fameplus.com. A total of 2,300 unique trade buyers have registered since it went live in 2020. Last year, the digital platform booked and negotiated USD635,119 export sales and generated P21.49M domestic sales.
Manila FAME, its signature event component, has been running for 38 years. However, due to the pandemic, it has shifted to digital means to reach international buyers. It is set to return onsite next year, October 19-21, at the World Trade Center Metro Manila in Pasay City, Philippines.
Sourcing made convenient
To innovate the digital sourcing experience this year, FAME+ Market Days introduced pitching rooms where exhibitors themselves shared their brand stories, inspirations, and latest product offerings through recorded videos.
These videos were made available on-demand during the event, giving the attendees adequate time to find brands that match their sourcing needs. Aside from the pitching rooms, the exhibitors were also able to showcase their products through digital storefronts in the expo section of the event. Trade buyers were then encouraged to set B2B meetings with the brands and manufacturers of their choice.
A shared vision of quality craftsmanship, design, and innovation
Thought leaders on design and market trends were also invited to share their knowledge with the participants.
Global trend ambassador Patti Carpenter talked about macro trends that will impact markets for 2023. She shared that "conscious consumerism" is on the rise, and that both longevity and sustainability are given importance by buyers of home, fashion, and lifestyle products.
Carpenter added that more and more individuals are opting for carefully cultivated spaces with culture-rich interiors filled with multi-functional, comfortable, and warm design concepts. "A myriad of material mixes allow technology to coexist with fashionable fibers and stylish silhouettes mixed with organic elemental essentials. These are the components for a hearty and hospitable habitat that finds us rooted in our retreats."
Meanwhile, Jacqueline Wong, a global trend consultant of WGSN, discussed consumer profiles and behaviors and their importance in the product creation. She said that the pieces people buy impact the spaces where they live, work, and play in.
Advising manufacturers and designers, Wong said, "Create an emotional connection between your brand or your product and this cohort of consumers. Support them in cherishing and curating their keepsakes and memories with mindful design throughout the home."
Trade chief reiterates e-commerce as important tool for economic development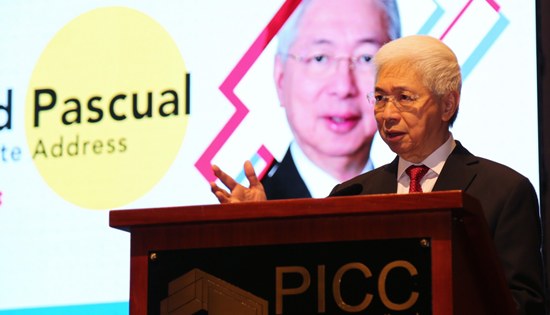 By DTI-OSEC-Public Relations Unit
November 4, 2022
MANILA – The Department of Trade and Industry, in partnership with the Philippine Bar Association, held the 1st eCommerce Congress on 4 November 22 at the Philippine International Convention Center. The event brought together government officials, members of the business sector, civil society organizations, and other stakeholders to pursue the overarching goal of strengthening eCommerce industry in the country.
The eCommerce Congress tackled the Internet Transactions Bill, a top legislative priority of President Ferdinand "Bongbong" Marcos, Jr., that aims to harness the overwhelming potential of the eCommerce market.
Based on Google Temasek Bain's e-Conomy SEA 2022 report, the Philippines' internet economy continues its upward trend at 20% year-over-year to reach USD20 billion this year, with e-commerce propelling it to USD35 billion by 2025.
According to DTI, the number of businesses on retail sales via the internet has increased, while there has also been an increase in the number of consumer complaints against online sellers. The time is thus ripe for a new, relevant, and responsive eCommerce Law. In this light, DTI deems the inputs of players in the internet economy as crucial to the efficient crafting of legislative policies that respond to the issues faced by the industry.
"We are grateful to the DTI for our long-term partnership, founded on common goals. We remain committed to supporting the eCommerce Road Map and regulatory framework being built, and believe that together, we can help drive the growth of the digital economy in the Philippines", said Lazada Philippines CEO Carlos Barrera.
Trade Secretary Alfredo Pascual thanked the participants for their contribution to making the eCommerce Congress possible to discuss the crucial policy reforms to boost the e-commerce in the country. The event hoped to promote a robust eCommerce environment in the Philippines, where online businesses, especially small ones, can develop and compete globally.
"We have all the ingredients – the economic assets – to make this happen: a young and digital native population, a growing middle class, available and affordable technologies, and significant surpluses in the financial sector. E-commerce is one of the most potent tools and fastest routes in unlocking these economic assets toward sustained accelerated economic development", Secretary Pascual said.
Last year, DTI launched the eCommerce Philippines 2022 Roadmap to employ strategies by the government that will speed up and broaden internet transactions by improving the digital infrastructure. The current administration is bent on working on and enhancing this agenda to increase the contribution of eCommerce to the Philippine economy with the development of the eCommerce Philippines 2023-2025 Roadmap.
In closing, Secretary Pascual mentioned that there are new laws and regulations related to e-commerce that are currently being drafted, such as on privacy, digital taxation, the gig economy, and pivoting to a cash-light society.
"I hope that there will be productive dialogues in these areas because we urgently need to develop and improve our policies to create an enabling regulatory environment for e-commerce to grow. With the brightest legal minds of the country gathered here today, let me make a humble request and professional challenge for all of us: Let these policy dialogues be united by one purpose – better lives for all Filipino families, with a target of a 9% poverty rate within six years", he added.
Samar vegetable growers thank DAR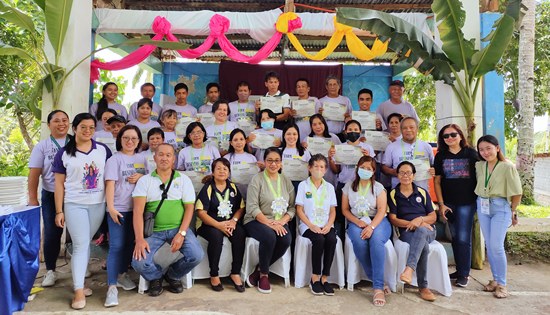 Thirty-three agrarian reform beneficiaries from Calbiga, Samar completed the 25 sessions Farm Business School (FBS) initiated by the Department of Agrarian Reform (DAR).
By JESSA LABAGALA
November 3, 2022
CALBIGA, Samar – A farmer from Barangay Macaalan in this town thanked the Department of Agrarian Reform (DAR) for the opportunity to learn the different aspects of marketing their produce such as planning, recording and even in planting.
Ricky Antony Cardeno, a leaseholder, was among the 33 agrarian reform beneficiary (ARB) members of the Calbiga Vegetable Growers Association (CVGA) who graduated recently from DAR's Farm Business School (FBS) after completing the 25 sessions in seven months.
Cardeno was chosen to receive the Mountain Mover Award for his active participation, dedication to his craft and the ability to provide solution when problem arises.
During their graduation, Thelma Alfaro, Chief of the Program Beneficiaries Development (PBD) at the DAR Samar Provincial Office, encouraged the participants of the FBS to apply what they have learned in order to increase their income.
FBS, according to the point person, Kimberly Morillo, is a sub-program under the Enterprise Development and Economic Support (EDES) of the Agrarian Reform Beneficiaries Development Sustainability Program (ARBDSP). It is guided by the principle of learning by doing together, which aims to improve market access and increase incomes of the farmers, she added.
Meanwhile, Fe Ocasla, barangay chairperson of Barangay Macaalan, emphasized to the FBS graduates that "By sharing what you have learned here will also help improve the lives of other farmers in our village."
At the moment, Cardeno disclosed, crops planted in their garden include eggplant, bell pepper, hot pepper and bitter gourd (amplaya), as a result from the market survey they have conducted, which was among the activities they have learned in FBS.
Apayao governor's recent order encourages commission of extrajudicial killing, other rights violations
By KARAPATAN
November 1, 2022
QUEZON CITY – Human rights group Karapatan slammed Apayao Provincial Governor Elias Bulut, Jr. for issuing "an official order that may potentially be used to drive and encourage the commission of extrajudicial killings."
In an executive order dated September 30, 2022 Bulut offered reward money of P100,000 for anyone who "captures, arrests or kills in a legitimate military operation a member of the Communist Terrorist Group (CTG)." The governor upped the bounty to P1,000,000 if the person arrested, captured or killed is a "high-ranking CTG personality."
This is a kill order, said Karapatan secretary-general Cristina Palabay. "It gives the go-signal for anyone to arbitrarily attack and kill political activists who have been repeatedly threatened and red-tagged, and be paid handsomely for it."
"Is it just a coincidence that last October 25, Lorraine Badoy and the other talking heads of NTF-ELCAC recited the names of members and community leaders of the Cordillera Peoples Alliance (CPA) as 'mga pangalan ng CPP-NPA' on their program aired over the SMNI network?" asked Palabay.
A Cordilleran governor issues a hit order with bounty, then Badoy and her ilk come up with a hit list comprised of Cordilleran activists, said Palabay. "Following the pattern we have observed in other cases," she said, "it looks like CPA leaders and activists are being set up not only for intensified threats, harassment and intimidation, but for arrest, capture or murder."
"With incessant red-tagging and this latest bounty offer, the State has cranked up its deadly campaign to suppress human rights defenders and other activists working for people's rights and welfare," said Palabay.
"All freedom-loving Filipinos must forge ranks to counter these virulent and stepped-up attacks on our civil and political rights."
Concreting from Barangays Balud to Jasminez completed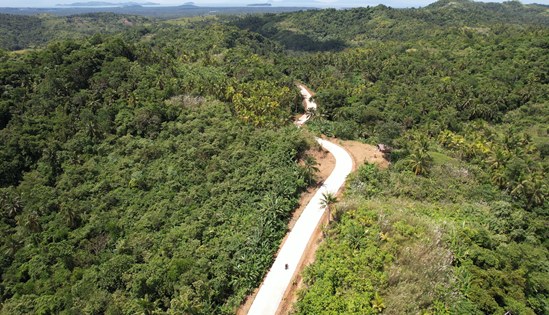 By GISSELLE G. PARUNGAO
October 28, 2022
CALBAYOG CITY – Samar First District Engineering Office finished a newly concreted road from Barangay Balud to Barangay Jasminez in Gandara, Samar.
The said project has a total contract amount of P48.7 million drawn from the Local Program. The road will connect the two barangays surpassing eight (8) barangays if you will go through the normal route along Daang Maharlika.
This road covers a total length of 2,803.6 meters and a width of 6.1 meters. Part of its scope of work is a stone masonry structure which provides for slope protection along the road. The 60-linear meter stone masonry are incorporated on the areas which are susceptible to soil erosion. In this way, the slope will be stabilized, maintain the quality and functional condition of the road construction by protecting the surrounding structure from damage and people from injury.
Through the construction of this road, socio-economic stability will be achieved. This will provide easiness to employment, social, health and education services, especially to residents in innermost barangays within the district.
DTI warns against establishments implementing a "No Return, No Exchange" policy; explains to consumers the rule on return and exchange
By DTI-Consumer Protection and Advocacy Bureau
October 28, 2022
MAKATI CITY – The DTI reiterates that the "No Return, No Exchange" policy is prohibited because this is considered a deceptive sales act. Under Republic Act No. 7394 (RA 7394) or the "Consumer Act of the Philippines," as well as its Implementing Rules and Regulations, the words "No Return, No Exchange" or words to such effect shall not be written into the contract of sale, receipt in a sales transaction, in any document evidencing such sale or anywhere in a store or business establishment.
The Consumer Act of the Philippines specifies, "Sellers are obliged to honor their warranties and grant corresponding remedies to consumers". As such, consumers should be allowed to return or exchange the goods, or avail themselves of other remedies, in case of hidden faults or defects, or any charge the buyer was not aware of the time of purchase. In enforcing these remedies, however, consumers should bear in mind to at least prove the sale transaction and show an evidence such as the official receipt. In cases where the official receipt is not available, the buyer may resort to any other alternative proof.
In the case of medicines, the seller is obliged to replace medicines that are adulterated, misbranded, counterfeit or expired upon purchase. However, if the product bought has no imperfection or defect, or if the medicine purchased is not adulterated, misbranded, counterfeit or expired, the seller may either refuse to replace or refund or, in the exercise of goodwill towards their customers, may grant the replacement or request for refund.
DTI Consumer Protection Group (CPG) Assistant Secretary, Atty. Ann Claire C. Cabochan emphasizes, "Consumers are entitled to the repair, replacement and refund of products with defects. However, they are not entitled to these because of a change of mind or a mistake on their part."
"This is why the Department constantly advises the consumers to examine the product prior to purchase and ask about the seller's return and exchange policies", Assistant Secretary Cabochan explains.
For consumer-related concerns and queries, send an email to ConsumerCare@dti.gov.ph or call the One-DTI (1-384) Hotline.
Caltex and AMCHAM foundation donate roofing materials to victims of Super Typhoon Odette in Southern Leyte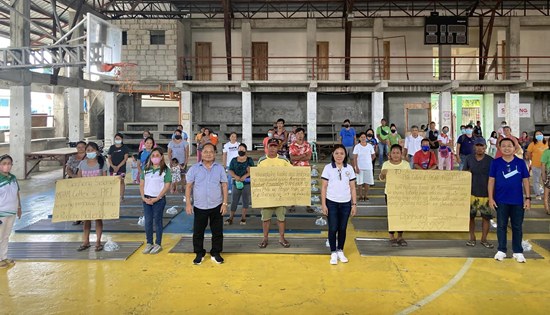 Residents and government officials of Padre Burgos, Macrohon, and Maasin Southern Leyte express their gratitude for the roofing materials donated to their communities.
Press Release
October 28, 2022
MAASIN CITY – Caltex, marketed by Chevron Philippines Inc. (CPI) in partnership with American Chamber Foundation Philippines (AmCham Foundation), provided roofing materials to 115 beneficiaries in Southern Leyte who were impacted by Super Typhoon Odette
Months after Super Typhoon Odette made landfall in the Philippines in December 2021, homes in Southern Leyte province are still in need of repair. With the help of PASAR Foundation who took charge of the distribution of the construction materials, each family from the city of Padre Burgos, Macrohon, and Maasin, received 10 corrugated zinc roof sheets and 2kg of roofing nails.
Distribution began on August 31, 2022 by handing out the construction materials to 46 beneficiary families in Maasin City, 36 beneficiary families in Padre Burgos and 33 beneficiary families in Macrohon. Residents of each city attended the turnover ceremony and expressed their gratitude for the donation to their communities.
"Typhoon recovery can be challenging, which is why we are always ready to lend a helping hand in any way we can. We are appreciative that we have partners like AMCHAM Foundation that assist us in establishing connections with the communities in need so that we can make these donations," said CPI Country Chairman Billy Liu.
Through the Caltex Biyaheng Pagtulong fuel promo launched earlier this year, Caltex was able to raise funds to help communities in five other provinces hit hard by Super Typhoon Odette.
EV employment rate up at 95.5% in July 2022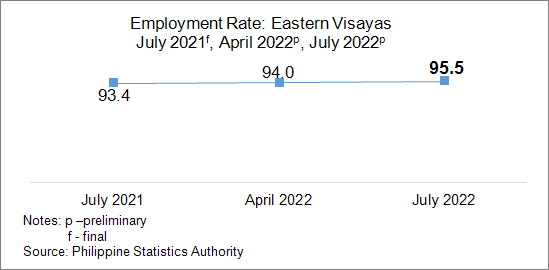 By PSA-8
October 27, 2022
TACLOBAN CITY – The Employment Rate (ER) in Eastern Visayas in July 2022 was estimated at 95.5 percent. This translates to 2.01 million employed persons out of the 2.11 million persons in the labor force. This was higher by about 182 thousand employed persons than the 1.83 million employed persons reported in April 2022. This was also higher by 2.1 percentage points compared with the 93.4 percent ER in July 2021.
The region registered a Labor Force Participation Rate (LFPR) of 65.0 percent in July 2022. This placed the region's labor force at 2.11 million persons who were either employed or unemployed out of the estimated 3.24 million population 15 years old and over in July 2022. The 65.0 percent LFPR was higher by 5.0 percentage points than the LFPR in April 2022 posted at 60.0 percent. This means that the labor force in July 2022 was stronger by around 161 thousand persons than the 1.95 million persons in the labor force in April 2022. Moreover, the LFPR was higher by 4.5 percentage points compared with the 60.5 LFPR in the same period in 2021.
Eastern Visayas' unemployment rate has improved at 4.5 percent in July 2022, lower by 1.5 percentage points compared with the 6.0 percent unemployment rate recorded in April 2022. This was equivalent to around 96 thousand persons in the labor force who were unemployed in July 2022, lower by 20 thousand unemployed persons compared with the 116 thousand unemployed persons in April 2022. The unemployment rate in July 2022 was also 2.1 percentage points lower than the unemployment rate in July 2021 at 6.6 percent.
The underemployment rate in Eastern Visayas was posted at 16.0 percent or 322 thousand persons out of the 2.01 million employed persons in July 2022. The latest underemployment rate has improved compared with the underemployment rate in July 2021 posted at 27.3 percent. However, it is slightly higher by 1.2 percentage points than the April 2022 underemployment rate of 14.8 percent.
NMP graces the opening of EVMC medical facility for OFW and seafarers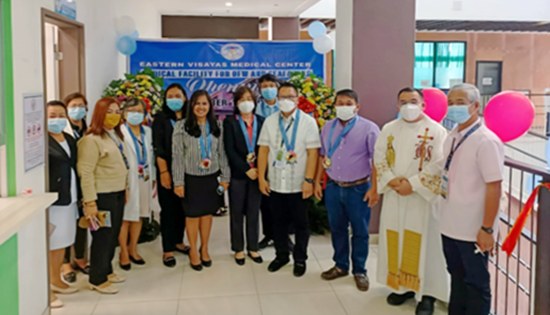 Press Release
October 25, 2022
TACLOBAN CITY – The National Maritime Polytechnic (NMP) graced the Grand Opening and Ribbon Cutting of the Eastern Visayas Medical Center (EVMC) Medical Facility for Overseas Filipino Workers and Seafarers last 19 October 2022 at the 3rd Floor OPD Building EVMC, Bagacay, Tacloban City.
The said project is a great help especially for the OFWs and NMP stakeholders particularly the Filipino seafarers in Region 8 as they no longer need to travel to Cebu, Manila or to other regions just to undergo the Pre-Employment Medical Examination (PEME) which is one of the requirements to work abroad for both land-based and sea-based OFWs.
The services offered by the said medical facility are the mandatory Pre-Employment Medical Examinations such as: Physical Examination, Laboratory, Chest X-ray, ECG, Drug test, Visual Acuity and Ishihara, Dental Examination, Audiometry and Psychological Examination.
In her speech, NMP OIC-ED Mayla N. Macadawan, commended the EVMC for the noble undertaking. She expressed that NMP, as the only government maritime training and research institution dedicated for the Filipino seafarers is grateful for the said initiative. She also emphasized the advantages of the said facility that aside from its strategic location, it is owned by the government, thus, it offers services with affordable rates and performed by competent medical professionals.
"Thank you for stepping forward in behalf of the OFWs and seafarers of Region 8. This is a substantial support specifically to our Filipino-seafarers who are considered as "modern heroes" being at the forefront of delivering goods and services in all parts of the world even in the midst of global challenges like the COVID-19 pandemic," OIC ED Macadawan expressed.
The activity was also attended by the EVMC Medical Chief Dr. Salvador Evardone, Dr. Lilibeth Andrade of DOH-8, Atty. Mark Stephen Reyes of the Multi Sectoral Governance Council and some representatives from DOLE, MARINA and POEA.
Slope protection structure built in Gandara, Samar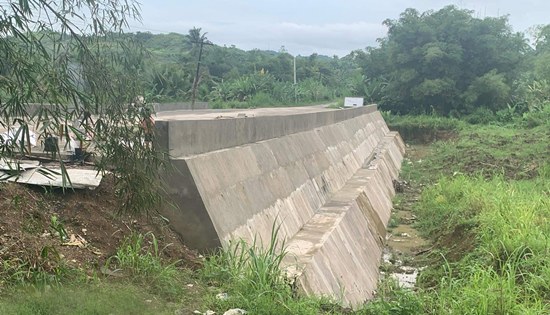 By FLORSELISSA A. JUSAYAN
October 23, 2022
CALBAYOG CITY – Samar First District Engineering Office has constructed a slope protection structure along Barangay Piñaplata to Barangay Tawiran Road in the Municipality of Gandara with a total revised contract amount of P19.50 million drawn from the General Appropriations Act (GAA) of 2022.
The slope protection structure has a length of 82 linear meters with a height of six (6) meters on its left area while on its right side, has a 70-linear-meter length with a 3-meter height. Part of the structure's scope of work is a Portland Cement Concrete Pavement (PCCP) on both side of the road with a length 82 linear meters (left) and 70 linear meters (right). This road has a width of 3.35 meters on each side.
The said project is located along Gandara-Matuguinao Road which is being requested to be converted into a national road, thus, widening is already incorporated. Similarly, the surrounding area is a grassy field and part of it has a stream of water which contributes to the scouring of soil, that in turn damages the paved road.
New Army Commander in Eastern Visayas takes post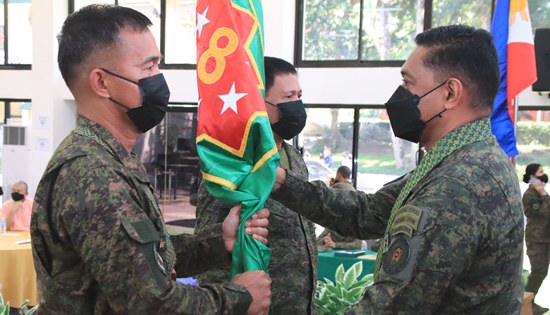 By DPAO, 8ID PA
October 21, 2022
CAMP LUKBAN, Catbalogan City – The 8th Infantry (Stormtroopers) Division, Philippine Army welcomed Major General Camilo Z. Ligayo as he officially assumes as the new Commander of Eastern Visayas today, October 21, 2022.
In a Change of Command Ceremony presided by the Commanding General of the Philippine Army, Lieutenant General Romeo S. Brawner, Jr, outgoing 8ID Acting Commander Brigadier General Zosimo A. Oliveros relinquished the leadership to the former 34th Vice Commander of the Philippine Army.
Major General Ligayo belongs to Philippine Military Academy (PMA) "MAKATAO" Class of 1989. Prior to his assumption, he held key positions such as the Deputy Chief of Staff for Reservist and Retiree Affairs of the Armed Forces of the Philippines (OJ9) and Brigade Commander of the 801st Infantry Brigade, 8th Infantry Division.
In 2019, during his stint as 801st Brigade Commander, Major General Ligayo was instrumental in dismantling four Guerrilla Fronts. Under his leadership, the Brigade achieved a significant victory against the local Communist Terrorist Group in a single joint operation with 20 body counts and recovery of 33 enemy firearms. As the 801st Brigade relentlessly pursued the enemy through focused military operations, he also put equal effort into the unit's civil-military operations by organizing the Youth Love Sports (YLS) as part of the Situational Awareness and Knowledge Management Cluster (SAKM) and Sectoral Unification, Capacity Building and Empowerment (SUCBEM) Cluster, for the youth sector, in line with the National Task Force for Ending Local Communist Armed Conflict.
In his assumption speech, Major General Ligayo asserted his intent to sustain the command's high gains in internal security operations. "We will continue to fight against these so called peace spoilers. As we move forward, we will continue to recognize that the insurgency campaign is a shared responsibility of everyone in government."
"I call upon all our peace and development stakeholders, the different government local units headed by their local chief executives, the regional chief executives for your commitment and support to our ultimate goal in attaining the total defeat of the communist terrorists. Surely, we will be able to attain this strategic defeat of the CPP-NPA-NDF and further prevent their resilience in the region. Together we can succeed," added Ligayo.
In addition, Major General Ligayo is also an active sportsman with a Philippine Football Federation Coaching Certificate. He manages and coaches the Daza Football Club of the 801st Infantry Brigade wherein it emerged as the overall champion during the Football for Peace Tournament on the occasion of the 33rd Founding Anniversary of the 8th Infantry (Stormtroopers) Division. Six active teams from different clubs in Samar and Eastern Samar competed against each other.
Daza Football Club girls were the champion in the Girls Division, the Men's Daza Football Club won 1-0 against the talented Calbayog Football Club. The lone goal was scored by Major General Ligayo performing his best thru a diving header. He also lead the Army Soccer Team to Championships and Athletics Relay for Generals against Navy, Air Force, PNP and PCG.
DAR-EV welcomes new RD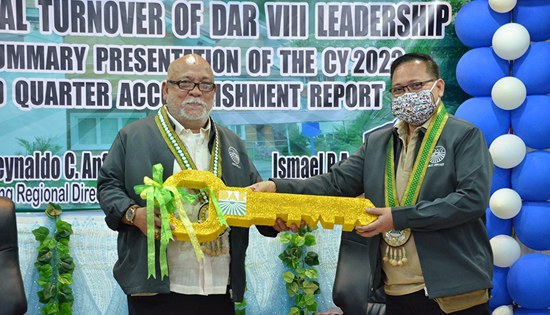 Engr. Reynaldo Anfone (left) is now the new Regional Director of the Department of Agrarian Reform (DAR) in Eastern Visayas.
By JOSE ALSMITH L. SORIA
October 21, 2022
TACLOBAN CITY – Only three months and four days ago when lawyer Robert Anthony Yu, then regional director of the Department of Agrarian Reform in Eastern Visayas, turned over his post to Ismael Aya-ay. On Tuesday, Aya-ay relinquished it again to Engr. Reynaldo Anfone.
By virtue of Department Special Order No. 573, series of 2022 issued by Agrarian Secretary Conrado Estrella III on October 6 this year, Anfone, Regional Director of Central Visayas, was transferred to Eastern Visayas replacing Aya-ay.
On the same document, Aya-ay, who was concurrent Assistant Regional Director for Administration (ARDA) will now focus on his work as ARDA.
An agricultural engineer, Anfone said in his acceptance message, "I am expecting so much with regards to the tasking of the mandates of the Department."
"I will assess everything," he stressed. The new regional director added "Titingnan natin kung meron dapat baguhin o meron dapat i-improve." (We will see if there are things that need to be changed or improved.)
Anfone, the 22nd Regional Director to serve this region since the agency was created on September 10, 1971, is a native of Pikit, Cotabato.
He joined the DAR in 1985 as Agrarian Reform Technologist (ART) and rose from the ranks.
From ART, Anfone was promoted to Engineer II. Then he became Municipal Agrarian Reform Program Officer (MARPO) for 23 years. In 2018, he was appointed Provincial Agrarian Reform Program Officer II (PARPO) by then president, Rodrigo Roa Duterte.
In March this year, Duterte appointed him Director IV. His first assignment as regional director was in Central Visayas.
As a regional director, Anfone said during his installation that he reads and analyzes all the documents before signing them, but emphasized he is not used to micro-managing.
He assured the PARPOs and the MARPOs "I will not interfere on all your affairs. I will just be directing the PARPOs and the MARPOs."
Anfone hopes that his assignment here will not be as short as his stay in Central Visayas. According to him, he just stayed in Region-7 for only three months and 21 days. "I hope to stay here for quite a long time, so we will really know each other," Anfone quipped.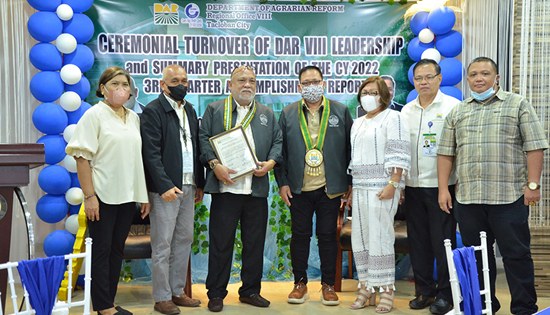 Flood control structure underway in Barangay Macatingog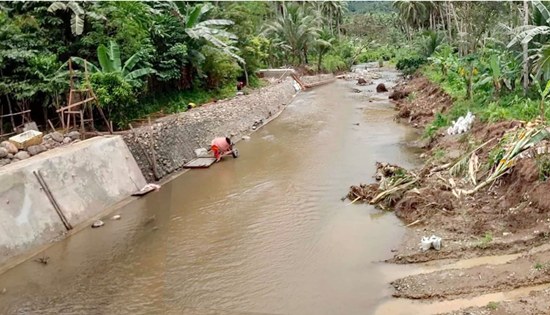 By GISSELLE G. PARUNGAO
October 20, 2022
CALBAYOG CITY – A flood control structure is being erected along Barangay Macatingog, Calbayog City, Samar with a revised contract amount of P48.1 million under the General Appropriations Act (GAA) of 2022.
This structure will serve as a protection wall for residents of said barangay that will span 108 linear meters (upstream) and another 100 linear meters (downstream), built on both sides. Its height varies from 3-6 meters.
As of October 15, 2022 the accomplishment is already at 45%. The structure runs along Hamonini River that eventually goes to the city's main river, Jibatang River which is a major river basin. This will help to reduce the flood impact on the community where it is located and a precautionary measure to ensure that damages caused by flooding are kept at a bare minimum.
BI-GI Association and DTI partners to capacitate PICE-Tacloban members on new standards for black iron and galvanized iron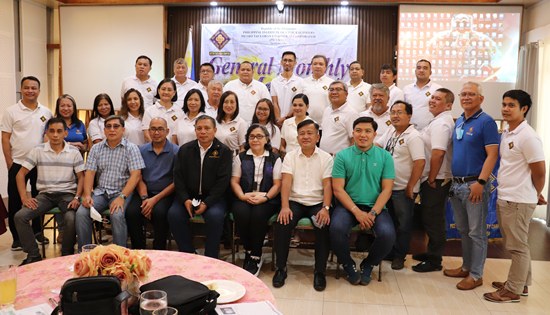 By DTI-Regional Operations Group
October 18, 2022
MAKATI CITY – The Philippine Association of Black Iron and Galvanized Iron Pipes and Tubes Manufacturing, Inc. (BI-GI Association) in partnership with DTI, conducts an Information Campaign with members of the Philippine Institute of Civil Engineers (PICE) - Tacloban Chapter.
The DTI-Bureau of Philippine Standards released a new Philippine National Standard (PNS) 26:2018 for BI-GI Steel Pipes and its related Department Administrative Order (DAO) 19-16 Series of 2019, "The new technical regulations concerning the mandatory products certification of steel – black and hot-dipped zinc-coated (galvanized) longitudinally-welded steel pipes (for ordinary uses) and was published on January 17, 2020.
These regulations will be the basis for identifying certified products conforming to the standard. As a practice, the BI-GI Association partners with DTI in helping disseminate updates to the public thru an information campaign. Evident distinctions of uncertified and substandard steel pipe were identified to educate the participants how they can distinguish it from the standard. Proper handling of these products was also discussed.
The Information Campaign on New Technical Regulation on Mandatory Products forms part of the activities conducted by DTI Regional Office 8 to celebrate the Consumer Welfare Month.
It was necessary to conduct it in time with the quarterly meeting of PICE-Tacloban, composed of engineers and contractors, to ensure the quality of steel pipes used in construction. The vent was conducted last October 8, 2022 at the A Venue Hotel, Tacloban City.
Victim's kin of Jipapad attack slams CPP-NPA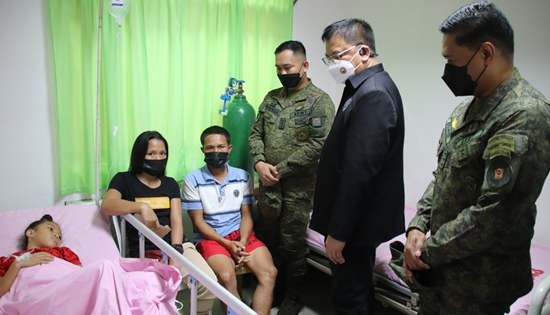 By DPAO, 8ID PA
October 10, 2022
CATBALOGAN CITY, Samar – The mother of the 10-year-old child who is one of the victims of the gruesome attack of the Communist Party of the Philippines - New People's Army (CPP-NPA) at Barangay Dorillo, Jipapad, Eastern Samar slams the CPP-NPA for the vicious attack that resulted in the killing of two soldiers and wounding of three others including her 10-year-old child.
In an interview, Pia Mengote, the mother of Princess Norcio, one of the victims, strongly condemns and calls out the CPP NPA after she almost lost her daughter in the said attack.
"Gusto ko sana na hindi na maulit itong pag-atake nila (CPP-NPA) sa aming barangay, para wala nang madamay na inosenting tao, gaya ng anak ko," Mengote said.
She also appealed to the CPP-NPA to stop the pointless killings of soldiers who were only there to protect and ensure the delivery of government services in their barangay.
"Kayo na mga NPA sana hindi na maulit itong pagpatay sa sundalo kasi mayroon din silang pamilya at mga anak na umaasa sa kanila," Mengote added.
Mayor Benjamin Ver of Jipapad, Eastern Samar has also conveyed his dismay and strongly condemned the CPP-NPA.
"Kinokondena ko ito na ginawa ng mga taong walang konsensya, walang puso, walang magandang pag-iisip na makatulong sa ating mga tao, sa sosyodad at lalo na sa mga residente na naghihirap sa ating barangay," Ver said.
Meanwhile, the Department of National Defense, Officer-in-Charge Senior Undersecretary Jose Faustino Jr. paid tribute to the fallen heroes and visited the wake of the slain soldiers' Staff Sergeant John Claire Flores, and Private First Class Mark Edupancho Siscar, in Borongan, Eastern Samar, Sunday, October 9, 2022.
Along with DND Senior Undersecretary Faustino were Armed Forces of the Philippines Chief of Staff Lieutenant General Bartolome Vicente Bacarro, Commanding General Philippine Army Lieutenant General Romeo Brawner Jr. and 8th Infantry Division Acting Commander Brigadier General Zosimo Oliveros who extended their condolences and support to the families of the slain soldiers.
The group of Faustino also visited the soldiers wounded-in-action (WIA) Sergeant Allan Talania, Private First Class Lou Mark Mengote, and the child victim Princess Norcio who are still recovering in the hospital.
The Wounded Personnel Medal was also awarded by Faustino to the two WIA soldiers. The SND likewise gave financial assistance to the three victims of the gruesome attack.
In an interview, Faustino vows that the National Task Force Ending Local Communist Armed Conflict (NTF-ELCAC) is doing its best to suppress terrorism and achieve long-lasting peace in the country.
"Makakaasa po kayo na ang ating defense establishment, particularly ang ating Armed Forces of the Philippines na gagawin ang kanyang misyon na mapanatili o maibalik ang normalcy dito sa lugar sa EV. Katuwang ninyo ang defense establishment kasama ang lahat ng national agencies, local agencies, local government units at all stakeholders ay pagtutulong-tulungan namin na matapos na ito," Faustino said.
DTI boosts September enforcement, wipes uncertified products in LuzViMin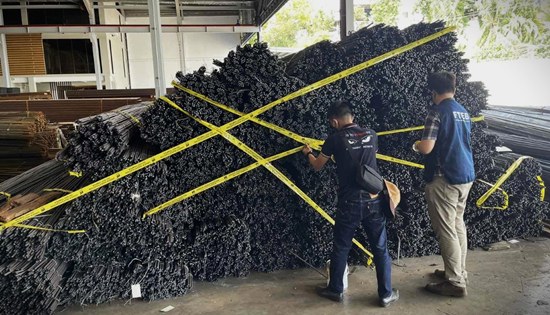 Deformed steel bars sealed in Cebu without the requisite labels and quality marks.
By DTI-CPG-Fair Trade Enforcement Bureau
October 4, 2022
MAKATI CITY – The Department of Trade and Industry (DTI), through its Fair Trade Enforcement Bureau (FTEB), inspected retail firms in Bulacan, Cebu, and Davao in September 2022 to ensure that only safe and reliable consumer products are in the market.
The DTI enforcement teams led by Consumer Protection Group (CPG) Undersecretary Atty. Ruth B. Castelo kicked off the intensified two-day operations in Cebu, 1-2 September. The teams have clamped down on 81,649 pieces of uncertified tires for automotive vehicles, G.I. steel pipes, deformed steel bars, and low carbon steel wires worth P14,776,550.00.
Such was immediately followed by another successful enforcement operation in Davao del Norte, 15-16 September, where DTI cracked down 1,765 pieces of uncertified products worth P830,520.00. The sealed products include self-ballasted LED lamps, PVC electrical tapes, plugs, socket-outlets, snap switches, BI/GI steel pipes, low carbon steel wires, pipes (uPVC) for potable water supply, uPVC rigid electrical conduit, ceramic Plumbing fixtures (sanitary wares), lead-acid storage batteries, inner tubes for tires, and tires for automotive vehicles.
Ending the month strong, the steadfast enforcement operations in Malolos and Meycauayan, Bulacan last 22 September has led to the sealing of 1, 472 pieces of uncertified low carbon steel wires, tires for automotive vehicles, and lead acid storage batteries worth P1,626,430.00.
Out of the 37 firms inspected, 23 non-compliant stores were issued Notices of Violation (NOVs), mandating them to explain within 48 hours from the receipt of the notice.
The nationwide campaign of DTI against uncertified items in the market underscores the enforcement of DTI technical regulations mandating compliance with Philippine Standard Certification Mark Schemes, particularly Department Administrative Order No. 02, Series of 2007.
"The DTI and its provincial and regional offices are one in ensuring that only certified products are being sold in the market; hence, as part of our regular function all of our enforcement teams regularly go out to check products under the mandatory certification," said Usec. Castelo.
Usec. Castelo reiterated that aside from upholding consumer protection, intensified enforcement operations are also a great way to educate businesses about mandatory certification that they have to comply with for a fair trading environment.
From January to August 2022, DTI has already sealed 113,825 pieces of non-conforming products with an estimated retail value of P34,345,283.98.
To protect consumers or potential buyers of electrical and electronic products; mechanical or building and construction materials; and chemical and other consumer products and systems, DTI-BPS regulates 111 products and systems through implementing Mandatory Product Certification Schemes: the Philippine Standard (PS) Quality and/or Safety Certification Mark Licensing Scheme and the Import Commodity Clearance (ICC) Certification Scheme.
The DTI enjoins consumers to report retailers, distributors, and manufacturers that sell necessities above their SRPs, through the Consumer Care Hotline at DTI (1-384) or consumercare@dti.gov.ph.
Most innovative food products recognized
Gov't trade show revitalizes PH food exports, love for local flavors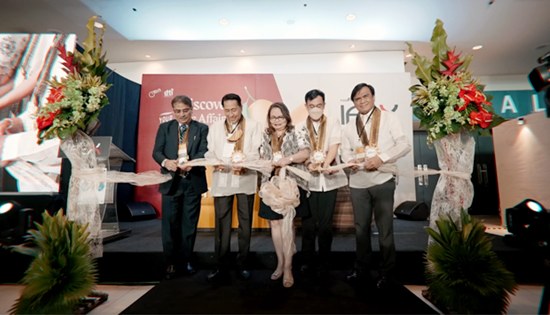 From left to right: H.E. Dr. Imtiaz Ahmad Kazi, Ambassador Embassy of Pakistan, Mr. Sergio R. Ortiz-Luis of PHILEXPORT, CITEM Deputy Executive Director Ma. Lourdes D. Mediran; Pangasinan 4th District Representative Christopher de Venecia; Undersecretary Ireneo V. Vizmonte, Officer-in-Charge (OIC), Department of Trade and Industry (DTI).
Press Release
September 30, 2022
PASAY CITY – Government-run food trade show IFEX Philippines 2022 successfully kicked off at the World Trade Center Metro Manila on Thursday, September 22. IFEX Philippines welcomed nearly 6,000 local and foreign buyers and visitors from all over the world during the three-day event, initially generating approximately USD 100 million in export sales and PHP 56 million in domestic sales. These figures are still expected to increase. More than 300 Philippine exhibitors showcased thousands of premium Philippine food products at the event.
Sen. Cynthia Villar, Chairperson of the Senate Committee on Agriculture, Food and Agrarian Reform, and its Vice-Chairperson Sen. Maria Josefa Imelda "Imee" Marcos, graced the event to support the Department of Trade and Industry's (DTI) thrust to uplift the country's food micro, small and medium food enterprises (MSMEs).
Among those who were also present at the opening ceremony were top foreign and Philippine government officials: Undersecretary Ireneo Vizmonte, Officer-in-Charge (OIC), Department of Trade and Industry (DTI); CITEM Deputy Executive Director Ma. Lourdes Mediran; H.E. Dr. Imtiaz Ahmad Kazi, Ambassador of the Islamic Republic of Pakistan; Commercial Counsellor Serhan Ortaç of the Turkish Embassy; Assistant Director Jhino Ilano of the Export Marketing Bureau (EMB); Executive Director Maria Rita Matute of the Design Center of the Philippines; Executive Director Nelly Nita Dillera of Philippine Trade Training Center (PTTC); Mr. Sergio Ortiz-Luis, President and CEO of PHILEXPORT; and Pangasinan 4th District Representative Christopher de Venecia.
Deputy Executive Director Ma. Lourdes D. Mediran of CITEM, the promotions arm of DTI and event organizer, said that IFEX Philippines 2022 is designed to be "a site of reunion and rediscovery" where Philippine food companies and international buyers can reaffirm their partnerships and make new connections. Visitors came primarily from the Philippines, the United States, the United Arab Emirates (UAE), Japan, and Australia.
In her recorded keynote speech, Sen. Cynthia Villar highlighted the role of agriculture in uplifting the economy and the efforts being made to assist the sector. According to Villar, supporting the agriculture sector is necessary to ensure flexibility during crises like the COVID-19 pandemic.
"We should continue supporting our local produce to ensure our food security and self-sufficiency," said Villar.
Meanwhile, Usec. Ireneo Vizmonte reiterated DTI's commitment to the food sector. Vizmonte also acknowledged the global factors that affect the country's economy, saying these conditions require sustainable and inclusive government response.
Vizmonte said that science, technology, and innovation are essential in building a competitive economy and will be central to the work of DTI under the leadership of Secretary Alfredo Pascual.
"The goal is to grow and develop globally competitive and innovative industries that support inclusive growth and improve environmental sustainability and the quality of life for Filipinos," said Vizmonte.
According to Vizmonte, one of DTI's priorities is the digital transformation of MSMEs and the growth and development of startups. Through innovation and digitalization, DTI aims to double its efforts to upgrade and scale MSMEs in order to improve their productivity growth, employment creation, and participation in global value chains.
"The MSME sector is instrumental to the growth of the Philippine economy, accounting for 99% of all businesses in the country. Needless to say, it is of utmost importance that we ensure that entrepreneurs have access to all the resources, platforms, and technologies that they need to grow their businesses," said Vizmonte.
In addition to supporting the MSMEs, he also said that to promote industrialization, DTI will reconfigure the export industry into three clusters: Industrial, Manufacturing, and Transport; Technology, Media, and Telecommunication; and Health and Life Sciences. Through this strategy, DTI seeks to further build up the country as an exporter of high-value products.
Assistant Secretary Glenn Peñaranda, OIC of DTI's Trade Promotions Group (TPG), echoed this in his recorded welcome message by highlighting programs that help MSMEs boost their competitiveness in the global market. These programs include capacity-building like the Philippine Trade Training Center's (PTTC) Global MSME Academy; export assistance programs like RIPPLES; and market access platforms like CITEM's signature programs and participation in overseas trade fairs.
"The Philippines is one of the most exciting destinations for quality food exports, but with stiff competition from our neighbors, and other drivers such as climate change and health crises, we must continuously adapt and reassert our place in the market," said Peñaranda.
Celebrating Filipino creativity and innovation in the food sector
Aside from providing an avenue for food MSMEs to showcase their goods, IFEX Philippines also recognized the most innovative products for each product category. CITEM named the winners of the Katha Awards for Food on the opening night of IFEX Philippines.
Katha Awards recognizes exporters that explore new galleries of flavors, original brand ideas, unique food fusions, and creative packaging methods. Through this, Katha Awards aims to strengthen the reputation of the Philippines as a go-to destination for globally competitive Asian food and ingredients.
Sen. Imee Marcos, Vice-Chairperson of the Senate Committee on Agriculture and Food, and Chairperson of the Committee on Cooperatives, delivered a special message in which she discussed the current problems in the food and agriculture sectors, including import reliance, food shortages, and hunger. She emphasized the importance of supporting the MSME sector to address these issues. Marcos also lauded efforts such as the Katha Awards, which incentivizes businesses to develop new and innovative products for export.
"The truth of the matter is that I truly believe that in the end, all these depressing views in the agricultural and food sector can only be righted by a much more vigorous and vibrant MSME and retail population," Marcos said.
Here are the winners of the Katha Awards during IFEX Philippines 2022.
New Product Category for Beverages
Sol's Italian Food
Rafael Cococnut Cream
New Product Category for Fine food and specialties
Miguelito's International Corporation
Instant Puto Bumbong
New Product Category for Marine/Seafood
Fisher Farms Inc.
Gourmet Fillet Sampler Box
New Product Category for Meat & Poultry Products
Gulf Pacific Integrated Exports/Elarz
Corned Lechon Lagablab
New Product Category for Snack Foods & Crisp Savoury Products
Innovative Packaging Industry
OSH Choco Dipped Mango Crisps
New Product Category for Baked Goods & Confectioneries
Theo and Philo
Dark Chocolate Covered Cashew and Honey
New Product Category for Processed Fruits and Vegetables
Century Pacific Food Inc
Unmeat Luncheon Meat
New Product Category for Natural, Healthy & Organic Products
Pasciolco Agri-Ventures
Coconut Amínos
Best Booth
Fisherfarms, Inc.
Special Citation for Sustainability
HIJO Superfoods
Quirino Young Entrepreneur's Association
To learn more about IFEX Philippines, visit IFEXConnect.com.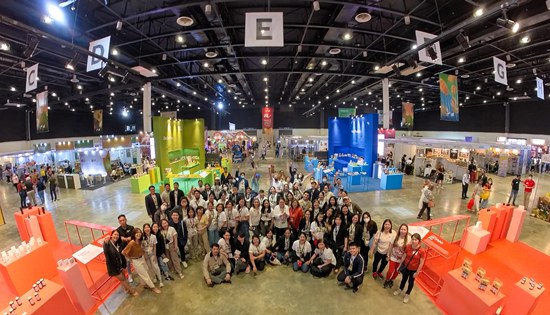 ICHRP commends ICC's rejection of Philippine government request to halt investigation of Duterte government officials
Press Release
September 30, 2022
MANILA – "The International Coalition for Human Rights in the Philippines [ICHRP] applauds the recent decision of International Criminal Court [ICC] Prosecutor Karim Khan to reject the request of the Philippine government to halt the investigation of allegations of serious crimes against humanity committed on its territory related to the Duterte administration's drug war," said ICHRP Chairperson Peter Murphy.
"The response of Prosecutor Khan points out the weakness of the November 2021 request of the Duterte government, which argued for suspension of the ICC investigation on the basis of jurisdiction of the tribunal, gravity of the crimes committed, and supposed domestic mechanisms which can investigate and prosecute those involved in the killings," said Murphy.
"Khan's response demonstrates that no such domestic mechanisms exist on a wide scale, and that no valid argument exists to dispute the jurisdiction of the ICC in regard to these alleged crimes against humanity. This is in line with the results of INVESTIGATE PH, which demonstrated a severe lack of domestic remedies to the human rights crisis in the country."
Human rights organizations like Amnesty International estimate that the number of killings under Duterte's drug war may be as many as 30,000. INVESTIGATE PH, an independent international investigation into the human rights situation in the Philippines carried out by civil society organizations in 2021, presented and analyzed witness testimony and forensic evidence to dispel the Philippine government claims that the thousands of victims were killed by police in self-defence. It also showed that genuine domestic mechanisms to investigate and prosecute the perpetrators of the killings do not exist, despite the claims of the government.
"ICHRP upholds the call of the drug war victims and civil society at large for the cooperation of the Philippine government in the carrying out of the ICC investigation," said Murphy. "We also reiterate the call of INVESTIGATE PH for other intergovernmental bodies, such as the United Nations Human Rights Council, to launch their own independent investigation into the current human rights situation in the country."
"The international community must stay vigilant and hold the current and past administrations accountable until justice is achieved for all victims of these crimes against humanity," Murphy concluded.
Lassiter assumes as provincial adjudicator for DAR E. Samar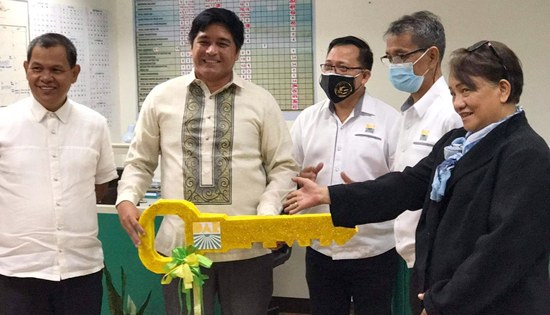 Lawyer Bryan Lassiter now serves as Provincial Agrarian Reform Adjudicator (PARAD) for Eastern Samar after PARAD Nellie Canillas turned over last week her workloads to the former. (Photo by Veah Pascasio)
By JOSE ALSMITH L. SORIA
September 28, 2022
TACLOBAN CITY – Provincial Agrarian Reform Adjudicator (PARAD), lawyer Nellie Canillas, formally turned over last week her workloads in Eastern Samar to lawyer Bryan Lassiter.
Lassiter, who was appointed early this year by then President Rodrigo Roa Duterte as PARAD, will succeed Canillas as Department of Agrarian Reform's (DAR) adjudicator for Eastern Samar per Special Order No. 512, Series of 2022, issued on September 1 this year by Agrarian Reform Secretary Conrado Estrella III to attain maximum efficiency at the DAR Adjudication Board (DARAB).
In the same document, Lassiter will also serve as PARAD of Northern Samar.
The said turnover took place at the office of the Regional Agrarian Reform Adjudicator, lawyer Virgilio Rosacay, at the Department of Agrarian Reform Regional office in Tacloban City.
With Rosacay, OIC-Regional Director Ismael Aya-ay and lawyer Florence Hipe, PARAD of Northern Samar and Southern Leyte, witnessed the event.
Presently designated Provincial Agrarian Reform Program Officer II (PARPO II) in Eastern Samar in an officer-in-charge capacity, Lassiter is awaiting designation of his replacement as PARPO II by the Secretary.
Canillas on the other hand will now focus as PARAD of Western Samar.
Meanwhile, Hipe disclosed that turnover of his workloads in Northern Samar will be scheduled in a later date.
Japan-affiliated telco InfiniVAN's Submarine Cable Network project with Globe and Eastern Communications marks new milestone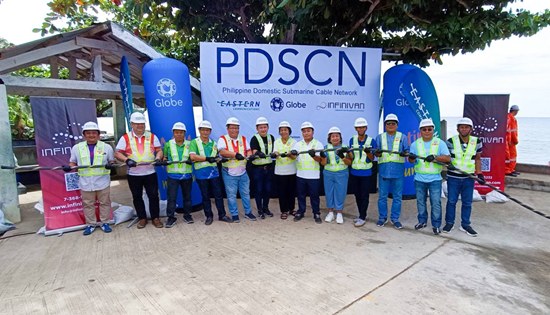 Press Release
September 22, 2022
QUEZON CITY – Following the landmark Subic Cable Loading Event in July, InfiniVAN, Inc. in a joint-build project with two other Philippine telcos, completed the Siargao landing of a segment of the Philippine Domestic Submarine Cable Network (PDSCN) in the Municipality of Dapa, Siargao Island on September 22.
InfiniVAN, Inc., a subsidiary of Tokyo Stock Exchange-listed IPS, Inc. (TSE: 4390) took part in the ceremonial cable pulling event of fiber optic cables that is part of the ongoing cable laying phase of PDSCN. Five (5) of the 24 segments have already been completed to date.
The cable-pulling ceremony was witnessed by Dapa Mayor Elizabeth T. Matugas, Vice Mayor Gerry Abejo and municipal officials along with representatives from InfiniVAN, Inc., Globe Telecom, and Eastern Communications. Once completed, the $150-million joint project that spans around 2,500 km will provide ultra-fast and reliable connectivity across the country.
InfiniVAN, Inc. Chief Technology Officer Alberto "Abet" Espedido said that aside from connecting major islands in the country, the project is designed to bring connectivity to tourist destination islands to further boost tourism and other industries in those places.
"We see this as an opportunity to fulfill our objective of providing connectivity to far flung areas. We hope that the project does not only provide good communications infrastructure to Siargao but also help pump-prime the island's economy," he said.
Espedido shared that the fiber optic cable technology used in the country's biggest and longest submarine cable installation is "future-proof." This means unrepeatered 96-core fiber cables used in the project can handle large data throughputs that can be further expanded through advances in terminal equipment over the next 20 to 25 years.
This InfiniVAN-initiated submarine cable project is a cost-effective solution to building a massive and extensive transmission network through a joint-build arrangement with Globe, the Philippines' leading digital solutions platform and Eastern Communications, premier telecommunications and ICT solutions provider.
"We consider it an achievement, as a new entrant in the market, to be working with well-established partners on this project that will really make a difference in the next few years. It is gratifying to have so-called industry competitors join hands to provide a very precious resource to our countrymen and the country as a whole, in a most unselfish manner," Espedido added.
The Express and Western routes connecting Luzon, Visayas and Mindanao will be ready by December this year and the remaining Eastern routes will be completed by April 2023.
Global leaders in public and private sectors call for united voice for peace as an institution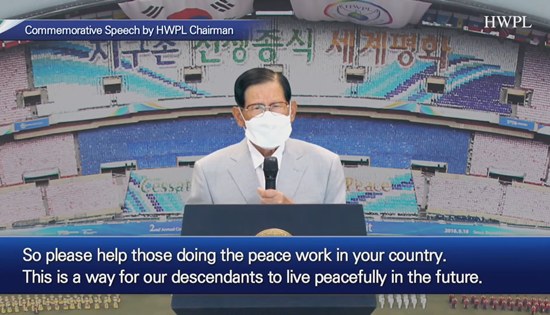 Press Release
September 20, 2022
MANILA – The 8th Anniversary of the September 18th HWPL World Peace Summit was virtually held last Sunday with the theme of 'Peace as an Institution: A Foundation for Sustainable Development'. This event was participated by peace advocates across the world in 146 countries including USA, Germany, South Africa, Australia, Philippines, South Korea with 5,000 participants, reaffirming the importance of the sustainable development guaranteed by institutionalizing peace while the global community has yet to overcome the COVID-19 pandemic and faces new threats caused by the Russian-Ukraine conflict.
Since September 18th in 2014 when the peace summit was held for the first time, Heavenly Culture, World Peace, Restoration of Light (HWPL), an international peace NGO under the UN ECOSOC, has called for solidarity for peacebuilding at the global level through collective actions with various actors including heads of state, ministers, law makers, religious leaders, educators, youth and women leaders, and reporters. This annual summit shares peace activities and achievements in cooperation with governments and civil society around the world.
From the Philippines, Senator Risa Hontiveros delivered a congratulatory message, "I thank the HWPL for living and breathing peace, not only in your programs to stop conflict, but also in your drive to institutionalize it into our laws, our policies and our cultures. As a long time peace advocate myself, I am one with you in your commitment to active non-violence in all the work that we do and in all the roles that we play in our lives."
"While human dignity is besieged by disease, war, climate change and poverty, we will overcome these challenges, as 'WE are ONE!' with HWPL in supporting projects that improve human rights and lay the foundation for livelihood with human dignity," said Chief Justice Alexander G. Gesmundo in his congratulatory letter.
Regarding the cause of peacebuilding at the global level, Chairman Man-hee Lee of HWPL said, "The global village has suffered from the unexpected COVID-19 that has hit every country. People are not alone in the midst of difficulties. We live in the same global village, and we are neighbors and families. Each one of us is obliged to make our world a better place to live. And shouldn't we pass on our good world to our descendants?"
Recognizing the crucial "role of parliaments in building peace and preventing conflict", H.E. Marinus Bee, the chairperson of the National Assembly of Suriname, expressed his willingness to collaborate with HWPL in establishing peace at the legislative level.
Octavia Alfred, Minister for Education, Human Resource Planning, Vocational Training and Nation Excellence of Dominica, said that HWPL's peace education was introduced to the national school curriculum in Dominica as it was "integrated into Social Studies, and also as a stand-alone." She added that the HWPL peace curriculum is helpful "in addressing the challenges of not just students, but even what they take home to their friends and their parents, and also our teachers."
Prabhu Mahendra Das, the Temple President of Sri Sri Radha Madhava Mandir of the Philippines, presented an institutional approach to interreligious dialogue in terms of the role of religion in contributing to peace. He suggested that regularizing international exchanges and programs to prevent conflicts based on religious misunderstanding can be a starting point for a foundation of peace.
Street food vendor in Southern Leyte thrives through DOLE's livelihood program
By NORMA RAE S. COSTIMIANO
September 19, 2022
TACLOBAN CITY – The Department of Labor and Employment (DOLE) through its DOLE Integrated Livelihood Program (DILP) has steadfastly provided livelihood to the needy and deserving informal workers throughout the years.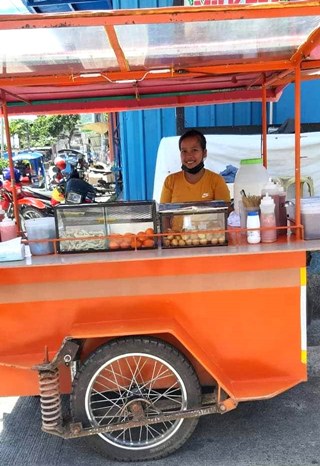 Among the many beneficiaries of the program is Melfo O. Bitor, a 28-year-old former saleslady from Sogod, Southern Leyte, who tried her luck selling fishball and kikiam with a capital of only P150.00.
In February 2021, Melfo received from DOLE Regional Office No. 8 through the Southern Leyte Field Office (SLFO) a livelihood starter kit for her street food business worth P12,310.00.
Armed with gratitude and determination, Melfo strived to manage her business well and eventually gained success. The assistance from DOLE paved the way for the living condition of her family to improve, earning a net income of P2,500.00 per day.
From the income she earned from one vending cart situated at the Sogod Terminal, Melfo was able to buy another food cart which she placed beside a department store in Sogod.
As life isn't always perfect, Melfo and her family encountered so many challenges along the way. Her husband was hospitalized due to COVID, and their house sustained heavy damages because of the typhoon Odette that struck the province of Southern Leyte last December 2021. These exhausted her savings but Melfo did not lose sight of her goal and managed to rise above the problems.
Presently, Melfo opened her third street food branch fronting another department store in Sogod, this time, not only a food cart but a snack house where customers can dine-in and enjoy their favorite street food.
From fishball and kikiam, Melfo now offers a variety of snacks such as potato fries, kwek-kwek, siomai and some refreshments. Her small-scale business is now a sought-after street food in their place.
Looking back on how she started, Melfo couldn't help but shed tears of joy.
"Hindi ko po inakala na magiging ganito kami. Ang hirap talaga nung una, dahil maliit lang ang kita naming mag-asawa. Yung bahay namin noon halos napagkakamalan po na bahay ng baboy. Pero dahil po sa tulong ng DOLE, nag-iba at gumaan ang buhay namin. Natutugunan na namin ang aming mga pangangailangan at nakakatulong pa kami sa iba", Melfo said.
Melfo's successful livelihood project is just one of the many testimonies that DOLE's livelihood program is indeed instrumental in improving the lives of the workers that the department ought to serve. (with a report from DOLE-SLFO)
DE Briones to contractors: Finish prior year projects until Dec. 31, 2022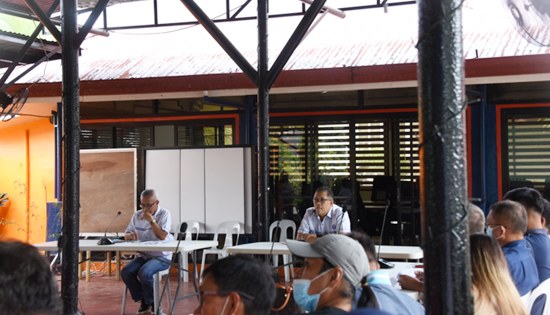 By DPWH-Biliran
September 16, 2022
NAVAL, Biliran – District Engineer Ferdinand A. Briones sets deadline to contractors with project implementation from year 2021 and below.
During the contractors' meeting held at DPWH Biliran District Engineering Office (DEO) on September 01, 2022, DE Briones orders contractors to finish its Prior Year (PY) projects until December 31, 2022 to avoid reversion of funds per Executive Order (E.O) No. 91.
"Those 2021 projects down to the PY projects, ang reversion ng pera is hanggang December 31, 2022 nalang, kaya bilis-bilisan ninyo dahil ang pera ay hindi mag-aantay sa projects," said DE Briones.
DE Briones explained that under E.O. No. 91 or the adoption of the cash-based budgeting system, contracts intended to be implemented for the fiscal year should be fully delivered by the end of the fiscal year.
"We still have PY projects that are still on-going right now, although we encountered problems and consequences in the implementation such as Right-Of-Way (ROW), project not feasible and doable but this should not be an excuse para ihinto ang project," said DE Briones.
As of August 26, 2022, BDEO has still an unpaid balance of P462.97-M for a total of 77 on-going projects implemented from 2017 to 2021.
According to DE Briones, unpaid balances are not just because of the unfinished projects but also because of the contractors' failure to process billing due to lack of documents, even though the projects are completed.
"Pag' binalik ang pera, wala ng pera yan, pag walang pera hindi nyo' na makukuha, although may ginagawang trabaho wala ng pambayad," said DE Briones.
DE Briones also emphasized that projects completed within the fiscal year has still an Extended Payment Period (EPP) of three months following the end of the fiscal year.
The District Engineer instructed the contractors to process the required documents and to fast-track the implementation of their PY projects in order to finish the projects on the allowable time.
"Whether you like it or not, you need to finish PY projects until December 31, 2022," said DE Briones to the contractors.
PH human rights groups submit alternative human rights report to UN treaty body
By KARAPATAN
September 14, 2022
QUEZON CITY – A decade since the United Nations Human Rights Committee conducted a review on the Philippine government's compliance to the International Covenant on Civil and Political Rights (ICCPR), the State party will undergo a fifth review before the UN treaty body this coming October 2022, with non-governmental organizations providing alternative submissions to the government report.
Human rights group Karapatan and Tanggol Bayi, an association of women human rights defenders, submitted their 29-page joint alternative report on September 12, covering human rights issues during the administrations of Benigno Aquino III and Rodrigo Duterte, as well as the first months of the Marcos Jr. administration.
In their report, they stated that "the human rights situation in the country has spiraled into a crisis," as they documented and witnessed gross violations on the right to life and civil liberties, the deeper and pervasive climate of impunity and the dire lack of effective domestic mechanisms for redress and accountability, closing civic and democratic spaces, and unmet obligations to core international human rights instruments, including the ICCPR.
They cited the continuing impunity since the Marcos Sr. regime, with the dictator and his family as well as cohorts yet to be made fully accountable for their acts of gross human rights violations and massive corruption during martial law, impeding efforts towards truth and justice.
"Marcos Jr.'s recent defense of his dictator-father's martial law glosses over their family's rapacious intent to monopolize political power and prolong their rule by suppressing political dissent and pocketing billions from the nation's coffers. Clearly, Marcos Jr.'s presidency seeks to erase all the crimes of the Marcoses against the Filipino people, to enable them to keep their massive loot from public funds, and to further their political ambitions," said Karapatan Secretary General Cristina Palabay, reacting to Marcos Jr.'s recent interview defending his father's imposition of martial law.
Karapatan added that "Marcos Jr. continues the draconian and repressive policies of the Duterte administration, wielding and foisting the anti-terror law and other repressive policies against those who uphold and defend human and people's rights."
"Marcos Jr. is not intent on immediately prosecuting those involved in the gross human rights violations during the Duterte administration and with domestic remedies remaining largely ineffective in pursuing accountability, the climate of impunity remains pervasive," Palabay said.
Karapatan and Tanggol Bayi highlighted "serious human rights violations" committed by State actors including extrajudicial killings in the drug war and counterinsurgency programs of the Philippine government; numerous cases of illegal/arbitrary arrests and detention, threats including red- and terrorist-tagging, and judicial harassment; infringement on press freedom and freedom of expression, as well as freedom of association and academic freedom; forced evacuations and bombings of communities due to military operations; cruel and degrading treatment of prisoners including political prisoners; gendered attacks against women and LGBTQ human rights defenders, among others.
"There is an even more urgent need for the international community and the UN human rights mechanisms to undertake decisive steps for an independent investigation on these concerns and to continue to monitor and report on the human rights situation in the Philippines. We urge the members of the UN Human Rights Committee to comprehensively evaluate how the ICCPR has been grossly violated by the Philippine government through the many years after the last review," Palabay said.
The groups are also set to participate in the 51st session of the UN Human Rights Council and the UN Universal Periodic Review, with the Philippines under scrutiny in the next two months by the UN mechanisms.
Inflation rate in Eastern Visayas goes 7.2 percent in August 2022
Press Release
September 8, 2022
TACLOBAN CITY – The Inflation Rate (IR) in Eastern Visayas decreased to 7.2 percent in August 2022, after five (5) consecutive months of acceleration. The regional IR was higher than the 6.3 percent national IR in August 2022. With this month's IR, the region's average IR from January to August 2022 stood at 6.2 percent. In August 2021, the regional IR was lower at 4.5 percent (Figure 1).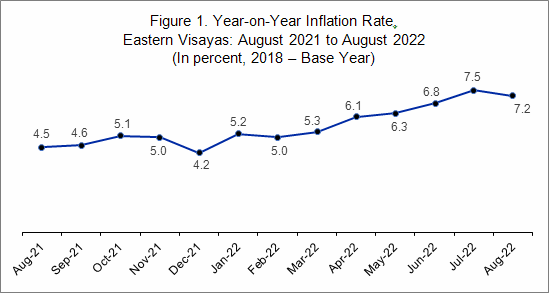 The slowdown in the regional IR in August 2022 was primarily due to the lower annual increment recorded in the index for food and non-alcoholic beverages at 7.5 percent, from 8.0 percent in the previous month. This was followed by transport index whose double-digit IR declined to 13.5 percent in August 2022, from 16.1 percent in July 2022.
On the other hand, IRs were higher for the following commodity groups during the month:
a. Alcoholic beverages and tobacco, 7.0 percent;
b. Clothing and footwear, 1.5 percent;
c. Housing, water, electricity, gas, and other fuels, 9.9 percent;
d. Furnishings, household equipment, and routine household maintenance, 1.7 percent;
e. Health, 16 percent;
f. Information and communication, 0.8 percent;
g. Recreation, sport, and culture, 1.0 percent;
h. Education services, 1.1 percent;
i. Restaurants and accommodation services, 5.3 percent; and
j. Personal care, and miscellaneous goods and services, 2.2 percent
Meanwhile, the financial services commodity group continued to registered zero percent annual growth.
IR for food index slid to 7.8 percent during the month, from 8.5 percent in July 2022. IR for food in August 2021 was posted at 5.7 percent.
By food group, the decrease in the IRs for fish and other seafood at 4.8 percent; vegetables, tubers, plantains, cooking bananas, and pulses at 3.1 percent; and rice at 2.3 percent contributed largely to the deceleration of the food index during the month. Moreover, IRs slowed down in the indices for fruits and nuts at 7.5 percent; and meat and other parts of slaughtered animals at 23.9 percent.
On the other hand, the following food groups exhibited higher IRs during the month:
a. Corn, 5.5 percent;
b. Flour, bread and other bakery products, pasta products, and other cereals, 9.6 percent;
c. Milk, other dairy products, and eggs, 5.0 percent
d. Oils and fats, 10.4 percent;
e. Sugar, confectionery, and desserts, 20.1 percent; and
f. Ready-made food and other food products not elsewhere classified, 3.6 percent;
Inflation Rate by Region
Compared with their respective previous month's IRs, six (6) regions exhibited lower inflation in August 2022, nine (9) regions had higher inflation rates, and two (2) regions retained their previous month's inflation rate. Among the regions, Eastern Visayas' IR at 7.2 percent ranked fifth highest during the month. Zamboanga Peninsula registered the highest IR at 9.1 percent, followed by Davao Region and Caraga Region at 8.9 percent and 7.5 percent, respectively. On the other hand, BARMM remained as the region with the lowest recorded IR at 4.9 percent in August 2022 (Figure 2).
Inflation Rate by Province
Relative to their IRs in July 2022, Leyte, Northern Samar, and Southern Leyte recorded lower IRs in August 2022. On the other hand, increased IRs were observed in Biliran, Eastern Samar, and Samar. Among the provinces, Southern Leyte posted the highest IR at 9.6 percent in August 2022. Northern Samar's IR came next at 9.3 percent, followed by Biliran at 7.9 percent; Eastern Samar at 7.2 percent; and Samar at 6.8 percent. The lowest IR was noted in Leyte at 6.7 percent (Table 1).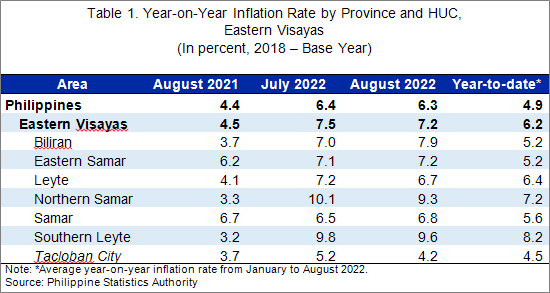 Meanwhile, IR for Tacloban City, the lone Highly Urbanized City (HUC) in the region, was recorded at 4.2 percent in August 2022, lower than its 5.2 percent IR last month.
DTI, government agencies and state universities, sign MOA for the creation of the Regional Inclusive Innovation Center in EV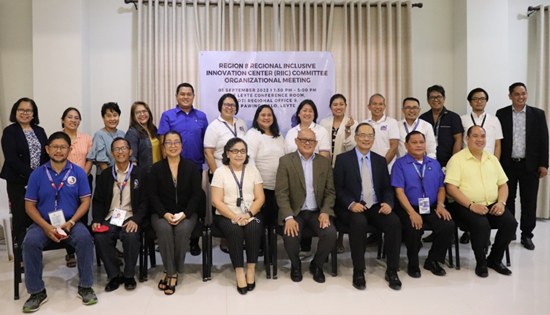 By DTI-Regional Operations Group
September 8, 2022
MAKATI CITY – DTI, government agencies, and state universities, sign the Memorandum of Agreement for the creation of the Regional Inclusive Innovation Center (RIIC) in Region 8 on September 1, 2022.
The Regional Inclusive Innovation Centers (RIICs) are virtual of physical platforms for collaborative programs purposively to generate products, process or service innovation that are deemed important to the goal of inclusive growth and development of the respective regions.
Collaborations are expressed through government-academe-industry partnerships, access to shared service facilities such as R&D laboratories, co-working spaces, fabrication laboratories, and in the case of regional startups, access to capital and investments.
Prior to the MOA signing, an overview of DTI's programs geared toward a more innovative Philippines and the RIIC was thoroughly discussed by DTI Competitiveness and Innovation Group Undersecretary Rafaelita Aldaba.
She zoomed in to the current industry and GDP situation of Region 8 and identified industry opportunities that can help the economic development of the region.
This was backed up by the presentation of DTI Samar Provincial Director Meilou C. Macabare about the high value coconut products which micro and small entrepreneurs in the region are producing. DTI eyes this potential industry to be a priority for the innovative initiatives through the RIIC. This was supported by all the provincial directors of DTI.
Present during this MOA Signing were heads of agencies and presidents and executives of state universities – RD Celerina T. Bato of DTI; RD Ernesto Granada and PD Glen Ocaña of DOST; RD Meylene Rosales of NEDA; RD Felix Tabanao, Jr. of DICT; Mr. Erwin Abonales of PCA; President of EVSU Dr. Dennis de Paz; Vice President of SLSU Ms. Francis Ann R. Sy; Dir. Marclin G. Aguilar of BPSU; and Dir. Vivian Moya of SSU Main.
It was also an opportune time for the Philippine-American Academy of Science and Engineering (PAASE) to discuss innovative ideas and social innovation with the partners. Present were Dr. Mariano R. Sto. Domingo, Dr. Joel Cuelo and Dr. Alvin B. Culaba.
Before the meeting ends, a brief tentative action plan was discussed by DTI ARD Badette Corsiga to mobilize and facilitate the RIIC to be active.
Peace documentary on Mindanao premieres in Davao City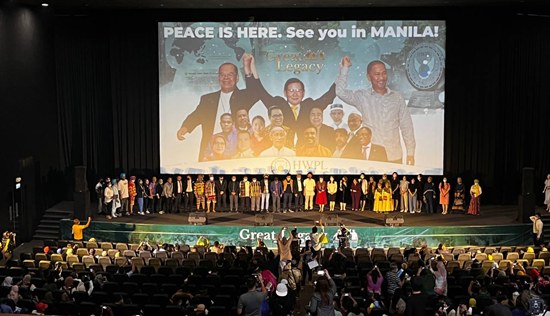 Press Release
September 7, 2022
MANILA – In celebration of the National Peace Consciousness Month, a peace documentary titled "Great Legacy" premiered in a cinema in Davao City on the evening of September 6, 2022. Around 500 distinguished guests from the government, education sector, media, as well as civic society leaders, religious leaders and peace advocates from Mindanao have attended.
The documentary was produced by SMV Media Group, a broadcast company based in Seoul, South Korea, in collaboration with Heavenly Culture, World Peace, Restoration of Light (HWPL), an international non-profit organization advocating for global peace and cessation of war. The film showcased the groups' successful peace movement in Mindanao which contributed to the peace process in the region.
Davao City Mayor Baste Duterte congratulated and commended HWPL and SMV on the screening saying, "By showing people documentaries and films on peace, we may encourage more to be one with us in our peacekeeping and peacebuilding efforts for our communities."
HWPL's peace movement in the Philippines started when HWPL Chairman Lee Man-hee, a Korean war veteran, visited Mindanao. He mediated a civilian peace agreement signed by Archbishop Emeritus Fernando Capalla and then Maguindanao Governor Esmael "Toto" G. Mangudadatu on January 14, 2014 in General Santos City. Before the audience of 300 people including politicians, university professors, religious leaders, and students, the representatives promised to cooperate in ceasing the conflict and building peace especially in the Mindanao region which has long suffered the aftereffects of war.
This agreement became the starting point of HWPL in raising public awareness about peace not only in Mindanao but throughout the Philippines, based on the universal principles of mutual understanding, respect, and harmony. HWPL's peace initiatives include law enactment for peace, interfaith dialogues, peace education, and youth and women empowerment.
In the film, Martin Lee Hojian, former chairperson of the UN Human Rights Commission of the United Nations, Homoibi, highly praised HWPL Chairman Lee, who intervened in the realization of peace in Mindanao as a third person, and the Filipino people who had a keen passion for peace. Also, Nabil Tirmage, Asia Pacific Broadcasting Development Organization program manager, said that the civil peace agreement in 2014 is an 'amazing case of realization of peace that the world should study'.
Before the screening, a press conference was held for Mr. John Rommel Garces, Chief Branch Manager of HWPL Philippines, Ms. Hyun Sook Yoon, Chairwoman of the International Women's Peace Group (IWPG), and Ms. Sholai Lim, Vice President for Mindanao of the Philippine Federation of Local Councils of Women and Publicity Ambassador of IWPG.
IWPG, a partner organization of HWPL, unveiled the first IWPG Peace Monument on the grounds of Maragusan, Davao de Oro overlooking the sea of clouds on September 6 morning. Their delegates from South Korea traveled to the Philippines for the first IWPG Peace Tour from September 5-7.
CARD MBA opens 83rd provincial office in Zamboanga del Sur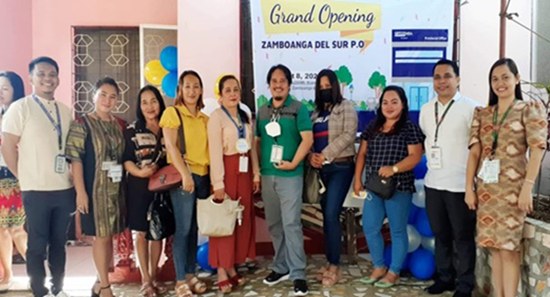 The 83rd provincial office of CARD MBA opened in Zamboanga Del Sur with Senior Operations Director Oliver M. Reyes; Deputy Director for Operations Janicekith N. Navera, CARD SME Bank Area Manager Joel Bermudez and CARD Inc. Regional Director Adonis Saromines, CARD MBA coordinators, CARD MRI members and staff.
Press Release
August 31, 2022
SAN PABLO CITY – To further expand its mission of providing microinsurance to its members, the CARD Mutual Benefit Association (CARD MBA) successfully opened its 83rd branch located in Pacigea Sites, Nazareth, Buenavista, Pagadian City, Zamboanga Del Sur on August 8, 2022.
The event was graced by CARD MBA Senior Operations Director Oliver M. Reyes, CARD MBA Deputy Director for Operations Janicekith N. Navera, CARD SME Bank Area Manager Joel Bermudez and CARD Inc. Regional Director Adonis Saromines, CARD MBA coordinators, CARD Mutually Reinforcing Institutions (CARD MRI) clients and staff.
"CARD MBA strives to provide excellent levels of service through recognizing and meeting the specific insurance needs of client-members," said CARD MBA CEO Jocelyn D. Dequito. "It is our contribution to CARD MRI's goal of poverty eradication to provide insurance even to the hardest to reach communities."
To maintain a high level of satisfaction, CARD MBA ensures that clients' microinsurance needs are met from membership to retirement. In fact, the institution provides microinsurance products to members of the association and their families. This is comprised of Basic Life Insurance Program, Retirement Fund (RF), Loan Redemption Fund (LRF) Plus, Golden Life Insurance, and Family Security Fund.
CARD MBA also offers community development programs to support socioeconomically challenged families and individuals of the community. This includes mass weddings, immediate relief assistance to calamity-stricken areas, and participation in CARD's other nation-building programs in health, livelihood, and education.
With a total insured individual of 23,037,454 as of June 30, 2022, CARD MBA will continue uplift the lives of the marginalized sectors in the country.