Daily workers, residents in far-flung areas, welcome PRC Bakuna Bus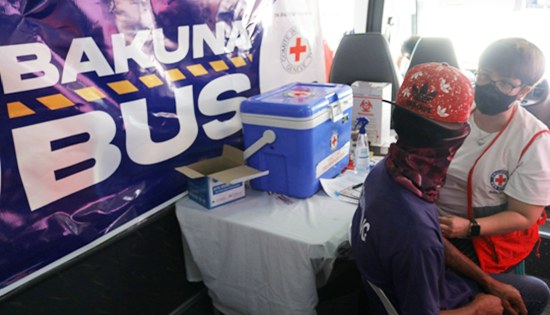 A factory worker from Zamboanga City gets the COVID-19 vaccine. (Photo: D. Alfonso/ICRC)
By ICRC
July 25, 2022
MAKATI – Finally, after waiting for months, Melissa Bajolo can breathe a sigh of relief. The factory worker has received her booster shot from the Philippine Red Cross (PRC) Bakuna (vaccine) Bus, a four-wheel vehicle that goes around Zamboanga City to provide vaccines to those who want to get their COVID-19 jabs.
A laborer at a sardine plant, Melissa has found it difficult to go to the city's vaccination center because doing so means being absent from work for an entire day. Being gone means losing the day's wages. But she is determined to get vaccinated--it was the only way that she can get protected against COVID-19.
"Thank you, Red Cross for doing the vaccination right here in our workplace," she says a few minutes after getting her jab.
Melissa is one of the hundreds of Zamboanga factory workers who have received booster shots from the PRC Bakuna Bus, an initiative that was made possible through a partnership with the International Committee of the Red Cross (ICRC). Fully equipped to store vaccines and manned by PRC staff and dedicated volunteers, the bus has also vaccinated detainees in Cebu, in coordination with authorities, as well as residents of far-flung villages in Mindanao.
Recovering from the pandemic
Like other urban centers in the country, Zamboanga, which has a population of a million people, has been hit particularly hard by the COVID pandemic. Its economy relies on the more than 10 sardine canning plants that employ hundreds of people. When Zamboanga was placed on lockdown, the factories had to operate under limited capacity to ensure that physical distancing was followed.
The steady arrival of vaccines was a step toward normalcy but bringing them closer to people proved to be a challenge. The arrival of the PRC Bakuna Bus has been a game-changer for the residents of Zamboanga.
Jose C. Sy, Melissa's co-worker at the canning plant, was in the same boat as his colleague. He couldn't take a day off to go to the vaccination center.
"One day-off means one day without pay, which is a loss of income for me and my family," he said.
When the PRC Bakuna Bus arrived at his workplace, Jose grabbed the opportunity. After months of waiting, he can finally rest easy. The vaccine eases his worries about getting hospitalized with severe COVID.
Mylene Badiango, the PRC vaccination center supervisor, said that the PRC Bakuna Bus gave the organization the ability to reach more Mindanawons, from their workplaces to their homes. The bus has already visited three sardine factories and seven remote villages surrounding Zamboanga City. Meanwhile, the PRC Zamboanga COVID-19 vaccination center has administered more than 49,000 doses as of June 2022. The PRC and the ICRC have proven to be reliable partners to the local government of Zamboanga in its vaccination drive.
"The PRC Bakuna Bus gave us much mobility to reach people who struggle to leave their far-flung communities or work places to get vaccinated," she says.
At the core of the PRC Bakuna Bus is an enthusiastic cadre of volunteers who work with synergy, from setting up the emergency tents to conducting the pre-vaccination medical screenings. Vince Plaza, one of the volunteers, said that he is proud of the work that the PRC does in Zamboanga.
"Together with other volunteers who take part in bringing life-saving vaccines to the people, we find this task especially meaningful," he says.
But there is still much to be done. Joseline Fernandez, the chapter administrator of PRC Zamboanga, said many residents are still hesitant to get the vaccine. Countering misinformation remains a gargantuan task. But the bus continues in its mission and will travel to Surigao del Norte in August and Agusan del Norte in September.
"We have been tirelessly educating and explaining that the vaccine is safe and effective. The good news is that based on our experience, the presence of the Bakuna Bus in the communities is enough to convince them to get the shot," she says.
Karapatan lauds US House of Reps' passage of amendment suspending security assistance to PNP over rights violations
By KARAPATAN
July 22, 2022
QUEZON CITY – Human rights alliance Karapatan welcomed on Friday the recent amendment passed by the United States' House of Representatives to the National Defense Authorization Act (NDAA), which would suspend security assistance to the Philippine National Police (PNP) until the police ensures its compliance with basic human rights standards and accountability for violations committed by its personnel.
"For the past six years, the Duterte administration has used the US government's security aid to the police and the military to beef up funds for its campaigns of State violence and repression such as the bloody and bogus drug war and its war against political dissenters. With the Marcos Jr. administration pledging to continue these campaigns, the passage of this amendment in the NDAA is a strong message from the American people that they will not tolerate the use of their taxes to enable human rights violations in the Philippines," Karapatan Secretary General Cristina Palabay stated.
The said amendment under Section 58 of the NDAA, which was introduced by Pennsylvania 7th District Rep. Susan Wild, provides that no funding will be made available to the Department of State for assistance to the PNP, including equipment and training, until the Secretary of State has certified that the PNP has "investigated and successfully prosecuted" its members "who have violated human rights," and established protection of the rights civil society activists "to operate without interference."
Last June 24, International Criminal Court (ICC) Chief Prosecutor Karim Khan requested the resumption of the ICC's investigation into the alleged crimes against humanity in the drug war, which was suspended following a deferral request from the Philippine government.
Khan averred in his request that the Philippine government failed to show that "any individual has been investigated for ordering, planning, or instigating any of these killings, nor is there any indication that the domestic authorities are investigating the alleged systemic nature of these and other killings." The ICC's Pre-Trial Chamber has now asked the Philippine government as well as drug war victims and their families for comments regarding Khan's request.
Palabay continued that the Khan's findings "clearly illustrate that the PNP does not meet the conditions stipulated in the amendments to the NDAA, and these should compel the US government to immediately halt its security aid to the Philippines and end its complicity in the human rights violations committed by the PNP."
"We laud Rep. Wild for her tireless solidarity efforts, such as introducing and reintroducing the Philippine Human Rights Act in the US Congress, as well as spearheading the calls to impose targeted sanctions on officials of the Duterte administration responsible for the worst atrocities against the Filipino people. Her actions demonstrate that the international community can undertake meaningful steps to demand accountability and to support the Filipino people's struggle for justice," the Karapatan official ended.
CARD MRI celebrates Filipino culture through Indak ng Panahon: Folk Dance Contest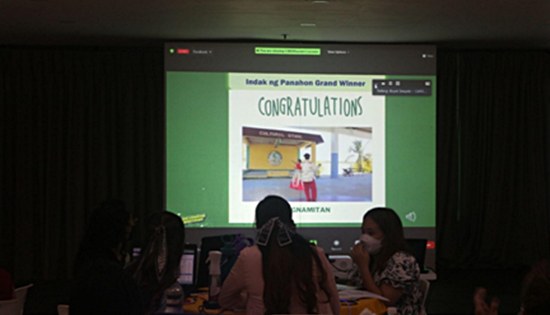 Clients from the Pagnamitan Center of CARD Bank was named Grand Winner during the Indak ng Panahon: Folk Dance Contest Awarding Ceremony, which was streamed live on Facebook and Zoom.
Press Release
July 20, 2022
SAN PABLO CITY – On July 6, 2022, the CARD Mutually Reinforcing Institutions (CARD MRI) held an awarding ceremony for the Indak ng Panahon: Folk Dance Contest where the Kuratsa performance of the Pagnamitan Center of CARD Bank, Inc. from Guiuan, Eastern Samar was declared Grand Winner.
The Grand Winner received P20,000 in cash for the center, P5,000 in cash for the center unit, a Certificate of Recognition, Mga Likha ni Inay Products worth at P3,000, and BotiCARD Products valued at P3,000. Three institutional winners from the other financial institutions of CARD MRI were also announced namely: Kalawag 1- Pabloco of Isulan 1 Unit for Center for Agriculture and Rural Development, Inc. (A Microfinance NGO), Mananga of Talisay 2 Unit for CARD SME Bank, and Inao Awan 1 of the Cavinti Unit for CARD MRI Rizal Bank, Inc. The institutional winners also received cash prizes and products from BotiCARD and Mga Likha ni Inay.
The awarding ceremony was attended by CARD MRI Senior Advisers, members of the Executive and Management Committee, as well as staff and clients from CARD MRI offices nationwide. During the welcome remarks, CARD MRI Senior Adviser of CARD MRI Dr. Dolores M. Torres stated, "I am delighted that our clients took part in this meaningful competition. I am grateful that you continue to show and develop your abilities since we heard your stories not only with our ears but also with our hearts."
The folk dance is part of CARD MRI's program, "Ugnayan at Kwentuhan", which began at the onset of the COVID-19 pandemic. Despite the physical restrictions to prevent the spread of the virus, CARD MRI hoped to continue touching the lives of their families through various online activities. As CARD MRI Managing Director Mr. Aristeo A. Dequito would put it, "The connection that CARD MRI has with its clients is one of our strongest assets. Whatever challenge we go through, we move forward together."
Inspired by its clients and staff who has previously showcased their talents in promoting Filipino culture through folk dance, CARD MRI also launched its official dance on July 8, 2022. Acknowledging the importance of keeping traditions, CARD MRI Founder and Chairman Emeritus of CARD MRI Dr. Jaime Aristotle B. Alip said during his inspirational message, "Rituals are very important in keeping tradition. Here at CARD MRI, our tradition is maintaining our core values not only in our microfinance and microinsurance operations, but also in other creative means such as songs, dances, and poetry. These will be our instruments in showing who we are and what we are trying to do to eradicate poverty."
CARD MRI is set to launch another online contest dubbed as "SineMaya," which is a community film fest open for CARD MRI clients nationwide. Details and mechanics of the said contest can be found in the Facebook Page, Online Kumustahan at Kwentuhan.
CARD MRI is a social development organization with over 8.14 million clients nationwide as of May 2022. It aims to eradicate poverty by providing financial, non-financial, and community development programs. For more information about CARD MRI, visit www.cardmri.com or its official Facebook Page, www.facebook.com/CARDMRIOfficial.
Opportunities as vast as the sea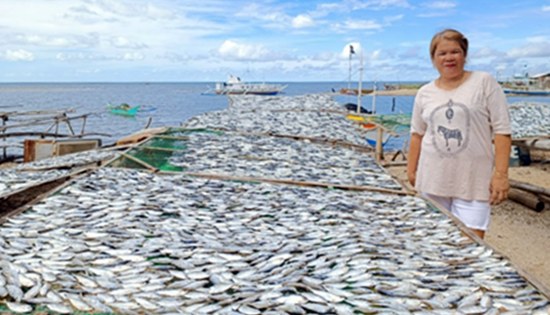 "The sea is vast, so are the ways we can get out of poverty," shares Glenda Bayon-on as she stands proudly next to her dried fish products.
By JEFFREY C. TANDINGAN
July 20, 2022
SAN PABLO CITY – Entrepreneurship is one of the backbones of the Philippines economy. It also contributes significantly to reducing the number of people living under the poverty line. In fact, this is what some see as the solution to get out of poverty. When it comes to business, it is undeniable that most Filipinos are very strategic and creative, they are not only content with one but as much as their capacity and physical body can, they will always grab the opportunity to grow and to reach success.
Glenda Bayon-on from Milagros, Masbate manages four different enterprises; this makes her one of the successful entrepreneurs in her city. Her businesses include prawn hatchery, dried fish, seafood supplier, and piggery. Her family also owns a bunch of laya, a type of small boat used to catch fish. Glenda's business not only benefits her family but also to her community since she employs more than 15 people to take care of her business.
When asked how their successful business began, like some entrepreneurs, they also started with nothing. Her husband was then a technician at a prawn hatchery. As a result, her husband learned how to raise shrimp properly. Since the couple were already in the blood of the business, they decided to find people who will believe and help them start their preferred livelihood. Glenda fully supported her husband, and not long after, in 2006 they met CARD Bank, Inc., a microfinance-oriented rural bank that provides a wide range of financial and non-financial products and services intended to fit clients' businesses and family needs.
With their initial loan of P5,000, the couple began their prawn hatchery; slowly, they grew their small earnings until they bought their own laya and this is what they used to increase their income. Their seafood harvests are brought straight to Navotas City in Manila while some are turned into dried products which are also delivered to Manila and nearby provinces.
Also, with the help of CARD Bank, Inc., Glenda was able to send their three children to school. Her eldest son is now a civil engineering graduate, while her second is in college and her youngest is a junior high school student. She will always be grateful to the outcome of their effort and how brave they were when they risked the small capital that CARD Bank Inc. lent to them.
Overtime, the couple also thought of adding more to their livelihood, especially when they figured out they had the capacity to help their community. From a single laya and small hatchery, they now have 20 laya and extensive piggery where they breed 28 fattening and raising 180 piglets.
To continue to meet the needs of their businesses, the growing number of laborers, and despite their success, they continued to avail loans from CARD Bank, Inc. Currently, Glenda has a loan of PhP200,000 and she makes sure that it is used exactly for the maintenance of their businesses and aids all the people who are working behind and helps them to run their business. Helping them particularly in this era where the post-pandemic is still affecting the lives of many Filipinos is one of Glenda's inspirations to strive hard in their businesses.
Glenda also motivates her fellow CARD clients on how to succeed in their respective businesses, "There is nothing wrong with having a loan as long as you know how to use it correctly. Especially if you are planning to open a new business, do not be afraid to take a risk. Likewise, I encourage my fellow entrepreneurs that diligence, perseverance, trusting others and being generous will help you to make your livelihoods better."
NPA terrorists in N. Samar use anti-personnel mines; kill one army personnel and injure five others
By 20th Infantry Battalion, 8ID PA
July 19, 2022
LAS NAVAS, Northern Samar – Communist NPA Terrorists (CNTs) used anti-personnel mines against CSP Teams of the 20th Infantry (We Lead) Battalion while conducting combat patrol at 09:25 today, July 19, 2022 in the vicinity of Brgy. Osang, Catubig, Northern Samar.
The attack of the members of the CPP-NPA using anti-personnel mines has killed one (1) Army Personnel and injured five others. "The casualties were transported to Eastern Visayas Regional Medical Center for appropriate medical attention," said Second Lieutenant Bayron, Acting 20IB Spokesperson.
Barangay Osang is a recipient among six barangays in Northern Samar which will receive a P20-million worth of Support to Barangay Development Program (SBDP) for the year 2021. This is a courtesy to our soldiers that worked hard to clear the Barangay from NPA's presence. However, communist NPA terrorists returned in an attempt to recover their lost mass base. This is one of the reasons why the AFP and PNP tied up to redeploy CSP Teams in Brgy. Osang and other conflict-affected barangays to ensure that the project implementation of SBDP will push through and not be put hampered by the NPA's extortion and intimidation.
The "We Lead Troopers" cannot allow the people of Las Navas and Catubig to be deprived of government services because of NPA's deceptive propaganda and lies," Bayron added.
The CPP-NPA-NDF once again made a serious violation of Ottawa Convention and International Humanitarian Law in the Province of Northern Samar. It can be recalled that on April 03, 2022, the CNTs used anti-personnel mines (AP Mines) against CSP Teams of the 20th Infantry (We Lead) Battalion at the vicinity of Brgy. San Miguel, Las Navas, Northern Samar which killed two (2) policemen and four other Army and PNP personnel. Likewise, the CPP-NPA also used four (4) AP Mines last July 05, 2022 which injured seven (7) Army Personnel at Brgy. Magsaysay, Mapanas, Northern Samar.
Lieutenant Colonel Joemar Buban, Commanding Officer of 20IB stated that the said terroristic attack of the CNTs is a clear violation of the Ottawa Convention (Mine Ban Treaty) that prohibits the use, stockpiling, production, and transfer of anti-personnel landmines (APLs).
"The 20IB has been doing its best to help the conflict-affected barangays through our Community Support Program Teams to achieve long-lasting peace and sustainable development in Northern Samar. We are calling the Commission of Human Rights to investigate and make a statement on these continuous inexcusable violations of Ottawa Convention, International Humanitarian Law and RA9851 by communist NPA terrorists in Northern Samar. Moreover, the leadership of the National Democratic Front of the Philippines (NDFP), as the self-proclaimed organizational representative of the NPA, should be held liable for not taking any efforts to stop the NPA, its armed wing, from its continuing production stockpile, transport, and use of crudely manufactured anti-personnel mines (APM) that also pose danger to lives of the people in the communities where they lay the mines," Lieutenant Colonel Buban added.
"Ako, at ang buong Catubig, ay mariing kinokondena ang tahasang paglabag ng CPP-NPA-NDF sa Ottawa Convention nang walang takot nilang pasabugin ang anti-personnel mines sa Brgy. Osang, Catubig, Northern Samar kanina na ikinamatay ng isang sundalo at naging sanhi ng pagkakasugat ng lima pang sundalo.
"Panahon na para itigil ang karahasang dala ng Komunistang Teroristang NPA! Panahon na para pagbayarin ang mga liderato ng National Democratic Front of the Philippines sa patuloy na pangungunsinte sa mga maling gawain ng kanilang armadong grupo! Nananawagan ako sa mga CPP-NPA na hayaan po ninyong mamuhay ng maayos at mapayapa ang ating mga kababayan. Huwag po sana nating galawin ang mga on-going SBDP Projects para tuluy-tuloy na ang kapayaan at kaunlaran dito sa Northern Samar," said Hon. Galahad O. Vicencio, Vice-Mayor of Catubig, Northern Samar.
2021 annual provincial labor force statistics

By PSA-8
July 18, 2022
TACLOBAN CITY – In 2021, Eastern Visayas registered a Labor Force Participation Rate (LFPR) of 63.2 percent. This was 5.0 percentage points higher than the 58.2 percent LFPR reported in 2020, and the highest in the past four (4) years since 2018. The 63.2 percent LFPR corresponds to around 2.02 million total population 15 years old and over who were either employed or unemployed during the period in review (Table 1).
Of the six (6) provinces in the region, Samar registered the highest LFPR at 70.6 percent, corresponding to 381 thousand labor force during the year in review. This was followed by Biliran, Northern Samar and Eastern Samar with 68.2 percent, 66.5 percent and 65.1 percent, respectively. Leyte posted the lowest LFPR at 58.7 percent. Tacloban City, the lone Highly Urbanized City (HUC) in the region, had 58.9 percent LFPR in 2021.
There were about 1.88 million employed persons out of the estimated 2.02 million labor force in 2021. This placed the region's employment rate at 93.4 percent, higher by 1.4 percentage points than the 92.0 percent employment rate in 2020. However, this was lower by 2.4 percentage points and 2.2 percentage points compared with the 95.8 percent and 95.6 percent employment rates in 2018 and 2019, respectively.
Meanwhile, among provinces in the region, Samar posted the highest employment rate in Eastern Visayas at 96.1 percent. Eastern Samar was next with 95.0 percent employment rate, followed by Biliran at 92.9 percent employment rate. The lowest employment rate was reported in Northern Samar at 91.5 percent, tailed by Leyte and Southern Leyte at 92.4 percent and 92.5 percent, respectively. Tacloban City recorded 93.5 percent employment rate during the year in review.
Eastern Visayas posted a 6.6 percent unemployment rate in 2021. This means that there were around 134 thousand persons unemployed out of the 2.02 million persons in the labor force in 2021. This showed an improvement from the 8.0 percent unemployment rate in 2020. This rate, however, was still higher compared with the unemployment rates in 2018 and 2019 at 4.2 percent and 4.4 percent, respectively.
Among the provinces in Region 8, Northern Samar reported the highest unemployment rate at 8.5 percent, followed by Leyte, Southern Leyte and Biliran at 7.6 percent, 7.5 percent and 7.1 percent, respectively. The rest of the provinces posted lower unemployment than the 6.6 percent unemployment rate in Region 8 with Samar recording the lowest unemployment rate at 3.9 percent, followed by Eastern Samar at 5.0 percent. Meanwhile, Tacloban City posted 6.5 percent unemployment rate in 2021.
Underemployed population is the proportion of employed population who expresses the desire to have additional hours of work in their present job, or an additional job, or to have a new job with longer working hours. The underemployment rate in Eastern Visayas in the past four years has been double-digit, fluctuating slightly from 21.4 percent in 2018 to 20.9 percent in 2021.
The region's 20.9 percent underemployment rate in 2021 translates to about 394 thousand underemployed persons out of the estimated 1.88 million employed population recorded during the said year. All provinces reported double-digit underemployment rates except Eastern Samar where underemployment rate was 9.1 percent. Northern Samar posted the highest at 29.7 percent, Southern Leyte ranked second at 27.2 percent, Biliran at 25.0 percent, Leyte at 24.9 percent, then Samar at 10. 6 percent. Tacloban City had 18.1 percent underemployment rate.
DOLE-8 partners with INGO for housing project in Limasawa
By NORMA RAE S. COSTIMIANO
July 15, 2022
TACLOBAN CITY – The Department of Labor and Employment Regional Office 8 through its Southern Leyte Field Office (SLFO) has recently made partnership with SDG Promise Japan, an international non-government organization, and the local government unit of Limasawa, Southern Leyte for the construction of houses to be given to victims of the typhoon Odette.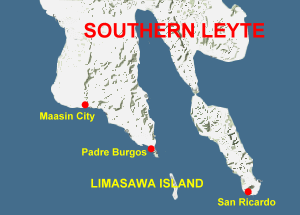 SDG Promise Japan representatives Yuki Sano Akasaka and Hinako Ohno discussed the organization's sponsorship for the construction of houses for the 38 indigent households in Limasawa with a target date of completion on August 15, 2022.
DOLE-SLFO Head, Eden Ligaya Y. Golong said that the DOLE's counterpart will be the implementation of TUPAD Program, in partnership with LGU-Limasawa through Mayor Melchor Petracorta.
"A total of 174 TUPAD workers from Limasawa will be deployed and they shall do the clearing of project sites, loading and unloading of materials and other related light works", said Golong.
Aside from their wages from TUPAD program, Ms. Golong said that each worker will also receive P150.00 daily as meal allowance to be funded by the SDG Promise Japan.
SDG Promise Japan, in coordination with the LGU, facilitated the selection of the recipients of the 38 houses, with priority on the indigents, solo parents and other typhoon Odette victims who remained homeless until now.
Central Luzon State U is first HEI to establish peace markers in PH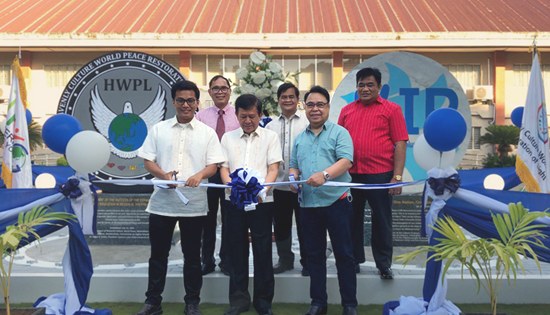 Press Release
July 15, 2022
NUEVA ECIJA – In support for peace education, Central Luzon State University (CLSU) inaugurated peace markers on July 15, 2022, the first to be established in a higher education institution (HEI).
This is a joint project of CLSU, Heavenly Culture, World Peace, Restoration of Light (HWPL) – Philippines, and Volunteer Individuals for Peace (VIP), a non-government organization established by Dr. Ronald L. Adamat, Commissioner of the Commission on Higher Education (CHED).
Dr. Danilo S. Vargas, Vice President for Administration, said that the peace markers symbolize CLSU's commitment of promoting peace education.
"By inaugurating these markers, CLSU will be inspired to further strengthen its commitment to the propagation of peace in the communities and to the world," he said during his speech.
In the pursuance of peace, Dr. Adamat declared that he would establish peace monuments in all state universities and colleges (SUCs) starting with SUCs under his supervision, during his speech in the Unveiling Ceremony of the Peace Monument in Siniloan Integrated National High School held in February 2022. He also authored the memorandum order of CHED mandating SUCs to integrate peace education in the higher education curricula, as a result of the partnership signed between CHED and HWPL in 2018.
Peace Education is one of the core initiatives of HWPL. HWPL provides Peace Education training to educators from partner schools and volunteer teachers to raise students and youths as peacemakers. To date, 2,551 teachers from 557 educational institutions in the Philippines alone have been capacitated to teach peace education to up to 23,000 students.
In his speech, Dr. Adamat shared his plan to establish Peace Clubs in SUCs starting in CLSU to embed the 'peace culture in the hearts of the students' and to shape them as nation-builders once they step out of the university. He also plans to hold a music festival in the university to encourage the youths' active participation in spreading peace awareness.
NMP Inks agreement with PIT on conduct of trainings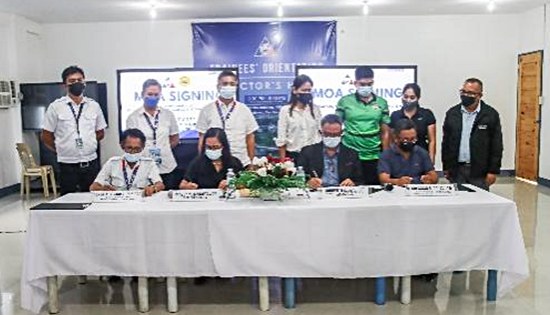 NMP OIC Executive Director Mayla N. Macadawan and PIT President Norberto C. Olavides present copy of the signed MOA.
Press Release
July 13, 2022
TACLOBAN CITY – With the aim of advancing the capabilities of the maritime cadets by ensuring that necessary competences are obtained through effective maritime instructions and quality trainings, the National Maritime Polytechnic (NMP), the only government maritime training and research institution in the country, entered into a Memorandum of Agreement (MOA) with the Palompon Institute of Technology (PIT), a state college located in Region 8.
The collaboration was made possible with PIT's utmost desire to comply with the requirements of the Joint CHED-MARINA Memorandum Circular No. 1, series of 2019 entitled "Policies, Standards and Guidelines for the Bachelor of Science in Marine Transportation (BSMT) and Bachelor of Science in Marine Engineering Programs".
"This partnership is an affirmation of NMP's capability in terms of expertise and facilities needed in the effective delivery of quality trainings to our maritime cadets", said NMP OIC Executive Director Mayla N. Macadawan.
The trainings that will be availed by PIT from NMP are: Basic Training (BT) with PADAMS, SHAPIMS & GSTS; Security Awareness Training and seafarers with designated Security Duties (SAT with SDSD); and Medical First Aid (MEFA). The MOA shall take effect for a period of three (3) years (2022-2025) unless otherwise extended as mutually agreed by both parties.
The signing was attended by NMP OIC Executive Director Mayla N. Macadawan and PIT President Norberto C. Olavides together with other personnel from both parties. The activity was also witnessed by different media outlets in the region.
Eastern Visayas posts 94.0% employment rate in April 2022

By PSA-8
July 13, 2022
TACLOBAN CITY – Eastern Visayas registered a Labor Force Participation Rate (LFPR) of 60.0 percent in April 2022. This placed the region's labor force at 1.95 million persons who were either employed or unemployed out of the estimated 3.24 million population 15 years old and over in April 2022.
The 60.0 percent LFPR was higher by 2.0 percentage points than the LFPR in January 2022 posted at 58.0 percent. This means that the labor force in April 2022 was stronger by around 75 thousand persons than the 1.87 million persons in the labor force in January 2022. However, the number was lower by around 37 thousand persons compared with the 1.98 million persons in the labor force in the same period in 2021.
The region's Employment Rate (ER) in April 2022 was estimated at 94.0 percent. This translates to 1.83 million employed persons out of the 1.95 million persons in the labor force. This was higher by about 90 thousand employed persons than the 1.74 million employed persons reported in January 2022; but, lower by around 54 thousand compared with the 1.88 million employed persons in April 2021.
Eastern Visayas' unemployment rate has improved at 6.0 percent, lower by 1.0 percentage point compared with the 7.0 percent unemployment rate recorded in January 2022. This was equivalent to around 116 thousand persons in the labor force who were unemployed in April 2022, lower by 15 thousand unemployed persons compared with the 131 thousand unemployed persons in January 2022. However, the latest unemployment rate was 1.0 percentage point higher than the unemployment rate in April 2021 at 5.0 percent.
The underemployment rate in Eastern Visayas was posted at 14.8 percent or 271 thousand persons out of the 1.83 million employed persons in April 2022. The latest underemployment rate has improved compared with the underemployment rates of 19.8 percent and 15.5 percent in January 2022 and April 2021, respectively.
CARD MRI exhibits countless stories through "An Sakuyang Kinang"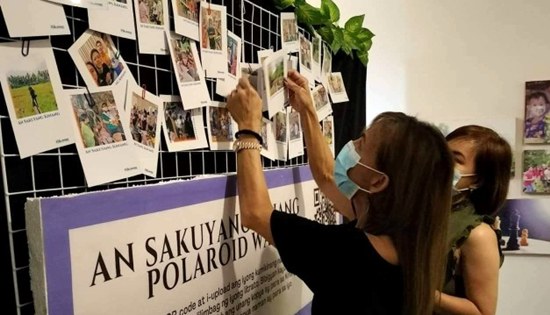 CARD Astro Laboratories President Mary Grace Quinola shares one of her favorite memories with CARD MRI through "An Sakuyang Kinang" Polaroid Wall. The wall enables visitors to post their treasured photos with CARD MRI that tells a memorable story with the institution.
By JEFFREY C. TANDINGAN
July 13, 2022
SAN PABLO CITY – To see CARD MRI through the lens of its clients and showcase their colorful stories to the public, CARD MRI opens "An Sakuyang Kinang" Photo Exhibit, located at Room 306, Maharlika Square Events Place from July 4 to 8, 2022.
Coming from a Bikol phrase that translates to "Ang Aking Kislap", the exhibit aims to tell the stories of its centers that portray success, inspiration, and hope through the lenses and flashes of photography, hence the photo exhibit's title. The featured photos are from one of CARD MRI's online contests in 2022, entitled "Kislap ng Padayon".
Boasting a total of 90 photos from the centers of CARD MRI's Banking Institutions namely CARD Bank, CARD SME Bank, CARD MRI Rizal Bank (CARD RBI), and CARD Inc. (A Microfinance NGO), visitors can take a moment to appreciate the stories told through photography. To give spotlight to the contest's institutional winners, three columns can be found in the exhibit that features the entries and the stories behind their photos. The institutional winners are Poblacion 7 from Davao Oriental, a center of CARD Inc., Salvacion 3P from Davao Del Norte, a center of CARD SME Bank, and Morning Star from Agusan Del Sur, a center of CARD RBI.
One of the main attractions of the photo-exhibit is the entry of the contest's grand winner, Vibe 10, a CARD Bank center from Camarines Sur. Printed on 2.5mx1.4m tarpaulin, the photo shows two individuals gleefully smiling as they glance on their lamp, all while preparing to set sail on a fishing trip on a full moon.
To Vibe 10, the symbolisms they presented is a depiction of how they see CARD MRI and the mothers that make up their center. The lamp held by the individuals symbolizes the mothers of CARD MRI that light up any dark situation, and together with CARD MRI, symbolized by the full moon, inspires hope as they prepare and wait for a brighter future.
"Through exhibits like this, we get to see the stories and perspectives of our centers that we rarely get a glimpse on. As an organization that prides itself on having a meaningful understanding of its clients and clients, this a heartwarming eyeopener and an inspiring exhibit for all," said CARD MRI Managing Director Aristeo A. Dequito as he walks through the exhibit.
"As visitors walk through this exhibit, we get a glimpse of the lives of our clients, their stories, and their journey together with CARD MRI. Through these photos, anyone would be inspired to act. For CARD MRI, this will only fuel our drive to work harder towards poverty eradication, to let these centers share more of their colorful and inspiring stories," CARD MRI Founder and Chair Emeritus Dr. Jaime Aristotle B. Alip on the impact of these stories for the organization.
Besides the photo-exhibit, displays such as the "An Sakuyang Kinang" Polaroid Wall can be viewed. The wall inspires visitors to share their own stories through pictures. Different merchandises, from Koa Kafe and Hijos Tours, are also available for purchase in the exhibit. To view all 90 entries displayed, please visit the "Online Ugnayan and Kwentuhan" Facebook page @CARDkwento.
NMP holds symbolic turn-over ceremony
Press Release
July 13, 2022
TACLOBAN CITY – In a symbolic gesture, NMP Executive Director Joel B. Maglunsod handed over the helm of leadership to his successor, OIC Executive Director Mayla N. Macadawan during the symbolic turn-over ceremony conducted last 07 July 2022 at the Sophia's Way Event Center, City Central Park, Sagkahan, Tacloban City.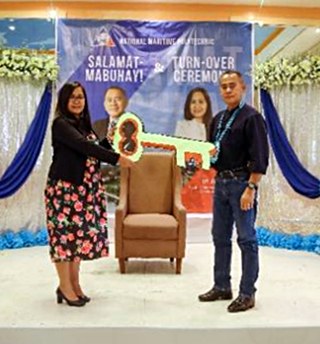 Incoming OIC Mayla N. Macadawan accepts the symbolic key and flag from Outgoing Executive Director Joel B. Maglunsod.
Outgoing ED Maglunsod in his message shared, "I am deeply honored to turn-over to Ms. Mayla N. Macadawan, OIC Executive Director, the symbolic key and NMP flag which symbolize the responsibility to take the lead of the National Maritime Polytechnic particularly in attaining its mission to train and upgrade the competencies of the Filipino seafarers and provide maritime researches which are attuned to the needs of the maritime industry"
In her acceptance speech, OIC ED Macadawan took note of her predecessor's "many accomplishments" which, she said, are "difficult to replicate." She, however, urged NMP employees to help her "take off from and carry on a lot of things that still need to be done."
"I accept the challenge of steering NMP in pursuit to the delivery of its mandates and functions. We will continue to be a key mover in the maritime industry through quality and responsive maritime education, trainings and researches", she expressed.
OIC ED Macadawan also thanked DOLE Secretary Bienvenido E. Laguesma for the trust and confidence in her capabilities to lead NMP.
The ceremony was attended by DOLE RO 8 Regional Director Henry John S. Jalbuena and other members of the DOLE 8 Regional Coordinating Council namely: OIC - Regional Director Ma. Evangelina Veloso-Filamor and Ms. Katrina Obejera of Overseas Workers Welfare Administration (OWWA); Atty. Michelle Basal of Employees' Compensation Commission (ECC); Atty. Marie Ronette Barreda-Campo of Regional Tripartite Wages and Productivity Board (RTWPB 8); and Engr. Maria Elena Diez of Occupational of Safety and Health Center (OSHC).
OIC ED Macadawan will maneuver NMP until 31 July 2022, or until a replacement has been appointed or designated, whichever comes first.
Farmers' products generate more than P100K in 2 days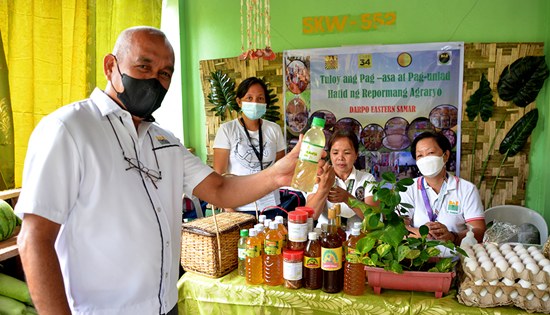 Products of agrarian reform beneficiaries organizations (ARBOs) generated a combined sales of P116,332 during the two-day Agraryo Trade Fair held at the Department of Agrarian Reform (DAR) compound in Tacloban City.
By JOSE ALSMITH L. SORIA
July 11, 2022
TACLOBAN CITY – Farmers' products from different parts of Eastern Visayas generated more than a hundred thousand pesos in sales during the two-day Agraryo Trade Fair held last week at the Department of Agrarian Reform (DAR) compound.
Chief of the Program Beneficiaries Development (PBD) Division, Melecia Ong, disclosed that the trade fair, with the theme "Produktong Benepisyaryo tungo sa Malawak na Merkado," generated a combined sales of P116,332 for products of agrarian reform beneficiaries organizations (ARBOs) alone.
She stressed that sales generated by private entrepreneurs who joined the said trade fair were excluded. According to the organizer, the private entrepreneurs garnered a cumulative sales of more than P40 thousand.
Ong shared that most of the ARBOs products, from fresh fruits and vegetables to processed foods, were sold out.
On processed foods, Ong proudly shared that 13 ARBOs in Region-8 were already given license to operate by the Food and Drug Administration commonly referred to as FDA-LTO; while one product was issued with the Certificate of Product Registration (CPR), making them qualified to penetrate a larger market.
The Agraryo Trade Fair was among the highlight activities during the month-long twin-celebration of the 34th year of Implementation of the Comprehensive Agrarian Reform Program (CARP), which covered all agricultural lands under the agrarian reform program regardless of tenurial arrangements, and the 50th year of Presidential Decree 27, emancipating tenants from the bondage of the soil.
Regional Director Robert Anthony Yu emphasized in his message during the opening of the trade fair, "We are showcasing here the results of all the interventions we provided to the agrarian reform beneficiaries (ARBs) under CARP's provision of support services component."
As Provincial Director Ruthelma Samonte of the Department of Trade and Industry (DTI) described the ARBs now, "They are no longer farmers by themselves, but we call them CARPreneurs (for CARP entrepreneurs), which means, they are already into business."
Samonte advised DAR during the said occasion, "We must prepare them for the bigger market." She stressed, "The ARBOs must be prepared in terms of production."
"With institutional buyers, they must be ready with the supply," Samonte added.
DTI is among DAR's partner agencies in providing the necessary assistance thereby transforming ARBs into farmer entrepreneurs.
Meanwhile, representatives from the Department of Agriculture (DA) and Department of Science and Technology (DOST), Francisco Ocado and Lysander King III, respectively, committed their agency's continued support in helping the ARBOs develop potential products as additional livelihood to their farming activities.
CARD MRI hosts Lakbay-Aral for media in Tagum City

Media practitioners from Mindanao joined the CARD MRI in a lakbay-aral program that introduces the latter's various social development initiatives and explores the beauty of Tagum City.
Press Release
July 7, 2022
SAN PABLO CITY – CARD Mutually Reinforcing Institutions (CARD MRI) held a Media Lakbay-Aral in Tagum City, Davao del Norte on June 16-17, 2022. The study tour program allowed the participants to have a first-hand experience on the different community development programs of the member institutions of CARD MRI, which includes the CARD Bank (a microfinance-oriented rural bank), BotiCARD (a generic pharmacy), CARD MBA (a mutual benefit association) and CARD-MRI Development Institute Inc. (a Senior High School, College, and training institute).
The Media Lakbay-Aral was attended by the following: Aurora "Auring" Lozada (Consultant and Broadcaster of DXDN Radyo Ukay Tagum); Ruel Dagsangan (News Anchor of DXDN Radyo Ukay Tagum); Joseph Jubelag (Manager of Mindanao Bulletin); Naomi Sendad (News Correspondent of Asintado Newsliner); Erlinda Alcid (News Correspondent of Manila Star); Margarita Candido (Editor of Mindanet Balita); Elmer "Dudz Romantico" Tandoc (Station Manager of Radyo Natin Tagum); Allan Basong (from Mindanao Gold Star Daily News); Dexter Visitacion (from Radio Kokak and Superbalita; Mario Saladas, Publisher of Trends and Time Newspaper; Eric Alonzo from DXUM News and Public Affairs; and Markneil Cardona (Marketing Manager of Mindanao Journal).
Microfinance Program
The study tour started with an exposure to the implementation of the microfinance operations of CARD MRI. Two CARD Bank centers in Tagum were visited by the group where they observed the collection of weekly payments from clients. They also witnessed the conduct of Credit with Education (CwE), a learning session on health, enterprise development, financial literacy, and disaster preparedness which help CARD clients to live productively in their community.
After the center meeting, the participants also visited two CARD Bank clients. One of them is Norma Dua, who has been a CARD Bank client for 12 years. She currently has an existing loan of P200,000, which she used as capital for her tree nursery enterprise in Tagum City. They also met Juliet M. Torrivillas, who owns RTW (ready-to-wear clothes), who has been a client of CARD Bank for five years and currently has a P300,000 loan.
Campus Tour
After the field visit, the participants went to CMDI for a tour of the campus' facilities. The CMDI Tagum Campus offers programs for Senior High School such as Academic TRACK with ABM strand and Technical-Vocational-Livelihood Track with ICT and Home Economics strands and Baccalaureate courses such as BS Entrepreneurship with specialization in Microfinance, BS Accountancy, BS Accounting Information System and BS Tourism Management.
CMDI also provides digital tools for students amid the on-going COVID-19 pandemic. Its e-library enables students and faculty members to access the campus library through electronic devices connected to the internet. Meanwhile, the tourism e-laboratory allows students, faculty members and CARD clients to virtually travel to various provinces in the Philippines through 360° videos and other virtual reality tours hosted by CARD MRI Hijos Tours.
This school year, there are 907 enrolled students in college and 405 enrolled students from senior high school.
Koa Kafe
The Media Lakbay-Aral also went to the Koa Kafe Pop-up event hosted by CARD MRI Publishing House. Named after "Koa", the publishing company's owl mascot, the event primarily aims to introduce its publications and communication materials.
Free Koa Kits with coloring books, school supplies, and toys were also given to children who were recognized as top savers of Maagap Savings, a savings account of CARD Bank that encourages children to save their money while they are still young. The same children also attended the storytelling event of CARD Publishing.
In partnership with Mga Likha ni Inay, the marketing arm of CARD MRI, attendees of the pop-event received free snacks and drinks like calamansi juice, iced and brewed coffee, and instant noodles.
Sugilanon
Before the day ended, the participants along with other CARD clients and staff watched an online performance depicting the challenges overcame by CARD microinsurance coordinators and drivers during the onset of the pandemic. This event is presented by CARD MRI Hijos Tours, the tour company of CARD MRI. Sugilanon is a Hiligaynon word that means to tell a story.
A deeper foundation
CARD MRI also arranged a media briefing that enabled the participants to have a deeper understanding of what the organization does. To reach its vision of eradicating poverty in the Philippines, it has established various institutions that cater to the needs of its clients and their families not only in terms of financial support but also in community development including programs in health, education, livelihood, and disaster management, among others.
The media briefing was attended by CARD Bank AVP Jenet Constantino, CARD Bank Regional Director Erwin Lazo, CARD SME Bank Regional Director Ian Madrona, CARD, Inc. Regional Director Mr. Norman Bulao, CMDI AVP Christian Albert Sandoval, CARD MBA Provincial Manager Louie Mar Vestil, MLNI Deputy Director Angela Poonin, CARD Publishing Deputy Director Cyrene Grace Lubigan, and CARD MRI officers and staff.
"I feel delighted that I was invited to this event. I've heard a lot about CARD for a long time, but now my understanding of it has broadened after we witnessed first-hand the microfinance programs and services of CARD MRI within its community," shared Aurora Lozada, a broadcaster and one of the top ten outstanding Tagumenyos who received Tagumpay Excellence Awards 2022 in Tagum City.
The CARD MRI Publishing House Inc. hopes that through collaboration with various media practitioners in the Philippines, messages of opportunities and development through news and stories will reach a broader audience.
"We are grateful for the support of our media friends in our mission of poverty eradication through communications. In this age that information is available to everyone through technology, we acknowledge that communications will play a vital role in how we can reach nation building," said Marilyn Manila, president of CARD MRI Publishing House Inc.
The CARD MRI Publishing House is set to hold more Lakbay-Aral for Media in South and North Luzon and Visayas this year.
From trash to cash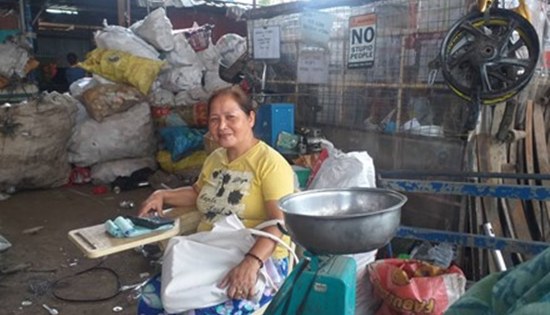 Some people may think of junk as something worthless and trivial, but surely, it is a gem to Perla Boniao.
Press Release
July 7, 2022
SAN PABLO CITY – Junkshops are usually one of those underrated buy and sell businesses. This may be because people think of it as dealing with trash, so they tend to underestimate its true potential in the business industry. But for some people, trash is where they found their treasure.
Perla Boniao is a native of Camiguin Province and has been married for more than 35 years. Three of their five children are already married, while the youngest is currently in her second year in college. Perla also has nine grandchildren who further add joy to their home.
Back when they were still in Camiguin, their family's source of income was growing root crops. Because the primary challenge of agri-business is the seasonality of the produce, there are some months that their income were not sufficient for their needs. Her husband then decided to work for another farm, but the additional income of P220 per day was still not enough to cover their daily expenses, especially since their two children were in high school at that time.
Their family decided to move to Calamba City in Laguna when her husband found a job opportunity there. Still, Perla felt the need to help her husband to provide for their family. Fortunately, her brother in-law who also resides in the same city, was kind enough to teach her how a junkshop operates. With the enough information she gathered and a capital of P10,000, she managed to start her junkshop business.
Her junkshop accepts almost all kinds of junks including - cardboard, steel, tin, galvanized iron, and paper. Due to her connections with the buyers, she did not have any trouble selling the things she acquired. She was able to earn P2,000 a day which for her is a good start for a first timer like her.
As her business grew, she needed a banking institution she can trust for her financial needs. She found CARD SME Bank, a thrift bank that caters not only to microentrepreneurs like her but also to small and medium enterprises. When she started as their client, she first availed a loan of P3,000. Now that her income from her junkshop business significantly increased, she has availed of a higher business loan to further expand her business.
Because her business is already generating income more than her family's needs, she can now acquire assets for her family. She now owns a 300 square meter of land where her relatives from Camiguin are now taking care of her ten cows.
"I have nothing but positive things to say about CARD SME Bank. I am grateful for all the support it has given my family and my business," she explains. Later on, she found out that CARD SME Bank is not just any other thrift bank. It also offers non-financial and community development services like microinsurance. Now, all her family members have insurances that serves as their safety nets in times of uncertainties.
Perla's story reminds as to always look at the positive side of life. Some people may think of junk as something worthless and trivial, but surely it can be a treasure from a different perspective.
N. Samar newly inaugurated bridge to boost fight against insurgency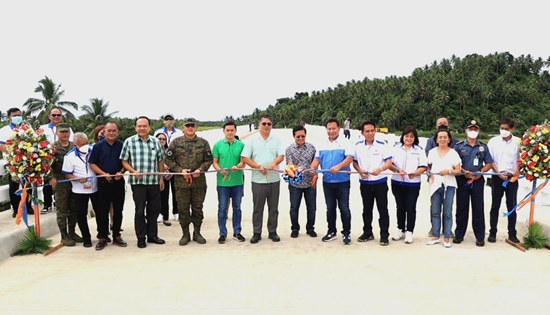 By DPAO, 8ID PA
June 28, 2022
CAMP LUKBAN, Catbalogan City – "Insurgency ends where road begins", this adage has been emphasized during the inauguration of the Simora Bridge in Laoang, Northern Samar, one of the three bridges under Samar Pacific Coastal Road Project (SPCR) in the province of Northern Samar.
The Simora Bridge is a 161 meters road project that connects the "Pacific Towns" of Laoang and Palapag in Northern Samar especially the barangays that were formerly considered as hotbed of insurgency or identified as Konsolidado, Kinokonsolida, Expansion and Recovery (KKER) barangays.
In his message, Northern Samar Provincial Governor, Edwin Marino Ongchuan said that this project will greatly contribute in reducing poverty incidence since the realization of this infrastructure project will increase economic activities through this improved transportation connectivity.
The Governor is also optimistic that this project will be significant in the government's pursuit of ending insurgency in Northern Samar knowing that the province has long been dubbed as the stronghold of the Communist Party of the Philippines – New People's Army – Terrorists (CNTs) in the region.
"There is an adage that says insurgency ends when the road begins. The Provincial Government is very optimistic that this road project will contribute in the eradication of the local armed conflict in this part of Northern Samar," Ongchuan said.
The incoming Mayor of Palapag, Florencio Fawa Batula is also confident that the Samar Pacific Coastal Road Projects in Northern Samar will be significant in the government's advocacy of ending insurgency.
"It will cut the insurgency especially that it transcends the interior barangays," Batula said.
Meanwhile, the Commander of 803rd Infantry Brigade, Colonel Perfecto Peñaredondo said that the Simora Bridge will contribute in the eradication of issues being exploited by the NPA terrorists.
"Malaking bagay na maidugtong natin sila sa mga urban center at mawala na rin 'yong mga ini-exploit ng mga NPA na pinababayaan sila ng gobyerno. Mawawalan na ng saysay 'yong mga ginagamit na isyu na pagpapabaya ng gobyerno at kawalan ng oportunidad sa hanapbuhay, 'yan ang matutugunan ng project na ito, Simora bridge and Samar Pacific Coastal Road Projects," Peñaredondo said.
Peñaredondo also believe that this would be a great help in boosting the economy, livelihood and the lives of the people living in the pacific towns who will benefit in the said project.
The construction of SPCRP has long been posed with threats from CNTs which prompted the AFP and PNP personnel to secure and thwart attacks of the NPA terrorist in their goal of sabotaging the project. For the past years, several uniformed personnel paid an ultimate sacrifice in protecting and ensuring the completion of the projects.
With this, Batula expressed his gratitude to the uniformed personnel especially in the military and encourage them to maintain the partnership as they gear towards an insurgency-free province.
"Let's continue the partnership, mas paigtingin pa natin ang ELCAC especially the CSP program kasi ito lang yung paraan para mairadicate natin yung insurgency in the province, not only in the province but also in the whole country as a whole," Batula said.
The SPCRP is attributed to the flagship program of President Rodrigo Roa Duterte under the Build Build Build program which aims to achieve peace by enhancing accessibility in the delivery of much needed goods and services that will help stimulate economic growth and reduce the problem of isolation in areas where NPA terrorist thrives.
Aside from Simora Bridge under SPCRP in Northern Samar are two other bridges, the 31-meter Jangtud 1 Bridge, and 69-meter Jangtud 2 Bridge, with a budget of P997, 500,000.74.
The completion of the project will eventually establish a circumferential road loop of Samar Island, it will become a major roadlink of Northern Samar and Eastern Samar provinces in the island of Samar.
Eastern Visayas posts $191.99 million trade surplus in February 2022
By PSA-8
June 28, 2022
TACLOBAN CITY – International trade in Eastern Visayas surged by 61.09 percent to USD 256.50 million in February 2022 from USD 159.23 million total trade in February 2021.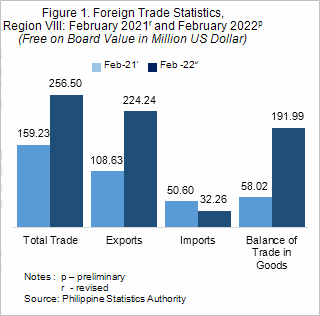 The growth was largely driven by strong exports which more than doubled (106.44%) to USD 224.24 million in February 2022 from USD 108.63 million in February 2021.
On the other hand, import of goods slipped down by -36.25 percent at USD 32.26 million in February 2022 from USD 50.60 million in February 2021.
Balance of Trade in Goods (BoT-G) increased more than three-folds (230.88%) from USD 58.02 million in February 2021 to USD 191.99 million in February 2022.
Eastern Visayas exported 69.59 million kilograms of goods in February 2022. Export sales were predominantly from copper and articles thereof commodity group which sold for USD 202.24 million or 90.19 percent of the total export value in February 2022.
The top export destination was the People's Republic of China with USD 76.83 million worth of exports accounting for more than a third (34.26%) of the region's export market.
The volume of goods imported by the region in February 2022 was 56.72 million kilograms. Out of the USD 32.26 million total import value, more than two-thirds (69.57%) or USD 22.44 million were contributed by the commodity group of mineral fuels, mineral oils and products of their distillation; bituminous substances; mineral waxes. The top import supplier was Republic of Korea with USD 15.37 million worth of goods taking almost half (47.63%) of the total import value of the region in February 2022.
NMP equips fisherfolk of LGU Daram with BSTMHOF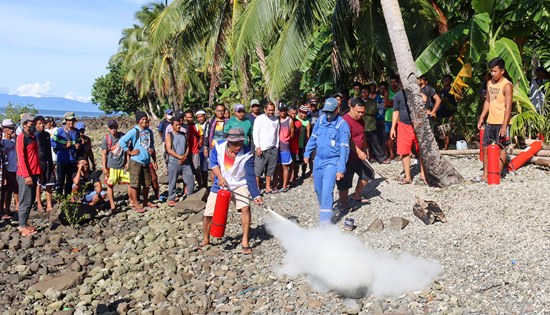 By National Maritime Polytechnic
June 27, 2022
TACLOBAN CITY – A total of 101 participants underwent the 2-day Basic Safety Training for Motorboat Handlers/Operators and Fishermen (BSTMHOF) with Typhoon Preparedness conducted by the National Maritime Polytechnic (NMP) last 26-27 May 2022 at Agutay Island in Daram, Samar.
In partnership with the Philippine Coast Guard Daram Station, NMP facilitated the request for basic safety training of the Local Government Unit (LGU) of Daram through its Public Employment Service Office (PESO), as a fundamental step to prepare the 100 identified beneficiaries in their municipality of the Department of Labor and Employment (DOLE)'s Livelihood Program, who will be receiving a complete set of motorized banca. This is one of the requirements set by DOLE prior to the distribution of the said project.
BSTMHOF covers the different techniques in Personal Survival, Fire Prevention and Firefighting, Elementary First Aid and Personal Safety and Social Responsibility, including topics on the Rules of the Road, Typhoon Awareness and Marine Safety Requirements. It also touches topics on Prevention of Alcohol and Drug Abuse in the Maritime Sector (PADAMS), STD/HIV/AIDS Prevention in the Maritime Sector (SHAPIMS), and Gender Sensitivity Training for Seafarers (GSTS).
The said training intends to provide added knowledge and improve the basic safety and survival skills of local motorboat operators and fisherfolk as they sail out to make a living for their families.
In closing, NMP's Executive Director Joel B. Maglungsod expressed his gratitude to the Municipality of Daram through Mayor Philip Martin Latorre Astorga, and PESO Manager Oscar Lim, for their cooperation and active involvement to realize the said activity. He also emphasized that NMP is serious in bringing its services not only to Filipino seafarers, but also to the various communities all over the country.
"Our country, as an interisland is vulnerable to typhoons, thus, our fisherfolk as well as the motorboat operators who ferry a lot of passengers and tourists, need to be well-trained, for them to respond to the different emergencies," ED Maglunsod said.
Also in attendance to assist in the activity were personnel from the Philippine Coast Guard Daram Station CG SNI Allain Gorembalem, CG 003 John Paul C. Diones, CG SNI Jaime B. Iglesia Jr., and CG ASN Jude M. Malabayabas. The training team of NMP was composed of Training Specialist II Capt. Lito C. Jain, Chief, Training Specialist III Engr. Ercelito S. Enterina, and Training Specialist II OIC NW Timothy M. Limpiado.
Meanwhile, NMP continues the conduct of face-to-face, online and blended modes of training and undertakes research studies for the maritime industry. To view and enroll via online the training courses as scheduled, stakeholders may log in to its website at register.nmp.gov.ph., while NMP's completed researches may be accessed at research.nmp.gov.ph.
DAR-EV tops representation in quasi-judicial cases in 2020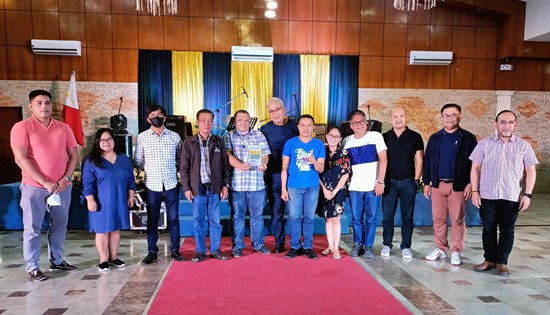 Former Acting Agrarian Reform Secretary Bernie Cruz (center) pose with DAR Eastern Visayas lawyers headed by the Regional Legal Division chief, Atty. Christopher Ryan Rosal. (Photo by Christopher Ryan Rosal)
By JOSE ALSMITH L. SORIA
June 24, 2022
TACLOBAN CITY – The Legal sector of the Department of Agrarian Reform (DAR) in Eastern Visayas was recently recognized by DAR Central Office for having the highest number of quasi-judicial cases represented before the DAR Adjudication Board (DARAB) in 2020.
Legal Division chief, lawyer Christopher Ryan Rosal disclosed that the plaques of recognition were presented to them by Agrarian Reform Secretary Bernie Cruz during the Strategic Planning for Legal Processes, Knowledge-Mapping on DAR Administrative Order No. 1, series of 2021, Legal Templates and Finalization of Resolution of Cases held last month in Talisay, Batangas.
According to Undersecretary Luis Meinrado Pañgulayan of the Legal Affairs Office, Eastern Visayas made a total of 2,756 representations in quasi-judicial cases in 2020 topping other regions. It was followed by Central Visayas with 1,725 and Central Luzon with 1,482.
Rosal shared that this is the second consecutive year that DAR Eastern Visayas ranked first in this category.
He gave the credit to the legal officers throughout the region who are eager to represent the farmers in their cases before the DARAB. They have the heart to help the farmers, he stressed.
Rosal also thanked the legal chiefs of the DAR Provincial Offices for their support and cooperation in attaining a zero-backlog for the region at the end of the year.
Victory's recipe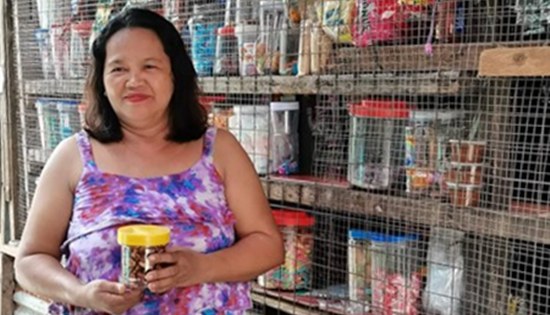 Teresa Desin, a CARD Bank client from Legazpi City, Albay, sees her Pili Nuts products as God's blessing to her family.
By CARD MRI
June 24, 2022
SAN PABLO CITY – Pili Nuts are one of the most famous pasalubongs from the Bicol Region. It is an ethnic food that comes from the fruit of the Pili tree called Canarium ovatum. Pili nuts usually grow in the Region of Bicol. That's why it is one of the most common livelihoods in the area and can be seen in the market. Tourism contributed to the growth of the Pili Nut business in this area because this is what the tourists buy as a pasalubong.
Fifty-three-year-old Teresa Desin from Legazpi, Bicol used Pili Nuts, a product popular to tourists, as her livelihood. Being a mother of five, Teresa used Pili Nuts as her family's source of income for their daily needs and expenses.
Inspired by her husband, Desin, Teresa named her business, "Desin Pili Nuts," known for its unique taste and affordable price compared to its competitors. The business was running smoothly until the COVID-19 pandemic came.
The pandemic caused a lot of changes in tourism and in market transactions. The number of tourists in various places in the Bicol Region has decreased due to the restrictions implemented to avoid the transmission of the virus. Because of this, Teresa's Pili Nut business suffered greatly as the number of tourists declined. She realized that she needed help to solve her problem.
Fortunately, CARD Bank, a microfinance-oriented rural bank which gives financial assistance to low-income households through its products and services, helped Teresa save her business.
Teresa borrowed money from CARD Bank amounting to P15,000 and used it as capital to develop her business and improve her product recipe. With this capital, she made mouthwatering and nutritious Pili Nuts for her customers. Because of her recipe, her sales increased by P25,000 during the first year, P40,000 during the second year, P120,000 during the third year, and currently, her business is earning P275,000.
Aside from the financial assistance, CARD Bank helped Teresa with the education of her children who are now fully qualified police officers and teachers. Teresa also had the means to build a new house and buy a tricycle for her husband and son. She also opened a sari-sari store business to add to her sources of income. Because of this, Teresa improved her family's chances for a better life.
According to Teresa, the recipe for her Pili Nuts is a blessing from God. When she added determination and hard work as recipes to success, she experienced victory in the midst of struggles.
Sandugo to NTC: Crack down on fake news and red-tagging, not advocates and journalists
By SANDUGO Alliance
June 23, 2022
QUEZON CITY – On June 6, the National Security Council (NSC) through Hermogenes Esperon requested the National Telecommunications Commission (NTC) to restrict access to 28 websites, citing them as "affiliates and supporters" of "terrorists and terrorist organizations" and purveyors of "misinformation campaigns." Websites were picked arbitrarily without any due process.
Many of the websites cited in the directive have consistently featured stories of our struggle for land and rights. Some are alternative media outlets like Bulatlat and Pinoy Weekly, which have received acclaim through the years for the caliber of their journalism. Some are of legal progressive formations like Bagong Alyansang Makabayan, the International League of People's Struggles, and various peasant organizations which have stood alongside us in our quest for our right to self-determination. Others include the Rural Missionaries of the Philippines and the Save Our Schools network, which have been key to the establishment and defense of Lumad schools; prior to being targeted by the Duterte regime, these schools have reaped initial recognition from the Department of Education itself.
This is a clear restriction of our right to visibility and dissent. Disinformation and red-tagging is currently disseminated widely through state channels and resources, drowning out the legitimate cries of indigenous peoples and Bangsamoro peoples. This new NSC directive further diminishes our already-dwindling democratic space.
We refuse to be silenced. Advocates of national minorities and human rights are not terrorists. This is exactly why we have been vocal in our opposition to the Anti-Terrorism Act of 2020, which was railroaded by the Duterte administration during the throes of the pandemic. Through this act, organizations and individuals critical of the status quo are easily tagged as terrorists and therefore stripped away of their freedoms and basic rights. The NTC directive is made possible by this draconian Anti-Terror Act.
Sandugo Alliance demands that the NTC retract the order to arbitrarily restrict these websites. The internet should remain a democratic space. Instead, the NTC should turn its attention to sites and outlets that purvey fake news and disinformation, harass media outlets, and red-tag activists. Many of these are within easy access of the Commission, as they are platforms manned by the government itself.
Good Design Award Philippines confers Malasakit Award to Nata de Coco Wound Dressing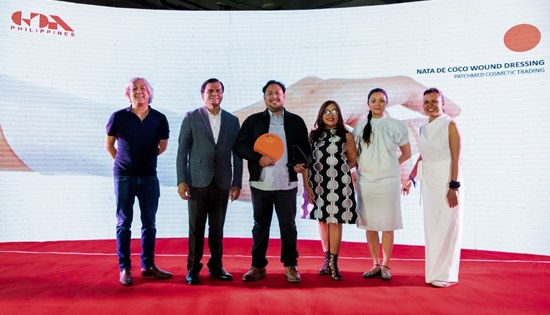 By DTI-TPG-Design Center of the Philippines
June 23, 2022
MAKATI CITY – The Design Center of the Philippines continues to recognize Philippine design excellence propelled by malasakit as it concludes the 2022 run of the Good Design Award Philippines with 11 winning design solutions.
The Good Design Award Philippines is a national design excellence recognition system in search of design solutions that embody the principles of good design–form, function, innovation–plus the Filipino value of malasakit (compassion). The award system aims to underscore how good design goes beyond making things pretty but provides design solutions to address "wicked problems", uplifts the quality of life of Filipinos, and enhances the country's global competitiveness and innovation quotient.
"It is our vision to have the Good Design Award Philippines be the barometer of this new age in design. Where it plays a critical role in leading various industries in our country toward that direction – a direction that believes design is good not only when it is technically sound, but also when it positively impacts people, our country and even the global community," Design Center Executive Director Rhea O. Matute remarks, maintaining that good design is purpose-driven.
This perspective on design is supported by Makiko Tsumura, director of the Japan Institute of Design Promotion, the organizer of the GMark or Good Design Japan, the largest Asian award founded in 1957 and reflects Japanese design values and principles that aim to enrich lives, industries and society.
According to Tsumura, GMark considers design not as a subject of color and shape, but of its innovative power to generate a better society. "In that sense, I believe GMark and the Good Design Award Philippines can share Good Design Award System soon," Tsumura remarks, in reference to the award collaboration eyed to be established between Good Design Awards Japan and Good Design Awards Philippines, in order to usher a stronger design and business opportunities between the two countries. Tsumura also adds that all the Good Design Award Philippines 2022 awardees will automatically be included as entrants of the Good Design Award Japan happening in August 2022.
From over 161 entries received and 150 validated, 45 design solutions were shortlisted during an initial screening and further trimmed down to name 11 design solutions as Good Design Award Philippines 2022 awardees after an intensive final jury deliberations held on 06 June 2022.
Out of the 11 winning entries, Coco Patch, a wound care dressing made from nata de coco emerged as the top awardee. It bagged the highest recognition of the award system, the Malasakit Award or this year's Gran Prix which is the best of the best and considered by Board of Jurors as the design that have the most impact in terms of its ability to address the United Nations Sustainable Development Goals. Coco Patch also brought home additional trophies - the Best in Class or the Gold Award in the category of Object-making, and the Green Award, specifically recognizing good design that addresses environment and sustainability issues indicated by the UN Sustainable Development Goals (SDGs).
The Coco Patch is a design solution that takes pride in elevating wound care and management technology in the Philippines through the ingenious use of coconut, an abundant and accessible local resource nationwide. Denver Chicano, innovator of the coconut-based wound dressing, recalls his nursing experience in the Philippine General Hospital and cites his experience with the patients he attends to as his prompt in developing Coco Patch. Chicano points out that "everything we do is service," where care is an essential skill, circling back to the malasakit aspect of his product.
Entries that stood out under the image-making category are led by satirical cartoonist Tarantadong Kalbo's 'Tumindig' artwork, which garnered the Gold Award. Other entries recognized under image-making and conferred the Red Award are: Tubbataha Coral Rip; Boysen's This is a Tree; CCP Baybayan; and Macho Choir.
For the placemaking category, the MLR Bamboo Pavilion by Sangay Architects won the Gold Award, while Streetlight Tagpuro and Museo ni Jesse Robredo both bagged the Red Award.
For systems/service design, the Gold Award was awarded to Sakay.ph, a mobile app that provides transport directions for commuters and makes Metro Manila more navigable. The Red Award, on the other hand, was won by Alternative Indigenous Development Foundation, Inc.'s Mechanical Water Kiosk.
Recognizing the power of design to improve quality of human life, Design Advisory Council (DAC) Co-chair and Jury Chairperson Ar. Royal Pineda, shares that the Good Design Award Philippines establishes itself as a reference for design that does not only rely on aesthetics, scalability, and functionality, but more importantly, foregrounds a profound sense of malasakit to one's kapwa. "In the context of our current society, malasakit is a very important component of any design as it levels the playing field and keenly ensures inclusivity among all Filipinos regardless of class, gender and any other divisive factors," Pineda adds.
The distinguished panel of jurors is composed of category heads including DAC members Kenneth Cobonpue for Object-making, Angel Guerrero for Image-making, Jennifer Wieneke for Service/Systems Design, and Joey Yupangco and Associates Design Principal Joey Yupangco for Placemaking. Each category jury also includes a representative from the United Nations Development Programme (UNDP) to provide evaluation inputs in relation to the UN SDGs, which quantify the malasakit criteria of Good Design Award Philippines.
Category jury members for Object-making are Tito de la Peña, industrial designer and professor in UP Diliman; Pauline Suaco-Juan, DAC member and executive director of Center for International Trade Expositions and Missions; Bea Valdes, founder of Valdes Design; and Alyanna Carrion, Circular Economy Coordinator and UNDP PH Accelerator Lab representative.
For image-making, category jury members are Matec Villanueva, Marketing and Communications Director of the Ateneo de Manila University; Jowee Alviar, Co-founder and Creative Director of Team Manila Graphic Design Studio; and Charlene Balaan, communications associate of UNDP Philippines.
Placemaking category jury members are Ar. Louwie Gan, Architect/Urban Designer-Planner of L.A. Design Associates; Ar. Kath Sapungay, Principal Architect of Sangay Architects; and Irina Velasco, Head of Exploration of the UNDP PH Accelerator Lab.
Lastly, Systems/Service Design category jury members are Abigail Mapua, country director of Ashoka Philippines; Mark Colentava, Director of Pay of BayaniPay; Reese Fernandez-Ruiz, president and co-founder of Rags2Riches; and Rex Lor, Head of Solutions Mapping of UNDP PH Accelerator Lab.
The deliberation process and tabulation of results were supervised by a third-party auditing firm, P&A Grant Thornton (Punongbayan & Araullo).
Good Design Award Philippines 2022 is organized with the Department of Trade and Industry, Design Advisory Council, Japan Institute of Design Promotion, ASEAN Japan Centre, and United Nations Development Programme, with official partners Adobo Magazine, and Distileria Limtuaco, Inc. and support from Summit Books, Do Good Studio, Philippine Trade Training Center, and Total Exhibit and Expo Solutions.
Two slope protection structures provide safety in Brgy. Lonoy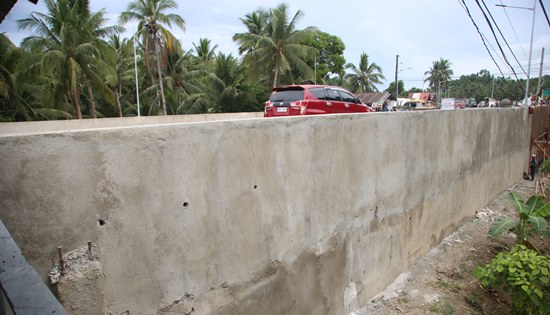 By ROMELLA LALAINE A. GUARDE
June 22, 2022
CALBAYOG CITY – Two (2) slope protection structures erected by Samar First District Engineering Office now provides safety for the residents and travelling motorized vehicles along Calbayog-Catarman Road and along Daang Maharlika in Brgy. Lonoy.
The slope protection structure constructed along Calbayog-Catarman Road has a scope of work which includes a segment with stone masonry, and a segment consisting of a structural concrete with reinforcing steel.
The segment with stone masonry spans to a length of 91 meters and an average height of 2-3 meters on both sides of the road, with a parapet of 0.8 meters x 0.3 meters.
On the other hand, the segment consisting of a structural concrete with reinforcing steel covers to a length of 65 meters and a height of 4.25 meters on both sides of the road, with a parapet of 0.8 meters x 0.3 meters. Additionally, concrete piles have been installed, which are known in the construction and foundation repair industries for their high load capacity, resistance to water from excess drainage, ease of installation, and overall affordability.
Moreover, the slope protection structure along Daang Maharlika covers a total area of 1,645 square meters. Part of its scope of work is a structural concrete with reinforcing steel which comprises a length of 305.5 meters and a height of 3 meters. Furthermore, its scope of work includes a parapet with a height of 0.9 meters and a canal extending to a length of 180 meters. Twenty (20) units of solar street light has likewise been installed along the said slope protection structure.
The two (2) slope protection structures have a cumulative contract amount of P89.87 million drawn from the General Appropriations Act (GAA) 2021.
Slope protection structures offer long-term stabilization of the slope in the surrounding area by avoiding soil deterioration and erosion; thereby, ensuring the protection of properties and people from damage and injury. The same is expected by the DPWH-Samar I through the erection of these two (2) slope protection structures in Brgy. Lonoy.
KOA flies to the city of festivals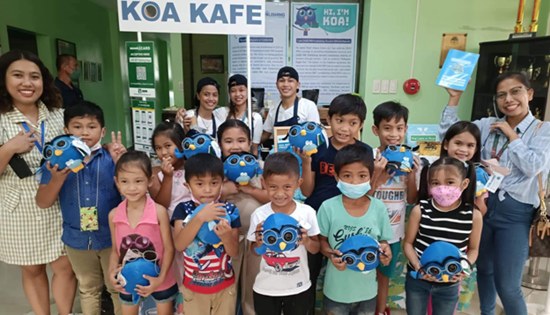 By CARD MRI
June 22, 2022
SAN PABLO CITY – Sharing good stories over a cup of coffee, CARD MRI Publishing House's Koa Kafe heads to Tagum City, Davao Del Norte on June 17, 2022.
Popping up at CMDI Tagum, the pop-up café brings its storytelling activities for children, exciting games for nanays, other CARD MRI quality products on a one-day event available to all. Visitors can enjoy a free cup of coffee as they browse the various publications of CARD Publishing featured on the event. Available for public viewing is CARD MRI's newspaper, Sulong, that features news about CARD MRI and inspiring stories from its clients, hoping to spark meaningful conversations as patrons visit the café. Hijos Tours' Yuhom Box, which features classic Pinoy games, is also available in the event for visitors to play.
Besides the free coffee and Indomie by Mga Likha ni Inay, CARD MRI's marketing arm, members may bring their children for Koa's storytelling for kids. The storytelling aligns to the mission of CARD Publishing house, which is to inspire and raise the new generation of readers. The kids' story "Ang Lapis ni Anya" serves as the highlight of the event. It tells the story of Anya and how she learned how to use her gadgets wisely.
Past flights
Launched on March 25, 2022, Koa Kafe has since visited several cities and provinces before landing on Tagum City. Born with the aim of bringing information about microfinance and CARD MRI closer to its members, Koa has flown to six of CARD MRI's financial institutions' branches. Since its first flight on March 25, Koa Kafe has been to the cities of Vigan, Masbate, Bay, Sta. Cruz, and San Pablo City. With almost a hundred attendees of the storytelling for kids, CARD Publishing slowly raises the next generation of reading, one pop-up café event at a time.
A new paved road serves locals of Almagro, Samar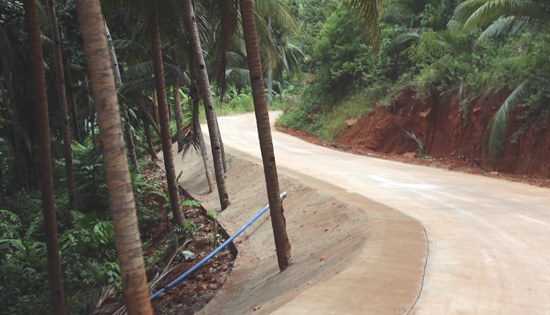 By GISSELLE G. PARUNGAO
June 21, 2022
CALBAYOG CITY – Residents of the coastal municipality of Almagro, Samar now ply this newly-constructed road from Barangays Talahid to Costa Rica with a total revised contract amount of P48.79 million.
The road is part of a bigger circumferential road project that will eventually connect all barangays of the said municipality giving them ease and comfort in terms of travel not only of their products but of locals living therein. It is also in preparation for the continuing growth not only in vehicle population but also in their economic aspect. Aside from that, this will also boost their tourism attracting more visitors that will generate more income for the municipality.
This six-meter wide, two-lane concreted road covers a length of 1.8 kilometers offers greater mobility and ease of traffic for motorists. Apart from it, a slope protection is also constructed along it for stability which spans 1,800 linear meters and a height that varies from one (1) to 2.5 meters due to different slope elevations. Pipe culverts were also incorporated for better water flow and drainage feature.
The project is drawn from the General Appropriations Act (GAA) of 2021.
DAR holds legal clinic in Ormoc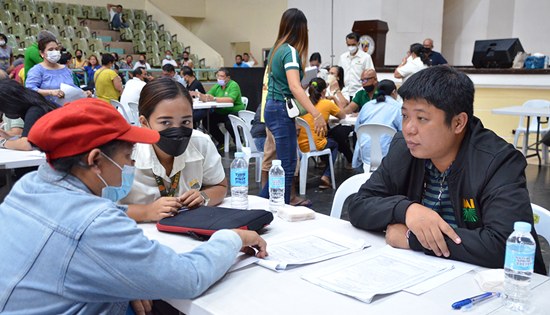 Nearly 300 tenants and agrarian reform beneficiaries availed of the free legal clinic conducted by the Department of Agrarian Reform (DAR) on June 14 at the Ormoc Superdome.
By JOSE ALSMITH L. SORIA
June 21, 2022
ORMOC CITY – "Nagpapasalamat kami na nagkaroon ng ganito dito sa Ormoc, na galing pa talaga sa central office ang mga abogado para maliwanagan kami tungkol sa kaso namin. (We are thankful for having this activity in Ormoc with lawyers coming from the central office, to help us understand about our case.) said Estrella Monsanto-Alejandre.
Nanay Estrella, 64, was among the nearly 300 farmers and agrarian reform beneficiaries (ARBs) from this city and adjacent towns who went to the Ormoc Superdome to avail of the free legal clinic conducted by the Department of Agrarian Reform (DAR) on Tuesday.
She was with her brother Julieto, 60, and neighbor, Melania Aldiano, 74, who went to the venue as early as seven o'clock in the morning to be the first in line. The three are from Barangay Licuma, more than 10 kilometers away from the city proper.
Nanay Estrella said they wanted to consult and be enlightened about their Emancipation Patents (EPs) and Certificates of Land Ownership Award (CLOAs) that were cancelled after more than a decade since the land titles were awarded to them.
After they were entertained, Nanay Estrella shared, "Binigyan kami ng Assurance. Pag-aaralan daw nila ang kaso namin." (We were given assurance. They will study our case.)
Like Nanay Estrella, Tatay Julieto and Nany Melania, many of those who availed of the legal services for agrarian-related issues, went home satisfied and with revived hopes.
Felisa Lambot from Barangay Curva commented "Nakuntento ako. Si Atty. Ryan ang nakausap ko." (I was contented. I talked to Atty. Ryan.)
Provincial Agrarian Reform Program Officer II (PARPO II) Josefina Corazon Turla disclosed that the activity was the fulfillment of DAR Undersecretary Elmer Distor's promise to the farmers who presented various issues during the dialogue he attended in this city last month.
Aside from the central office team, lawyers Christopher Ryan Rosal and Daniel Pen, Legal Division chiefs of the regional and provincial offices, respectively, together with their legal officers joined in addressing the legal problems of the farmers.
All four Municipal Agrarian Reform Program Officers (MARPOs) of this city, Artheiriza Manalo, Aouda Colibao, Marissa Estolano and Ruben Rebato, were likewise present.
The conduct of the legal clinic is among the activities lined up in the month-long celebration as the agency commemorates the 34th year of implementation of the Republic Act No. 6657 otherwise known as the Comprehensive Agrarian Reform Law (CARL) which covered all agricultural lands under the agrarian reform program regardless of tenurial arrangements, and the 50th year of Presidential Decree No. 27, emancipating the tenants from the bondage of the soil.
This year's twin-celebration theme is "Tuloy and pag-asa at pag-unlad hatid ng repormang agraryo."
New minimum wage in EV to take effect on June 27
By NORMA RAE S. COSTIMIANO
June 17, 2022
TACLOBAN CITY – Wage Order No. RBVIII-22 prescribing for a minimum wage increase for workers in Eastern Visayas is set to take effect on June 27, 2022.
After the affirmation of the National Wages and Productivity Commission on June 10, 2022, workers in the region can expect a P50.00 increase in their daily wage to be implemented in two (2) tranches – P25.00 upon effectivity on June 27, 2022 and an additional P25.00 on January 2, 2023.
From its current rate of P325.00 per day, the new daily wage for workers in the non-agriculture sector and retail or service establishments employing 11 workers and above will be P350.00 on June 27, then P375.00 on the 2nd tranche.
Meanwhile, workers in the sectors of non-agriculture, cottage and handicraft and retail/service establishments employing 10 workers and below, who are currently receiving a daily wage of P295.00, will start earning P320.00 upon effectivity and P345.00 on January 2, 2023.
DOLE 8 Regional Director Henry John S. Jalbuena, Chairman of the Regional Tripartite Wages and Productivity Board, informed that the board carefully considered the different inputs gathered during the region-wide consultations with various sectors.
"After careful deliberations, having considered different factors and the inputs we gathered from the series of consultations, the board came up with Wage Order No. 22, and we believe that the same will be favorable for both the labor and management sectors", said Jalbuena.
The new wage order, approved by the RTWPB-VIII on June 6, 2022, was published at the Leyte Samar Daily Express on June 11, 2022.
Project Angel Tree brings joy to 50 child laborers in Tacloban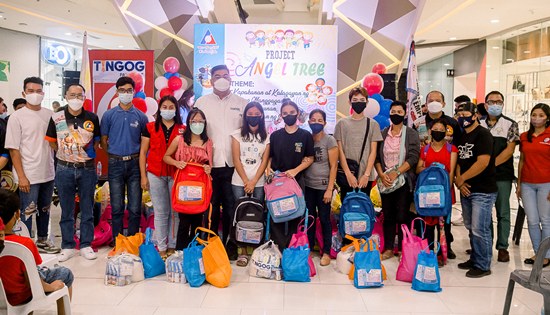 By NORMA RAE S. COSTIMIANO
June 17, 2022
TACLOBAN CITY – The Department of Labor and Employment Regional Office No. 8, through its North Leyte Field Office, conducted a Project Angel Tree activity on June 12, 2022 at the Robinsons North in Abucay, Tacloban City.
The activity held in celebration of the World Day Against Child Labor with the theme, "Kapakanan at Kalagayan ng Batang Manggagawa, Sagipin, Tugunan at Protektahan ng Bayan", brought immense joy to fifty (50) profiled child laborers of Tacloban City.
In coordination with the Eastern Visayas Regional Council Against Child Labor and through the support of the benefactors, the children together with their parents and guardians, benefitted from the gift-giving activity and received food, grocery packs, school bags with educational supplies, vitamins, and toys.
Tingog Partylist Representative, Hon. Philip Jude Acidre graced the activity together with Regional Director Henry John S. Jalbuena and OIC-ARD Atty. Cecilio. I. Baleña.
Director Jalbuena thanked all the benefactors or 'angels' who donated for the said event to be realized.
"On behalf of DOLE-8, I would like to thank our benefactors or "angels" as we call them, for their generosity and usual support to our program, for without them this activity will not be realized", said Jalbuena.
Jalbuena likewise left a very important message to the child laborers during the activity.
"Para sa ating mga kabataan, trabahuin ninyo ang katuparan ng inyong mga pangarap", Jalbuena ended.
Meanwhile, Hon. Acidre expressed his thanks and appreciation to DOLE-8 for all its laudable efforts in ending child labor in the region.
"I want to congratulate DOLE for all its initiatives and steadfast commitment to prevent and eliminate child labor", Acidre said.
Aside from the gifts, the children likewise had more fun because of the exciting games and raffles facilitated by the Junior Chamber International in Eastern Visayas Chapter.
The Project Angel Tree is a component of the Child Labor Prevention and Elimination Program of the department which aims to improve economic and social conditions of the child laborer through provision of social services that range from food, clothing, educational supplies and even work and training opportunities.
Air Force' Black Hawk helis airlifts vax to isolated Eastern Visayas islands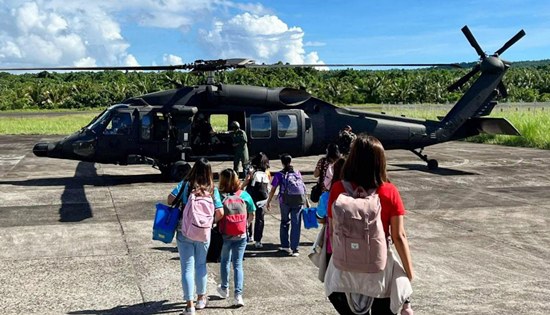 By DPAO, 8ID PA
June 17, 2022
BORONGAN CITY – Philippine Air Force S70i Black Hawk #118 helicopter delivered Covid 19 vaccines to Suluan and Homonhon Islands in Guiuan, Eastern Samar on June 16, 2022.
The Department of Health (DOH) Region VIII requested the trip to administer booster shots to the residents of two historical islands.
The helicopter left Tactical Operations Group (TOG) Headquarters in Tacloban City at 7:50 AM for Guiuan Airport. It briefly touched down at Guiuan at 8:12 AM to pick up the vaccines and the DOH personnel.
The first destination was on the easternmost island, the Suluan Island, Eastern Visayas. Suluan Island was the first island the team of European explorer Ferdinand set foot on in 1521. The helicopter landed at 8:34 AM on the scrappy landing zone prepared by the islanders and immediately unloaded the vaccines.
The second destination was Homonhon Island vaccines arrived at 8:46 AM. The island has several barangays and is dominated by the mining of nickel.
Suluan is two hours from Guiuan by boat while Homonhon is one hour. Sea travel is rough, especially in the afternoon.
AFP's Joint Task Force Storm and 8th Infantry Division Commander Major General Edgardo De Leon commended the Officers and personnel of Tactical Operations Group 8 Magellan for being reliable and steadfast in support of the JTF Storm's cause.
"TOG 8 has always been a dependable partner. In our campaign against terrorism, in times of disaster, and even in our fight against this pandemic. We also take this opportunity to thank President Duterte for modernizing the AFP. It helped us better defend and serve our people," De Leon said.
The mission of TOG 8 ended at 9:26 AM.
26 hired on Independence Day job fair in Tacloban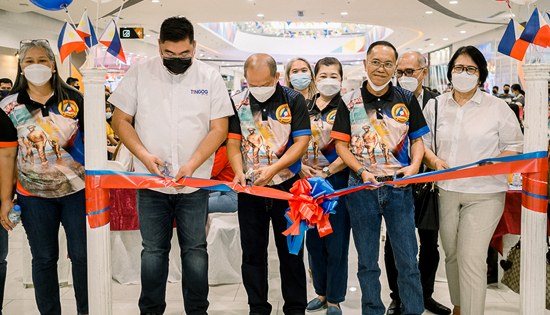 By NORMA RAE S. COSTIMIANO
June 14, 2022
TACLOBAN CITY – At least 26 applicants were hired-on-the-spot (HOTS) during the Independence Day Job and Business Fair spearheaded by the DOLE Regional Office 8 at the Robinson North Tacloban on June 12, 2022.
Among the jobs that were hired on June 12 were as follows: call center agents, clerk, cashier, production crew, driver, accounting staff, sales personnel, bagger, office staff, and customer sales representative.
Delyn Escobilla, who travelled from Southern Leyte just to join the job fair, is one of the HOTS who expressed her delight and sincere thanks.
"Natutuwa po ako kasi sulit talaga yung travel ko papunta dito. Maraming salamat po sa DOLE dahil may ganitong job fair na nagbigay daan para magkaroon ako ng trabaho", said Escobilla.
Meanwhile, 57 jobseekers were tagged as Near Hires by 19 establishments and will undergo further interviews and/or examinations, depending on the hiring company's requirement.
Regional Director Henry John S. Jalbuena said the near hires will be duly monitored whether they were eventually absorbed or not.
39 local and overseas employers participated in the job fair and offered 2,524 job vacancies. A total of 1,039 jobseekers from different parts of the region registered during the one-day job fair.
The activity, held in commemoration of the 124th Philippine Independence Day, was graced with the presence of Hon. Philip Jude A. Acidre of the Tingog Partylist, Ms. Araceli Larraga, Provincial Director of the Department of Trade and Industry and Mr. Eudoxio Ocampos, of the Eastern Visayas Network of Career Guidance Advocates (EVNCGA).
DTI urges e-commerce platforms to adopt online discount guidelines for senior citizens and persons with disabilities
By DTI-CPG-Consumer Policy and Advocacy Bureau
June 8, 2022
MAKATI CITY – Following the release of the Joint Memorandum Circular (JMC) No. 01, series of 2022, entitled "Guidelines on the Provision of the Mandatory Statutory Benefits and Privileges of the Senior Citizens and Persons with Disabilities on their Purchases through Online (e-commerce) and Phone Call/SMS", the Department of Trade and Industry (DTI) urges e-commerce platforms to honor the privileges granted to Senior Citizens and Persons with Disabilities (PWD) by adopting the guidelines and improving their existing system to ensure that the mandatory discounts are given whenever they purchase goods or services, whether in online, telephone or mobile transactions.
Senior Citizens and PWDs are entitled to avail of the 20% discount, with 12% VAT exemption on their purchase of specific goods and services under RA 9257 and RA 9442 as amended; and 5% special discount for basic necessities and prime commodities, for their exclusive use and enjoyment. Under the 5% discount, senior citizens and persons with disabilities have a maximum purchase amount of P1,300.00 a week for both online and offline transactions, without carryover of the unused amount. The amount shall be spent for the personal and exclusive consumption of the Senior Citizen and the PWD, and must be spent on at least four (4) kinds of items of basic goods and prime commodities.
Moreover, the Circular specifies that establishments are encouraged to redesign their business and website system/websites/applications to accommodate the provision of discounts for senior citizens and persons with disabilities. The redesign may include the establishment's acceptance of the Senior Citizen or PWD's submission of his or her ID; and the use of discount vouchers or codes, whether physical or electronic, reflecting the applicable discount that may be granted, provided that the discount shall not be lower than what is prescribed under the guidelines, or any applicable law.
DTI Secretary Ramon M. Lopez emphasizes, "Online shopping platforms need to reprogram their offering to incorporate a feature that allows discounts for persons with disabilities and senior citizens."
To receive the discount, one must declare to the merchant prior to placing orders that he or she is a Senior Citizen or a PWD and submit supporting documents, such as a scanned copy or screenshot of ID, as well as the front and last pages of the purchase booklet. The same proof of discount entitlement should be presented upon the delivery of goods and orders.
DTI-Consumer Protection Group Undersecretary, Atty. Ruth B. Castelo, underscores, "The Department reminds senior citizens and persons with disabilities to only purchase from verified online platforms to avoid having their personal details used for other purposes".
JMC No. 01, series of 2022, was jointly issued by the Department of Social Welfare and Development (DSWD), DTI, National Commission of Senior Citizens, National Council on Disability Affairs, Department of Health, Department of the Interior and Local Government (DILG) and Bureau of Internal Revenue (BIR).
Agrarian beneficiary gets back land sold to another by former owner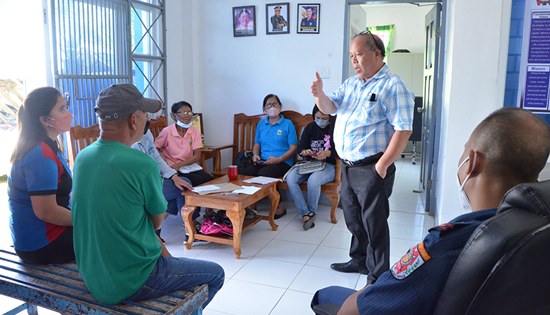 Personnel from the Department of Agrarian Reform (DAR) in coordination with the Philippine National Police (PNP) hold dialogue with opposing parties to resolve agrarian conflict in Pambujan, Northern Samar.
By JOSE ALSMITH L. SORIA
June 3, 2022
PAMBUJAN, Northern Samar – After eight years of having been deprived her awarded land, an agrarian reform beneficiary from a remote village in this town regains her farm lot and is excited to start tilling again this month of June.
Although she has not completely recovered the entire 2.7-hectare riceland awarded to her in 2003 under the Comprehensive Agrarian Reform Program (CARP), Lilia Galupo expressed her gratitude to the Department of Agrarian Reform (DAR) for helping her get back at least half of the contested land, for now.
According to Galupo, a 65-year-old widow, the former owner of the said land, Eufemio dela Cruz, told her that the Certificate of Land Ownership Award (CLOA) in her possession was "fake."
Due to ignorance, Galupo believed dela Cruz and surrendered the land, which the latter allegedly sold to Ben Revilles in 2014 in the amount of One Hundred Thousand Pesos.
Only recently, Galupo's son, Alberto, inquired with the DAR Central Office if the CLOA in their possession is indeed "fake." It was only then that the Galupos realized that their CLOA was authentic and that they were deceived by dela Cruz.
DAR Central Office then ordered the DAR Regional Office to settle the issue. The Regional Quick Response Officer, Felix Dante Espina, immediately summoned Galupo, dela Cruz and Revilles.
According to Espina, during the dialogue, Revilles agreed to return to the Galupos the land allegedly sold to him by dela Cruz, subject to a refund of the compensation paid.
He added that during the said confrontation, Consuelo dela Cruz, niece of the former owner of the contested land, said that they will pay Revilles in installment for a period of two years, which Revilles approved. But when the Galupos were about to start cultivating their awarded lot, Lilia again complained that they are being harassed by Revilles.
Revilles this time insisted that he be fully refunded first of the amount he paid to dela Cruz before he surrenders the land.
During the second round of dialogue, Espina said the two parties agreed to share the contested land by temporarily dividing it equally until the issue on payment is resolved.
With joy and excitement that they could finally restart cultivating her awarded land, Lilia repeatedly uttered the word "Salamat!" to the DAR personnel who hiked about two kilometers to conduct an ocular inspection of the contested property in Barangay San Ramon just to resolve the issue.
Meanwhile, Revilles commented "It is hard for me. But for the sake of peaceful resolution, and for your (referring to the DAR personnel) effort who still came from Tacloban City just to resolve this issue, I accept the decision."
AFP's The Inspector General lauds 8ID's accomplishments
By DPAO, 8ID PA
May 27, 2022
CAMP LUKBAN, Catbalogan City – The Inspector General of the Armed Forces of the Philippines (TIG, AFP), Lieutenant General William M Gonzales visited the AFP's JTF STORM here at the Headquarters of the 8th Infantry 'Stormtroopers' Division, Philippine Army for the conduct of the Annual General Inspection (AGI) 2022 on May 27, 2022.
The AGI Team looked into the JTF Storm (8ID)'s adherence to AFP guidance and policies on operational readiness, mission accomplishment, utilization of resources and the Command's overall proficiency, efficiency and effectiveness. The AGI Team also looked into the discipline, law and order, morale, and welfare of the troops.
According to Lieutenant General Gonzales, "This is an important forum, so that we will know about your current situation and operational requirements here in JTF STORM (8ID). Lahat ng inyong issues and concerns will be addressed accordingly. At the end of the day, we will study and make recommendations to support your operational requirements and for the improvement of the organization."
The TIG, AFP cited the steadfast mission accomplishment of the JTF Storm and the Stormtroopers Division stating, "I would like to congratulate the Stormtroopers for a job well-done, the significant contribution in the accomplishment in our campaign. In terms of mission accomplishment, Visayas Command and the two joint task forces here, the JTF-Storm and JTF-Spear excel in the area of mission accomplishments."
Lieutenant General Gonzales also recognized the significant role and contribution of JTF-Storm to the Joint, Inter-Agency Engagement and collaboration during the Humanitarian Assistance and Disaster Relief (HADR) efforts with the onslaught of Typhoons "Odette" and "Agaton" in Region 8 particularly in the provinces of Leyte and Southern Leyte.
Joint Task Force Storm or JTF Storm is the AFP's air-land-sea component which is also under the command of Army's 8th Infantry Division Commander, Major General Edgardo De Leon.
CARD MBA opens 81st PO in El Nido, Palawan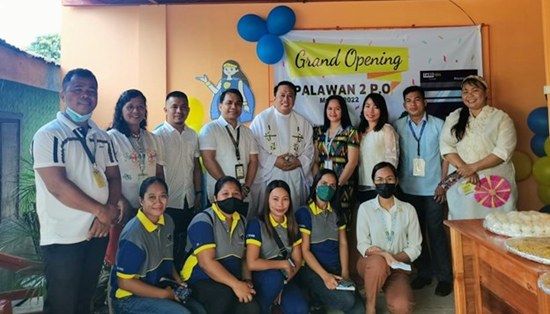 In the photos are (L to R): Unit Manager Dencio Cabanes, Microinsuranse Supervisor Marilyn Antioquia, Unit Manager Francisco Silo, Senior Operations Director Oliver Reyes, Father Jose Eddie Peñafel, Provincial Manager Eunice Grace Quiocson, Unit Manager Marjorie Bernal, Senior Regional Director Jowie Guevarra, Provincial Manager Jonah Mosqueda, with MBA coordinators Chona Ponce de Leon, Coro Marie Garcia, Mary Grace Gabuco, Rosela Martinito and Claims Officer Caroline Nagal.
By VICTOR ANGELO U. ARANZA
May 27, 2022
SAN PABLO CITY – To further extend the reach of affordable microinsurance in the country, CARD Mutual Benefit Association (CARD MBA) opens its 81st Provincial Office in El Nido, Palawan on May 2, 2022.
CARD MBA CEO Jocelyn D. Dequito attended the office's opening via Zoom. During her speech, she mentioned looking forward to what potential members from El Nido, Palawan can experience as part of the Association. "With our 81st PO established; we are giving more than 40,000 members the access to affordable insurance products. Combine that with our 8-24 strategy that aims to release their claims withing 8 to 24 hours of application, our members will be able to feel the security of microinsurance that they deserve," she said.
Located at Sitio Pasto, Brgy. Villa Libertad, the office is now opened to cater to CARD MRI's members, clients, and staff, to accommodate their transactions. CARD MBA Coordinators, members of CARD MRI who help CARD MBA with the insurance of their co-members, can submit filed insurance claims validated claims to the office to improve the claims' processing.
Members may also head to the provincial office to get their claims. Here, they can also ask and avail other insurance products that fit their financial plans. Products such as the Basic Life Insurance and Retirement Fund are available for members of CARD MRI.
CARD MBA's Palawan 2 P.O is the third provincial office opened for 2022 and will primarily serve the 41,883 clients of the Center for Agriculture and Rural Development (CARD), Inc. (A Microfinance NGO). To know more about CARD MBA and their products and services, visit their website at www.cardmba.com or their official Facebook page, @CARDMBAOfficial.
Catchwalls built along access road to Bangon Falls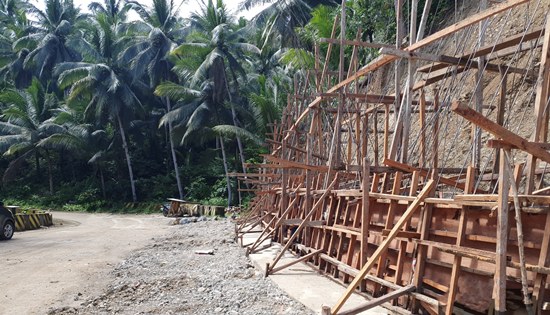 By ROMELLA LALAINE
May 25, 2022
CALBAYOG CITY – Samar First District Engineering Office is currently constructing the component catchwall of the access road from Brgy. Tinaplacan, Calbayog City, Samar leading to Bangon Falls which is situated in the said barangay. It has a total contract amount of P37 million funded under the General Appropriations Act (GAA) of 2022.
This sturdy catchwall along the access road that is being built, will be constructed intermittently which will span to a total length of 314.8 linear meters and a height of four (4) meters.
Concrete catchwalls are designed to arrest errant boulders that have broken off from the rock outcrop as well as prevent loose soil from spilling over onto the roads. This is due to the mountainous structure surrounding the access road.
Through this project, DPWH-SFDEO hopes that tourism in the district will be promoted and subsequently prosper, specifically in Brgy. Tinaplacan where the majestic Bangon Falls is located. Bangon Falls is one of the prides of Calbayog City, Samar which is coined as the "City of Waterfalls." Moreover, economic success will be achieved as this will provide opportunities to the local dwellers of Brgy. Tinaplacan who will serve as guides to visiting tourists.
Calbayog coast guard sub-station will soon rise in Calbayog City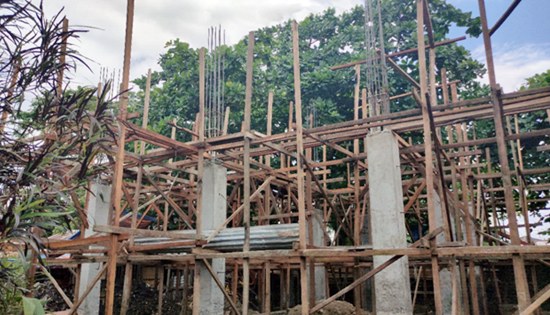 By ROMELLA LALAINE A. GUARDE
May 25, 2022
CALBAYOG CITY – Samar I establishes a coast guard sub-station building located in Brgy. Aguit-itan, Calbayog City, Samar. It has a contract amount of P11.5 million drawn from the General Appropriations Act (GAA) of 2022.
The said construction will be a three-storey building, with a total area of 120 square meters. The first floor will consist of a mess hall, a ward room, an administrative office, a conference room, a kitchen, chief's office, chief's quarter, and three (3) comfort rooms. Additionally, the second floor will include a male barracks, a female barracks, deputy's office, officer's quarter, as well as four (4) comfort rooms. The third floor is also intended as the roof deck. As of April 2022, the actual accomplishment is already at 30.09% based on the office's Monitoring Report.
The Calbayog Coast Guard specifically requested for the implementation of this sub-station building since they do not have an office of their own and were only previously accommodated in a small, house-like structure.
Through the construction of this sub-station, the Calbayog Coast Guard will now be able to provide better services through efficient maritime law enforcement, maritime security, maritime safety, maritime search and rescue, and marine environmental protection in the vicinity waters of Calbayog City.
Land valuation soon be based on DAR's report
By JOSE ALSMITH L. SORIA
May 25, 2022
TACLOBAN CITY – The Department of Agrarian Reform (DAR) in Eastern Visayas starts training its personnel for the preparation of a field investigation report (FIR) which serves as basis for the computation of land valuation of private landholdings covered under the Comprehensive Agrarian Reform Program (CARP).
Though there is no approved policy issued yet, Assistant Regional Director for Operations, Renato Badilla, said that DAR wants to be proactive, thus, the Municipal Agrarian Reform Program Officers (MARPOs) and the Geodetic Engineers (GEs) are being prepared for their supposed new task this early.
Originally, FIR forms are filled out by a certified appraiser from the Land Bank of the Philippines-Agrarian Operation Center (LBP-AOC) during joint field investigations. But because of this upcoming DAR policy, LBP-AOC Manager Fiel Pedrosa emphasized during last week's two-day orientation-workshop that preparation of the FIR will now be the DAR's responsibility, while LBP will focus on the computation of the land valuation.
Pedrosa stressed to the participants, which included the Provincial Agrarian Reform Program Officers II (PARPO II), Chiefs of the different Land Tenure Improvement Divisions (LTID) throughout the region, selected MARPOs, GEs and claim folder processors, the accuracy of the entries in the FIR. According to him, "Land Bank's computation of land valuation will be based on what you have inputted in the FIR."
Badilla commented on this new development, "The intertwined role of DAR and LBP in the accomplishment of mandated targets for land acquisition and distribution has always been crucial."
"That role is enhanced in the new policy as newly acquired learnings from this orientation-workshop will enhance the capabilities of DAR field personnel in the successful conduct of the field investigation without the drawback of conflicting schedules as the programming for the schedules are now in-house," he added.
Meanwhile, MARPO Thelma Alba exclaimed this will be another exhilarating job for the field personnel.
For deeper understanding and appreciation of the lectures, the participants, accompanied by LBP certified appraiser and one of the resource persons in this orientation-workshop, Engr. Clodualdo Marcellana, went to Barangay San Diego in Alangalang, Leyte on the second day for the actual conduct of field investigation in a CARP-covered landholding.
NMP inks partnership with ESSU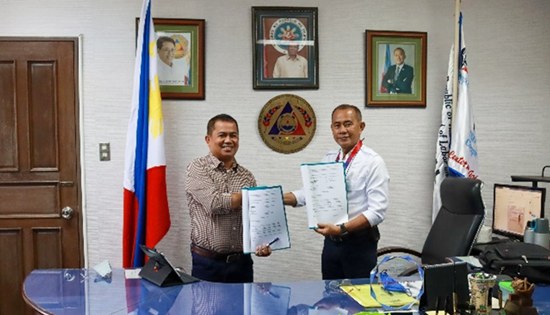 By National Maritime Polytechnic
May 23, 2022
TACLOBAN CITY – Signifying its commitment to help produce globally competitive seafarers, the National Maritime Polytechnic (NMP), an ISO Certified government-owned maritime training and research center, signed a Memorandum of Agreement (MOA) with Eastern Samar State University (ESSU) on 18 May 2022 held at NMP Training Complex in Cabalawan.
To comply with the requirements of the Joint CHED-MARINA Memorandum Circular No. 1, series of 2019, Policies, Standards and Guidelines for the Bachelor of Science in Marine Transportation (BSMT) and Bachelor of Science in Marine Engineering Programs, ESSU, a Chartered State University in Borongan City, Eastern Samar, will be collaborating with NMP to avail of its training services, including the use of the facilities and equipment for the students BSMT, which ESSU intends to offer.
Present during the MOA signing were NMP Executive Director Joel B. Maglunsod together with Deputy Executive Director Mayla N. Macadawan, ESSU President Dr. Andres C. Pagatpat, Jr., Campus Administrator Jared Harem Q. Celis, and other personnel of both parties.
Prior to the MOA signing, a consultation between NMP and ESSU was conducted on 10 March 2022, where DED Macadawan and Capt. Chito A. Go, Head of the Curriculum Development Section (CDS) and Maritime Training Section (MTS) of NMP were invited to ESSU together with representatives from the Maritime Industry Authority (MARINA).
DPWH-BDEO district engineer conducts inspection of Naval-Caibiran cross country road projects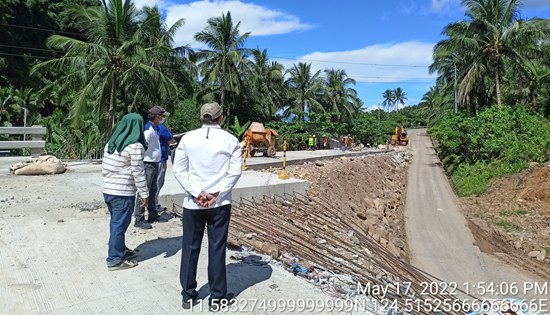 District Engineer Ferdinand A. Briones together with Engr. Luisito Filemon A. Abad, Chief of Construction Section with its technical team inspect the on-going construction of Macalpe Bridge along Naval-Caibiran Cross Country Road (NCCCR) on May 17, 2022.
By Biliran DEO
May 20, 2022
NAVAL, Biliran – The dynamic District Engineer of Biliran District Engineering Office (DPWH-BDEO), Engr. Ferdinand A. Briones, conducted his routine inspection on some of the department's ongoing projects on Tuesday, May 17. He was accompanied with a six-man team from the Construction Section and the respective contractor representatives to assist in the evaluation and assessment of the projects.
During the said inspection, the team visited four major bridges along the Naval-Caibiran Cross Country Road (NCCCR) comprising of the Cabadiangan Bridge and Alawihaw Bridge at Brgy. Lucsoon, Naval, Biliran, Gueron Bridge at Brgy. Villaconsuelo, Naval, Biliran, and Macalpe Bridge at Brgy. Cabibihan, Biliran. The team also visited the ongoing slope protection project at Brgy. Looc, Cabucgayan, Biliran and the ongoing construction of the new DPWH-BDEO building at Brgy. Larrazabal, Naval, Biliran.
The recently inspected bridges are currently undergoing major upgrades in connection to future developments targeted for the NCCCR network. The bridges of Cabadiangan, Alawihaw and Gueron are currently in their early stage of widening and retrofitting works while the Macalpe Bridge, a new addition to the road system, is now nearing project completion.
The slope protection project at Brgy. Looc, Cabucgayan is also at its early stage of construction projected to be completed by December this year.
The inspection is part of a series of routine site visits by the District Engineer and his team to ensure optimum and quality delivery of public works, assess actual status of ongoing projects, and to address project planning and implementation issues/challenges along the way. These site visits proved important with the vibrant activities and projects that the department is handling and actively engaging with in the current years for the province of Biliran.