Chicken production in Eastern Visayas surge by 6.9% in the fourth quarter of 2019
By PSA-8
April 21, 2020
TACLOBAN CITY – The volume of chicken production in Eastern Visayas increased by 6.9 percent during the fourth quarter of 2019. It went up to 16,673 metric tons (MT) in the fourth quarter of 2019 from 15,602 MT in the same quarter of 2018.
Eastern Visayas production accounted for 3.2 percent of the country's total chicken production during the fourth quarter of 2019. It ranked eighth among regions with the highest chicken production in the country.
The chicken population in Eastern Visayas dropped by 15.8 percent, from 2,524,559 birds as of 1 January 2019 to 2,124,681 birds as of 1 January 2020.
All provinces contributed to the decline in chicken population, except for Northern Samar and Southern Leyte which posted increases at 16.8 percent and 4.5 percent, respectively.
Among provinces, Leyte recorded the highest chicken population at 831,095 birds as of 1 January 2020. It comprised more than one third (39.1 percent) of the total chicken population in the region. Southern Leyte ranked second with 438,709 birds, accounting for 20.6 percent of the region's total chicken inventory. Eastern Samar, meanwhile, registered the lowest inventory of chicken with a 4.1 percent share or 87,268 birds.
Among the type of chicken, only layer chickens posted an increase at 7.9 percent, from 452,613 birds as of 1 January 2019 to 488,322 birds as of 1 January 2020. Northern Samar recorded the highest increase at 67.1 percent, followed by Southern Leyte at 8.0 percent. Leyte posted the lowest increase at 2.0 percent. Meanwhile, Eastern Samar, Samar and Biliran declined by 41.9 percent, 19.2 percent and 12.3 percent, respectively.
Broiler chickens dropped tremendously by almost half (46.8 percent) of its inventory, from 472,666 birds as of 1 January 2019 to 251,348 birds as of 1 January 2020. This was largely attributed to the zero or no inventory of broiler chicken in Samar Province due to downtime period on 1 January 2020. Eastern Samar recorded the highest decrease at 91.7 percent. Likewise, Leyte's broiler population, which shared 57.0 percent of the region's total broiler population as of 1 January 2020, also declined by 5.6 percent. Southern Leyte's broiler chicken population, on the other hand, expanded by 90.5 percent. It increased to 61,540 birds as of 1 January 2020 from 32,298 birds as of 1 January 2019.
The number of native/improved chickens also went down by 13.4 percent, from a total inventory of 1,599,280 birds as of 1 January 2019 to 1,385,011 birds as of 1 January 2020. All provinces contributed to the decline in the inventory of native/improved chicken in the region.
About 65.2 percent of the chicken population were native/improved chickens. Layer chickens accounted for 23.0 percent, while broiler chickens comprised 11.8 percent.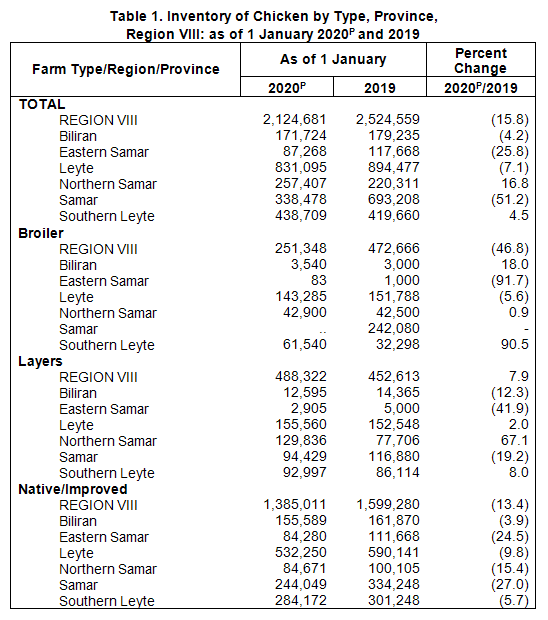 DTI mobilizes FabLabs to surmount COVID crisis
By DTI-ROG
April 20, 2020
MAKATI CITY – The Department of Trade and Industry-Regional Operations Group (DTI-ROG), spearheaded by Undersecretary Blesila Lantayona, and DTI-Region 7 have activated its network of fabrication laboratories (FabLabs) in Central Visayas to produce personal protective equipment (PPEs) in the fight against the Coronavirus Disease 2019 (COVID-19).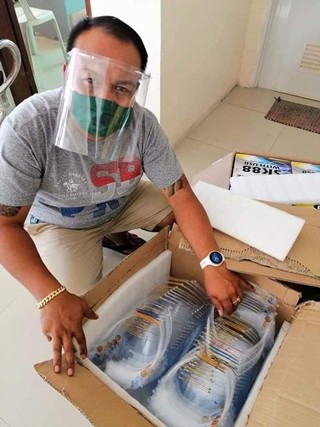 A team of volunteers, faculty members and staff at school-based FabLabs in the region have designed and produced personal protective equipment to contribute to the much-needed supply of PPEs in the region.
Central Visayas has eight FabLabs three located in Bohol, Negros Oriental and Siquijor, and five in Cebu.
"As of April 16 this year, FabLabs in Central Visayas have produced 24,358 face shields, 4,093 cloth face masks, 359 medical gowns, and 20 aerosol boxes. All eight fablabs in Central Visayas have been busy for the past month producing PPEs," Philippines' FabLab Champion and DTI-Region 7 Assistant Regional Director Maria Elena Arbon reported.
Arbon also said that FabLabs in Central Visayas are part of a network of FabLabs in the Philippines working closely together with their stakeholders, and partners in both government and private sectors, to respond to the needs amid the pandemic outbreak in our country.
"Overall, Fablabs in the Philippines produced 46,055 face shields, 23,104 cloth face masks, 1,201 medical gowns, and 217 aerosol boxes as of April 16, 202. We are still accepting donations of raw materials for the production of the PPEs," said Arbon.
Director Arbon encourages everyone to visit the following google site, https://tinyurl.com/FablabPHResponse, to link themselves to a FabLab near their vicinity and ask for any assistance that the laboratory can do. This is also a way for local suppliers of raw materials to get in touch with FabLabs in their area so these facilities can continue with the mass production.
DTI-ROG Assistant Secretary Asteria Caberte, who pushed for the funding of the project and boosted morale of volunteers, informed the public that FabLabs are not the only DTI-assisted programs responding to the COVID crisis.
"We have DTI assisted MSMEs such as Uniform Solutions, Tubigon Loomweavers Multi-purpose Cooperative, LAMAC Multi-purpose Cooperative and Alter to Enhance Clothier that are also mass producing cloth face masks. These cooperatives and business enterprises are repurposing their manufacturing capacity to meet local demand. We have always encouraged those we have assisted to exercise their corporate responsibility and give back to the community in whatever way they can," Asec. Caberte added.
A fabrication laboratory is a technical prototyping platform for innovation and invention that allows local manufacturers and creatives to make prototypes and products such as equipment, machinery and electronic gadgets; create scale models, illustrate graphic designs and mass-produce products, among others. A fab lab is typically equipped with an array of flexible computer-controlled tools that cover several different length scales and various materials, with the aim to make "almost anything".
FabLabs in the Philippines are closely aligned with the global open-source maker culture, and the free and open-source movement, and shares philosophy as well as technology with them.
The International FabLab Network is an open, creative community of fabricators, artists, scientists, engineers, educators, students, amateurs, professionals, of all ages located in more than 90 countries in approximately 1,500 FabLabs. From community based labs to advanced research centers, Fab Labs share the goal of democratizing access to the tools for technical invention and product innovation.
Workers calls for post-lockdown health and death insurance coverage for new potent workplace hazard 2019 coronavirus disease
By Associated Labor Unions
April 20, 2020
QUEZON CITY – The country's biggest group of unions the Associated Labor Unions (ALU) is calling the Employment Compensation Commission (ECC) to include in their work-related compensation programs and services the hospitalization and death benefits insurance to government and private employees who might be exposed to a new, potent and dreaded workplace hazard COVID-19 inside work establishments and while performing job function.
The COVID-19 employment insurance coverage is important because of the great danger and hazard it poses to returning employees once the Enhanced Community Quarantine is lifted, the group insists.
The ECC is a quasi-judicial corporate entity attached to the Department of Labor and Employment (DOLE) created to implement the Employees' Compensation Program by providing package of benefits for public and private sector employees and their dependents in the event of work-connected contingencies such as sickness, injury, disability or death.
It is tasked by law to develop and implement effective occupational safety and health policies and programs for the promotion of a healthy working population and provide workers and their dependents with benefits and rehabilitation services in the event of work-connected accident, injury, illness and death using a part of the fund from monthly remittance collected by the Social Security System (SSS).
According to the labor federation, the insurance coverage must be in force as soon as the community quarantine is lifted and employees are allowed to return to their places of work.
ALU National Executive Vice President Gerard Seno said the it is important for ECC to classify COVID-19 as a 'dreaded disease' so that formal government and private sector employees who will return to work following once the enhanced community quarantine lockdown order is lifted on April 30th are protected.
"We urge the ECC board to immediately issue a resolution providing insurance coverage for employees in private and government sectors as safety net for workers who might be infected or exposed to the COVID-19 hazard risk on the way or from work and or have been exposed inside the work establishments," Seno said.
The call was made as ALU and other stakeholder labor groups helps the Department of Labor and Employment (DOLE) draft a COVID-19 occupational safety and health (OSH) guidelines which would serve as the standard protocols for employers and employees in preventing, controlling and managing COVID-19 in workplaces once employees are allowed to go back to work.
Seno said the OSH guidelines must be in place on or before the resumption of work so that workers who will return to work will not be unnecessarily exposed to COVID-19 while in transit and while inside the workplace.
"These guidelines protocols are important for workers working in hospitals, clinics, media stores, restaurants, hotels, public transportation, malls, offices, banks, factories, among others. If these OSH standards are not being followed, thousands of workers, including their family members and co-workers, will be exposed to COVID-19," Seno said.
CNT leader killed, high powered firearm and explosive seized in Calbiga, Samar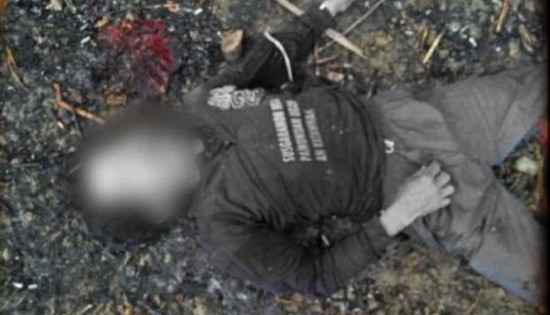 By DPAO, 8ID PA
April 19, 2020
CAMP LUKBAN, Catbalogan City – Elements of the 46th Infantry Battalion, 8th Infantry Division, Philippine Army encountered more or less five fully armed men believed to be remnants of a Communist NPA Terrorist (CNT) group operating in southern part Samar resulting to the death of CNT leader Noel Galvez alias Bani in a 3-minute firefight at the vicinity of Brgy. Buluan, Calbiga, Samar at around 5:15 in the morning of April 18, 2020.
There was no casualty in the government forces while the enemy, aside from the killed CNT leader, one (1) M14 rifle loaded with ammunition and one (1) Improvised Explosive Device (IED) with estimated weight of seven kilograms were seized.
The gunfight was the result of the timely report of some concerned civilians pertaining the presence of the CNTs led by Galvez harassing the populace.
The same group of CNTs was responsible for the murder of former rebel Ildefonso Nablo Jr alias Marwan last April 9, 2020.
Lieutenant Colonel Rhomel R. Langcauon, Commanding Officer of 46IB lauded his troops for the successful community security operation. He also thanked the vigilance of the community for the timely information provided to the security forces.
Colonel Camilo Z. Ligayo, Commander of 801st Infantry Brigade stated, "The neutralization of Noel Galvez alias Bani will bring a strong and clear message to the rebels that the government is serious in ending local communist armed conflict in Eastern Visayas."
"We will pursue these terrorists with the help of the community until they run out of ground to retreat to", Ligayo added.
Discontinuation of DOLE cash assistance sow confusion, demoralization & consternation among millions of displaced workers
By TUCP
April 17, 2020
QUEZON CITY – Millions of locked down rank-and-file workers felt betrayed by the discontinuation of cash dole out provided by the Department of Labor and Employment (DOLE) to incomeless employees displaced by the government imposition of Luzon-wide extended enhanced community quarantine lockdown shutdown of all work establishments and business operations beginning March 15th last month to minimize local transmission of novel 2019 coronavirus disease (COVID-19), according to the country's biggest workers group Trade Union Congress of the Philippines (TUCP).
The DOLE on Thursday announced the suspension of five thousand peso financial assistance under the Covid Adjustment Measures Program (CAMP) for formal sector workers effective April 15, 2020 following near depletion of the program's P1.6 billion budget.
A statement from the DOLE said the program has disbursed P1.2 billion which benefitted 236,412 employees of 10,663 work establishments since they begin the payout on March 23 or eight days after the total lockdown. The DOLE said there were 1.4 million work establishments and enterprises have rendered reported they were affected by the expanded ECQ.
"Because of this cash assistance stoppage, jobless ordinary workers and their families are confused and felt betrayed right now. Millions of locked down workers particularly those who have yet to receive the cash grant are feeling betrayed by the stoppage of their only lifeline cash assistance. Displaced workers felt they were pushed into lockdown, deprived of their jobs, kept in the dark corner and left out amid hunger, poverty and fear," said TUCP president and TUCP Party-list Rep. Raymond Mendoza.
The labor group said the Inter-Agency Task Force must immediately, widely and clearly explain the matter with the ordinary workers and avoid confusion.
"To cure the gaping widespread confusion and insecurity, we urged the government to clarify the matter immediately and clearly to the millions of displaced workers particularly those who have yet to receive the CAMP cash assistance," Mendoza said.
The TUCP said there at least 4 million rank-and-file workers were rendered jobless by the government imposed lockdown to minimize local transmission of COVID-19.
Higher risk of online sexual abuse and exploitation of children during quarantine
SaferKidsPH promotes child online safety in support of the national COVID-19 response
Press Release
April 17, 2020
MANILA – SaferKidsPH, a consortium of Save the Children Philippines, The Asia Foundation and UNICEF, and funded by the Australian Government, is expanding its efforts to protect children against online sexual abuse and exploitation during the COVID-19 enhanced community quarantine (ECQ).
While online platforms are used for positive learning and socialising, they can also expose children to cyberbullying, online sexual abuse and exploitation, and other forms of harm. These risks are greater during the quarantine period, as children spend more time online, with or without the guidance of a parent or carer.
Starting April 15, SaferKidsPH in collaboration with the Department of Information and Communications Technology, the National Telecommunications Commission, Smart Communications, and Globe Telecom will launch an SMS campaign focusing on practical child online safety measures that can be used during the COVID-19 ECQ. Mobile subscribers will be invited to visit the platforms of SaferKidsPH and UNICEF for more information.
During this enhanced community quarantine, children could be at a higher risk of being exposed to online predators. But this is not the only threat. Unfortunately, most cases of online sexual exploitation of children in the Philippines involve parents or family members as facilitators. As the country bunkers down to battle the COVID-19 pandemic, more children could be subject to exploitation in their own homes.
Brigadier General Alessandro C. Abella, Chief of the Philippine National Police-Women and Children Protection Center (PNP-WCPC), said that during the lockdown, his staff will continue to receive, monitor, and respond to online sexual abuse and exploitation of children-related reports. "Even in the midst of the COVID-19 crisis, the PNP-WCPC continues to be aggressive in its fight against online sexual exploitation of children," he said.
For more information on how to stay safe online and how you can help stop online sexual exploitation of children, please visit www.saferkidsph.org. You may also follow SaferKidsPH on Facebook, Instagram, Twitter, and YouTube.
For further support, you can call the following helplines:
1) PNP Aleng Pulis - +63 919 777 7377
2) Action Against Human Trafficking - 1343 within Metro Manila; (02) 1343 outside Metro Manila
3) Bantay Bata - 163
4) UP-PGH COVID-19 Bayanihan Operations Center - 155 200 or https://publicservice.up.edu.ph/uppgh-bayanihan-na.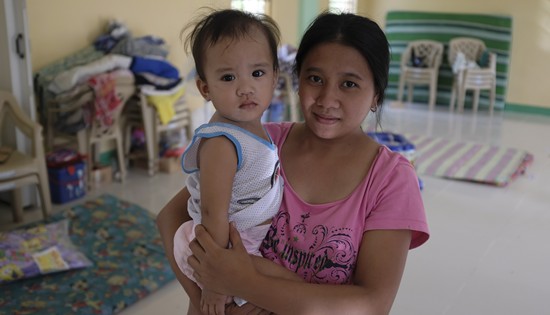 Aubek with her child, Raiven, inside the evacuation center where they are staying in Irosin, Sorsogon. (LJ Pasion/Save the Children)
Save the Children Philippines to LGUs: No Milk Formula in the time of COVID-19
By Save the Children Philippines
April 17, 2020
MANILA – Save the Children Philippines is urging local government units (LGUs), private groups, charitable organizations and individuals to adhere to existing laws that prohibit the distribution of infant formula or breastmilk substitute as part of relief goods to encourage breastfeeding among mothers, ensure good health and adequate nutrition of infants and young children.
Atty. Alberto Muyot, Chief Executive Officer of Save the Children Philippines, said nutrition and health support to children, pregnant and lactating mothers must be integrated into the national and local government response during the COVID-19 pandemic including the promotion of breastfeeding.
Several cities and municipalities have been distributing milk formula as part of relief goods to their constituents, which raised concerns of breastfeeding advocates.
"Children suffer the worst impact of the COVID-19 pandemic due to rising levels of poverty, ill-health, and malnutrition," said Atty. Muyot. "We call on local governments to support parents and guardians by encouraging mothers to breastfeed, and provide access to affordable and healthy food."
He said donations of infant formula in times of disasters, calamities, and emergencies including pandemic are strictly prohibited under the Milk Code or Executive Order 51 of 1986, the Expanded Breastfeeding Promotion under Republic Act 10028, and the Republic Act 11148 or Kalusugan at Nutrisyon ng Mag-Nanay Act which is being implemented nationwide. Save the Children Philippines joins the Department of Health and the National Nutrition Council in calling all LGUs to strictly adhere to these laws and guidelines, especially during emergencies like the COVID-19 pandemic.
These laws mandate local government units to establish milk banks during emergency situations to provide access to breastmilk when mothers become sick or not able to breastfeed their babies. The milk banks will provide a venue for lactating mothers who wish to donate their breastmilk.
Dr. Amado Parawan, Health and Nutrition Advisor of Save the Children Philippines said breastfeeding during the COVID-19 pandemic is highly encouraged to strengthen the immune system of babies, protect children from respiratory and gastrointestinal illnesses, prevent malnutrition, and ensure bonding between the mother and her baby. He said breastmilk is safe and ensures babies grow up healthy, and increases IQ.
"Breastmilk is the best source of nutrition for babies and there is no milk formula that can provide the same optimum health and nutrition benefits to infants and young children," said Dr. Parawan.
He added that colostrum – the first milk formed after the delivery of the newborn contains antibodies that protect the newborn against diseases. Recent studies also state that colostrum has properties against diseases caused by viruses.
He said mothers, even those infected by COVID-19, can still continue breastfeeding while limiting the baby's exposure to the virus by using respiratory precautions. Mothers who have been infected by COVID-19 may choose to breastfeed, but they must wear a facemask and wash hands thoroughly with soap and water. "There are no clear scientific studies that the Coronavirus can be transmitted through breastmilk," said Dr. Parawan.
Also, mothers who are sick can choose to manually express breastmilk to maintain milk supply. These mothers should wash their hands properly before doing breast milk expression.
Dr. Parawan said expectant mothers should eat healthy food, maintain personal hygiene, and take iron folic supplements. Breastfeeding mothers must have a support system through their husbands, partners, and other members of the family.
He reminded pregnant mothers to go to birthing facilities, lying-in clinics, and infirmary with a midwife, nurse, or doctor as many hospitals are crowded with COVID-19 patients. He also advised mothers giving birth to seek help from health and nutrition workers and breastfeeding support groups when facing difficulties in initiating and continuing breastfeeding.
Save the Children Philippines advocated for the passage of First 1,000 Days law or RA 11148, which mandates exclusive breastfeeding for babies up to six months and continued breastfeeding up to two years while starting complementary feeding.
"Children, including pregnant and lactating mothers, are most vulnerable during COVID-19 pandemic, and local government units should prioritize their health and nutrition," said Dr. Parawan.
NPA insists to inflict chaos over COVID-19 pandemic in Nothern Samar
By DPAO, 8ID PA
April 12, 2020
CAMP LUKBAN, Catbalogan City – The troops of the 20th Infantry Battalion of the 8th Infantry Division, Philippine Army, while conducting community protection patrol in response to a report from concerned civilians on the presence of armed group, were fired upon by about ten (10) Communist NPA Terrorists (CNTs) at the vicinity of Brgy Diit de Turag, Silvino Lubos, Northern Samar at 9:45 in the morning, today, April 11, 2020.
The 5-minute firefight urged the CNTs to retreat and took the north direction of Brgy. Ynaguingayan, Pambujan, same province. The troops seized one Huawei touch screen cellphone, one backpack, fourteen live ammunition of M16 rifle, one live ammunition of M14 rifle, and subversive documents. There is no reported casualty in the government side while it is still undetermined on the enemies' side.
It can be recalled that on April 6, 2020 four improvised explosive devices (IEDs) were recovered in the vicinity of Brgy. Hubasan, Calbiga, Samar with the CNTs' intent to victimize frontliners conducting COVID-19 prevention efforts.
In the morning of April 7, 2020, about 30 CNTs swooped down on Sitio Bangon, Barangay Guinmayohan, Balangiga, Eastern Samar and took the relief goods intended for the locals.
While in the afternoon of same day, more or less fifteen (15) CNTs harassed and forcibly took foodstuffs from the populace of Brgy. Lakandula, Las Navas, Northern Samar resulting to an encounter where one soldier was wounded.
It is worth mentioning that on March 19, 2020, President Rodrigo R. Duterte declared a unilateral ceasefire with the CPP-NPA-NDF as the Communist Party of the Philippines ordered its armed regulars on March 26, 2020 to observe a ceasefire with the government.
These willful series of attacks by the terrorists are violative of the unilateral ceasefire between the state and the CPP-NPA.
The terrorists are purposely casting the sufferings of the residents caused by the COVID-19 pandemic by orchestrating attacks that induce fear to the whole community.
Colonel Zosimo A. Oliveros, Commander, 803rd Infantry (Peacemaker) Brigade, in his message said that "The violence concerted by the CNTs are causing tremendous effect to the community while the peace arms of the government are focused in alleviating the crisis brought by the corona virus. Your army, however, assures the public that we will, at all times, defend the citizenry and will remain steadfast to grapple against the terroristic acts of our enemies".
"We convey our utmost gratitude to the concerned citizens for providing us information of the whereabouts of our enemies and we plea that you will continue to work with us to prevent the enemies from causing harm to the whole populace", Oliveros added.
CPP-NPA aggravates COVID-19 crisis situation in Northern Samar
By DPAO, 8ID PA
April 8, 2020
CAMP LUKBAN, Catbalogan City – The 20th Infantry Battalion, 8th Infantry Division, Philippine Army received a report from a concerned civilian pertaining the presence of an armed group believed to be Communist NPA Terrorists (CNTs) harassing the locals of Brgy. Lakandula, Las Navas, Northern Samar. The CNTs were forcefully collecting foods and other basic commodities while the village is on General Community Quarantine (GCQ) due to COVID-19 which prompted the military to conduct Community Protection Patrol and engage in a firefight more or less fifteen (15) CNTs on April 7, 2020 at around 2:50 in the afternoon.
The encounter resulted to the wounding of one soldier while there are undetermined number of casualties of the enemies as evidenced by bloodstains found in the enemy's escape route.
It can be recalled that on March 19, 2020, President Rodrigo R. Duterte declared a unilateral ceasefire with the CPP-NPA to which the CPP ordered the NPA on March 26, 2020 a similar ceasefire with the government as the nation grapples with the COVID-19 pandemic.
"While the entire nation is battling the contagion, the CNTs are taking advantage of the ceasefire by regrouping and arming themselves to orchestrate an attack against our government forces. The enemies are intimidating the populace who are already experiencing fear and uncertainty due to the GCQ by forcibly extracting food causing thereby scarcity of resources in the far-flung communities.", stated Major General Pio Q. Dinoso III AFP, Commander of 8ID.
"This deliberate violation of the ceasefire by the NPA will not hamper the delivery of the urgently needed medical, health and economic assistance as well as the movement of the people. Your Army assures the public that we will not drop our guard in securing the people and to work with the government to bring back normalcy in our lives that are derailed by the dreaded virus", Dinoso added.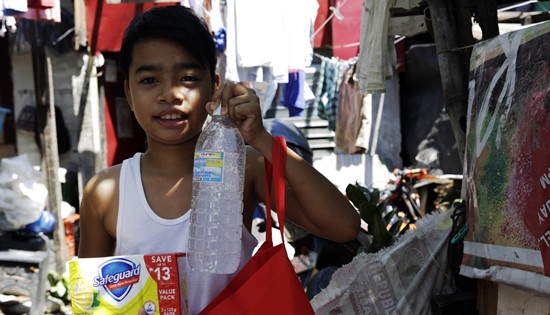 A child shows their family's one month supply of hygiene essentials (i.e. soap and alcohol) distributed by Save the Children Philippines on April 3, 2020 in Navotas. (Photo by Lei Tapang/Save the Children)
Save the Children launches its biggest ever appeal to protect children from COVID-19
Press Release
April 7, 2020
MANILA – Save the Children has launched a global appeal to raise US$100 Million to manage the spread of COVID-19 and support survival through food security among the most vulnerable families across 120 countries, including the Philippines.
The biggest appeal since the 1918-1920 Spanish Flu pandemic, Save the Children believes that "early action is critical because a delay will cost lives, and rob children of opportunities."
Tagged as #ProtectAGeneration, the appeal coincides with the World Health Day celebration on April 7, where the roles of nurses and midwives are recognized to keep the world healthy amid the COVID-19 pandemic.
Atty. Alberto Muyot, Chief Executive Officer of Save the Children Philippines says that the COVID-19 pandemic spares no one – both rich and poor, young and old, but those who have the least in life, and not able to cope will be hit first and hardest, including the vulnerable and deprived children and their families.
"Children suffer the consequences of the COVID-19 pandemic," said Atty. Muyot. The rising deaths of adults leave children without parents, and guardians, while the loss of income for families is causing widespread hunger and poverty.
The 100-years of Save the Children's expertise in providing a humanitarian response to a pandemic dates back to the Spanish flu in 1918.
"We need to go back and remember at how we started as a humanitarian organization," said Muyot. "We need to be where we are most needed by children and their families."
In the Philippines, the funds will be used to support the most vulnerable children and their families with hygiene essentials to ward off diseases, cash assistance to help them recover from the unintended impact of the enhanced community quarantine, and educate families about the importance of physical distancing, proper hygiene and other behaviors needed to prevent and reduce transmission of the deadly virus.
Over half a million community health workers are currently providing support in 44 countries, including the Philippines. Save the Children Philippines support community health workers who attend to the health and nutrition needs of the most deprived children and families in Southern Mindanao, communities in Samar province, and in the cities of Navotas, Caloocan, and Malabon in Metro Manila.
Atty. Muyot also said the funds will support education personnel and government health agencies to equip local health workers with the required personal protective equipment and medical supplies, training, and mental health and psychosocial support.
He also raised concern that more children now experience hunger, poor health, and malnutrition as thousands of families face a loss of income, including those in the informal sector due to limited mobility during Enhanced Community Quarantine. "School closures also pose risks on children who will be forced to work to earn a living for their families while adolescent girls may end up in early marriage," said Atty. Muyot.
Dr. Amado Parawan, Health and Nutrition Advisor of Save the Children Philippines said the loss of jobs and stable income of parents, guardians during quarantine is expected to increase the cases of malnutrition in the country.
He said families must ensure they have at least five (5) servings of fruits and vegetables every day, and drink 8-10 glasses of water to boost their immune system. Parents and guardians were also advised to serve healthy meals to children instead of junk foods.
Prior to COVID-19 pandemic, the country's child malnutrition rate is one of the highest in the world, with one in three children under 5 years of age is stunted due to prolonged hunger resulting in chronic malnutrition.
At the same time, at least 48.2 per cent of babies six to 11 months have anemia due to poor feeding practices and inadequate food, according to the 2018 Expanded National Nutrition Survey by the Department of Science and Technology-Food and Nutrition Research Institute (DOST-FNRI).
"The loss of income to thousands of families immediately translates into not being able to put food on the table," said Dr. Parawan.
He said vulnerable families need financial support to afford nutritious diets – particularly for pregnant and lactating mothers and children up to the age of two.
Save the Children's #ProtectAGeneration global appeal aims to provide financial support to families in crisis through cash and voucher assistance in over 30 countries around the world.
Atty. Muyot said the funds will also support distance learning and interactive learning activities for millions of children missing out on school due to the COVID-19 pandemic.
"We will provide guidance and resources to help parents and caregivers to support children's learning," he said, adding that "the key to our support will be how to maintain structure and routine, and how to keep children engaged in play and learning activities at home."
Save the Children Philippines has developed mobile apps like i-Mulat that is downloadable in the Google Play Store, to give parents a wealth of suggested family learning activities for children 0 to 6 years old that they can do at home.
The i-Mulat app contains key messages and videos on how parents can support their children to achieve their developmental milestones. Parents can also log the activities they do with their children as well as observations on their child's development in the app.
The COVID-19 pandemic is a crisis that goes beyond health systems, said Atty. Muyot.
"Economic recession and the socio-economic disruption accompanying lockdowns have already inflicted immense human suffering even in high-income countries with strong safety nets. The risks now facing vulnerable populations in poorer countries with high levels of poverty and weak safety nets are even more serious and much greater," he said
Atty. Muyot is appealing to individuals and businesses to support #ProtectAGeneration through donations on https://donate.savethechildren.org.ph/campaign/covid-19#donatearea or by calling: Candice dela Cruz at 0929-754-3066 or supportercare.ph@savethechildren.org
CARD MRI continues services despite COVID-19
Press Release
April 7, 2020
SAN PABLO CITY – As the national and local government in the Philippines implemented necessary measures to control the spread of COVID-19, the livelihoods of MSMEs are critically distressed. Despite the disruption of the operations of CARD Mutually Reinforcing Institutions (CARD MRI), efforts are being exerted in order to continue providing financial and non-financial services to these MSMEs.
Upon the announcement of the enhanced community quarantine on March 16, 2020, CARD MRI announced "Walang Hulog" or the implementation of moratorium on loan payments of its clients and the suspension of all center activities to comply with social distancing until April 12, 2020.
"This decision will adversely affect our operations, but we must always go back to our core of existence: our MSME clients who we need to prioritize in these challenging times," said CARD MRI Managing Director Flordeliza L. Sarmiento. She further added that the moratorium will allow clients to manage their finances better so that they can prioritize basic needs during the community quarantine.
Moreover, CARD Mutual Benefit Association, the microinsurance arm of CARD MRI, also suspended the collection of insurance payments. Claims, though, are still being processed at the provincial offices of CARD MBA nationwide. Its efficient strategy of settling claims with finality within 24 hours is still being observed where possible, enabling clients to continuously have access to a safety net.
CARD MRI persistently implements interventions to curtail the impact of the COVID-19 outbreak. "Day after day, we think of ways on how we can keep on supporting our clients," CARD MRI Founder and Chairman Emeritus Dr. Jaime Aristotle B. Alip said. "With a string of 23 institutions specializing in financial and community development services, we know that we can do more for the low-income sector despite the challenges imposed by physical limitations brought by the community quarantine," he explained.
With the communities under lockdown and access to basic social services rendered limited, an integrated online hub was launched by CARD MRI as an efficient way to reach out to its clients. These online services include free medical consultation, and educational sessions on business. Moreover, CARD MRI also launched a pilot project on mobile palengke, and an online buy and sell group for its clients.
Health
CARD MRI has long recognized health protection as a crucial factor in achieving development. Over the years, it has created meaningful partnerships with doctors, hospitals, and clinics who also have the heart to provide basic health services to the low-income sector. Since its regular medical missions were put on hold in compliance to the enhanced community quarantine, CARD MRI brought its health services online.
On March 31, CARD MRI doctors went live on a Facebook page called "CARD e-Doctor". The initiative was made possible by the Microfinance and Health Protection (MaHP) program unit of CARD MRI. Through their Facebook page, CARD doctors respond to health-related inquiries through a live video or via private message. The CARD e-Doctor commenced its first consultation with a live discussion about COVID-19, its symptoms, and preventive measures to take. Free online consultations are held Mondays to Fridays, from 8 AM to 5 PM.
To complement this initiative, CARD MRI's pharmacy, BotiCARD, is open to serve CARD clients and the general public with affordable and effective generic medicines. Hygienic products are also available in the pharmacy.
Livelihood
Undoubtedly, the livelihoods of CARD MRI microentrepreneurs are adversely affected by the outbreak. To support those in the line of food business, CARD MRI's marketing arm, Mga Likha ni Inay (MLNI), spearheaded a mobile palengke to provide CARD members access to food necessities. Through the Palengke on Wheels, basic food supplies such as vegetables, poultry, and other foodstuff are bought in bulk from members (vendors and farmers) and are brought closer to communities under quarantine. Orders can be placed on its Facebook Page, Likha ni Inay Palengke on Wheels. The mobile palengke is currently being pilot-tested in San Pablo City, Laguna but is hoped to be made operational in other areas as MNLI learns from its initial experience in this initiative.
Last but not the least, CARD MRI also created an online community for its clients and members where they can continue their businesses despite restricted mobility due to the ECQ. CARD MRI's newly launched Facebook group allows CARD clients to buy and sell their products. The group, which is searchable on Facebook as "CARD MRI Buy and Sell", currently has more than 6,000 members, and closed more than 30 deals since its launch on March 29, 2020.
This Facebook group also paved the way for linkages between microentrepreneurs and the local governments who have been supplying communities with relief packages. For example, one particular CARD client from Panabo, Davao del Norte was tapped by the LGU to supply alamang to residents. Through this linkage, the microentrepreneur was able to secure income even during the ECQ. However, the restriction on movement threatens the supply of raw materials for the continuance of this opportunity.
Education
The CARD-MRI Development Institute (CMDI), which offers formal education and trainings for microfinance clients, staff, and practitioners, is offering online modules for free during the quarantine period. Too, mechanisms have been put in place so that Senior High School and College students can enroll online in the comforts of their homes. Online classes will also be offered effective next school year.
CMDI also created an online community for CARD staff, clients, and members where they can discuss livelihood ideas. Dubbed as CMDI Kabuhayan Ideas Online, the group provides trivia, information, and educational videos that can help micro and small entrepreneurs in their business.
A blended approach
The enhanced community quarantine has placed physical limitations in delivering community development services. But these same limitations have sparked creativity and innovation among microfinance institutions like CARD MRI in continuously bringing its services to the low-income sector.
Being known as an institution that offers tailor-fitted products to MSMEs, CARD MRI gathered volunteer management and staff to conduct Kamustahan Sessions via phone calls and online messenger to have a deeper understanding of the situations faced by its more than 6.7 Million Clients. The reports gathered will serve as a baseline information for the institution to design responsive policies and products should national health emergencies happen again. CARD MRI believes that this information would be critical in further strengthening its digital initiatives.
"Our digitization journey started way back in 2016. We are now seeing the fruits of our labor. With our digital efforts paired with our adequate presence in the field, our support to and solidarity with our clients is maintained. We will not surrender, we will continue the fight, and I have high hopes that, together, we will win. The enormity of the challenges we are facing may tire us, but we will only rest, but never quit," declared Dr. Alip.

Acknowledging the sacrifices of health workers, the Almeria Seafarers Multi-Purpose Cooperative (ASEMCO) provided the Biliran Provincial Hospital with food packs. (Photo by Sharmaine Chelsea Morillo)
Biliran farmer organizations extend assistance amid COVID-19
By JOSE ALSMITH L. SORIA
April 7, 2020
NAVAL, Biliran – Regional Director Stephen Leonidas of the Department of Agrarian Reform (DAR) in Eastern Visayas commended three DAR-assisted cooperatives in this province for their efforts to help ease the effect of the coronavirus disease 2019 (COVID-19) pandemic in their respective areas.
As everyone is directed to stay at home with the implementation of the community quarantine by the different local government units (LGUs) to contain the spread of COVID-19, three agrarian reform beneficiary organizations (ARBOs) felt the pressing needs of their members, particularly the elderly and the daily wage earners.
The Looc Cabucgayan Agrarian Reform Cooperative in Cabucgayan town through its chairman, Zacarias Leorag, distributed two kilos of Jaguar rice to each of their 117 members.
For the Lico Agrarian Reform Cooperative (LARCOOP) based in the capital town of Naval, relief assistance consisting of three-kilo rice, coffee, sugar, milk and meat were distributed to its members.
Aside from the members, chairperson Rebecca Payos said, LARCOOP also provided snacks and coffee to frontliners manning the provincial border checkpoint, as well as barangay checkpoints in Lico and PS Eamiguel villages.
LARCOOP Manager, Anamie Villegas Ibano, added that the members' Interest on Capital and Patronage Refund (ICPR) were released early so the latter could use them at this point while we are facing this kind of crisis.
Meanwhile, the Almeria Seafarers Multi-Purpose Cooperative in the municipality of Almeria, which is also into catering service, through its manager Anita Corto, provided food packs for the health workers at the Biliran Provincial Hospital.
DAR Secretary John Castriciones appreciated the acts of generosity by the various ARBOs nationwide.
He described the farmers as the silent frontliners against COVID-19.
In his Facebook comment, Castriciones said, "Ito po ang kailangan nating gawin sa panahon na ito. Mabuhay po kayo and God bless po!"
46IB foils ambush of CNTs to COVID-19 frontliners in Calbiga, Samar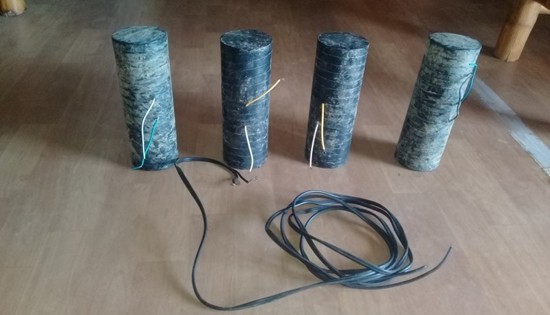 By DPAO, 8ID PA
April 7, 2020
CAMP LUKBAN, Catbalogan City, Samar – Four improvised explosive devices (IEDs) were discovered by the elements of the 46th Infantry (Peacemakers) Battalion (46IB), 8th Infantry Division (8ID), Philippine Army foiling the attempt of the CPP-NPA Terrorists (CNTs) to conduct an ambush against the government forces in the vicinity of Brgy. Hubasan, Calbiga, Samar on April 6, 2020.
An information was obtained from a concerned civilian that the CNTs are planning to conduct an ambush using the aforementioned IEDs targeting the troops of 46IB who are serving as frontliners in battling COVID-19 pandemic. The mines were placed along the only trail connecting barangays Hubasan and Binanggaran of same municipality.
The residents expressed their utmost gratitude to 46IB as the troops prevented the IEDs to explode which could have wounded, or worst, could have taken their lives just like what happened in Borongan, Eastern Samar.
Lieutenant Colonel Rhomel R. Langcauon, Commanding Officer, 46IB remarked, "We are thankful that a concerned citizen alerted our troops about the IEDs planted by the NPA. This is evidently laid to victimize frontliners as all our troops are conducting COVID-19 prevention efforts. This could have harmed or killed the civilians passing by the said trail."
Colonel Camilo Z. Ligayo, Commander of 801st Infantry Brigade said, "We will continue to protect the people of Samar from the terroristic acts of the NPA such as the planting of IED during this Covid 19 crisis. We thank the people for their help and we call on them to unite against all forms of terrorism".
Major General Pio Q Dinoso III, Commander of 8ID, stated that, "We condemn, in the strongest terms possible, that despite the existing unilateral ceasefire and global COVID-19 pandemic crisis, the planting of IEDs here in Samar and recent attacks against uniformed personnel in Luzon and tribal leaders in Mindanao; the CNTs are consistently displaying barbaric acts, violating human rights and disregarding the safety of the civilians who might turn victims just like what they did in Borongan a few months ago."
It may be recalled that four individuals were killed in an IED exploded by NPA in Borongan, Eastern Samar in December 13 last year. The fatalities were three civilians including an elderly woman, a van driver and another woman who expired in the hospital while the fourth fatality is a policeman. Wounded were 14 others including an infant and two other children.
DTI to enforce 30-day grace period for residential, commercial rent during ECQ
By DTI-OSEC-PRU
April 6, 2020
MANILA – The Department of Trade and Industry (DTI) released Memorandum Circular (MC) No. 20-12, Series of 2020 on 4 April 2020 granting a 30-day grace period for residential rent as well as a similar grace period for Micro, Small, and Medium Enterprises (MSMEs) with their commercial rent during the Enhanced Community Quarantine (ECQ) period.
"To provide economic relief to Filipinos and MSMEs during the COVID-19 public health emergency, DTI is implementing these guidelines to ensure their survival during the ECQ, as well as to help brace them afterwards," said Trade Secretary Ramon Lopez.
Following Republic Act (RA) No. 11469, or the "Bayanihan to Heal as One Act," DTI will enforce a 30-day grace period for commercial rents that fall within the duration of ECQ to give respite to MSMEs that have temporarily ceased operations. These enterprises will also not incur interest, penalties, fees, and other charges under the grace period. Similarly, DTI will ensure that a minimum of 30 days grace period shall be granted for residential rent that fall due within the ECQ under the same terms.
Under the MC, the grace period will be determined as 30 calendar days following the last due date of the rent during the ECQ. Cumulative amount of rents that need to be paid within the ECQ must be amortized equally in the six months following the end of the said period. This can be added to the rent owed for succeeding months without interest, penalties, fees, and charges.
On the other hand, lessors are not obligated to refund residential and commercial rents already paid by lessees during the ECQ. However, lessors must grant a minimum of a 30-day grace period from the next due date of residential and commercial rents without interests and other penalties as well.
Likewise, the MC calls on lessors of MSMEs to extend their generosity, if possible, the following: total or partial waiving of commercial rents due during the ECQ; granting a reprieve or discounted amount of commercial rents due after the ECQ; opening renegotiation of the Lease Term Agreements with lessees; and using other ways to mitigate the impact of the ECQ for MSMEs.
More importantly, the trade chief emphasized that there should be no eviction for failure to pay residential or commercial rent due within a 30-day period after the lifting of the ECQ.
"No Filipinos should lose their residence during the ECQ period. Moreover, the importance of MSMEs in jumpstarting our economy once the ECQ has been lifted cannot be understated," Sec Lopez said.
"Through these measures, we ensure that our fellow Filipinos have a future after the ECQ with homes that they can live in and through jobs and employment provided by our MSMEs," Sec. Lopez added.
Complaints of violations of the MC can be brought to DTI in person or electronically by emailing the agency, either through the Fair Trade and Enforcement Bureau (FTEB) through FTEB@dti.gov.ph or with the regional offices. Lessors who violate these guidelines will need to answer the Notices of Violations (NOVs) issued by DTI.
As provided under RA 11469, lessors that are found guilty of refusing to provide the 30-day grace period to lessees shall be penalized with imprisonment of not less than two months or a fine of not less than P10,000, or both.
P1.855M grant awarded to 26 rebel surrenderees in Samar
By DPAO, 8ID PA
April 2, 2020
CAMP LUKBAN, Catbalogan City, Samar – A total amount of P1.855M grant were awarded to 26 former rebels (FRs) who availed of the national government's Enhanced Comprehensive Local Integration Program (E-CLIP) and the Province's Local Social Integration Program (LSIP). The financial grant is a way of helping the FRs to return back to mainstream society as they live normal lives. The activity dubbed, "Peace Towards Prosperity Initiative", was conducted in separate ceremonies held in Matuguinao, Paranas and Calbiga; all in Samar on March 30, 2020.
Said activities were attended by Major General Pio Q. Diñoso III, Commander of the Army's 8th Infantry (STORMTROOPER) Division; Most Rev. Bishop Isabelo C. Abarquez, Diocese of Calbayog; Ms. Anita R. Taran, OIC, Provincial Administrator of Samar; Police Colonel Andre Dizon, Provincial Director of Samar Provincial Police Office; Mr. Judy Batulan, DILG Provincial Director; Hon. Aran D. Boller, Mayor of Matuguinao; Hon. Eunice U. Babalcon, Mayor of Paranas; Hon. Melchor F. Nacario, Mayor of Calbiga; and other military and local government officials.
Additional financial aid under the LSIP and E-CLIP programs will be awarded once the FRs completed the needed requirements.
Major General Diñoso III, in his remark, stated that "We are happy whenever one of your fellow rebels surrenders to the folds of the law. The Communist -Terrorist-Groups (CTGs) deceive and agitate members by injecting ideologies against the government. You are just victims of such deception."
"Seryoso ang ating gobyerno, ang ating presidente, si governor, sila mayor, ang mga kapulisan at kasundaluhan para tulungan kayo. Ito ang magandang dulot ng pagtutulungan at pagkakaisa. Pakiusap lang namin sa inyo na ipaabot din sa inyong mga kasamahang patuloy na nasa kabundukan na handa ang ating gobyerno na tulungan kayong magbagong buhay." Diñoso added.
A former rebel-beneficiary was very much thankful and stated, "Damu an amon pagpasalamat nga guin bubuligan kami san tinuod nga gobyerno kay buwa ngay-an an esplekar san NPA nga sira an nabulig san mga tawo. Ine ngay-an an tama – an aton kasundaluhan an nabulig. Sanglit kita nga mga nagsurender pagburublig kita para mabuligan an aton gobyerno nga magpanawagan san adto pa sa kabukiran nga lumugsad na liwat para sira makatagamtam san kaupayan." (We are grateful to the legitimate government for helping us realize that the NPA's claims of helping the people were all lies. The truth to the matter is – our soldiers are the true ones who help us. Let us then help our brothers who were led astray by the NPA to return to the government so that they too may experience prosperity and return to the mainstream society.)
The intensified collaborative efforts of the government in the enforcement of the Whole-of-Nation Approach amidst the COVID-19 pandemic, is a reaffirmation of its commitment to provide peaceful, resilient, sustainable and economically developed Eastern Visayas.
Duterte's "shoot them dead" order denounced by international human rights group
By ICHRP
April 2, 2020
MANILA – The International Coalition for Human Rights in the Philippines (ICHRP) strongly condemns the shoot-to-kill order of President Rodrigo Roa Duterte on April 1. "We are raising the alarm in the international community on President Duterte's directive to kill unruly violators of the coronavirus quarantine. This pronouncement is a dangerous order that allows authorities to target and kill anyone in a public space. It is also a complete violation of the fundamental rights of Filipinos especially in this time of global pandemic," says ICHRP chairperson Peter Murphy.
President Duterte addressed the whole nation hours after the incidents of unrest and people massing up for food and relief in the country's capital. In his televised speech, his tirade of violent threats included "I will not hesitate. My orders are sa pulis pati military...na pagka ginulo at nagkaroon ng okasyon na lumaban at ang buhay ninyo ay nalagay sa alanganin – shoot them dead," (I will not hesitate. My orders to the police and military…if they caused any disorder, and they fight back and your lives are on the line – shoot them dead).
The same day, 21 citizens were arrested for going out of their homes and demanding the relief promised by the national government. Residents of an urban community in the biggest city in Metro Manila staged a rally asking for food and aid amid the government's lockdown to contain the coronavirus, which in turn has left millions of Filipinos jobless and hungry.
"Our support goes to the poor Filipinos whose only crime is to be hungry and demand what is rightfully theirs. The right to food and basic social services should be ensured especially in times like these," ICHRP asserts. A video circulating in the social media shows citizens demanding for food being violently dispersed by authorities.
"Naintindihan ninyo? Patay. Eh kaysa mag-gulo kayo diyan, eh 'di ilibing ko na kayo (Do you understand? Dead. Instead of causing trouble, I'll send you to the grave)," Duterte added in his recorded address. Recently, the president was given special powers to distribute P200 billion (US$3.9 billion) to more than 18 million poor households. But after a week the aid remains unreleased.
"President Duterte's criminal negligence coupled with brutal measures to address the pandemic is taking its toll on Filipinos. Millions of informal workers have been displaced and right abuses have been rampant all over the country," says Murphy.
"The police and military who have been deployed to enforce social distancing are not trained for this task and have been the very perpetrators of human rights violations," ICHRP underlines. The authorities have been detaining homeless people, putting curfew violators in cages and using torture methods to punish them, and even arresting citizens over "provoking" posts on social media.
Netizens showed their anger online over the president's pronouncement to "shoot them dead" and called for his ouster. The #OustDuterte have been trending in the Philippines for two days now.
The World Health Organization states that "Measures that limit individual rights and civil liberties must be necessary, reasonable, proportional, equitable, non-discriminatory, and in full compliance with national and international laws."
DOLE-8 to assist informal sector workers through TUPAD #BKBK
By NORMA RAE S. COSTIMIANO
March 28, 2020
TACLOBAN CITY – In order to mitigate the economic impacts of Coronavirus Disease-2019 (COVID-19) global pandemic, the Department of Labor and Employment Regional Office VIII will be implementing emergency employment program for the workers in the informal sector.
Per Department Order No. 210 series of 2020 signed by Secretary Silvestre H. Bello III on 18 March 2020, qualified beneficiaries or those underemployed, self-employed and displaced marginalized workers who have lost their livelihood or earnings due to Enhanced Community Quarantine against COVID-19 may avail of the Tulong Panghanapbuhay para sa Ating Disadvantaged/Displaced Workers #Barangay Ko/Bahay Ko (TUPAD #BKBK) Disinfection/Sanitation Project.
Under the TUPAD #BKBK, beneficiaries will work for a period of ten (10) days for the disinfection/sanitation of their houses/dwellings and immediate vicinity of their houses. Beneficiaries will receive wages equivalent to 100% of the prevailing highest minimum wage in Eastern Visayas, which is P325.00 per day.
Aside from the payment of wages, the package of assistance under TUPAD will also include enrolment of beneficiaries to group micro-insurance and conduct of Basic Orientation on Safety and Health thru dissemination of brochures. DOLE will likewise provide the cleaning solutions to be used in disinfecting and sanitizing their dwellings.
TUPAD #BKBK under D.O. 210 may be implemented by Regional Offices either through direct administration or through Accredited Co-Partner (ACP). Proponents/ACPs must prepare and submit Letter of Intent, TUPAD Work Program and Summary List of Beneficiaries.
DOLE-RO VIII was initially downloaded only P10million for the implementation of the program. Regional Director Yahya A. Centi during a meeting with senior officials of DOLE-RO VIII directed to implement the program the soonest possible time.
"Considering that most of our informal sector workers have lost their income now because of this COVID crisis, I urge everyone to do your part so that we will be able to deliver the needed assistance", said Centi.
TUPAD is one of the flagship programs of DOLE which aims to contribute to poverty reduction and inclusive growth. It is a community based (municipality/barangay) package of assistance that provides temporary wage employment for the displaced workers, underemployed and self-employed workers.
Church group reiterates appeal to PH government: Listen to the UN, release prisoners now!
Press Release
March 28, 2020
QUEZON CITY – Church group National Council of Churches in the Philippines (NCCP) reiterated its call for the urgent release of political prisoners, those that are sick, with chronic or terminal disease, the elderly, pregnant and nursing mothers, low-risk offenders, and those that are due for parole or pardon, as advised by the United Nations High Commissioner for Human Rights (UN OHCHR) Michelle Bachelet on March 26. "Let's take it from the UN. There is an urgent need to address the catastrophic risks in prisons by releasing prisoners, especially now that the country is confronting numerous challenges due to this pandemic," Bishop Reuel Norman O. Marigza, NCCP General Secretary, said.
The Bureau of Jail Management and Penology has recorded 394% congestion rate in prisons in the country, which by itself poses grave, potential and unmanageable outbreaks.
"As the number of positive COVID-19 cases spike up, the most Christian thing to do is to leave no one behind. Don't forget those in prison, especially human rights defenders facing trumped charges, who have staunchly worked for social justice and human rights. They need compassion, they need justice and they need protection. They should be released under humanitarian grounds," the General Secretary said.
This is after UN OHCHR Michelle Bachelet called on the governments to take urgent action to ensure health and safety in prisons and places of detention. "In many countries, detention facilities are overcrowded, in some cases dangerously so. People are often held in unhygienic conditions and health services are inadequate or even non-existent. Physical distancing and self-isolation in such conditions are practically impossible," Bachelet said.
"The government needs to quickly address the need to decongest detention facilities and prisons. We could start with the vulnerable groups – the sick and elderly, low-level prisoners, and political prisoners or those detained because of their political beliefs or by simply expressing dissent," Bishop Marigza said.
"It is also deeply distressing that in a time of a public health crisis, authorities fixate on threats of imprisonment as punishment to disobedience. This does not only exacerbate the situation in our detention facilities, but also fails to address the urgent humanitarian needs of the people," Bishop Marigza ended.
The National Council of Churches in the Philippines is the largest aggrupation of mainline Protestant and non-Roman Catholic churches in the country.
DTI, DA, LGUs to ensure Price Freeze during quarantine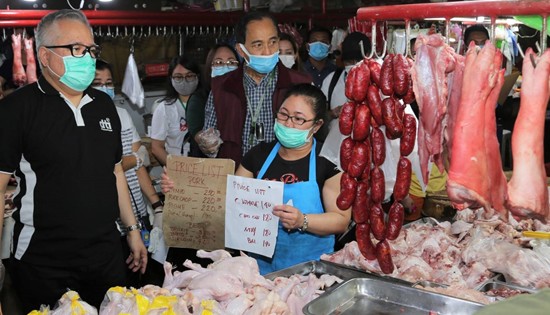 By DTI-OSEC-PRU
March 26, 2020
QUEZON CITY – Department of Trade and Industry (DTI) Secretary Ramon Lopez and Department of Agriculture (DA) Secretary William Dar said they are working closely with local government units (LGUs) to ensure the proper implementation of the price freeze on basic necessities.
The two officials made this assurance after they found many sellers in violation of the price freeze, as mandated in the Joint Memorandum Circular (JMC) No. 2020-01 issued last 18 March 2020. Secretaries Dar and Lopez went around Farmers Market in Cubao on 26 March 2020 for a price inspection.
Following the tripartite release of the JMC by DA, DTI, and the Department of Health, the prices of all agricultural and manufactured basic goods, essential medicines and medical supplies, were frozen at their prevailing prices for sixty (60) days from the declaration of the State of Calamity on 16 March 2020, unless sooner lifted by the President.
Sec. Lopez explained that the marked-up prices were due to the challenges faced during the first few days of implementation of checkpoints in different LGUs. He assured, however, that this has already been addressed in the Inter-Agency Task Force (IATF) on Emerging Infectious Diseases meetings.
"We are continuously coordinating at the local level, with the help of Interior Secretary Año, to ensure the harmonized implementation of the IATF guidelines on the unhampered movement of cargo. Improvements have been reported since Friday of last week and we expect the continuation of this for the following days," said the trade chief.
He added, "After talking to sellers and market masters, we have learned that there are suppliers who sell these goods at the current retail price. In effect, sellers are forced to increase the prices to still gain some profit. This is why we are calling on traders and suppliers to sell goods at a reasonable price in consideration to our local sellers."
Secretary Dar noted that farmgate prices for products such as chicken are already below the cost of production, so suppliers should not sell them at such high prices. To address this, DA coordinated with market masters to provide them a list of suppliers that are providing reasonable prices.
Additionally, Secretary Dar urged city chiefs of public markets to implement the Local Price Coordinating Council mechanism, which allows local enforcement units to strictly ensure the price freeze in their respective areas.
During the inspection of nearby supermarkets, such as Wellcome Farmers Plaza and Puregold Araneta, Secretary Lopez was glad to see that these establishments were in compliance with the price freeze. He and Secretary Dar also observed that these supermarkets had sufficient supply on their shelves.
"With the improvements in the unimpeded movement of cargo, we can also see the improvements in the grocery stocks of essential food and non-food products. That's why we reiterate our call for people not to panic buy because we see that supplies are slowly being replenished," Sec. Lopez said.
International Red Cross and Red Crescent Movement appeals for 800 million Swiss francs to assist world's most vulnerable people in fight against COVID-19
Press Release
March 26, 2020
GENEVA – The International Red Cross and Red Crescent Movement on Thursday launched a revised emergency appeal for 800 million Swiss francs (823 million US dollars) to help the world's most vulnerable communities halt the spread of COVID-19 and recover from its efforts.
While COVID-19 is already a global pandemic, it is still possible to reduce its spread and the number of lives lost by improving access to critical resources.
IFRC President Francesco Rocca said: "This pandemic is putting at risk entire health systems, and the situation will worsen in places where those are weak or inexistent. A strong community response is critical to stop the virus. COVID-19 affects everyone equally, but migrants and displaced people, those who are homeless, and those in disaster-prone areas are among those most exposed to infection, least able to access health care, and most impacted by loss of income. They must not be forgotten. We must strengthen the support to our Red Cross and Red Crescent volunteers who are on the frontline of this response."
The International Red Cross and Red Crescent Movement consists of three parts: the International Committee of the Red Cross (ICRC), the International Federation of Red Cross and Red Crescent Societies (IFRC), and 192 National Red Cross and Red Crescent Societies.
- The IFRC is appealing for 550 million Swiss francs (566 million US dollars) to support National Red Cross and Red Crescent Societies in health care, prepositioning of goods, risk communication, lessons learned from global network of local responders, cash grants for families, and mitigating impacts of large outbreaks). Out of the 550 million Swiss francs, 150 million Swiss francs is for IFRC to support National Societies in need, while the remaining 400 million Swiss francs will be raised by National Societies domestically.
- The ICRC is appealing for 250 million Swiss francs (256 million US dollars) to respond in places of conflict and violence, to support medical facilities and places of detention, curb the spread among and ensure medical access for displaced people and detainees, and to support National Red Cross and Red Crescent Societies in their response.
ICRC President Peter Maurer said: "The international community must increase support now to the under-resourced communities crippled by conflict, or risk allowing another humanitarian catastrophe to unfold on top of the countless others war-torn communities have endured. Viruses know no borders; this is a global problem that will only be solved by global action."
Work already being carried out by the Movement includes support to National Societies to increase their health care services, community engagement and pandemic preparedness activities for vulnerable populations. This includes the reinforcement of supplies in medical facilities, expanding sanitation and disease prevention programmes including in places of detention, and mitigating the socio-economic impact of the outbreak by ensuring communities maintain access to basic services. Support will also be provided to States to implement WHO guidelines to detect COVID-19 early, isolate and treat cases, and trace contacts.
Both organizations warn that stemming the pandemic's rapid global spread requires a coordinated and society-wide approach, including funding and support across state and national levels. The impacts of COVID-19 will be felt everywhere, but the most vulnerable people are at especially high risk. Governments, individuals, communities, institutions and donors must work together at all levels to mitigate the health crisis's devastating impacts.
The International Red Cross and Red Crescent Movement is the world's largest humanitarian network. Its community-based volunteers and staff help the world's most vulnerable people, including those living in countries with under-resourced health and social welfare systems; people recovering from recent disasters; migrants and displaced people; those in conflict zones and who face ongoing violence; people in urban slums; detainees; and people suffering from the socio-economic impact of COVID-19.
SB Corporation opens P1B loan facility for MSMEs affected by Covid-19 lockdown
By DTI-ROG-SB Corp
March 24, 2020
MAKATI CITY – To support micro and small businesses affected and cushion the economic impact of the spread of Covid-19 virus in the country, the Small Business Corporation is setting up a P1 billion Enterprise Rehabilitation Financing facility under the Pondo sa Pagbabago at Pag-asenso (named Covid19 P3-ERF).
The facility will be implemented once the Community Quarantine declaration is lifted by the National Government and/or respective Local Government Units.
Trade Secretary Ramon Lopez explained that the P3-ERF facility is part of the economic relief program of President Rodrigo Duterte for small businesses greatly affected and further marginalized by the Covid-19 virus epidemic.
The SB Corporation, an agency under the Department of Trade and Industry, said the ERF loan fund is open to micro and small enterprises with at least one year continuous operation prior to March 2020, and whose businesses suffered drastic reduction in sales during the ensuing epidemic.
Micro enterprises with asset size of not more than P3 million may borrow P10,000 up to P200,000 and small enterprises with asset size of not more than P10 million may borrow a higher loan amount but will not exceed P500,000.
The loan shall be used to help the enterprise stabilize or recover from its losses. Specifically, the following purposes are qualified: 1) Updating of loan amortizations for vehicle loans or other fixed asset loans of the business; 2) Inventory replacement for perishable stocks damaged; and 3) Working capital replacement to restart the business.
Interest rate shall be at 0.5% per month (discounted basis); and grace period on payments shall be given until such time that the economic crisis has abated.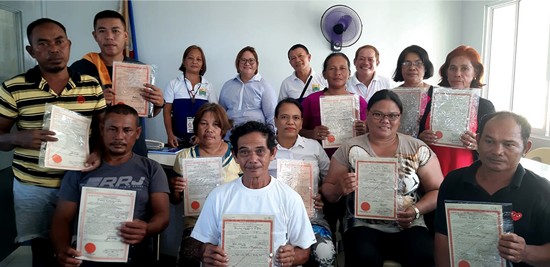 The agrarian reform beneficiaries (ARBs) show their Emancipation Patents (Eps) and Certificates of Land Ownership Award (CLOAs) after the distribution. With them in photo are Zumarraga Mayor Myrna Tan (standing, 4th from left) and Municipal Agrarian Reform Program Officer (MARPO) Evelinda Barbasa (standing, 3rd from left). (photo Engr. Jessie Iso)
DAR distributes CLOAs to Samar islanders
By JOSE ALSMITH L. SORIA
March 21, 2020
ZUMARRAGA, Samar – Eighteen landless farmers from this island-municipality in the province of Samar turned landowners as they received Emancipation Patents (EP) and Certificates of Land Ownership Award (CLOAs) from the Department of Agrarian Reform (DAR) on March 12.
Zumarraga Mayor, Myrna Tan, handed the 24 land titles to the 18 agrarian reform beneficiaries (ARBs) in a simple ceremony at the town's Sangguniang Bayan Session Hall. She was assisted by Municipal Agrarian Reform Program Officer (MARPO) Evelinda Barbasa.
Barbasa disclosed that the EPs and CLOAs, distributed to the ARBs under the government's Comprehensive Agrarian Reform Program (CARP), covered a combined area of 22.8012 hectares of corn lands and coco lands situated in the Barangays of Tubigan, Canwarak, Maputi, and Pangdan.
She added that the EP-CLOA distribution was part of a weeklong celebration in commemoration of the town's 157th founding anniversary.
CARD implements one-month moratorium for clients
Press Release
March 21, 2020
SAN PABLO CITY – The financial institutions of CARD Mutually Reinforcing Institutions (CARD MRI) have suspended its microfinance operations from March 17 to April 12, 2020. This is in response to the recent declaration by the Philippine Government of an enhanced community quarantine due to the COVID-19 outbreak.
While the obligation for weekly loan payments are lifted until the resumption of its operations, CARD Main Bank Branches will remain open so that clients can perform transactions such as deposits and withdrawals. These bank branches will open at 9:00AM and close at the latest 3:00PM, as there are branches which are locally required to close earlier than 3:00PM. Likewise, bank clients can still transact through ATMS, Digital Cash Machines, and the konek2CARD app. Savings withdrawals can also be facilitated by konek2CARD agents of CARD Banking Group.
"This is our effort to show our sympathy and concern to our clients in these trying times," said Dr. Jaime Aristotle B. Alip, CARD MRI Founder and Chairman Emeritus. "We understand that our clients would face liquidity problems and potential losses. It is through implementing moratorium that we can support them."
Continuous Support
CARD MRI Managing Director Flordeliza Sarmiento also added that other essential services will still be provided. "COVID-19 is a serious health threat thus we know that this is the time when we are needed by our clients and staff the most. Our clinics and laboratory are still open for our clients and staff while our pharmacy, BotiCARD, will remain open to the general public," she explained.
CARD Mutual Benefit Association, the insurance arm of CARD MRI, will also be on moratorium for its insurance contributions but will still process and disburse claims benefits. Clients may settle their claims in CARD MBA Provincial Offices and the main bank branches of CARD Bank, CARD SME Bank, and CARD MRI Rizal Bank.
CARD MRI is a group of institutions that aims to eradicate poverty through microfinance and other development-oriented programs. Of its member institutions, those offering the moratorium are CARD, Inc. (A Microfinance NGO), CARD Bank, CARD SME Bank, and CARD MRI Rizal Bank. CARD MRI has 6.7 Million clients, 19,027 staff, and 3,241 offices nationwide. Considered the largest in the microfinance industry, CARD MRI is an important catalyst in the country's economy down to the community level, as it provides capital that enables poor households to engage in microenterprises as well as generating jobs directly and indirectly.
United as one
CARD MRI also joins other members of the two largest microfinance networks in the country, Alliance of Philippine Partners in Enterprise Development (APPEND, Inc.) and Microfinance Council, in the battle against COVID-19.
Insurance services and claims of these microfinance institutions (MFIs) remain uninterrupted.
Further, these MFIs will continue paying for the salaries of their more than 50,000 staff during this period of community quarantine.
True to their collective vision of ending poverty in the Philippines, the microfinance industry vows to fulfill its commitment to serve the most vulnerable population even in challenging times like the COVID-19 outbreak.
Release the sick, elderly, and "low-level" prisoners amid COVID19 crisis - NCCP
Press Release
March 20, 2020
METRO MANILA – Church group National Council of Churches in the Philippines supported the appeal of Kapatid, a group of families and relatives of political prisoners, to the government to release the sick, elderly and "low-level" prisoners. The NCCP said releasing them is a Christian and compassionate gesture in the midst of the pandemic especially since massive testing in the country is still not in place.
Bishop Reuel Norman O. Marigza, NCCP General Secretary, expressed grave concern for the prisoners amid the rising number of COVID 19 cases in the country. Bishop Marigza said, "Current measures in prisons are clearly insufficient. Without massive testing, the overcrowded prisons in the country is a health disaster waiting to happen. We cannot simply accept what the Bureau of Corrections is saying that prisons in the country are still free of cases of COVID 19 even though tests were not administered there. Before disaster strikes, set them free!"
According to Bureau of Corrections January statistics, its prison facilities are overcrowded by 310 percent as 49, 114 inmates occupy prisons that have a maximum capacity of 11, 981 persons. Justice Secretary Guevarra has already admitted that a single COVID-19 case inside could cause "calamitous effects".
"Besides, the call for release is selective, only those who will definitely suffer like the sick and the elderly and of course, the prisoners of conscience who have been wrongfully imprisoned because of their political beliefs", Bishop Marigza added.
The call for the release of prisoners came in the wake of Iran's gesture to free thousands of its prisoners. The heavily congested prisons in the country are full of detainees that come from the poor, especially after the government's campaign against illegal drugs.
The National Council of Churches in the Philippines is the largest aggrupation of mainline Protestant and non-Roman Catholic churches in the country.
Gravel road completed at barangays Buenavista, Ranera and Janipon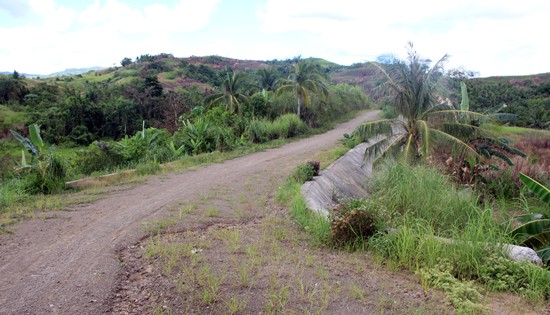 By GISSELLE G. PARUNGAO
March 18, 2020
CALBAYOG CITY – A gravel road amounting to P50 million was completed traversing three Barangays of Buenavista, Ranera and Janipon at San Jorge, Samar.
The only means of transportation for residents of said barangays would be by boat and usually, only one trip is scheduled going to and from Buenavista as Barangay Captain Raquel Duena, from Barangay Ranera narrated. From there, that's the only time that they can travel on a paved road to San Jorge, Samar and other parts of the area. This in turn creates hardships for residents of the barangays in terms of health matters because of travel time and availability of boats.
Travel costs and time are also a problem of farmers to transport their harvested root crops, rice and vegetables grown from the barangay which is their means of income to the nearest marketplace in San Jorge.
Students also have a hard time going to school especially those attending their secondary education since the nearest school is situated in the Municipality of San Jorge. They would walk long hours to reach the school.
All these issues and worries are now gone as an opening road with a length of 2.86 kilometers with a width of 8 meters was developed. The scope of work includes two box culverts to preserve the creek that crosses through the said road. Riprap is also included on areas with steep slopes to prevent soil erosion and collapse of the structure.
Travel time through boat will consume almost 2 hours while using the gravel road will only take less than 1 hour to and from Barangay Buenavista to Janipon.
This road opening was drawn from the General Appropriations Act of 2018.
P46.97M Macalpe bridge in Caibiran town starts construction
By DPWH-Biliran
March 18, 2020
NAVAL, Biliran – The Department of Public Works and Highways (DPWH) Biliran District Engineering Office (DEO) has started the construction of the P46.97M new permanent bridge at Sitio Macalpe in Brgy. Cabibihan, Caibiran, Biliran.
The site of the said project was previously an existing concrete paved road but was totally washed out during the onslaught of Tropical Storm (TS) Urduja on December 16, 2017.
David Adongay Jr., District Engineer said that the project is now in full swing under contract with L.M. Baltonado Construction.
"The project is now on-going in the preparation for the foundation works of the bridge," revealed Adongay.
"The site is critical for sudden landslide specially during heavy rains, thus the contractor was instructed to fast track the project to avail the good weather condition," he added.
According to Adongay, there is a need to construct for a new permanent bridge on the said section because a large volume of water crosses the roadway especially during rainy season.
The project involves the construction of a 4-lane bridge with a width of 13.4 meters with a total length of 20.0 meters or a total area of 291.43 square meters. This project has a target completion date on June 25, 2020.
When completed, this project will provide a structure that can accommodate big volume of rainwater, minimize vehicular accident as well as provide convenience in transporting agricultural and aquatic products to market centers.
This bridge is essential in going to the only Provincial Hospital and Port of the Province and some tourist sites within the island. It will serve more or less 3,000 travelers along Naval-Caibiran Cross Country Road (NCCR).
Presently, DPWH-Biliran DEO maintains a total of 35 national bridges within its jurisdiction with a total length of 1,250-linear meter of both asphalt and concrete surface. The completion of the new Macalpe Bridge would be an addition to this total length of bridges.
Save the Children Philippines urges health support for vulnerable groups who face more risks to COVID-19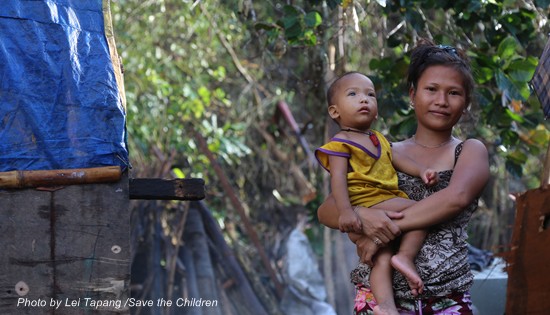 Press Release
March 18, 2020
QUEZON CITY - Save the Children Philippines is calling on health and local government authorities to prioritize deprived and marginalized families and their children who are more at risk to Coronavirus acute respiratory disease 2019 (COVID-19) due to their lack of access to health services.
The call was made after President Duterte announced on Monday the implementation of Luzon-wide Enhanced Community Quarantine. The order imposes a strict home quarantine and suspension of mass transportation for one month from March 17 to April 17, 2020 to prevent further spread of COVID-19. There are now 142 confirmed cases of COVID-19 in the Philippines as of Wednesday (March 17, 2020) with 12 deaths.
The Child Rights-based group also raised concern on the first case of COVID-19 transmission to a 13-year-old girl in Quezon City. The girl, who is the country's 135th confirmed case has no history of travel to other countries affected by COVID-19.
Atty. Alberto Muyot, Chief Executive Officer of Save the Children Philippines, said while COVID-19 threatens the general public, there are communities more vulnerable to suffer further socio-economic marginalization due to the impact of the viral disease that has been declared a pandemic by the World Health Organization.
There are more than 15 million (DOLE, 2018) parents and caregivers who rely heavily on the informal economy or whose earnings require them to use public transport, sell items and render services in crowded places or streets.
The elderly, particularly those with pre-existing conditions, along with children and adults with disabilities, indigenous people, and the urban poor are also vulnerable to the COVID-19 spread. The conditions of these vulnerable communities such as food insecurity, malnutrition and inadequate delivery of basic service compromise their resistance to diseases and predispose them further more serious health conditions.
"Children whose parents need to stay in high density areas to earn a living, or those living in hard to reach areas with no access to clean water are among the most vulnerable to the COVID-19," said Atty. Muyot.
Children and families who belong to indigenous peoples are vulnerable to the COVID-19 spread due to their limited access to health and other social services, facilities, technologies, and do not have enough opportunities to cope also need urgent support from the local government units and health authorities.
"We call on the government to give these vulnerable groups priority assistance, and also engage them in decision-making processes for their response, recovery, and preparedness," said Atty. Muyot.
Amidst COVID-19 scare, DOLE-RO VIII awards P490K livelihood assistance to Abuyog farmers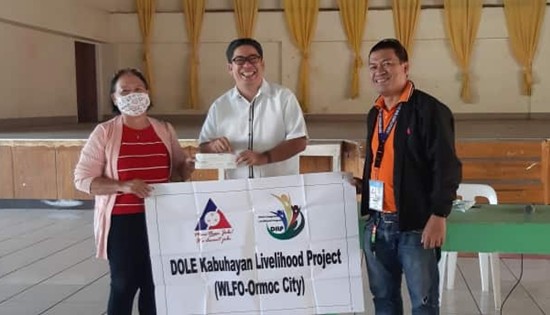 By NORMA RAE S. COSTIMIANO
March 18, 2020
TACLOBAN CITY – The Department of Labor and Employment Regional Office VIII (DOLE-RO VIII) continues to deliver its programs and services to the people of Eastern Visayas amidst the Coronavirus Disease-2019 (COVID-19) scare that haunts not only the region but the entire country.
DOLE-RO VIII through its Western Leyte Field Office has successfully released on March 18, 2020 livelihood assistance to the barangay local government unit of Malaguicay, Abuyog, Leyte amounting to P490,300.00.
Said livelihood aid was charged against the DOLE Integrated Livelihood Program (DILP) funds of the agency and will be utilized for the implementation of the Swine Production Project of Malaguicay Integrated Farmers Association with forty-one (41) members.
Present during the simple awarding ceremony were Hon.Lemuel Gin K. Traya, LGU-Abuyog Mayor, Mr. Francisco B. Archin, PESO Manager of LGU-Abuyog, Hon. Luciana L. Lutiva, Barangay Captain and Mr. Rosilito T. Ygaña, Senior Labor and Employment Officer.
Mayor Traya thanked the DOLE for the effort shown in awarding the livelihood assistance despite the COVID-19 scare presently affecting the transactions of all organizations and establishments.
"From the bottom of our hearts we would like to thank DOLE for being sincere in helping our constituents, not letting the COVID stop you from delivering your programs and services. Thank you for bringing this assistance in such a time like this. We surely appreciate it", said Mayor Traya.
In response, Mr. Ygaña gave his message in behalf of DOLE Regional Director Yahya A. Centi.
"In behalf of DOLE-RO VIII, I would like to say that we at DOLE will remain committed to the continued delivery and implementation of our programs and service for the benefit of Eastern Visayas. We really hope that we will all do our part for these livelihood funds to go a long way so that our efforts will not be in vain", said Mr. Ygaña. (with reports from Rosilito T. Ygaña)
Revetment completed at Brgy. Burabod, Sta. Margarita, Samar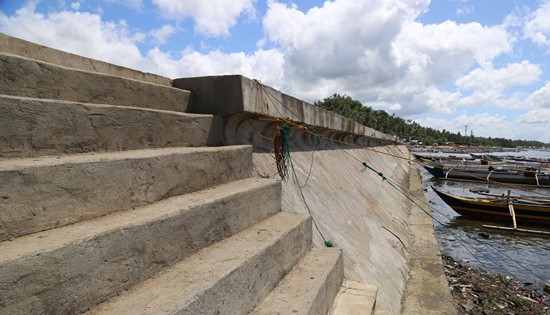 By GISSELLE G. PARUNGAO
March 17, 2020
CALBAYOG CITY – A revetment is completed at Barangay Burabod in Sta. Margarita, Samar with a total allocation of P99 million under the 2018 Local Infrastructure Program.
Revetments are used for coastal erosion defense in areas where crashing waves may otherwise deplete the coastline and create infrastructure collapse. The revetment spans 650 meters along the Daang Maharlika Highway in Barangay Burabod that protects the road as well as passing motorists from rolling waves.
This structure is built with steel sheet pile and hand laid rock embankment with a height of three meters and designed like a curved wall to imitate the crashing waves because it will prevent the wave to overtop the wall and it also provides additional protection of the wall.
The built revetment is 40 meters away from the national road due to a tide embankment in progress.
DPWH-8 regional director inspects big implemented projects in Biliran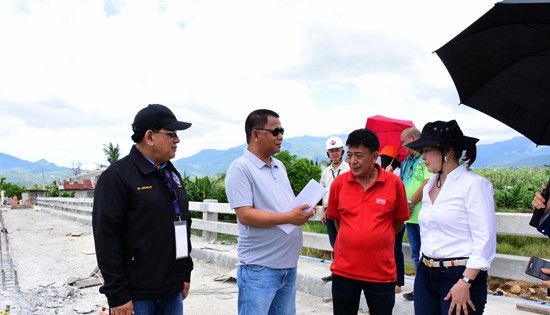 By DPWH-Biliran
March 17, 2020
NAVAL, Biliran – Officials of the Department of Public Works and Highways (DPWH) Regional Office VIII headed by Regional Director (RD) Nerie Bueno inspects on-going Regional Office (R.O.) implemented projects in Biliran on March 12, 2020.
Among the projects inspected are the on-going construction of Cabibihan Bridge in Caibiran town, construction of Mother Mary Bridge at Brgy. Larrazabal and widening of Anas Bridge at Brgy. Atipolo, both in Naval town.
Also inspected are the newly started constructions of Catmon (P86.5M) and Caraycaray (P100M) Bridges which was damaged during the onslaught of typhoon Urduja on December 16, 2017.
During project inspection, Bueno meets with the project engineers (PEs) of the R.O. implemented projects to discuss the problems they encountered during the implementation.
For projects sustaining high negative slippages, Bueno instructed P.E.s to make a work plan to fast-track the implementation of projects.
With the full operation of cash-based budgeting, DPWH R.O.-8 is closely coordinating with its contractors to speed up the implementation of various infrastructure projects that is due for completion this year.
Meanwhile, the Biliran Bridge which is subject for rehabilitation was also inspected by the Regional Director.
David Adongay Jr., District Engineer of DPWH-Biliran District Engineering Office (DEO) said that funding for the rehabilitation of the said bridge was already requested to the Regional Office amounting to P10M.
RD Bueno's inspection was conducted with District Engineer Adongay Jr. and Assistant District Engineer Alfredo Bollido with section chiefs of DPWH Biliran DEO together with Engr. Adelina P. Gomez, Engr. Angelita Obediencia, and Ms. Agnes M. Baronda, all from DPWH Regional Office VIII.
Tarabucan Central Elementary School a recipient of the two-storey building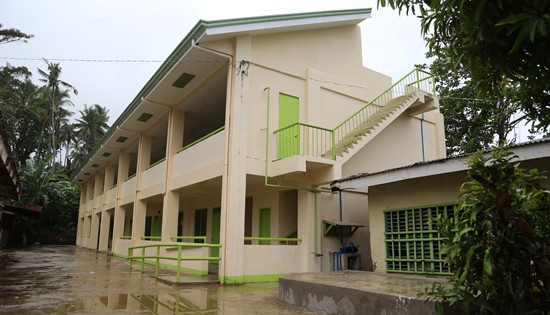 By GISSELLE G. PARUNGAO
March 16, 2020
CALBAYOG CITY – Tarabucan Central Elementary School is now the recipient of the new two-storey, six-classroom school building built by the Department of Public Works and Highways -Samar First District Engineering Office in convergence with the Department of Education. This building has a revised contract amount of P18.6 million from the Basic Educational facilities Fund of 2018.
"The school is a flood-prone area and most of the time, teachers are having a hard time in vacating school documents or files every time there is a heavy rainfall, to other areas of the school", said school principal Nimfa Doroja.
This problem is now a glimpse of the past because teachers and students alike are enjoying the comforts of the new classrooms. It is now occupied by two sections from Grades 2 and 6 as well as one class from Grade 3. The sixth room on the second floor of the building is used as the ICT room so that computers will be safe in case flooding occurs.
CARD MRI hosts Media Study Tour in Laguna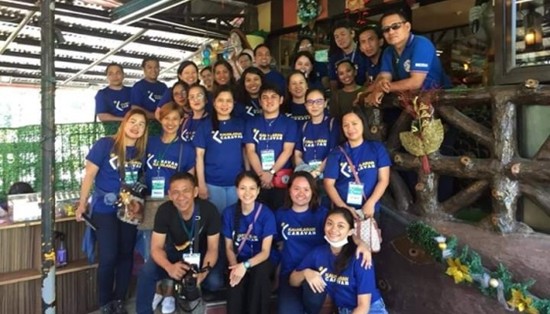 By JEFFREY C. TANDINGAN
March 13, 2020
SAN PABLO CITY – The CARD MRI Publishing House hosted a study tour on the microfinance and community development programs of CARD Mutually Reinforcing Institutions (CARD MRI) on March 5-6, 2020 in Laguna. This was participated by a total of 10 media practitioners from Northern and Southern Luzon.
Said CARD MRI Publishing House President Marilyn M. Manila, "The study tour is our innovative way of presenting to our media partners our other social development services apart from microfinance." She also explained that media practitioners have contributed a significant role in disseminating accurate information about CARD MRI's mission in pushing its charge in eradicating poverty and uplifting the lives of its millions of clients.
The Kaunlaran Caravan Visit
The study tour is an opportunity for media practitioners to experience firsthand CARD MRI's community development programs and to gather factual newsworthy information on microfinance and beyond.
The schedule of the study tour coincided with Kaunlaran Caravan, a quarterly activity wherein CARD MRI community development programs and services are are offered.
"Through this activity we want our media partners to witness our actual efforts that benefit our growing clients in rural communities in the country," Manila added.
The study tour also allowed the participants to attend a center meeting, a CARD methodology that enables clients to meet on a weekly or monthly basis for collection of loan payments and savings. The center meetings are also the venue where Credit with Education (CwE) is conducted. These are learning sessions wherein clients are provided information and knowledge on various topics such as proper handling of finances, disaster preparedness, health and wellness, among others.
The participants were also able to interview CARD MRI's successful microfinance clients including Myrna Manalo, a taka maker from Sta. Maria.
Media Briefing
A media briefing was also facilitated were the invited media practitioners had the opportunity to ask questions to the key management staff of selected institutions. One of the executive officers present during the briefing is Elma Valenzuela, CARD MRI Rizal Bank President.
"CARD MRI ensures that our products and services are tailored-fit to the needs of our clients. This is why we are investing on innovation and technology so that we can offer services that are accessible and convenient for the people we serve," said Valenzuela in response to one of the regarding new technologies that CARD is now offering.
Through the Media Study Tour, CARD MRI Publishing House hopes to continue its fruitful partnership with media practitioners in providing the public with development-oriented information. Since 2013, CARD MRI has held 15 study tour for media practitioners.
2 CNTs killed, 1 high powered firearm seized in Pinabacdao, Samar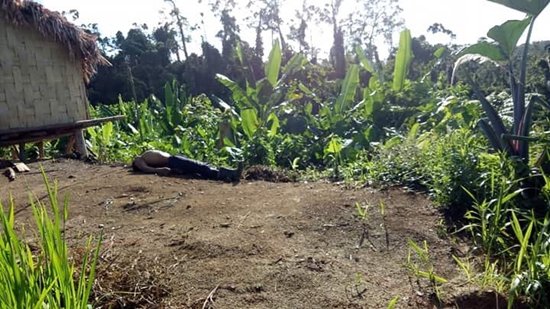 By DPAO, 8ID PA
March 12, 2020
CAMP LUKBAN, Catbalogan, Samar – The troops of 46th Infantry (Peacemakers) Battalion, Philippine Army killed two members of the CPP-NPA Terrorists (CNTs) in a 25-minute firefight that transpired in Brgy. Canlobo, Pinabacdao, Samar at around 8:15 in the morning of March 11, 2020.
The Focused Military Operation (FMO) is in response to the report of the locals on the presence of more or less 10 members of the terrorist group under alias DALTON who were foraging and extorting in the area that resulted to a more or less 25-minute firefight. The firefight yielded to the killing of two members of the NPA and seizure of war materiel including one M16A1 rifle, one bandolier with magazines, one backpack, electrical wires, one battery, solar panels and two cellular phones. However, one military personnel sustained a gunshot wound that caused his death.
It is worth mentioning that on March 6, 2020, Salvador Nordan alias Badok, a notorious Communist NPA Terrorist Leader, was killed at Brgy. Guba, Catarman, Northern Samar, while on March 5 and 7, 2020, the 78th Infantry Battalion had a series of encounters with remnants of Front 42, Sub-Regional Committee, under Communist NPA Terrorist Leader Roberto Opo alias Resty/Migo/Lowie in Brgy. Pancho Villa, Sogod, Southern Leyte. The series of encounters resulted the recovery of one M1 Garand rifle, ammunition and food stuff.
"We will continue to conduct focused military pursuit operations through legitimate use of force against these CPP-NPA Terrorists (CNTs) that threaten the safety and well-being of the populace. The residents of Pinabacdao are already tired of the lies, abuse, deceptions, and extortions of these terrorists. It is unfortunate that the CNTs continue to endanger the lives of the locals causing injury to the utmost peace and living conditions of the whole community." Lt. Col. Rhomel R. Langcauon, Commanding Officer of 46IB, remarked.
Maj. Gen. Pio Q. Diñoso III AFP, Commander, 8ID stated that "Tuloy-tuloy na ang pasok ng mga impormasyon galing sa ating mga kababayan na sawa na sa mga pangingikil, pananakot at karahasan ng mga teroristang NPA. Ang dati nilang tinuturing na ligtas na pinagtataguan ay pinagtuturo na ng dati nilang mga kasamahan at mismong mamamayan."
"Ipagpatuloy lang natin ang pagtutulungan ng lokal na pamahalaan, mamamayan, pulis at kasundalohan. Sa pamamagitan ng Executive Order 70, tuluyan na nating mawawakasan ang Local Communist Armed Conflict dito sa Silangang Bisayas."
"Aming pinapaabot ang taos-pusong pakikiramay sa pamilya at pagsaludo sa kabayanihan ng ating magiting na Stormtrooper na nag-alay ng buhay sa ngalan ng serbisyo para sa ating mga kababayang Samareño." Diñoso added.
CARD MRI RBI holds Community Health Day during Kaunlaran Caravan in Sta. Maria, Laguna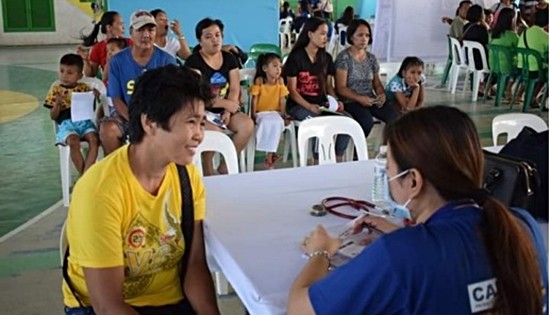 By JEFFREY C. TANDINGAN
March 12, 2020
SAN PABLO CITY – "We are in the business of poverty eradication," highlighted Ms. Elma Valenzuela, president and chief Executive Officer of CARD MRI Rural Bank, Inc. during the Kaunlaran Caravan held on March 6, 2020 in Sta. Maria, Laguna.
Aside from financial freedom, Ms. Valenzuela reiterated the importance of physical health and wellness of CARD MRI's clients during her speech.
Through the caravan's Community Health Day (CHD) initiative, optical, dental, and medical check-ups were held in collaboration with CARD MRI's Microfinance and Health Protection (MaHP) Unit and other partner doctors and clinics.
The free optical service, for example, was made possible through the help of Aguila-Mendoza Visual Care Clinic who also provided quality frames and lenses, sold at affordable prices during the program. On the farthest side of the town's covered court, children and adults availed the free dental checkup. Some also availed free tooth extraction, in which only P35 has to be paid for anesthesia.
Medical consultations, breast examination, and checkup on women's reproductive health were also conducted by partner doctors. Dr. Michelle Anne Dy-Menil of the MaHP unit also led a timely awareness and prevention discussion regarding the recent Coronavirus disease (COVID-19) outbreak.
"Ang Coronavirus ay isang virus na maraming-maraming klase," said Dr. Dy-Menil, who discussed about the types of coronaviruses, among them MERS-Cov, that can be contracted by both humans and animals through close contact. With this, proper handwashing with soap and water, sanitation, and an avoidance to physical contact like hugging or kissing, both humans and their pets, must be observed. Alongside this, Dr. Dy-Menil encouraged the attendees to avoid the discrimination against nationalities that contracted COVID-19.
To experience the full benefits from the health program, CARD MRI RBI members and non-members also had the chance to purchase vitamins, antibiotics, and other doctor prescribed medicines discounted at 20% through BotiCARD, Inc., CARD MRI's pharmacy that offers safe and affordable generic medicines.
Free massage, haircut, manicure, and pedicure were also organized to further enrich the total wellness of the community.
A total of 448 clients, including members, their dependents, and non-members, were served during the Community Health Day. Among these, 210 attendees benefited from the medical checkup including four pregnant women.
Nationwide price freeze on basic necessities in effect amid COVID-19 emergency
By DTI-CPG
March 12, 2020
MAKATI CITY – The Department of Trade and Industry (DTI) announces nationwide price freeze on basic necessities pursuant to the Price Act or Republic Act (RA) No. 7581.
Section 6 of the said law states that prices of basic necessities shall be frozen at their prevailing prices for sixty (60) days or until sooner lifted by the President whenever there is a declaration of a state of emergency, calamity, or other similar conditions.
Proclamation No. 922 which puts the country under a State of Public Health Emergency due to the Coronavirus Disease 2019 (COVID-19) outbreak triggered the implementation of a nationwide price freeze.
"The DTI is closely coordinating with other government agencies, manufacturers, and retailers of basic goods to ensure availability and continuous supply in the market. Retailers are reminded that there should be no price movement on these goods while the price freeze is in effect," says DTI Secretary Ramon M. Lopez.
Basic goods that are under the jurisdiction of the DTI include canned fish and other marine products, locally manufactured instant noodles, bottled water, bread, processed milk, coffee, candles, and laundry soap, detergent, and salt.
The DA covers basic agricultural goods such as rice, corn, cooking oil, fresh, dried and other marine products, fresh eggs, fresh pork, beef and poultry meat, fresh milk, fresh vegetables, root crops, sugar, and fresh fruits.
Essential drugs are under the DOH while firewood and charcoal for the DENR. Household LPG and kerosene, on the other hand, are under the DOE.
All these basic goods are placed under price freeze for 60 days with the exception of household LPG and kerosene whose prices shall be frozen for fifteen (15) days only as provided in the Amended Price Act or RA 10623.
Meanwhile, on ensuring price reasonableness, DTI-Consumer Protection Group (CPG) Undersecretary Atty. Ruth B. Castelo assures the public that, "The Department continues to intensify its monitoring and enforcement activities on the prices of basic goods in the market, including N-95, N-88, and other similar face masks."
It can be recalled that since the phreatic eruption of Taal Volcano, the DTI included face masks in its monitoring which remains relevant to this day as the country addresses the outbreak of COVID-19.
Business establishments found to have violated the price freeze shall be imposed with a fine amounting to P5,000.00 up to P1,000,000.00 and/or imprisonment for a period of one (1) year up to ten (10) years.
Consumers are enjoined to report business establishments that sell basic necessities beyond the price freeze by calling the One-DTI (1-384) Hotline or sending an email to, ConsumerCare@dti.gov.ph.
DPWH Samar I build flood control structures along Sinidman River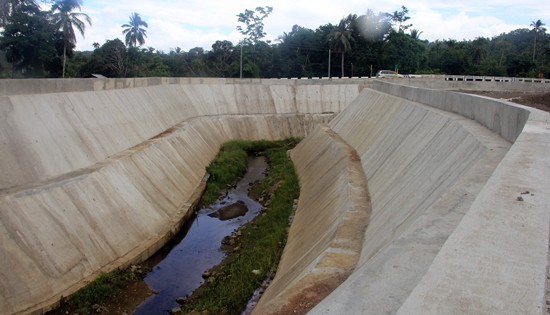 By CHENZI MAY D. UY
March 12, 2020
CALBAYOG CITY – Samar First District Engineering Office (DPWH-SFDEO) has completed the construction of 240-linear-meter flood control structures along Sinidman River in barangay Sinidman Occidental, Calbayog City.
Sinidman Occidental is an identified flood-prone barangay. According to Barangay Captain Romeo P. Olojan, in 2018, super typhoon Usman caused floodwaters to rise up to fifteen (15) feet. Ricefields and close to ninety (90) households in Purok 1 and Purok 2 were severely affected at the time. Moreover, an almost kilometer-long section of Daang Maharlika was flooded, causing travelers on the Calbayog-Catarman route to be stranded.
"When it rains heavily, our barangay is the first to get flooded because all the surface water from the Sinidman Oriental (upland) comes down and overtops our river," Olojan explained.
The chieftain hopes more such structures will be built along the entire stream so as to eliminate the flooding risk completely.
The P35-million flood control project is part of the GAA 2019 infrastructure program of SFDEO.
Samar First District Engineering Office allocated with P2.3B from GAA 2020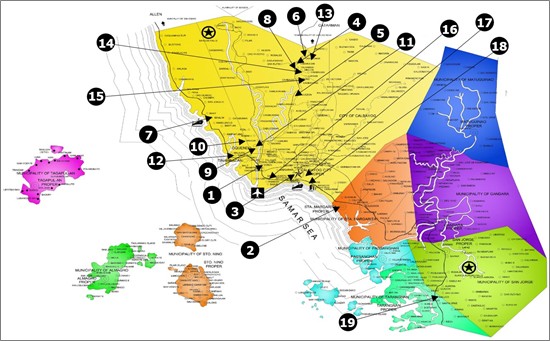 By GISSELLE G. PARUNGAO
March 10, 2020
CALBAYOG CITY – The Department of Public Works and Highways has received a total appropriation amounting to P2,335,680,000.00 from the approved General Appropriations Act of 2020.
There are about seventy-five (75) projects to be implemented by the district which will comprise the GAA for CY 2020.
To preserve the infrastructure investment made along national road, the project identified focus more on rehabilitation/construction/widening on both national and secondary roads amounting to P1,232,902,000.00 while an allocation of P366,278,000.00 was granted to projects that will prevent flooding in low-lying areas.
Local Program also received P696,500,000.00 whereas, convergence and special support program received P40,000,000.00 to build roads leading to tourism destinations and infrastructure/s in support of national security which is beneficial to the people of the 1st District of Samar.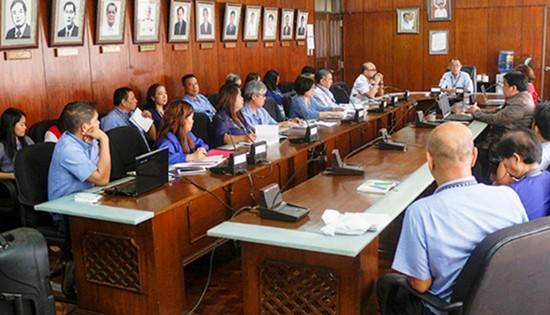 NMP Executive Staff, Section and Unit Heads during the Audit Entry /Exit Meeting with the SOCOTEC Auditors.
NMP retains its ISO 9001:2015 certification
By National Maritime Polytechnic
March 10, 2020
TACLOBAN CITY – Following a rigorous audit conducted by the SOCOTEC Certification Philippines, the National Maritime Polytechnic Quality Management System (NMP QMS) retains its ISO 9001:2015 Certification as it passed the 2nd Surveillance Audit held on 05 March 2020 both at its main office at Brgy. Cabalawan, Tacloban City and liaison office with address at 2nd Floor ECC Building, 355 Sen. Gil Puyat Avenue Makati City.
NMP's quality procedures, manuals and other systems documentation were reviewed by Ms. Olivia Eco and Mr. Ringo Pabua, SOCOTEC auditors, as against the requirements set forth by the standard. The auditors looked into NMP's several processes which include registration and certification procedures; course delivery; assessment / examination; documentation; performance monitoring and assessment; provision of resources; performance evaluation of suppliers and other administrative support services during the audit.
During the exit meeting, Ms. Eco, audit team leader, expressed her appreciation for the NMP's established QMS, as well as the strong support and demonstration of leadership of the top management for the continual improvement of its QMS.
She likewise relayed her positive observations on the significant developments since her last visit in May 2017. These include collaboration/ partnership with different manning and shipping agencies, acquisition of additional equipment, establishment of extension offices, remarkable set-up of NMP's training facilities coupled with excellent equipment maintenance activities and auditees are very competent and knowledgeable.
Finally, the audit report disclosed that there were no non-conformances noted, but somehow some observations were raised which NMP may look into as an opportunity for continual improvement. With the said findings, the NMP QMS was recommended for continued certification.
"We acknowledge the concerted efforts of the entire workforce in passing the audit. Rest assured that NMP will remain dedicated to further improve its systems, processes and procedures", said NMP Executive Director Joel B. Maglunsod.
Likewise, NMP OIC Deputy Executive Director shared "All the efforts and hard work of NMP employees have paid off. Congratulations to all of us."
As an Agency that commits to continuous enhancement of seafarers, maintaining ISO Certification of its QMS confirms the Agency's relevance in carrying out its mandate of upgrading the qualifications of Filipino seafarers and providing maritime industry researches.
Over the years, NMP aggressively pursued for the establishment of its QMS in compliance with the requirements of the Standards of Training, Certification and Watchkeeping Convention (STCW) 1978. Its first ISO Registration Certificate was obtained in April 2000. Since then, the NMP QMS has undergone continuous certification and surveillance audits, passed and was eventually re-certified over the years under ISO 9001: 1994, ISO 9001: 2000, ISO 9001: 2008, and the latest in 2018 under ISO 9001:2015.
It can be recalled that in 2009, NMP received a special recognition from the Office of the President for being one of the forty (40) government offices across the country to be ISO-certified. Also, in 2015, the Agency earned a commendation from the Department of Labor and Employment (DOLE) for continuously improving the efficiency and effectiveness of its Quality System.
Meanwhile, in its effort to sustain its mandate in providing quality service through upgrading and specialized training programs, NMP continues to maintain and upgrade its facilities and its pool of competent instructors. Those Interested to take the training courses may visit the NMP website @ www.nmp.gov.ph or visit the agency's Facebook page (www.facebook.com/ nmptrainingcenter) where all updates and relevant information on NMP programs are available.
Interested stakeholders who wish to validate the authenticity of their seafarers-employed with NMP issued certificates may visit www.verify.nmp.gov.ph or download the NMP App at Google Play Store for android phone users. Likewise, those interested in NMP research undertakings may visit the NMP website and access the e-Research Information System Portal which is designed to disseminate NMP completed researches, present the Research Agenda, and engage the industry stakeholders to collaborate in the research activities.
Further, NMP encourages OWWA registered seafarers to avail of the NMP-OWWA (Overseas Workers Welfare Administration) Seafarers' Upgrading Program (SUP) and Skills for Employment Scholarship Program (SESP) which entitles the beneficiary to receive financial assistance for training costs from the OWWA.