Which car brands will be fully electric and when?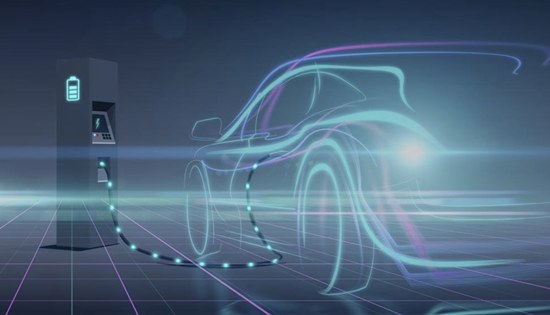 The world is gradually moving towards electric cars. This is due to the policies of many countries aimed at reducing the harmful impact on the environment and, as a result, banning the use of fossil fuel vehicles. Most car companies are investing in an industrial transition planned for the next 10 to 20 years. Below is a list of brands that are heading towards converting production to electric vehicles. And already today, the supply of new and used electric cars on the market is growing day by day, at an incredible pace.
Alfa romeo
Italian Alfa Romeo, which is owned by automaker Stellantis, has announced that it will sell electric vehicles from 2027 in North America, Europe and China. Stellantis will invest $ 47 billion in battery-powered vehicles by 2025.
Audi
The development of the internal combustion engine will gradually be completed by 2033. Hybrid, gasoline and diesel vehicles produced until 2026 will be on sale until the early 2030s. From 2026, all new models of Audi, which belongs to the Volkswagen Group, will be electric.
Bentley
Another company, which is part of the Volkswagen Group, plans to phase out internal combustion engines by 2026, leaving plug-in hybrids and battery cars. The release of the first electric vehicle was announced for 2025. Two hybrids are already on sale and the third will become available in 2023. Full transition to electric is planned for 2030.
Fiat
Fiat CEO Olivier François said the final switch to electric would take place between 2025 and 2030. The company, which is owned by Stellantis, will produce exclusively electric vehicles for the rest of this decade.
Ford
The American company Ford Motor, together with its Korean partner SK Innovation, will build and open three battery and one electrical assembly plant in the United States by 2025. Passenger cars for the European market will become fully electric by 2030.
General motors
The company, which owns Buick, Chevrolet, GMC, Cadillac, will finally switch to electric by 2035. Carbon neutrality is planned for 2040.
Honda
The Japanese company expects 40% of electric and hydrogen car sales by 2030 and 80% by 2035. All-electric models will be sold in North America, Japan and China until 2040.
Hyundai
The Hyundai Group, which includes Kia, is focusing on hydrogen cars - fuel cell electric vehicles. All commercial vehicle models will be hydrogen-powered by 2028. The selection of accumulator cars will gradually expand in the USA, Europe and China. The full transition to the electric motor will take place before 2040.
Jaguar
UK-based Jaguar will go all-electric from 2025. Jaguar Land Rover promises zero carbon emissions by 2039. The Land Rover electric vehicle is slated to launch in 2024.
Mercedes-Benz
The German company, which is owned by Daimler, will switch to electric before the end of the decade. The plan is to increase the production of battery cars and plug-in hybrids to account for 50% of global sales by 2025.
Mini
The brand from BMW will launch the last car with an internal combustion engine in 2025. Until 2030, only electric vehicles will be produced.
Nissan
The Japanese company, which is part of the Renault Nissan Mitsubishi alliance, will produce exclusively electric cars for Japan, China, the United States and Europe until the early 2030s. By 2050, the manufacturer will be carbon neutral.
Renault
The French company has dropped the ban on hybrid sales from 2035. However, Renault has said that 90% of its models will be battery-powered EVs by 2030.
Rolls-royce
The luxury Rolls-Royce, which is owned by BMW, will produce exclusively electric vehicles by 2030. The first all-electric vehicle will be unveiled at the end of 2023.
Toyota
The Japanese company is working to reduce air emissions by 2050. Basically, the manufacturer is focused on the development of hydrogen cars.
Volkswagen
The German company will exclusively sell electric vehicles in Europe until 2035. Following the European market, the sale of cars with internal combustion engines will be discontinued in the United States and China. Carbon neutrality is planned to be achieved by 2050.
Volvo
The company aims to ensure that by 2025 approximately 50% of Volvo's global car sales will be battery-powered and the other 50% hybrid. Only electric vehicles will remain in production until 2030.
Eastern Visayas posts 3.2% inflation rate in July 2021
By PSA-8
August 17, 2021
TACLOBAN CITY – Eastern Visayas posted to 3.2 percent Inflation Rate (IR) in July 2021. This IR is 0.1 percentage point lower compared with the 3.3 percent IR in June 2021. This July IR of the region is 1.5 percentage points higher than the recorded 1.7 percent IR in the same period last year.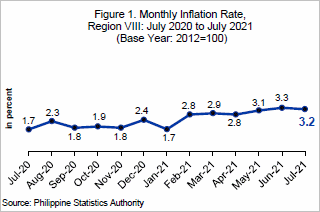 In comparison with the national average IR, the regional IR is 0.8 percentage point lower than the 4.0 percent national IR in July 2021.
Among the provinces, Samar posted the highest IR at 6.9 percent in July 2021. Eastern Samar's IR came next at 6.1 percent, then Biliran at 4.5 percent. The lowest IR was noted in Northern Samar at 1.5 percent. Northern Samar, Samar, Eastern Samar, and Southern Leyte registered lower IRs in July 2021 compared with their figures in June 2021. Northern Samar recorded the highest decrease in IR at 1.6 percentage points, bringing its IR down to 1.5 percent in July 2021 from 3.1 percent in June 2021.
Samar's IR declined to 6.9 percent in July 2021, while Eastern Samar and Southern Leyte managed to lower their IRs to 6.1 percent and 2.9 percent, respectively in July 2021. On the other hand, the provinces of Leyte and Biliran recorded increases in their IRs in July 2021 by 0.4 percentage point and 0.1 percentage point, respectively. Leyte grew to 1.7 percent, while Biliran inched up to 4.5 percent in July 2021.
Transport commodity group continued to post the highest IR at 10.3 percent. This was followed by alcoholic beverages and tobacco commodity group, and housing, water, electricity, gas and other fuels commodity group with IRs at 7.3 percent and 3.6 percent, respectively. All the other commodity groups have IR lower than the IR for all items recorded at 3.2 percent.
Five (5) of the 11 commodity groups in the region exhibited lower IRs in July 2021 compared with their rates in June 2021. The transport commodity group registered the biggest decrease in IR by 1.2 percentage points from its 11.5 percent IR in June 2021. It still, however, registered a double-digit IR of 10.3 percent in July 2021.
The IR for furnishings, household equipment, and routine maintenance of the house commodity group managed to shed off 0.5 percentage point, from 2.9 percent in June 2021 to 2.4 percent in July 2021.
Restaurants and miscellaneous goods and services commodity group recorded 0.4 percentage point decrease in its IR settling at 2.5 percent in July 2021.
Food and non-alcoholic beverages commodity group registered a slight decrease in IR by 0.2 percentage point, from 2.8 percent in June 2021 to 2.6 percent in July 2021. Lower IRs were noted in majority of the items under this commodity group. Fish index registered the highest decrease of 1.6 percentage points, from 9.1 percent IR in June 2021 to 7.5 percent IR in July 2021. The IR for food products not elsewhere classified declined by 1.1 percentage point from its 4.1 percent IR in June 2021, posting 3.0 percent IR in July 2021. Slower price increases were also noted in the indices for sugar, jam, honey, chocolate, and confectionery (1.8%); vegetables (1.6%); and milk, cheese, and eggs (1.3%).
Meanwhile, fruits index registered the highest increase of 3.4 percentage points, from 0.8 percent deflation in June 2021 to 2.6 percent IR in July 2021. Prices of meat picked up at a faster rate registering a double-digit IR of 10.3 percent in July 2021 from 9.6 percent in June 2021. Faster price increase was also noted in index for oils and fats at 2.2 percent during the month in review. Rice and corn further deflated to 1.4 percent. Bread and cereals likewise continued to register price drop-offs at 0.9 percent. Non-alcoholic beverages retained its previous month's IR at 0.6 percent.
Recreation and culture commodity group further deflated to 1.6 percent in July 2021 from 1.5 percent deflation in June 2021.
On the other hand, alcoholic beverages and tobacco commodity group recorded 7.3 percent IR in July 2021, higher by 0.5 percentage point from the 6.8 percent IR in June 2021. This growth can be attributed to higher IR in the indices for both alcoholic beverages (5.6%) and tobacco (8.3%).
The IR for housing, water, electricity, gas, and other fuels commodity group and health commodity group picked up by 0.3 percentage point, pushing its IR to 3.6 percent in July 2021.
Compared with their June 2021 levels, IRs for clothing and footwear commodity group (2.2%) and health commodity group (2.0%) were higher by 0.2 percentage point and 0.1 percentage point, respectively in July 2021.
The commodity groups of communication and education, meanwhile, retained their previous month's IRs at 1.0 percent and 0.5 percent, respectively.
The Purchasing Power of Peso (PPP) of the region remained at P0.76 in July 2021. This PPP implies that the goods and services worth P76.00 in 2012 is now worth P100.00 in July 2021.
Compared with their levels in June 2021, PPP in Biliran and Northern Samar strengthened by P0.01, while PPP in Leyte weakened by P0.01. The rest of the provinces retained their previous month's PPP. Biliran recorded the strongest PPP among provinces in July 2021 at P0.80. Leyte ranked second at P0.79, followed by Southern Leyte at P0.78, Eastern Samar at P0.73, and Northern Samar at P0.72. Samar posted the weakest PPP during the reference month at P0.69.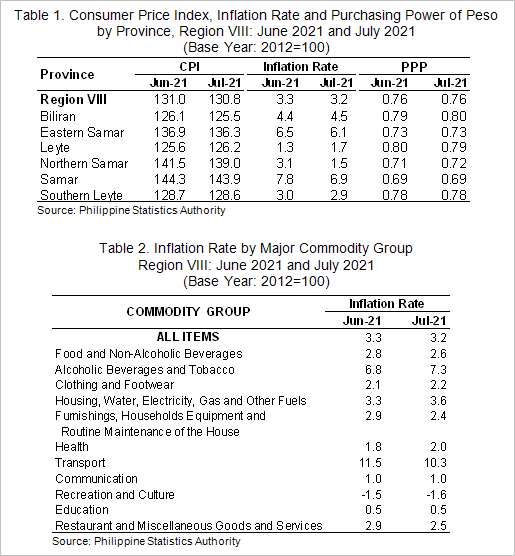 Chiz tells DTI, PPA: Spike in arrastre fees to hurt economic recovery
Press Release
August 13, 2021
SORSOGON CITY – Sorsogon Gov. Chiz Escudero has called on concerned government agencies to look into the current fees and charges imposed on various cargo shipments which sharp increases amid a global health crisis could hurt efforts to help the country rebound from the pandemic-induced economic downturn.
The veteran legislator has learned that arrastre fees in most major ports under the Philippine Ports Authority (PPA) went up by as much as 200 percent, an increase that may ultimately impact the growth of the Philippines which recently has gone out of recession as the economy grew by 11.8 percent in second quarter this year.
"Arrastre fees in most major ports went up by 200 percent. For example, for every bag of cement, arrastre fees went up from P5 to P21 per bag," the former senator posted on his Twitter account @saychiz.
"I hope the DTI (Department of Trade and Industry), the PPA and the DOTR (Department of Transportation) will look into this as it inordinately raises the cost of construction and doing business and DURING A PANDEMIC at that!" he added.
Arrastre is defined by the PPA as a person or entity that performs portside cargo handling operations, such as the receiving, handling, custody, security and delivery of cargo passing over piers, quays or wharves, transit sheds/warehouses and open storages within the jurisdictional area of responsibility of the authorized contractor or operator.
The PPA has continuously implemented, despite the ongoing COVID-19 pandemic, several memorandum circulars adjusting cargo tariff rates and handling fees in various ports nationwide under its jurisdiction such as the Manila North Harbor Port, Inc., Manila South Harbor, Inc. and the Manila International Container Terminal, despite industry-wide opposition of international shipping lines who are likewise battling the effects of the economic slowdown due to the pandemic.
In a position paper submitted by the Association of International Shipping Lines to PPA last year, industry leaders had warned that any increase in handling fees would not only hurt cargo handlers and operators, but more importantly small enterprises and consumers.
At the North Harbor alone, the PPA, through its Memorandum Circular 04-2017, has been implementing the 24-percent cargo handling rate increase since July 2019.
And this year, the ports authority, through two separate administrative orders, has started imposing empty container handling fees for foreign empty containers and storage fees for out-of-gauge containers, or cargoes that exceed the standard dimension of containers.
Serbisyong TUPAD benefits over 1K workers in Tolosa, Alangalang
By NORMA RAE S. COSTIMIANO
August 10, 2021
TACLOBAN CITY – The Department of Labor and Employment Regional Office VIII through its North Leyte Field Office successfully paid a total of P2,048,000.00 TUPAD wages to some 1,024 informal sector workers of Tolosa and Alangalang in Leyte last August 9, 2021.
Each beneficiary received P3,250.00 as remuneration for the services rendered during the 10-day TUPAD implementation.
Present to lead the event was DOLE Assistant Secretary Victor Del Rosario, representing Secretary Silvestre "Bebot" Bello III. He was assisted by DOLE-RO8 Regional Director Henry John Jalbuena and DOLE-NLFO Head Norman Uyvico.
Asec. Del Rosario in his message said that DOLE will never cease to deliver the needed assistance to the Filipino workers. He encouraged everyone to have faith and not lose hope despite the pandemic.
"I just want to encourage you to have faith and not lose hope. DOLE and the government is here to help you", said del Rosario.
Tolosa Mayor Ma. Ofelia Alcantara expressed heartfelt gratitude for the assistance received from DOLE and the different government agencies.
"We at LGU-Tolosa are thankful that we are able to avail of the programs and services of the government for the benefit of our displaced and needy workers", said Alcantara.
Meanwhile, Mayor Yu acknowledged the fruitful partnerships of LGUs and national government agencies in helping the Alangalanganons.
"We really appreciate the convergence of different government agencies just to bring relief to our constituents greatly affected by this pandemic", said Yu.
Livelihood assistance were likewise turned over to eight (8) parents of child laborers in Alangalang amounting to P160,000.00.
Director Jalbuena, like he always did in every payout, reminded all the beneficiaries to use their hard-earned money for the needs of their families.
Also in attendance to grace the event were Mr. Allan Tanuakio from the Office of the President, DTI Assistant Secretary Niño Contreras and Ms. Irene Permejo of DSWD Regional Office VIII. Beneficiaries were grateful because aside from the TUPAD wages, they also received P2,000.00 each as financial aid from the Assistance to Individuals in Crisis Situation (AICS) program of the DSWD.
Some ten (10) lucky beneficiaries also took home raffle prizes such as rubber shoes, android tablets and bicycles courtesy of the Office of Senator Christopher Lawrence "Bong" Go. (with report from DOLE-NLFO)
Secretary Bello leads awarding of over P11-M DOLE aid in Leyte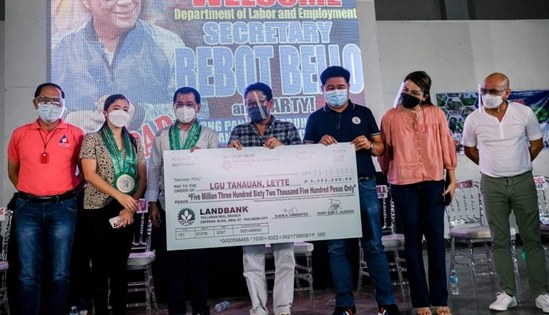 By NORMA RAE S. COSTIMIANO
August 6, 2021
TACLOBAN CITY – Leyteños were grateful as livelihood and employment assistance poured when DOLE Secretary Silvestre H. Bello III visited the towns of Tanauan and Burauen, Leyte on August 5, 2021.
A total of P11,080,372.00 livelihood and TUPAD grants were awarded to some 2,261 beneficiaries of the municipalities of Tanauan and Burauen.
P7,260,900.00 worth of TUPAD and livelihood grants were received by 1,801 underemployed and disadvantaged workers in Tanauan while P3,179,472.00 were benefited by 460 informal sector workers from Burauen.
Meanwhile, there were 25 displaced and returning OFWs who have received the sum of P640,000.00 livelihood and financial assistance under the OWWA's Balik Pinas Balik Hanapbuhay (BPBH) and Tabang OFW programs.
Aside from Secretary Bello, also in attendance to grace the event were Undersecretary Renato Ebarle, DOLE-BWSC Director Atty. Ma. Karina Trayvilla, OWWA Administrator Hans Leo Cacdac, DOLE-RO8 Director Henry John Jalbuena, An Waray Partylist Representative Florencio "Bem" Noel, Leyte Governor Leopoldo Dominico "Mic" Petilla, Alangalang Mayor Lovely Yu and Atty. Jo Ann Zacarias representing 2nd District Congresswoman Lolita Karen Javier.
Mayor Pelagio Tecson of Tanauan and Mayor Juanito Renomeron of Burauen warmly welcomed the team into their respective areas and expressed their sincerest gratitude for all the assistance received from the labor department.
"We are really grateful to Secretary Bello for being responsive to the needs of our constituents", said Mayor Tecson.
Governor Mic Petilla likewise recognized the efforts of DOLE and the administration in helping the province. He said that it will be a great help for the province to recover from the effects of the on-going pandemic.
"We don't know when this pandemic will end, but I can assure you that our province can recover especially that the government through DOLE is here to help us", Petilla said.
In his messages, Secretary Bello never failed to underscore that DOLE exists for the fulfillment of its mandate which is to look after the welfare of every Filipino worker.
"DOLE will continue to live up to its mandate and we will do all that we can for the benefit of our Filipino workers", said the labor secretary.
Just like a father to his children, Sec. Bello reminded all the beneficiaries to spend the money they received for their basic needs.
"These are government funds, so please use the money you received for the basic needs of your families", Bello added.
Bello committed to bring more assistance to the region for the benefit of the workers struggling due to the pandemic.
The team of DOLE-North Leyte Field Office headed by Mr. Norman Uyvico were also in full support of the successful undertaking.
Villar and Lorenzana lead inauguration of two units 2-storey building for army brigade in region 8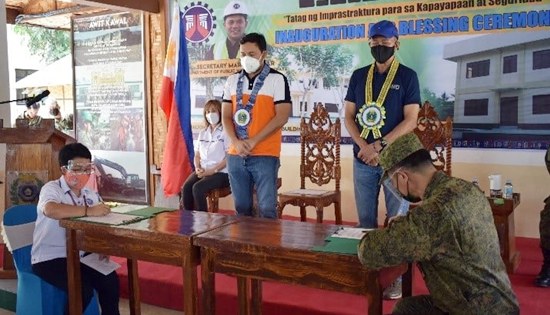 Ceremonial Signing of Acceptance of Facility by ADE Rebecca Yuse and LTC Joel Almendral CE (GSC) PA witnessed by Sec. Villar and Sec. Lorenzana.
By TACLOBAN CITY DEO
August 4, 2021
TACLOBAN CITY – The Department of Public Works and Highways (DPWH) Tacloban City District Engineering Office (TCDEO) celebrates another milestone achievement with the completion and official turnover of two units 2-storey building for the 546th Engineer Construction Battalion, 53rd Engineer Brigade, Philippine Army.
DPWH Secretary Mark A. Villar together with Department of National Defense (DND) Secretary Delfin N. Lorenzana led the ceremonial inauguration and blessing of the 2-storey building Battalion Office and Officers' Quarters Building and 2-storey building Senior NCO Baracks held on August 3, 2021 at the 546th Engineer Construction Battalion Multipurpose Hall.
Both projects are under the DPWH-DND "Tatag ng Imprastraktura para sa Kapayapaan at Seguridad (TIKAS)" Convergence Program which was conceptualized primarily for the purpose of revitalizing the mutual interest of the two agencies, that is for the DPWH to help address various facility requirements of the different armed forces units and for DND to protect and safeguard implemented projects especially in conflict areas.
The 2-storey Battalion Office and Officers' Quarters Building consists of conference rooms and office spaces for the battalion officers situated at the first-floor area and 12 air-conditioned bedrooms with individual toilet and bath at the second-floor area. Furthermore, the second 2-storey building serves as living quarters for the Senior Non-Commissioned Officers consisting of 24 air-conditioned bedrooms with individual toilets and bath. Both buildings are secured with CCTV cameras, fire escape and fire protection facilities.
In total, the project costs about P45.2-million funded under the General Appropriations Act of 2021.
In behalf of the whole 546th Engineer Construction Battalion, 53rd Engineer Brigade of the Philippine Army, Brigadier General Gerardo Catindoy, Commander of the Philippine Army 53rd Engineer Brigade, expressed his heartfelt gratitude to all who have contributed in the realization of the projects which supports the administrative and operational functions of the unit.
Sec. Lorenzana also commended the successful DPWH-DND TIKAS Program for it has reached great achievements in providing the armed forces with facilities that support their peacekeeping and security roles.
In return, Sec. Villar thanked Sec. Lorenzana for showing commitment towards protecting DPWH infrastructure projects in support of national security especially in Region 8.
With the continued collaboration and commitment of DPWH and DND to the TIKAS Program, the country's armed forces units are envisioned to have complete and modernized facilities that would help them reinforce their military missions and enhance their capabilities in maintaining peace and security all throughout the country and also for the country's infrastructure facilities in conflict areas to be safeguarded to continuously support the government's national development programs.
Also present during the event were DPWH-TCDEO Assistant District Engineer Rebecca G. Yuse in lieu of District Engineer Lino Francisco Gonzalez, DPWH RO8 Regional Director Nerie D. Bueno, Commander of the Philippine Army 8th Infantry Division Major General Pio Q. Diñoso III, Commanding Officer of 546ECB, 53 EBDE, Philippine Army LTC Joel M. Almendral, Regional Director of the Office of Civil Defense ROVIII Lord Byron P. Torrecarion and MAJ Shidie B. Bitanga CHS (PA) Chaplain of 8th Infantry Division of the Philippine Army who lead the blessing of the buildings.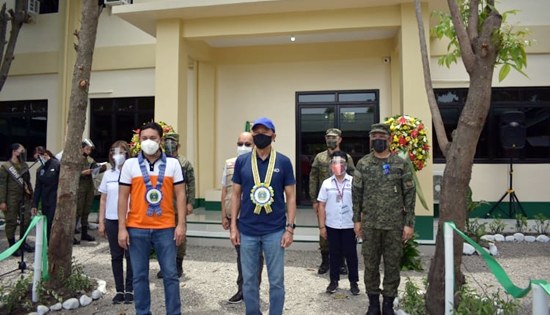 In picture are Sec. Villar, Sec. Lorenzana, MGen. Diñoso, ADE Yuse, OCD ROVIII RD Torrecarion, DPWH ROVIII RD Bueno, LTC Almendral and BGen. Catindoy.
Suspected NPA slain in Eastern Samar clash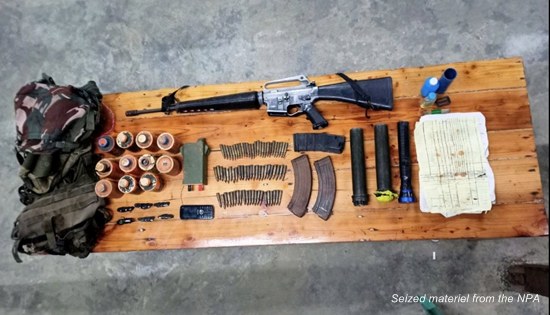 By 78th Infantry Battalion, 8ID PA
August 2, 2021
BORONGAN CITY, Eastern Samar – The operating troops of the 78th Infantry Battalion, 8th Infantry Division, Philippine Army engaged in a firefight against the CPP-NPA Terrorists (CNTs) which resulted to the death of one of their members in Brgy. San Andres, this city, at around 8:00 in the morning of August 01, 2021.
The troops were conducting combat operations in response to the reported complaints of the farmers on the extortion activities by the CNTs involving threat and intimidation if they refuse to apportion their farm produce.
A 35-minute firefight ensued between the army and more or less 7 CNTs that recorded one slain NPA member while there is no casualty on the said operating troops.
Among the seized materiel after the gun battle were one M16 rifle with one long magazine and ammunition, hand grenades (IEDs) and detonators, rifle grenades, one magazine and ammunition of AK47, subversive documents, backpacks and CNTs' personal belongings. There were also series of NPA camps seized before the encounter transpired this morning.
Lieutenant Colonel Oliver C. Alvior, Commanding Officer of 78th Infantry Battalion expressed his grief for the loss of life because of a fraudulent and worthless ideology peddled by the CPP-NPA terrorists.
"I extend my most profound sympathy to the family of the slain rebel. Rest assured that he will be given a decent burial through the help of the City Government of Borongan", said Alvior.
"We call the rebels still fighting for their futile ideologies to overthrow the government. We strongly urge you to lay down your arms and submit yourselves to the government before a needless bloodshed happens. Your families are waiting for you to live a peaceful life with them", Alvior added.
The 78IB will continue to perform its mandate through the cooperation of the community so as to end insurgency in Eastern Visayas.
Water system supply benefit four barangays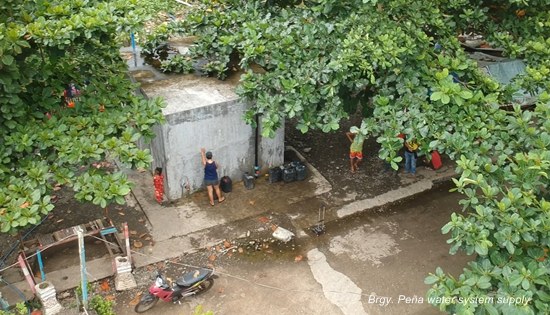 By GISSELLE PARUNGAO
July 30, 2021
CALBAYOG CITY – Four (4) barangays benefitted the water system supply designed and built by Samar First District Engineering Office. This project is drawn from the General Appropriations Act of 2020 with a contract amount of P68.68 million.
A water supply system is installed in Barangay Malayog wherein a total of 3,335-meters pipe was laid out from the water source and six (6) reservoirs were dispersed all over the area. Whilst, in Barangay Peña, a total of 12,717 meters of pipe was placed and eight (8) reservoirs are spread out in strategic areas of the barangay.
Another water system is mounted in Barangay Cag-olango with a total of 1,595-meter pipe with five (5) reservoirs inside the area. Moreover, in Barangay Cagnipa, another 4,658 meters of pipe was aligned with eleven (11) reservoirs.
The water source comes from Lamorin falls (Barangays Malayog and Peña) or a downfall river (Barangays Cag-olango and Cagnipa) wherein a catch basin was made to collect water. High density poly ethylene pipes of different sizes were tapped for transmission of water to all barangays: 6-inch diameter are used from the source to the barangays, 4-inch diameter are used within the barangay and 2-inch diameter to the reservoir. All of the reservoirs are structural concrete with two (2) faucets.
Violeta Delabajan, a resident of Barangay Peña said "the water source here in Barangay Peña before would come from the mountain and most of the time the water is murky during rainy season. A hose would be tapped from a creek in the mountain and into a public area where people can fetch water for the resident's consumption. For those with box wagons, it is easier for them but for those who does not have any, they would carry it with their bare hands. Also, a water pump was dug out through the barangay officials' efforts but it has a foul smell due to the manganese present in the water that cannot be used for cooking or washing clothes. Now that these reservoirs are in place, the difficulty in getting water is now resolved. Water is overflowing and not a problem for Barangay Peña."
P3.2M worth of Kabuhayan packages released in Northern Samar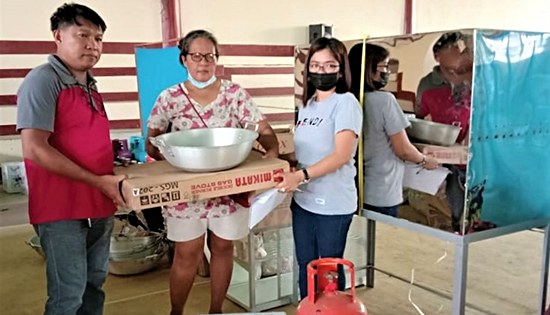 By JEROLD C. AMAGO, DOLE NSFO
July 30, 2021
CATARMAN, Northern Samar – The Department of Labor and Employment Northern Samar Field Office (DOLE-NSFO) here recently released over P3.2 million pesos worth of livelihood projects benefitting some 96 unemployed and disadvantaged workers from the municipalities of Bobon and Catarman.
Formal turn-over ceremonies followed with the actual distribution of project equipment and raw materials were each held on 22 and 23 July 2021 in Brgy. Cervantes, Catarman, and in Bobon, Northern Samar, respectively. DOLE-NSFO Chief and Provincial Head Patria A. Bigcas, Bobon Municipal Administrator Rene Celespara, and Cervantes Punong Barangay graced the events.
The projects consisted of various Kabuhayan packages amounting to a maximum of P30,000 pesos worth of tools, jigs, raw materials, and other equipment for the approved Kabuhayan Starter kits. They include Sari-Sari Store Kabuhayan Package, Food-processing Business, Rice-Retailing, Bakery Production Project, Barbecue Making, Fish Vending, Tailoring, Welding, Piggery and Poultry Raising, among others.
The 96 beneficiaries which were composed mostly of parents of child laborers, were identified and prioritized based on the Child Labor Profiling Program held in 2019 by the DOLE-NSFO in the two municipalities. Ms. Bigcas said the Kabuhayan projects were primarily aimed at helping the beneficiaries create sources of livelihood and thereby enable them to adequately earn incomes needed for their families.
"The immediate and long term objectives of this is to significantly reduce, if not eliminate, the incidence of child labor in the areas," she added.
In his message, Bobon Municipal Administrator Mr. Rene Celespara thanked DOLE for its "continued support to their poverty-alleviation initiatives."
He also emphasized that, while the packages are provided as a grant, he reminded the beneficiaries that the project is part of the efforts between the DOLE and LGU to eliminate child labor, and that by providing parents a sustainable means of livelihood, their children can focus on their welfare, health and education, instead of engaging in hazardous work.
Susan Polinas, 64, farmer and mother of thirteen children from Barangay Cervantes, Catarman, Northern Samar, said that she didn't have a choice but to allow one of her children to work as a paid laborer in a nearby construction. "Life is difficult especially now that we barely have coconuts due to constant typhoons," sighed Polinas.
With the DOLE kabuhayan, however, she hopes that it will help her earn more and provide for the needs of her household.
The DOLE likewise provided the beneficiaries with a crash course on records-keeping to help them sustain their business through proper financial management.
In surveys conducted between 2018 to 2019, more than 80 child laborers were profiled, mostly out-of-school male aged 14 to 17, working in construction, farming and other hazardous occupations. Reasons often cited as to why they sacrifice school and health to earn a living is to support their families by giving money to their parents and buying things for their households.
With the restrictions due to COVID-19 starting to ease, CLP surveys have resumed and are currently on-going.
DPWH road rehabilitation project delivers smooth road to motorists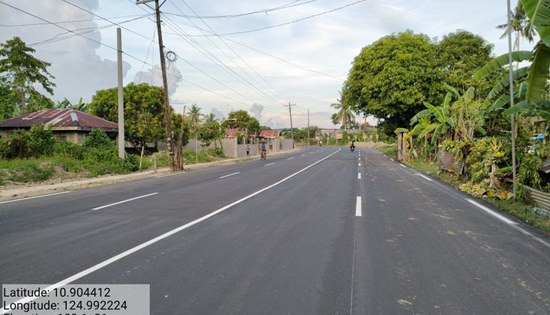 By DPWH 2nd LED
July 30, 2021
MAYORGA, Leyte – With the aim to provide a better road network to the motorists and travelers, the Department of Public Works and Highways (DPWH) -Leyte Second District Engineering Office rehabilitates and upgrades Mayorga-La Paz road section.
The project is located along Barangay Mabini road section in Mayorga, Leyte and has a total length of .592 linear kilometer of asphalt overlay.
"This project will provide convenience to the travelling public and faster movement of vehicles utilizing this road section," said OIC-District Engineer Leo Edward Oppura.
"Aside from improving the ride quality of the commuters, the pavement structure will be strengthened and can withstand occasional overloads without serious damage," Oppura added.
Mayorga-La Paz road section is classified as a secondary road connecting Daang Maharlika in the Southern part of Leyte.
With a capital outlay of P14.55-million under DPWH-General Appropriations Act FY-2021, this project is now completed and utilized by the travelling public.
Regional winners of 2021 Productivity Olympics awarded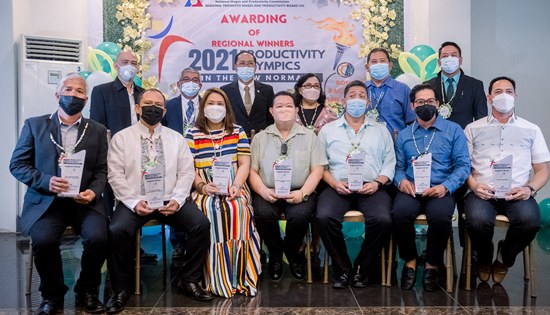 By NORMA RAE S. COSTIMIANO
July 30, 2021
TACLOBAN CITY – With the theme "Bounce Back Better", seven (7) regional winners of this year's Productivity Olympics were awarded by the Regional Tripartite Wages and Productivity Board VIII (RTWPB) on 26 July 2021 at Hotel Costa Brava, San Jose, this city.
Screened and evaluated by the members of the RTWPB on the criteria of business continuity, employee engagement and employee preservation, the following emerged as victorious winners of the region: Leyte Compact Farming Agriculture Cooperative, Stephanie Smoke Haus, Don Orestes Romualdez Electric Cooperative Inc. (DORELCO), Hotel Costa Brava, Eva Marie Arts and Craft, Cantongtong United Youth Association (CUYA) and Northern Samar Multipurpose Cooperative.
Each awardee received a plaque of recognition and a cash prize amounting to P10,000.00.
Director Henry John S. Jalbuena, DOLE-RO8 Regional Director and Chairman of RTWPB, led the conduct of said activity together with DTI Director Celerina T. Bato (Vice-Chair), Atty. Miguel T. Tezon (Labor Sector Representative), Mr. Efren M. Gabriola (Labor Sector Representative), Mr. Orlando C. Uy (Employer Sector Representative) and Mr. Reynaldo Soliveres (Board Secretary).
In his welcome message, Director Jalbuena thanked and recognized the efforts of the regional winners in demonstrating resilience and overcoming difficulties just to preserve employment and contribute to economic recovery.
"I'd like to express my sincere thanks and appreciation to all our winners for striving to overcome all difficulties brought by this pandemic to your respective businesses. With your decision to keep your employees, you are contributing to employment preservation and economic recovery of the region", said Jalbuena.
Ms. Eva Marie Adona-Yu, owner of Eva Marie Arts & Craft, shared her deepest gratitude for the recognition received and regarded it as a blessing and source of inspiration.
"Thanks to this Productivity Olympics for recognizing our hardwork. This is a blessing for us and inspires us more. You are our cheerleader during this pandemic", said Ms. Yu.
Meanwhile, Mr. Allan Laniba, General Manager of DORELCO underscored in his response speech the need to be productive especially during this pandemic.
"This pandemic affected all businesses and we are really doing the best possible way to keep our workers. That's why our mantra now is, If you want to be compensated, be productive", Laniba said.
In closing, Atty. Tezon wished all the best for the regional winners who will be advancing to the national screening.
"You are all winners for us and we wish you all the success in the national productivity olympics", said Tezon.
National winners will be receiving a cash prize of P150,000.00 aside from a trophy and priority to trainings and programs of the National Wages & Productivity Commission (NWPC).
Productivity Olympics is a national competition of best productivity practices of micro, small and medium enterprise (MSME) nationwide.
Desperate NPA terrorists burn construction equipment in Northern Samar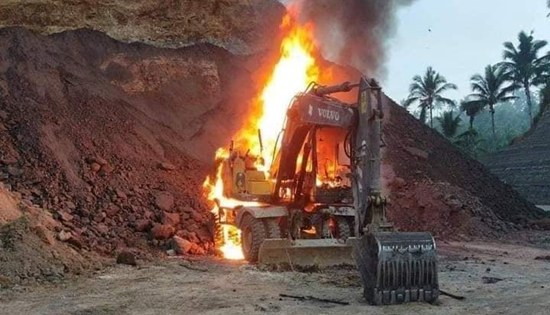 By DPAO, 8ID PA
July 29, 2021
CAMP LUKBAN, Catbalogan, Samar – In a desperate move to derail the efforts of the Northern Samar Provincial Task Force - Ending Local Communist Armed Conflict, the Communist NPA Terrorists (CNTs) burned several construction equipment at around 4:00 a.m. today, July 29, 2021, in Brgy. San Francisco, Las Navas, Northern Samar.
Burned equipment includes a ten-wheeler dump truck, two backhoes, crane, one self-loading vehicle (prime mover), soil compactor, grader, two loaders, and generator set.
The said construction equipment are owned by MDU Construction with more than a hundred employed construction workers in the completion of the road construction project in barangays Quirino and San Francisco, both of Las Navas. The project which is targeted to be completed by end of December this year shall connect the Northern and Eastern Samar provinces in Eastern Visayas.
The information received disclosed that more or less 20 fully-armed CNTs arrived in the area and simultaneously burned the above-mentioned equipment.
Accordingly, the CNTs burned the equipment due to the refusal of the construction company's owner to their extortion demand.
Major General Pio Q Diñoso III, Commander, 8th Infantry Division in his statement said that the recent burning of construction equipment used for road projects in Las Navas clearly shows that the NPA is anti-development, anti-people, and anti-Samarnons.
"This terroristic action has derailed the completion of this vital road project that will connect the Eastern towns of Samar to the rest of the island and make the lives of the people in the area much easier. There could only be one reason for this arson, their demand for money or more money has not been met as contractors have had enough of these terrorists' extortion. Nonetheless, the contractors will not be cowed and have pledged to not give in to terrorists' demands," Major General Diñoso said.
Major General Diñoso also assured the people of Eastern Visayas that the Philippine Army will work closely with these project proponents to ensure that projects of the government will be finished and be delivered to the people at all costs.
"While this setback has been costly, projects will continue and no terrorist will be able to stop us if we will act together against them," MGen. Diñoso added.
DPWH constructs flood control structure to reduce the effects of flood waters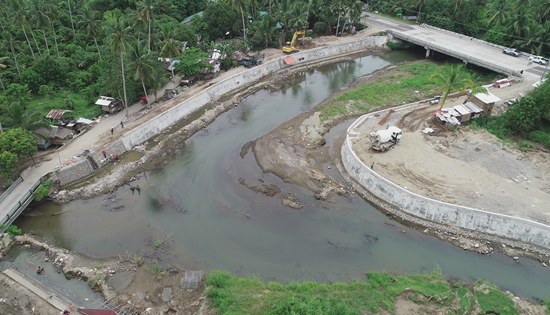 By DPWH 2nd LED
July 28, 2021
MAYORGA, Leyte – The Department of Public Works and Highways (DPWH) -Leyte Second District Engineering Office is currently implementing flood control project in Barangay General Luna, Mayorga, Leyte as part of its mitigating measures against the damaging effects of flood waters as well as to protect the Hibuga bridge structure.
"This project will not only protect the local residents' lives and properties but also the Hibuga bridge structure which is a vital bridge located along Maharlika highway." said OIC-District Engineer Leo Edward Oppura.
The completion of the flood control structure will prevent water influx to the residential areas and mitigate the impact of flooding since the water level in these areas tend to rise up during rainy season which poses threat to low lying barangays.
The project started last March 2021 has a target completion is on or before September 21, 2021.
Funded under General Appropriation Act FY-2021, this P39.86-million flood control project involves the installation structural steel sheet piles with stone masonry works and concrete facing.
Along with this project, the district office is also constructing flood control projects located in Balire River Basin, Barangay Liwayway, MacArthur, Leyte; Binahaan River Basin, Barangay Abre, Dagami, Leyte; Binahaan River Basin, Barangay Balilit, Dagami, Leyte; Binahaan River Basin, K002+847 - K003+622 (Left Side River Bank) & Barangay District 1, Pastrana, Leyte; Daguitan River Basin, Burauen, Leyte.
Samar First improves Nijaga Park in Calbayog City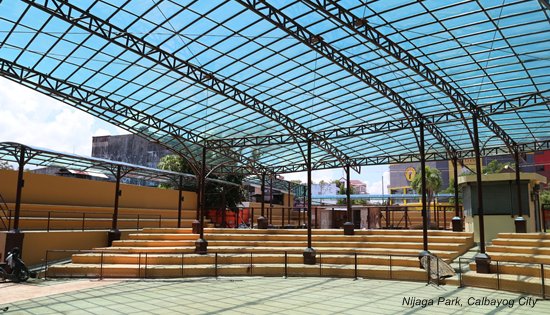 By GISSELLE PARUNGAO
July 27, 2021
CALBAYOG CITY – The city's largest park where town shows are held, was recently improved, said Samar First District Engineering Office.
Nijaga Park was enhanced by installing a steel gate and fence, new concrete bleachers and mounted polycarbonate roofing from the stage to the entire area where benches are built. Drainage and flooring were also enhanced to help water flow around the area.
Adjoining the stage is the City Arts and Culture Office (CACO) building. Improvements are also done inside the CACO building which includes new tiles, the whole building is repainted, and ceiling is replaced.
This project is drawn from the General Appropriations Act of 2020 with a total contract amount of P29.49 million.
The enhancements made in Nijaga Park where talents from CACO showcase their talents will ensure that Calbayog's legacy in the arts will continue on and benefit more generations to come.
Calbayog City is known as the "talent bank capital' of Eastern Visayas – talent development is strengthened through the city's Arts and Culture Office which produces talented individuals through its scholarship programs and technical trainings.
Torrecarion extols aspirant soldiers to fight for peace
By DPAO, 8ID PA
July 27, 2021
CAMP LUKBAN, Catbalogan, Samar – A total of 148 applicants composed of 135 from the regular quota, two special enlisted privates of the Division, and 11 from 53rd Engineering Brigade took their oath as candidate soldiers during the opening ceremony of the Candidate Soldier Course Class 677-2021at 8ID Parade Ground today.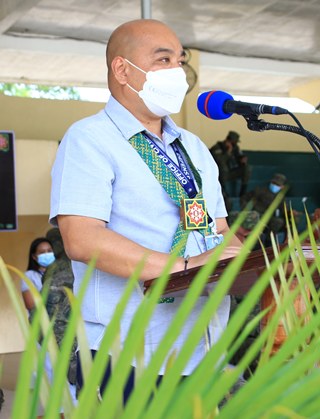 The opening ceremony was graced by the Regional Director of Office of Civil Defense, Regional Office 8, Lord Byron P. Torrecarion, who expressed his appreciation to the 148 candidate soldiers for accepting the challenge of soldiery.
"Before you go through the months of hard training, some of you will work harder than you ever did in your life, some of you will shed more sweat than what is humanly possible, some may even question what they have gotten themselves into. In those times of doubt, dig deep; remember that if you have a dream, don't just sit there. Gather the courage to believe that you can succeed and leave no stone unturned to make it a reality. Because it does not matter how many times you got knocked down, all that matters is you get up each time you fall," Torrecarion said.
The class educational profile consists of 95 college graduates, 38 college undergraduates, one vocational graduate, and 14 senior high school graduates.
Most of the applicants came from the Eastern Visayas region, 101 from Samar Island, 28 from Leyte, 13 from Cebu, three from Biliran, one from Negros Occidental, one from Bohol, and one from Taytay, Rizal.
NMP exceeds annual target in seafarers trained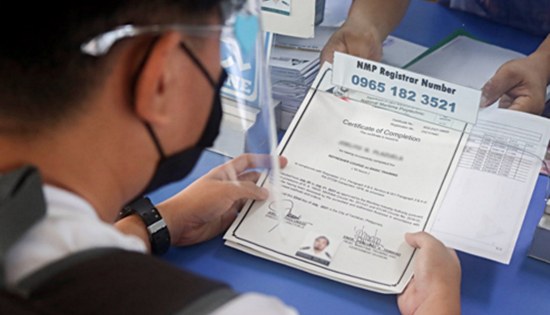 NMP issues Certificate of Completion to seafarer-trainee who completed all training requirements.
Press Release
July 24, 2021
TACLOBAN CITY – The National Maritime Polytechnic (NMP), the only government maritime training and research agency of the country already trained a total of six thousand three hundred (6,300) seafarer-trainees as of 30 June 2021 comprising of aspiring and active seafarers, maritime instructors, assessors and supervisors and other maritime allied personnel. This exceeds the Agency's annual target of six thousand (6,000) trainees trained.
This is a notable accomplishment considering the pandemic-related restrictions being followed by NMP wherein its class intake was reduced to 50% from the previous maximum capacity to effectively observe physical distancing. Likewise, since the start of the pandemic, enrollees at NMP main office located in Tacloban City were limited to residents of Region VIII only and are required to stay at the NMP dormitories within the entire duration of their training.
Trainees availed of the various NMP training course offerings, namely: Deck Courses, Engine Courses, Specialized Courses, Basic Courses and Professional Development Courses.
Contributing significantly to the output performance was the NMP's conduct of online trainings which produced 1,598 certificated trainees equivalent to 25.37% of the NMP's annual target.
"Expediting the transitioning and offering of NMP courses through blended and online mode of learning will not just enable us in keeping pace with the private sector, but would scale-up the availability and accessibility of online and blended maritime programs from the government" said NMP Executive Director Joel B. Maglunsod during the Agency's 2021 Mid-Year Performance Assessment (MYPA) and Re-planning Exercise conducted on 08-09 July 2021.
Said accomplishment is the result of the implementation of 47 training courses during the year and as well as the establishment of linkages and partnership with the Philippine Coast Guard, Agro-Industrial College Foundation College of the Philippines, DMMA College of Southern Philippines, Apostleship of the Sea - Stella Maris Seafarers' Center and different local government units (LGUs) in Region VIII.
Further, NMP started offering blended courses in July 2021 wherein the e-Learning component is conducted online using digital platform while practical exercises and assessment is being held at the NMP practical site.
Meanwhile, interested enrollees to NMP trainings may visit the Online Registration System via reserve.nmp.gov.ph or the agency's Facebook page (www.facebook.com/nmptrainingcenter) where all updates and relevant information on NMP programs are available. Likewise, for information on NMP research undertakings please visit the NMP website and access the e-Research Information System Portal (www.research.nmp.gov.ph) which is designed to disseminate NMP completed researches, present the Research Agenda, and engage the industry stakeholders to collaborate in the research activities.
Good food and a thriving business success story straight from the heart of the Philippines
By DTI-Regional Operations Group
July 23, 2021
MAKATI CITY – The small island of Marinduque is famously known for its Moriones Festival, an annual Lenten festival observed during the Holy Week. But the beauty of the province's culture and heritage doesn't end there.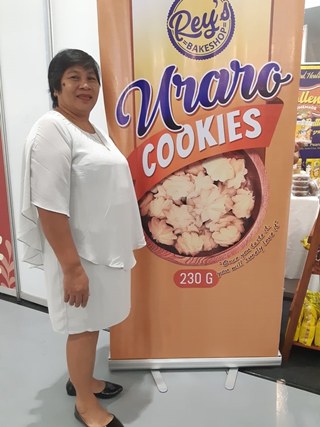 Mrs. Felisa Pedernal-Rey during DTI MIMAROPA's MIMAROPA Naturally Agri-Trade and Tourism Fair 2018 where they joined as one of the exhibitors.
Marinduque is also top of mind when it comes to arrowroot or uraro cookies. But for a small island brimming with ingenious entrepreneurs in this industry, how does one keep afloat?
"Business does not only make you rich but it also makes you strong, innovative, and persevering to leave a legacy that your children can inherit in the future," inspiring words from Mrs. Felisa Rey, owner of Rey's Bakeshop in Sta. Cruz, Marinduque.
Rey's Bakeshop formerly known as Josel Rodil's Bakery was established in 1987 by Mrs. Josefa Rodil. As a Home Economics teacher, Mrs. Rosil used to attend different seminars, especially on food processing until she came up with her version of arrowroot cookies. After her retirement in 1992, the small home-based business moved into a separate bakery shop. Their offer other pastries and bread aside from arrowroot cookies.
The business started with two (2) full-time employees: Mrs. Felisa Pedernal-Rey (adopted child of Mrs. Josefa Rodil) and her husband Mr. Rolando Rey who served as the marketing arm and production staff of the business. What started as a simple home business turned into one of the province's all-time favorites as they offer their cookies around Marinduque.
With the couple's hard work and perseverance, in 2014, Josel Rodil's Bakery was transferred to Mr. Rey and was then renamed Rey's Bakeshop. The bakeshop was able to support the needs of their family. It was in 2017 when their daughter Ms. Eunice Rey quit her corporate job abroad and helped them in managing the business.
As the industry gets more saturated in time, the daughter, Eunice, decided to join the second batch of the Department of Trade and Industry's (DTI) Kapatid Mentor Micro-Enterprise (KMME) program in 2018. KMME is a mentorship program designed by DTI as a mini Masters in Business Administration course, offered free for entrepreneurs to level up their businesses.
From then on, Rey's Bakeshop has been included in DTI's different programs such as the One Town, One Product (OTOP) where they availed free services such as laboratory testing for Nutrition Facts, new label and packaging, Trademark registration with the Intellectual Property Office (IPO) and barcode registration to GS1 Philippines. She also joined local trade fairs such as the Marinduque Expo and MIMAROPA Naturally, among others. She participated as well in different DTI seminars such as SGS Kaagapay sa Negosyo Program, Traceability, eCommerce, and Good Manufacturing Practices and Sanitation Standard Operating Procedure.
From a P200 starting capital, its assets increased to P3 Million and its manpower grew with ten (10) full-time and five (5) part-time employees. Its annual sales of P100,000 also increased to P1.5 Million.
But as the business was growing, it was in 2019 when the family faced one of, if not, the biggest hurdle in their life with the passing of the late Mr. Rolando Rey. Ms. Eunice took over the business with the supervision of her mother.
With DTI's assistance, Ms. Eunice started to prepare the technical requirements, and the production facility applied for the Food and Drug Administration License to Operate (FDA LTO) and is now waiting for the result.
As an answer to the pandemic, Rey's Bakeshop started selling its products online through different e-Commerce channels. Through the use of social media, Rey's product reached other provinces such as Laguna, Cavite, and even some parts of Metro Manila. Moreover, the small farmers in their community became the backbone of the business to answer the insufficient supply of raw materials.
The transformation of Rey's Bakeshop is a testament that perseverance, innovation, and being strong-willed run in the culture of Marinduque. And that the transfer of legacy from generation to generation transcends biological family ties.
NMP accepts enrollees online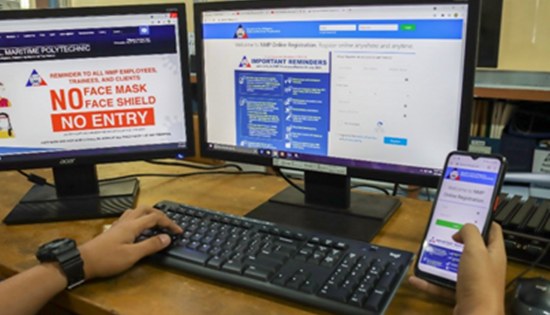 Press Release
July 21, 2021
TACLOBAN CITY – In order to provide convenient and accessible enrollment process to its trainings and services, the National Maritime Polytechnic (NMP), in accordance with the MARINA Advisory 2020-36 encouraging the use of contactless payments for enrollment, launches an Online Registration System via www.reserve.nmp.gov.ph on July 5, 2021.
NMP enrollees may choose their desired Training Courses and schedules and upload the required documents in the system. After validation by the NMP Registrar and provided that complete requirements were submitted, enrollees are emailed with an Order of Payment reflecting the fees to be paid and are given two (2) working days to settle the payment. The last step is uploading the Proof of Payment in the system for validation. Once found in order by the NMP Cashier, the enrollees will receive a Proof of Registration (POR) in their registered email addresses and are advised to come to NMP on the 1st day of their scheduled Face-to-Face training and/or 1st day of the practical exercise & assessment for Blended Learning.
"Seafarers can now easily enroll in NMP's courses simply with finger taps which will save their time, money and effort rather than coming personally to NMP," Executive Director Joel B. Maglunsod quoted.
This system for contactless registration and payment is in response to the need for less personal contact, thereby, mitigating the spread of the Covid-19.
Also, in support to the above premise, NMP offers Online Courses such as Consolidated MARPOL 73/78 (CONSO-MARPOL), STD/HIV/AIDS Prevention in the Maritime Sector (SHAPIMS) for Non-BT Trainees, Prevention of Alcohol and Drug Abuse in Maritime Sector (PADAMS) for Non-BT Trainees and Gender Sensitivity Training for Seafarers (GSTS).
Blended Learning are also provided for the following courses: Oily Water Separator (OWS), Basic Training for Oil & Chemical Tanker Cargo Operations (BTOCTCO), Advanced Fire Fighting (AFF), Basic Training (BT) with PADAMS, SHAPIMS & GSTS, Survival Craft and Rescue Boats other than Fast Rescue Boats (SCRB) & Updating Training on Basic Training (BTU).
Meanwhile, NMP continues to conduct face-to-face trainings exclusively to the seafarer-trainees residing within Region VIII, imposing strict implementation of the Maritime Industry Authority's (MARINA) approved Post-Enhanced Community Quarantine Operational Plan and other health and safety protocols as required by the Department of Health (DOH), Department of Labor and Employment (DOLE), and local government unit (LGU).
Those interested to take NMP training programs may visit the NMP website (www.nmp.gov.ph) and its Facebook page (www.facebook.com/nmptrainingcenter) where all related information on NMP trainings including its online classes are available.
Accordingly, those interested in NMP research undertakings may visit the NMP e-Research Information System Portal (www.research.nmp.gov.ph) which is designed for gathering inputs for NMP's research, dissemination of NMP completed researches and other articles pertaining to maritime research.
DPWH completes construction of local road amounting to P8.6-M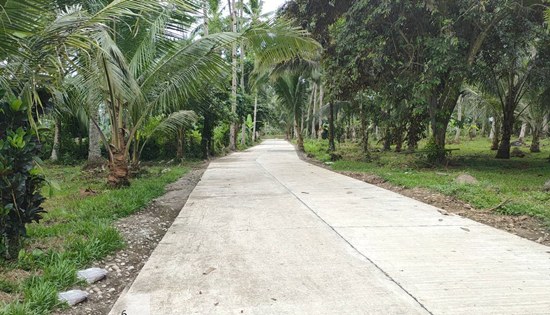 By DPWH 2nd LED
July 21, 2021
MAC ARTHUR, Leyte – Residents of Barangay Batug, Mac Arthur, Leyte are now utilizing the newly concreted road after the Department of Public Works and Highways (DPWH) -Leyte Second District Engineering Office completed the construction of .902-linear kilometer road concreting project.
The .902-linear kilometer concreted road having a width of 5-meter and box culvert will provide a better access road and transportation of goods will be faster and fare cost will be lesser.
According to OIC-District Engineer Leo Edward Oppura, this road is very useful to the local residents considering that agriculture and livestock are their main source of livelihood. Delivery of their products down to the markets and the consumers will be easier.
The project which costs P8.6-million is under DPWH General Appropriations Act - FY-2021 Local Infrastructure Program – Local Roads.
Aside from this project, the district office is also constructing road concreting project in Barangay Maya to Romualdez, Mac Arthur, Leyte with a construction cost of P11.64 million.
P17.71-M road concreting project links 2-barangay in Dulag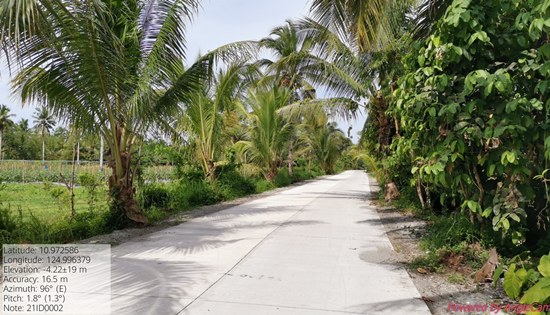 By DPWH 2nd LED
July 16, 2021
DULAG, Leyte – Residents of Barangay Calipayan and General Roxas can now utilize the P17.71-million road concreting project constructed by the Department of Public Works and Highways -Leyte Second District Engineering Office.
"The district office prioritizes the construction of these roads to give comfort to the local residents and the travelling public especially that their primary mode of transportation are habal-habal (motorcycle taxis)," said OIC-District Engineer Leo Edward Oppura.
The 2.93-lane kilometer concrete road will help alleviate the lives of the community and will boost small-scale farmers and encourages them to be more productive. Farm produced and livestock can easily be transported to the nearest public.
The P17.71-million road concreting project started its construction last March 08, 2021 and was completed on July 10, 2021 under DPWH General Appropriations Act - FY-2021 Local Infrastructure Program – Local Roads.
Small Business Corporation continues to help MSMEs restart via online loan financing
By DTI-ROG-Small Business Corporation
July 16, 2021
MAKATI – Small businesses looking to restart their operations during the pandemic may still apply for interest-free, collateral-free government loans by creating an account at www.BayanihanCARES.ph.
With just a few keystrokes and mouse clicks, small business owners can type in their pertinent details and upload scanned identity and business documents on the website, which is maintained by the Small Business Corporation (SBCorp), an attached agency of the Department of Trade and Industry (DTI).
SBCorp is the program implementer of the Bayanihan CARES (COVID-19 Assistance to Restart Enterprises), which makes P8.08 billion available for micro, small, and medium enterprises (MSMEs), cooperatives, hospitals, tourism businesses, and repatriated or displaced Overseas Filipino Workers (OFWs) affected by COVID-19 pandemic.
Under the program, qualified loan applicants can apply for loans ranging from P10.0 thousand up to P5.0 million, depending on their pre-pandemic sales and business assets figures, if applicable.
These loans are payable up to a maximum of four (4) years, inclusive of a maximum grace period of 12 months for Non-Tourism MSMEs, or a maximum grace period of 24 months for Tourism MSMEs accredited by the Department of Tourism (DOT) or registered as Barangay Micro Business Enterprise (BMBEs). Successful loan applicants will only need to pay a one-time service fee, set at a maximum of eight (8) percent for a four-year loan term. Lower service fees apply to shorter loan terms.
SBCorp also enhanced its requirements to enable more MSMEs to benefit from the highly concessional loan terms under the program. For instance, MSMEs that have been operational for at least one (1) year as of their date of application may now qualify for the loan. SBCorp's previous requirement was for MSMEs to be operational for at least one (1) year before 16 March 2020 when the community quarantine was imposed in the country. This is in recognition of the fact while most MSMEs chose to adapt to the new operating environment, some have chosen to pivot to or establish entirely new businesses.
The Bayanihan CARES Program also has a special window for tourism and travel-related industries (CARES for TRAVEL) with a fund allocation of P4.0 billion, and a start-up loan program for repatriated or displaced OFWs who want to start their own businesses (CARES for HEROES).
To date, SBCorp has approved 31,700 MSME loan applications. These correspond to a total loan amount of P4.84 billion.
It is important to emphasize that SBCorp is focused solely on helping make funds available for small business owners, according to its President and Chief Executive Officer Ma. Luna E. Cacanando. And during the pandemic, that focus didn't change, Cacanando said.
"SBCorp operates on the principle that we should not duplicate what the mainstream players in MSME finance are already doing," she said. "We do not compete with what is already working in the market. What we need to do is fill in the gaps for small businesses that banks and lending companies do not yet find attractive to finance relative to their profit objectives and cost management thresholds. We develop and operate our financing programs for MSMEs along these lines."
And just like every other organization, SBCorp has been disrupted by the pandemic.
But instead of being paralyzed by the lockdown, it was able to slowly transform itself, Cacanando said.
Between March and May last year, the organization "went through a deep rethinking on how to safely provide quick financing response to affected small businesses which we knew will increase in great numbers as the pandemic crisis is prolonged," Cacanando said.
She added: "We had to strategize how to design, develop and fund the IT application systems and IT connectivity that we needed to put in place. The challenge was heightened by the need to limit most of our meetings to online venues, instead of the usual face-to-face environment which allows for more interactive brainstorming. And we had limited IT equipment in the beginning relative to the emerging scale of digitization required."
Nowadays, its financing programs – including Bayanihan CARES – are fully electronic and fully operational, according to Cacanando.
As a result, the agency's MSME borrowers no longer need to go to its offices, unless they request it.
As it celebrates its 30th anniversary this year, SBCorp looks forward to enhancing its relationship with its stakeholders, the small business owners.
"SBCorp's greatest accomplishment to date is its attitude of oneness with the MSME sector. Together with our mother agency, the DTI, we understand the strengths and weaknesses of MSMEs, and the threats and opportunities confronting them," Cacanando said. "Moreover, we understand our responsibility of helping level the playing field in their favor. Thus, with all modesty, we serve as their strong and able advocate."
CARD MRI announces Grand Winner of nationwide art contest for clients

The CARD members of Mabentagen C-1, together with their Account Officers, received their certificate and prizes in winning first place in the Bahaginan 2021 Poster and Slogan Making Contest.
Press Release
July 15, 2021
SAN PABLO CITY – Among 112 entries from Luzon, Visayas, and Mindanao, Luzon candidate Mabentangen Center 1 from CARD, Inc. (A Microfinance NGO) was hailed the grand winner of Bahaginan Ngayong 2021 poster and slogan making contest after advancing as an institutional winner during the awards ceremony on July 7, 2021.
With the winning slogan, "Hawak-kamay sa hamon ng buhay, ang CARD MRI kaagapay tungo sa tagumpay", Mabentangen 1 bagged P15,000 for their Center, P5,000 for their Unit, a digital certificate of recognition, and Mga Likha Ni Inay and BotiCARD products worth P3,000 each.
"We would like to bring back all the glory to God," a representative from Mabentangen 1 said. He continued, "The concept was formed according to the theme: our center's journey with CARD MRI. Our goal is to show the relationship between CARD MRI and its members and how we hold each other's hands to help those in need. This served as an inspiration for us to strive harder and trust that nothing is impossible in life when we believe. We are thankful for CARD MRI as our ever-present partner in our success."
Three centers also emerged as the institutional winners of this year's Bahaginan with Luzon participants Paypayad 2 from CARD Bank and Subic Paradise from CARD SME Bank. Mindanao candidate Balanggay Center from CARD MRI RIZAL BANK also won the contest. The institutional winners bagged P10,000 for their Center, P3,000 for their Unit, digital certificate of recognition, and Mga Likha Ni Inay and BotiCARD products worth P1,500 each.
Ugnayan at Kwentuhan
Bahaginan Ngayong 2021 was one of the activities conceived from the Ugnayan and Kwentuhan project which aims to bridge the distance between CARD MRI and its clients during the pandemic. Aside from conducting phone conversations with both the members and staff, it also intends to build a connection with the members by giving them an avenue to showcase their talents and capabilities during the pandemic.
"Because our Account Officers could not conduct center visits like usual due to the health and safety protocols amidst the pandemic, we thought of a way to maintain our connection with our members. We also thought of a project that will exhibit their talents, and Bahaginan is one of them," CARD MRI Managing Director Aristeo A. Dequito said in his welcome remarks during the Bahaginan awarding.
He added that among other activities to look forward to include an online poetry contest entitled "Tugma at Titik", jingle-making contest, and talent show.
Meanwhile, CARD MRI Founder and Chairman Emeritus Dr. Jaime Aristotle B. Alip also gave an inspirational message during the event. "One theme dominates every poster that we've seen, and that is how CARD MRI ushers its clients out of a rough and unsteady road. This remains to be the mission of CARD MRI, to move them out of the claws of poverty and to encourage them to start over."
Finally, Senior Management Adviser Dr. Dolores M. Torres, who heads the Ugnayan at Kwentuhan Program, concluded the event with a reassuring statement for all the members in virtual attendance.
"We are opening our hearts to you, our dear members. There is nothing that can separate our relationship with you and your family. We will continue listening to your inspiring stories and be a witness to your journey as you start from the bottom up," Dr. Torres said.
Bahagi Ako Digital Exhibit
In celebration of Bahaginan Ngayong 2021, CARD MRI Publishing House curated the Bahagi Ako Digital Exhibit which revealed the artworks of the 29 regional winners and 9 finalists of the online slogan and poster making contest.
Enforcing strict health protocols, the organizers of Bahagi Ako opened the digital exhibit to CARD MRI staff and clients from July 1 to 2 and 5 to 6 at the Maharlika Square Events Place. A virtual tour was also created by CARD MRI Hijos Tours for those who could not physically visit the exhibit. This could be viewed through Online Ugnayan at Kwentuhan's Facebook Page at www.facebook.com/CARDkwento.
Newly concreted road improves road network in Leyte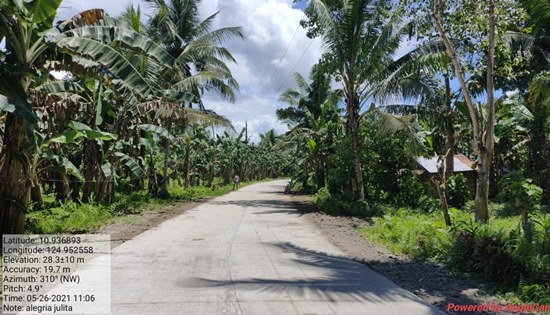 By DPWH 2nd LED
July 15, 2021
JULITA, Leyte – The newly improved and concreted road is now beneficial to residents and motorists traversing the road section of Barangays Alegria to Sto. Niño in the town of Julita, Leyte.
With a construction cost of P9.8-million, the Department of Public Works and Highways (DPWH) -Leyte Second District Engineering Office recently completed the construction of 1.610-linear meter with a width of 5-meters road concreting project.
According to OIC-District Engineer Leo Edward Oppura, mobility of goods and services will now have a significant improvement and travel costs and time will be reduced.
"Motorists utilizing this road will no longer experience the burden of travelling along a bumpy and muddy road especially during rainy season," Oppura added.
This project is under DPWH General Appropriations Act - FY-2021 Local Infrastructure Program – Local Roads.
Road widening and drainage project along Mayorga-La Paz road section completed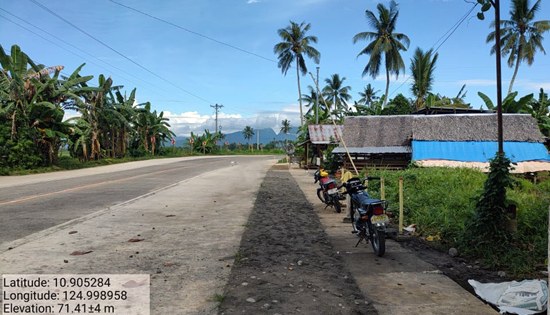 By DPWH 2nd LED
July 9, 2021
MAYORGA, Leyte – The Department of Public Works and Highways (DPWH) -Leyte Second District Engineering Office has completed the road widening project in Brgy. Zone 2 to Brgy. Mabini along Mayorga - La Paz road section in Leyte.
The completed project has a capital outlay of P42.81-million involving 13,062 square meter of additional 1-lane each side to the existing tertiary road.
According to OIC-District Engineer Leo Edward Oppura, this project will increase road capacity for faster mobility of the travelling public likewise traffic incidents will be minimal.
In addition to the road widening project, 409 linear meter of lined canal and pipe culverts were also installed to serve as drainage for surface runoff especially during heavy rainfall.
Mayorga-La Paz road section is classified as a national secondary road.
Construction of the road widening and drainage improvement project duration was from November 24, 2020 to June 04, 2021 under CY-2020 regular infrastructure program and part of the Multi-Year Contract Authority (MYCA).
Construction of Calbayog Diversion to Barangay Guinbaoyan road undertaken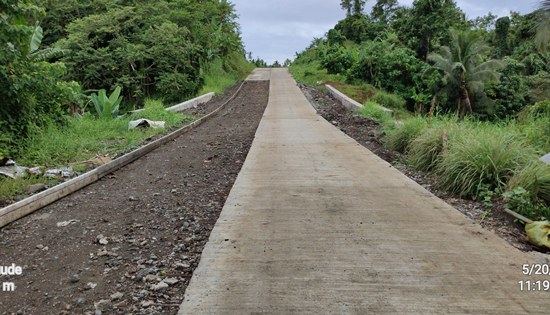 By SUZETTE G. PRETENCIO
July 8, 2021
CALBAYOG CITY – To aid the farmers and the locals, Samar First constructed the concreting project in Calbayog Diversion Road to Barangay Guinbaoyan. Fund of this project is taken under General Appropriations Act (GAA) of 2021.
The project has a contract amount of P35.87 million. Its scope of work will cover 1.6 kilometers length and a width of 6.1 meters of Portland Cement Concrete Pavement (PCCP). Also, part of the scope of work is 1,150 meters of open canal, 837.76 cu. m. of stone masonry and two (2) cross-drainage (pipe culverts).
Projects like these are beneficial to the local farmers and community as it would help them have less travel time going to and from the city proper once completed. Moreover, it would also give them better access to different public and private services like health and education.
These road projects started back in 2018 when the district began its first phase of construction of gravel roads around the area opening the roads from Calbayog Diversion Road to Barangay Alibaba.
Concreting projects for other roads are set for request for funding as future projects of the district.
DOLE-8 awards first safety seal to beverage company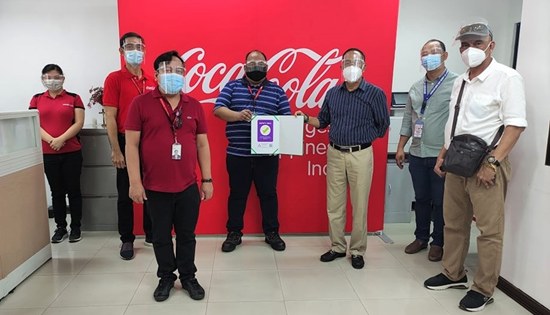 By NORMA RAE S. COSTIMIANO
July 6, 2021
TACLOBAN CITY – The Department of Labor and Employment Regional Office No. 8 awarded on 6 July 2021 its first safety seal to Coca-Cola Beverage Philippines, Inc. located at Brgy. 75, Fatima Village, this city.
Regional Director Henry John S. Jalbuena led the awarding of the safety seal to Mr. Joje Quezon, Plant Manager of Coca-Cola. He was assisted by Mr. Edgar B. Tabuyan, Chief of Technical Support Services Division and Mr. Norman L. Uyvico, Head of DOLE North Leyte Field Office.
The Safety Seal Certification Program aims to safely re-open the economy and affirm consumers and the public in general of the establishment's compliance to the minimum public health standards.
Per DOLE-DOH-DILG-DOT-DTI Joint Memorandum Circular No. 21-01 series of 2021, the Department of Labor and Employment (DOLE) will issue the certification for establishments in the manufacturing, construction, utilities, information and communication, and warehousing industries.
Other designated issuing authorities are the Department of Trade and Industry, Department of Tourism, Department of Interior and Local Government and the different local government units.
Director Jalbuena congratulated Coca-Cola for being the first to receive the safety seal in Region 8.
"Congratulations to Coca-Cola for successfully obtaining the first safety seal in Eastern Visayas. This seal will be helpful for your company in gaining the confidence of your customers and employees, that you are compliant with the health standards", said Jalbuena.
Jalbuena likewise urged other establishments in Region 8 to acquire the said certification and help re-open the economy safely.
"We are calling on other establishments to obtain their own safety seals and take part in safely re-opening our economy", Jalbuena added.
Also in attendance during the awarding were Mr. Virgilio A. Doroja, Jr., Senior Labor and Employment Officer, Mr. Edgar Montes, Operations Manager and Mr. Casper Laconse, People Associate Manager.
DOLE-8 will also be awarding safety seals to three more firms in Baybay City, namely: SC Global Food Products, Inc., SC Global Coco Products Inc., and Specialty Pulp Manufacturing Inc.
The safety seal, valid for six (6) months from the date of issuance, shall be displayed conspicuously at all entrance points of the establishment. DOLE may revoke the certification once there will be valid complaints raised against the company.
Independent int'l investigation of PH rights situation shows damning evidence of widespread impunity, failure of justice system
By INVESTIGATE PH
July 6, 2021
MANILA – INVESTIGATE PH provides more evidence of the persistent failure of the justice system in the Philippines. Its Second Report, released today, documents intensifying human rights violations perpetrated by state agents, in line with Philippine president Rodrigo Duterte's security policies and violent pronouncements that were adopted as official orders. The report includes an important series of recommendations, including a clear call for a United Nations-led probe on the human rights violations of the Duterte administration.
INVESTIGATE PH is the popular name of the Independent International Commission of Investigation into Human Rights Violations in the Philippines, which is led by 'High Commissioners' or prominent personalities of the international community. Its recent report is the second in a series of three reports, and builds on the findings of the first report launched in March 2021, which picked up from and further substantiated the UN Office of the High Commissioner on Human Rights' June 2020 report on the Philippine rights situation.
The Second Report spotlights three aspects of state terror in the Philippines, namely the War against the Poor (under the guise of the "war on drugs"), the War on Dissent, and the War against the Moro People. It is an important contribution to a growing body of evidence of state-perpetrated human rights violations and abuses in the Philippines that would help facilitate international accountability mechanisms.
According to Atty. Suzanne Adely, co-chair of the International Committee of the National Lawyers Guild in the US and one of the High Commissioners leading the investigation, "State policies, including Executive Order 70 or the whole-of-nation approach to counterinsurgency program and the 2020 Anti-Terrorism Act have emboldened both the police and military to massacre the poor and marginalised, as well as those who are fighting for the rights of these communities, including activists and advocates of peasant and Indigenous People's rights. Moreover, the government's capture of domestic redress and accountability mechanisms continue to fail victims." The report shows that the Philippine National Police (PNP) routinely covers up the circumstances surrounding killings in 'anti-drug operations', intimidates potential witnesses, and obstructs investigations by victims' families, civil society and even by the Commission on Human Rights.
The release of the Second Report is timely as it follows the recent request by the International Criminal Court's (ICC) outgoing Chief Prosecutor Fatou Bensouda for an investigation on the bloody "war on drugs" of Philippine President Rodrigo Duterte. Its launching also coincided with the ongoing 47th Regular Session of the UN Human Rights Council.
The report also highlights how military action in Mindanao is perpetrating violence against and entrenching the marginalization of Moro communities. The report shows that US military aid is propping up the military operations in Mindanao as part of the US-backed "War on Terror". These operations fail to distinguish between civilians and combatants, and are also causing mass displacement of Moro communities. One of the High Commissioners, the Rev. Dr. Susan Henry-Crowe of the US-based United Methodist Church said that, "It was difficult to hear testimony that U.S. military aid, as well as military support from other countries, is abetting human rights violations. It's simply unacceptable."
The report will be submitted to the Office of the High Commissioner for Human Rights, member states of the Human Rights Council, the UN Secretary-General, and the International Criminal Court. Rev. Michael Blair, who is also one of the High Commissioners, said, "Throughout this investigation, we have remained steadfast in our objective to realize justice for the victims of human rights violations in the Philippines. The report must go beyond evidence gathering and be a contribution to the process of accountability and an end to the injustice".
SBCorp, DBP forge partnership for MSME sector recovery
By DTI-ROG-Small Business Corporation
July 6, 2021
MAKATI – The Small Business Corporation (SBCorp) and the Development Bank of the Philippines (DBP) forged a partnership through a Memorandum of Understanding (MOU) signed on 7 June 2021 at the DBP Building in Makati City. The aim of the partnership is to develop a collaborative approach between the financing programs of both institutions to further facilitate the recovery and sustainable growth of the micro, small, and medium enterprises (MSMEs).
Through marketing segmentation and strategic client referral process, the DBP's MSME Recovery Program and SBCorp's COVID-19 Assistance to Restart Enterprises (CARES) Program, which are both designed to accelerate the recovery of MSMEs, will complement for the purpose of providing a more efficient assistance to their target beneficiaries.
These collaborative strategies will be implemented by reciprocally identifying the institutions' market segments and designing a two-way client referral process which will be based on the asset size of the enterprises pursuant to the individual mandate of the institutions and existing lending guidelines.
DBP President and CEO Emmanuel G. Herbosa said the partnership will serve as a response of the DBP to the needs of their clients with nominal loan requirements and insufficient documentation. "Through this memorandum of understanding, we vow to get our act together to make sure that our programs work to serve the best interest of our target beneficiaries in a more effective and efficient way," he added.
On the other hand, SBCorp President and CEO Ma. Luna Cacanando affirmed that the DBP's MSME Recovery Program is a complementary facility to the CARES Program as both programs offer similar low financing cost features, longer repayment terms and grace period, and collateral-free loan for amounts not exceeding PhP 3.0 million. "The synergies that this partnership will produce will not only be mutually beneficial to our respective institution, but will ultimately go a long way in helping our MSMEs restart and rebrand their businesses," PCEO Cacanando further said.
DBP Senior Vice President Paul D. Lazaro and SBCorp Executive Vice President Santiago Lim also shared their optimism on the potential of the collaboration.
The program interventions developed by the institutions for the MSMEs are pursuant to the enactment of the Republic Act No. 11494 otherwise known as the Bayanihan to Recover as One Act (BARO) which ought to bolster the resiliency of the Philippine economy.
"We must build stronger alliances, not only to ensure the success of our corporate goals but to achieve the collective aspirations of our nation to help our MSMEs survive and ultimately recover from the economic challenges brought about by the national health emergency confronting the country in the past 15 months," PCEO Cacanando added.
konek2CARD reaches one million registered users; BSP congratulates CARD

By CARD MRI
July 2, 2021
SAN PABLO CITY – CARD MRI's mobile banking app, konek2CARD, has reached more than 1 Million registered users as on June 28, 2021 after an aggressive marketing campaign, which was launched first quarter of 2021.
The mobile banking application first saw an increase in user registration in May 2021 with 808,378 users registered on the application. The campaign consisted of various promotions including registration and usage promos and a konek2CARD dance contest that spiced up the campaign even further.
CARD Bank, which initiated konek2CARD in 2016, ushered in the largest number of registrants with 557,913, followed by CARD SME Bank with 273,974, CARD MRI RIZAL BANK with 168,187, and CARD, Inc. (A Microfinance NGO) with 754. The financial institutions of CARD MRI garnered a total of 1,000,828 registrations and counting.
Changing the Way We Live
konek2CARD has changed the way people live in the New Normal by providing a variety of banking transactions to its clients in the comforts of their homes. Among these include checking of savings and loan balance, transferring funds, purchasing e-load, and viewing of mini-statement and transaction history. Agent-assisted transactions such as cash-in (deposit) and cash-out (withdrawal) services through konek2CARD agents are also made possible through konek2CARD. These services bring an added convenience to clients most especially as health and safety protocols should be observed during the COVID-19 pandemic.
With the positive response towards the mobile banking application, CARD MRI Founder and Chairman Emeritus Dr. Jaime Aristotle B. Alip emphasized the importance of konek2CARD in this COVID-19 era and expressed hope even as the pandemic stretches on.
"We are delighted that our clients and communities are embracing our digital initiatives as we prioritize their health and safety amid the pandemic. We continue to be one with the government in ensuring transactions are safe for our clients. I believe that this is the beginning of our fruitful journey as we reach out to more underbanked communities," said Dr. Alip.
CARD MRI Managing Director Aristeo A. Dequito also expressed his gratitude to those who have trusted the mobile banking service.
"As we conform to our government-mandated protocols, we continue to adapt to the new normal with konek2CARD to provide our clients the convenience they need in times like these. We are grateful to our clients for trusting konek2CARD, and we hope that the mobile banking application continues to serve as their companion for their banking needs," said Dequito.
Road to Financial Inclusion
konek2CARD was not only designed to provide safety and convenience to its clients. It also serves as an instrument to financial inclusion. As the platform being used by the four financial institutions of CARD MRI namely, CARD, Inc. (A Microfinance NGO), CARD Bank, CARD SME Bank, and CARD MRI Rizal Bank, the mobile banking service enables them to break the barriers that separate its clients, especially those in the outskirts of communities, from experiencing affordable and well-designed financial services.
According to CARD Bank President and CEO Marivic M. Austria, "Since konek2CARD's inception in 2016, we saw how the mobile banking application changed the lives of our clients and the communities we serve overtime. This is a part of our financial inclusion initiative to make sure no one gets left behind especially during a health and financial crisis such as this."
Through konek2CARD agents strategically placed in neighborhoods, konek2CARD is within reach of CARD MRI clients who need to make their banking transactions. Because of the accessibility of konek2CARD agents, more users saw the need to register to the mobile banking application, contributing to the success of the "Saya ng Buhay, Level App" campaign. To date, CARD MRI has 11,621 konek2CARD agents nationwide.
"Reaching one million registered users proves how vital digital transformation is in our journey towards eradicating poverty," Head of the konek2CARD campaign and CARD SME President and CEO Cynthia Baldeo said. She added, "Our konek2CARD agents, operations staff, and executives are all essential in making this possible."
CARD, Inc. Executive Director Vicente Briones, Jr. also sends his gratitude to konek2CARD agents who have been vital in their operations. "Thanks to our konek2CARD agents, we have created an ecosystem that makes it possible for our clients to conduct their financial transactions even during the weekends without going to our offices. We appreciate how they make our clients' lives more convenient through their work."
In light of expanding their services to provide access to better financial and social development assistance to communities, CARD MRI RIZAL BANK President and CEO Elma B. Valenzuela is also optimistic in overcoming the challenges of financial inclusivity.
"We will not be fazed by the roadblocks that try to exclude the unbanked and underbanked communities in the Philippines. We will eventually reach those in the far-flung communities with our initiatives, especially now that konek2CARD is in place," said Valenzuela.
BSP on konek2CARD
Meanwhile, Bangko Sentral ng Pilipinas (BSP) Governor Benjamin E. Diokno congratulated CARD MRI for reaching 1 million registered users on konek2CARD in a recorded statement.
"We extend our congratulations for reaching 1 million registered konek2CARD users. CARD has been a longtime partner and champion of financial inclusion, and we are glad to mark this achievement with you today," remarked Diokno.
In addition, the current BSP governor and former budget secretary mentioned how it was "fortunate to witness the beginnings of konek2CARD" as "the significant gains in a short period revealed the vast opportunities available to financial service providers when they maximize enabling policies and adopt an innovative financial inclusion-oriented mindset."
In his speech, Diokno also revealed some of the digitalization initiatives included in BSP's Digital Payments Transformation Roadmap for 2020 to 2023. This includes QRPH payments, which will allow payment of goods and services in stores, markets, and even transportation through the use of mobile phones. He also mentioned the Philippine Identification System (PhilSys) which will authorize clients to avail bank accounts and other financial services using the PhilID alone. This will lessen the need to acquire various government IDs and will expedite transactions.
As mobile and internet connections remain to be a constant problem for Filipinos, Diokno also broached the subject of "pushing for mainstream technologies like satellite internet" and making way for more broadband players in the industry.
Finally, the BSP governor remarked how "digitalization can improve the lives of a common man" as he ended his speech with a positive note.
"Indeed, by embracing our financial inclusion mission, we can improve lives and create shared prosperity in ordinary and extraordinary times. And so, to the officers and personnel of CARD Bank, keep up the outstanding work," concluded Diokno.
konek2CARD will continue its mission of serving communities with its digital financial services. It hopes to acquire 2 million registered users by the end of 2021.
Gov't agencies, private sector join force to upskill PH workers through Philippine Skills Framework
By DTI-TPG-Philippine Trade Training Center
June 28, 2021
PASAY CITY – When the nation develops its people, the people develop its nation.
This was highlighted by government agencies and the private sector during the launch and the ceremonial signing of the Memorandum of Understanding of the first Philippine Skills Framework (PSF) Initiative on Friday (25 June 2021), a part of the country's inclusive innovation strategy that targets to equip Filipino workforce with skills mastery and lifelong learning.
Seeing the need to create a framework to upskill, reskill, and prepare the country's human capital to increase their competitiveness, the Department of Trade and Industry (DTI), Philippine Trade Training Center - Global MSME Academy (PTTC-GMEA), and the Technical Education and Skills Development Authority (TESDA) convened nine other government agencies to forge partnership for the Philippine Skills Framework.
Among the government agencies that participated in the PSF are Commission on Higher Education (CHED), Department of Education (DepEd), Professional Regulation Commission (PRC), Department of Science and Technology (DOST), Department of Agriculture (DA), Department of Tourism (DOT), National Economic and Development Authority (NEDA), Department of Labor and Employment (DOLE), and the Department of Information and Communications Technology (DICT).
As the government recognizes the importance of a "whole-of-society" approach to realize this endeavor, they have enjoined industry associations and learning and development institutions in shaping the said framework.
The Philippine Skills Framework builds upon the continuing partnership among national government agencies. It is a product of the memorandum of understanding that DTI and TESDA forged with SkillsFuture Singapore in 2019, during the 50th anniversary of the diplomatic relations between the two countries.
Singapore developed industry transformation maps which provided insights in the impact of technology and jobs, career pathways, skills required for various occupations and reskilling options. Adopting the approach of Singapore, the Philippines is focusing on skills and developing a skills framework for specific industries as part of its Industry 4.0 strategy.
"This is indeed a momentous event as we see an MOU signed in 2019 between the Philippines, represented by the DTI and TESDA, and Singapore, represented by Skills Future Singapore, now seeing tangible results – eleven government agencies in the Philippines, coming together to forge partnership in the development of the Philippines Skills Framework for various sectors witnessed by the our Singapore Institutional partners," PTTC-GMEA Executive Director Nelly Nita Dillera said.
Upskilling needed to innovate Filipino Workforce
In his message of support, Senator Joel Villanueva, who also chairs the Committee on Higher and Technical & Vocational Education said that the launch of the Philippine Skills Framework gives guidance to Filipino workers to the country's priority sectors.
"With the launching of Philippine Skills Framework Initiative today, we are not only expressing or codifying our belief about the value of skills mastery and lifelong learning. We are also taking the lead for Filipinos, especially the youth, to follow. By guiding them to the country's priority sectors and in-demand occupation and skills, they, too, can take action to make their career choices work for them," he said.
"The future of work is already here, even before the pandemic. The COVID-19 only served as an accelerant of trends already well underway, especially in digital technology, artificial intelligence, and even in robotics. Now more than ever, we should help Filipinos navigate their way to success and take advantage of opportunities that lie ahead," Senator Villanueva added.
For his part, DTI Secretary Ramon Lopez emphasized that the need to reskill the country's human capital remains a significant part of the plan to produce a future-ready workforce.
"As we continue with our efforts to grow and develop competitive and innovative Filipino enterprises, the need to reskill and upgrade the skills of our human capital and workforce remains a crucial part of our plans. This is essential so that our industries can increase and sustain their competitiveness under the 4IR and move us closer to our goal of becoming an industrialized nation," he said.
"We aim to achieve better employment opportunities that will provide them with higher income. Skills development is a key pillar of our Inclusive Innovation Industrial Strategy or I3S. This involves the implementation of enhancements of our country's formal education curriculum and improvements in our technical and vocational education training, and refinements in our higher education system, Lopez added.
PSF's whole-of-society approach in tune with PRRD's mandate
In his speech, Secretary Lopez reiterated President Rodrigo Roa Duterte's mandate to involve the whole country – from the government to its citizens – in matters of national importance.
"This also requires the active involvement and support of stakeholders from industry and private sectors to inform and provide the government the need and advice of what the market demands from our workers and potential employees. As such, more than a whole of government, this needs a whole-of-society approach to ensure its success. As President Rodrigo Roa Duterte once said during his inaugural address, anything of national importance [and] significance needs cooperation and support of people," he said.
Technical Education and Skills Development Authority Director General Secretary Isidro Lapena also emphasized that the signing of the Memorandum of Understanding (MOU) signifies the whole society's commitment to develop the country's human resources.
"This Memorandum of Understanding seals our partnership for a whole-of-society participation for human resource development and competitiveness. Through this memorandum of understanding, we signify one commitment: to coordinate and collaborate towards the development of sectors that will guide them in enhancing their skills for a particular job role," he said.
PSF a long-term solution to evolving workforce demands
For her part, DTI Undersecretary for Competitiveness and Innovation Group Rafaelita Aldaba said that the Philippine Skills Framework will help workers be prepared for the future of work.
"The work of the government is crucial in managing the transition process and ensuring that training and skills development is provided to prepare the workforce for the jobs of the future. While past generations of talent could expect linear career progression, the workforce of the future will be required to rapidly learn and relearn new skills as reskilling, upskilling and redeployment define the new normal in the future of work," she said.
Secretary Lapena also believed that PSF is a long-term solution as the country enters the Fourth Industrial Revolution.
"In the long run, we saw how this will benefit Filipinos to raise the standard of our human resources and be better prepared for the Fourth Industrial Revolution," he noted.
Singapore's commitment to the Philippines
While the country is well-prepared to implement the Philippine Skills Framework, Singapore's Ambassador to the Philippines Ambassador Gerard Ho Wei Ho committed to help in the implementation of the PSF.
"The launch of the PSF is a timely and crucial step towards strengthening the Filipino workforce's ability to respond and to adapt to the digital economy in a post-pandemic world. As Singapore is a close friend, we will continue to assist in the implementation of the PSF, not only through the government channels, but also, hopefully, with more collaboration in the private sector," he said.
The Ambassador also thought that the PSF will entice more Singapore-based businesses to invest in the country, as its workforce will be future-ready.
"The PSF will strengthen the case for more Singapore-based businesses to create a greater economic footprint in the Philippines," he noted.
PTTC Executive Director Nelly Nita Dillera added that the Philippines - Singapore partnership went beyond the creation of the PSF.
"This partnership actually worked beyond the Philippine Skills Framework, but we also got to understand the nuances and the challenges confronting the two countries in the implementation of the Skills Framework," she said.
Supply Chain and Logistics Sector first to implement PSF
The Supply Chain and Logistics sector is the first to adopt the PSF, as its own Skills Framework was launched the same day.
The Department of Trade and Industry, Technical Skills Development Authority, and the Logistics Services Philippines were present to sign the Memorandum of Agreement.
The MOA aims to establish a collaborative effort between the government and the logistics services sector in advancing a competitive and future-ready logistics workforce through training and skills development. Specifically, the MOA provides scholarship programs to the logistics services sector on existing TESDA Training Regulations and non-registered programs, as well as collaborate on the formulation of the Philippine Skills Framework for Supply Chain and Logistics.
The PSF will also be implemented in the priority sectors, namely: Construction, IT-BPM, Tourism, Health and Wellness, Food, Manufacturing, and Creative Design industries.
NPA surrenders, army recovers high caliber firearms in Eastern Samar
By 78th Infantry Battalion
June 27, 2021
BORONGAN, Eastern Samar – An NPA cadre in Eastern Samar surrendered to 78th Infantry Battalion and exposed the Communist Terrorist Group's (CTG) arms caches containing high-powered firearms and improvised explosive devices (landmines).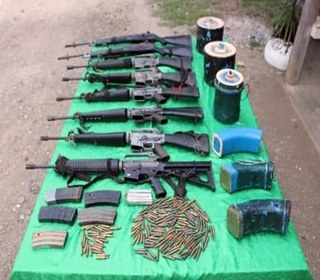 The NPA identified as alias Roel served as the Political Instructor and the Assistant Squad Leader of Squad 2 in the NPA's Guerilla Unit operating in the southern municipalities of Eastern Samar. He voluntarily surrendered to Lieutenant Colonel Oliver C. Alvior, Commanding Officer of 78th Infantry Battalion based in Brgy. Lalawigan, Borongan City, on June 15, 2021. Upon his surrender, he brought with him one (1) 5.56mm M16A1 Rifle, magazines, and numerous ammunition.
Upon his surrender, alias Roel was immediately given the mandatory proper medical and dental care as provided under the Enhanced Comprehensive Local Integration Program (ECLIP) of the government. Citing starvation and fatigue due to constant movement across the hinterlands of Eastern Samar as the primary consideration for his surrender, alias Roel has been successfully convinced to lay down his arm after series of negotiations mediated by Llorente-Gen MacArthur Peace Builder Group (PBG). Their members are former NPAs and supporters of the CTG.
Amazed by good treatment of the soldiers toward him, which is in stark contrast to the lies and fears instilled by his NPA comrades, alias Roel decided to reveal critical information on the status of the said NPA guerilla front. In a statement, he affirmed that the terrorist group had lost most of its manpower as a result of the relentless combat and security operations implemented by 78IB and Eastern Samar Provincial Police Office (ESPPO) as the main operating units under the Peace and Law Enforcement Development Support (PLEDS) Cluster here in Eastern Samar. This constant military operations also disrupted their capability to recruit new members forcing the rebel group to leave excess firearms in their caches through their former contacts in numerous barangays.
Alias Roel, assured of his safety and security by the government, also revealed the location of Communist Terrorist's arms caches in the hinterland barangays of Gen MacArthur, Eastern Samar. Thus, 78IB was able to locate and recover five (5) M16 rifles, two (2) M14 rifles, and six (6) IED main charge components.
In a statement, Lieutenant Colonel Alvior praised the bravery of the former rebel in deciding to surrender his firearm and to pinpoint NPA arms caches. He gave assurance that the government will provide necessary interventions for alias Roel and his family as the latter decided to be law-abiding citizens of the Republic of the Philippines.
"The surrender of alias Roel and the discovery of the NPA arms cache is a manifestation of the effectivity of the Whole-of-Nation approach wherein the collective effort of the TF-ELCACs particularly by the PLEDS and LPE Clusters represented by the Peace Builder Groups, have provided a conducive environment for the remaining active NPAs to surrender. The increasing number of NPA surrenderees and the recovery of numerous firearms and explosives signify that the NPA in Eastern Samar are directionless because their top leaders in Eastern Samar have abandoned their fighters", Lieutenant Colonel Alvior said.
NCCP to US Congress: Pass the PH Human Rights Act now
Press Release
June 26, 2021
QUEZON CITY – The National Council of Churches in the Philippines (NCCP) an aggrupation of Protestant and Non-Roman Catholic Churches commends and welcomes the reintroduction of the Philippine Human Rights Act (PHRA) to the US Congress last June 17, 2021, by US Representative Susan Wild of Pennsylvania. This bill seeks to intervene in the massive and intensifying human rights violations in the country under President Duterte's administration.
"The reintroduction of the PHRA gives hope to the Filipino people whose rights and lives have been ferociously trampled upon by state security forces. We believe that the international community has been vigilantly keeping watch to the bleak human rights situation in the country and we thank churches and human rights organizations in the US for their determined lobbying", said Bishop Reuel Norman O. Marigza, the General Secretary of the NCCP. He added that such vigilance to walk alongside the suffering Filipino people is a concrete manifestation of "bearing witness with us, of love and justice in action, which is the hallmark of Christian living".
The PHRA aims to block security assistance and funding to the Philippines until President Duterte's administration made the necessary reforms to its military and police forces. NCCP hopes this will help in improving the human rights condition in the country. If passed, the PHRA will prevent the sale of arms to the Philippines worth two billion dollars. The sale includes attack helicopters and the additional 126 million dollars worth of assault boats and armaments.
"This Act has been a direct result of tireless work and lobbying efforts of our allies and partners in the US, the churches and grassroots people's organizations, Filipino-American activists and rights defenders who have been working along our side to push for reforms. This is a concrete example of solidarity work being built and strengthened by movement-building, and this movement from the ground up can be a very powerful tool for impacting change" Bishop Marigza added.
We express gratitude to Rep. Wild and to the 13 honorable members of the legislative body who co-sponsors the H.R. 3884," the bishop said. "We pray and call that this Bill be passed without delay in the US Congress. This critical bill can spell life and death for many who are made vulnerable by the policies and actions of the Duterte government, particularly the economically poor and human rights activists. Indeed, acts of solidarity can go a long way", Bishop Marigza concluded.
Two flood control structures erected to protect residents of Calbayog City
By GISSELLE G. PARUNGAO
June 22, 2021
CALBAYOG CITY – A total contract amount of P54.4M is allocated to build two flood control projects in Calbayog City through the effort of the Department of Public Works and Highways -Samar First District Engineering Office.
A flood mitigating structure is erected in Barangay Lonoy, Calbayog City which spans 373 linear meters and a height of (3) meters which also includes a walkway. The structure has a parapet of 0.95 meters which acts as a barrier for the safety of the residents. The scope of work also covers embankment, steel sheet pile foundation, concrete capping and hand laid rock embankment.
Furthermore, same structure is built along Cag-olango Creek in Barangay Cag-olango. It has a length of 109.11 meters on both sides and a height of 3.2 meters. This also has a parapet of 0.8 meters and walkway along the structure.
Flood control structures are used to reduce or prevent the detrimental effects of flood waters. These were built to prevent water overflow and soil erosion along the creeks or riverbanks and has high assurance of safety and health environment of the families living therein.
Emperador now available in Indonesia
By DTI-Foreign Trade Service Corps
June 22, 2021
MAKATI CITY – The Philippine Trade and Investment Center -Jakarta reported that Emperador is now available in Indonesia after months of discussion with importing entities, bringing the taste of proudly Filipino-made alcoholic beverage to the largest ASEAN economy.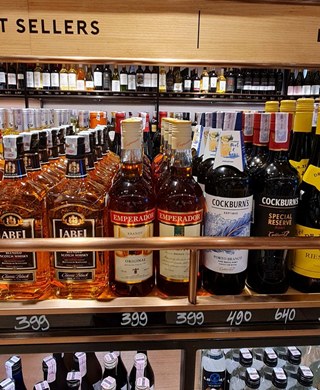 "Emperador is a household name and a global brand, and we are proud to facilitate its entry into Indonesia," said Commercial Attaché Jeremiah Reyes of the Philippine Trade and Investment Center - Jakarta. "We look forward to supporting the growth of local enterprises and bringing more Philippine products to this massive consumer market."
To thresh out the details of Emperador's market debut, Commercial Attaché Reyes met with importers PT Pantja Artha Niaga (PAN) and PT Sumber Anggur Sejahtera (SAS) on June 14. The two importing entities built a sprawling network comprising six wholly-owned distribution channels and eight external distributors covering major Indonesian provinces.
Emperador products is available in Red&White stores, a brand developed by PAN and SAS. There are 84 Red&White stores located across Indonesia, 69 in Jakarta, four in Surabaya, nine in Bali, and one store each in Semarang, Palembang, Ambon, and Gili Island of Lombok.
Alcohol consumption in Indonesia is expected to grow by an annual average of 9.6% YoY from 2021-2025, with spending set to hit USD 8.6 billion (IDR120.5 billion) in 2025, according to Fitch Solutions. Spending will be primarily driven by non-Muslim minorities and the tourist population, particularly in Bali.
"We are excited for the prospects of Emperador in Indonesia and commit to provide all the necessary support to help it replicate its success in the Philippines, here in Jakarta," said Reyes.
"The importers that we're in discussion with have expressed interest to carry more brands from the Philippines into Indonesia. This is a welcome development as we continue to mainstream more brands and show our Make It Happen mindset to the global stage," he added.
Emperador, Inc. is the largest liquor company in the Philippines and the world's largest brandy manufacturer with a portfolio of distilled spirits and alcoholic beverages in 55 countries.