Acknowledging the sacrifices of health workers, the Almeria Seafarers Multi-Purpose Cooperative (ASEMCO) provided the Biliran Provincial Hospital with food packs. (Photo by Sharmaine Chelsea Morillo)
Biliran farmer organizations extend assistance amid COVID-19
By JOSE ALSMITH L. SORIA
April 7, 2020
NAVAL, Biliran – Regional Director Stephen Leonidas of the Department of Agrarian Reform (DAR) in Eastern Visayas commended three DAR-assisted cooperatives in this province for their efforts to help ease the effect of the coronavirus disease 2019 (COVID-19) pandemic in their respective areas.
As everyone is directed to stay at home with the implementation of the community quarantine by the different local government units (LGUs) to contain the spread of COVID-19, three agrarian reform beneficiary organizations (ARBOs) felt the pressing needs of their members, particularly the elderly and the daily wage earners.
The Looc Cabucgayan Agrarian Reform Cooperative in Cabucgayan town through its chairman, Zacarias Leorag, distributed two kilos of Jaguar rice to each of their 117 members.
For the Lico Agrarian Reform Cooperative (LARCOOP) based in the capital town of Naval, relief assistance consisting of three-kilo rice, coffee, sugar, milk and meat were distributed to its members.
Aside from the members, chairperson Rebecca Payos said, LARCOOP also provided snacks and coffee to frontliners manning the provincial border checkpoint, as well as barangay checkpoints in Lico and PS Eamiguel villages.
LARCOOP Manager, Anamie Villegas Ibano, added that the members' Interest on Capital and Patronage Refund (ICPR) were released early so the latter could use them at this point while we are facing this kind of crisis.
Meanwhile, the Almeria Seafarers Multi-Purpose Cooperative in the municipality of Almeria, which is also into catering service, through its manager Anita Corto, provided food packs for the health workers at the Biliran Provincial Hospital.
DAR Secretary John Castriciones appreciated the acts of generosity by the various ARBOs nationwide.
He described the farmers as the silent frontliners against COVID-19.
In his Facebook comment, Castriciones said, "Ito po ang kailangan nating gawin sa panahon na ito. Mabuhay po kayo and God bless po!"
46IB foils ambush of CNTs to COVID-19 frontliners in Calbiga, Samar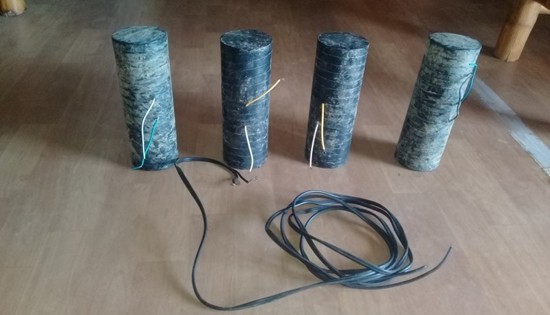 By DPAO, 8ID PA
April 7, 2020
CAMP LUKBAN, Catbalogan City, Samar – Four improvised explosive devices (IEDs) were discovered by the elements of the 46th Infantry (Peacemakers) Battalion (46IB), 8th Infantry Division (8ID), Philippine Army foiling the attempt of the CPP-NPA Terrorists (CNTs) to conduct an ambush against the government forces in the vicinity of Brgy. Hubasan, Calbiga, Samar on April 6, 2020.
An information was obtained from a concerned civilian that the CNTs are planning to conduct an ambush using the aforementioned IEDs targeting the troops of 46IB who are serving as frontliners in battling COVID-19 pandemic. The mines were placed along the only trail connecting barangays Hubasan and Binanggaran of same municipality.
The residents expressed their utmost gratitude to 46IB as the troops prevented the IEDs to explode which could have wounded, or worst, could have taken their lives just like what happened in Borongan, Eastern Samar.
Lieutenant Colonel Rhomel R. Langcauon, Commanding Officer, 46IB remarked, "We are thankful that a concerned citizen alerted our troops about the IEDs planted by the NPA. This is evidently laid to victimize frontliners as all our troops are conducting COVID-19 prevention efforts. This could have harmed or killed the civilians passing by the said trail."
Colonel Camilo Z. Ligayo, Commander of 801st Infantry Brigade said, "We will continue to protect the people of Samar from the terroristic acts of the NPA such as the planting of IED during this Covid 19 crisis. We thank the people for their help and we call on them to unite against all forms of terrorism".
Major General Pio Q Dinoso III, Commander of 8ID, stated that, "We condemn, in the strongest terms possible, that despite the existing unilateral ceasefire and global COVID-19 pandemic crisis, the planting of IEDs here in Samar and recent attacks against uniformed personnel in Luzon and tribal leaders in Mindanao; the CNTs are consistently displaying barbaric acts, violating human rights and disregarding the safety of the civilians who might turn victims just like what they did in Borongan a few months ago."
It may be recalled that four individuals were killed in an IED exploded by NPA in Borongan, Eastern Samar in December 13 last year. The fatalities were three civilians including an elderly woman, a van driver and another woman who expired in the hospital while the fourth fatality is a policeman. Wounded were 14 others including an infant and two other children.
DTI to enforce 30-day grace period for residential, commercial rent during ECQ
By DTI-OSEC-PRU
April 6, 2020
MANILA – The Department of Trade and Industry (DTI) released Memorandum Circular (MC) No. 20-12, Series of 2020 on 4 April 2020 granting a 30-day grace period for residential rent as well as a similar grace period for Micro, Small, and Medium Enterprises (MSMEs) with their commercial rent during the Enhanced Community Quarantine (ECQ) period.
"To provide economic relief to Filipinos and MSMEs during the COVID-19 public health emergency, DTI is implementing these guidelines to ensure their survival during the ECQ, as well as to help brace them afterwards," said Trade Secretary Ramon Lopez.
Following Republic Act (RA) No. 11469, or the "Bayanihan to Heal as One Act," DTI will enforce a 30-day grace period for commercial rents that fall within the duration of ECQ to give respite to MSMEs that have temporarily ceased operations. These enterprises will also not incur interest, penalties, fees, and other charges under the grace period. Similarly, DTI will ensure that a minimum of 30 days grace period shall be granted for residential rent that fall due within the ECQ under the same terms.
Under the MC, the grace period will be determined as 30 calendar days following the last due date of the rent during the ECQ. Cumulative amount of rents that need to be paid within the ECQ must be amortized equally in the six months following the end of the said period. This can be added to the rent owed for succeeding months without interest, penalties, fees, and charges.
On the other hand, lessors are not obligated to refund residential and commercial rents already paid by lessees during the ECQ. However, lessors must grant a minimum of a 30-day grace period from the next due date of residential and commercial rents without interests and other penalties as well.
Likewise, the MC calls on lessors of MSMEs to extend their generosity, if possible, the following: total or partial waiving of commercial rents due during the ECQ; granting a reprieve or discounted amount of commercial rents due after the ECQ; opening renegotiation of the Lease Term Agreements with lessees; and using other ways to mitigate the impact of the ECQ for MSMEs.
More importantly, the trade chief emphasized that there should be no eviction for failure to pay residential or commercial rent due within a 30-day period after the lifting of the ECQ.
"No Filipinos should lose their residence during the ECQ period. Moreover, the importance of MSMEs in jumpstarting our economy once the ECQ has been lifted cannot be understated," Sec Lopez said.
"Through these measures, we ensure that our fellow Filipinos have a future after the ECQ with homes that they can live in and through jobs and employment provided by our MSMEs," Sec. Lopez added.
Complaints of violations of the MC can be brought to DTI in person or electronically by emailing the agency, either through the Fair Trade and Enforcement Bureau (FTEB) through FTEB@dti.gov.ph or with the regional offices. Lessors who violate these guidelines will need to answer the Notices of Violations (NOVs) issued by DTI.
As provided under RA 11469, lessors that are found guilty of refusing to provide the 30-day grace period to lessees shall be penalized with imprisonment of not less than two months or a fine of not less than P10,000, or both.
P1.855M grant awarded to 26 rebel surrenderees in Samar
By DPAO, 8ID PA
April 2, 2020
CAMP LUKBAN, Catbalogan City, Samar – A total amount of P1.855M grant were awarded to 26 former rebels (FRs) who availed of the national government's Enhanced Comprehensive Local Integration Program (E-CLIP) and the Province's Local Social Integration Program (LSIP). The financial grant is a way of helping the FRs to return back to mainstream society as they live normal lives. The activity dubbed, "Peace Towards Prosperity Initiative", was conducted in separate ceremonies held in Matuguinao, Paranas and Calbiga; all in Samar on March 30, 2020.
Said activities were attended by Major General Pio Q. Diñoso III, Commander of the Army's 8th Infantry (STORMTROOPER) Division; Most Rev. Bishop Isabelo C. Abarquez, Diocese of Calbayog; Ms. Anita R. Taran, OIC, Provincial Administrator of Samar; Police Colonel Andre Dizon, Provincial Director of Samar Provincial Police Office; Mr. Judy Batulan, DILG Provincial Director; Hon. Aran D. Boller, Mayor of Matuguinao; Hon. Eunice U. Babalcon, Mayor of Paranas; Hon. Melchor F. Nacario, Mayor of Calbiga; and other military and local government officials.
Additional financial aid under the LSIP and E-CLIP programs will be awarded once the FRs completed the needed requirements.
Major General Diñoso III, in his remark, stated that "We are happy whenever one of your fellow rebels surrenders to the folds of the law. The Communist -Terrorist-Groups (CTGs) deceive and agitate members by injecting ideologies against the government. You are just victims of such deception."
"Seryoso ang ating gobyerno, ang ating presidente, si governor, sila mayor, ang mga kapulisan at kasundaluhan para tulungan kayo. Ito ang magandang dulot ng pagtutulungan at pagkakaisa. Pakiusap lang namin sa inyo na ipaabot din sa inyong mga kasamahang patuloy na nasa kabundukan na handa ang ating gobyerno na tulungan kayong magbagong buhay." Diñoso added.
A former rebel-beneficiary was very much thankful and stated, "Damu an amon pagpasalamat nga guin bubuligan kami san tinuod nga gobyerno kay buwa ngay-an an esplekar san NPA nga sira an nabulig san mga tawo. Ine ngay-an an tama – an aton kasundaluhan an nabulig. Sanglit kita nga mga nagsurender pagburublig kita para mabuligan an aton gobyerno nga magpanawagan san adto pa sa kabukiran nga lumugsad na liwat para sira makatagamtam san kaupayan." (We are grateful to the legitimate government for helping us realize that the NPA's claims of helping the people were all lies. The truth to the matter is – our soldiers are the true ones who help us. Let us then help our brothers who were led astray by the NPA to return to the government so that they too may experience prosperity and return to the mainstream society.)
The intensified collaborative efforts of the government in the enforcement of the Whole-of-Nation Approach amidst the COVID-19 pandemic, is a reaffirmation of its commitment to provide peaceful, resilient, sustainable and economically developed Eastern Visayas.
Duterte's "shoot them dead" order denounced by international human rights group
By ICHRP
April 2, 2020
MANILA – The International Coalition for Human Rights in the Philippines (ICHRP) strongly condemns the shoot-to-kill order of President Rodrigo Roa Duterte on April 1. "We are raising the alarm in the international community on President Duterte's directive to kill unruly violators of the coronavirus quarantine. This pronouncement is a dangerous order that allows authorities to target and kill anyone in a public space. It is also a complete violation of the fundamental rights of Filipinos especially in this time of global pandemic," says ICHRP chairperson Peter Murphy.
President Duterte addressed the whole nation hours after the incidents of unrest and people massing up for food and relief in the country's capital. In his televised speech, his tirade of violent threats included "I will not hesitate. My orders are sa pulis pati military...na pagka ginulo at nagkaroon ng okasyon na lumaban at ang buhay ninyo ay nalagay sa alanganin – shoot them dead," (I will not hesitate. My orders to the police and military…if they caused any disorder, and they fight back and your lives are on the line – shoot them dead).
The same day, 21 citizens were arrested for going out of their homes and demanding the relief promised by the national government. Residents of an urban community in the biggest city in Metro Manila staged a rally asking for food and aid amid the government's lockdown to contain the coronavirus, which in turn has left millions of Filipinos jobless and hungry.
"Our support goes to the poor Filipinos whose only crime is to be hungry and demand what is rightfully theirs. The right to food and basic social services should be ensured especially in times like these," ICHRP asserts. A video circulating in the social media shows citizens demanding for food being violently dispersed by authorities.
"Naintindihan ninyo? Patay. Eh kaysa mag-gulo kayo diyan, eh 'di ilibing ko na kayo (Do you understand? Dead. Instead of causing trouble, I'll send you to the grave)," Duterte added in his recorded address. Recently, the president was given special powers to distribute P200 billion (US$3.9 billion) to more than 18 million poor households. But after a week the aid remains unreleased.
"President Duterte's criminal negligence coupled with brutal measures to address the pandemic is taking its toll on Filipinos. Millions of informal workers have been displaced and right abuses have been rampant all over the country," says Murphy.
"The police and military who have been deployed to enforce social distancing are not trained for this task and have been the very perpetrators of human rights violations," ICHRP underlines. The authorities have been detaining homeless people, putting curfew violators in cages and using torture methods to punish them, and even arresting citizens over "provoking" posts on social media.
Netizens showed their anger online over the president's pronouncement to "shoot them dead" and called for his ouster. The #OustDuterte have been trending in the Philippines for two days now.
The World Health Organization states that "Measures that limit individual rights and civil liberties must be necessary, reasonable, proportional, equitable, non-discriminatory, and in full compliance with national and international laws."
DOLE-8 to assist informal sector workers through TUPAD #BKBK
By NORMA RAE S. COSTIMIANO
March 28, 2020
TACLOBAN CITY – In order to mitigate the economic impacts of Coronavirus Disease-2019 (COVID-19) global pandemic, the Department of Labor and Employment Regional Office VIII will be implementing emergency employment program for the workers in the informal sector.
Per Department Order No. 210 series of 2020 signed by Secretary Silvestre H. Bello III on 18 March 2020, qualified beneficiaries or those underemployed, self-employed and displaced marginalized workers who have lost their livelihood or earnings due to Enhanced Community Quarantine against COVID-19 may avail of the Tulong Panghanapbuhay para sa Ating Disadvantaged/Displaced Workers #Barangay Ko/Bahay Ko (TUPAD #BKBK) Disinfection/Sanitation Project.
Under the TUPAD #BKBK, beneficiaries will work for a period of ten (10) days for the disinfection/sanitation of their houses/dwellings and immediate vicinity of their houses. Beneficiaries will receive wages equivalent to 100% of the prevailing highest minimum wage in Eastern Visayas, which is P325.00 per day.
Aside from the payment of wages, the package of assistance under TUPAD will also include enrolment of beneficiaries to group micro-insurance and conduct of Basic Orientation on Safety and Health thru dissemination of brochures. DOLE will likewise provide the cleaning solutions to be used in disinfecting and sanitizing their dwellings.
TUPAD #BKBK under D.O. 210 may be implemented by Regional Offices either through direct administration or through Accredited Co-Partner (ACP). Proponents/ACPs must prepare and submit Letter of Intent, TUPAD Work Program and Summary List of Beneficiaries.
DOLE-RO VIII was initially downloaded only P10million for the implementation of the program. Regional Director Yahya A. Centi during a meeting with senior officials of DOLE-RO VIII directed to implement the program the soonest possible time.
"Considering that most of our informal sector workers have lost their income now because of this COVID crisis, I urge everyone to do your part so that we will be able to deliver the needed assistance", said Centi.
TUPAD is one of the flagship programs of DOLE which aims to contribute to poverty reduction and inclusive growth. It is a community based (municipality/barangay) package of assistance that provides temporary wage employment for the displaced workers, underemployed and self-employed workers.
Church group reiterates appeal to PH government: Listen to the UN, release prisoners now!
Press Release
March 28, 2020
QUEZON CITY – Church group National Council of Churches in the Philippines (NCCP) reiterated its call for the urgent release of political prisoners, those that are sick, with chronic or terminal disease, the elderly, pregnant and nursing mothers, low-risk offenders, and those that are due for parole or pardon, as advised by the United Nations High Commissioner for Human Rights (UN OHCHR) Michelle Bachelet on March 26. "Let's take it from the UN. There is an urgent need to address the catastrophic risks in prisons by releasing prisoners, especially now that the country is confronting numerous challenges due to this pandemic," Bishop Reuel Norman O. Marigza, NCCP General Secretary, said.
The Bureau of Jail Management and Penology has recorded 394% congestion rate in prisons in the country, which by itself poses grave, potential and unmanageable outbreaks.
"As the number of positive COVID-19 cases spike up, the most Christian thing to do is to leave no one behind. Don't forget those in prison, especially human rights defenders facing trumped charges, who have staunchly worked for social justice and human rights. They need compassion, they need justice and they need protection. They should be released under humanitarian grounds," the General Secretary said.
This is after UN OHCHR Michelle Bachelet called on the governments to take urgent action to ensure health and safety in prisons and places of detention. "In many countries, detention facilities are overcrowded, in some cases dangerously so. People are often held in unhygienic conditions and health services are inadequate or even non-existent. Physical distancing and self-isolation in such conditions are practically impossible," Bachelet said.
"The government needs to quickly address the need to decongest detention facilities and prisons. We could start with the vulnerable groups – the sick and elderly, low-level prisoners, and political prisoners or those detained because of their political beliefs or by simply expressing dissent," Bishop Marigza said.
"It is also deeply distressing that in a time of a public health crisis, authorities fixate on threats of imprisonment as punishment to disobedience. This does not only exacerbate the situation in our detention facilities, but also fails to address the urgent humanitarian needs of the people," Bishop Marigza ended.
The National Council of Churches in the Philippines is the largest aggrupation of mainline Protestant and non-Roman Catholic churches in the country.
DTI, DA, LGUs to ensure Price Freeze during quarantine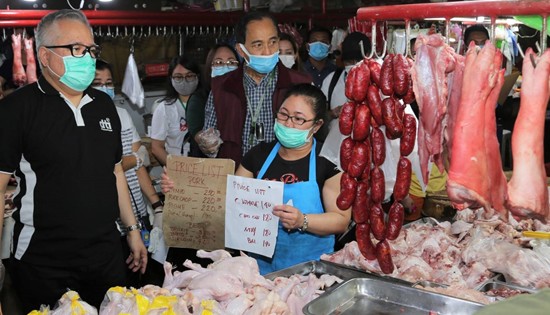 By DTI-OSEC-PRU
March 26, 2020
QUEZON CITY – Department of Trade and Industry (DTI) Secretary Ramon Lopez and Department of Agriculture (DA) Secretary William Dar said they are working closely with local government units (LGUs) to ensure the proper implementation of the price freeze on basic necessities.
The two officials made this assurance after they found many sellers in violation of the price freeze, as mandated in the Joint Memorandum Circular (JMC) No. 2020-01 issued last 18 March 2020. Secretaries Dar and Lopez went around Farmers Market in Cubao on 26 March 2020 for a price inspection.
Following the tripartite release of the JMC by DA, DTI, and the Department of Health, the prices of all agricultural and manufactured basic goods, essential medicines and medical supplies, were frozen at their prevailing prices for sixty (60) days from the declaration of the State of Calamity on 16 March 2020, unless sooner lifted by the President.
Sec. Lopez explained that the marked-up prices were due to the challenges faced during the first few days of implementation of checkpoints in different LGUs. He assured, however, that this has already been addressed in the Inter-Agency Task Force (IATF) on Emerging Infectious Diseases meetings.
"We are continuously coordinating at the local level, with the help of Interior Secretary Año, to ensure the harmonized implementation of the IATF guidelines on the unhampered movement of cargo. Improvements have been reported since Friday of last week and we expect the continuation of this for the following days," said the trade chief.
He added, "After talking to sellers and market masters, we have learned that there are suppliers who sell these goods at the current retail price. In effect, sellers are forced to increase the prices to still gain some profit. This is why we are calling on traders and suppliers to sell goods at a reasonable price in consideration to our local sellers."
Secretary Dar noted that farmgate prices for products such as chicken are already below the cost of production, so suppliers should not sell them at such high prices. To address this, DA coordinated with market masters to provide them a list of suppliers that are providing reasonable prices.
Additionally, Secretary Dar urged city chiefs of public markets to implement the Local Price Coordinating Council mechanism, which allows local enforcement units to strictly ensure the price freeze in their respective areas.
During the inspection of nearby supermarkets, such as Wellcome Farmers Plaza and Puregold Araneta, Secretary Lopez was glad to see that these establishments were in compliance with the price freeze. He and Secretary Dar also observed that these supermarkets had sufficient supply on their shelves.
"With the improvements in the unimpeded movement of cargo, we can also see the improvements in the grocery stocks of essential food and non-food products. That's why we reiterate our call for people not to panic buy because we see that supplies are slowly being replenished," Sec. Lopez said.
International Red Cross and Red Crescent Movement appeals for 800 million Swiss francs to assist world's most vulnerable people in fight against COVID-19
Press Release
March 26, 2020
GENEVA – The International Red Cross and Red Crescent Movement on Thursday launched a revised emergency appeal for 800 million Swiss francs (823 million US dollars) to help the world's most vulnerable communities halt the spread of COVID-19 and recover from its efforts.
While COVID-19 is already a global pandemic, it is still possible to reduce its spread and the number of lives lost by improving access to critical resources.
IFRC President Francesco Rocca said: "This pandemic is putting at risk entire health systems, and the situation will worsen in places where those are weak or inexistent. A strong community response is critical to stop the virus. COVID-19 affects everyone equally, but migrants and displaced people, those who are homeless, and those in disaster-prone areas are among those most exposed to infection, least able to access health care, and most impacted by loss of income. They must not be forgotten. We must strengthen the support to our Red Cross and Red Crescent volunteers who are on the frontline of this response."
The International Red Cross and Red Crescent Movement consists of three parts: the International Committee of the Red Cross (ICRC), the International Federation of Red Cross and Red Crescent Societies (IFRC), and 192 National Red Cross and Red Crescent Societies.
- The IFRC is appealing for 550 million Swiss francs (566 million US dollars) to support National Red Cross and Red Crescent Societies in health care, prepositioning of goods, risk communication, lessons learned from global network of local responders, cash grants for families, and mitigating impacts of large outbreaks). Out of the 550 million Swiss francs, 150 million Swiss francs is for IFRC to support National Societies in need, while the remaining 400 million Swiss francs will be raised by National Societies domestically.
- The ICRC is appealing for 250 million Swiss francs (256 million US dollars) to respond in places of conflict and violence, to support medical facilities and places of detention, curb the spread among and ensure medical access for displaced people and detainees, and to support National Red Cross and Red Crescent Societies in their response.
ICRC President Peter Maurer said: "The international community must increase support now to the under-resourced communities crippled by conflict, or risk allowing another humanitarian catastrophe to unfold on top of the countless others war-torn communities have endured. Viruses know no borders; this is a global problem that will only be solved by global action."
Work already being carried out by the Movement includes support to National Societies to increase their health care services, community engagement and pandemic preparedness activities for vulnerable populations. This includes the reinforcement of supplies in medical facilities, expanding sanitation and disease prevention programmes including in places of detention, and mitigating the socio-economic impact of the outbreak by ensuring communities maintain access to basic services. Support will also be provided to States to implement WHO guidelines to detect COVID-19 early, isolate and treat cases, and trace contacts.
Both organizations warn that stemming the pandemic's rapid global spread requires a coordinated and society-wide approach, including funding and support across state and national levels. The impacts of COVID-19 will be felt everywhere, but the most vulnerable people are at especially high risk. Governments, individuals, communities, institutions and donors must work together at all levels to mitigate the health crisis's devastating impacts.
The International Red Cross and Red Crescent Movement is the world's largest humanitarian network. Its community-based volunteers and staff help the world's most vulnerable people, including those living in countries with under-resourced health and social welfare systems; people recovering from recent disasters; migrants and displaced people; those in conflict zones and who face ongoing violence; people in urban slums; detainees; and people suffering from the socio-economic impact of COVID-19.
SB Corporation opens P1B loan facility for MSMEs affected by Covid-19 lockdown
By DTI-ROG-SB Corp
March 24, 2020
MAKATI CITY – To support micro and small businesses affected and cushion the economic impact of the spread of Covid-19 virus in the country, the Small Business Corporation is setting up a P1 billion Enterprise Rehabilitation Financing facility under the Pondo sa Pagbabago at Pag-asenso (named Covid19 P3-ERF).
The facility will be implemented once the Community Quarantine declaration is lifted by the National Government and/or respective Local Government Units.
Trade Secretary Ramon Lopez explained that the P3-ERF facility is part of the economic relief program of President Rodrigo Duterte for small businesses greatly affected and further marginalized by the Covid-19 virus epidemic.
The SB Corporation, an agency under the Department of Trade and Industry, said the ERF loan fund is open to micro and small enterprises with at least one year continuous operation prior to March 2020, and whose businesses suffered drastic reduction in sales during the ensuing epidemic.
Micro enterprises with asset size of not more than P3 million may borrow P10,000 up to P200,000 and small enterprises with asset size of not more than P10 million may borrow a higher loan amount but will not exceed P500,000.
The loan shall be used to help the enterprise stabilize or recover from its losses. Specifically, the following purposes are qualified: 1) Updating of loan amortizations for vehicle loans or other fixed asset loans of the business; 2) Inventory replacement for perishable stocks damaged; and 3) Working capital replacement to restart the business.
Interest rate shall be at 0.5% per month (discounted basis); and grace period on payments shall be given until such time that the economic crisis has abated.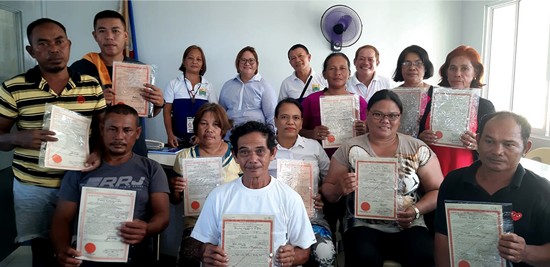 The agrarian reform beneficiaries (ARBs) show their Emancipation Patents (Eps) and Certificates of Land Ownership Award (CLOAs) after the distribution. With them in photo are Zumarraga Mayor Myrna Tan (standing, 4th from left) and Municipal Agrarian Reform Program Officer (MARPO) Evelinda Barbasa (standing, 3rd from left). (photo Engr. Jessie Iso)
DAR distributes CLOAs to Samar islanders
By JOSE ALSMITH L. SORIA
March 21, 2020
ZUMARRAGA, Samar – Eighteen landless farmers from this island-municipality in the province of Samar turned landowners as they received Emancipation Patents (EP) and Certificates of Land Ownership Award (CLOAs) from the Department of Agrarian Reform (DAR) on March 12.
Zumarraga Mayor, Myrna Tan, handed the 24 land titles to the 18 agrarian reform beneficiaries (ARBs) in a simple ceremony at the town's Sangguniang Bayan Session Hall. She was assisted by Municipal Agrarian Reform Program Officer (MARPO) Evelinda Barbasa.
Barbasa disclosed that the EPs and CLOAs, distributed to the ARBs under the government's Comprehensive Agrarian Reform Program (CARP), covered a combined area of 22.8012 hectares of corn lands and coco lands situated in the Barangays of Tubigan, Canwarak, Maputi, and Pangdan.
She added that the EP-CLOA distribution was part of a weeklong celebration in commemoration of the town's 157th founding anniversary.
CARD implements one-month moratorium for clients
Press Release
March 21, 2020
SAN PABLO CITY – The financial institutions of CARD Mutually Reinforcing Institutions (CARD MRI) have suspended its microfinance operations from March 17 to April 12, 2020. This is in response to the recent declaration by the Philippine Government of an enhanced community quarantine due to the COVID-19 outbreak.
While the obligation for weekly loan payments are lifted until the resumption of its operations, CARD Main Bank Branches will remain open so that clients can perform transactions such as deposits and withdrawals. These bank branches will open at 9:00AM and close at the latest 3:00PM, as there are branches which are locally required to close earlier than 3:00PM. Likewise, bank clients can still transact through ATMS, Digital Cash Machines, and the konek2CARD app. Savings withdrawals can also be facilitated by konek2CARD agents of CARD Banking Group.
"This is our effort to show our sympathy and concern to our clients in these trying times," said Dr. Jaime Aristotle B. Alip, CARD MRI Founder and Chairman Emeritus. "We understand that our clients would face liquidity problems and potential losses. It is through implementing moratorium that we can support them."
Continuous Support
CARD MRI Managing Director Flordeliza Sarmiento also added that other essential services will still be provided. "COVID-19 is a serious health threat thus we know that this is the time when we are needed by our clients and staff the most. Our clinics and laboratory are still open for our clients and staff while our pharmacy, BotiCARD, will remain open to the general public," she explained.
CARD Mutual Benefit Association, the insurance arm of CARD MRI, will also be on moratorium for its insurance contributions but will still process and disburse claims benefits. Clients may settle their claims in CARD MBA Provincial Offices and the main bank branches of CARD Bank, CARD SME Bank, and CARD MRI Rizal Bank.
CARD MRI is a group of institutions that aims to eradicate poverty through microfinance and other development-oriented programs. Of its member institutions, those offering the moratorium are CARD, Inc. (A Microfinance NGO), CARD Bank, CARD SME Bank, and CARD MRI Rizal Bank. CARD MRI has 6.7 Million clients, 19,027 staff, and 3,241 offices nationwide. Considered the largest in the microfinance industry, CARD MRI is an important catalyst in the country's economy down to the community level, as it provides capital that enables poor households to engage in microenterprises as well as generating jobs directly and indirectly.
United as one
CARD MRI also joins other members of the two largest microfinance networks in the country, Alliance of Philippine Partners in Enterprise Development (APPEND, Inc.) and Microfinance Council, in the battle against COVID-19.
Insurance services and claims of these microfinance institutions (MFIs) remain uninterrupted.
Further, these MFIs will continue paying for the salaries of their more than 50,000 staff during this period of community quarantine.
True to their collective vision of ending poverty in the Philippines, the microfinance industry vows to fulfill its commitment to serve the most vulnerable population even in challenging times like the COVID-19 outbreak.
Release the sick, elderly, and "low-level" prisoners amid COVID19 crisis - NCCP
Press Release
March 20, 2020
METRO MANILA – Church group National Council of Churches in the Philippines supported the appeal of Kapatid, a group of families and relatives of political prisoners, to the government to release the sick, elderly and "low-level" prisoners. The NCCP said releasing them is a Christian and compassionate gesture in the midst of the pandemic especially since massive testing in the country is still not in place.
Bishop Reuel Norman O. Marigza, NCCP General Secretary, expressed grave concern for the prisoners amid the rising number of COVID 19 cases in the country. Bishop Marigza said, "Current measures in prisons are clearly insufficient. Without massive testing, the overcrowded prisons in the country is a health disaster waiting to happen. We cannot simply accept what the Bureau of Corrections is saying that prisons in the country are still free of cases of COVID 19 even though tests were not administered there. Before disaster strikes, set them free!"
According to Bureau of Corrections January statistics, its prison facilities are overcrowded by 310 percent as 49, 114 inmates occupy prisons that have a maximum capacity of 11, 981 persons. Justice Secretary Guevarra has already admitted that a single COVID-19 case inside could cause "calamitous effects".
"Besides, the call for release is selective, only those who will definitely suffer like the sick and the elderly and of course, the prisoners of conscience who have been wrongfully imprisoned because of their political beliefs", Bishop Marigza added.
The call for the release of prisoners came in the wake of Iran's gesture to free thousands of its prisoners. The heavily congested prisons in the country are full of detainees that come from the poor, especially after the government's campaign against illegal drugs.
The National Council of Churches in the Philippines is the largest aggrupation of mainline Protestant and non-Roman Catholic churches in the country.
Gravel road completed at barangays Buenavista, Ranera and Janipon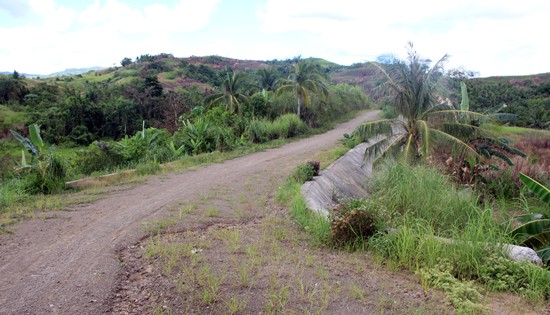 By GISSELLE G. PARUNGAO
March 18, 2020
CALBAYOG CITY – A gravel road amounting to P50 million was completed traversing three Barangays of Buenavista, Ranera and Janipon at San Jorge, Samar.
The only means of transportation for residents of said barangays would be by boat and usually, only one trip is scheduled going to and from Buenavista as Barangay Captain Raquel Duena, from Barangay Ranera narrated. From there, that's the only time that they can travel on a paved road to San Jorge, Samar and other parts of the area. This in turn creates hardships for residents of the barangays in terms of health matters because of travel time and availability of boats.
Travel costs and time are also a problem of farmers to transport their harvested root crops, rice and vegetables grown from the barangay which is their means of income to the nearest marketplace in San Jorge.
Students also have a hard time going to school especially those attending their secondary education since the nearest school is situated in the Municipality of San Jorge. They would walk long hours to reach the school.
All these issues and worries are now gone as an opening road with a length of 2.86 kilometers with a width of 8 meters was developed. The scope of work includes two box culverts to preserve the creek that crosses through the said road. Riprap is also included on areas with steep slopes to prevent soil erosion and collapse of the structure.
Travel time through boat will consume almost 2 hours while using the gravel road will only take less than 1 hour to and from Barangay Buenavista to Janipon.
This road opening was drawn from the General Appropriations Act of 2018.
P46.97M Macalpe bridge in Caibiran town starts construction
By DPWH-Biliran
March 18, 2020
NAVAL, Biliran – The Department of Public Works and Highways (DPWH) Biliran District Engineering Office (DEO) has started the construction of the P46.97M new permanent bridge at Sitio Macalpe in Brgy. Cabibihan, Caibiran, Biliran.
The site of the said project was previously an existing concrete paved road but was totally washed out during the onslaught of Tropical Storm (TS) Urduja on December 16, 2017.
David Adongay Jr., District Engineer said that the project is now in full swing under contract with L.M. Baltonado Construction.
"The project is now on-going in the preparation for the foundation works of the bridge," revealed Adongay.
"The site is critical for sudden landslide specially during heavy rains, thus the contractor was instructed to fast track the project to avail the good weather condition," he added.
According to Adongay, there is a need to construct for a new permanent bridge on the said section because a large volume of water crosses the roadway especially during rainy season.
The project involves the construction of a 4-lane bridge with a width of 13.4 meters with a total length of 20.0 meters or a total area of 291.43 square meters. This project has a target completion date on June 25, 2020.
When completed, this project will provide a structure that can accommodate big volume of rainwater, minimize vehicular accident as well as provide convenience in transporting agricultural and aquatic products to market centers.
This bridge is essential in going to the only Provincial Hospital and Port of the Province and some tourist sites within the island. It will serve more or less 3,000 travelers along Naval-Caibiran Cross Country Road (NCCR).
Presently, DPWH-Biliran DEO maintains a total of 35 national bridges within its jurisdiction with a total length of 1,250-linear meter of both asphalt and concrete surface. The completion of the new Macalpe Bridge would be an addition to this total length of bridges.
Save the Children Philippines urges health support for vulnerable groups who face more risks to COVID-19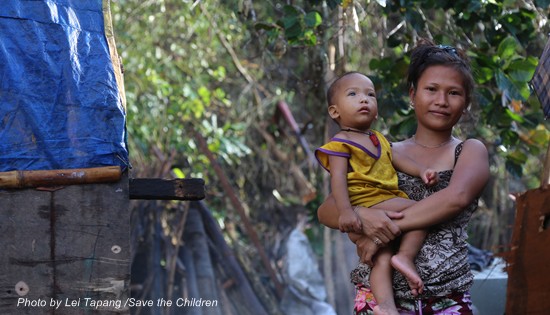 Press Release
March 18, 2020
QUEZON CITY - Save the Children Philippines is calling on health and local government authorities to prioritize deprived and marginalized families and their children who are more at risk to Coronavirus acute respiratory disease 2019 (COVID-19) due to their lack of access to health services.
The call was made after President Duterte announced on Monday the implementation of Luzon-wide Enhanced Community Quarantine. The order imposes a strict home quarantine and suspension of mass transportation for one month from March 17 to April 17, 2020 to prevent further spread of COVID-19. There are now 142 confirmed cases of COVID-19 in the Philippines as of Wednesday (March 17, 2020) with 12 deaths.
The Child Rights-based group also raised concern on the first case of COVID-19 transmission to a 13-year-old girl in Quezon City. The girl, who is the country's 135th confirmed case has no history of travel to other countries affected by COVID-19.
Atty. Alberto Muyot, Chief Executive Officer of Save the Children Philippines, said while COVID-19 threatens the general public, there are communities more vulnerable to suffer further socio-economic marginalization due to the impact of the viral disease that has been declared a pandemic by the World Health Organization.
There are more than 15 million (DOLE, 2018) parents and caregivers who rely heavily on the informal economy or whose earnings require them to use public transport, sell items and render services in crowded places or streets.
The elderly, particularly those with pre-existing conditions, along with children and adults with disabilities, indigenous people, and the urban poor are also vulnerable to the COVID-19 spread. The conditions of these vulnerable communities such as food insecurity, malnutrition and inadequate delivery of basic service compromise their resistance to diseases and predispose them further more serious health conditions.
"Children whose parents need to stay in high density areas to earn a living, or those living in hard to reach areas with no access to clean water are among the most vulnerable to the COVID-19," said Atty. Muyot.
Children and families who belong to indigenous peoples are vulnerable to the COVID-19 spread due to their limited access to health and other social services, facilities, technologies, and do not have enough opportunities to cope also need urgent support from the local government units and health authorities.
"We call on the government to give these vulnerable groups priority assistance, and also engage them in decision-making processes for their response, recovery, and preparedness," said Atty. Muyot.
Amidst COVID-19 scare, DOLE-RO VIII awards P490K livelihood assistance to Abuyog farmers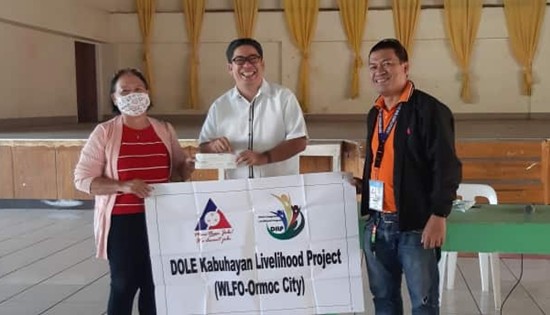 By NORMA RAE S. COSTIMIANO
March 18, 2020
TACLOBAN CITY – The Department of Labor and Employment Regional Office VIII (DOLE-RO VIII) continues to deliver its programs and services to the people of Eastern Visayas amidst the Coronavirus Disease-2019 (COVID-19) scare that haunts not only the region but the entire country.
DOLE-RO VIII through its Western Leyte Field Office has successfully released on March 18, 2020 livelihood assistance to the barangay local government unit of Malaguicay, Abuyog, Leyte amounting to P490,300.00.
Said livelihood aid was charged against the DOLE Integrated Livelihood Program (DILP) funds of the agency and will be utilized for the implementation of the Swine Production Project of Malaguicay Integrated Farmers Association with forty-one (41) members.
Present during the simple awarding ceremony were Hon.Lemuel Gin K. Traya, LGU-Abuyog Mayor, Mr. Francisco B. Archin, PESO Manager of LGU-Abuyog, Hon. Luciana L. Lutiva, Barangay Captain and Mr. Rosilito T. Ygaña, Senior Labor and Employment Officer.
Mayor Traya thanked the DOLE for the effort shown in awarding the livelihood assistance despite the COVID-19 scare presently affecting the transactions of all organizations and establishments.
"From the bottom of our hearts we would like to thank DOLE for being sincere in helping our constituents, not letting the COVID stop you from delivering your programs and services. Thank you for bringing this assistance in such a time like this. We surely appreciate it", said Mayor Traya.
In response, Mr. Ygaña gave his message in behalf of DOLE Regional Director Yahya A. Centi.
"In behalf of DOLE-RO VIII, I would like to say that we at DOLE will remain committed to the continued delivery and implementation of our programs and service for the benefit of Eastern Visayas. We really hope that we will all do our part for these livelihood funds to go a long way so that our efforts will not be in vain", said Mr. Ygaña. (with reports from Rosilito T. Ygaña)
Revetment completed at Brgy. Burabod, Sta. Margarita, Samar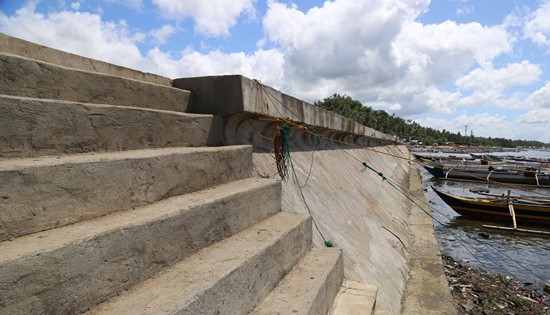 By GISSELLE G. PARUNGAO
March 17, 2020
CALBAYOG CITY – A revetment is completed at Barangay Burabod in Sta. Margarita, Samar with a total allocation of P99 million under the 2018 Local Infrastructure Program.
Revetments are used for coastal erosion defense in areas where crashing waves may otherwise deplete the coastline and create infrastructure collapse. The revetment spans 650 meters along the Daang Maharlika Highway in Barangay Burabod that protects the road as well as passing motorists from rolling waves.
This structure is built with steel sheet pile and hand laid rock embankment with a height of three meters and designed like a curved wall to imitate the crashing waves because it will prevent the wave to overtop the wall and it also provides additional protection of the wall.
The built revetment is 40 meters away from the national road due to a tide embankment in progress.
DPWH-8 regional director inspects big implemented projects in Biliran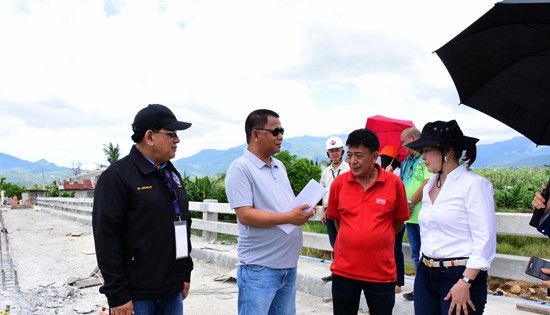 By DPWH-Biliran
March 17, 2020
NAVAL, Biliran – Officials of the Department of Public Works and Highways (DPWH) Regional Office VIII headed by Regional Director (RD) Nerie Bueno inspects on-going Regional Office (R.O.) implemented projects in Biliran on March 12, 2020.
Among the projects inspected are the on-going construction of Cabibihan Bridge in Caibiran town, construction of Mother Mary Bridge at Brgy. Larrazabal and widening of Anas Bridge at Brgy. Atipolo, both in Naval town.
Also inspected are the newly started constructions of Catmon (P86.5M) and Caraycaray (P100M) Bridges which was damaged during the onslaught of typhoon Urduja on December 16, 2017.
During project inspection, Bueno meets with the project engineers (PEs) of the R.O. implemented projects to discuss the problems they encountered during the implementation.
For projects sustaining high negative slippages, Bueno instructed P.E.s to make a work plan to fast-track the implementation of projects.
With the full operation of cash-based budgeting, DPWH R.O.-8 is closely coordinating with its contractors to speed up the implementation of various infrastructure projects that is due for completion this year.
Meanwhile, the Biliran Bridge which is subject for rehabilitation was also inspected by the Regional Director.
David Adongay Jr., District Engineer of DPWH-Biliran District Engineering Office (DEO) said that funding for the rehabilitation of the said bridge was already requested to the Regional Office amounting to P10M.
RD Bueno's inspection was conducted with District Engineer Adongay Jr. and Assistant District Engineer Alfredo Bollido with section chiefs of DPWH Biliran DEO together with Engr. Adelina P. Gomez, Engr. Angelita Obediencia, and Ms. Agnes M. Baronda, all from DPWH Regional Office VIII.
Tarabucan Central Elementary School a recipient of the two-storey building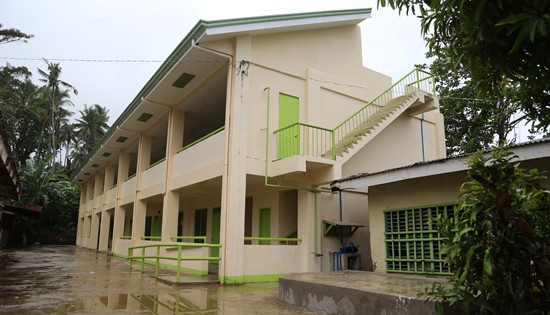 By GISSELLE G. PARUNGAO
March 16, 2020
CALBAYOG CITY – Tarabucan Central Elementary School is now the recipient of the new two-storey, six-classroom school building built by the Department of Public Works and Highways -Samar First District Engineering Office in convergence with the Department of Education. This building has a revised contract amount of P18.6 million from the Basic Educational facilities Fund of 2018.
"The school is a flood-prone area and most of the time, teachers are having a hard time in vacating school documents or files every time there is a heavy rainfall, to other areas of the school", said school principal Nimfa Doroja.
This problem is now a glimpse of the past because teachers and students alike are enjoying the comforts of the new classrooms. It is now occupied by two sections from Grades 2 and 6 as well as one class from Grade 3. The sixth room on the second floor of the building is used as the ICT room so that computers will be safe in case flooding occurs.
CARD MRI hosts Media Study Tour in Laguna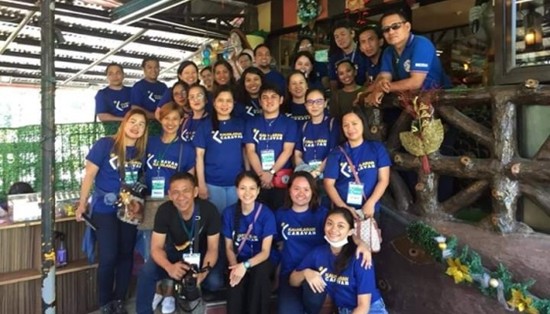 By JEFFREY C. TANDINGAN
March 13, 2020
SAN PABLO CITY – The CARD MRI Publishing House hosted a study tour on the microfinance and community development programs of CARD Mutually Reinforcing Institutions (CARD MRI) on March 5-6, 2020 in Laguna. This was participated by a total of 10 media practitioners from Northern and Southern Luzon.
Said CARD MRI Publishing House President Marilyn M. Manila, "The study tour is our innovative way of presenting to our media partners our other social development services apart from microfinance." She also explained that media practitioners have contributed a significant role in disseminating accurate information about CARD MRI's mission in pushing its charge in eradicating poverty and uplifting the lives of its millions of clients.
The Kaunlaran Caravan Visit
The study tour is an opportunity for media practitioners to experience firsthand CARD MRI's community development programs and to gather factual newsworthy information on microfinance and beyond.
The schedule of the study tour coincided with Kaunlaran Caravan, a quarterly activity wherein CARD MRI community development programs and services are are offered.
"Through this activity we want our media partners to witness our actual efforts that benefit our growing clients in rural communities in the country," Manila added.
The study tour also allowed the participants to attend a center meeting, a CARD methodology that enables clients to meet on a weekly or monthly basis for collection of loan payments and savings. The center meetings are also the venue where Credit with Education (CwE) is conducted. These are learning sessions wherein clients are provided information and knowledge on various topics such as proper handling of finances, disaster preparedness, health and wellness, among others.
The participants were also able to interview CARD MRI's successful microfinance clients including Myrna Manalo, a taka maker from Sta. Maria.
Media Briefing
A media briefing was also facilitated were the invited media practitioners had the opportunity to ask questions to the key management staff of selected institutions. One of the executive officers present during the briefing is Elma Valenzuela, CARD MRI Rizal Bank President.
"CARD MRI ensures that our products and services are tailored-fit to the needs of our clients. This is why we are investing on innovation and technology so that we can offer services that are accessible and convenient for the people we serve," said Valenzuela in response to one of the regarding new technologies that CARD is now offering.
Through the Media Study Tour, CARD MRI Publishing House hopes to continue its fruitful partnership with media practitioners in providing the public with development-oriented information. Since 2013, CARD MRI has held 15 study tour for media practitioners.
2 CNTs killed, 1 high powered firearm seized in Pinabacdao, Samar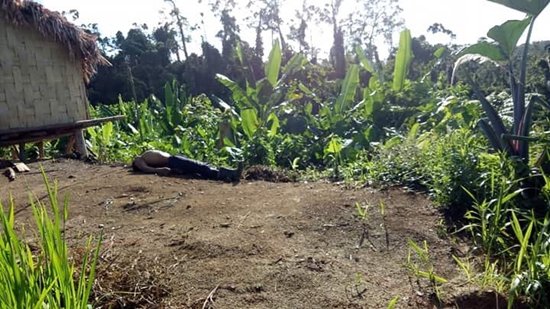 By DPAO, 8ID PA
March 12, 2020
CAMP LUKBAN, Catbalogan, Samar – The troops of 46th Infantry (Peacemakers) Battalion, Philippine Army killed two members of the CPP-NPA Terrorists (CNTs) in a 25-minute firefight that transpired in Brgy. Canlobo, Pinabacdao, Samar at around 8:15 in the morning of March 11, 2020.
The Focused Military Operation (FMO) is in response to the report of the locals on the presence of more or less 10 members of the terrorist group under alias DALTON who were foraging and extorting in the area that resulted to a more or less 25-minute firefight. The firefight yielded to the killing of two members of the NPA and seizure of war materiel including one M16A1 rifle, one bandolier with magazines, one backpack, electrical wires, one battery, solar panels and two cellular phones. However, one military personnel sustained a gunshot wound that caused his death.
It is worth mentioning that on March 6, 2020, Salvador Nordan alias Badok, a notorious Communist NPA Terrorist Leader, was killed at Brgy. Guba, Catarman, Northern Samar, while on March 5 and 7, 2020, the 78th Infantry Battalion had a series of encounters with remnants of Front 42, Sub-Regional Committee, under Communist NPA Terrorist Leader Roberto Opo alias Resty/Migo/Lowie in Brgy. Pancho Villa, Sogod, Southern Leyte. The series of encounters resulted the recovery of one M1 Garand rifle, ammunition and food stuff.
"We will continue to conduct focused military pursuit operations through legitimate use of force against these CPP-NPA Terrorists (CNTs) that threaten the safety and well-being of the populace. The residents of Pinabacdao are already tired of the lies, abuse, deceptions, and extortions of these terrorists. It is unfortunate that the CNTs continue to endanger the lives of the locals causing injury to the utmost peace and living conditions of the whole community." Lt. Col. Rhomel R. Langcauon, Commanding Officer of 46IB, remarked.
Maj. Gen. Pio Q. Diñoso III AFP, Commander, 8ID stated that "Tuloy-tuloy na ang pasok ng mga impormasyon galing sa ating mga kababayan na sawa na sa mga pangingikil, pananakot at karahasan ng mga teroristang NPA. Ang dati nilang tinuturing na ligtas na pinagtataguan ay pinagtuturo na ng dati nilang mga kasamahan at mismong mamamayan."
"Ipagpatuloy lang natin ang pagtutulungan ng lokal na pamahalaan, mamamayan, pulis at kasundalohan. Sa pamamagitan ng Executive Order 70, tuluyan na nating mawawakasan ang Local Communist Armed Conflict dito sa Silangang Bisayas."
"Aming pinapaabot ang taos-pusong pakikiramay sa pamilya at pagsaludo sa kabayanihan ng ating magiting na Stormtrooper na nag-alay ng buhay sa ngalan ng serbisyo para sa ating mga kababayang Samareño." Diñoso added.
CARD MRI RBI holds Community Health Day during Kaunlaran Caravan in Sta. Maria, Laguna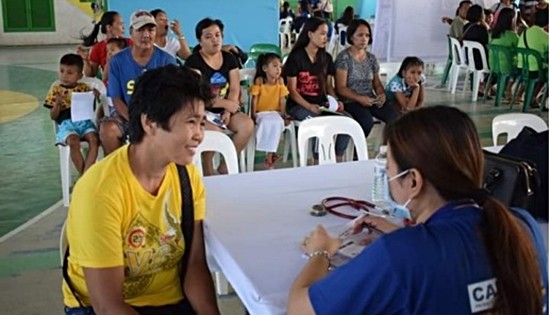 By JEFFREY C. TANDINGAN
March 12, 2020
SAN PABLO CITY – "We are in the business of poverty eradication," highlighted Ms. Elma Valenzuela, president and chief Executive Officer of CARD MRI Rural Bank, Inc. during the Kaunlaran Caravan held on March 6, 2020 in Sta. Maria, Laguna.
Aside from financial freedom, Ms. Valenzuela reiterated the importance of physical health and wellness of CARD MRI's clients during her speech.
Through the caravan's Community Health Day (CHD) initiative, optical, dental, and medical check-ups were held in collaboration with CARD MRI's Microfinance and Health Protection (MaHP) Unit and other partner doctors and clinics.
The free optical service, for example, was made possible through the help of Aguila-Mendoza Visual Care Clinic who also provided quality frames and lenses, sold at affordable prices during the program. On the farthest side of the town's covered court, children and adults availed the free dental checkup. Some also availed free tooth extraction, in which only P35 has to be paid for anesthesia.
Medical consultations, breast examination, and checkup on women's reproductive health were also conducted by partner doctors. Dr. Michelle Anne Dy-Menil of the MaHP unit also led a timely awareness and prevention discussion regarding the recent Coronavirus disease (COVID-19) outbreak.
"Ang Coronavirus ay isang virus na maraming-maraming klase," said Dr. Dy-Menil, who discussed about the types of coronaviruses, among them MERS-Cov, that can be contracted by both humans and animals through close contact. With this, proper handwashing with soap and water, sanitation, and an avoidance to physical contact like hugging or kissing, both humans and their pets, must be observed. Alongside this, Dr. Dy-Menil encouraged the attendees to avoid the discrimination against nationalities that contracted COVID-19.
To experience the full benefits from the health program, CARD MRI RBI members and non-members also had the chance to purchase vitamins, antibiotics, and other doctor prescribed medicines discounted at 20% through BotiCARD, Inc., CARD MRI's pharmacy that offers safe and affordable generic medicines.
Free massage, haircut, manicure, and pedicure were also organized to further enrich the total wellness of the community.
A total of 448 clients, including members, their dependents, and non-members, were served during the Community Health Day. Among these, 210 attendees benefited from the medical checkup including four pregnant women.
Nationwide price freeze on basic necessities in effect amid COVID-19 emergency
By DTI-CPG
March 12, 2020
MAKATI CITY – The Department of Trade and Industry (DTI) announces nationwide price freeze on basic necessities pursuant to the Price Act or Republic Act (RA) No. 7581.
Section 6 of the said law states that prices of basic necessities shall be frozen at their prevailing prices for sixty (60) days or until sooner lifted by the President whenever there is a declaration of a state of emergency, calamity, or other similar conditions.
Proclamation No. 922 which puts the country under a State of Public Health Emergency due to the Coronavirus Disease 2019 (COVID-19) outbreak triggered the implementation of a nationwide price freeze.
"The DTI is closely coordinating with other government agencies, manufacturers, and retailers of basic goods to ensure availability and continuous supply in the market. Retailers are reminded that there should be no price movement on these goods while the price freeze is in effect," says DTI Secretary Ramon M. Lopez.
Basic goods that are under the jurisdiction of the DTI include canned fish and other marine products, locally manufactured instant noodles, bottled water, bread, processed milk, coffee, candles, and laundry soap, detergent, and salt.
The DA covers basic agricultural goods such as rice, corn, cooking oil, fresh, dried and other marine products, fresh eggs, fresh pork, beef and poultry meat, fresh milk, fresh vegetables, root crops, sugar, and fresh fruits.
Essential drugs are under the DOH while firewood and charcoal for the DENR. Household LPG and kerosene, on the other hand, are under the DOE.
All these basic goods are placed under price freeze for 60 days with the exception of household LPG and kerosene whose prices shall be frozen for fifteen (15) days only as provided in the Amended Price Act or RA 10623.
Meanwhile, on ensuring price reasonableness, DTI-Consumer Protection Group (CPG) Undersecretary Atty. Ruth B. Castelo assures the public that, "The Department continues to intensify its monitoring and enforcement activities on the prices of basic goods in the market, including N-95, N-88, and other similar face masks."
It can be recalled that since the phreatic eruption of Taal Volcano, the DTI included face masks in its monitoring which remains relevant to this day as the country addresses the outbreak of COVID-19.
Business establishments found to have violated the price freeze shall be imposed with a fine amounting to P5,000.00 up to P1,000,000.00 and/or imprisonment for a period of one (1) year up to ten (10) years.
Consumers are enjoined to report business establishments that sell basic necessities beyond the price freeze by calling the One-DTI (1-384) Hotline or sending an email to, ConsumerCare@dti.gov.ph.
DPWH Samar I build flood control structures along Sinidman River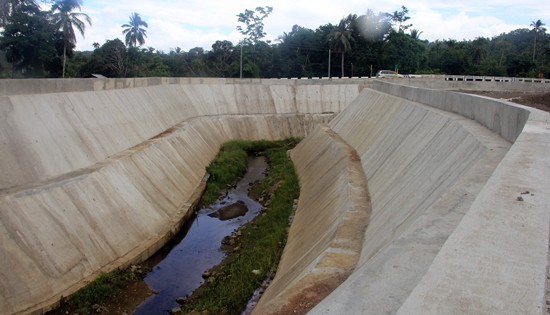 By CHENZI MAY D. UY
March 12, 2020
CALBAYOG CITY – Samar First District Engineering Office (DPWH-SFDEO) has completed the construction of 240-linear-meter flood control structures along Sinidman River in barangay Sinidman Occidental, Calbayog City.
Sinidman Occidental is an identified flood-prone barangay. According to Barangay Captain Romeo P. Olojan, in 2018, super typhoon Usman caused floodwaters to rise up to fifteen (15) feet. Ricefields and close to ninety (90) households in Purok 1 and Purok 2 were severely affected at the time. Moreover, an almost kilometer-long section of Daang Maharlika was flooded, causing travelers on the Calbayog-Catarman route to be stranded.
"When it rains heavily, our barangay is the first to get flooded because all the surface water from the Sinidman Oriental (upland) comes down and overtops our river," Olojan explained.
The chieftain hopes more such structures will be built along the entire stream so as to eliminate the flooding risk completely.
The P35-million flood control project is part of the GAA 2019 infrastructure program of SFDEO.
Samar First District Engineering Office allocated with P2.3B from GAA 2020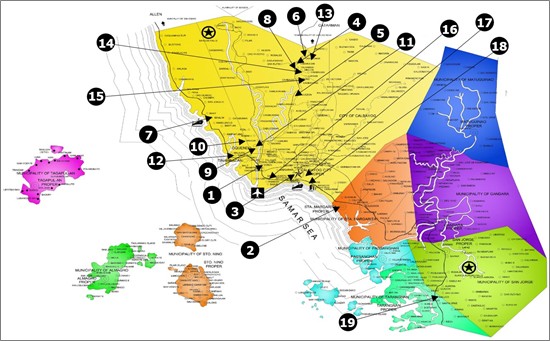 By GISSELLE G. PARUNGAO
March 10, 2020
CALBAYOG CITY – The Department of Public Works and Highways has received a total appropriation amounting to P2,335,680,000.00 from the approved General Appropriations Act of 2020.
There are about seventy-five (75) projects to be implemented by the district which will comprise the GAA for CY 2020.
To preserve the infrastructure investment made along national road, the project identified focus more on rehabilitation/construction/widening on both national and secondary roads amounting to P1,232,902,000.00 while an allocation of P366,278,000.00 was granted to projects that will prevent flooding in low-lying areas.
Local Program also received P696,500,000.00 whereas, convergence and special support program received P40,000,000.00 to build roads leading to tourism destinations and infrastructure/s in support of national security which is beneficial to the people of the 1st District of Samar.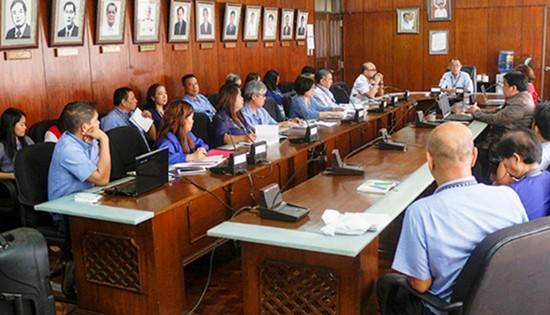 NMP Executive Staff, Section and Unit Heads during the Audit Entry /Exit Meeting with the SOCOTEC Auditors.
NMP retains its ISO 9001:2015 certification
By National Maritime Polytechnic
March 10, 2020
TACLOBAN CITY – Following a rigorous audit conducted by the SOCOTEC Certification Philippines, the National Maritime Polytechnic Quality Management System (NMP QMS) retains its ISO 9001:2015 Certification as it passed the 2nd Surveillance Audit held on 05 March 2020 both at its main office at Brgy. Cabalawan, Tacloban City and liaison office with address at 2nd Floor ECC Building, 355 Sen. Gil Puyat Avenue Makati City.
NMP's quality procedures, manuals and other systems documentation were reviewed by Ms. Olivia Eco and Mr. Ringo Pabua, SOCOTEC auditors, as against the requirements set forth by the standard. The auditors looked into NMP's several processes which include registration and certification procedures; course delivery; assessment / examination; documentation; performance monitoring and assessment; provision of resources; performance evaluation of suppliers and other administrative support services during the audit.
During the exit meeting, Ms. Eco, audit team leader, expressed her appreciation for the NMP's established QMS, as well as the strong support and demonstration of leadership of the top management for the continual improvement of its QMS.
She likewise relayed her positive observations on the significant developments since her last visit in May 2017. These include collaboration/ partnership with different manning and shipping agencies, acquisition of additional equipment, establishment of extension offices, remarkable set-up of NMP's training facilities coupled with excellent equipment maintenance activities and auditees are very competent and knowledgeable.
Finally, the audit report disclosed that there were no non-conformances noted, but somehow some observations were raised which NMP may look into as an opportunity for continual improvement. With the said findings, the NMP QMS was recommended for continued certification.
"We acknowledge the concerted efforts of the entire workforce in passing the audit. Rest assured that NMP will remain dedicated to further improve its systems, processes and procedures", said NMP Executive Director Joel B. Maglunsod.
Likewise, NMP OIC Deputy Executive Director shared "All the efforts and hard work of NMP employees have paid off. Congratulations to all of us."
As an Agency that commits to continuous enhancement of seafarers, maintaining ISO Certification of its QMS confirms the Agency's relevance in carrying out its mandate of upgrading the qualifications of Filipino seafarers and providing maritime industry researches.
Over the years, NMP aggressively pursued for the establishment of its QMS in compliance with the requirements of the Standards of Training, Certification and Watchkeeping Convention (STCW) 1978. Its first ISO Registration Certificate was obtained in April 2000. Since then, the NMP QMS has undergone continuous certification and surveillance audits, passed and was eventually re-certified over the years under ISO 9001: 1994, ISO 9001: 2000, ISO 9001: 2008, and the latest in 2018 under ISO 9001:2015.
It can be recalled that in 2009, NMP received a special recognition from the Office of the President for being one of the forty (40) government offices across the country to be ISO-certified. Also, in 2015, the Agency earned a commendation from the Department of Labor and Employment (DOLE) for continuously improving the efficiency and effectiveness of its Quality System.
Meanwhile, in its effort to sustain its mandate in providing quality service through upgrading and specialized training programs, NMP continues to maintain and upgrade its facilities and its pool of competent instructors. Those Interested to take the training courses may visit the NMP website @ www.nmp.gov.ph or visit the agency's Facebook page (www.facebook.com/ nmptrainingcenter) where all updates and relevant information on NMP programs are available.
Interested stakeholders who wish to validate the authenticity of their seafarers-employed with NMP issued certificates may visit www.verify.nmp.gov.ph or download the NMP App at Google Play Store for android phone users. Likewise, those interested in NMP research undertakings may visit the NMP website and access the e-Research Information System Portal which is designed to disseminate NMP completed researches, present the Research Agenda, and engage the industry stakeholders to collaborate in the research activities.
Further, NMP encourages OWWA registered seafarers to avail of the NMP-OWWA (Overseas Workers Welfare Administration) Seafarers' Upgrading Program (SUP) and Skills for Employment Scholarship Program (SESP) which entitles the beneficiary to receive financial assistance for training costs from the OWWA.
Teachers reject Congress bid to pass 'terror bill'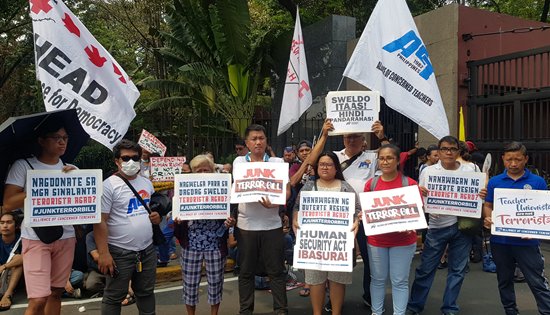 ACT Press Release
March 10, 2020
QUEZON CITY – The Alliance of Concerned Teachers (ACT) Philippines opposed the proposed 'draconian' amendments to the Human Security Act (HSA) of 2007, which the group says will 'render teachers' just fight for decent pay and benefits, better services, and social justice as acts of terrorism.' The House of Representatives is set to hold a committee deliberation today on the proposed amendments. Earlier, Senate already approved on 3rd and final reading the Anti-Terrorism Bill that sought to overhaul the 2007 HSA.
"This is yet another attack on our rights and liberties. Not only are we denied livable wages and dignity with the President's treacherous passing of an insultingly meager pay hike, now we are at risk of being called terrorists for demanding more and what is due us," decried ACT Secretary General Raymond Basilio.
ACT said that both versions of the Senate and lower house contains 'vague and overbroad' definitions of terrorist acts with 'grave consequences,' such that legitimate exercises of rights may be deemed as such 'should the state say so.' Said acts are punishable by at least 8 years to life imprisonment under the proposed amendments.
"Say for instance, we take to the streets again to call for salary upgrading, the state has the authority to say that the intentions of such is to 'intimidate the government to do something' and it instantly becomes terrorism. Even calling on DepEd to release our benefits can be tagged as terrorism under these proposals. These are horrid and disturbing affront to our hard-won rights, and we all should fight back," called Basilio.
The teachers' group furthered that the proposed amendments to HSA will greatly contribute to the quickly shrinking democratic spaces amid a time of unrest in the country due to worsening socio-economic conditions.
"Instead of providing relief to the people, the government wants to punish us for seeking redress over the people's suffering, which no less than their own policies have caused – like the SSL 5, TRAIN Law, Rice Tarrification Law, war on drugs, EO 70, among others," hit Basilio.
ACT said that the proposed measure will be 'dangerous at the hands of an administration who is intolerant of dissent' and is a 'turn for the worse under an increasingly repressive regime.'
ACT urged the Congress to junk the amendments to HSA, which it said will make the HSA even more repressive with much less accountability. The group challenged lawmakers to 'be on the side of democracy' and refuse to legitimize further repression of the people.
"As for us, we will push back against all attacks on our rights and freedoms. Our collective unity and strength, realized through our unions and organizations, will stand against repression and will triumph in frustrating a tyrannical regime, just as we did many times before. We will continue advancing the interests of teachers, students, and the entire nation," pledged Basilio.
ACT joined other freedom-loving groups in a protest action outside of the House of Representatives today to call for the junking of the proposed measures.
DPWH-Biliran DEO kicks of construction of 2020 infra projects
By DPWH-Biliran
March 9, 2020
NAVAL, Biliran – The Department of Public Works and Highways (DPWH) Biliran District Engineering Office (DEO) has started the construction of various infrastructure projects under 2020 General Appropriations Act (GAA).
David Adongay Jr, District Engineer said that 14 projects are already on-going as of February 29, 2020 with an accomplishment of 3.20% while 61 projects will soon to embark.
"With a total of 75 projects to be completed this year under the cash-based budgeting, this district office is up for the challenge," said Adongay.
Under local project implementation, the district office is now implementing the construction of two multipurpose buildings located at Brgy. Calumpang and at Brgy. Caraycaray in Naval town. One access road project at capitol compound also in Brgy. Calumpang has already started amounting to P1.89M.
In Caibiran town, two projects have begun construction. These projects are the constructions of road at Mocorro Street, Brgy. Palenque amounting to P1.18M and at Brgy. Palenque and Palanay amounting to P2.5M.
Meanwhile, one seawall project at Brgy. Baso in Cabucgayan town is also ongoing amounting to P2.9M.
Under regular project implementation, six flood control projects are underway. These projects are the construction/ rehabilitation of Amambahag flood control in Culaba town (P19.4M), Kaulangohan Flood control in Caibiran town (P18.6M), Mapula flood control in Caibiran town (P18.6M), Ungali flood control in Kawayan town (P9.3M) and Santol flood control (P27.9M) and Busali flood control (P28M), both in Biliran town.
The district office is now also in full swing in the construction of Biliran Provincial Police Office (BPPO) Building at Brgy. Larrazabal in Naval town in convergence with the Philippine National Police (PNP) amounting to P24.15M and the rehabilitation /reconstruction of national road with slips, slope collapse and landslide in Caibiran town amounting to P35.7M.
Adongay always reminded contractors to speed up the project implementation to complete projects before the year ends without compromising the quality of the projects.
78th IB encounters remnants of Communist NPA Terrorist (CNT) in Sogod, Southern Leyte
By 78th Infantry Battalion, 8ID PA
March 8, 2020
BURAUEN, Leyte – 78th Infantry (Warrior) Battalion had a series of encounters with the Communist NPA Terrorist believed to be remnants of Front 42, Sub-Regional Committee, LEVOX, Eastern Visayas Party Committee under Communist NPA Terrorist Leader Roberto Opo @Resty/Migo/Lowie in Brgy. Pancho Villa, Sogod, Southern Leyte on March 5, 2020 and March 7, 2020, respectively.
Said series of encounters resulted to the capture of one (1) M1 Garand Rifle with six (6) live ammunition, one (1) ammunition clip and two (2) fired cartridges. The troops also discovered the enemy harboring site in vicinity of Brgy. Pancho Villa, Sogod, Southern Leyte along with the following items: six (6) kilos of rice; one (1) plastic bottle of cooking oil; four (4) pieces 3n1 coffee; one forth (1/4) pack of brown sugar; and eight (8) pieces coffee stick.
The security operations are in response to the civilian populace reported presence of terrorist groups who were conducting illegal activities, such as, extortion and recruitment. Said presence and illegal activities of Communist NPA Terrorist in the area affects the peaceful living conditions of the populace and their livelihood and expose their children to recruitment.
These actions of the Communist NPA Terrorist shows their clear defiance to the government's initiative on peaceful resolution of conflict intended to advance development, boast economy, and sustain peace and order through the effective implementation of the Executive Order Number 70 or the Institutionalization or the whole of nation approach in order to uplift the social status and living conditions of the populace.
This successful engagement with the Communist NPA Terrorist is attributed to the timely information provided by the people in the area who refused to believe the futile struggle and propaganda of the terrorists. They are already tired of the extortion and propaganda activities conducted by the said terrorist group.
According to Lieutenant Colonel Roberto B Obaob, Commanding Officer of 78th Infantry Battalion, "the said military security operations against the enemy of the state will be relentless in order to finish the remnants of Communist NPA Terrorist. However, our door is open for the peaceful return to the folds of the law of those Communist NPA Terrorist who will opt to lay down their arms and join the mainstream law abiding society. They can avail of the Enhanced Comprehensive Local Integration Program (E-CLIP). Our priority remains to be the overall safety of the people of Leyte and Southern Leyte. Thus, whoever will attempt to endanger the people must be ready to face our full force".
Narratives of how is it really back home reverberate in the halls of UN rights body
Press Release
March 7, 2020
GENEVA, Switzerland – With three oral interventions one after the other last Friday and another last Monday, a team of Filipino rights defenders further strongly urged the United Nations Human Rights Council (UNHRC) to look into the state of human rights in the Philippines.
The four speakers from the Ecumenical Voice for Human Rights and Peace in the Philippines (EcuVoice) also unanimously supported the reports presented by UN experts in calling for further investigations on rights violations in the country, contrary to the rather confrontational stance employed by the government in the ongoing 43rd UNHRC session here.
EcuVoice delegation co-leader and Karapatan secretary general Cristina Palabay said she welcomes the report of the UN Special Rapporteur on the situation of human rights defenders that noted "wide-ranging and cumulative violation of the rights of defenders."
"This rings true in my particular case and that of human rights defenders of Karapatan. Twelve of my colleagues were killed by suspected State forces under the current administration, three have been arrested the past four months, and many more are facing trumped up charges. Women defenders face misogynist attacks, driven by discriminatory pronouncements of government officials," Palabay added.
Johanna dela Cruz of the National Council of Churches of the Philippines said they are also grateful for the report of the UN Special Rapporteur on the situation of human rights defenders and support his conclusions and recommendations.
Dela Cruz said church people's rights in the Philippines are violated, primarily those "doing their Christian mandate and mission of ministering to the poor and the marginalized. Bishops and Parish priests, particularly from the Iglesia Filipina Independiente (IFI), were red-tagged, harassed by soldiers implicating them as rebels."
EcuVoice head and International Association of Democratic Lawyers interim president Edre Olalia for his part reported to the UNHRC that in the 44 months of the Duterte administration, at least 48 lawyers including judges and prosecutors have been murdered.
"Human rights lawyers like Ben Ramos as well as lawyers handling drug-related cases continue to be brazenly attacked in various forms. Orchestrated smear campaigns and vilification by red-tagging, labelling and reprisal charges against human rights defenders at every opportunity in different for a continue with impunity," Olalia said.
The three defender's reports Friday, March 6, brings to four the successful oral interventions presented by EcuVoice before the UNHRC. Earlier in the week, Clemente Bautista of Kalikasan People's Network for the Environment reported that there are serious challenges to life, security and liberty of environmental defenders in the Philippines, "which redound to transgressions on the rights to a safe, clean, healthy and sustainable environmental of communities, including that of indigenous peoples and peasants."
"It must be noted that the EcuVoice delegation have welcomed all the UN special rapporteurs' reports presented thus far, quite different from the bellicose stance of the Philippine government in the ongoing debates," Olalia said.
EcuVoice is enjoining the UNHRC to ensure that Filipino human rights defenders have access to the UN free from reprisals and provided with safe environments for the exercise of its work. The group also said it supports the special rapporteurs' recommendations to enable official visits to countries in conflict situations such as the Philippines.
DTI to champion loom weaving industry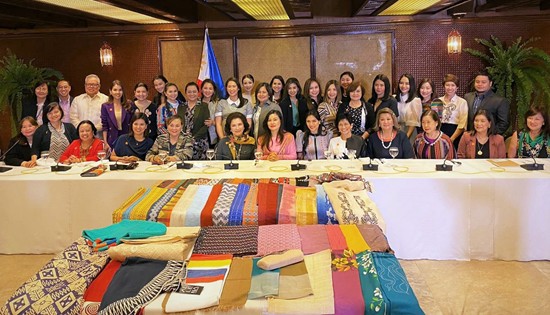 By DTI-ROG
March 5, 2020
MAKATI CITY – In an effort to revive the Philippine weaving industry and provide livelihood opportunities for local weaving communities, DTI key officials, led by Secretary Ramon Lopez and Regional Operations Group Undersecretary Blesila Lantayona, met with Cabinet Secretaries' and Congressional Spouses last March 2, 2020 at the Heroes Hall of the Malacañang Palace to present samples of native woven textiles from across the country and to propose a project that will aid and promote Filipino weavers.
The meeting was initiated by Madame Cielito "Honeylet" Avanceña, through the Office of the President. The project was birthed from a previous dialogue with Madame Avaceña and DTI officials, including selected DTI Regional Directors, last February 26, 2020.
The project, with the working title "MODA: Modernong Obra, Disenyong Atin", will be championed by the One Town, One Product (OTOP) Program, under the leadership of Assistant Secretary Demphna Du Naga. The word "MODA" is a Filipino term which means "fashion".
The MODA project will focus on two components – a showcase of designed wearables made from natively woven textiles and a sustainable marketing space to display featured hand and loom woven fabrics for prospective buyers.
Cabinet Secretaries' and Congressional Spouses lauded the initiative and echoed the call for increased patronage for weaving communities. OTOP, through DTI Regional Offices, will be coordinating with local governments and the Cabinet Secretaries' and Congressional Spouses Group, through the Office of the President, to reach these weaving communities and monitor the progress being made in the project. Further meetings will be taking place leading up to the completion of the project by July 2020.
This effort aims to kickstart the series of initiatives that could place the local weaving industry in the frontlines of Philippine fashion, arts, and commerce. The MODA project also hopes to encourage younger generations to keep native crafts alive and relevant in an ever-changing world.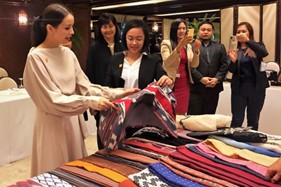 DTI, Google, tie up for MSME digitalization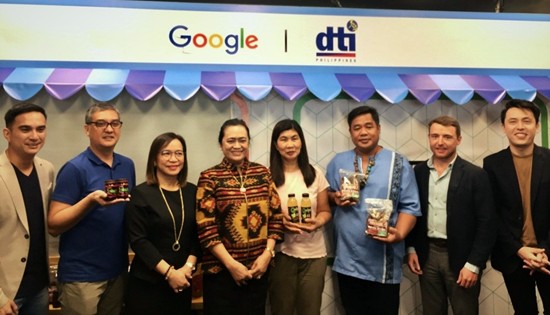 By DTI-ROG
March 3, 2020
MAKATI CITY – The Department of Trade and Industry (DTI) finally inked deal with Google Philippines in upgrading the micro, small, and medium enterprises (MSMEs) through the power of digitalization, creating a strong online presence and training them on digital skills to grow their businesses globally.
Through Google's MSME Caravan, the goal is to conduct training sessions among MSMEs nationwide so they can be well-informed of the digital landscape, latest consumer insights and tools such as Google My Business, a free online listing on Google maps and Search to help MSMEs connect with more consumers in the digital space.
Google will train MSMEs build their online presence, control their business information, and create a free website and posts.
The series of workshops have already started, training more than 2,780 MSMEs in over 20 cities across eight regions nationwide.
"DTI shares same vision of Google on enhancing the skills of our entrepreneurs to become digital-savvy. That's why we want to thank Google for this program that lets MSMEs maximize Google My Business to manage their online presence in Google Search and Google Maps. We laud them for their program goal of trying to reach 500,000 businesses by 2020 from the current 125,000 businesses registered in Google My Business," expressed Trade Undersecretary Blesila Lantayona, speaking on behalf of Secretary Ramon Lopez during the launch of MSME Caravan at the Google Philippines Office, Bonifacio Global City, Taguig last February 26, 2020.
DTI and Google target to reach more throughout 2020 as empowering MSMEs plays a vital role in driving the economy forward.
"Filipino MSMEs have the drive, the passion and the dedication to succeed. Combine that with the new tools and opportunities of the internet, and there is no limit on what's possible for them! We hope that the MSME Caravan will help bring on board more trainees, visit more communities, and give more business owners the digital skills they need," said Bernadette Nacario, Country Director of Google Philippines.
Furthermore, the three (3) MSMEs who were also products of DTI's Kapatid Mentor ME (KMME) Program – Gerome Panlilio, a chili oil manufacturer from Quezon City, a Michelle Mariano, a calamansi juice bottler from Isabela Province and Beltranalmendral, a dried pork producer from Quirino Province – shared their inspiring stories on how they were able to leverage the power of digital tools in growing their businesses and reaching their consumers.


(L) Brgy. San Joaquin, Calbayog City, Samar and (R) Legislative Building-Phase II, Brgy. Poblacion C, Tarangnan, Samar.
DPWH constructs Multi-Purpose buildings in barangays of First District of Samar
By GISSELLE G. PARUNGAO
March 3, 2020
CALBAYOG CITY – Samar First District Engineering Office completed ten (10) Multi-Purpose Buildings (MPB) in different barangays within the First District of Samar with a total appropriation of 39 million under the General Appropriations Act of 2019.
Completed MPBs are located in Calbayog City at Barangays Bagacay, Hamorawon, San Joaquin, San Rufino, and Rawis. Another completed MPBs are situated in Barangay Villahermosa Oriental in Pagsanghan, Samar as well as Barangays Poblacion C and Tigdaranao, Tarangnan, Samar. MPBs are also finished at Barangay Hinugacan in Gandara, Samar and Barangay Aurora, San Jorge, Samar.
They are primarily used for hosting events in the barangay, meetings, seminars and can also be used as evacuation centers during emergencies.
The Legislative Building at Poblacion C will house the Sangguniang Members of the Municipality of Tarangnan. It will serve as a place for where the members can formulate municipal orders and decrees that will be beneficial to the development of Tarangnan and its people.
Moreover, the MPB at Barangay San Joaquin is a flourishing coastal village with over 6,000 residents. Based on interview with residents, the MPB will be utilized as barangay council office and venue for community-based programs such as livelihood seminars and day care. The MPB is easily accessible and PWD friendly.
SA-BEST-Centre Alliance investigation:
Explicit child pornography material being sold over the counter in Australian retail outlets
Press Release
March 2, 2020
ADELAIDE – Sickening child pornography material is being sold widely over the counter in popular Australian retail outlets, a special investigation by SA-BEST and Centre Alliance has found.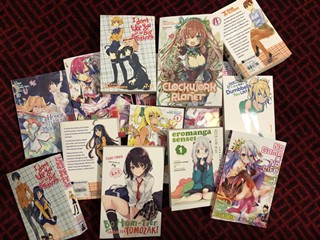 A collection of the books purchased by SA-BEST MLC Connie Bonaros.
A range of animated movies and "comic books" showing sexually-explicit images of young girls and connotations of incest and rape involving minors are being freely sold in some of the country's most popular retail outlets, and online.
The investigation found that some of child exploitation material has been reviewed and classified legal by the Classification Board - despite falling within the meaning of child abuse material under the Commonwealth Criminal Code Act 1995 which makes it illegal to both sell and buy some pornographic items – while other graphic material has not been reviewed and/or classified due to disturbing loopholes in current laws.
The SA-BEST-Centre Alliance investigation revealed the explicit child exploitation material is found in a Japanese form of animation called anime – both on Blue Ray discs and in Japanese "comic books" called manga.
The two forms of media share a unique visual style that is globally popular - especially among teens.
However, there is a sinister and sickening side to anime and manga with a significant proportion of the two media featuring child abuse material containing images of wide-eyed depictions of children - usually in school uniform – who are engaged in explicit sexual activities and poses, often being sexually abused.
This is referred to as "hentai" anime and manga which child abuse experts warn that paedophiles use as a tool to groom children.
SA-BEST MLC and Attorney General spokesperson, Connie Bonaros – who recently introduced laws to ban childlike sex dolls in South Australia – and her Federal colleague, Centre Alliance Senator Stirling Griff, are demanding urgent action by the Federal Government to ensure laws banning such child exploitation material are properly enforced.
Connie has written to all of the state Attorneys-General to alert them to the issue and requesting they take immediate action to stop the material being sold.
Stirling has written to the Minister for Home Affairs and to the Minister for Communications, Cyber Safety and the Arts requesting the government takes immediate action.
Connie said she felt "sick to the core" by the findings of the investigation.
"I am horrified that child pornography material is freely available in Australia despite clearly being in breach of the definition of child abuse and exploitation material under both commonwealth and state law," Connie said.
"Even in cartoon/anime form, this is child pornography and the law in Australia is explicitly clear about it," she said.
"Depictions and/or representations that appear or are implied to be of under 18-year-old children and are depicted in sexual poses or engaged in sexual activity or is a victim of torture, cruelty or abuse is child abuse material under both commonwealth and state criminal laws.
"Any retailer who sells such pornographic material is in serious breach of the law but probably is not aware of it given current laws are not being properly enforced."
Stirling said a number of anime (animation) films containing child abuse material - such as rape scenes – had received classification by the Classification Board, allowing them to be imported and sold in Australia.
However, explicit manga (graphic novels) is currently not vetted by the Classification Board and is freely available due to the fact all film and video games must be submitted for classification, publications are only required to be submitted if they are deemed to be a 'submittable publication' putting the onus on distributors and publishers to determine what they should submit.
This is despite the Commonwealth Criminal Code Act 1995 prohibiting the sale, production, possession and distribution of offensive and abusive material "that depicts a person or a representation of a person who is or appears to be under 18".
"Graphic Japanese manga novels and anime depicting sickening child abuse, rape, incest and sexualised images of children should be removed from shelves, streaming services and banned from entering the country," Stirling said.
"Child exploitation is a global problem, heightened by modern technology and the myriad of platforms that are used to access such material," he said.
"As legislators, we have a critical role to play in stamping it out. There is much more to be done, and areas where we need to focus more attention, such as the child abuse material that comes into Australia via Japanese anime and manga.
"Experts that advocate against child exploitation have referred to this type of anime and manga as a gateway to the abuse of actual children. Experts also say that explicit anime and manga can be used by paedophiles as tools to groom children.
"Incredibly, in Japan the definition of child abuse material specifically excludes child porn anime and manga, as these media don't include real children.
"But the law in Australia is very clear. The Commonwealth Criminal Code prohibits the sale, production, possession and distribution of offensive and abusive material that depicts a person, or is a representation of a person, who is or appears to be under 18. It is unambiguous.
"The Classification Board appears to be making decisions in isolation to criminal law. This must stop. There is also the issue of explicit manga graphic novels, which are not vetted at all by the Classification Board.
"I recently made a submission to the current Review of Australian classification regulation raising issues over the inadequacy of the current regime to deal with such abusive material but we can't wait for the review to report, we must act now.
"The Board doesn't seem to be following its own guidelines* properly."
The SA-BEST-Centre Alliance special investigation found the shocking child abuse material is freely available in Australia – including in well-known electronics store and popular bookstores in Adelaide and Sydney – as well as online.
The investigation follows a trip Connie made late last year to Japan - regarded as the home of the manufacture and distribution of childlike sex dolls – where she heard disturbing accounts from people at the frontline fighting the scourge of child sex exploitation in that country.
Connie said her trip to Japan was an extremely productive and educative despite attempts to meet with the Minister for Justice being declined at the 11th hour.
"I was able to meet with several outstanding non-government organisations advocating against child sexual abuse, child abuse material and child sexual exploitation in Japan – which is a significant problem in that country," Connie said.
"These remarkable women are working in difficult circumstances with absolutely no government funding and are up against a system that does not view child abuse material in the same way we do," she said.
"They were left shocked when they heard about the extent of our robust child exploitation laws in Australia.
"They all welcomed assistance from external sources and were grateful that an Australian politician was keen to support them and assist in any way to achieve legislative change with respect to child abuse and child exploitation laws in Japan.
"They are desperate for pressure to be exerted on the Japanese government in order to bring about meaningful change because, ultimately, child exploitation knows no borders – and that's what SA-BEST and Centre Alliance intend to do."
Connie will return to Japan later this year to continue the dialogue with these organisations and attempt to raise her concerns with the Japanese Government.
San Carlos bishop: Philippine banks must divest from coal
Press Release
March 1, 2020
CAGAYAN DE ORO – Representing the Withdraw from Coal Campaign, a Church leader on Friday appealed to Philippine financial institutions to stop funding the expansion of coal operations in the country and support the development of renewable energy instead.
The call was made during the 3rd Philippine Environment Summit, an event that presents current initiatives contributing to the country's social and economic development while conserving the environment, held on 26-28 February at the Grand Caprice Convention Center in Cagayan de Oro.
"As fulfillment of their moral obligation, Philippine banks must have concrete plans to phase out coal finance in the time required by today's climate crisis. They must have clear policies restricting their exposure to coal, channeling the funds they divest from it into clean and affordable renewable energy for all Filipinos," said Bishop Gerardo Alminaza of the Diocese of San Carlos, Negros Occidental.
While praising the SONA 2019 directive of President Rodrigo Duterte to "fast-track" the development of renewable energy resources and reduce dependency on coal, the bishop pointed out that the continuing dominance of coal in the country's energy mix calls for even more ambitious ways forward from different sectors, including the finance industry.
"Banks financing coal are not only funding the climate crisis, they are also enabling the continued suffering of coal-affected communities," he stressed.
In addition to the 16 new coal-fired power plants added to the national fleet in the last decade, the Philippines is still looking to add a total of 12,014 MW of new coal power, making it the ninth biggest coal expansionist in the world as of 2019.
13 local banks had been identified to have loaned or underwritten USD 6.303 billion to coal interests from 2017 to the third quarter of 2019. Two of these banks, Bank of the Philippine Islands (BPI) and Banco de Oro (BDO) account for nearly 55% of this finance.
"The IPCC reported that the world has until 2030 to reduce coal use by 78% from 2010 levels to avoid even more disastrous climate impacts. As stewards of Creation, we must unite with our scientists on this and seek to veer away from a fuel that causes the suffering of our people and destruction of our Common Home," Alminaza said.
Alminaza stated that as the Philippines is one of the most vulnerable nations to climate change, it must lead in phasing out coal, and financial institutions must take their role in it seriously – similar to the commitment of the Catholic Bishops Conference of the Philippines (CBCP) and his own diocese to divesting its resources from dirty energy technologies.
A petition letter addressed to the Bank of the Philippine Islands, the bank with which many Church organizations have financial relations, was also circulated during the event and was signed by hundreds of participants, including Bishop Antonio Ledesma of Cagayan De Oro.
"We appeal to all to join the calls as written in our letter as expression of our care for our common home and our future generations. For as one saying goes, 'we do not inherit the Earth from our ancestors – we borrow it from our children.' We must act swiftly for time is running out," said Alminaza.
Launched in Manila in January and in Visayas in February, "Withdraw from Coal" is a campaign spearheaded by the Church, civil society, and people's organizations urging Philippine banks to divest from businesses involved in coal power generation and coal extraction.