6 NPA members surrender, NPA loss support from masses in Northern Samar
By DPAO, 8ID PA
March 14, 2023
CAMP LUKBAN, Catbalogan City – Six members of the Communist Terrorist Group (CTG) surrendered to the joint force of the military under the 803rd Infantry "Peacemaker" Brigade, Philippine Army, and the Northern Samar Police at the Headquarters of 43rd Infantry Battalion in Brgy. Magsaysay, Lope de Vega, Northern Samar last March 8, 2023.
They surrendered two M16A1 rifles, one M14 rifle, two cal .45 pistols, one cal .38 revolver, and NPA propaganda materials.
Lieutenant Colonel Manuel B. Degay Jr, Commanding Officer of 43IB together with the Northern Samar Police formally accepted the surrender of six NPA members who belongs to the Executive Committee of Front Committee 2 (FC2) Sub-Regional Guerilla Unit (SRGU), Sub-Regional Committee (SRC) Emporium, of the Eastern Visayas Regional Party Committee (EVRPC).
"We have been struggling in the mountains evading the government security forces, we are tired and hungry since we no longer have the masses' support. We only eat once in a while," alias Arthur said in a statement.
Alias Webb, the former Finance Officer of SRC Emporium who surrendered earlier, said that the people are now aware of their deception; the NPA is finding it hard to recruit and organize in the countryside resulting in a crisis and desperation of its members in their movement.
Lt. Col. Degay Jr. praised the sacrifices and efforts of the 43lB troops and the Local Government Units in the successful campaign to defeat the insurgency in the area. He also assured the former rebels that they would not regret their decision.
"I encourage the remaining members of the NPA here in Northern Samar to return to the folds of the law so that you can take advantage of the services prepared by our government so that you can start over and live in peace with your loved ones. The Provincial and Municipal Task Forces in Ending Local Communist Armed Conflict (MTF-ELCAC) here in Northern Samar have prepared benefits for those who will return to the government," Lt. Col. Degay Jr. added.
Major General Camilo Z. Ligayo, Commander of the 8th Infantry (Stormtroopers) Division, Philippine Army and Joint Task Force Storm (JTFS) is grateful for the trust given by the six surrenderees to the government. This effort only shows positive results of tireless work of soldiers and law enforcement to achieve peace in the region.
"The surrender of the six members of CTGs to our authorities is just a demonstration of their trust in the government. Therefore, I am calling out to all the remaining members of the CTGs to lay down your weapon and return to the folds of the law. It's not too late, our government will help you to start a new life and hope with peace in your hearts and minds" said Major General Ligayo.
Construction in progress for additional classrooms in Ilijan and Calanyugan ES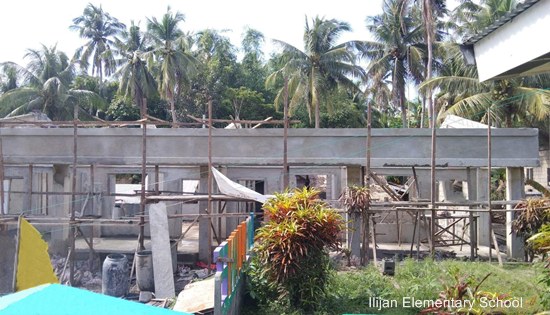 By GISSELLE G. PARUNGAO
March 13, 2023
CALBAYOG CITY – The construction of one (1) storey – two (2) classroom school building in Barangay Ilijan Elementary School in the Municipality of Sto. Niño, Samar and in Calanyugan Elementary School, Pagsanghan, Samar have commenced in convergence with the Department of Education, said Samar First District Engineering Office.
Both projects have a total contract amount of P10.81 million.
The structure will have PWD ramp with guard rails, hand washing area, comfort rooms enclosed in each classroom together with the prescribed paint once the structure will be completed.
A good and conducive school building makes it a good place for the children to study, which is important as the student spends maximum time in school. These additional structures will give more space to the growing school community especially that Ilijan ES has more or less seven classrooms only while Calanyugan ES has an existing two classrooms.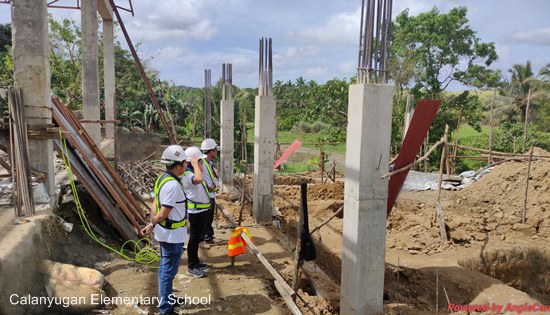 DENR, LBP, ROD renew support for CARP implementation in E. Visayas

Department of Agrarian Reform (DAR) Eastern Visayas Regional Director Robert Anthony Yu presented plaques of appreciation to Comprehensive Agrarian Reform Program (CARP) implementing agencies for their continued support in fast tracking land distribution activities in the region.
By JOSE ALSMITH L. SORIA
March 9, 2023
TACLOBAN CITY – With the renewal of support of three Comprehensive Agrarian Reform Program (CARP) implementing agencies, Regional Director Robert Anthony Yu of the Department of Agrarian Reform (DAR) in Eastern Visayas is optimistic to hit the target in land distribution this year.
During the "Synchronization of 2023 targets and Problem Solving Session with Line Agencies," held in February, Yu thanked the Department of Environment and Natural Resources (DENR), Land Bank of the Philippines-Agrarian Operation Center (LBP-AOC) and the Registry of Deeds (ROD) for their support in 2022 which made DAR Eastern Visayas accomplished its targets.
Yu took the opportunity to ask the three agencies to continue supporting the DAR this year for the benefit of the landless farmers who rely much on CARP to improve their quality of life.
For this year, DAR Eastern Visayas targets 1,131 hectares for claim folder preparation and documentation; 811 hectares for verification and approval of land survey; 758 hectares for Emancipation Patent/Certificate of Land Ownership Award (EP/CLOA) registration; and 106 landholdings to be issued with Memorandum of Valuation, which are dependent on the three CARP implementing agencies abovementioned.
Yu likewise disclosed that President Ferdinand Marcos Jr. directed the DAR to fast track the implementation of the Support to Parcelization of Lands for Individual Titling (SPLIT) project which made Agrarian Reform Secretary Conrado Estrella III committed to deliver 50 thousand hectares issued with individual titles by June.
"Because Region-8 has the biggest scope under SPLIT with more that 220 thousand hectares, I committed to deliver 10 thousand hectares by June," Yu said.
In response to Yu's plea to the line agencies, Engineers Fiel Pedrosa, Manager of LBP-AOC and Ramon Unay, Chief of the Surveys and Mapping Division at the DENR together with lawyers Emeterio Villanoza Jr. and Ryan Villablanca of ROD-Leyte and ROD-Samar, respectively, signed the pledge of commitment.
Pedrosa said, we are very much willing to help the Municipal Agrarian Reform Program Officers (MARPOs) improve the field investigation report which serves as input to our computation of land valuation.
Unay stressed, "Noon pa palaging nandyan ang DENR to support the Program." He added, "Hindi namin ililimit sa target lang namin. If you still have survey to be submitted to us for verification and approval, then we will still do it."
Meanwhile, Villablanca exclaimed "If I was able to sign 980 titles for the pabahay project in just half of a day, the two thousand targeted titles under SPLIT in Samar ay toothpick lang yan!"
In return, Yu committed to provide to the said partner agencies the necessary logistics that will aid them in accomplishing the tasks required from them.
8ID sends-off new enlisted soldiers to various army battalions in E. Visayas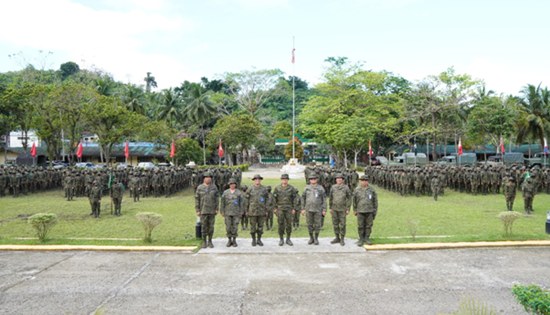 By DPAO, 8ID PA
March 9, 2023
CAMP LUKBAN, Catbalogan City Samar – A total of 564 newly-enlisted soldiers of the 8th Infantry "Stormtroopers" Division, Philippine Army, have been deployed to their designated army units in Eastern Visayas after a send-off ceremony Wednesday, March 8, 2023, at the Headquarters, 8ID.
Major General Camilo Z. Ligayo, Commander of the 8ID expressed confidence in the new privates' ability to succeed.
In his message, he encouraged them to put forth their best efforts in performing their tasks.
"After hurdling the rigorous training, it is with great expectations that you are physically, emotionally, and psychologically prepared to face the multifarious challenges ahead," Ligayo told the new privates.
The newly trained soldiers will now contribute to the 8ID's various humanitarian efforts and peace initiatives in ending communist armed conflict, as four of the country's last five guerilla fronts are located in Region 8.
The new privates completed their Basic Military Training (BMT) during their candidate soldier course last February 20, 2023.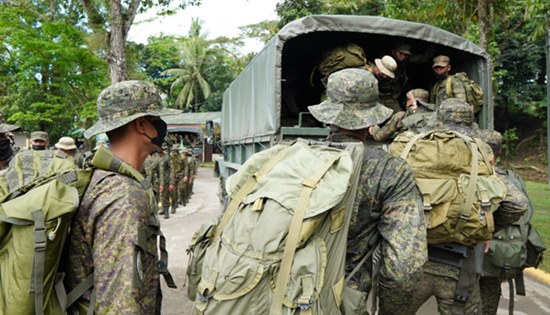 DTI launches Malikhaing Pinoy pushing creative industry to greater heights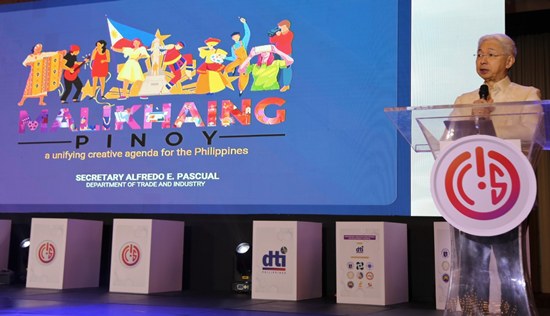 By DTI-OSEC-Public Relations Unit
March 7, 2023
PASAY CITY – Recognizing the significant contributions of the country's creative industries in the pursuit of robust economic growth and expansion, Department of Trade and Industry (DTI) Secretary Fred Pascual expressed the Department's unwavering support for the expansion and integration of the creative industry into the domestic and international market during the 2nd Philippine Creative Industries Summit held on 7 March 2023 at the Philippine International Convention Center (PICC). With the theme "Unifying Creative Agenda, Elevating Filipino Creativity," this year's summit ushers creativity in different sectors of society including agriculture, manufacturing, and other industries.
Likewise, Secretary Pascual acknowledged the hard work that our legislators have put in pushing for the enactment of the Philippine Creative Industries Development Act (PCIDA) saying that "We are gathered here today to celebrate the enactment of the Philippine Creative Industries Development Act, which our champions – Congressman Toff de Venecia and Senator Loren Legarda – have deeply elaborated on earlier. More importantly, this occasion is an opportunity for us to lay down our concrete plans, projects, and programs that will give life to the spirit of PCIDA."
The passage of the PCIDA shall ensure that a strong, solid, and clear mandate will be implemented to address the constraints of our creative industries and shall drive the sector toward greater heights. As the chair of the Philippine Creative Industries Development Council (PCIDC), Secretary Pascual aims to further capacitate Filipino creators and designers as well as improve the quality of their outputs, enabling it to compete in both the local and global markets.
One of the highlights of the event is the launching of Malikhaing Pinoy Program or Creative Philippines Program, which will be implemented by DTI.
"Malikhaing Pinoy is our holistic approach to addressing the constraints and barriers of the creative industries. It is a flagship initiative well-informed by various sector-specific industry studies and roadmaps carried out by the DTI with support from our champions in Congress," added Secretary Pascual.
As mentioned by Secretary Pascual, the DTI will establish the following to further assist in the development of the creative economy: (1) Creative Industries Satellite Account; (2) Creative Venture Fund; and (3) ENSAYO Creative Hub. Likewise, the Department commits to ensure that the country's workforce are well equipped with the necessary skills and knowledge to prepare them for possible job opportunities in the sector through the expansion of the Philippine Skills Framework that will cover creative industries.
Moreover, to address the country's limited access to technology, the DTI will endeavor to build Creative Innovation Centers similar to the Marikina NACIDA Incubator Facility. Along with this, the Department also envisions the creation of a Creative Market Acceleration Program, which will enable our creative industries to grow their businesses, attract investments, and expand in foreign markets.
In closing, Secretary Pascual ensured that the DTI will work closely with Presidential Adviser on Creative Communications (OPACC) Secretary Paul Soriano on various strategic collaborative activities that will extend the reach of Malikhaing Pinoy to as many stakeholders as possible. He said that "Ultimately, cooperation and collaboration between and among the government, industries, the academe, and development partners will be the powerful force that will drive the progress and success of Malikhaing Pinoy towards achieving the aspirations embodied in the PCIDA."
DAR trains 150 DFs in E. Visayas on community organizing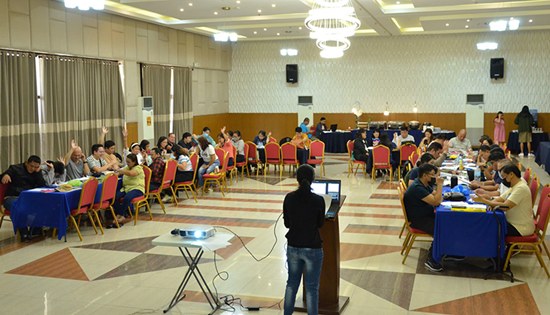 About 150 development facilitators of the Department of Agrarian Reform (DAR) assigned in different parts of Eastern Visayas undergo a five-day training on community organizing with emphasis on developing their social entrepreneurial skills.
By JOSE ALSMITH L. SORIA
March 5, 2023
TACLOBAN CITY – Level of development of agrarian reform beneficiaries (ARBs), agrarian reform beneficiaries organizations (ARBOs) and agrarian reform communities (ARCs) in Eastern Visayas is expected to improve after 150 development facilitators (DFs) of the Department of Agrarian Reform (DAR) in this region underwent extensive training on community organizing.
Divided into three batches, the said DFs were subjected to a five-day training on Enterprise-based Agrarian Reform Community Organizing and Development (E-ARCOD), which gave emphasis on developing the participant's social entrepreneurial skills.
Assistant Regional Director for Agrarian Reform Beneficiaries Development and Sustainability Program (ARBDSP), Ismael Aya-ay, said that E-ARCOD is basically rural development, community organizing, and extension works which is facilitated from production to marketing.
Melecia Ong, chief of the Program Beneficiaries Development Division (PBDD), stressed during the training the need to be innovative in order to adapt to the various factors affecting the growth of an ARB, ARBO and the ARC they serve to be effective social entrepreneurs.
Al Francis Caballero, a DF for almost three years assigned in Ormoc City in the province of Leyte, shared he feels more confident now in discharging his functions as a DF with the learnings he gained in the said training.
According to him, "The knowledge I gained here will enhance my skills in communication, problem solving and critical thinking, which are important in community organizing."
For Betoin Veras, the DF of Pinabacdao, Samar, "This training enables me to be self-aware of the role of a DF." She pointed out the qualities of a good DF, like how to deal with ARBs and how to empower them, which made an impact to her as a community organizer.
DF Mark Kevin Chua of Gandara, Samar, shared that the topics on how to address problems and challenges encountered in the field and how to lead ARBs and ARBOs to be productive and successful entrepreneurs, were among the biggest learnings which he plans to apply when he returns to his area of assignment.
In Mondragon, Northern Samar, DF Marian Marquita shared that she learned and would embrace the qualities and competencies a DF should possess to be effective in her work.
For Aniway Elizan, who had been assigned to several municipalities in Samar on separate occasions during her 19 years as a DF commented that all the learnings shared in this training were applicable not only in her work as DF but to one's personal life as well. Though, she considers the strategic development planning as the most important learning she gained which she could impart to the ARBOs she is assisting.
Meanwhile, Provincial Agrarian Reform Program Officer I (PARPO I) Rosemarie Balanquit of DAR Northern Samar Provincial Office commended in her facebook post the resource speakers for the comprehensive discussions of the different topics which sustained the interest of the participants until the last day of the training.
Aside from Ong, other speakers included PBDD staffs Ronalyn Acol, James Paul Albia, Adriano Badana, Leonard Fulminar and DF Czarina Vanelli Piñon.
Balanquit and the other PARPOs I in the region requested that they be included in the third batch of the said training, which was conducted last week, to be updated of the enhanced modules.
National minorities join 2023 Global Climate Strike
Sandugo: 'Time to replace Mining Act of 1995 with People's Mining Bill'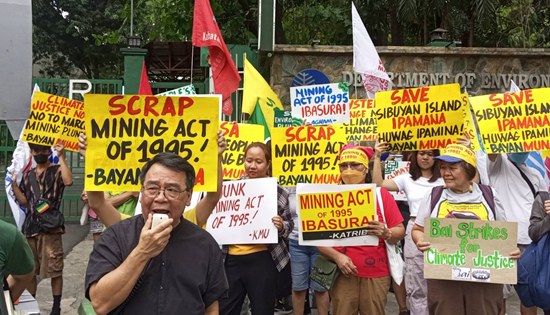 Press Release
March 3, 2023
QUEZON CITY – Today marks 28 years since Republic Act 7942, or the Mining Act of 1995, was passed. In a demonstration held at the central office of the Department of Environment and Natural Resources (DENR), Sandugo - Movement of Moro and Indigenous Peoples for Self-Determination joined various sectors in calling for the repeal of the said law.
"Sa loob din ng 28 taon na ito, hindi umalwan ang buhay ng mga katutubo sa lugar na kung saan may mga minahan," said Eufemia Cullamat, Sandugo spokesperson. "Sa halip, kami ay nagkawatak-watak dahil sinisira at winawasak ng mga minahan ang mga lupang ninuno." [In the past 28 years, the lives of indigenous communities in mining areas have not improved. Rather, we have been torn apart as mining continuously ravages our ancestral lands.]
Sandugo cites the key role of the DENR in greenlighting environmental degradation through the Mining Act of 1995, claiming the department has placed profit over the people's welfare. "Ito pa ang nagbebenta ng aming mga lupang ninuno, nagbibigay ng Environmental Compliance Certificate (ECC) kahit walang malinaw na FPIC [free, prior, and informed consent] o pahintulot ng mga katutubong komunidad!" [The DENR itself is selling out our ancestral lands, issuing ECCs without securing FPIC, or the free, prior, and informed consent of indigenous communities.]
Cullamat further lamented the impact of large-scale, corporate mining on indigenous communities' agricultural practices and food security. "Kung dati ay nakakapagtanim kami ng palay dalawang beses sa isang taon, ngayon ay hindi na dahil hindi na balanse ang tag ulan at tag init na syang bumubuhay sa mga pananim." [Before, we would harvest grain twice a year; this is no longer possible because the climate that nourishes our crops has been altered.]
The demonstration is part of the Global Climate Strike, a globally-coordinated mass action spanning nearly a hundred countries which demands urgent action on the worsening climate crisis. The mining sector represents an estimated 4 to 7 percent of greenhouse gas emissions globally. Up to half of copper, gold, iron ore, and zinc mining is located in areas with high water stress, greatly altering the lifeways of communities. In the Cordillera for example, a long history of mining has seen villages lose irrigation for rice production, as well as massive landslides and ground collapse. Since mining requires large amounts of water for its operations, mining companies in the area have privatized water sources, making life more difficult for indigenous and peasant communities.
Sandugo supports the passage of House Bill (HB) 259, or the People's Mining Bill, which moved forward last month with the approval of the House Committee on Natural Resources. The bill seeks to make important shifts in the mining industry, among these the encouragement of foreign companies to reinvest rather than repatriate profits to their home countries, and the overall reorientation of the mining industry towards the development of domestic industries. The movement welcomes the bill's ban on prime agricultural lands and watershed areas, sacred indigenous sites, small island ecosystems, and areas specified for food production and fishing. Sandugo also laud's the bill's intent to ban firms and conduits with a poor track record.
"Ang mga nasirang kabundukan, buhay at kabuhayan ay hindi na maibabalik pa," says Cullamat. "Nararapat lamang palayasin at pagbayarin ang mga mandarambong at lumapastangan sa kalikasan. Kailangan natin itong tuloy tuloy na ipaglaban sa pamamagitan ng ating mahigpit na pagkakaisa at pagtutulungan." [The destruction that has already ravaged our mountains, lives, and livelihoods is irreversible. It is only right to banish and punish the greedy entities that have pillaged our environment. We need to be relentless in our fight, by supporting each other and standing in solidarity.]
24 Former Rebels receives P760k E-CLIP benefits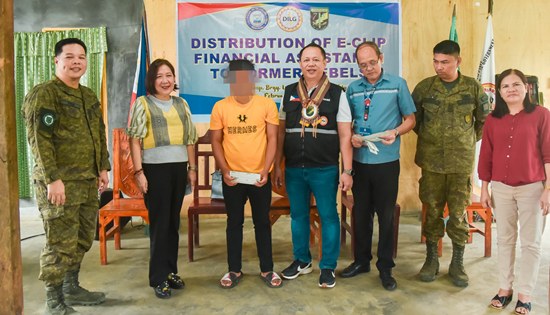 By DPAO, 8ID PA
March 2, 2023
CAMP LUKBAN, Catbalogan City, Samar – A total of P760,000 financial assistance under the Enhanced Comprehensive Local Integration Program (E-CLIP) of the government was given to 24 former members of the Communist Party of the Philippines-New People's Army (CPP-NPA) in Borongan City, Eastern Samar.
The distribution was made possible through the support of the 78th Infantry Battalion, Philippine Army, in collaboration with the Department of Interior and Local Government Unit (DILG), and the Provincial Government of Eastern Samar.
Eight former NPA regular members received P65,000, while 16 former Militia ng Bayan (MB) members received financial assistance of P15,000 each.
The said financial assistance is part of the government's program in helping the former rebels as they start their life anew.
Eastern Samar Vice-Governor Maria Caridad Goteesan assured the returnees that the government is always ready to assist them.
"Gusto naming makita niyo na nandito kami para tumulong at bilang nagsisilbing mga magulang ninyo. Gusto naming nandito kayo sa aming lokalidad, at ng sa ganoong paraan, nakikita namin kayo at naaasikaso. Inuulit ko, hindi lang ang Lokal na Pamahalaan, ang ating Probinsya kundi pati ang National Government ay nagmamalasakit sa inyo," Vice Gov. Goteesan told the former rebels.
The Commanding Officer of 78th Infantry Battalion, Lieutenant Colonel Allan Tria also expressed optimism that the assistance extended to former rebels will be a big help in starting their lives anew.
"Lahat ng tulong na natanggap ninyo ay nagpapakita lang na seryoso ang gobyerno sa pagtulong sa inyo at sa mga gusto pang magbalik-loob sa pamahalaan," Lt. Col. Tria shared.
Meanwhile, 8th Infantry Division Commander, Major General Camilo Z. Ligayo, continues to urge those who have not yet surrendered to leave their armed struggle and emulate their former comrades who are now working hand-in-hand with the government in peace-building.
"It's not yet too late. Ang gobyerno ay handang tumulong sa mga kasapi ng teroristang NPA na gustong magbalik-loob at magbagong buhay. Nakahanda na ang mga programa ng gobyerno ang kailangan na lamang nilang gawin ay bumaba na at makipagtulungan sa gobyerno," Ligayo said.
Before receiving E-CLIP, the beneficiaries also received government financial assistances through the Local Social Integration Program (LSIP), Assistance to Individuals in Crisis Situation (AICS) of the Department of Social Welfare and Development Office (DSWD), and participated in various livelihood training.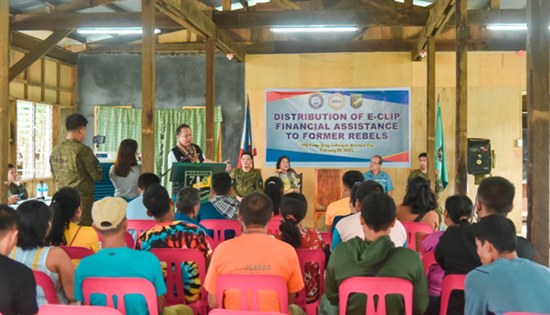 PH gov't, KOICA and UN agencies launch joint programme to address national emergency of adolescent pregnancies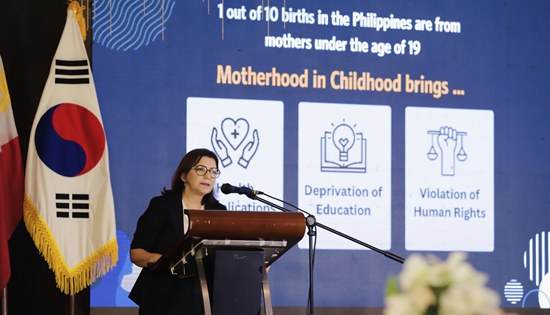 Press Release
March 1, 2023
TACLOBAN CITY – Officials from the Philippine government, Korea International Cooperation Agency (KOICA), and the United Nations (UN) jointly launched on February 20, 2023 a programme that aims to address the high rates of adolescent pregnancies in the country.
Funded by the Republic of Korea, through the Korea International Cooperation Agency (KOICA), the joint programme "Accelerating the Reduction of Adolescent Pregnancy in Southern Leyte and Samar in the Philippines" aims to improve access of the adolescent population to sexual and reproductive health (SRH) services and information, to raise their self-awareness on sexual and reproductive health and rights, as well as to enhance leadership and governance on ASRH.
According to the World Bank, the Philippines has one of the highest adolescent birth rates among the major economies in the ASEAN region.
In November 2022, KOICA, the United Nations Population Fund (UNFPA), United Nations Children's Funds (UNICEF), and the World Health Organization (WHO) inked the agreement on the joint programme, which is slated to last until 2026. Leading the Joint Programme steering committee is the Department of Health (DOH) with the UN Resident Coordinator, Gustavo Gonzalez, as its co-chair. Joining as members are the said UN agencies, KOICA, the Department of Education (DepEd), and the governors of Samar and Southern Leyte.
"Korea is committed to support the Philippines in its goals to achieve universal health for all. This is the first time that KOICA is working on a joint project on adolescent health in partnership with the three UN agencies in the Philippines. Hence, we look forward to working towards improving the comprehensive sexual and reproductive health and rights of Filipino adolescents in the Philippines," said KOICA Country Director Kim Eunsub.
DOH Officer-In-Charge Dr. Maria Rosario Singh-Vergeire said that teenage pregnancy, which has been declared by the government as a national social emergency, deprives many young Filipinos of their future, she then highlights of addressing these concerns through solidarity in partnership.
"Together, we, along with our partner agencies and stakeholders – must work in weaving our strategies to contribute to positive and long-lasting impacts for adolescents. As a key objective of the Universal Health Care Act, equitable access to health services for the youth, especially those in the vulnerable and marginalized sector, is central to the DOH's priorities. To address these gaps, we will continue to seek the support of our partners, as we can only truly achieve the universality of health through a whole-of-government and whole-of-society approach," said DOH OIC Singh-Vergeire.
"Adolescent pregnancy is not only a health and education problem but also an economic development issue," said Gustavo Gonzalez, United Nations (UN) Philippines Resident Coordinator. "We are hoping that with this program with KOICA, we will be able to reduce adolescent pregnancy and support the Philippines in maximizing the 'demographic dividend.'"
With the Philippines having one (1) out of three (3) people under the age of 18, it is expected to benefit from the change of its population structure towards a younger demographic structure. However, the window opportunity that the demographic dividend brings may be lost if Filipinos are not able to care for their sexual and reproductive health and their families.
Gonzalez said the group is eager to build on previous partnerships with the local governments of Samar and Southern Leyte and to accelerate the progress that they have reached in terms of development and humanitarian programs.
Besides being one of the Philippines' poorest and most typhoon-battered regions, the 2021 Young Adult Fertility and Sexuality (YAFS5) Study also showed that Eastern Visayas has the highest rates of 15 to 19-year-old female youths that had begun childbearing.
The programme's efforts are expected to provide additional training for health workers and non-health service providers such as social workers, teachers and peer educators; work on the expansion of the PhilHealth package for adolescent pregnancy; provide mobile medical facilities to benefit adolescents; and support the implementation of a Performance Accountability System for the local health and government units, as well as a Youth Leadership and Governance initiative.
The steering committee of this Joint Programme will be collaborating with other strategic government partners that will serve as advisory members: the Department of the Interior and Local Government (DILG), the Department of Social Welfare and Development (DSWD), and the National Youth Commission (NYC). Other government units will also be part of the regional and provincial committees of the program.
Coinciding with the joint programme launch is the ongoing congressional discussions on the proposed measures to address adolescent pregnancy.
Trade chief spearheads distribution of assistance for MSMEs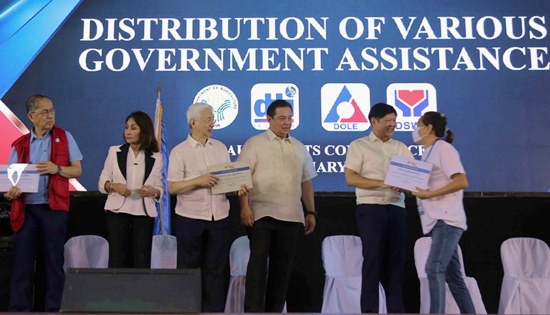 Ferdinand R Marcos Jr, Pangkabuhayan sa Pagbangon at Ginhawa (PPG) program, micro-enterprises, DTI-PPG 2023 Livelihood Negosyo kits, Martin Romualdez, Bienvenido Laguesma, Gwendolyn Garcia.
By DTI-OSEC-Public Relations Unit
February 28, 2023
MANDAUE CITY – President Ferdinand R. Marcos, Jr. together with Department of Trade and Industry (DTI) Secretary Fred Pascual spearheaded the distribution of assistance for MSMEs on 27 February 2023. The assistance given is part of DTI's Pangkabuhayan sa Pagbangon at Ginhawa (PPG) program, which aims to capacitate and assist existing and future micro, small, and medium enterprises (MSMEs) through the provision of kits containing materials, equipment, and initial stocks to commence and improve their businesses.
"Ito ay bahagi ng ating tuluy-tuloy na pag-alalay sa mga maliliit na negosyo sa gitna ng pandemya. Ngayong araw ay namigay tayo ng worth 8,000 pesos na vouchers o negosyo kits sa dalawampung mico-entrepreneurs. Umaasa ang DTI na makakatulong ito sa pag cover ng kanilang operational costs at sa kanilang muling pagbangon mula sa nangyaring sunog noong nakaraang taon", said Secretrary Pascual.
The DTI-PPG is a livelihood seeding and entrepreneurship development program whose target beneficiaries are micro-enterprises affected by fire incidents and other calamities, including health disasters such as the COVID-19 pandemic. The Department provides beneficiaries with information materials, business counseling and mentoring, enterprise development training, and livelihood kits.
During the program, Secretary Pascual lead the distribution of DTI-PPG 2023 Livelihood/ Negosyo kits to 20 beneficiaries who were victims of a fire incident on 13 December 2022. Each beneficiary has received a voucher amounting to PHP8,000. In total, the DTI distributed P160,000 worth of financial assistance.
MSMEs are considered as the backbone of the Philippine economy as it constitutes 99.5% of all registered businesses in the country. Likewise, MSMEs generated 64.6% of the country's total employment. Thus, the DTI recognizes their vital contributions to economic growth and recovery.
Further, Secretary Pascual said that "The DTI will continue to assist MSMEs, especially in terms of digitalization so they can reach wider markets. We will also help them access financing, mayroon pong Small Business Corporation or SBCorp under the DTI na maaaring mag-assist sa mga MSMEs kung kailangan nila ng loans na makakatulong sa kanila sa pagsimula o paglago ng kanilang negosyo."
The distribution program was also attended by House Speaker Martin Romualdez, Department of Labor and Employment Secretary Bienvenido Laguesma, and Cebu Governor Gwendolyn Garcia.
Charter Change: prosperity for the Marcoses and capitalists; poverty for the Filipinos – GABRIELA
Press Release
February 28, 2023
QUEZON CITY – "Galawang mandaraya ang pagraratsada ng Charter Change na iskema ng administrasyong Marcos. Sahod, trabaho, pagkain, serbisyo – yan ang kailangan ngayon hindi chacha!" declared Clarice Palce, Gabriela Secretary General, in reaction to the approval of the Congressional Committee on Constitutional Amendments last Monday.
"Hindi pa nasapatan ang Marcos sa samu't saring pamamaraan ng pandaraya noong eleksyon, ngayon naman ay pilit niyang babaguhin ang konstitusyon para pumabor sa kanyang administrasyon at balak na term extension, samantalang ang mamamayan ay umaaray na, hindi makasabay sa taas-presyo ng bilihin ang kinikita, pero walang reaksyon at kibit-balikat lang ang tugon ni Marcos Jr.," Palce insisted.
The last Constitutional Convention was during the time of the late dictator President Marcos Sr. on January 17, 1973, changing a presidential form of government to parliamentary form amid widespread protest. It created a government with a figurehead prime minister and the power remained in the president-dictator Marcos.
With the present Marcos Jr., the intent of the charter change is further liberalization of the country's economy and a longer term for the political leaders.
"May panganib na maulit ang nangyari noong panahon ni Marcos, the dictator. Hindi na natin kaya ang dekadang paghahari ng mga Marcos na sa siyam na buwan na panunungkulan, wala man lang kongkretong hakbang para sa kagalingan ng kababaihan at mamamayan kundi ang mangayupapa sa dayuhan, alagaan ang kanilang cronies at negosyante, magparty at maglibot sa ibang bansa.
Nasa panahon tayo ng krisis ni hindi pa lubusang nakakarecover ang mamamayan sa pandemya, lugmok sa hirap ang taong bayan, halos hindi na makasabay sa taas-presyo ng mga bilihin, ito lang talaga ang pinagkakaabahalan ng administrasyong Marcos Jr., ang pagbabago ng konstitusyon?" commented Palce.
In the proposed bill for the constitutional convention (ConCon), each sector will have a representative of workers, farmers and others but 20% of the delegates will be appointed by the Speaker and Senate President, who are both allies of the president. Further, there will be P10,000 per diem each delegate per day, aside from its travel and accommodation costs.
"Lantarang paglulustay at prone sa korapsyon ang ganitong klase ng bill, kahit sa istruktura, kakatigan nito kung sinuman ang nag-appoint sa mga ito, kaya nakikita nating 'bias' ang batas na ito at pabor sa mga nasa posisyon", Palce remarked.
According to the bill, Concon can finish the new constitution by June 30, 2024, it can also table revisions in any part of the constitution and there will be an uncertain election in 2025.
"Nananawagan tayo sa mamamayan na hindi tayo dapat pumayag na iratsada ang Charter Change at gamitin ito ng administrasyong Marcos sa pagpapalawig ng kanilang pag-upo sa pwesto at paglustay sa kabang yaman ng bayan. Gamitin natin ang araw ng Marso 8, Pandaigdigang Araw ng Kababaihan upang ipakita ang pagkakaisa ng mamamayan para tutulan at labanan ang mga anti-mamamayang polisiya ni Marcos" Palce declared.
8ID installs new Battalion Commander of 19IB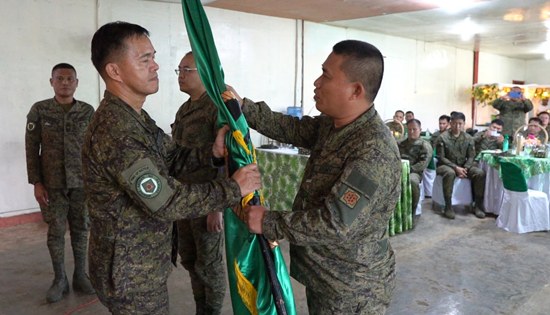 By DPAO, 8ID PA
February 27, 2023
CAMP LUKBAN, Catbalogan City, Samar – The 19th Infantry "Commando" Battalion, Philippine Army based in Catubig, Northern Samar welcomes its new Battalion Commander in a change of command ceremony, on Thursday, February 23, 2023.
The ceremony was presided over by 8th Infantry "Stormtroopers" Division Commander, Major General Camilo Z. Ligayo, and installed Lieutenant Colonel Marvin Maraggun as the new commander of the 19IB in place of Lieutenant Colonel Fernando Engcot.
Lt. Col. Engcot served as the battalion commander for two-years and greatly contributed to the counter-insurgency campaign of the 8ID.
In his message, Major General Ligayo, congratulated and expressed his appreciation to Lt. Col. Engcot's effective operational command to the unit.
"You personally led and supervised your troops in combat operations and you effectively implemented dynamic modernization in the administration of personnel, logistics, proper utilization of the unit's resources and many more. I fully appreciate your efforts in taking good care of the commando battalion," Ligayo said.
Meanwhile, Lt. Col. Maraggun accepted the challenge as the unit's new commanding officer and pledged to maintain the unit's momentum and gains, particularly in the fight against Communist Terrorist Groups (CTGs).
"The battalion will continue to be more proactive and aggressive in fulfilling its task in tandem with the local government and our stakeholders, rest assured that we will continue to work and collaborate with our dedicated and untiring partners to facilitate peace and development especially in the Geographically Disadvantage and Isolated Areas (GIDA)," Maraggun stated.
Maj. Gen. Ligayo also urged Lt. Col. Maraggun to continue the efforts and reforms started by his predecessor and to innovate as needed. He also assured the new leadership that the 8ID will be fully supportive in all of his efforts.
"Your vast operational and administrative experiences will definitely help you sustain the progressive efforts of the men under you. I also enjoin you to put in mind our thrust of transparency and good governance, and to intensified stakeholder engagements to support the command's effort in achieving our mission," Ligayo added.
DTI Secretary Pascual Supports Kadiwa ng Pangulo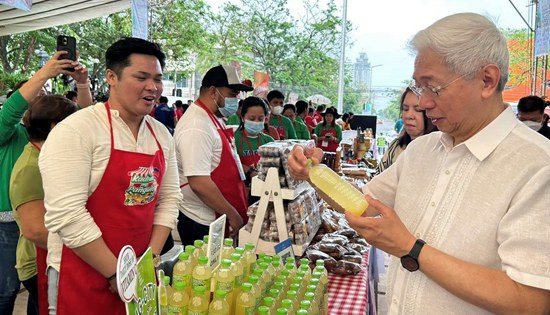 By DTI-OSEC-Public Relations Unit
February 27, 2023
CEBU CITY – On 27 February 2023, Department of Trade and Industry (DTI) Secretary Fred Pascual expressed his support for the Kadiwa ng Pangulo caravan held in Cebu Provincial Capitol. Kadiwa ng Pangulo is a farm-to-consumer program that ensures Filipino consumers' access to low-priced and guaranteed high-quality produce from local consumers. The initiative is part of the Philippine government's ongoing efforts to stabilize the prices of manufactured and agricultural basic necessities and prime commodities (BNPCs) following the spike in prices of goods.
In his message, Secretary Pascual recognized the importance of the Kadiwa ng Pangulo, especially in offering consumers low-priced, high-quality products, assisting micro, small, and medium enterprises (MSMEs), tempering the domestic impacts of the ongoing global inflation, and helping farmers, cooperatives, fishermen, and other sectors of agriculture earn profitable income and while connecting them directly to consumers.
"Bukod pa rito, ang Kadiwa caravan ay napapanahon sa adhikain ng pamahalaan na palakasin ang sektor ng agrikultura. Sa pag-unlad ng sektor na ito, makapagbibigay ito ng mas maraming hanap-buhay at mapatataas ang produksyon ng pagkain upang masiguro ang sapat na supply para sa lahat. Sa pagpapalakas at pagpapatibay ng mga Kadiwa stores, malaki ang maiaambag nito sa pagbangon ng ating ekonomiya matapos ang pandemya. Ang programang ito ay tugon din ng pamahalaan upang mapababa ang inflation rate ng bansa at maalalayan ang bawat pamilyang Pilipino sa pagkamit ng food at nutrition security," said Secretary Pascual.
Further, the program will facilitate the removal of 'middlemen' that purposely hinder and disrupt the local supply chain of produce going to public markets. The permanent establishment of the Kadiwa caravan provides access to lower-priced consumer goods.
With its mandate of promoting consumer welfare and protection, Secretary Pascual also ensures the public that the Department of Trade and Industry will continue implementing policies and programs to ensure consumers' access to affordable and high-quality BNPCs. As part of this, the DTI regularly conducts price monitoring in supermarkets and public markets, operates Diskwento Caravans and rolling stores, and capacitates Local Price Coordinating Councils (LPCCs) to monitor and address or forestall exorbitant, excessive, and unreasonable prices.
In closing, Secretary Pascual said that "Sa pamamagitan ng pagsasagawa ng Kadiwa ng Pangulo caravan, titiyakin ng DTI na may abot-kayang halagang pagkain sa bawat hapag kainan ng pamilyang Pilipino."
8ID lauds Gomez couple promotion in Army Reserve Force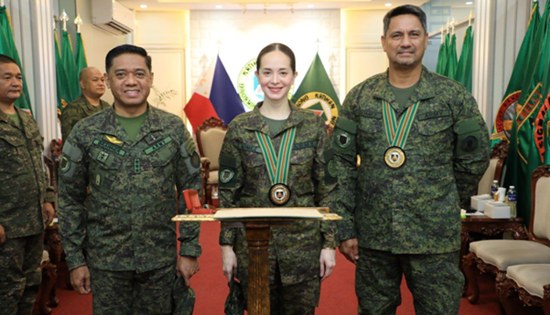 By DPAO, 8ID PA
February 25, 2023
CAMP LUKBAN, Catbalogan City, Samar – The 8th Infantry Division, Philippine Army, praises the top politician couple in the province of Leyte for receiving Lieutenant Colonel ranks in the Army's Reserve Force, at the Headquarters, Philippine Army, Fort Bonifacio, Metro Manila on February 23, 2023.
The ceremony was presided by Army Commanding General Lieutenant General Romeo S. Brawner Jr., promoting Leyte 4th District Representative Richard I. Gomez and his wife Ormoc City Mayor Lucy Torres-Gomez in the reserved force.
In his message, 8ID Commander Major General Camilo Z. Ligayo lauded the Gomez couple for supporting the development and security operations of the Philippine Army.
"The government's objective of ending the local communist armed conflict is highly commendable. Together, we are getting closer to realizing our dreams of reaching long-term peace," Maj. Gen. Ligayo said.
Meanwhile, the sports enthusiast, actor, and politician has pledge not only to lead the entire 4th District of Leyte to their full potential, but also to be strong advocates for peace, order, and security, which he sees as the foundation of progress.
"It is a great honor and privilege to be part of the (Army) reserve force, Sa pagpapaganda at pagpapaunlad ng bayan natin, magkakasama tayo dito. Let us continue to make sure that this country will grow. Let us continue to make sure that our country will be peaceful through our efforts," Lt. Col. Gomez urged.
Congressman Gomez was commissioned into the Armed Forces of the Philippines' Reserve Force, October last year, while Mayor Gomez also joined the Coast Guard auxiliary force on the same year.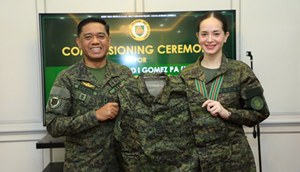 Army in EV donates books as aid to conflict-affected areas in Samar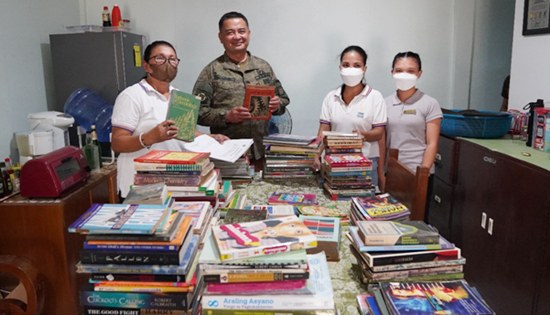 By DPAO, 8ID PA
February 24, 2023
CAMP LUKBAN, Catbalogan City, Samar – In response to the need to provide educational access to the most vulnerable communities in the province of Samar, 8th Infantry "Stormtroopers" Division (8ID), Philippine Army, through the Office of the Assistant Division Commander for Reservist and Retiree Affairs (ADCRAA) donated educational books to the Samar Provincial Library, on Tuesday, February 21, 2022.
This is in support to the Barangay Reading Center or School Library program of the Samar Provincial Government.
The Assistant Division Commander for Reservist and Retiree Affairs of 8ID, Colonel Erwin Rommel Lamzon personally turned-over a total of 244 books to Samar Provincial Library.
Col Lamzon supported the said initiative with the intent to equip or aid those children who need reading materials, especially those who are in the Geographically Isolated and Disadvantage Areas (GIDAs).
"Books are testaments of things, facts, ideas, and place, so even though may advent na ng technology kasi pwede na nating i-download. But there are still areas na wala namang access to platforms like google, yahoo, and others. So, they can still benefit from the books that we are donating kasi ang karamihan doon ay K to 12 certified, various grades, mayroon din pang high school, mayroon ding pang College," Col Lamzon said.
Col. Lamzon started the initiative through his sister's book donation drive and thought of donating the books to various places in 8ID's area of operations, which includes all Army Brigades in Eastern Visayas. He recognized that books are important and needed especially in GIDAs that lack modern reading materials.
Meanwhile, Melita Mallari, Officer-in-Charge of the Samar Provincial Library, was grateful for the newly established partnership between military personnel and their office in implementing this kind of program.
"The majority of our collected reading materials are not readily available in most places, especially those without access to the internet; thus, through our project, we can give them access to different kinds of library materials," Mallari added.
The Samar Provincial Library has been providing additional support to barangays and school libraries, including the conflict-affected areas for the past three years.
This year, SPL's book donation program intends to carry out five donation activities, and the beneficiaries will be selected through the Department of Education (DepEd) Catbalogan City Division office.
ICHRP warns against further violations of Filipino people's economic, social and cultural rights as the Philippine Senate ratifies RCEP
Press Release
February 23, 2023
MANILA – Following the Philippine Senate ratification of the Regional Comprehensive Economic Partnership (RCEP), the International Coalition for Human Rights in the Philippines (ICHRP) expresses a grave warning on the free trade agreement's (FTA) possible violation of the Filipino people's economic, social and cultural rights. The 20 senators who voted for the ratification of this unfair agreement showed their anti-people stance by dumping the poor Filipino people further into poverty.
"As a comprehensive free trade agreement covering the biggest economies in the Asia-Pacific, the RCEP puts local producers and markets in the Philippines at a disadvantage as they will be forced to compete with a flood of cheaper and high-grade imported goods from highly-industrialized countries", said Peter Murphy, ICHRP Chairperson.
The RCEP eliminates 90 percent of tariffs among its participating economies, the 10 member countries of the Association of Southeast Asian Nations (ASEAN), Australia, China, Japan, New Zealand, and South Korea. The RCEP covers roughly 30 percent of the global gross domestic product (GDP). It is widely perceived as China's counterweight to the US-led Trans-Pacific Partnership Agreement (TPPA) from which then President Donald Trump withdrew participation in January 2017.
Despite gross violation of human rights in Myanmar, China and the Philippines, the RCEP has no commitments to human rights, labor rights or environmental standards.
"The RCEP will surely mean the worsening violation of workers' rights. Filipino workers already suffer from contractualization, low wages, unsafe working conditions and the non respect of ILO Conventions 87 and 98 on their right to associate and to collective bargaining. Peasants will face impossible competition from giant agri-corporations, and indigenous peoples (IPs) will be confronted by the expansion of destructive mega-mining projects," continued Murphy.
"Following a neoliberal framework, it will also open up basic social services to further liberalization, privatization, and deregulation, making it more difficult for the Filipino masses to have access to desperately needed medical, education, and transportation services."
"Instead of participating in unfair free trade agreements like RCEP, the Philippine Government should focus on improving its national economy and supporting its local producers and businesses who are already reeling from the continued rise of inflation in the country. A primary focus should be given to genuine land reform and national industrialization which would generate quality jobs and would respond to the actual needs of the Filipino people," concluded Murphy.
Army deploys two additional battalions to boost anti-insurgency campaign in EV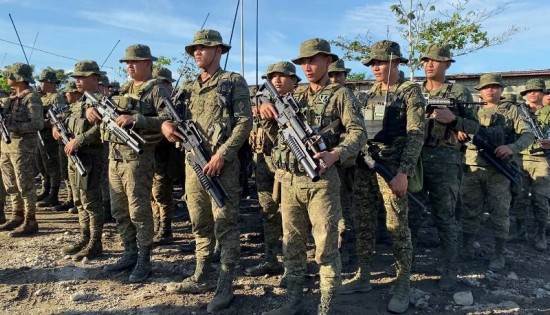 By DPAO, 8ID PA
February 22, 2023
CAMP LUKBAN, Catbalogan City, Samar – The 8th Infantry "Stormtroopers" Division (8ID) welcomes the arrival of 74th Infantry "Unbeatable" Battalion and 42 Infantry "Tagapagtanggol" Battalion at Government Center, Palo Leyte Yesterday, February 20, 2023.
The said Battalions will be placed under the operational control of the Joint Task Force -Storm (JTF-Storm) and will help sustain the gains of the Stormtroopers in the successful implementation of its campaigns.
The 74IB is one of the battalions of the 2nd Infantry "Jungle Fighter" Division. Prior to their deployment in Eastern Visayas, 74IB have made significant accomplishments in the fight against the Abu Sayaff Group (ASG) in Basilan Province. The unit also made significant contributions in the campaigns of the Western Mindanao Command under the Operational Control of Joint Task Force Zamboanga.
Meanwhile, the 42IB of the 9th Infantry "Spear" Division also showed exemplary performance in the conduct of offensive operations against the Communist Party of the Philippines - New People's Army operating in Quezon and Bicol area.
The unit have been assigned to different areas in the Philippines; Camarines Sur, Zamboanga Peninsula, Lanao Del Sur and Sulu.
The unit also contributed to the liberation of Marawi City, where they took part in the 6-month fight against the ISIS-Maute Group.
Significant accomplishments in Zamboanga Del Norte was also recorded as they were able to neutralize key NPA leaders and personalities and were able to dismantle the Regional Leadership of Western Mindanao Regional Party Committee (WMRPC).
With their deployment in Eastern Visayas, the Commander of 8th Infantry Division, Major General Camilo Ligayo said that the two additional battalion will boost the anti-insurgency campaign in the region especially that four of the last five remaining guerilla fronts in the country is located here in region 8.
"This Division is in the the winning momentum in dismantling the four active guerilla fronts in the area of operations. Thus, an additional force would be great as we continue to strike hard on the Communist Terrorist Groups and will shorten the time in attaining strategic victory and to finally put an end to this insurgency."
"The higher headquarters of the Armed Forces of the Philippines is very supportive, from additional forces to war-fighting equipment, they really ensure that we are fully equip in this fight. And definitely, in no time we can totally eradicate the CTGs in the region," Ligayo said.
Last February 17, 2023 the 21st Scout Ranger Company belonging to the elite force of 4th Scout Ranger Battalion has also arrived as an additional forces to help end the decades-long insurgency problem in the region.
Since last year, a total of four additional battalions have been deployed to Eastern Visayas that will contribute in the internal security operations against CTGs in the region.
RCEP secured Senate nod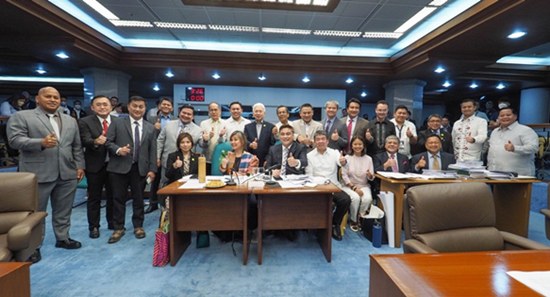 By DTI-Bureau of International Trade Relations
February 22, 2023
PASAY CITY – Department of Trade and Industry (DTI) Secretary Fred Pascual, Undersecretary Ceferino Rodolfo, and Assistant Secretary Allan B. Gepty expressed their utmost appreciation to the Philippine Senate for concurring with the ratification of the Regional Comprehensive Economic Partnership (RCEP) on 21 February 2023.
With 20 senators voting for the concurrence, the Philippines is now set to participate in the largest free trade area.
"We laud the Philippine Senate for its prompt action on this very important treaty. This gives a strong signal to our trading partners as to the trade policy direction of the country, and the resolve of the present administration to provide a conducive business environment for potential investors", said Secretary Pascual.
During the plenary deliberation, no less than Senate President Juan Miguel "Migz" Zubiri and Senate President Pro Tempore Loren Legarda defended the concurrence of the Senate.
"Indeed, Senators Zubiri and Legarda excellently argued the merits of the RCEP Agreement and showed why the Philippines could not afford not to be part of it. One of the most critical reasons is that if we refuse to participate, businesses and investors may relocate in other countries that are already participating in RCEP. This means we will be at a disadvantaged position in ASEAN", the Trade Chief added.
Senator Legarda emphasized the need to support the agriculture sector, stressing that RCEP itself is a tool that needs to be utilized by Filipino businesses in order for gains to materialize.
"There is nothing wrong with RCEP, it is smuggling, lack of support of agriculture," she stated, in response to concerns that the agriculture sector will be adversely affected by RCEP. "This is not a magic pill. RCEP or no RCEP, we must help these sectors," she added.
Meanwhile, Senator Zubiri stressed the need for a holistic approach to RCEP, stating that the government should also take into account the welfare of other sectors of the economy.
"Whether we have RCEP or not, the agri sector, in its state right now is suffering. Let's say we don't ratify RCEP, I think it will still be suffering but the thing is manufacturing will also be suffering, exports will also suffer. In the totality of things, I am not just standing as an agriculturalist, but I am also standing as a Senator of the Republic, we also have other constituencies to protect, so we are looking at the totality of it all," Zubiri said.
According to Secretary Pascual, he commends the two senators not only for their sterling defense of RCEP but also for their creative approach in handling the issues and concerns raised by oppositors.
Further, under the Resolution of the Senate concurring on the ratification of the RCEP Agreement, a Senate oversight committee was created to ensure the effective implementation of programs intended to improve the competitiveness of local stakeholders, especially farmers.
For its part, the Executive Department showed its full support during the interpellation. Present during the deliberation were Executive Secretary Lucas Bersamin, Special Assistant to the President Antonio Lagdameo Jr., Finance Secretary Benjamin Diokno, Budget Secretary Amenah Pangandaman, Customs Commissioner Bienvenido Rubio, Acting Foreign Affairs Secretary Carlos Sorreta, Labor and Employment Secretary Bienvenido Laguesma, and Agriculture Senior Undersecretary Domingo Panganiban.
The Agreement will be effective for the Philippines 60 days after the submission of the country's Instrument of Ratification (IOR) to the ASEAN Secretary General as the Depositary.
8ID welcomes 564 new breed of soldiers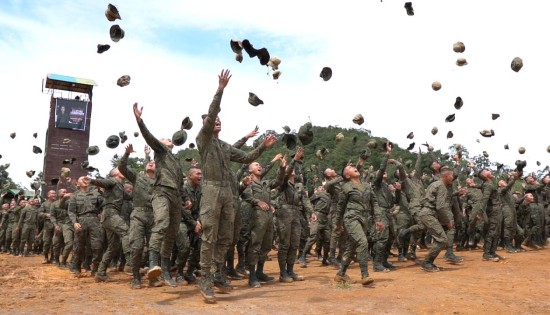 By DPAO, 8ID PA
February 20, 2023
CAMP LUKBAN, Catbalogan City – The 8th Infantry "Stormtroopers" Division, Philippine Army welcomes a new breed of soldiers after having completed a six-month training at Camp Eugenio Daza in Hinabangan, Samar today, February 20, 2023.
A total of 564 new privates who graduated from the Candidate Soldier Course Classes 736, 737, 738, and 739-2022 have finished their Basic Military Training (BMT) during their Candidate Soldier Course, which started on July 18, 2022.
The new privates have completed their training that has put their physical and mental abilities to test while transforming them from civilians into military men and women.
Of the 564 new privates, 537 are males and 27 are females. Two hundred ninety-one of them are from Samar, 42 from Eastern Samar, 45 from Northern Samar, 139 from Leyte, 13 from Southern Leyte, 5 from Cebu, 3 from Bohol, 1 from Biliran, 4 from Negros Oriental, 2 from Negros Occidental, 2 from Camarines Sur, 1 from Surigao del Sur, 6 from North Cotabato, 2 from Lanao del Norte, 2 from Agusan del Sur, 2 from Surigao del Norte, 1 from Davao del Norte, 1 from Bukidnon, 1 from Kalinga and 1 from Rizal.
Among the 564 new soldiers, a 22-year-old Pvt Joshua Regayas from Calbayog City, Samar topped the newest batch of Army soldiers in Eastern Visayas. And followed by a 24-year-old Pvt Angela Cayunda still from Calbayog City, Samar. Pvt Cayunda is a licensed criminologist, an advanced ROTC graduate, and a commissioned 2nd Lieutenant in the Army Reserve Command.
Major General Camilo Z. Ligayo, Commander of the 8th Infantry Division, Philippine Army, presided over the ceremony.
In his speech, Maj. Gen. Ligayo lauded the trainees for overcoming the challenges that were part of the process of shaping and preparing them to be smarter, stronger, and better individuals equipped with the necessary knowledge as they begin their journey in serving the country.
He also emphasized the essence of being a soldier and the responsibilities it entails.
"Dugo't pawis ang inyong naging puhunan upang maabot ninyo ang inyong kinatatayuan ngayon. At sa pagkakataong ito, ang inyong dedikasyon at pagsisikap ay nagbunga na sapagkat kayo ay ganap ng mga sundalo ng Republika ng Pilipinas," Maj. Gen Ligayo said.
Maj. Gen. Ligayo also expressed his gratitude to the parents of the new troops for entrusting them with their children who would serve the nation as new soldiers.
"Alam ko ang lungkot na inyong pinagdaanan ng mawalay sila sa inyo ng panandalian subalit kapalit naman nito ay kasiyahan na sila ay masilayan suot ang unipormeng kanilang pinaghirapang makamtan," Maj. Gen. Ligayo added.
The new graduates will assist in fighting insurgency and bringing out peace to the entire region by serving in various army battalions and units throughout Eastern Visayas.
The distribution of certificates and awarding of individuals, oath-taking, and ceremonial entrustment of firearms are some of the highlights of the said activity.
8ID welcomes the deployment of additional elite Scout Ranger Company in EV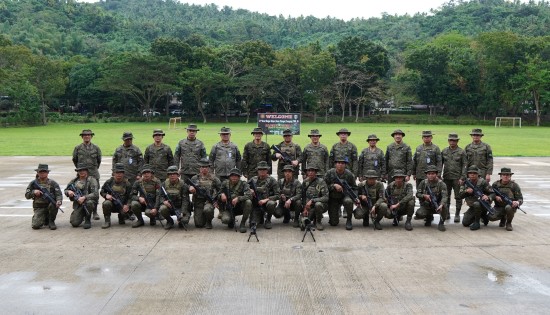 By DPAO, 8ID PA
February 20, 2023
CAMP LUKBAN, Catbalogan City – The 8th Infantry "Stormtroopers" Division (8ID) welcomes the arrival of additional troops from the 4th Scout Ranger "Masigasig" Battalion (4SRBn) at Headquarters, 8th Infantry Division, Philippine Army , Catbalogan City, Samar on February 17, 2023.
The 21st Scout Ranger Company (SRC) troopers will be placed under the operational control of the Joint Task Force Storm and will help increase the operational tempo in Ending Local Communist and Armed Conflict in Eastern Visayas.
Prior to their transfer, the 21st SRC made significant accomplishments against the Communist Terrorist Groups (CTGs) operating in Paquibato District in Davao. They also played significant role in the 4-month-long battle against the ISIS-Maute Group in Marawi City.
Before their deployment to Eastern Visayas, the 21st SRC underwent training both locally and abroad to further enhance their capability to counter-insurgency operations.
The Commander of the 8th Infantry Division Major General Camilo Ligayo expressed that the deployment of the 21st SRC in the region will be a game changer and will play a significant role in the overall campaign of the 8ID.
"Truly it is overwhelming feeling how the higher headquarters manifest their support to the division's campaign by sending the elite forces to augment our troops deployed on this island. With their vast experiences, am confident with these advantages surely, we will be victorious in this battle," Maj. Gen. Ligayo expressed.
Despite the success in combat operations from their previous assignments, Maj. Gen. Ligayo urged the troops of the 21st SRC not to be complacent and remain vigilant since they will be confronting the CTG's in this last bastion of insurgency.
"Your unit has displayed a high sense of professionalism and competencies in your previous deployment and has been a game changer in every employment. I trust that everyone remains mission-oriented and always respect human rights, adhere to the International Humanitarian Law and the rule of law as you proceed to your area of operations," Ligayo said.
The 21st SRC as one of the elite forces in the AFP will be deployed in Northern Samar, one of the strongholds of the terrorist group in the region, as they are best trained and suited for the task of ending the decades-long insurgency.
1 NPA killed, war materiel seize in Eastern Samar clash
By DPAO, 8ID PA
February 19, 2023
CAMP LUKBAN, Catbalogan City - A New People's Army (NPA) rebel was killed while assorted war material were seized during an encounter in Borongan City, Eastern Samar on February 18, 2023.
The troops of 78th Infantry "Warrior" Battalion (78IB) clashed with more or less 9 Communist Terrorist Group (CTG) members after a concerned citizen reported the presence of an armed group in the hinterlands of Barangay San Andres, Borongan City, Eastern Samar, on the afternoon of February 17, 2023. Recovered during the encounter were one M16 rifle and a backpack.
A pursuit operation was then conducted that resulted in another encounter at 11 a.m. on February 18. The clash resulted in the death of one unidentified CTG member and the recovery of one prohibited Anti-Personnel Mine (APM) and assorted ammunition.
In his statement, Lieutenant Colonel Allan Tria, the Commanding Officer of the 78IB appealed to the remaining members of the CTGs to consider laying down their arms and return to the folds of the law as the army will continue its offensive against the CTGs.
"Hindi maipagkakaila na sa bakas ng mga dugo na mayroong mga sugatang NPA sa engkwentro, hinihiling namin sa ating residente na makipag tulungan sa paghahanap sa mga sugatan upang agarang mabigyan ng paunang lunas at mailigtas sila sa tiyak na kapahamakan," Lt. Col. Tria said.
Meanwhile, Major General Camilo Z. Ligayo, the Commander of 8ID commended the troops of 78IB for their efforts of bringing peace in Eastern Samar.
"Once again, the CTG leadership failed to take care of their fallen comrade. They have been deceiving the people of Samar Island to join their futile and ill-motivated armed struggle ever since. I call on the Samar Island people to join us in our efforts and once and for all End the Local Communist Armed Conflict here in Eastern Visayas," added Maj. Gen. Ligayo.
Estrella pledges support to Samar's agri development programs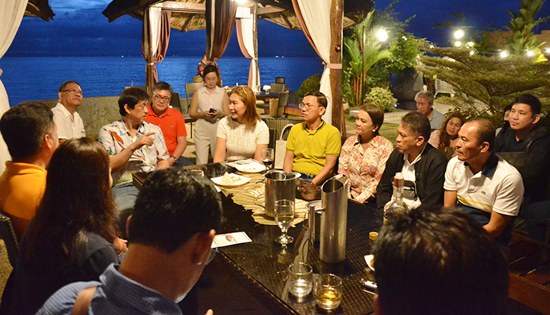 Agrarian Reform Secretary Conrado Estrella III met Samar Governor Sharee Ann Tan and all the provincial board members and mayors in Marabut town where he pledged to support the province's agricultural development programs.
By JOSE ALSMITH L. SORIA
February 17, 2023
MARABUT, Samar – Not only projects from the Department of Agrarian Reform (DAR) did Secretary Conrado Estrella III commit to Samar governor Sharee Ann Tan during the former's recent visit to Eastern Visayas, but promised to link them as well to other government agencies, and even to the president in support to the province's agricultural development programs.
The two government officials had a short meeting at the Layao Beach Resort in this municipality after Estrella distributed Certificates of Land Ownership Award (CLOAs) and turned over a "Tulay ng Pangulo" project and several farm equipment and machineries in nearby Balangiga town in the province of Eastern Samar.
Prior to Estrella's arrival to Region-8, Tan arranged an audience with him to discuss her administration's plan to develop the coconut and cacao industries in the province.
In his meeting with Tan, which was also attended by the provincial board members and all the city and town mayors of Western Samar, Estrella said that DAR could establish processing centers in agrarian reform communities (ARCs) where there are huge number of agrarian reform beneficiaries who would be benefited by these projects.
Aside from various support services that could be extended by DAR, Estrella expressed that he will invite Bernie Cruz, former DAR Secretary, now the Administrator of the Philippine Coconut Authority (PCA), who is expected to provide better assistance to their coconut-related endeavors, in their future meetings.
Based on the data gathered from the Samar web site, coconut is the main commercial crop in the province, which are mostly concentrated in coastal areas.
Estrella also assured the local government officials that he will mention their plan in developing the agriculture sector during cabinet meetings to solicit assistance from other government agencies.
President Ferdinand Marcos Jr. wants to bring the government closer to the people, Estrella stressed.
In her facebook post, Tan shared, "Thank You, Secretary Estrella, for sharing your time and thoughts with us. We look forward to a steady partnership with you and DAR as we continue our efforts to better serve the people of Samar!"
Plans of the Samar provincial government in developing the Peace and Prosperity Village within the Calbiga-Pinabacdao Settlement Project, where DAR donated a three-hectare lot as the agency's contribution to the End Local Communist Armed Conflict (ELCAC), was likewise discussed in this meeting.
DTI Chief stresses the importance of RCEP and stronger PH-EU trade relations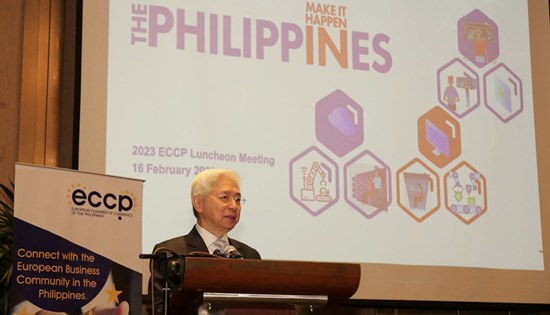 By DTI-OSEC-Public Relations Unit
February 17, 2023
MAKATI CITY – Department of Trade and Industry (DTI) Secretary Fred Pascual boasted about the Philippine government's ongoing efforts to create an enabling environment where businesses can thrive during the European Chamber of Commerce of the Philippines (ECCP) Luncheon Meeting held on 16 February 2023 at the Dusit Thani Manila.
During his keynote speech, Secretary Pascual unveiled the priorities of the DTI to facilitate increased trade and investment and to improve global competitiveness, "The goal is to grow our economy and develop globally competitive and innovative industries that support inclusive growth and quality of life for all Filipinos", he said.
The Trade Chief also took the opportunity to advocate the ratification of RCEP stating that, "The drive for immediate ratification of the Regional Comprehensive Economic Partnership Agreement and other trade agreements is considered vital to expand the country's market reach and foster globally competitive economic industries. The possible influx of investments that these agreements would bring will also create employment opportunities for Filipinos." Likewise, President Ferdinand R. Marcos Jr. earlier emphasized that RCEP would greatly complement the country's game-changing economic reforms.
Apart from RCEP, Secretary Pascual urged European businesses to support the Philippines' re-application for the upcoming renewal of the European Union Generalised Scheme of Preferences Plus (EU-GSP+). This was also supported by Assistant Secretary Allan B. Gepty, who was also present at the Luncheon Meeting and underscored the significant role of the EU-GSP+ during the open forum, "That is why EU-GSP+ is very important because it caters to the demands, the needs of our local stakeholders, and even investors who are exporting to the EU market", he said.
Secretary Pascual further reiterated that "the Philippines counts on European businesses' continued support for our re-application in the upcoming renewal of the EU-GSP+ scheme and our advocacy to resume the PH-EU FTA negotiations. Your business presence here proves that the Philippines stands on sound economic and social reforms."
The European Chamber of Commerce of the Philippines (ECCP) is a bilateral foreign chamber that promotes European interests in the Philippines and vice versa. ECCP also organizes business meetings; seminars with resource speakers from the Philippines, Asia, and Europe, which coordinate the position of the business sector; as well as dialogues with the Philippine government officials on important economic issues affecting the Philippine-European business relations.
No to RCEP! No to sellout of PH economy! – GABRIELA
Press Release
February 17, 2023
QUEZON CITY – The national alliance of Filipino women GABRIELA denounced Marcos Jr.'s push for Congress to immediately ratify the Regional Comprehensive Economic Partnership (RCEP) Agreement, citing that the move will have 'dire consequences' to food security and to the agriculture industry in the Philippines. The women's group called on legislators to exercise its autonomy as an independent branch of the government and 'refuse to be complicit in further jeopardizing farmers' livelihoods and in the sellout of our patrimony."
"Words obviously mean nothing to pathological liars like the Marcoses. From supposedly having 'reservations' about the RCEP, Marcos Jr. has since completely backpedaled by leading the push for its ratification – to the detriment of the already suffering agricultural sector. Naturingang DA Secretary pero puro peste sa magsasaka ang dala ni Marcos, mula sa Rice Liberalization Law, importasyon ng mga produktong pang-agrikultura, at ngayon ito namang RCEP," hit GABRIELA Secretary General Clarice Palce.
GABRIELA cited how farmers – millions of whom are women – are struggling to compete with imported products due to government's neglect of agriculture. Many are drowning in debt because of sky-high production costs and depressed farmgate prices. Agri groups have been calling for subsidy and aid, as well as for an end to Marcos Jr.'s import-driven response to soaring prices of farm products.
"Departamento ng Angkat ang pinatatakbo ni Pangulong Marcos. Kung dati'y nagkakanda-kuba lang ang magsasaka habang nananatiling hikahos, ngayon nagsisimatayan na ang marami sa amin. Nito lamang Enero, limang magsasaka ang nagpakamatay sa Bayambang, Pangasinan. Ayon mismo sa misis ng isa sa kanila, pagkabaon sa utang ang nagtulak sa asawa niyang gawin ito dahil hindi umano nito mabawi ang milyong utang para sa produksyon dahil sa importasyon. Nasaan ang kalinga ng gobyerno sa nagpapakain sa taumbayan?" raised Amihan National Chairperson Zen Soriano.
With women's month just around the corner, women agricultural workers are among the sectors that GABRIELA aims to highlight on March 8, the International Working Women's Day, as they are among the most underpaid and undervalued workers In the Philippines and across the globe.
GABRIELA and Amihan both urged the government to prioritize the interests of Filipino farmers and the country. The groups emphasized that Congress must oppose RCEP and instead pass measures to strengthen the agricultural sector of the country, which in recent years had historically the lowest share in GDP despite the Philippines being an agricultural country. GABRIELA urged, "give Filipino farmers a fighting chance."
"Malaking pagtatraydor sa bansa ang pagsasaalang-alang sa sektor ng agrikultura, laluna habang kumakaharap ng malalang kagutuman ang mamamayan. Kaya hinahamon namin ang mga mambababatas na wag magsilbing 'rubberstamp' lang ni Marcos Jr., at sa halip ay tindigan ang mamamayang nagluklok sa kanila sa puwesto. Pilipinas naman," Palce called.
Children football teams from conflict-affected areas in Samar compete in the prestigious Thirsty Cup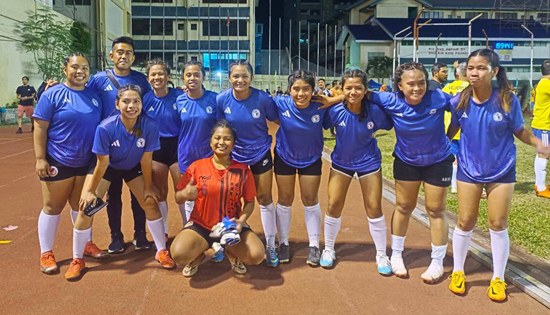 By DPAO, 8ID PA
February 15, 2023
CAMP LUKBAN, Catbalogan City – The Stormkickers and Palapag Football Club competed in the recently concluded 17th Thirsty Cup on February 12, 2023, held at Abellana Sports Complex, Cebu City.
The Thirsty Cup is a 3-day football competition where more than 200 teams from all over the Philippines competed to clench for the championship and be recognized.
Major General Camilo Z. Ligayo, Commander of 8th Infantry Division organized the team with the Palapag Football Club which was composed of kids from remote barangays or barangays then influenced by NPAs in Northern Samar when he was still the Commander of 801st Infantry Brigade.
The Stormkickers is composed of 10 females and 15 male players that participated in the Ladies Open and Under 19 (U19) Boys Categories, respectively. On the other hand, the Palapag FC has 10 players that participated in the Under 13 (U13) Boys Category.
Under the Ladies Open, the team garnered three wins and made it up to the Quarter Finals, and in the U13 category, the Palapag FC recorded two wins.
Even though the team didn't advance to the championship finals, Private Rueben Ranille, one of the Stormkickers and Palapag FC coaches, was appreciative of the chance given to these eager football neophytes.
Private Ranille has also expressed his gratitude to 8ID Commander, Maj. Gen. Ligayo, for the new milestone achieved by the team.
"Iyon 'yong pinaka-first time nilang maglaro at nakakaproud kasi ang mga bata na kasali sa Palapag FC ito ang mga bata na tinuruan ko noong nasa Community Support Program pa ako. Nagpapasalamat kami sa ating 8ID Commander, Maj. Gen. Ligayo, kasi sinusuportahan niya ang mga programa na pang sports. Syempre malaki rin ang aming pasasalamat sa oportunidad na ito kasi alam namin na magbubukas pa ito ng iba pang oportunidad para sa mga kabataan nating football players," Private Ranille said.
Both teams were coached by two soldiers of 8ID, Philippine Army, Private Rueben Ranille and Corporal Edelyn Panaguiton, and another soldier who also played during the said competition under the Women's Category, Private Angelie Pagpaguitan.
Meanwhile, 8th Infantry Division Commander, Major General Camilo Ligayo, congratulated the team for their hard work and for making it to the said competition.
"I assure you my full support to sports, especially these football teams. I believe that they will achieve more in the future; we just need to support, help and train them."
"It is better to immerse our children or youths in sports to give them opportunities which are way better than engaging in activities organized by left-leaning groups," Maj. Gen. Ligayo concluded.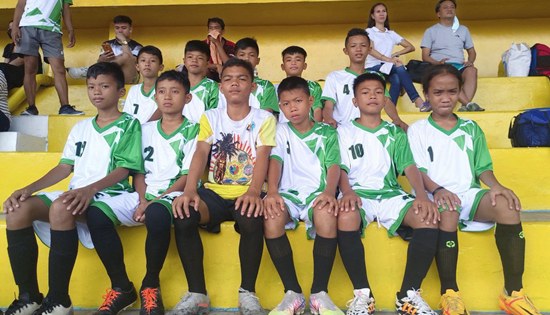 DTI chief graced the launching of OTOP Hub in Bacoor, Cavite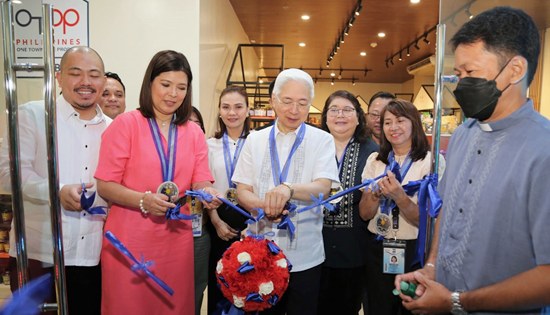 L-R: Congressman Bryan Revilla, Congresswoman Lani Mercado-Revilla, Vice Mayor Rowena Mendiola, DTI Secretary Fred Pascual, DTI-CALABARZON OIC Regional Director Marissa Argente, DTI-Cavite Provincial Director Revelyn A. Cortez.
By DTI-OSEC-Public Relations Unit
February 14, 2023
BACOOR CITY, Cavite – On 14 February 2023, Department of Trade and Industry (DTI) Secretary Fred Pascual graced the launching of the One Town, One Product (OTOP) Hub in Bacoor City, Cavite. The OTOP Hub in Bacoor is the second one established in the Province of Cavite, this is in partnership with the Office of Congresswoman Lani Mercado-Revilla, Mayor Strike Revilla, the City Livelihood Office, and the Local Government Unit (LGU) of Bacoor.
OTOP Philippines is a priority program of the government to assist micro, small, and medium enterprises (MSMEs) in reaching wider markets. The Hub in Bacoor will serve as a venue for OTOPreneurs to strengthen linkages, negotiate potential partnerships and collaborations with other MSMEs and institutional buyers, and showcase various products developed under the OTOP Next Generation Product Development Project.
The launching was also attended by Congresswoman Lani Mercado-Revilla, Congressman Bryan Revilla, DTI Undersecretary Blesila A. Lantayona, Assistant Secretary Dominic Tolentino, DTI-CALABARZON OIC Regional Director Marissa Argente, DTI-Cavite Provincial Director Revelyn A. Cortez, Mayor Strike Revilla, Negosyo Center Manager Ms. Carmelita Gawaran, and Councilor Reynaldo Fabian.
NMP sets course for 2023; Aligns commitments with DMW
Press Release
February 14, 2023
TACLOBAN CITY – The National Maritime Polytechnic (NMP), the only maritime training and research center in the country, has aligned its course for 2023 with the programs and organizational outcome of the Department of Migrant Workers (DMW) during its recently concluded Hybrid Agency Planning Exercise on 07 February 2023.
As NMP embarks on a new chapter, as it fully transitions to the DMW, its sectoral and organizational outcomes for FY 2023 are set to change in line with the shift in its client focus. Its Sectoral Outcome, as drawn from the Philippine Development Plan 2023-2028 will focus on the Improvement of Quality of Life of Overseas Filipino Workers (OFWs) and their Families. By closely aligning its goals with DMW, NMP will be strategically positioned to make a significant impact in the achievement of the department's Organizational Outcome, that is: Empowerment and Protection of Overseas Filipino Workers Ensured.
As a subsumed agency of the DMW, NMP is specifically responsible for the implementation and successful realization of the Maritime Research and Skills Competency Program, one (1) of the four (4) programs of the department.
Under the said program, NMP has three (3) Outcome Indicators that need to be attained this year: (1) 82% employment for seafarer-trainees a year after completion of their training; (2) 100% of seafarer-trainees having jobs related to the skills they acquired through training at NMP; and (3) 100% of research papers used as input for policy formulation and program development.
Additionally, NMP also has three (3) key Output Indicators as stated in the 2023 General Appropriations Act: (1) 10,000 trainees/participants who successfully completed the course; (2) 100% trainees issued with certification within 72 hours of successful completion of all course requirements; and (3) 2 completed research projects.
2023 is indeed a challenging year for NMP. While some targets represent a significant increase compared to the previous years, others bring NMP back to its pre-pandemic commitments. The achievement of these targets will undoubtedly require dedicated efforts, innovative approaches, and a steadfast commitment to excellence from all NMP personnel.
Accordingly, NMP's four (4) organizational units have outlined specific action plans and strategies that are aligned with the overall commitments of the Agency. The four (4) units will be working closely together and with stakeholders to ensure the successful implementation of these plans and the achievement of the desired outcomes. Regular monitoring and evaluation of their performance will also be conducted to ensure that the Agency stays on track and remains accountable to its commitments.
As NMP sets its sights on its targets for the year, NMP OIC Executive Director, Mayla N. Macadawan emphasized the importance of keeping in mind that the Agency is currently in a period of transition.
"DMW is still in the process of becoming fully operational and this may pose challenges in meeting our targets for the year. To overcome these potential hurdles, it is vital to have a clear and defined roadmap. To guide our efforts and ensure success, we should align our plans with the comprehensive Strategic Plan 2023-2028, which outlines a six-year strategy for the NMP," she disclosed. "While we receive instructions to continue as usual, it is uncertain what directives will be given from higher authorities in the future. There may be instructions that may not be aligned with our current commitments, however, they may have recognized the need to address them," she added.
She also encouraged all employees to adopt a positive mindset and embrace the changes that come with the transition, by doing so, NMP ensures to continuously provide quality services to its clients.
Further, she emphasized the crucial importance of each employee's contribution in realizing NMP's mandates and objectives. She noted that each individual's performance has a far-reaching impact on the success of the organization and stressed the need for a collaborative effort towards reaching common goals, so as to take NMP to even greater heights.
"Let us all work together to rekindle the excitement and passion that brought us to government service. Let us rediscover the joy of serving and find fulfillment in our work. By doing so, we can not only achieve greater productivity as government servants, but also find satisfaction and meaning in our careers," she mentioned.
8ID reorganizes its Defense Press Corps, cites media role in information dissemination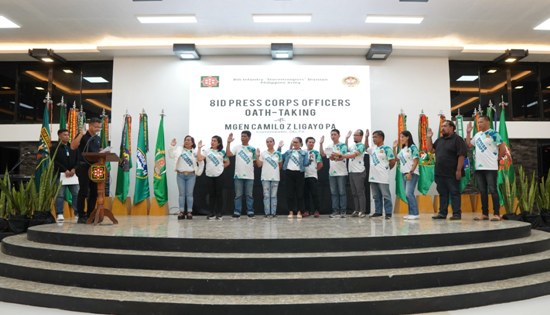 By DPAO, 8ID PA
February 14, 2023
CAMP LUKBAN, Catbalogan City – Major General Camilo Z. Ligayo, Commander of the Philippine Army's 8th Infantry Division (8ID) recognized the contribution of the media practitioners in Eastern Visayas during the reorganization of 8ID press corps on Sunday, February 12, 2023.
In his speech, Maj. Gen. Ligayo cited the journalists' hard work as partners in disseminating accurate and timely information.
"I would like to thank the 8ID press corps for being a reliable partner in our fight of telling the truth to the people of Eastern Visayas. If we work together, we can continue to make difference and indeed we can accomplish our common goal, to serve the people," Maj. Gen. Ligayo said.
The new 8ID press corps officers took their oath of office before Maj. Gen. Ligayo.
Elected as the new President is Miriam T. Desacada of Philippine Star, Vice-President Gina Dean of Kauswagan Radio, Secretary Elmer Recuerdo of Daily Tribune, Treasurer Josie Serseña of Eastern Visayas Mail, Auditor Imelda Baronda of Agence France Press, Sgt at Arms Dan Kerk Riqiez of FMR Tacloban, Leyte Representative Jasmin Bonifacio of Rappler, Southern Leyte Representative Jade Nombrado, Samar Representative Rene Castino of DYMS Catbalogan, Eastern Samar Representative Luisidro Moscosa of GMA 7 Stringer, and Northern Samar Representative Danny Balading.
In her statement, Desacada urged fellow media practitioners to unite and set aside differences.
"We are journalists! And inside the Press Corps, we must have unity, which means we must work together for the common good. There is no other way to merit us to be called journalism professionals, except to show to the 8th ID and the public that we are men and women of integrity and credibility in the profession", said Desacada.
Before the election, the journalists from different media outlets in Eastern Visayas gathered for a two-day activity for team building to strengthen the corps' unity and camaraderie. The reorganization of the press corps aims to facilitate the dissemination of the programs and projects of the 8ID in Region 8.
Among the activities conducted were marksmanship, command briefing, and team building.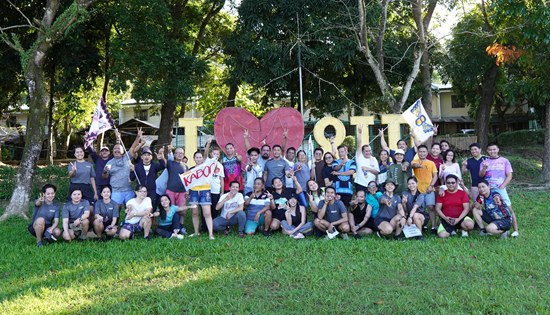 Ex-Usec Mañalac, group appeal to PBBM: Take full control of Malampaya
Press Release
February 13, 2023
MANILA – Former DOE Undersecretary Eduardo Mañalac and the National Movement for the West Philippine Sea (NYMWPS) on Monday, February 13, appealed to President Bongbong Marcos to terminate the Service Contract 38 or the Malampaya project when it expires in 2024.
The Malampaya project is currently operated by Prime Infrastructure Capital owned by Enrique Razon Jr. and Udenna, owned by Dennis Uy.
Mañalac and NYMWPS instead, asked Marcos Jr. to order the Philippine National Oil Company (PNOC) to operate the Deepwater Gas-to-Power Project.
The PNOC was created in 1973 by Former President Ferdinand Marcos Sr. for the purpose of taking over operations after the contract ends.
In a news release by NYMWPS following an online conference last February 9, Mañalac said this process will deliberately place direct control of Malampaya operations in the hands of the government.
He added that this will also serve to maximize earnings for the Filipino people, who are at this point, losing billions of pesos to what they believe as unqualified private companies.
Udenna and Prime Infra currently earn P50M each, or a combined P100M daily from Malampaya gas, the same amount the Philippines government may earn if it takes full control of the operations. Presidential Decree No. 87 or the Oil Exploration Act of 1972 mandates that said activities should ensure maximum benefits to the people.
PD 87 also requires that only companies that possess technical expertise and financial capability shall be granted service contracts. Mañalac and the NYMWPS had earlier questioned the processes by which Prime Infra and Udenna acquired the Malampaya interests from Shell and Chevron because the two service contractors allegedly do not have the required technical capability to operate the gas field.
Prime Infra and Udenna each controls 45% stake or a total of 90% of the shares in the gas field. PNOC holds the remaining 10%. Malampaya supplies 20% of the power requirements of Luzon, the biggest of three major islands in the Philippines.
8ID renders arrival honor to the Area Police Commander of Visayas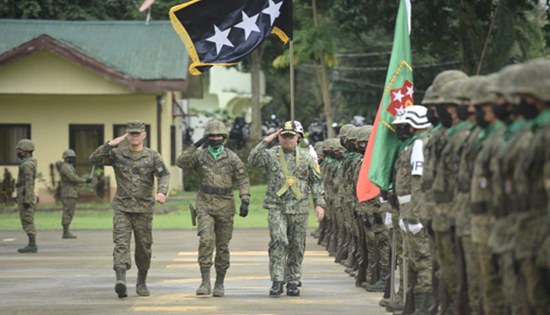 By DPAO, 8ID PA
February 11, 2023
CAMP VICENTE LUKBAN, Catbalogan City – The 8th Infantry "Stormtroopers" Division, Philippine Army, rendered an arrival honor to Police Lieutenant General Patrick T. Villacorte, the new Commander, Area Police Command (APC), Visayas at the 8ID Grandstand on February 10, 2023.
PLt.Gen. Villacorte is a former Director of the Philippine National Police Special Action Force (SAF) and the Commander of APC-Eastern Mindanao. He is a member of Philippine Military Academy (PMA) "Sambisig" Class of 1991.
During the visit, discussion included among others is the interoperability operations between the Philippine Army and the Philippine National Police in Eastern Visayas Region to stop the communist terrorists in their atrocities that affect the socio-economic development in the region.
"We look forward to upcoming collaborative efforts among security forces for us to be effective in our efforts to attain peace, stability, and security in the region," in a statement made by Major General Camilo Z. Ligayo, Commander, 8ID.
PLt. Gen. Villacorte expressed his appreciation for the warm welcome rendered to him during his arrival at the home of the Stormtroopers.
Karapatan scores bill on special privileges for ex-presidents
By KARAPATAN
February 10, 2023
QUEZON CITY – Human rights alliance Karapatan scored a bill filed in the Senate that seeks to provide official government roles as well as special privileges to former presidents at the public's expense.
"Senate Bill No. 1784 will benefit three living ex-presidents, all of whom earned infamy for massive corruption, among other scornful acts," said Karapatan secretary general Cristina Palabay.
"Ex-Pres. Joseph Estrada was forced out of office for the jueteng payola scandal," said Palabay. "Ex-Pres. Gloria Arroyo's nine-year rule was marked with several impeachment attempts due to the 'Hello, Garci' electoral fraud scandal, the multi-million peso fertilizer and pesticide scam and the numerous extrajudicial killings and involuntary disappearances of activists, to name a few," she added. "And ex-President Rodrigo Duterte is, of course, infamous for the thousands of summary executions of suspected drug personalities and activists, among others."
"Why should we pay for the political resurrection of ex-presidents whose reputations stink to high heaven and who have already been roundly repudiated by the people?" asked Palabay. "Do the authors of this bill want to make political resurrections fashionable because the current president himself is from a family that the Filipino people have relegated to the trash bins of history?"
"Senate Bill No. 1784 and its counterpart bill in the House of Representatives should be rejected the same way its intended beneficiaries have already been junked by the people," concluded Palabay.
Rural development seen as DAR turns over 2 bridges in So. Leyte and E. Samar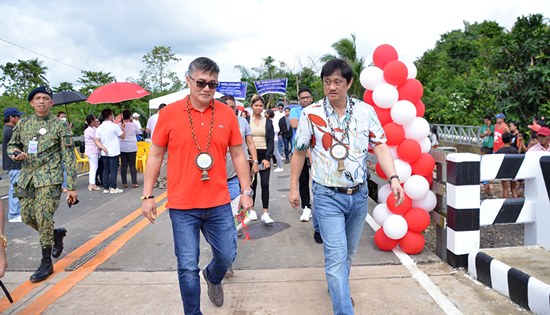 Agrarian Reform Secretary Conrado Estrella III (right) leads the inauguration and turnover of the P9.1 million 28 linear-meter Tulay ng Pangulo in Balangiga, Eastern Samar during his recent visit to Eastern Visayas.
By JOSE ALSMTIH L. SORIA
February 6, 2023
BALANGIGA, Eastern Samar – Residents of Barangay Cag-olango in this municipality are so thankful that a durable bridge was constructed in adjacent village, Sta. Rosa, replacing the wooden bridge which, according to them, many have fallen.
Barangay Cag-olango Chairman Juanito Cabas, together with his constituents, Lilibeth Delcallar, Tessie Elasyon and Eufemia Escalo, did not miss the inauguration of the "Tulay ng Pangulo para sa Kaunlarang Pang-Agraryo" (TPKP) project on Friday (January 27) to express their thanks and happiness to Agrarian Reform Secretary Conrado Estrella III who led the inauguration and turnover rites.
According to them, this is a big help to the farmers especially those living in the upland barangays.
Aside from the two mentioned barangays, residents of two more villages, Guinmaayohan and Maybunga will benefit from this project, they added.
About 4,000 residents from these four villages, 529 of whom are agrarian reform beneficiaries (ARBs), are expected to be directly benefited.
Mayor Dana Flynch de Lira in her message also thanked President Ferdinand Marcos Jr. for the blessings being poured into her town, a fourth-class municipality.
This bridge will help us cross from the state of poverty towards a progressive Balangiga, she exclaimed.
On Thursday and Friday (January 26 and 27) during the visit of Estrella to this region, two two-lanes modular prefabricated steel bridges constructed under the TPKP project were inaugurated and turned over to recipient local government units (LGUs) in two separate areas in Eastern Visayas.
Here, Estrella said, "Kahit maliit na bayan ang Balangiga, magkakaroon tayo ng magandang kinabukasan na ipapamana sa ating mga anak."
A day before, Estrella, who handed Certificates of Land Ownership Award (CLOAs) and turned over farm machineries at the Visayas State University (VSU) in Tolosa, Leyte, ordered Undersecretary Kazel Celeste of the Field Operations Office to lead the inauguration and turnover rites of the TPKP project in Hinunangan, Southern Leyte, which was done simultaneously with the activities in Tolosa.
Celeste in her message said, "Kami po ay napakasaya dahil nabigyan kami ng pagkakataon na mabisita ang Barangay Ilaya at Nava dahil napakaimportante sa amin na maibigay ang serbisyo ng gobyerno sa ating mga magsasaka." Isa sa mga adhikain ng ating pangulo at kalihim ay "To bring the government closer to the people," she stressed.
Barangay Chairman Joey Saguran of Barangay Ilaya thanked DAR and the Department of Public Works and Highways (DPWH). The two government agencies are partner in implementing this project funded by the French government.
Saguran said "Malaki ang tulong ng tulay na ito sa amin dahil mapapadali na ang pagdadala ng aming mga produkto (sa mga pamilihan)."
"Dati, nung spillway pa, pag-umuulan ng isa o dalawang oras, hindi na kami makakadaan dahil umaapaw ang tubig," Saguran added.
Celeste exclaimed "Napakasaya po namin na sa munting proyekto na ito ay malaki na ang pagbabago na magagawa sa ating mga ARBs.
Aside from the over a thousand residents, most of them are ARBs, in three adjacent villages, Ilaya, Nava and Tuburan, who will be directly benefited by this project, hundreds of daily commuters who prefer to take this shortcut route within the Southern Leyte Settlement Project (SLSP) from Hinunangan to St. Bernard or vice-versa will likewise be benefited.
DAR Eastern Visayas Regional Director Robert Anthony Yu disclosed that the two projects have a combined cost of P17.6 million.
He further disclosed that there are now nine completed TPKP projects throughout the region.
Karapatan scores violent police dispersal of anti-mining barricade, lauds people's protest
By KARAPATAN
February 5, 2023
QUEZON CITY – Human rights alliance Karapatan condemned the violent dispersal by the Philippine National Police (PNP) last February 3, 2023 of a barricade set up by residents of Sibuyan Island in Romblon against the operations of Altai Philippines Mining Corporation (APMC).
Residents led by Sibuyanons Against Mining have been manning their barricade since January 26 to stop APMC's mining trucks containing nickel ore from entering a private port in Barangay España, San Fernando town in Sibuyan island. Violence erupted when the trucks escorted by the police rammed through the barricade, injuring two of the protesters.
"Sibuyanons have been resisting the entry and operations of mining companies in their resource-rich island for close to two decades," said Karapatan secretary general Cristina Palabay. "Residents fear that the destruction caused by mining will wreak havoc on their island which is one of the most biologically diverse places in the world," she said, "and undermine their livelihoods which depend on the preservation of the island's biodiversity."
"Mining companies have long wanted to exploit the island's rich nickel, chromite, cobalt and iron deposits, but the residents in solidarity with local government units, church groups and environmental activists have staunchly resisted the mining companies, to the extent that one of their local leaders, Armin Marin, was shot dead by a mining firm security officer during a protest rally in San Fernando town in October 2007." Marin's killer, said Palabay, got off with a slap on the wrist when he was sentenced to a mere three years in prison for negligence and imprudence but was cleared of murder charges.
"On July 28 of last year," said Palabay, "the towns of San Fernando, Cajidiocan and Magdiwang in Sibuyan petitioned newly elected President Ferdinand Marcos Jr. and Congress to declare Sibuyan mining-free. They likewise called on newly appointed DENR Secretary Ma. Antonia Yulo-Loyzaga to 'immediately review, halt, revoke, and reject all mining agreements, operations, and applications within the territorial jurisdiction.'"
"However, the Marcos II regime responded by issuing a mineral ore export permit to APMC on December 29, 2022, allowing the company to bulk test 50,000 metric tons of ore," said Palabay. "This, despite a string of violations committed by APMC."
"Such brazen disregard for the will of the Subayanons comes as no surprise," said Palabay, "since APMC's mining permit seems Marcos' political payback to the Gatchalians, who own the company," she said. During the election, Sen. Sherwin Gatchalian and Valenzuela City Mayor Rex Gatchalian fully supported Marcos' candidacy. Earlier this week, Marcos named Rex Gatchalian as the new DSWD secretary.
"Nonetheless," said Palabay, "the incident has raised public awareness about the evils of big corporate mining in the island and compelled the APMC to back off temporarily from its operations in Sibuyan, pending the resolution of the issues raised by the residents."
"We hail the vigilance and courage of the Subayanons in protecting their rights, and hope that their laudable struggle will inspire residents in other areas being ravaged by destructive mining to rise up against plunderous mining interests," concluded Palabay.
DSWD seeks help in addressing 'boy soldiers'
Press Release
February 3, 2023
TAGUM CITY - The Department of Social Welfare and Development (DSWD) is seeking help in the operationalization of care center for boys involved in armed conflict as combatant, courier, guide, and spy for terrorist and criminal syndicates including those considered as 'boy soldiers.'
According to DSWD Undersecretary for Inclusive and Sustainable Peace Alan A. Tanjusay, the department is actively seeking help from the provincial and local government units, private entities, and non-government organizations in operating the residential care facility for boys who are Children in Situation of Armed Conflict (CSAC) located in Tagum City.
"We must utilize the center and intervene now in the hearts and minds of these boys victims of violence, crimes, various exploitation and extremism while they can be molded, wielded and influenced into productive citizens. And the sooner DSWD expert social workers in the facility commences its work into the lives of these children then we have hope these young people could make it through," emphasized Tanjusay.
Completed with the collaboration between DSWD and Tagum City local government unit in 2021 through the Payapa at Masaganang Pamayanan (PAMANA) program, the one-hectare center is a 24-hour, 7-day residential facility that provides temporary care and serves as rehabilitation center for a maximum of 25 to 30 exploited boys aged 17 years old and below by administering protection, care, training and rehabilitation standards for the victims in a home-like environment for a maximum period of six months before they are reintegrated into their respective families and communities.
However, the 30-bed facility is currently inoperable due to lack of manpower and financial resources following the pandemic crises.
The children are currently housed in different government facilities across several regions in Mindanao. Some of them are abandoned by their parents, some are victims of organized human trafficking and some were rescued and recovered during military operations and found exploited as couriers of firearms and explosives. Other children were forced as human shields, spies and exploited in terrorist extremism activities.
According to the Unicef, between 2005 and 2020, more than 93,000 children were verified as recruited, exploited and drawn by insurgents, rebels, extremists and terrorist groups to conflict and criminal activities.
DAR starts distribution of e-titles under SPLIT in EV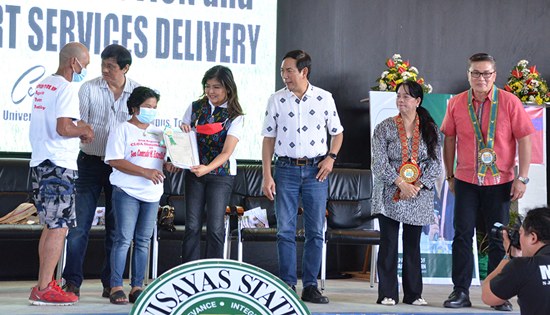 Senator Imee Marcos and Agrarian Reform Secretary Conrado Estrella III distributed more than a thousand Certificates of Land Ownership Award (CLOAs) at the Visayas State University in Tolosa, Leyte.
By JOSE ALSMITH L. SORIA
January 31, 2023
TACLOBAN CITY – Agrarian reform beneficiaries (ARBs) in Eastern Visayas start receiving their individual land titles generated under the Department of Agrarian Reform's (DAR's) Support to Parcelization of Lands for Individual Titling (SPLIT) project.
On Thursday and Friday last week, Agrarian Reform Secretary Conrado Estrella III handed at the Visayas State University (VSU) gymnasium in Tolosa, Leyte and at the covered court of Balangiga in Eastern Samar, 890 electronically-generated individual Certificates of Land Ownership Award (E-CLOAs) under the World Bank-funded SPLIT project.
The same number of ARBs received the said land titles covering an aggregate area of 1,402.6660 hectares of agricultural lands.
Of the 890 E-CLOAs, 690 were distributed in Tolosa covering a combined area of 1,123.6289 hectares of farmlands situated in the provinces of Leyte, Southern Leyte, Biliran, Western Samar and Northern Samar, while the remaining 200 E-CLOAs covering 279.0371 hectares situated in Balangiga and Lawaan towns were distributed at the Balangiga covered court.
Estrella explained that the DAR handed collective CLOAs in the past to expedite the distribution of lands which resulted to uncertainties among the ARBs regarding their respective areas.
Now, with the parcelization of the collective CLOAs and the issuance of individual titles, the beneficiary is installed to his/her designated lot thereby improving land tenure security and strengthen property rights, while the local government unit will have an increased collection of real property tax, he added.
DAR Regional Director for Eastern Visayas, Robert Anthony Yu, said 17,496 collective CLOAs covering 220,473 hectares of agricultural lands situated in different parts of the region are subject for parcelization under the SPLIT project.
In Tolosa, Estrella was joined by Senator Imee Marcos where 157 additional CLOAs covering a combined area of 162,2395 hectares generated under the regular land acquisition and distribution program of the Comprehensive Agrarian Reform Program (CARP) were distributed to 116 more ARBs.
Tingog Partylist representative Jude Acidre was also with the Secretary during the latter's two-day activities in Leyte and Eastern Samar.
Marcos disclosed the bill she filed in the Senate that would emancipate ARBs from the existing debt burden grant of agricultural lands under the CARP.
On September 13 last year, Marcos' brother, President Ferdinand Marcos Jr., signed Executive Order No. 4 ordering a one year moratorium on the payment of the principal obligation and the annual interest due and payable by an ARB.
At 69 years old, Ruben Inciso of Lawaan, Eastern Samar was the oldest CLOA recipient at the Balangiga distribution rite. When asked for comment, he thanked President Bongbong Marcos, and Estrella that finally the 1.8-hectare farmland he is tilling is now titled under his name.
Meanwhile, more than P5.7 million worth of farm machineries and equipment were likewise turned over to agrarian reform beneficiaries organizations (ARBOs) from Leyte, Southern Leyte and Eastern Samar on these two occasions.
Yu said land distribution is DAR's contribution to End Local Communist Armed Conflict (ELCAC), a whole-of-nation approach in attaining inclusive and sustainable peace in the country.
NMP sets sail for a productive 2023: 886 seafarers aboard as of 28 January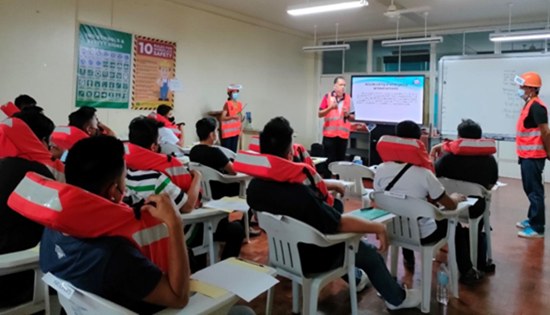 By National Maritime Polytechnic
January 30, 2023
TACLOBAN CITY – The National Maritime Polytechnic (NMP), a premier government-owned maritime training and research institution located at Brgy. Cabalawan, Tacloban City, has set sail for a productive 2023 as it surpasses its monthly target number of trainees for the month of January..
Eight hundred eighty-six (886) maritime trainees were on board NMP as of 28 January 2022 comprised of aspiring and active seafarers, maritime instructors and assessors and supervisors and other maritime allied personnel.
The strong enrollment figure revealed that a substantial 701 (79.12%) took the Basic Courses, 74 (8.35%) enrolled in Specialized Courses, 43 (4.85%) availed of Deck Courses, 35 (4.40%) listed in Engine Courses and the remaining 29 (3.27%) came from Professional Development Courses.
With the said accomplishment, the Agency is off to a strong start as it endeavors to reach its target of ten thousand (10,000) trainees trained in CY 2023.
In the interim, NMP is currently awaiting the result of the MARINA inspection held on 07-11 November 2022, following the rectification of the previously identified deficiencies. Additionally, the Agency is on the process of revising some of its training standards pursuant to MARINA Memorandum Circular No. SC-2022-05 in compliance with the requirement of the Standards of Training, Certification and Watchkeeping Convention (STCW) for Seafarers 1978, as amended.
Meanwhile, in its efforts to contribute in providing employment to Filipino seafarers, NMP continues to improve its facilities and deliver high-quality maritime trainings aligned with the STCW Convention as amended in 2010. These endeavors reflect NMP's dedication to support the employment and professional growth of Filipino seafarers, and strengthen the Philippine maritime industry as a whole.
ICHRP lauds ICC decision to pursue investigation of Duterte's crimes against humanity
Press Release
January 28, 2023
MANILA – On 26 January 2023, the International Criminal Court ("ICC" or "Court") announced that it had granted the Prosecutor's request to resume investigation into the Situation of the Republic of the Philippines ("the Philippines"). The ICC indicated that "following a careful analysis of the materials provided by the Philippines, the Chamber is not satisfied that the Philippines is undertaking relevant investigations that would warrant a deferral of the Court's investigations".
Having examined the submissions and materials of the Philippine Government, and of the ICC Prosecutor, as well as the victims' observations, the Chamber concluded that the various domestic initiatives and proceedings, assessed collectively, do not amount to tangible, concrete and progressive investigative steps in a way that would sufficiently mirror the Court's investigation.
This conclusion of the ICC mirrors the earlier findings of Investigate PH Commission of Inquiry which found that domestic measures were effectively not functioning, and there was no evidence to support the Philippine government's contention that victims could find justice in the Philippine courts. The judicial system itself was in fact being wielded as an instrument in the Philippine government's campaign of state terror.
The ICC decision to continue the pursuit of justice lays bare the Marcos Administration's culpability in shielding the Duterte regime's policies of impunity and state terror that killed perhaps 30,000 or more, and victimized Filipinos for six long years. "We are extremely appreciative of the decision of the ICC," said Peter Murphy, Chairperson of the International Coalition for Human Rights in the Philippines (ICHRP). "It offers a mechanism for victims to continue their pursuit of justice against the Duterte Regime's brutal war on drugs, on dissent and on the Moro and all Indigenous Peoples. Justice will still be served despite the Marcos administration's decision to keep the Philippines outside the jurisdiction of the ICC and cover-up the crimes against humanity committed by the police and the military under Duterte".
The new Marcos-Duterte administration functions simply as a continuation of its brutal predecessor. ICHRP believes the prosecution by the ICC may not stop the Marcos-Duterte government from sheltering the perpetrators from prosecution or prevent such crimes from continuing to occur, but it can provide some constraint and a measure of justice to the victims.
ICHRP congratulates the ICC for cutting through the fog of lies and false claims laid out by the Marcos-Duterte government that the Philippine judicial system is functioning and can address any concerns about the President, the regime and the military's roles in these gross violations of human rights and crimes against humanity.
In November 2022 Justice Secretary Jesus Remulla reported to the United Nations Universal Periodic Review that over 17,000 cases of drug killings involving police officers had been reviewed, resulting in a small number of disciplinary actions. "There is no way that this level of inquiry – most unlikely to be genuine – amounts to an investigation of the crime against humanity of murder which the ICC was investigating," said Murphy.
"ICHRP has full confidence in the impartiality of the ICC. We urge the ICC to vigorously pursue the full investigation of the previous Duterte administration for these crimes against humanity so that, finally, justice may be served and impunity ended," Murphy said.
Murphy, an Australian-based human rights advocate, led Investigate PH, a recent three-part investigation by an international commission on the extrajudicial killings, illegal arrests, abductions and disappearances in the Philippines since July 1, 2016, when President Duterte came into power.
Philippines' GDP grew by 7.6% in 2022, beats 2022 GDP target
By DTI-OSEC-Public Relations Unit
January 27, 2023
MAKATI CITY – The Philippine government's sustained economic recovery efforts and the Department of Trade and Industry's (DTI) continuous investment facilitation has resulted to 7.2 percent Gross Domestic Product (GDP) growth for the fourth quarter of 2022, resulting to a 7.6 percent full-year growth for the said year, based on the recent data from the Philippine Statistics Authority (PSA).
"This annual GDP growth can be attributed to the contributions of various industries, especially wholesale and retail, as well as manufacturing. This serves as a testament to the efficiency of our efforts to facilitate the entry of more investments in the country and our industrialization strategy that aims to empower local industries and increase our global competitiveness", Trade and Industry Secretary Fred Pascual boasted.
Based on the report, the fourth quarter GDP growth was mainly influenced by the following top contributors: (1) Wholesale and retail trade; repair of motor vehicles and motorcycles at 8.7 percent, (2) Financial and insurance activities at 9.8 percent, and (3) Manufacturing at 4.2 percent. On the other hand, top contributors for the annual growth in 2022 were: (1) Construction at 12.7 percent, (2) Wholesale and retail trade; repair of motor vehicles and motorcycles at 8.7 percent, and (3) Manufacturing at 5.0 percent.
Further, Secretary Pascual said that "we are keen to sustain this growth, that is why we are intensifying DTI's investment facilitation activities. During President Ferdinand R. Marcos Jr.'s previous state visits, we have managed to meet several potential investors, some of them are already in active discussions with our Philippine Trade and Industry Centers abroad or the Board of Investments."
"Our GDP will continue to grow as more and more investors come to the Philippines to explore business opportunities. We keep on with work on ease of doing business to attract more investors." he added.
In addition, among major economic sectors, Industry (4.8 percent) and Services (9.8 percent) posted positive growths during the fourth quarter of 2022. On the demand side, PSA mentioned Household Final Consumption Expenditure (HFCE), which grew by 7.0 percent in the fourth quarter of 2022.
Meanwhile, Government Final Consumption Expenditure (GFCE) at 3.3 percent, Gross capital formation at 5.9 percent, Exports of goods and services at 14.6 percent, and Imports of goods and services at 5.9 percent were considered by PSA as other sources of growth for the fourth quarter of 2022.
As a further testament to the robust economic performance of the country, the Philippines also posted 9.3 percent Gross National Income (GNI) growth in the fourth quarter of 2022, and 9.9 percent on full-year.
More than 94% of global population experienced decline in freedom from 2019 to 2020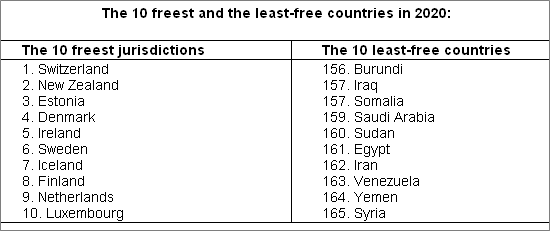 Press Release
January 26, 2023
TORONTO (GLOBE NEWSWIRE) – While global freedom was already waning before COVID, the response from governments during the pandemic accelerated the loss of freedom worldwide, finds a new study released today by Canada's Fraser Institute and the U.S.-based Cato Institute.
"During the pandemic, governments worldwide restricted freedom of movement, expression, assembly and other freedoms even more than in previous years," said Fred McMahon, resident fellow at the Fraser Institute and co-author of this year's Human Freedom Index.
While we take no position on the necessity of COVID policies, they unquestionably limited freedom. From 2019 to 2020 (the latest year of available data), 94.3 per cent of the world's population experienced a decline in freedom.
But again, freedom was on the decline before COVID – the government response simply accelerated the decline. Between 2007 (the highpoint for human freedom) and 2019, freedom declined for 79 per cent of the world's population.
The index measures personal freedom – the rule of law, safety and security, identity and relationships (i.e. the freedom to choose your relationship partner), freedom of movement, speech, assembly and religion – alongside economic freedom, the ability of individuals to make their own economic decisions.
Switzerland, once again, tops this year's freedom ranking followed by New Zealand, Estonia, Denmark, Ireland, Sweden, Iceland, Finland, the Netherlands and Luxembourg. The five least-free countries are (in descending order) Egypt, Iran, Venezuela, Yemen and Syria.
Overall worldwide rankings for other significant countries include Japan (16), Germany (18), the United Kingdom (20), the United States (23), South Korea (30), France (42), Argentina (74), South Africa (77), Brazil (80), India (112), Russia (119), Nigeria (124) and China (152).
Regionally, Western Europe, North America (Canada and the United States) and Oceania have the highest levels of freedom while the Middle East and North Africa, sub-Saharan Africa and South Asia have the lowest levels.
Crucially, people in freer countries are more prosperous than those in less-free countries. For example, the average per-capita income for the top-quartile countries on the index was US$48,644 compared to US$11,566 for the least-free quartile in 2020.
"When government limits the ability of people to move, assemble and speak freely, people are less able to the lives they want to live," said Ian Vásquez, report co-author and director of the Cato Institute's Center for Global Liberty and Prosperity.
The complete index, a joint project of the Fraser Institute and the Cato Institute, is available as a free PDF download at www.fraserinstitute.org. The co-authors of the report are Ian Vasquez, Vice President, International Studies, Cato Institute, Ryan Murphy, associate professor, Bridwell Institute for Economic Freedom, Southern Methodist University, and Guillermina Sutter Schneider, data scientist and research manager, Center for Global Liberty and Prosperity, Cato Institute.
IBP holds Southern Luzon regional convention
Press Release
January 25, 2023
PASIG CITY – Officials from the Integrated Bar of the Philippines, the Supreme Court of the Philippines, judges and other officials of the Judiciary, public prosecutors, public attorneys, and key officials from the Province of Laguna participated in the IBP Southern Luzon Regional Convention on January 20, 2023 at The Bellevue Manila, Alabang, Muntinlupa City. Notable personalities in attendance were Supreme Court Chief Justice Alexander G. Gesmundo, Supreme Court Associate Justices Ramon Paul L. Hernando and Jose Midas Marquez, Court Administrator Raul B. Villanueva, Vice Governor of the Province of Laguna Karen Agapay, Judge Dennis Juso Rafa of RTC Branch 154 of Biñan, Laguna, and Judge Elisa Ramirez Sarmiento- Flores of RTC Branch 71 of Pasig City.
The regional convention, titled Revolutionizing the IBP and the Legal System, was another historic gathering of members of the legal profession to discuss different ideas on changing the legal system by adopting new technologies in the dispensation of justice.
Commencing the start of the regional convention, IBP Governor for the Southern Luzon Region Jerwin J. Lopez conveyed to everyone present that fellowships such as this regional convention are an integral part of the IBP life. Through these gatherings, friendship, camaraderie, and solid vital relationships are built and fostered. He thanked and congratulated all representatives of all chapters under his region for all their accomplishments and credits their successes to their dedication, as especially highlighted by their chapter presidents and officers who allotted time away from their private practice, their families, and from their ownselves, just to be of service to the people, the country, and to their fellow lawyers through the IBP.
In closing, Governor Jerwin Lopez thanked Supreme Court Justices Alexander G. Gesmundo, Ramon Paul L. Hernando, and Jose Midas Marquez, who, despite their busy schedules, have taken the time to grace this event. According to him, this goes to show that the highest court in the land truly regards the IBP as its indispensable partner in the administration and dispensation of justice. Along with this, the Supreme Court, no matter how regal and majestic its stature may be, becomes a humble servant of the country and the people when justice is at the forefront of the conversation.
In his keynote speech, Supreme Court Chief Justice Alexander G. Gesmundo reaffirmed the Supreme Court's commitment of providing a legal system that is swift, just, and modern through the Supreme Court's Strategic Plan for Judicial Innovations 2022-2027 or SPJI. In line with the theme of the regional convention, Chief Justice Gesmundo said that "We cannot overemphasize that the SPJI is necessary to reinvigorate and retool the judicial system. The Court must consistently be proactive and continuously innovate at this time of greater uncertainties and challenges." He shared that the IBP has been a staunch partner in furthering the causes of the Court such as the continuous improvement of procedural rules and the use of information technology.
Adding to what was shared by the Chief Justice, Supreme Court Associate Justice Ramon Paul L. Hernando spoke about the importance of modernizing the Bar Exams. In his words, he stressed the importance of modernizing the manner of admitting new members of the Bar in keeping with the best practices that other legal jurisdictions observe and implement in their respective areas. He reiterated the Supreme Court's goal of shifting to a modern and receptive legal profession.
IBP National President Burt M. Estrada reminded everyone that as lawyers, they all have sworn to uphold the Constitution and the laws. And so, they are regarded as sentinels of the rule of law. He stressed the continuing obligation to uphold the rule of law and gain the people's trust in the legal system. In doing so, lawyers should lead by example. As he said, lawyers are regarded as sentinels of the rule of law. Because of this, the IBP is mandated to assist in the proper administration of justice. In closing, he encouraged everyone to be agents of positive change for the IBP, our legal system, and our country.
8ID renders military honors to 3 newly promoted brigade commanders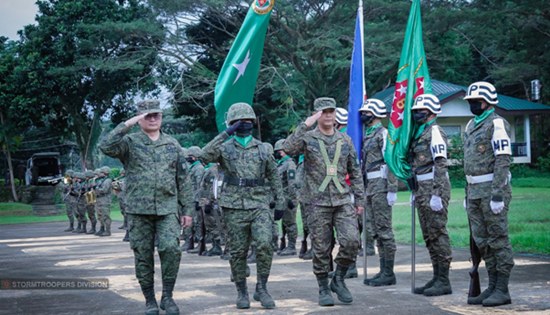 By DPAO, 8ID PA
January 23, 2023
CAMP LUKBAN, Catbalogan City – Three newly promoted Brigade Commanders of this Command were accorded military honors upon their arrival at Headquarters 8th Infantry Division earlier today, January 23, 2023.
Arrival Honors was accorded to Brigadier General Lenart R. Lelina, 801st Brigade Commander, Brigadier General Noel A. Vestuir, 802nd Brigade Commander, and Brigadier General Perfecto P. Peñaredondo, 803rd Brigade Commander and subsequently rendered courtesy call to Major General Camilo Z. Ligayo, Commander, 8ID.
The three Brigade Commanders are members of the Philippine Military Academy (PMA) "Sambisig" Class of 1991.
They were part of the 13 Generals donned with the new rank by the Commanding General Philippine Army, Lieutenant General Romeo S. Brawner Jr. on January 20, 2023, at the Headquarters Philippine Army, Fort Bonifacio, Metro Manila.
As Brigade Commanders, they are instrumental in transforming the insurgency landscape of Eastern Visayas for the better as it has always been regarded as a communist "hotbed" and has been denied socio-economic growth despite its huge potential due to insurgency.
Through their leadership, front guerilla units of the Eastern Visayas Regional Party Committee (EVRPC) have gradually been degraded as a terrorist organization with the neutralization of some of their key leaders, lost grounds due to the surrender of their regular fighters and the withdrawal of support from their so-called "mass base" thereby paving the way for the development of conflict-affected communities in the region.
"I want to congratulate you on your well-deserved promotions. Keep up the good work," stated Maj. Gen. Ligayo.
"A promotion entails new responsibilities on your shoulders and comes with additional responsibilities that call for greater sacrifice and dedication to duties," Maj. Gen. Ligayo concluded.