Wounded NPA, abandoned by comrades, dies in Samar clash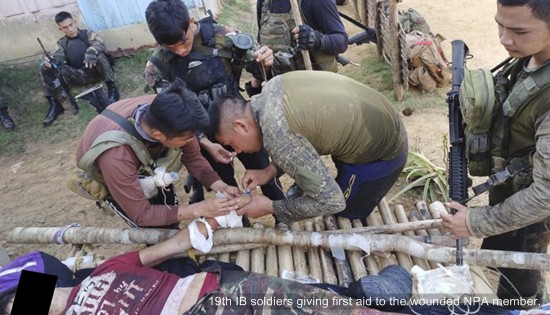 By 19th Infantry Battalion, 8ID PA
March 8, 2021
MATUGUINAO, Samar – A member of the terrorist New People's Army succumbed to death after an encounter with the operating troops of 19th Infantry Battalion (19IB) a few kilometers away from Barangay San Roque, Matuguinao, Samar on March 6, 2021.
The troops clashed against ten (10) NPA terrorists in the afternoon of the said date leading to a 30-minute firefight that resulted to the capture of a wounded NPA who was abandoned by his fleeing comrades.
Determined to keep the wounded NPA alive, the troops immediately provided immediate medical care and evacuated the casualty to the barangay proper for further medical assistance.
The wounded NPA identified himself as Oti Ogacho, 23yo, and a resident of Brgy. Mahanud of the same Municipality. He was presented to the barangay officials and residents of Brgy San Roque, Matuguinao, who confirmed his identity and recognized him as a known NPA member operating in the area.
The wife of Oti Ogacho also arrived at the Barangay hall to accompany her husband. Residents further revealed that the wife is also an NPA member who went on lie-low in order to deliver her second child two (2) weeks ago.
However, while waiting for assistance to evacuate Oti to the nearest hospital for further medical attention, he passed away due to the effects of the gunshot wounds he incurred during the encounter.
"It is so sad that another life is gone, wasted, because of the CPP-NPA's deception. Our soldiers were determined to keep the wounded NPA alive because we know his family needs him, especially his newborn child. It is also a norm for us soldiers to treat the wounded even if he is an enemy. 'Sir buligi ak, Karuyag ko pa mabuhi mayda ako duha na anak ngan bag-o la nanag anak tan asawa' - those are the words Oti uttered to the troops before taking his final breath," Lieutenant Colonel Fernando C Engcot, Battalion Commander of 19IB, said.
Fishery production in Eastern Visayas drops by 13.7% in the fourth quarter of 2020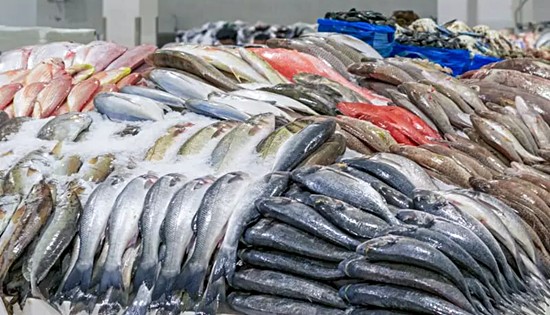 By PSA-8
March 4, 2021
TACLOBAN CITY – The total volume of fisheries production in Eastern Visayas was estimated at 30,145 Metric Tons (MT) during the fourth quarter of 2020. It is 13.7 percent lower compare with the 34,936 MT production in the same quarter in 2019.
Eastern Visayas accounted for 2.5 percent of the country's total fishery production during the 4th quarter of 2020. It ranked seventh among the regions with low fishery production in the country (Table 1).
Across provinces, Northern Samar produced the highest volume of fisheries at 6,849 MT, comprising 22.7 percent of the total fishery production in the region. Samar ranked second at 6,777 MT, accounting for 22.5 percent of the region's total fishery production. Biliran, meanwhile registered 1,750 MT, the lowest volume of production which shared only 5.8 percent.
Among the subsectors, municipal fishing contributed the highest production with 22,639 MT or 75.1percent share to the total fishery production in the 4th quarter of 2020. Aquaculture shared 4,596 MT or 15.2 percent, while commercial fishing contributed 2,910 MT or 9.7 percent (Table 2).
Municipal Fisheries production inched up by 3.7 percent from the 21,834 MT in the fourth quarter of 2019 to 22,639 MT in the same quarter of 2020. Of this figure, 99.6 percent came from unloading in marine landing centers while the rest were caught from inland bodies of water. Among provinces, the increase in municipal fisheries production was noted in Southern Leyte which almost tripled from 1,340 MT in the 4th quarter of 2019 to 3,764 MT in the same quarter in 2020. While Northern Samar and Eastern Samar registered increases by 29.9 percent and 1.3 percent, respectively. A drastic drop was noted in Leyte by 65.1 percent. Minimal decreases were recorded in Biliran (7.6%) and Samar (0.5%).
Commercial fishing production on the other hand decreased by 14.3 percent, from 3,397 MT in the fourth quarter of 2019 to 2,910 MT in the same quarter of 2020. The subsector comprised 9.7 percent of the total fisheries production. Samar, Southern Leyte and Leyte, recorded a significant decline of 44.6 percent, 33.8 percent and 2.6 percent, respectively. Biliran recorded the highest increase of 19.6 percent, from 432 MT in the fourth quarter of 2019 to 517 MT during this period in 2020 (Table 2).
Meanwhile, volume of harvest from aquaculture went down by 52.6 percent. Its 9,705 MT production in the fourth quarter of 2019 dropped to 4,596 MT in the same quarter of 2020. The share of aquaculture subsector to the total fisheries was 15.2 percent. Only Eastern Samar recorded increase in production estimated at 177 MT at 56.6 percent. On the other hand, the decrease in the volume of harvest in aquaculture was contributed by the decreases in the provinces of Northern Samar (71.5%), Leyte (53.7%), Samar (53.6%), Biliran (42.4%) and Southern Leyte (13.1%).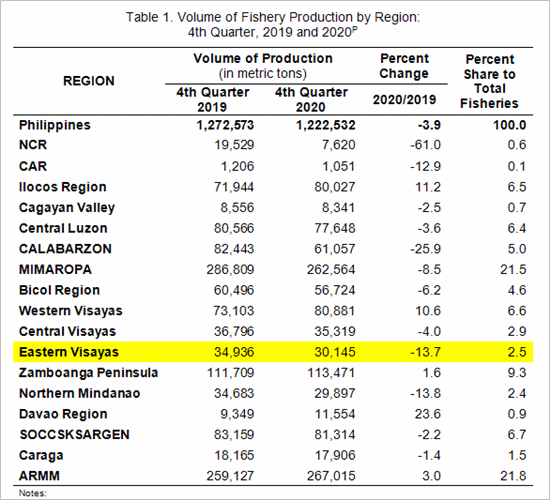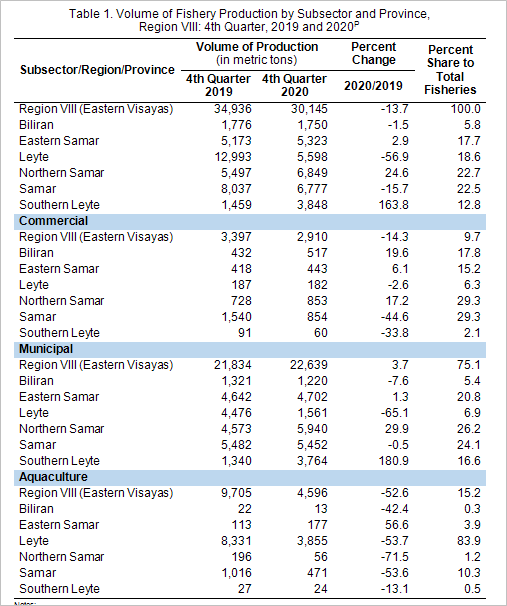 DPWH turns over new school building to Tomaligues Integrated School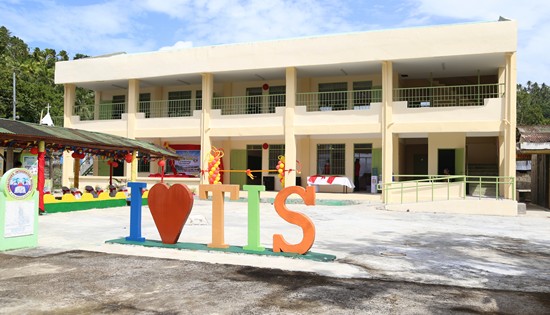 By GISSELLE G. PARUNGAO
March 4, 2021
CALBAYOG CITY – The Department of Public Works and Highways recently turned-over the new two-storey, four-classroom school building in Tomaligues Integrated School (TIS) with a revised contract amount of P11.5 million.
Following the minimum performance standards and specifications (MPSS) prescribed by the Department of Education, DPWH equipped the school building with a fire alarm system, fire extinguisher, automatic water sprinklers, fire escape, PWD ramp access, and sanitary restrooms. A roof-mount twin water storage tank was also installed.
The Marcos-type building was replaced by this new school building that will be occupied by Kindergarten, Grades 1, 2 and 3 with a total of 95 pupils and four teachers. For over 15 years, said Ma. Richel Caber, Property Custodian of Tomaligues Integrated School, Tinambacan District, this building has been reported for condemnation and removal because it is risky for students and teachers alike which is not fit to be used as educational classroom.
School Head Nova Gaspan stated that they really lack school buildings due to the number of students enrolled in TIS but now that this building is ready to be used, there will be enough classrooms for enrollees. She further said that, "this will be in preparation to our application for Senior High School, as it is our target for the next year or school year that we will be having our Senior High School because we already have three vacant classrooms".
Miss Universe 2018 and OTOP Ambassador Catriona Gray's visit creates huge impact on sales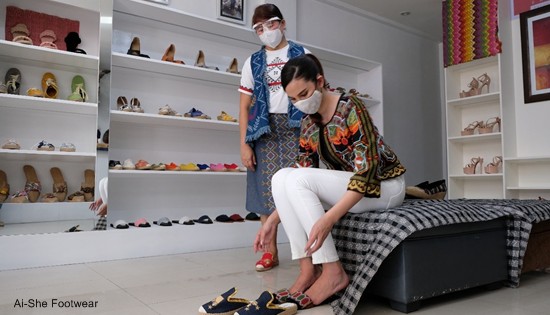 By DTI-Regional Operations Group
March 4, 2021
MAKATI CITY – The Miss Universe 2018 Catriona Gray visited the province of Laguna to showcase some of its local products and businesses in her role as an ambassador of the Department of Trade and Industry's One Town, One Product (OTOP) project on August 27 to 30, 2020. Gray was also recognized as "Adopted Illustrious Daughter of Laguna" by the provincial government.
As the face of OTOP Philippines, Gray highlighted small local businesses in various regions, with Laguna as her first stop. "I am lending my platform to our [Filipino] small businesses, MSMEs (micro, small and medium-sized enterprises) and entrepreneurs," the beauty queen said via Instagram last August 29.
Some of Laguna MSMEs who showcased their local products and businesses during the visit were Ai-She Footwear (Liliw, Laguna), Junk Not Handicraft (Biñan City, Laguna), and Rolyo Likha At Iba Pa Handicraft (Pila, Laguna).
Started with an investment of P50,000.00 in 2006, Corazon Coligado, owner of Ai-She Footwear, grabbed an opportunity and started her footwear business with two male footwear makers aside from her designer friend. Crafting the business with continuous learning, Coligado engaged herself with different programs and services of the Department of Trade and Industry (DTI). To name one, she was endorsed to the Department's partner agency CESO (Canadian Executive Service Organization) which honed her business plan and focused on the main plans to transfer to a bigger production area in order to hire more workers and increase production as well as to improve raw materials and inventory management.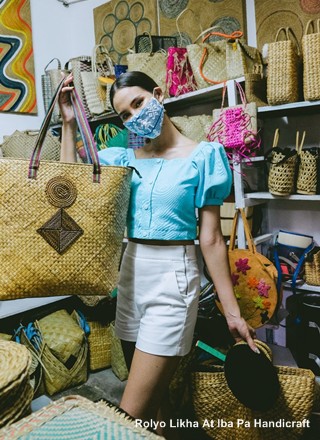 Ai-She Footwear was overwhelmed with the fast development in their business and fortune and has become a regular exhibitor on every trade fair at the national and international fairs organized by DTI. Ai-She Footwear focused on producing many kinds of artisan shoes, in a variety of aesthetics – including crocheted and patchwork – in colors mirroring the town's vibrant culture.
With the recent involvement to OTOP Philippines Ambassador Gray's visit, Ai-She Footwear generated estimated sales of P300,000.00 from September to December 2020. Ai-She designed a Catriona abaca mule made from locally sourced materials, all handcrafted by sapateros in Liliw, with an embroidered three stars and a sun emblem as a finishing touch. "Kinikilig ako kasi Filipino brand Ai-She Footwear created shoes in my honor," Gray says. "I was even able to experience putting together my own pair of the 'Catriona shoe!'," she added.
With the aim to turn trash into art, Wilhelmina "Willie" Garcia, owner of Junk Not Handicraft, is passionate about interior design and the environment. They always had a way to recycle plastic wastes and transform them into artful, premium-priced furniture and even bags and fashion accessories. Junk Not Handicraft has long been involved in a lot of journeys in partnership with DTI including participation to trade fairs and exhibits sponsored by the Department.
Junk Not Handicraft was featured and won many local and international awards. Known for being a social entrepreneur and with continuing international trend of environmentalism, Willie has received numerous inquiries from all over the Philippines and abroad on the possibility of replicating her business model. With the recent involvement to OTOP Philippines Ambassador Gray's visit, Junk Not Handicraft generated estimated sales of P1,830,000.00 from September to December 2020.
From his interest and hobby of paper rolling, Renel Batralo identified a business opportunity to create various art and crafts from fashion accessories to home furnishing to containers to mats to baskets. This has led to the growth of Rolyo Likha At Iba Pa Handicraft – now one of the best artists in this field not only in Laguna but also in the Philippines.
Despite the challenges and negative criticisms encountered in 2008, Batralo never gave up and held his determination and explored all other possibilities to further improve his work. He was enrolled in DTI's Kapatid Mentor ME Program wherein he attended and participated in various DTI seminar workshops and trainings on entrepreneurship. Soon after, he became a mentor himself as well and started providing livelihood trainings to potential and existing MSMEs. Batralo maximized the use of local resources and turned these into art and crafts. With the recent involvement to OTOP Philippines Ambassador Gray's visit, Rolyo Likha At Iba Pa Handicraft generated estimated sales of P707,000.00 from September to December 2020.
The Raise Your Flag Laguna initiative as part of the visit of OTOP Philippines Ambassador Gray was able to become a venue to see the importance of learning and advocating our local products, our weaving communities, and our Filipino culture.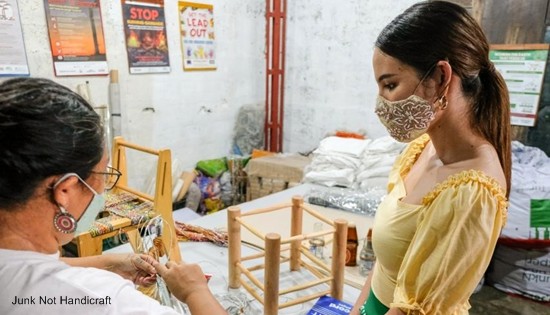 Karapatan echoes call for PDL's right to health: 'Immunize them with free, safe, effective vaccines'
Press Release
March 4, 2021
QUEZON CITY – Human rights group Karapatan on Thursday, March 4, supported the call of families and friends of political prisoners for inclusion of thousands of prisoners, especially the elderly and sick, and pregnant women among them, in the Philippines for free, safe, and effective vaccination against COVID-19, as they contend with the country's overcrowded detention facilities and poor health and nutrition situations in jails.
"The people's right to health, including the right to free, safe and effective vaccines, should be upheld, at this time of a pandemic that has contributed to increased vulnerabilities of populations, including those in packed and poorly equipped prisons," said Karapatan Secretary General Cristina Palabay.
Karapatan said that there are at least 680 political prisoners, 95 of them have various illnesses including life-threatening ones while 58 are elderly, out of the more than 200,000 prisoners in the country. The Bureau of Jail Management and Penology said in December 2020 that there have been 1,987 cases of COVID-19 among persons deprived of liberty (PDLs).
"The cases of deaths and infections among prisoners clearly shows that they are part of those most at-risk from contracting the highly contagious and deadly disease that hit the country. These belie declarations of government officials a year ago when harped on the 'safer' conditions in jail despite irrefutable data on the susceptibility and vulnerabilities of those in prison to the virus," she said.
Karapatan said that the prison population in the Philippines continues to be overwhelmed because of the dire lack of access to justice of the majority of poor prisoners and deeply-rooted defects of the justice system, including the criminalization of the exercise of political dissent or political beliefs in the country. It cited the "callous actions on the plea of elderly and sick political prisoners for humanitarian release during the pandemic."
"Instead of being released on humanitarian and just grounds especially amid the pandemic, they experience multiple layers of injustice including being charged with and detained on trumped up criminal offenses," she stated.
"Thus, it is the government's responsibility and obligation to ensure the provision of timely, relevant and comprehensive health services for PDLs, including their access to free, safe, and effective vaccines," ended Palabay.
The Philippines: A Top Tourist Attraction in Fun and Entertainment
It has 81 provinces split into 17 different regions and comprises over 7,000 islands. The Philippines has each bit of its archipelagic country shouting attraction, fun, entertainment, and paradise.
It was in 2019 that tourism and travel managed to contribute 12.7% towards the Philippines ' Gross Domestic Product. With the country being one filled with many tourist attractions, the country has experienced a steady increase in its interests over the years.
This article will be discussing fun and entertainment pointers that keep tourists engaged in a whole holiday experience when visiting the Philippines.
Festivals
Highlighting tourist attraction points wouldn't be complete without bringing up the country's signature fiesta time. These festivals occur throughout the year. Visitors are guaranteed an entire Filipino experience that bursts with colors. There's dancing, costumes, masks, and outfits. Major attractions throughout the years have included the Ati-Atihan Festival, Bacolod's MassKara Festival, and the Marinduque's Moriones Festival.
Philippines Nightlife
Top Filipino online casino sites draws thousands of Filipino residents and visitors looking to have a good time online. However, those who enjoy the reality of a good time have fun, land-based spots to visit while visiting as tourists. Top land-based casinos include the Okada Manila Casino, and the Hyatt Hotel and Casino Manila. Tourists can enjoy themselves in top hang-out spots in Quezon City and Cubao X. The country hosts entertaining bars and nightclubs. This is fantastic for night-riders to explore a more intimate and social side to the trip. It's also excellent for the tourists who enjoy living on the wild side.
Landscapes and Wilderness
Those who enjoy the beautiful and majestic sight of nature have had their hearts won. It's the Ifugao Rice Terraces that allow tourists to experience a raw and untamed experience of the country. Tourists get to ride along and share breathtaking moments. They can do this while viewing the Philippines' mountainous landscapes at Sagada. During these trips, tourists have the chance to explore nature at its fullest and spend time in the midst of mother nature.
Beaches and Islands
Experience glazed views of blue waters touching on the Philippines' pearl white sand. Here, tourists can take boat trips and have a complete beauty experience of beaches, lagoons, palm trees, rocky islets, and reefs. Visitors get to enjoy a sense of luxury and visit private islands such as the Calamian Islands. There's the El Nido dive spot for people to make a splash in and have a personal encounter with the world underwater. For beach lovers, there's also Cebu which is the paradise of beach lovers.
Filipino Dishes
Dishes served in the Philippines have also added to the holiday experience. Those who have the honor of a complete dining experience. Enjoy the likes of the mighty adobo, the kare-kare stew, and the famous Lechon. Try the classic Sinigang, crispy pata, meaty sisig, hot bulalo, and the popular Pinoy pork barbecue.
In conclusion
Tourist attractions in the Philippines host many activities that cater to all personalities. Whether it be day or night, fun and entertainment lie in all fields of this majestic country.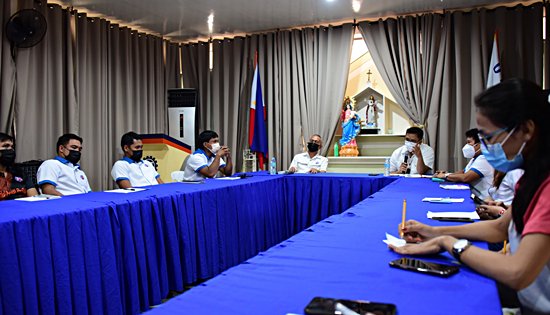 District Engineer Ferdinand A. Briones (front right) together with Assistant District Engineer Alfredo L. Bollido (front left) conduct staff meeting with the Planning and Design Section headed by Engr. Rosario B. Rosete on February 04, 2021 at DPWH Biliran DEO Conference Hall.
DPWH-Biliran DEO aims P100M project limit for high impact projects
By DPWH-Biliran
March 3, 2021
NAVAL, Biliran – The Department of Public Works and Highway (DPWH) -Biliran District Engineering Office (DEO) aims to implement high impact infrastructure projects costing up to P100M.
Currently, DPWH-Biliran DEO is only authorize to approve and implement infrastructure projects with a P50M project cost. Above the said amount will already be supervised and implemented by DPWH Regional Office VIII.
District Engineer Ferdinand A. Briones challenges district's Planning and Design Engineers headed by Engr. Rosario B. Rosete, Chief of Planning and Design Section to upgrade the district's status.
"Malaki ang impact para sa atin kung maa-upgrade tayo sa P100M (project limit)," said Briones.
According to Briones, once the office will be upgraded, programming, designing, bidding and implementation of infrastructure projects will already be undertaken by the district office which will increase the office's Engineering Administrative Overhead (EAO) appropriation.
"Yang' EAO na yan' na addition, pwede tayo mag-acquire ng additional job orders, dadami ang personnel natin at marami ang mabibigayan ng trabaho dahil may sapat tayong pangsweldo," said Briones.
Briones also added that the upgrade will also increase the Planning and Design Section's Preliminary and Detailed Engineering (PDE) fund that could be used to buy the latest softwares for use in planning and designing.
Moreover, implementation of projects will be regularly monitored by the district office.
"Yun ang mission natin ngayong taon na ito, alam kong kaya niyo yan kasi wala namang babaguhin, dadagdagan lang," said Briones.
The District Engineer instructed Planning and Design Engineers to review the checklist and prepare documents, plans and variations for the upcoming Design Audit which will be the basis in the district's upgrade.
Briones emphasized that the participation and cooperation of the Planning and Design Section is very important in achieving this goal.
Stop deadly purge of civilians in Cordillera, Philippines -ICHRP
Press Release
March 2, 2021
Mass execution policy 'Oplan Tokhang' to be used vs. media, critics, human rights defenders
MANILA – "The February 24, 2021, resolution by 47 senior police and government officials in the Cordillera Region calling for the notorious 'Oplan Tokhang' to be deployed against 'known left-leaning personalities in the government, media, and other entities' demonstrates that the Duterte government is brazenly defiant of its human rights obligations", said Mr. Peter Murphy of the International Coalition for Human Rights in the Philippines (ICHRP).
This Resolution was made at the same time that Justice Secretary Guevarra was telling the United Nations Human Rights Council that "the PH strongly emphasizes its legal and judicial system, its domestic accountability mechanisms are functioning as they should."
"The international community must know that 'Oplan Tokhang' is the method used by police to kill tens of thousands of civilians in the mis-named 'war on drugs' over the last five years," said Mr Murphy. "This Resolution demonstrates that the Philippine state is planning to systematically kill its civilian critics. It is not 'knock (on the door) and plead', but kick in the door and shoot.
Last December, the International Criminal Court's (ICC) Office of the Prosecutor said there is a "reasonable basis" to believe that crimes against humanity were committed in the Duterte administration's drug war policy.
The ICC identified 'Oplan Tokhang' as a way for authorities to kill civilians through a drug watch list wherein "some of those targeted also included persons who had previously 'surrendered' to the police.
In the 'war on drugs', local government officials are required to provide lists of residents allegedly using or dealing drugs, or just 'troublemakers'. These lists are provided to the police, who then eliminate the targets without any regard to due process. Local government officials switch off CCTV on the nights of these police raids. In the one case where two police were prosecuted for murder – that of 17 year-old Kian De Los Santos – in August 2017, the Barangay Captain had failed to switch off the CCTV.
The Cordillera officials decided that "this resolution be elevated to the Regional Peace and Order Council for their concurrence and adoption and convince local government units (LGUs) to support this and be brought to the attention of all governors and Mayors in the Cordillera Region".
"While the bureaucratic machine tries to bring together all the elements for this program of civilian repression, there is time for the international community to say no, and they can say it now at the 46th Session of the UN Human Rights Council," said Mr Murphy.
When the media revealed this resolution last week, the Cordillera Regional Director of the Commission on Human Rights, Atty Romel Daguimol, withdrew his signature, declaring that the resolution was in conflict with CHR policy. "We continue to stand that activism is not a crime. People should be free to express legitimate dissent and grievances for the government to act on."
"The other 46 police and other government officials must likewise withdraw their signatures," said Mr Murphy.
"ICHRP strongly supports the many statements coming from media organisations, the National Union of Journalists, the Karapatan alliance for Peoples Rights, and members of Philippine Congress who condemned the resolution, and who uphold the basic democratic and human rights of the people despite the massive threats they have to endure under the Duterte government", Mr Murphy concluded.
CARD MBA receives Golden Arrow Award for Good Corporate Governance
Press Release
March 2, 2021
SAN PABLO CITY – The CARD Mutual Benefit Association (CARD MBA), the microinsurance arm of CARD MRI, was awarded a Two Golden Arrow Award during the virtual ceremony of the ASEAN Corporate Governance Score (ACGS) on February 19, 2021.
The Golden Arrow Awards recognizes publicly listed companies (PLCs) and insurance companies from participating ASEAN countries that has scored at least 80 points in the 2019 ACGS Assessment. ACGS is an initiative introduced by the Asian Development Bank (ADB) and the ASEAN Capital Markets Forum in 2011 to serve as a point of reference to understand the corporate governance standard that a company has. CARD MBA was given a score of 91.8 by the Institute of Corporate Directors (ICD), a non-profit organization that sets standards for corporate governance and the domestic ranking body for the Philippines.
"We are ecstatic that we continue to improve each year. From One Arrow in 2018, we have now stepped up and received Two Arrows. This inspired us to ensure that the culture of corporate governance in our institution continues so that we can provide the best service to our stakeholders," CARD MBA CEO Ms. May Dawat said. She mentioned that together with other institutions of CARD MRI, improving the quality of service and relationship to the Filipino people is a step towards a better quality of life.
CARD Mutual Benefit Association (CARD MBA) is an institution under CARD MRI that offers microinsurance services and covers unforeseen accidents and death. Currently, CARD MBA has more than 21 million insured individuals and more than 6 million active members.
Profit with Peanuts: Success story of Tinnie's Food Products
By DTI-Regional Operations Group
March 1, 2021
MAKATI CITY – Peanut Butter with none of the guilt? Tinnie's Food Products made it possible.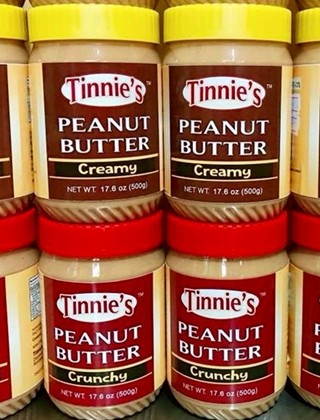 Tinnie's Food Products is a manufacturer of food spreads and other food products, and is well known for its creamy and crunchy peanut butter. Moreover, they are the premier peanut butter manufacturer in the town of Odiongan, Romblon, since 1996.
For peanut butter lovers with a healthy appetite, Tinnie's peanut butter is one of the best options to satisfy sweet cravings with no regrets. Tinnie's peanut butter products are made from 100% pure peanuts, with no added sugar and extender. Today, with the abundant supply of peanuts in the province, Tinnie's also sell sugar coated and fried peanuts alongside its pickled papaya and guava jelly spread.
The enterprise is not new to accomplishments, as Tinnie's carries a couple of accolades under its belt from national and regional trade exhibitions and fairs. In the last run of the MIMAROPA Naturally Agri-Trade and Tourism Fair in 2019, Tinnie's Food Products was awarded the Most Improved Enterprise, and notably, the participant with the highest acquired sales during the fair. St. Vincent Ferrer Parish Multi-Purpose Cooperative in Romblon has also awarded Tinnie's as their Top Patronizer.
As peanut butter is considered a pantry essential in a Filipino family's morning and merienda routine, Tinnie's aims to bring a healthier version of the spread to as many homes as possible. They do this by attending various seminars on food safety and management, and business development, such as SSOP and cGMP, Customized Workshop on Basic GMP and HACCP Principle, Kapatid Mentor Me Negosyo Seminar, Strategic Entrepreneurship, Empowering the MSME's through Basic Education, Philippine Export Competitiveness Program, and FDA Academy, among others. Ms.Mary Jane Manalo, owner of Tinnie's Food Products, was also part of the Kapatid Mentor ME Program in 2017 and the SGS Negosyo Kaagapay. Complementing these assistances, the products likewise underwent the Regional Integrated Product Development Assistance (RIPDA) under the One Town, One Product (OTOP) Program of DTI.
Significantly, they were able to construct a small building for their production area and purchase additional machineries and lot for future business expansion. With the help of DTI, the enterprise was able to acquire three full-time employees, and one part-time employee to help in their growing production. Their monthly gross sales also tripled since then.
After two years of development and promotion, Tinnie's Peanut Butter became one of the best-selling peanut butters in the province. It finally found a niche not only in Romblon but also to other places such as Mindoro, Metro Manila, and Bohol.
Just as any other business, Tinnie's felt the impact of the COVID-19 pandemic on operations and demand in the market. Despite this, the enterprise sees this as an opportunity to innovate and expand their product lines to support the business and their workers.
Tinnie's Food Products are available online, via Facebook, Shopee, and other digital platforms. For more information, visit their social media pages, or send an email at tinniesfp@yahoo.com.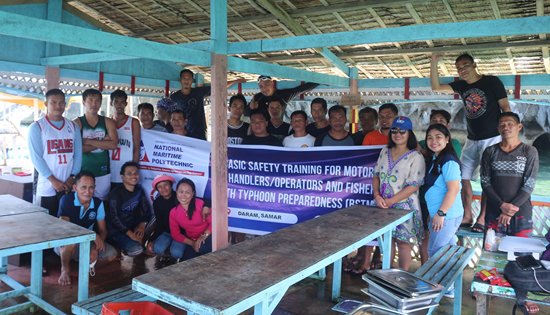 Motorboat handlers / operators and fisherfolks participate in the Basic Safety Training for MHOF conducted by NMP in cooperation with PCG, MARINA and the LGU of Daram, Samar.
NMP partners with LGU Daram for FREE Training on Basic Safety
By National Maritime Polytechnic
February 26, 2021
TACLOBAN CITY – The National Maritime Polytechnic (NMP), as part of its poverty-free zone program thrust, conducted for FREE, the Basic Safety Training for Motorboat Handlers/ Operators and Fishermen with Typhoon Preparedness (BSTMHOF) to twenty (20) motorboat handlers / operators / fisherfolk's participants of Daram, Samar on 23-24 February 2021 through blended learning.
The training was conducted taking cognizant of the fact that Daram being one the island municipalities in the Province of Samar is vulnerable to typhoons and other extreme weather disturbances. Likewise, being an island, the main source of income of its people is through fishing while the mode of transportation is by boat.
Consequently, Provincial Mayor of Daram, Hon. Mayor Philip Martin L. Astorga, requested from NMP through a letter dated 25 January 2021 to conduct the said training to equip his residents with additional knowledge and confidence on survival skills and how to respond properly in the event of emergencies.
"Alam po namin na magagaling na kayo sa inyong larangan pero kailangan nating ilagay sa tamang perspektibo yung ating mga natutunan. Ang layunin ng training na ito ay madagdagan ng tulong at kaalaman ang inyong mga kakayahan na pang habang-buhay ninyong maisasama at kailanman ay hindi maaaring manakaw mula sa inyo" said NMP Executive Director Joel B. Maglunsod in his Welcome Message.
The Basic Safety Training for MHOF is aimed at improving the basic safety skills of local motorboat operators and fisherfolks and expose them to new techniques in Personal Survival, Fire Prevention and Firefighting, Elementary First Aid and Personal Safety and Social Responsibility. Other salient topics are Rules of the Road, Typhoon Awareness and Marine Safety Requirements.
Moreover, in order to promote gender equality and address the gender issues present in the field of the marginalized industry, the Gender Sensitivity Training (GST) Course was also incorporated in the discussions.
The first day of the training was conducted through online using zoom videoconferencing platform. On 24 February 2021, NMP Team headed by Deputy Executive Director III, Ms. Mayla N. Macadawan proceeded to Daram, Samar for the conduct of practical exercises and assessment.
This was the first batch of graduates produced by NMP on BSTMHOF this year. Coordination with other LGUs in Region 8 is currently being made for possible collaboration, thereby expanding the reach of beneficiaries for this program.
Likewise, NMP is in consultation with the Department of Labor and Employment (DOLE) Central Office for the possible grant of motorized bancas to various fisherfolks association in the region through the DOLE's livelihood assistance. Said bancas can also be used during rescue operations in times of disasters and calamities.
Meanwhile, NMP continues to conduct face-to-face trainings exclusively to the seafarer-trainees residing within Region VIII, imposing strict implementation of the Maritime Industry Authority's (MARINA) approved Post-Enhanced Community Quarantine Operational Plan and other health and safety protocols as required by the Department of Health (DOH), Department of Labor and Employment (DOLE), and local government unit (LGU).
Likewise, seafarers who are interested to avail of the NMP's FREE online classes on SHAPIMS, PADAMS, and GSTS may register through this link: https://nmp.gov.ph/online-course-offerings/.
Stakeholders who wish to validate the authenticity of their seafarers-employed with NMP issued certificates may visit www.verify.nmp.gov.ph. Also, those interested in NMP research undertakings may visit the NMP website and access the e-Research Information System Portal which is designed to disseminate NMP completed researches, present the Research Agenda, and engage the industry stakeholders to collaborate in the research activities.
Further, NMP encourages OWWA registered seafarers to avail of the NMP-OWWA (Overseas Workers Welfare Administration) Seafarers' Upgrading Program (SUP) and Skills for Employment Scholarship Program (SESP) which entitles the beneficiary to receive financial assistance for training costs from the OWWA.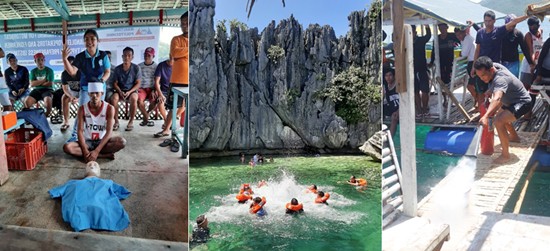 NMP Trainers conducting practical assessment on BSTMHOF at Kandiwata, Daram, Samar.
Global ad market is set to hit $769.9 billion by 2024
Via OMNES Media
February 26, 2021
This is the right time for media vendors to grab their share as the race between companies to increase their ad expenses intensifies, says Chief Executive Officer of Advert on Click
DUBAI – Amid an intensifying race between companies to increase their advertising expenditure to boost profitability prospects, the global advertising market is set to reach $769.9 billion by 2024, an industry expert has pointed out.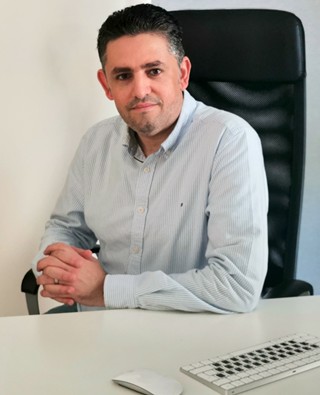 "Advertising plays a vital role in communicating the value proposition of an organisation's offering and influencing the buying behaviour of consumers. This is the reason why most companies around the world focus more on advertisements of their products and services," said Fahed Aldeeb, Chief Executive Officer of Advert on Click (advertonclick.com).
Digital advertisement portal Advert on Click is a one-of-its-kind digital platforms that connects all stakeholders of the media industry from across the world.
"As much as digital media has grown, it is working with traditional media to continue the 360 degree media mix that marketers strive for. So, digital media has not replaced traditional media, but adds to it to complete the circle," added the CEO of Advert on Click, which offers a new-age platform to showcase and promote advertising spaces and solutions of broadcast, print, online and OOH (out-of-home) players from all around the globe.
"The Covid-19 pandemic has accelerated clients' digital transformation journey. Bearing this in mind, Offline media such as TV, Radio and OOH also benefitted in some markets due to lockdowns. This is the right time to board the bandwagon and stay ahead of your competitors. By registering at Advert on Click, you can have the whole marketplace at your fingertips through outreach and unique services that help you get accurate information, display, transparent comparisons, media plan preparation and media booking ability," he said.
More than 950 vendors have already registered with Advert on Click, the platform is poised to launch to advertisers in the coming weeks. The platform boasts, ad space from all types of media vendors, be it digital, print, broadcast or OOH.
"Advert on Click allows listing or booking of media space with just a few clicks. Our unique algorithms connect the right media buyer with the media seller for optimal results in advertising," said Aldeeb.
The information offered by Advert on Click – an integrated knowledge base that empowers direct advertisers and media buying agencies – includes space availability, technical specifications, information about the media outlets as well as their rate cards.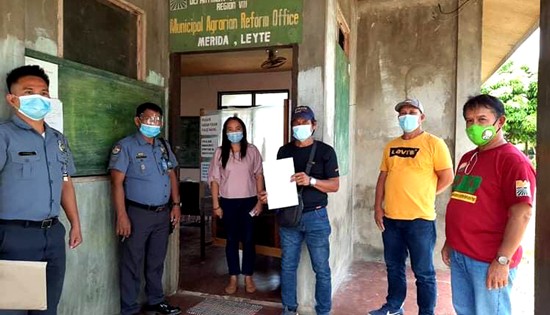 The Municipal Agrarian Reform Office in Merida, Leyte, under Municipal Agrarian Reform Program Officer Amita Barte, successfully linked the Mat-e Agrarian Reform Beneficiaries Association (MARBA) to the Bureau of Jail Management and Penology (BJMP) in Isabel, Leyte as institutional buyer for the farmer's harvests. (Photo by MARO Amita Barte)
BJMP signs marketing agreement with Merida farmers
Press Release
February 26, 2021
MERIDA, Leyte – Another agrarian reform beneficiaries' organization (ARBO) from the western part of the province of Leyte recently entered into a marketing agreement with an institutional buyer for their harvests.
OIC-Regional Director Ismael P. Aya-ay disclosed that the Mat-e Agrarian Reform Beneficiaries Association (MARBA), based in this fifth-class municipality, became the 15th ARBO in Eastern Visayas to be linked successfully to an institutional buyer by the Department of Agrarian Reform (DAR) under the Enhanced Partnership Against Hunger and Poverty (EPAHP) program.
Municipal Agrarian Reform Program Officer (MARPO) Amita Barte reported that the signing of the marketing agreement took place on February 3 at her office and in front of MARBA president, Carllito Dela Cruz and Bureau of Jail Management and Penology (BJMP) District Jail Warden, SJO4 Basilio Madula Jr.
Also present in the event were MARPO staff Mateo Maratas and BJMP Jail Officer 2 Allan Perez. Barte explained that in their agreement, the BJMP of Isabel town will purchase food supplies from the DAR-assisted farmer organization, such as vegetables and poultry products, to be used in feeding persons deprived of liberty (PDL). BJMP will buy MARBA's products based on the prevailing market price, and will pick them up in a designated area, she added.
Under the EPAHP, according to Aya-ay, instead of buying food supplies elsewhere, the city/district/municipality jails as well as the Department of Health's-retained hospitals are encouraged to procure food supplies for the feeding of PDLs and in-patients, respectively, from the ARBOs, which is allowed by the Government Procurement Policy Board thru Resolution No. 17-2016. He also emphasized that under the program, farmers are guaranteed a ready market for their products while hospitals and jails are assured of freshly harvested fruits and vegetables.
EV welcomes 2021 with 2.2% inflation rate
By PSA-8
February 24, 2021
TACLOBAN CITY – Eastern Visayas welcomed January 2021 with a 2.2 percent Inflation Rate (IR). This IR is 0.2 percentage point lower compared with the 2.4 percent IR in December 2020. This figure, however, is 0.2 percentage point higher than the recorded 2.0 percent IR in the same period last year.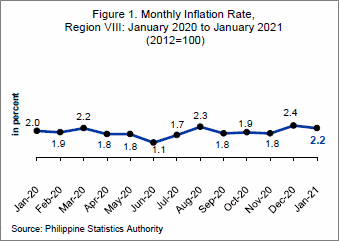 The regional IR is 2.0 percentage points lower than the 4.2 percent national average inflation rate in January 2021.
Among the provinces, only Samar registered an increase in IR of 0.3 percentage point. It rose to 5.8 percent in January 2021 from 5.5 percent in December 2020. This is the highest IR among the provinces during the reference month. Leyte, meanwhile, retained its previous month's IR at 1.9 percent.
Biliran registered the highest decrease of 0.8 percentage point, pushing its IR to zero in January 2021. Northern Samar, Southern Leyte, and Eastern Samar's IRs registered decreases ranging from 0.1 percentage point to 0.7 percentage point, settling at 3.3 percent, 3.0 percent, and 1.4 percent, respectively, during the month in review.
Five (5) of the 11 commodity groups in the region exhibited lower IRs in January 2021 compared with their rates in December 2020. Alcoholic beverages and tobacco commodity group registered the biggest decrease of 1.9 percentage points, from 9.3 percent in December 2020 to 7.4 percent in January 2021. This decrease may be traced to slower IR in the index for tobacco, from double digit 12.4 percent in December 2020 to 9.1 percent in January 2021.
Prices for housing, water, electricity, gas and other fuels commodity group further deflated to 1.4 percent in January 2021 from 0.6 percent in December 2020, a continued drop by 0.8 percentage point. This can be attributed to the index for electricity, gas and other fuels which posted deflation of 4.9 percent in January 2021 from 2.8 percent deflation in December 2020.
Compared with their December 2020 levels, the IRs for clothing and footwear commodity group (2.5%) and health commodity group (1.1%) were lower by 0.2 percentage point and 0.1 percentage point, respectively, in January 2021.
The IR for food and non-alcoholic beverages commodity group eased by 0.1 percentage point, from 3.1 percent in December 2020 to 3.0 percent in January 2021. Double digit IRs were noted in vegetables and fruits indices at 15.9 percent and 12.0 percent, respectively. Prices of meat picked up by 3.1 percent in January 2021 from 1.4 percent in December 2020. Increased IRs were also registered in the indices for food products not elsewhere classified (6.9 percent); sugar, jam, honey, chocolate, and confectionary products (1.9 percent); and rice (0.6 percent). However, the 2.9 percent deflation in corn index, and the drop in the IR for fish index to 0.3 percent in January 2021 from 2.9 percent in December 2020, eased the impact of those increases to the overall IR of the commodity group.
On the other hand, IR for transport commodity group increased by 0.6 percentage point. The 5.0 percent IR in December 2020 rose to 5.6 percent in January 2021. The 3.0 percent deflation registered in the index for operation of personal transport equipment was offset by the higher IR (9.6%) posted in the index for transport services.
Restaurant and miscellaneous goods and services commodity group recorded 0.4 percentage points increase in its IR, from 3.8 percent in December 2020 to 4.2 percent in January 2021. This can be traced to higher IRs in the indices for catering services (6.3%) and personal care (2.6%).
Communications commodity group and recreation and culture commodity group continued to post deflations but at a slower rate, settling at 1.5 percent and 1.3 percent during the month in review.
Meanwhile, the commodity groups of furnishings, household equipment and routine maintenance of the house and education retained their previous month's IRs at 2.4 percent and 0.4 percent, respectively.
The Purchasing Power of Peso (PPP) of the region weakened to P0.77 in January 2021. This PPP implies that the goods and services worth P77.00 in 2012 is worth P100.00 in January 2021.
Compared to their levels in December 2020, PPP in Biliran, Leyte and Samar weakened by P0.01 in January 2021. The rest of the provinces retained their previous month's PPP. Biliran recorded the strongest PPP among provinces in January 2021 at P0.81. Leyte and Southern Leyte ranked second both at P0.79, followed by Eastern Samar at P0.75 and Northern Samar at P0.72. Samar posted the weakest PPP during the reference month at P0.70.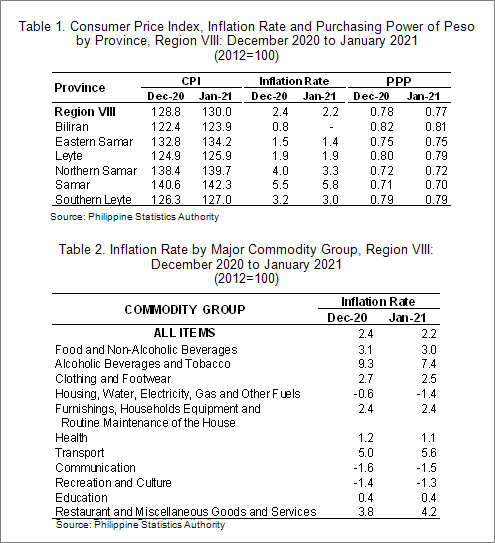 DTI-BPS now requires product certification for plywood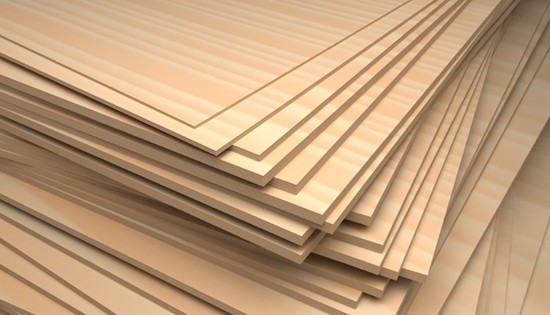 By DTI-CPG-Bureau of Philippine Standards
February 18, 2021
MAKATI CITY – The Department of Trade and Industry's Bureau of Philippine Standards (DTI-BPS) has recently included plywood under the list of products required to undergo its Product Certification Schemes through the issuance of DTI Department Administrative Order (DAO) No. 20-06, series of 2020 on 15 October 2020.
With the issuance of DAO No. 20-06, the new technical regulation concerning the mandatory product certification of locally manufactured or imported plywood, manufacturers of plywood are now required to secure the Philippine Standard (PS) Quality Certification Mark License before they can sell or distribute their products to the market. Importers, on the other hand, are now required to acquire their products from foreign manufacturers holding valid PS Licenses only. This technical regulation aims to strictly ensure compliance to specified quality requirements for plywood being sold in the Philippine market.
Plywood is one of the most commonly used construction materials in the country. Many Filipino homes have facades, exterior and interior walls made with plywood. Equipment in construction and/or manufacturing industries also utilize plywood as a means to support loads or products. Moreover, marine ports, docks, vessels, and boats use plywood for sturdier built since shipments of high masses are often transported through sea freights for lower cost. Plywood has become the go-to component in every construction activity due to their usage versatility, durability, and lower cost. Their ready availability in the market makes them essential to every Filipino household.
Pursuant also to DAO No. 20-06, s. 2020, imported or locally manufactured plywood products shall now have the minimum required markings as follows:
• Correct and registered trade name or brand name;
• Duly registered trademark;
• Duly registered Business Name and address of importer and manufacturer (if imported) or duly registered Business Name and address of manufacturer (if locally manufactured);
• Country of Origin;
• Type of plywood (Softwood or Hardwood);
• Bonding Class (1, 2 or 3);
• Thickness, mm;
• Formaldehyde Emission "FE" and the star rating (In reference to PNS 2103:2017, Formaldehyde Emissions - Specifications or its future amendments);
• Lot/Batch Number or Serial Number;
• PS Mark with License Number
These markings are not only for traceability and verification purposes but will also serve as guide for consumers in ensuring that the plywood products they purchase comply with the quality and safety requirements of the DTI-BPS.
"Through this technical regulation, the DTI-BPS aims to promote safer working and living environment for everyone", underscores DTI-BPS Director, Neil P. Catajay. "Knowing that we all have the same vision, we are confident that the wood and construction industry will cooperate with the implementation of this technical regulation to combat the proliferation of substandard plywood in the Philippine Market." Director Catajay states.
DAO No. 20-06, series of 2020, and other issuances may be downloaded from the BPS Standards and Conformance Portal, www.bps.dti.gov.ph (direct link: https://bit.ly/BPSissuances).
For more updates and information on standards, technical regulations, and conformity assessment procedures (STRACAP), please visit the DTI-BPS portal: www.bps.dti.gov.ph. Emails and messages may also be sent to our official Facebook page "DTI Bureau of Philippine Standards" or through bps@dti.gov.ph.
Upset Hindus seek apology from Rihanna for donning Lord Ganesha pendant in topless photo-shoot
Press Release
February 17, 2021
Upset Hindus are seeking apology from singer-actress-businesswoman Rihanna for wearing Lord Ganesha pendant (on a long necklace) covering her belly-button and posted on her official Twitter handle on February 15, calling it highly inappropriate.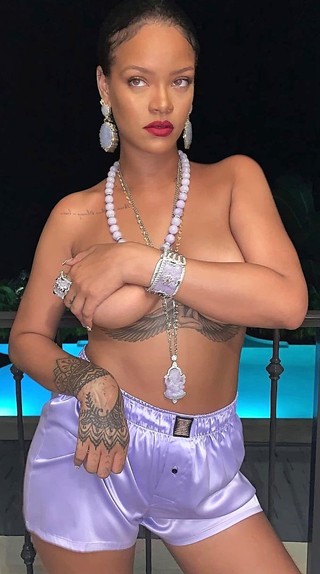 Hindu statesman Rajan Zed, in a statement in Nevada (USA) today, said that Lord Ganesha was highly revered in Hinduism and was meant to be worshipped in temples or home shrines and not to be used as a fashion statement to push a sexy lingerie line or become a tool for sexy fashion. Inappropriate usage of sacred Hindu deities or concepts or symbols or icons for commercial or other agenda was not okay as it hurt the devotees.
Zed, who is President of Universal Society of Hinduism, emphasized that celebrities and companies should not be in the business of religious appropriation, sacrilege, and ridiculing entire communities. It was deeply trivializing of immensely venerated Lord Ganesha to be displayed in such a manner for mercantile greed.
Besides apologizing to the worldwide Hindu community, Rajan Zed also urged Rihanna to immediately remove the objectionable picture from her Twitter account.
Hinduism was the oldest and third largest religion of the world with about 1.2 billion adherents and a rich philosophical thought and it should not be taken frivolously. Symbols of any faith, larger or smaller, should not be mishandled; Zed noted.
Many devotees did wear a Lord Ganesha pendant on short necklace on a regular basis to express their reverence/devotion in Lord Ganesha; but wearing it as a fashion accessory in a one-time photo-shoot in this disrespectful manner for commercial agenda was quite out of line; Rajan Zed indicated.
Zed suggested Rihanna to undergo training in religious and cultural sensitivity so that she had a better understanding of the feelings of communities and customers.
Rajan Zed further said that such trivialization of Hindu deities was disturbing to the Hindus world over. Hindus were for free artistic expression and speech as much as anybody else if not more. But faith was something sacred and attempts at trivializing it hurt the followers, Zed added.
In Hinduism, Lord Ganesha is worshipped as god of wisdom and remover of obstacles and is invoked before the beginning of any major undertaking. There are about three million Hindus in USA. February 15 happened to be Ganesha Jayanti (Ganesha's birthday).
Church group decries relentless attacks against Bakwit Schools
Press Release
February 16, 2021
MANILA – The National Council of Churches in the Philippines (NCCP) condemns the violent intrusion of the elements of the PNP Regional Office in Cebu into the University of San Carlos-Talamban Campus where the Lumad Bakwit School is taking refuge. On February 15, 2021, the PNP barged into the campus in an alleged "rescue operation" for minors allegedly kidnapped by progressive groups.
"This intrusion of the PNP is clear manifestation of this government's disregard to the rights and lives of our indigenous peoples, especially the Lumad children who are already under constant and intense distress since they have been uprooted from their ancestral lands on several occasions." said Bishop Reuel Marigza, the General Secretary of the NCCP.
"This is not the first. They did the same to the Lumads who have sought a safe place in the United Church of Christ in the Philippines (UCCP) Haran Center in Davao. In their quest for a more peaceful place, away from their military-occupied ancestral lands, the Lumads have no choice but to flee and go to places where they feel that they are safe. It is just abhorrent and unacceptable for us churches to see the government's relentless attacks to their lives and communities," Bishop Marigza added.
The setting up of Lumad Bakwit Schools has been a collective response of the indigenous peoples on the intensifying militarization and land grabbing of Lumad communities in Mindanao. The Bakwit schools have been set up by the elders of the communities, NGOs and churches to assert their children's right to education.
"NCCP firmly believes in the inherent worth and dignity of children. They are God's gift and are valuable members of the human family. Thus, the NCCP upholds its commitment to protect and defend children's rights," Bishop Marigza added.
"The violent raid in Cebu showed us how the Government can conveniently assault our national minorities even under the care of sanctuaries and havens in the guise of 'rescue operations'", Bishop Marigza said. "This pseudo 'rescue operations' is clearly a violation of the rights of our Lumad children and their teachers and to the whole Lumad communities who have suffered decades-long struggles in defense of their ancestral land, life and their education," Bishop Marigza averred.
The NCCP is in solidarity with the Lumad children in their struggle for their land and their rights to education. "We join the call to end militarization in Mindanao and to save Lumad schools. We likewise call for the safe and immediate release of the 25 students including their elders and their teachers who were illegally detained from this violent police raid", the Bishop concluded.
The NCCP is the largest aggrupation of mainline Protestant and non-Roman Catholic churches in the Philippines.
FMR projects opened another route for farmers in Sta. Margarita, Samar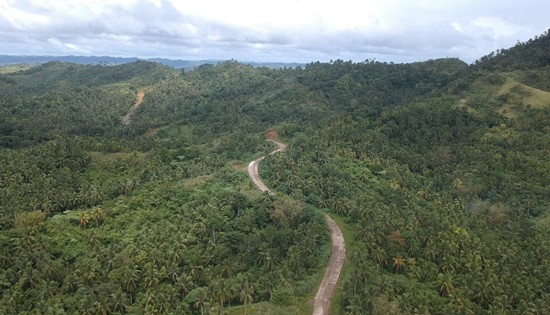 By GISSELLE G. PARUNGAO
February 15, 2021
CALBAYOG CITY – In convergence with the Department of Agriculture, Samar First District Engineering Office completed a farm-to-market road from Barangays Mabuhay to Hindang through Salvacion.
The FMR built has a contract amount of more than P28.2 million that will help a lot of farmers residing in the barangays mentioned and surrounding areas that will benefit the new route. This opened road will eventually connect Barangay Hindang to other nearby barangays that will allow them exit to the main highway either through Barangay Cagsumje or Barangay Lambao via Barangay Mabuhay in the event that future developmental projects will be implemented in said barangays.
The scope of work covers a road opening with Portland Cement Concrete Pavement (PCCP) which spans 960 meters while the remaining road opening with gravel has a length of 1,210 meters. All of which has a width of 5.3 meters. A riprap is also built intermittently on some areas to avoid erosion or collapse of structure that spans a total of 238 linear meters.
Before, the path that they trek on resembles a marshland, very muddy especially when it rains, said Marvin Gatoc, a farmer from Barangay Mabuhay. Now, it is easier for them to carry their products like copra and other root crops that they grew to the nearby market because their barangay is already accessible by motor vehicles.
Farmers can now transport greater amount of their goods anytime because its already accessible to vehicles. Gone are the days that they have to walk for hours and would have to start walking early in the morning to reach the marketplace on time. With this, farmers were able to plant more crops other than copra to increase their income. More business opportunities also come with the new road.
Travel time was also reduced from two to three hours to thirty minutes since motor vehicles can now access these remote barangays.
Konsyumer Negros wants 20 MW CENECO tender stopped in favor of better terms for consumers
Press Release
February 15, 2021
MANILA – The Negros chapter of nationwide consumers' movement Konsyumer on Monday called on to the Central Negros Electric Cooperative (CENECO) and relevant energy agencies to put a stop to an ongoing tender of the electric cooperative (EC), citing the use of Terms of Reference (TOR) unfavorable to consumers and lack of transparency in the bidding process as in need of proper amendments before bids should be allowed to push through.
The biggest EC of Negros Occidental is holding a competitive selection process (CSP) for a power requirement of 20 MW, assumed to be in time for the expiration of its 64 MW Power Supply Agreement (PSA) with a coal power plant in Naga, Cebu, owned by KEPCO-SPC.
"We are finally getting off, though only partially, paying for costly and dirty electricity from coal. But before we can even celebrate this, we are concerned that CENECO is already preparing to expose us once more to electricity that is not least-cost, and we are not even given the chance to properly be informed on and participate in the process," said Griderick Alila, Coordinator of Konsyumer Negros.
Earlier this month, Konsyumer Negros formally filed a letter addressed to CENECO protesting the conduct of the tender and calling for its suspension. The group noted that the TOR and documents guiding the selection process have not even been posted publicly as mandated by DOE even as the target electricity delivery date of February 26 looms close.
"Consumers have the right to know and should have a say on what kind of electricity we are paying for. This is especially true in this time of crisis when costs of basic needs continue to rise while means of living for many are still down. So far, however, our concerns have only been met by silence," he said.
The group's call was supported by the Center for Energy, Ecology, and Development (CEED), a Quezon City based think-tank that has been working together with Konsyumer and a broad alliance of Negrosanons under the banner of the REpower Negros Movement in advocating for the island's power sector transformation. CEED in December released a policy brief examining faults and lessons from the power procurement processes of Metro Manila distribution utility MERALCO, which are now also observed in the CENECO tender.
"The 20 MW tender fails to set in place straight energy pricing, guaranteed supply availability requirement, and better force majeure provisions, including dispute settlement mechanism – all of which will benefit its consumers. These could protect them from additional costs in unpredictable times like the pandemic. The tender also creates unnecessary barriers for renewable energy firms that could provide cheaper electricity with little cost to the environment, many of whom can be found locally and are in fact struggling with oversupply, since the current inter-island grid set-up is incapable of absorbing all electricity they produce," said Avril De Torres, Research, Policy, and Law Program Head of CEED.
Konsyumer filed another set of letters today to follow-up on the call for a suspension of the tender, addressed to CENECO and offices of the Department of Energy (DOE), National Electrification Administration (NEA), the Third Party Bids and Awards Committee (TPBAC), and the Negros Electric Cooperatives Association (NECA).
"Our home island abounds in clean and affordable renewable energy sources, which we hope CENECO and all other electric cooperatives would tap before looking elsewhere and forcing consumers to pay for dirty, overpriced electricity. Konsyumer Negros will not back down until this and our many other concerns on the tender are addressed. CENECO and our energy regulators may expect to continue hearing from us," said Alila.
CARD MRI Hijos Tours launches first Virtual Food Tour
Press Release
February 11, 2021
SAN PABLO CITY – While tourism remains to be one of the industries most affected by the COVID-19 pandemic, a glimmer of hope can be seen as the Department of Tourism (DOT) continues to support Laguna's tourism sector, promoting it as a "fun, safe, and sustainable tourist destination." CARD MRI Hijos Tours, for example, gets the nod of DOT as the San Pablo-based tour company in Laguna continually creates fun virtual tour programs that let the adventurous explore the country without travelling.
One of its programs allows food vloggers, culinary students, and food lovers to enjoy "a real time fun experience" in the comforts of their home, through CARD MRI Hijos Tours' Virtual Food Tour.
The first Virtual Food Tour will jumpstart on February 27, 2021 which will include discussions on the history of San Pablo City's traditional dishes and delicacies like fern salad (ensaladang pako) and grilled tilapia, and Pancit Kalabuko or noodles made out of mushroom with squash (kalabasa) and coconut (buko).
The Virtual Food Tour will also include a pre-recorded food demo of suman, a Filipino rice cake, that will allow subscribers to cook and prepare these traditional specialties alongside members of CARD.
Food enthusiasts may subscribe to the Virtual Food Tour by purchasing a Food Box (P1,999) that includes some of the key ingredients in making these traditional specialties like the malagkit or glutinous rice for suman and the mushroom noodles for the Pancit Kalabuko. The Food Box also contains products that can be best paired with these special Filipino food like Coco Sugar, Coco Jam, and Kapeng Barako to complement the suman delicacy.
Stories of Heritage and Hope
"The Virtual Food Tour is a way for us to learn more about history, stories of the past," said CARD MRI Hijos Tours President Marilyn M. Manila. According to Manila, one of the goals of the Virtual Food Tour is to share heritage stories of both food and families – how they passed down recipes through generations and how important it is to be stewards of one's resources.
The Virtual Food Tour also aims to help communities recover from the effects of the pandemic as Hijos Tours sources the contents of the Food Box from their suppliers who are CARD clients. "With every bite of these delicious delicacies, we support the livelihood of our clients," Manila added.
Subscribers of the Virtual Food Tour will not only learn about the culture, history, and tradition of San Pablo City, Laguna but will also be able to support communities through its activities and help food become "the new destination".
| | | |
| --- | --- | --- |
| Discover the history and culture San Pablo City's delicacies and specialties through Hijos de Siete Lagos Food Box. | | Hijos de Siete Lagos Food Box contains ingredients used for virtual cooking demo as well as other local products from CARD clients. |
CARD MRI Publishing House launches Online Radio
Press Release
February 9, 2021
SAN PABLO CITY – CARD Mutually Reinforcing Institutions (CARD MRI), a social development organization that is in the business of poverty eradication, continues its journey to digital transformation by introducing its online radio on January 29, 2021.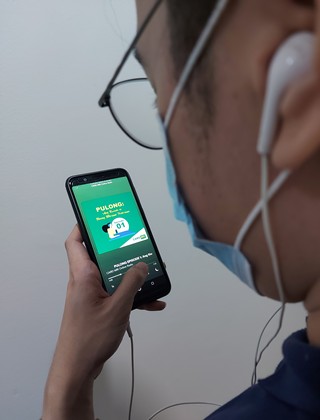 A subscriber listens to the first episode of Pulong: Ang Kwento ni Inay on CARD MRI Online Radio.
Through CARD MRI Publishing House Inc., CARD MRI launched a podcast channel named CARD MRI Online Radio on Spotify with its first program offering, "Pulong: Ang Kwento ni Inay." This tells stories of women, usually microentrepreneurs and their experiences with CARD MRI.
The said program is set to produce 12 episodes a year, with each episode featuring a unique story about women overcoming poverty through entrepreneurship. Every episode will also feature CARD Leaders as storytellers including CARD MRI Founder and Chairman Emeritus Dr. Jaime Aristotle B. Alip and CARD MRI Managing Director Flordeliza L. Sarmiento.
"We are delighted to share the stories of our clients through new innovative approaches. Because times have changed, we learned that we have to adapt and take advantage of digital platforms to continue sharing stories of hope," said CARD Publishing President Marilyn M. Manila, who was also the first storyteller of the first program.
Her episode featured Marisssa Federizo, a supplier of Mga Likha ni Inay's Palengke on Wheels (PoW). Through PoW, Marissa's business thrived as she continuously sold her products to households during the pandemic. Now, with the assistance of POW, Marissa has expanded her frozen food business.
The CARD MRI Online Radio also plans to introduce new programs throughout the year. "We will also be launching talk shows with microfinance-practitioners and experts that listeners will not only enjoy, but also learn from. We are excited to bring you more inspiring stories through our podcast channel," she concluded.
Refreshing reward for hard work: Success story of Brilliant Juice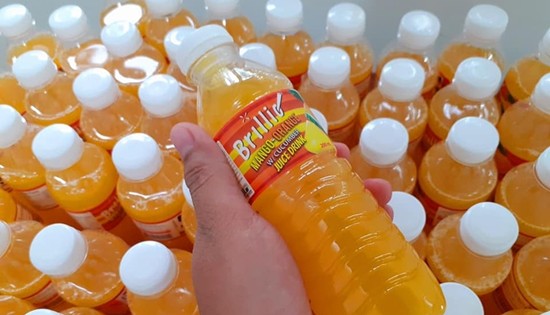 By DTI-Regional Operations Group-MIMAROPA
February 8, 2021
MAKATI CITY – The journey to the Brilliant Juice's success didn't happen overnight. Mr. Rustico Melendez, OFW turned full-time entrepreneur and owner of Brilliant Juice Manufacturer, had to swim against the waves to get where he is today.
"Whatever comes in your way while growing the business, you need to maintain your mindset to focus on your vision. Never give up, continue striving until you reach your dream."
This is Mr. Rustico Melendez's aphorism in his journey towards making Brillo Juice, the flagship product of Brilliant Juice, the healthy drink of choice. Brilliant Juice manufactures natural drinks made with tea, tropical fruits such as oranges and mangoes infused with cucumber.
"Brillo" is the shortened term for Brilliant which Mr. Melendez got from the cruise ship, Brilliant of the Seas, where he worked as a wine steward for 25 years.
The beginning of Brillo is an arduous journey as Mr. Melendez faced criticism and rejection from store owners to display and sell his products because of lack of trust on its quality. Despite such, he fueled this energy to become a full-time entrepreneur and put his savings in investing equipment and machineries to make his manufacturing semi-automated.
Being enrolled in the One Town One Product (OTOP) Next Gen Program of the Department of Trade and Industry (DTI) was of great help to Mr. Melendez. He was able to acquire barcode, trademark, laboratory analysis, new packaging, compliant labels, among others. He was then able to comply with the requirements to secure a License To Operate (LTO) from the Food and Drug Administration (FDA), thus Brillo Juice was certified and the license was given.
Moreover, his learnings from attending various trainings helped him to effectively manage his business. He was able to widen his connections through regional trade fairs and gain friends who contributed to his business success. The success also translated in their sales, having a yearly significant increase in total gross sales.
Mr. Melendez is the epitome of perseverance as he poured his dedication and trust in making his business successful. "I am committed to the quality of my products and I always ask for the guidance of the Lord for its success," he firmly believes. Now, the owner gives back by hiring 12 full-time employees from around his community, because he believes they too, deserve the opportunity to improve their lives.
From 8 hours of processing 350 bottles of Brillio, working time was reduced to 3 hours with DTI's assistance for machinery upgrade. "Brillo Juice" became a hit not only to the taste buds of children, but to adults as well. Before, Brilliant Juice Manufacturer produces 1,500 bottles of Brillio Juice, but today, they distribute around an average of 6,000 bottles a month.
Notably, Brillio Juice was awarded the MIMAROPA Naturally Agri-Trade and Tourism Fair's Most Innovative Product in 2014. Until today, Mr. Melendez continues to find ways to quench the thirst of the public for innovative ways in serving healthy juices.
Brilliant Juice's products are currently distributed to direct consumers, schools, catering services, hotels and groceries within Marinduque and outside the province as well.
DE Briones inspects major projects in Biliran
By DPWH-Biliran
February 5, 2021
NAVAL, Biliran – Newly designated District Engineer Ferdinand A. Briones of the Department of Public Works and Highways (DPWH) -Biliran District Engineering Office (DEO) inspects major projects in Biliran on February 03, 2021.
Together with Section Chiefs and some technical personnel of Biliran DEO, DE Briones inspects projects along Naval-Caibiran Cross Country Road (NCCCR) starting with the on-going construction of Palanay Gymnasium in Caibiran town. This project is implemented in Phase 1 (Structural building) and Phase 2 (Roofing) under contract with BNL Construction amounting to P4.8M and P2.9M, respectively.
During the inspection, Briones talks with the contractors' representative regarding some corrections that needs to be done in the said project. According to Briones, this slight correction is important to make the roof strong to withstand the strongest typhoon. He instructed the contractor's representative to review the plans and specifications and to closely coordinate with the project engineer for action. The completion of the project will provide a place for residents to hold different activities without being exposed to harsh weather conditions. This will also serve as an evacuation center for residents during calamities.
The second project inspected is the newly completed Cabibihan Bridge in Caibiran town funded by the Office of the President (OP) thru the Office of the Civil Defense (OCD) amounting to P15M. DE Briones suggested to Engr. Rosario B. Rosete, Chief of Planning and Design Section to request funds for the concrete paving of the bridge's approaches and to construct flood mitigation structures along the river to protect the bridge against flooding.
The District Engineer also inspected two on-going projects – Emergency Repair of Damaged National Road with Slips, Slope Collapse and Landslide at Sitio Macalpi, Brgy. Cabibihan in the town of Caibiran amounting to P44.8M and P35M, respectively. These projects are essential for residents in the town of Caibiran and to its neighboring towns for a faster access to the only Provincial Hospital and other basic essential services like banks and other financial institutions in the capital town of Naval.
Meanwhile, one road slope protection along Biliran Circumferential Road is also inspected funded under FY 2018 fund. The completed project provides safety to the travelling public.
DE Briones said that he will be regularly conducting project inspections to ensure that projects are in accordance with the approved plans and specifications and in order to familiarize himself with the different road sections in the Province. This is the first time that the new district engineer conducts project inspection since his assignment in this district office.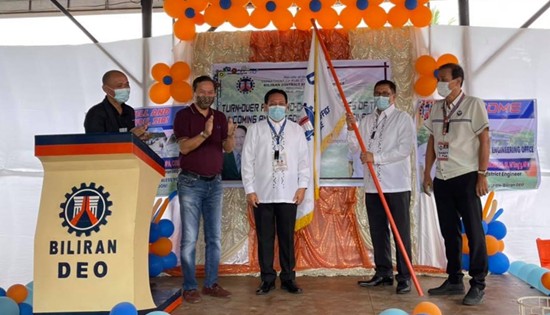 District Engineer Ferdinand A. Briones received on Monday, February 01, 2021 the flag of the DPWH -Biliran District Engineering Office from outgoing District Engineer David P. Adongay Jr. (middle) in a symbolic turn-over ceremony. The ceremony was held at DPWH-BDEO, Brgy. Calumpang, Naval, Biliran and was witnessed by Governor Rogelio J. Espina (2nd from left), Chief of the Construction Division, Engr. Sandy T. Pua (1st from right), and Mr. Ritchie Garcia, (1st from left), District Head Officer at House of Representative on behalf of Congressman Gerardo J. Espina Jr.
DPWH-Biliran DEO has new district engineer
By DPWH-Biliran
February 4, 2021
NAVAL, Biliran – The Department of Public Works and Highways -Biliran District Engineering Office (DPWH-BDEO) welcomes new District Engineer Ferdinand A. Briones in a turn-over ceremony on Monday, February 01, 2021.
DE Briones will assume the stewardship of Biliran DEO vacated by outgoing District Engineer David P. Adongay Jr. who in return will also assume the leadership of Northern Samar 2nd District Engineering Office in lieu of DE Briones.
"As a public servant and a good follower, if I may add, I would like to assure everyone that I come here to accomplish a mission mandated to me by our department," said Briones.
Briones said that with the much-needed support and cooperation from Biliran DEO employees, he may able to deliver his priorities as he begins his stint in the district.
According to Briones, aside from his priority to continue the programs and projects initiated by DE Adongay, he will also see to it that the proposed programs and projects of the district office for CY 2022 will be realized.
He also emphasized that he will enhance linkages with the agency's stakeholders especially the Local Government Units (LGUs) through close coordination with the different local officials in order to support, prioritize and provide infrastructure development programs in the province.
The new district engineer also said that it is his priority to maximize manpower development both technical and non-technical to raise the bar of competence in program implementations and to practice the core values of the department which are Public Service, Integrity, Professionalism, Excellence and Teamwork.
Meanwhile, outgoing District Engineer Adongay has been awarded by Biliran DEO employees the plaque of appreciation in recognition, grateful acknowledgement and sincere appreciation for his eight years of dedicated services rendered to the agency as District Engineer.
The said ceremony was witnessed by Governor Rogelio J. Espina, Engr. Sandy T. Pua - Chief of Construction Division, Regional Office VIII, and Mr. Ritchie Garcia - District Head Officer at House of Representative on behalf of Congressman Gerardo J. Espina Jr.
BotiCARD initiates CARD e-Pharmacist to clients
By CARD MRI
February 3, 2021
SAN PABLO CITY – To continuously deliver essential services to clients, BotiCARD, a pharmaceutical company under CARD Mutually Reinforcing Institutions (CARD MRI) in collaboration with Microfinance and Health Protection (MaHP) Program Unit launched its CARD e-Pharmacist.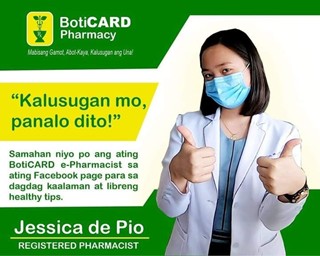 Said BotiCARD President Rosenda Aquino, RPh, "In this time of pandemic, one major priority and concerns of our clients is their health. Following the success of CARD e-Doctor, we, at BotiCARD, initiated CARD e-Pharmacist to make sure that our clients have easy access to seek advice about their health problems and discuss possible treatment that could cure them."
Through CARD e-Pharmacist, CARD clients and the general public can have immediate access for medical advice and information from health practitioners by using the online platform. "Since the use of digital platform continues to grow, this is an effective and convenient way to help and reach our clients nationwide. CARD e-Pharmacist offers medical advice, diagnose them following a series of questions, and help the clients with the right prescriptions at the comfort of their home," she added.
To shift online is one way to limit face-to-face contact. She explained that with the use of Facebook, clients can directly message BotiCARD official Facebook page to consult and address their medical concerns. "We make sure that with this initiative, clients can benefit a quick access and free patient counseling to pharmacist and widen the reach of communities and clients that we serve."
Aquino concluded that with this initiative clients with medical problems that is lack of health care will surely benefit the program. "With this, it will lessen the cost of going to clinics, hospitals, and pharmacies. In this trying time, clients should avoid themselves in exposing outside and debts due to health expenses."
DAR to make Tacloban producer of vegetables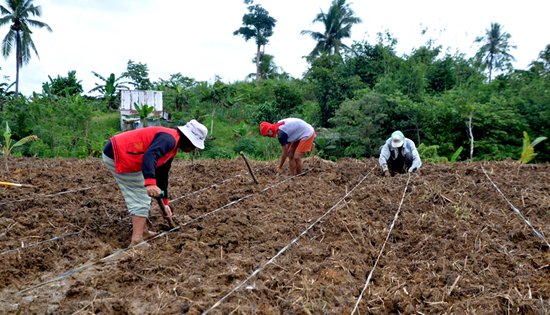 By JOSE ALSMITH L. SORIA
January 30, 2021
TACLOBAN CITY – Despite having been categorized as highly urbanized, this city is still capable of producing tons of your favorite vegetables.
This is what the Department of Agrarian Reform (DAR) would like to prove as it plans to turn an awarded lot under the government's Comprehensive Agrarian Reform Program (CARP) into a vegetable garden.
In partnership with the Department of Agriculture and the City Agriculture Office, DAR initiated two weeks ago, the plan to make portion of the 23-hectare lot in Barangay New Kawayan, which is covered by a collective Certificate of Land Ownership Award (CLOA), into a vegetable garden where the agrarian reform beneficiaries (ARBs) are guaranteed of sure income.
This project according to DAR Regional Director Ismael Aya-ay is dubbed as "Buhay sa Gulay", which Agrarian Reform Secretary, Brother John Castriciones, would like to be replicated in urban areas nationwide after the successful initial implementation in Tondo, Manila.
This project is expected to contribute to the sufficient supply of food in the city and neighboring towns, aside from providing livelihood to the farmers.
Here, though the project will initially utilize a one-hectare lot planted to fast-yielding crops such as kangkong, pechay, lettuce, okra and pepino, DA's Romeo Delmo suggested, during last week's planning session, that they will conduct simultaneously Farmer Field School to the 20 members of the New Kawayan-Cabalawan Agrarian Reform Beneficiaries Farmers' Association to sustain the project and by-and-by spreading it until the entire 23 hectares are utilized.
Sonny Colete, 46, an agrarian reform beneficiary (ARB) of lot-9, which was chosen to be the demo farm, shared that he agreed to make his area as the demo farm "because it is an opportunity for us to be assisted in developing our lots".
According to him, prior to this project, only a portion of his area was planted with cassava. The rest was idle.
In this project, DAR will provide the farmers with garden tools and other farming materials, while DA and the City Agriculture Office will provide the seeds and training.
The project commenced last week with the preparation of the land, layouting, plot making and plant sowing. Planting of seedlings into their assigned plots is scheduled on February 4.
On the last week of February, it is expected that the farmers could already start harvesting.
At the moment, making of 60 plots measuring one-by-20 meters continues.
Matuguinao peace advocates unite against NPA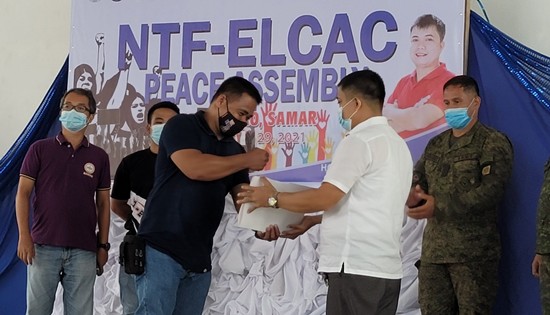 By DPAO, 8ID PA
January 29, 2021
CAMP LUKBAN, Catbalogan City, Samar – Some 350 residents of Matuguinao, Samar joined a walk for peace and rejected the presence of the Communist Party of the Philippines-New People's Army-National Democratic Front (CPP-NPA-NDF) in their municipality, in a Peace Assembly on Friday, January 29, 2020.
Led by Mayor Aran Boller and Vice-Mayor Cleofe Belonio, the participants, who included barangay officials, law enforcers, employees of various government agencies, and former rebels, denounce the communist terrorists' deceptive recruitment scheme of the youth and the atrocities committed against government security forces and Matuguinaonons.
"It's about time to end the chaos and the damage brought by the communist terrorist group. I encourage every Matuguinaonon to help the government by stopping providing sanctuary, financial, material, or any kind of support to the NPA terrorists," Mayor Boller said.
During the program, hundreds of residents from the 20 barangays of Matuguinao were joined by municipal and barangay leaders, Philippine Army personnel, employees of various government agencies, and former rebels in the ceremonial signing of a peace covenant and resolution declaring the CPP-NPA-NDF as persona non grata in their town. They also burned flags of the CPP-NPA-NDF.
"I appeal to all members of the CPP-NPA-NDF to stop destroying the future of our youth by becoming victims of your deceptive recruitment. I also encourage them to lay down their arms and go back to the folds of the law and be productive citizens," Mayor Boller added.
The former rebels who joined the peace assembly narrated their experiences while inside the organization and witnessed the inhumane acts of the NPA. They said they are thankful for the government's help to their families after they have decided to surrender. They were not only given a chance to live peacefully with their families but were also given livelihood.
Like the LGU, they are also appealing to their former comrades to return to the folds of the law as the government is ready to help them so they can have peaceful and normal lives as productive citizens of the society.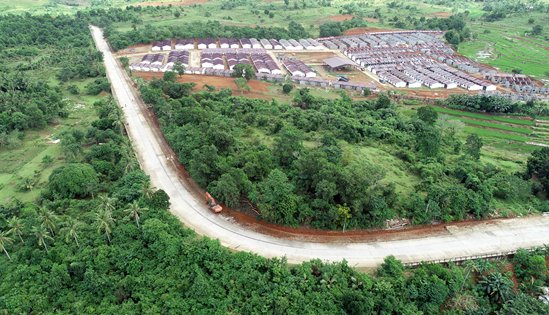 On-going road widening at Biliran- Naval Road Section (K1016+027 - K1018 + 140), Brgy. Bato, Biliran, Biliran under FY 2020-2021 Multi-year Contracting Authority (MYCA).
DPWH-Biliran DEO gets P1.9B infra budget for 2021
By DPWH-Biliran
January 29, 2021
NAVAL, Biliran – A total of 124 infrastructure projects with a budget amounting to P1.9B is to be implemented by the Department of Public Works and Highways (DPWH) -Biliran District Engineering Office (DEO) this year.
District Engineer David P. Adongay Jr. said that of the 124 projects, 90 are funded for "Comprehensive Release" (FCR) with a budget allocation of P1.37M while 18 are "For Later Release" (FLR) under FY 2021 amounting to P401,287.00. Meanwhile, 16 projects are funded under FY 2020-2021 Multi-Year Contract Authorization (MYCA) amounting to P181,539.00.
According to Adongay, P32M is allocated for preventive maintenance (asphalt overlay), P11M for rehabilitation/ reconstruction of damaged paved road (Tertiary Road), P350.8M for rehabilitation/ reconstruction of roads with slips, P177.6M for road widening, P65M for by-pass and diversion roads, P5M for rehabilitation/ major repair of permanent bridges, P53.2M for widening of permanent bridges and P185M for flood mitigation structures.
Under Convergence and Special Support Program, Biliran DEO will implement a total of P156M - P45M for the construction of roads leveraging linkages for industry and trade, and P111M for installation of water supply systems.
Biliran DEO will also implement a total of P665M under Local Infrastructure Program which consists of multipurpose buildings/ facilities, drainage/ protection works, flood control structures/ facilities, local roads, and local bridges.
"The district office has advertised all 124 projects and bid out a total of 118 projects with an accomplishment of 38.82% as of January 22, 2021," said Adongay.
Adongay revealed that a total of P747M which includes two asphalt overlays amounting to P108.1M, two tourism roads (P136.7M), two roads leveraging linkages for industry and trade (P157M), one construction of new Provincial Hospital (P150M) and two rehabilitation of roads with slips, slope collapse and landslide amounting to P195.5M will be implemented in this Province under DPWH Regional Office VIII.
Samar First received 162 projects for 2021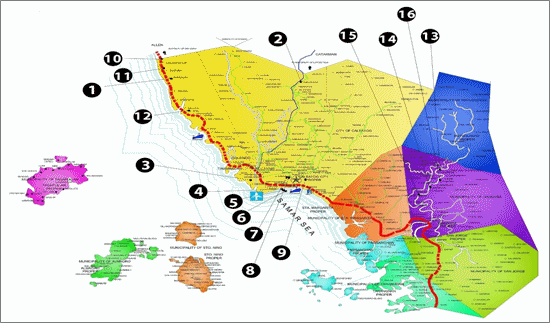 By GISSELLE G. PARUNGAO
January 28, 2021
CALBAYOG CITY – The Department of Public Works and Highways -Samar First District Engineering Office received 162 projects to be implemented by the district amounting to more than P2.95 billion for 2021.
There will be 36 projects that are under the Multi-Year Contracting Authority (MYCA) while one project is included in the FY 2020 For Later Release (FLR) that is subject for withdrawal. Another 125 of which are part of the new projects. These will comprise the General Appropriations Act for CY 2021. Samar is continuously creating opportunities within its sphere of jurisdiction and infrastructure project under the Build, Build, Build Program.
To preserve the infrastructure investment made along national road, the project identified focus more on rehabilitation/construction/widening on both national and secondary roads amounting to P1,457,587,000.00 while an allocation of P343,417,000.00 was granted to projects that will prevent flooding in low-lying areas.
Local Program also received P1,012,746,000.00 whereas, convergence and special support program received P136,599,000.00 to build roads leading to tourism destinations and infrastructure/s in support of national security which is beneficial to the people of the 1st District of Samar.
Investigate PH: The world needs to act now on Duterte gov't's rights abuses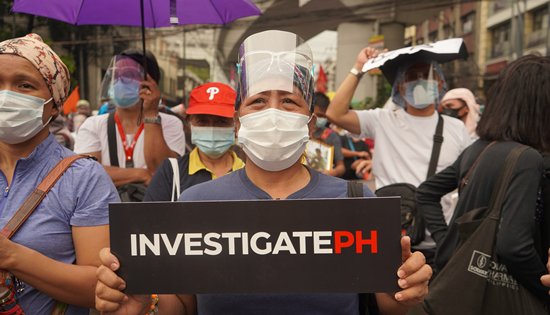 Global independent probe on rights abuses in the Philippines launched, announced 3 reports for submission to UN human rights body
Press Release
January 28, 2021
MANILA – The Independent International Commission of Investigation into human rights violations in the Philippines or Investigate PH was launched this Thursday, January 28. The commission expressed urgency for accountability of perpetrators and justice for victims and their families.
More than 200 participants from lawyers organisations, civil society and churches all over the world came together to manifest their support for the global project.
"Investigate PH is a critical space of solidarity and accompaniment of the people of the Philippines as it investigates the blatant violation and violence related to the basic human rights of people," says one of the commissioners, Rev. Michael Blair, current General Secretary of the United Church of Canada's General Council.
The creation of Investigate PH was prompted by the resolution of the 45th UN Human Rights Council session on the Philippine rights situation, also known as Resolution 45/L.38, last October 2020 that fell short of victims and the international community's demand for an independent probe on the country.
"The gravity of the violations underlines why the world needs to know about these human rights abuses and to act to stop the crimes. I put it to everyone at this event that if we were Filipinos, we would surely have suffered under the Duterte government. The evidence is overwhelming. The testimonies [are] tragic," Investigate PH Commissioner Lee Rhiannon and former Senator of Australia said, pertaining to her solidarity visit in the Philippines last 2019.
In the global launch, commissioners of Investigate PH call on the international community to act now on the human rights abuses perpetrated by the government of President Rodrigo Duterte. Currently, the Commission is composed of 10 eminent personalities namely:
Lee Rhiannon, Former Senator of Australia
Atty. Jeanne Mirer, President of the International Association of Democratic Lawyers
Atty. Jan De Lien of the Justis Lawyers Group of Belgium
Atty. Suzanne Adely, President of the National Lawyers Guild
Senator Janet Rice, Australian Greens Spokesperson for Foreign Affairs
Rev. Dr. Chris Ferguson, General Secretary of the World Communion of Reformed Churches
Rev. Michael Blair, General Secretary of United Church of Canada
Rev. Dr. Susan Henry-Crowe, General Secretary of the General Board of Church & Society, the United Methodist Church
Archbishop Joris Vercammen of the Old Catholic Church of Netherlands, and Central Committee member, World Council of Churches
Dr. David Edwards, General Secretary of the Education International
Leaders of international lawyers' groups, political leaders and global church groups have formed the Investigate PH to gather evidence on crimes against humanity in relation to Philippine President Rodrigo Duterte's "war on drugs" and the persecution of human rights defenders and civil society organisations.
New York-based human rights lawyer Jeanne Mirer vowed that Investigate PH will "bring these violations to light" internationally.
Three reports to the UNHRC, ICC
It was announced in the global launch that the international probe will submit their findings by way of oral interventions and submissions at Enhanced Interactive Dialogues and General Debates in the upcoming UNHRC Regular Sessions.
Two preliminary reports will be released in time for the 46th and 47th UNHRC sessions in March and July 2021 respectively, and one final report in time for the 48th UNHRC session in September when the High Commissioner will deliver an update on the implementation of Resolution 45/L.38.
"We are preparing a submission on these crimes to go to the UN Office of the High Commissioner for Human Rights," says Rhiannon and added that "what is happening in the Philippines amounts to crimes against humanity. These crimes must end."
Investigate PH will also submit their findings to the International Criminal Court. They aim to update the Bachelet report and help facilitate international mechanisms for redress and accountability such as in relevant UN bodies and the ICC.
A project brief on Investigate PH is attached to this email. You may also access it here.
100-days countdown marker to NMP's 43rd anniversary unveiled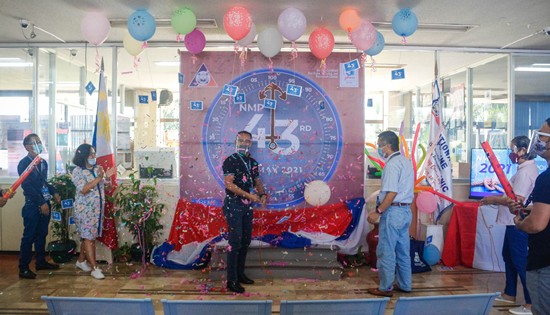 By National Maritime Polytechnic
January 26, 2021
TACLOBAN CITY – The National Maritime Polytechnic (NMP), established in the year 1978 by Presidential Decree No. 1369, sets its pace through the unveiling of the 100-Days countdown marker last 22 January 2021 in celebration of NMP's 43 years in public service providing competitive and quality trainings & researches to the Filipino seafarers.
With this year's anniversary theme: "Enhancing the Filipino Seafarers' Capabilities through NMP Trainings In Meeting Global Competitiveness Towards Adopting The New Normal", a challenge and reflection was injected by NMP's Deputy Executive Director, Mayla N. Macadawan in her opening remarks, "This is not the occasion we imagined it to be. It's not going to be a normal celebration but nevertheless, with our initiative and resilience we always find ways to give meaningful occasions. The wisdom of putting NMP in Tacloban City is we are at the heart of the country making us accessible to both the two major islands of the country. Therefore, let's look back to 43 years as a premier & the only maritime training & research center with the need to evolve and continuously meet the demand of the advancing maritime world."
The event was concluded with the words of encouragement from the Executive Director of NMP, Joel B. Maglunsod mirroring on the importance of unity as a great factor in achieving success and the persistent attainment of the NMP's vision and mission.
"This occasion must be marked by the dedication and commitment of all NMP employees who have been serving the Filipino people in general, and the Filipino seafarers in particular, for the past 43 years" said Executive Director Maglunsod.
NMP, an attached agency of the Department of Labor and Employment (DOLE), was established as the government's response to the immediate and dire need of updating and upgrading the capability and qualifications of maritime licensed officers and other marine graduates for their increased acceptability for employment in international and domestic fleets. Also, the agency has a satellite office located at Makati City but soon to transfer to a more reachable location at the DOLE Office in Manila.
Apart from its training operations, NMP also conducts industry researches towards improving the Philippine maritime workforce with its findings adopted as inputs in the formulation of maritime education and labor and employment policies.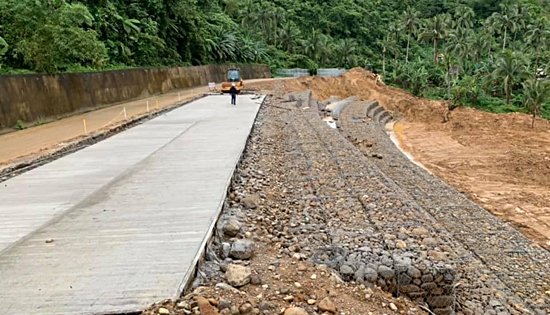 David P. Adongay Jr. inspects on-going construction of the Emergency Repair of Damaged National Roads with Slips, Slope Collapse and Landslide along Naval Caibiran Cross Country Road, (K1041+500-K1041+590), So. Macalpe, Naval, Biliran.
Emergency repair of damaged road with slope collapse in Biliran underway
By DPWH-Biliran
January 26, 2021
NAVAL, Biliran – Two on-going projects: emergency repair of damaged national road with slope collapse along Naval-Caibiran Cross Country Road (NCCCR) are more than halfway complete.
David P. Adongay Jr., District Engineer said that these projects are being fast-tracked under contract with Chu Construction to accommodate huge numbers of traffic along NCCCR.
Both projects are located at Sitio Macalpe, Brgy. Cabibihan, Naval Biliran with road sections: K1041+500-K1041+590 amounting to P35M and K1041+266-K1041+382 amounting to P44.8M. As of January 25, 2021, they have an accomplishment of 83.52% and 60%, respectively. Currently, these road sections are passable only to light vehicles for safety measures.
"The immediate completion of these projects is important to prevent any road accident especially that these road sections are prone to slips, slope collapse and landslides," said Adongay.
According to Adongay, major scope of work for this project involves the concreting of a four-lane road and the installation of gabions, the first of its kind here in the Province.
Gabion is a wire cage or box filled with materials such as stone, concrete, sand, or soil. It is a partially flexible block construction used for slope stability and erosion protection in construction.
"The asset preservation project is designed to prevent further road slips along NCCCR and prevent road closures in this area", said Adongay.
The road at NCCCR is essential for residents in the town of Caibiran and to its neighboring towns for a faster access to the only Provincial Hospital and other basic essential services like banks and other financial institutions in the capital town of Naval.
When completed, this project will provide a wider and safer road for the increasing volume of traffic along NCCCR.
From its start dates on June 10, 2020, these projects are targeted to be completed on February 19, 2021 and March 05, 2021.
Global probe on PH rights violations to include case of harassed indigenous peoples leader
Igorot activist Windel Bolinget politically persecuted, submitted himself to authorities for custodial protection on fabricated charges
Press Release
January 26, 2021
MANILA – Investigate PH, an independent international investigation on the human rights abuses in the Philippines announced Wednesday that it will include the case of Cordillera indigenous leader Windel Bolinget. Last week, Bolinget submitted himself to the authorities for protection as he faces the trumped-up murder case that was filed by a police against him. Prior to this, a shoot to kill order and bounty of US $2,100 was issued by the police directly threatening his life.
"We are determined to pursue the case of indigenous peoples activist Windel Bolinget in this ongoing independent investigation. The absurd cases filed against him causing fear for his life and the safety of his family are testaments to the terror human rights defenders face in the Philippines," says International Coalition for Human Rights in the Philippine (ICHRP) Chairperson Peter Murphy who is also part of the global probe Investigate PH.
Bolinget's case which involves harassment, red-tagging and the now trumped up charges has been shortlisted by Investigate PH in its investigation. The independent international probe will submit a report to the upcoming Regular Sessions of the United Nations Human Rights Council (UNHRC).
Mr Bolinget is the Chairperson of the Cordillera Peoples Alliance and national convenor of KATRIBU national alliance of indigenous peoples. He is also a member of the global steering committee of Land is Life, a global network of indigenous peoples' organizations and advocates. "Windel Bolinget has long been known globally as an indigenous activist strongly committed to his work, and for many years has suffered red-tagging and death threats," says Murphy.
On 6 August 2020, a criminal case was filed at Davao del Norte, Southern Philippines, against eleven individuals including Mr Bolinget, for their alleged involvement in the murder of Garito Malibato on 21 March 2018. Bolinget belongs to the Kankanaey and Bontok indigenous peoples in the Cordillera Region, Northern Philippines. The distance between the Cordillera and Davao del Norte is more than 1700 kilometres and is two major islands away.
"The murder charge appears to be absurd and out of this world. The Cordillera is in the north of the Philippines, while Davao del Norte is very far to the south," says Murphy.
The Police circulated online and in public places the Wanted Poster announcing a reward of P100,000 (2,080 USD) for any information that could lead to his arrest. On January 19, 2021, Police Provincial Regional Office Cordillera Chief R'win Pagkalinawan released a 'shoot to kill' order for Mr Bolinget, qualifying it only with 'if nanlaban' (if he retaliated). 'Nanlaban' is the routine excuse for police shooting of alleged drug suspects and indicates that the target person 'resisted'.
According to ICHRP, this bounty only encourages vigilantes and more violence, which further puts in danger the life of Bolinget. It also denied due process to the falsely accused Mr Bolinget.
The ICHRP Chairperson reminded Chief Pagkalinawan that his statement "is a pretext for the speedy extra-judicial killing of Mr Bolinget before evidence presented in a legal process could prove that the murder charge is false."
The Independent International Commission of Investigation into Human Rights Violations in the Philippines or Investigate PH seek to look into cases of killings of those allegedly involved in drug trade/use and the persecution of human rights defenders and civil society organizations like that of Bolinget.
Investigate PH will be holding a global launch this week to introduce its commissioners who are leaders of government parliaments, international legal organisations and churches.
Lastly, the global rights group ICHRP stressed that Bolinget's case is just one of many cases that demonstrate that the Philippine government claims to the international community that its domestic processes upholding human rights are blatantly fraudulent.
DPWH completes circumferential road in Barangay Basud, Calbayog City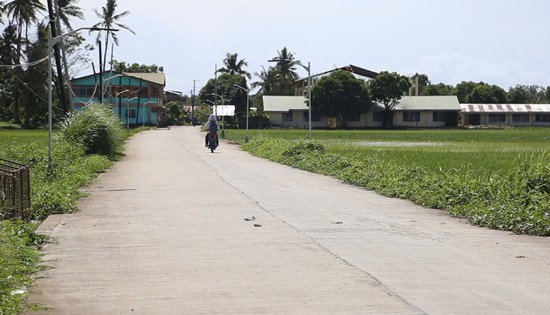 By GISSELLE G. PARUNGAO
January 25, 2021
CALBAYOG CITY – The circumferential road built in Barangay Basud, Calbayog City is now completely passable to motorists and residents of the barangay, said DPWH-Samar First District Engineering Office. The projects have a total revised contract amount of more than P57 million drawn from the General Appropriations Act (GAA) of 2019.
The road before is somewhat dangerous because it was narrow and some parts are not yet cemented while other parts can be reached through a footpath. This area is hazardous and accident prone for passing motorists and residents as stated by Barangay Captain Bliselda Ortiz.
With this condition, a length of 520 meters was rehabilitated that includes a riprap of 430 meters. Another part includes a concreted road opening of 290 meters and a gravel road of 30 meters with a riprap of 340 meters along Salagan Creek. Cross drainages were also built to allow free flow of water since the area is a rice field and near a body of water.
Furthermore, another part of the road was rehabilitated which spans 923 meters and a riprap was also built with a length of 42.5 meters. This project also includes a drainage canal for both lanes that spans 236.8 meters and another two cross drainages to avoid water flooding on the main road.
Both road works have a width of six (6) meters and includes installation of solar lights.
Now that the roads are widened and solar lights are installed, the security of the residents and passing motorists are ensured. By strengthening connectivity, the circumferential road will allow for the smooth flow of motorists going to and from the city proper and facilitate socioeconomic progress among the community.
Former rebels, soldiers jointly finish livelihood training in Leyte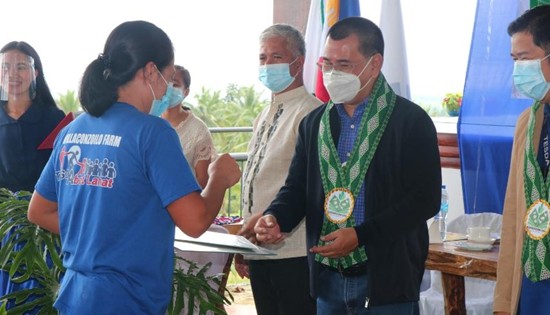 By DPAO, 8ID PA
January 22, 2021
CAMP LUKBAN, Catbalogan City – Fifteen former New People's Army (NPA) rebels in Samar and Leyte are now job-ready as they completed a 27-day skills training conducted by the Technical Education and Skills Development Authority (TESDA).
The livelihood training the former rebels have completed is the Landscape Installation and Maintenance (Softscape) NC II.
Ten soldiers of the 8th Infantry Division also attended the same training as former rebels training partners to show unity and peaceful endeavor.
The graduation was held at the Villaconzoilo Farm School, Barangay Villaconzoilo, Jaro, Leyte on January 20, 2021.
TESDA Regional Director Gamaliel Vicente Jr. congratulated the graduates and hoped that more rebels would enroll for them to gain skills and later have jobs, which are beneficial for their families.
"TESDA is in full support to former rebels in providing livelihood training opportunities in pursuit of peace," Dir. Vicente said.
Leyte Governor Leopoldo Dominico Petilla said the local government units are offering livelihood training to bring the government closer to the people and encourage rebels that some programs and services await them if only they return to the folds of the law. He added that skills training is a venue for more rebels to address poverty in their families and communities which is one of the socio-economic issues being used by the NPA to lure and recruit individuals in the region.
A former rebel, who introduced himself as Jade said that he is thankful for the government's intervention. He was not only given the chance to live peacefully with her family but was also given livelihood.
"Masayang-masayang ako dahil nabigyan ako ng scholarship sa TESDA sa pamamagitan po ng Task Force - ELCAC. Di ko pa po naranasang grumaduate dahil hanggang grade 1 lang po ako ngunit ngayon ay naka-graduate na at ganap nang landscaper," Jade said.
Among the graduates, Jade was ranked as top 3 and received awards as best in indoor gardening and best in dish gardening.
The 802nd Infantry Brigade Commander, Brigadier General Zosimo A. Oliveros who facilitated the surrender of some former rebels pledged to work and encourage more NPA surrenderers to sustain the gains of peace and development in the province.
The International Red Cross and Red Crescent Movement celebrates the entry into force of the Treaty on the Prohibition of Nuclear Weapons
Press Release
January 22, 2021
GENEVA – The International Red Cross and Red Crescent Movement welcomes the entry into force today of the first instrument of international humanitarian law to include provisions to help address the catastrophic humanitarian consequences of using and testing nuclear weapons.
The Treaty on the Prohibition of Nuclear Weapons (TPNW) explicitly and unequivocally prohibits the use, threat of use, development, production, testing and stockpiling of nuclear weapons, and it obliges all States Parties to not assist, encourage or induce anyone in any way to engage in any activity prohibited by the Treaty.
"Today is a victory for humanity. This Treaty – the result of more than 75 years of work – sends a clear signal that nuclear weapons are unacceptable from a moral, humanitarian, and now a legal point of view. It sets in motion even higher legal barriers and an even greater stigmatization of nuclear warheads than already exists. It allows us to imagine a world free from these inhumane weapons as an achievable goal," said Peter Maurer, President of the International Committee of the Red Cross (ICRC).
Red Cross and Red Crescent leaders celebrate the entry into force of the TPNW and salute all 51 states whose backing of the Treaty makes clear their refusal to accept nuclear weapons as an inevitable part of the international security architecture. They invite other world leaders, including those of nuclear-armed states, to follow suit and join the path toward a world free of nuclear weapons, in line with long-standing international obligations, notably those under the Nuclear Non-Proliferation Treaty.
The Philippines has yet to become party to the treaty, although President Rodrigo Duterte, during the 75th session of the United Nations General Assembly in September 2020, said he has asked the Philippine Senate to ratify the TPNW, adding that "we were among those to sign it first." The Philippines was among the 122 States that adopted the treaty in July 2017 and was one of the 50 States that signed the treaty when it opened on 20 September 2017.
In August 2020, on the 75th anniversary of the Hiroshima and Nagasaki bombings, the ICRC and the Philippine Red Cross issued a joint statement calling on the Philippines to join other States in ratifying the treaty and in protecting all humanity.
The TPNW is now before the Philippine Senate for discussion, following endorsement by its Committee on Foreign Relations last week.
Francesco Rocca, President of the International Federation of Red Cross and Red Crescent Societies (IFRC), said: "The entry into force of this instrument of international humanitarian law comes as a welcome and powerful reminder that despite current global tensions, we can overcome even our biggest and most entrenched challenges, in the true spirit of multilateralism. This capacity to effectively unite and coordinate our action should be called upon as we grapple with other global, deadly challenges."
The Treaty obliges states to provide assistance, including medical care, rehabilitation and psychological support, to victims under their jurisdiction without discrimination, and ensure their socio-economic inclusion. It also requires states to clear areas contaminated by nuclear use or testing.
"The Treaty is a ground-breaking step to address the legacy of destruction caused by these weapons. The compelling evidence of the suffering and devastation caused by nuclear weapons, and the threat their use may pose to humanity's survival, makes attempts to justify their use or mere existence increasingly indefensible. It is extremely doubtful that these weapons could ever be used in line with international humanitarian law," Mr. Maurer said.
The Treaty enters into force as the world witnesses what happens when a public health system is overwhelmed by patients. The needs created by a nuclear detonation would render any meaningful health response impossible. No health system, no government, and no aid organization is capable of adequately responding to the health and other assistance needs that a nuclear blast would bring.
The adoption by nuclear-armed states of more aggressive nuclear weapons policies and the continued modernization of nuclear weapons all worryingly point towards an increasing risk of use of nuclear weapons. That's why it is imperative that we act now to prevent a nuclear detonation from happening in the first place, by removing any use and testing of nuclear weapons from the realm of possibility.
States Parties, which will have their first meeting in the course of 2021, must now ensure that the Treaty's provisions are faithfully implemented and promote its adherence.
"The Treaty presents each of us with a really simple question: Do we want nuclear weapons to be banned or not? We are ready, together with our Red Cross Red Crescent National Societies, to intensify our efforts to achieve the broadest possible adherence to the Treaty and insist on its vision of collective security. The entry into force of the Nuclear Ban Treaty is the beginning, not the end, of our efforts," Francesco Rocca said.
CARD Bank opens branch in Tabaco City
By CARD MRI
January 21, 2021
SAN PABLO CITY – In its bid to promote financial inclusion, CARD Bank, a microfinance-oriented rural bank, opened its 98th branch in Tabaco City, Albay on January 18, 2021.
The branch will cater to 29,626 microfinance clients who were originally part of Legazpi Branch. Having this new branch will bring bank services closer to clients of nine branch-lite units in the municipalities of Tabaco, Tiwi, Bacacay, Malilipot and Malinao. As well, these two branches will have better opportunities to expand.
This will fully reach more unbanked and underbanked families in the province. According to CARD Bank Regional Director Wilma Laurio, the branch is expected to deliver financial banking products and services to 31,000 clients by the end of the first quarter.
"These clients, who mostly came from the socioeconomically challenged families, will have equal opportunities to access affordable and useful financial products and services," said CARD Bank President and CEO Marivic Austria. She added that financial inclusion is one of the solutions to break the endless cycle of poverty.
Aside from offering microfinance, SME and other loan products, CARD Bank also promotes a better saving habit for every client it serves. For as low as P100, its clients can now open their savings account. This will encourage them more to become conscious about saving for their future.
CARD Bank also has a remittance service called CARD Sulit Padala. Together with CARD, Inc., CARD SME Bank, and CARD MRI Rizal Bank, clients who need remittance services can send or transfer money in more than 900 branches nationwide. For as low as P1, senders can transfer money to their loved ones to meet their financial needs.
The new branch will also be part of CARD Bank's digitization journey which is even more intensified because of the pandemic. "During the pandemic, the digital services of the bank showed a crucial role to constantly provide its services even with the presence of physical barriers. These digital efforts brought convenience and safety to our clients," said Austria.
The branch is located at Purok 1, Brgy. Pawa, Tabaco City, Albay. The opening was graced by CARD Bank President Marivic Austria, CARD Bank Executive Vice President Lourdes Dijan, CARD Bank Vice President for Operations Glenda Magpantay, and CARD Bank Assistant Vice President Raquel Zaragoza. It was also attended by CARD Bank Chairman Dr. Jaime Aristotle B. Alip, CARD Bank Senior Advisers Dr. Dolores Torres and Lorenza Bañez, and CARD MRI Managing Director Flordeliza Sarmiento via online conference.
To date, CARD Bank has more than 3.4 million clients served all over the country.