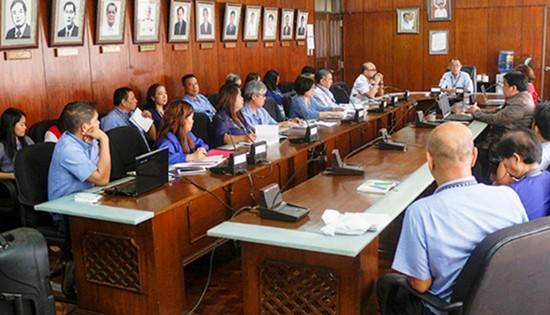 NMP Executive Staff, Section and Unit Heads during the Audit Entry /Exit Meeting with the SOCOTEC Auditors.
NMP retains its ISO 9001:2015 certification
By National Maritime Polytechnic
March 10, 2020
TACLOBAN CITY – Following a rigorous audit conducted by the SOCOTEC Certification Philippines, the National Maritime Polytechnic Quality Management System (NMP QMS) retains its ISO 9001:2015 Certification as it passed the 2nd Surveillance Audit held on 05 March 2020 both at its main office at Brgy. Cabalawan, Tacloban City and liaison office with address at 2nd Floor ECC Building, 355 Sen. Gil Puyat Avenue Makati City.
NMP's quality procedures, manuals and other systems documentation were reviewed by Ms. Olivia Eco and Mr. Ringo Pabua, SOCOTEC auditors, as against the requirements set forth by the standard. The auditors looked into NMP's several processes which include registration and certification procedures; course delivery; assessment / examination; documentation; performance monitoring and assessment; provision of resources; performance evaluation of suppliers and other administrative support services during the audit.
During the exit meeting, Ms. Eco, audit team leader, expressed her appreciation for the NMP's established QMS, as well as the strong support and demonstration of leadership of the top management for the continual improvement of its QMS.
She likewise relayed her positive observations on the significant developments since her last visit in May 2017. These include collaboration/ partnership with different manning and shipping agencies, acquisition of additional equipment, establishment of extension offices, remarkable set-up of NMP's training facilities coupled with excellent equipment maintenance activities and auditees are very competent and knowledgeable.
Finally, the audit report disclosed that there were no non-conformances noted, but somehow some observations were raised which NMP may look into as an opportunity for continual improvement. With the said findings, the NMP QMS was recommended for continued certification.
"We acknowledge the concerted efforts of the entire workforce in passing the audit. Rest assured that NMP will remain dedicated to further improve its systems, processes and procedures", said NMP Executive Director Joel B. Maglunsod.
Likewise, NMP OIC Deputy Executive Director shared "All the efforts and hard work of NMP employees have paid off. Congratulations to all of us."
As an Agency that commits to continuous enhancement of seafarers, maintaining ISO Certification of its QMS confirms the Agency's relevance in carrying out its mandate of upgrading the qualifications of Filipino seafarers and providing maritime industry researches.
Over the years, NMP aggressively pursued for the establishment of its QMS in compliance with the requirements of the Standards of Training, Certification and Watchkeeping Convention (STCW) 1978. Its first ISO Registration Certificate was obtained in April 2000. Since then, the NMP QMS has undergone continuous certification and surveillance audits, passed and was eventually re-certified over the years under ISO 9001: 1994, ISO 9001: 2000, ISO 9001: 2008, and the latest in 2018 under ISO 9001:2015.
It can be recalled that in 2009, NMP received a special recognition from the Office of the President for being one of the forty (40) government offices across the country to be ISO-certified. Also, in 2015, the Agency earned a commendation from the Department of Labor and Employment (DOLE) for continuously improving the efficiency and effectiveness of its Quality System.
Meanwhile, in its effort to sustain its mandate in providing quality service through upgrading and specialized training programs, NMP continues to maintain and upgrade its facilities and its pool of competent instructors. Those Interested to take the training courses may visit the NMP website @ www.nmp.gov.ph or visit the agency's Facebook page (www.facebook.com/ nmptrainingcenter) where all updates and relevant information on NMP programs are available.
Interested stakeholders who wish to validate the authenticity of their seafarers-employed with NMP issued certificates may visit www.verify.nmp.gov.ph or download the NMP App at Google Play Store for android phone users. Likewise, those interested in NMP research undertakings may visit the NMP website and access the e-Research Information System Portal which is designed to disseminate NMP completed researches, present the Research Agenda, and engage the industry stakeholders to collaborate in the research activities.
Further, NMP encourages OWWA registered seafarers to avail of the NMP-OWWA (Overseas Workers Welfare Administration) Seafarers' Upgrading Program (SUP) and Skills for Employment Scholarship Program (SESP) which entitles the beneficiary to receive financial assistance for training costs from the OWWA.
Teachers reject Congress bid to pass 'terror bill'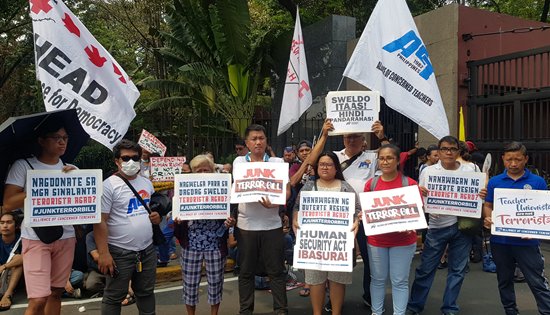 ACT Press Release
March 10, 2020
QUEZON CITY – The Alliance of Concerned Teachers (ACT) Philippines opposed the proposed 'draconian' amendments to the Human Security Act (HSA) of 2007, which the group says will 'render teachers' just fight for decent pay and benefits, better services, and social justice as acts of terrorism.' The House of Representatives is set to hold a committee deliberation today on the proposed amendments. Earlier, Senate already approved on 3rd and final reading the Anti-Terrorism Bill that sought to overhaul the 2007 HSA.
"This is yet another attack on our rights and liberties. Not only are we denied livable wages and dignity with the President's treacherous passing of an insultingly meager pay hike, now we are at risk of being called terrorists for demanding more and what is due us," decried ACT Secretary General Raymond Basilio.
ACT said that both versions of the Senate and lower house contains 'vague and overbroad' definitions of terrorist acts with 'grave consequences,' such that legitimate exercises of rights may be deemed as such 'should the state say so.' Said acts are punishable by at least 8 years to life imprisonment under the proposed amendments.
"Say for instance, we take to the streets again to call for salary upgrading, the state has the authority to say that the intentions of such is to 'intimidate the government to do something' and it instantly becomes terrorism. Even calling on DepEd to release our benefits can be tagged as terrorism under these proposals. These are horrid and disturbing affront to our hard-won rights, and we all should fight back," called Basilio.
The teachers' group furthered that the proposed amendments to HSA will greatly contribute to the quickly shrinking democratic spaces amid a time of unrest in the country due to worsening socio-economic conditions.
"Instead of providing relief to the people, the government wants to punish us for seeking redress over the people's suffering, which no less than their own policies have caused – like the SSL 5, TRAIN Law, Rice Tarrification Law, war on drugs, EO 70, among others," hit Basilio.
ACT said that the proposed measure will be 'dangerous at the hands of an administration who is intolerant of dissent' and is a 'turn for the worse under an increasingly repressive regime.'
ACT urged the Congress to junk the amendments to HSA, which it said will make the HSA even more repressive with much less accountability. The group challenged lawmakers to 'be on the side of democracy' and refuse to legitimize further repression of the people.
"As for us, we will push back against all attacks on our rights and freedoms. Our collective unity and strength, realized through our unions and organizations, will stand against repression and will triumph in frustrating a tyrannical regime, just as we did many times before. We will continue advancing the interests of teachers, students, and the entire nation," pledged Basilio.
ACT joined other freedom-loving groups in a protest action outside of the House of Representatives today to call for the junking of the proposed measures.
DPWH-Biliran DEO kicks of construction of 2020 infra projects
By DPWH-Biliran
March 9, 2020
NAVAL, Biliran – The Department of Public Works and Highways (DPWH) Biliran District Engineering Office (DEO) has started the construction of various infrastructure projects under 2020 General Appropriations Act (GAA).
David Adongay Jr, District Engineer said that 14 projects are already on-going as of February 29, 2020 with an accomplishment of 3.20% while 61 projects will soon to embark.
"With a total of 75 projects to be completed this year under the cash-based budgeting, this district office is up for the challenge," said Adongay.
Under local project implementation, the district office is now implementing the construction of two multipurpose buildings located at Brgy. Calumpang and at Brgy. Caraycaray in Naval town. One access road project at capitol compound also in Brgy. Calumpang has already started amounting to P1.89M.
In Caibiran town, two projects have begun construction. These projects are the constructions of road at Mocorro Street, Brgy. Palenque amounting to P1.18M and at Brgy. Palenque and Palanay amounting to P2.5M.
Meanwhile, one seawall project at Brgy. Baso in Cabucgayan town is also ongoing amounting to P2.9M.
Under regular project implementation, six flood control projects are underway. These projects are the construction/ rehabilitation of Amambahag flood control in Culaba town (P19.4M), Kaulangohan Flood control in Caibiran town (P18.6M), Mapula flood control in Caibiran town (P18.6M), Ungali flood control in Kawayan town (P9.3M) and Santol flood control (P27.9M) and Busali flood control (P28M), both in Biliran town.
The district office is now also in full swing in the construction of Biliran Provincial Police Office (BPPO) Building at Brgy. Larrazabal in Naval town in convergence with the Philippine National Police (PNP) amounting to P24.15M and the rehabilitation /reconstruction of national road with slips, slope collapse and landslide in Caibiran town amounting to P35.7M.
Adongay always reminded contractors to speed up the project implementation to complete projects before the year ends without compromising the quality of the projects.
78th IB encounters remnants of Communist NPA Terrorist (CNT) in Sogod, Southern Leyte
By 78th Infantry Battalion, 8ID PA
March 8, 2020
BURAUEN, Leyte – 78th Infantry (Warrior) Battalion had a series of encounters with the Communist NPA Terrorist believed to be remnants of Front 42, Sub-Regional Committee, LEVOX, Eastern Visayas Party Committee under Communist NPA Terrorist Leader Roberto Opo @Resty/Migo/Lowie in Brgy. Pancho Villa, Sogod, Southern Leyte on March 5, 2020 and March 7, 2020, respectively.
Said series of encounters resulted to the capture of one (1) M1 Garand Rifle with six (6) live ammunition, one (1) ammunition clip and two (2) fired cartridges. The troops also discovered the enemy harboring site in vicinity of Brgy. Pancho Villa, Sogod, Southern Leyte along with the following items: six (6) kilos of rice; one (1) plastic bottle of cooking oil; four (4) pieces 3n1 coffee; one forth (1/4) pack of brown sugar; and eight (8) pieces coffee stick.
The security operations are in response to the civilian populace reported presence of terrorist groups who were conducting illegal activities, such as, extortion and recruitment. Said presence and illegal activities of Communist NPA Terrorist in the area affects the peaceful living conditions of the populace and their livelihood and expose their children to recruitment.
These actions of the Communist NPA Terrorist shows their clear defiance to the government's initiative on peaceful resolution of conflict intended to advance development, boast economy, and sustain peace and order through the effective implementation of the Executive Order Number 70 or the Institutionalization or the whole of nation approach in order to uplift the social status and living conditions of the populace.
This successful engagement with the Communist NPA Terrorist is attributed to the timely information provided by the people in the area who refused to believe the futile struggle and propaganda of the terrorists. They are already tired of the extortion and propaganda activities conducted by the said terrorist group.
According to Lieutenant Colonel Roberto B Obaob, Commanding Officer of 78th Infantry Battalion, "the said military security operations against the enemy of the state will be relentless in order to finish the remnants of Communist NPA Terrorist. However, our door is open for the peaceful return to the folds of the law of those Communist NPA Terrorist who will opt to lay down their arms and join the mainstream law abiding society. They can avail of the Enhanced Comprehensive Local Integration Program (E-CLIP). Our priority remains to be the overall safety of the people of Leyte and Southern Leyte. Thus, whoever will attempt to endanger the people must be ready to face our full force".
Narratives of how is it really back home reverberate in the halls of UN rights body
Press Release
March 7, 2020
GENEVA, Switzerland – With three oral interventions one after the other last Friday and another last Monday, a team of Filipino rights defenders further strongly urged the United Nations Human Rights Council (UNHRC) to look into the state of human rights in the Philippines.
The four speakers from the Ecumenical Voice for Human Rights and Peace in the Philippines (EcuVoice) also unanimously supported the reports presented by UN experts in calling for further investigations on rights violations in the country, contrary to the rather confrontational stance employed by the government in the ongoing 43rd UNHRC session here.
EcuVoice delegation co-leader and Karapatan secretary general Cristina Palabay said she welcomes the report of the UN Special Rapporteur on the situation of human rights defenders that noted "wide-ranging and cumulative violation of the rights of defenders."
"This rings true in my particular case and that of human rights defenders of Karapatan. Twelve of my colleagues were killed by suspected State forces under the current administration, three have been arrested the past four months, and many more are facing trumped up charges. Women defenders face misogynist attacks, driven by discriminatory pronouncements of government officials," Palabay added.
Johanna dela Cruz of the National Council of Churches of the Philippines said they are also grateful for the report of the UN Special Rapporteur on the situation of human rights defenders and support his conclusions and recommendations.
Dela Cruz said church people's rights in the Philippines are violated, primarily those "doing their Christian mandate and mission of ministering to the poor and the marginalized. Bishops and Parish priests, particularly from the Iglesia Filipina Independiente (IFI), were red-tagged, harassed by soldiers implicating them as rebels."
EcuVoice head and International Association of Democratic Lawyers interim president Edre Olalia for his part reported to the UNHRC that in the 44 months of the Duterte administration, at least 48 lawyers including judges and prosecutors have been murdered.
"Human rights lawyers like Ben Ramos as well as lawyers handling drug-related cases continue to be brazenly attacked in various forms. Orchestrated smear campaigns and vilification by red-tagging, labelling and reprisal charges against human rights defenders at every opportunity in different for a continue with impunity," Olalia said.
The three defender's reports Friday, March 6, brings to four the successful oral interventions presented by EcuVoice before the UNHRC. Earlier in the week, Clemente Bautista of Kalikasan People's Network for the Environment reported that there are serious challenges to life, security and liberty of environmental defenders in the Philippines, "which redound to transgressions on the rights to a safe, clean, healthy and sustainable environmental of communities, including that of indigenous peoples and peasants."
"It must be noted that the EcuVoice delegation have welcomed all the UN special rapporteurs' reports presented thus far, quite different from the bellicose stance of the Philippine government in the ongoing debates," Olalia said.
EcuVoice is enjoining the UNHRC to ensure that Filipino human rights defenders have access to the UN free from reprisals and provided with safe environments for the exercise of its work. The group also said it supports the special rapporteurs' recommendations to enable official visits to countries in conflict situations such as the Philippines.
DTI to champion loom weaving industry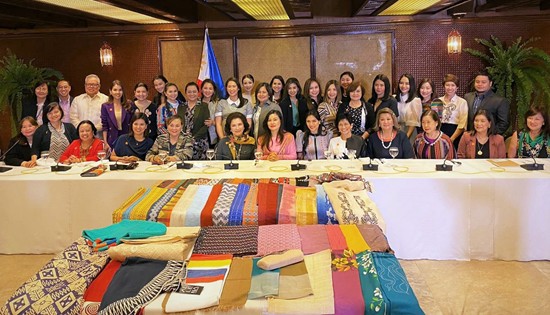 By DTI-ROG
March 5, 2020
MAKATI CITY – In an effort to revive the Philippine weaving industry and provide livelihood opportunities for local weaving communities, DTI key officials, led by Secretary Ramon Lopez and Regional Operations Group Undersecretary Blesila Lantayona, met with Cabinet Secretaries' and Congressional Spouses last March 2, 2020 at the Heroes Hall of the Malacañang Palace to present samples of native woven textiles from across the country and to propose a project that will aid and promote Filipino weavers.
The meeting was initiated by Madame Cielito "Honeylet" Avanceña, through the Office of the President. The project was birthed from a previous dialogue with Madame Avaceña and DTI officials, including selected DTI Regional Directors, last February 26, 2020.
The project, with the working title "MODA: Modernong Obra, Disenyong Atin", will be championed by the One Town, One Product (OTOP) Program, under the leadership of Assistant Secretary Demphna Du Naga. The word "MODA" is a Filipino term which means "fashion".
The MODA project will focus on two components – a showcase of designed wearables made from natively woven textiles and a sustainable marketing space to display featured hand and loom woven fabrics for prospective buyers.
Cabinet Secretaries' and Congressional Spouses lauded the initiative and echoed the call for increased patronage for weaving communities. OTOP, through DTI Regional Offices, will be coordinating with local governments and the Cabinet Secretaries' and Congressional Spouses Group, through the Office of the President, to reach these weaving communities and monitor the progress being made in the project. Further meetings will be taking place leading up to the completion of the project by July 2020.
This effort aims to kickstart the series of initiatives that could place the local weaving industry in the frontlines of Philippine fashion, arts, and commerce. The MODA project also hopes to encourage younger generations to keep native crafts alive and relevant in an ever-changing world.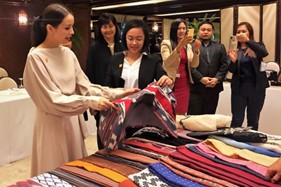 DTI, Google, tie up for MSME digitalization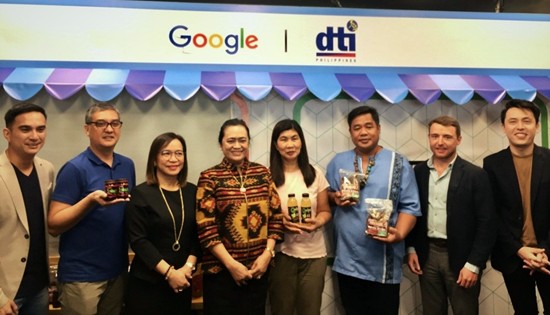 By DTI-ROG
March 3, 2020
MAKATI CITY – The Department of Trade and Industry (DTI) finally inked deal with Google Philippines in upgrading the micro, small, and medium enterprises (MSMEs) through the power of digitalization, creating a strong online presence and training them on digital skills to grow their businesses globally.
Through Google's MSME Caravan, the goal is to conduct training sessions among MSMEs nationwide so they can be well-informed of the digital landscape, latest consumer insights and tools such as Google My Business, a free online listing on Google maps and Search to help MSMEs connect with more consumers in the digital space.
Google will train MSMEs build their online presence, control their business information, and create a free website and posts.
The series of workshops have already started, training more than 2,780 MSMEs in over 20 cities across eight regions nationwide.
"DTI shares same vision of Google on enhancing the skills of our entrepreneurs to become digital-savvy. That's why we want to thank Google for this program that lets MSMEs maximize Google My Business to manage their online presence in Google Search and Google Maps. We laud them for their program goal of trying to reach 500,000 businesses by 2020 from the current 125,000 businesses registered in Google My Business," expressed Trade Undersecretary Blesila Lantayona, speaking on behalf of Secretary Ramon Lopez during the launch of MSME Caravan at the Google Philippines Office, Bonifacio Global City, Taguig last February 26, 2020.
DTI and Google target to reach more throughout 2020 as empowering MSMEs plays a vital role in driving the economy forward.
"Filipino MSMEs have the drive, the passion and the dedication to succeed. Combine that with the new tools and opportunities of the internet, and there is no limit on what's possible for them! We hope that the MSME Caravan will help bring on board more trainees, visit more communities, and give more business owners the digital skills they need," said Bernadette Nacario, Country Director of Google Philippines.
Furthermore, the three (3) MSMEs who were also products of DTI's Kapatid Mentor ME (KMME) Program – Gerome Panlilio, a chili oil manufacturer from Quezon City, a Michelle Mariano, a calamansi juice bottler from Isabela Province and Beltranalmendral, a dried pork producer from Quirino Province – shared their inspiring stories on how they were able to leverage the power of digital tools in growing their businesses and reaching their consumers.


(L) Brgy. San Joaquin, Calbayog City, Samar and (R) Legislative Building-Phase II, Brgy. Poblacion C, Tarangnan, Samar.
DPWH constructs Multi-Purpose buildings in barangays of First District of Samar
By GISSELLE G. PARUNGAO
March 3, 2020
CALBAYOG CITY – Samar First District Engineering Office completed ten (10) Multi-Purpose Buildings (MPB) in different barangays within the First District of Samar with a total appropriation of 39 million under the General Appropriations Act of 2019.
Completed MPBs are located in Calbayog City at Barangays Bagacay, Hamorawon, San Joaquin, San Rufino, and Rawis. Another completed MPBs are situated in Barangay Villahermosa Oriental in Pagsanghan, Samar as well as Barangays Poblacion C and Tigdaranao, Tarangnan, Samar. MPBs are also finished at Barangay Hinugacan in Gandara, Samar and Barangay Aurora, San Jorge, Samar.
They are primarily used for hosting events in the barangay, meetings, seminars and can also be used as evacuation centers during emergencies.
The Legislative Building at Poblacion C will house the Sangguniang Members of the Municipality of Tarangnan. It will serve as a place for where the members can formulate municipal orders and decrees that will be beneficial to the development of Tarangnan and its people.
Moreover, the MPB at Barangay San Joaquin is a flourishing coastal village with over 6,000 residents. Based on interview with residents, the MPB will be utilized as barangay council office and venue for community-based programs such as livelihood seminars and day care. The MPB is easily accessible and PWD friendly.
SA-BEST-Centre Alliance investigation:
Explicit child pornography material being sold over the counter in Australian retail outlets
Press Release
March 2, 2020
ADELAIDE – Sickening child pornography material is being sold widely over the counter in popular Australian retail outlets, a special investigation by SA-BEST and Centre Alliance has found.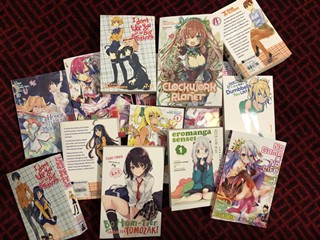 A collection of the books purchased by SA-BEST MLC Connie Bonaros.
A range of animated movies and "comic books" showing sexually-explicit images of young girls and connotations of incest and rape involving minors are being freely sold in some of the country's most popular retail outlets, and online.
The investigation found that some of child exploitation material has been reviewed and classified legal by the Classification Board - despite falling within the meaning of child abuse material under the Commonwealth Criminal Code Act 1995 which makes it illegal to both sell and buy some pornographic items – while other graphic material has not been reviewed and/or classified due to disturbing loopholes in current laws.
The SA-BEST-Centre Alliance investigation revealed the explicit child exploitation material is found in a Japanese form of animation called anime – both on Blue Ray discs and in Japanese "comic books" called manga.
The two forms of media share a unique visual style that is globally popular - especially among teens.
However, there is a sinister and sickening side to anime and manga with a significant proportion of the two media featuring child abuse material containing images of wide-eyed depictions of children - usually in school uniform – who are engaged in explicit sexual activities and poses, often being sexually abused.
This is referred to as "hentai" anime and manga which child abuse experts warn that paedophiles use as a tool to groom children.
SA-BEST MLC and Attorney General spokesperson, Connie Bonaros – who recently introduced laws to ban childlike sex dolls in South Australia – and her Federal colleague, Centre Alliance Senator Stirling Griff, are demanding urgent action by the Federal Government to ensure laws banning such child exploitation material are properly enforced.
Connie has written to all of the state Attorneys-General to alert them to the issue and requesting they take immediate action to stop the material being sold.
Stirling has written to the Minister for Home Affairs and to the Minister for Communications, Cyber Safety and the Arts requesting the government takes immediate action.
Connie said she felt "sick to the core" by the findings of the investigation.
"I am horrified that child pornography material is freely available in Australia despite clearly being in breach of the definition of child abuse and exploitation material under both commonwealth and state law," Connie said.
"Even in cartoon/anime form, this is child pornography and the law in Australia is explicitly clear about it," she said.
"Depictions and/or representations that appear or are implied to be of under 18-year-old children and are depicted in sexual poses or engaged in sexual activity or is a victim of torture, cruelty or abuse is child abuse material under both commonwealth and state criminal laws.
"Any retailer who sells such pornographic material is in serious breach of the law but probably is not aware of it given current laws are not being properly enforced."
Stirling said a number of anime (animation) films containing child abuse material - such as rape scenes – had received classification by the Classification Board, allowing them to be imported and sold in Australia.
However, explicit manga (graphic novels) is currently not vetted by the Classification Board and is freely available due to the fact all film and video games must be submitted for classification, publications are only required to be submitted if they are deemed to be a 'submittable publication' putting the onus on distributors and publishers to determine what they should submit.
This is despite the Commonwealth Criminal Code Act 1995 prohibiting the sale, production, possession and distribution of offensive and abusive material "that depicts a person or a representation of a person who is or appears to be under 18".
"Graphic Japanese manga novels and anime depicting sickening child abuse, rape, incest and sexualised images of children should be removed from shelves, streaming services and banned from entering the country," Stirling said.
"Child exploitation is a global problem, heightened by modern technology and the myriad of platforms that are used to access such material," he said.
"As legislators, we have a critical role to play in stamping it out. There is much more to be done, and areas where we need to focus more attention, such as the child abuse material that comes into Australia via Japanese anime and manga.
"Experts that advocate against child exploitation have referred to this type of anime and manga as a gateway to the abuse of actual children. Experts also say that explicit anime and manga can be used by paedophiles as tools to groom children.
"Incredibly, in Japan the definition of child abuse material specifically excludes child porn anime and manga, as these media don't include real children.
"But the law in Australia is very clear. The Commonwealth Criminal Code prohibits the sale, production, possession and distribution of offensive and abusive material that depicts a person, or is a representation of a person, who is or appears to be under 18. It is unambiguous.
"The Classification Board appears to be making decisions in isolation to criminal law. This must stop. There is also the issue of explicit manga graphic novels, which are not vetted at all by the Classification Board.
"I recently made a submission to the current Review of Australian classification regulation raising issues over the inadequacy of the current regime to deal with such abusive material but we can't wait for the review to report, we must act now.
"The Board doesn't seem to be following its own guidelines* properly."
The SA-BEST-Centre Alliance special investigation found the shocking child abuse material is freely available in Australia – including in well-known electronics store and popular bookstores in Adelaide and Sydney – as well as online.
The investigation follows a trip Connie made late last year to Japan - regarded as the home of the manufacture and distribution of childlike sex dolls – where she heard disturbing accounts from people at the frontline fighting the scourge of child sex exploitation in that country.
Connie said her trip to Japan was an extremely productive and educative despite attempts to meet with the Minister for Justice being declined at the 11th hour.
"I was able to meet with several outstanding non-government organisations advocating against child sexual abuse, child abuse material and child sexual exploitation in Japan – which is a significant problem in that country," Connie said.
"These remarkable women are working in difficult circumstances with absolutely no government funding and are up against a system that does not view child abuse material in the same way we do," she said.
"They were left shocked when they heard about the extent of our robust child exploitation laws in Australia.
"They all welcomed assistance from external sources and were grateful that an Australian politician was keen to support them and assist in any way to achieve legislative change with respect to child abuse and child exploitation laws in Japan.
"They are desperate for pressure to be exerted on the Japanese government in order to bring about meaningful change because, ultimately, child exploitation knows no borders – and that's what SA-BEST and Centre Alliance intend to do."
Connie will return to Japan later this year to continue the dialogue with these organisations and attempt to raise her concerns with the Japanese Government.
San Carlos bishop: Philippine banks must divest from coal
Press Release
March 1, 2020
CAGAYAN DE ORO – Representing the Withdraw from Coal Campaign, a Church leader on Friday appealed to Philippine financial institutions to stop funding the expansion of coal operations in the country and support the development of renewable energy instead.
The call was made during the 3rd Philippine Environment Summit, an event that presents current initiatives contributing to the country's social and economic development while conserving the environment, held on 26-28 February at the Grand Caprice Convention Center in Cagayan de Oro.
"As fulfillment of their moral obligation, Philippine banks must have concrete plans to phase out coal finance in the time required by today's climate crisis. They must have clear policies restricting their exposure to coal, channeling the funds they divest from it into clean and affordable renewable energy for all Filipinos," said Bishop Gerardo Alminaza of the Diocese of San Carlos, Negros Occidental.
While praising the SONA 2019 directive of President Rodrigo Duterte to "fast-track" the development of renewable energy resources and reduce dependency on coal, the bishop pointed out that the continuing dominance of coal in the country's energy mix calls for even more ambitious ways forward from different sectors, including the finance industry.
"Banks financing coal are not only funding the climate crisis, they are also enabling the continued suffering of coal-affected communities," he stressed.
In addition to the 16 new coal-fired power plants added to the national fleet in the last decade, the Philippines is still looking to add a total of 12,014 MW of new coal power, making it the ninth biggest coal expansionist in the world as of 2019.
13 local banks had been identified to have loaned or underwritten USD 6.303 billion to coal interests from 2017 to the third quarter of 2019. Two of these banks, Bank of the Philippine Islands (BPI) and Banco de Oro (BDO) account for nearly 55% of this finance.
"The IPCC reported that the world has until 2030 to reduce coal use by 78% from 2010 levels to avoid even more disastrous climate impacts. As stewards of Creation, we must unite with our scientists on this and seek to veer away from a fuel that causes the suffering of our people and destruction of our Common Home," Alminaza said.
Alminaza stated that as the Philippines is one of the most vulnerable nations to climate change, it must lead in phasing out coal, and financial institutions must take their role in it seriously – similar to the commitment of the Catholic Bishops Conference of the Philippines (CBCP) and his own diocese to divesting its resources from dirty energy technologies.
A petition letter addressed to the Bank of the Philippine Islands, the bank with which many Church organizations have financial relations, was also circulated during the event and was signed by hundreds of participants, including Bishop Antonio Ledesma of Cagayan De Oro.
"We appeal to all to join the calls as written in our letter as expression of our care for our common home and our future generations. For as one saying goes, 'we do not inherit the Earth from our ancestors – we borrow it from our children.' We must act swiftly for time is running out," said Alminaza.
Launched in Manila in January and in Visayas in February, "Withdraw from Coal" is a campaign spearheaded by the Church, civil society, and people's organizations urging Philippine banks to divest from businesses involved in coal power generation and coal extraction.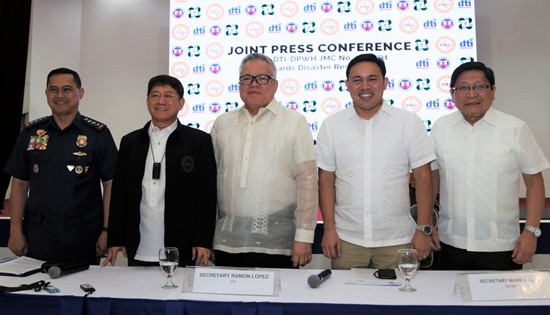 (L-R): PNP Chief Archie Francisco Gamboa, DILG Secretary Eduardo Año, DTI Secretary Ramon Lopez, DPWH Secretary Mark Villar, and MMDA Chair Danilo Lim.
Selling substandard products like selling illegal drugs - DTI chief
By DTI-OSEC-PRU
February 28, 2020
QUEZON CITY – Department of Trade and Industry (DTI) Secretary Ramon Lopez said that selling substandard products is like selling illegal drugs because both activities endanger the lives of Filipinos.
The trade secretary made this remark during the joint press conference on 26 February 2020 with the Department of Interior and Local Government (DILG) and the Department of Public Works and Highways (DPWH). The press conference tackled the DILG-DTI-DPWH Joint Memorandum Circular (JMC) No. 2019-01 on ensuring safe, adaptive, and disaster resilient communities.
The JMC aims to prepare the Greater Metro Manila Area (GMMA) for the potential devastation in the event of "The Big One" – or a magnitude 7.2 earthquake resulting from the movement of the West Valley Fault.
According to PHILVOLCS OIC for Earthquake and Earthquake Hazards Ishmael Narag, The Big One can potentially kill more than 48,000 people and around 24,000 more in the GMMA.
Under the circular, all local governments are ordered to assess the structural integrity of all public and private buildings, facilities if they conform to the National Building Code of the Philippines.
For his part, Secretary Lopez assured that the Bureau of Philippine Standards imposes compliance to the Philippine National Standards, which is aligned with its international counterparts. The standards for critical construction materials such as steel, cement, and concrete have also been developed and reviewed periodically.
"We even made the procedures stricter in testing standard compliance. For example, we have adjusted the sampling. Before, we only test three pieces no matter how large the imported steel shipment. Now, we are conforming to ISO's ideal sample size: 50 pieces for 20,000 MT," said Sec. Lopez.
He also mentioned additional inspections for local steel manufacturers. As such, he said that DTI is collaborating with DILG and the PNP in conducting surprise inspections on suppliers, wholesalers, and retailers of construction materials.
"We would have to trace the sources, the distributors, warehouses, as well as the source of the manufacturers. To guarantee that substandard materials are kept out of the market, those who fail to comply with requirements can face payment of penalties, revocation of permits, and possible imprisonment," said Sec. Lopez.
Aside from product standards, DTI is also coordinating with food manufacturers, retailers, and distributors to coordinate food supply and delivery to the GMMA in case of earthquakes and other disasters.
"We asked the food manufacturers and retailers for their committed supply and designated areas for delivery in case of natural disasters in the GMMA. This arrangement will just be triggered and run automatically. Some of these will be donated and the others will be paid by the government. We currently have technical working groups finalizing this arrangement," said Sec. Lopez.
Re-orient, overhaul K-12 - ACT
ACT Press Release
February 27, 2020
QUEZON CITY – As the House Committee on Basic Education and Culture tackles today the 'long overdue' review of the K to 12 program, the Alliance of Concerned Teachers (ACT) Philippines issued its urgent call for the government to re-orient the Philippine education system towards a 'nationalist, scientific, and mass-oriented education.' The group said that since their long time call for a thorough evaluation of K to 12 has finally been granted, the government shall take bold measures to correct the 'problematic program,' which will entail a 'complete overhaul' in the service of national interests.
"The key issue with the K to 12 program lies in its core objective, which aims to produce graduates who are immediately ready to work as semi-skilled and cheap laborers here and abroad. The program exploits the majority of impoverished Filipinos for the gain of foreign capital, foregoing the objective of honing the country's human resource to serve the purpose of national industrialization and development," criticized ACT Secretary General Raymond Basilio.
Basilio also hit the curriculum's removal and weakening of integral subjects for the development of nationalism and core values among the youth. ACT cited the removal of Philippine History in high school, the shortening and simplistic presentation of Araling Panlipunan, the faulty implementation of the mother tongue-based multilingual education (MTB-MLE), and the conservative and individualistic approach to Edukasyon sa Pagpapakatao (EsP).
"These are clear manifestations of the neoliberal and colonial character of K to 12. It retards instead of advances the process of molding patriotic youths whose aspirations are interlinked with that of the entire nation and who shall later contribute to national development," lambasted Basilio.
Further exemplification of the problematic program, said ACT, can be seen in the curriculum's emphasis on producing 'outputs' at the expense of the development of higher-level literacy, critical thought, and scientific approach in problem solving. The group cited that not only was time allocation for each subject shortened but an even smaller portion is dedicated to discussion, while the bigger share of time goes to activities supposedly meant to exhibit students multiple forms of intelligence.
"K to 12 curriculum was implemented alongside an array of policies for teachers, which included a very strict budget of work in our congested daily lesson logs. Little focus is given to the thorough digestion of lessons as both students and teachers are pressured to produce multitude of outputs on a daily basis. Such follows the neoliberal framework of efficient production in which output is generated at record time for maximum profit," said Basilio.
Add to that the spiral progression approach of the K to 12 curriculum, which ACT claimed 'messed up and fragmented' students' education.
"In the old curriculum, an entire school year is dedicated for the learning and mastery of different subjects, which progresses into more complex and advanced levels as students likewise proceed to higher levels of schooling. The new curriculum, however, integrates a little of everything without honing mastery, then immediately moves on to the next field, all within a single school year. Students will then go through the same cycle of subjects and fields but with more complex contents in the following year," lamented Basilio.
ACT notes that these issues do not yet mention the haphazard implementation of K to 12 and the government's failure to provide the budgetary, logistical, and administrative requirements of the program, which led to a host of other serious problems such as the worsened shortages in learning resources, the perennial problem of insufficient classrooms, wanting training for teachers, lacking education support personnel at the school level, among others. All these created a substandard quality of education, which is mostly made up for by overworked and underpaid public school teachers, added ACT.
ACT also cited the results of the 2018 Programme for International Student Assessment (PISA), the National Achievement Test (NAT), and the Philippine Informal Reading Inventory (Phil-IRI) as proof of the further decline of education quality under the K to 12 program.
"These are enough causes for alarm to reorient and overhaul the program, not to mention the grave injustice and dire consequences of the dismal state of education to one whole generation of Filipino youth and to our country. What we need is an education based on Philippine context and one that responds to the requisites of national development. Hence, we urge the government to maximize the ongoing review and finally take the necessary measures to establish an education system that follows its constitutional mandate of contributing to national development, instilling patriotism and nationalism, and espousing total human liberation," concluded Basilio.


(L) Gandara River, Barangay Villahermosa Oriental, Pagsanghan, Samar and (R) Cagpaco Creek, Barangay Sigo, Calbayog City, Samar.
DPWH builds two flood control systems in Samar I
By CHENZI MAY D. UY
February 27, 2020
CALBAYOG CITY – Department of Public Works and Highways has completed the construction of two flood control systems in the first district of Samar.
One is built along Gandara River in the adjacent portion of barangay Villahermosa Oriental, which is located in the municipality of Pagsanghan, Samar. The 260-linear-meter structure is made of reinforced concrete and steel sheet piles, costing around P39.2 million.
The specified area is known to be flood prone, hence the significance of the new structure. By keeping the area from being inundated in extreme rainfall events, the flood control structure ensures the safety of residential and agricultural properties located therein.
The other project comprises reinforced concrete structures on both sides of Cagpaco Creek, which runs across barangay Sigo in Calbayog City. Its scope covers a net length of 140 linear meters, amounting to P19.5 million.
The structures not only control flooding but also preserve the integrity of the existing bridge and barangay road that cross the creek.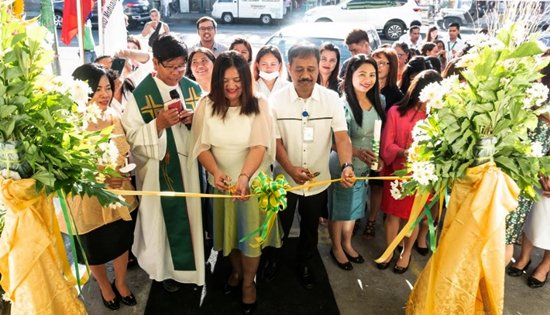 CARD SME Bank opens newest branch in Bacoor City to serve mSMEs. Leading the ribbon cutting ceremony are CARD SME Bank President and CEO Aristeo A. Dequito and CARD MBA President Flordeliza Cristobal.
CARD thrift bank opens 34th branch in Bacoor
By CARD MRI Publishing
February 26, 2020
SAN PABLO CITY – CARD SME Bank, a thrift bank under the CARD Mutually Reinforcing Institutions opened its 34th branch in Bacoor City on February 24, 2020.
Establishing branches in different parts of the country is one of CARD SME Bank's key strategies to make its products and services accessible to mSMEs or micro, small, and medium enterprises and to other businesses and individuals that may require them. "Expanding to Bacoor will enable us to reach our goal of serving more mSMEs through our micro and SME loan products. With each branch we open, we strive to provide opportunities for aspiring entrepreneurs in the country to grow their business and uplift their lives," said CARD SME Bank President and CEO Aristeo A. Dequito during the branch opening.
He also added that other products and services of the bank such as savings accounts and remittance will be available in the newly opened branch. "This is our sixth branch in the province of Cavite. We have seen the potential and development of our clients here and it's the time to respond closely to the growing needs of our microentrepreneur clients," Dequito concluded.
The branch opening was also attended by CARD SME Bank Executive Vice President and COO Cynthia B. Baldeo and CARD MBA President Flordeliza Cristobal. CARD MRI clients and staff, representatives from the local government unit, and other members of the community were also present.
Since its establishment in 2011, CARD SME Bank has a total of 975,070 clients with 319 offices and 34 branches nationwide.
MARINA re-accredits NMP courses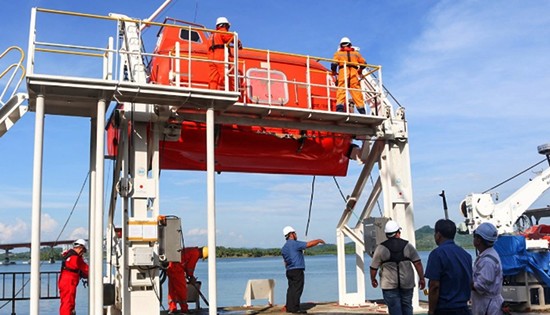 By National Maritime Polytechnic
February 25, 2020
TACLOBAN CITY – The National Maritime Polytechnic (NMP), the sole government maritime training and research center in the country consistent with its mandate to provide maritime training and research that measure up to international standards and respond to the needs of the Filipino Seafarers and the industry, was re-accredited by the Maritime Industry Authority (MARINA).
In a letter from MARINA dated 04 February 2020 relative to the Notice of Accreditation, NMP's five (5) Standards of Training, Certification, and Watchkeeping for Seafarers (STCW) courses namely: Rating's Forming Part of a Navigational Watch (RFPNW), Medical First Aid (MEFA), Survival Craft and Rescue Boats Other than Fast Rescue Boats (SCRB), Refresher course on Survival Craft and Rescue Boats Other than Fast Rescue Boats (RSCRB), and Global Maritime Distress and Safety System (GMDSS) Radio Operators were granted full course approval for three (3) years effective last 14 February 2020 which was the date of the payment of accreditation and inspection fees.
The application for renewal of NMP's courses were in accordance with MARINA Circular 2013-01 or the Rules on the Inspection and Accreditation of Maritime Training Courses, STCW Circular 2018-02 or Standards for Mandatory Training Courses Under The STCW Convention, 1978, as amended, and STCW Advisory No. 2019-05 or Clarifications and Supplemental Guidelines on the Implementation of STCW Circular No. 2018-02.
The said renewal approval was a result of the site inspection conducted by MARINA last 04-08 November 2019 and the submitted course packages to the MARINA Central Office on 21 February 2020 complying the above-mentioned MARINA issuances.
Meanwhile, the other five (5) courses in need of re-accreditation are scheduled for re-inspection by MARINA to verify full compliance of the equipment and facilities on 24-28 February 2020 namely: Basic Training (BT), Refresher Course on Basic Training (RBT), Advance Fire Fighting (AFF), Refresher Course on Advanced Fire Fighting (RAFF), and Ratings Forming Part of a Watch in a Manned Engine-room or designated to Perform Duties in a Periodically Unmanned Engine room (RFPNW).
Adherent to its priority thrust on the quality, accessibility and relevance of training programs and the responsiveness of its maritime researches, NMP continues to upgrade its facilities and provide maritime trainings required pursuant to the STCW Convention as amended in 2010 including value-adding courses towards improving the qualifications of Filipino seafarers for their employment acceptability and enhanced competitiveness. It also regularly conducts maritime studies to come up with policies for the improvement of the manpower sector of the industry.
Moreover, those interested in NMP research undertakings may visit the NMP website (www.nmp.gov.ph) and access the e-Research Information System Portal which is designed to disseminate NMP completed researches, present the Research Agenda and engage the industry stakeholders to collaborate in the research activities.
For more information about NMP trainings viewers may visit the agency's facebook page (www.facebook.com/nmptrainingcenter) where all related information on NMP trainings are available. Likewise, for shortlisting on preferred training schedules, please visit verify.nmp.gov.ph or download the NMP App on Google Play Store.
Further, NMP encourages OWWA registered seafarers to avail of the NMP-OWWA (Overseas Workers Welfare Administration) Seafarers' Upgrading Program (SUP) and Skills for Employment Scholarship Program (SESP) which entitles the beneficiary to receive financial assistance for training costs from the OWWA.
NMP & PCGA strengthen its tie-up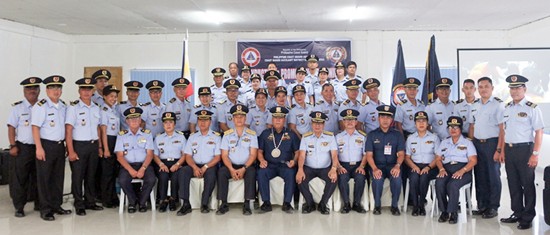 By National Maritime Polytechnic
February 23, 2020
TACLOBAN CITY – The National Maritime Polytechnic (NMP) and Philippine Coast Guard Auxiliary (PCGA) continue to strengthen its tie-up as the NMP Executive Director, Joel B. Maglunsod was inducted as a new member of the PCGA under the PCGA 11Ost Auxiliary Squadron last 09 February 2020 held at the NMP Maritime Training Annex Building, Cabalawan, Tacloban City.
The said induction was led by the Philippine Coast Guard District Eastern Visayas (CGDEV) Commo Normando D Reyes PCG. It also highlighted the promotion of selected NMP employees as officers of the PCGA.
Noteworthy that the cooperation of NMP & PCGA started since 2012 as several NMP employees were appointed to services of the PCGA per PCGDEV General Orders Number 01 dated 24 April 2012. In the same manner, other Directors of NMP were also members of the said auxiliary.
Similarly, on NMP's conduct of Basic Safety Training for Motorboat Handlers/Operators and Fisherfolks with Typhoon Preparedness (BSTMHOF) in coordination with Local Government Units (LGU), the PCG acts as Resource Person/s on topics: Debriefing and Marine Environment Protection that would promote safety of life and property at sea.
Consequently, aligned with the same mission of preserving the marine environment, NMP offers the Consolidated Marine Pollution (MARPOL) 73/78, an STCW Mandated course which discusses ways in minimizing pollution of the oceans and seas including dumping, oil and air pollution among others.
Also in the objective to provide officers and crew onboard the proper operation of the Oily Water Separator (OWS), the said course is also offered by NMP to ensure the preservation of the marine environment through the complete elimination of pollution by oil per MARPOL regulations.
Through the years, the NMP & PCGA tie-up preserved the vision and mission of the auxiliary – to enhance coastal community relations and preserve the marine environment through the conduct of coastal clean-up in various places of the region and other activities adherent to being reliable partners of the PCG.
The PCGA is a uniformed, voluntary, non-government, non-political, service-oriented organization established on 09 February 1972 whose membership adhere to naval customs and traditions; to its organizational structure and its own chain of leadership and management parallel to the PCG.
Further, the PCGA was officially recognized under Section 11 of Republic Act Number 9993, otherwise known as the PCG Law of 2009.
CARD SME Bank and its digital banking transformation
By CARD MRI
February 20, 2020
SAN PABLO CITY – The CARD Mutually Reinforcing Institutions (CARD MRI) has always been an advocate of financial inclusion. Throughout the years, it has been providing Filipinos from the low-income sector with access to financial services. As CARD MRI continues to explore new innovations to reach the goal of poverty eradication, its thrift bank – CARD SME Bank – is undergoing digital transformation to provide reliable banking services.
Late last year, CARD SME Bank introduced to its clients the konek2CARD mobile application where they can do hassle-free banking transactions with the use of android phones. Through this app, clients can monitor their savings account, transfer funds, pay loans, check their transaction history, and view mini statement, anytime and anywhere.
They can also do self-initiated withdrawals from its Digital Cash Machine (DCM) installed in their bank premises via a QR Code generated by the app. A digital cash machine is a proprietary machine provided by the bank for its clients.
Clients can also pay their loans and withdraw their savings through konek2CARD agents located in their barangays.
According to CARD SME Bank President and CEO Aristeo A. Dequito, transforming the mindset of people from traditional banking towards technology is difficult, but the institution's determination to provide its clients better banking experiences is their utmost priority. This makes changing the outlook of its clients in its digitalization efforts a top priority.
"We know that introducing a new technology may be challenging, but we assure them that these innovations are of highest integrity and user-friendly. Our efforts are now paying off as our clients are experiencing the efficiency of these services," said Dequito.
Digital banking through konek2CARD and Digital Cash Machine
Said CARD SME Bank client Josefina Carpio, "konek2CARD initiative is really a good development for the clients of the bank. Withdrawals are done faster. Another good thing about konek2CARD is its convenient features like adding mobile top-ups. We always have our smartphones with us anywhere we go and konek2CARD is very convenient when we forget our ledgers or ATM cards. We can always access our savings account, anytime and anywhere. This mobile application is also very user-friendly."
Carpio also encourages other clients to use the mobile app for easier banking transactions.
The bank is initially offering this service to its clients who are residing in hard-to-reach areas to provide them access to their accounts and do other transactions without going to the bank.
"Through these digital transformations, CARD SME Bank clients can now work smarter as they experience more efficient banking services," said Dequito. These digital revolutions can help clients decrease cost by not regularly going to the bank and be more productive.
Its clients are more satisfied with the fast and competent services rendered by the banking institution.
"Through these efforts, CARD SME Bank is pushing for digital financial inclusivity for all so everyone can have access to affordable financial products and services of CARD MRI," Dequito concluded.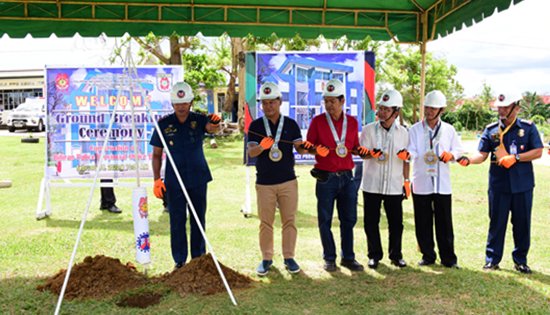 Photo from left: PCol. Julius M. Coyme, Provincial Director, BPPO lead the dropping of time capsule together with Hon. Brigido Caneja III, Vice-Governor, Engr. Warlito Alagao, Proprietor of W.B. Alagao Construction, Mr. Jesus Naquila, Provincial Director DILG Biliran, Alfredo L. Bollido, Assistant District Engineer of DPWH-Biliran DEO, PCol. Arnel Apud, Regional Logistics, Research and Development Division and PMaj. Aspiro Badiola, OIC, Regional Engineering Unit during the groundbreaking ceremony for the construction of Biliran Provincial Police Office Building on February 18, 2020 at Brgy. Larrazabal, Naval, Biliran.
PNP, DPWH lead the groundbreaking ceremony for new Biliran Provincial Police Office (BPPO) building
By DPWH-Biliran
February 20, 2020
NAVAL, Biliran – The Philippine National Police (PNP) Biliran Provincial Police Office (BPPO) and the Department of Public Works and Highways (DEO) Biliran District Engineering Office (DEO) lead the groundbreaking ceremony for the new BPPO building on February 18, 2020 at Brgy. Larrazabal, Naval Biliran.
"The new building is an upgraded version of a standard police office building where the men and women of BPPO will be housed to have more decent and presentable police office," said Police Colonel (PCol) Julius M. Coyme, Provincial Director, BPPO.
Coyme revealed that the construction of new building was realized because the assessment conducted to the existing BPPO building tells that the building is unstable for occupancy after the earthquake on April 23, 2018.
A total of P24.15M was allotted by the DPWH in convergence with the PNP for the construction of the three-storey new building which is expected to be completed on November 06, 2020.
"The construction of this new PNP building is a manifestation that BPPO is finally ready to provide the public with the quality of service they rightfully deserve," said PCol. Marvin Manuel Pepino, Deputy Regional Director for Administration in his speech delivered by PCol. Arnel Apud.
According to Pepino, the new building will not only serve as a mere structure but it will also signify as an avenue for community partnership and stakeholders' support.
"Having a conducive workplace embedded with fully functional facilities is not only bringing comfort for the personnel who will utilize such. It is also highlighting the idea that the whole community will benefit in this progressive cause," Pepino said.
The ground breaking ceremony was led by PCol Julius M. Coyme, Provincial Director, BPPO, Alfredo Bollido, Assistant District Engineer for and in behalf of David Adongay Jr., District Engineer of DPWH-Biliran DEO, Hon. Brigido Caneja III, Vice-Governor representing Hon. Rogelio Espina, Governor, Engr. Warlito Alagao, Proprietor of W.B. Alagao Construction, Mr. Jesus Naquila, Provincial Director DILG Biliran, PCol. Arnel Apud, Regional Logistics, Research and Development Division and PMaj. Aspiro Badiola, OIC, Regional Engineering Unit.
Senate version of CITIRA to help remove investor uncertainty - DTI chief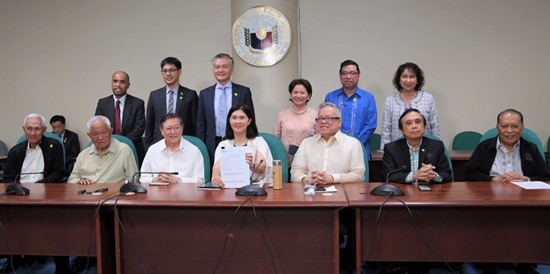 By DTI-OSEC-PRU
February 20, 2020
PASAY – Department of Trade and Industry (DTI) Secretary Ramon Lopez said that the tax reform bill endorsed by the Senate Ways and Means Committee is a well-balanced approach to the corporate tax reform and helps remove the uncertainty of foreign investors.
On 19 February, Senator Pia Cayetano sponsored Senate Bill No. 1357 also known as the Corporate Income Tax and Incentives Rationalization (CITIRA). Senator Cayetano, who heads the committee, is optimistic that the Senate would approve the bill on final reading by March 13.
"DTI would like to thank Senator Pia for sponsoring a bill that could create a better investment climate for the greater majority. We think that this is a well-balanced bill that enhances the incentives but will ensure investment performance and efficiencies, with a systematic way of rationalizing incentives," said Sec. Lopez in a press conference.
"We appreciate this version of the bill, and we hope for the immediate passing of the bill to remove uncertainties and the wait-and-see attitude of investors. We are now pushing for the passage of the bill to resume the growth momentum of the country," he added.
The CITIRA Bill, which seeks to lower income tax rate from 30% to 20%, and modernize the tax incentive system, is a priority bill of President Rodrigo R. Duterte.
Since a bill on rationalizing tax incentives was first proposed in 1995, the Department of Finance (DOF) and DTI have urged Congress to finally make this crucial reform happen.
"After a series of consultations and meetings with various members of the government, business community, and academe, and thorough consideration of the sensitivities of key stakeholders, the new bill offers a more reasonable transition period and one that gives recognition to high performing investments such as being 100% exportation, or 10,000 jobs created or being in a highly competitive footloose industries", said Sec. Lopez.
Through the CITIRA, the Philippines' corporate income tax rate will be gradually reduced from 30% to 20% over the next ten years, not far from the 17 to 25% of its neighboring ASEAN countries.
The bill prioritizes incentives of business activities that generate local employment, promote development, innovation, high technology projects and agribusiness, as well as those that invest in less developed areas or communities recovering from disasters and conflicts.
The incentives provided will be in accordance with the principles based on international good practices to make it performance-based, targeted, time-bound, and transparent.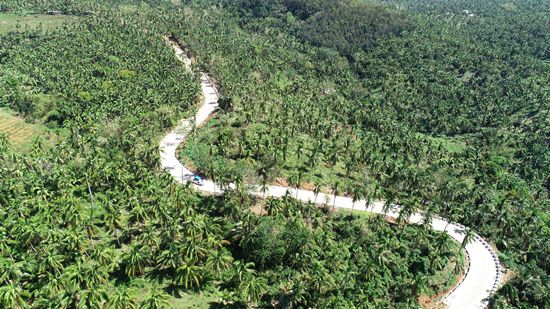 On-going construction of access road leading to Bagongbong falls in Brgy. Caucab, Almeria, Biliran under FY 2019 implementation.
Access road to Bagongbong Falls in Almeria, Biliran, 90% done
By DPWH-Biliran
February 19, 2020
NAVAL, Biliran – The on-going construction of access road at Brgy. Caucab in Almeria town will pave a better road for local and foreign tourists going to Bagongbong Falls when completed.
The Department of Public Works and Highways (DPWH) Biliran District Engineering Office reports 90% completion of the said project under FY 2019 implementation as of January 31, 2019 [sic].
The said project entails the construction of a 0.51-kilometer two lane road concreting including drainage structure at Brgy. Caucab road proper going to Brgy. Upper Look with a contact amount of P18.7M.
David P. Adongay Jr., District Engineer said that the project is a multi-year implementation from Fiscal Year (FY) 2018- 2020 in convergence with the Department of Tourism (DOT) with a total length of 3.80-kilometer two lane road.
Under 2018 implementation, the district office has already completed the 1.656-kilometer two-lane road concreting from proper road of Brgy. Caucab going to Bagongbong falls amounting to P44.7M.
Adongay revealed the remaining 1.63-kilometer two-lane road concrete paving for FY 2020 implementation will be undertaken by the DPWH Regional Office with an appropriation amount of P63.38M. The project will continue from Brgy. Caucab road proper going to Brgy. Upper Look.
The road project also leads to several agricultural farms in Brgy. Caucab including one of the most visited mountain resort in the place which is the Bethany Hills.
When completed, not only the tourists, but also the residents and farmers will benefit this road project," said Adongay.
"From a bumpy and narrow existing concrete road, they can enjoy a wider and convenient travel and safer transport of their farm-produced goods," Adongay added.
2-storey, 6-classroom facility replaces old school building in San Joaquin CES, Calbayog City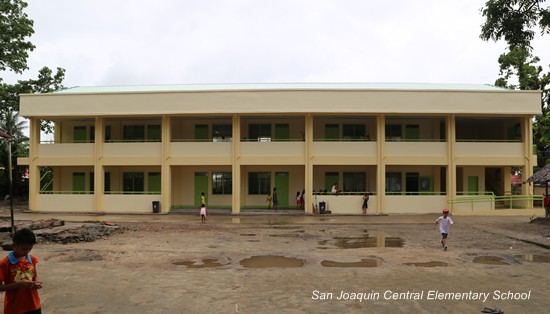 By CHENZI MAY UY
February 18, 2020
CALBAYOG CITY – Department of Public Works and Highways (DPWH), through its convergence program with the Department of Education (DepEd), has upgraded a dilapidated single-storey school building to a two-storey, six-classroom learning facility in San Joaquin Central Elementary School (SJCES) in Calbayog City.
The school building project has an allocation of P18.57 million funded by the Basic Educational Facilities Fund CY 2018 - Batch 3.
School Principal Michael Pernia expressed his gratitude towards DepEd and DPWH for choosing SJCES as a beneficiary of the school building program. "The construction of this school building is very necessary [and] urgent to San Joaquin, especially that this building has wide CRs and spacious classrooms that follow specifications for the standard classroom size," Pernia said.
The new building is currently occupied by Grades 1 and 2, consisting of around 210 students. With an average classroom size of 35, the young learners of SJCES sit comfortably during class and focus better on their lessons.
The rest of the students in SJCES are occupying decades-old, Marcos-type buildings, some of which are already subject for demolition. The school principal hopes for these other structures to also be upgraded in the future, in order to provide a safe and conducive learning environment for all of their learners.
ACT calls for release of nationwide reading inventory report
Press Release
February 18, 2020
QUEZON CITY – Amid reports on the reading proficiency issues of pupils in Bicol, the Alliance of Concerned Teachers (ACT) Philippines calls on the Department of Education (DepEd) to make public the detailed report of the reading inventory done by the Philippine Informal Reading Inventory (Phil-IRI) in every region nationwide. The group said that DepEd Sec. Leonor Briones 'could be right in saying that reports on struggling readers in Bicol is unfair for the Bicolanos as the situation could be true in the whole of the country, or worse in poorer regions and localities.'
"Especially as our call for the review of the K-12 program has finally gained attention from the government, all indicators should be laid down to have an honest assessment of our educational system. The development of our students is a national concern," said Joselyn Martinez, ACT Philippines Chairperson.
Martinez advised the education agency 'not to be onion-skinned' on the issue and truthfully identify and address the factors that contribute to the declining quality of Philippine education if it is sincere in its 'no learner left behind' slogan. She also warned against the 'simplistic' tendency to put the blame on the teachers' capabilities and dedication to teach pupils how to read, but to look at the whole situation instead.
Congested K-12 Curriculum
Martinez raised the practical problem of less time allocated to honing the reading skills of students with the inclusion of more learning areas in the Grades 1 and 2 curriculum of the K to 12 program, compared to past education curricula implemented in the country. Under the K to 12 program, 40 to 50 minutes is allocated for each of the 7 subject areas compared to 1 hour for each of the 5 subjects before.
"Our primary education teachers lament of insufficient class hours dedicated to honing the reading skills of students, which they are compelled to make up by conducting special reading classes outside of regular class hours. Unlike before where primary education gives significant attention to the 3Rs—reading, writing, and arithmetic," Martinez shared.
She said that teachers have little elbow room to make adjustments based on the learners' needs as the DepEd sets the daily lesson log, budget of work for each subject everyday, and competencies that students are expected to acquire, based on which teachers' performance is evaluated. Amidst these, Martinez said that DepEd further presses teachers to be "more innovative and sacrificing."
"Yet, teachers are made to carry the brunt of this weakness in the curriculum as we are obliged to work extra hours for special reading classes on school days and even during summer vacation," Martinez lamented.
Wanting Enabling Environment
Martinez also stressed the many government deficiencies in creating an enabling working and learning environment for teachers and pupils as hindrances to developing the reading competency of learners. She cited the large class size and inadequate textbooks and other learning materials as contributory to their difficulties in teaching pupils how to read.
"With years of the government's failure to fill in the shortages in the educational system, the teachers carry everyday the burden of ensuring that 'no learner is left behind,'" said Martinez.
ACT also noted that with K to 12 implementation came a host of paperworks and non-teaching duties that take teachers away from their focus in teaching, while teachers' compensation does not measure to the volume and value of their work.
"They always say that quality education necessitates quality teachers. How can we have quality teachers if they were always interrupted in their primary focus and are not given quality pay?" asked Martinez.
Assessing K-12 from the ground
ACT pushed for an inclusive and comprehensive assessment of the K to 12 program that would involve the participation of teachers, students, and parents.
"The DepEd and Congress should be as keen in involving the very sectors that tackle the K to 12 program daily as they engage experts and the business sector in the K to 12 review," asserted Martinez.
She said that teachers and parents alike are "very much concerned with what and how we train our students as the future of our children and our nation is what's at stake."
ACT pushes for the reorientation and overhaul of the current education program towards a nationalist, scientific, and quality mass education that is responsive to the needs of national development.
Eastern Visayas meets 2020 with 2.0% inflation rate
By PSA-8
February 18, 2020
TACLOBAN CITY – Eastern Visayas met 2020 with a 2.0 percent Inflation Rate (IR). This IR is 0.5 percentage point higher compared with the 1.5 percent IR in December 2019, but 2.0 percentage points lower than the recorded 4.0 percent IR in the same period last year.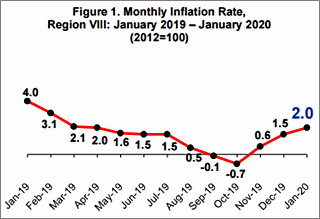 The regional IR is 0.9 percentage point lower than the 2.9 percent national average inflation rate in January 2020.
All provinces in the region registered higher inflation rates in January 2020 compared with their figures in December 2019, except for Leyte, which had retained its previous month's inflation rate at 2.1 percent. Northern Samar recorded the highest increase of 1.4 percentage points, from 0.8 percent IR in December 2019 to 2.2 percent IR in January 2020. The rest of the provinces registered increases ranging from 0.2 percentage point to 1.2 percentage points. Southern Leyte posted the lowest IR at 1.0 percent. Eastern Samar and Northern Samar, meanwhile, recorded the highest IR during the month in review at 2.2 percent.
Majority of the commodity groups in the region exhibited higher IRs in January 2020 compared with their rates in December 2019. Alcoholic beverages and tobacco commodity group registered the biggest increase of 1.6 percentage points, from 7.2 percent in December 2019 to 8.8 percent in January 2020. This can be attributed to the significant increase in the index for tobacco to a double-digit inflation rate of 11.2 percent in January 2020 from 8.9 percent in December 2019.
The heavily weighted food and non-alcoholic beverages commodity group increased to 1.1 percent in January 2020 from 0.2 percent IR in December 2019. Higher IRs were noted in majority of the all food items. Fish index registered the highest increase of 2.5 percentage points, from 6.5 percent in December 2019 to 9.0 percent in January 2020. Rice and bread and cereals indices continued to register deflations but at slower rate of 5.2 percent and 3.7 percent, respectively.
IR for Transport commodity group increased by 0.7 percentage point, from 4.1 percent in December 2019 to 4.8 percent in January 2020. This can be attributed to faster annual price hike in the index for operation of personal transport equipment, from 10.5 percent in December 2019 to 14.6 percent in January 2020.
The commodity groups of clothing and footwear, and housing, water, electricity, gas and other fuels registered 0.2 percentage point increase in their IRs, posting IRs at 3.2 percent and 0.4 percent, respectively, during the reference month.
Restaurants and miscellaneous goods and service commodity group inched up by 0.1 percentage point pushing its IR to 5.0 percent in January 2020.
On the other hand, inflation rate for furnishings, household equipment and routine maintenance of the house commodity group decreased by 0.4 percentage point, from 5.7 percent in December 2019 to 5.3 percent in January 2020. This can be attributed to the lower inflation rate on goods and services for routine household maintenance, from 6.7 percent in December 2019 to 6.1 percent during the month in review.
Meanwhile, education; health; recreation and culture; and communication commodity groups retained their previous month's inflation rates at 5.3 percent, 1.6 percent, 1.4 percent, and 1.2 percent, respectively.
The Purchasing Power of Peso (PPP) of the region was recorded at P0.79 in January 2020. This PPP implies that the goods and services worth P79.00 in 2012 is worth P100.00 in January 2020.
The PPPs in all provinces in the region weakened by P0.01 in January 2020 compared with their figures in December 2019, except for Eastern Samar, which had sustained its PPP at P0.76. Biliran, Leyte and Southern Leyte recorded the strongest PPP at P0.81, followed by Eastern Samar at P0.76. Northern Samar and Samar posted the weakest PPP at P0.74.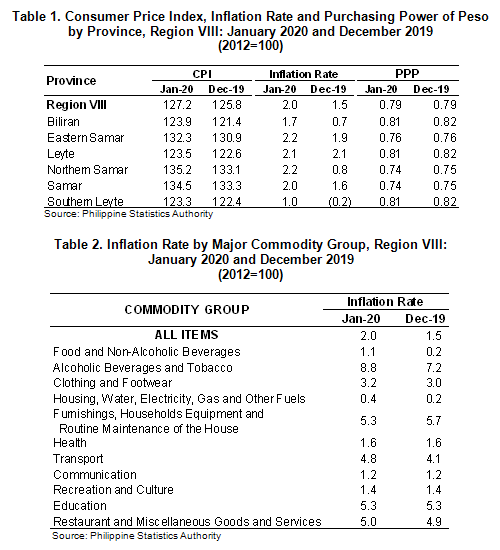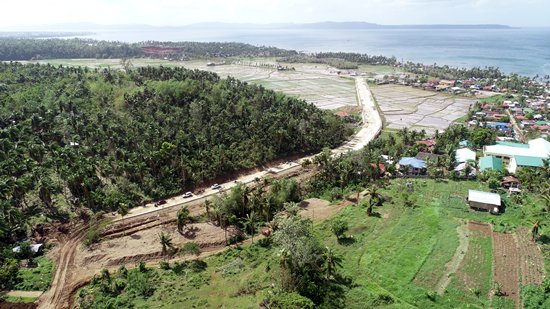 On-going construction of Almeria bypass Road at Pob. Almeria, Biliran. This is a multi-year project from 2018-2019 with a total amount of P104,009,000.00. It involves the construction of 1.262 km. four (4) lanes roadway, 20.0 ln.m Bridge (4 lanes) and slope protection to include payment of Road Right of Way.
DPWH-Bilran DEO to implement P1B for FY 2020 infra projects
By DPWH-Biliran
February 14, 2020
NAVAL, Biliran – P1B is allocated to the Department of Public Works and Highways (DPWH) Biliran District Engineering Office for the implementation of various infrastructure projects in Biliran.
David P. Adongay Jr., District Engineer said the district office will implement a total of 75 projects this year based on the approved General Appropriations Act (GAA) of FY 2020 DPWH Infrastructure Program.
According to Adongay, P265.5M is allocated for the construction of slope protection structures, asphalt overlay and reconstruction/ upgrading of damaged paved roads, all under the Asset preservation Program.
Under the Network Development Program, two road widening projects along Biliran Circumferential Road will be implemented this year with a total amount of P80M.
Meanwhile, P160M under the Flood Management Program has been allocated for the construction and rehabilitation of eight flood control projects.
The district office will also implement a total of P160M under the Convergence and Special Support Program. P85M is allocated for the construction of two access roads leading to tourism destinations in convergence with the Department of Tourism (DOT), one access road leading to trades and industry worth P50M in convergence with the Department of Trades and Industry (DTI), and one construction of Biliran Provincial Police Office Building in convergence with the Philippine National Police amounting to P25M.
Biliran DEO will also implement a total of P400.8M for the implementation of various infrastructure projects under the Local Infrastructure Program. This includes the construction/upgrading of school buildings, rehabilitation and construction of flood control structures and seawalls, construction of multi-purpose buildings and construction/ rehabilitation of local roads and bridges.
Last year, the district Office has been allotted with a budget amount of P1.2B for the implementation of 92 projects.
According to Adongay, poor performance of contractors also affects the performance of the DEO in terms of physical accomplishment and disbursement.
"We cannot deny the fact that there are big projects, undertaken by contractors, who cannot immediately perform their obligations and commitments," said Adongay.
"We are hoping that for this year, those challenges should not happen again as we would be operating under the Cash Based Budgeting Program," he added.
Under the new budgeting system of the department, the validity of fund is only good up to one year. This means that contractors must finish their project within the year.

On-going road widening project along Biliran Circumferential Road (Brgy. Busali to Brgy. Bato, Biliran, Biliran). As of January 31, 2019, the project is on-going with 74.65%.
P80M road widening projects to be implemented in Biliran
By DPWH-Biliran
February 14, 2020
NAVAL, Biliran – Two road widening projects amounting to P80M is up for implementation this year according to District Engineer David P. Adongay Jr.
The Department of Public Works and Highways (DPWH) Biliran District Engineering Office (DEO) has prioritized the implementation of this project under its Road Network Development Program for Fiscal Year (FY) 2020.
According to Adongay, this project is to be implemented along Biliran Circumferential Road (BCR). One at Brgy. Bato in Biliran town with a length of 1.6-kilometer worth P42.92M and one at Brgy. Cabibihan to Brgy. Mainit Villa Vicenta in Caibiran town with a length of 1.27-kilometer worth P37.08M.
The project entails the widening of road from two lanes to four lanes including drainage structures.
"This is highly prioritized because it is the district's major road going to and from Mainland Leyte," said Adongay.
The completion of this project will increase the capacity of the existing roads and improves the safety aspect of said sections. This road also leads to the only Provincial Hospital and Port of the Province.
By early part of 2019, the District has widened 12.973 kilometers of existing road. The bridges of the District are already permanent with two bridges along BCR already widened with additional two lanes.
"It is the vision of the district to widen the entire existing concrete roads within the Road Network of Biliran Province in accordance with the DPWH National Standards by phases", said Adongay.
P24M TUPAD funds to benefit 5,375 Leyteños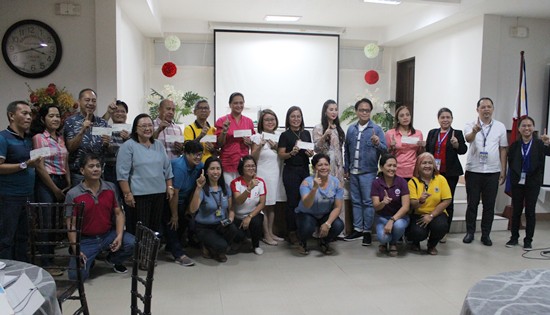 By NORMA RAE S. COSTIMIANO
February 11, 2020
TACLOBAN CITY – The Department of Labor and Employment Regional Office VIII through its North Leyte Field Office awarded to nine (9) municipalities of the second district of Leyte Tulong Panghanapbuhay para sa Ating Disadvantaged/Displaced Workers (TUPAD) funds amounting to a total of P24,160,731.00 last February 5, 2020 at Haiyan Resort Hotel in Tanuan, Leyte.
Congresswoman Lolita Karen T. Javier of the 2nd District of Leyte graced the turn-over ceremony together with DOLE Regional Director Yahya A. Centi and NLFO Officer-in-Charge Norman L. Uyvico. Mayors of the recipient municipalities were likewise present to personally receive the checks.
The following municipalities are the recipients of the TUPAD funds: Jaro, Dulag, Capoocan, Julita, Pastrana, Barugo, Tunga, Dagami and Burauen. A total of 5,375 disadvantaged workers from the said municipalities are to benefit from the emergency employment assistance. These workers will be employed for the implementation of projects which will include declogging of canals and clean up drive in their respective municipalities.
Director Centi in his opening remarks committed to remain relentless in pursuing the mandate of DOLE.
"As your fellow public servant, I assure you that the government is doing its part in sending help where help is needed. We at DOLE are working so hard for all of you and this TUPAD program is just one of DOLE's ways to extend assistance to the community and eventually pursue our given mandate", said Director Centi.
Meanwhile, Cong. Javier, aside from expressing her sincere thanks to DOLE for the strong commitment to assist the second district of Leyte, likewise emphasized that she will continue to remain dedicated for the good of her fellow Leyteños.
"I would like to thank DOLE for being so active in helping us have this TUPAD projects come to reality. It is indeed comforting to know that we have this kind of partnership centered on delivering excellent service. As your representative, I would like to inform you that mañana habit is not in our vocabulary. We will work together for the good of my fellow Leyteños", said Javier.
TUPAD is a community-based package of assistance that provides emergency employment for a minimum period of 10 days, but not to exceed a maximum of 30 days, depending on the nature of work to be performed. (with reports from Gemma D. de la Cruz)
Enactment of amendments to anti-terror law, a steep descent to martial rule in PH - Karapatan
Press Release
February 11, 2020
QUEZON CITY – Human rights group Karapatan today submitted its position paper to the House of Representatives Committee on Public Order and Safety regarding the six House bills which seek to amend the Republic Act 9372 or the Human Security Act of 2007, during the committee's hearing on the proposed measures.
"If enacted in Congress, the said amendments will pave the way for the steep and mad descent towards martial law in the Philippines. The proposed draconian measures will ensure the throwback to the Marcosian era, enabling the wholesale disregard of human and people's rights enshrined in the 1987 Constitution. These proposals are severely inconsistent with international human rights standards including the right to due process, against unlimited detention of suspects, rights to free speech and expression, right to peaceably assemble and petition the government for redress of grievances, right to freedom of association, the right of human rights defenders to promote and protect human rights and fundamental freedoms, right to mobility and against unjust and cruel punishment," said Karapatan Secretary General Cristina Palabay.
According to Karapatan, House Bill Nos. 551, 2082, 2847, 3103, 3413, and 5710, authored by Reps. Rozzano Rufino Biazon, Jericho Jonas Nograles, Luis Raymund Villafuerte Jr., Michael Romero, Jocelyn Tulfo, Eric Yap, Rowena Nina Taduran, and Lianda Bolilia, will "worsen the provisions of this already monstrous piece of legislation in furtherance of legal repressive measures that are in sync with the brand of state repression that the current administration employs."
In their position paper, Karapatan noted the questionable provisions in the said bills, which includes among others:
a. The removal of all provisions and language on the duty and obligations of the State under international law to protect people from terrorist acts in a manner that is consistent to and that respects and promotes human rights;
b. The iteration and expansion of the already vague and overly broad definitions of terrorism and acts of terrorism that threaten the rights of individuals and the exercise of the rights of human rights defenders and the people's rights to freedom of expression, assembly, and association, to seek redress of grievances and to be involved or to take part in public affairs;
c. The reinstatement of the death penalty, in direct violation of the Second Optional Protocol of the International Covenant on Civil and Political Rights, and institutionalization of disproportionate, cruel and unjust punishment of life imprisonment and prison terms;
d. Gross implications on the right to due process and the right to privacy on provisions regarding surveillance of suspected terrorists including those that imply that even upon mere suspicion, any individual may be subject to electronic or physical surveillance and to scrutiny of personal communications by law enforcement and worse, military personnel who have time and again conducted surveillance activities against activists that resulted to extrajudicial killings, torture and other rights violations;
e. Gross violations on the right against illegal and arbitrary detention, torture and to cruel and degrading treatment in proposed provisions, and the removal of provisions in pertaining to rights of detained persons and against torture;
f. Removal of provisions providing penalties and/or lowering of penalties for State authorities who violate basic civil and political rights of persons, including those that pertain to the failure of police or law enforcement official to notify the person subject of surveillance, monitoring, interception and recording; failure to notify in writing the persons subject of the surveillance; violations on the rights of detained persons and against torture; and damages for unproven charge of terrorism is proposed to be repealed; and
g. Violations of international instruments pertaining to protection of sources and whistleblowers in provisions pertaining to unauthorized revelation of classified materials and arrest of unwilling material witness.
Karapatan also noted that enactment of the said proposals is meant "to institutionalize not only the notorious National Task Force to End Local Communist Armed Conflict (NTF-ELCAC) transformed into the Anti-Terrorism Council, but also its "whole of nation approach," a paradigm and approach that has been criticized as militarist and corrupt."
The human rights group, meanwhile expressed full support for House Bill No. 0482, repealing RA 9372, filed by the Makabayan Bloc led by Bayan Muna Rep. Carlos Zarate.
Read: Position Paper on the Proposed Amendments to the Human Security Act of 2007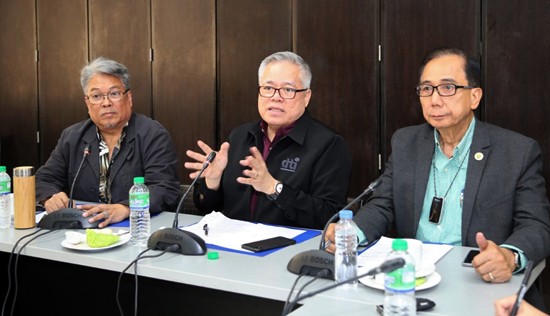 From L to R: Congressman DV Savellano, DTI Secretary Ramon Lopez, and DA Secretary William Dar.
Bamboo industry gets boost from government and private sector
By DTI-OSEC-PRU
February 10, 2020
QUEZON CITY – Government and private sector stakeholders converge to support the bamboo industry during the Philippine Bamboo Industry Development Council meeting (PBDIC) on 6 February.
As Chair of the Bamboo industry council, Department of Trade and Industry (DTI) Secretary Ramon Lopez reported that various agencies like the Departments of Agriculture, Environment, Local Government, and Trade are aligning their various programs and connecting the dots in the value chain of the bamboo industry. These programs include from tissue culture, and planting materials developed by DA to plant propagation and greening program of DENR, to processing, product development and design and marketing by DTI.
Several private organizations and advocacy groups will likewise merge their activities into the council's programs. Moreover, being an agribusiness activity, located at the countryside, Lopez added that these activities are included in the Board of Investments BOI investment priorities plan or IPP that can enjoy incentives. The PBDIC is now also heavily supported by the House Deputy Speaker DV Savellano, being a staunch Bamboo advocate for years.
"The DENR's National Greening program is targeting to plant 19,000 hectares of bamboo nationwide" said Sec. Lopez.
Department of Agriculture (DA) Secretary William Dar also expressed support for this effort in turning bamboo crops into an investment opportunity. Sec. Dar recently approved DTI's request of including bamboo as a high-value crop. DA encourages farmers to plant high-value crops like mango, banana, coffee, and cacao as they are expected to generate more profit.
"With bamboo as a high-value crop, we can undertake various interventions that include research, processing and value-adding, and budgetary support, complementing the programs and projects of the PBIDC," said Sec. Dar.
Bamboo takes only three years to fully grow as compared to 10 to 20 years for wood trees. The plant can be used as construction materials, as well as furniture and paper-making, among others, providing a good livelihood source for a community.
Sec. Lopez shared that investments are welcome at all stages of the value chain from nurseries to design studios. Both secretaries also promoted the use of modern technology to quickly propagate and process the plant. Secretary Dar meanwhile encouraged the participation of big businesses to partner and help the small farmers, to make the project more competitive and profitable.
PBDIC Vice-Chair and Ilocos Sur Representative Savellano shared that the bills filed are to institutionalize the PBDIC and these are now being discussed at the 18th Congress. He also committed to push the bill at the bicameral hearings.
Senate Bill 524, proposed by Senator Juan Miguel Zubiri, aims to make bamboo a main export product by creating the Philippine Bamboo Industry Development Roadmap and the Philippine Bamboo Industry Development Council to provide the overall policy and program directions, and coordinate the activities of the public and private sectors.
The council will have an official launch to promote the bamboo industry. The campaign will be named 5K: Kawayan, Kalikasan, Kabuhayan, Kaunlaran, Kinabukasan.
Rights group questions integrity, independence of Tacloban judge who signed off on questionable search, arrests vs Tacloban 5
By KARAPATAN
February 10, 2020
QUEZON CITY – In a press conference in Quezon City today, human rights group Karapatan questioned the integrity and independence of Judge Eligio Petilla of the Regional Trial Court Branch 44 in Tacloban City, who issued the search warrants effecting the highly questionable search and arrests of five human rights defenders last February 7, 2020.
"We have been wary of judges who facilitate the use of their courts for the judicial harassment of human rights defenders. Are they, in any way, related to executive officials who have been brazenly implementing Executive Order No. 70? Will their signing off on the supposed search warrants in the offices of these organizations result in juicier posts like those magistrates who have done the same?," said Karapatan Secretary General Cristina Palabay.
Karapatan observed that one officer of the court have been "rewarded" with a Supreme Court post after dismissing a petition for the privilege of the writs of amparo and habeas data filed by three non-government organizations last year, while another one is in the running as a Duterte-endorse nominee for a Court of Appeals seat after issuing similar search warrants in October last year, when raids and arrests were also conducted by the police and military in Negros and Manila.
"Whether they have done this to further their careers or out of fear or out of political pressure, the effects are damning – the political persecution of activists and actual harm on their lives, security and liberty. These judges should be ashamed of themselves," Karapatan said.
Five activists – Alexander Philip Abinguna of Katungod Sinirangang Bisayas – Karapatan, Mira Legion of Bayan, climate justice activist Marissa Cabaljao of People's Surge, humanitarian worker Mariell Domequill of the Rural Missionaries of the Philippines and journalist Frenchie Mae Cumpio – were arrested during dawn raids by the Philippine National Police in Tacloban City by virtue of Petilla's search warrants. Karapatan asserts that the supposed evidence, which includes several firearms and explosives materiel, were planted.
"How circumspect has the judge been in personally determining the veracity of reports on the existence of such firearms and explosives in the officers? Did he look for other witnesses, other than the police officers or military intelligence agents who may have reported to him?," Palabay asked.
Karapatan noted that the planting of evidence by police and military officials have laid the pretext for the filing of false charges of illegal possession of firearms and explosives against activists resulting in their long incarceration. "There is always presumption of regularity on police and military operations, despite questions on their integrity and adherence to human rights principles. Courts who rubber-stamp such operations should be similarly be doubted," she averred.
"This case further illustrates the lack of independence of the judiciary in the Philippines, and that all domestic mechanisms of redress, including the courts, have been transformed into factories of trumped up charges and platforms of political persecution of social activists and political dissenters," Palabay added.
A national solidarity and fact finding mission led by Karapatan is slated in Leyte today, as the inquest proceedings for the five activists are also scheduled for resolution.
"We reiterate our call for the immediate and unconditional release of the Tacloban 5 and all political prisoners in the Philippines. We likewise demand the abolition of the National Task Force to End Local Communist Armed Conflict (NTF-ELCAC), which is responsible for such rights violations," Palabay concluded.
190 new Eastern Visayas candidate soldiers take oath to serve the country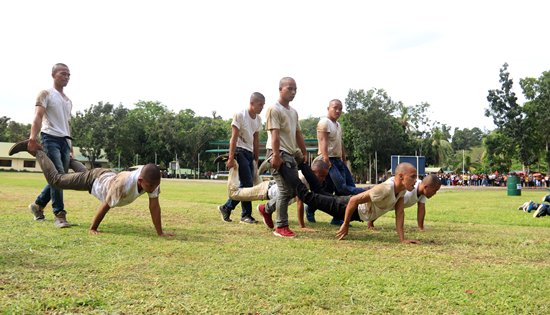 By DPAO, 8ID PA
February 7, 2020
CAMP LUKBAN, Catbalogan, Samar – A total of 190 new Candidate Soldiers of the Philippine Army took their oath of duty and service to the country in a simple opening ceremony held at the Army's 8th Infantry Division Grandstand in Catbalogan City, Samar on Friday morning February 7, 2020.
The oath taking rite of the mostly Eastern Visayas-based applicants was immediately followed by the opening of the Philippine Army Candidate Soldier Course Class 633 - 2020 by Brig. Gen. Ramil M. Bitong AFP, Assistant Division Commander of 8ID as the keynote speaker in the presence of the candidate soldiers' love ones; officers, enlisted personnel and civilian employees of the Stormtroopers Division. The six-month course is expected to transform and mold the new recruits from being "boys" into "men" of duty, honor and patriotism.
During his inspirational message, Hon. Reynolds Michael T. Tan, Governor, Province of Samar said, "I am one with you, sa lahat ng endeavors ng Philippine Army. We have always been and we will always be one with you especially now that EO 70 is in place, na dapat tayo magsama-sama, the local leadership, the local government units at kayo na nasa Army, na tayo ay magsama-sama na tapusin na ang communist insurgency dito sa Samar."
Brig. Gen. Bitong in his remarks assured the candidate soldiers' parents that their sons, after the training will be competent and disciplined soldiers, "Today you are to leave your previous lifestyle, your comfort zones and learn to live the level of discipline and courtesy expected from a soldier."
"Sa mga magulang, maraming salamat na ipinagkatiwala ninyo ang inyong mga anak lalo na dito sa 8th Infantry Division. Sinuportahan ninyo sila hanggang sa kanilang paglaki at nawa'y patuloy ninyo silang suportahan lalong-lalo na't simula ngayon sila ay magiging mga sundalo," Bitong added.
The 190 candidate soldiers came from different provinces all over the country: Samar-135; Leyte-43; Iloilo-1; Cebu-2; Negros Oriental-1; Luzon-2 and Mindanao-6 with the following education profile: 68 college graduates; 45 college level; 4 vocational graduates; 25 senior high school graduates and 46 high school graduates with special skills from Technical Education and Skills Development Authority (TESDA). After completing and passing the rigid training, the Candidate Soldiers will then be enlisted into the Philippine Army with the rank of Private.
High ranking officer of communist terrorist group arrested in Tacloban City
By DPAO, 8ID PA
February 7, 2020
CAMP LUKBAN, Catbalogan, Samar – Executive Order 70's Joint AFP-PNP law enforcement operations led to the arrest of Frenchie Mae Castro Cumpio @Pen, Secretary, Regional White Area Committee - Eastern Visayas Regional Party Committee (RWAC-EVRPC) and four (4) others today, February 7, 2020 in Tacloban City, Leyte.
At about 2 a.m. this morning, a simultaneous implementation of search warrants were conducted by joint AFP-PNP in two (2) identified Communist Terrorist Group (CTG) safe houses within Tacloban City. The warrants (SW No. 2020-02-02 and No. 2020-02-03) for violations of R.A. 10591 or otherwise known as "An Act Providing for a Comprehensive Law on Firearms and Ammunitions" were issued by Executive Judge Eligio P Petilla of RTC 44, Tacloban City on 03 February 2020.
The searched houses are located in Gumamela St, Bañezville II, Fatima Village, Brgy 77, Tacloban City, Leyte (SW1 # 2020-02-02) and Calanipawan St, Brgy 96 (Calanipawan), Tacloban City, Leyte (SW2 # 2020-02-02). Reports disclosed that these houses were being maintained by the CTGs of Eastern Visayas as their safe houses in Tacloban City.
Incidental to the lawful search, the government security forces arrested the CTG personalities who were found to have an actual and/or constructive control and possession of illegal firearms, ammunitions and other contraband items inside the searched houses.
The CTG personalities were arrested for violation of RA 10591 or otherwise known as "An Act Providing for a Comprehensive Law on Firearms and Ammunitions". The arrested personalities and the seized illegal items are now under the custody of PNP Regional Office, Tacloban City, Leyte for documentation and proper disposition.
Major General Pio Q Diñoso III, Joint Task Force Storm Commander in his message "Ang pagkakaaresto kay Frenchie Castro Cumpio at ng kanyang mga kasamahan ay resulta ng ating pagtutulungan – impormasyon mula sa ating mga kababayan, teamwork ng ating security forces at suporta ng ating local na pamahalaan at mga ahensiya".
"Sinasabuhay na po natin ang whole-of-nation approach. Ipagpatuloy lang po natin ito at siguradong marami pa tayong mahuhuli at ma-neutralize na miyembro ng Communist Terrorist Group (CTG) at sama-sama nating ma-aaccomplish ang ating mission to end local communist armed conflict dito sa Eastern Visayas", Diñoso added.
DTI supports ProPak; strives for sustainable PH economy through processing and packaging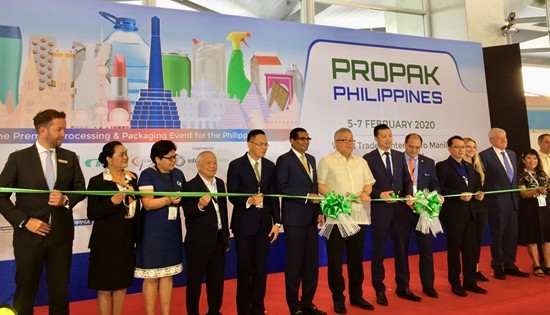 By DTI-ROG
February 7, 202
MAKATI CITY – Ensuing the success of last year's trade exposition, ProPak, the premiere processing and packaging trade show in Asia, returned to set up its 2nd edition in the Philippines, at the World Trade Center Metro Manila, Pasay City last February 5.
Organized by Informa Markets, with the support of the Department of Trade and Industry (DTI), Packaging Institute of the Philippines (PIP) and other government and non-government agencies, ProPak Philippines 2020 flaunts more than 400 exhibitors from 30 countries featuring the world-class packaging and processing machines, benefiting a wide range of sectors from food, beverage, and pharmaceutical industries.
This three-day trade exhibit aims to further boost the capability of local packaging service providers and micro, small and medium enterprises (MSMEs).
DTI has acknowledged the role of good packaging and processing to Philippine MSMEs in enhancing their productivity, marketability, profitability and competitiveness and so introduced various initiatives on product development such as Pak! Pinas, One Town One Product (OTOP) Next Gen, and now the promotion of the ProPak Philippines.
"Many of the MSMEs, food processors, and even non-food, will always be challenged to exhibit their products well and so we are challenged to find solutions – maybe integrate these two sectors, the packaging and the MSMEs. So in 2018, we gave some rounds of packaging gatherings. We created the Pak! Pinas roadshows in Region 4A as well as in Visayas and Mindanao, and it gained success. From that time on, we saw the improvement in the confidence of micro entrepreneurs seeing developments in their products. Then came the ProPak Philippines and we've seen some its successes already. We hope that this will continue to get better and better," said Trade Secretary Ramon Lopez during the ProPak's launching.
Trade Chief Lopez also urged the ProPak exhibitors to continuously reach out to MSMEs and offer affordable packaging technologies.
Through the Regional Operations Group's initiative, DTI sent more than 500 MSMEs to ProPak Asia in Bangkok, Thailand in 2018. Last year, the pioneer edition of ProPak Philippines reached to a close of 10,000 trade visitors, and stakeholders.
"DTI vows to continue its support to ProPak as the Department has seen the huge potential of the Philippines in the packaging industry and exploring ways to reach its goal to help the people in this industry through expanding their knowledge, innovating packaging solutions, and connecting with the international network of the industry," said MSME Advocate Undersecretary Blesila Lantayona.
Furthermore, Secretary Lopez reiterated the significant role of MSMEs in sustaining the economic development of the Philippines, as it continuously contributes to the employment generation as well as the eradication of poverty in the country. Through DTI's efforts, there are now around 1.5 million registered enterprises in the country.
Gracing the event was also House Committee Chairman in Commerce and Industry Weslie Gatchalian.
ProPak Philippines 2020 runs through February 5-7, 2020.
DICT intel fund a backdoor for corruption, civil rights violations - Karapatan
Press Release
February 5, 2020
QUEZON CITY – Human rights group Karapatan called for an independent investigation of the intelligence and confidential funds allocated for all government agencies, as it slammed the allocation of such funds for the Department of Information and Communications Technology (DICT). The rights group made the statement following the revelations of DICT Undersecretary Eliseo Rio, who resigned from his post on Monday, February 3, over anomalies on the use of the department's confidential funds.
"The Duterte administration is desperate in further militarizing the civilian bureaucracy by allocating millions of confidential funds for intelligence and surveillance, even for agencies such as the DICT. The government is merely opening backdoors for corruption and the embezzlement of taxpayers' money rather than properly allocating these funds for basic social services," Karapatan secretary general Cristina Palabay said.
Rio resigned from his post citing anomalies in the disbursement of the DICT's funds for "confidential, intelligence and extraordinary expenses" which he warned were not subject to regular audit. Under the 2019 national budget, P400 million worth of confidential and intelligence funds have been allocated to the DICT. Cash advances from these funds amounting to P300 million have been released to DICT Secretary Gringo Honasan toward the end of 2019, without the required notice of cash allotment from the Department of Budget and Management.
"Legitimate questions raised by the Commission on Audit deserve to be answered, as a top department official has already resigned over such anomalies. Where did this P300 million actually go?" Palabay questioned.
On top of the president's own confidential and intelligence funds worth P4.5 billion, the confidential funds of the DICT doubled to P803 million under this year's national budget. Palabay asked further: "If Rio says that the DICT has no use for such funds since intelligence and surveillance work are outside the scope of the department's mandate, then how come the DICT is receiving millions of pesos for activities that are outside the scope of its mandate in the first place? Why is the government funneling millions for the DICT to conduct intelligence and surveillance work? Is the government propping up the DITC to weaponize the country's telecommunications system as part of the whole-of-nation approach of the government's counterinsurgency program by having the DICT conduct draconian and illicit intelligence and surveillance against activists, critics, and dissenters?"
In the 2019 national budget, at least P8.28 billion had been allocated for confidential and intelligence funds, almost half of which is with the Office of the President. The Karapatan official stated that "Rio's revelation brings to light that millions and billions of the so-called confidential and intelligence funds are possibly being misused in widespread malversation to fund the Duterte regime's counterinsurgency program and to fatten his allies' pockets. The National Task Force to End Local Communist Armed Conflict already has already been given a whopping P36.439 billion budget for this year. While the people suffer due to budget cuts on healthcare and disaster response, the Duterte administration is funneling billions of pesos to fund its all-out war on the people."
"Karapatan urges the Congress to conduct a probe on Rio's revelations and for more officials to speak up against government anomalies and corruption. It has become evident that Duterte's priority is war and murder, not the welfare of the Filipino people – and the people will take all necessary means to hold the fascist regime accountable for its negligence and crimes against the people," she ended.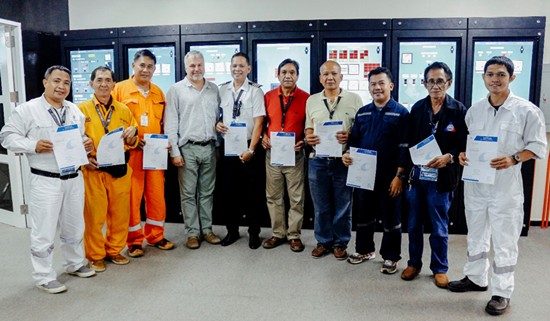 NMP Trainers receiving certificate of completion for a 5-day training (20-24 January 2020) on Instructor Station Operation Course using Engine Room Simulator 5000 Techsim v. 8.8
NMP acquires new training simulator
By National Maritime Polytechnic
February 4, 2020
TACLOBAN CITY – At the core of constant improvements in the National Maritime Polytechnic's (NMP) services and facilities is the priority placed on its clients – the Filipino seafarers. The passion, focus and determination of the NMP family on creating value are all aimed towards the wellbeing of the country's seafarers in the context of quality, accessible and relevant training.
As part of the Agency's thrust in keeping its training services updated and responsive to the dynamic nature of maritime industry and sustaining the provision of quality training, NMP pursued the procurement of one (1) unit Class "A" Full Mission Engine Room Simulator funded from the insurance proceeds from the Government Service Insurance System (GSIS) relative to the destruction brought by the Super Typhoon "Yolanda" in 2013.
The Full Mission Engine Room Simulator Version 8.8 is capable of simulating a realistic environment for competence requirements on engine operations. Trainees will experience realistic simulation exercises, as mimic panel and sound system that imitate the different sound of the machineries and alarms are installed.
The simulator also has an interactive walk-through functionality that allows trainees to move around giving a full immersive experience using 3D visualizations of various compartments in actual ship. It is also able to replicate the dynamic behavior of the machinery systems and all its vital parameters as well as the interactions between the sub-systems.
It also has a statement product quality according to the NK standard for certification of maritime education and training simulator systems based on the latest Standards of Training, Certification and Watchkeeping (STCW) requirements and corresponding International Maritime Organization (IMO) model courses.
As articulated in its mission, NMP, as the sole government maritime training center of the country, plays a crucial role in the enhancement of skills and competencies of Filipino seafarers. Being the government's maritime training arm, NMP with the use sophisticated equipment and facilities, will continue to lead in the country's efforts of grooming the Filipino seafarers for them to become the "choice seafarers" who are globally competent and qualified.
Building a responsive Maritime Education and Training (MET) is believed to be a sure way of sustaining the country's distinction as the No. 1 provider of seafarers in the world amidst stringent requirements of the STCW 2010 Manila Amendments.
NMP, as a maritime training and research agency, remains on guard for new developments in MET as these are crucial considerations in the accreditation, validation and improvement processes of its training programs. It continuously endeavors to precipitate and capitalize in program offerings and ensures that measures are undertaken to keep abreast with evolving standards and other industry requirements.
Joint Task Force Storm extends helping hands to the victims of Taal volcano eruption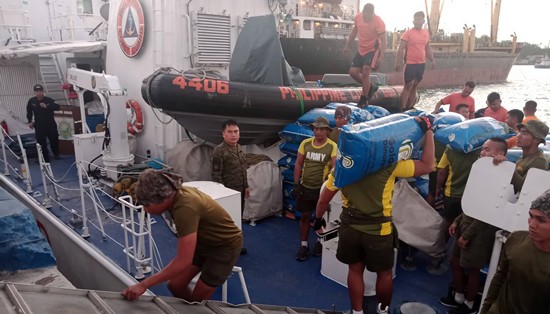 By DPAO, 8ID PA
February 4, 2020
CAMP LUKBAN, Catbalogan, Samar – Upon the instruction of Major General Pio Q. Diñoso III AFP, Commander of Joint Task Force "Storm" of the Armed Forces of the Philippines in Eastern Visayas, combined personnel of 546th Engineering Construction Battalion (546ECBn) under Lt. Col. Ricnon Carolasan and 8th Forward Service Support Unit (8FSSU) under Lt. Col. Arlene Epe equipped with five (5) military trucks withdrew 200 sacks of rice from Chen Yi Agventures Incorporated Rice Processing Complex in Mudboron, Alang-alang, Leyte in coordination with Engineer Jerjohn Tesorio on January 31, 2020 at 4:00 o'clock in the afternoon and transported said items to Tacloban City Port. Upon reaching the port, the troops transferred the 200 sacks of rice to BRP SULUAN vessel of the Philippine Coast Guard (PCG) under the command of Commander Dan August Cariño.
Based on the report of Commander Cariño, they ferried the cargo and successfully reached Batangas Port on the following day and released the 200 sacks of rice to the proper authorities that distributed the same to the victims of Taal Volcano Eruption.
"Despite the distance, we find ways to help the victims of Taal Volcano eruption as a manifestation of our concern with our brother Filipinos who are in need of assistance in the area," said Major General Diñoso.
New school building helped solve classroom congestion in Malaga NHS - Peña I Annex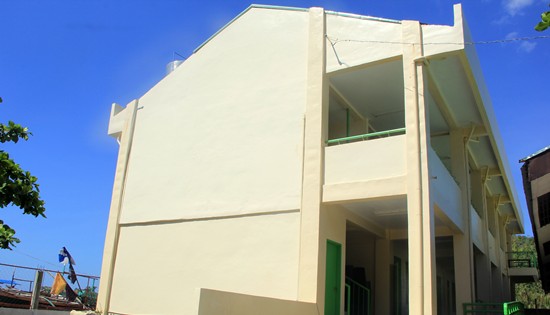 By CHENZI MAE UY
February 1, 2020
CALBAYOG CITY – The new two-storey, four-classroom building in Malaga National High School - Peña I Annex has helped the school with its perennial problem on classroom congestion, said Officer-in-Charge Dr. Lilia Adel.
The building was turned over by the Department of Public Works and Highways (DPWH), on behalf of the Department of Education, last December 2019.
Three (3) Grade 8 sections and one (1) Grade 9 class, or around 140 students, moved in since the resumption of classes in January 6, 2020.
Kent Feb Owen Olasiman, a Grade 8 student, said space was really tight in their previous rooms. He recounted that they used to have a hard time cleaning their rooms, which get flooded whenever it rained.
On congestion, Dr. Adel says it has been a problem since 2011. "We would fuse two classes in one makeshift room because we don't have another option. After typhoon Yolanda, we had up to three sections occupying one room at a time," she recalls.
Now, all classes have their own rooms except for Grade 12 students. The two Grade 12 sections are still sharing one room because the school utilizes one of the rooms as a computer laboratory. Nevertheless, the students will transfer to another DPWH-implemented school building project in the same campus as soon as it is turned over.
"We are grateful to DepEd and DPWH for these new learning facilities. They are a big help to our school especially since we have a year-to-year increase in enrolment."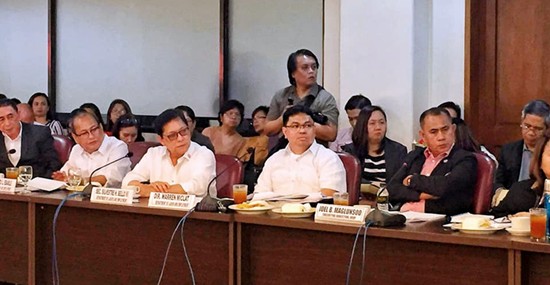 NMP defends P116.109M budget for 2020 at the House of Representatives last 24 September 2019.
NMP gets P116.109M budget for 2020, up 8.74%
By National Maritime Polytechnic
January 31, 2020
TACLOBAN CITY – The National Maritime Polytechnic (NMP) has been appropriated with a P116.109 million budget for 2020, higher than the P106.779 million budget in 2019, based on the General Appropriations Act of 2020 signed by President Rodrigo Duterte on 06 January 2020.
The 2020 budget posed an 8.74% or P9.330M increase as against the budget last year. The additional appropriations mainly covers Capital Outlays (CO) plus certain provisions for Maintenance and Other Operating Expenses (MOOE).
Of the total fund, P49.975M is allocated for Personal Services to cover among others (a) requirements for salaries and wages and other personnel benefits of seventy-four (74) filled positions, (b) Retirement and Life Insurance Premium (RLIP), (c) benefits for employees certified eligible by the DOST Secretary in consonance with the provisions of RA 8439 or the Magna Carta for Scientists, Engineers, Researchers and Other Science & Technology Personnel in Government, (d) honoraria for Guest Trainers / Assessors, (e) loyalty pay, and (f) terminal leave benefit for mandatory retiree.
MOOE funding amounting to P51.689M which is P5.242M or 11.29% higher compared last year intends to supply additional provision for rental of office space in Makati, travelling expenses, security services, insurance premium and other fees, additional operating requirements for completed facilities and provision for Medium-Term Information and Communications Technology Harmonization Initiative (MITHI) office productivity.
CO budget totaling to P14.445M representing 101.75% increase or P7.285M higher than in 2019 includes funds for the provision of one (1) unit water tanker service vehicle, improved maritime training machinery and equipment (firefighting equipment and accessories) and MITHI Information and Communications Technology (ICT) Equipment. These are vital core of NMP's main concern, particularly in terms of improvement and upgrading in order to build and sustain training operations.
With the approved budget, NMP shall endeavor to attain its organizational outcomes of 1) Employability and Competitiveness of Filipino Seafarers Enhanced, and 2) Maritime Manpower Sector Improved Through Quality Research, which will have a positive impact in firming up a vibrant Philippine maritime industry and sustaining the country's position as the leading provider of manpower in the international labor market.
Maritime training indeed entails considerable investment cost, but it plows in profit through economic and social gains generated from the employment of Filipino seafarers.
Assuring the competitiveness and employability of our Filipino seafarers, who are contributing several millions of dollars to our national coffers is a significant role of the DOLE and NMP in particular, that cannot be overemphasized.
PH rights defenders network submits reports to UN High Commissioner on Human Rights
By KARAPATAN
January 31, 2020
QUEZON CITY – At least sixteen faith-based and rights organizations under the Ecumenical Voice for Human Rights and Peace in the Philippines (EcuVoice) have submitted reports on the human rights situation in the Philippines, in response to the call for submissions by the Office of the UN High Commissioner for Human Rights Michelle Bachelet. This is in accordance with the Iceland-led resolution on the Philippines adopted by the UN Human Rights Council in July 2019.
In a press conference, EcuVoice convenor Edita Burgos said that the reports they submitted depict the worsening human rights crisis besetting the Filipino people. "The extrajudicial killings, enforced disappearances, arbitrary or illegal arrests and detention and other civil and political rights violations exacerbate the landlessness, lack of job security, and gross inequalities faced by poor Filipinos. Such is the situation under the administration of President Duterte," Burgos said.
The EcuVoice network mobilised for the submission of reports of the National Council of Churches of the Philippines, National Union of People's Lawyers, Karapatan, Rise Up for Life and for Rights, Save Our Schools Movement, Kalipunan ng Katutubong Mamamayan ng Pilipinas, Kusog sa Katawhang Lumad sa Mindanao (KALUMARAN), Cordillera People's Alliance (CPA), Cordillera Human Rights Alliance (CHRA), Philippine Task Force for Indigenous Peoples (TFIP), SANDUGO Kilusan ng mga Moro at Katutubong Mamamayan para sa Sariling Pagpapasya (Movement of Moro and Indigenous Peoples for Self-determination), Makabayan, Kilusang Magbubukid ng Pilipinas, Save Our Schools Movement, Kalikasan People's Network, Alliance of Concerned Teachers, National Union of Journalists of the Philippines, Migrante, Kilusang Mayo Uno, Bagong Alyansang Makabayan and Ibon Foundation.
EcuVoice members also provided key inputs in the submissions by the International Association of Democratic Lawyers, World Council of Churches of the Philippines, the Center for Human Rights of the CUNY, and International Coalition for Human Rights in the Philippines.
Human rights defenders outlined the socio-economic and political context marked by intensified poverty, violations on security of employment, high prices of basic commodities and services, and the continuing plunder of land and resources including that of ancestral domains in their submissions. Analyses and documented cases were cited in relation to the "war on drugs," the attacks on human rights defenders, lawyers, journalists, indigenous peoples and members of the political opposition that resulted in the significant and further shrinking of civil and democratic spaces. Violations on the right to freedom of expression, to peaceably assemble and to form associations were also included.
"The Duterte administration's anti-narcotics campaign, its counter-insurgency program through Oplan Kapanatagan and its 'whole of nation attacks' under Executive Order No. 70, and its rampage against critics and political dissenters have immensely contributed to the hyper state of impunity," Burgos stated.
EcuVoice network and its partners recommended for the initiation of UN-led investigation through fact finding missions, a creation of a Commission on Inquiry, or official visits of UN special rapporteurs in the Philippines. In June 2020, Bachelet is scheduled to deliver her report at the UNHRC.
The network notes that this year, aside from this process at the UN HRC, the Duterte administration is set to be reviewed before the treaty body UN Human Rights Committee while the Office of the Prosecutor of the International Criminal Court is likewise set to release results of its preliminary examination on complaints regarding crimes against humanity.
"We reiterate our call to the international community to help us make the Duterte administration accountable for its rights violations. ENOUGH ALREADY!," Burgos concluded.