Wonders of the Coconut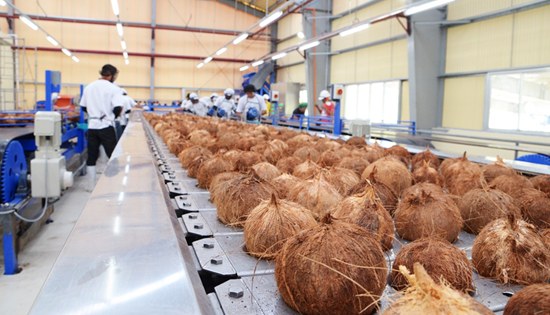 By DTI-MSG-Knowledge Management and Information Service
March 3, 2023
Eating without guilt
Almost 12 years ago, the doctors made it clear to Leyte-born Andy Albao that he would need to adopt healthier diet options if he was to fully recover from his kidney ailment. With his condition, he switched to an alternative and healthier food sweetener, the coco sugar.
Soon, he and his family – including his four children – began using coco sugar for their dietary requirements. However, sourcing affordable coconut sugar was difficult, and this is when Andy's interest in developing coconut by-products germinated.
At the time, Andy was running a smooth business from Makati supplying industrial spare parts.
Turning a quest into an opportunity
The need and drive towards a healthier lifestyle led to the founding of Andy Albao's Corporation - CocoWonders in 2011. Andy's personal interest in using coconut sugar led to the company to produce 60 coconut products including coconut jam, coconut chocolate spread and virgin coconut oil.
Today, the entrance of the administrative office premises of Coco wonders in Makati City is adorned with a range of value-added coconut products indicative of the many uses of the fruit.
Award-winning export journey to Europe
Set up with an initial capital of 2.5 million pesos (approximately $135,000 today), CocoWonders was already exporting coconut products to Australia after obtaining the FDA certification by the third quarter of 2011.
Initially, the export revenue was approximately $10,000 per year. Today, it stands between $50,000-$60,000 per year with 35 permanent employees providing their services.
The company now exports to all major markets including Spain, Netherlands, Switzerland, Poland and the Czech Republic in the European Union, where CocoWonders enjoys a good following.
Approximately 40% of Cocowonder's production is exported to the EU.
The European market holds a special place in Andy's heart. "European buyers are aware and have the purchasing power. In 2014, we began exporting to Europe as well. We penetrated more markets than others and have been awarded 'Best SME' by the Philippine Coconut Association (PCA) and the Department of Agriculture (DA) two years in a row, in 2020 and 2021."
Andy grows coconuts at a rented farm in Quezon, that are processed at his production facility nearby.
All these years, the family has been working hard to achieve excellence with two sons helping their father with accounts and production. With progressive introduction of automation, today approximately 70% of production is mechanised. While business is going well, there are some challenges.
"The war in Ukraine resulted in lower sales, but we continue. Most of the customers in Europe are health conscious and do not compromise on that."
Andy is hopeful that the situation will improve soon.
Do that which is needed
The Philippines is one of the major producers of coconut sugar in the world. CocoWonders produces coconut sugar that is EU organic certified and compliant with good manufacturing practices (GMP).
In fact, this is one of the first requirements that Andy recalls he had to meet before beginning to export to Europe
"In 2013, I participated in Anuga Trade Fair held in Germany. Customers did not buy from us because we were not EU organic certified at that time."
He then set himself the duty to correct this quickly.
"In 2015, we applied for organic certification. This opened the doors for us to European buyers."
Andy worked with Netherlands based Control Union Certifications to obtain the required certifications.
Support from government
Andy fondly recalls the support he received from the Centre for International Trade Expositions and Missions (CITEM), the export trade promotion arm of the Department of Trade and Industry (DTI).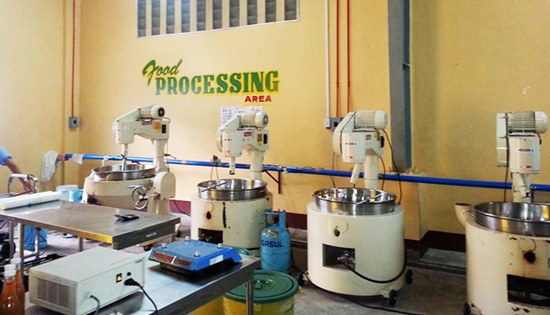 Certified endorsement from DTI to participate in the international fairs, renting of appropriate exhibition space, and support with visa requirements has always been useful, according to Andy.
Being a member of the Virgin Coconut Oil Producers and Traders Association of the Philippines (VCO Philippines) was also instrumental for Andy in maintaining a strong connection with the DTI to receive support to participate in international trade fairs. The company also improved its marketing thanks to government support.
He attributes his company's achievements in the export arena to being actively engaged with DTI to remain on top of the latest developments for Philippine exporters.
Accessing the EU market through the GSP+
The DTI also enabled CocoWonders to register in the EU's Registered Exporter system (REX system), a system of self-certification of origin for exporters wishing to benefit from GSP+.
DTI assisted Andy along with other exporters in taking advantage of the EU-GSP+.
"Availing of the GSP+ has made me more competitive in the European market. Customers don't need to pay tariffs once we avail of the GSP+. We don't need to pay for Certificate of Origin every time we make a shipment. Now we just include our REX number in the commercial invoice, and we are sorted."
As a result, exporting to Europe has become manageable for CocoWonders.
Expanding through ARISE Plus Philippines
With the opportunities available for coconut producers in Europe, Andy responded to the call for application launched under ARISE Plus Philippines for MSMEs in Coconut flour and VCO interested in receiving support on Export Marketing and Market Linkages, including the EU market.
Offered in partnership with the DTI and private sector organizations, the support package is providing CocoWonders and others with comprehensive capacity-building through coaching and training on branding, marketing, and export strategy and planning, as well as preparation for trade fairs, including sales and negotiations. Selected beneficiaries may also benefit from the support to participate in trade fairs and other trade events, including overseas.
Marawi buildings – with a price tag of P10B – are ready but empty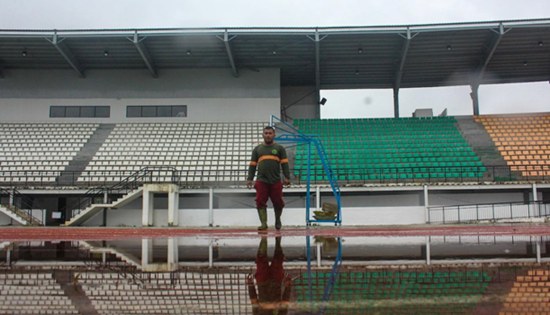 The Sarimanok Sports Complex, which faces Lake Lanao, has a seating capacity of 3,700. (photo by Bobby Lagsa)
Marawi homes remain in disrepair as P10-B is poured into the construction of government buildings. Displaced residents are now pinning their hopes on the newly constituted Marawi Compensation Board. But big challenges lie ahead.

By CARMELA FONBUENA
Philippine Center for Investigative Journalism
March 2, 2023
The bridges and the roads in Marawi City are sparkling and brand new, but close to six years since followers of jihadist group Islamic State laid siege to its city center, it's still the sight of abandoned and bombed out homes that immediately welcome visitors of the former ground zero.
Past the Mapandi Bridge, which separated the safe zone and the battle area in 2017, the pink walls of a newly painted commercial building stood tall amid ruins. Nearby, a repaired house was painted a neutral gray. They were few and far between.
The former site of battles is now called MAA or the "most affected areas." Life stood still here unlike the rest of Marawi City, called the least affected areas or LAA, where residents returned and rebuilt after the siege and new hotels have risen as well as coffee shops that cater to visiting donors and development agencies.
There was a heavy downpour when the Philippine Center for Investigative Journalism (PCIJ) visited the MAA in late January. The first villages upon entry showed the presence of some residents, and a few tricycles and private vehicles drove by. The humming sound of electric saw and hammers hitting nails could be heard here and there.
But deeper into the MAA, there was hardly no one. There were new gates, but no work was done on the rest of the property.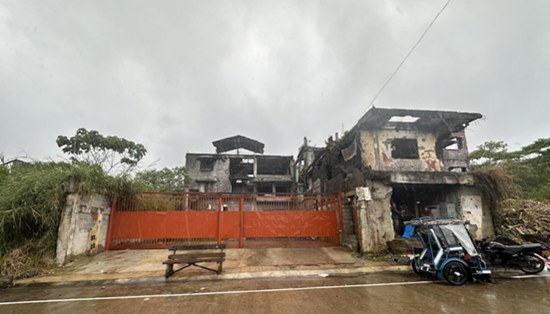 Most Marawi houses remain in disrepair. (photo by Carmela Fonbuena)
Homes in these areas survived military air strikes during the battles. The government wanted to demolish many of them at the start of the rehabilitation work, citing safety considerations, but residents protested. The large graffiti of the names and mobile numbers of owners on walls pockmarked by bullets and bombs are declarations of ownership, an assertion of their right to decide what they would do with the property. A few cases of illegal demolition are pending in courts against Task Force Bangon Marawi (TFBM), the agency in charge of rehabilitation.
Time has doomed the abandoned Marawi homes to decay. But not the government buildings. They were bright and shiny. New barangay complexes, which cost almost P14 million each, have been completed as well as village mosques and some school buildings. The police, jail, and fire stations were almost done.
Electricity lines were in place. There was no power yet but the MAA is expected to be connected soon. There were sun-powered light posts, too. It's the water source that is problematic.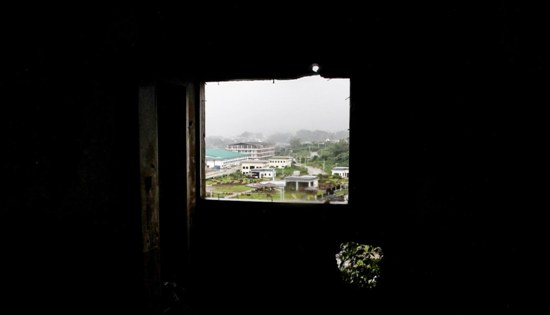 The big-ticket infrastructure projects are in sector 8 and 9 of the MAA. Government funds did not cover the rehabilitation of private properties. (photo by Bobby Lagsa)
A total of P10.2 billion was released for the rehabilitation through the years. The big-ticket infrastructure projects could be seen past the rows of derelict homes, where modern public infrastructure was built by the banks of scenic Lake Lanao. Many buildings were ready, but without the residents, they were empty.
Samira Gutoc, an NGO leader, said the residents' return to their properties should have been the priority. She has been fighting for residents' right to return "without conditions."
"Each house is crying for help. Naging secondary na ang bringing back people. Di ba 'right to return' naman ang battlecry (Bringing back people became secondary. Isn't the battlecry 'right to return')?" Gutoc said.
Not even 1% of MAA residents have returned
Only 100 families have been permitted to return to the MAA after some repairs or reconstruction, based on data from TFBM, although residents claimed a few families have returned without government approval. It is not even one percent of over 17,793 households displaced at the MAA during the siege.
A total of 953 families were resettled in permanent shelters and 4,916 others are still in transitory shelters elsewhere. The rest have found temporary homes elsewhere.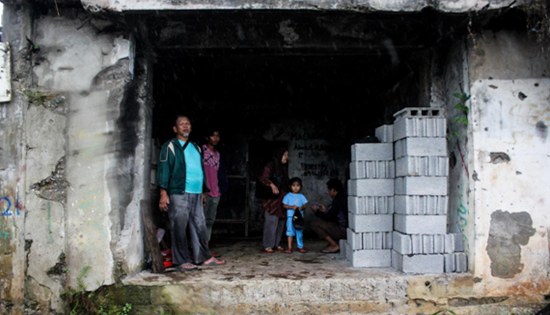 Residents visit their homes in the former battle area. (photo by Bobby Lagsa)
PCIJ chanced upon Rashmina Macabago, 57, at her family compound in Brgy. Kapantaran. They secured a building permit before the pandemic hit in 2020, but they did not have the funds to repair the property. She and a few family members arrived with some construction materials to reinforce a post that was already tilting. They hoped to avert any further damage to the structure.
"Pera ang problema. Naghihintay kami sa ipamimigay. Wala pa rin (We don't have the money. We are waiting for what they will give us. There's none yet)," said Macabago.
Drieza Lininding, chairman of Marawi civil society organization Moro Consensus Group NGO, said many residents cannot afford the requirements to secure building permits, and not all who have permits already have the money to buy construction materials. Many others now live far away and cannot afford to return, he said.
The Marawi City local government unit (LGU) has so far only received 2,947 applications or 16.6% of households in MAA. Even for those who could manage to afford processing building permits, Lininding said there were fears that residents who have repaired their homes will no longer be eligible for compensation. They will need the assurance that it's not true.
P10-B poured into government infra
The accomplishments of the rehabilitation can be seen at the banks of Lake Lanao, the heart of Marawi's former city center which saw the fiercest battles and where the siege leaders were killed. All but a few old structures were demolished to make way for new buildings. It's a reclamation area that the city government said is government property, but which residents are contesting.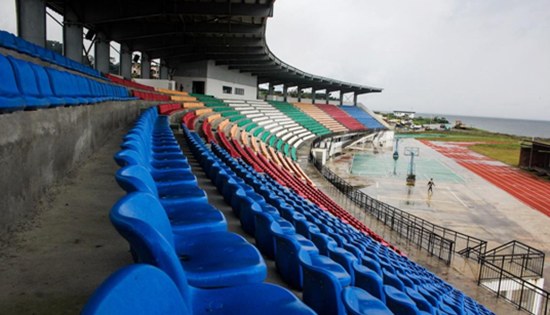 The Marawi Sports Complex has basketball courts, a running track, and a football field. (photo by Bobby Lagsa)
The new Sarimanok Sports Complex can seat 3,700 spectators. The running track was newly painted and goal posts were already placed at the football field. It can host games for the youth not just in Marawi and Lanao Del Sur province but all over the country. Marawi Mayor Majul Gandamra's smiling photo appeared in a banner on a makeshift stage, hung during his enthronement and coronation as sultan, a traditional leader. Events like this occasionally bring residents back to the MAA, but they leave as soon as the activities are done.
Adjacent to the sports complex is a one-hectare convention center that can host indoor events such as weddings of Marawi's rich and powerful. Inside, there's an auditorium with 1,000 seating capacity. Workers were already installing seats. An engineer introduced himself to PCIJ to say that visitors were not allowed yet, but the TFBM staff sorted it out immediately.
The white and green minaret of Bato Mosque, where the militants holed up with their hostages for months, now stands beside the newly built Marawi museum. Bato mosque itself has been reconstructed and has taken a modern look. The Grand Mosque, too, has been repaired and has changed its color from green to gold.
The rehabilitation work was divided into 22 projects, out of which 17 were completed or almost completed as of December 2022, according to TFBM's December 2022 report. The rest of the projects are to be completed by December 2023, the report said.
More than half or 56% of the funds went to the National Housing Authority (NHA). It cost the agency P2.3 billion to clear bombs and debris and P3.17 billion to construct a road infrastructure, which has an underground facility.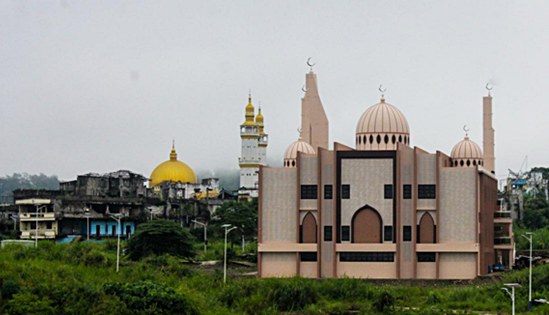 Bato Mosque (front) was reconstructed to take on a modern look while the grand mosque was repaired and repainted. Both mosques became strongholds of the militants during the siege. (photo by Bobby Lagsa)
The Marawi City LGU received almost P2 billion or 19% of the funds for the construction of projects such as the Grand Padian Central Market (P443.25 million), the Peace Memorial Park (P312 million), the Lake Lanao Promenade (P380 million), and 24 barangay halls.
The Local Water Utilities Administration (LWUA) was allocated about P1 billion for the construction of a Bulk Water System and Sewerage Treatment Plant, but the agency has yet to begin its work. TFBM Field Office Manager Felix Castro Jr. said they are expecting quicker action from the new head of the agency.
Marawi Compensation Board
Residents are now pinning their hopes on President Ferdinand Marcos Jr. to fulfill the failed promise of his predecessor. Marcos finally appointed the members of the Marawi Compensation Board (MCB), a body created under Republic Act 11696 to provide compensation for the loss or destruction of properties and loss of lives as a result of the 2017 Marawi siege.
Lawyer Maisara Dandamun Latiph, the newly appointed MCB chairman, told PCIJ the board will fast-track its processes. She said they are planning to conduct consultations in the next two to three months in order to finish the implementing rules and regulations (IRR) of the law.
The board aims to formally begin accepting claims by May or before the siege marks its sixth year.
She recognized that big challenges lie ahead. "We are expected to deliver our mandate to pay the monetary compensation for the personal properties as well as [compensation to the families] of [those who are] legally presumed dead and missing persons. We will also recommend interventions for further recovery and rehabilitation," Latiph told PCIJ.
The board has an initial budget of P1 billion for the compensation of siege victims. The maximum amount claimants may receive is yet to be determined, she said.
Latiph, who once belonged to the NGO community, has the support of civil society organizations. They are counting on her to champion their causes.
Bean There, Done That: Exporting to the European Union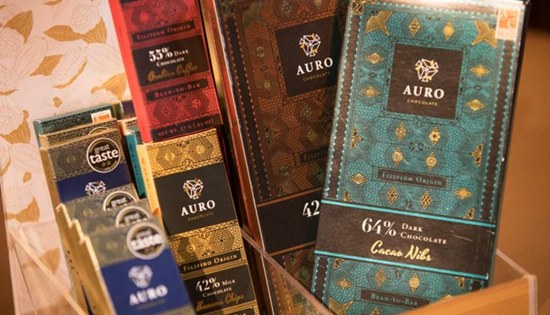 AURO chocolates, a Filipino company, is one of currently, only 24 companies in the country who are able to export products to the European Union tariff-free under the EU's Generalized System of Preferences Plus (GSP+).
Philippine chocolate firm exports to the EU
By DTI-KMIS Information and Creative Service Division
January 16, 2023
New beginnings
It was in 2013, while finishing her university degree in Chicago, that Kelly Go got a taste of an American craft chocolate using Philippine-origin cacao.
From this point, her career aspirations became clearer. After graduation, she decided to learn more about this craft by enrolling in Le Cordon Bleu in Paris for a Diploma in Culinary Arts. This training further enhanced her knowledge and skills about the food business.
The love for food, culture, and chocolate directed her destiny in Germany where she deepened her expertise in industrial chocolate production.
"We saw the potential of elevating the fine chocolate market in the Philippines and an opportunity to pursue our shared dream to move back home and contribute," Kelly shared.
Responsible production
Their company, Auro Chocolate, was eventually launched in 2017 as a tree-to-bar chocolate brand and social enterprise introducing community development programs and premiums above commodity price for supporting farmers.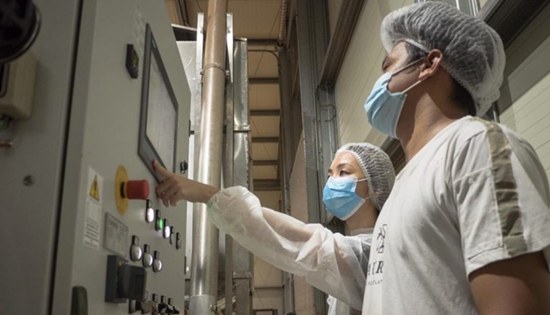 Kelly Go, co-founder and manager of AURO Chocolate, talks with operators of the grinding machine at the AURO chocolate plant in Calamba, Laguna, in the Philippines. AURO Chocolate benefitted from the EU's GSP+ programme which facilitates the entry of certain products tariff- free into Europe.
With all beans directly sourced, Auro is promoting sustainability by working directly with local farmers to cultivating fine cacao beans, improving ingredients, and expanding retail products with unique and bold tropical flavours, such as dried mango.
From a team of 20 staff, it has grown to over 100 employees working towards the export of its products to the European Union (EU) and other countries since 2018.
We involve ourselves in every step of the process by consistently working with our partner farmers to enable them to produce fine quality cacao beans that meet international quality standards," Kelly added.
Breakthrough
There were challenges to be hurdled before successful exports to EU could materialize.
"At selling events, people would question the quality of our products as chocolates from the Philippines are unheard of," Kelly said.
To win the trust of consumers regarding chocolate products grown and made in the Philippines, Kelly must be abreast of mandatory procedural requirements.
The Philippine Department of Trade and Industry (DTI) – Export Marketing Bureau (EMB) assisted Auro in completing the mandatory regulatory requirements for exporting in EU. The Centre for International Trade Expositions and Missions (CITEM) further supported the company in organizing country booths in key international trade fairs such as Salon du Chocolat in France.
The initiatives worked wonders for generating interest in Auro's fine cacao.
A plus for the business: GSP+
Sales have increased by almost 200% since the Covid pandemic. Auro is directly exporting to more than 15 countries with over 40 European chocolate makers using the company's fine cacao beans to make Philippine-origin chocolate.
Kelly was delighted to learn that chocolatiers in the EU countries were using her company's chocolate products. Being able to export to the EU means that Philippine cacao can compete globally with other well-known chocolate brands.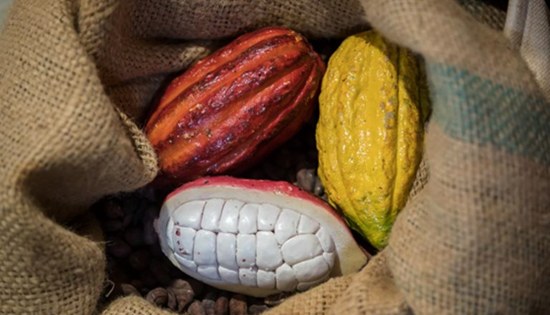 The EU's Generalized Scheme of Preferences (GSP+) removes import duties from products coming into the EU market from developing countries, thus, Kelly was able to competitively price her products vis-à-vis other brands.
"Our chocolate bars are doing well due to GSP+, which serves as a gateway support to the EU market," Kelly added.
Kelly is proud of her products being able to stand side-by-side with other internationally known brands, allowing her company to continue to grow business with their EU partners.
Gaining together
The resultant increase in sales has benefited Kelly, together with those who work for her company.
"Thanks to the GSP+ status, we have become part of the international cacao beans market, which led to an increase in our sales. This means there is a growing demand for our partner farming community's beans, thus generating more income for them, while providing a stable market for their cacao."
Moving Forward
Auro chocolates is ready to set higher standards of achievement under Kelly's leadership:
"We have exciting plans. On the farm side, we are to launch more community initiatives that are interwoven with our current cacao program. We are also expanding our sourcing to introduce new, exciting origins of chocolates. Shifting to more environmentally friendly practices and materials across the supply chain is also on the cards."
She leaves an inspiring message for aspiring exporters from the Philippines: "Do not feel intimidated when trying to apply for GSP+. DTI is there to assist you throughout the application and help make your brand marketable. It's also a great opportunity for your products to be introduced and grow in the EU Market."
Detained mother reunites with daughter after 30 years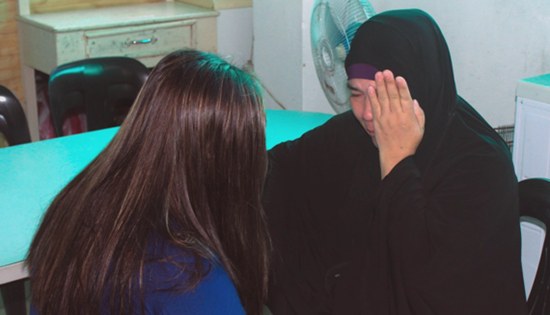 Anne reunites with her daughter Jennifer at the Correctional Institution for Women (CIW) in Mandaluyong City, Philippines. (Photo by CIW)
By ICRC
October 20, 2022
MANILA – "Nasaan ang anak ko? (Where is my daughter)," asked Anne* looking straight at Jennifer*, who was introduced to her by a staff of the International Committee of the Red Cross (ICRC). Smiling, 36-year-old Jennifer pointed to herself. They had last seen each other over 30 years ago. Continuing to look at the younger woman with some disbelief, Anne recalled that her daughter had a birthmark somewhere around the nape of her neck. As she spotted it on Jennifer, they were both overcome with emotions and embraced tightly.
Jennifer was only six years old when Anne was offered a job as a saleslady in Malaysia. Like many Filipinos in search of a better life, she accepted it. "I did not tell my mother that I wanted to work abroad because she would have refused to let me go. So, I just left without a trace. I was sure I would come back and my family would understand me because I did it for them," said Anne.
But the job in Malaysia turned out to be a scam. Anne was tricked into becoming an entertainer with a measly salary. When she was released from that job, Anne became a domestic help and then toiled as a construction worker.
After her contract ended, Anne returned to the Philippines in 2006. However, she did not go back to her family because she was afraid to see her mother. "I thought she would reproach me for what I had done. I convinced myself to pretend as if I were dead to my family," she said, adding that she chose to settle in another village in Mindanao and started a farm.
Detained in the Philippines
In 2017, Anne was arrested in relation to armed conflict. The ICRC visited her at Taguig City Jail a few months after her arrest as part of its humanitarian mandate and activities in the Philippines. "We have been helping detainees all over the world for more than 150 years, focusing on people deprived of their liberty in relation to armed conflicts and other violence. We look into how detainees are treated during their arrest and detention and monitor their health and living conditions. We also help to restore and maintain communication between detainees and their family members," explained Alvin Loyola, the ICRC staff who accompanied Jennifer to meet Anne.
Anne learned about the ICRC's Family Visit Programme (FVP), under the Restoring Family Links (RFL) initiative, to help detainees separated from their loved ones because of armed conflicts. The RFL initiative involves tracing detainees' family members, re-establishing and maintaining contact, reuniting families and seeking to clarify the fate and whereabouts of those who remain missing. Through the FVP, families of detainees can travel from their hometowns to visit their detained loved ones. "It is very important because it allows detainees to re-establish or maintain contact with their families and improves their psychological well-being," said Mariegen Balo, ICRC staff.
Anne also desired to meet her daughter when she found out her whereabouts through relatives. But the programme was suspended in 2020 because of the COVID-19 global pandemic. When the travel restrictions were eased in 2022 and family visits resumed, the ICRC scheduled Anne's long-awaited reunion with her daughter.
Together at last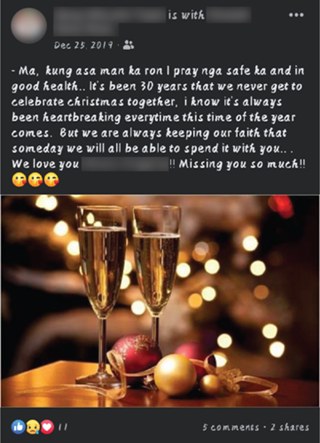 In July, an ICRC team accompanied Jennifer to visit her mother, who is now detained at the Correctional Institution for Women (CIW) in Mandaluyong City. Anne said she did not know how she would approach her daughter, whom she had last seen three decades ago. "I wondered, should I ask for forgiveness first, or do I just hug her?"
But Jennifer, who had managed to beat the odds and graduate from college with her grandmother's help, said her mother did not need to worry at all. Even though they had not been in contact for 30 years, Jennifer said she did not harbour any resentment against her mother. In fact, every year on 30 January – Anne's birthday – Jennifer would put a post on social media in her honour. "The only photo I had of my mother was destroyed in a flood so I used photos of my siblings and me for the posts. I used to pray hard for the day that I would see her again," said Jennifer.
The mother and daughter's reunion happened just a few days after Jennifer's 36th birthday, so the ICRC team asked Anne about her wish for Jennifer. "I wish her more happiness in life and that she may be given more opportunities," said Anne.
As part of the FVP, Anne's family will make two ICRC-supported visits every year to meet her. Now that she has been reunited with Jennifer, Anne said she looks forward to making up for lost time.
*Names have been changed to protect identity.
2021 Eastern Visayas poverty situation
22 in every 100 families in Eastern Visayas are poor
By PSA-8
October 14, 2022
TACLOBAN CITY - Poverty incidence among families in Eastern Visayas in 2021 was estimated at 22.2 percent. This implies that in 2021, about 22 in every 100 families in the region were poor or have income that were below the poverty threshold, or the amount needed to buy their basic food and non-food needs.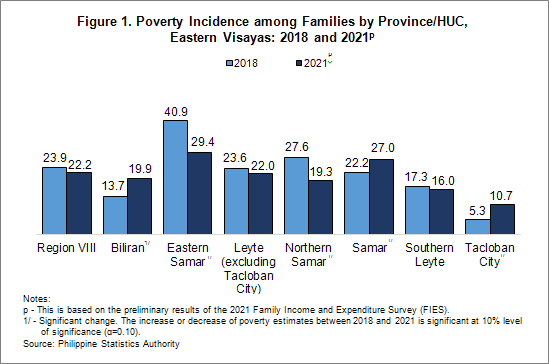 Among provinces, Eastern Samar posted the highest poverty incidence in 2021 at 29.4 percent, while Southern Leyte registered the lowest poverty incidence among families at 16.0 percent. Eastern Samar and Samar registered higher poverty incidences among families than the regional level in 2021, while the rest of the provinces posted lower poverty incidences than the regional estimate at 22.2 percent.
Significant improvements in poverty incidence among families were noted in Eastern Samar and Northern Samar. Poverty incidence among families in Eastern Samar dropped to 29.4 percent in 2021 from 40.9 percent in 2018. The province of Northern Samar, meanwhile, registered 19.3 percent poverty incidence among families in 2021, lower than the 27.6 percent in 2018. On the other hand, poverty incidence among families in Biliran significantly increased to 19.9 percent in 2021 from 13.7 percent in 2018. Samar registered 27.0 percent poverty incidence among families in 2021, significantly higher than the 22.2 percent in 2018 (Table 1).
Given the new master sample, PSA was able to generate reliable statistics down to the provincial level as well as for highly urbanized cities (HUCs). Poverty incidence among families for Tacloban City, the lone HUC in the region, was significantly higher in 2021 at 10.7 percent compared with its recorded 5.3 percent poverty incidence among families in 2018.
Around 29 out of 100 individuals in Eastern Visayas are poor
Poverty incidence among population in Eastern Visayas in 2021 was estimated at 28.9 percent. This implies that in 2021, around 29 in every 100 individuals in the region belonged to the poor population whose income were not sufficient to buy their minimum basic food and non-food needs.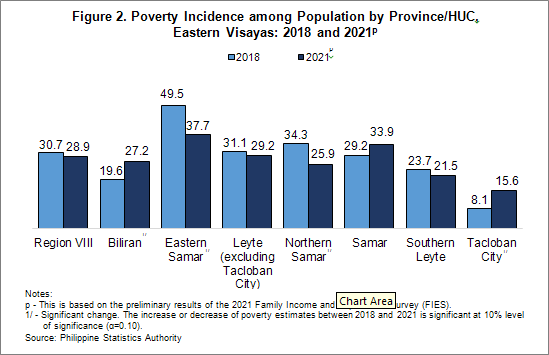 Among provinces, Eastern Samar posted the highest poverty incidence among population in 2021 at 37.7 percent, while Southern Leyte registered the lowest poverty incidence among population at 21.5 percent. Eastern Samar, Samar, and Leyte (excluding Tacloban City) registered higher poverty incidences among population than the regional figure in 2021, while the rest of the provinces posted lower poverty incidences than the regional estimate at 28.9 percent.
Significant improvements in poverty incidence among population between 2018 and 2021 were noted in Eastern Samar and Northern Samar. Poverty incidence among population in Eastern Samar dropped to 37.7 percent in 2021 from 49.5 percent in 2018. The province of Northern Samar, meanwhile, registered 25.9 percent poverty incidence among population in 2021, lower than the 34.3 percent in 2018. On the other hand, poverty incidence among population in Biliran significantly increased to 27.2 percent in 2021 from 19.6 percent in 2018 (Table 2).
Further, poverty incidence among population in Tacloban City in 2021 significantly increased to 15.6 percent from 8.1 percent in 2018.
Subsistence Incidence among Families
The subsistence incidence among families in Eastern Visayas in 2021 was estimated at 7.2 percent. This means that in 2021, about 7 in every 100 families in the region have income below the food threshold or the amount needed to buy their basic food needs and satisfy the nutritional requirements set by the Food and Nutrition Research Institute (FNRI) to ensure that one remains economically and socially productive.
Among provinces, Eastern Samar posted the highest subsistence incidence among families in 2021 at 12.1 percent, while Northern Samar registered the lowest subsistence incidence among families at 3.7 percent. Eastern Samar, Samar, and Leyte (excluding Tacloban City) registered higher subsistence incidences among families than the regional figure in 2021. The rest of the provinces posted lower subsistence incidences than the regional estimate at 7.2 percent.
Significant improvements in subsistence incidence among families between 2018 and 2021 were noted in Eastern Samar and Northern Samar. Subsistence incidence among families in Eastern Samar declined to 12.1 percent in 2021 from 16.5 percent in 2018. The province of Northern Samar, meanwhile, registered 3.7 percent subsistence incidence among families in 2021, lower than the 7.2 percent in 2018. On the other hand, subsistence incidence among families in Biliran significantly increased to 6.6 percent in 2021 from 2.2 percent in 2018 (Table 3).
In addition, subsistence incidence among families in Tacloban City significantly increased to 2.1 percent in 2021 from 1.0 percent in 2018.
Subsistence Incidence among Population
Subsistence incidence among population in Eastern Visayas in 2021 was estimated at 10.4 percent. This translates that in 2021, about 10 in every 100 individuals in the region have income below the food threshold or the minimum amount needed to buy their basic food needs.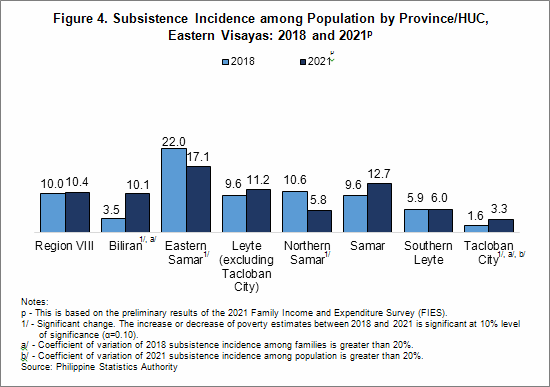 Among provinces, Eastern Samar posted the highest subsistence incidence among population in 2021 at 17.1 percent, while Northern Samar registered the lowest subsistence incidence among population at 5.8 percent. Eastern Samar, Samar, and Leyte (excluding Tacloban City) registered higher subsistence incidences among population than the regional figure in 2021. The rest of the provinces posted lower subsistence incidences than the regional estimate at 10.4 percent.
Significant improvements in subsistence incidence among population between 2018 and 2021 were noted in Eastern Samar and Northern Samar. Subsistence incidence among population in Eastern Samar decreased to 17.1 percent in 2021 from 22.0 percent in 2018. The province of Northern Samar, meanwhile, registered 5.8 percent subsistence incidence among population in 2021, lower than the 10.6 percent in 2018. On the other hand, subsistence incidence among population in Biliran significantly increased to 10.1 percent in 2021 from 3.5 percent in 2018 (Table 4).
Subsistence incidence among population in Tacloban City significantly increased to 3.3 percent in 2021 from 1.6 percent in 2018.
Food Threshold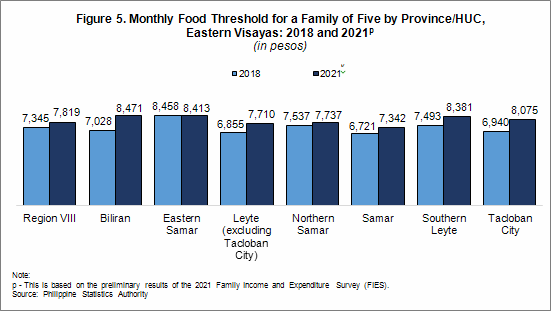 In 2021, a family of five (5) in Eastern Visayas needed at least P7,819 per month, to meet the family's basic food needs. This amount represents the average monthly food threshold for a family of five (5). This figure is 6.5 percent higher compared with the 2018 level of P7,345.
Biliran posted the highest food threshold among the provinces in Eastern Visayas with P8,471 average monthly food threshold for a family of five (5) in 2021. On the other hand, Samar had the lowest average monthly food threshold for a family of five (5) at P7,342 in the same year (Figure 5).
Increases in food threshold between 2018 and 2021 were observed in all provinces, except in Eastern Samar, which registered a -0.5 percent decrease in food threshold. Biliran posted the biggest increase in food threshold at 20.5 percent (Table 5).
Meanwhile, average monthly food threshold for a family of five (5) in Tacloban City was estimated at P8,075 in 2021. This registered an increase of 16.4 percent compared with its P6,940 level in 2018.
Poverty Threshold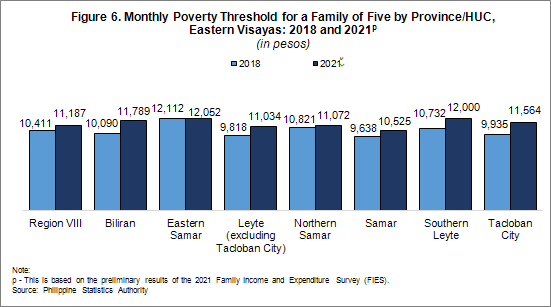 The average monthly poverty threshold for a family of five (5) in Eastern Visayas in 2021 was estimated at P11,187, an increase of 7.4 percent from its 2018 level of P10,411. This represents the amount needed every month to meet the family's basic food and non-food needs.
Among the provinces, the highest average monthly poverty threshold for a family of five (5) was observed in Eastern Samar at P12,052 in 2021. On the other hand, Samar registered the lowest average monthly poverty threshold for a family of five (5) at P10,525 in the same year (Figure 6).
Increases in poverty threshold between 2018 and 2021 were observed in all provinces, except in Eastern Samar, which registered a -0.5 percent decrease in poverty threshold. Biliran posted the biggest increase in poverty threshold at 16.8 percent.
Meanwhile, average monthly poverty threshold for a family of five (5) in Tacloban City was estimated at P11,564 in 2021. This registered an increase of 16.4 percent compared with its P9,935 level in 2018. 
Clustering of Provinces based on Poverty Incidence
All provinces in the country were clustered from 1 to 5 using poverty incidence among families as the clustering variable. Cluster 1 comprises the bottom poor provinces and Cluster 5 comprises the least poor provinces.
In 2021, two (2) provinces moved one (1) cluster lower from their cluster categories in 2018, namely Biliran and Samar. Two (2) provinces, Northern Samar and Southern Leyte, moved one (1) cluster higher from their cluster categories in 2018. The rest of the provinces maintained their 2018 cluster categories.
Among the provinces, only Southern Leyte was categorized as Cluster 4. Three (3) provinces, namely: Biliran, Leyte (including Tacloban City), and Northern Samar belonged to Cluster 3, while Eastern Samar and Samar were classified in Cluster 2.
Massive fraud observed in Philippine elections
Press Release
June 28, 2022
QUEZON CITY – The International Coalition for Human Rights in the Philippines (ICHRP) has completed its independent monitoring and assessment of the Philippine elections that took place on May 9, 2022. The main finding is that the election was not free, honest, or fair by international standards. It was a classic 'guns, goons, and gold' contest and marked by a successful massive social media campaign to rebrand the kleptocratic Marcos family's brutal dictatorship as the golden age of Philippine politics. The return of the disgraced Marcos family to center stage in the Philippines is consistent with the feudal dynastic system that is the centerpiece of political life in the country.
Evidence gathered by the International Observers Mission
The Philippine Election 2022 International Observer Mission (IOM) was established as a response to Investigate PH's independent international investigation into human rights violations in the Philippines. The IOM has had over 60 observers from 11 countries on the ground since April 1, who have meticulously documented the campaign, the vote, and the aftermath in various areas including Central Luzon, National Capital Region, Southern Tagalog, Southern Luzon, Central Visayas, Western Visayas, Eastern Visayas, and Mindanao. IOM observers included members of national parliaments, lawyers, trade unionists, church people, youth and students, educators, scientists, and human rights advocates. At various times, the IOM observers themselves were subjected to harassment and red-tagging by the police and military.
"The observers reported that the May elections showed a higher level of failure of the electronic voting system than ever before, along with a higher level of blatant vote-buying, a disturbing level of red-tagging of candidates and parties, as well as a number of incidents of deadly violence. A large number of voters did not get to cast their vote, and many had to trust that election officials would later put their marked ballot paper through a Vote Counting Machine, thus undermining the secrecy of the vote," said Lee Rhiannon, former Australian Senator and Commissioner of the IOM.
Massive fraud and failure of the democratic process
The main conclusion of the IOM is that the recent Philippine national elections were a failure of the democratic process. The elections took place in the most repressive context seen since the time of dictator Ferdinand Marcos. Military and state officials openly campaigned against the opposition by red-tagging the Leni Robredo campaign, as well as other candidates for Senate and partylist groups. "Throughout the election campaign, the Duterte government continued its orchestrated campaign of state terror. As part of its war on dissent, the government marshalled the entire machinery of government, including the judiciary, the military and police; and government departments of education, social services, and local governments," said Danilo Arao of the anti-election fraud organization Kontra Daya. The IOM observed soldiers in Eastern Visayas up to the election day intimidating people not to vote for Bayan Muna and other progressive party lists.
The May 9 election did not meet the standard of "free, honest, and fair" because of these prevailing conditions. It robbed voters of access to reliable information, access to voting places without intimidation, and a credible vote counting system. The IOM has reported election-related violations of human rights since early March in the form of political killings, shootings, abductions, death threats, political arrests, harassment and surveillance of candidates and supporters, large-scale red tagging, widespread vote-buying, media manipulation and repression, fake news, and harassment of journalists by the Marcos campaign. IOM researchers identified that the 2022 election results were the first time in five presidential elections in the Philippines that the number of votes garnered by an Automated Electronic System (AES) president is higher than the number one AES elected senator, suggesting massive fraud.
Rule of political dynasties
"The tendency towards a one-party state evident under the Duterte regime was omnipresent in the results of the May vote. In essence it was an exercise in para-military democracy fused with a system of feudal dynastic rule," said Chris Ferguson, IOM Commissioner and former General Secretary of the World Communion of Reformed Churches. While there remain many political parties, most pay fealty to the Marcos-Duterte bloc. The opposition was all but wiped out in the Senate, with only one of the 12 candidates elected not allied with the Marcos-Duterte bloc in one way or another, and 3 political dynasties now controlling a quarter of the Senate seats. Similarly, the partylist system has been corrupted by dynastic politics to the point where only a shrinking sliver of the successful groups represent disadvantaged or marginalized sectors in Philippine society. "The partylist system should return to its intended purpose because now it is yet another failed attempt to democratize the Philippine political process," continued Ferguson.
Democratic reforms needed within the Philippine political system
The results of the May election are the latest in a series of chronic failures of the Philippine political system to offer the economic and social reforms required to advance social rights and speaks to the need for major reform. These political reforms required to democratize the Philippine polity include removing the feudal family dynasties from politics, reviewing the efficacy of the AES and renewing the partylist system to give a greater voice to the marginalized and dispossessed sectors.
"For the international community and proponents of human rights, the results of the election represent a worst-case scenario. ICHRP's concern is that the new Marcos-Duterte government will continue to provide legal and legislative cover for past and future human rights violations and crimes against humanity," said Rev. Michael Yoshii, Commissioner of the IOM and member of the ICHRP Global Council.
Yoshii continued, "the return of a Marcos to the presidency and the virtual elimination of legislative opposition represents a huge challenge for the international community. There must be a renewed effort to strengthen civil society and the organizations representing the popular sectors. A renewal of the democratic foundations of Philippine society will be essential to combating the pervasive authoritarian tendencies in Philippine society." This ultimately means elimination of oppressive institutions such as the National Task Force to End Local Communist Armed Conflict and reducing the role of the military in public affairs, both of which played such a strong anti-democratic role in the electoral process.
Monitoring and reporting of the international community
"Looking forward, there needs to be an intensified international focus on the new Marcos-Duterte government and their ongoing human rights record. The international community needs to strengthen the capacity of internal and external human rights organizations to monitor and report on the situation in the Philippines," said Peter Murphy, Chairperson of the ICHRP Global Council.
"At the same time, the international community should continue to hold the outgoing Duterte team accountable for its abysmal human rights record. This work is underway at the International Criminal Court, and in the United Nations Human Rights Council processes, and can be pursued in national jurisdictions with Magnitsky-style laws. There should be no hint of a green light for continued human rights violations under the incoming Marcos-Duterte administration," Murphy concluded.
A new leg and renewed hope for a single father in Mindanao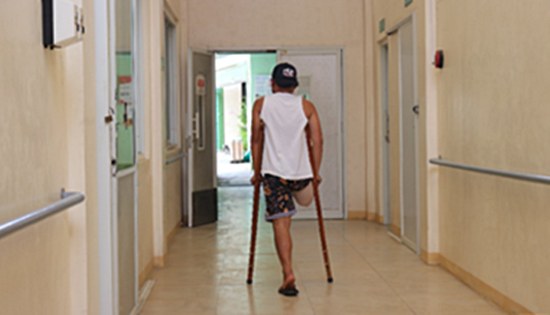 Ricardo arrived at the DJF office. He learned about the foundation through the ICRC's social media page. (Photo: M. Lucero/ICRC)
By ICRC
June 6, 2022
MAKATI CITY – "My heart is crushed each time my children ask for something that I cannot provide because of my disability," says Ricardo Tapican.
In July 2019, Ricardo Tapican lost his right leg in a motorcycle accident. "I was riding home with my cousin and nephew after a long day at work when the brakes of my motorcycle failed," he recalls.
Although his relatives, who were riding pillion, emerged unscathed from the accident, Ricardo suffered severe injuries in his right leg. "I thought I was going to die. On regaining consciousness, my first thoughts were of my children. I told my nephew to take care of them if anything were to happen to me," says the 34-year-old single father of three.
The doctors told Ricardo that the severity of his injuries had left them no choice but to amputate his leg. To this day, Ricardo cannot believe what happened to him. "It's been three years since the accident and I still cannot fully accept what happened. My disability has made life very difficult for me as a single father. I feel that the accident took a big part of me. I can no longer provide for my children," says Ricardo, who is from Agusan del Sur in Mindanao.
The loss of his right leg made it difficult for him to land a stable, well-paying job. And the money he earned from odd jobs wasn't enough to support his children, forcing him to send them to live with their mother and other relatives. It was a heart-breaking decision and not one that he wanted for his kids.
"My children are only 13, 12 and 9 years old. I could not take care of them on my own, especially with no stable income. I tried, but no one would hire me after knowing about my disability," says Ricardo.
He tried to go back to his old job as a rubber tapper, but the once enjoyable job became an intensely challenging task with only one leg. "The uneven and sometimes muddy terrain made it difficult to move around with crutches. Several times I lost my balance and fell to the ground," says Ricardo.
Finding solutions
But Ricardo is not giving up. He wants his children to finish school because he knows that an education will open many doors for them in the future.
"I had made a promise to myself not to neglect or let my children suffer just because their mother and I separated. When I was still a student, I didn't take my education seriously; I want my children to finish school and not end up like me," says Ricardo.
Determined to get his life back on track, Ricardo realized he needed an artificial leg. Three years after his motorcycle accident and following months of research, Ricardo came across the Facebook pages of the non-profit foundation Davao Jubilee Foundation (DJF) and the International Committee of the Red Cross (ICRC), which supports the DJF. He learned about DJF's rehabilitation work with disabled people in Mindanao.
Ricardo travelled from his hometown, San Francisco in Agusan del Sur, to DJF's Davao City office where, after an evaluation by the DJF staff, he was declared eligible to receive a prosthesis. Ricardo felt that God had finally answered his prayers.
"As a father and padre de pamilya [head of the family], I don't want to depend on others to provide for my family. I can't wait to complete my physical rehabilitation programme here at DJF and look for a decent job," he says.
Ricardo's physical rehabilitation journey started on 29 March 2022. The DJF provided him with a physical rehabilitation programme, including a custom-made prosthesis. He also received unconditional cash grants from the ICRC to meet his family's basic needs.
"I was in disbelief when I first heard that I'd be given a new leg. It felt like a dream. But after arriving at DJF, the reality of what is happening started to sink in, that my dream of walking on two legs again is about to come true," says Ricardo.
About Davao Jubilee Foundation
DJF is a non-governmental organization located in Davao City, Philippines, that provides a variety of physical rehabilitation services to disabled people and people in need of supportive braces, wheelchairs, artificial limbs or other mobility support devices. The DJF helps all disabled Filipinos, wherever they may be.
DJF's physical rehabilitation services include physical therapy, custom manufacturing of artificial limbs, providing orthosis wheelchairs and mental health and psychosocial (MHPSS) counselling for disabled people. The ICRC's close partnership with DJF has improved disabled people's access to comprehensive and high-quality physical rehabilitation services, mitigating the challenging circumstances they face in the Philippines. The ICRC also supports the socio-economic needs of vulnerable DJF beneficiaries.
For more details, please contact Davao Jubilee Foundation at 0975-781-7514 or message them directly on their Facebook page (https://www.facebook.com/DavaoJubileeFoundation).
Weaving towards success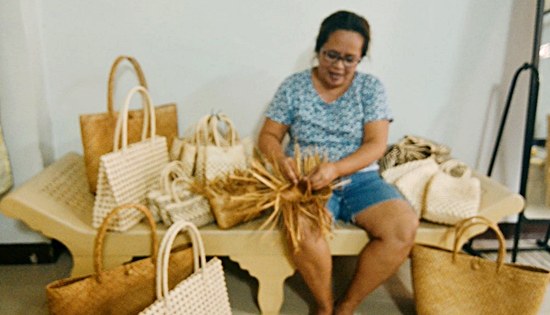 From livelihood to hobby. Twelve years ago, Mary Ann Parado starting weaving buli bags as a source of income. Now, even when her life has significantly improved, she continues to weave bags to bring happiness to other people.
By LYNFA A. TAN
April 6, 2022
SAN PABLO CITY – For the longest time, creating handicrafts has been one of the major businesses in the Philippines. Handicrafts promotes the Filipino heritage and culture. In the Quezon Province, one of the most popular raw products is buli or the buri tree.
Buli is a common palm found in the Philippines and can live up to more than 30 years.
Being widely found and due to its life span of more than 30 years, the palm tree became a popular resource in the province. In fact, it became the inspiration for the Bulihan Festival every April in Sampaloc, Quezon Province. During this time, local producers and investors display their buri products.
Mary Ann Parado is a local Buli weaver and microentrepreneur who used to join this festival. She started making buli products in 2010, allowing her to sustain the needs of her family of five members. Her income from this business also supported the educational needs of her children.
However, Mary Ann's road to success was not always smooth. There was a time when she almost lost hope. She received an order from three buyers who refused to make payments. This almost drained her capital.
This is also the time when she met CARD Bank, a microfinance-oriented rural bank. The bank does not only provide financial assistance but also access to microinsurance, business development service, marketing support and educational support to its clients. She later on became enticed with the benefits that CARD Bank offers. With the low interest and flexible payments, she decided to become a client.
Her first loan amounted to PhP5,000. Because she managed her fund well, she can now avail a higher loan that she can use in her other businesses aside from buri making. Her handicrafts like hats, bags and wallets are now distributed to various parts of the country. She has also started to customize her products to be used as gifts and souvenirs for birthdays and weddings.
During the COVID-19 pandemic, she also found ways to adapt to the new normal. She started online selling of her products, expanding her network nationally and internationally.
"If my life would be compared to a thing, it's definitely the buli. Producing a buli handicraft involves twisting, criss-crossing and entwining. But after the complicated process, it turns into a beautiful and useful product. Same goes with my life, there might be unpredictable twists in my fate, criss-crossing with my decision-making, and sometimes I might get entwined with problems, but still I know, everything will fall in their places," Mary Jane shared.
Mary Jane has been a client of CARD Bank for twelve years, while her husband has also been a CARD client for four years. Through CARD financial assistance, the couple managed to sustain their business which is locally known as Prado Handicrafts. They have also availed educational loans for their children to support school maintenance. For them, the help they received from CARD is enough to keep their business alive despite the many challenges.
More dreams, zero dropouts
By CARD MRI
January 20, 2022
SAN PABLO CITY - The number of young people, who were left with no choice but to drop out of school, reached more than five million for the academic year 2021-2022.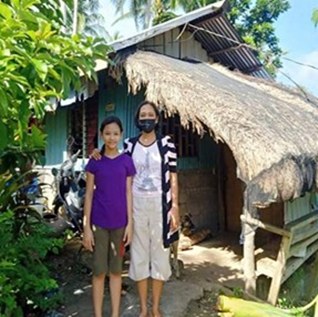 Ma. Angela Habana stands tall and proud with her mother, Nanay Maria, as one of the Zero Dropout Program beneficiaries of CARD MRI.
There is no doubt that the COVID-19 pandemic has gravely affected the education of the Filipino youth today. The lack of tools such as mobile phones and load to access learning materials can be seen as one of the major setbacks experienced by children today. Now, parents search far and wide for means to let their children continue reaching their dreams. Nanay Maria Lina R. Habana is one of them.
Nanay Maria is a mother to five children, one of whom is Ma. Angela, who is in Grade 7 and is studying in Bula National High School in Camarines Sur. According to Nanay Maria, one thing that will make her happy is to witness Ma. Angela achieve her own dream of becoming a teacher.
Fortunately, with Ma. Angela's perseverance and knack for learning, she became a consistent honor student from the time she stepped Grade 1 to Grade 6. Ma. Angela's potential became Nanay Maria and her husband's inspiration to work hard for their children, not only to fill their basic needs, but to support their individual dreams.
The Habanas are known to be hardworking. Nanay Maria buys and sells vegetables and other goods, while her husband works in a vulcanizing shop in Manila to get by with their daily expenses. However, education is a different matter altogether. With huge educational expenses left and right, financial assistance is needed to support their family altogether.
CARD Bank, a microfinance-oriented rural bank that supports marginalized communities with access to financial products, services, and other social development programs, became Nanay Maria's partner in their journey to reach their goals in life. In her 12 years of being a CARD Bank client, she has availed the Zero Dropout Program of CARD several times to support the education of Ma. Angela.
The Zero Dropout Program is an educational loan product of CARD MRI that supports students' education in elementary, high school, and senior high school. Offered exclusively to CARD MRI clients with children or relatives who want to continue studying, this loan has a maximum amount of PhP 10,000 for junior and senior high school. This is applicable to students like Ma. Angela who is currently in junior high school.
The financial aid that the Habanas received for Ma. Angela's schooling eliminated the anxiety Nanay Maria had towards the education of her children, especially during a time when the COVID-19 pandemic impacted the Philippines' educational system.
Now, Ma. Angela is in Grade 7. Even with schools closed and a threat of dropping out of school looming over the students' heads, this does not weaken Nanay Maria's faith in pursuing her and Ma. Angela's dreams. For Nanay Maria and millions of other CARD clients, here is to more dreams and zero dropouts.
Ma. Angela is just one of the 1,235,768 beneficiaries of the Zero Dropout Program of CARD MRI as of December 2021. To know more about CARD's educational loan, message CARD MRI at @CARDMRIOfficial or visit any CARD, Inc. (A Microfinance NGO), CARD Bank, CARD SME Bank, or CARD MRI RIZAL BANK branches or unit offices near you!
Taste of Home: Grace Dalisay's car trunk surprise in Lemery, Batangas
By CARD MRI
November 26, 2021
SAN PABLO CITY – Sending good wishes to friends and loved ones has always been accompanied with big celebrations. May it be a beach party, a vacation abroad, or a get together with close pals at home, the Filipinos make time for special occasions and often celebrate it with a big feast.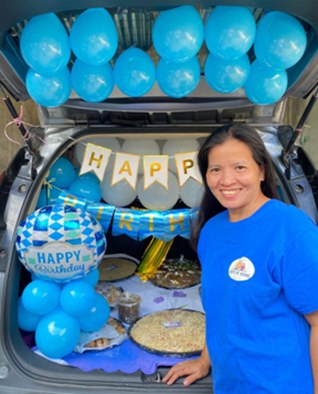 Grace Dalisay smiles in front of her car trunk surprise for a seven-year-old birthday celebrator in Lemery, Batangas.
Alas, the COVID-19 pandemic left families bereft of grand celebrations. Birthdays, weddings, and anniversaries were celebrated with small, immediate families, more often than not, at home.
The pandemic should have crippled businesses related to food, events, and party services, but one family in Lemery, Batangas, took the pandemic as a challenge and came up with a way to celebrate in a practical, fun, and safe manner.
Gracelda "Grace" Dalisay and her family were dining together, when a portion of cooked food and camote with cheese were left untouched. From here, they tried to sell the excess to neighbors who were more than enthusiastic to try Grace's cooking. As days passed, the Dalisay family was urged to hold a small surprise for a few close friends who were celebrating their birthday, but due to the pandemic, this was no small feat. However, with the new seven-seater minivan they loaned from CARD SME Bank, the Dalisay family explored the idea of using the vehicle to hold what is now popularly known as a car trunk surprise.
These were the beginnings of Taste of Home, the Dalisay's food delivery service that holds car trunk surprises for those celebrating their birthday, anniversary, and other special events in the comforts of their home.
A Taste of Success
The family business started in February 2020, ironically, at the onset of the COVID-19 pandemic to cater to families who want to celebrate special occasions without breaking the government's protocol, which is set to immobilize the spread of the virus.
Together with her husband and her sister, Grace cooks an assortment of food including pasta, noodle dishes like pansit, various Filipino delicacies including maja and puto, sandwiches, spring rolls, and many more.
With a car trunk surprise, not only is food delivered to the doorsteps of a family, but it also prevents families from stepping out of their homes and risk compromising their health. It also brings incredible joy to families in the midst of a health crisis that affects the rest of the world.
Through word of mouth, Grace's car surprise has reached different parts of Batangas, Cavite, and Laguna. According to Grace, their minivan became a big part of their lives as it brought them a steady source of income during the pandemic.
"The car we loaned is a blessing to us. We are grateful to CARD SME Bank for giving us a chance to own a car that we have never dreamt of using for our business. With the grace of God, we have never lacked anything because of this. I am really grateful," Grace said.
Through her son, Grace and her family availed the Drive Ur Wheels car loan amounting to P1,000,000 from CARD SME Bank, a full-fledged thrift bank that provides financial assistance, microinsurance, and other community development programs to microentrepreneurs and their family.
The Journey with CARD
Grace has been a client of CARD since 2007. From CARD, Inc., she was then transitioned later to CARD SME Bank. Therefore, CARD has been a witness to her journey from being an overseas Filipino worker to a cook in a small restaurant in Mahayahay in Lemery, Batangas, to finally being a businesswoman of her own car trunk surprise service.
CARD was also present in her children's life, particularly with her second youngest son, Victor Manuel, who was a recipient of the educational loan during his time at Batangas Science High School.
Aside from these milestones, Grace is also now an authorized konek2CARD Agent in their community since May 2021. A konek2CARD Agent is a trusted partner of CARD in bringing konek2CARD, its mobile banking service, closer to clients in the community. Through agents like Grace, clients of CARD SME Bank can withdraw, deposit, pay their bills, and settle their weekly dues without going to the bank.
Grace is currently holding 14 centers with a total of P250,000 collected payments weekly and P1,000,000 monthly. Through konek2CARD, Grace earns an extra income that she uses for leisure activities to bond with her husband and their children.
If there is one thing the Dalisays are good at, it is celebrating small wins in life and sharing their family's love and joy with other people. With Taste of Home, Grace and her family believe that people can still celebrate and create memories with their loved ones even in the midst of adversities.
Braving storms; One Paborita at a time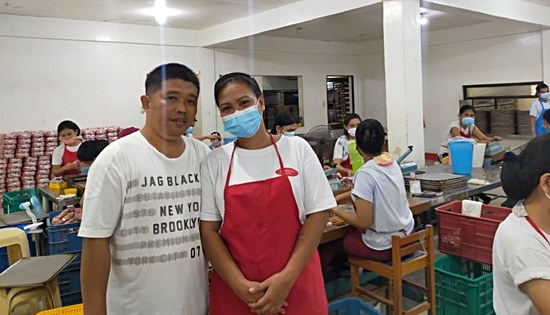 By CARD MRI
August 27, 2021
SAN PABLO CITY – The outpouring rain brought by Typhoon Glenda may have torn through the Philippines in 2014, but it has also watered the beginnings of Fadullo's Bakery and their paborita business. Specializing in soft bread, Irene Fadullo and her husband have been in the baking business in Lipa City, Batangas since 2008. Four years later, the couple ventured into baking paborita crackers, but it did not become popular in the market instantly. They lacked the necessary permits to continue the production of the paborita.
However, opportunity stormed through the Fadullos as they weathered Typhoon Glenda with fresh will and perseverance. As a great demand for paborita dominated the market, the Fadullos worked day and night through the power cut in Lipa, Batangas to produce their biscuits. At first, they had to leave one bundle (100 pcs.) of paborita in the market and wait for a call to retrieve their unsold crackers back to their bakery. One day, an unexpected call came asking for more paborita to be delivered to them.
From then on, the Fadullos started delivering 30 bundles to the market every week. As their production grew, their need for extra capital also intensified. They sought the help of CARD SME Bank in growing their business, starting with a P2,000 loan which helped them to purchase flour. To increase their production, they decided to loan P10,000 to buy a secondhand oven. This helped them in constantly supplying their growing market for paborita.
Now, the Fadullos have increased their capacity by employing their relatives as well as students with their parents' consent. This allows them to provide a source of living to their community and train the youth to prepare them for their future.
The Fadullos are also now using 31 ovens to help them with their production. Now, they create 432 bundles of paborita every day.
Walking with CARD has also led the Fadullos to cross paths with CARD-Business Development Service Foundation, Inc. (CARD-BDSFI) which helped them improve their facility and secure their accreditation with the Food and Drug Administration (FDA). Aside from this, the Fadullos were also introduced to Mga Likha Ni Inay (MLNI) which supports underprivileged communities through the promotion of their local products. With the Fadullo's excellent performance and contribution to their community, the couple became an awardee in Pagkilala sa mga Likha ni Inay as the "Gawad Maunlad" in 2017, which won them P50,000 and a computer package.
Because of the relationship they have built, the Fadullos also supplied paborita to MLNI that continually promotes and sells their products to its market. Hijos Tours also integrated the Fadullos paborita to their travel boxes, proof that CARD has absorbed the paborita as one of its staple products.
Irene also appreciates the programs offered by CARD to its clients. "CARD has various programs that will help every individual grow. Aside from absorbing our products, they also provide trainings on financial management which helped us greatly," Irene shared.
However, the pandemic became one more storm they had to overcome to succeed. The COVID-19 pandemic birthed not only health-related problems but also competitors who do not have permits but sell paborita at a cheaper price. Because of this, the Fadullo's customers have set their sights on different paborita suppliers. To counter this problem, Irene set up their own Facebook page where customers may order paborita when not available in the market.
"As an entrepreneur, you need to know the kind of business you are dealing with," Irene said. She continued, "More importantly, you should trust the product you are selling. You should not give up easily," Irene concluded.
With the Fadullo's dedication and their unceasing mission to grow their business, the Lipa-based bakery is sure to conquer storms one paborita at a time.
For two mothers, justice harder to reach amid pandemic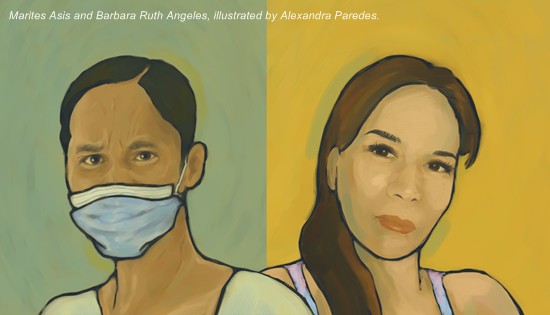 Two mothers share how it feels to be prisoners of misery. On top of the uncertainties brought by the Covid-19 pandemic, Marites Asis agonizes over how the justice system has treated her daughter and her late granddaughter, baby River, while Barbara Ruth Angeles has to endure the loss of a daughter to sickness while seeking justice for her son, who's been in jail for months.
By AIE BALAGTAS SEE
Philippine Center for Investigative Journalism
December 2, 2020
The wheels of justice are grinding exceedingly slow for Marites Asis and Barbara Ruth Angeles.
Marites is the mother of Reina Mae "Ina" Nasino, an urban poor leader who was arrested in Manila in November 2019. Ina learned she was pregnant weeks before her transfer to Manila City Jail and gave birth to baby River on July 1, only to be separated from her newborn after a month.
Marites became worried not only over Ina's freedom and safety, but also over baby River's health. River, who was dependent on formula milk and donations from the milk bank, was confined at the Philippine General Hospital after contracting pneumonia in September. Baby River's death sparked public outrage as Ina was not allowed to visit the hospital and was given only six hours to say goodbye to her baby.
Painter Barbara Ruth Angeles has a similar story. It's been months since she last saw her son Inno, who was arrested on what she said were trumped-up drug charges in Quezon City in 2018. To add to her misery, Inno's older and only sister died of bladder problems in August.
Inno was not able to say goodbye.
Barbara Ruth has yet to properly mourn the sudden passing of her eldest child as she is busy earning a living while finding ways to free Inno. Barbara Ruth is also busy taking care of her 12-year-old granddaughter, who is now an orphan.
Marites and Barbara Ruth are free but mired in misery that could only be cured by the delivery of justice.
Here are their stories, in their own words.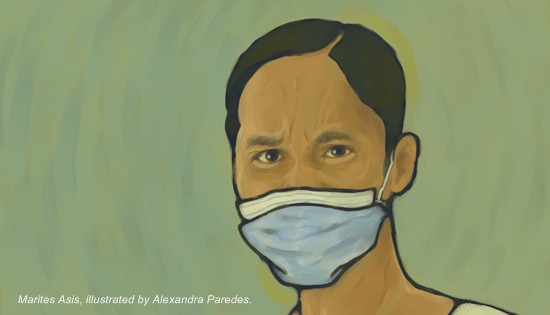 Justice is heavy handed for Reina Mae Nasino and baby River
By Marites Asis (as told to Aie Balagtas See)
I found out that my daughter Ina was pregnant the same time Covid-19 struck. I felt the weight of heaven crash down on me.
I couldn't give an interview without crying. At night, I even cry myself to sleep. You'd think I was crazy.
I learned about my daughter's pregnancy in February, a few weeks before the police were set to transfer her to Manila City Jail.
That's why when lockdowns were imposed, I was anxious. You need social distancing, but they're cramped in a dormitory that houses 111 people.
It seemed risky for my daughter to be pregnant and at the same time detained in jail, where she could catch the virus.
I was asleep when Ina was arrested [on Nov. 5, 2019]. Someone went to my house at about 5 a.m. and told me about Ina's arrest. The person said she was taken to the CIDG (Criminal Investigation and Detection Group) office in Manila Police District (MPD). In short, I rushed to MPD around 5 a.m.
I was hysterical.
I went to Ate Vicky, my older sister, the woman who raised all of us, including Ina. We consider her our mother.
Ate Vicky said we should go to MPD. At MPD headquarters, however, they did not allow us to see Ina immediately.
Investigators were asking them if they really owned those guns.
I was furious.
The police planted evidence against Ina. I know my daughter. They planted guns and grenades. During the arrest, the cops covered their faces with pillows. Who in his right mind would do that to our youth?
It hurts so much to see your child in jail.
You couldn't even go out because of coronavirus. You're stuck at home. Anxious and worried.
Before coronavirus hit, I would visit her in jail every day. I never missed a visit until visitation rights were cancelled last March.
With the lockdown in place, I felt helpless.
I always wonder how my daughter is doing. Is she eating well? Can she take a shower in private or do they take showers in groups?
I pity my daughter.
Because of the virus, we could not see each other, especially when she was still pregnant. Covid-19 exacerbated my pain.
She said maybe I could see her again in October.
It's difficult. It's really, really difficult. I couldn't sleep at night. I would always think of her. She would talk to us through video calls, and we were happy to see her tummy grow.
But I felt so guilty. I couldn't take care of my own daughter.
Ina was supposed to give birth on July 10 but she gave birth nine days early, on July 1.
I didn't even see her at the hospital.
I was asleep. A jail personnel called me at midnight. She instructed me to go to Fabella Hospital as Ina was about to give birth.
I rushed to Ate Vicky once again. Together we went to Fabella, hoping we could be by my daughter's side on that important day.
When we got there, the hospital administration said visitors were not allowed because of their Covid-19 protocols.
Anyway, the hospital said Ina had given birth.
Ate Vicky and I went back to Fabella on July 3 to bring diapers and water for the baby.
The security guards said my daughter was still there. They didn't allow us to see her, so we asked if they could hand the package over to Ina.
On our way home, about noontime, Ate Vicky's phone rang. It was Ina. She said the baby was crying because she could not produce milk. The baby was hungry.
It baffled us because we thought she was still in the hospital. Ina said they returned to jail on July 2.
No one told us. We just found out. That gave us another bout of sharp pain.
The security guards played us for fools!
We attended to Ina first. When we reached the city jail, we were told the baby was already given formula milk.
Then we stormed Fabella Hospital to confront the guards. We demanded that they return the diapers and water. Those belong to us.
They didn't even want to return the water and diapers, so I complained at the hospital's information center.
I last saw Ina when she handed the baby to us on [Aug. 13].
We barely met her. We were not supposed to see Ina. I just asked the warden if I could have a glimpse of my daughter.
How do I feel? I'm filled with pain. I can witness the suffering of my child.
I felt that Ina and my granddaughter did not want to be separated from each other.
How I feel about Ina is the same with how she feels about my granddaughter.
I don't know why they treated her that way. As a mother, I felt hurt. I don't know how to explain it. She is not convicted yet.
It was painful to watch them [policemen and jail guards] surround my daughter. It's okay if they made her wear PPE (personal protective equipment) because she needed to go back to jail. But to handcuff her? As if it's not a wake.
I have yet to move on.
I skip social media posts that remind me of what happened because they bring back memories of when she was handcuffed at the wake. She was looking at her child. She was not able to come close to her infant's coffin.
Then there's the memory of men with high-powered guns barging in to inspect the room and the toilet because they were afraid of getting outfoxed.
You see? They did not give us the chance to bond.
That day, I ran out of tears to cry. All I could do was call them out.
I didn't have any tears left to cry after seeing my daughter's situation.
It was difficult to cry because I was enraged. I asked them to leave the room because we didn't need guns there.
They didn't have to guard the burial. There were so many of them that they outnumbered the mourners.
I tried to appeal to their hearts. I told them we knew it was an order and we couldn't do anything. Just the same I hoped they realized it was a burial and a mother would be separated from her child.
I only wish they had thought of that.
During our last conversation at the cemetery, Ina told me: "Ma, it's okay to put the baby inside the niche."
Ina held my hand twice: during the wake and during the burial.
She told me: "Ma, give me your hand." She held it tight.
She was trying to tell me that I needed to be strong. I told her: "Be strong, we will fight back."
Postscript:
I'm okay. But it's not easy to forget because the trauma is still there. I can go to work now.
Ina said it's not yet the end of everything.
I filed a legal complaint over what they did during the baby's wake and burial. How will I attain justice if I don't complain? This should serve them a lesson because they must not treat other people the way they treated us.
Baby River died of pneumonia on Oct. 9. The court gave Reina Mae a couple of three-hour furloughs to bid her child goodbye. The first was to visit the wake, the second was to bury her child.
Not even an inch of her skin was able to touch River's coffin. She was made to wear a full hazmat suit during the visits because of the threat of Covid-19. She was in handcuffs most of the time and was surrounded by heavily armed government forces.
Their family was never given a chance to grieve.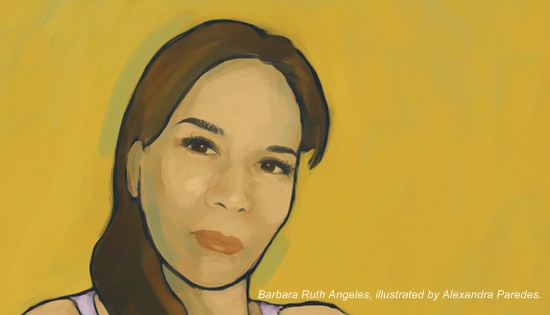 Legal shortcuts in the drug war: From 'palit-ulo' to 'amin-laya'
By Barbara Ruth Angeles (as told to Aie Balagtas See)
My son Inno will enter into a plea-bargain agreement. I don't have any choice left. I have to take him out of jail.
My son does not want it, but I have no choice. How else are we going to set him free? That was why we opted for "amin-laya" (plea bargain).
The advice came from lawyers and BJMP (Bureau of Jail Management and Penology) personnel. They said it's his first offense anyway.
I'm worried for my son, of course, as entering into a plea bargain means having a permanent criminal record. It's similar to being convicted already, although he is innocent.
But my son's case has been pending in court for two years. Within that period we only had about four hearings even if the court had released a monthly schedule.
Reset. Reset. Reset.
Since my son couldn't prove his innocence in court, I told him that once he's free, it's up to him to prove to himself that he's not what the government had accused him of.
Besides, the cops offered this solution to us before, and they promised us they wouldn't oppose it.
I can take better care of my son if he's with me. I can tell him, "Don't go out, don't go with these people."
I just want this problem to end. We're all suffering because of it.
Then, there's the pandemic. The BJMP does not tell us the exact number of inmates infected with Covid-19. It's difficult because it's congested there.
Actually, I had to take risks and buy my son a P15,000 kubol (hut) so he could have his own space, and that's just plywood about a quarter of a meter in size.
It is very expensive inside city jails. You're aware of this: If you are poor, you will starve to death inside our jails.
Since visitation rights are suspended, my son and I communicate with each other through phone calls. Imagine this: to get in touch with me, he needs to buy call cards worth P100 for P300. The BJMP asks you to buy the call cards from them.
I won't tell you the exact amount that I spend on my son but his budget for a week is my budget for two weeks.
I don't know what else could happen. That's why I said, "Son, just plead guilty."
My son was arrested on May 3 (2018). Arrests of drug suspects spiked during that period because of the drug war "quota". I learned about that so-called quota from the BJMP personnel. They blamed it for their population boom.
Go back to the day Galas police station was raided over an extortion case. That's how we learned Inno was there.
At first, we had no idea that Inno had been arrested. We looked for him in barangay halls and police stations. We reported him as missing because we couldn't reach his phone.
I kept crying.
My daughter and I searched everywhere. I thought he was killed because deaths related to bike theft were rampant those days, so we scoured hospitals and funeral parlors.
I posted about our search for Inno on Facebook. One of my school batchmates advised me to report it to 8888. I reported it to the Duterte hotline 8888 but it was not able to help us.
On May 4, Galas Police Station was raided over an extortion case involving its anti-narcotics team.
A police investigator called me and said: "Go to Galas Police Station immediately. Your son is here. Bring food and clothes."
I was shocked. How did he end up there?
No one entertained me at the police station until I lost my cool.
Someone from GMA News told me to get a good lawyer.
At that time, hiring a private lawyer cost P300,000. Our case got delayed because we couldn't find one. Some were too old. His grandmother found someone but I think he's from Aklan.
We couldn't grasp what was happening. We were desperate to find a lawyer. It was mental torture. We weren't used to this. It was the first time someone in the family got involved in a court case.
The most enraging part was my son didn't violate any law.
You know, initially, the police didn't even have a record of his arrest.
I talked to detainees and some policemen at Galas. I learned that the SAID (Station Anti-Illegal Drugs Division) cops were supposed to kill Inno as a replacement for big fish that they're extorting money from.
The policemen in Galas said my son was intended for "palit-ulo." (Palit-ulo, which literally means head-swapping, is a scheme in which a drug suspect gets freedom in exchange for ratting out on his or her suppliers.)
They said it was for a "zero-zero." You know zero-zero?
That meant they would kill him.
The policemen tortured my son.
I have evidence, including the medico-legal report, and X-ray and CT scan results.
At the hospital, the doctor said he had fractured ribs. They also saw a "metallic forensic" in his left leg.
The doctor did not want him to leave, but Galas police did not allow him to be operated on. Despite his fractures and injuries, Galas turned him over to the city jail.
We lost the chance to have him treated. His wounds eventually healed in jail.
You asked how I'm doing?
It's the first time someone asked me that question.
Well, I'm not… I'm not okay. I try to do my normal routine but emotionally, no, I'm not okay. My daughter died in August while my son is in jail. She's my eldest and the only one I could rely on to deal with this problem.
We were able to get hold of the CCTV [showing Inno's illegal arrest] because of her.
I still couldn't accept that my daughter had passed away.
Inno was not able to say goodbye. They had not seen each other for two years.
She was sick but was not confined. Her resistance was down and I was afraid that she might catch the virus in the hospital.
My daughter left behind three children. The eldest child, an 11-year-old girl, does not have a father. I'm taking care of her.
My granddaughter is already worried that her life will fall apart if something happens to me. I told her, nothing's going to happen to me because I still have a purpose in life.
I have faith in the Lord.
I never questioned God for everything that I'm going through. I know he will not give me these trials if I cannot overcome them.
I'm trying to be strong for my son and for my granddaughter. If I falter, who would be strong for them.
But it's difficult.
Postscript:
I think my daughter is guiding me. I feel better now. I started painting again 40 days after her death.
I used to paint with dark colors, colors that you can associate with death. This time, I'm using positive and vibrant colors. My artwork seems alive.
Do I have peace of mind?
No. I can only have peace of mind when my son is finally with me. -- PCIJ, December 2020
Aie Balagtas See is a freelance journalist working on human rights issues. Follow her on Twitter (@AieBalagtasSee) or email her at aie.bsee@gmail.com for comments.
Inspired by The Marshall Project's Life Inside, Marites' and Barbara's stories are part of PCIJ's series on the criminal justice system, which includes first-person accounts from current and former detainees and their family members.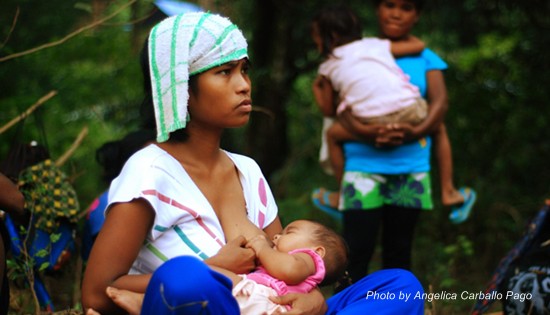 A Dumagat woman breastfeeds her six-month-old baby while waiting for their sitio's turn to line up for relief goods.
Promotion, protection of breastfeeding practices reap rewards
By ANGELICA CARBALLO PAGO
Philippine Center for Investigative Journalism
October 21, 2020
Exclusive breastfeeding among infants 0 to 5.9 months has nearly doubled, from 30 percent in 2003 to 58 percent in 2019.
Women should still breastfeed despite the pandemic, even those found to be positive for Covid-19, according to a Department of Health (DOH) memorandum. This shows how the government has been relentless in promoting breastfeeding in the face of a formidable opponent – milk manufacturing giants who have made their way into the consciousness of Filipino mothers through massive advertising.
Despite the passage of the Milk Code 33 years ago, myths and unfounded beliefs persist amid aggressive promotions by milk manufacturers that claim to give a child advantage in terms of health and IQ points.
Only 35.1 percent of babies are exclusively breastfed until 5 months of age, according to the 2019 Expanded National Nutrition Survey of the Department of Science and Technology – Food and Nutrition Research Institute (DOST-FNRI), although exclusive breastfeeding percentages have been increasing since 2003, but took a dip in 2015.
Nathalie Verceles, director of the University of the Philippines Center for Women's and Gender Studies, said the Milk Code was meant to protect the interest of mothers and babies from aggressive marketing strategies of formula milk companies. (See related story: Milk and the pandemic: Milk Code confusion cripples LGUs response for infants)
Mothers need support, according to Save the Children Philippines health and nutrition adviser Dr. Amado Parawan. A mother's decision to breastfeed, he said, predates the birth of the child and will depend on what she believes – or is made to believe. This decision can also be affected by the support she gets – or doesn't get – from home, work and community.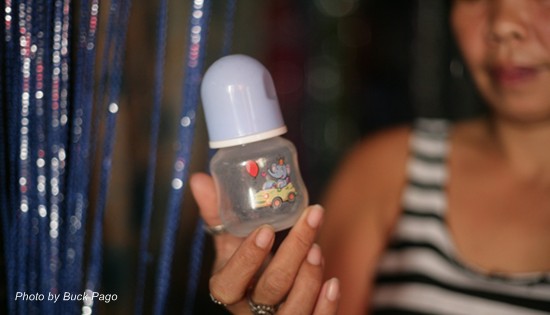 Maryjoy Mota shows the bottle used to feed baby Pia, when her family was able to scrape a few hundred pesos to buy formula milk.
Here's a timeline of breastfeeding policies and how they have influenced breastfeeding rates.
May 1981 – The International Code on Marketing of Breastmilk Substitutes is adopted by the World Health Assembly. The aim is to protect and promote breastfeeding by ensuring appropriate marketing and distribution of breastmilk substitutes.
20 October 1986 – President Corazon Aquino signs Executive Order 51 or the Milk Code with its Implementing Rules and Regulations (IRR). The Code regulates advertising of breastmilk substitutes, including infant formula, other milk products, foods and beverages, feeding bottles and teats.
1990 – Guided by the World Health Assembly resolutions, which state that "follow-on or follow-up formulas are unnecessary because after six months the baby starts to take complementary foods together with sustained breastfeeding," improvements were introduced on the IRR, such as the ban on follow-on formulas. This was prompted by the 1987 Wyeth's invention of follow-on milk for children aged six months and above that undermined the importance of breastfeeding. When the Milk Code was being drafted, follow-on milk was not yet invented. "Complementary food" includes food that is part of the local culture.
2 June 1992 – The Rooming-In and Breast-Feeding Act, Republic Act (RA) 7600, is passed, provides legal basis for rooming-in as a national policy to encourage, protect and support breastfeeding.
2003 – The exclusive breastfeeding percentage among infants 0-5.9 months stands at 29.7 percent.
2004 – The Task Force Milk Code begins discussion and debate on the first draft of the revised IRR of the Milk Code. Among those consulted was Swiss multinational Nestlé, who represented formula milk companies.
23 May 2005 – DOH Administrative Order (AO) 2006-0014 or the National Policies on Infant and Young Children is issued. It states that in times of crisis, breastfeeding is the first and best feeding option for infants and young children. It requires mothers and babies to remain together after delivery. Support must be given for mothers to breastfeed even in crisis or emergencies.
2006 – The Pharmaceutical Healthcare Association of the Philippines (PHAP) seeks a temporary restraining order on the revised IRR's implementation. After initially denying PHAP's petition, the court overturns its decision and issues a TRO on the revised IRR.
28 May 2007 – DOH AO 2007-0017 or the "Guidelines on the Acceptance and Processing of Foreign and Local Donations during Emergency and Disaster Situations," states that "Infant formula, breastmilk substitutes, feeding bottles, artificial nipples and teats shall not be items for donation. No acceptance of donation shall be issued for any of the enumerated items."
09 October 2007 – The revised IRR of the Milk Code takes effect after the Supreme Court partially upholds its validity. It strikes down certain provisions, such as the prohibition on advertising and promotion of breastmilk substitutes and introduces sanctions not found in the law.
01 April 2008 – The Department of the Interior and Local Government releases AO 2008-0055, or the "Guidelines on the acceptance and processing of foreign and local donations during emergency and disaster situations." It endorses DOH AO 2007-0017 to all local government units.
2008 – The exclusive breastfeeding percentage among infants 0-5.9 months rises to 35.9 percent.
16 March 2009 – RA 10028 or the Expanded Breastfeeding Act, which amends RA 7600, is signed by President Gloria Macapagal Arroyo. It establishes standards for workplaces, health facilities (with the establishment of milk banks) and public places, and calls for breastfeeding breaks and designated facilities in the workplace.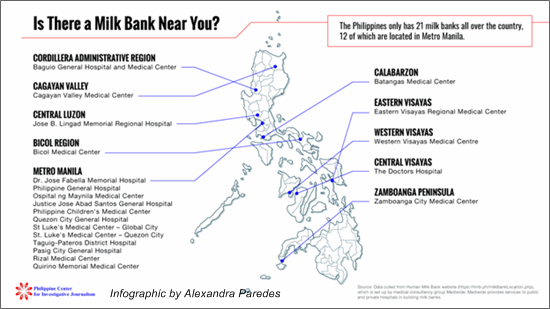 2011 – The exclusive breastfeeding percentage among infants 0-5.9 months rises anew, to 48.9 percent.
21 December 2012 – RA 10354 or The Responsible Parenthood and Reproductive Health Act of 2012 is signed by President Benigno Aquino III. It includes breastfeeding as an element of reproductive health care and provides a basis for breastfeeding promotion and education.
2013 – More than half, or 52.3 percent, of infants 0-5.9 months are exclusively breastfed.
2015 – The exclusive breastfeeding percentage among infants 0-5.9 months dips for the first time to 48.8 percent.
29 November 2018 – RA 11148 or the "Kalusugan at Nutrisyon ng Mag-Nanay Act" is signed by President Rodrigo Duterte. The law seeks to address the malnutrition of infants and young and lactating women.
2018 – The exclusive breastfeeding percentage among infants 0-5.9 months recovers slightly to 54.9 percent.
17 April 2019 – RA 11311 or "An Act to Improve Land Transportation Terminals, Stations, Stops, Rest Areas and Roll-On/Roll-Off Terminals, Appropriating Funds Therefor and for Other Purposes," establishes lactation stations in transport terminals, stations, stops and rest areas.
2019 – Exclusive breastfeeding improves to 57.9 percent.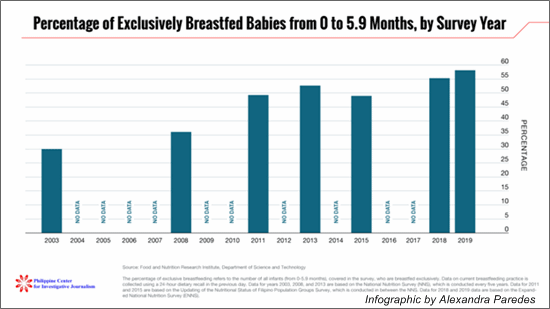 11 May 2020 – DOH Memorandum No. 2020-0237 or the "Interim Guidelines for the Delivery of Nutrition Services in the Context of COVID-19 Pandemic" states that mothers who are asymptomatic, or those with close contacts, suspect, probable, or confirmed case of COVID-19 who do not have severe illness and/or who are not in respiratory distress, can continue breastfeeding, provided that they observe strict infection control measures.
15 May 2020 – DOH Memorandum No. 2020-0231 or the "Guidelines on the Standardized Regulation of Donations, Related to EO 51," provides guidelines on how LGUs can help provide nutrition for non-breastfeeding children under 3 years old. While donations are banned as stipulated in various laws and orders, LGUs can procure formula milk and give them to identified families. The memorandum still upholds the promotion and protection of breastfeeding for infants and young children.
Sources:
Food and Nutrition Research Institute for breastfeeding data
Babymilkaction.org for Milk Code RIRR timeline