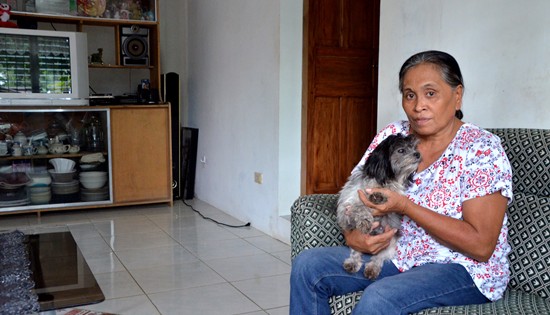 The house the Nerios built through the years. (Jose Alsmith L. Soria)
The widow
By JOHN COLASITO
May 23, 2019
TACLOBAN CITY – Aquilina Bronio was in her second year college taking up Civil Engineering course when she married Bonifacio Nerio, a high school classmate and neighbor in Barangay Tejero in Hilongos, Leyte. Both came from farming families.
To survive, they worked as rice tenants in three landholdings in their village with a combined area of four hectares owned by three different landowners. Through the intervention of the Department of Agrarian Reform (DAR), the couple entered leasehold agreements with the said landowners, thereby increasing their share.
"It was advantageous to us," Aquilina said. "Especially when we were already starting to have children," she added. Aquilina remembers the difficulty of making both ends meet.
The couple averages 350 cavans of rice during harvest time. "52 cavans go to the three landowners as rentals (for the four hectares ricefields)", Aquilina shared.
But, she explained, "the remaining harvests left to us were not enough to meet our growing needs". According to her, "we had to find other ways to increase our income".
So, they raised ducks in the 1980s. They let the ducks produce eggs which they sold for additional income. They also made "balut". The full-grown duck, the eggs, and the balut, all these they sold not only in Hilongos, but they went to other towns, even as far as the eastern side of Leyte province just to make profit.
In 2010, Aquilina considered themselves lucky for her husband was included among the recipients of certificates of land ownership award (CLOAs) issued by DAR. She added, their CLOA covered a .25 hectare cocoland previously owned by the Vega family. "We were so happy because we can proudly say, this land is ours," Aquilina reminisced.
It was a big help to us, said Aquilina, for they need not give share to anybody. "The profit was all ours," she added.
Meanwhile, for the ricefields, Aquilina further disclosed, the problem they always encountered was in renting farm equipment. According to her, they always had to compete with other farmers in renting tractor during land preparation, and thresher during harvest time which was on a first come, first serve basis. Most of the time, we are accommodated last by the owner of the machines, Aquilina said.
"So, we borrowed money to buy a hand tractor first," she narrated. It costed P105,000. According to her, "we paid our lender during harvest. When we fully-paid our lender, we renewed our loan to purchase two threshers, amounting to P46,000 per unit, on separate occasions. We had to impose financial discipline."
Having acquired these machines helped us make work faster and freed us from equipment rentals, she quipped. Instead, we earned additional income by offering the tractor and the threshers for rent, Aquilina added.
They earn P150 per hour from tractor rental, while they get five cavans of rice for every 100 cavans of threshed rice for the use of their threshers. According to Aquilina, they earn an average net income of P30,000 from thresher rental alone every harvest season when the cavans of rice paid to them are sold.
From then on, life for them became lighter and blissful. They got rid from loans, and started to save part of their income.
With hard work, perseverance and discipline, the couple was able to construct slowly through the years a concrete house, far from their previous house that was made only of light materials. They were also able to send their four children to school. Three of them are now employed.
But as the song of Barbara Streisand goes, "some good things never last," Bonifacio suffered cardiac arrest in 2014, leaving Aquilina a widow.
Everything left by her husband, were products of the couple's hard work and collaboration. "As his wife," Aquilina said, "I need to help my husband for us to survive life's challenges".
Aside from continuing what she and her husband had established throughout their married life, Aquilina, now 62 years old, is active as the secretary of the Tejero Riceland Cultivators Association since 2015.
She is accompanied at home by her third child Criselda Grace who is employed at the Municipal Agriculturist's Office in their town.
Not all recipients of the government's agrarian reform program in their area had reached what the couple had achieved. To Aquilina, it was because she and her husband had no vices, and that they value every single cent they earned. Their story was a testament of love and hard work.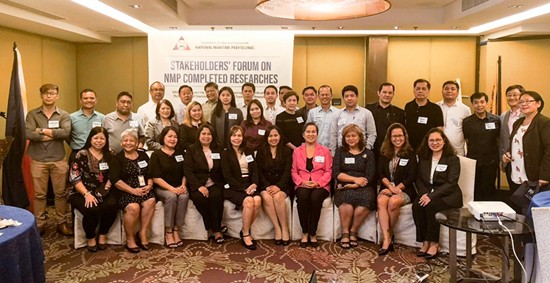 Participants of the NMP Stakeholders' Forum on NMP 2018 Completed Researches on 28 March 2019 at The Bayleaf, Intramuros.
NMP shares 2018 completed researches to stakeholders
By National Maritime Polytechnic
April 4, 2019
TACLOBAN CITY – True to its commitment of improving the welfare and development of the Filipino seafarers through the conduct of maritime researches, the National Maritime Polytechnic (NMP) conducted a Stakeholders' Forum on 28 March 2019 at The Bayleaf Intramuros, Manila.
The activity was organized by NMP's Maritime Research and Development Division (MRDD) aimed to disseminate its researches as well as provide a venue for discussion on results particularly those having policy implications, – three (3) researches were presented, namely:
Harbor Pilotage in the Philippines: A Review of Interventions in Licensing, Appointment and Capability Building of Harbor Pilots
The study aims to review the interventions that have been established by the government and other stakeholders in maintaining robust and effective pilotage services in the country.
Specifically, the objectives of the study are: 1) Examine the policy and regulatory framework on harbor pilotage in the Philippines, in general, and on licensing, appointment, and capability building, in particular. 2) Analyze implementation gaps of these policies and regulations. 3) Identify policy and program recommendations to enhance the harbor pilotage services in the Philippines.
Findings of the study will provide valuable inputs in the review and enhancement of policies and practices governing pilotage in the different pilotage districts in the country, particularly in the licensing, appointment and capability building of the country's harbor pilots, and on other vital concerns raised by stakeholder-respondents. Improved and harmonized policies and regulations issued by regulatory bodies, which are complied by concerned stakeholders will lead to robust and efficient harbor pilotage services towards an efficient maritime transport system in the country.
Required Non-Technical (Soft Skills) by Employers for Shipboard Employment of Management Level Officers (MLOs)
The study seeks to examine the required training programs that are beyond the requirements of the Standards of Training Certification and Watchkeeping (STCW), as amended, focusing on the non-technical skills of MLOs that are assessed and required by the employers.
Specifically, the objectives of the study are: 1) Determine the non-technical skills of the management level deck and engine officers for their rank and position onboard vessels, as required by employers. 2) Determine the interventions implemented by employers to enhance the non-technical skills of the MLOs, 3) Determine the availability of the identified training programs for the non-technical skills requirements of MLOs.
Findings of the study will provide significant inputs in providing interventions that will equip the Filipino seafarers with value-added skills on top of the technical skills required under the 1978 STCW, as amended, to make them the 'choice' seafarers in the international maritime labor market.
Philippine Maritime Manpower Factbook 2018
This is an initiative to gather and present in one comprehensive report data and statistics in the Philippine maritime industry to make these readily available and accessible to industry stakeholders.
Primarily, it aims to provide a picture of the Philippine maritime manpower sector, presented in graphs and figures that are derived from existing data from various source agencies, published reports and research findings. Other significant country data are provided to give a holistic snapshot of the Philippines as a maritime nation.
This research project will provide a valuable tool to industry stakeholders, affording them valuable data and statistics on the country's profile as a maritime nation readily accessible for decision-making in policy and program development.
Findings of the researches were disseminated to the industry stakeholders from the government, maritime education and training (MET) institutions, maritime associations, seafarers' organizations, shipping companies and manning agencies. Recommendations from the researches may serve as valuable inputs to policy making and program development that impact on the Filipino seafarers as a special workforce of the country.
In his welcome message, NMP Executive Director, Joel B. Maglunsod highlighted the significance of the activity.
"Sa mga nagdaang taon marami nang nagawang training programs ang NMP na resulta ng mga rekomendasyon ng mga natapos na researches. The researches were also used by the government administration and regulatory agencies in the formulation of policies, standards and also in the preparation of plans and programs, development of training programs na lahat ay para sa ikabubuti ng ating mga marino, at matulungan sila sa pagkumpleto sa mga requirements na hinahanap sa kanila para makasakay sa barko." he said.
Nothing but good words and appreciation were uttered by Undersecretary for Employment, Migrant Workers Welfare, Financial and Administrative Services Cluster, RenatoL. Ebarle during his inspirational message.
"I would like to commend the National Maritime Polytechnic for organizing this event annually and putting us all here together. Your support to the Agency means you support our country's seafarers and our maritime industry", said Usec. Ebarle.
He also emphasized the need to enhance the knowledge, skills and abilities of the Filipino seafarers to maintain their competitiveness and strengthen the country's maritime community.
"We need to upgrade them in order to increase our market share in the officers' category, especially the management level officers, and to maintain their status as "seafarer of choice", he disclosed.
The forum also served as a venue for the Agency to present the NMP Research Agenda 2019-2021 containing proposed research topics based on the identified priority areas in line with the strategic directions of the Agency. NMP believes that the stakeholders should be involved in the development of the research agenda as well as in the implementation of researches through collaborative efforts to ensure responsiveness of the NMP's research undertakings to the current and emerging needs of the maritime industry.
Moreover, a plaque of appreciation was given to the cooperating agencies who extended invaluable support in the conduct of NMP researches / studies in 2018 particularly the Commission on Higher Education (CHED), International Mariners Management Association of Japan and Philippine-Japan Manning Consultative Council Inc. (IMMAJ-PJMCC), Maritime Industry Authority (MARINA), Philippine Coast Guard (PCG), Philippine Overseas Employment Administration (POEA), and Philippine Ports Authority (PPA).
The conduct of research is one of the mandates of NMP, in which research outputs are utilized to formulate policies and regulations for the improvement of the maritime manpower sector of the industry. NMP is also tasked to conduct researches on the latest maritime technology.
The forum was attended by thirty-six (36) participants. Out of the said number only twenty-five (25) were able to answer the post-forum evaluation form.
Based on the evaluation instrument gathered, 100% (25 out of 25) rated the research reports and conduct of forum satisfactory to excellent.
Aside from its research function, the NMP continues to upgrade its facilities and provide maritime trainings required pursuant to the Standards of Training, Certification, and Watch keeping for Seafarers (STCW) Convention as amended in 2010 including value-adding courses towards improving the qualifications of Filipino seafarers for their employment acceptability and enhanced competitiveness.
Those interested in NMP research undertakings may visit the NMP website (www.nmp.gov.ph) and access the e-Research Information System Portal which is designed to disseminate NMP completed researches, present the Research Agenda and engage the industry stakeholders to collaborate in the research activities.
For more information about NMP trainings viewers may visit the agency's facebook page (www.facebook.com/nmptrainingcenter) where all related information on NMP trainings are available.
Further, NMP encourages seafarers to avail of the NMP-OWWA (Overseas Workers Welfare Administration) Seafarers' Upgrading Program (SUP) which entitles the beneficiary to receive financial assistance for training costs from the OWWA.
PBSP, DepEd launch Year 2 of educational assistance to Olango SHS scholars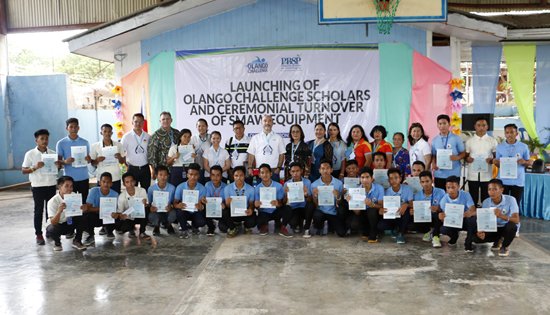 By PBSP
December 5, 2018
CEBU CITY – As the youngest of seven children, 18-year-old April Mae Siton wanted to finish her senior high school (SHS) education without relying too much on her aging parents.
For years, her father, a fisherman, and her mother who works as a shell accessories worker, have been trying to make ends meet so her siblings can finish their studies and have a better life. To help lessen the cost of her studies, she took up a Senior High School (SHS) strand that had the least expenses, Food and Beverage Services (FBS). She also worked part-time jobs to be able to help her parents pay for school expenses.
"My original dream was to become a police officer or a seaman. But I no longer wanted to burden to my parents and siblings for my expenses even if they wanted to support me. My parents are already old and my older siblings have their own families already so I do not want to depend too much on them, especially with my plan to pursue college. FBS was the most ideal choice," Siton added.
Luckily, Siton's plans were answered when she was selected as one of the scholars of a one-year scholarship assistance from PBSP and corporate sponsors through the Olango Challenge, an open-water swimming event held every May that raises funds for education programs on Olango island.
PBSP, Olango Challenge corporate donors, and DepEd officially launched a one-year educational assistance project that will support 100 junior and senior high school scholars of Sta. Rosa National High School. The event also witnessed the ceremonial turnover of laboratory equipment for the Shielded Metal Arc Welding (SMAW) course in the school.
"This is a dream come true for me to become a scholar because I really tried my best to be chosen. Now, I can fulfill my future dreams because of this financial assistance without burdening my parents," Siton added.
Aid for a Hundred Students
Sta. Rosa NHS is one of the three senior high schools located within the island. Most of its students face financial difficulties that prevent them from continuing their SHS education, especially that Technical-Vocational Livelihood track (TVL) mostly requires students to purchase materials for their school projects. The school's effective implementation of its TVL curriculum is also hampered by the shortage of facilities and equipment.
"We chose to continue our assistance to Sta. Rosa NHS because it focuses on providing Technical Vocational Livelihood (TVL). If we want our students to gain holistic understanding and appreciation in their chosen strands, its shortages need to be addressed. We also want the students to learn skills that match most of the industry requirements in Mactan and the rest of Cebu," PBSP trustee and Visayas Executive Committee Chairman Jose Antonio Aboitiz said.
The scholarship assistance includes the monthly transportation and project allowances, registration fees for National Certification assessments, and employment assistance for students wanting to find jobs after graduation. The provision of tools and equipment for the SMAW laboratory, on the other hand, aims to contribute to the improved curriculum delivery of the school and strengthen the students' competencies. Tools and equipment include coveralls and uniforms, leather gloves, respiratory masks, welding rods and shields, work suits and gloves, angle grinders, and cutting and grinding disks.
"Some of you will choose to work immediately after you graduate. Some of you will go on to further studies. We hope that the assistance that we provide you helps to lighten your load and lets you concentrate on the skills that you are learning and the education that you are getting from the school," Aboitiz added.
Present during the program launch were Oriental Port and Allied Services Corporation (OPASCOR) Chairman and Chief Executive Officer Tomas Riveral, GMR Megawide Cebu Airport Corporation (GMCAC) Junior Manager for Corporate Communications and CSR Avigael Maningo, and Aboitiz who distributed certificates and allowance vouchers to the scholars.
Building Schools through the Olango Challenge
This is the 11th year that PBSP has continuously poured in support for Olango island schools through the Olango Challenge. Since the event's launch in 2008, it has built nine classrooms for Olango's elementary schools and provided educational assistance to 190 SHS students.
This is the second year that PBSP provided educational assistance to the SHS students through the Olango Challenge proceeds. Major sponsors for this year's Olango Challenge include the Aboitiz & Company, Dow Chemicals Philippines, Inc., GMCAC, Ramon Aboitiz Foundation, Inc., and OPASCOR.
"We hope that by providing them with these interventions, the students will successfully pass their subjects, perform well, and access better job opportunities after graduating from senior high school," Aboitiz added.
Feature Story:
Wife fulfills soldier's dream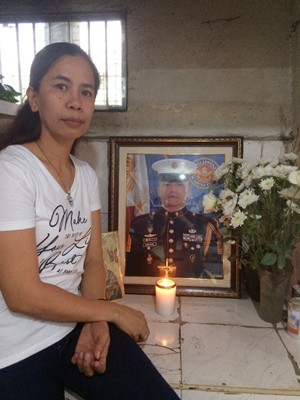 FULFILLING THE PROMISE. Leah Dinglasan, 41, fulfills the dream and her promise to husband Marine Technical Sergeant Aldrin Cadiz Dinglasan to grow the business the soldier has started.
By DTI-ROG-SB Corp
October 19, 2018
LIPA, Batangas – Leah Dinglasan stares blankly in the distance, wondering what happened to her husband, Marine Technical Sergeant Aldrin Cadiz Dinglasan, and if he is ever coming back.
This has been her routine ever since she lost her husband during the five-month siege in Marawi City after an ISIS-affiliated group from Mindanao took over the city.
While Leah keeps herself busy in managing the business her husband has left her, the widow is still coping with her loss.
"Mahirap, siyempre iniisip ko parin siya. Pero tuloy lang ang buhay," Leah said, adding that she was left to care for their three children.
Tech. Sgt. Dinglasan, 41, was already three days into the siege after a sniper bullet struck his cheek on May 31, 2018. Moments before his death, he called Leah that once he returns from his tour of duty, they would manage together the small sari-sari store business they had started.
The soldier was set to retire after his Marawi duty.
After receiving a call and hearing the news of the soldier's demise from his commander, Leah was at first in disbelief. She argued that he just called moments before.
Leah narrated how Tech. Sgt. Dinglasan's body can't be recovered due to heavy firing from enemy snipers. His body was recovered three days after his death.
Sari-sari store
Back in March 2017, the couple started a small variety store business for their family's upkeep and finance their children's studies.
With P20,000 in hand, Tech. Sgt. Dinglasan bankrolled the variety store and started the business before leaving for his tour of duty.
Leah was left to manage the business, while her husband is in Marawi City.
The couple hoped that soon, once he retires, they would grow the business into a mini-grocery store.
Government assistance
After her husband's death, Leah received assistance from the government in various forms and from the private sector.
Leah in March 2018 received a P100,000 loan assistance from the Small Business Corporation (SB Corp.) under its special program, Wounded-and-Killed in Action (WIA-KIA), an offshoot program to help soldiers and police who were either killed or wounded during the Marawi conflict, from the Pondo sa Pagbabago at Pag-asenso (P3) micro loan program.
"Mayroon ding pension from the Armed Forces of the Philippines, Philippine Veterans Affairs Office, Employees Compensation Commission, financial and educational assistance para sa mga anak namin, at mayroon din galing sa private sector," Leah added.
With the livelihood assistance she received, Leah made a few changes in the store, enlarging it and adding more supplies.
Five months after she received the financial assistance, the store is now worth P150,000, a 50% increase in capital.
On casual days, Leah could earn P8,000 while the minimum she could earn is P3,000 on Mondays.
"Minsan kumikita ako ng P8,000, yun na ang pinakamalaki. Pero kapag Monday, kumikita lang ako ng P3,000," she offered.
Leah explained that it was Tech. Sgt. Dinglasan's dream for the business to grow.
"Ang sabi niya sakin "Ma, gusto ko yung tindahan natin magsimula sa maliit. Gusto ko palalakihin natin. Hindi yung tulad noong dati na kaunti lang yung laman ng tindahan natin,"" she said, holding back tears.
She also hopes that after she completes the payment for the P100,000 loan from SB Corp., she can borrow money from the P3 program to expand her business.
While she understands that her husband is gone, Leah is still grateful to Tech. Sgt. Dinglasan that despite knowing that she won't share the accomplishment with him, he had left her and their children something that they will treasure.
"Gusto kong magpasalamat sa nasa 'Itaas' at sa asawa ko, dahil hindi niya kami pinabayaan," Leah said.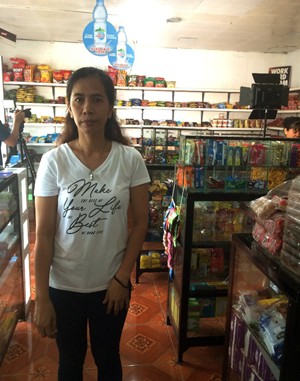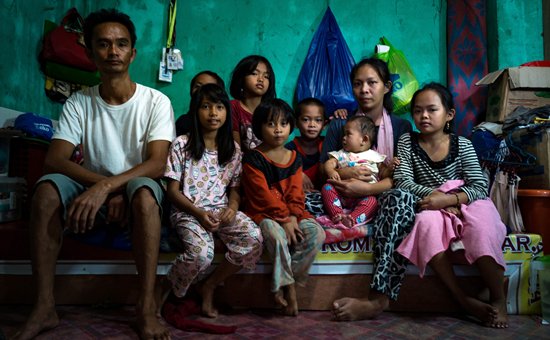 Diane Sumangan, her husband and their seven children have been in Saguiaran evacuation center for a year. She says life in the evacuation center is difficult. They are patiently waiting for government's advice on where they should go next. (ICRC / R. Hashempour)
Marawi conflict: One year on, longing and uncertainty for displaced families
By ICRC
May 23, 2018
MANILA – Around 230,000 people remain displaced and in need of stronger support one year after armed conflict broke out in Marawi City, Lanao del Sur, southern Philippines.
"Efforts to rehabilitate Marawi and assist its people must be stepped up to reduce the suffering of thousands of those who were displaced over the past year. The efforts are there, but these must match the growing needs of those who face prolonged displacement and are close to despair," said Pascal Porchet, head of the International Committee of the Red Cross (ICRC) delegation in the Philippines.
With the response shifting from emergency phase towards early recovery, food donations have dwindled and livelihood opportunities are reaching only a few. Majority of displaced families still depend on relatives or friends for support, while those in evacuation sites continue to struggle with poor living conditions in makeshift camps, increasing their risk of illness.
"It has been a year since the armed clashes began and we still don't know what lies ahead. I'm starting to feel the weight of it, and there are times when I feel like giving up. But for the sake of my children, I strive to stay strong," said Diane Sumangan, an evacuee in Saguiaran. She is a resident of Bubonga Marawi, one of the 24 villages in the main area affected by the clashes.
The displaced families, added Porchet, struggle to feed their families, buy medicines or resume their small businesses due to lack of livelihood opportunities or capital. Uncertainty about the future has added to their worries.
Authorities estimate that 65,000 residents from the main area where structures were reduced to rubble will be unable to return home for the next two to three years. The transitional site in Sagonsongan, Marawi City, can only accommodate 6,000 of them.
"The ICRC remains committed to supporting those who fled the fighting, and to do more by addressing gaps in the overall early recovery response, in coordination with the authorities and other aid organizations," Porchet said.
"But, it is primarily the authorities' role to assist people affected by conflict. The pending issues concerning the transitional site such as lack of regular supply of water and absence of proper sewage collection and treatment should be resolved soon," he stressed.
Particularly concerned about the pain of people whose loved ones went missing during the fighting, the ICRC and Philippine Red Cross (PRC) are following up on the cases of more than 100 families with the aim of tracing the whereabouts of their missing kin.
"We are stepping up efforts to accompany and support these families. There is a need for a neutral and independent organization such as the Red Cross to work in this field. We encourage those with information about missing people in Marawi to approach the Red Cross," said Adriana Uribe Villa, who leads the ICRC's response in Marawi.
The ICRC has been supporting the Management of the Dead and Missing Cluster since the start of the crisis for the retrieval, management and identification of human remains.
Ever since clashes broke out in May 2017, the ICRC together with the PRC has been helping thousands of people affected by the Marawi crisis. It is now focusing its efforts to help the remaining displaced families in Marawi and in Lanao del Sur by improving their access to health care and clean water and by supporting their livelihood recovery efforts.
"We plan to direct our assistance to certain high-security areas of Lanao del Sur, where the ICRC has access thanks to its links established with the community and non-state armed groups," said Uribe Villa.
The ICRC is a neutral, impartial and independent humanitarian organization whose exclusively humanitarian mission is to protect the lives and dignity of victims of armed conflict and other situations of violence and to provide them with assistance. It has an international mandate to promote knowledge for and respect of international humanitarian law.
Highlights of the 2016 List of Establishments (LE)
By PSA-8
March 14, 2018
TACLOBAN CITY – About 27,834 operating establishments in Eastern Visayas were listed in the 2016 List of Establishments (LE). The region accounted for 3.0 percent of the country's total number of establishments.
Eastern Visayas ranked fifth among the regions with low number of establishments.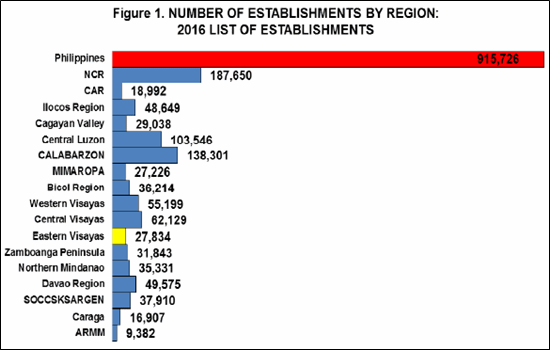 By province, Leyte recorded the highest number of establishments at 14,598 which accounted for more than half (52.4%) of the total establishments in the region. Western Samar ranked second highest with 3,646 establishments or 13.1% of the region's total number of establishments. Northern Samar ranked third highest with 3,521 establishments or 12.6% share to the total number of establishments in the region. Southern Leyte contributed 10.0% with 2,784 establishments. Eastern Samar shared 8.4% with 2,336 establishments. Biliran, meanwhile, recorded the least number of establishments at 949 accounting for 3.4%.
By Section
Almost half (49.9%) or 13,883 establishments in the region were engaged in Wholesale and Retail Trade; Repair of Motor Vehicles and Motorcycles (Section G). Next in rank in terms of the number of establishments was Manufacturing (Section C) contributing 14.8% or 4,120 establishments, and on the third rank was Accommodation and Food Service Activities (Section I) with 3,189 establishments or 11.5% of the total establishments in the region. With less than 50 establishments, Mining and Quarrying (Section B) and Water Supply; Sewerage, Waste Management and Remediation Activities (Section E) had the least with only 29 and 39 establishments, respectively, or 0.1% share each of the total number of establishments in 2016.
In terms of major industry grouping: there were 341 establishments engaged in Agriculture (Section A); 4,326 were engaged in Industry (Sections B to F); and 23,167 were engaged in Services (Sections G to S). These imply that, for every 100 establishments, about 83 were engaged in Services, 16 were engaged in Industry and only 1 was engaged in Agriculture.
By Legal Organization
Majority (87.6%) or 24,392 establishments in 2016 were owned by single proprietors. Stock Corporations reached 2,431 establishments or 8.7% of the total establishments in the region. Cooperative accounted for 1.5% or 417 establishments, while Non-Stock, Non-Profit Corporation had 1.4% or 379 establishments. The rest of the establishments were categorized as follows: Partnership (0.4%); Government Corporation (0.3%); and Others (0.1%).
By Economic Organization
About 8 in every 10 (80.7%) establishments in the region were classified as 'single establishment' in 2016. The number of branches listed was 4,202 which accounted for 15.1% of the total number of establishments. On the other hand, only 22 or 0.1% were classified as 'main office only', 967 or 3.5% were classified as 'establishment and main office in the same address'. The remaining 174 or 0.6% were classified as 'ancillary units'.
By Employment Grouping
By employment grouping, medium (with employment of 100 to 199) and large establishments (with employment of 200 and over) combined comprised less than 1.0% of the total number of establishments in the region. Majority (93.0%) or 25,878 establishments were classified as micro (with employment of 1 to 9). Small establishments (with employment of 10 to 99) reached 1,871 or 6.7% of the total establishments.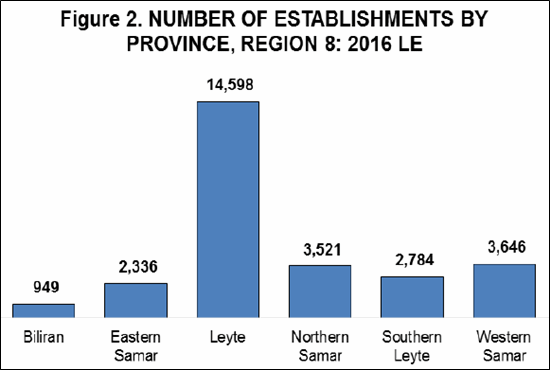 Total Employment
In 2016, a total of 134,476 employees were employed by the operating establishments in Eastern Visayas. The region accounted for 1.7% of the total employment in the country.
Eastern Visayas ranked sixth among the regions with low number of employees.
By province, Leyte recorded the highest employment at 80,126 which accounted for more than half (59.6%) of the total employment in the region. Western Samar ranked second highest with 16,878 employees or 12.6% of the region's total employment. Southern Leyte ranked third highest with 12,352 employees or 9.2% share to the total employment of the region. Northern Samar contributed 9.1% with 12,243 employees. Eastern Samar shared 6.8% with 9,179 employees. Biliran, meanwhile, recorded the least employment at 3,698 accounting for 2.7%.
Employment by Section
In 2016, Wholesale and Retail Trade; Repair of Motor Vehicles and Motorcycles (Section G) surpassed other sectors with generated employment of 53,438, almost two-fifths (39.7%) of the total employment in the region.
The Manufacturing (Section C) ranked second which employed 19,511 persons or 14.5% of the total employment in the region. Third in rank was Accommodation and Food Service Activities (Section I) with 13,589 work force or 10.1% share to the total employment in 2016.
The least contributor was Mining and Quarrying (Section B) which generated 276 employment or only 0.2% of the total regional employment.
By major industry, a total of 102,371 persons were employed by the Services sectors which comprised 76.1% of the recorded total employment in the region. The Industry sectors employed 27,100 persons or 20.1% of the total employment. The lowest was the employment generated by the Agriculture sector with only 5,005 employees or 3.7% of the total employment.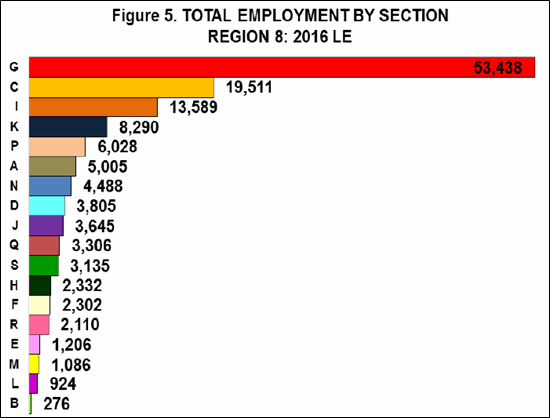 Average Employment per Establishment
The Average Employment per Establishment in the region was recorded at 5 employees per establishment.
By province, Leyte and Western Samar recorded the highest Average Employment per Establishment at 5 employees per establishment. Biliran, Eastern Samar, and Southern Leyte followed with an average employment of 4 employees per establishment. Northern Samar, meanwhile, recorded the lowest at 3 employees per establishment.
Average Employment per Establishment by Section
The three sections with the biggest average employment per establishment were: Electricity, Gas, Steam, and Air Conditioning Supply (Section D) with an average of 67 employees per establishment; Water Supply; Sewerage, Waste Management and Remediation Activities (Section E) with an average of 31 employees per establishment and; Construction (Section F) with an average of 28 employees per establishment.
On the other hand, Professional, Scientific and Technical Activities (Section M); Arts, Entertainment, and Recreation (Section R) and; Other Service Activities (Section S) recorded the lowest average employment per establishment at 3 employees per establishment.
In terms of major industry grouping, Agriculture sector had the highest average employees per establishment at 15 employees per establishment. The Industry and Services sectors had 6 and 4 average employees per establishments, respectively.