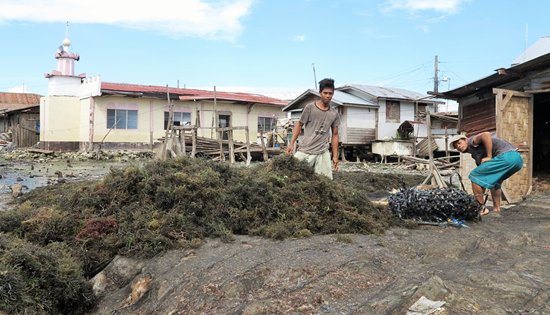 Though most displaced people in Zamboanga City have since moved on with their lives, recovery is progressing slowly for about 17,000 of them living in 12 transition sites. Here, two men prepare to dry seaweed - a source of income - in Taluksangay transition site. (By NC-ND / ICRC /R. Ang)
Moving on in Zamboanga
By ICRC
November 30, 2015
MANILA – Zamboanga City, in Western Mindanao, is buzzing with life again, two years after armed fighting disrupted many lives.
Around 120,000 people were displaced by clashes in Zamboanga in September 2013. Thousands of structures, including many houses, were damaged or destroyed, making life extremely difficult for the affected communities.
Though most displaced people have since moved on with their lives, recovery is progressing slowly for about 17,000 of them living in 12 transition sites. Although these sites offer slightly better conditions than evacuation centers, access to clean water, sanitation, and livelihood opportunities remains a concern.
"Civilians unfortunately bear the heaviest consequences of conflict, and the situation in Zamboanga was no exception," said Marcel Goyeneche, head of the ICRC office in Zamboanga. "Thousands of displaced families had lost their homes and jobs. The slow pace of the response and the recovery had us extend our operations several times to a total of 26 months."
After providing assistance in the immediate aftermath of the siege, the ICRC together with the Philippine Red Cross (PRC) extended their support to speed up the recovery of the affected population. Below is a glimpse of how these programs helped the displaced from January to October 2015.
Ensuring clean water and proper sanitation
Due to water-supply issues generally affecting Zamboanga City, the ICRC and the PRC trucked 36,000 liters of water daily to four transition sites from February until August 2015. The ICRC still supports the city government and the Zamboanga Water District in providing water storage to displaced people in Masepla 1, 2, and 3 and in Rio Hondo through the installation of six 10,000-liter stainless steel tanks. Upon the request of city authorities, the ICRC also installed a 10,000-liter bladder in Lupa-lupa.
In Taluksangay, the ICRC helped provide a longer-term solution by building a permanent water supply system at the transition site to serve both the displaced and resident populations. Water started flowing in September, and eventually the project was handed over to the community's water association, which was formed to operate and maintain the project. More than 4,000 people, around 900 of whom are displaced, from Purok 4 of Taluksangay now have regular access to clean water.
"We used to struggle every day to find safe drinking water. But now we've seen how the water supply here in Taluksangay normalized," said Jurraiya Abdurajik, 37, who was displaced from Rio Hondo. "Our family now feels protected from waterborne illnesses."
Four hand pumps will also be installed in the Masepla 3 transition site, where around 7,700 displaced people will benefit upon the project's completion in December. In addition, rainwater drainage will improve the road access to Masepla 1.
To improve sanitation, the 102 latrines built in the Joaquin Enriquez stadium and in the Rio Hondo site were regularly emptied until August.
Complementary to these projects, informative sessions on the importance of hygiene were held, benefiting 13,300 displaced persons; and around 1,500 hygiene kits were given to children in transitory daycare centers.
Rebuilding livelihoods' and communities
With livelihoods disrupted by the conflict, helping displaced people stand on their own feet was part of the ICRC's efforts. From January to October 2015, cash-for-work activities not only generated income for at least 820 of them but also benefited 14 community projects including desilting of canals and improving drainage systems, beautification and gardening, repairing chapels, mangrove planting, and coastal clean-up.
Conditional cash grants, meanwhile, have also helped displaced families to achieve a more sustainable form of livelihood. Some 840 families in seven transition sites received P10,000 grants each that were used to restock sari-sari stores, build boats, buy fishing gear and inputs for planting seaweed, procure sewing machines and tricycles, among others.
"I used the cash incentives to start my hairdressing business. Now life has become easier because my income can sustain my daily needs," said Borhan Vivio, 35, of the Kasanyangan transition site.
In Layag Layag, a 50-member cooperative benefited from a cash grant and training to help them plant and commercialize seaweed. This included the construction of a boat and a storage facility to support the members of the cooperative. Two concrete solar stilt driers were also built through cash-for-work thus providing a facility for the community's use, and providing income for 120 seaweed farmers.
Improving health care and nutrition
Access to health care could also be difficult for those living in transition sites. At the Masepla transition site, where a new health station was built and handed over to the City Health Office (CHO) in April 2015, displaced people no longer have to travel 2 kilometers to the health centre in Barangay Mampang to avail of primary health care services.
In addition, to ensure their preparedness for emergencies and other health issues, 40 displaced people from different sites underwent Community-based First Aid Training, also in April, so they could serve as their communities' focal points.
The ICRC also continues to support local authorities and infrastructure in their nutrition and health programs for the displaced.
An example is the feeding program that started in 2014 but has been turned over to the City Health Office as of June 2015 due to the improvement in malnutrition rates. The ICRC provides supplies to the CHO for both severely and moderately malnourished children in transition sites and in barangays with a high number of malnourished children.
An estimated 661 children with moderate to severe malnourishment benefited from this program from January to September 2015.
The Zamboanga City Medical Center has also received support from the ICRC since 2014 in the form of essential medicines for the treatment of displaced and other vulnerable people. This quarterly support will continue in 2016.
Challenges remain
After more than two years, the ICRC will be phasing out its assistance program to the displaced population in Zamboanga by January 2016, as local authorities address the remaining needs.
"Although we are concluding our support to people displaced in 2013, we will pursue a dialogue with authorities to find safe and dignified solutions for the displaced," said Goyeneche. "Their move to permanent shelters must also be addressed quite soon."
The ICRC remains close to the population through its office in Zamboanga, and stands ready to assist in humanitarian emergencies together with the PRC.
The ICRC, which has been visiting people detained in relation to the internal armed conflicts, will carry on its work to ensure the inmates' dignified treatment and that they maintain links with their families. It will also continue promoting awareness of and respect for international humanitarian law among weapon bearers.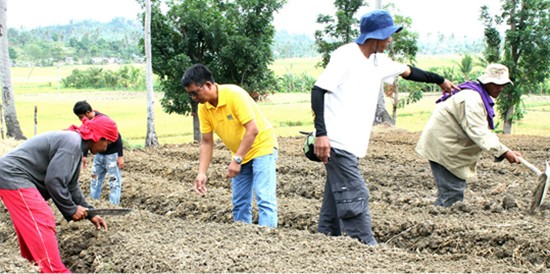 RESTORING LIVELIHOODS. Local farmers in Brgy. Inangatan, Tabango, Leyte receive proper training on farming preparations.
Super typhoon Yolanda's second anniversary
PBSP celebrates the resilience of survivors and the power of collective action
By PBSP
November 6, 2015
MANILA – Two years after super typhoon Yolanda (Haiyan) ravaged the Visayas region, many of the survivors are still picking up the pieces of their lives which were severely disrupted by one of the world's strongest tropical cyclones.
But there are also a number of them that have recovered significantly through local and international aid. With the continuous assistance from development agencies and NGOs like Philippine Business for Social Progress (PBSP), other survivors even feel that their situation is now better than before.
In A Better State
Take the case of Merle Tabornal and Gina Ciudad of Brgy. Tubogan in Ajuy, Iloilo, for instance, who used to walk seven kilometers (equivalent to three barangays) just to receive free pre-natal care at the only barangay health station (BHS) in the municipality. A BHS was built in Tubogan in 2008 but only to be damaged by the typhoon five years after. Months after the typhoon, their community of 739 rice and corn farmers continued to rely on the run-down BHS and struggled to make its operations normal despite the challenges.
Now, they are enjoying the benefits of improved healthcare services and a better health station which has a new roof, newly-painted walls, a sturdier ceiling, and a complete set of windows, gutters, and doors. Through this project of Asalus Corporation and PBSP, barangay health workers were also trained on Integrated Management of Childhood Illness which equipped them to better manage diagnosis and treatment of common illnesses of children. The community is now working together to upgrade their BHS into a birthing facility.
Panalaron Central Elementary School (PCES) was among the severely damaged schools in Tacloban City, Leyte which was badly hit by typhoon Yolanda on Nov. 8, 2013. Most of its students lost their drive to attend classes because they did not have classrooms, facilities and even school supplies. Grade 4 student Ranzelle Ann Sombrero could not attend her classes regularly because of poor health, family problems, and lack of food. Nine-year-old Marivic Balais also suffered the same problems.
Fortunately, their situation changed when Mondelez Philippines, together with PBSP, stepped in and chose PCES as its 6th adopted school under its Joy Schools Program. Mondelez Philippines improved the nutrition and academic performance of the students through the rehabilitation of 18 classrooms, playground and canteen, regular feeding sessions of 150 severely wasted students for one year, construction of library and reading corners, provision of school equipment such as overhead projectors, DVD players and speakers.
After a year under the feeding program, Sombrero has not only improved her health but is now an honor student. For Balais, the feeding program has helped contribute to her total development and resulted in her getting accelerated to the third grade. These interventions had a similar effect on many other students in PCES which is fast transforming into an ideal school for the Taclobanons.
Patrocinia Oftana of Sitio Matab-ang in Madridejos, Cebu, used to spend at least P50 a day just for water supply. She would pay a man to fetch her two 1.5 liters of water in the nearest dug well which was three kilometers from her home. She used the water for bathing, washing clothes and dishes, and for gardening. For her family's drinking water, she pays the same man to purchase five gallons of water for their monthly consumption. Sometimes, she does not take a bath for days just to save water.
For years, this has been the situation of 6,000 families in 14 barangays on Bantayan island who relied on the 200 remote dug wells for their water usage. When the typhoon hit the island and made distribution from deep wells even scarcer, they had to go back to the man-made dug wells despite threats of water-borne diseases.
But their plight improved when Mercury Drug Foundation, in partnership with PBSP, installed level 2 and 3 potable water systems to 772 households. The project provided materials and labor needed by the barangays to connect the Madridejos Community Waterworks System's main lines to three interior and waterless barangays.
Oftana and several of her fellow residents can now access water anytime they want through their own faucets, and only pay a monthly fee of P100 for 10 cubic meters of usage.
Farmer Romulo dela Peza has been depending on the coconut plantations in Brgy. Inangatan, Leyte to support his family. But when the farm where he worked was destroyed by Typhoon Yolanda, the now 66-year-old copra producer was left out of work and without a house.
Out of the 10,000 coconut trees on the plantation where dela Peza works, 7,000 were lost and the rest were left in an unproductive state. Some trees eventually died even after initially showing signs of recovery. It all seemed hopeless until Cargill Philippines and PBSP extended a helping hand to recover and rehabilitate the damaged coconut plantations.
Through intercropping, his participation in the Cash for Work program, and his work as the lead in the rehabilitation of the coconut plantation, dela Peza does not only have a new house, he also earns as much as P8,000 a month – so much more than the meager P1,000 that he got before the storm. He is just among the 204 other household farmers who greatly benefited from the coconut recovery and rehabilitation project.
A Disaster of Huge Proportions
Typhoon Yolanda affected 14 million people in the Visayas region. Of this, 5.9 million workers lost their jobs, resulting to an income loss of up to 70 percent in the affected communities. According to the Department of Education, close to 4,600 classrooms were totally destroyed. Poultry and livestock perished. Agricultural lands were turned into wastelands as crops were heavily damaged. Basic necessities such as water and health services were also interrupted, leaving survivors helpless and hopeless.
PBSP raised an initial P18.3 million from its own network of corporations, individual sponsors and international funding groups for relief missions. It distributed relief goods, hygiene kits, comfort bundles, kitchen utensils, and shelter repair materials to more than 20,000 households in 14 municipalities in Cebu, Samar and Leyte.
Project New Dawn
But the damages wrought by the typhoon continued to pose bigger challenges for the affected communities. Hence, PBSP launched Project New Dawn in June 2014 to provide long-term rehabilitation interventions focused on health, education, environment and livelihood and enterprise development.
It raised P293 million from its member-companies, partners and donors for the implementation of many projects in the affected communities. Of this, P160 million had been spent for projects in the least assisted towns in Bantayan, Madridejos, Santa Fe, and Daanbantayan in Northern Cebu. After several months, PND expanded its assistance to Iloilo, Samar, and Leyte.
Asalus Corporation rebuilt three rural health stations in Ajuy, loilo and Daanbantayan, Cebu. PBSP had also built 31 disaster-resilient school buildings with help from the following donors: Ace Foundation International, Coca-Cola Foundation Philippines, CTBC Bank (Philippines) Corporation, Deloitte Philippines Outreach, Inc., Epson Precision Philippines, Inc., Insular Life Foundation, Intel Foundation, L'Oreal Philippines, Inc., Telus International Philippines, Inc. and Mondelez Philippines. The buildings now provide a better and safer learning haven for the children.
Mondelez Philippines, Fluor Daniel, Inc.-Philippines and Lear Corporation also conducted supplemental feeding programs and provided uniforms and starter kits for teachers.
Donors from online platform Global Giving with member-company Parity Values, Inc. helped plant 480,000 mangroves in 48 hectares in Northern Cebu. This project aims to secure a brighter future for fishermen in the coming years.
The potable water system projects of Mercury Drug Corporation and Dow Chemical through United Way Worldwide helped bring safe drinking water directly to 1,582 households in 17 barangays.
PBSP helped families regain their income and become more self-sufficient through livelihood projects. First, the basic tools were provided: boats and fishing gears for fishermen; farming tools, livestock and seeds for farmers; and loans and retail items for sari-sari store (small retail store) owners.
With the International Rescue Committee (IRC) and the Adventist Development and Relief Agency (ADRA), PBSP has helped establish sustainable ways of fishing in Panay and Iloilo by setting up 23 local fish-enhancing devices and installing 1,600 artificial reefs. Workers were hired in the various construction requirements of livelihood projects so they can earn more income. Mothers were provided with bio-intensive garden kits containing basic vegetables, fertilizers and tools so they can get additional food from their own backyards.
Local economies in Leyte were also revitalized. PBSP and Hapinoy's Project Bagong Araw enabled 79 sari-sari store owners to receive capital loans, store makeovers and trainings on business skills.
Building Partnerships for Collective Action
While many have already rebuilt their lives, PBSP recognizes the urgent need to scale up its impact, especially in the least assisted communities.
It plans to continue providing complementary interventions for recovery, rehabilitation, and resiliency in the towns of San Remegio and Medellin in Northern Cebu in the next five years.
For livelihood, PBSP intends to promote inclusive business in seaweed and hybrid corn production and dried fish processing. Livelihood interventions on swine production and bio-intensive gardening will also continue. Livelihood champion stakeholders in government will also be tapped to push for the welfare of the people.
PBSP will also conduct Safe Motherhood Caravans (SMC) to educate 4,600 women on life-saving Maternal, Neonatal and Child Health and Nutrition (MNCHN) practices and help them access these health services from local health providers. The SMC program supports the United Nation's goal to reduce maternal mortalities in severely depressed areas.
It is also looking at improving the tourism industry of Bantayan island.
PBSP seeks to harness the collective power of the business sector, and its partner development agencies in ensuring a better future for the affected communities.

Save the Children has reached nearly 900,000 people in its comprehensive response. The children's agency has vowed to continue its rehabilitation assistance to some of the worst-hit children and families.
Two years after Yolanda, Save the Children says 'job is not yet over'
By Save the Children
November 6, 2015
Humanitarian agency vows continued rehabilitation support to children and their families.
MAKATI CITY – Two years after super typhoon Yolanda, Save the Children says 'job is not yet over' and vows to continue its rehabilitation assistance to some of the worst-affected children and families who are still reeling from heavy loss of property and livelihoods. The super typhoon, which struck on November 8, 2013, affected more than 14 million people, including at least 5 million children, and left nearly 8,000 dead or missing.
Save the Children Director, Ned Olney, said: "Clearly, the job is not yet over. We knew from the start that this was going to be a long process of rehabilitation. The world has not seen this kind of damage from any typhoon in recent history. No media coverage can fully describe what happened that harrowing day."
Olney added: "Although tremendous effort has been put in to help survivors, continued support is critical at this stage to ensure Yolanda won't leave a devastating legacy for thousands of families and their children. Our worry is that families may no longer be able to send their children to school and provide for their families once the assistance stops. Improving livelihoods is essential for long term recovery."
Two years into the response, Save the Children has reached nearly 900,000 people, including half a million children in partnership with communities, civil society, donors and the government. The children's agency has distributed families food and water; provided medicines and primary health services through our mobile health clinics; repaired classrooms, health facilities and water systems; and provided shelter and livelihood assistance to farmers, fishermen and out-of-school youth to help them provide for their families.
Felipe Malinao, 35, received assistance from Save the Children's livelihood program in Kananga, Leyte after the typhoon damaged his crops and killed his livestock. Felipe used the livelihoods cash grant to buy a carabao and three goats which he can use for farming and selling. Felipe said: "I can use my carabao to plow and cultivate a bigger area to plant my crops. When the time is ripe, I can barter the male carabao I bought with a female so it could produce offspring that I could share to my children." Felipe shares that he hopes to use his income to buy food and send his kids to school.
The children's agency has provided skills training for out-of-school youth so that they could find job or start up their own business.
Geovelyn, 21, enrolled in Save the Children funded welding program in Tacloban after she quit school when her mother, 3 sisters and relatives died during Yolanda. Jovelyn said: "I had to quit school to be close to my family. I felt so guilty that I wasn't able to do anything for them since I was in another town that time." After finishing the program, Geovelyn got a job as staff at the same training facility.
Moreover, Save the Children says that rehabilitation should not stop at building homes and restoring livelihoods. To ensure welfare of children in times of disaster, Save the Children is renewing the call for the Congress and Senate to immediately pass the "Children's Emergency Relief and Protection Act" which calls for a comprehensive plan to protect children's rights before, during and after a disaster.
Olney said: "Children are always the most vulnerable when disasters strike. If there is anything 'Yolanda' taught us all, it is that improving protection for children before during and after emergencies is essential to saving lives. Passing the child protection in emergencies bill ensures that we learn from our experience to mitigate the impact of future emergencies on children."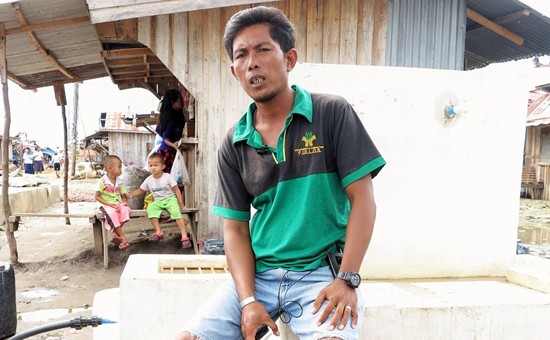 Alawie Asid, whose displaced family now lives in the transition site in Barangay Taluksangay, Zamboanga City, says the new tap stands around their community – just like the one behind him – relieve them from traveling to a remote area to fetch clean water. (By NC-ND / ICRC / R. Ang)
Clean water for 4,000 people in Zamboanga
By ICRC
November 5, 2015
MANILA – A community-based water-supply system providing potable water to over 4,000 people, including displaced families, was officially inaugurated today in Barangay Taluksangay, Zamboanga City.
The project, supported by the International Committee of the Red Cross (ICRC) and the village and city authorities, is a long-term solution to the shortage of water in this barangay (village), which hosts about 900 people displaced by the armed fighting in 2013.
"Water was really scarce here in Taluksangay. It was difficult. Now our lives are better – people in the community no longer fight to get first in line. We can easily get water. We don't have to ride our banca (boat) anymore because the water source is near," said Alawi Asid, whose family was displaced from Layag-Layag.
Clean water started flowing from nine communal tap stands in September, reaching a total of 4,000 people in Taluksangay transition site, the nearby relocation site, and the host community. More people stand to benefit as the water system has the ability to cover additional localities in the barangay. Only half of the capacity of the water source has been used so far.
The project was built by 80 displaced people who were employed in a cash-for-work programme, with the ICRC providing materials and technical expertise. It was recently handed over to the Taluksangay Water and Sanitation Association (TAWASA), which was formed with ICRC support, and which will operate and maintain the project. To help the TAWASA sustain the project, the ICRC gave them tools, spare parts and office supplies.
"The ICRC went beyond the engineering works, focusing also on community organization and empowerment. The community took ownership of the project, and the system is self-sustaining, making it able to last for years to come," explained Marcel Goyeneche, who heads the ICRC office in Zamboanga.
Since the armed clashes in 2013, the ICRC has stayed on with the Philippine Red Cross to support thousands of displaced people in Zamboanga in speeding up their recovery and improving their health and living conditions.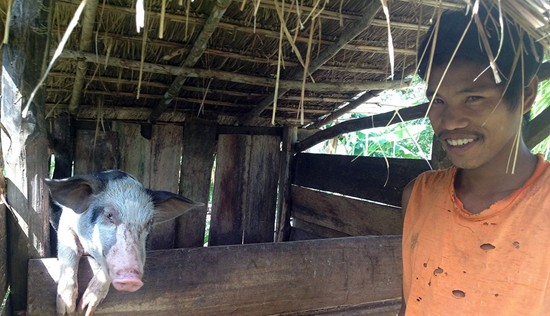 SJDB livestock training: "We discovered a lot of ways to take good care of our swine especially when they are infected with diseases or when they are pregnant or lactating," says a beneficiary from Barangay Hagbay in San Jose de Buan, Samar. (By NC-ND / ICRC / R. Calera)
Improving lives in conflict-affected communities
By ICRC
October 30, 2015
MANILA – In parts of Luzon and the Visayas, communities suffer from the effects of a protracted armed conflict between government security forces and the New People's Army. Often living in remote and far-flung areas, these communities also struggle with poverty, making everyday life a challenge for them.
"Economic growth is often stunted in these communities, which also suffer from the insecurity caused by sporadic clashes. Because of this, they have limited access to income opportunities and, at times, basic services too," said Oualid Bech, head of the ICRC subdelegation in Luzon and the Visayas.
As support to people suffering from the chronic effects of conflict and poverty, the ICRC carries out programs that aim to help the most vulnerable barangays (villages) and communities stand on their own feet and become more resilient.
These programs employ a participatory approach wherein the beneficiaries identify their own needs. A series of consultations and discussions with the ICRC is therefore held to determine what kind projects are suitable, and how to effectively implement and sustain them.
All projects are monitored and evaluated through field visits by ICRC staff with the support of volunteers from the Philippine Red Cross, the ICRC's primary partner in the country.
Creating opportunities
In the mountainous area of Guihulngan in Negros Oriental province, corn is the staple food and main source of livelihood of the communities. The farmers, however, had to travel to a distant town to have their corn milled, spending considerable effort and money.
The farming community identified this as a challenge, and when the ICRC stepped in to support, they proposed building a corn-milling facility. In March, the corn mill began operating, and it has already benefited farmers from seven barangays and improved the quality of milling.
It has also opened up business and employment opportunities, as the local association earns from every milling session and uses the income to employ people to maintain the corn mill.
The association has earned over P65,000 since March 2015. The project has also encouraged small farmers to utilize portions of their lots for corn farming.
"When we heard that a corn mill would be built in our barangay, we (residents) were very happy. Manual grinding is insufficient and cannot accommodate us all. It also takes more than an hour to manually grind 2.5 kg of corn, while machine-operated milling takes only 15 minutes," recalled Segondo Cañafuego, a 53-year-old farmer and resident of Barangay Planas in Guihulngan.
He added: "I am now planning to cover my farmland with corn because of the machine operated mill here."
Meanwhile in Negros Occidental, also in the Western Visayas, rice farming is the primary source of livelihood. In 2015, the ICRC supported local farmers' associations in lowland barangays in Sipalay with hand tractors and rice threshers, which increased the efficiency of rice production. Like the corn mill in Guihulngan, these farm machines provide extra income to their operators and the local association.
For Lope de Vega, a fourth-class municipality in Northern Samar, the devastation of abaca farms by bunchy top virus had a severe impact on farmers' livelihoods. Abaca is considered an important "cash crop" or one that can easily be sold for its fiber. After assessing this need with the community, the ICRC provided virus-resistant seedlings so the residents could earn income from abaca again.
Helping themselves and the community
With the cash-for-work scheme, those identified as most vulnerable due to lack of stable income – such as landless laborers and seasonal farmers – will find temporary means to earn by working on projects that also directly benefit their communities.
Unskilled workers are paid at least P250 a day, while skilled ones receive slightly higher amounts. They usually have the opportunity to work for 10-15 days.
These projects, which are chosen by the communities according to their needs, are not labor-intensive and can thus involve women and the elderly. In the municipalities of Juban and Gubat, Sorsogon, which have interior or upland barangays where access can be difficult, especially during rainy season, projects such as the clearing and/or widening of barangay roads and building concrete pathways to water sources were selected by communities through focus group discussions.
Other projects include vegetable gardens that benefit feeding programs for children, repair of churches, construction of school fences, barangay meeting places, and compost pits. In the majority of these projects, the barangays provide the materials and play key roles in overseeing their implementation.
Though temporary, the cash-for-work program provided income to 616 people in 11 barangays in Juban and Gubat in July and October.
These programs show that, by using an approach that engages the community, its people become more resilient and better equipped to rise to future challenges.