Climate advocates launch nationwide climate caravan
By The Climate Reality Project
September 10, 2015
MANILA – The global movement founded by Nobel Laureate and former US Vice President Al Gore launched a Philippine-wide climate caravan to raise awareness on the importance of collective action to address climate change and gather grassroots support to encourage world leaders to come up with a strong climate agreement in Paris during the 21st Conference of Parties (COP21) come December.
As significant part of the Road to Paris campaign initiated by The Climate Reality Project (CRP), the climate caravan focuses on the roles of the Filipino youth and the local government units to galvanise community climate action. In partnership with Dakila - Philippine Collective for Modern Heroism, the campaign aims to promote climate heroism among the young people.
"We are launching our newest campaign for the Filipino young people called Bakit, Bakit Hindi?, an adaptation of CRP's Why? Why Not? Initiative in 2014, which is mainly a social media campaign aiming to bring forward the Filipino youth as catalyzers of collective action in the lead-up to the Paris Climate negotiations," said CRP country manager Rodne Galicha.
In this campaign, young people will be given the opportunity to ask probing questions to government officials, Philippine negotiators and environmental agencies such as the DENR and the Climate Change Commission through thirty-second videos.
"These videos will be utilized to stimulate discourse via social media over the next few months, especially during our nationwide climate caravan, where climate volunteers will hold dialogues with local government units, vulnerable communities such as indigenous groups, women and children, as well as youth representatives from all regions nationwide. We, therefore, encourage local government units and their respective councils to issue resolutions in behalf of their people to call on world leaders to sign a strong and bold climate agreement," said Galicha.
Representing Luzon youth delegates from eight regions of Luzon, youth leader Marlex Tuson from Ateneo de Manila University who participated in the Road to Paris Filipino Youth Climate Consultation and Workshop stressed the collective action of the young people to influence drastic change and policy reform.
"The trauma of experiencing the ill-effects of typhoons in the Bicol region, it pains me. But it's a different sense of fulfillment I feel when I do the things I'm really passionate about. It draws a smile that hides no worries of sustaining the energy in pursuing the cause," said Tuson.
The Philippine campaign specifically aims to strengthen the country's Intended Nationally Determined Contributions (INDC), lobby for gradual but sustained phase-out of coal-fired power plants and the implementation of the People's Survival Fund, and emphasizes the human rights approach to the climate crisis issue by putting the concerns of the most vulnerable communities including indigenous groups, women, and the youth.
"The Road to Paris initiative aims to gather millions of signatures from all over the world urging parties to the United Nations Framework Convention on Climate Change (UNFCCC) to finalize a bold climate agreement. We're working in eight pivotal countries – Australia, Brazil, Canada, China, India, the Philippines, South Africa, and the United States – to rally millions to support practical climate solutions like renewable energy and tip the balance for a successful agreement in Paris," said Don Henry, Public Policy Fellow at the University of Melbourne and member of the international Board of CRP.
As special envoy of CRP's founder Al Gore, Henry explained that the Road to Paris campaign is uniting citizens, corporations, and organizations on every continent to demand a strong agreement at COP21 that will dramatically cut emissions and accelerate the planet-wide shift to clean energy.
"The Philippines has a unique opportunity to be a leader at home and on the world stage with tackling the climate crisis. Having a 'green development path' that builds jobs and innovation in renewable energy and adaptation to climate change is a great opportunity for the Philippines. This can help reduce greenhouse pollution and grow jobs. The Philippines can play a global leadership role at the international climate negotiations in Paris. Already the Philippines voice has been persuasive. The country can urge all countries to act to achieve a strong international climate agreement," said Henry.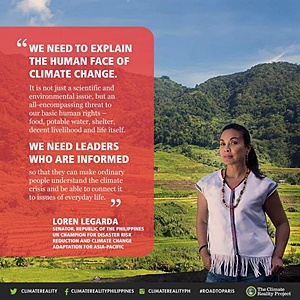 Joining CRP's campaign for a strong climate agreement is United Nations Disaster Risk Reduction and Climate Change Champion Senator Loren B. Legarda, chairperson of the Senate Committee on Climate Change and principal author of the Climate Change Act and the People's Survival Fund Act.
"We need to explain the human face of climate change. It is not just a scientific and environmental issue but an all-encompassing threat to our basic human rights – food, potable water, shelter, decent livelihood and life itself. We need leaders who are informed so that they can make ordinary people understand the climate crisis and be able to connect it to issues of everyday life," said Legarda.
Legarda further emphasized 'that leaders must pave the way for the needed paradigm shift from an extractive and consumptive economics to sustainable development. We should veer away from the throwaway culture and aim for a zero waste, low-carbon economy. We have to undertake resilience measures to ensure that communities are able to adapt to the changing climate and at the same time contribute to preventing further rise in global temperatures.'
"Moreover, our country's intended nationally determined contribution (INDC) should reflect a strong stance towards deep cuts in greenhouse gas (GHG) emissions as a way to mitigate climate change. It is unfortunate, however, that we continue to witness coal plants being constructed. In the past five years alone, 21 coal-fired power plant projects were granted an Environmental Compliance Certificate (ECC)," said Legarda.
Representing the indigenous peoples of the country, Representative Teddy Baguilat of the lone district of Ifugao emphasized the challenge of the climate crisis to the resiliency of the indigenous knowledge, systems and practices.
"Our indigenous peoples have survived through the years. Positively, our traditional way of life assures us of our resolve to continually adapt to the changing patterns of the climate. We may be affected by this ecological crisis but our contribution to humanity to solve it has been consistent while we live in harmony with nature," said Baguilat.
Asserting the need to rethink development models which harm the environment, Baguilat said that pending bills on land use, mining and forestry, must be approved immediately to help reduce the ill-effects of climate change.
Journalist and applied physics graduate Atom Araullo, who himself experienced the wrath of Typhoon Haiyan, regard climate change as the most important issue that humanity faces.
"The climate crisis is perhaps the most important issue that humanity faces, and we've only begun to work on the solutions. Even though the science is clear and the effects are being felt, it's alarming that we still continue our path toward self-destruction," Araullo said.
Climate Reality Project volunteer since 2009, Atty. Persida Rueda-Acosta, chief of the Public Attorney's Office of the country, emphasized the rights-based approach to climate action 'must be practiced and age specific requirements met in conducting disaster relief'.
"As the climate crisis, such as Typhoon Haiyan unleashes its wrath, my thoughts are on the vulnerable sectors in our society. Women, children and even the elderly become even more vulnerable in times of disasters. They suffer the brunt of natural calamities. During these times, the authorities must be vigilant in the protection of their rights especially that of women and children who are prone to human trafficking,' said Acosta.
Famous mountaineer Gideon Lasco, a medical doctor and anthropologist, encouraged advocates to physically experience nature to appreciate its importance to humanity.
"I see promise in the idea of passion as basis for advocacy. Divers would care about coral reefs, mountaineers will care about mountains, travelers will care about all natural sights that they see. My advocacy is to make people care about issues affecting the environment by making them appreciate what the outdoors is all about," Lasco said.
As official courier partner of CRP's Road to Paris campaign together with the Global Catholic Climate Movement (GCCM) and the Ecological Society of the Philippines (ESP), JRS Express celebrating its 55th year founding anniversary committed to deliver actual petition forms for free.
"We are proud, honored and privileged to partner with the Catholic Church on the Climate Reality Project to send a strong message to the members of the COP 21 in Paris and all the people and leaders of the global world that our planet and people are dying all because the development model refuses to stop greenhouse gas emissions and continue with their destructive and greedy ways. It is hoped that we will be able to get 20 million people to sign this petition. In line with Pope Francis encyclical the Laudato Si we must change our ways and protect Gods creation. And we vow to do so," said Antonio Claparols, president of JRS Express and founder ESP.
Promoting sustainable transport, COMET electric vehicle operator Global Electric Transport (GET) committed to support CRP's Road to Paris campaign and has entered the field to make a difference. GET provides a solution to the country's growing problems on mobility with an intelligent, integrated and sustainable mass transport system built around energy-efficient electric vehicles, born out of a mission to build green and people-friendly cities.
"Apart from advocating environment-friendly practices, GET has set out to genuinely make a change in the lives of people, most especially the marginalized group such as public utility drivers. GET believes that progress has never been about profits alone, it has always been about giving back to the people and mother nature, thereby pledging full support to the Climate Reality Project. Together, we can make a difference," said Anthony Dy, GET country managing director.
Engaging with the climate campaign, the Cravings Group, with ISO certification on environmental management issued by TÜV Rheinland Philippines Inc., committed to reduce waste and harmful effects on the environment and recycle materials where needed.
"Together with green chefs, lifestyle change advocates and environmental homemakers, let us all learn how to run a green kitchen: from proper waste resource management to using organically-grown vegetables and meet and to newfound ways of preparing and eating food," Cravings Group said in a statement.
The Road to Paris campaign's climate caravan initiative is also done in collaboration with the Department of Environment and Natural Resources - Environmental Management Bureau (DENR-EMB), the Climate Change Commission's #NOWPH Greeneration program with the National Youth Commission (NYC).
Partners supporting the campaign includes Aksyon Klima Pilipinas, Bayay Sibuyanon Inc., ISDA, Loyola Mountaineers, Manila Water, Lorimar Publications and Uratex.
Child survival rates in Metro Manila improved by 50% says Save the Children's State of the World's Mothers report
Philippines ranked 105 out of 179th in best and toughest places to be a mom
By Save the Children
May 6, 2015
MANILA – Metro Manila was among top cities in the world to cut child mortality rates among urban poor, according to 2015 State of the World's Mothers global index published by Save the Children.
The annual global mother's index report reveals that in the last 20 years, child survival rates among the urban poor in Metro Manila, have improved in comparison to other developing countries. Between 1993 and 2008, the child mortality rate went from 81 to 38 deaths per 1,000 lives deaths. Over this period of time, the poorest urban children went from being 4 times as likely to die to being twice as likely to die compared to their wealthy peers. The capital region has also achieved about 4% reduction in under-5 mortality per year since 1998.
Metro Manila's success comes from improved quality of services, public-private partnerships, structural reforms and health care innovations introduced to the local government units and sustained involvement of civil society in maternal and child health care programs.
Despite progress, the global study cited the National Statistics Office (NSO data) which suggests that 1 in 5 infants who died in 2010 were in the capital region. While health facilities and obstetric care are physically more accessible in the capital region, the report revealed that many poor people still could not afford associated health costs.
As progress in child survival continues to be localized and in some areas stalls, Save the Children Philippines is working alongside the government and families to ensure that the good work continues and children, particularly those in Manila are given every opportunity to fulfill their potential.
In this year's country ranking of the State of the World's Mothers report, which ranks the wellbeing of mothers and children, Philippines maintains its place from last year at number 105 out of 179 countries, behind Vietnam, Thailand and Malaysia in South East Asia. The country is just ahead of Timor-Leste and Indonesia.
Ned Olney, Country Director of Save the Children, says: "The progress we have seen in the past two decades shows that closing the child survival gap between rich and the poor is attainable. But cities need to keep up with the breakneck growth as thousands of mothers and children in cities still have limited access to essential health services, food and clean water they need to survive and stay healthy. Save the Children is calling for strict implementation of maternal, child and newborn health care programs, including infant and young child feeding and increased local government investment to trainings for frontline health workers".
"If Philippines is going to complete the task of ending preventable child and maternal deaths, we have to continue to find better ways of getting health care to urban populations, regardless of income", he added.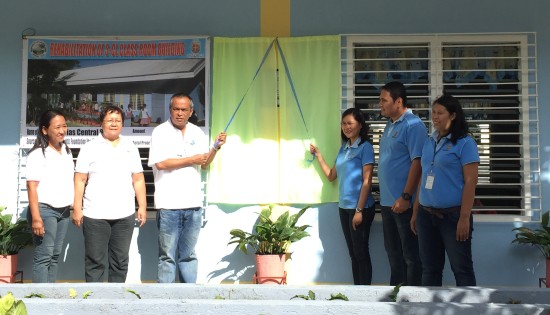 Asturias Mayor Alan Adlawan (third from left) led the unveiling of the marker of a new school building of Asturias Central School. With him are (left to right) school Guidance Councilor Ana Noemi Buhia, Town Councilor Letecia Orozco, Ramon Aboitiz Foundation Inc. (RAFI) Micro-finance deputy director for operations Ailyn Lim, RAFI Education Development Unit executive Director Anthony Dignadice, and RAFI Micro-finance Cebu south area manager Naomi Navacilla.
No school's too far
By Ramon Aboitiz Foundation Inc.
March 20, 2015
CEBU CITY – For a school in a far-flung barangay to become a recipient of well-built classrooms would seem like an unlikely reality to its teachers and pupils. For who would notice them when they are located far, far away?
With its goal of extending help in rural areas and providing public school children with a better and quality learning environment, however, the Ramon Aboitiz Foundation Inc. (RAFI), ably supported by its partners, definitely did.
Last February 13, RAFI, the local government of Asturias town, and the Department of Education (DepEd) turned over 24 classrooms (eight school buildings) in seven schools of the town.
The recipients were the elementary schools of Barangays Lunas II, Owak, Baye, San Isidro, Tag-amakan, and Sta. Lucia, and the Asturias Central School.
The total cost of the project, which was in line with RAFI Education Development Unit's (EDU) School Rehabilitation Program, was P16.31 million.
RAFI-EDU Executive Director Anthony Dignadice said the foundation extending assistance to Asturias is also a result of its being the "most consistent partner in (the school) rehabilitation program," because "education has been their (town officials) first priority".
The teachers and students, too, was grateful of the effort.
"Happy kaayo mi unya naka-feel mi we're not left behind bisag unsa kalayo. Kay naay ni-care ug ni-support. Guba kaayo among building naayo na. We hope that the commitment will continue and they will not lose interest," said Sta. Lucia Elementary School Principal Lucita Ynoy after formally receiving on behalf of DepEd the new classrooms.
Under her leadership, the school also used the excess paint in beautifying the other classrooms and excess cement for the school ground so the classrooms would not get muddy when it rains.
"Thank you. Even though our place is very far, they still spent time and gave us importance," also said Baye Elementary School teacher Regielito Almerez.
Baye Elementary School, on the other hand, used the excess materials in constructing a new school gate and additional comfort rooms for students.
And despite her young age, Janine Raelas, a Grade 1 pupil of Sta. Lucia Elementary School, was appreciative of her new classroom.
"Thank you kay gitagaan mi bag-ong classroom. Daghan na mi ug classroom," she beamed, a sweet smile radiating from her face.
Kids like her makes those distant schools never too far.
Recovering from the consequences of armed conflicts and natural disasters
By ICRC
February 23, 2015
MANILA – Many residents in the province of Samar are struggling to cope with the consequences of protracted armed conflicts, compounded by powerful typhoons that have hit this underdeveloped area of central Philippines in recent years.
Merita Dacutanan, who depends on planting rice and corn to feed her family, finds life to be very difficult. "Sometimes it is unsafe to go into farming because of sporadic firefights," the 55-year-old farmer from Cataydongan village, in the municipality of San Jose de Buan, said. "Life gets even harder when we are battered by a typhoon."
In December last year, typhoons such as Hagupit, locally known as Ruby, brought strong winds and dumped torrential rains on Samar and other provinces of central Philippines, damaging crops and other sources of livelihood.
In Samar, the vast majority – some say at least 90 percent – of the population is involved in farming. Rice, vegetables and coconut are the principal products grown in this part of central Philippines.
Poverty and food insecurity push the residents to the margins of society. Responding to these needs, the ICRC and the Philippine Red Cross assisted 388 families in four villages of San Jose de Buan – Can-aponte, Cataydongan, Hagbay and San Nicolas – in January this year. The residents received vegetable seed, fertilizer, agricultural tools such as back-pack sprayers and machetes, and cash incentives.
"The assistance programme is intended to support the livelihoods of the people in these communities and improve their overall farm productivity," said Sabine Gralla, head of the ICRC's office in Tacloban.
Generating more income
Dacutanan, a recipient of vegetable seed and agricultural hand tools, said the assistance will help her family get their feet back on the ground: "Our lives will improve and become normal again because we can generate more income." Meanwhile, Dacutanan receives financial support from the ICRC so she can regularly visit her brother detained in Catbalogan Provincial Jail in connection with the armed conflict.
Marciano Babatyo, 70, a resident of Can-aponte village, obtained a cash incentive that will be used to purchase swine. He explained that livestock raising will pave the way to earning more income so he can help his youngest son finish school. "This assistance is such a big help," said Marciano.
Aimed at enhancing livelihoods, the ICRC projects in these communities are based on a community participatory approach. The beneficiaries are involved in identifying and designing the assistance and are placed at the heart of the decision-making process.
"The farmers were asked to decide what activities they wanted to pursue – such as swine raising or vegetable planting – as well as the resources they needed, and to propose ideas on how to make their resources or tools sustainable in the long term," ICRC agronomist Marcos Bollido explained.
Signs of resilience
Although many of their livelihoods and properties were destroyed in December last year, residents have shown resilience and remain empowered to restore their self-sufficiency.
Merlina Pacimos, 47, another Can-aponte village resident, said the quality of the seed and the agricultural hand tools she and her husband received will allow them to have a fresh start after Typhoon Hagupit destroyed all their crops and damaged their house.
"The earnings from the vegetable harvest will go towards eventually rebuilding our partially damaged house," Merlina said. "We will work hard to survive the challenge."
Aside from providing livelihood support to communities in various parts of the Philippines, the ICRC, a neutral and independent humanitarian organization whose mandate is to protect and assist victims of armed conflict and other situations of violence, also visits detainees and promotes compliance with international humanitarian law.
The ICRC has been working in the Philippines for over 60 years, with a permanent presence since 1982. It has offices in Manila, Visayas (Bacolod, Catarman, Marabut and Tacloban), and Mindanao (Bislig, Cotabato, Davao and Zamboanga).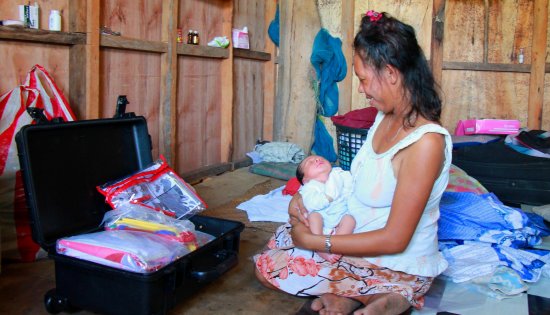 Amelita, 31, a woman who gave birth during 'Hagupit' sits by Save the Children's 'BEACON' Box. (Photo by Save the Children)
Baby born during 'Ruby' with Save the Children's 'BEACON' birthing box
By Save the Children
December 11, 2014
VILLABA, Leyte – While Ruby pummeled the community around them, Amelita, 31, and husband Remy, cried with joy after the birth of their first baby boy.
The baby was born in a town near Ormoc that was badly hit by Haiyan. The couple were ably assisted by experienced midwife Criselda, 46, who said she wouldn't have done it without Save the Children's 'BEACON' box, a storm-proof box that contains clean birthing supplies such as sterile blades, alcohol, flashlight and even a birth certificate, to help a pregnant woman deliver safely during and immediately after a disaster. Criselda says, "When I found out about Ruby, I knew there were pregnant women in the village due to give birth that time. I took the BEACON box to our village so that we were prepared"
Save the Children's 'BEACON' box or 'Birthing Essentials and Care of Newborns' project was based on the organization's work and experience in 'Haiyan'- hit areas. Over 1 million people lost access to full health services when Yolanda hit Central Philippines – yet it was estimated that more than 750 births were due to take place every single day in the typhoon-hit areas. The severe impact of the storm forced many women to deliver in damaged health facilities, at home, or in the open environment, without the availability of clean supplies and electricity endangering the lives of the mothers and the children.
"In the middle of typhoon Ruby, my wife was in pain and about to give birth. I rushed to the midwife's house with my motorcycle. It was a difficult road and I had to clear trees out of the way that had fallen down", Remy said.
Amelita's husband took the midwife back to his home to help his wife as she went into labour.
"It was difficult because there was no electricity but I had everything I needed in the BEACON box to help her deliver safely. I even used the flashlight that was inside. I thank Save the Children for providing us with the clean birthing kits", the midwife added.
As she tried to recall what happened that night, Amelita said: "I was worried about the welfare of my baby because the winds were strong. I had a difficulty giving birth because it was. Of all my pregnancies, this was the longest because it was cold and I was losing strength.
"We will call our baby boy, Remy, Jr. after my husband", said Amelita, who after four pregnancies, finally had her first boy. "The BEACON box was a big help for me because it helped deliver my baby safely."
The same night midwife Criselda was called on to deliver a baby at one evacuation center. Fortunately this time, it was just a just normal labor pain brought about by distress during the storm.