The women of Marawi: Threading the way back to normalcy
By DTI-ROG
October 24, 2017
MAKATI CITY – Making ends meet is a great challenge for residents of Marawi City but these women are doing everything just to stay afloat and keep their family alive.
Sewing was their regular source of livelihood, but all of a sudden, it came to an abrupt end. On May 23, 2017, thousands of families were displaced by the war and scores of families had to flee to ensure their families' safety.
But as they say, there's a light at the end of the tunnel.
To hasten the recovery and rehabilitation of Marawi City, the Department of Trade and Industry (DTI), which leads the Bangon Marawi Task Force Sub-committee on Business and Livelihood, provided these with sewing machines and cloth as starter kits to help them earn while staying either home-based or at evacuation centers.
Back in August, DTI-Region 10 identified 16 women internally displaced persons (IDPs) who will be trained for dressmaking and were awarded with the sewing kits. The 16 sewers are able to generate income for themselves.
From the Sta Elena Gymnasium, where they temporarily stay, the 16 women sewers go to the Provincial Training and Livelihood Development Center in Iligan City, where every sewer can earn at least P500 after a day's work.
For Asnia Sandiman, 23, laying hands on a high-speed sewing machine was a dream come true. Even as a kid, Asnia has been sewing handwoven tube skirts or malong in Filipino, shoals, and long dresses to earn extra for her schooling and for her family.
But with the new sewing machines and cloth provided by DTI, Asnia can earn up to P1,300. At school, her classmates also ask her to sew for them, allowing her to earn even more.
To Asnia, the new sewing kits was her new lease on life amid the crisis that she and her family are going through.
"Naappreciate namin at sobrang masaya kami. Parang nabigyan kami ng panibagong buhay," a teary-eyed Asnia said, while recalling the time when the terrorists where banging on their door.
"Malaking tulong sa amin ito," she added.
On the other hand, the DTI's Negosyo Center and PTLDC ensure that the handwoven malongs, shoals, and long dresses made by the IDP sewers go to the market. Indeed the products ended up in the right market with orders coming in from SM Cagayan de Oro, Manila, the Bangon Marawi Concert, Bangon Marawi Store at DTI main office in Makati City. There are also orders from Rustan's for the Go Lokal! Project.
Fellow IDP and 36-year-old Memeng Dianal, said the sewing kits allowed her to feed her six children everyday. From P500 she earns before, now, Memeng earns P2,000 a day, finishing at least 20 handwoven malongs, shoals, and long dresses.
"Malaking tulong ito sa amin [sewing kits] kahit kaunti-konti natutustusan namin yung araw-araw na pangangailangan namin," Memeng said.
Despite knowing that her family's home in ground-zero is now levelled due to the conflict, Memeng is hopeful that once they return to Marawi, there will be more opportunities for her and other Marawi residents. If only she can handle two businesses, she would do it for her children.
"Kung pwedeng doblehin ang business, magdodoble kayod ako para sa mga anak ko," she said.
Now with the fighting officially declared over by the government, Asnia and Memeng, together with other residents of Marawi will just have to wait for their return to their hometown.
After all, hope springs eternal.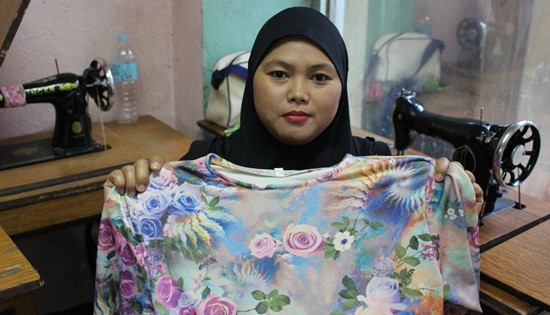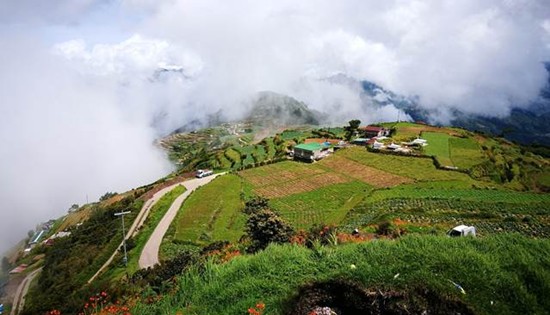 Overlooking a carrot and romaine fields in one of the highland vegetable terraces of Maria's Farm, situated on over 2,000 above sea level (ASL) in the town of Kibungan, Benguet.
Former OFW uplifts Cordillera farmers into exporters
GDME Fruits and Vegetables leads PH highland farmers to global market
By CITEM
September 11, 2017
MAKATI CITY – The province of Benguet has been making a mark in the international market as a sourcing hub for premium agricultural products, such as fruits, vegetables, coffee, and other highland crops.
With more than half of its residents or 100,000 farmers toiling on more than 30,000-hectare farms scattered in vegetable-producing towns, Benguet is living up to its moniker as the "Salad Bowl of the Philippines."
But the farmers from the province, including most areas in the Cordillera, has yet to realize their full market potential in the lucrative export industry. This difficulty contributes to the economic disadvantage of Cordilleran farmers as the region's agriculture sector records the least contribution to their economy, despite employing 46 percent of the labor force or 348,000 of its total 766,000 abled bodies.
"The lack of drive from our farmers to export much of it has got to do with their local and limited mindset," said Maricel Hernaez. "Many of our farmers in the Cordillera are producing crops with the idea of harvesting it only either for their own household consumption or for selling at the local vegetable trading post."
Taking Philippine fruits and vegetables from highlands to overseas
A former overseas Filipino worker (OFW), Hernaez came back to the Philippines with a dream: to abolish the domestic-centric mindset of the Cordillera farmers and help them penetrate the international market.
Born and raised in a farming family in Cordillera, her life-mission sprung during her service as a domestic helper for five years in Singapore, where she has keenly followed the sky-rocketing prices and huge demand for highland fruits and vegetables.
"Grabe ang taas ng presyo ng gulay sa Singapore, for example nalang 'yung isang malaking patatas minsan umaabot ng two dollars at pati 'yung cabbage nasa mahigit one dollar ang 250 grams. Dito sa Pilipinas, nasa limang piso lang ang patatas na malalaki at yung cabbage, isang kilo na katumbas ng one dollar mo," she shared. "Kung produkto lang naman ang paguusapan, competitive ang galing sa Pilipinas pagdating sa laki at kalidad."
In her last working year as a domestic helper, Hernaez met up with the Philippine Trade and Investment Centre (PTIC) in Singapore to seek guidance on her plan to become a vegetable and fruit exporter. In March 2015, she came back to the Philippines and immediately established her company, GDME Fruits and Vegetables Trading, naming it after her parents: Gilbert Domerez (father) and Mercy Espara (mother).
"My parents who made a living through farming have inspired me to pursue this agenda," she elated. "They are the foundation of my goal of nurture the country's agri-export market by tapping the promising farming communities in Cordillera."
A tall order
Having no land to call her own, Hernaez has been operating GDME Fruits and Vegetable Trading for the past two years as its sole networking, monitoring, and marketing officer for grassroots farmers across the Cordillera region.
In her networking initiatives with the local farmers, it has always been a challenge for her to explain, innovate, and change some of their farming methods and even their products to suit the demand of the global market.
"Going one by one with the farmers, I always explain that we have the tools to compete with other countries. We are situated at a higher elevation with the perfect soil and climate. Most importantly, our farmers are hard-working," she stressed. "But, I tell them we should comply with food standards and certifications. I also encourage them to plant the crops that are in-demand because if we plant crops that no one wants to buy then it will just go to waste."
Without a formal academic background in agriculture, she has always been looking for fresh ideas and new ways on how to improve her technical know-how on the export industry by attending seminars and partnering with government agencies, such as the Department of Agriculture (DA) and the Department of Trade and Industry (DTI).
"I never missed opportunities where I can learn new things. Last May, I joined IFEX Philippines, together with our farmers, where we encountered people who are willing to help us grow," Hernaez said. "We were also glad to meet foreign buyers that are really interested in our fruits and vegetable products."
Now GDME Fruits and Vegetables Trading has partnered and has been consolidating the yield of more than 60 farmers in communities located in the municipalities of Kibungan, which is considered the "Little Alaska of the Philippines," as well as in Mankayan, and Kabayan.
Among her community partners are the Bosingan Multi-Purpose Cooperative, Mankayan Young Farmers, Maria's Farm, and the Bashoy Kabayan Multi-Purpose Cooperative.
Fresh from the highlands, they offer different varieties and cultivars of potato, radish, carrot, chayote, cucumber, cabbage, Chinese cabbage, tomato, romaine zucchini, sugar beets, bell pepper, broccoli, cauliflower, onion leeks, snow peas, and green beans.
"In our farm, we are able to grow fruits in huge sizes. For instance, in our cabbages, we are cultivating the scorpio F1 hybrid and sugarloaf varieties. When fully grown, these varieties can reach an average net weight of 2 kilograms each, while your regular lowland cabbage varieties only reach 1 kilograms each. Our is twice the size," she said.
Her partner farmers are also cultivating strawberry, lemon, parsley, cilantro, kale, mint, basil, alfalfa, arugula, red radish, young corn, fennel leaves, and okra.
They also have some of the iconic Cordillera processed goods, such as sweet and sour chili sauce, strawberry jam, peanut butter, and kimchi.
Hernaez said an exporting farmer will be able to earn at least 15 pesos more per kilo of their harvest. She added: "Some might even go double the price when depending on their reception on our quality and demand."
"With these many products, we are targeting the demand in Singapore and other nearby ASEAN countries, as well as those in the Middle East," she added. "We are also open to offers from other buyers across the globe that can be beneficial to the livelihood of our farmers."
Cordillera farmers moving forward
While the high elevation augments the harvest, it also makes highland fruits and vegetables prone to risks of climate change, making its price highly volatile.
"We know that there is a demand for our agricultural products, but the next step is how we can corner that demand? With our talks with people that we met on IFEX Philippines, we should be able to do it if we set our fruits and vegetables at stable prices and produce them at a sustainable rate. It's a challenge for us here in the highland considering the ever-changing weather conditions," said Hernaez.
Faced with this predicament, Hernaez is trying to hit two birds with one stone in creating a viable year-round crop rotation system: working on identifying the in-demand varieties crops that are a tolerant to extreme weather and are resistant to pests and diseases.
"With this method, we also can minimize the use of synthetic chemicals and inputs, or apply good farming practices which involve the balanced application of organic and chemical inputs," she explained.
The former OFW also continues to widen her network to increase their agriculture supply and product selection, allowing small-scale farming communities to accommodate bulk orders from foreign buyers.
At the same time, she is helping Cordillera farmers secure the Good Agricultural Practices (GAP) certification – an accreditation promoted by the ASEAN community and is unanimously recognized in the international market.
Out of the 78 GAP-certified farms in the Philippines, only 4 farms are from Cordillera.
According to the Department of Agriculture - Bureau of Agriculture and Fisheries Standards (DA-BAFS), GAP Certification ensures that a farm is not only in the quality of his crops, but in all aspects of farming.
The GAP standard requires a scrutiny of the history of the farm site and its prior use; the type of soil, and its compatibility with crops and seed sources; the judicious use of pesticides and fertilizers, whether chemical or organic; the sources of potable water for irrigation and washing of crops; the harvest and post-handling procedures; the health and hygiene of the farmer and handlers, and other factors.
"Gusto kong makita sa mga farmers if they can eat their products raw and fresh, 'yun na kasi uso din because there are a lot of vegetarians. 'Yung iba kasi they have a lot of pesticide to the point na hindi na pwede makain kasi maamoy or matapang yung chemicals. At least with GAP [certification], we can be one stop closer to this goal," she said.
Aside from GAP certifications, GDME Fruits and Vegetable Trading is also working to secure Halal certifications for the community farmers as they are targeting the demand for halal fruits and vegetables in the Middle East, particularly in Dubai and U.A.E.
Though the Philippine National Standards for Halal (PNS 2067: 2008), Halal products are at par with international standards to enhance the competitiveness of local industries, and to ensure product quality and safety for the consumers.
"GDME Fruits and Vegetable Trading is committed to prime Cordilleran farmers to become export-ready in the global market so that they would grow together with the company and the booming Philippine food industry," she said.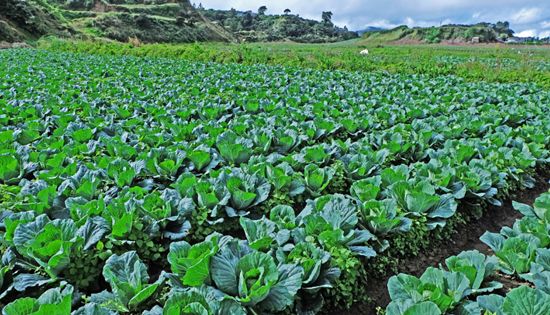 Muslim OFW breaks waves; Opens the first Japanese Halal resto in the PH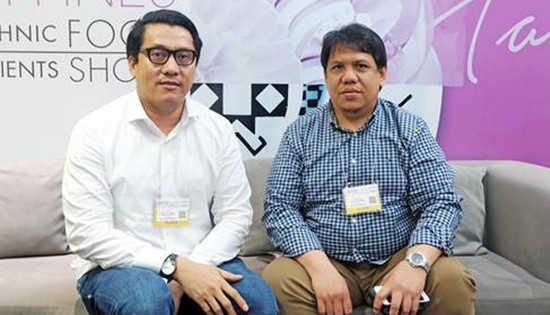 By CITEM
July 11, 2017
MAKATI CITY – The Filipino worker who has served among the longest at King Saud University as an administrative secretary and quality standard coordinator for over 20 years is a Mindanaoan, who at childhood would bravely cross islands by boat and alluvial plains on foot with his brother during summertime to collect coconut shells and make them into charcoal.
Coming from one of the minority tribes in Mindanao known as the people of the current, Hasim Salih Mammah conscientiously turned around an imminent tide of deprivation into waves of success in his various personal and professional engagements.
"I was raised by a disciplinarian teacher-mother and a business-trader father to value hard work, independence, and concern and respect for others at an early age. Joining reach-out activities in Mindanao's most impoverish communities at teen age, and eventually awarded as among one of the best scouts by the Boy Scout of the Philippines in Zamboanga City boosted my interest to make a difference in life," says Hasim.
Hasim was 18 years old and recuperating from the demise of his father when he found himself driving tamaraw jeepney along unpaved roads in outskirts of Zamboanga City to sustain his schooling at the Western Mindanao State University. He was a relentless working student throughout college, finishing a degree in Political Science.
The young man who dared to twist his fate in Metro Manila selling books and reading materials in offices and homes eventually landed a job in Riyadh as a salesman and one of the pioneering employees of a company that would become today's top retail franchise company carrying more than 80 of the world's best-known retail brands across global markets.
"Hard work and work-focus were my weapons to build the trust of my superiors," Hasim relates as he reminisced growing his career from being a salesman to becoming a retail supervisor and sales advisor. His two years of exposure in marketing top brands have built up in himself an incredible global market knowledge and marketing strategies.
An epitome of Filipino resiliency
When not at work during weekend, Hasim would delight his close Filipino friends in Riyadh with his Asian recipes that he casually prepared for their various special occasions. "I cooked 100 percent Halal in the variety of my Asian menus." Hasim's catering service, though limited to the Filipino community, was handled with quality standards.
Having had received a certification program with the Associate Chartered Quality Institute (ACQI) made Hasim very meticulous in his service detail. The significant learning he has accrued from his university research works on "Academic Quality Management" manifested in the way he manages his professional works and personal ventures.
Hasim became an epitome of Filipino resiliency when he dared break through the Japanese food business industry in Saudi Arabia. In 2012, about 12 years after a decade-long season of servicing the Filipino community with his home-based 100 percent Halal Asian food catering business, Hasim decided to learn the trade of food service. "I went to various places to learn the food service trade -- attending conferences and food expo in Dubai, Malaysia, Singapore, Indonesia and Japan." In his unyielding pursuit of more knowledge in food service, Hasim met a Filipino who has a lengthy experience as a Japanese chef.
Hasim manages the Samurai Japanese Cuisine Restaurant in Riyadh since 2013. The restaurant that employs mostly Filipino OFWs has been enjoying excellent reviews among multi-racial customers and Japanese food fanatics in the city.
"It is amazing that Japan, which has mere .05% Muslim population, enjoys numerous Japanese Halal eateries spread across all its cities and provinces. It is sad though that the Philippines has 11% Muslim population and yet has no Japanese Halal restaurant found anywhere across the country," reveals Hasim.
"It is this reality that prompted me to bring to the Philippines the first 100 percent Halal Japanese restaurant, called Samurai Halal Express."
Innovative and authentic taste at Samurai Halal Express
Located at a prime area in the Food Court of Terminal-3 in the Ninoy Aquino International Airport, the Samurai Halal Express is a cozy eatery for Muslims and non-Muslims who love Japanese cuisine.
Strictly using imported Halal meat and chicken and halal-authenticated ingredients, the first Halal Japanese restaurant in the Philippines is proudly manned by a Filipino sushi chef who has mastered the artistry of Japanese cuisine.
On top of the regular Japanese cuisine selections, the Samurai Halal Express unveils several innovative menus, such as the country's first new ramen in a bowl with choices of seafood, chicken and beef ramen – all in authentic taste.
"Everything is made to order with the freshest ingredients, making sure that every dish is prepared from scratch, and is cooked separately with secret flavor," claims its Sushi chef.
Samurai's tempura and furai (fried shrimp) are hand-picked and nicely coated with utmost care. Customers are free to watch Samurai's show kitchen. Customers can see the preparation of sushi side and food orders as they are done the traditional way – with not much fusion except for its authentic ingredients. Children who love sushi will surely bask in its beef and chicken roll designed with the fancy look.
Samurai Halal Express is said to be a "market tester" that will soon become a model for expansion to other places in the Philippines.
Like the daring young boy who wandered places to collect coconut shells to produce charcoal and who drove tamaraw jeepney around outskirts of Zamboanga City, and went far to work abroad and acquired quality international experience and education, the man of current will soon take Samurai Halal Express to the hearts of the Filipinos.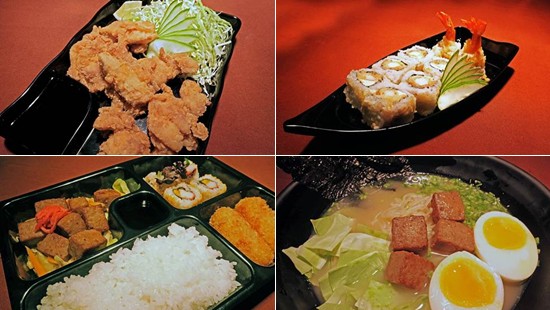 Cavite enterprise wins back-to-back Katha Awards at IFEX Philippines
Kapfer and Rivera United Inc. bags award for Processed Fruit and Vegetables with Puso ng Saging
By DTI-CITEM
May 23, 2017
PASAY CITY – Cavite-based Kapfer and Rivera United Inc., makers of the 'Island Gems' brand, won the 2017 Katha Award for Food for the Best New Product Award for Processed Fruit & Vegetables category for its ready-to-eat bottled Puso ng Saging at the recently concluded IFEX Philippines held at the World Trade Center Metro Manila (WTCMM) and Philippine Trade Training Center (PTTC).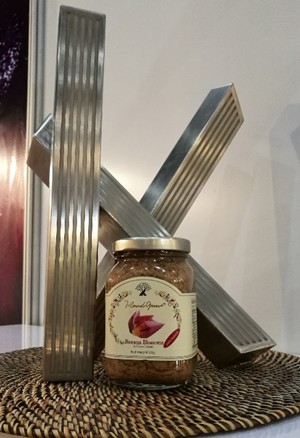 Island Gem's Puso ng Saging – Processed Fruit and Vegetables 2017 Katha Award Winner.
The company's bottled Puso ng Saging, is an all-natural creation made of banana blossoms, coconut cream, salted shrimp fry, and spices that can be used as a spread, topping or the main dish. Consistent with the company's vision for the highest food standards, it contains premium ingredients, no preservatives, and no added flavoring.
The award is a back-to-back win for the Filipino-German company, having won the Katha Award in the same category in 2015 with their ready-to-eat bottled Laing or Taro Leaves in Coco Cream.
"Kapfer and Rivera deserves recognition for its consistency in delivering high-quality and inventive Filipino-inspired products, such as Laing and Puso ng Saging, which helps propel the Philippine in the international market as a source of premium healthy and organic food products," said Clayton Tugonon, Executive Director of Center for International Trade Expositions and Mission (CITEM), the organizer of IFEX Philippines.
A joint venture by Maria Rivera, who came home from Singapore in 2012 with German husband Chris Kapfer, the Kapfer and Rivera United Inc. started in 2012 with the creation of their fine mango jam using premium ingredients.
As a boutique company, it is committed to bringing new products to the market that are affordable and authentic, never cutting corners with the use of artificial additives like flavoring, coloring, and preservatives.
"I'm glad that our line of healthy products is recognize here in IFEX Philippines," said Kapfer. "For this year, we are hoping to get more high-quality buyers from Korea and Japan and this recognition in Katha is a big boost towards this endeavor."
Aside from tapping markets abroad, Kapfer and Rivera Inc. aims to focus growth on the local market, a segment that they believe has great potential and lacking in premium quality locally made food.
"The Philippine economy is doing well. More manufacturers are coming up with higher quality, because people are demanding it," said Managing Director Maria Rivera Kapfer. "The problem is we tend to serve cheap stuff, synthetic stuff for the Pinoys. Why give fruit-flavored jams? We give them real fruit."
Rivera added: "We deserve quality goods for our people and we want to make it mainstream and affordable. We could have chosen to go to go to gourmet shops but we said no, we must democratize good quality food and make it more affordable. You can't always say, pwede na yan, local naman yan eh. That's really bad. We deserve better than that."
Aside from Puso ng Saging and Laing, the Filipino-German company is selling single-serve fruit fillings, such as Strawberry, Calamansi, Guava, Mango and Pineapple, as well as Macapuno and Ube de Pastillas, under their Island Gems brand. The company is also offerings manufacturing and toll packaging services.
As of now, Kapfer and Rivera United Inc. have established retail stores in Urban Pantry (Green Hills Metro Manila), Connie's Kitchen Deli (New Manila, Quezon City), Real Food (Molito, Alabang), Landmark (Makati and Trinoma), Unimart (Green Hills, Metro Manila), Ritual (San Lorenzo Village, Makati), Shell Gas Mart (Slex to Batangas, after San Pedro Exit), Enchanted Kingdom (Agila - The Eksperience) Duty Free (Kalibo, Palawan), and selected stores of Robinsons Supermarket.
K&R United embraces the traditional values of integrity, reliability, quality and cost-effectiveness in dealing with its business partners and clients.
The company's facility is located in Cavite, an area in the southern region of Luzon in the Philippines. We are licensed to operate (LTO), with Good Manufacturing Practice (GMP) certifications, and registered in US Food and Drug Administration (USFDA).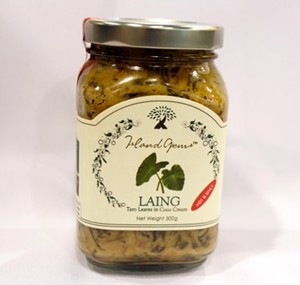 Island Gem's Laing – Processed Fruit and Vegetables 2015 Katha Award Winner.