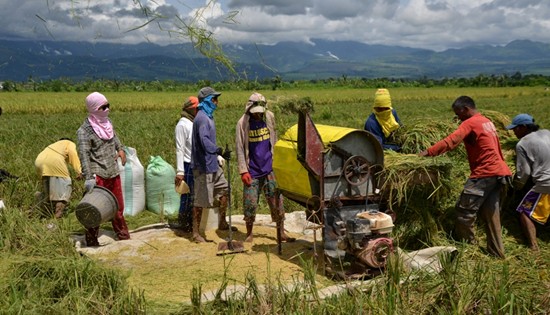 Members of the Bugho Farmers Association (BFA) savor their firs harvest after the Department of Agrarian Reform with the help of the RIGHTS and the Philippine National Police successfully installed the former to their awarded land under the Comprehensive Agrarian Reform Program in June this year. (Jose Alsmith L. Soria)
After 16-year struggle Ormoc farmers start harvesting
By JOSE ALSMITH L. SORIA
October 7, 2016
ORMOC CITY – Rosenda Apay could not hide her happiness as they started harvesting last week after having been deprived entry for 16 years to their awarded land under the Comprehensive Agrarian Reform Program's (CARP's) land acquisition and distribution component.
Apay, 56, was one of the 21 members of the Bugho Farmers Association (BFA) who were successfully installed by the Department of Agrarian Reform (DAR) in June to the 25-hectare lot within the Fran Farm in Barangay Matica-a in this city after several failed attempts.
"Masaya kami dahil nakabalik na kami pagtrabaho sa aming lupa. Tapos, sa ngayon nag-aani na. Mas lalo kaming masaya," (We are happy because we are back working in our farm. Now, we are already harvesting. The happier we are.) said Apay.
According to her, they will be harvesting rice in the 25-hectare lot until the last week of October. Their initial harvest produced 60 cavans.
She also disclosed that they decided not to sub-divide the 25 hectares covered under a collective certificate of land ownership award (CLOA) to keep it intact, preventing the sale of any portion of it by a member of their association. What they are going to divide is the produce, Apay added.
The members of the BFA were identified by the DAR in the late 90s to be the beneficiaries of lots 8667-47 and 8667-48 with a combined total area of 46 hectares.
But when CLOAs were registered in 1999 in the names of the BFA members, the Fran Farm Workers Association (FFWA) questioned in court as to who should be the rightful beneficiaries of the said lots which dragged on for 16 years resulting to animosity among them.
During this period, BFA was deprived entry into the contested landholding.
The case was resolved only when the BFA, in a rare gesture of magnanimity and grace, offered the 21-hectare lot to the rival group while retaining the 25-hectare lot to themselves leading to a compromise agreement in March this year.
Both groups were finally installed to their respective farmlots on June 13 and started cultivating.
Apay thanked DAR, the non-government organization RIGHTS and the Philippine National Police which continue to provide security in the area to maintain the peace and order situation.
Apay and FFWA member Medardo Cabahug, 59, admitted that their groups have already settled their differences. However, both also disclosed that another group entered into the scene bringing threats as the latter claims ownership of the once disputed area.
Meanwhile, DAR-8 Regional Director Sheila Enciso directed Assistant Regional Director Ismael Aya-ay to hasten the delivery of the necessary support services needed by these farmers.
Save the Children report: PH economy loses P328 billion a year due to malnutrition
By Save the Children Philippines
August 30, 2016
MANILA – A new report released today by Save the Children reveals that the Philippine economy is losing at least P328 billion a year due to the impact of childhood stunting on workforce productivity and education. Stunting is the most prevalent form of undernutrition, and has permanent effects on a child's growth and development.
The report entitled "Cost of Hunger: Philippines" suggests that, in 2013, childhood stunting cost the Philippines almost 3 percent of its GDP. The overall economic loss of P328 billion consists of:
1) P166.5 billion worth of lost income as a result of lower level of education achieved by the working population who suffered from childhood stunting;
2) P160 billion in lost productivity due to premature deaths among children who would have been members of our current working-age population;
3) P1.23 billion in additional education costs to cover grade repetitions linked to undernutrition.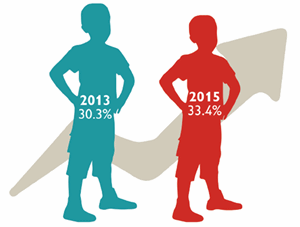 After more than 25 years of steady improvement, stunting prevalence among Filipino children below five years old increased from 30.3% in 2013 to 33.4% in 2015.
Ned Olney, Save the Children Philippines Country Director, said: "This study proves that undernutrition has a cost to all of us. In just a year, Philippines has lost almost 3 percent of its GDP in terms of education and productivity costs due to stunting. If we add up health costs, the likely impact would be an additional 0.05 - 1.6 percent."
The report shows that stunting is the best predictor of productivity and income, and that undernutrition is linked to lower human capital. Children who are stunted in the first two years of life are more likely to repeat grade levels, drop out of school, delay school entry and have lower income levels when they enter the workforce.
Olney added: "If stunting rates continue to rise, it would be difficult for families to break free from poverty. It is the poor and neglected sectors of society that carry the burden of stunting. Any investment in reducing childhood undernutrition will reduce suffering and poverty, and will ultimately stimulate economic growth for all Filipinos."
The report found, however, that Philippines' investment in nutrition programs is very low at only 0.52 percent of general government expenditures compared to the global average allocation of 2.1 percent. Citing the report findings, Save the Children highlighted the need to invest in nutrition programs during the child's first 1000 days, from pregnancy up to the second birthday, which is considered a critical period of care to avert stunting.
Olney said: "Nutrition is the cornerstone of all development efforts. This new report tells us that for every US$1 spent on programs to avert stunting in children below 2 years old, the Philippines could save over 100 US dollars in health, education, and lost productivity costs."
"It should outrage us that 95 children will die every day because of malnutrition."
Save the Children is raising the alarm on the nutrition crisis, and is calling the national and local government, private sector and the donors to end the appalling state of malnutrition in the Philippines:
• Support the "First 1000 Days Bill" to enhance the delivery of quality nutrition interventions in the first 1000 days of a child's life to prevent stunting among children.
• Push and sustain equitable nutrition policies and programs and ensure budgetary allocations that address the immediate, underlying and basic causes of malnutrition.
• Ensure security of tenure and sustained training of the community front-liners e.g. such as barangay health workers and nutrition officers and scholars. Health and nutrition workers are highly politicized, lack incentives and support for trainings, have no security of tenure.
• National and local governments provide clear and separate budget for nutrition-specific interventions to avoid confusion between health and nutrition budgets.
• Intensify health and nutrition-related training, research and extension support activities to support the First 1000 Days Program through the Barangay Integrated Development Approach for Nutrition Improvement (BIDANI) Network Program of the Rural Poor and other relevant approaches, thereby strengthening delivery systems in partnership with the LGUs.
• Scale up cost-effective and affordable high-impact nutrition interventions to prevent undernutrition that cripples the country, such as promotion of exclusive breastfeeding, complementary feeding, vitamin A and iron supplementation, treatment of acute malnutrition and maternal nutrition.
• Strengthen enforcement of the Milk Code (Executive Order Number 51), and the Expanded Breastfeeding Promotion Act (Republic Act Number 10028) to protect, promote, and support optimal infant and young child feeding, both in private and public facilities and spaces.
• We call for the strict and sustained implementation of nutrition-specific interventions, including infant and young child feeding (IYCF), micronutrient supplementation and the Community Management of Acute Malnutrition (CMAM), which is now required to be implemented nationwide.
• Revise conditionalities under the government's Pantawid Pamilyang Pilipino Program (4Ps) to include mandatory breastfeeding and education sessions on infant and young child feeding.
• Align health and nutrition programs to the priorities and directions of the Philippine Plan of Action for Nutrition and the Strategy for Women, Infant, and Young Child Nutrition.
• Increase the focus on water, hygiene and sanitation interventions for children by targeting child-related behaviors and risk factors, such as safe disposal of human waste, complementary food hygiene and handwashing and intensifying promotion of Philippine Approach to Total Sanitation (PhATS) program to reinvigorate our country's progress towards the national goals of eliminating open defecation.
Children of War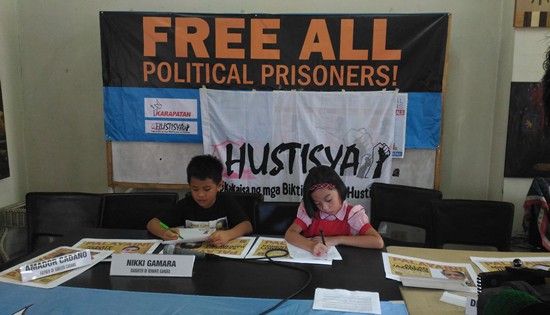 By KARAPATAN
June 24, 2016
QUEZON CITY – They are children of war, victims of a war their innocent minds cannot comprehend. But they know injustice has been to done their parents who did nothing wrong by helping the farmers, the workers, the poor.
Even adults cannot comprehend why launching a fight against the causes of poverty and unrest is a crime. And why one should be jailed for one's political beliefs.
Angel Lorenzo, 8 years old, studies at the Children of God Learning Academy; a child seemingly forsaken by man's folly.
She remembers when the bad guys came along, took her mother and left her with her one year old sister and their "yaya" to complete strangers. How she cried and cried together with her sister. Their "yaya", terrified and confused, would not know how to console them. They cried and cried until their grandmother arrived to take them.
That day, July 20, 2015, Joyce Latayan, 39, Angel's mother, has just arrived home after picking her up from school. She noticed two men in civilian clothes inside their compound. Then she saw other plain- clothes men went up the second floor of their house. They later came down with bags and a box of weapons, items which do not belong to Angel's family. They identified themselves as members of the Criminal and Investigation Detection Group (CIDG).
The men whisked Joyce away on the basis of a highly questionable and faulty search warrant issued from the Cabanatuan City Regional Trial Court and the box of weapons they were carrying. She was charged with trumped up cases of illegal possession of firearms and explosives, which were later dismissed by the Prosecutor's Office in San Jose del Monte, Bulacan where they reside.
At about the same time, Angelika's father, Ernesto Lorenzo, 59, was nabbed at the IT Center in Gilmore, Quezon City, by joint elements of the CIDG and members of the military intelligence group.
Lorenzo is a peace consultant of the National Democratic Front of the Philippines with JASIG ID No. ND978229 under the assumed name of "Lean Martinez". Lorenzo's arrest was based on a warrant for destructive arson filed in 2010 in Lucena City. He was among the activists and leaders of people's organizations in Southern Tagalog falsely charged with criminal offenses by President Gloria Macapagal Arroyo's Inter-Agency Legal Action Group (IALAG). In 2007, UN Special Rapporteur on extrajudicial killings Prof. Philip Alston had strongly recommended abolition of the IALAG and a stop to the practice of filing fabricated charges against activists.
Lorenzo was a youth leader of the Methodist Youth Fellowship and had been a long time pastor of the United Methodist Church after his studies. Later he engaged in organizing work in the peasant communities and in socio-economic and development work among urban poor and workers. He is currently detained at the Bureau of Jail Management and Penology's Special Intensive Care Area (BJMP-SICA) at Camp Bagong Diwa, Taguig City.
"Magpakabait, mag-aral mabuti. (Be good, study well)." This is Kennedy Bangibang's perennial advice to his only son, Diwin Jude Kenn Monte Bangibang, 8 years old, whenever he visits him in the confines of the Bureau of Jail Management and Penology in Tabuk, Kalinga, Cordillera.
A full-blooded Igorot who hails from a remote village in Cordillera, Kennedy was witness to the plunder of foreign corporations on their ancestral land and natural resources.
As a student activist in 1987, he had immersed with the peasant masses. He later became a full-time activist and revolutionary leader. He was illegally arrested on February 23, 1913 [sic] by elements of the RIU-14 of the Philippine National Police-Intelligence Group while on board a bus at a PNP checkpoint in Bangao Proper, Buguias, Benguet. Kennedy is a consultant of the National Democratic Front of the Philippines on Cordillera Affairs. His arrest is a blow to the national minorities as their concern is among the issues to be tackled in the next agenda of the peace talks – the drafting of a Comprehensive Agreement on Socio-Economic Reform (CASER).
Victim of a justice system that grinds exceedingly slow, Kennedy has been languishing in jail for the past three years and his case being transferred from one court to another, from Kalinga to Baguio.
While Angel would bubbly narrate the happy moments with his father as they frolic on the beach of Pangasinan, where he used to work, Diwin would just matter-of-fact share memories of his Papa and Mama – the walks in the parks, the visits to the malls and the one time they went swimming in the underground river of Palawan.
Diwin's Mama, Recca Noelle Monte, was a New People's Army (NPA) fighter, who was killed during a military operation of the 41st Infantry Battalion, 5th Infantry Division of the Philippine Army on September 4 and 5, 2014 at Guinginabang, Lacub, Abra. She was unarmed and bore no gunshot wound indicating from the looks of her remains that she was tortured while held captive, a clear violation of the International Humanitarian Law.
Diwin could tell the state of his Mama's remains without batting an eyelid – the traumatic injuries, crushed skull, unidentifiable face, broken leg bones. Asked if he actually saw this, he said only from the picture. The handsome, smooth pinkish face of the boy showed no emotion, but admitted he is sad and lonely.
Angel was loquacious and confident as she told her stories. Her mother said she regained her composure with the psycho-social counselling she underwent after the trauma from her experience.
Asked about her father's work, Angel quipped, "Natulong sa farmers at workers (helps farmers and workers)". Diwin has a similar impression of his parents work, "they were helping the farmers and the poor."
What do the children of war aspire to be when they grow up? Angel said she will be a heart surgeon to help the sick. Meanwhile, Diwin wants to be a lawyer, "so I could defend Papa and Mama. I could free Papa and give them justice."
Communities sustain climate action on 10th year of "An Inconvenient Truth"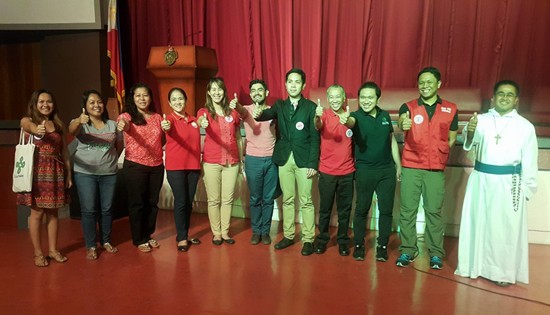 By Climate Reality Project Philippines
May 24, 2016
CEBU CITY – Commemorating the 10th anniversary of Academy award-winning film "An Inconvenient Truth", environment groups and climate vulnerable communities gathered in Cebu to call for the cancellation of approved coal-fired power plants proposals and just transition to renewable and cleaner energy source.
The Climate Reality Project Philippines in cooperation with the Office of Senator Loren Legarda, Dakila, Greenpeace, Pusyon Kinaiyahan, Foundation for the Philippine Environment and the University of San Jose de Recoletos organized an exclusive screening of An Inconvenient Truth and a multi-sectoral dialogue with students, the religious, and representatives from coal-fired power plant-affected communities in cities of Naga, Toledo and Cebu especially that of barangays Sawang Calero and Pasil.
When former Vice President Al Gore and Participant Media released An Inconvenient Truth in 2006, the effect was immediate and profound: people everywhere began talking about the climate crisis – to their friends, their family, and everyone in their lives – sparking a new kind of movement with millions demanding action all across the planet.
For so many of us, An Inconvenient Truth was a wakeup call. It was the moment we understood the reality of the climate crisis devastating our planet – and it was the moment we knew we personally had to do something. May 24 marks the 10-year anniversary of the film's release, and we want to acknowledge and thank you for the critical role you've played in making it a global phenomenon.
In 2006, An Inconvenient Truth inspired millions around the world to speak up about the climate crisis. Since then, we've made progress on many fronts. Just last December, 195 countries created the historic Paris Agreement to cut global warming pollution and accelerate the shift to clean energy. This was a turning point but there's still tremendous work ahead.
This is the challenge of our time. Our work to solve the climate crisis could not be more urgent or important. But today momentum is with us, and together we can solve it.
Quotes from key speakers:
Al Gore, Nobel Laureate and former US Vice President; and Chairperson of The Climate Reality Project (Video Message) -
When we released the "An Inconvenient Truth" in 2006, I knew we had an important message to share. But what I couldn't have known was that the countless people like you would hear that message and begin talking about the urgency of the climate crisis in persuasive ways – to their friends, their families, and their communities – and then, together, we would spark a new kind of movement with millions of people calling for climate action around the world.
So as we take a moment to celebrate the 10-year anniversary of An Inconvenient Truth, I just wanted to say "Thank You". Thank you for finding the moral courage to stand up, even when it wasn't easy, for taking action to protect our only home, and thank you for making a difference. We've made a lot of progress together. Just think, last year, 195 nations reach the historic Paris Agreement to cut global warming pollution and accelerate the shift to clean energy, a true turning point, but there's still tremendous work ahead. And that's why I'll be working with the Climate Reality Project to ensure that countries not only stick to their commitments but make those commitments even stronger in the years ahead. And I'm counting on you to continue helping to meet that challenge, the challenge of our time.
Our work to solve the climate crisis couldn't possibly be more urgent or important. But now the momentum is on our side. I know we can solve the climate crisis. And I know that thanks to you we will.
Senator Loren Legarda, Chairperson of the Senate Committee on Climate Change (Keynote Speaker) –
A lot has changed since that year when An Inconvenient Truth was launched, especially on how we perceive the climate change phenomenon. People now have a better understanding of the climate crisis and how it is linked to our survival. An Inconvenient Truth continues to ignite climate action.
As a developing nation, it is understandable that the Philippines needs more power, but it cannot be "we need power at all costs and we will develop at all costs."
They say that coal is cheap. I say, coal is not cheap. Coal affects our health, kills biodiversity and the environment, affects our waters and pollutes the air we breathe.
We are a country rich in renewable energy – the amount of sun and wind is more than enough to power our entire country many times over.
There is no reason to hesitate or delay action on a challenge so compelling, on a threat to humanity so clear and present. For every second that ticks away is but a second closer to the next calamity. We must lead the way towards meaningful change for our children and grandchildren, for all of humanity, for all species in the world, and for Mother Earth.
Rodne Galicha, Country Manager of the Climate Reality Project Philippines –
Looking back at the challenges of the film, we were reminded that our planet has all the means to make our lives convenient through sustainable utilization of resources within the carrying capacity nature. However, due to our excessive search for convenience, the long-term result becomes more inconvenient for our own species to thrive and others are in danger of extinction. Solving this biggest crisis the world is facing needs every individual's commitment and collective action to shift to a cleaner and livable future.
The Climate Reality Project in the Philippines will continue to work with communities and partners to collectively regain the power of the people to define the future they want for their children's children and the planet.
Screening the film in Cebu City after the communities' triumph against the proposed coal-fired power plant in Barangay Sawang Calero is both a celebration and a way to collectively reflect on why we do what we can to combat climate change.
Brother Jaazeal Jakosalem, Co-Convener of Pusyon Kinaiyahan –
Since 2006, Al Gore's Inconvenient Truth still echoes our planet's cry. The most vulnerable communities especially the poor call for justice. We are all impelled to take drastic action to bring back balance and harmony upon all of creation. Indeed, the cry of the earth is the cry of the poor. This is a moral and spiritual issue, the integrity of creation.
Gideon Lasco, Environment Champion for the Climate Reality Project Philippines –
It remains inconvenient to live up to the implications of climate change partly because for every inconvenient truth, there is a convenient falsehood. Today, we hear politicians talk about "clean coal", as if the word "clean" before coal can exorcise the havoc coal and other fossil fuels have wrought upon our planet (coal plants alone account for 1/3 of global carbon emissions). Today, we hear people talk about "responsible mining", which, while it may indeed be a possibility in the future, detracts from the fact that mining has been responsible for the environmental degradation in many areas - from Semirara to Surigao.
But perhaps the most convenient falsehood of all is the idea that we are too insignificant to make a difference. Indeed, if there is something we can draw inspiration from in the past ten years, it is the fact that no effort is too small not to count in our fight to save the planet.
Reuben Muni, Climate and Energy Campaigner for Greenpeace –
The film "An Inconvenient Truth" tells us this truth: there is no such thing as an insignificant act when it comes to solving the climate crisis. 10 years after Al Gore released his film in May 2006, this wisdom still remains. Every battle against coal is therefore a significant battle for the planet. Cebu is one of the most important battles for climate change in the Philippines. It is not just the country that is watching but the whole world. Unfortunately, what happens in Cebu does not stay in Cebu. If we allow another coal plant to be built in Cebu, then we are sending signals to the rest of the country that it is okay to build more elsewhere.
Hence, Cebu is one of the iconic fights against coal of our generation. We owe it to the next generation to ensure that there are no more coal plants that will be built in Cebu. This year, the people of Cebu City rejected a proposed coal plant right in the heart of the city. And this year, we declare that Cebu will break free from coal and other forms of dirty energy.
Ara Chawdhury, Creative Director of Dakila's Cebu Collective –
It is evident with An Inconvenient Truth what the power of film can be. It can be policy changing petition forming, mind changing. At its best, mind blowing. At its worst, mind numbing.
Film is supposed to shake you, to reel you out of your comfort zones. Advocacy filmmaking for me fails if it preaches to the choir. We aren't doing any favor by creating messages only we want to hear, or by alienating anyone who does not agree with us.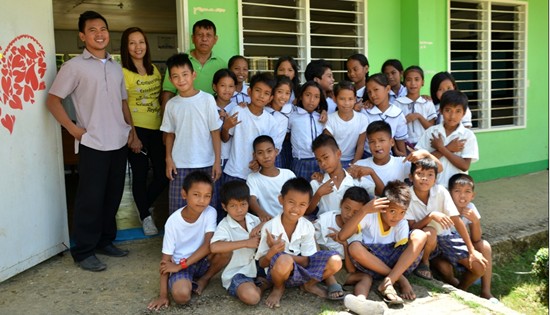 Former Presedent Diosdado Macapagal Agrarian Scholarship Program scholar, Samuel Guadalquiver Jr. (extreme left), pose with the writer, Clariza Estremera (second from left); Municipal Agrarian Reform Program Officer Romeo Castil (third from left); and his advisory class. (Jose Alsmith L. Soria)
Destiny: The Samuel Guadalquiver's story
By CLARIZA C. ESTREMERA
May 10, 2016
TACLOBAN CITY – "There were times when my parents would tell me, I might not be able to continue my studies next school year because the harvest is low or the price of copra had gone down. Every time I hear this, the uncertainty of getting a college degree dreads me. Thus, I applied for a scholarship to finance my college education."
These were the recollections of Samuel Guadalquiver when we visited him before the school year closed in Quezon Elementary School, where he is teaching for seven years now.
Samuel, or Boboy, to his family and friends was one of the President Diosdado Macapagal Agrarian Scholarship Program (PDMASP) recipients in Northern Samar.
His parents, Samuel Sr. and Amelita, are both agrarian reform beneficiaries (ARBs) so that he qualified for the said scholarship program.
PDMASP is a four-year college scholarship offered by DAR to deserving dependents of ARBs under the Program Beneficiaries Development component of the Comprehensive Agrarian Reform Program (CARP).
"It was only by accident that I discovered the PDMASP," Boboy said.
According to him, when he was in his first year in college at the University of Eastern Philippines, he applied for the Catarman Educational Scholarship Program offered by the local government unit so he could continue with his studies. But he was denied of the said opportunity. Or was it a blessing in disguise?
When he returned back to their school, Boboy read an announcement at the bulletin board about a scholarship program being offered by DAR.
He grabbed the opportunity and got the slot. Later, he learned that DAR just re-opened its search to fill-in a vacated slot. Boboy must have been destined to become a PDMASP scholar to reach his dreams. In 2008, he graduated with a degree of Bachelor in Elementary Education Major in Social Science.
The third in a brood of nine (two are now deceased), Boboy is the first to earn a college degree (the second is sister, Gloria, who was also a PDMASP scholar) in their family, and one of the handful of professionals in their village, which is situated in the mountains of Catarman, 27 kilometers away from the town proper.
He was the only one of the less than 20 pupils enrolled in grade 1 in 1994 who finished college. "He was so determined," his parents said proudly of him.
When I asked why his other classmates failed to continue their studies, Boboy said, it could probably be due to lack of motivation. He disclosed that their teachers rarely report to school then because of the distance. That is why his parents transferred him to the town proper when he was in grade four.
Barangay Quezon is one of Catarman's remotest villages. There was no road at that time. People had to walk 10 kilometers to and from Barangay Polangi by just passing through a trail. Now, this barangay could already be reached by motorcycles for P70. Very soon, when concreting of the road is completed, travel will be much easier and perhaps cheaper.
Boboy, who used to help his parents in the farm, said determination to escape from poverty pushed him to strive and find ways to reach his dream.
After graduation he took the licensure examination for teachers and passed it.
But why did he return to Barangay Quezon to teach, when there were better opportunities at the town proper or elsewhere?
Boboy humbly said he wanted to serve his fellow residents in their community. But to us he inspires the young and motivates them to take education seriously to have a better future.
According to Boboy, had he not taken his studies seriously and without the PDMASP, surely he would have also remained a farmer until today, carrying heavy loads of copra and other farm products.
As a teacher, his supervisor Annie Dulay said, he is a good one, while his pupils described him as strict when it comes to their lessons.
He taught his students to be industrious. The once idle surrounding in their school is now planted to pili nuts and bananas.
Presently, Boboy is planning to take up masters degree this coming school year.
Looking at him in his uniform and listening to his story, makes me proud to be part of DAR which was instrumental in helping this son of ARBs free himself from the bondage of the soil and find his destiny.