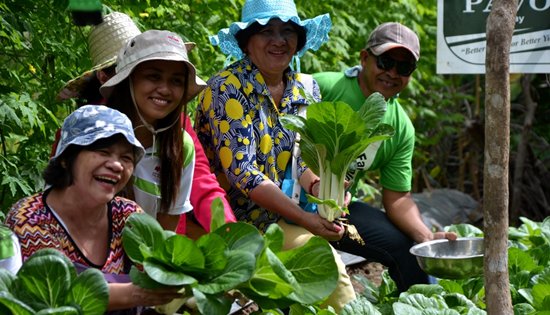 Officials from DAR and East-West Seed Philippines harvest organically grown pechay at the farm of Jose Dautil (right) in Barangay Hinabay, Inopacan, Leyte. (Jose Alsmith L. Soria)
Hello veggies, goodbye abaca!
By JOSE ALSMITH L. SORIA
April 19, 2016
TACLOBAN CITY – When we reached Barangay Hinabay, we were led to a vegetable farm of Jose Dautil, 54, that was ready for harvest. We picked some kilos of sweet pepper, and pechay, and paid him the corresponding price. Then we moved to Barangay Cabulisan to see more vegetables in other farms. These adjacent villages nestled on top of a mountain in Inopacan, Leyte are now known for organic vegetables.
Farmers here are now seriously pursuing high value organic vegetable production after the Department of Agrarian Reform (DAR) subjected last year the members of two agrarian reform beneficiary organizations (ARBOs) to a five-month training on high value crops production using the natural farming system.
Being covered by the second phase of the Agrarian Reform Communities Project (ARCP-II), DAR tapped the East-West Seed Philippines for the conduct of the said training under the Agricultural Enterprise Development to the Hinabay Upland Farmers Association (HUFA) and the Cabulisan Multi-Purpose Upland Farmers Association (CAMUFA).
When asked what they like about organic vegetable production, Marissa Bisnar, 38, an agrarian reform beneficiary (ARB) said the products are sold at a higher price than those grown the traditional way. Even if they are a little bit expensive, more consumers prefer to buy organic vegetables, she added.
From her last harvest, Marissa shared that she earned P8,350 from her four plots of sweet pepper, four plots of tomato and ampalaya, which became additional income for her family.
Cristita Abenoja, a merchant from Barangay Cabulisan who buys the farmers' harvests and sell them at the town's market disclosed that her products are easily sold out because consumers opt for organic vegetables.
Organic farming now becomes the trade mark of these two barangays. When buyers learn that the vegetables come from the said barangays, they already know that it's organic, Abenoja said. Further, "my customers increased," she added, because the information had spread to nearby towns like Hindang, Bato and Baybay City.
For that, these farmers living on top of the mountain, 18 kilometers away from the town proper are thankful they were taught organic farming.
Abaca used to be the major crop of the farmers here. But because of the bunchy top disease, farmers ceased planting abaca, and shifted to vegetable production in 2004. Last year, with the joint effort of DAR and East-West Seed Philippines, the natural farming system was introduced and changed the lifestyle of the farmers here.
With this method the farmers no longer sniff chemicals when spraying pesticides, according to CAMAFU president Edelito Merrano Sr., 51. Likewise, they can save more because they no longer buy fertilizers and pesticides, he added.
Instead, they use the vermicast their association is producing. Vermi-culture and vermi-composting have been introduced to them by DAR in 2015 as alternative sources of livelihood.
CAMUFA was among the 100 ARB organizations provided with a shredder and 30 kilos of African night crawlers last year.
At the moment CAMUFA is also selling vermicast at P350 per sack of 50 kilos. While African night crawlers are being sold by the association at P500 per kilo.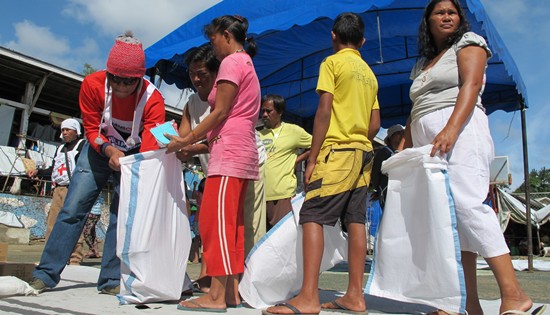 About 450 displaced families in Surigao del Sur each received food supplies good for one month - consisting of 50 kilograms of rice, 2 litres of oil, 2 litres of soy sauce, 1 kilogram of salt, and 2 kilograms of sugar - as well as a hygiene kit containing bath soap, shampoo, detergent, feminine hygiene products, toothbrushes and toothpaste for a family of six. (ICRC/L.Lagasca)
Continued support for people displaced by armed violence in Surigao del Sur
By ICRC
February 22, 2016
MANILA – Around 2,400 people displaced in Surigao del Sur received one-month food supplies and hygiene items to help them cope with their displacement since September 2015.
The International Committee of the Red Cross (ICRC), with its primary partner the Philippine Red Cross (PRC), distributed the relief items on February 18 to complement the aid already given by the authorities.
"Prolonged displacement is a challenge for both the affected families and the authorities. The displaced depend on aid as they still fear going back home," said Pascal Porchet, head of the ICRC delegation to the Philippines. "We are here to fill in gaps and ensure that the families get adequate support while they remain displaced."
The majority of the displaced have been living in the provincial sports complex in Tandag City for over five months now, after three civilians were killed in their community.
"We have been here since September 1, 2015, and we still fear for our safety," said Leonila Enriquez of Brgy. Diatagon, Lianga municipality. "We are very grateful to the ICRC for helping us since the early part of the displacement until today," said the mother of eight children.
While the general health situation in the sports complex is managed well by the Provincial Health Office, cases of stomach problems and diarrhea were reported. A probable cause is poor hygiene and sanitation in the evacuation center.
Between September 2015 and January 2016, the ICRC and the PRC already helped 3,500 displaced persons in Surigao del Sur with food, household and medical items, potable water supply, and construction of toilets in the evacuation center.
The ICRC is a neutral, impartial and independent humanitarian organization whose mandate is to protect and assist people affected by armed conflict and other situations of violence. It has had an established presence in the Philippines for over 60 years and a permanent presence in Mindanao since 1986.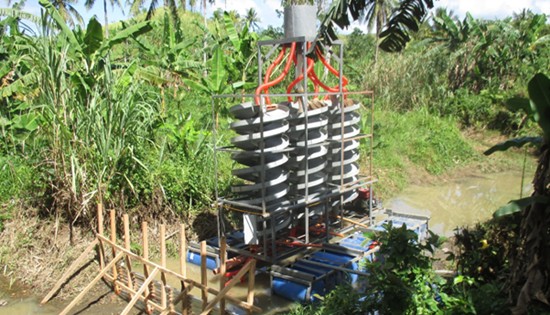 The spiral machine used for panning in the gold exploration.
Gandara officials deny pay-off over the Cobarrubias' "gold and silver exploratory work"
By GINA DEAN
February 18, 2016
CALBAYOG CITY – The Sangguniang Bayan of Gandara finally revoked and nullified the resolution granting Mrs. Cherry dela Cruz Cobarrubias to rehabilitate Gandara River by means of dredging. Said resolution was approved in 2014 under the administration of Mayor Eufemio Oliva and Vice Mayor Jonathan Isanan.
However, the municipal government discovered that the dredging operations funded by the Cobarrubias, has turned out to be an exploration work of gold and silver mineral deposits at Brgy. Gerali. Local officials were lambasted by concerned citizens over the social media and accused of receiving pay-off from said permittee (or holder of exploration permit).
In a public hearing held last February 10 at Gandara Cultural Center, Mayor Oliva denied the bribery issue imputed against them by the people. He clarified that the resolution was approved by the sanggunian in good faith without receiving any favour from Don Angelo C. Cobarrubias or his mother Cherry. The approval of the application for exploration is not under the municipal government but under the DENR-Mines and Geosciences Bureau Regional Office 8 after the applicant has completed all the necessary documents required by concerned government agency.
MGB-8 OIC Regional Director Nonita Caguida explained that Don Angelo C. Cobarrubias' application for Mineral Production Sharing Agreement (MPSA) was filed on April 2005 covering 808 hectares of land located at Gandara and San Jorge, Samar. In the process of application, a Notice of Posting was sent by MGB-8 to the provincial government of Samar which was automatically downloaded to the concerned municipalities for 30 days posting in conspicuous places.
The purpose of posting was to inform the public and concerned stakeholders for possible protests. Receiving no complaint within the reglementary period prescribed by law, the application of Cobarrubias proceeded smoothly with a Certificate of Posting allegedly issued by each municipality.
But while in the process of acquiring MPSA, Executive Order No. 79 or "Institutionalizing and Implementing Reforms in the Philippine Mining Sector Providing Policies and Guidelines to Ensure Environmental Protection and Responsible in the Utilization of Mineral Resources" was issued in June 2012. Pending the issuance of MPSA, the proponent amended their application into exploration and submitted it to MGB-8 for final validation and clearance.
Caguida clarified that all the application documents of Cobarrubias were scrutinized; and in fact the 808 hectares was reduced into 501 after the Department of Environment and Natural Resources Office conducted study in the covered areas.
For those who are under the "No Gold Zone" areas (tourist and agricultural areas), it could not be covered by the exploration work. Upon validation of application documents, the exploration permit covering 501 hectares situated in Gandara and San Jorge, Samar, was released by DENR's Mines and Geosciences Bureau Regional Office 8 on January 20, 2015 to Don Angelo C. Cobarrubias of 2711 B-Wack-Wack, Twin Towers, Wack-wack, Mandaluyong City.
Under the Mining Act of 1995, the exploration allowed the permittee to conduct exploration work within a period of two years from its approval, and subject for renewal on the same period up to 8 years for metallic and 6 years for non-metallic. Based on research, gold is considered metallic mineral while silver is a combination of different small elements which are found in gold, lead, zinc and copper ores.
People Cry, No to Mining!
Out of 69 barangays of Gandara, 41 have attended the public hearing with 924 registered participants coming from the different organizations like the church, business sector, senior citizens, youth, academe, government retirees, concerned citizens, local PNP and municipal and barangay officials. Citizens of said municipality were shouting as a sign of protest to the exploration work being conducted by the Cobarrubias at Brgy. Gerali since 2015.
The church under the Diocese of Calbayog cited the 50 year moratorium of mining operation issued by the government after the Bagacay Mines experience. Brgy. Gerali according to the Municipal Agrarian Reform Officer, Aida Gamba is an agrarian reform community along with other nearby villages.
In the absence of a map, Samar PENRO Elpidio Simon believed that the 501 hectares which was claimed by Cherry dela Cruz Cobarrubiasas a mining zone area is under Samar Island Natural Park. He added that the DENR have implemented the National Greening Program (NGP) and Community-Based Forest Management Program (CBMP) at Brgy. Gerali and nearby villages.
Who is Cherry dela Cruz Cobarrubias?
She claimed herself as a true-blooded Gandareño who hailed from Brgy. Gerali. Established connections in the circle and sponsored the rehabilitation of Gandara River. Received an award from the municipal government as the "Most Outstanding Gandareño in 2014". In a conversation with a reliable source, he disclosed that Cherry dela Cruz Cobarrubias' mother was from Matuguinao and her father was from Catbalogan, Samar. Contrary to her claim that her family originated from Brgy. Gerali where exploratory work is being conducted, the source revealed that Cherry's father used to teach at said barangay.
She had a colourful life in the film industry as she produced "Bulaklak ng City Jail" and many more. In the field of politics, she is still the president of Marcos Loyalists Movement.
According to the source, Gerali mineral deposits was then a long time project of Cobarrubias. She was able to persuade millions of investment from an Australian couple but their partnership was terminated when the couple has detected suspicion from said operation. It was also learned that Samar's former Vice Governor Jesus Redaja made an investment in a mining operation at Bagacay Mines, but the deal was cut short leaving the latter's equipment abandoned at the mining site.
To get Cherry Cobarrubias' comments, the writer requested her geologist for an interview but no feedback was received.
The National Law vs. People Power
Despite the strong disapproval of the people of Gandara, Cherry Cobarrubias is confident that the exploratory work will pursue.
MGB-8 OIC Regional Director NonitaCaguidasaid that the documents for the acquisition of exploratory permit have undergone a long scrutiny, and local ordinances or resolutions with the intention of revoking such permit cannot be allowed for it cannot supersede the national law as provided in RA 7942 or the Philippine Mining Act of 1995. Caguida was one of the witnesses in the Exploration Permit issued by MGB-8 to the Cobarrubias in January 20, 2015.
On the other hand, an insider of the Environment of Natural Resources Office advised that a written petition of the people may work by directly submitting the same to the central office. The absence of a public consultation prior to the exploration work could be one of the basis of the petition, he said.
New Greenpeace report estimates coal plant emissions could kill 2,400 Filipinos per year
By GREENPEACE
February 3, 2016
MANILA – While coal is king in the Philippines, a new Greenpeace Southeast Asia report has revealed for the first time the current health impacts of existing coal-fired power plants, as well as projected health impacts of operating and planned power plants in the Philippines.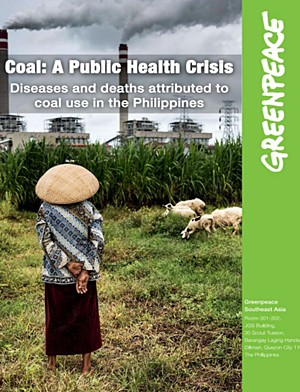 The report, Coal: A Public Health Crisis. Diseases and deaths attributed to coal use in the Philippines showed an estimated 960 premature deaths each year due to stroke, ischemic heart disease, other cardiovascular diseases, and respiratory diseases. If the new power plants are to be developed, premature deaths may rise up to 2,410 – more than double the current number of people dying from coal-related pollution in the Philippines.
"Results of the research show that coal-fired power plants expose everyone in the Philippines to toxic pollution, resulting in hundreds of premature deaths every year," said Lauri Myllyvirta, Senior Global Coal Campaigner at Greenpeace International and also one of the authors of the research. "Leading economies from the United States to China and Europe are already relaying on modern, renewable energy sources for their additional power needs, showing that this is a real option for Philippines as well."
More than one-third of the energy used to generate electricity in the Philippines comes from burning coal. Currently, the country has 17 operational coal plants, with 29 more approved by the Department of Energy (DOE), set to begin commercial operations by 2020.
The report is based on research carried out at Harvard University on the impacts of emissions coming from coal-fired power plants on the air quality of selected countries in Asia. For the Philippine version, Greenpeace collaborated with HealthJustice to write the report, with support from Health Care Without Harm – Asia and the Philippine Movement for Climate Justice.
Coal use harms the environment and public health at every stage of its life cycle. Coal-fired power plants emit sulfur dioxide (SO2), nitrogen oxide (NO2) and other gaseous pollutants in the air that can react chemically to form particulate matter that is 2.5 µm in diameter.
Aside from generating particulate matter, coal combustion also affects health indirectly by contributing to greenhouse gas emissions. Climate change can bring extreme heat, lead to natural disasters, and eventually increase diseases transmitted through insects such as malaria and dengue.
The study evaluated 13 operational coal-fired power plants in the Philippines with a combined installed capacity of 3,799.10 megawatts (MW), as well as the potential impacts of plans to build 29 new coal-fired power plants with a total capacity of 11,700MW, which could dramatically increase levels of sulfur dioxide (SO2), nitrogen oxide (NOx) and PM2.5 emissions.
"This pioneering study is an important addition to the growing body of health and scientific research on the adverse impacts of coal-fired power plants, not only to the environment, but to human health as well," said Reuben Andrew Muni, Climate and Energy Campaigner for Greenpeace Philippines. "We strongly recommend for the DOE, the DOH and other policy-makers to read it and take heed as it presents a strong case on why the Philippines should end its dependence on coal-generated electricity now, not only for economic, environmental and climate change reasons, but on public health grounds as well."
"This new study just confirms what we already know about the health effects of coal based on international evidence. For the longest time, we have been ignoring the environmental case for the phase out of coal. I hope that this time, the public health argument will convince us that coal is not the way to go towards a clean, sustainable and healthy energy future," said Dr. Renzo Guinto, Campaigner for the Healthy Energy Initiative, Health Care Without Harm-Asia.
"New coal plants are a lose-lose proposition for the public. Increasing dependence on coal will consign us to dirty air for 30 or more years, as coal gets more expensive and other countries abandon it as an energy source. There is a way out of this vicious cycle. We must embrace renewables through a strong, health-driven energy policy," said Atty. Ipat Luna, a Trustee of HealthJustice-Philippines.
"Coal burning is a proven nuisance to health and the climate. The more coal plants and mines are commissioned by the government, the more people and communities are placed in the direct path of perdition. Undoubtedly, it is a kiss of death to host communities and vulnerable nations like the Philippines. We thus demand for a moratorium on new coal plants, phase out of existing ones, and for a just transition to renewable energy options" said Atty. Aaron Pedrosa, SANLAKAS Secretary General and PMCJ Energy Working Group Head.
Considering the Philippines' rising population, poor health outcomes, and the scarcity of resources needed to adapt to the worst effects of climate change, Greenpeace recommends that the country should end its heavy dependence on coal as an energy source and accelerate initiatives involving renewable energy (RE) resources to meet its energy demands. RE is emerging as the energy of choice for an increasing number of communities and local government units (LGU). The report recommends that the government phases out of coal and fully embrace RE sources in the Philippines based on public health considerations.
Download the pdf version of Coal: A Public Health Crisis. Diseases and deaths attributed to coal use in the Philippines at http://www.greenpeace.org/seasia/ph/press/reports/Coal-A-Public-Health-Crisis/
"Sole for a Soul Project": PAREF Rosehill goes to the peripheries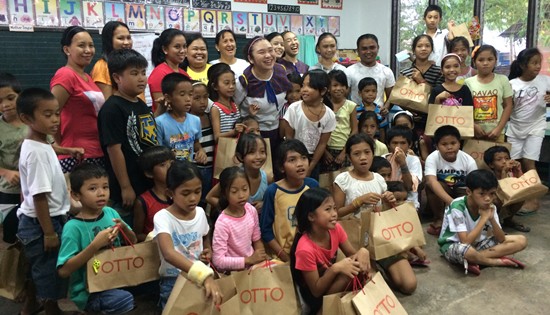 By GLECY GAMBOA, PAREF Rosehill School
January 20, 2016
ANTIPOLO CITY – "The project helped me learn to fully go out of my comfort zone and open my eyes to the needs of others, and knowing this has helped me further understand and give meaning to our school's mantra, "I lead. I serve."
Betina Sales, PAREF Rosehill Student Council President, together with officers, Mika and Gabrie Cordero and teachers, Ms. Calai Clarino and Ms. Carmel Mendoza, represented the Rosehill students who donated black school shoes to 196 students of Doña Brigida Elementary School in Tolosa, Leyte on December 14, 2015.
Betina, Mika and Gabrie were very happy and fulfilled when they saw the smiles on the faces of the students as they received their early Christmas gifts. As Mika said, "I felt really glad because we were able to share our blessings and time with the kids."
Each pair of shoes was personally labelled and inside each shoe box was a letter from a Rosehill student. One of them, Angela, wrote: "Hope you like the shoes! Study hard to reach your dreams and never give up. Stay strong with any problems you will encounter and take care. God bless you always. Never forget to smile, Larabel."
To heed Pope Francis' call to go to the peripheries, the PAREF Rosehill Student Council launched its outreach project, "Sole for a Soul" in August 2015. This is one of the school's on-going relief efforts for Tolosa, Leyte residents who were severely affected by Typhoon Yolanda last November 2013.
The Student Council believes that giving a pair of school shoes to the beneficiaries will help them feel better about going to school.
Rosehill is grateful to parents, students and teachers who supported this project and to the Tindog Tolosa Foundation for this opportunity to reach out to Doña Brigida students and teachers.
Students from Grade 6 to Fourth Year High School donated P500 and they were encouraged to raise the money on their own.
Niki, a Grade 7 student said, "I saved up from my allowance and I was happy that I got to help someone who deserves much more."
Bea, who is in Grade 6, earned her P500 donation by playing the violin in an event. "I felt great to be able to help in my own little way," she said.
Indeed, it was worthwhile saving up for that 'soleful' cause. As Betina said, "Seeing the smiles on their faces and even some tears of joy upon getting the shoes really made me realize that the best things in life are free. In the end, it was as if the 500 pesos we each raised had a new "value" and it was, ironically, priceless.
Improved living conditions for inmates affected by Leyte prison fire
By ICRC
December 2, 2015
MANILA – Access to clean water, sanitation and overall health and living conditions have improved for 1,800 inmates affected by the fire that struck Leyte Regional Prison two months ago.
On October 8, the prison's Maximum Security Compound was completely destroyed by a fire that also claimed the lives of 10 inmates and injured several others.
"Since it would take some time before a permanent structure could be rebuilt, we supported the prison authorities in taking temporary measures so the inmates may have slightly better conditions," said Woody Assaf, head of the International Committee of the Red Cross (ICRC) office in Tacloban.
On October 25, the ICRC installed two rub halls or relocatable tent-like structures as emergency shelters. The affected prisoners were initially moved to the Minimum Security Compound or slept outdoors after the blaze.
"We continue to improve the rub halls by working on its concrete flooring. Elderly prisoners and those with ailments were prioritized to occupy the rub halls, which also helped decongest the Minimum Security Compound, where about 750 affected prisoners remain. The authorities could partly restore the segregation between compounds, which helps in prison management," said Assaf.
Two 10,000-liter water tanks, distribution lines, and water points were installed by the ICRC to increase the availability of potable water in the prison, benefiting all inmates. Twenty-four new toilets are also being built for their use.
Relief assistance for the prisoners, in the form of dressing kits, medicines and medical items, 2,000 hygiene kits, and 409 sleeping mats and blankets, were provided by the ICRC about a month ago, on top of other emergency items it distributed with the Philippine Red Cross a day after the fire. Support was provided to ensure that access to basic health services was maintained.
Within its confidential dialogue with the Bureau of Corrections, the ICRC shared its findings, coordinated its response plan, and will further support the authorities in January to develop a plan of action to restore optimum conditions of detention.
As part of its long-term support to the detaining authorities, the ICRC will soon complete the construction of a new infirmary in Leyte Regional Prison to enhance access to, and improve the quality of, medical care for the inmates.
Leyte Regional Prison is one of the places of detention being visited in the country by the ICRC, a neutral, impartial, and independent humanitarian organization, to monitor the conditions of detention and the treatment of people deprived of freedom.