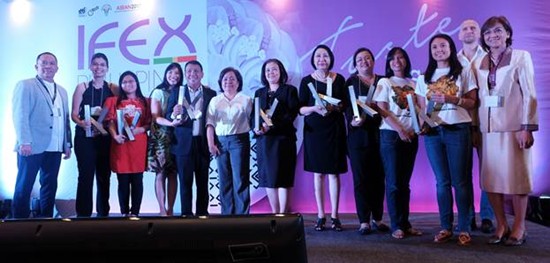 DTI-CITEM Executive Director Clayton Tugonon (leftmost) and DTI Undersecretary Nora K. Terrado (rightmost) introduces the winners of the 2017 Katha Awards for Food at IFEX Philippines.
Katha Awards for Food spotlights innovative, export competitive products at IFEX Philippines
By DTI-CITEM
May 20, 2017
PASAY CITY – The 11th edition of the International Food Exhibition (IFEX) Philippines, through the 2017 Katha Awards for Food, once again pays homage to newly developed Philippine food products and applications yesterday at the World Trade Center Metro Manila (WTCMM) and Philippine Trade Training Center (PTTC).
The awards aim to strengthen the reputation of the Philippines as a go-to destination for globally competitive Asian food and ingredients by recognizing companies that explore new galleries of flavors, original brand ideas, unique food fusions, and creative packaging methods.
The competition is open to all Philippine-based food manufacturers and suppliers participating in IFEX Philippines 2017. The winners are hailed from six different product categories: Food Ingredients, Marine and Meat Products, Snack Foods, Beverages, Processed Fruits and Vegetables, and Confectionery and Biscuits and Pastry. The company with the most creative booth exhibition is also recognized.
Katha Awards for Food was judged by SM Supermarket Senior Vice President for Marketing Millie Dizon, ZOMATO Philippines Country Manager Anton Ojeda, Philippines Airlines Manager for Food Planning and Standards Division Maria Criselda Abantao Rayos, and Food Packaging and Labeling Expert Abner Villahermosa. They chose the winners according to Market Demand, 25%; Packaging Design and Innovation, 35% and; Product Innovation, 40%.
Here are the category winners of the 2017 Katha Awards for Food:
Food Ingredients: FIERY LABUYO BARBEQUE MARINADE of Mama Sita's

Instilling innovation while keeping its century-old culinary tradition, Mama Sita's has newly concocted to perfection the Fiery Labuyo Barbeque Marinade for lovers of spicy food fusions.

Bold and fiery, the native labuyo chili pepper offers a truly unforgettable barbeque experience without the monosodium glutamate (MSG) and other preservatives.

Marine and Meat Products: FISH SAUSAGES of Fisherfarms, Inc.

Fisher Farms All Natural Fish Sausages are free from artificial ingredients and chemical preservatives. Made from 100% fish meat, they provide around 10% of the recommended daily allowance of protein, contain Omega-3, and have 0 trans fats.

Free from gluten, casein, nitrites, and MSG, Fisher Farms All Natural Fish Sausages are perfect for health-conscious gourmets and sausage aficionados.

Snack Foods: KALE CHIPS of Take Root Food Corner

Imagine a completely guilt-free, vegan chip that combines the taste of tangy sour cream with freshly cut chives!

Take Root Food Corner's Kale Chips is made with all-natural and organic ingredients. No oil, dairy, sugar or any preservatives. Made from nutritionally dense leafy greens available, these addicting kale chips are never baked or friend, but dried at low temperatures to preserve its essential nutrients and enzymes.

Beverages: TURMERIC TEA WITH CALAMANSI of Muy Bien

Turmeric Ginger Lemongrass is a sweetened tea drink made by the Negros Occidental-based Muy Bien Ventures Co. Inc. from the natural and organic extracts of turmeric, ginger, lemon grass and calamansi.

Turmeric comes from the root of Cucuma longa plant. Called in the Philippines as "Luyang Dilaw," turmeric has a tough brown skin and deep orange flesh. Curcumin, the main active ingredient in turmeric, has a powerful anti-inflammatory effect and a very strong antioxidant.

Processed Fruits and Vegetable: PUSO NG SAGING of KAPFER AND RIVERA UNITED INC.

Also known as "Ginataang Puso ng Saging," this ready-to-eat Philippine dish satisfies the cravings for a hearty and savory meal – perfectly served on a hot cup of rice or as an appetizer paired with toasted bread and melted cheese on top.

Puso ng Saging is high in fiber and rich in taste, while completely being pork and chicken free.

Confectionery, Biscuits and Pastry: 85% NATULE CHOCOLATE DARK of MALAGOS AGRI-VENTURES CORP.

Developed to cater the taste of the high-standard Japanese market, the 85% Natule Chocolate Dark is an all-organic treat lets you experience the true essence of cacao, enriched with the subtle sweet aroma of coconut nectar.

The product was made under Malagos Chocolate's single-origin chocolate production or what they call the "tree to bar" process, which involves the planting, harvesting, fermenting, solar drying, roasting, and processing of the cacao beans into fine-flavored chocolates.

Best Booth: Fisherfarms, Inc.

As a pioneer in aquaculture products processing, Fisherfarms, Inc. stages this year's IFEX Philippines with a bright and modern scenography, highlighting the interesting insights on the Philippines' seafood products, as well conducting on-site cooking and food sampling activities.

Fisher Farms, Inc, has one of the country's widest range of premium quality fresh, frozen, value-added, and completely processed seafood products to clientele and institutions such as supermarkets, groceries, fast food chains, restaurants, distributors, and hotels all over the world. The Philippine seafood innovator is currently present in key markets such as USA, Canada, Middle East, Asia, Africa, Australia, and Europe.
2017 labor day state of workers
Government, employers ignore workers' slide to poverty, inequality
By Associated Labor Unions (ALU)
May 1, 2017
DAVAO CITY – The country's biggest labor organization, the Associated Labor Unions (ALU) warned of uprising among the working poor as means to be freed from misery if government and employers continue to ignore worsening poverty and inter-generational inequality caused by joblessness, inadequate wages, insufficient social protection benefits and precarious short-term work arrangement.
"We have been witness to recent series of events where our poorest poor people were forced to raid rice warehouses, invade government housing units and claim ownership to lands that they felt was deprived from them. We do not condone nor tolerate these illegal actions but we attribute these series of lawlessness as symptoms of an irresponsive government and inhumane employers and capitalists," said Alan Tanjusay.
Diminishing value of wage vs. rising inflation
Despite of the country's consistent economic growth, the purchasing power of daily minimum wage fell significantly in the face of 3.4% inflation rate registered in March 2017.
In a monitoring made by ALU, the purchasing power, for example, of P491 daily minimum wage in the National Capital Region fell to P361 in February 2017. While the average purchasing power of daily minimum wages in regions outside NCR is P250 a day.
These rates are considered way below the 2015 standard poverty level of P393 required amount needed by a family of five for food and non-food needs to survive in a day.
"This condition needs immediate response from government and employers. Workers are now desperate and if this is met inaction many will resort desperate means to survive," Tanjusay said.
Tanjusay cited incidents in April last year where 300 farmers attempted to ransack a rice warehouse, the recent invasion of government housing units in Bulacan by hundreds informal settler families and last week's invasion of a portion of Hacienda Luisita in Tarlac by landless farmers.
Poverty
To back up his claims on growing poverty, Tanjusay cited the result of survey a few days ago by the Social Weather Station (SWS) estimating there are 11.5 million families or 69 million individuals who said they are impoverished compared to 10 million families or 60 million individuals in December 2016.
With a vast amount of wealth generated by a consistently growing economy, why does millions of families still feel deprived? Where does the money go?
Aside from 40 families of oligarchs still controlling the economy, Tanjusay specifically identified the drivers of poverty among workers and their families. These are growing unemployment, underemployment, and meager social amelioration benefits.
He said the drivers of poverty among working poor are the growing unemployment, widening underemployment driven by inadequate wages, precarious contractualization short-term contractual work arrangement, jobs-skills mismatch, inadequate social insurance, worsening traffic congestion and fire-prone workplaces.
Workforce
Government's Labor Force Survey released on March 14 this year, 39.4 million Filipinos are employed, out of which are 2.8 million without jobs while 6.4 million are underemployed of the total 69.4 million workforce as of January 2017.
"With only a few families controlling the economy, our government institution should function according to their mandates and enforce our laws and implement programs to make the money trickle down to benefit workers who helped built that wealth. But these are dysfunctional.
"Analyzing these numbers, the cause of concern out of this survey is not just on those jobless but we are monitoring the behavior of the underemployed as well or those who have jobs yet their income is inadequate to meet their needs," Tanjusay said.
Causes of unemployment and underemployment
He identified the causes of unemployment and underemployment as contractualization, jobs-skills mismatch, low minimum wage, rising prices of goods and cost of services, diminishing purchasing power of meager minimum wage and lack of jobs-creating investments due to expensive electricity, water and transportation cost, expensive but poor telecommunication and internet services.
Workers productivity at work and quality time at home are also hounded by tardiness, fatigue, stress, caused by worsening traffic congestion and poor mass transport system and inadequate and aging infrastructures such as airports, seaports, container ports, railways, roads and bridges.
The ALU also attributes unemployment and underemployment to high cost of doing business imposed by local government units, judicial proceedings, and government red tape, illegal smuggling, occupational safety and health, tedious labor cases, and meager social protection coverage including low pension benefit, rising crime incidents, and continuing peace and order problems.
Contractualization and wage
The issue of temporary contractualization work arrangement are among the top priorities when labor groups meets with Duterte in a Mayday dialogue with labor groups including ALU, Trade Union Congress of the Philippines (TUCP) and labor coalition Nagkaisa to be held 3p.m. today at People's Park in Davao City.
"These challenges are brimming burden for workers. But organized labor groups prioritized the order of battle by concentrating their energy on the issue of raising wages to cope rising cost of living and ensuring workers have security of tenure by banning contractualization and all fixed-term employment because they need to survive and cope with rising cost of living not just for today but the days after," Tanjusay said.
The unions fight to eradicate contractualization is even made difficult with many elected executive and legislative government officials through dummies are engaged in the business of manpower service providers in constantly providing workers to companies and locators in their areas of jurisdictions.
"This racket is working for both the politicians and business owners. This is profit and secured votes for politicians in exchange of no delays in permits to operate and for them turning blind eye on employers' non-compliance to local labor ordinances and standards including general labor standards and occupational safety and health standards," Tanjusay said.
Kentex and HTI fires
Seventy four workers perished in May 2015 Kentex factory fire while five workers were burned to death in HTI fire incident in February this year. These fatal incidents could have been prevented had there been routine local level inspections before the issuance of permits to operate.
May 1, 2017 dialogue agenda
Aside from the contractualization and wage issues, there are ten other issues that they expect action from Duterte in today's dialogue.
The ALU and Nagkaisa labor coalition have grounds to anticipate that Duterte would also certify House Bill 4444, an Act to Strengthen Security of Tenure sponsored by TUCP Party-list Rep. Raymond Mendoza as urgent administration measure. House Bill 4444 shall prohibit all forms of fixed term employment and criminalizes its violation.
Workers also requested the Duterte approval of International Labour Organization Convention 151 which empowers government workers to organize and create their own associations and unions; resolve once and for all the five-years-and-running dispute on outsourcing between Philippine Airlines and PAL Employees Association.
Labor groups also requested for the creation of a tripartite commission to review and revise guidelines on wage setting, ensure genuine labor representation to government tripartite bodies, establish a reform of power policy that will assure security of supply of electricity and its affordability to make our economy competitive.
They also seek Duterte approval of deputization of trade unions in the inspection of workplaces, regularize quarterly dialogue with labor groups, issue an order prohibiting the collection of recruitment and placement fees, and assign help desk where trade unions can report rogue cops who are using the crack down on illegal drugs as a camouflage in union-busting.
Emergency subsidy
The ALU proposed Duterte to provide through a P500 monthly subsidy for workers to cope with the rising cost of living. The proposal is called Emergency Labor Empowerment and Assistance Program of the Office of the President, Department of Labor and Employment (DOLE) and accredited trade unions.
Under the proposal, the Office of the President may initially appropriate and provide the subsidy amount with the DOLE as lead implementing agency with trade unions as conduit of the program in distributing cash vouchers after beneficiaries attended workers' orientation on fundamental workers' rights.
Forthcoming labor problems
Aside from ongoing challenges and problems facing workers, the ALU anticipate the influx of foreign workers to fill the shortage of skilled and professional workers due to the continuing flight of Filipino workers to work abroad in search of better wage and higher benefits and the possible uptick demand for more workers in the light of mega-infrastructure programs envisioned by Duterte administration's 'Dutertenomics" and 'build, build, build'.
Climate change
The ALU also identify climate change events as significant factor that impact workers. The devastation caused by El Niño and La Niña phenomenon not only threatens the life and limbs of working people but also displaces and breaks livelihood patterns.
"Extreme weather events are catastrophic to all Filipino. The sum effect is if workers are able to survive these events, they are unsure if they still have jobs and means of livelihood when their factories and offices are destroyed by natural forces," Tanjusay said.
He cited the post-Yolanda havoc and the recent decision of the government to shut down mining companies.
Decreasing union density
The narrative of workers struggle for decent work and shared prosperity in globalization age is made difficult by waning power if unionism.
The Bureau of Labor Relations of the DOLE estimated there are around 2.1 million workers registered as members of the union and only around 200,000 of which are covered by Collective Bargaining Agreements (CBA) as of December 2016, down from 4 million unionized workers and 400,000 covered by CBA in 2010.
Bright prospects
However, amid the brimming natural and man-made woes confronting workers, there are bright prospects that would somehow slow down the downward trend of unemployment and underemployment and mitigate its negative impacts to the labor force.
Tanjusay said the government's completion and operationalization of mass railway and utility bus system and the establishment of a national broadband nationwide spur direct employment in the construction and information, communication and technology sector.
Impending tax refund
The Bureau of Internal Revenue (BIR) owes each 600,000 minimum-waged workers nationwide with an estimated P9,000 "blood money" from the tax they collected for six months in 2008 amid a law exempting the workers from withholding tax.
In its decision released on February this year, the Supreme Court said minimum wage earners (MWEs) should not taxed because they are exempted from doing so by Republic Act 9502 – the law giving exemption to minimum waged workers from monthly salary tax deductions. The law became effective June 17, 2008. However, the BIR issued Revenue Regulation 10-2008 and only exempted MWEs six months later.
Tanjusay said they expect the Supreme Court finally decide on the manner of refund before the end of the year.
Compliance and enforcement
These challenges needs radical government interventions and serious reforms in the hearts and minds of employers and capitalists.
"The Associated Labor Unions is urging the government to consistently enforce labor standards and occupational safety and health standards. We call on employers and business-owners to faithfully comply to labor laws and policies," Tanjusay said.
If these remains unattended, poverty will continue to thrive and breed social problems. Ignoring inequalities will always evolve from one generation to another and create even more problems, he said.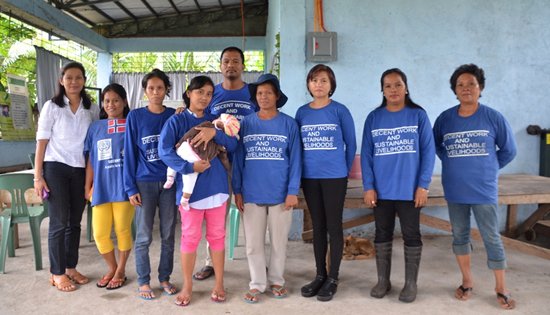 Some of the members of the Magbinuligon Bayanihan Association-Women in Development Association (MBA-WIDA) pose with Municipal Agrarian Reform Program Officer Maritess Nacilla (extreme left). (Jose Alsmith L. Soria)
It takes a woman to do a man's job: The MBA-WIDA story
By JOHN CHRISTOPHER COLASITO
March 23, 2017
TACLOBAN CITY – Former British Prime Minister Margaret Tatcher, once said, "...that whenever you want things said, give it to a man, and when you want things done, give it to a woman." The women of Magbinuligon Bayanihan Association – Women In Development Association (MBA-WIDA) formerly the Opong MPC are proof that women can indeed bring change and make things happen.
Formed from the defunct Opong MPC, the MBA was organized with the help of DAR in 2009. According to DAR Agrarian Reform Program Officer I (ARPO I) Ma. Milagrosa Noveda, she spearheaded the reorganization effort of what is now the MBA, and has 379 members, 197 of which are females and 182 are males. It is a federation or network organization, with WIDA as its affiliate member.
The organization has a one (1) hectare communal farm planted to high yielding vegetable varieties, in addition to a less than a hectare tilapia fish pond. It is also engaged in rice production.
But the women of MBA-WIDA, have walked the extra mile. They may look comely, shy and pretty; but mind you, some of them are certified welders with NC II certificates from TESDA. Some have also received training in carpentry and masonry, and gentlemen, take a bow, these ladies constructed their warehouse from scratch. ARPO I Noveda says that these women actually built their warehouse, and it was a sight to see them holding hammers, welding tools and do construction work. Welding, carpentry and masonry, are traditionally the preserve of men. It is not every day that we find women in a rural community break the gender barriers, and the women of MBA-WIDA, have shown they can indeed make a difference.
In a rural community, the traditional occupational roles are very much emphasized between sexes. However, things were to change when super typhoon Yolanda came. It brought change at a rapid pace.
Several international non-government organizations, private agencies and donors, and government agencies poured assistance to calamity-stricken areas, Tolosa, included. There was also a serious shortage of skilled labor particularly for carpenters, masons, plumbers, electricians and the like. Soon, government agencies and civic-minded organizations started training those interested in these skilled occupations that were in short supply. These trainings included both men and women, and the members of MBA-WIDA. Together, they were a force in the rehabilitation and development of their community. After Yolanda, it opened several opportunities for livelihood and entrepreneurship.
But they did not stop there. They were able to access ILO funding worth P2M, more or less, for the construction of their building with provisions for an office and storage area. It was here that the women showed their carpentry, masonry and welding skills, and did traditional chores that used to be the preserve of men, a few years back. Yes, there were males who helped them along the way, but this was something new and it signalled a new chapter in the life of empowerment of women in local life.
They were also a beneficiary under the Partnership Against Hunger and Poverty (PAHP), ARPO I Noveda said. They also availed of the on-site training provided by DAR and from partners. Today, they are engaged in addition to their vegetable production where they produce bell peppers, they are in vermi-cast production, an organic fertilizer derived from African Night Crawlers earthworms with technology provided by the DAR. They produce green charcoal briquettes. They have also engaged in the production of red rice organically, which is in high demand for the wellness and health conscious market, particularly the diabetics.
They have diversified their interests: meat processing, and catering business. In line with this, they underwent trainings in food preparation and food handling, table skirting. They have also produced nuggets from vegetables. Their latest venture is the production of organic dishwashing liquid, which they started marketing in their area.
The MBA-WIDA is an epitome of empowerment, breaking traditional stereotypes. They have also learned to think of their future, access and mobilize resources to effect their plans. They may have to deal with challenges along the way. But after the storm, they have charted their lives in their hands, and blazed new trails.
Davao-made Malagos Premium Chocolates launched in the US
By DTI- Industry Promotion Group
November 18, 2016
MAKATI CITY – The Department of Trade and Industry's Philippine Trade and Investment Center Los Angeles (PTIC-LA) confirmed that Malagos Premium Chocolates, a chocolate produced in the Philippines, will now be available in the United States. This was further to the announcement made by the Davao-based Malagos Agri-Ventures during their recent participation at the North West Chocolate Festival in Seattle, Washington on November 12 -13, 2016.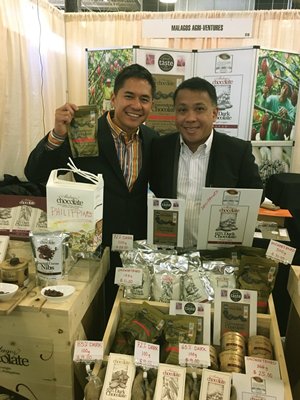 Philippine Trade and Investment Center - Los Angeles and San Francisco Trade Representative Jojie Dinsay (L) with Mr. Rex Puentispina (R) of Malagos Agri-Ventures at the NorthWest Chocolate Festival. (photo by PTIC-LA)
The Malagos line of chocolates has received acclaim from international fine food and chocolate award-giving bodies in Europe for its premium qualities. The products are single-origin, having been manufactured fully on-site on its farm in Davao, Philippines.
Mr. Jojie Dinsay, Trade Representative of the Philippines for the US West Coast and Head of the Philippine Trade and Investment Centers in Los Angeles and San Francisco said that this is another success story for the promotions efforts of premium food products in the US market as a result of the partnership between government and the private sector. "We are very happy and proud to have another premium product from the Philippines enter this market" Dinsay said. "The Philippine Trade and Investment Centers as part of our mandate will continue to support companies like Malagos in promoting their products all over the world".
Featuring 110 exhibitors, the Northwest Chocolate Festival is known to be among the top shows for artisan chocolates in the world today with around 12,000 visitors. Malagos Premium Chocolates, a multi-awarded Philippine chocolate from Davao, was introduced not only to choco-loving consumers but to traditional and artisan chocolatiers, chefs and baristas present at the show.
Malagos Agri-Ventures' participation at the NW Chocolate Festival was supported by the DTI's Export Marketing Bureau (DTI-EMB). Prior to this, assistance from the DTI regional office in Davao was also recognized by Malagos.
The Malagos brand is also expected to be introduced by Ampac International Inc., its importer in the United States, to UNI-MART Niles in Niles, Illinois and UNI-MART Hoffman in Hoffman Estates.
According to Mr. Rex Puentispina, Sales and Marketing Head of Malagos Agri-Venture, joining the Festival validates his belief that their chocolates can match the quality and taste of US and other international brands. "We have received a lot of good feedback from chocolate lovers visiting our booth" said Puentispina. "There were even some who say that this is one of the best they have ever tasted," added Puentispina.
In 2015 at the International Chocolate Awards, Malagos 65% Dark Chocolate was named one of world's best drinking chocolates. In the same year, it won at the Academy of Chocolate Awards when its 100% Unsweetened Chocolate won the Bronze Award for Best Unflavored Drinking Chocolate.
In 2016, its Premium 100% Unsweetened Chocolate won the Silver at the Drinking Chocolate competition of the Academy of Chocolate's Eighth Golden Bean Awards in London. It also won that year a blind-taste competition when its Unsweetened Chocolate earned two of the maximum three stars awarded by Great Taste, the world's most prestigious food accreditation body.
The company continues to invest in equipment and technology, producing its premium, single-origin chocolate products such as Malagos 100% Pure Unsweetened Chocolate, Malagos Roasted Cocoa Nibs, Malagos 65% Dark Chocolate, Malagos 72% Dark Chocolate, and Malagos 85% Dark Chocolate.
With its expansion in the United States, Malagos is expected to generate more jobs for Filipinos back in the Philippines..