Harl's: Beyond hurdles

An entrepreneur's bounce back story amidst the COVID-19 pandemic
By DTI-Regional Operations Group
July 14, 2020
MAKATI CITY – The coronavirus disease or COVID-19 has greatly affected many lives and the country's economy. As entrepreneurs struggle to adjust their business strategies, it has become a challenging situation for them, most especially the micro and small enterprises. Nonetheless, for Harley Dave Beltran, owner of Handcrafted by Harl's, every cloud has a silver lining.
Known as the only micro social enterprise in the country, Handcrafted by Harl's in San Pedro, Laguna started its business in 2014. This homegrown brand is known in their innovative and unique genuine leather products such as bags, coin purses, cellphone cases, gadget organizers, clocks, stools, bow ties, belts, sandals, slippers, key chains, tags, wallets, and other customized items.
With the aim to promote local artistry, Harl's produces crafts valuable to the community, coinciding with its social responsibility to provide employment to people with disability and underprivileged craftsmen. They train aspiring artisans to produce products that would qualify in the international market.
While some companies use machines in certain phases of the manufacturing process, Harl's takes pride with their products that are purely and skillfully handmade. What sets them apart from other leather brands is how they use waste materials and genuine "rugged" type full grain leather to create upcycled products. Their products have visible natural leather markings on them such as a few scratches, discoloration, or burn marks to give more character and uniqueness to the products. They do not use linings and make only one of each product, especially with their bags. Every batch produced has different sets of leather choices and, these same items are not produced again. All these are crafted proudly and dexterously by differently-abled workers who are either mute, deaf, or cripple.
For the past years, Harl's handcrafted items are staple products at the regional and national trade fairs and bazaars of the Department of Trade and Industry (DTI). In 2018 at the DTI's Sikat Pinoy National Trade Fair and National Arts and Crafts Fair, differently-abled workers from Harl's conducted a leathercrafts workshop where guests can create their own wallet, coin purse, and other leather goods.
But like any other businesses, Harl's was caught off guard when the pandemic happened.
"I had to unload the ship for it to sail further. To put it simply, I needed to let go one of my stores. I needed to prioritize what's best for the company and for my employees," said Harley.
"We were not prepared for the pandemic, but what can we do about it? Instead of constantly thinking of problems and feeling dejected, I use my time during this quarantine period to become more productive by thinking of new ways for my business to survive and to sustain the needs of my employees," added Harley.
With these in mind, Harl's started crafting face masks made from leather and ticog mat, and they call it maska. Ticog is harvested by an Abre Linea weaving community in San Miguel, Leyte.
According to Harley, maska doesn't just provide safety but also comfort and durability because of the materials used. One purchase of maska will not only feed one PWD family but will also support San Miguel's weaving community.
Moreover, through the donations of customers and friends, Harley conducted the "Harl's COVID-19 Response" by distributing relief packages to several underprivileged and PWD families in their area.
"Harl's bounce back story is very remarkable. We hope that his experience will help our MSMEs to be inspired to move forward and start the process of putting their businesses back on track. We, in the DTI, and with our programs and activities for our MSMEs want them to be ready to embrace the new normal," said DTI CALABARZON Director Marilou Q. Toledo.
DTI, through the Regional Operations Group headed by Undersecretary Blesila Lantayona, has been responsive to help MSMEs across the regions cope with the pandemic through provision of various programs that will gear them up as they face the new normal.
"Harl's is here not to have business; we're here to inspire and survive. We continue to serve our purpose by helping others," said Harley.
Harley believes that your action matters, so act now.
Quarantine curbs access to information
By KAROL ILAGAN
Philippine Center for Investigative Journalism
June 5, 2020
IS FREEDOM of information one of the casualties of Covid-19?
Since April, the staff of the Digital News Exchange (DNX), a community-based news site in Bacolod City, has had zero success in getting a response to its requests for information on Covid-19-related procurement and cash aid.
They're not the only ones. Journalists around the country say both national and local government agencies have either delayed or denied their information requests. Officials, they said, were particularly reluctant to release information that would hold them accountable for their spending.
So far, only one in 10 of the Covid-19 requests filed in the government's eFOI portal between March 13 and May 27, 2020 has been granted. Most of these requests were for information on Covid-19 spending and financial assistance, according to data from the Presidential Communications Operations Office (PCOO), the manager of the eFOI platform where information requests from national government agencies in the executive branch are filed.
The PCOO has so far received 1,332 requests from journalists and the public for Covid-19-related information. More than half of those requests are still being processed while about a third have been denied supposedly because they were lodged in the wrong agency, the requester did not provide his/her complete details, or the information is already available online. (See Charts 1 and 2.)
Most of the denials were requests for Covid-19 spending or Social Amelioration Program (SAP) data from the Departments of Social Welfare and Development, Labor and Employment, Interior and Local Government, and Budget and Management. The PCOO refused to entertain these requests; instead it advised requestors to ask their local government unit or call a DSWD hotline number. (See Table 1 below.)
Like many journalists around the country, DNX was particularly interested in how funds allocated for Covid-19 relief have been spent. It is working on a project called Money Watch to monitor how money from Bacolod City's P100-million calamity fund was allocated.
It's been eight weeks since the DNX staff sent the city government and its Department of Social Services and Development a request for data on pandemic-related spending. But up to now, they have not heard back.
City officials were not always so stingy with information. In mid-March, as the lockdown started, they responded promptly when DNX reporters asked about Covid-19 preparations. This positive response prompted DNX reporters to forego filing formal information requests for the time being. They also feared that formal requests would be processed only when the quarantine was already over. But in April, when DNX asked for spending details, city officials were no longer as open as before. "Finding sources is as difficult as catching a greased pig let loose," said Julius Mariveles, DNX's executive editor.
Like city officials, barangay officials, who are responsible for releasing cash subsidies, delivering relief goods, and keeping the peace in their communities, were also unwilling to give information. Mariveles says being "out on the field" has become a common excuse for these officials' inability to provide data.
DNX has so far released just one Money Watch story. It revealed discrepancies in the number of targeted and actual beneficiaries of the city's Covid-19 financial assistance, as well as the lack of reports from several barangays.
The national government has allocated at least P500 billion to address the impact of the pandemic that has killed nearly a thousand Filipinos and placed millions out of work because of the lockdown. This amount does not include emergency funds that local governments can tap in addition to any revenue and savings that they may also decide to use for Covid-19-related expenses.
DNX's small team of four reporters tried their best to report on how Bacolod apportioned public funds for coronavirus projects. But they were at their wit's end: With limited access to data and sources plus pandemic-related constraints on field reporting, there was only so much they could do.
In Metro Manila, Cebu, and other parts of the country, journalists who shared their experiences with PCIJ encountered varying levels of difficulty, depending on the type of information they were requesting. While information about the national government's plan and budget to fight the virus are readily available online, getting more detailed information on how the plans are being implemented and the money spent is another story.
Obtaining details about Covid-19 spending at the local level has been especially difficult. Unlike frontline agencies at the national level, local governments do not proactively publish data on their websites. Moreover, with press briefings now online, officials and their PR staff often screen questions from the media, making it harder for reporters to demand answers.
Since March, when government offices were wholly or partly closed, most routine requests for information have not been processed. The Philippines is among many governments in the world that had to suspend the processing of freedom-of-information or FOI requests because of the pandemic.
The PCOO has so far issued four advisories notifying offices in the executive branch of the suspension of FOI processing. The advisories apply only to agencies covered by Executive Order 2, s. 2016, which laid out the Duterte administration's FOI guidelines.
On June 1, PCOO lifted the suspension of FOI processing, except in areas under Enhanced Community Quarantine (ECQ). But it said agencies with sufficient capacity can go ahead and process FOI requests despite quarantine regulations.
The other branches of government – Congress, the judiciary and local governments – were not covered by the suspension, but their responses to information requests were understandably slowed down because offices have not been in full operation for at least 10 weeks. Although the ECQ in Metro Manila was lifted on June 1, government offices still follow alternative work arrangements, which means shortened hours or suspension of certain services.
These measures have exacerbated delays in the release of information crucial for holding government accountable. For example, for over a year now, PCIJ's longstanding request for the statements of assets of national government officials has been pending because the Office of the Ombudsman has yet to issue guidelines for releasing such documents.
To be sure, a number of national agencies, particularly those at the frontlines of Covid-19 response, have published records proactively, without the need for a formal information request. Some departments, despite operating on a skeleton staff, continue to accept and respond to requests by email.
But things were better last year. From October 2018 to September 2019, the PCOO received 18,036 eFOI requests or an average of 347 requests per week. Nearly half of these requests were granted. During the ongoing quarantine until May 27, an average of 318 requests were lodged in the eFOI portal every week but the success rate was just 17 percent.
According to Republic Act 6713 or the Code of Conduct and Ethical Standards for Public Officials and Employees, public-records requests must be addressed within 15 working days. Executive Order 2, s. 2016 gave executive agencies more time -- not longer than 20 business days -- to respond to such requests.
With the lockdown, however, government agencies could not meet these deadlines. PCOO Assistant Secretary Kristian R. Ablan says PCOO suspended the required processing time because of the "justifiable concerns" of FOI officers that they may be held liable if they fail to address requests within the prescribed period.
FOI officers working from home said they lacked internet connection, office equipment such as laptop computers and scanners and digital copies of files. They also found it difficult to coordinate remotely with record custodians.
The health and safety of the FOI officers were also factored in. "We didn't want to put their health at risk during ECQ," he says.
Jenina Joy Chavez, co-convener of the Right to Know, Right Now! Coalition (R2KRN), acknowledged these difficulties. Speaking at an online forum on May 27, she said suspending FOI operations may be necessary, but she also asked whether the government has done anything to help agencies respond to information requests even during a lockdown.
"Whether or not we're in quarantine, the importance of the right to information remains the same," said Chavez. During the quarantine, citizens yielded or entrusted power and resources to government, she said. Transparency measures are needed so the public is able to seek accountability and protection.
On March 29, R2KRN asked the inter-agency task force and departments implementing the government's Covid-19 action plan for a copy of the plans and structure of the task force as well as for specific sets of documents and data held by the departments of health, social welfare, agriculture, labor, and budget, and the Philippine Government Electronic Procurement System.
The status of this request is being published online and updated weekly by the coalition members, including PCIJ. Most of the information requested has been partially fulfilled, but most of the releases are in PDFs, not in open-data or spreadsheet format that make the numbers easier to analyze.
R2KRN publishes weekly reports on the quality of information being provided by frontline agencies. Its May 5 report said that the health department is perhaps the only government agency that collects, processes, posts, and updates information on a regular basis.
The coalition also raised questions about the completeness of the data. For instance, the daily Covid-19 case counts do not give a full picture of how the virus is spreading. Moreover, only 1,782 of more than 23,000 registered health facilities have submitted details on health capacity and needs. "With incomplete information, it is not clear how capable the health system really is to deal with the Covid-19 emergency," R2KRN said.
In its May 12 report, R2KRN noted the sparse data released by the DSWD's Disaster Response Operations Monitoring and Information Center (DROMIC), where updates on Covid-19 assistance are posted.
The DROMIC provides data broken down by province and city, but does not say how many families have received assistance. It also does not disaggregate new from cumulative data, which would have been helpful in determining the rate of response by government and private entities.
The attempt to publish the list of SAP beneficiaries was commendable, said R2KRN.
However, most of the links are down. The list is also partial and only includes areas that have reports from the DSWD's field offices. Information can be downloaded but only as PDFs.
Ryan Macasero, Rappler's Cebu Bureau reporter, says he has been able to obtain Covid-19-related information but the process has become more laborious. Getting answers from officials, who may only be reached through virtual press briefings or call and chat, has taken more time and effort.
"It makes their lives easier, but our jobs more difficult," he says.
What seems to work, Macasero says, is when many reporters ask the same question.
"We back each other up in the agencies'/office's official media group chats and say we have the same question to try to emphasize that it's important they answer us regarding these questions, because it's information the public needs to know." (With additional research by Arjay Guarino, PCIJ, June 2020)
Before Covid-19, Philippine jails already a death trap
Human rights advocates believe that numbers will still increase and the full force of Covid-19 is yet to be felt. They also call for transparency in releasing death and infection rates to help craft policies and mitigate the spread of false information.
By AIE BALAGTAS SEE, Philippine Center for Investigative Journalism
May 5, 2020
AN AVERAGE of 50 to 60 prisoners have died in the New Bilibid Prison (NBP) every month for the past six months but only one death in April has been attributed to Covid-19.
For the Bureau of Corrections (Bucor) the death toll in February, March, and April was still within the range of monthly deaths in the last quarter of 2019 to early 2020. The pandemic has ravaged the country since March, with local transmission of the coronavirus taking place as early as February. Humanitarian groups have since warned of its catastrophic effect on the country's prison system.
"It still falls under our average death rate for the past six months," Bucor spokesperson Gabriel Chaclag said in a phone interview.
The high death rate, Chaclag said, was proportional to Bilibid's huge population, currently at 28,000. The population could create from 11 to 14 barangays. Chaclag claimed that if they have lower population, then they will have fewer deaths.
Bilibid is one of Bucor's seven facilities for convicts. It had recorded one to three deaths daily from October 2019 to April 2020, noted Chaclag. Most came from the maximum-security compound, which was designed for 6,000 but currently holds 19,000 men. Chaclag said that the cause of these deaths varied, citing illnesses such as cancer and heart failure as major ones.
"Loneliness, nightmares, and accidents" were also seen as reasons for these deaths according to Chaclag.
Prisoners in extremely congested jail facilities live in deplorable conditions, lacking proper health care, hygiene, and nutrition. Human rights advocates have called for the early release of elderly and sickly detainees. They have also pushed for making available information on death and infection rates.
With Covid-19 breaching Bilibid walls, the deaths are sowing panic and paranoia among disgruntled detainees who, according to an insider, fear that the virus has already exploded within prison compounds.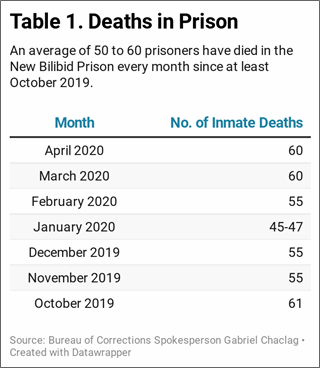 The lone Covid-related death from NBP was reported on April 23. There have been no confirmed Covid-19 cases in Bilibid since, but at least 44 inmates have been in quarantine, Chaclag confirmed. Four of them were tested for the virus, with results yet to be released.
Health undersecretary Maria Rosario Vergeire, in a phone interview, said that only one NBP inmate had tested positive for coronavirus as of May 4.
A prison insider said bodies were piling up in NBP's old isolation ward called Dorm 1D. In late April, at least "20 bodies emitting foul odor" were stacked there. On May 1, the insider added, three men died after the NBP hospital ran out of oxygen.
"The inmates plan to hold a noise barrage but Bucor guards threatened to shoot them," the insider said.
Chaclag denied this, saying those "who have agenda" should stop weaving stories that sow paranoia, which could lead to a riot in NBP. Bodies were not piling up, he said. There were days when the funeral parlor could not retrieve them because the cause of death was unknown. "We had to wait for the crematorium personnel to pick them up," he explained.
Guidelines issued by the Health department stated that deaths with unknown causes shall be treated as Covid cases and the corpse cremated within 12 hours.
Six to five NBP inmates who died in their dormitories were cremated last month. This is not a known practice in NBP. Bodies without cause of death were usually autopsied and kept by funeral parlors until someone claimed them.
Chaclag said that unclaimed bodies in the past were either buried in the NBP cemetery or were taken advantage of by funeral parlors who sold them to operators of "sakla," a form of illegal gambling carried out during wakes to help families raise funds for burial expenses. In the case of unclaimed inmates, the earnings simply went to the pockets of the syndicates.
Old conditions and new virus, a lethal mix
Inmate deaths is a decades-old problem at the New Bilibid Prison. The global pandemic merely reopened the old Pandora's box.
The national penitentiary was already in the spotlight last year because of the alarming number of deaths there. Henry Fabro, the Bilibid hospital chief, said one prisoner there dies each day.
Humanitarian groups have long blamed overpopulation, poor hygiene, lack of proper food, and limited access to health care for the lamentable condition. The calls to depopulate jails have only grown louder with the coronavirus now part of the equation.
Rights advocates have called for the release of vulnerable inmates, saying infections in detention areas might risk jail staff and visitors, and can potentially lead to the reinfection of the general public.
One of these advocates, Raymund Narag, an associate professor at Southern Illinois University and expert in Philippine jails, told PCIJ that there should be transparency in dealing with these problems.
"It is their moral and legal obligation to be transparent. It is the only way to mitigate the spread of false information. It is also helpful in crafting policies if information are timely and accurately provided," Narag said.
Death and infection rates in detention facilities have always been difficult to obtain. Like Narag, Human Rights Watch has called for transparency after learning that one detainee dies every week in Quezon City Jail since the coronavirus hit the facility last March.
Paul Borlongan, chief doctor of the Bureau of Jail Management and Penology (BJMP), which supervises city jails, also claims that BJMP's death statistics is still "acceptable."
In recent years, from 300 to 800 detainees have died in BJMP annually. "So far, I can say that our death statistics is still acceptable," Borlongan said, adding that, "we expect 20 to 40 per week and sometimes 60 to 80 per month."
Clash of statistics
Transparency is not the only problem. A clash of statistics among government agencies, and between the local and national governments, is adding to the confusion.
According to Usec. Vergeire, there were 249 Covid-positive inmates in jails and prisons as of May 3. Of these, 187 were in Cebu City Jail, 49 in the Correctional Institute for Women in Mandaluyong, 12 in Quezon City Jail, and one in Bilibid.
The facilities that appear to be the hardest hit are the most congested. Cebu City Jail is overpopulated by 1,000 percent and has the highest number of inmates at 6,237. Quezon City Jail is the third most crowded with 3,821 inmates as of March 2020.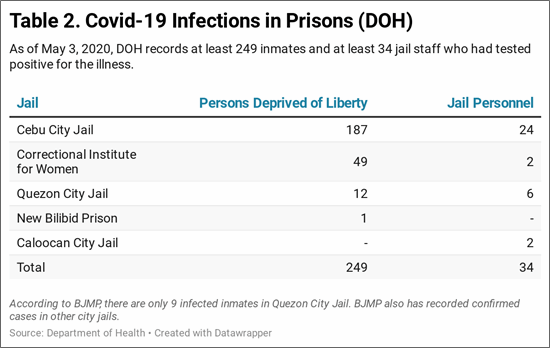 As far as BJMP is concerned, only nine inmates – not 12 – from Quezon City Jail are considered Covid-positive patients. Borlongan surmised that the three other inmates in DOH's list were those whose deaths were considered "possible Covid" cases because they had flu-like symptoms or pulmonary problems.
As of April 27, BJMP has recorded a total of 195 inmates and 34 jail staff who tested positive for Covid-19. Five jail personnel had recovered while none of the inmates have yet to be cleared of the illness. BJMP also documented cases in Mandaue City Jail, Marikina City Jail, Pasay City Jail, and Mandaluyong City Jail. These jails are not in the DOH list.
The City Reformatory Center in Zamboanga City was also reported to have Covid-positive cases. BJMP's Borlongan said he has not received the official report about these cases.
Infections were also reported in the Cebu Provincial Jail, which is managed by the local government.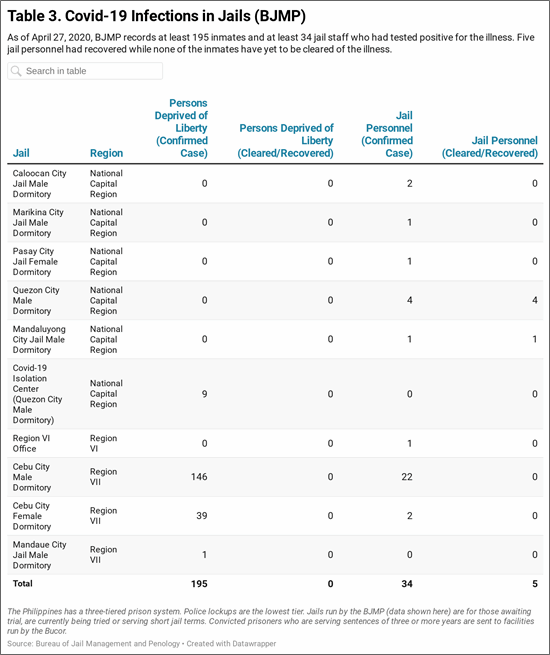 A Bucor official, who requested anonymity, also complained of slow and unreliable test results from the Health department. "We have to repeat the test each time they release results to us. It's a waste of resources. Once, our staff tested positive but when the Philippine Red Cross rechecked it, the results were negative."
The World Health Organization, International Committee of the Red Cross, and the Health department are working alongside Bucor and BJMP in setting up quarantine facilities for infected detainees.
DOH Undersecretary Vergeire said they also plan to "conduct targeted testing, provide treatment and management of cases, and ensure that infection control measures are in place to prevent the spread of Covid-19 in penal and correctional facilities."
Prisoner release and other urgent calls
From March 17 to April 29, almost 10,000 inmates have been released as bid to curb the spread of coronavirus in jails. The Supreme Court has also allowed the release of pre-trial detainees in jail for crimes punishable with six-month incarceration and below. A reduction of bail has been recommended for non-convicts facing charges punishable with jail time of six months to 20 years.
Petitions seeking temporary freedom for the sick and elderly are still pending approval.
Last March, Interior secretary Eduardo Año rejected calls to release vulnerable inmates, saying jails were the "safest" place for them. The growing number of Covid-19 cases now appear to disprove this claim.
"If many people – prisoners, guards, their families, the people i[n] neighborhoods around jails – die because of Covid-19, the massacre is squarely the responsibility of government," Human rights advocate and Ateneo de Manila University professor Antonio La Viña said.
Narag and La Viña believe the numbers will still increase and the full force of Covid-19 is yet to be felt. "I believe that there will be multiple bombs that will explode. Many PDLs [persons deprived of liberty] had been dying from many jails… only that it is not reported as such. But once the news report will catch up, I will not be shocked," Narag said.
Warnings about the coronavirus being a bomb that could explode in jails and prisons were made in early March. These fell on deaf ears until infections began to manifest, with jails and prisons fast becoming the next epicenters of the virus. "Our prisons will be ground zero unless we decongest now," said La Viña.
Narag and La Viña are urging the government to take swift actions, stressing that the disease's spread is a public issue and not only the problem of the corrections and prison system. "We are already faced by a problem that can kill us all," Narag said. –PCIJ, May 2020
Aie Balagtas See is a freelance journalist working on human rights issues. Follow her on Twitter (@AieBalagtasSee) or email her at aie.bsee@gmail.com for comments.
340 skilled, informal sector workers in Sogod get P4.3M livelihood aid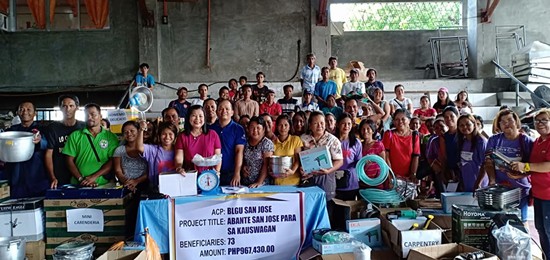 By Norma Rae Costimiano, DOLE-8
July 17, 2019
TACLOBAN CITY – The Department of Labor and Employment Regional Office VIII through its Southern Leyte Field Office has successfully awarded livelihood assistance to some three hundred forty skilled and informal sector workers from six barangays of Sogod last 27 June 2019 at Sogod Gymnasium, Sogod, Southern Leyte.
The amount of livelihood projects awarded during the turnover ceremony totaled to P4,357,135.00 charged under the DOLE Integrated Livelihood Program (DILP) funds of the regional office.
The approved livelihood projects under the said funding include the following: Rice Production Tractor with Machine Thresher and Blower amounting to P200,000; Abante San Jose Para sa Kauswagan amounting to P967,430; Micro Livelihood Project for Skilled Workers of Barangay Pandan amounting to 782,585; Dugang Negosyong Panginabuhian para sa Concepcion I amounting to P284,970; Starter Kits para sa Proyektong Panginabuhian sa Barangay San Roque amounting to 1,065,050; Sustainable Livelihood Development Project of Barangay Milagroso amounting to 447,905; and Micro Livelihood Project of Barangay Rizal amounting to P609,195.
Different tools, equipment and materials were released to the beneficiaries for the implementation of the micro livelihood and diversified projects which include Dressmaking, Vulcanizing, Welding, Mini Carenderia, Haircutting & Cosmetology, Barber Shop, Dried Fish Vending, Fruits & Vegetables Vending, Painting Services and Rice Production, among others.
Present to grace the significant occasion were Atty. Cecilio I. Baleña, DOLE RO VIII OIC-Assistant Regional Director, Ms. Marites Z. Viñas, DOLE-SLFO Head, Honorable Jose Ramil Golo, Vice-Mayor of Sogod and Ms. Velma O. Duguil, Sogod PESO Manager.
Also in attendance to witness the simple ceremony were the chairpersons of the recipient barangays, namely: Jeffrex R. Gan of Brgy. San Jose, Reynaldo A. Paloguer of Brgy. Pandan, Lyn T. Guias of Brgy. Concepcion I, Adelina P. Tadtad of Brgy. San Roque, Antonio S. Tagoon of Brgy. Milagroso and Corneila M. Telin of Brgy. Rizal.
Atty. Baleña in his message happily congratulated all the beneficiaries for their starter kits. He likewise thanked the local government unit of Sogod for being an active partner of DOLE RO VIII in delivering its employment and livelihood programs in the municipality.
"Allow me to congratulate all our beneficiaries for their new sources of income. I hope you will do your best to be successful in your respective businesses. And of course to our officials of LGU-Sogod, thank you for always being supportive to our programs especially our livelihood program", said Atty. Baleña.
Vice-Mayor Golo in response thanked DOLE RO VIII for all the help it extends to the municipality.
"We are so blessed to have DOLE as our strong partner in uplifting the lives of our constituents here in Sogod. These livelihood assistance that our workers received is a proof of how serious our government is in serving the people especially those in need", Hon. Golo said.
All the beneficiaries present were happy and elated after receiving the livelihood aid. The smiles on their faces were beaming, a sign of new hope and determination to live better lives.
The six recipient barangays were all first timers in availing livelihood assistance from DOLE RO VIII.