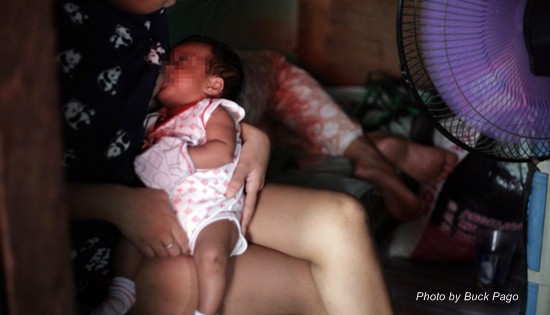 Hazel breastfeeds her child, two-month old Pia, not their real names, inside their house in Barangay Inarawan, Antipolo City. Hazel's mother, Maryjoy Mota, posted several comments on social media asking for help in buying formula milk for her infant grandchild after the enhanced community quarantine (ECQ) was enforced in March. The family's breadwinner, Ricky, lost his job as a construction worker when the ECQ began. Hazel and her boyfriend are teenage students with no jobs. With little money to buy formula milk for Pia, Maryjoy encouraged Hazel to breastfeed her infant daughter.
Milk and the pandemic: Milk Code confusion cripples LGUs response for infants
By ANGELICA CARBALLO PAGO
Philippine Center for Investigative Journalism
October 8, 2020
The indiscriminate distribution and use of breastmilk substitutes, especially during emergencies, can change feeding practices and put babies at greater risk of illness.
What you need to know about this story:
- Experts are calling for measures to ensure the health and safety of infant and young children, which can easily be undermined by the milk industry's aggressive marketing initiatives.
- The Milk Code does not ban formula milk procurement and distribution by local government units, provided they follow guidelines set by the Department of Health (DOH).
- Marketing and advertising of products within the scope of the Milk Code, however, are prohibited. Donations of formula milk and breastfeeding substitutes from manufacturers and distributors of these products are banned.
- Local government units are clueless to the finer details of breastfeeding and infant and young child nutrition laws, to the detriment of mothers, infants and young children in need especially during the current Covid-19 crisis.
- Milk companies use disasters and crises to market their products, and DOH data show a rise in Milk Code violations during the enhanced community quarantine period.
Here's one unintended consequence of the Covid-19 health emergency: Parents and guardians are desperately finding ways to feed their babies, with some even begging on the streets or on social media. With lockdowns making it harder to provide proper and adequate food for the family, their health and nutrition -- especially of babies -- are at risk.
Local governments attempted to solve the problem by distributing formula milk to mothers, only to find out that donations are not allowed by the Milk Code, a 1986 law regulating the marketing and distribution of breastmilk substitutes.
Worse, formula milk makers seem to be taking advantage of the situation to undermine strict government regulations, experts observed.
During the Enhanced Community Quarantine (ECQ) in March, Maryjoy Mota, a 37-year-old resident of Antipolo, posted on the Antipolo City Facebook group that her two-month-old granddaughter needed diapers and formula milk.
Maryjoy's daughter, 17-year-old Hazel, had just given birth to Pia (not their real names), two weeks before the ECQ was enforced throughout Luzon in mid-March. Maryjoy's post drew a hundred other comments from mothers and guardians in the same situation.
With Hazel giving birth to Pia two weeks ahead of her due date, the doctor immediately prescribed a formula milk brand, PreNan, developed for premature newborns. Weighing just 1.7 kilograms, the baby had to be placed in an incubator.
"We were not given any other options or brands, nor given any instructions or assistance to start breastfeeding," Maryjoy said.
Even when Hazel went for check-ups at the barangay and the district health centers before she gave birth, there were no instructions on breastfeeding, which could have helped them save some money instead of spending it on formula milk, she said.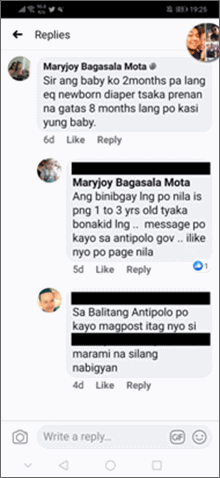 Maryjoy's comment on Antipolo City's Facebook page, asking for milk and diapers for her grandchild.
Sought for comment, an official of the Rizal Provincial Hospital System - Antipolo Annex 1, who asked not to be named, insisted that the hospital followed breastfeeding protocols. But Pia weighed below the 2.5-kilogram birth weight threshold and showed signs of sepsis, the official said.
The formula milk prescribed to Pia met the baby's caloric requirements, which might not be sustained by breastfeeding, the official said.
But with no income, it was impossible to buy the 400-gram can of milk, which costs P641. Maryjoy's common-law husband, Ricky, lost his construction job because of the pandemic, while Pia's parents were unemployed teenagers.
While some local leaders were aware of the plight of new mothers like Hazel, the Milk Code posed an obstacle. Sangguniang Kabataan Chairman Arky Manning of Barangay San Isidro in Taytay, Rizal learned this the hard way.
The Department of Health (DOH) gave Manning a memo for violating Executive Order (EO) 51, or the Milk Code of 1986, by "accepting and distributing milk formula donations" given to mothers with infants in Taytay in April and May 2020.
Manning explained that it was part of the "Tulong Kay Baby" (help for baby) project, a donation drive that he had organized with his friends. They bought milk and diapers using funds given by private individuals. No mass distribution or random donation of milk happened, he claimed.
Manning was one of the 291 violators flagged by the DOH from March 1 to July 24, largely covering the ECQ period in Luzon. Reports of violations came from the general public, submitted through http://mbfp.doh.gov.ph. MBFP, which stands for DOH's Mother and Baby-Friendly Philippines, is the reporting platform for violations of the Milk Code and the Expanded Breastfeeding Act of 2009 (Republic Act 10028).
The list of violators included health workers, non-profit organizations, and local executives such as Manning, and Mayors Andrea Henares of Antipolo City and Marcy Teodoro of Marikina City. Also on the list were celebrities such as Say Alonzo and Marian Rivera Dantes, who together with Nido, a brand that Dantes endorses, and the YesPinoy Foundation, were reported to have distributed follow-on formula. Dantes even posted it on Instagram to her 9.4 million followers.
EO 51 issued by former President Corazon C. Aquino, otherwise known as the Philippine Milk Code of 1986 or simply, the Milk Code, regulates the marketing of breastmilk substitutes, including milk formula, breastmilk supplements and other similar products by prohibiting the advertising and promotion, whether written, audio or visual, for such products. It adheres to the International Code on Marketing of Breastmilk Substitutes, adopted by the World Health Assembly in May 1981. Breastfeeding advocates have hailed the Milk Code as one of the strongest breastfeeding protection laws in the world.
The Milk Code's Revised Implementing Rules and Regulations (RIRR), released 30 years after the law was signed, prohibits the donation of infant formula and breastmilk. Administrative orders from the DOH and the Department of the Interior and Local Government (DILG) further disallow the donation of infant formula milk and breastmilk substitutes in times of disasters and calamities.
According to data from the Food and Nutrition Research Institute, exclusive breastfeeding rates have continuously gone up in the last 10 years, reaching 57.9 percent in 2019. The global exclusive breastfeeding rate stands at 41 percent. The United Nations targets to increase global breastfeeding rates to 50 percent by 2025.
Marketing is prohibited, the milk is not
Health Undersecretary Maria Rosario Vergeire said the law did not bar local government units (LGUs) from procuring formula milk.
"If local government units procure formula milk, the law does not cover it. EO 51 is a regulatory tool used by the Department of Health to regulate the advertisement of manufacturers that formula milk is more important than a mother's milk. That's our first objective -- we would like to know that breastmilk is still the best for babies," she said.
DOH Memorandum No. 2020-0231, dated May 15, 2020, laid down the guidelines on the standardized regulation of donations covered by the Milk Code. Formula milk and breastmilk substitutes can still be provided to those in need, with the following conditions:
1. The local government unit buys it using its own budget (procurement);
2. Breastmilk should still be the first choice and the procured formula milk is given to identified mothers/infants, not distributed en masse;
3. Distribution, preparation and use of breastmilk substitute and formula milk must be done under the supervision of health and nutrition workers;
4. There should be no brand name, logo or identifiable marks of the manufacturer; and
5. No public relations, announcement or the likes may occur.
Dr. Mianne Silvestre, executive director of Kalusugan ng Mag-Ina (mother's health) Foundation, echoed Vergeire's explanation.
"The Milk Code is there to regulate the marketing and advertising of formula milk and breastfeeding substitutes, and not to penalize parents who give these products to their children," Silvestre said. "Nobody goes to jail for feeding formula milk to their babies."
Sharing a similar view, Dr. Paul Zambrano, a technical specialist at Alive and Thrive, a private initiative to reduce child undernutrition by improving infant and young child feeding practices, said: "Marketing (of formula milk and breastmilk substitutes) will undermine the practice of breastfeeding and complementary feeding with healthy food after six months. It's meant to save lives. It is meant to prevent the top killers of children in that age group – diarrhea and pneumonia. "
The problem, Silvestre said, was that formula milk was being marketed as the first option instead of breastfeeding. This goes against the hierarchy of infant feeding choices laid out in the Global Strategy for Infant and Young Child Feeding published by the World Health Organization (WHO), which states that donated breast milk from a wet nurse or milk bank takes precedence over formula milk.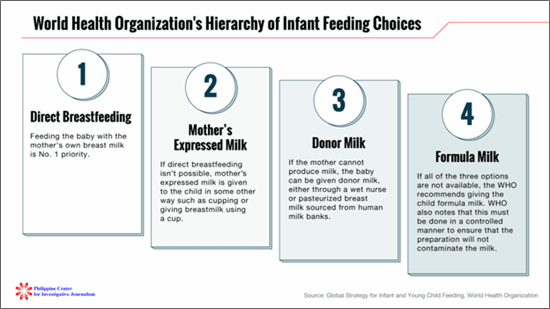 Even for Covid-19 positive mothers, the WHO still recommends continued breastfeeding and rooming of babies with their mothers. Transmission of Covid-19 through breastmilk or breastfeeding has not been established.
No guidance for LGUs
What can and cannot be done under the code does not seem to be clear to local governments, even to the DILG. In an interview with PCIJ, Interior Undersecretary Jonathan Malaya, affirmed that the ban extends to selective distribution of milk to identified mothers and babies and referred to the National Nutrition Council website for guiding policies.
Taytay's Manning said no guidance came from any government agency, particularly the DOH or DILG, on how they could respond to the needs of mothers and their babies.
During the quarantine, local officials, such as Quezon City Councilor Ariel Inton, repeatedly appealed to the DOH to lift the ban on milk donations.
In a Facebook livestream, Inton, a lawyer, gave practical advice to barangay officials planning to distribute formula milk to their constituents. "Tell them that you are handing it out as loans or ask for coins so they won't say it's a donation, so you can give the children something to eat," Inton said.
For Ynares, while the Milk Code has an important purpose, it can also be a "bane during crisis."
"It poses a huge challenge for families and the government to provide essential nutrition required for child growth and development particularly during extraordinary times," the Antipolo City mayor said.
A National Nutrition Council advisory said that LGUs should consider that some recipients of pandemic relief goods have young children and pregnant and lactating mothers. Families are supposed to be monitored by Barangay Nutrition Scholars and Barangay Health Workers, who will provide them with low-cost, one dish-meal recipes as well as recipes utilizing their relief goods.
But Maryjoy said there were no vegetables and nutritious food in their relief packs. The lack of proper nutrition may have affected her daughter Hazel's milk supply, she said.
"The first relief pack we received had three kilos of rice, two cans of sardines, and two Lucky Me noodles," she said.
There was one instance, Maryjoy said, when her family received a few kilos of rice and 16 pieces of dried fish (tuyo). To increase Hazel's milk, Maryjoy bought malunggay and cooked it with noodle soup.
While the DOH had specifically instructed that assistance should be provided to breastfeeding mothers, Maryjoy said no one from her barangay came to ask how her daughter and granddaughter were doing. "They only gave me a 150-gram pack of powdered Bear Brand milk, only for her to drink, but none for the baby," Maryjoy recalled.
The usual relief pack distributed by LGUs during the quarantine period contained a few kilos of rice, canned goods and instant noodles. The nutrition council however urged LGUs to include dark green and yellow vegetables; root crops; legumes, beans and seeds; fruits; poultry and eggs; meat or fish; and pasteurized fresh milk.
Only a few cities and municipalities were able to distribute fresh produce.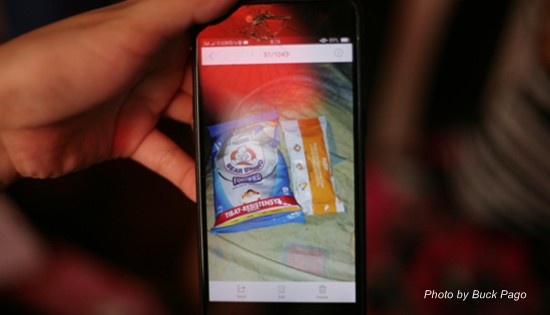 Maryjoy shows the 150-gram pack of powdered milk she received after lining up at the barangay hall. She believes the lack of nutritious food affected Hazel's (not her real name) milk supply.
"We are in a crisis situation, and even the government's hands are tied because of supply chain problems. The local government units have to procure thousands and thousands of produce to give to their constituents who need it not now, but yesterday. That is the limitation, and we understand when canned goods are distributed given the situation," said DILG's Malaya.
Malaya pointed out that on top of the relief packs given to households, a one-time cash assistance was given in the form of the Social Amelioration Program (SAP).
"The family can go to the market and buy what they think is nutritious food for lactating mothers. The government has already provided funds for them and they can make that choice if they wish to," Malaya said.
But for Maryjoy, the SAP she received had to be divided among three households.
"The P6,500 is to be divided among three families, with each receiving P2,000, but I get to have the extra P500 because it was I who lined up for that money," Maryjoy said. Most of what she got eventually went to repaying debt incurred when her husband lost his job.
Milking disasters
Breast or bottle? This question remains contentious. Since the Milk Code was enacted in 1986, the milk industry has taken advantage of every possible loophole to undermine the law. When the Milk Code took effect in 1987, international milk manufacturing company Wyeth invented the follow-on formula for babies six months old and beyond.
The Milk Code's implementing rules and regulations (IRR) were revised to include a ban on advertising follow-on formula in 1990. A revised IRR was drafted in 2006, adding further safeguards 30 years after the Milk Code was signed, but this was challenged all the way to the Supreme Court.
A report released in May 2020 by WHO, United Nations Children's Fund and the International Baby Food Action Network said that despite the pandemic, milk companies continued to skirt laws in many countries and continuously promoted their products.
"There is no guarantee that these donations will occur over the long term," said Dr. Nathalie Africa-Verceles, director of the University of the Philippines Center for Women's and Gender Studies. "The intention really is to introduce the product and to generate dependence with the belief and the hope that women will continue to patronize the products that they were provided for free initially."
Studies have shown that mothers exposed to breastmilk substitutes were highly likely to abandon breastfeeding, and the indiscriminate distribution and use of formula milk put infants at greater risk of illness, which might be fatal.
A study in Indonesia in the aftermath of the May 2006 earthquake in Yogyakarta and Central Java found that the distribution and use of breastmilk substitutes resulted in changes in feeding practices. Uncontrolled distribution of infant formula exacerbated the risk of diarrhea among infants and young children during the emergency, the study found.
"(The Milk Code) is very relevant because let's look at what the companies do during times of emergencies, they use it to try to market the product," said Zambrano.
DOH data confirmed these observations. The health department noted that a rise in reports of Milk Code violations from the public began to occur in the week when the strict lockdowns began, peaking during the week of April 6 to 12 with 90 cases.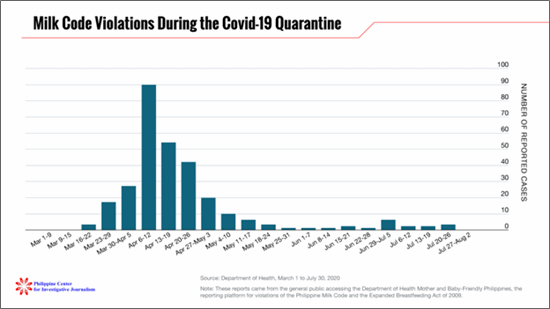 Apart from solicitations, there were product advertisements, such as Marian Rivera-Dantes' Instagram post. Corporate and private donations also happened online, mostly through Facebook posts, according to the DOH data.
Zambrano pointed out that the relevance of the Code had always been questioned during emergencies. He recalled a situation in Cagayan de Oro after typhoon Sendong in 2011 when distribution of formula milk became rampant.
Silvestre downplayed the matter and said only a few mothers were unable to breastfeed their babies due to medical or physical reasons.
"These few cases are being hyped up to rationalize the lifting of the prohibition during emergencies. When in fact, it is during emergencies when we should intensify the protection of mothers to enable them to breastfeed their babies," Silvestre said.
Formula milk manufacturers have been accused several times of unscrupulous means of advertising their products, targeting mostly low-income families or those who can least afford their product.
A 2018 report from Save the Children Philippines revealed that baby formula brands in the Philippines are using "aggressive, clandestine and often illegal methods" to get poor mothers to choose their product over breastfeeding.
Hospital staff also gave brand-specific recommendations to mothers who had just given birth, clearly a violation of the Milk Code. The report named Nestle, Abbott, Mead Johnson and Wyeth as the companies who are using these illegal tactics.
All four companies denied the allegations in separate statements sent to the Guardian in 2018.
Cheapest, but not the best
Hazel is helping her mother with their online selling business, earning a few extra pesos to help augment their family's income. She expects breastfeeding to be temporary and will likely go back to feeding Pia formula milk.
Maryjoy said they had begun feeding Nestogen One to Pia, the cheapest in the market at P78 per box. It wasn't prescribed by the doctor.
"But Pia doesn't want it, she won't swallow it," Maryjoy said.
As Hazel handles deliveries and client meet-ups for their online selling business, Maryjoy has no choice but to give Pia formula milk.
"I need to go back to school," Hazel said.
Asked where they will get the money to buy formula milk, Hazel shrugged. -- PCIJ, October 2020
Editor's Note: The real names of Hazel and her baby, Pia, were not used because they are minors.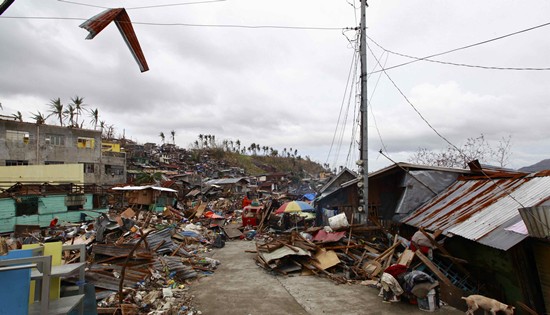 A piece of GI sheet is seen on top of an electrical post in Barangay Sagkahan, Tacloban City after Typhoon Yolanda made landfall and claimed more than 6,000 lives. (Photo by Bernard Testa)
Heavy cost of coronavirus response drains local governments' disaster budgets
By ESTRELLA TORRES
Philippine Center for Investigative Journalism
September 3, 2020
MANILA – The coastal towns of Dolores and Sulat in Eastern Samar constantly battle with the impact of extreme weather events such as storm surges, flash floods and typhoons.
Early this year, the leaders of the two towns were set to conduct training for emergency response teams, buy rescue equipment and early warning devices from their calamity funds, but the Covid-19 pandemic got in the way and wiped out their calamity funds to prevent the entry of the virus.
"The province was not ready to have a Covid-19 case," said Manuel Catuday, head of Municipal Disaster Risk Resilience Management Office (MDRRMO) of Dolores. "We don't have a government hospital, only a rural health center with one doctor."
A community hospital in Dolores has been dilapidated since last year, and has not been repaired, he said. The next government hospital is in Tacloban City, which is at least a four-hour drive.
Covid-19 came at a time when the localities have not even completely recovered from the onslaught of Typhoons Yolanda and Ruby, which struck a year apart.
While the government was still on post-Yolanda operations, Ruby came in November 2014 and caused severe damage to homes, crops and farmlands that were still being rehabilitated. There was not enough public attention in the aftermath of Ruby as Yolanda was still fresh in the minds of government officials as well as the general public.
"Lahat ng hanapbuhay namin nawala (All our sources of livelihood were destroyed)," said Rio Caspe, 42, a fisherman from Barangay San Francisco in Sulat whose house was destroyed by Typhoon Ruby.
His three children and wife had to rely on the meager earnings of their small sari-sari store as massive flooding made fishing difficult.
Caspe said his neighbors were also cash-strapped because their crops such as banana, rice and copra were destroyed by the typhoon.
"We only relied on relief goods while staying in an evacuation center," said Caspe.
Funds depleted
Dolores, a third-class municipality, earmarked P8 million in calamity funding for 2020 to prepare and protect its 42,000 people or 12,700 families from the impact of natural calamities.
However, the funds had to be realigned to buy personal protective equipment (PPE) for community volunteers as well as hygiene kits and food packs for residents during the lockdown, which was imposed to prevent the spread of Covid-19. The national government's Bayanihan fund gave Dolores a P14-million subsidy to respond to the Covid-19 pandemic.
"We are now sourcing from this (Bayanihan) fund for our response to Covid-19 pandemic," said Catuday.
The town also has to spend for at least 900 LSIs or locally stranded individuals who arrived in Dolores from March to June.
Dolores, Sulat, and seven other towns in Samar were placed under state of calamity in May when Typhoon Ambo, the first typhoon to visit the country this year, pummeled the province. As usual, the storm destroyed crops and damaged houses, displacing more than 140,000 people.
Most houses in these towns are made of light materials.
"Matagal bago kami makabangon, hirap kasi ang pagpapagawa (It takes a long time to recover because we don't have enough money to repair our houses)," said Catuday.
Charlie Rosaroso, head of the Sulat MDRRMO, said at least P1.5 million or 30 percent of the P5.1 million calamity fund for 2020 was spent to provide emergency assistance to families affected by Typhoon Ambo. The remaining funds were depleted by the Covid-19 response.
He said he was only able to spare P300,000 to continue the training for volunteers on emergency response.
Provinces and cities get 5 percent of the Internal Revenue Allotment (IRA), the local governments' share of national tax collections, for disaster risk resilience (DRR) under Republic Act 10121 or the Philippine Disaster Risk Reduction and Management Act of 2010.
Of the total calamity fund, 70 percent is allocated to prevention, mitigation and preparedness, and 30 percent is set aside as a Quick Response Fund (QRF).
"What is left of our calamity fund is now being used for our Covid-19 response," said Rosaroso. These include relief goods, PPE for volunteers, hygiene kits, food packs for residents, as well as LSIs and ROFs (returning overseas Filipinos) undergoing quarantine.
Sulat has hosted close to 200 LSIs since March.
A fourth-class municipality with a population of close to 16,000, Sulat does not have a hospital, but there is one doctor in each of the rural health centers in 18 barangays, said Rosaroso.
As of Aug. 10, there were eight confirmed cases of Covid-19 infection in Eastern Samar and most of them came from Metro Manila. Both Catuday and Rosaroso said there were no confirmed cases in their towns, as they work even on Sundays to ensure health and hygiene protocols are properly implemented.
Mario Candelaria, chairman of Barangay San Francisco in Sulat, said: "An infection here is a nightmare because we don't have a hospital."
"Noon 'pag galing Maynila sinasalubong ng mga taga dito, ngayon nilalayuan na (Before, those who arrived from Manila got a welcome, now people avoid them," said Candelaria.
He said the P110,000 calamity fund of San Francisco has also been used for food packs, hygiene kits, and for disinfecting public facilities.
Exposed and vulnerable
The Philippines ranked second in terms of exposure and vulnerability to climate-related risks in the Global Climate Change Risk Report for 2020 of Germanwatch, the environment think tank. Japan topped the list.
Red Constantino, executive director of the Institute for Climate and Sustainable Cities (ICSC), said the report showed that "Those who are least responsible for the problem, are the ones who are suffering the most. This is unacceptable."
"The pandemic has largely revealed systemic weaknesses that would have just taken more time to uncover otherwise," said Constantino.
The German report noted that strong tropical cyclones such as Bopha ("Pablo") 2012, Haiyan ("Yolanda") 2013 and Mangkhut ("Ompong") 2018 have been recorded in the last 10 years, affecting mostly the poor and vulnerable population.
At least 74 percent of the country's population is susceptible to multiple hazards, including coastal hazards such as typhoons, storm surges and rising sea levels, according to the 2018 World Risk Report. The report ranked the Philippines third among countries most vulnerable to disaster risks.
The catastrophic impact of Tropical Depression Ondoy in 2009 cost Marikina and Pasig cities P22.54 billion, of which Pasig accounted for 90 percent.
Rich city gets more money
This time around, Pasig City had to let go of critical spending for disaster risk resilience programs due to the pandemic response, said Bryant Wong, the city disaster risk reduction and management officer. These included reducing the number of fire engines and rescue vehicles to be purchased.
"We did not expect Covid-19 pandemic to affect us all, but we need to respond to it the best way we can," Wong said.
Unlike Sulat and Dolores, however, Pasig City Hall has deeper pockets and generous donors.
Of the P600-million calamity fund for 2020, the city government has spent half for the Covid-19 pandemic response, Wong said.
It also managed to utilize an additional P200 million from the P300 million DRR savings in the last five years.
Other funding sources for Pasig City's Covid-19 response included a P1.2-billion supplemental fund for the Social Amelioration Program (SAP) and another P1.2 billion for tablets to be used by students for online classes, from the Special Education Fund.
The city also received P136 million from the Bayanihan fund, equivalent to one month of its IRA.
Wong said private donations of beds, PPEs, hygiene kits and rapid testing kits worth P50 million boosted the city's pandemic response.
The private sector also donated 100,000 food packs to Pasig.
In the case of Sulat and Dolores towns, there are no big corporate donors, which meant that the money for food packs distributed to locked-down residents came from their calamity funds.
Funding sources
Undersecretary Ricardo Jalad of the Office of Civil Defense, also the executive director of the National Disaster Risk Reduction and Management Council Council (NDRRMC), told local government units (LGUs) in a webinar in July to learn "to adjust, transform and adapt strategies to manage response to Covid-19 pandemic and prepare for multiple hazards from natural calamities."
During the webinar, John Aries Macaspac, a director of the Department of Budget and Management (DBM), enumerated funding sources for the Covid-19 response, including the Special DRRM Trust Fund or the savings from DRR funds in the last five years, a month's worth of IRA from the national government and realigned funds from the General Fund. LGUs may also use 20 percent of their development funds for the purchase of PPEs, rapid test kits, vitamins, medicines, accommodation and expenses of health workers, construction of rental quarantine facilities, mobile testing labs, tents, shelters for the homeless, and training for pandemic response, under guidelines issued by the DBM and the Department of the Interior and Local Government (DILG).
The "Bayanihan to Heal as One" or Republic Act 11469 allocated P37 billion for the emergency Covid-19 response of LGUs. It allocated P12.4 billion to all cities; P18.39 billion to municipalities and P6.2 billion to provinces.
Constantino said responses to the Covid-19 pandemic and climate emergency should go hand in hand, as both require the expertise of scientists and policies and actions based on evidence.
Scientists, he noted, advised physical distancing to prevent the transmission Covid-19 while waiting for a vaccine to be developed. Scientists have also stressed the urgency of limiting the rise of global temperatures to below 1.5 degrees Celsius to avoid the worst impacts of the climate crisis.
"We do not have the luxury to choose whether we need protection from the deadly fevers induced by the novel coronavirus or from an increasingly feverish planet. Just as climate change is not an environmental problem but a development crisis, so is Covid-19 not merely a human health crisis but an ecological problem," said Constantino.
About the Author: Estrella Torres is a journalist who has worked for major English dailies in the Philippines for 20 years. She is now the Head of Media and Communications of Save the Children Philippines. Save the Children implements a program on improving the quality of disaster response and preparedness in the typhoon-stricken municipalities of Sulat and Dolores in Eastern Samar.
Todo-Todoc's increase amidst the crisis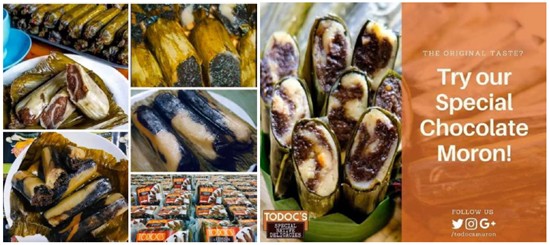 By DTI-Regional Operations Group
July 15, 2020
MAKATI CITY – 2020, is it the best year yet? Well, not for the younger generation. The recent restrictions on travel and other leisure activities affected the tourism industry everywhere. Far from happiness, most of Region 8's micro entrepreneurs who fall under the sector of tourism support were greatly affected. These are businesses who support the local tourism by offering a handful of sweet native delicacies.
Leah Hiangnan, a young traveler and entrepreneur/owner of Todoc's Special Native Delicacies, is already experiencing success from her thriving business selling chocolate moron (chocolate sticky rice pudding). It is a well-known native delicacy usually introduced and loved by visiting tourists, and pasalubong from every kababayan in Eastern Visayas. Her brand- Todoc's, is known to originate from Abuyog, Leyte, the true home of this delicacy.
Prior to the threat of the COVID-19 pandemic, her product was top-selling, she also has shipments to Manila, Cebu and Bohol.
For Leah, success is on her side, until recently she experienced unfortunate events in her life. Her father died this year, then comes the pandemic. Sadly, her orders for the Holy Week and Summer were cancelled due to low demand in tourism-support products and logistical concerns.
Everything seems to stop in her life. "Nahulop ko Maám, asa ko pamilngon an akon ibayad monthly sa akon loans para sa business operation," says Leah who emotionally shared her struggle on how she can pay her loans used to expand her business when their operations stopped. She also shared how her family is financially affected by the hiatus, especially that she gave birth to her first born. Good thing the financial institutions imposed moratorium for loan payments.
She was also concerned of the employees who depend their livelihood on hers. Twenty (20) of her employees instantaneously lost their jobs, and she could not support them either.
For some time, she paused and started to think of ways how she can advance forward. She was determined to move on and learn to navigate the unknown paths of the "new normal". With internet and a social media account, she started posting photos of her product online. It was a positive step, a few orders came.
Exactly May 1, 2020, she called out 7-10 employees and started the production of chocolate moron. They started to work twice a week. Though far from her daily production and 20 employees working for her, it was a good start. Soon enough, she will gain back her monthly income of P80,000-100,000.
Leah noticed that most orders are coming outside of the region. She searched further and found out that there is a high demand for native delicacies in Manila.
Now how would she deliver her products? Again, through online searching, Leah found a way. "Pasabay" services are the trend for micro entrepreneurs. Small logistics player in the region offer door to door delivery of products from small businesses to their linked businesses in Manila.
"Naghahanap ako Maám ng paraan para maka-kuha ng orders, mag-produce kami at maka-deliver," says Leah who was determined to seize every opportunity of getting bulk orders outside the region and delivering them.
Talking about disaster resilience, she is coping with the crisis by establishing a broader network and strengthening business ties with her partners while finding ways "paraan/diskarte" to make sure her business goes running.
Usually she sends her products in Cebu, Bohol and Manila, now, a door opened for Dumaguete with an initial order of 60 packs of chocolate moron.
Despite the spiking prices of raw materials for the production and the limited supply of sugar and milk, Leah will be producing 12,000 pcs of chocolate moron this week and expects more to come in succeeding weeks.
Leah will also process the delicacy in the water retort facility at the Food Innovation Center by DTI and DOST to extend the shelf life of her product. She considered the possible delays in logistics, and so, she wanted to ensure the consistency of her product's quality.
"I will always find ways to make sure that our business will always run by building new business linkages and stepping in for every opportunity I find," says Leah Hiangnan with full determination to keep her business at the middle of a crisis.