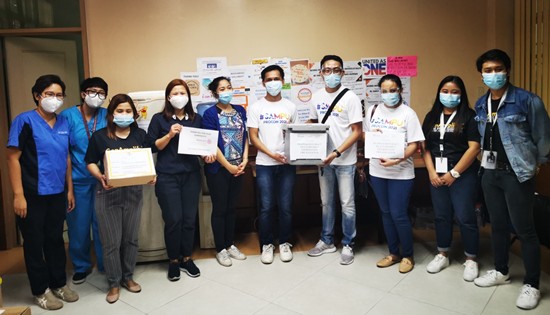 Turnover of COVID-19 test kits donation of Pilipinas Rotaract MDIO represented by Chair Louie De Real and Chair Elect Manuel Joseph Franco (6th and 7th from the left) to UP National Institutes of Health represented by Dr. Karen Sotalbo (5th from the left).
Filipino Rotaractors raise funds for COVID-19 test kits
By REGINA GRACE REYES
Rotaract Club of Calumpit
July 18, 2020
MANILA – Ignited by the eagerness to extend humanitarian aid during this COVID-19 pandemic, the Pilipinas Rotaract Convention 2021 Organizing Committee, mainly composed of Rotaractors from Rotary International District 3770, in partnership with the Pilipinas Rotaract Multi-District Information Organization, conducted a fundraising campaign entitled Project #SAMPU Sama-Sama sa Mas Pinatibay na Ugnayan Laban sa COVID-19 from April 14-27, 2020.
The campaign aimed to raise an amount of P160,700 to purchase 100 GenAmplify™ COVID-19 rRT-PCR Detection Kits in support of the mass testing program. GenAmplify™ COVID-19 rRT-PCR Detection Kit is the low-cost test kit invented locally by a team of scientists from the University of the Philippines National Institutes of Health, the Philippine Genome Center, and the Manila HealthTek, Inc.
With humble hopes of purchasing only 100 COVID-19 Testing Kits, the donation drive surpassed its target in just four days after the launch of the campaign. This was through the ripple effects of donations coming not just from Filipino Rotaractors but also from Rotarians and even family and friends outside of Rotary. At the end of the campaign last April 27, the team was able to raise Php 259,484 which funded the production of 161 COVID-19 test kits turned over to the University of the Philippines – National Institutes of Health last July 6, 2020. The donations came from 73 Rotaract Clubs, 4 Rotary Clubs and other donor groups and individuals across the country.
Pilipinas MDIO is a Rotary international-recognized organization which aims at strengthening the Rotaract movement in the country. It is run by the District Rotaract Representatives and chaired by an elected Past DRR from a member district. Its programs and services are administered by a team of volunteer past club and district Rotaract leaders across the country. One of the core purposes of the MDIO is to promote multi-district service projects such as this fundraising campaign for COVID-19 test kits.