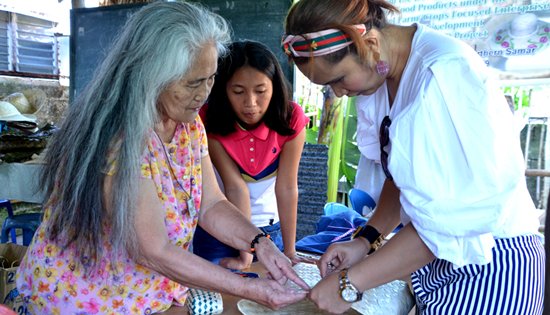 The Department of Agrarian Reform (DAR) commissioned the Design Den to train members of agrarian reform beneficiary organizations (ARBOs) to enhance the designs of their handicrafts and be at par with other products in the market.
Farmers see higher sales on handicrafts in 2020
By JOSE ALSMITH L. SORIA
January 17, 2020
TACLOBAN CITY – As the new year comes in, four agrarian reform beneficiary organizations (ARBOs) from different remote villages in Eastern Visayas are looking forward to an improved sales and higher revenues for their handicrafts in 2020.
This came out after members of the said ARBOs underwent skills training towards the end of 2019 on how to enhance the quality and designs of their products.
The Department of Agrarian Reform (DAR) Central Office commissioned last year the Design Den to conduct the training nationwide to boost the marketability of the handicrafts manufactured by farmers utilizing available raw materials in their area.
In Region-8, Regional Director Stephen Leonidas disclosed that the ARBOs chosen to undergo the said training were the Macalpi Community Multi-Purpose Cooperative (MCMPC) in Carigara, Leyte; the Hantag Farmers Multi-Purpose Cooperative (HFMPC) in Maasin City, Southern Leyte; the Villahermosa Oriental Farmers and Fisherfolks Association (VOFFA) in Pagsanghan, Samar; and the Cabacungan Multi-Purpose Cooperative (CMPC) in Allen, Northern Samar.
MCMPC is into plant-holder making using coco coir as raw material; HFMPC is into sinamay-weaving using abaca; VOFFA is into bag and hat making using buri; while CMPC is also into bag and hat making but using romblon as its raw material.
Marlene Ajihari of the CMPC was happy of the outcome of the two-day training. According to her, before, their designs were simple and limited, and the size of their bag was fixed.
During the training, they learned more designs and the use of other raw materials available in their area such as shells, as they are living along the shoreline, she added.
She emphasized that they also learned to be flexible and not to limit the sizes of bags.
With her excitement, Marlene showed their outputs to a retired teacher in the neighborhood and instantly got orders worth P450.
Consolacion Cabacang, another member of the CMPC and at 75 years old, said she learned a lot from the training though she had been a weaver since 14 years old.
For the VOFFA members, according to them, they used to produce bags only as container for crabs that are being sold in their town. Each bag was sold at P40 only.
But now, Rosalinda Cubay added, they are inspired to produce fashionable bags and other accessories and sell them at a higher price.
In Carigara, Cynthia Bodo thanked DAR for exposing them to different trainings to help them earn higher.
Aside from plant-holders, they got ideas from the training to produce also other items, such as lamp shades, using coco coir, Bodo excitingly shared their experience.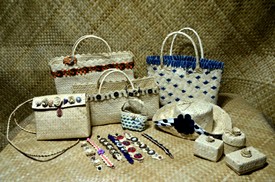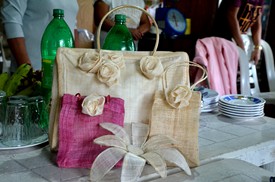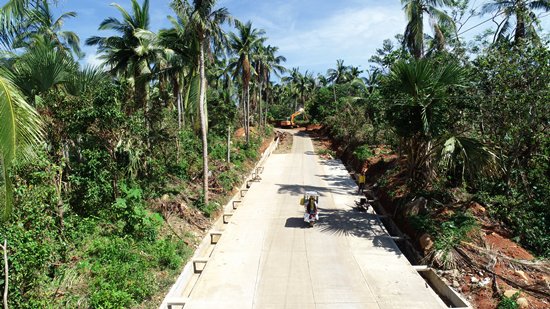 Construction of access road leading to Bagongbong Falls at Brgy. Caucab, Almeria, Biliran is on-going with 70% accomplishment as of December 31, 2019. The completion of the project (2018-2020) will provide a better road for local and foreign tourist and more or less 2000 residents in Brgy. Caucab in the town of Almeria. From a bumpy and narrow existing concrete road, road users will enjoy a wider and safer travel.
DPWH-Biliran DEO ends 2019 with 79.05% project accomplishment
By DPWH-Biliran
January 15, 2020
NAVAL, Biliran – The Department of Public Works and Highways (DPWH) Biliran District Engineering Office (DEO) has accomplished 79.05% accomplishment of its 2019 Infrastructure Projects as the year ends.
As of December 31, 2019, the district office completes 66 projects with remaining 23 projects on-going and three Not-Yet-Started (NYS) projects incurring negative 9.14% slippage.
According to David P. Adongay Jr., District Engineer, the district office is still on-going in the implementation of road widening project, bridge construction, construction of bypass road and other big-ticket projects, hence the low accomplishment of the district office.
To address the said delay, contractors sustaining negative slippages of their projects were obliged to provide a notarized letter of their commitment to complete the projects within its extended duration. This has been tackled during the district's coordination meeting with the contractors on January 14, 2020.
Adongay advised contractors to exert effort to fast-track its remaining 2019 projects so that they can fully focus in the implementation of their 2020 projects.
"This must be given importance for us to have a smooth and successful implementation of our projects, improve our performance and achieve the goal and objectives of this department," emphasized Adongay.
Under the 2019 implementation, DPWH-Biliran DEO is tasked to implement a total of 92 projects with a total allocation amount of P1.28B.
DOLE-8 SEnA yields over P13M monetary benefits in 2019
By NORMA RAE S. COSTIMIANO
January 14, 2020
TACLOBAN CITY – A total of P13,093,034.71 monetary claims was successfully facilitated by the Department of Labor and Employment Regional Office VIII in CY 2019 through its Single Entry Approach (SEnA) Program.
Per regional consolidated report submitted to the National Conciliation Mediation Board (NCMB), said monetary benefits were claimed by 1,179 workers coming from different parts of Eastern Visayas with complaints mostly on wages, 13th month pay, overtime pay, holiday pay and separation pay.
Just like in the previous year, the West Leyte Field Office facilitated the highest monetary claims of P5,233,839 benefiting 422 workers followed by the North Leyte Field Office with P4,112,014.11 claimed by 446 workers.
The Southern Leyte Field Office ranked third this year, yielding a total of P1,175,271.71 benefited by 125 workers followed closely by the Samar Field Office which was able to facilitate P1,038,684.68 claims for 54 workers.
Meanwhile, the Biliran Field Office, Eastern Samar Field Office and the Northern Samar Field Office had facilitated a combined monetary benefits of P1,533,224.37 for the benefit of 132 workers.
All 957 Requests for Assistance (RFAs) received by DOLE RO VIII for the entire 2019 were duly disposed.
In terms of settlement of RFAs, the regional office likewise successfully exceeded the target of at least 77%. Over-all, DOLE RO VIII garnered a settlement rate of 88%, with the Southern Leyte Field Office contributing the highest settlement rate at 98.57%.
Director Yahya A. Centi thanked and lauded the hardwork of all Single Entry Approach Desk Officers (SEADOs) in assisting workers in the settlement of their claims and in helping the regional office attain its targets. He encouraged them to be more inspired in what they do for the good of those who need the assistance of the office through SENA program.
"I commend all our staff especially the SEADOs for doing a great job in 2019. I hope this will inspire you all the more to do better this 2020 and surpass the best you delivered in 2019", said Director Centi during the Year-End Performance Assessment held last December 18, 2019.
In the recent Employees Excellence Awards Night conducted by DOLE RO VIII last December 19 at C Pavilion, San Jose, Tacloban City, Mr. Alejo Labrador Jr. of the North Leyte Field Office was awarded as Best SEADO, handling the most number of SENA RFAs in 2019 and for facilitating more than P1.8 million monetary claims of 149 workers.
SENA is an administrative approach to provide a speedy, impartial, inexpensive and accessible settlement procedure for all issues/complaints arising from employer-employee relations to prevent them from ripening into full blown disputes.
Wage increase for kasambahays in EV takes effect on New Year's Day
By NORMA RAE S. COSTIMIANO
January 14, 2020
TACLOBAN CITY – DOLE RO VIII Regional Director Yahya A. Centi announced during the First Flag-Raising Ceremony and Monday program on January 6, 2020 that a new wage order for kasambahays in Eastern Visayas takes effect on January 1, 2020.
Wage Order No. RBVIII-DW-02 prescribes an increase of P2000 in the monthly wage rates of kasambahay workers in Region VIII. For chartered cities and first class municipalities, the new minimum wage shall now be P4,500 while kasambahays in other municipalities will be having a minimum wage of P4,000.
Director Centi, who also chairs the Regional Tripartite Wages and Productivity Board (RTWPB) VIII, was happy to inform of the said development. He said that the amount of increase was a result of the consultation cum public hearing conducted on November 25, 2019, as well as the current socio-economic indicators, needs of the domestic workers and their families and the employer's capacity to pay.
Director Centi likewise added that the kasambahay workers deserve the said increase considering that the previous domestic wage order has not been reviewed and revisited since its issuance in 2016.
"We are more than happy that we are able to perform our duty for the good of our kasambahay workers here in the region. They truly deserve the increase considering that no adjustment has been made to their wages in the last three years and yet prices of goods have been increasing", said Director Centi.
The new wage order shall apply to the following domestic workers in the region whether on a live-in or live-out arrangements: general househelp, yaya, cook, gardener, laundry person or any person who regularly performs domestic work in one household on an occupational basis.
Meanwhile, service providers, family drivers, children under foster family arrangements and any other person who performs work occasionally or sporadically are not covered under the said wage order.
The new domestic wage order was approved by the RTWPB VIII last November 25, 2019 and was published in Leyte Samar Daily Express last December 17, 2019.
Eastern Visayas closes 2019 with 1.5% inflation rate
By PSA-8
January 14, 2020
TACLOBAN CITY – Eastern Visayas closed 2019 with a 1.5 percent Inflation Rate (IR). This IR is 0.9 percentage point higher compared with the 0.6 percent IR a month ago, but 2.9 percentage points lower than the recorded 4.4 percent IR in the same period last year.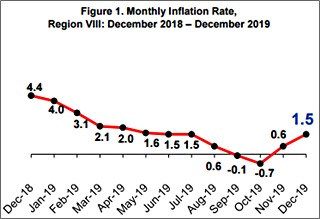 The regional IR is 1.0 percentage point lower than the 2.5 percent national average inflation rate in December 2019.
All provinces in the region registered higher inflation rates in December 2019 compared with their figures in the previous month. Biliran recorded the highest increase of 2.2 percentage points, from 1.5 percent deflation in November 2019 to 0.7 percent IR in December 2019. The rest of the provinces registered increases ranging from 0.2 percentage point to 1.8 percentage points. Southern Leyte posted the lowest IR with 1.2 percent deflation. Leyte, meanwhile, recorded the highest IR during the month in review at 2.1 percent.
Four commodity groups in the region exhibited higher IRs in December 2019 compared with their rates in November 2019. Transport commodity group registered the biggest increase of 3.1 percentage points, from 1.0 percent in November 2019 to 4.1 percent in December 2019. This can be attributed to the significant increase in the index for operation of personal transport equipment to a double-digit inflation rate of 10.5 percent in December 2019 from 0.2 percent in November 2019.
The heavily weighted food and non-alcoholic beverages commodity group rebounded to 0.2 percent in December 2019 from 1.0 percent deflation in November 2019. Lower IRs noted in fruits; oils and fats; non-alcoholic beverages; meat; and sugar, jam, honey, chocolate and confectionery were offset by the higher annual price increases in vegetables; fish; food products not elsewhere classified; and milk, cheese and eggs. Vegetables index registered the highest increase of 2.8 percentage points, from 3.1 percent in November 2019 to 5.9 percent in December 2019. Rice and bread and cereals indices continued to register deflations but at slower rate of 6.2 percent and 4.6 percent, respectively.
Housing, water, electricity, gas and other fuels commodity group rebounded by 0.2 percent in December 2019 from its 0.8 percent deflation in November 2019.
Alcoholic beverages and tobacco commodity group inched up by 0.1 percentage points pushing its inflation rate to 7.2 percent during the month in review.
On the other hand, inflation rate for health commodity group decreased by 1.3 percentage points, from 2.9 percent in November 2019 to 1.6 percent in December 2019. This can be attributed to the lower inflation rate on hospital services, from 3.5 percent in November 2019 to 0.6 percent in December 2019.
IRs for the commodity groups of furnishings, household equipment and routine maintenance of the house, and clothing and footwear also exhibited decreases during the reference month at 5.7 percent and 3.1 percent, respectively.
Meanwhile, communication; recreation and culture; education; and restaurant and miscellaneous goods and services commodity groups retained their previous month's inflation rates.
The Purchasing Power of Peso (PPP) of the region remained at P0.80 in December 2019. This PPP implies that goods and services worth P80.00 in 2012 is already worth P100.00 in December 2019.
Southern Leyte posted a P0.01 increase in PPP compared with its figure in November 2019, while Biliran and Eastern Samar's PPP weakened by P0.01. The rest of the provinces sustained their PPP last month. Southern Leyte recorded the strongest PPP at P0.83. Biliran and Leyte ranked second at P0.82, followed by Eastern Samar at P0.76. Northern Samar and Samar posted the weakest PPP at P0.75.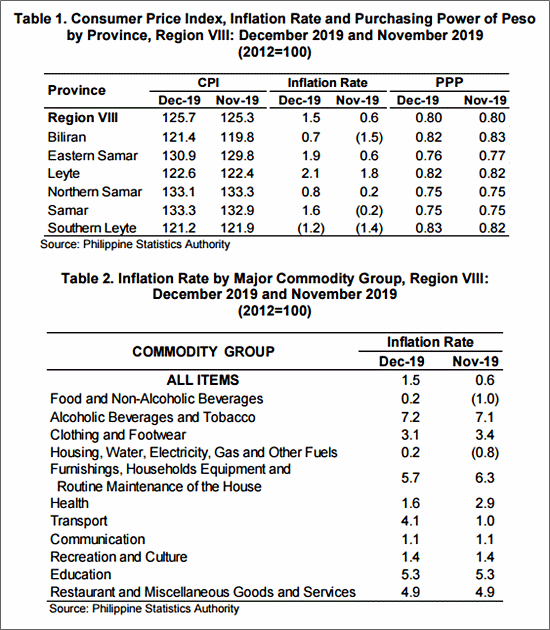 Army reserve officer gets recognition for exemplary performance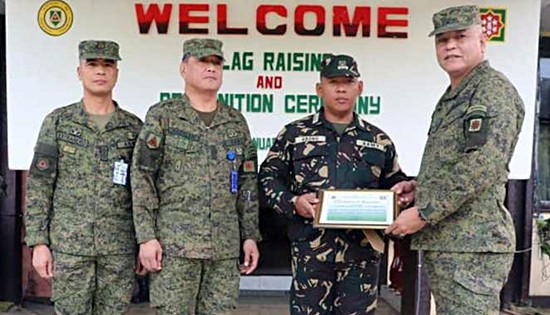 By DPAO, 8ID PA
January 13, 2020
CAMP LUKBAN, Catbalogan, Samar – An Army Reserve Officer from the 8th Regional Community Defense Group, Army Reserve Command (ARESCOM) Camp Downes, Ormoc City was given recognition by the 8th Infantry (Stormtroopers) Division, Philippine Army during the Flag Raising ceremony at the Openiano Field this morning, January 13, 2020 at 7:30 a.m.
1Lt. Pedro R. Abong, Jr. (Res.) was recognized for his outstanding accomplishment and proficiency during the conduct of Pistol and Rifle Marksmanship Training at 8ID Firing Range from December 5-6, 2019.
Among the 135 reservist shooters, 1Lt. Abong garnered a perfect score of 100 points and was adjudged a "top gun" by the training directorate.
Brig. Gen. Ramil M. Bitong AFP, Assistant Division Commander personally awarded the Certificate of Recognition to 1Lt. Abong. He was assisted by Col. Ferdinand S. Razalan, Assistant Division Commander for Reservist and Retiree Affairs (ADCRRA).
1Lt. Abong was grateful and proud for the recognition bestowed to him by the Command.
"It is just fitting to acknowledge the accomplishments made by our men from reserve force. As volunteers without compensation, they continue to carry on the dynamic and full interchange of support between the military and civilians. They continue to be our reliable partners in support operations as to nation-building, humanitarian assistance and disaster response," in a statement made by Brig. Gen. Bitong.
NMP launches new mobile app
By National Maritime Polytechnic
January 7, 2020
TACLOBAN CITY – With the advent of modern technology, the National Maritime Polytechnic (NMP) has rolled out a new mobile app entitled NMP App which aimed to aid its stakeholders in verifying the authenticity of NMP issued certificates.
Its dashboard displays the options to verify the authenticity of a certificate by using the Name and Birth Date of the trainee, Certificate Number and other pertinent information.
The app also features a side function which allows trainees to verify if they are already enrolled in their preferred schedule for Professional Development Courses (PDC), namely: Training Course for Instructors (IMO Model Course 6.09), Assessment, Examination and Certification of Seafarers (IMO Model Course 3.12), and Training Course for Simulator Instructors (IMO Model Course 6.10).
"The app is very useful, good, and convenient to all trainees of NMP", said Mr. Donald A. Cosep when asked for his feedback during the mobile app launching on 13 December 2019 at the NMP Training Building.
The mobile app is a free service for NMP stakeholders with Android devices and gadgets. It is available for download in Google Play Store.
Any misuse or manipulation of the personal data provided in the search result will be subjected to Republic Act 10173 otherwise known as the "Data Privacy Act (DPA) of 2012", its Implementing Rules and Regulations (IRR), and other relevant policies, including issuances of the National Privacy Commission (NPC).
It is the policy of NMP to respect and uphold the data privacy rights and to ensure that all data collected from its trainees and other third party individuals are processed pursuant to the general principles of transparency, legitimate purpose, and proportionality as stated in the DPA.
The NMP app will be updated should there a need to include other features.
SFDEO reports completed flood control structure in Capacuhan, Calbayog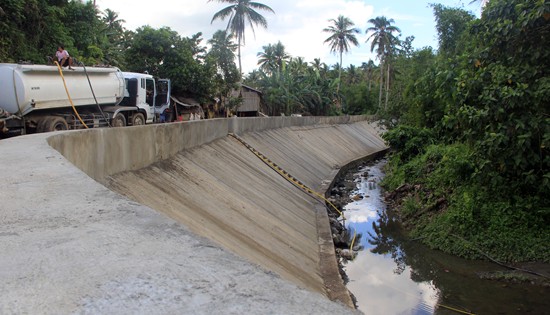 By CHENZI MAY D. UY
January 7, 2020
CALBAYOG CITY – The Department of Public Works and Highways Samar First District Engineering Office has completed second-phase construction of a flood control structure along Jibatang River in Barangay Capacuhan, Calbayog City, Samar.
The project covers the construction of a 240-meter concrete structure with slope protection consisting of hand-laid riprap and steel sheet piles. The structure was built on the riverbank along the Calbayog-Catarman Road, where it will serve as protection against flooding and soil erosion.
The P35-million project in Capacuhan was accomplished on October 28, ahead of its target completion date of November 8, 2019.
The importance of flood control projects is highlighted particularly around this time of the year, when stronger and more frequent typhoons enter the country. It can be recalled that, last December 2018, typhoon Usman flooded and ravaged the homes and properties of people residing near the rivers. Hence, DPWH is fast-tracking flood management projects to improve the disaster resiliency and safety of villages near river streams.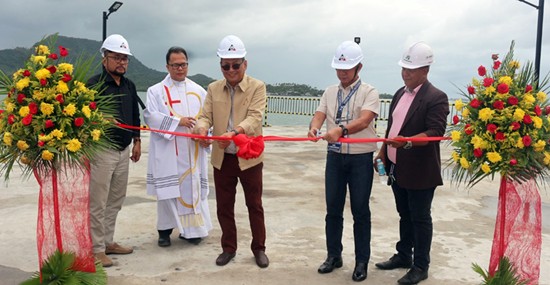 Inauguration of the Wharf Extension for the Free-Fall Lifeboat. From L-R: Deputy Executive Director Ponciano Ligutom, Fr. Bert David Carillo, DOLE USec. Renato Ebarle, Executive Director Joel Maglunsod, and Contractor.
DOLE USec. Ebarle inaugurates NMP's wharf extension
By National Maritime Polytechnic
January 7, 2020
TACLOBAN CITY – The Department of Labor and Employment (DOLE) Undersecretary Renato L. Ebarle representing DOLE Secretary Silvestre H. Bello III led the inauguration of the National Maritime Polytechnic's (NMP's) Wharf Extension for the Free-Fall Enclosed Lifeboat held on 16 December 2019 at the NMP's Boat Davit Area.
The said construction was conceptualized in view of the donated Free-Fall Enclosed Lifeboat by the Associated Marine Officers' and Seaman's Union of the Philippines (AMOSUP), one of the members of the NMP Board of Trustees (BOT).
With the approval of the NMP BOT during its 1st Regular Meeting held last January 18, 2018, the proposal to utilize the insurance proceeds from the Government Service Insurance System (GSIS) relative to the destruction brought by the Super Typhoon Yolanda in 2013 for the Wharf Extension for the Free-Fall Enclosed Lifeboat project, was made possible.
The construction started on November 16, 2018 amounting to P26,276,022.17.
Present during the ceremony were DOLE USec. Ebarle, NMP Executive Director Joel Maglunsod, NMP Deputy Executive Director Ponciano Ligutom, Fr. Bert David Carillo, contractor of the Wharf Extension, and NMP employees.
Consequently, this addition to the NMP's existing training facilities would significantly improve the conduct of quality maritime training services and would enable NMP to offer the Proficiency in Free-Fall Lifeboat Course which is targeted to be developed by NMP's Curriculum Development Section (CDS) this end of June 2020.
Meanwhile, NMP also regularly conducts maritime studies to come up with policies for the improvement of the manpower sector of the industry. Those interested in NMP research undertakings may visit the NMP website (www.nmp.gov.ph) and access the e-Research Information System Portal which is designed to disseminate NMP completed researches, present the Research Agenda and engage the industry stakeholders to collaborate in the research activities.

Palay production drops by 11.0% in the third quarter of 2019
By PSA-8
January 7, 2020
TACLOBAN CITY – Palay production in Eastern Visayas dropped by 11.0 percent, from 117,792 metric tons (MT) in the 3rd Quarter of 2018 to 104,851 MT in 2019.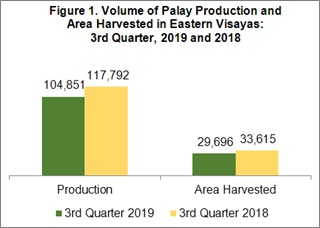 The province of Leyte contributed the biggest share in palay production in Eastern Visayas at 35,292 MT during the 3rd quarter of 2019 (Table 1). It comprised one third or 33.7 percent of the total palay production in the region. Northern Samar ranked second with 24,540 MT, accounting for 23.4 percent of the region's total palay production.
Similarly, the total area harvested for palay decreased to 29,696 hectares (Ha) in the 3rd quarter of 2019 from 33,615 Ha recorded in the same quarter of previous year, a decline by 11.7 percent.
All provinces posted decreases in area harvested for palay. Eastern Samar registered the biggest drop by 43.6 percent during the 3rd quarter of 2019. Leyte, Southern Leyte, Biliran and Northern Samar, posted decreases at 18.5 percent, 14.3 percent, 7.0 percent, and 2.3 percent, respectively. Samar recorded the lowest decrease in area harvested for palay by 0.6 percent.
On the other hand, yield for palay in the region slightly increased by 0.8 percent, from 3.50 metric ton per hectare (MT/Ha) in the 3rd Quarter of 2018 to 3.53 MT/Ha in the same quarter of 2019 (Table 1).
Among provinces, Southern Leyte recorded the highest yield per hectare at 4.52 MT/Ha during the 3rd quarter of 2019. This figure was lower by 3.5 percent compared with the 4.68 MT/Ha recorded in the same quarter of 2018.

Garlic in cow feed keeps gases down on the farm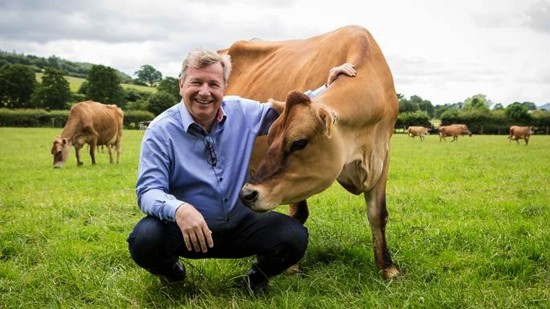 Via Presswire
January 2, 2020
KUALA LUMPUR – Thomas Hafner, of Mootral, believes that his garlic supplement could cut methane emissions from cows by 38 per cent.
The cows on Joe Towers's dairy farm have been burping a lot less since he began adding a little garlic to their feed.
They seem to like the flavour but he is not doing it to keep them happy. His 400 cows have taken part in the largest trial of adding a natural supplement to cattle diet to reduce the amount of greenhouse gas they belch.
Scientists found the mix of garlic and citrus extract reduced methane emissions by up to 38 per cent. The effect was produced by adding only about 15g of the supplement to the cows' daily feed.
Mr Towers hopes the results, published in a study involving the dairy research and innovation centre at Scotland's Rural College, will help consumers to feel less guilty about eating meat and dairy products. About 15 per cent of greenhouse gas emissions come from livestock and a third of that is from methane, which traps 25 times more heat than carbon dioxide but remains in the atmosphere for a shorter period. Most of the methane produced by cattle comes from their burps.
The trial also found that milk yield rose by up to 8 per cent. The cows were also less stressed because the garlic appeared to deter the flies that bother them.
The supplement, which is blended in Abertillery in Monmouthshire by the Swiss company Mootral, had no effect on the milk's taste or smell. Several methane-reducing supplements have been tested on cattle, with the University of California showing that seaweed could reduce methane by 60 per cent. Garlic is cheaper and more readily available.
Mootral's supplement costs about £50 per cow per year, which could be recouped through higher yields. It also claims the supplement reduces udder infections, saving on antibiotics.
However, Mootral concedes that farmers may need an extra incentive to buy the supplement and has developed a system of "cow credits" under which the benefit of the methane reduction could be sold to those seeking to offset their emissions.
For Mr Towers, one of the greatest benefits is improving the image of dairy farming, which he says has been tarnished by unfair attacks by environmentalists who ignore the nutritional benefits of milk. "This is a good opportunity to show the dairy industry does care about the environment," he said.