RTF-8 ELCAC vows stronger coordination to attain peace by 2022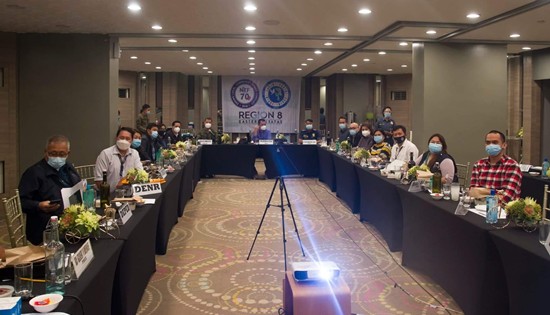 Press Release
October 12, 2020
TACLOBAN CITY – The Regional Task Force on Ending Local Communist Armed Conflict (RTF-ELCAC) on Friday, October 9, 2020 in a hybrid physical and virtual meeting presided by Secretary Eduardo Del Rosario, the Cabinet Officer for Regional Development and Security (CORDS) resolved to heighten agency coordination.
This was in view of the Regional Peace and Development Roadmap to attain a just and lasting peace by the year 2022. It was learned that the budget for the target barangays in 2020 was diverted to address the COVID-19 pandemic, but that the priority projects have been included in the proposed 2021 ELCAC budget.
CORDS Del Rosario informed that the National Task Force has been lobbying for the approval of the 2021 ELCAC funds which is being opposed by the Makabayan Bloc. The ELCAC funds is intended for PPAs of the barangays, and will not be released to the national agencies.
Eastern Samar Governor Ben Evardone shared that the Governors' League has passed a resolution to adopt the ELCAC Budget and has forwarded the same to the Senate and House of Representative copy furnished Makabayan Bloc.
Meanwhile the DILG and the Office of Civil Defense presented the accomplishments of the Regional Task Force on Emerging Infectious Diseases (RIATF-EID) as well as the Regional Task Force on COVID-19 (RTF-COVID 19) to provide the context to the peace challenges posed by the pandemic.
Meanwhile Leyte Governor Leopoldo Dominico L. Petilla, chair of the Regional Development Council, said that poverty is the greatest recruiter of insurgency. He stressed that the road to peace must always pass through economic development. To this, Governor Evardone who chairs the EV Regional Peace and Order Council, said that his province has formed an Anti-Poverty Team to focus its efforts in implementing projects intended to address insurgency.
CORD8 Del Rosario praised RTF8 ELCAC for its accomplishments. He said that the targets remain the same that's why the Task Force needs to implement its catch up plan. Various organizations should be invited so that there will be coordination and optimization of the resources. Meanwhile National Security Adviser Hermogenes Esperon commended RTF8 for being the first region to deploy the RCSP teams, which has resulted to several cleared barangays for 2020.
Meanwhile the Task Force passed a resolution endorsing the inclusion of the 93 barangays cleared in 2020 for possible funding in the 2021 budget Samar 2nd District Cong. Sharee Ann T Tan will be the "spokesperson or voice of Region 8" in Congress for the approval of funds. She requested from the NSC that she be given a copy of documents as proof to the approval of ELCAC funds. NSC will coordinate with Cong. Tan on this matter.
Under this proposal each target barangay will be given P20M. The menu of PPAs are the following:
• Farm to Market Roads (FMR) for P12M each (DA & DPWH)
• Schools for P3M each (DEPED)
• Waterworks and irrigation projects worth P2M each (DILG)
• Health stations at P1.5M worth each (DOH)
• Reforestation/ National Greening Project worth P1.5M each (DENR)
• A total of P1.86B for 93 barangays is being eyed for allocation to Region 8.
Gov. Petilla for his part expressed his gratitude to President Rodrigo R. Duterte and Senator Bong Go for approving the Kaulisihan funds in Baybay City, Inopan and Hilongos, all in the Province of Leyte. The approval of P640M worth of FMR projects was already endorsed by RDC8 for approval in the 2021 budget. DILG together with the NEDA Regional Office serve as the secretariat to the RTF8 ELCAC.
DOLE-RO8 grants P400-K livelihood for Biliran fisherfolks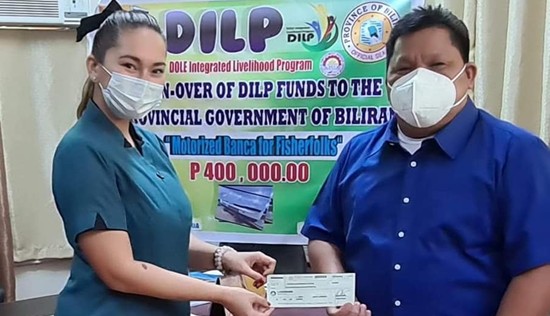 By NORMA RAE S. COSTIMIANO
October 9, 2020
TACLOBAN CITY – Some twenty (20) fishermen from different municipalities of Biliran will be the beneficiaries of the livelihood funds turned-over by the Department of Labor and Employment Regional Office VIII to the Provincial Government of Biliran on 08 October 2020.
Engr. Emmanuel Y. dela Cruz, Supervising Labor and Employment Officer and OIC-Chief of the DOLE-Biliran Field Office, successfully released to Ms. Gretchen Stephanie Espina, Executive Assistant of Governor Rogelio J. Espina the livelihood check amounting to P400,000.00 will be utilized for the procurement of wooden fishing boats with motor engine.
Ms. Gretchen Espina expressed her heartfelt gratitude to DOLE in behalf of Gov. Espina for the assistance received. She said that the support will be very helpful to the beneficiaries whose income rely solely on fishing.
"Big thanks to DOLE for granting our request for our fisherfolks here in the province. Thanks also to our active DOLE field officers for helping us facilitate the project. This will really bring joy and hope to our beneficiaries especially this time of COVID-19 pandemic", said Ms. Espina.
Engr. De la Cruz in response expressed commitment for continued delivery of labor and employment programs and services in the province. He likewise highlighted that DOLE will always and in all ways work for the provision of opportunities and hope to the Filipino workforce.
"Like what we always say to our program partners, DOLE will never cease delivering the needed services particularly in the field of labor and employment. We are all facing this pandemic with a strong commitment to bring opportunities closer to our workers and we are thankful as well to the help of the Province of Biliran", said Engr. De la Cruz.
The said grant was charged against the DOLE Integrated Livelihood Program (DILP) funds of the regional office.
Pre-registration for PHIL ID starts October 12 in Leyte
By PSA-8
October 9, 2020
TACLOBAN CITY – The pre-registration for the Philippine Identification System (PhilSys) in selected 32 provinces in the country will start on 12 October 2020 amid the COVID-19 pandemic by the Philippine Statistics Authority (PSA). In Eastern Visayas, Leyte is included in the 32 priority provinces with 30 cities/municipalities involved for 2020 pre-registration.
There are identified household heads of 313,147 from low-income households in Leyte provided by the Department of Social Welfare and Development. Additional of 313,147 adult members from the same households will also be interviewed during the pre-registration. A total of 626,294 individuals including household heads of low income are targeted to be pre-registered in Leyte before end of the year.
The first step in the registration process is pre-registration that involves going from house-to-house of pre-identified household heads to get their demographic information and to schedule a date for them to visit the registration center. The demographic information that will be gathered by PSA interviewers using tablet includes full name, sex, date of birth, place of birth, address whether Filipino or resident alien, marital status, mobile number and email address.
Meanwhile, the second step in the registration process is the biometric capturing of the pre-registered individuals in the registration center, which will start on 25 November 2020.
PSA takes the lead in the conduct of the PhilSys registration, with the assistance and support of various government agencies and all local government units (LGUs).
President Rodrigo Roa Duterte signed the Philippine Identification System Act or Republic Act No. 11055 into law on 6 August 2018, which establishes a single national identification system.
The PSA Regional Statistical Services Office VIII (PSA RSSO 8) humbly requests the public for their full support and cooperation to the PhilSys registration. The office assures the public that personnel who will be conducting the interviews are healthy and will observe the Department of Health (DOH) and Local Government Units (LGUs) protocols against COVID-19, such as wearing of face mask and face shield, physical distancing, proper hygiene and sanitation, and wearing of PSA ID.
PSA reassures the public that all information furnished by the registrants will be held strictly confidential and shall not be used as evidence in court for purposes of taxation, regulation or investigation as provided for in Republic Act No. 10625 or the Philippine Statistical Act of 2013. Further, PSA strictly complies with legal safeguards provided for by Republic Act No. 11073 or the Data Privacy Act of 2012.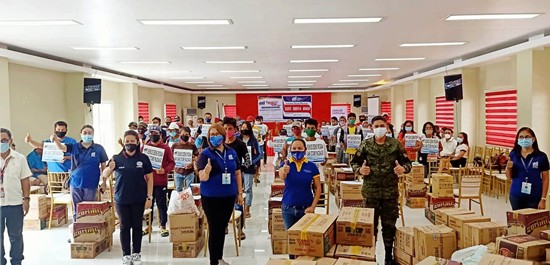 DTI Leyte OIC Prov'l. Director Araceli Larraga and staff, DTI Regional Coordinator for PPG Suzette Pablo, the 93IB, representative from LGU San Isidro, and former rebels who were provided with livelihood kits from DTI.
Former rebels in Leyte receives livelihood kits from DTI
By DTI-Regional Operations Group
October 9, 2020
MAKATI CITY – In 2019, more than 200 rebels surrendered in San Isidro, Leyte and were commended by President Duterte for cooperating with the government in ending local communist armed conflict through E.O. 70.
Through this whole of nation approach, the Department of Trade and Industry Region plays part in providing livelihood opportunities for these former rebels (FRs). DTI provides entrepreneurial training through the Negosyo Serbisyo sa Barangay and livelihood start up kits under the Pangkabuhayan sa Pagbangon at Ginhawa (PPG) Program.
A total of forty five (45) FRs from the municipalities of San Isidro, Calubian and Tabango Leyte received Livelihood Kit (Sari-sari Store). This is the first batch of the 262 rebels that will be given livelihood starter kits by DTI Leyte.
The activity was grace by DTI Leyte OIC Provincial Director Araceli D. Larraga, Hon. Remedio B. Veloso, mayor of San Isidro, Leyte and the 93 Infantry Battalion.
World Mental Health Day: New Red Cross survey shows COVID-19 affecting mental health of one in two people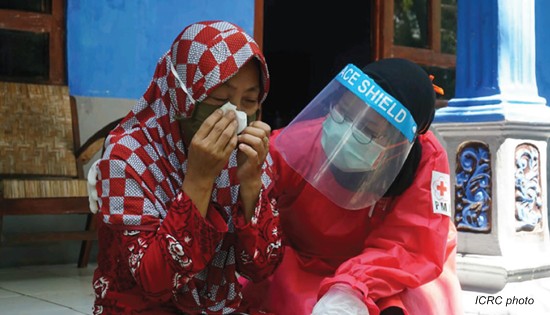 By ICRC
October 8, 2020
GENEVA – Half of all respondents (51 percent) in a seven-country survey said that the COVID-19 pandemic has negatively affected their mental health, an International Committee of the Red Cross (ICRC) survey found.
In a new report – "The greatest need was to be listened to: The importance of mental health and psychosocial support during COVID-19," – the International Red Cross and Red Crescent Movement demonstrates how the pandemic is adding an extraordinary level of stress and suffering on communities around the world. The outbreak is worsening existing mental health conditions, triggering new ones, and making access to mental health services even more scarce. It calls for urgent and increased funding for mental health and psychosocial support within humanitarian responses.
"The COVID-19 health crisis has exacerbated the psychological distress of millions of people already living through conflicts and disasters. Lockdown restrictions, a loss of social interaction, and economic pressures are all impacting people's mental health and access to care," said Robert Mardini, the ICRC's director-general. "Mental health is just as important as physical health, especially in crisis situations, when mental health needs are especially critical."
The report also highlights the urgent mental health needs of those who have been on the frontline of the pandemic, from medical staff, to volunteers, community workers, social workers, dead body collectors, community leaders and many others. Nearly three in four respondents to the ICRC survey – 73 percent – said that frontline health workers and first responders have more need for mental health support than the average person. They are often directly exposed to COVID-19, work long hours, and are invariably subject to stressful events and stigma when supporting disaster-affected communities. They need access to support and care to ensure they can continue to care appropriately for others.
"Mental health programmes are some of the least expensive interventions in humanitarian response, but they have a lifesaving and priceless impact on the lives of people who need them" said Jagan Chapagain, Secretary General of the International Federation of Red Cross and Red Crescent Societies (IFRC). "Now more than ever we must invest in mental health and psychosocial support for everyone – communities and carers alike – to help people cope, rebuild their lives and thrive through this crisis."
The Movement's recommendations for states, policy makers, mental health and psychosocial support advocates and practitioners include:
-Ensuring early and sustained access to mental health and psychosocial support services for people affected by the pandemic;
-Integrating mental health and psychosocial support in all responses addressing the needs arising because of the pandemic;
-Prioritising protection of the mental health and well-being of staff and volunteers responding to the humanitarian needs in the pandemic.
"COVID-19 is creating an historic opportunity to turn commitments into action. Failure to do so will prolong the crisis – in economic, social, and health terms," said Mr. Mardini.
Download RCRC MHPSS Covid19 Report
Samar 1 completes phase 2 of Barangays Macatingog-Dawo FMR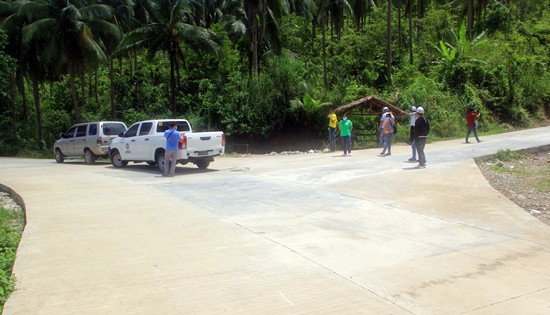 By GISSELLE G. PARUNGAO
October 8, 2020
CALBAYOG CITY – Samar First District Engineering Office completed Phase II of the Farm-to-Market Road (FMR) in Barangay Macatingog to Barangay Dawo.
The concrete road built at Barangay Macatingog spans 440 linear meters and a width of five (5) meters. The project continues at a junction in Barangay Dawo wherein another 170 linear meters of another concrete road was made with a 6-meter width.
This road will connect Barangay Macatingog to the rest of the Barangays that will allow them passage to Pilar Road and to the main highway going to the local markets. This connectivity of roads allows farmers and residents to travel faster thus, decreasing the income losses and safely transport their goods or produce to the markets.
This convergence project with the Department of Agriculture (DA) is allotted with more than P9.9 million. A continuous partnership with DA and DPWH will allow our farmers access to the local markets in a timely manner and increase agricultural productivity.
Oppura heads DPWH-Leyte 2nd DEO
By DPWH 2nd LED
October 8, 2020
CARIGARA, Leyte – The Department of Public Works and Highways (DPWH) Leyte Second District Engineering Office is now headed by Engr. Leo Edward L. Oppura in lieu of Engr. Gerald A. Pacanan, now assigned as Assistant Regional Director of DPWH-Regional Office V.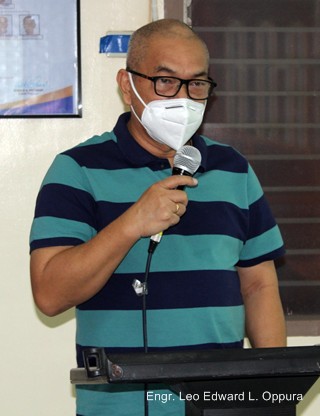 Oppura started his career in DPWH-Leyte 4th DEO as laborer. In 1997 he moved to Leyte 3rd DEO, Villaba, Leyte where he got his permanent position as Engineer II. He then was promoted as OIC-Assistant District Engineer in December 11, 2014.
Later in January 10, 2019, Oppura was appointed as the OIC-District Engineer of Capiz 1st DEO, Regional Office VI.
With his utmost dedication and hard work towards his job, he is now assigned to maneuver the Leyte 2nd DEO in Carigara, Leyte by virtue of Special Order no.65 series of 2020 dated September 7, 2020 signed by Secretary Mark A. Villar.
"I am grateful to work with you and I ask for your full-support, trust and dedication so that we will have a harmonious goal in achieving our targets," said Oppura.
He assumed office on September 28 after completing the 14-day quarantine health protocol set by the Department of Health due to covid-19 pandemic.
Meanwhile, Francisco Robin, Jr. will be his OIC-Assistant District Engineer.
Eastern Visayas registers 8.1% unemployment rate in July 2020
By PSA-8
October 6, 2020
TACLOBAN CITY – The unemployment rate in Eastern Visayas declined to 8.1 percent in July 2020 from a record-high of 14.3 percent in April 2020 but 3.9 percentage points higher compared with the 4.2 percent in July 2019. Eastern Visayas ranked 9th among 17 regions in the country (Table 1) with low employment rate. Unemployment rate is the proportion of unemployed persons to total labor force. Unemployed persons are persons in the labor force who are reported as without work; and currently available for work; and seeking work or not seeking work.
Out of the estimated 3.1 million population 15 years old and over in July 2020, about 1.9 million were economically active or in the labor force. This number translates to a Labor Force Participation Rate (LFPR) of 60.9 percent. This figure is 1.1 percentage point lower compared with the 62.0 percent LFPR in the same period a year ago. Among the regions, Eastern Visayas registered the seventh lowest LFPR.
Meanwhile, about 1.7 million persons in the labor force were employed. This translates to an employment rate of 91.9 percent or 3.9 percentage points lower than the 95.8 percent employment rate recorded in 2019 but 6.2 percentage points higher than the 85.7% in April 2020. Employment rate is the proportion of employed persons to total labor force.
Among the employed persons in July 2020, 0.8 percent worked for more than 48 hours per week due to ECQ/Lockdown/COVID-19 pandemic. Meanwhile, 13.4 percent of the employed persons worked less than 40 hours per week, for the same reason.
The underemployed persons or those employed persons who express the desire to have additional hours of work in their present job or to have additional job, or to have a new job with longer working hours was estimated at 360 thousand. This is equal to an underemployment rate of 21.2 percent, slightly lower than the 21.5 percent recorded a year ago. The region had the seventh highest underemployment rate in the country.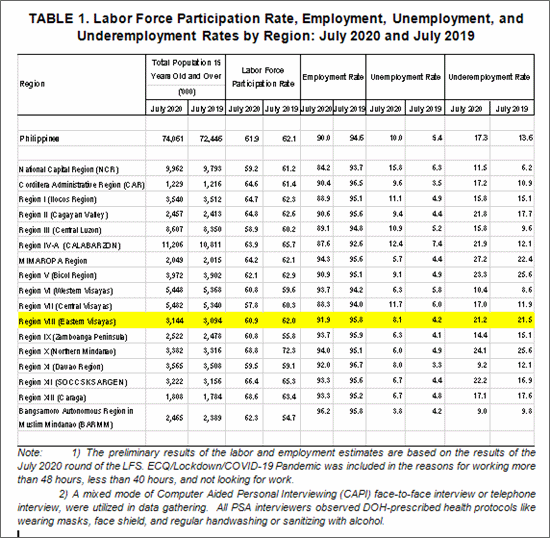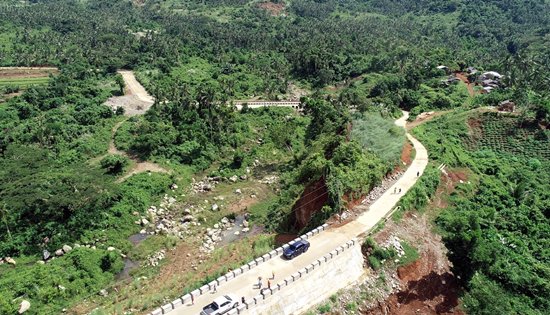 Completed road opening and concreting of access road leading to Germohenes Falls in Pinangomhan Village in Biliran.
P92M access road leading to Germohenes falls in Biliran completed
By DPWH-Biliran
October 6, 2020
NAVAL, Biliran – The road opening and concreting of access road leading to Germohenes Falls in Pinangomhan Village in Biliran town is now completed, District Engineer David P. Adongay Jr., reported.
The Germohenes falls is one of the undeveloped tourist destinations in the province because of inaccessibility to the site. Estimated walking time to reach the said waterfalls takes about 4-5 hours.
According to Adongay, the P92M project covers a total length of 2.90 kilometer road opening and concreting including the construction of 100-meter length spillway and a rehabilitation of 60-meter existing local road that was washed out by tropical storm Urduja in 2017.
The completed road project leading to Germohenes Falls will encourage more local and foreign tourists to visit the place. From 4-5 hours of hike, travel time will be reduced to just 5-10 minutes of vehicle ride and another 30 minutes of walk to reach the said waterfalls.
"This project also provides a safe and faster transport of farm products to the market centers such as coconut, rice, and corn and a convenient travel for the residents and farmers in going to Naval, the capital town and to other neighboring municipalities," Adongay said.
Livelihood Seeding Kits released to pandemic-affected micro-entrepreneurs in Biliran
By DTI-Regional Operations Group
October 2, 2020
MAKATI CITY – Several micro entrepreneurs were affected by this pandemic; this includes small sari-sari store owners, small-time pastry shops, and food vendors.
In mitigating the effects of this economic crisis, the Department of Trade and Industry pushed for a Livelihood Seeding Program-Negosyo Serbisyo sa Barangay (LSP-NSB) and Pangkabuhayan sa Pagbangon at Ginhawa (PPG) Program. Through this, DTI provides training and business restarter/recovery kits to existing qualified micro entrepreneurs affected by disasters, unfortunate events and those located in less developed areas.
"Ang Negosyo Centers ay nag-conduct ng NSB-LSP at PPG sa mga bara-barangay para mahanap ang mga nangangailangan ng livelihood package kits para tulungan makatayo muli through provision ng mga gamit," said DTI Biliran OIC Provincial Director Jorge Modesto.
On September 25, 2020, DTI Biliran Provincial Office started the distribution of recovery kits to 40 beneficiaries in the municipality of Naval and 20 in the municipality of Biliran. These kits were in the form of sari-sari store packages, pastries and native delicacies cooking implements and fish vending materials.
These programs were supported by the Local Provincial and District Government of Biliran and the respective LGUs of Naval and Biliran.
During the event, Congressman Espina sent his warm support to the MSMEs in Biliran through a video message, "This special program entitled Livelihood Seeding-Negosyo Serbisyo sa Barangay and Pangkabuhayan sa Pagbangon at Ginhawa is an epitome of relief and proof that Biliranons are never left behind and will never be. To all qualified 525 beneficiaries in the Province of Biliran, congratulations po!"
DTI Biliran is now on its last leg of distribution in Maripipi, Biliran with a total of 525 beneficiaries.
"Sa pamaraan na ito na bigay ng gobyerno, malaking tulong sa amin kasi sa aming mga pamilyang mahihirap, makakaahon kami ng konti sa araw-araw na pangangailangan," said Maria Cañete, PPG beneficiary in the Municipality of Naval.
Balik Probinsya Bagong Pag-asa beneficiaries receive livelihood grants from DOLE-RO8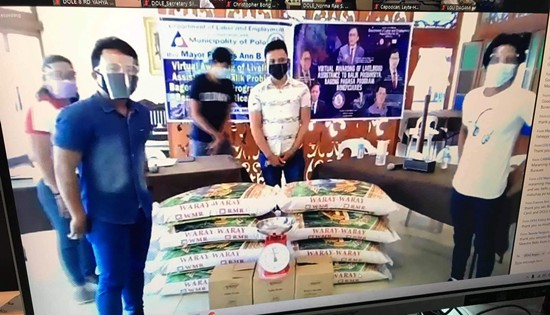 By NORMA RAE S. COSTIMIANO
October 2, 2020
TACLOBAN CITY – Some thirty-three (33) locally stranded individuals and beneficiaries of the Balik Probinsya Bagong Pag-asa Program receive livelihood assistance from the Department of Labor and Employment Regional Office VIII during the virtual awarding held on 29 September 2020.
Each beneficiary received eight (8) sacks of rice and one (1) unit of weighing scale for their rice vending business amounting to P19,900.00. The total amount of livelihood assistance released by DOLE-RO8 amounted to P656,700.00.
The turnover ceremony was graced by no less than Senator Christopher Lawrence "Bong" T. Go, DOLE Secretary Silvestre H. Bello III, DOLE-Undersecretary Benjo Santos M. Benavidez, Director Myles Rivera representing Director Eduardo D. del Rosario of the Department of Human Settlement and Urban Development and Leyte Governor Leopoldo Dominico L. Petilla.
Also in attendance were the Senior Officials of DOLE-RO8 led by Director Yahya A. Centi and Assistant Regional Director Amable Ildefonso C. Roa.
Director Centi informed that the awarding of assistance to 33 beneficiaries of North Leyte will only be the first and will be followed by another livelihood release for the LSIs who went home to Western part of Leyte.
Senator Bong Go in his speech underscored the intention of the BPBP program which is to provide hope and relief to LSIs struggling in Manila and other urban areas during this pandemic.
"By bringing them back to their respective hometowns, the program intends to give hope to our beneficiaries. This can only be successfully done with the coordination of our different agencies and the local government units," said Senator Go.
Meanwhile, Secretary Bello expressed his gratitude to Governor Petilla for opening the doors of Leyte for the LSIs to be home and reunited with their families. He likewise assured the beneficiaries that the labor department is doing its best to help the affected workers of the region.
"To our beneficiaries who will be receiving the assistance, continue to have the faith and courage. Even in this time of great uncertainties, please know that your labor department is doing its best to bring opportunities that will provide you hope of a better tomorrow", said Sec. Bello.
The good secretary also recognized the efforts of the men and women of DOLE-RO8 for their untiring efforts in providing assistance to the people of Eastern Visayas.
"Congratulations and thank you Director Centi, and to the men and women of DOLE Region 8, for your zeal and commitment in serving the people of Eastern Visayas. Continue to work with heads held high, burning with passion for true public service", Sec, Bello ended.
Edwin A. Balogbog, one of the beneficiaries from Barugo, Leyte expressed his heartfelt gratitude for the assistance received.
"I am really thankful for being one of the beneficiaries of the Balik Probinsya Bagong Pag-asa because I was able to go home safely to my family. Thank you also DOLE for the livelihood assistance we received, thank you so much", said Mr. Balogbog.
The beneficiaries who were part of the first batch of LSIs who went home to Leyte are from the following municipalities: Alang-alang, Babatngon, Palo, Tanauan, Tolosa, Barugo, Burauen, Capoocan, Dulag, Mayorga, Tunga, Julita, Dagami and Jaro.
Samar cops nab 5 wanted persons and 2 other offenders in a 7-day police operations
By Samar PPO
September 30, 2020
CAMP LUKBAN, Catbalogan City – Samar Police Provincial Office (SPPO) under the leadership of PCol Glenn Oliver Comision Cinco, Officer In-Charge, arrested 1 Most Wanted Person listed as Rank Nr. 3 of Municipal Level and 4 other wanted persons; and 2 illegal fishers during a 7-day province-wide police operations from September 21-28, 2020.
Personnel of Catbalogan City Police Station under the leadership of PLtCol Edwin F Barbosa, Chief of Police, nabbed 2 other wanted persons for violations of Sec. 22 (a) of R.A. 8282 (SSS Law) and R.A.9262 (Anti-Violence Against Women and Their Children Act of 2004), respectively.
Personnel of Basey Municipal Police Station under the leadership of PMaj Michael N Oraller, Officer In-Charge, nabbed 1 other wanted person for violation of P.D. 1602 (Illegal Gambling Law), who was then released after posting corresponding bail.
Personnel of Daram Municipal Police Station under the leadership of PMaj Zaldy A Cagampang, Officer In-Charge, nabbed 2 fishermen for violation of Sec. 64 (Use of Active Gear) of Municipal Fishery Ordinance No. 19 series of 2017, who were then released after paying the corresponding penalty.
Personnel of Gandara Municipal Police Station under the leadership of PCpt Joselito T Tabada, Acting Chief of Police, nabbed 1 MWP listed as Rank No. 3 of Municipal Level for the crime of Murder.
Personnel of San Jorge Municipal Police Station under the leadership of PCpt Michael Ray G Cañete, Acting Chief of Police, nabbed 1 other wanted person for the crime of Frustrated Homicide.
Through the intensified campaign of anti-criminality and illegalities under the helm of the present administration, PD CINCO firmly supports these advocacies and further encourages everyone to strengthen and reinforce the existing laws and policies to prevent and control crimes and maintain peace and order in the Province of Samar.
"Optimism is the faith that leads to achievement. I am very optimistic that we will continue to achieve our goals as we continue to perform our duties as snappy police officers and law enforcers," PD Cinco stated.