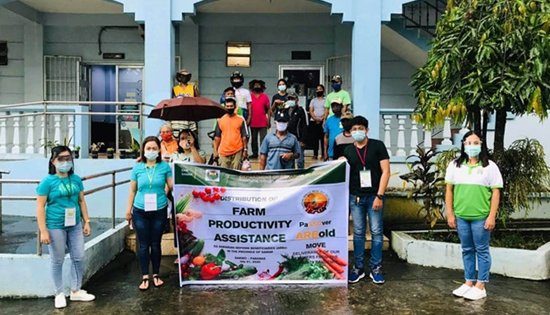 Distribution of farm production inputs to agrarian reform beneficiaries (ARBs) in Paranas was done simultaneously by the Department of Agrarian Reform (DAR) in two other Samar towns. (Photo by Monica Bato)
DAR-Samar rolls out distribution of agri-production inputs
By JOSE ALSMITH L. SORIA
July 28, 2020
SAN JORGE, Samar – The Department of Agrarian Reform (DAR) rolled out the distribution of farm production inputs in this province by holding simultaneously on Tuesday last week the said activity in three Samar towns.
A total of 174 agrarian reform beneficiaries (ARBs) from the towns of San Jorge, Gandara and Paranas became the first recipients of a starter kit for crop production containing a shovel, a hoe, 10 kilos of complete fertilizer, 10 kilos of vermicast, urea, organic pesticide, and two varieties of seeds.
Assistant Regional Director Ma. Fe Malinao, who led the distribution activities in Barangay Bulao in San Jorge, explained that this farm productivity assistance is the second component of the ARBold Move project which is DAR's immediate response to the Bayanihan to Heal as One Act.
These farm inputs are expected to help you (ARBs) generate income from surplus production and at the same time meet the nutritional requirements of your households during this time of coronavirus disease 2019 (COVID-19) pandemic, Malinao told the farmers.
Meanwhile, Samar Provincial Agrarian Reform Program Officer II (PARPO II) Celsa Mabutin disclosed that 463 ARB-members of the 32 DAR-assisted farmer organizations throughout the province are going to benefit from this component.
She further disclosed that each town will receive different sets of seeds to avoid oversupply of a particular crop.
NMP confers loyalty award to eight employees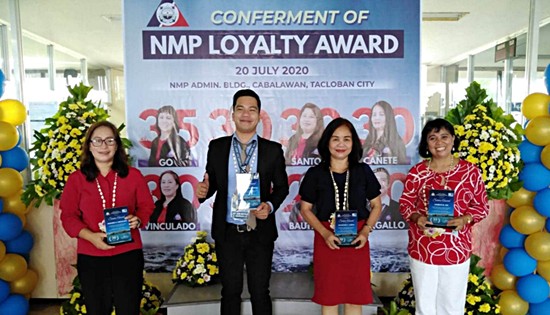 By National Maritime Polytechnic
July 28, 2020
TACLOBAN CITY – Eight employees who have rendered continuous service to the National Maritime Polytechnic (NMP) from ten (10) to thirty-five (35) years received well-deserved honor during the conferment program held at the NMP Administration Building last 20 July 2020.
A fresh and inspiring start took place as the NMP Loyalty Awarding happened on the same day of the resumption of the NMP classes after the training suspension on 16 March 2020 brought by the COVID-19 pandemic.
The honorees that were recognized for their continuous and satisfactory services were: Mr. Jay Arr Bryan Margallo for 10 years of service, Ms. Ma. Dessa Joy Bautista for 25 years of service), Ms. Maria Sandra Gallardo, Ms. Rosario Vinculado, Ms. Salvacion Cañete, Ms. Elena Santos and Ms. Nancy Buatis for 30 years of service, and Ms. Lilibeth Go for 35 years of service.
"Today we give honor to our employees who have given their dedication, faithful work, and devotion to the Agency", said NMP Executive Director Joel B. Maglunsod in his Inspirational Message. He then encouraged other employees to continue serving the Agency and its clients, the Filipino seafarers, with vigor and loyalty and hence contribute to the achievement of NMP's goals and objectives.
In her acceptance speech, Ms. Go, who rendered 35 years of service in NMP, reminisced in her acceptance speech her memory lane with NMP back in the year 1985 when she was still a Clerk I and how the institution molded her to become what she is now.
Through a voice clip, Ms. Bautista, Training Specialist III assigned at the NMP Manila Office who rendered 25 years of dedicated service in NMP shared, "It never crossed my mind that I will get this far, by this far I mean, I will be able to touch lives, nurture learners and create steps to a person's stairway to success".
Also, in response, the 10 years of service awardee, Mr. Margallo highlighted his myriad of experiences with NMP that impacted his life in a meaningful and memorable way. "NMP is really fortunate to have a vibrant and happy workforce, group of very special people who commit to their jobs on a daily basis – even when the going gets tough', he added.
The occasion concluded with the words from Atty. Ruben Y. Maceda, Chief Administrative Officer, as he emphasized career growth and goal-setting as a vital vision for all employees.
The conferment of Loyalty Awards is pursuant to Section 7 Rule X of the Omnibus Rules and Implementing Book V of Executive Order No. 292 and the NMP Program on Awards and Incentive for Service Excellence (PRAISE) providing for the grant of Loyalty Awards to employees who have rendered a minimum of ten (10) years of service and a multiple or five (5) years of service thereafter in the Agency.
The loyalty incentive is granted to an employee who has served NMP continuously and satisfactorily for at least ten (10) years. The recipient is entitled to a cash bonus in the amount of P 1,000 per year subject to the existing CSC policies and availability of funds.
However, those who have received the cash award for their first ten (10) years in service shall, upon reaching fifteen (15) years shall only receive the cash award for the succeeding five (5) years and so on.
Currently, the NMP has a total number of seventy-nine (79) plantilla positions with six vacancies to be filled-up.
Meanwhile, in its effort to sustain its mandate in providing quality service through upgrading and specialized training programs, NMP continues to maintain and upgrade its facilities and its pool of competent instructors. Those Interested to take the training courses may visit the NMP website @ www.nmp.gov.ph or visit the agency's Facebook page (www.facebook.com/ nmptrainingcenter) where all updates and relevant information on NMP programs are available.
Interested stakeholders who wish to validate the authenticity of their seafarers-employed with NMP issued certificates may visit www.verify.nmp.gov.ph. Likewise, those interested in NMP research undertakings may visit the NMP website and access the e-Research Information System Portal which is designed to disseminate NMP completed researches, present the Research Agenda, and engage the industry stakeholders to collaborate in the research activities.
Further, NMP encourages OWWA registered seafarers to avail of the NMP-OWWA (Overseas Workers Welfare Administration) Seafarers' Upgrading Program (SUP) and Skills for Employment Scholarship Program (SESP) which entitles the beneficiary to receive financial assistance for training costs from the OWWA.
DILG hails the surrender of 11 communist rebels, calls on others to avail of ECLIP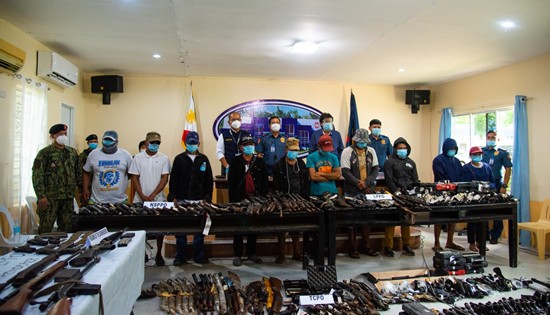 Press Release
July 28, 2020
TACLOBAN CITY – Regional Director Karl Caesar R. Rimando of the Department of the Interior and Local Government (DILG) on July 27, 2020 congratulated the Philippine National Police as well as partner organizations that helped 11 members of the communist terrorist group (CTG) to surface.
The former rebels composed of ten males and one female ranging in age from 26 to 60 years old, from Samar, Eastern Samar and Leyte provinces were presented in a press conference this morning at the Police Regional Office 8 headquarters in Palo, Leyte.
The former rebels likewise turned over to authorities various high-powered firearms and ammunition, helping impair the ability of the outlawed group to initiate extortion, ambushes and other crimes. They are now in government custody and will be endorsed to receive assistance under the Enhanced Comprehensive Local Integration Program (ECLIP) to help in their return to mainstream society.
PRO-8 Regional Director Police Brigadier General Bernabe M. Balba said this was a defining moment as it occurs just days after the send-off ceremonies for the police and law enforcement teams under the Retooled Community Support Program (RCSP) in three towns in Samar (Sta. Rita, Basey and Marabut).
Director Rimando believes that the heightened coordination between the police, armed forces, intelligence sector and the community is proof of the effectiveness of the whole of nation strategy under President Rodrigo Duterte's Executive Order 70.
He sees that with the increasing ownership shouldered by local and national governments to identify and resolve festering issues, residents of remote barangays will no longer be easily swayed by the lies of communist insurgents.
He further requested the surfacers to encourage those still involved in the fading rebellion to approach LGUs or any law enforcement officer who will gladly welcome them and facilitate their return to a peaceful and productive life.
"Ipaabot ninyo sa lahat na nagkakaisa po ang ating pamahalaan at ibang sektor sa pagbibigay tugon sa kanilang mga lehitimong hinaing. Ang ating pamahalaan ay nakahandang ibigay ang unawa at pagmamahal sa lahat ng nagnanais ng tunay na kapayapaan. Iisa ang pangarap nating mga Pilipino: tahimik, maayos at maunlad na pamayanan para sa ating mga pamilya," Director Rimando said. (Ipadangat niyo ha tanan nga nagkaka-urusa an gobyerno ngan iba nga sektor ha paghatag hin baton ha ano man nga lehitimo nga araba. Andam an aton pamunoan maghatag hin pag-intindi ngan gugma ha tanan nga karuyag hin kalinaw. Uusa an aton hingyap nga mga Pilipino: an murayaw, hapsay ngan mainuswagon nga kinabuhi para hit aton tagsa nga pamilya).
DOLE-RO8 orients TUPAD beneficiaries on OSH standards
By NORMA RAE S. COSTIMIANO
July 28, 2020
TACLOBAN CITY – The Department of Labor and Employment Regional Office 8 through its West Leyte Field Office conducted an orientation on Occupational Safety and Health Standards (OSHS) for the 167 beneficiaries of Tulong Panghanapbuhay para sa Ating Disadvantaged/ Displaced Workers (TUPAD) on 23 July 2020 at NELAPTC Building, Brgy. Picas, Javier, Leyte.
The said orientation is a pre-requisite for any TUPAD program of DOLE to be implemented. Aside from the OSH standards, the beneficiaries coming from ten (10) barangays of Javier, were likewise given information on the minimum health standards against the COVID-19.
Present during the activity were Cong. Carl Cari of the 5th Congressional District of Leyte, Mayor Michael Dragon Javier of LGU-Javier and Ms. Bethel Napoles, PESO Manager of Javier. Also in attendance representing DOLE RO8 Regional Director Yahya Centi, was Mr. Edgar Tabuyan, Head of DOLE-WLFO together with Engr. Niño Joseph Pey, Senior Labor and Employment Officer, who discussed the OSH standards.
Mr. Tabuyan shared during the event that the TUPAD program is the department's response to the need of the displaced workers in the informal sector especially in this time of pandemic where many have lost their sources of income.
"Let this TUPAD program bring you relief while we are facing this global pandemic. This may not be that much but we know it will be of great help to you and your families", said Tabuyan.
The TUPAD program will be implemented in Javier for fifteen (15) days and the workers will be deployed for the cleaning of barangays such as de-clogging of canals, side street clean-up, grass trimming and central park cleaning.
After the orientation, TUPAD personal protective equipments (PPEs) to be worn during the duration of the program were distributed to the beneficiaries.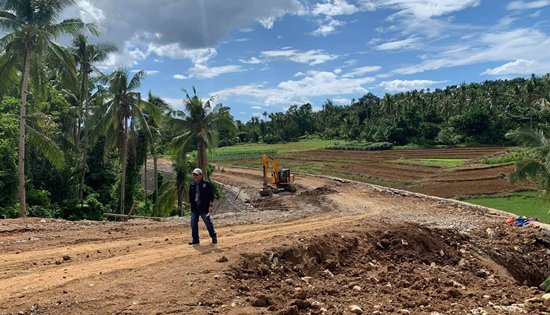 David P. Adongay Jr., District Engineer inspects on-going P104M construction of Almeria Diversion Road on July 16, 2020. The network development project is designed to provide a wider and safer road for the increasing vehicular users.
DE Adongay inspects major infrastructure projects in Biliran
By DPWH-Biliran
July 28, 2020
NAVAL, Biliran – To ensure quality projects, David P. Adongay Jr., District Engineer (DE) of the Department of Public Works and Highways (DPWH)- Biliran District Engineering Office (BDEO) recently conducted inspection on major projects implemented in Biliran.
One of the projects inspected is the on-going construction of quarantine facilities in Sitio Dapdap Brgy. Agpangi and in Brgy. Larrazabal in Naval town. These facilities with a total contract amount of P7.388M are constructed to house COVID-19 positive patients in this province to contain the spread of the virus. The project is being fast track for completion on or before August 10, 2020.
The District Engineer also inspected the on-going P43.2M rehabilitation/reconstruction of national roads with slips, slope collapse and landslide along Biliran Circumferential Road (BCR), Brgy. Inasuyan in Kawayan town. This project is important to prevent road slips and landslides in this area thereby protecting lives and properties and the existing paved National Road.
Also inspected is the on-going P104M construction of Almeria Bypass Road in Almeria town. This is a multiyear implemented project from FY 2018-2019 with a contract amount of P90.6M for phase I and P13.4M for phase II. This network development project aims to complement the increasing vehicular users along BCR thereby providing a wider and safer road for the travelling public.
"Due to the current state of the nation, there were delays regarding the progress of our projects, but as the community slowly adapts to the new normal, progress of our projects has been catching up," said Adongay.
According to Adongay, construction protocols are followed regarding the health and safety measures against the Corona Virus 2019 (COVID-19) pandemic.
The District Engineer revealed that project engineers and inspectors are constantly monitoring the situation on these projects to ensure that these protocols are followed.

Southern Leyte Provincial Agrarian Reform Program Officer II (PARPO II) Geronimo Peque (2nd from left) leads in the distribution of the 45 Certificates of Land Ownership Award (CLOAs) in Anahawan town. (Photo by Marpo Luzvimin Ruiz)
DAR distributes CLOAs in Southern Leyte amid COVID-19 threat
By FEBE MARIE BERSABAL
July 27, 2020
ANAHAWAN, Southern Leyte – Despite the continuous rise of coronavirus disease 2019 (COVID-19) cases in this province, the Department of Agrarian Reform (DAR) remained unstoppable in delivering its mandate by distributing Certificates of Land Ownership Award (CLOAs) to landless farmers.
Last week, 44 landless farmers from this town received their CLOAs from Provincial Agrarian Reform Program Officer II (PARPO II) Geronimo Peque making them the owners now of the land they are tilling.
Peque distributed in Barangay Cogon the 45 individual CLOAs with an aggregate area of 66.38 hectares.
Municipal Agrarian Reform Program Officer (MARPO) Luzvimin Ruiz disclosed that the lands covered by the said CLOAs under the government's Comprehensive Agrarian Reform Program (CARP) are situated in the Barangays of Cogon, Mahalo, Amagusan and Tagup-on in this municipality.
According to her, these lands were previously owned by the Mayo Hacienda, Felomino Gadiongco, and Dy Tian and Sons.
During the distribution, Peque emphasized to the recipients the obligations attached to being agrarian reform beneficiaries (ARBs) which include the payment of land amortization and the real property tax. Further, he advised them to make the land productive.
Furthermore, Peque encouraged the ARBs to join DAR-assisted ARB organizations (ARBOs) to be able to avail of the various support services extended by the agency.
On occasions like this, Peque shared that DAR strictly implements the minimum health protocol like wearing of face masks and observing social distancing to protect everyone from contracting the dreaded COVID-19. All present on that day's event were subjected to thermal scanner, he added.
Though the province of Southern Leyte as of press time has already recorded 104 COVID-19 cases, the town of Anahawan remains COVID-free.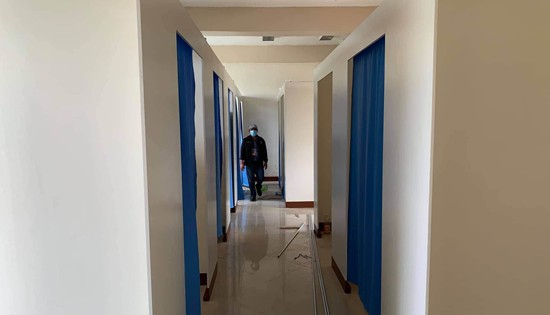 The existing evacuation center at Sitio Dapdap, Brgy. Agpangi, Naval, Biliran was converted into an isolation facility to cater COVID-19 patients in this province. David P. Adongay Jr., District Engineer inspects the said facility on July 16, 2020. As of July 20, 2020, the project has an accomplishment of 71.70%.
DPWH-BDEO constructs quarantine facilities for covid-19 cases in Biliran
By DPWH-Biliran
July 23, 2020
NAVAL, Biliran – The Department of Public Works and Highways (DPWH)- Biliran District Engineering Office (BDEO) is constructing quarantine facilities in two locations in Naval town for Corona Virus Disease 2019 (COVID-19) positive cases.
The said facilities constructed at Sitio Dapdap, Brgy.Agpangi and in Brgy. Larrazabal, both in Naval town has a total contract amount of P7.388M.
David P. Adongay Jr. District Engineer (DE) said that these quarantine facilities will be used to isolate COVID-19 positive patients in this province to control the spread of the virus.
Adongay revealed that the existing evacuation center at Sitio Dapdap, Brgy. Agpangi was converted into an isolation facility for COVID-19 infected. This facility has 28 divisions to accommodate a maximum of 28 patients. Each division will be provided with one bed, one side table, one chair and one cabinet.
Aside from the existing Comfort Rooms (C.R) of the building, the district office also constructed additional C.R for male and female.
DE Adongay emphasized that outside of this quarantine facility building, a separate room for decontamination, donning, doffing of Personal Protective Equipment (PPE) and triage are constructed for medical care professionals. Two rooms are also reserved for health care professionals as sleeping quarters, one for male and one for female equipped with two beds and one side table each.
At Brgy. Larrazabal, 15 isolation tents are on-going on installation that can accommodate a maximum of 28 COVID-19 infected.
According to Adongay, seven of the 15 tents are intended for COVID-19 patients. Each tents can accommodate four patients and will be provided with four beds, four chairs, four side tables and four cabinets.
Adongay said that there will also be a decontamination tent, a disinfecting area tent, a donning/ doffing tent, a triage tent, a kitchen/food storage/pantry tent, camp management area tent, and two sleeping quarters tent for male and female medical care professionals.
Two concrete CRs are also constructed for male and female.
"The said projects are smoothly implemented and being fast-track for completion on August 10, 2020," said Adongay.
The district engineer conducts inspection on the said facilities on July 16, 2020.
"The project is now 71.70% completed," he revealed.
To date, Biliran Province has no active case of COVID-19 positive based on the latest report by the Department of Health (DOH)-Eastern Visayas (EV) released on July 15, 2020.
Karapatan: Separating Ina Nasino from her baby is a brutal act of injustice
Press Release
July 23, 2020
QUEZON CITY – Separating political prisoner Reina Mae "Ina" Nasino from her newborn child mere days after she gave birth is "cruel and inhumane," human rights alliance Karapatan asserted, as the group decried the Manila Regional Trial Court (RTC) Branch 20's decision to deny Nasino's urgent motion to allow her to stay with and breastfeed her baby at the Dr. Jose Fabella Hospital until the baby turns one year old.
"We are saddened, deeply enraged, and at a loss for words for this brutal act of injustice and utter lack of compassion. Ina Nasino's child deserves her mother's care and continued medical care in this delicate stage of growth as a newborn baby, most especially for breastfeeding – and yet the court has ruled to separate the mother and her baby. Nasino is already unjustly detained for planted evidence and falsified charges, and now she has to suffer another injustice as the court refuses to let her be with her baby in her formative years," Karapatan Secretary General Cristina Palabay stated.
Nasino pleaded in her motion that the conditions inside the Manila City Jail (MCJ) are not conducive for breastfeeding especially amid the outbreak of COVID-19 in the country's jails and detention facilities. In a decision signed on Monday, June 20, Manila RTC Branch 20 Presiding Judge Marivic Balisi-Umali denied Nasino's motion and ruled that Nasino's baby be turned over to her father or any relative since the MCJ "does not have sufficient facility for the care of the baby" and has a depleted number of personnel and therefore cannot provide personnel to escort Nasino in the hospital for a year.
Nasino gave birth to her baby last July 1 and the following day, she was immediately brought back to the MCJ with her newborn child who is underweight and jaundiced; she is also among the 22 political prisoners who are still awaiting the Supreme Court's decision to grant them temporary release on humanitarian grounds with the outbreak of the COVID-19 pandemic in jails more than three months since they filed their petition last April 8.
For the past seven months, 476 convicts have already died under the custody of Bureau of Corrections both due to COVID-19 and non-COVID-19 causes, while hundreds of prisoners have already been infected by the disease in the country's highly congested and overpopulated jails where measures to combat the pandemic such as physical distancing are impossible to observe. Mass arrests of quarantine violators have worsened the already inhumane conditions in jails, with 3,095 still in detention as of July 19.
According to Karapatan's data as of June 2020, there are currently 635 political prisoners in the country, with 95 of them suffering from debilitating ailments, and 53 already in advanced age; 100 of them, including Nasino, are women.
Palabay raised alarm that "prisoners are already dying at a worrying rate inside the country's jails as we have long warned for months, but the government is dismissing these demands, downplaying the number of deaths, keeping the families of prisoners in the dark about the actual conditions inside jails, ignoring the risks of the pandemic to elderly and immunocompromised detainees, especially those unjustly jailed, and even worsening the already inhumane conditions in jails by relentlessly conducting mass arrests. They are treating the lives, rights, and welfare of prisoners like disposable garbage and mere numbers."
"We strongly decry the court's unjust and inhumane ruling to separate Ina Nasino from her baby. We strongly reassert our call to grant the humanitarian release for all prisoners, including political prisoners, especially the most vulnerable. We cannot let our prisons turn into corpse factories and COVID-19 breeding grounds: prisoners still have rights and lives that must be secured and protected – and this deteriorating crisis in jails cannot continue. We will not cease in hounding the courts and authorities until they listen to these just demands," the Karapatan officer ended.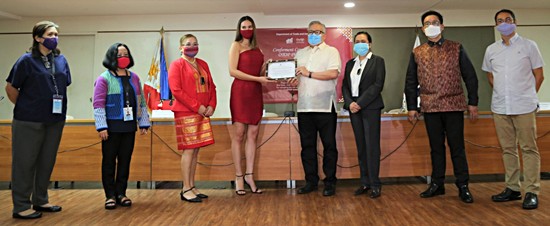 DTI IV-A Regional Director Malou Toledo, Business Development Division Chief Rowena San Jose, Regional Operations Group (ROG) Assistant Secretary Demphna Du Naga, OTOP Philippines Ambassador Catriona Gray, Trade Secretary Ramon Lopez, ROG Undersecretary Blesila Lantayona, ROG Assistant Secretary Dominic Tolentino, and OTOP Consultant Clarke Nebrao.
DTI confers 2018 Miss Universe Catriona Gray as OTOP Philippines Ambassador
By DTI-OSEC-Public Relations Unit
July 21, 2020
MAKATI CITY – On July 21, 2020, One Town One Product (OTOP) Philippines acknowledged Ms. Catriona Gray as their OTOP Philippines Ambassador. This took place at the DTI office, with Asec. Demphna Du Naga, OTOP national program head, signing the contract. Alongside her as witnesses were DTI Secretary Ramon Lopez, DTI ROG Usec. Blesila Lantayona, Asec. Dominic Tolentino and CALABARZON Regional Director Marilou Toledo.
Secretary Ramon Lopez also conferred this ceremony, by bestowing a certificate and token from DTI, to solidify the engagement.
"We would like to thank Ms. Catriona Gray for extending her goodwill for this partnership with DTI and OTOP Next Gen. This is our way to promote the innovations of our Micro, Small, and Medium Entrepreneurs (MSMEs)," Sec. Lopez said.
He added, "This partnership is a perfect match because just like Ms. Gray, we would like our OTOP Next Gen products to be as beautiful inside and out and to be as modern yet very Filipina. We love how Ms. Catriona is showing her love for country and helping the Philippine MSME sector – especially in this difficult time of the pandemic – by raising awareness not only in the country but also worldwide."
Ms. Catriona Gray was crowned Miss Universe in 2018. She has since been a proud supporter of the arts and culture of the Philippines around the world, sharing in many advocacies. Now, she has become part of OTOP Philippines as the Ambassador.
As the OTOP Ambassador, she will be bringing attention to OTOP Philippine's MODA (Modernong Obra Disenyong Atin) initiatives. She will spread the importance of Filipino history through MODA weaver's designs, textiles and patterns, by way of modern fashion, and by collaborating with local designers to promote entrepreneurship and help the weaver communities to expand their market.
As the OTOP Ambassador, she will partner with the 64 weaving communities all over the country, representing all the regions & paired with 47 local OTOPreneur designers. In her role, she will be responsible for empowering MODA by using her influence as an icon and influencer on social media, transcending both local and international platforms as Miss Universe 2018. Aside from this, she will be responsible for spreading awareness about the MODA weaver communities through her "Raise Your Flag" videos, informing and attracting audiences to the elegance of our textiles, weavers, and fashion.
She will also be proudly exhibiting MODA weavers' designs by having a virtual online fashion show. Through this, she will be able to garner buyers for MODA weaver communities, and show her full support and admiration for our Filipino fashion, art and culture.
The awareness that she will cultivate for our weavers and designers goes far beyond just the appearance. By stepping up to this position of OTOP Ambassador, she is going out of her way to bring love, care and respect to our cultural history and most especially to her fellow Filipinos who are building their businesses and are growing OTOPreneurs.
As spoken by Asec. Demphna Du Naga: "She sees the great value in our filipino culture, and it is wonderful that she has seen the wonders and beauty of our weavers in MODA or Modernong Obra Disenyong Atin"
Ms. Catriona Gray will be leading a brighter path for shedding light on our culture, our entrepreneurs, our products and our pride as Filipinos.
Galing ng Pilipino, Angat sa Mundo. OTOP, Atin 'to! #RaiseYourFlagOTOPreneurs.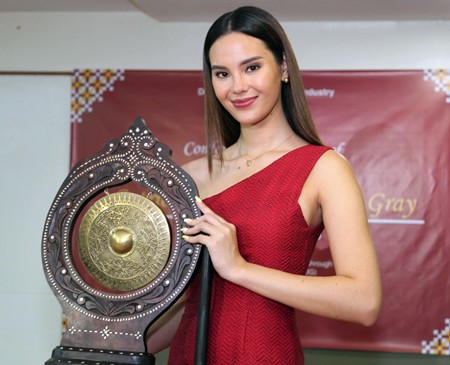 Another remains of NPA member found in Bobon, Northern Samar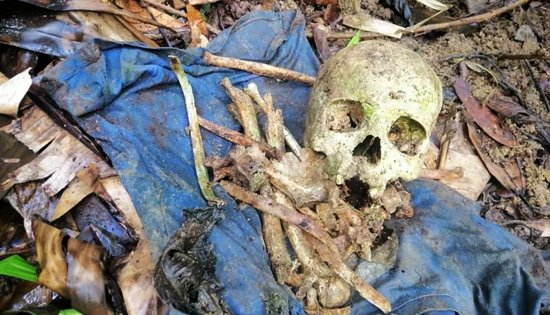 By 43rd Infantry Battalion, 8ID PA
July 18, 2020
LOPE DE VEGA, Northern Samar – The troops of Charlie Company, 43rd Infantry (We Search) Battalion, 8th Infantry Division, Philippine Army, while conducting perimeter patrol to search the reported remains of a CPP- NPA-Terrorist (CNT) member, discovered skeletal remains at the vicinity of Brgy. E. Duran, Bobon, Northern Samar at 7:00 in the morning of July 17, 2020.
The troops immediately secured the location, documented the same and turned-over the said remains to PNP SOCO of Catarman, Northern Samar for proper disposition.
Accordingly, the said remains is of a CNT member who was killed during the series of encounter by this unit in Brgy. Cag-amesarag, Lope de Vega, Northern Samar last August 3 and 4, 2019.
The remains of certain Emma Termo, CNT member, who died in an encounter sometime in 2009 was also found in Brgy E. Duran on July 10, 2020.
Lieutenant Colonel Raymundo Picut Jr., Commanding Officer of 43rd IB, extends his deepest sympathy to the family and friends of the CNT members who were abandoned by their comrades while struggling for their lives.
"Your government forces will continue its commitment to serve justice to the CNT victims so as to attain peace and development in Northern Samar", a reassuring remark of Picut.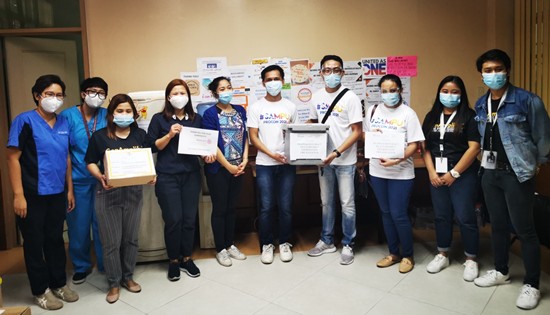 Turnover of COVID-19 test kits donation of Pilipinas Rotaract MDIO represented by Chair Louie De Real and Chair Elect Manuel Joseph Franco (6th and 7th from the left) to UP National Institutes of Health represented by Dr. Karen Sotalbo (5th from the left).
Filipino Rotaractors raise funds for COVID-19 test kits
By REGINA GRACE REYES
Rotaract Club of Calumpit
July 18, 2020
MANILA – Ignited by the eagerness to extend humanitarian aid during this COVID-19 pandemic, the Pilipinas Rotaract Convention 2021 Organizing Committee, mainly composed of Rotaractors from Rotary International District 3770, in partnership with the Pilipinas Rotaract Multi-District Information Organization, conducted a fundraising campaign entitled Project #SAMPU Sama-Sama sa Mas Pinatibay na Ugnayan Laban sa COVID-19 from April 14-27, 2020.
The campaign aimed to raise an amount of P160,700 to purchase 100 GenAmplify™ COVID-19 rRT-PCR Detection Kits in support of the mass testing program. GenAmplify™ COVID-19 rRT-PCR Detection Kit is the low-cost test kit invented locally by a team of scientists from the University of the Philippines National Institutes of Health, the Philippine Genome Center, and the Manila HealthTek, Inc.
With humble hopes of purchasing only 100 COVID-19 Testing Kits, the donation drive surpassed its target in just four days after the launch of the campaign. This was through the ripple effects of donations coming not just from Filipino Rotaractors but also from Rotarians and even family and friends outside of Rotary. At the end of the campaign last April 27, the team was able to raise Php 259,484 which funded the production of 161 COVID-19 test kits turned over to the University of the Philippines – National Institutes of Health last July 6, 2020. The donations came from 73 Rotaract Clubs, 4 Rotary Clubs and other donor groups and individuals across the country.
Pilipinas MDIO is a Rotary international-recognized organization which aims at strengthening the Rotaract movement in the country. It is run by the District Rotaract Representatives and chaired by an elected Past DRR from a member district. Its programs and services are administered by a team of volunteer past club and district Rotaract leaders across the country. One of the core purposes of the MDIO is to promote multi-district service projects such as this fundraising campaign for COVID-19 test kits.