'Diskwento' Caravan continues roll out in Eastern Visayas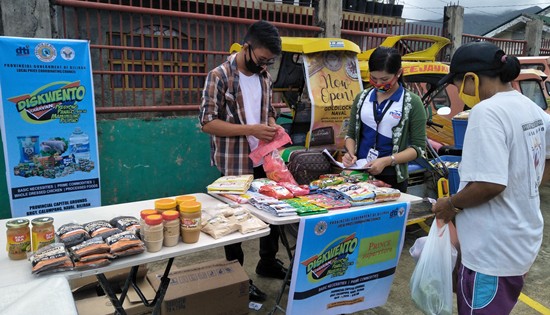 By DTI-ROG
May 26, 2020
MAKATI CITY – Addressing the needs of consumers for accessible and affordable basic necessities and prime commodities amid the COVID-19 crisis, the 'Diskwento' Caravan of the Department of Trade and Industry (DTI) has been continuously rolling out nationwide reaching even the rural and marginalized areas.
In Eastern Visayas, the rolling store has been catering more food among low-income families in Biliran. To date, DTI has conducted fourteen (14) runs of 'Diskwento' Caravan since April 16, 2020 in the province.
The caravan is in support and tie-up with the Office of the Provincial Agriculture Services (OPAS) of the Biliran provincial local government, the Department of Agriculture's (DA), the Bureau of Fisheries and Aquatic Resources' (BFAR) "Kadiwa ni Ani at Kita" Project under the help of Governor Rogelio Espina.
The products in the 'Diskwento' Caravan include instant noodles, coffee, canned sardines, soap, condiments; locally produced food products such as salted egg, ground robusta coffee, ginger tea/ salabat, tumeric, tablea, peanut butter, peanut brittle, papaya pickles, dressed chicken; and other available agri-fishery products like fresh fish, pork, vegetables and fruits.
The 'Diskwento' Caravan was seen to be effective and efficient for both sellers and market goers. The 14 runs have served twenty-five (25) Barangays or a total of seven hundred ninety-three (793) households in the Municipalities of Naval, Cabucgayan, and Maripipi.
Suppliers of Basic Necessities and Prime Commodities (BNPC) that were invited by DTI in Biliran generated total sales of P302,222.00. This serves also a good avenue for local distributors and suppliers to reach their target market and beef up sales from the drop due to the limited mobility of buyers.
"DTI will be in its forefront conducting more 'Diskwento' Caravans in other municipalities together with their LGU agricultural offices and the DA, to continually serve the masses while the province of Biliran is under a General Community Quarantine (GCQ)," said OIC Provincial Director Faustino V. Gayas, Jr.
DPWH completes flood control along Oquendo Bridge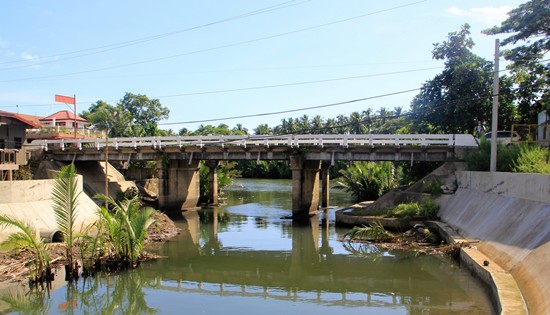 By CHENZI MAY D. UY
May 26, 2020
CALBAYOG CITY – The Department of Public Works and Highways has completed another flood control structure along Oquendo Creek to support the abutment of Oquendo Bridge, which runs via Lope de Vega route.
The structure is 320-linear-meters long and stands at a height of 2.66 meters.
Flood control management is essential to protect the bridge from flood damage as well as to preserve the riverbanks from erosion. Consequently, the flood control structure also keeps the creek's floodwaters away from the people who have settled in the floodplain areas.
Oquendo Creek streams into the Jibatang River, one of the two major river systems in the Samar I district. According to Barangay Captain Jaime Y. Hernandez, flooding is a perpetual problem in their village particularly in areas near these bodies of water. A heavy rainfall event is enough to overtop the creek and cause flooding.
The completed project has an allotment of 45 million pesos from the General Appropriations Act (GAA) 2019.
DTI pushes for immediate passage of stimulus package to mitigate COVID-19 fallout
By DTI-OSEC-PRU
May 25, 2020
MAKATI CITY – The Department of Trade and Industry (DTI) is seeking the urgent passage of the proposed Philippine Economic Stimulus Act of 2020 (PESA), which aims to provide immediate assistance to workers and businesses and help the economy recover from the impact of the COVID-19 pandemic.
"We affirm the need to help sustain the income of workers and businesses adversely impacted by the pandemic as we gradually reopen our economy," Trade Secretary Ramon Lopez said.
"By providing working capital assistance, technical and entrepreneurial education, and financial management, among others, we will be able to protect Filipinos by ensuring businesses will continue operating post-lockdown and help turn the tide for businesses and workers affected by the health crisis," he added.
Under the PESA bill, the government will earmark Php1.3 trillion as a post-pandemic stimulus package, which includes a budget of P650 billion for an expanded infrastructure program on health care, education, and food security.
The proposed law will also allot: P300 billion for the National Emergency and Investment Corp., which seeks to "minimize the damage" wrought by COVID-19 to the economy; P200 billion for wage subsidies and the grant of interest-free loans to assist micro, small and medium enterprises (MSMEs), including businesses labeled "non-essential" during the lockdown; as well as P128 billion for the Credit Mediation and Restructuring Guarantee Fund, an expanded loan program that will cover all "critically-impacted businesses" nationwide, among others.
The bill is aimed at restoring business confidence and operations, as well as preventing business closure prior to the imposition of the Enhanced Community Quarantine (ECQ). It has also been the subject of many consultations and hearings under the Committees on Economic Affairs under Chairperson Sharon Garin and Trade and Industry under Chairman Wes Gatchalian, which consolidates the proposals of Albay 2nd District Rep. Joey Salceda and Marikina Rep. Stella Luz Quimbo.
The trade chief expressed his thanks to the House of Representatives led by Speaker Alan Peter Cayetano and Majority Leader Martin Romualdez for their strong support to revive the economy.
"Businesses have already lost a significant amount of income due to the challenges in logistics brought about by the ECQ," Sec. Lopez said.
He explained, "As we work towards the gradual lifting of the quarantine, more businesses will be able to operate, but at lower capacities due to limited capital resources that dwindled during the quarantine period. There are also strict health measures that are being imposed and the firms would need working capital loans."
"At a very critical time such as this, we must not only ensure a safe working environment for our citizens, but also continue to find means to support, and more importantly save the jobs of those adversely affected to facilitate faster economic recovery," Sec. Lopez added.
FLETC focus with Dr. Ruth Simmons: Spotlighting Asian-American Pacific Islander Heritage Month and FLETC's 50th Year
By JENNIFER SCALES
May 19, 2020
GLYNCO, GA – The Federal Law Enforcement Training Centers (FLETC) salutes Asian-American and Pacific Islander Heritage Month (AAPIHM) through a series of articles recognizing FLETC staff of Asian and Pacific Island descent. The AAPIHM national campaign theme "Unite Our Nation by Empowering Equality" reminds us that we are stronger together; united by our common ties and better collectively because of our distinct experiences. Our first focus article shines a light on Dr. Ruth Simmons, Senior Program Analyst in Artesia, New Mexico.
Dr. Simmons is no stranger to public service. Born to Mabini and Teodora in Angono, Rizal, The Philippines, the family relocated to San Diego when Simmons was an infant after her father, a U.S. Navy member, received reassignment orders.
"Both of my parents were hardworking, industrious, innovative, and they valued education and learning," says Simmons. "My Dad always told us when we were growing up that no one is ever too old to learn. And to this day, I love and welcome learning new things and new ideas."
Selected as FLETC's first physician assistant in 1995, Dr. Simmons recalls wanting to be a part of the organization where most in the federal law enforcement field receive their training prior to being deployed to the field. Dr. Simmons has served in a variety of positions since her tenure at FLETC began, including Branch Chief, Assets Management Branch; Management Analyst; Administrative Property Specialist; Supply Management Specialist and Physician Assistant/Acting Medical Officer in Charge.
Dr. Simmons is an impactful and innovative employee, and many of her ideas have enhanced FLETC processes. "We used to have to write down by hand the "SOAPs" (Subjective, Objective/Physical Findings, Assessment and Plan) for each patient that we saw in the Health Unit," Simmons says. With her suggestions, an electronic medical record created in collaboration with Information Technology (IT) is now in use. Another suggestion made by Dr. Simmons to track injury trends now impacts training by focusing on injury prevention. This was done in collaboration with the Research and Evaluation Division, the FLETC athletic trainers and the Office of Workers Compensation Program (OWCP) Specialist in the Human Capital Office. Another suggestion adopted by FLETC was Dr. Simmons' idea to form a Medical Review Board to evaluate and decide students' medical ability to continue or discontinue training.
Suggestions and ideas come to Simmons as second nature now. "I love looking at various processes, analyzing and researching where I can make it better," Simmons says. "I thrive in being innovative and relish the creativity that comes with it."
As FLETC approaches its 50th anniversary, Dr. Simmons foresees bright days ahead for our organization. "FLETC has always been, and I firmly believe, it will always be, in the forefront when it comes to law enforcement training which is its mission, because we don't rest on our laurels and get complacent," Simmons says. "We keep on seeking higher sights and moving to higher ground so we can be the best there is in the world. There are a lot of innovative changes ahead of us especially in the field of information technology and artificial intelligence and we will always be the best as we remain adaptable, agile, flexible, innovative, resilient and open minded with the willingness to embrace change to make us better."
Simmons concludes, "FLETC is a place where there are great people, a great environment, opportunities for career growth…it's just the best Law Enforcement Training Centers in the world."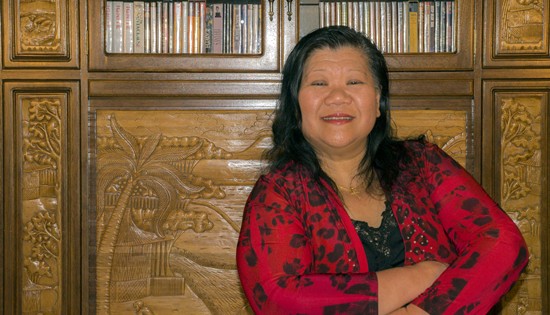 Sharing a smile and good vibes for Asian-American and Pacific Islander Heritage Month, Dr. Ruth Simmons, Senior Program Analyst for the Federal Law Enforcement Training Centers in Artesia, New Mexico, from her home. (Photo by Ben Briones, Jr.)
DTI helps prisoners and IPs sustain livelihood adaptable to the pandemic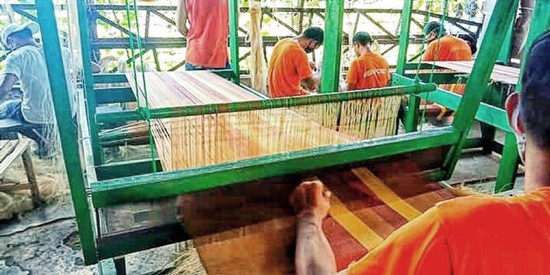 By DTI-ROG
May 18, 2020
MAKATI CITY – Helping the micro, small and medium enterprises (MSMEs) cope with the prolonged economic slowdown brought about by the COVID-19 lockdown, the Department of Trade and Industry (DTI), through its Regional Operations Group (ROG) spearheaded by Undersecretary Blesila Lantayona, has been dynamic and responsive to the needs of the sector equipping them to venture into opportunities fit in the pandemic crisis.
Consequently, DTI-Davao del Norte introduced to Gleizl Joy Cabahug Soo of Modishchey Creations the idea of producing reusable and fashionable face masks made of banana fibers. This is part of the office's assistance to the company to sustain its business operation and to provide employment amid the constraints brought by the current situation.
Modishchey Creations came up with a line of fashion pieces using the banana fiber woven textile. This fiber is called "musa" that derives from the scientific name of banana. Using the musa fabric as the main material of the textile, Soo incorporated her creation with a sustainable textile produced by Davao del Norte's Indigenous People (IP) women weavers as well as the prisoners or people deprived of liberty (PDLs. These banana fiber woven textiles are the output of DTI's initiative last year, the training on banana fiber weaving among the IPs and the prisoners.
DTI has noted the primary aim of this project, which is to promote sustainable livelihood for the IPs especially among the prisoners who have no means of providing for their families.
Within a short period after its introduction to the market on May 8, 2020, a total of 60 pieces were already sold. Aside from this, Soo received an order of 1,000 pieces from Visayas and as far as the United States.
Soo's new product line has initially provided jobs to seven tailors and 20 weavers. It is also expected to expand and generate more income for them as the musa fabric is keen on widening its market.
Meanwhile, DTI-Davao del Norte is committed to continue its support to the project, which is being seen to sustain the banana fiber production through the Department's Shared Service Facility (SSF) program as well. Weavers in six communities in the different municipalities of Davao del Norte were already trained. They are now ready to be tapped whenever there is an increase in the volume requirement.
Apart from the face masks, Modishchey Creations has also created washable bags and fashion dresses featured during the 22nd Araw ng Tagum and the 10th Anniversary of the Fashion Designers Alliance of the Philippines in Taguig City. Further, with the encouragement of DTI, Soo filed its trademark application for MUSA Fabric last February 21.
The province of Davao del Norte is known as the "Banana Capital of the Philippines" since it is home to several major banana plantations and small producers. In fact, the industry is driving the export performance of the province. With the banana textile face masks and other MUSA Fabric products, the industry is surely adding more value, especially with the introduction of post-Corona Fashion. Moreover, it will also give an opportunity for additional income among weavers, designers and MSMEs.
DOLE RO8 assists 12,901 private workers through CAMP
By NORMA RAE S. COSTIMIANO
May 15, 2020
TACLOBAN CITY – Under its CoViD-19 Adjustment Measures Program (CAMP), the Department of Labor and Employment Regional Office VIII has provided P5,000.00 financial aid to 12,901 workers of some 915 private establishments in Eastern Visayas affected by the CoViD-19 pandemic, with a total assistance amounting to P64,505,000.00.
Of the total approved and paid establishments, 712 have resorted to temporary closure, displacing 8,883 workers while the remaining 203 establishments have implemented flexible work arrangements affecting 4,018 employees.
The one-time financial assistance was received by the beneficiaries through the M Lhuilier remittance center nearest them.
Breaking down the regional accomplishments, Northern Leyte Field Office, where the highly urbanized city of Tacloban is located, got the biggest share of the CAMP funds at 34% equivalent to P21,970,000 benefiting 4,394 workers from 291 firms. Ranking second is the Samar Field Office with 17% equivalent to P10,925,000.00 benefiting 2,185 employees of 120 establishments mostly located in Catbalogan City and Calbayog City.
Following closely were the West Leyte and Southern Leyte Field Offices, having 1,934 and 1,827 beneficiaries which translates to fund disbursements of P9,670,000.00 and P9,135,000.00, respectively.
Meanwhile, the remaining three field offices had their fare share considering the fewer establishments located thereat. Biliran Field Office was able to assist 1,117 workers equivalent to fund disbursement of P5,585,000.00 while the Northern Samar Field Office disbursed a total of P4,480,000.00 for the benefit of 896 affected workers. Eastern Samar Field Offices had the smallest share with P2,740,000.00, benefitting some 548 affected workers.
With the suspension of CAMP due to depleted funds, Regional Director Yahya A. Centi said that DOLE has done its best effort to extend help to the needy workers of the region displaced by the CoViD-19 crisis.
"We at DOLE have done the best way possible we can to extend assistance to our private workers through the CAMP. Although we were not able to accommodate all applicants due to lack of funds, we are happy serving the people of Region VIII", said Centi.
CAMP is DOLE's safety net program for the formal sector which provides a one-time financial assistance of Five Thousand Pesos (P5,000.00) to workers in private establishments who experienced loss or reduction of income due to implementation of Temporary Closure or Flexible Work Arrangements (FWA) during the COVID19 outbreak.

MAALSAD Farmer Irrigators Service Cooperative (FISCO) chairman, Reynaldo Peja, said that aside from the quarantine accreditation pass, the hauling truck provided by the Department of Agrarian Reform (DAR) is of big help to their organization as they continue to deliver milled-rice during the lockdown. (Photo courtesy of Roberto Cajipe)
Agrarian reform beneficiary organizations provide critical food supplies to hospital, jail
By JOHN COLASITO
May 14, 2020
TACLOBAN CITY – OIC-Regional Director Ismael Aya-ay of the Department of Agrarian Reform (DAR) was happy to know that the agency-issued quarantine accreditation pass helped the marketing activities of the agrarian reform beneficiaries organizations (ARBOs) in Eastern Visayas survive amidst the lockdown prevailing in the country due to the coronavirus disease 2019 (COVID-19) pandemic.
In the province of Leyte, two DAR-assisted farmer organizations continue to provide critical food supplies to government institutions.
Leyte-Biliran Provincial Agrarian Reform Program Officer II, Renato Badilla, disclosed that the MAALSADA Farmer Irrigators Service Cooperative (FISCO) continues to deliver over 6,000 kilos of milled-rice to the Eastern Visayas Regional Medical Center (EVRMC) in this city despite the lockdown.
MAALSADA FISCO, situated in remote Sitio Amanantas of Barangay Dapdap in Alangalang town, is a farmer organization supported by the DAR.
On the other hand, Badilla added, another DAR-assisted farmer organization, the Paglaum Farmers Association (PFA), likewise sustains to supply some 3,000 kilos of assorted vegetables to the Bureau of Jail Management and Penology (BJMP), also in this city, despite the current situation.
PFA is based in an upland village in this city some 15 kilometers away from the downtown area. Both organizations are part of a separate marketing tie-up arrangements facilitated by DAR under the Enhanced Partnership Against Hunger and Poverty program (EPAHP).
According to Badilla, under the marketing tie-up arrangements, EVRMC and BJMP will buy milled rice, vegetables, fruits and other farm products which they will use in feeding patients, and persons deprived of liberty (PDL), respectively, from the two-mentioned ARBOs.
As assistance extended by the office to the two ARBOs during this hard and trying times, Badilla added that they were among those provided with the DAR-issued quarantine accreditation pass which was authorized by the inter Agency Task Force for the Management of Emerging Infectious Disease (IATF-EID) based on Resolution No. 19, dated April 3, 2020, to allow agrarian reform beneficiaries (ARBs) the continuous supply of agricultural products to critical areas affected by the enhanced community quarantine.
Meanwhile, MAALSADA FISCO chairman, Reynaldo Peja, shared that aside from the quarantine accreditation pass, the hauling truck provided by DAR to their organization, which is into rice trading business, is also of big help to them.
Global human rights group decries massacre of five Filipino farmers amid pandemic
Philippines still plagued by killings and arrests of food producers
Press Release
May 14, 2020
MANILA – "It alarms us that even Filipino farmers, who are food security front liners in a country barely winning the battle against the COVID-19, have become targets of the Philippine government's more brutal crackdown," says Peter Murphy, Chairperson of the International Coalition for Human Rights in the Philippines (ICHRP).
In a statement, ICHRP, a global network of human rights advocates, has strongly condemned the killing of farmers in this time of the pandemic. On top of the already slumped agriculture and distressed food producers, the relentless killings and attacks have wreaked fear in the country's rural areas.
The farmers slain by state forces were identified as Jeric Vuno, Jerry Palanca, Robert Villafuerte, Raymundo Tańada, and Jaime Tańada residents of Dolos village in Bulan, Sorsogon province, 600 kilometres south of Manila. According to local reports, the victims were forcibly taken from their homes and executed at around 5 am on the morning of May 8.
The massacre was denied by the Philippine authorities, who instead claimed that the farmers were rebels. However, reports say that it was the Armed Forces of the Philippines (AFP) and the Philippine National Police (PNP) who arrived that day and summarily executed the residents including Robert Villafuerte, who according to locals, suffers from a mental health problem.
Neighboring residents were also harassed and beaten up by the armed authorities which resulted in physical injuries. The victims were Alvin Abuyog, Randy Golimlim, Marissa Estiller, and her two children.
Another, more recent case is the illegal arrest of farmers in Calaca, in the province of Batangas early morning of May 10 by a joint police and military operation. According to sugar workers and members of the Samahan ng mga Magsasaka sa Coral ni Lopez (Organisation of Farmers in Coral ni Lopez-SAMACOLO), the seized victims were Virgilio Vidal, Marcelo Vidal, July Julongbayan, Leovino Julongbayan, Doroteo Bautista and Roilan Tenorio. The farmers' group said that they were illegally arrested and that the arresting team forcibly entered the houses and planted guns, ammunition, and explosives. Local residents said that some of those arrested are their village officials and had been facilitating the distribution of cash aid a day before the incident.
The global human rights group has condemned President Duterte for using the COVID-19 as an occasion if not an excuse to further his aims to implement de facto martial law throughout the country. ICHRP highlighted the comment of the UN High Commissioner for Human Rights, Michelle Bachelet that the Philippines' "highly militarised response" to the pandemic had led to the arrest of more than 120,000 people including activists leading relief efforts.
"It is but heartbreaking and ironic that the killings and abuses continue at a time when we are trying to save lives from the lethal coronavirus," says ICHRP. The government's counterinsurgency operations in rural areas have been non-stop despite UN Secretary-General António Guterres' reiteration for a global ceasefire. With the massacre in Sorsogon and the recent arrests in Batangas, food producers and rural folks have become the collateral damage. Since Duterte became president, there have been nearly 250 political killings of farmers.
"We call on our international colleagues to press for the accountability of state forces in the killings, arrests and other human rights violations in the Philippines," ICHRP concluded.
1 NPA terrorist killed, M16 rifle and explosives seized in Pinabacdao, Samar
By DPAO, 8ID PA
May 13, 2020
CAMP LUKBAN, Catbalogan, Samar – Retooled Community Support Program (RCSP) Team of the 46th Infantry (Peacemakers) Battalion, Philippine Army encountered not less than five (5) CPP-NPA Terrorists (CNTs) in Barangay Layo, Pinabacdao, Samar today, May 13, 2020 at about 10:30 in the morning. The encounter ensued when government security forces responded to an information provided by the locals on the presence of an armed group conducting extortion activities.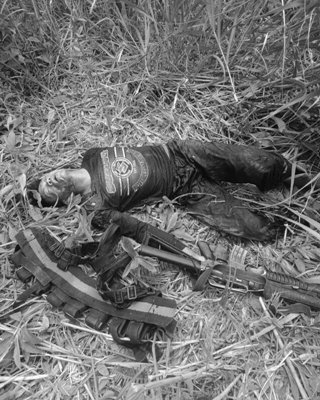 After a 10-minute firefight, the rebels retreated leaving behind their dead comrade with one M16 rifle w/ attached M203 Grenade Launcher; one Improvised Explosive Device (IED) approximately weighing 5 kilograms; one blasting cap; one bandolier with one long magazine for M16 rifle loaded with 10 rounds ammunition; two rounds of ammunition for M203 Grenade Launcher and ammunition for AK47. There was no casualty on the government side.
Lieutenant Colonel Rhomel R. Langcauon, Commanding Officer of 46IB, lauded the RCSP Team for their efforts and the residents for providing the Army with timely and vital information that led to the successful security operation.
Colonel Camilo Z. Ligayo, 801st Brigade Commander, in his statement, "This is a display of the intensified support of local communities to the government, denouncing the atrocities and activities of the rebel-terrorists. It is a tragedy that another rebel loses his life as a victim of this senseless armed struggle in an attempt to defend a futile ideology. If they only considered the call to return to mainstream society, unnecessary deaths in encounters like this would have never occurred."
Arrest of teacher over online post, an overkill, shows selective law enforcement
ACT Press Release
May 13, 2020
QUEZON CITY - The Alliance of Concerned Teachers (ACT) Philippines denounced the arrest of public school teacher Ronnel Mas due to an allegedly seditious social media post against the President, which the group argued did not merit such harsh measures from the NBI owing to the clear improbability of the alleged threat in the assailed post. In the now deleted tweet, Mas offered a P50 million bounty for anyone who will kill President Duterte.
"Teachers' dire economic state is no secret to the people, especially to the government. 25-year old Teacher Ronnel obviously does not have P50 million to pay as bounty hence his post clearly does not pose any serious threat to the President. Why then did the NBI spend valuable time and resources to apprehend this teacher?" raised ACT Secretary General Raymond Basilio.
Mas is a Social Studies teacher in Taltal National High School, Zambales and was awarded 3rd place as 2019 Outstanding Secondary Teacher in the province.
ACT noted Mas to be the 3rd teacher who was arrested during the quarantine period for airing out their disappointments and frustrations over the government's faulty response to the COVID-19 crisis.
More baffling for the teachers' federation is the prevalence of even more violent and disturbing posts and pronouncements by Duterte supporters and even government officials against critics of the administration which had not been met with the same aggressive response from law enforcers. The group cited the President's various official media pressers where he called on authorities to commit murder and rape, among others, against critics, oppositions, and anyone else deemed as enemies of the administration. This is later echoed by online trolls as well as by officials like DFA Secretary Teddy Locsin, Jr. who was recently in hot waters for saying that the Bagong Alyansang Makabayan (BAYAN) shall be shot to death as he alleged the group to be communists.
"It is therefore clear that this is not a matter of implementing the law down to the last letter, but a selective imposition depending on the powers-that-be's prerogatives. It is an issue of repression and punitive actions against dissenters and sentiments that may be seen as 'anti-government.' This is an attack on free speech, on democracy. This is an attempt to sow fear among the people, to dissuade them to speak up about their situation and convictions," criticized Basilio.
ACT further lambasted the government for its 'consistent weaponization of the law' to silence critics while launching a 'massive disinformation campaign.' Such widespread malpractice of state forces earns them a new title – from law enforcers to law abusers.
"We call on fellow defenders of democracy to resist all attempts to trample on our rights and freedoms. Free Teacher Ronnel!" called Basilio.
Mas is the fifth teacher to have been accosted during the enhanced community quarantine. The first ones were Teachers Juliet and Eli Espińosa of General Santos City, followed by Teacher Dale Gregory Medins on Las Pińas City, then Teacher Edison Carsera of Norzagaray.