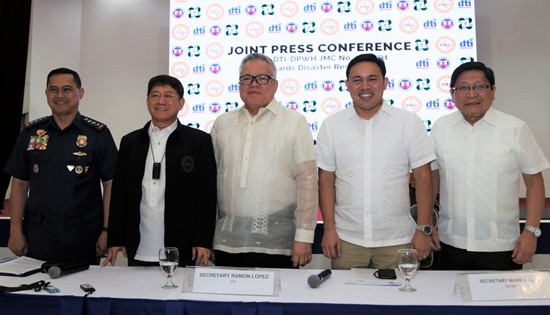 (L-R): PNP Chief Archie Francisco Gamboa, DILG Secretary Eduardo Año, DTI Secretary Ramon Lopez, DPWH Secretary Mark Villar, and MMDA Chair Danilo Lim.
Selling substandard products like selling illegal drugs - DTI chief
By DTI-OSEC-PRU
February 28, 2020
QUEZON CITY – Department of Trade and Industry (DTI) Secretary Ramon Lopez said that selling substandard products is like selling illegal drugs because both activities endanger the lives of Filipinos.
The trade secretary made this remark during the joint press conference on 26 February 2020 with the Department of Interior and Local Government (DILG) and the Department of Public Works and Highways (DPWH). The press conference tackled the DILG-DTI-DPWH Joint Memorandum Circular (JMC) No. 2019-01 on ensuring safe, adaptive, and disaster resilient communities.
The JMC aims to prepare the Greater Metro Manila Area (GMMA) for the potential devastation in the event of "The Big One" – or a magnitude 7.2 earthquake resulting from the movement of the West Valley Fault.
According to PHILVOLCS OIC for Earthquake and Earthquake Hazards Ishmael Narag, The Big One can potentially kill more than 48,000 people and around 24,000 more in the GMMA.
Under the circular, all local governments are ordered to assess the structural integrity of all public and private buildings, facilities if they conform to the National Building Code of the Philippines.
For his part, Secretary Lopez assured that the Bureau of Philippine Standards imposes compliance to the Philippine National Standards, which is aligned with its international counterparts. The standards for critical construction materials such as steel, cement, and concrete have also been developed and reviewed periodically.
"We even made the procedures stricter in testing standard compliance. For example, we have adjusted the sampling. Before, we only test three pieces no matter how large the imported steel shipment. Now, we are conforming to ISO's ideal sample size: 50 pieces for 20,000 MT," said Sec. Lopez.
He also mentioned additional inspections for local steel manufacturers. As such, he said that DTI is collaborating with DILG and the PNP in conducting surprise inspections on suppliers, wholesalers, and retailers of construction materials.
"We would have to trace the sources, the distributors, warehouses, as well as the source of the manufacturers. To guarantee that substandard materials are kept out of the market, those who fail to comply with requirements can face payment of penalties, revocation of permits, and possible imprisonment," said Sec. Lopez.
Aside from product standards, DTI is also coordinating with food manufacturers, retailers, and distributors to coordinate food supply and delivery to the GMMA in case of earthquakes and other disasters.
"We asked the food manufacturers and retailers for their committed supply and designated areas for delivery in case of natural disasters in the GMMA. This arrangement will just be triggered and run automatically. Some of these will be donated and the others will be paid by the government. We currently have technical working groups finalizing this arrangement," said Sec. Lopez.
Re-orient, overhaul K-12 - ACT
ACT Press Release
February 27, 2020
QUEZON CITY – As the House Committee on Basic Education and Culture tackles today the 'long overdue' review of the K to 12 program, the Alliance of Concerned Teachers (ACT) Philippines issued its urgent call for the government to re-orient the Philippine education system towards a 'nationalist, scientific, and mass-oriented education.' The group said that since their long time call for a thorough evaluation of K to 12 has finally been granted, the government shall take bold measures to correct the 'problematic program,' which will entail a 'complete overhaul' in the service of national interests.
"The key issue with the K to 12 program lies in its core objective, which aims to produce graduates who are immediately ready to work as semi-skilled and cheap laborers here and abroad. The program exploits the majority of impoverished Filipinos for the gain of foreign capital, foregoing the objective of honing the country's human resource to serve the purpose of national industrialization and development," criticized ACT Secretary General Raymond Basilio.
Basilio also hit the curriculum's removal and weakening of integral subjects for the development of nationalism and core values among the youth. ACT cited the removal of Philippine History in high school, the shortening and simplistic presentation of Araling Panlipunan, the faulty implementation of the mother tongue-based multilingual education (MTB-MLE), and the conservative and individualistic approach to Edukasyon sa Pagpapakatao (EsP).
"These are clear manifestations of the neoliberal and colonial character of K to 12. It retards instead of advances the process of molding patriotic youths whose aspirations are interlinked with that of the entire nation and who shall later contribute to national development," lambasted Basilio.
Further exemplification of the problematic program, said ACT, can be seen in the curriculum's emphasis on producing 'outputs' at the expense of the development of higher-level literacy, critical thought, and scientific approach in problem solving. The group cited that not only was time allocation for each subject shortened but an even smaller portion is dedicated to discussion, while the bigger share of time goes to activities supposedly meant to exhibit students multiple forms of intelligence.
"K to 12 curriculum was implemented alongside an array of policies for teachers, which included a very strict budget of work in our congested daily lesson logs. Little focus is given to the thorough digestion of lessons as both students and teachers are pressured to produce multitude of outputs on a daily basis. Such follows the neoliberal framework of efficient production in which output is generated at record time for maximum profit," said Basilio.
Add to that the spiral progression approach of the K to 12 curriculum, which ACT claimed 'messed up and fragmented' students' education.
"In the old curriculum, an entire school year is dedicated for the learning and mastery of different subjects, which progresses into more complex and advanced levels as students likewise proceed to higher levels of schooling. The new curriculum, however, integrates a little of everything without honing mastery, then immediately moves on to the next field, all within a single school year. Students will then go through the same cycle of subjects and fields but with more complex contents in the following year," lamented Basilio.
ACT notes that these issues do not yet mention the haphazard implementation of K to 12 and the government's failure to provide the budgetary, logistical, and administrative requirements of the program, which led to a host of other serious problems such as the worsened shortages in learning resources, the perennial problem of insufficient classrooms, wanting training for teachers, lacking education support personnel at the school level, among others. All these created a substandard quality of education, which is mostly made up for by overworked and underpaid public school teachers, added ACT.
ACT also cited the results of the 2018 Programme for International Student Assessment (PISA), the National Achievement Test (NAT), and the Philippine Informal Reading Inventory (Phil-IRI) as proof of the further decline of education quality under the K to 12 program.
"These are enough causes for alarm to reorient and overhaul the program, not to mention the grave injustice and dire consequences of the dismal state of education to one whole generation of Filipino youth and to our country. What we need is an education based on Philippine context and one that responds to the requisites of national development. Hence, we urge the government to maximize the ongoing review and finally take the necessary measures to establish an education system that follows its constitutional mandate of contributing to national development, instilling patriotism and nationalism, and espousing total human liberation," concluded Basilio.


(L) Gandara River, Barangay Villahermosa Oriental, Pagsanghan, Samar and (R) Cagpaco Creek, Barangay Sigo, Calbayog City, Samar.
DPWH builds two flood control systems in Samar I
By CHENZI MAY D. UY
February 27, 2020
CALBAYOG CITY – Department of Public Works and Highways has completed the construction of two flood control systems in the first district of Samar.
One is built along Gandara River in the adjacent portion of barangay Villahermosa Oriental, which is located in the municipality of Pagsanghan, Samar. The 260-linear-meter structure is made of reinforced concrete and steel sheet piles, costing around P39.2 million.
The specified area is known to be flood prone, hence the significance of the new structure. By keeping the area from being inundated in extreme rainfall events, the flood control structure ensures the safety of residential and agricultural properties located therein.
The other project comprises reinforced concrete structures on both sides of Cagpaco Creek, which runs across barangay Sigo in Calbayog City. Its scope covers a net length of 140 linear meters, amounting to P19.5 million.
The structures not only control flooding but also preserve the integrity of the existing bridge and barangay road that cross the creek.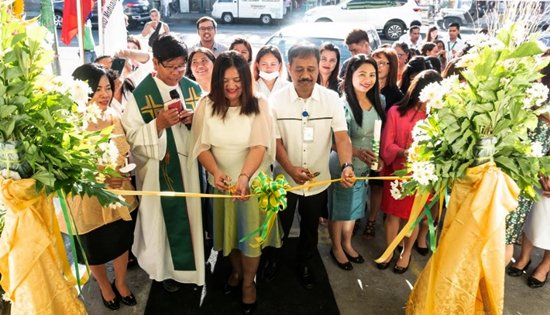 CARD SME Bank opens newest branch in Bacoor City to serve mSMEs. Leading the ribbon cutting ceremony are CARD SME Bank President and CEO Aristeo A. Dequito and CARD MBA President Flordeliza Cristobal.
CARD thrift bank opens 34th branch in Bacoor
By CARD MRI Publishing
February 26, 2020
SAN PABLO CITY – CARD SME Bank, a thrift bank under the CARD Mutually Reinforcing Institutions opened its 34th branch in Bacoor City on February 24, 2020.
Establishing branches in different parts of the country is one of CARD SME Bank's key strategies to make its products and services accessible to mSMEs or micro, small, and medium enterprises and to other businesses and individuals that may require them. "Expanding to Bacoor will enable us to reach our goal of serving more mSMEs through our micro and SME loan products. With each branch we open, we strive to provide opportunities for aspiring entrepreneurs in the country to grow their business and uplift their lives," said CARD SME Bank President and CEO Aristeo A. Dequito during the branch opening.
He also added that other products and services of the bank such as savings accounts and remittance will be available in the newly opened branch. "This is our sixth branch in the province of Cavite. We have seen the potential and development of our clients here and it's the time to respond closely to the growing needs of our microentrepreneur clients," Dequito concluded.
The branch opening was also attended by CARD SME Bank Executive Vice President and COO Cynthia B. Baldeo and CARD MBA President Flordeliza Cristobal. CARD MRI clients and staff, representatives from the local government unit, and other members of the community were also present.
Since its establishment in 2011, CARD SME Bank has a total of 975,070 clients with 319 offices and 34 branches nationwide.
MARINA re-accredits NMP courses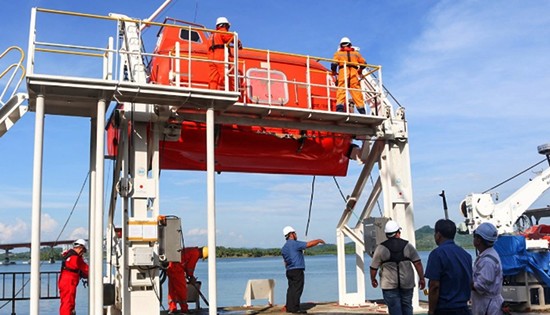 By National Maritime Polytechnic
February 25, 2020
TACLOBAN CITY – The National Maritime Polytechnic (NMP), the sole government maritime training and research center in the country consistent with its mandate to provide maritime training and research that measure up to international standards and respond to the needs of the Filipino Seafarers and the industry, was re-accredited by the Maritime Industry Authority (MARINA).
In a letter from MARINA dated 04 February 2020 relative to the Notice of Accreditation, NMP's five (5) Standards of Training, Certification, and Watchkeeping for Seafarers (STCW) courses namely: Rating's Forming Part of a Navigational Watch (RFPNW), Medical First Aid (MEFA), Survival Craft and Rescue Boats Other than Fast Rescue Boats (SCRB), Refresher course on Survival Craft and Rescue Boats Other than Fast Rescue Boats (RSCRB), and Global Maritime Distress and Safety System (GMDSS) Radio Operators were granted full course approval for three (3) years effective last 14 February 2020 which was the date of the payment of accreditation and inspection fees.
The application for renewal of NMP's courses were in accordance with MARINA Circular 2013-01 or the Rules on the Inspection and Accreditation of Maritime Training Courses, STCW Circular 2018-02 or Standards for Mandatory Training Courses Under The STCW Convention, 1978, as amended, and STCW Advisory No. 2019-05 or Clarifications and Supplemental Guidelines on the Implementation of STCW Circular No. 2018-02.
The said renewal approval was a result of the site inspection conducted by MARINA last 04-08 November 2019 and the submitted course packages to the MARINA Central Office on 21 February 2020 complying the above-mentioned MARINA issuances.
Meanwhile, the other five (5) courses in need of re-accreditation are scheduled for re-inspection by MARINA to verify full compliance of the equipment and facilities on 24-28 February 2020 namely: Basic Training (BT), Refresher Course on Basic Training (RBT), Advance Fire Fighting (AFF), Refresher Course on Advanced Fire Fighting (RAFF), and Ratings Forming Part of a Watch in a Manned Engine-room or designated to Perform Duties in a Periodically Unmanned Engine room (RFPNW).
Adherent to its priority thrust on the quality, accessibility and relevance of training programs and the responsiveness of its maritime researches, NMP continues to upgrade its facilities and provide maritime trainings required pursuant to the STCW Convention as amended in 2010 including value-adding courses towards improving the qualifications of Filipino seafarers for their employment acceptability and enhanced competitiveness. It also regularly conducts maritime studies to come up with policies for the improvement of the manpower sector of the industry.
Moreover, those interested in NMP research undertakings may visit the NMP website (www.nmp.gov.ph) and access the e-Research Information System Portal which is designed to disseminate NMP completed researches, present the Research Agenda and engage the industry stakeholders to collaborate in the research activities.
For more information about NMP trainings viewers may visit the agency's facebook page (www.facebook.com/nmptrainingcenter) where all related information on NMP trainings are available. Likewise, for shortlisting on preferred training schedules, please visit verify.nmp.gov.ph or download the NMP App on Google Play Store.
Further, NMP encourages OWWA registered seafarers to avail of the NMP-OWWA (Overseas Workers Welfare Administration) Seafarers' Upgrading Program (SUP) and Skills for Employment Scholarship Program (SESP) which entitles the beneficiary to receive financial assistance for training costs from the OWWA.
NMP & PCGA strengthen its tie-up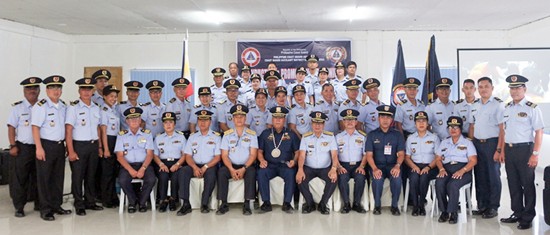 By National Maritime Polytechnic
February 23, 2020
TACLOBAN CITY – The National Maritime Polytechnic (NMP) and Philippine Coast Guard Auxiliary (PCGA) continue to strengthen its tie-up as the NMP Executive Director, Joel B. Maglunsod was inducted as a new member of the PCGA under the PCGA 11Ost Auxiliary Squadron last 09 February 2020 held at the NMP Maritime Training Annex Building, Cabalawan, Tacloban City.
The said induction was led by the Philippine Coast Guard District Eastern Visayas (CGDEV) Commo Normando D Reyes PCG. It also highlighted the promotion of selected NMP employees as officers of the PCGA.
Noteworthy that the cooperation of NMP & PCGA started since 2012 as several NMP employees were appointed to services of the PCGA per PCGDEV General Orders Number 01 dated 24 April 2012. In the same manner, other Directors of NMP were also members of the said auxiliary.
Similarly, on NMP's conduct of Basic Safety Training for Motorboat Handlers/Operators and Fisherfolks with Typhoon Preparedness (BSTMHOF) in coordination with Local Government Units (LGU), the PCG acts as Resource Person/s on topics: Debriefing and Marine Environment Protection that would promote safety of life and property at sea.
Consequently, aligned with the same mission of preserving the marine environment, NMP offers the Consolidated Marine Pollution (MARPOL) 73/78, an STCW Mandated course which discusses ways in minimizing pollution of the oceans and seas including dumping, oil and air pollution among others.
Also in the objective to provide officers and crew onboard the proper operation of the Oily Water Separator (OWS), the said course is also offered by NMP to ensure the preservation of the marine environment through the complete elimination of pollution by oil per MARPOL regulations.
Through the years, the NMP & PCGA tie-up preserved the vision and mission of the auxiliary – to enhance coastal community relations and preserve the marine environment through the conduct of coastal clean-up in various places of the region and other activities adherent to being reliable partners of the PCG.
The PCGA is a uniformed, voluntary, non-government, non-political, service-oriented organization established on 09 February 1972 whose membership adhere to naval customs and traditions; to its organizational structure and its own chain of leadership and management parallel to the PCG.
Further, the PCGA was officially recognized under Section 11 of Republic Act Number 9993, otherwise known as the PCG Law of 2009.
CARD SME Bank and its digital banking transformation
By CARD MRI
February 20, 2020
SAN PABLO CITY – The CARD Mutually Reinforcing Institutions (CARD MRI) has always been an advocate of financial inclusion. Throughout the years, it has been providing Filipinos from the low-income sector with access to financial services. As CARD MRI continues to explore new innovations to reach the goal of poverty eradication, its thrift bank – CARD SME Bank – is undergoing digital transformation to provide reliable banking services.
Late last year, CARD SME Bank introduced to its clients the konek2CARD mobile application where they can do hassle-free banking transactions with the use of android phones. Through this app, clients can monitor their savings account, transfer funds, pay loans, check their transaction history, and view mini statement, anytime and anywhere.
They can also do self-initiated withdrawals from its Digital Cash Machine (DCM) installed in their bank premises via a QR Code generated by the app. A digital cash machine is a proprietary machine provided by the bank for its clients.
Clients can also pay their loans and withdraw their savings through konek2CARD agents located in their barangays.
According to CARD SME Bank President and CEO Aristeo A. Dequito, transforming the mindset of people from traditional banking towards technology is difficult, but the institution's determination to provide its clients better banking experiences is their utmost priority. This makes changing the outlook of its clients in its digitalization efforts a top priority.
"We know that introducing a new technology may be challenging, but we assure them that these innovations are of highest integrity and user-friendly. Our efforts are now paying off as our clients are experiencing the efficiency of these services," said Dequito.
Digital banking through konek2CARD and Digital Cash Machine
Said CARD SME Bank client Josefina Carpio, "konek2CARD initiative is really a good development for the clients of the bank. Withdrawals are done faster. Another good thing about konek2CARD is its convenient features like adding mobile top-ups. We always have our smartphones with us anywhere we go and konek2CARD is very convenient when we forget our ledgers or ATM cards. We can always access our savings account, anytime and anywhere. This mobile application is also very user-friendly."
Carpio also encourages other clients to use the mobile app for easier banking transactions.
The bank is initially offering this service to its clients who are residing in hard-to-reach areas to provide them access to their accounts and do other transactions without going to the bank.
"Through these digital transformations, CARD SME Bank clients can now work smarter as they experience more efficient banking services," said Dequito. These digital revolutions can help clients decrease cost by not regularly going to the bank and be more productive.
Its clients are more satisfied with the fast and competent services rendered by the banking institution.
"Through these efforts, CARD SME Bank is pushing for digital financial inclusivity for all so everyone can have access to affordable financial products and services of CARD MRI," Dequito concluded.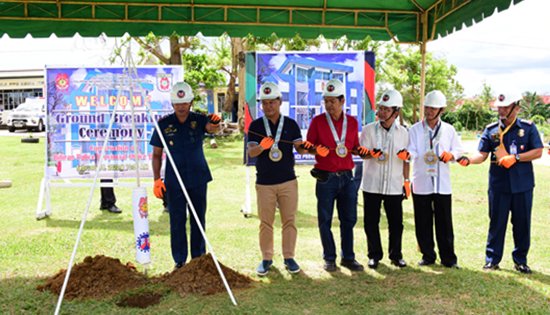 Photo from left: PCol. Julius M. Coyme, Provincial Director, BPPO lead the dropping of time capsule together with Hon. Brigido Caneja III, Vice-Governor, Engr. Warlito Alagao, Proprietor of W.B. Alagao Construction, Mr. Jesus Naquila, Provincial Director DILG Biliran, Alfredo L. Bollido, Assistant District Engineer of DPWH-Biliran DEO, PCol. Arnel Apud, Regional Logistics, Research and Development Division and PMaj. Aspiro Badiola, OIC, Regional Engineering Unit during the groundbreaking ceremony for the construction of Biliran Provincial Police Office Building on February 18, 2020 at Brgy. Larrazabal, Naval, Biliran.
PNP, DPWH lead the groundbreaking ceremony for new Biliran Provincial Police Office (BPPO) building
By DPWH-Biliran
February 20, 2020
NAVAL, Biliran – The Philippine National Police (PNP) Biliran Provincial Police Office (BPPO) and the Department of Public Works and Highways (DEO) Biliran District Engineering Office (DEO) lead the groundbreaking ceremony for the new BPPO building on February 18, 2020 at Brgy. Larrazabal, Naval Biliran.
"The new building is an upgraded version of a standard police office building where the men and women of BPPO will be housed to have more decent and presentable police office," said Police Colonel (PCol) Julius M. Coyme, Provincial Director, BPPO.
Coyme revealed that the construction of new building was realized because the assessment conducted to the existing BPPO building tells that the building is unstable for occupancy after the earthquake on April 23, 2018.
A total of P24.15M was allotted by the DPWH in convergence with the PNP for the construction of the three-storey new building which is expected to be completed on November 06, 2020.
"The construction of this new PNP building is a manifestation that BPPO is finally ready to provide the public with the quality of service they rightfully deserve," said PCol. Marvin Manuel Pepino, Deputy Regional Director for Administration in his speech delivered by PCol. Arnel Apud.
According to Pepino, the new building will not only serve as a mere structure but it will also signify as an avenue for community partnership and stakeholders' support.
"Having a conducive workplace embedded with fully functional facilities is not only bringing comfort for the personnel who will utilize such. It is also highlighting the idea that the whole community will benefit in this progressive cause," Pepino said.
The ground breaking ceremony was led by PCol Julius M. Coyme, Provincial Director, BPPO, Alfredo Bollido, Assistant District Engineer for and in behalf of David Adongay Jr., District Engineer of DPWH-Biliran DEO, Hon. Brigido Caneja III, Vice-Governor representing Hon. Rogelio Espina, Governor, Engr. Warlito Alagao, Proprietor of W.B. Alagao Construction, Mr. Jesus Naquila, Provincial Director DILG Biliran, PCol. Arnel Apud, Regional Logistics, Research and Development Division and PMaj. Aspiro Badiola, OIC, Regional Engineering Unit.
Senate version of CITIRA to help remove investor uncertainty - DTI chief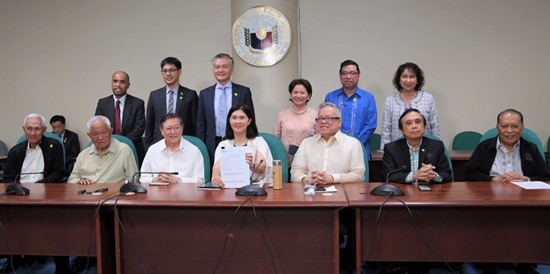 By DTI-OSEC-PRU
February 20, 2020
PASAY – Department of Trade and Industry (DTI) Secretary Ramon Lopez said that the tax reform bill endorsed by the Senate Ways and Means Committee is a well-balanced approach to the corporate tax reform and helps remove the uncertainty of foreign investors.
On 19 February, Senator Pia Cayetano sponsored Senate Bill No. 1357 also known as the Corporate Income Tax and Incentives Rationalization (CITIRA). Senator Cayetano, who heads the committee, is optimistic that the Senate would approve the bill on final reading by March 13.
"DTI would like to thank Senator Pia for sponsoring a bill that could create a better investment climate for the greater majority. We think that this is a well-balanced bill that enhances the incentives but will ensure investment performance and efficiencies, with a systematic way of rationalizing incentives," said Sec. Lopez in a press conference.
"We appreciate this version of the bill, and we hope for the immediate passing of the bill to remove uncertainties and the wait-and-see attitude of investors. We are now pushing for the passage of the bill to resume the growth momentum of the country," he added.
The CITIRA Bill, which seeks to lower income tax rate from 30% to 20%, and modernize the tax incentive system, is a priority bill of President Rodrigo R. Duterte.
Since a bill on rationalizing tax incentives was first proposed in 1995, the Department of Finance (DOF) and DTI have urged Congress to finally make this crucial reform happen.
"After a series of consultations and meetings with various members of the government, business community, and academe, and thorough consideration of the sensitivities of key stakeholders, the new bill offers a more reasonable transition period and one that gives recognition to high performing investments such as being 100% exportation, or 10,000 jobs created or being in a highly competitive footloose industries", said Sec. Lopez.
Through the CITIRA, the Philippines' corporate income tax rate will be gradually reduced from 30% to 20% over the next ten years, not far from the 17 to 25% of its neighboring ASEAN countries.
The bill prioritizes incentives of business activities that generate local employment, promote development, innovation, high technology projects and agribusiness, as well as those that invest in less developed areas or communities recovering from disasters and conflicts.
The incentives provided will be in accordance with the principles based on international good practices to make it performance-based, targeted, time-bound, and transparent.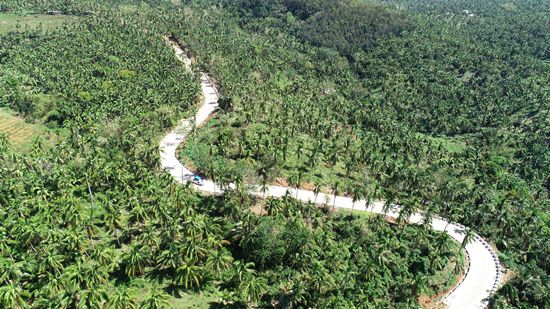 On-going construction of access road leading to Bagongbong falls in Brgy. Caucab, Almeria, Biliran under FY 2019 implementation.
Access road to Bagongbong Falls in Almeria, Biliran, 90% done
By DPWH-Biliran
February 19, 2020
NAVAL, Biliran – The on-going construction of access road at Brgy. Caucab in Almeria town will pave a better road for local and foreign tourists going to Bagongbong Falls when completed.
The Department of Public Works and Highways (DPWH) Biliran District Engineering Office reports 90% completion of the said project under FY 2019 implementation as of January 31, 2019 [sic].
The said project entails the construction of a 0.51-kilometer two lane road concreting including drainage structure at Brgy. Caucab road proper going to Brgy. Upper Look with a contact amount of P18.7M.
David P. Adongay Jr., District Engineer said that the project is a multi-year implementation from Fiscal Year (FY) 2018- 2020 in convergence with the Department of Tourism (DOT) with a total length of 3.80-kilometer two lane road.
Under 2018 implementation, the district office has already completed the 1.656-kilometer two-lane road concreting from proper road of Brgy. Caucab going to Bagongbong falls amounting to P44.7M.
Adongay revealed the remaining 1.63-kilometer two-lane road concrete paving for FY 2020 implementation will be undertaken by the DPWH Regional Office with an appropriation amount of P63.38M. The project will continue from Brgy. Caucab road proper going to Brgy. Upper Look.
The road project also leads to several agricultural farms in Brgy. Caucab including one of the most visited mountain resort in the place which is the Bethany Hills.
When completed, not only the tourists, but also the residents and farmers will benefit this road project," said Adongay.
"From a bumpy and narrow existing concrete road, they can enjoy a wider and convenient travel and safer transport of their farm-produced goods," Adongay added.
2-storey, 6-classroom facility replaces old school building in San Joaquin CES, Calbayog City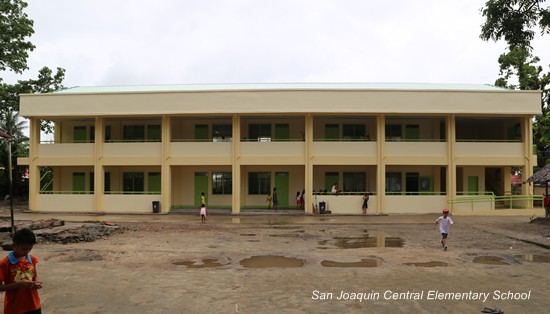 By CHENZI MAY UY
February 18, 2020
CALBAYOG CITY – Department of Public Works and Highways (DPWH), through its convergence program with the Department of Education (DepEd), has upgraded a dilapidated single-storey school building to a two-storey, six-classroom learning facility in San Joaquin Central Elementary School (SJCES) in Calbayog City.
The school building project has an allocation of P18.57 million funded by the Basic Educational Facilities Fund CY 2018 - Batch 3.
School Principal Michael Pernia expressed his gratitude towards DepEd and DPWH for choosing SJCES as a beneficiary of the school building program. "The construction of this school building is very necessary [and] urgent to San Joaquin, especially that this building has wide CRs and spacious classrooms that follow specifications for the standard classroom size," Pernia said.
The new building is currently occupied by Grades 1 and 2, consisting of around 210 students. With an average classroom size of 35, the young learners of SJCES sit comfortably during class and focus better on their lessons.
The rest of the students in SJCES are occupying decades-old, Marcos-type buildings, some of which are already subject for demolition. The school principal hopes for these other structures to also be upgraded in the future, in order to provide a safe and conducive learning environment for all of their learners.