ACT calls for release of nationwide reading inventory report
Press Release
February 18, 2020
QUEZON CITY – Amid reports on the reading proficiency issues of pupils in Bicol, the Alliance of Concerned Teachers (ACT) Philippines calls on the Department of Education (DepEd) to make public the detailed report of the reading inventory done by the Philippine Informal Reading Inventory (Phil-IRI) in every region nationwide. The group said that DepEd Sec. Leonor Briones 'could be right in saying that reports on struggling readers in Bicol is unfair for the Bicolanos as the situation could be true in the whole of the country, or worse in poorer regions and localities.'
"Especially as our call for the review of the K-12 program has finally gained attention from the government, all indicators should be laid down to have an honest assessment of our educational system. The development of our students is a national concern," said Joselyn Martinez, ACT Philippines Chairperson.
Martinez advised the education agency 'not to be onion-skinned' on the issue and truthfully identify and address the factors that contribute to the declining quality of Philippine education if it is sincere in its 'no learner left behind' slogan. She also warned against the 'simplistic' tendency to put the blame on the teachers' capabilities and dedication to teach pupils how to read, but to look at the whole situation instead.
Congested K-12 Curriculum
Martinez raised the practical problem of less time allocated to honing the reading skills of students with the inclusion of more learning areas in the Grades 1 and 2 curriculum of the K to 12 program, compared to past education curricula implemented in the country. Under the K to 12 program, 40 to 50 minutes is allocated for each of the 7 subject areas compared to 1 hour for each of the 5 subjects before.
"Our primary education teachers lament of insufficient class hours dedicated to honing the reading skills of students, which they are compelled to make up by conducting special reading classes outside of regular class hours. Unlike before where primary education gives significant attention to the 3Rs—reading, writing, and arithmetic," Martinez shared.
She said that teachers have little elbow room to make adjustments based on the learners' needs as the DepEd sets the daily lesson log, budget of work for each subject everyday, and competencies that students are expected to acquire, based on which teachers' performance is evaluated. Amidst these, Martinez said that DepEd further presses teachers to be "more innovative and sacrificing."
"Yet, teachers are made to carry the brunt of this weakness in the curriculum as we are obliged to work extra hours for special reading classes on school days and even during summer vacation," Martinez lamented.
Wanting Enabling Environment
Martinez also stressed the many government deficiencies in creating an enabling working and learning environment for teachers and pupils as hindrances to developing the reading competency of learners. She cited the large class size and inadequate textbooks and other learning materials as contributory to their difficulties in teaching pupils how to read.
"With years of the government's failure to fill in the shortages in the educational system, the teachers carry everyday the burden of ensuring that 'no learner is left behind,'" said Martinez.
ACT also noted that with K to 12 implementation came a host of paperworks and non-teaching duties that take teachers away from their focus in teaching, while teachers' compensation does not measure to the volume and value of their work.
"They always say that quality education necessitates quality teachers. How can we have quality teachers if they were always interrupted in their primary focus and are not given quality pay?" asked Martinez.
Assessing K-12 from the ground
ACT pushed for an inclusive and comprehensive assessment of the K to 12 program that would involve the participation of teachers, students, and parents.
"The DepEd and Congress should be as keen in involving the very sectors that tackle the K to 12 program daily as they engage experts and the business sector in the K to 12 review," asserted Martinez.
She said that teachers and parents alike are "very much concerned with what and how we train our students as the future of our children and our nation is what's at stake."
ACT pushes for the reorientation and overhaul of the current education program towards a nationalist, scientific, and quality mass education that is responsive to the needs of national development.
Eastern Visayas meets 2020 with 2.0% inflation rate
By PSA-8
February 18, 2020
TACLOBAN CITY – Eastern Visayas met 2020 with a 2.0 percent Inflation Rate (IR). This IR is 0.5 percentage point higher compared with the 1.5 percent IR in December 2019, but 2.0 percentage points lower than the recorded 4.0 percent IR in the same period last year.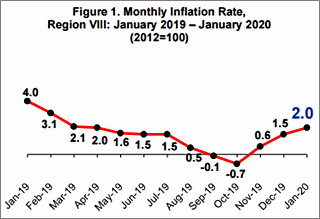 The regional IR is 0.9 percentage point lower than the 2.9 percent national average inflation rate in January 2020.
All provinces in the region registered higher inflation rates in January 2020 compared with their figures in December 2019, except for Leyte, which had retained its previous month's inflation rate at 2.1 percent. Northern Samar recorded the highest increase of 1.4 percentage points, from 0.8 percent IR in December 2019 to 2.2 percent IR in January 2020. The rest of the provinces registered increases ranging from 0.2 percentage point to 1.2 percentage points. Southern Leyte posted the lowest IR at 1.0 percent. Eastern Samar and Northern Samar, meanwhile, recorded the highest IR during the month in review at 2.2 percent.
Majority of the commodity groups in the region exhibited higher IRs in January 2020 compared with their rates in December 2019. Alcoholic beverages and tobacco commodity group registered the biggest increase of 1.6 percentage points, from 7.2 percent in December 2019 to 8.8 percent in January 2020. This can be attributed to the significant increase in the index for tobacco to a double-digit inflation rate of 11.2 percent in January 2020 from 8.9 percent in December 2019.
The heavily weighted food and non-alcoholic beverages commodity group increased to 1.1 percent in January 2020 from 0.2 percent IR in December 2019. Higher IRs were noted in majority of the all food items. Fish index registered the highest increase of 2.5 percentage points, from 6.5 percent in December 2019 to 9.0 percent in January 2020. Rice and bread and cereals indices continued to register deflations but at slower rate of 5.2 percent and 3.7 percent, respectively.
IR for Transport commodity group increased by 0.7 percentage point, from 4.1 percent in December 2019 to 4.8 percent in January 2020. This can be attributed to faster annual price hike in the index for operation of personal transport equipment, from 10.5 percent in December 2019 to 14.6 percent in January 2020.
The commodity groups of clothing and footwear, and housing, water, electricity, gas and other fuels registered 0.2 percentage point increase in their IRs, posting IRs at 3.2 percent and 0.4 percent, respectively, during the reference month.
Restaurants and miscellaneous goods and service commodity group inched up by 0.1 percentage point pushing its IR to 5.0 percent in January 2020.
On the other hand, inflation rate for furnishings, household equipment and routine maintenance of the house commodity group decreased by 0.4 percentage point, from 5.7 percent in December 2019 to 5.3 percent in January 2020. This can be attributed to the lower inflation rate on goods and services for routine household maintenance, from 6.7 percent in December 2019 to 6.1 percent during the month in review.
Meanwhile, education; health; recreation and culture; and communication commodity groups retained their previous month's inflation rates at 5.3 percent, 1.6 percent, 1.4 percent, and 1.2 percent, respectively.
The Purchasing Power of Peso (PPP) of the region was recorded at P0.79 in January 2020. This PPP implies that the goods and services worth P79.00 in 2012 is worth P100.00 in January 2020.
The PPPs in all provinces in the region weakened by P0.01 in January 2020 compared with their figures in December 2019, except for Eastern Samar, which had sustained its PPP at P0.76. Biliran, Leyte and Southern Leyte recorded the strongest PPP at P0.81, followed by Eastern Samar at P0.76. Northern Samar and Samar posted the weakest PPP at P0.74.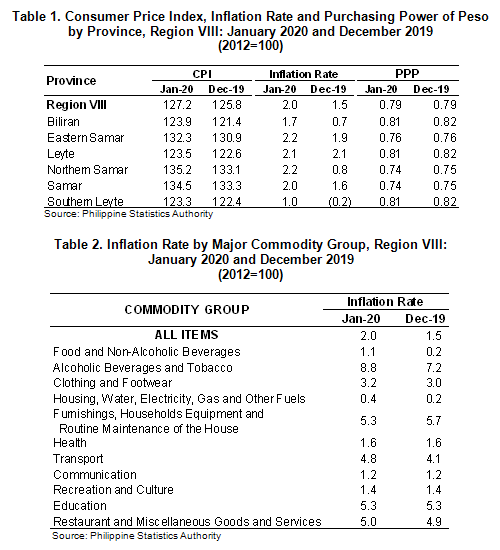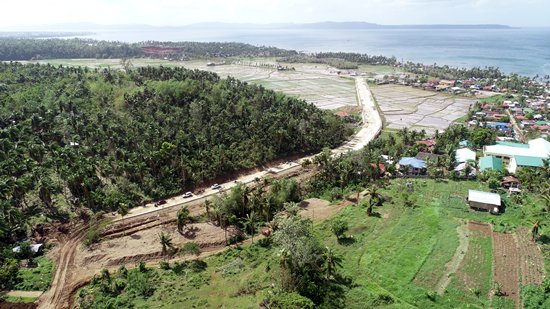 On-going construction of Almeria bypass Road at Pob. Almeria, Biliran. This is a multi-year project from 2018-2019 with a total amount of P104,009,000.00. It involves the construction of 1.262 km. four (4) lanes roadway, 20.0 ln.m Bridge (4 lanes) and slope protection to include payment of Road Right of Way.
DPWH-Bilran DEO to implement P1B for FY 2020 infra projects
By DPWH-Biliran
February 14, 2020
NAVAL, Biliran – P1B is allocated to the Department of Public Works and Highways (DPWH) Biliran District Engineering Office for the implementation of various infrastructure projects in Biliran.
David P. Adongay Jr., District Engineer said the district office will implement a total of 75 projects this year based on the approved General Appropriations Act (GAA) of FY 2020 DPWH Infrastructure Program.
According to Adongay, P265.5M is allocated for the construction of slope protection structures, asphalt overlay and reconstruction/ upgrading of damaged paved roads, all under the Asset preservation Program.
Under the Network Development Program, two road widening projects along Biliran Circumferential Road will be implemented this year with a total amount of P80M.
Meanwhile, P160M under the Flood Management Program has been allocated for the construction and rehabilitation of eight flood control projects.
The district office will also implement a total of P160M under the Convergence and Special Support Program. P85M is allocated for the construction of two access roads leading to tourism destinations in convergence with the Department of Tourism (DOT), one access road leading to trades and industry worth P50M in convergence with the Department of Trades and Industry (DTI), and one construction of Biliran Provincial Police Office Building in convergence with the Philippine National Police amounting to P25M.
Biliran DEO will also implement a total of P400.8M for the implementation of various infrastructure projects under the Local Infrastructure Program. This includes the construction/upgrading of school buildings, rehabilitation and construction of flood control structures and seawalls, construction of multi-purpose buildings and construction/ rehabilitation of local roads and bridges.
Last year, the district Office has been allotted with a budget amount of P1.2B for the implementation of 92 projects.
According to Adongay, poor performance of contractors also affects the performance of the DEO in terms of physical accomplishment and disbursement.
"We cannot deny the fact that there are big projects, undertaken by contractors, who cannot immediately perform their obligations and commitments," said Adongay.
"We are hoping that for this year, those challenges should not happen again as we would be operating under the Cash Based Budgeting Program," he added.
Under the new budgeting system of the department, the validity of fund is only good up to one year. This means that contractors must finish their project within the year.

On-going road widening project along Biliran Circumferential Road (Brgy. Busali to Brgy. Bato, Biliran, Biliran). As of January 31, 2019, the project is on-going with 74.65%.
P80M road widening projects to be implemented in Biliran
By DPWH-Biliran
February 14, 2020
NAVAL, Biliran – Two road widening projects amounting to P80M is up for implementation this year according to District Engineer David P. Adongay Jr.
The Department of Public Works and Highways (DPWH) Biliran District Engineering Office (DEO) has prioritized the implementation of this project under its Road Network Development Program for Fiscal Year (FY) 2020.
According to Adongay, this project is to be implemented along Biliran Circumferential Road (BCR). One at Brgy. Bato in Biliran town with a length of 1.6-kilometer worth P42.92M and one at Brgy. Cabibihan to Brgy. Mainit Villa Vicenta in Caibiran town with a length of 1.27-kilometer worth P37.08M.
The project entails the widening of road from two lanes to four lanes including drainage structures.
"This is highly prioritized because it is the district's major road going to and from Mainland Leyte," said Adongay.
The completion of this project will increase the capacity of the existing roads and improves the safety aspect of said sections. This road also leads to the only Provincial Hospital and Port of the Province.
By early part of 2019, the District has widened 12.973 kilometers of existing road. The bridges of the District are already permanent with two bridges along BCR already widened with additional two lanes.
"It is the vision of the district to widen the entire existing concrete roads within the Road Network of Biliran Province in accordance with the DPWH National Standards by phases", said Adongay.
P24M TUPAD funds to benefit 5,375 Leyteños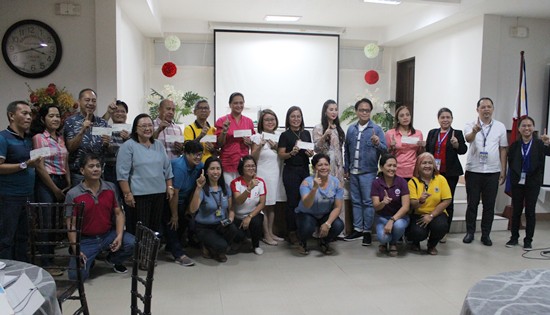 By NORMA RAE S. COSTIMIANO
February 11, 2020
TACLOBAN CITY – The Department of Labor and Employment Regional Office VIII through its North Leyte Field Office awarded to nine (9) municipalities of the second district of Leyte Tulong Panghanapbuhay para sa Ating Disadvantaged/Displaced Workers (TUPAD) funds amounting to a total of P24,160,731.00 last February 5, 2020 at Haiyan Resort Hotel in Tanuan, Leyte.
Congresswoman Lolita Karen T. Javier of the 2nd District of Leyte graced the turn-over ceremony together with DOLE Regional Director Yahya A. Centi and NLFO Officer-in-Charge Norman L. Uyvico. Mayors of the recipient municipalities were likewise present to personally receive the checks.
The following municipalities are the recipients of the TUPAD funds: Jaro, Dulag, Capoocan, Julita, Pastrana, Barugo, Tunga, Dagami and Burauen. A total of 5,375 disadvantaged workers from the said municipalities are to benefit from the emergency employment assistance. These workers will be employed for the implementation of projects which will include declogging of canals and clean up drive in their respective municipalities.
Director Centi in his opening remarks committed to remain relentless in pursuing the mandate of DOLE.
"As your fellow public servant, I assure you that the government is doing its part in sending help where help is needed. We at DOLE are working so hard for all of you and this TUPAD program is just one of DOLE's ways to extend assistance to the community and eventually pursue our given mandate", said Director Centi.
Meanwhile, Cong. Javier, aside from expressing her sincere thanks to DOLE for the strong commitment to assist the second district of Leyte, likewise emphasized that she will continue to remain dedicated for the good of her fellow Leyteños.
"I would like to thank DOLE for being so active in helping us have this TUPAD projects come to reality. It is indeed comforting to know that we have this kind of partnership centered on delivering excellent service. As your representative, I would like to inform you that mañana habit is not in our vocabulary. We will work together for the good of my fellow Leyteños", said Javier.
TUPAD is a community-based package of assistance that provides emergency employment for a minimum period of 10 days, but not to exceed a maximum of 30 days, depending on the nature of work to be performed. (with reports from Gemma D. de la Cruz)
Enactment of amendments to anti-terror law, a steep descent to martial rule in PH - Karapatan
Press Release
February 11, 2020
QUEZON CITY – Human rights group Karapatan today submitted its position paper to the House of Representatives Committee on Public Order and Safety regarding the six House bills which seek to amend the Republic Act 9372 or the Human Security Act of 2007, during the committee's hearing on the proposed measures.
"If enacted in Congress, the said amendments will pave the way for the steep and mad descent towards martial law in the Philippines. The proposed draconian measures will ensure the throwback to the Marcosian era, enabling the wholesale disregard of human and people's rights enshrined in the 1987 Constitution. These proposals are severely inconsistent with international human rights standards including the right to due process, against unlimited detention of suspects, rights to free speech and expression, right to peaceably assemble and petition the government for redress of grievances, right to freedom of association, the right of human rights defenders to promote and protect human rights and fundamental freedoms, right to mobility and against unjust and cruel punishment," said Karapatan Secretary General Cristina Palabay.
According to Karapatan, House Bill Nos. 551, 2082, 2847, 3103, 3413, and 5710, authored by Reps. Rozzano Rufino Biazon, Jericho Jonas Nograles, Luis Raymund Villafuerte Jr., Michael Romero, Jocelyn Tulfo, Eric Yap, Rowena Nina Taduran, and Lianda Bolilia, will "worsen the provisions of this already monstrous piece of legislation in furtherance of legal repressive measures that are in sync with the brand of state repression that the current administration employs."
In their position paper, Karapatan noted the questionable provisions in the said bills, which includes among others:
a. The removal of all provisions and language on the duty and obligations of the State under international law to protect people from terrorist acts in a manner that is consistent to and that respects and promotes human rights;
b. The iteration and expansion of the already vague and overly broad definitions of terrorism and acts of terrorism that threaten the rights of individuals and the exercise of the rights of human rights defenders and the people's rights to freedom of expression, assembly, and association, to seek redress of grievances and to be involved or to take part in public affairs;
c. The reinstatement of the death penalty, in direct violation of the Second Optional Protocol of the International Covenant on Civil and Political Rights, and institutionalization of disproportionate, cruel and unjust punishment of life imprisonment and prison terms;
d. Gross implications on the right to due process and the right to privacy on provisions regarding surveillance of suspected terrorists including those that imply that even upon mere suspicion, any individual may be subject to electronic or physical surveillance and to scrutiny of personal communications by law enforcement and worse, military personnel who have time and again conducted surveillance activities against activists that resulted to extrajudicial killings, torture and other rights violations;
e. Gross violations on the right against illegal and arbitrary detention, torture and to cruel and degrading treatment in proposed provisions, and the removal of provisions in pertaining to rights of detained persons and against torture;
f. Removal of provisions providing penalties and/or lowering of penalties for State authorities who violate basic civil and political rights of persons, including those that pertain to the failure of police or law enforcement official to notify the person subject of surveillance, monitoring, interception and recording; failure to notify in writing the persons subject of the surveillance; violations on the rights of detained persons and against torture; and damages for unproven charge of terrorism is proposed to be repealed; and
g. Violations of international instruments pertaining to protection of sources and whistleblowers in provisions pertaining to unauthorized revelation of classified materials and arrest of unwilling material witness.
Karapatan also noted that enactment of the said proposals is meant "to institutionalize not only the notorious National Task Force to End Local Communist Armed Conflict (NTF-ELCAC) transformed into the Anti-Terrorism Council, but also its "whole of nation approach," a paradigm and approach that has been criticized as militarist and corrupt."
The human rights group, meanwhile expressed full support for House Bill No. 0482, repealing RA 9372, filed by the Makabayan Bloc led by Bayan Muna Rep. Carlos Zarate.
Read: Position Paper on the Proposed Amendments to the Human Security Act of 2007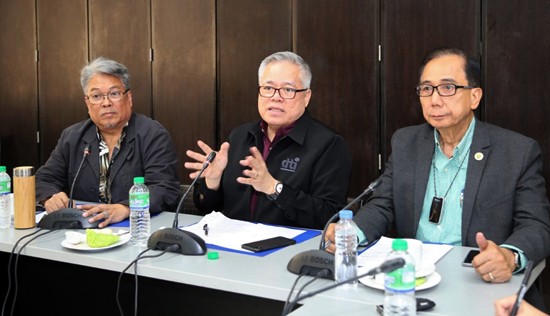 From L to R: Congressman DV Savellano, DTI Secretary Ramon Lopez, and DA Secretary William Dar.
Bamboo industry gets boost from government and private sector
By DTI-OSEC-PRU
February 10, 2020
QUEZON CITY – Government and private sector stakeholders converge to support the bamboo industry during the Philippine Bamboo Industry Development Council meeting (PBDIC) on 6 February.
As Chair of the Bamboo industry council, Department of Trade and Industry (DTI) Secretary Ramon Lopez reported that various agencies like the Departments of Agriculture, Environment, Local Government, and Trade are aligning their various programs and connecting the dots in the value chain of the bamboo industry. These programs include from tissue culture, and planting materials developed by DA to plant propagation and greening program of DENR, to processing, product development and design and marketing by DTI.
Several private organizations and advocacy groups will likewise merge their activities into the council's programs. Moreover, being an agribusiness activity, located at the countryside, Lopez added that these activities are included in the Board of Investments BOI investment priorities plan or IPP that can enjoy incentives. The PBDIC is now also heavily supported by the House Deputy Speaker DV Savellano, being a staunch Bamboo advocate for years.
"The DENR's National Greening program is targeting to plant 19,000 hectares of bamboo nationwide" said Sec. Lopez.
Department of Agriculture (DA) Secretary William Dar also expressed support for this effort in turning bamboo crops into an investment opportunity. Sec. Dar recently approved DTI's request of including bamboo as a high-value crop. DA encourages farmers to plant high-value crops like mango, banana, coffee, and cacao as they are expected to generate more profit.
"With bamboo as a high-value crop, we can undertake various interventions that include research, processing and value-adding, and budgetary support, complementing the programs and projects of the PBIDC," said Sec. Dar.
Bamboo takes only three years to fully grow as compared to 10 to 20 years for wood trees. The plant can be used as construction materials, as well as furniture and paper-making, among others, providing a good livelihood source for a community.
Sec. Lopez shared that investments are welcome at all stages of the value chain from nurseries to design studios. Both secretaries also promoted the use of modern technology to quickly propagate and process the plant. Secretary Dar meanwhile encouraged the participation of big businesses to partner and help the small farmers, to make the project more competitive and profitable.
PBDIC Vice-Chair and Ilocos Sur Representative Savellano shared that the bills filed are to institutionalize the PBDIC and these are now being discussed at the 18th Congress. He also committed to push the bill at the bicameral hearings.
Senate Bill 524, proposed by Senator Juan Miguel Zubiri, aims to make bamboo a main export product by creating the Philippine Bamboo Industry Development Roadmap and the Philippine Bamboo Industry Development Council to provide the overall policy and program directions, and coordinate the activities of the public and private sectors.
The council will have an official launch to promote the bamboo industry. The campaign will be named 5K: Kawayan, Kalikasan, Kabuhayan, Kaunlaran, Kinabukasan.
Rights group questions integrity, independence of Tacloban judge who signed off on questionable search, arrests vs Tacloban 5
By KARAPATAN
February 10, 2020
QUEZON CITY – In a press conference in Quezon City today, human rights group Karapatan questioned the integrity and independence of Judge Eligio Petilla of the Regional Trial Court Branch 44 in Tacloban City, who issued the search warrants effecting the highly questionable search and arrests of five human rights defenders last February 7, 2020.
"We have been wary of judges who facilitate the use of their courts for the judicial harassment of human rights defenders. Are they, in any way, related to executive officials who have been brazenly implementing Executive Order No. 70? Will their signing off on the supposed search warrants in the offices of these organizations result in juicier posts like those magistrates who have done the same?," said Karapatan Secretary General Cristina Palabay.
Karapatan observed that one officer of the court have been "rewarded" with a Supreme Court post after dismissing a petition for the privilege of the writs of amparo and habeas data filed by three non-government organizations last year, while another one is in the running as a Duterte-endorse nominee for a Court of Appeals seat after issuing similar search warrants in October last year, when raids and arrests were also conducted by the police and military in Negros and Manila.
"Whether they have done this to further their careers or out of fear or out of political pressure, the effects are damning – the political persecution of activists and actual harm on their lives, security and liberty. These judges should be ashamed of themselves," Karapatan said.
Five activists – Alexander Philip Abinguna of Katungod Sinirangang Bisayas – Karapatan, Mira Legion of Bayan, climate justice activist Marissa Cabaljao of People's Surge, humanitarian worker Mariell Domequill of the Rural Missionaries of the Philippines and journalist Frenchie Mae Cumpio – were arrested during dawn raids by the Philippine National Police in Tacloban City by virtue of Petilla's search warrants. Karapatan asserts that the supposed evidence, which includes several firearms and explosives materiel, were planted.
"How circumspect has the judge been in personally determining the veracity of reports on the existence of such firearms and explosives in the officers? Did he look for other witnesses, other than the police officers or military intelligence agents who may have reported to him?," Palabay asked.
Karapatan noted that the planting of evidence by police and military officials have laid the pretext for the filing of false charges of illegal possession of firearms and explosives against activists resulting in their long incarceration. "There is always presumption of regularity on police and military operations, despite questions on their integrity and adherence to human rights principles. Courts who rubber-stamp such operations should be similarly be doubted," she averred.
"This case further illustrates the lack of independence of the judiciary in the Philippines, and that all domestic mechanisms of redress, including the courts, have been transformed into factories of trumped up charges and platforms of political persecution of social activists and political dissenters," Palabay added.
A national solidarity and fact finding mission led by Karapatan is slated in Leyte today, as the inquest proceedings for the five activists are also scheduled for resolution.
"We reiterate our call for the immediate and unconditional release of the Tacloban 5 and all political prisoners in the Philippines. We likewise demand the abolition of the National Task Force to End Local Communist Armed Conflict (NTF-ELCAC), which is responsible for such rights violations," Palabay concluded.