190 new Eastern Visayas candidate soldiers take oath to serve the country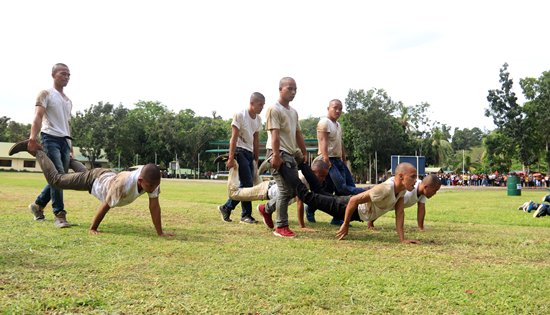 By DPAO, 8ID PA
February 7, 2020
CAMP LUKBAN, Catbalogan, Samar – A total of 190 new Candidate Soldiers of the Philippine Army took their oath of duty and service to the country in a simple opening ceremony held at the Army's 8th Infantry Division Grandstand in Catbalogan City, Samar on Friday morning February 7, 2020.
The oath taking rite of the mostly Eastern Visayas-based applicants was immediately followed by the opening of the Philippine Army Candidate Soldier Course Class 633 - 2020 by Brig. Gen. Ramil M. Bitong AFP, Assistant Division Commander of 8ID as the keynote speaker in the presence of the candidate soldiers' love ones; officers, enlisted personnel and civilian employees of the Stormtroopers Division. The six-month course is expected to transform and mold the new recruits from being "boys" into "men" of duty, honor and patriotism.
During his inspirational message, Hon. Reynolds Michael T. Tan, Governor, Province of Samar said, "I am one with you, sa lahat ng endeavors ng Philippine Army. We have always been and we will always be one with you especially now that EO 70 is in place, na dapat tayo magsama-sama, the local leadership, the local government units at kayo na nasa Army, na tayo ay magsama-sama na tapusin na ang communist insurgency dito sa Samar."
Brig. Gen. Bitong in his remarks assured the candidate soldiers' parents that their sons, after the training will be competent and disciplined soldiers, "Today you are to leave your previous lifestyle, your comfort zones and learn to live the level of discipline and courtesy expected from a soldier."
"Sa mga magulang, maraming salamat na ipinagkatiwala ninyo ang inyong mga anak lalo na dito sa 8th Infantry Division. Sinuportahan ninyo sila hanggang sa kanilang paglaki at nawa'y patuloy ninyo silang suportahan lalong-lalo na't simula ngayon sila ay magiging mga sundalo," Bitong added.
The 190 candidate soldiers came from different provinces all over the country: Samar-135; Leyte-43; Iloilo-1; Cebu-2; Negros Oriental-1; Luzon-2 and Mindanao-6 with the following education profile: 68 college graduates; 45 college level; 4 vocational graduates; 25 senior high school graduates and 46 high school graduates with special skills from Technical Education and Skills Development Authority (TESDA). After completing and passing the rigid training, the Candidate Soldiers will then be enlisted into the Philippine Army with the rank of Private.
High ranking officer of communist terrorist group arrested in Tacloban City
By DPAO, 8ID PA
February 7, 2020
CAMP LUKBAN, Catbalogan, Samar – Executive Order 70's Joint AFP-PNP law enforcement operations led to the arrest of Frenchie Mae Castro Cumpio @Pen, Secretary, Regional White Area Committee - Eastern Visayas Regional Party Committee (RWAC-EVRPC) and four (4) others today, February 7, 2020 in Tacloban City, Leyte.
At about 2 a.m. this morning, a simultaneous implementation of search warrants were conducted by joint AFP-PNP in two (2) identified Communist Terrorist Group (CTG) safe houses within Tacloban City. The warrants (SW No. 2020-02-02 and No. 2020-02-03) for violations of R.A. 10591 or otherwise known as "An Act Providing for a Comprehensive Law on Firearms and Ammunitions" were issued by Executive Judge Eligio P Petilla of RTC 44, Tacloban City on 03 February 2020.
The searched houses are located in Gumamela St, Bañezville II, Fatima Village, Brgy 77, Tacloban City, Leyte (SW1 # 2020-02-02) and Calanipawan St, Brgy 96 (Calanipawan), Tacloban City, Leyte (SW2 # 2020-02-02). Reports disclosed that these houses were being maintained by the CTGs of Eastern Visayas as their safe houses in Tacloban City.
Incidental to the lawful search, the government security forces arrested the CTG personalities who were found to have an actual and/or constructive control and possession of illegal firearms, ammunitions and other contraband items inside the searched houses.
The CTG personalities were arrested for violation of RA 10591 or otherwise known as "An Act Providing for a Comprehensive Law on Firearms and Ammunitions". The arrested personalities and the seized illegal items are now under the custody of PNP Regional Office, Tacloban City, Leyte for documentation and proper disposition.
Major General Pio Q Diñoso III, Joint Task Force Storm Commander in his message "Ang pagkakaaresto kay Frenchie Castro Cumpio at ng kanyang mga kasamahan ay resulta ng ating pagtutulungan – impormasyon mula sa ating mga kababayan, teamwork ng ating security forces at suporta ng ating local na pamahalaan at mga ahensiya".
"Sinasabuhay na po natin ang whole-of-nation approach. Ipagpatuloy lang po natin ito at siguradong marami pa tayong mahuhuli at ma-neutralize na miyembro ng Communist Terrorist Group (CTG) at sama-sama nating ma-aaccomplish ang ating mission to end local communist armed conflict dito sa Eastern Visayas", Diñoso added.
DTI supports ProPak; strives for sustainable PH economy through processing and packaging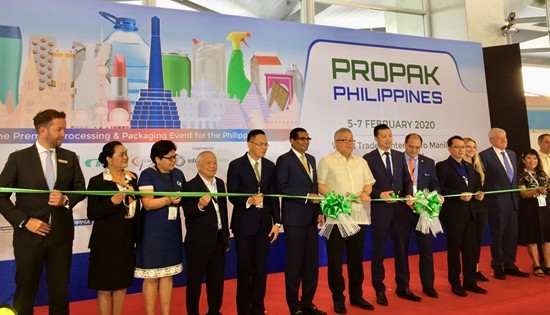 By DTI-ROG
February 7, 202
MAKATI CITY – Ensuing the success of last year's trade exposition, ProPak, the premiere processing and packaging trade show in Asia, returned to set up its 2nd edition in the Philippines, at the World Trade Center Metro Manila, Pasay City last February 5.
Organized by Informa Markets, with the support of the Department of Trade and Industry (DTI), Packaging Institute of the Philippines (PIP) and other government and non-government agencies, ProPak Philippines 2020 flaunts more than 400 exhibitors from 30 countries featuring the world-class packaging and processing machines, benefiting a wide range of sectors from food, beverage, and pharmaceutical industries.
This three-day trade exhibit aims to further boost the capability of local packaging service providers and micro, small and medium enterprises (MSMEs).
DTI has acknowledged the role of good packaging and processing to Philippine MSMEs in enhancing their productivity, marketability, profitability and competitiveness and so introduced various initiatives on product development such as Pak! Pinas, One Town One Product (OTOP) Next Gen, and now the promotion of the ProPak Philippines.
"Many of the MSMEs, food processors, and even non-food, will always be challenged to exhibit their products well and so we are challenged to find solutions – maybe integrate these two sectors, the packaging and the MSMEs. So in 2018, we gave some rounds of packaging gatherings. We created the Pak! Pinas roadshows in Region 4A as well as in Visayas and Mindanao, and it gained success. From that time on, we saw the improvement in the confidence of micro entrepreneurs seeing developments in their products. Then came the ProPak Philippines and we've seen some its successes already. We hope that this will continue to get better and better," said Trade Secretary Ramon Lopez during the ProPak's launching.
Trade Chief Lopez also urged the ProPak exhibitors to continuously reach out to MSMEs and offer affordable packaging technologies.
Through the Regional Operations Group's initiative, DTI sent more than 500 MSMEs to ProPak Asia in Bangkok, Thailand in 2018. Last year, the pioneer edition of ProPak Philippines reached to a close of 10,000 trade visitors, and stakeholders.
"DTI vows to continue its support to ProPak as the Department has seen the huge potential of the Philippines in the packaging industry and exploring ways to reach its goal to help the people in this industry through expanding their knowledge, innovating packaging solutions, and connecting with the international network of the industry," said MSME Advocate Undersecretary Blesila Lantayona.
Furthermore, Secretary Lopez reiterated the significant role of MSMEs in sustaining the economic development of the Philippines, as it continuously contributes to the employment generation as well as the eradication of poverty in the country. Through DTI's efforts, there are now around 1.5 million registered enterprises in the country.
Gracing the event was also House Committee Chairman in Commerce and Industry Weslie Gatchalian.
ProPak Philippines 2020 runs through February 5-7, 2020.
DICT intel fund a backdoor for corruption, civil rights violations - Karapatan
Press Release
February 5, 2020
QUEZON CITY – Human rights group Karapatan called for an independent investigation of the intelligence and confidential funds allocated for all government agencies, as it slammed the allocation of such funds for the Department of Information and Communications Technology (DICT). The rights group made the statement following the revelations of DICT Undersecretary Eliseo Rio, who resigned from his post on Monday, February 3, over anomalies on the use of the department's confidential funds.
"The Duterte administration is desperate in further militarizing the civilian bureaucracy by allocating millions of confidential funds for intelligence and surveillance, even for agencies such as the DICT. The government is merely opening backdoors for corruption and the embezzlement of taxpayers' money rather than properly allocating these funds for basic social services," Karapatan secretary general Cristina Palabay said.
Rio resigned from his post citing anomalies in the disbursement of the DICT's funds for "confidential, intelligence and extraordinary expenses" which he warned were not subject to regular audit. Under the 2019 national budget, P400 million worth of confidential and intelligence funds have been allocated to the DICT. Cash advances from these funds amounting to P300 million have been released to DICT Secretary Gringo Honasan toward the end of 2019, without the required notice of cash allotment from the Department of Budget and Management.
"Legitimate questions raised by the Commission on Audit deserve to be answered, as a top department official has already resigned over such anomalies. Where did this P300 million actually go?" Palabay questioned.
On top of the president's own confidential and intelligence funds worth P4.5 billion, the confidential funds of the DICT doubled to P803 million under this year's national budget. Palabay asked further: "If Rio says that the DICT has no use for such funds since intelligence and surveillance work are outside the scope of the department's mandate, then how come the DICT is receiving millions of pesos for activities that are outside the scope of its mandate in the first place? Why is the government funneling millions for the DICT to conduct intelligence and surveillance work? Is the government propping up the DITC to weaponize the country's telecommunications system as part of the whole-of-nation approach of the government's counterinsurgency program by having the DICT conduct draconian and illicit intelligence and surveillance against activists, critics, and dissenters?"
In the 2019 national budget, at least P8.28 billion had been allocated for confidential and intelligence funds, almost half of which is with the Office of the President. The Karapatan official stated that "Rio's revelation brings to light that millions and billions of the so-called confidential and intelligence funds are possibly being misused in widespread malversation to fund the Duterte regime's counterinsurgency program and to fatten his allies' pockets. The National Task Force to End Local Communist Armed Conflict already has already been given a whopping P36.439 billion budget for this year. While the people suffer due to budget cuts on healthcare and disaster response, the Duterte administration is funneling billions of pesos to fund its all-out war on the people."
"Karapatan urges the Congress to conduct a probe on Rio's revelations and for more officials to speak up against government anomalies and corruption. It has become evident that Duterte's priority is war and murder, not the welfare of the Filipino people – and the people will take all necessary means to hold the fascist regime accountable for its negligence and crimes against the people," she ended.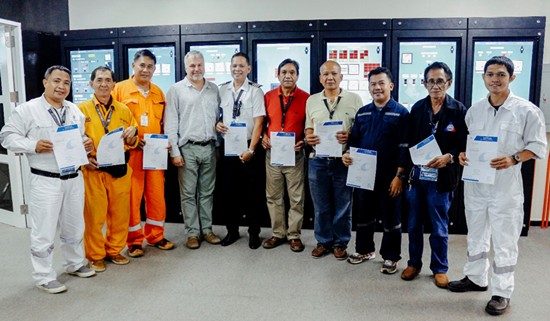 NMP Trainers receiving certificate of completion for a 5-day training (20-24 January 2020) on Instructor Station Operation Course using Engine Room Simulator 5000 Techsim v. 8.8
NMP acquires new training simulator
By National Maritime Polytechnic
February 4, 2020
TACLOBAN CITY – At the core of constant improvements in the National Maritime Polytechnic's (NMP) services and facilities is the priority placed on its clients – the Filipino seafarers. The passion, focus and determination of the NMP family on creating value are all aimed towards the wellbeing of the country's seafarers in the context of quality, accessible and relevant training.
As part of the Agency's thrust in keeping its training services updated and responsive to the dynamic nature of maritime industry and sustaining the provision of quality training, NMP pursued the procurement of one (1) unit Class "A" Full Mission Engine Room Simulator funded from the insurance proceeds from the Government Service Insurance System (GSIS) relative to the destruction brought by the Super Typhoon "Yolanda" in 2013.
The Full Mission Engine Room Simulator Version 8.8 is capable of simulating a realistic environment for competence requirements on engine operations. Trainees will experience realistic simulation exercises, as mimic panel and sound system that imitate the different sound of the machineries and alarms are installed.
The simulator also has an interactive walk-through functionality that allows trainees to move around giving a full immersive experience using 3D visualizations of various compartments in actual ship. It is also able to replicate the dynamic behavior of the machinery systems and all its vital parameters as well as the interactions between the sub-systems.
It also has a statement product quality according to the NK standard for certification of maritime education and training simulator systems based on the latest Standards of Training, Certification and Watchkeeping (STCW) requirements and corresponding International Maritime Organization (IMO) model courses.
As articulated in its mission, NMP, as the sole government maritime training center of the country, plays a crucial role in the enhancement of skills and competencies of Filipino seafarers. Being the government's maritime training arm, NMP with the use sophisticated equipment and facilities, will continue to lead in the country's efforts of grooming the Filipino seafarers for them to become the "choice seafarers" who are globally competent and qualified.
Building a responsive Maritime Education and Training (MET) is believed to be a sure way of sustaining the country's distinction as the No. 1 provider of seafarers in the world amidst stringent requirements of the STCW 2010 Manila Amendments.
NMP, as a maritime training and research agency, remains on guard for new developments in MET as these are crucial considerations in the accreditation, validation and improvement processes of its training programs. It continuously endeavors to precipitate and capitalize in program offerings and ensures that measures are undertaken to keep abreast with evolving standards and other industry requirements.
Joint Task Force Storm extends helping hands to the victims of Taal volcano eruption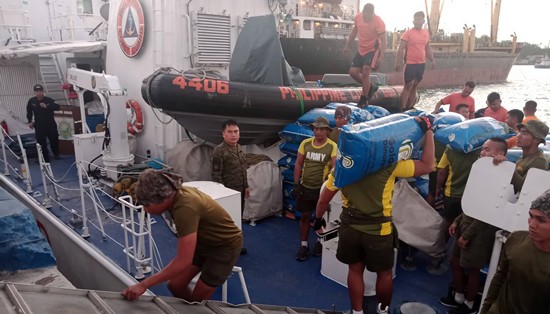 By DPAO, 8ID PA
February 4, 2020
CAMP LUKBAN, Catbalogan, Samar – Upon the instruction of Major General Pio Q. Diñoso III AFP, Commander of Joint Task Force "Storm" of the Armed Forces of the Philippines in Eastern Visayas, combined personnel of 546th Engineering Construction Battalion (546ECBn) under Lt. Col. Ricnon Carolasan and 8th Forward Service Support Unit (8FSSU) under Lt. Col. Arlene Epe equipped with five (5) military trucks withdrew 200 sacks of rice from Chen Yi Agventures Incorporated Rice Processing Complex in Mudboron, Alang-alang, Leyte in coordination with Engineer Jerjohn Tesorio on January 31, 2020 at 4:00 o'clock in the afternoon and transported said items to Tacloban City Port. Upon reaching the port, the troops transferred the 200 sacks of rice to BRP SULUAN vessel of the Philippine Coast Guard (PCG) under the command of Commander Dan August Cariño.
Based on the report of Commander Cariño, they ferried the cargo and successfully reached Batangas Port on the following day and released the 200 sacks of rice to the proper authorities that distributed the same to the victims of Taal Volcano Eruption.
"Despite the distance, we find ways to help the victims of Taal Volcano eruption as a manifestation of our concern with our brother Filipinos who are in need of assistance in the area," said Major General Diñoso.
New school building helped solve classroom congestion in Malaga NHS - Peña I Annex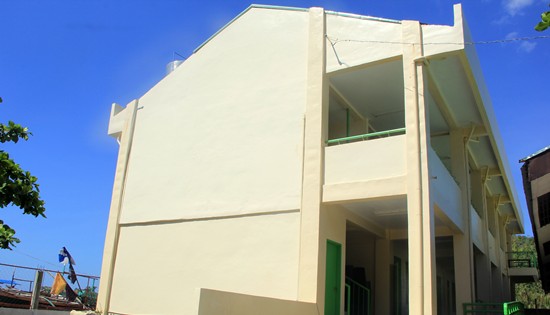 By CHENZI MAE UY
February 1, 2020
CALBAYOG CITY – The new two-storey, four-classroom building in Malaga National High School - Peña I Annex has helped the school with its perennial problem on classroom congestion, said Officer-in-Charge Dr. Lilia Adel.
The building was turned over by the Department of Public Works and Highways (DPWH), on behalf of the Department of Education, last December 2019.
Three (3) Grade 8 sections and one (1) Grade 9 class, or around 140 students, moved in since the resumption of classes in January 6, 2020.
Kent Feb Owen Olasiman, a Grade 8 student, said space was really tight in their previous rooms. He recounted that they used to have a hard time cleaning their rooms, which get flooded whenever it rained.
On congestion, Dr. Adel says it has been a problem since 2011. "We would fuse two classes in one makeshift room because we don't have another option. After typhoon Yolanda, we had up to three sections occupying one room at a time," she recalls.
Now, all classes have their own rooms except for Grade 12 students. The two Grade 12 sections are still sharing one room because the school utilizes one of the rooms as a computer laboratory. Nevertheless, the students will transfer to another DPWH-implemented school building project in the same campus as soon as it is turned over.
"We are grateful to DepEd and DPWH for these new learning facilities. They are a big help to our school especially since we have a year-to-year increase in enrolment."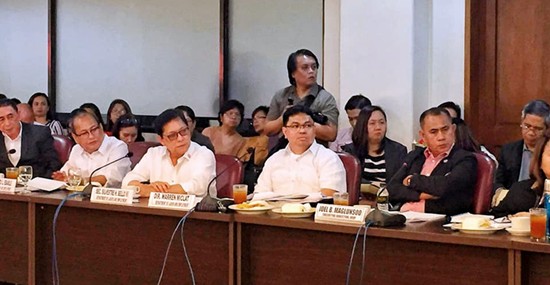 NMP defends P116.109M budget for 2020 at the House of Representatives last 24 September 2019.
NMP gets P116.109M budget for 2020, up 8.74%
By National Maritime Polytechnic
January 31, 2020
TACLOBAN CITY – The National Maritime Polytechnic (NMP) has been appropriated with a P116.109 million budget for 2020, higher than the P106.779 million budget in 2019, based on the General Appropriations Act of 2020 signed by President Rodrigo Duterte on 06 January 2020.
The 2020 budget posed an 8.74% or P9.330M increase as against the budget last year. The additional appropriations mainly covers Capital Outlays (CO) plus certain provisions for Maintenance and Other Operating Expenses (MOOE).
Of the total fund, P49.975M is allocated for Personal Services to cover among others (a) requirements for salaries and wages and other personnel benefits of seventy-four (74) filled positions, (b) Retirement and Life Insurance Premium (RLIP), (c) benefits for employees certified eligible by the DOST Secretary in consonance with the provisions of RA 8439 or the Magna Carta for Scientists, Engineers, Researchers and Other Science & Technology Personnel in Government, (d) honoraria for Guest Trainers / Assessors, (e) loyalty pay, and (f) terminal leave benefit for mandatory retiree.
MOOE funding amounting to P51.689M which is P5.242M or 11.29% higher compared last year intends to supply additional provision for rental of office space in Makati, travelling expenses, security services, insurance premium and other fees, additional operating requirements for completed facilities and provision for Medium-Term Information and Communications Technology Harmonization Initiative (MITHI) office productivity.
CO budget totaling to P14.445M representing 101.75% increase or P7.285M higher than in 2019 includes funds for the provision of one (1) unit water tanker service vehicle, improved maritime training machinery and equipment (firefighting equipment and accessories) and MITHI Information and Communications Technology (ICT) Equipment. These are vital core of NMP's main concern, particularly in terms of improvement and upgrading in order to build and sustain training operations.
With the approved budget, NMP shall endeavor to attain its organizational outcomes of 1) Employability and Competitiveness of Filipino Seafarers Enhanced, and 2) Maritime Manpower Sector Improved Through Quality Research, which will have a positive impact in firming up a vibrant Philippine maritime industry and sustaining the country's position as the leading provider of manpower in the international labor market.
Maritime training indeed entails considerable investment cost, but it plows in profit through economic and social gains generated from the employment of Filipino seafarers.
Assuring the competitiveness and employability of our Filipino seafarers, who are contributing several millions of dollars to our national coffers is a significant role of the DOLE and NMP in particular, that cannot be overemphasized.
PH rights defenders network submits reports to UN High Commissioner on Human Rights
By KARAPATAN
January 31, 2020
QUEZON CITY – At least sixteen faith-based and rights organizations under the Ecumenical Voice for Human Rights and Peace in the Philippines (EcuVoice) have submitted reports on the human rights situation in the Philippines, in response to the call for submissions by the Office of the UN High Commissioner for Human Rights Michelle Bachelet. This is in accordance with the Iceland-led resolution on the Philippines adopted by the UN Human Rights Council in July 2019.
In a press conference, EcuVoice convenor Edita Burgos said that the reports they submitted depict the worsening human rights crisis besetting the Filipino people. "The extrajudicial killings, enforced disappearances, arbitrary or illegal arrests and detention and other civil and political rights violations exacerbate the landlessness, lack of job security, and gross inequalities faced by poor Filipinos. Such is the situation under the administration of President Duterte," Burgos said.
The EcuVoice network mobilised for the submission of reports of the National Council of Churches of the Philippines, National Union of People's Lawyers, Karapatan, Rise Up for Life and for Rights, Save Our Schools Movement, Kalipunan ng Katutubong Mamamayan ng Pilipinas, Kusog sa Katawhang Lumad sa Mindanao (KALUMARAN), Cordillera People's Alliance (CPA), Cordillera Human Rights Alliance (CHRA), Philippine Task Force for Indigenous Peoples (TFIP), SANDUGO Kilusan ng mga Moro at Katutubong Mamamayan para sa Sariling Pagpapasya (Movement of Moro and Indigenous Peoples for Self-determination), Makabayan, Kilusang Magbubukid ng Pilipinas, Save Our Schools Movement, Kalikasan People's Network, Alliance of Concerned Teachers, National Union of Journalists of the Philippines, Migrante, Kilusang Mayo Uno, Bagong Alyansang Makabayan and Ibon Foundation.
EcuVoice members also provided key inputs in the submissions by the International Association of Democratic Lawyers, World Council of Churches of the Philippines, the Center for Human Rights of the CUNY, and International Coalition for Human Rights in the Philippines.
Human rights defenders outlined the socio-economic and political context marked by intensified poverty, violations on security of employment, high prices of basic commodities and services, and the continuing plunder of land and resources including that of ancestral domains in their submissions. Analyses and documented cases were cited in relation to the "war on drugs," the attacks on human rights defenders, lawyers, journalists, indigenous peoples and members of the political opposition that resulted in the significant and further shrinking of civil and democratic spaces. Violations on the right to freedom of expression, to peaceably assemble and to form associations were also included.
"The Duterte administration's anti-narcotics campaign, its counter-insurgency program through Oplan Kapanatagan and its 'whole of nation attacks' under Executive Order No. 70, and its rampage against critics and political dissenters have immensely contributed to the hyper state of impunity," Burgos stated.
EcuVoice network and its partners recommended for the initiation of UN-led investigation through fact finding missions, a creation of a Commission on Inquiry, or official visits of UN special rapporteurs in the Philippines. In June 2020, Bachelet is scheduled to deliver her report at the UNHRC.
The network notes that this year, aside from this process at the UN HRC, the Duterte administration is set to be reviewed before the treaty body UN Human Rights Committee while the Office of the Prosecutor of the International Criminal Court is likewise set to release results of its preliminary examination on complaints regarding crimes against humanity.
"We reiterate our call to the international community to help us make the Duterte administration accountable for its rights violations. ENOUGH ALREADY!," Burgos concluded.