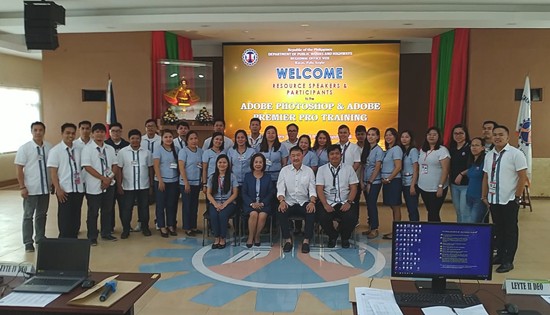 Different District Engineering Offices (DEOs) personnel of DPWH Region VIII including that of the Regional Office undergo a training on Adobe Photoshop and Adobe Premiere Pro Training at DPWH-Regional Office VIII Baras, Palo, Leyte on January 13-17, 2020.
DPWH-8 conducts Adobe Photoshop and Adobe Premiere pro training
By DPWH-Biliran
January 31, 2020
NAVAL, Biliran – The Department of Public Works and Highways (DPWH) Region VIII has conducted Adobe Photoshop and Adobe Premiere Pro Training on January 13-17, 2020 held at DPWH-Regional Office VIII Baras, Palo, Leyte.
Selected employees from Biliran District Engineering Office (DEO) along with other 12 DEOs including that of the Regional Office attended the said training to enhance their knowledge on basic photo and video editing skills.
Biliran DEO were represented by Ms. Melanie Sison and Engr. Carl Mark D. Pedrera.
The training started with the registration followed by the introduction of the participants by Virginia L. Talde, Chief of Administrative Division. Assistant Regional Director Walter F. Lubiano, on the other hand, introduced the speakers for the training.
Before the lecture started, a group activity was conducted regarding what to expect from the training, what to expect from the speakers and what can you contribute. Every group brought up different ideas in which they thought would fit in that category.
The speakers for the entire training were Ms. Gina Guijarno and Mr. Kim Rainier Almazan, both are Information System Analyst I of the Information Management Service (IMS), DPWH Central Office.
After discussing the training rules, the participants filled up the pre-training survey about their initial knowledge regarding photoshop and premiere.
On the first and second day, the lecture is all about the basics of Adobe Photoshop which tackles on the Image Adjustment, Layers and Selection Tools. Ms. Guijarno gave the participants some exercises which further enhances their new-found knowledge by changing the adjustments of the pictures.
For the second day, the lecturers learned how to edit videos through Adobe Premiere Pro and also acquired techniques in producing a good video output.
Lastly, on the fifth day was allotted for the final exercise which involves the making of their own newsletter and producing a video which showcases their districts projects and the accomplishment of post-training survey of what they learned from the seminar.
The goal of the training is to familiarize the said programs so that it can be used for the benefit of their respective districts.
1 in every 4 families in Eastern Visayas is poor
By PSA-8
January 31, 2020
TACLOBAN CITY – Poverty incidence among families in Eastern Visayas in 2018 significantly improved to 24.0 percent from 32.9 percent in 2015. This implies that in 2018, around 1 in every 4 families in the region is poor or has income below the poverty threshold, which is the amount required to meet basic food and non-food needs.
In 2018, poverty incidence among families in Eastern Samar was estimated at 40.9 percent; Northern Samar at 27.4 percent; Samar at 22.1 percent; Leyte (including Tacloban City) at 21.9 percent; Southern Leyte at 17.2 percent; and Biliran at 13.8 percent.
Significant improvements in poverty incidence among families between 2015 and 2018 were noted in Northern Samar, Samar, and Southern Leyte. Northern Samar recorded the biggest decline in its poverty incidence among families to 27.4 percent in 2018 from 51.5 percent in 2015. Poverty incidence among families in Samar dropped to 22.1 percent in 2018 from 41.8 percent in 2015. The province of Southern Leyte, meanwhile, registered 17.2 percent poverty incidence among families in 2018, lower than the 32.7 percent in 2015.
Given the new master sample, PSA was able to generate reliable statistics down to the provincial level as well as for highly urbanized cities (HUCs). Poverty incidence among families for Leyte (excluding Tacloban City) was estimated at 23.8 percent in 2018, while poverty incidence among families for Tacloban City was recorded at 6.0 percent (Table 1).
The 2018 annual per capita poverty threshold in the region, or the minimum income required to meet basic food and non-food needs of every person, was estimated at P24,979. This indicates an increase of 11.7 percent from the P22,371 annual per capita poverty threshold in 2015. This implies that in 2018, a family of five in Eastern Visayas must have at least P10,408, on the average every month, to meet both basic food and non-food needs.
All provinces in the country were clustered from 1 to 5 using poverty incidence among families as the clustering variable. Cluster 1 comprises the bottom poor provinces and cluster 5 comprises the least poor provinces.
In 2018, three (3) provinces moved one (1) cluster higher from 2015, namely Northern Samar, Southern Leyte and Samar. The rest of the provinces maintained their 2015 cluster categories.
Only the Province of Biliran belonged to cluster 4 in 2018. Three (3) provinces: Leyte, Southern Leyte, and Samar, belonged to cluster 3. Meanwhile, Eastern Samar and Northern Samar were classified in cluster 2 (Table 2).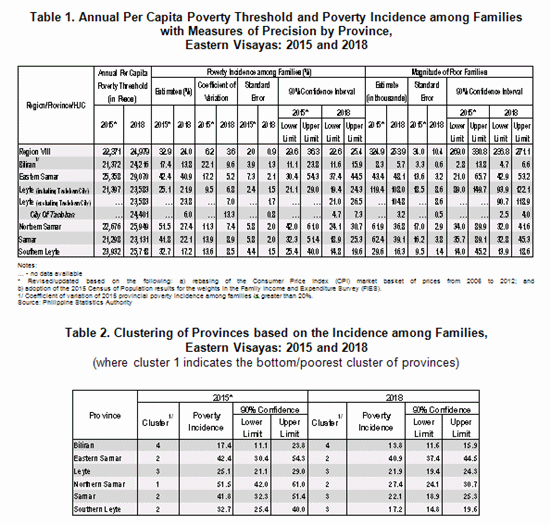 Fisherfolks in Merida, Leyte receive DOLE livelihood aid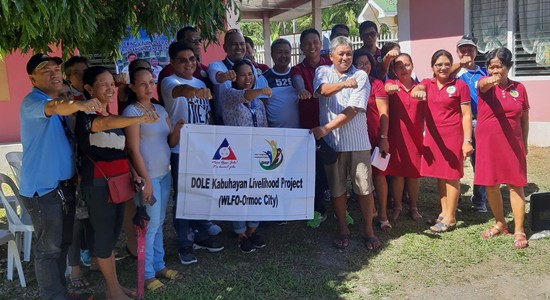 By NORMA RAE S. COSTIMIANO
January 29, 2020
TACLOBAN CITY – The Department of Labor and Employment Regional Office VIII through its West Leyte Field Office successfully turned over livelihood grants to the Barbara Fisherfolks Association of Merida, Leyte amounting to P997,450.00 last January 16, 2020 in Brgy. Calunangan, Merida, Leyte.
The Calunangan General Merchandise Project will be benefitted by some fifty-one association members who are into fishing and other related activities.
Present to grace the turnover ceremony were DOLE WLFO Head, Mr. Edgar B. Tabuyan, Mayor Rolando M. Villacencio, Vice-Mayor Rodrigo M. Wenceslao, PESO Manager Marita S. Mercadal and Senior Labor and Employment Officer Rosilito T. Ygaña.
In his message, Mr. Tabuyan gave his reminders to the beneficiaries. "I hope this project will inspire you more to work hard. Today is only the first step because our goal in DOLE is for you to have sustainable livelihood. In that way only can we really say that we have contributed in poverty alleviation", said Mr. Tabuyan.
Mr. Godofredo B. Malinao, president of the recipient association, expressed his delight during the turnover of their new business. He said that their merchandise business is intended to augment the income they derive from fishing.
"Gusto po naming magpasalamat sa DOLE sa malaking tulong na ibinigay nila sa aming grupo. Bilang mga mangingisda, hindi po palaging maraming huling isda. Itong negosyo na pinagkaloob po sa amin ay pagsisikapan at pagtutulung-tulongan naming mapalago para sa ikabubuti rin naming mga miyembro pati na po ng amimga pamilya", Malinao said.
The said livelihood aid was charged against the 2019 DOLE Integrated Livelihood Program (DILP) funds of DOLE RO VIII.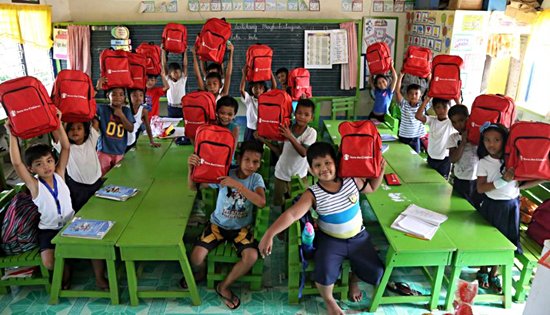 Students in Cagayan Province showing their back to school kits. (Photo by LJ Pasion / Save the Children)
Save the Children underscores the need for education support for children in armed conflict and disaster-prone areas
Press Release
January 24, 2020
QUEZON CITY – Save the Children Philippines has called for stronger support for education for children trapped in armed conflict and frequently displaced by natural calamities.
Atty. Alberto Muyot, Save the Children Philippines Chief Executive Officer, raised the call in line with the celebration of International Day of Education on January 24 with the theme: "Learning for people, planet, prosperity, and peace."
Every year, some 400,000 adolescents in the conflict affected areas in Bangsamoro Autonomous Region in Muslim Mindanao (BARMM) do not attend school due to poverty, according to government figures.
These adolescents also face different forms of violence as well as recruitment by various armed groups. At the same time, Save the Children is concerned about the situation of half a million learners affected by the continuing eruption of Taal Volcano. These children have been displaced from their homes while their schools are either heavily damaged by ashfall or being used as evacuation centers.
"Save the Children Philippines places education at the forefront of its programs from development to emergency settings, particularly for children who suffer from intersectionality of vulnerabilities including learners with disabilities and indigenous people," said Muyot.
In the last ten years, Save the Children has reached more than nine million children through its programs in health and nutrition, education and humanitarian response. Of this number, 4.2 million children were provided support to access quality and inclusive learning opportunities.
The group implements the Reach to TEACH program in conflict affected areas of BARMM to provide education to children affected by armed conflict and those living in disaster-stricken communities.
The three-year project (2019-2021) is being implemented in Sulu, Maguindanao, Lanao Del Sur, Marawi City, Surigao del Sur, Bukidnon and Misamis Oriental. These provinces have been experiencing protracted conflict for over 10 years due to insurgency, terrorism, rido (clan feud) and pangayaw (tribal wars).
The program provides children access to developmentally and culturally appropriate instructional and learning materials, and train teachers to provide psychosocial support to learners facing violence due to armed conflict.
The Reach to TEACH program seeks to assist children from 46 schools and nine displaced communities by providing them with learning materials and supplies, and vouchers for improving attendance and participation.
"When children and youth from deprived and marginalized situations get equal access to learning opportunities, education becomes a tool peace-building and development," Muyot said.
Sierra Paraan, Basic Education advisor of Save the Children Philippines said that inclusion and quality education are the main thrusts of Save the Children Philippines' education programs.
"People who do not get a chance to receive quality education are more likely to experience socio-economic marginalization and lifelong poverty," said Paraan. "Promoting an inclusive culture within the education setting contributes to the eradication of discriminatory attitudes and behaviors, further strengthening social cohesion and peace."
Save the Children also supports policies that advance non-discrimination and the realization of inclusive education for all children. Currently, we are advocating for the enactment of Inclusive Education for Learners with Disabilities Bill.
AFPSLAI donates CPR training mannequin to CLSH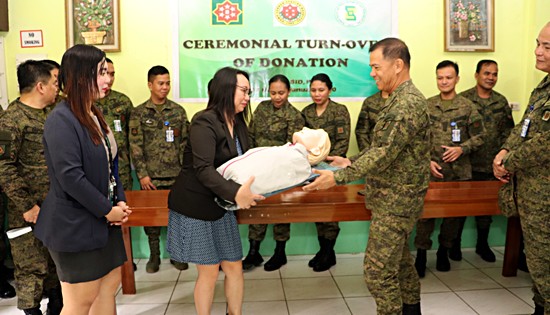 By DPAO, 8ID PA
January 23, 2020
CAMP LUKBAN, Catbalogan, Samar – The Armed Forces and Police Savings and Loans Association, Inc. (AFPSLAI) donated a set of Cardio-Pulmonary Resuscitation (CPR) training mannequin to Camp Lukban Station Hospital (CLSH), 8th Infantry (Stormtroopers) Division (8ID) on January 22, 2020 at 8:30 a.m.
The donation was personally received by Major General Pio Q. Diñoso III AFP, Commander, 8ID from representatives of AFPSLAI headed by Ms. Ellen Jocelyn J. Brazil, Acting Branch Head, AFPSLAI Catbalogan City Branch. The Ceremonial turnover was witnessed by the Officers, Enlisted Personnel and Civilian Employees of 8ID.
Commander, 8ID was very thankful on the donation as it will enhance the future trainings on healthcare services to be conducted by personnel of CLSH to its personnel and combat medical personnel of line units.
"This donation will surely improve the healthcare services training for our personnel especially in emergency situations. Personnel of line units who are trained on CPR will also be deployed to conduct rescue operations in the field in cases of disasters and calamities," as Commander of 8ID stated.
DTI launches livelihood assistance program for disaster victims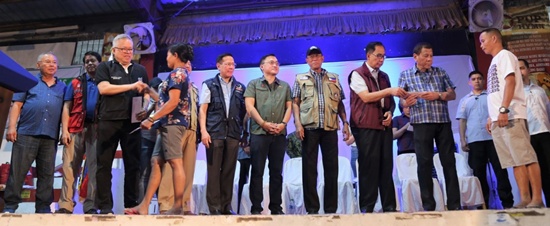 By DTI-OSEC-PRU
January 23, 2020
BATANGAS – The Department of Trade and Industry (DTI) launched its livelihood assistance program, Pangkabuhayan sa Pagbangon at Ginhawa (PBG) last 20 January, when President Rodrigo Duterte's visited the evacuees in Sto. Tomas, Batangas. The program will aid the micro entrepreneurs affected by the Taal Volcano eruption. DTI will soon roll out the program as an assistance package for victims of fire, typhoons, and other calamities nationwide.
Under the PBG program, DTI will provide financial assistance of P10,000 and educational materials after profiling and giving negosyo training to existing micro entrepreneurs.
Trade Secretary Ramon Lopez awarded gift checks to the initial 20 entrepreneurs who are mostly street food vendors, market vendors, and sari-sari store owners who want to continue their businesses. Those interested in the PBG Program may go to the DTI Batangas Provincial Office in Lipa for an initial assessment.
Among the recipients were aspiring entrepreneur Carito Ginil, a 45-year-old habal-habal driver and barangay kagawad, who wants to use his PBG funds to put up an eatery or a sari-sari store. Meanwhile, 35-year-old worker Joel Cruz plans to use his to start a manicure/pedicure business for his wife.
"Ang PBG ay inisyatibo ng pamahalaan at DTI upang matulungan ang mga pinakamaliliit na negosyante na naapektuhan ng pagsabog ng Taal. Ang paunang puhunan ay mabilis at madaling pagkukunan ng kapital upang makabalik sa normalidad ang kanilang kabuhayan matapos ng insidente," said Secretary Lopez. [PBG is an initiative of the government and DTI to help the smallest of entrepreneurs who were affected by the Taal volcano eruption. The program gives a fast and easy source of initial capital to help microentrepreneurs regain normalcy in their livelihood after the incident.]
Secretary Lopez encouraged entrepreneurs to visit the DTI Negosyo Centers and Provincial Offices to help them restart or grow their businesses. He said that after this initial assistance, the awardees can get free training from DTI as well as low-interest loans through the Pondo sa Pagbabago at Pag-asenso (P3) program.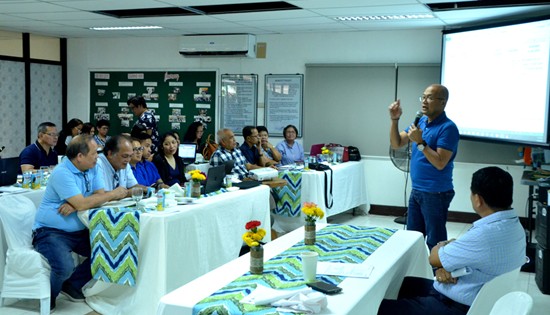 Regional Director Stephen Leonidas of the Department of Agrarian Reform in Eastern Visayas commended the Land Tenure Service sector during the regional assessment for accomplishing 160 percent of their target in Land Acquisition and Distribution in 2019, and challenged them to deliver 50 percent of their 2020 target during the first quarter.
DAR-EV hits 160 percent of their target in 2019
By JOSE ALSMITH L. SORIA
January 22, 2020
TACLOBAN CITY – The Department of Agrarian Reform (DAR) in Eastern Visayas accomplished 160 percent of its 2019 target in land distribution.
Engr. Francisco Diloy, chief of the Land Tenure Service (LTS), reported during last week's regional assessment that a combined area of 3,282 hectares of private agricultural lands had been issued with certificates of land ownership award (CLOAs) and registered at the Registry of Deeds (ROD) in the names of 1,564 qualified agrarian reform beneficiaries (ARBs) throughout the region last year.
He stressed that last year's accomplishment in Land Acquisition and Distribution (LAD) was 60 percent over their 2019 target of 2,050 hectares.
According to him, DAR Leyte Provincial Office, headed by Provincial Agrarian Reform Program Officer (PARPO) Renato Badilla, contributed the most to the region's accomplishment with 2,986 hectares, which is 175 percent of their target.
Samar, Northern Samar, and Southern Leyte delivered 145 hectares, 125 hectares, and 25 hectares, respectively.
Further, Diloy reported that his sector likewise accomplished more than 100 percent in other activities, such in Claim Folder Preparation and Documentation, Surveys, and Land Valuation, as well as in non-LAD activities.
Meanwhile, Regional Director Stephen Leonidas commended the efforts of the LTS, however, for the current year, he challenged the said sector to deliver 1,000 hectares or 50 percent of the annual target during the first quarter.
When Leonidas assumed office in September last year, he evaluated and resolved issues on landholdings with field investigations conducted in 2018 covering 2,000 hectares and targeted for distribution this year.
Meanwhile, on Agrarian Reform Beneficiaries Development and Sustainability Program (ARBDSP), Chief Agrarian Reform Program Officer Melecia Ong reported that her sector likewise hit more than 100 percent of their targets in 2019.
According to her, 24,373 ARBs throughout the region were exposed to various livelihood and organizational trainings, which is 152 percent of their 16,031 target.
She added that more than 14,000 ARBs were given access to credit and microfinance, which is 128 percent of their target last year.
Further, Ong said that 226 ARB organizations or 156 percent of their 2019 target were provided with technical, enterprise, farm and physical infrastructure support, while 20 ARB organizations were provided with farm machineries and equipment under the Climate Resilient Farm Productivity Support (CRFPS).
On Agrarian Justice Delivery (AJD), Leonidas also commended both the Legal Division and the DAR Adjudication Board for resolving pending agrarian-related cases in 2019.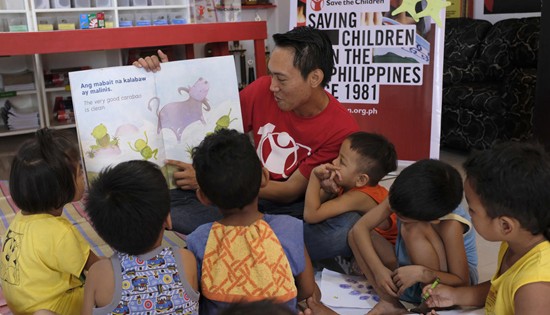 Save the Children staff leads a session for children at the mobile Child Friendly Space set up in the evacuation centre in Balayan, Batangas, Philippines. (Photo by LJ Pasion / Save the Children)
Erupting volcano may leave children homeless for months, warns Save the Children
Urgent need for temporary schools for pupils who are missing out on classes
By Save the Children
January 22, 2020
MANILA – Half a million people made homeless by the Taal volcano eruption will need immediate and long-term support as they face growing uncertainty over whether they will ever be able to return to their towns and villages.
As the volcano continues to erupt, Save the Children is warning of a prolonged crisis that could see hundreds of thousands of people unable to return to their homes for months and forced to live in evacuation centers or with friends and relatives. The Philippines government estimates that in the worst case scenario, communities may not be able to return for up to seven months, though that could change should there be a catastrophic eruption.
According to government figures, at least 580,000 pupils from more than 1,000 schools have been missing out on classes for the past two weeks due to heavy ashfall in the provinces around the volcano and schools being used as evacuation centers. Of this figure, an estimated 55,000 schoolchildren come from the six abandoned towns located in the 14km danger zone, where many classrooms are damaged and buried under hazardous ash. Many of these students could fall behind and miss graduation in three months, affecting their future job prospects. Meanwhile, more than 300 schools are still being used as evacuation centers.
Nearly 3,000 hectares of agricultural land – the main source of livelihood for people living near the volcano – is now covered in thick hazardous ash, crops are ruined, and thousands of homes and schools have been severely damaged and will require rehabilitation. Thousands of farm animals have also died.
Jerome Balinton, Humanitarian Manager for Save the Children Philippines, said:
"We are concerned that thousands of children may not be able to return to their homes and communities for months, with many final year students risking missing their graduations. Being made homeless puts these children at serious risk of abuse and exploitation. Children in the evacuation centers are forced to bathe with little or no privacy, sharing the same facilities as adults. Mothers have told Save the Children they're worried for their teenage daughters, many of whom don't have any sanitary pads or even underwear as they were forced to flee quickly when the volcano began erupting.
"The emotional and psychosocial stress of being made suddenly homeless and surrounded by so many strangers in such close proximity are taking a toll on children. It's vital that we meet their immediate needs for food, clothing, clean water, hygiene and healthcare, while recognizing that they need long-term solutions as well. This means setting up temporary schools so children can return to a normal routine while they wait for the fury of the volcano to subside."
Save the Children is distributing family household and hygiene items to families. We have also set up mobile child-friendly spaces where children can learn and play in a safe environment while receiving emotional support.
The Philippines government has imposed mandatory evacuation for six towns around the volcano, forcing at least 300,000 people – of whom 124,000 are children – into one of the more than 450 evacuation centers. The government believes a deadly and destructive eruption is 'imminent.'
ACT slams P36B budget for NTF-ELCAC amid calamity fund cut, measly pay hike
By Alliance of Concerned Teachers
January 21, 2020
QUEZON CITY – The Alliance of Concerned Teachers (ACT) Philippines slammed President Duterte's granting of P36.439 billion to the National Task Force to End Local Communist Armed Conflict (NTF-ELCAC), a formation that was built to implement the 'Whole-of-Nation' approach to ending insurgency in the country as directed by Duterte's EO 70.
The task force's budget was P3 billion more than the P33.2 billion provided for the 2020 pay hike of civilian government employees, and was P20 billion more than the P16 billion 2020 calamity fund, after it was slashed by P4 billion during the budget deliberation. The teachers' group criticized Duterte's prioritization of war over people's welfare.
"We are enraged that the Duterte's NTF-ELCAC, his main fascist machinery that has militarized the bureaucracy, gets a huge chunk of people's coffers. Meanwhile, the calamity fund was significantly slashed and the pay hike budget for 1.5 million civilian employees was prudently provided for in the 2020 budget. Such leaves us vulnerable in times of crisis, like now that we are facing the tragedy of the Taal volcano eruption. The government's neglect has never been more evident, and the people's collective power ever more powerful as we are left to rely on each other," said ACT Secretary General Raymond Basilio.
Additionally, ACT argues that the people shall likewise unite to hold the Duterte administration accountable for its abandonment of the people and failure to do its duties. ACT further posits that the government 'kills us twice over – through his wars against the people, especially the poor, and by denying us our basic rights to social and economic services."
ACT furthered that the NTF-ELCAC not only takes resources away from necessary services to the people, it also poses a threat to democracy as it was allegedly responsible for the series of political attacks against dissenters and those fighting for their rights, such as ACT and other individuals and organizations.
"The NTF-ELCAC and its regional formations have launched a campaign to vilify and red-tag ACT and teacher-unionists in several regions. We've documented reports of the said task force holding symposia and fora in which it tags our and other progressive organizations as communist fronts. Our leaders have been subjected to surveillance, threats, and harassments, and then being given copies of EO 70 and being told forced to 'surrender' to the government," exposed Basilio.
Basilio added that the NTF-ELCAC utilizes the entire bureaucracy in its attempts to quell people's rightful unrest and democratic exercise of rights amid the economic and political crisis befalling the country through vilification, intervention, and fascist measures. ACT said that the task force's ultimate objective is to establish Duterte's tyrannical rule, hence the President's pouring of resources to the NTF-ELCAC.
"Therefore, teachers' just fight for decent pay, better benefits and services for all serve more than just the economic interests of the people but also contributes to the frustration of Duterte's drive for absolute power," declared Basilio.
ACT underscored that the NTF-ELCAC is a fascist machinery that must be dismantled.
"Should there be any sincerity to the government's desire to end the 51-year war in the country, it should address the roots of armed conflict beginning with opening the peace talks again with the National Democratic Front of the Philippines and signing the CASER," urged Basilio.
CASER is the Comprehensive Agreement for Socio-Economic Reforms, which provides for genuine agrarian reform and national industrialization, among others. It also provides for the granting of decent wages and salaries to workers.