Survey reveals 94% of private school teachers, staff receive no government aid
By ACT Private Schools
April 30, 2020
QUEZON CITY – As COVID-19 is taking a heavy toll on public health, the Alliance of Concerned Teachers (ACT) Private Schools strongly denounces government's neglect to equally pay attention to the plight of academic and non-academic personnel of private basic and tertiary education institutions. In an online survey conducted by ACT Private Schools, 4,005 or 94% of the 4,268 respondents across 65 cities and provinces in the country received no financial assistance to sustain living amid prolonged lockdown.
"With the private school teachers and staff being among the most vulnerable educational sectors, the government should also pay utmost precedence to the health and welfare of privately employed educational workers nationwide, especially now that their employment is at stake more than ever because of the economic impact brought by COVID-19," said Dr. Jonathan Geronimo, Secretary-General of ACT Private Schools.
ACT Private Schools conducted mass online survey through its COVID-19 Hotline Assistance for Teachers in Private Schools (CHAT) Project to gather concerns and correctly assess the situation of the sector. Based on the data, 56.6% of the respondents said that their employers applied for the Department of Labor and Employment's (DOLE) financial aid but only 6% of these respondents were granted the said aid. On the other hand, many of the respondents noted that they were either deemed unfit to receive such assistance based on DOLE's qualifications, were rejected due to the exhaustion of funds for the COVID-19 Adjustment Measures Program, or their employers did not apply for the aid.
Furthermore, 77.9% of the respondents do not already receive any monthly compensation from their schools, while the remaining percentage are in doubt if they will be compensated during vacation until the next academic year starts anew. Most of the reasons that drove to these statistics include the perpetuation of 'No Work, No Pay' scheme, lack of adequate monetary funding to sustain school operations, clearance requirements, expiration of contracts during the period of lockdown, among others. More so, 51.3% of them exposed that they did not receive financial support from their employers.
ACT Private School petitions the Duterte administration to heed the demands of all academic and non-academic personnel from private basic and tertiary education institutions, through an online signature campaign expressing the sectors' collective 8-point demand.
The initiative primarily appeals for economic and social safety net to ensure the health, welfare, and the protection of rights of all employees in different private schools, colleges, and universities. The petition presses concerning agencies such as DOLE, Commission on Higher Education (CHEd), and Department of Education (DepEd) to create and impose relevant policies and programs, not only to subsidize the medical and other basic necessities but also to secure the promotion and employment status of all probationary and tenured private school employees as the government positions its greater effort to subside the swelling number of transmission cases of COVID-19.
"The drafted 8-point socio-economic demands were derived through consultations with private school teachers and personnel, as it acknowledges the crucial role of the masses to accurately depict the actual reality and provide sensible recommendations to further better the existing programs and systems of the government. We stress that this health crisis may be termed novel but the solution it requires is never different – collectivism in the midst of the struggle." Geronimo ended.
Maiden shipment of Philippine organic coconut milk arrives in Russia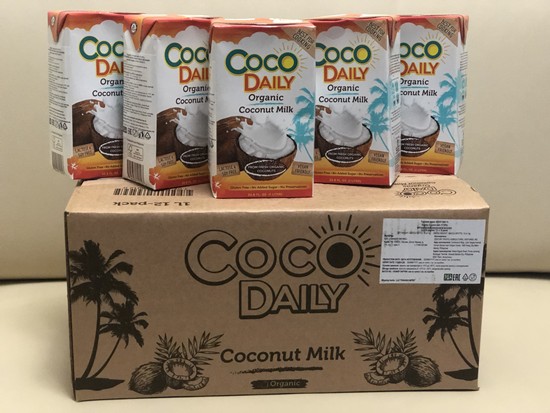 By DTI-FTSC
April 28, 2020
MOSCOW, Russia – Russian importer PanAsia Impex Ltd. announced that the maiden shipment of Philippine brand Coco Daily organic coconut milk arrived at the port of Saint Petersburg first week of April. The 1-liter packages of Coco Daily that arrived in the 40-foot shipping container will be available to mainstream Russian consumers this spring.
PanAsia Impex Ltd., Russian importer and distributor of Asian food products, sourced the Philippine branded coconut milk from Century Pacific Agri Ventures, Inc. (CPAVI). Coco Daily is the first product imported from the Philippines by PanAsia Impex Ltd.
Department of Trade and Industry (DTI) Secretary Ramon Lopez said of this welcome development, "The first shipment of Philippine coconut milk to Russia is good news, especially in light of the current situation. Amidst the coronavirus threat, our businesses continue to grow and expand. We are very proud of our Philippine exporters and producers who pursue opening new markets abroad."
The Trade Secretary congratulated both PanAsia Impex Ltd. and CPAVI. "The Philippines is looking forward to more cooperation between Philippine and Russian companies that will bring more Philippine high-quality, world-class food products to Russia and make it available to the Russian consumers," he added.
Philippine Ambassador to the Russian Federation, Ambassador Carlos D. Sorreta also welcomed this positive development. He added that "the food sector is one of the segments where we can see increasing cooperation between the Philippines and Russian companies. Moving forward, we hope that there will be more such partnerships so that more Philippine products will be made available in the Russian market as both the Philippines and Russia can contribute to one another's food security."
"Coco Daily coconut milk has the advantage of being organic as it competes with other similar products in the Russian market," said Mr. Vyacheslav Kapitonov, one of the founders of PanAsia ImpEx Ltd. He also thanked the DTI's Philippine Trade & Investment Center in Moscow (PTIC-Moscow) for their continuous assistance and business-to-business (B2B) introductions as PanAsia Impex sources more food products from the Philippines.
Commercial Counsellor Kristine Umali of PTIC-Moscow also congratulated PanAsia Impex and CPAVI on the maiden shipment. "We are pleased that our assistance and B2B introductions between PanAsia Impex and Philippine exporters have borne fruit. We are excited to have our Philippine coconut milk in the mainstream market and for Russian consumers to be able to try our high-quality Philippine food products. We hope to bring more world-class Philippine products to Russia, and we are here to assist in the B2B introductions for potential partnerships between Philippine and Russian companies," she shared.
Pan-Asia Impex Ltd.'s partnership with the Philippines stemmed from a meeting with PTIC-Moscow last year, where they indicated their interest to source coconut milk and other coconut products from the Philippines. PTIC-Moscow then facilitated B2B introductions followed by meetings with Philippine exporters at the sidelines of the Philippines-Russia Joint Commission on Trade & Economic Cooperation (JCTEC) in August 2019 and the World Food Moscow in September 2019, both held in Moscow, Russia.
PanAsia Impex formalized its strong interest to pursue cooperation with Philippine companies by signing a Memorandum of Understanding (MOU) with CPAVI at the Philippines-Russia Business Forum held on 04 October 2019 in Moscow during the Philippine Presidential Visit to Russia. PanAsia Impex has since entered into negotiations with CPAVI and other Philippine food product producers and exporters to source Philippine food products for the mainstream Russian consumer market.
1 CNT killed in pursuit operation in Northern Samar
By DPAO, 8ID PA
April 27, 2020
CAMP LUKBAN, Catbalogan City, Samar – Pursuing troops from 20th Infantry (We Lead) Battalion, Philippine Army clashed anew against more or less ten (10) fleeing CPP-NPA Terrorists (CNTs) at the outskirts of Brgy. P. Rebadulla, Catubig, Northern Samar on April 27, 2020 at 12:35 in the afternoon.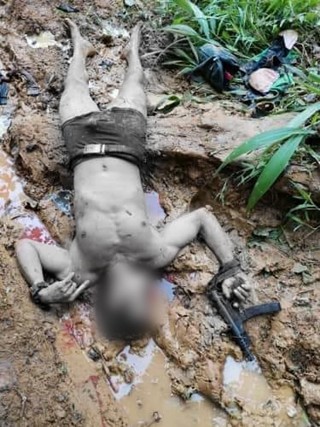 A five-minute firefight transpired that resulted to the killing of one (1) CNT and seizure of one (1) sub-machine gun, one (1) magazine and four (4) 9mm ammunition during the said pursuit operation. There is no reported casualty on the side of the government.
The said CNTs are believed to be the same group of rebels encountered by the same 20IB troops that transpired last April 23, 2020 of same barangay. In this encounter, an NPA camp was overran while six (6) firearms were seized.
Lieutenant Colonel Juan A. Gullem, Commanding Officer of 20IB said that their unit is committed to end terrorism in their area of operations.
"I commend our troops for the display of gallantry in pursuing the enemies despite the exhaustion from the series of security and pursuit operations. The residents and the Army are now in the same wavelength to end the agitation and wantonness of the terrorists through absolute obliteration of their presence in Northern Samar," Gullem stated further.
Colonel Lowell R. Tan, Commander of the 803rd Infantry Brigade stressed that, "This unfortunate incident could have been avoided if the rebels heeded the call of the government to return to mainstream society and avail of the Enhanced Comprehensive Local Integration Program (E-CLIP)."
"Our security forces will be relentless in their internal security operations to finally put an end to the crimes and atrocities of the terrorists, and to give peace and much-yearned development in Northern Samar," Tan concluded.
Anti-pregnancy pills in CNT lair in Northern Samar, glimpse of grim situation of abused women by NPA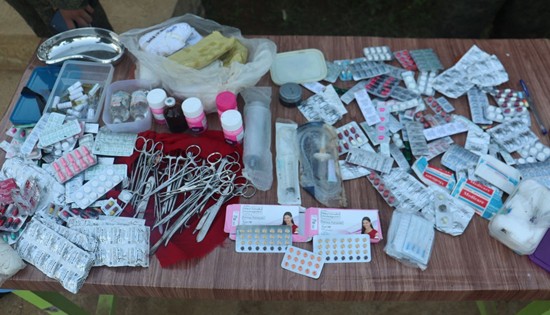 By DPAO, 8ID PA
April 26, 2020
CAMP LUKBAN, Catbalogan City – The recovery of anti-pregnancy pills by troops in a Communist NPA Terrorists' (CNT) lair in Barangay P. Rebadulla, Catubig, Northern Samar last April 23, 2020 offers glimpse of grim reality of the dire situation of women under the physical control of the NPA.
This is the prevailing conclusion by authorities as information are coming in and being validated by other data and by former rebels from other areas.
It may be recalled that the 20th Infantry Battalion under 8th Infantry Division responded to information of residents and overran a Communist Terrorist Group's (CTG) lair and seized high powered firearms and boxes of anti-pregnancy pills.
Major General Pio Q. Diñoso III, Commander of 8th Infantry Division said, "The anti-pregnancy pills are proof of the situation of women under the unbearable control of the NPA terrorists. Women fighters could have been compelled to take anti-pregnancy pills and they might have been forced to become sex objects of some NPA leaders".
Three weeks ago in Balangiga, Eastern Samar, NPA terrorists took some relief goods belonging to people in Sitio Bangon, Brgy Guinmaayohan and people noticed some pregnant women NPA members.
In a bid to help these pregnant NPA members, Mayor Randy Graza of Balangiga issued an appeal for the NPA to coordinate with government instrumentalities so that they may be given appropriate health care.
Several former rebels revealed that this situation is not only prevalent in Samar but in every area where the NPAs operate. Women have been subject of sexual exploitation by NPA leaders and other members. Former rebels said that some women end up as party wife of other NPAs while others end up only as sex objects of some leaders or senior members. Most often, pregnant NPAs are being abandoned by their leaders and companions in dire situations.
In October 9, 2019, alias Jane, a pregnant NPA and 12 others surrendered to government forces in Bulacan. She refused to reveal the circumstances of her pregnancy except that she threatened their leader that she will detonate a grenade if she will not be allowed to go down. Also in 2019, alias Saisai a former NPA medic, married and from Agusan del Norte was raped and impregnated by their NPA leader but suffered a miscarriage.
In April 19, 2018, Susan Guaynon, a pregnant 20-year old NPA was abandoned by her companions after a firefight in Bukidnon. She was given proper care by soldiers and underwent surgery in Cagayan de Oro City. Also in 2018, alias Wilma, a former NPA medic from Magpet North Cotabato revealed that she and other female companions were sexually abused by their NPA leader.
Last April 21, 2020 the Geroche family of Brgy.Dalimdim, Laak, Davao de Oro were targetted by NPA terrorists. Roldan, the head of the family was killed simply because he is the father of Ronalyn a former rebel who surrendered after she was raped by alias Wendel, her NPA recruiter.
Years back, former rebels Marife Benusa alias Juliet and one alias Sisa revealed their personal plight on sexual opportunism and financial corruption of NPA leaders and senior members inside the underground movement.
Major General Diñoso III appealed to all female NPA combatants to surrender to save them from further humiliation due to sexual abuses by some NPA Leaders. "Do not allow these brutal NPA Leaders to trample upon your dignity and lose your self-worth as a woman. Come to us and we will help you regain your life back."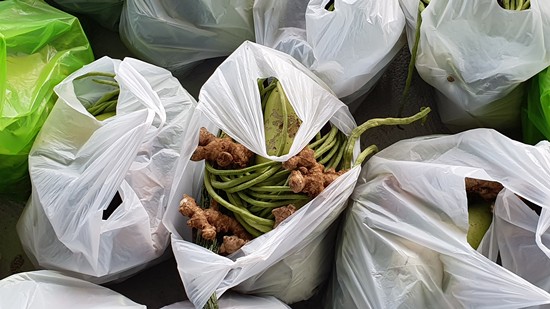 The local government unit of Calbiga, Samar purchases all harvests of the agrarian reform beneficiaries (ARBs) to give variation to the relief assistance provided to its residents.
5 DAR-assisted farmer organizations are town's food supplier amidst COVID-19 crisis
By GABRIEL MARK OCENAR
April 25, 2020
CALBIGA, Samar – They used to supply vegetables and other farm products for the feeding program in Day Care centers throughout this town.
Now, Samar Provincial Agrarian Reform Program Officer Celsa Mabutin disclosed that the local government unit (LGU) is buying all the agricultural products of these five Department of Agrarian Reform (DAR)-assisted farmer organizations here to feed its residents during this global crisis due to the coronavirus disease 2019 (COVID-19) pandemic.
Mabutin further disclosed that the five agrarian reform beneficiaries organizations (ARBOs) are the Calbiga Vegetable Growers Association, Panayuran Upland Farmers Association, Brgy. Bulao Farmers Association, Canbagtic Farmers Association, and Borong Active Farmers Association.
The farmers' products will give variation to the canned goods commonly provided during relief assistance distribution. With this move, the LGU is incorporating nutritious foods to every household.
According to Municipal Nutrition Action Officer and member of the Municipal COVID Task Force, Evelyn Jabonete, in a Facebook post by the National Nutrition Council Region VIII, available sources of foods in the locality during the quarantine period is very important.
Instead of transporting our agricultural products to other areas, let us serve these to our local households, she added.
With the temporary suspension of holding "tabo" or flea market pursuant to Executive Order No. 10, series of 2020, issued by Mayor Melchor Nacario, as a precautionary measure to prevent the spread of COVID-19, the LGU buy and pick-up all the farmers' harvests in their respective areas.
Among the ARBOs' products purchased by the concerned LGU include: string beans, upo, eggplant, bitter gourd, banana, sweet potato, cassava, corn, sweet pepper, gabi, pineapple, loofah, Baguio beans, tomato, okra, hot pepper, ginger and papaya.
Based on the sales record of the five ARBOs, they earned a combined amount of more than P288,000 from April 3 to 8 and April 13 to 17, or during the quarantine period.
Though the town is now under enhanced community quarantine effective April 15 to 30 this year, pursuant to Executive Order No. 11, series of 2020, issued by Nacario on April 14, farmers and fisherfolks will be given exemption passes by the Municipal Agriculture Office to go about their daily routine for food security considerations.
Furthermore, DAR-8 Regional Director Stephen Leonidas ordered the field implementers to provide the agrarian reform beneficiaries and ARBOs throughout the region the agency issued quarantine accreditation pass, as authorized by the Inter-Agency Task Force for the Management of Emerging Infectious Disease (IATF-EID), for the continuous supply of agricultural products.
These five ARBOs, Mabutin said, are recipients of DAR's Partnership Against Hunger and Poverty (PAHP) program, which is in collaboration with the Department of Social Welfare and Development (DSWD) and the LGU.
Under this collaboration, the LGU purchases farm products from the ARBOs for the feeding program in Day Care Centers of the DSWD.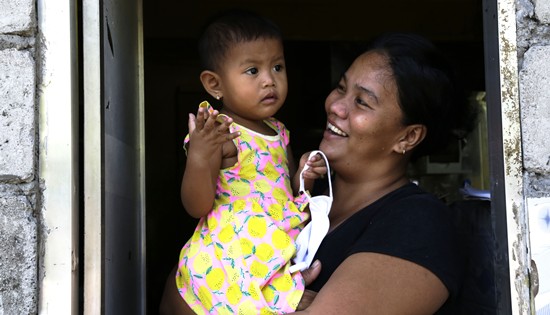 A mother smiles while carrying her daughter as they stand by the door of their water refilling station.. They are one of the families living in Navotas, which is placed under enhanced community quarantine. (Photo by Lei Tapang/Save the Children)
Save the Children PH calls on LGUs: Sustain programs to address children's hunger and malnutrition in COVID-19 response
By Save the Children PH
April 25, 2020
MANILA – Save the Children Philippines calls on local community leaders to resume health and nutrition services for children such as immunization, and maternal and new-born care as part of the COVID-19 response, following the extension of the enhanced community quarantine (ECQ) until May 15 in the National Capital Region and key areas with high rates of infection.
The COVID-19 pandemic response must safeguard children's rights to survive, learn, and be protected.
Atty. Alberto Muyot, Chief Executive Officer of Save the Children Philippines said many people perceive that children are not affected by the COVID-19 pandemic, but in reality, children, mostly those who come from low-income families and living in hard-to-reach areas, face the long-term and irreversible impact of stunting- the worst form of malnutrition due to prolonged hunger and undernutrition.
"We understand that the decision to extend the enhanced community quarantine in key areas with high COVID-19 cases will help save lives, but child-centered services must immediately resume in all barangays to make sure children from low income families will not die from preventable causes, many of which are aggravated by severe malnutrition," said Muyot.
Child malnutrition in the Philippines is one of the highest in the world with one in three children below five years old is stunted.
In 2018, at least 48.2 per cent of infants age six to 11 months have anemia due to poor feeding practices and inadequate food intake.
"The loss of income by thousands of families, especially the vulnerable groups, can immediately translate into not being able to put food on the table resulting to thousands of children who will go to bed hungry," said Muyot, as he called on the local government officials to expedite the release of cash assistance and other economic support to qualified families under the social amelioration program.
He also said local governments should integrate protection of children from violence, abuse or exploitation as part of the COVID-19 pandemic community response.
"Many children may suffer and witness abuse and violence at home due to heightened stress, anger and anxiety of parents and guardians following the loss of jobs and livelihood, and the uncertainty of how to provide for their family," said Muyot.
Save the Children Philippines believes that children's rights must be at the heart of the COVID-19 pandemic response to ensure that an entire generation does not suffer the catastrophic, long-term consequences of the outbreak. To meet their needs, children also need to be involved in preventing the spread of the virus and in mitigating the impact of the disease.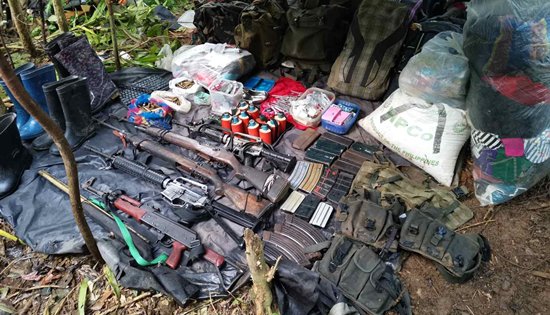 Recovered war materials during encounter of 20IB with CNTs at Brgy P Rebadulla, Catubig, Northern Samar on April 23, 2020.
20IB overruns CNTs' lair, seizes high powered firearms in Northern Samar
By DPAO, 8ID PA
April 25, 2020
CAMP LUKBAN, Catbalogan City, Samar – Troops from 20th Infantry (WE LEAD) Battalion, 8th Infantry Division, Philippine Army overran Communist Terrorist Group's (CTG) lair and seized high powered firearms and other war materiel in an encounter at the vicinity of Barangay P. Rebadulla, Catubig, Northern Samar at about 3 o'clock in the afternoon, April 23, 2020.
Based on the initial report from Lieutenant Colonel Juan A Gullem, Commanding Officer of 20IB, his troops, while responding to the local residents' complaint about the CTG's continued interruption on the completion of government projects in the Pacific towns and hampering the distribution of the Social Amelioration Program (SAP), engaged in a 20-minute firefight which led the CPP-NPA Terrorists (CNTs) to abandon the said lair and withdrew towards the mountainous area of the said barangay.
The enemy's lair can accommodate more or less 40 CNTs and has one (1) multi-purpose hall, eleven (11) bunkers, nineteen (19) makeshift tents, one (1) comfort room, one (1) kitchen and three (3) posts.
The troops seized two (2) M14 rifles; one (1) AK47 with four (4) magazines; one (1) M16 rifle with seven (7) magazines; one (1) M653; one (1) Cal. 22 (rifle converted); twelve (12) IEDs; one (1) hand grenade; three (3) bandoleers; one (1) Baofeng radio with charger; one (1) cellular phone; twenty (20) backpacks; assorted medical supplies and subversive documents with high intelligence value.
No casualty was reported on the government side while undetermined casualties on the enemy's side as evidenced by the bloodstains found on the route of withdrawal.
Troops under the 20IB are on search and pursuit operation to sustain and ensure that the CNTs will be apprehended.
Hon. Edwin Marino Ongchuan, Governor of Northern Samar Province remarked, "The dedication of uniformed men on the face of this COVID-19 public health emergency is commendable. It clearly attests to the seriousness of our government forces in crushing the enemies of the state. We denounce this act of atrocity and all other acts by individuals or groups who take advantage of this COVID health crisis to sow fear and disorder in the community."
Colonel Lowell R. Tan, Commander of 803rd Infantry (PEACEMAKER) Brigade, in his statement, "The overwhelming support of the populace who are already fed up of the rebels' assaults and atrocities provides our security forces timely information leading to a successful operation that brings us one step closer to peace and prosperity."
Inflation rate in EV rises to 2.2% in March 2020
By PSA-8
April 21, 2020
TACLOBAN CITY – Inflation Rate (IR) in Eastern Visayas rose to 2.2 percent in March 2020. This IR is 0.3 percentage point higher compared with the 1.9 percent IR in February 2020. This is also higher by 0.1 percentage point than the recorded 2.1 percent IR in the same period last year.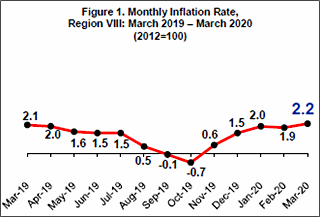 The regional IR is 0.3 percentage point lower than the 2.5 percent national average inflation rate in March 2020.
Eastern Samar, Southern Leyte, Biliran and Leyte registered higher inflation rates in March 2020 compared with their figures in February 2020. Eastern Samar recorded the highest increase of 0.8 percentage point. It rose to 3.1 percent IR in March 2020 from 2.3 percent IR in February 2020. On the other hand, Samar registered a 0.8 percentage point decrease in IR. It dropped to 2.3 percent in March 2020 from 3.1 percent in February 2020. Northern Samar eased down to 3.5 percent in March 2020 from 3.6 percent in February 2020 but still recorded the highest IR among the provinces in the region. Southern Leyte, meanwhile, posted the lowest IR among the provinces during the month in review at 1.4 percent.
Majority of the commodity groups in the region exhibited higher IRs in March 2020 compared with their rates in February 2020. Housing, water, gas, electricity and other fuels commodity group registered the biggest increase of 1.0 percentage point, from 0.9 percent deflation in February 2020 to 0.1 percent inflation in March 2020. This increase can be attributed to the inflation recorded in the actual rentals for housing index (7.5 percent); maintenance and repair of the dwelling index (2.6 percent); and water supply and miscellaneous services relating to the dwelling index (0.1 percent) in March 2020. The double-digit deflation rate of 11.0 percent in electricity, gas and other fuels, however, eased the impact of those increases to the overall IR of the commodity group.
The IR of the commodity group of alcoholic beverages and tobacco increased by 0.6 percentage point, pushing its IR to 9.1 percent in March 2020.
Restaurants and miscellaneous goods and services commodity group, and health commodity group both registered 0.4 percentage point increases in their IRs, posted at 5.4 percent and 1.6 percent, respectively, during the reference month.
The IR of heavily weighted food and non-alcoholic beverages commodity group increased to 1.8 percent in March 2020 from 1.6 percent in February 2020. Higher IRs were noted in majority of the food items. Fruits index registered the highest increase of 1.1 percentage points, from 5.9 percent in February 2020 to 7.0 percent in March 2020. Fish index continued to register a double-digit IR during the reference month at 12.4 percent, the highest among all items. These increases were slowed down by the continued deflation in rice and bread and cereals indices, at 5.1 percent and 3.6 percent, respectively.
IRs for clothing and footwear commodity group and communication commodity group inched up by 0.1 percentage point, registering 2.9 percent and 1.3 percent IRs in March 2020, respectively.
On the other hand, IR for transport commodity group declined by 4.0 percentage points. It went down to 0.9 percent in March 2020 from 4.9 percent in February 2020. This can be attributed to the 5.0 percent deflation recorded in the index for operation of personal transport equipment.
The commodity group of furnishings, household equipment and routine maintenance of the house eased down to 4.3 percent in March 2020 from 4.5 percent in February 2020.
The Purchasing Power of Peso (PPP) of the region was recorded at P0.79 in March 2020. This PPP implies that the goods and services worth P79.00 in 2012 is worth P100.00 in March 2020.
All provinces in the region sustained their PPP last month. Biliran, Leyte and Southern Leyte recorded the strongest PPP at P0.81, followed by Eastern Samar at P0.76 and Samar at P0.74. Northern Samar posted the weakest PPP at P0.73.