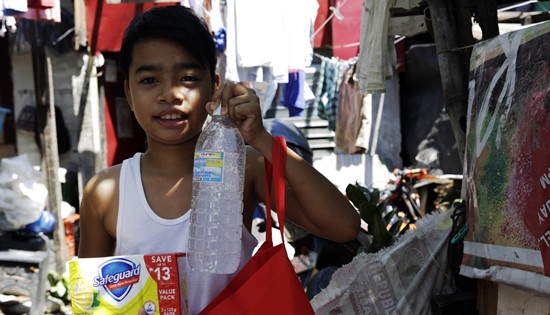 A child shows their family's one month supply of hygiene essentials (i.e. soap and alcohol) distributed by Save the Children Philippines on April 3, 2020 in Navotas. (Photo by Lei Tapang/Save the Children)
Save the Children launches its biggest ever appeal to protect children from COVID-19
Press Release
April 7, 2020
MANILA – Save the Children has launched a global appeal to raise US$100 Million to manage the spread of COVID-19 and support survival through food security among the most vulnerable families across 120 countries, including the Philippines.
The biggest appeal since the 1918-1920 Spanish Flu pandemic, Save the Children believes that "early action is critical because a delay will cost lives, and rob children of opportunities."
Tagged as #ProtectAGeneration, the appeal coincides with the World Health Day celebration on April 7, where the roles of nurses and midwives are recognized to keep the world healthy amid the COVID-19 pandemic.
Atty. Alberto Muyot, Chief Executive Officer of Save the Children Philippines says that the COVID-19 pandemic spares no one – both rich and poor, young and old, but those who have the least in life, and not able to cope will be hit first and hardest, including the vulnerable and deprived children and their families.
"Children suffer the consequences of the COVID-19 pandemic," said Atty. Muyot. The rising deaths of adults leave children without parents, and guardians, while the loss of income for families is causing widespread hunger and poverty.
The 100-years of Save the Children's expertise in providing a humanitarian response to a pandemic dates back to the Spanish flu in 1918.
"We need to go back and remember at how we started as a humanitarian organization," said Muyot. "We need to be where we are most needed by children and their families."
In the Philippines, the funds will be used to support the most vulnerable children and their families with hygiene essentials to ward off diseases, cash assistance to help them recover from the unintended impact of the enhanced community quarantine, and educate families about the importance of physical distancing, proper hygiene and other behaviors needed to prevent and reduce transmission of the deadly virus.
Over half a million community health workers are currently providing support in 44 countries, including the Philippines. Save the Children Philippines support community health workers who attend to the health and nutrition needs of the most deprived children and families in Southern Mindanao, communities in Samar province, and in the cities of Navotas, Caloocan, and Malabon in Metro Manila.
Atty. Muyot also said the funds will support education personnel and government health agencies to equip local health workers with the required personal protective equipment and medical supplies, training, and mental health and psychosocial support.
He also raised concern that more children now experience hunger, poor health, and malnutrition as thousands of families face a loss of income, including those in the informal sector due to limited mobility during Enhanced Community Quarantine. "School closures also pose risks on children who will be forced to work to earn a living for their families while adolescent girls may end up in early marriage," said Atty. Muyot.
Dr. Amado Parawan, Health and Nutrition Advisor of Save the Children Philippines said the loss of jobs and stable income of parents, guardians during quarantine is expected to increase the cases of malnutrition in the country.
He said families must ensure they have at least five (5) servings of fruits and vegetables every day, and drink 8-10 glasses of water to boost their immune system. Parents and guardians were also advised to serve healthy meals to children instead of junk foods.
Prior to COVID-19 pandemic, the country's child malnutrition rate is one of the highest in the world, with one in three children under 5 years of age is stunted due to prolonged hunger resulting in chronic malnutrition.
At the same time, at least 48.2 per cent of babies six to 11 months have anemia due to poor feeding practices and inadequate food, according to the 2018 Expanded National Nutrition Survey by the Department of Science and Technology-Food and Nutrition Research Institute (DOST-FNRI).
"The loss of income to thousands of families immediately translates into not being able to put food on the table," said Dr. Parawan.
He said vulnerable families need financial support to afford nutritious diets – particularly for pregnant and lactating mothers and children up to the age of two.
Save the Children's #ProtectAGeneration global appeal aims to provide financial support to families in crisis through cash and voucher assistance in over 30 countries around the world.
Atty. Muyot said the funds will also support distance learning and interactive learning activities for millions of children missing out on school due to the COVID-19 pandemic.
"We will provide guidance and resources to help parents and caregivers to support children's learning," he said, adding that "the key to our support will be how to maintain structure and routine, and how to keep children engaged in play and learning activities at home."
Save the Children Philippines has developed mobile apps like i-Mulat that is downloadable in the Google Play Store, to give parents a wealth of suggested family learning activities for children 0 to 6 years old that they can do at home.
The i-Mulat app contains key messages and videos on how parents can support their children to achieve their developmental milestones. Parents can also log the activities they do with their children as well as observations on their child's development in the app.
The COVID-19 pandemic is a crisis that goes beyond health systems, said Atty. Muyot.
"Economic recession and the socio-economic disruption accompanying lockdowns have already inflicted immense human suffering even in high-income countries with strong safety nets. The risks now facing vulnerable populations in poorer countries with high levels of poverty and weak safety nets are even more serious and much greater," he said
Atty. Muyot is appealing to individuals and businesses to support #ProtectAGeneration through donations on https://donate.savethechildren.org.ph/campaign/covid-19#donatearea or by calling: Candice dela Cruz at 0929-754-3066 or supportercare.ph@savethechildren.org
CARD MRI continues services despite COVID-19
Press Release
April 7, 2020
SAN PABLO CITY – As the national and local government in the Philippines implemented necessary measures to control the spread of COVID-19, the livelihoods of MSMEs are critically distressed. Despite the disruption of the operations of CARD Mutually Reinforcing Institutions (CARD MRI), efforts are being exerted in order to continue providing financial and non-financial services to these MSMEs.
Upon the announcement of the enhanced community quarantine on March 16, 2020, CARD MRI announced "Walang Hulog" or the implementation of moratorium on loan payments of its clients and the suspension of all center activities to comply with social distancing until April 12, 2020.
"This decision will adversely affect our operations, but we must always go back to our core of existence: our MSME clients who we need to prioritize in these challenging times," said CARD MRI Managing Director Flordeliza L. Sarmiento. She further added that the moratorium will allow clients to manage their finances better so that they can prioritize basic needs during the community quarantine.
Moreover, CARD Mutual Benefit Association, the microinsurance arm of CARD MRI, also suspended the collection of insurance payments. Claims, though, are still being processed at the provincial offices of CARD MBA nationwide. Its efficient strategy of settling claims with finality within 24 hours is still being observed where possible, enabling clients to continuously have access to a safety net.
CARD MRI persistently implements interventions to curtail the impact of the COVID-19 outbreak. "Day after day, we think of ways on how we can keep on supporting our clients," CARD MRI Founder and Chairman Emeritus Dr. Jaime Aristotle B. Alip said. "With a string of 23 institutions specializing in financial and community development services, we know that we can do more for the low-income sector despite the challenges imposed by physical limitations brought by the community quarantine," he explained.
With the communities under lockdown and access to basic social services rendered limited, an integrated online hub was launched by CARD MRI as an efficient way to reach out to its clients. These online services include free medical consultation, and educational sessions on business. Moreover, CARD MRI also launched a pilot project on mobile palengke, and an online buy and sell group for its clients.
Health
CARD MRI has long recognized health protection as a crucial factor in achieving development. Over the years, it has created meaningful partnerships with doctors, hospitals, and clinics who also have the heart to provide basic health services to the low-income sector. Since its regular medical missions were put on hold in compliance to the enhanced community quarantine, CARD MRI brought its health services online.
On March 31, CARD MRI doctors went live on a Facebook page called "CARD e-Doctor". The initiative was made possible by the Microfinance and Health Protection (MaHP) program unit of CARD MRI. Through their Facebook page, CARD doctors respond to health-related inquiries through a live video or via private message. The CARD e-Doctor commenced its first consultation with a live discussion about COVID-19, its symptoms, and preventive measures to take. Free online consultations are held Mondays to Fridays, from 8 AM to 5 PM.
To complement this initiative, CARD MRI's pharmacy, BotiCARD, is open to serve CARD clients and the general public with affordable and effective generic medicines. Hygienic products are also available in the pharmacy.
Livelihood
Undoubtedly, the livelihoods of CARD MRI microentrepreneurs are adversely affected by the outbreak. To support those in the line of food business, CARD MRI's marketing arm, Mga Likha ni Inay (MLNI), spearheaded a mobile palengke to provide CARD members access to food necessities. Through the Palengke on Wheels, basic food supplies such as vegetables, poultry, and other foodstuff are bought in bulk from members (vendors and farmers) and are brought closer to communities under quarantine. Orders can be placed on its Facebook Page, Likha ni Inay Palengke on Wheels. The mobile palengke is currently being pilot-tested in San Pablo City, Laguna but is hoped to be made operational in other areas as MNLI learns from its initial experience in this initiative.
Last but not the least, CARD MRI also created an online community for its clients and members where they can continue their businesses despite restricted mobility due to the ECQ. CARD MRI's newly launched Facebook group allows CARD clients to buy and sell their products. The group, which is searchable on Facebook as "CARD MRI Buy and Sell", currently has more than 6,000 members, and closed more than 30 deals since its launch on March 29, 2020.
This Facebook group also paved the way for linkages between microentrepreneurs and the local governments who have been supplying communities with relief packages. For example, one particular CARD client from Panabo, Davao del Norte was tapped by the LGU to supply alamang to residents. Through this linkage, the microentrepreneur was able to secure income even during the ECQ. However, the restriction on movement threatens the supply of raw materials for the continuance of this opportunity.
Education
The CARD-MRI Development Institute (CMDI), which offers formal education and trainings for microfinance clients, staff, and practitioners, is offering online modules for free during the quarantine period. Too, mechanisms have been put in place so that Senior High School and College students can enroll online in the comforts of their homes. Online classes will also be offered effective next school year.
CMDI also created an online community for CARD staff, clients, and members where they can discuss livelihood ideas. Dubbed as CMDI Kabuhayan Ideas Online, the group provides trivia, information, and educational videos that can help micro and small entrepreneurs in their business.
A blended approach
The enhanced community quarantine has placed physical limitations in delivering community development services. But these same limitations have sparked creativity and innovation among microfinance institutions like CARD MRI in continuously bringing its services to the low-income sector.
Being known as an institution that offers tailor-fitted products to MSMEs, CARD MRI gathered volunteer management and staff to conduct Kamustahan Sessions via phone calls and online messenger to have a deeper understanding of the situations faced by its more than 6.7 Million Clients. The reports gathered will serve as a baseline information for the institution to design responsive policies and products should national health emergencies happen again. CARD MRI believes that this information would be critical in further strengthening its digital initiatives.
"Our digitization journey started way back in 2016. We are now seeing the fruits of our labor. With our digital efforts paired with our adequate presence in the field, our support to and solidarity with our clients is maintained. We will not surrender, we will continue the fight, and I have high hopes that, together, we will win. The enormity of the challenges we are facing may tire us, but we will only rest, but never quit," declared Dr. Alip.

Acknowledging the sacrifices of health workers, the Almeria Seafarers Multi-Purpose Cooperative (ASEMCO) provided the Biliran Provincial Hospital with food packs. (Photo by Sharmaine Chelsea Morillo)
Biliran farmer organizations extend assistance amid COVID-19
By JOSE ALSMITH L. SORIA
April 7, 2020
NAVAL, Biliran – Regional Director Stephen Leonidas of the Department of Agrarian Reform (DAR) in Eastern Visayas commended three DAR-assisted cooperatives in this province for their efforts to help ease the effect of the coronavirus disease 2019 (COVID-19) pandemic in their respective areas.
As everyone is directed to stay at home with the implementation of the community quarantine by the different local government units (LGUs) to contain the spread of COVID-19, three agrarian reform beneficiary organizations (ARBOs) felt the pressing needs of their members, particularly the elderly and the daily wage earners.
The Looc Cabucgayan Agrarian Reform Cooperative in Cabucgayan town through its chairman, Zacarias Leorag, distributed two kilos of Jaguar rice to each of their 117 members.
For the Lico Agrarian Reform Cooperative (LARCOOP) based in the capital town of Naval, relief assistance consisting of three-kilo rice, coffee, sugar, milk and meat were distributed to its members.
Aside from the members, chairperson Rebecca Payos said, LARCOOP also provided snacks and coffee to frontliners manning the provincial border checkpoint, as well as barangay checkpoints in Lico and PS Eamiguel villages.
LARCOOP Manager, Anamie Villegas Ibano, added that the members' Interest on Capital and Patronage Refund (ICPR) were released early so the latter could use them at this point while we are facing this kind of crisis.
Meanwhile, the Almeria Seafarers Multi-Purpose Cooperative in the municipality of Almeria, which is also into catering service, through its manager Anita Corto, provided food packs for the health workers at the Biliran Provincial Hospital.
DAR Secretary John Castriciones appreciated the acts of generosity by the various ARBOs nationwide.
He described the farmers as the silent frontliners against COVID-19.
In his Facebook comment, Castriciones said, "Ito po ang kailangan nating gawin sa panahon na ito. Mabuhay po kayo and God bless po!"
46IB foils ambush of CNTs to COVID-19 frontliners in Calbiga, Samar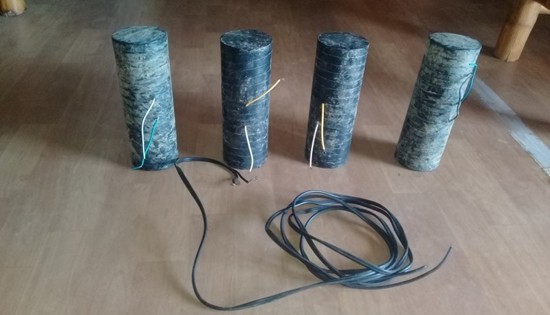 By DPAO, 8ID PA
April 7, 2020
CAMP LUKBAN, Catbalogan City, Samar – Four improvised explosive devices (IEDs) were discovered by the elements of the 46th Infantry (Peacemakers) Battalion (46IB), 8th Infantry Division (8ID), Philippine Army foiling the attempt of the CPP-NPA Terrorists (CNTs) to conduct an ambush against the government forces in the vicinity of Brgy. Hubasan, Calbiga, Samar on April 6, 2020.
An information was obtained from a concerned civilian that the CNTs are planning to conduct an ambush using the aforementioned IEDs targeting the troops of 46IB who are serving as frontliners in battling COVID-19 pandemic. The mines were placed along the only trail connecting barangays Hubasan and Binanggaran of same municipality.
The residents expressed their utmost gratitude to 46IB as the troops prevented the IEDs to explode which could have wounded, or worst, could have taken their lives just like what happened in Borongan, Eastern Samar.
Lieutenant Colonel Rhomel R. Langcauon, Commanding Officer, 46IB remarked, "We are thankful that a concerned citizen alerted our troops about the IEDs planted by the NPA. This is evidently laid to victimize frontliners as all our troops are conducting COVID-19 prevention efforts. This could have harmed or killed the civilians passing by the said trail."
Colonel Camilo Z. Ligayo, Commander of 801st Infantry Brigade said, "We will continue to protect the people of Samar from the terroristic acts of the NPA such as the planting of IED during this Covid 19 crisis. We thank the people for their help and we call on them to unite against all forms of terrorism".
Major General Pio Q Dinoso III, Commander of 8ID, stated that, "We condemn, in the strongest terms possible, that despite the existing unilateral ceasefire and global COVID-19 pandemic crisis, the planting of IEDs here in Samar and recent attacks against uniformed personnel in Luzon and tribal leaders in Mindanao; the CNTs are consistently displaying barbaric acts, violating human rights and disregarding the safety of the civilians who might turn victims just like what they did in Borongan a few months ago."
It may be recalled that four individuals were killed in an IED exploded by NPA in Borongan, Eastern Samar in December 13 last year. The fatalities were three civilians including an elderly woman, a van driver and another woman who expired in the hospital while the fourth fatality is a policeman. Wounded were 14 others including an infant and two other children.
DTI to enforce 30-day grace period for residential, commercial rent during ECQ
By DTI-OSEC-PRU
April 6, 2020
MANILA – The Department of Trade and Industry (DTI) released Memorandum Circular (MC) No. 20-12, Series of 2020 on 4 April 2020 granting a 30-day grace period for residential rent as well as a similar grace period for Micro, Small, and Medium Enterprises (MSMEs) with their commercial rent during the Enhanced Community Quarantine (ECQ) period.
"To provide economic relief to Filipinos and MSMEs during the COVID-19 public health emergency, DTI is implementing these guidelines to ensure their survival during the ECQ, as well as to help brace them afterwards," said Trade Secretary Ramon Lopez.
Following Republic Act (RA) No. 11469, or the "Bayanihan to Heal as One Act," DTI will enforce a 30-day grace period for commercial rents that fall within the duration of ECQ to give respite to MSMEs that have temporarily ceased operations. These enterprises will also not incur interest, penalties, fees, and other charges under the grace period. Similarly, DTI will ensure that a minimum of 30 days grace period shall be granted for residential rent that fall due within the ECQ under the same terms.
Under the MC, the grace period will be determined as 30 calendar days following the last due date of the rent during the ECQ. Cumulative amount of rents that need to be paid within the ECQ must be amortized equally in the six months following the end of the said period. This can be added to the rent owed for succeeding months without interest, penalties, fees, and charges.
On the other hand, lessors are not obligated to refund residential and commercial rents already paid by lessees during the ECQ. However, lessors must grant a minimum of a 30-day grace period from the next due date of residential and commercial rents without interests and other penalties as well.
Likewise, the MC calls on lessors of MSMEs to extend their generosity, if possible, the following: total or partial waiving of commercial rents due during the ECQ; granting a reprieve or discounted amount of commercial rents due after the ECQ; opening renegotiation of the Lease Term Agreements with lessees; and using other ways to mitigate the impact of the ECQ for MSMEs.
More importantly, the trade chief emphasized that there should be no eviction for failure to pay residential or commercial rent due within a 30-day period after the lifting of the ECQ.
"No Filipinos should lose their residence during the ECQ period. Moreover, the importance of MSMEs in jumpstarting our economy once the ECQ has been lifted cannot be understated," Sec Lopez said.
"Through these measures, we ensure that our fellow Filipinos have a future after the ECQ with homes that they can live in and through jobs and employment provided by our MSMEs," Sec. Lopez added.
Complaints of violations of the MC can be brought to DTI in person or electronically by emailing the agency, either through the Fair Trade and Enforcement Bureau (FTEB) through FTEB@dti.gov.ph or with the regional offices. Lessors who violate these guidelines will need to answer the Notices of Violations (NOVs) issued by DTI.
As provided under RA 11469, lessors that are found guilty of refusing to provide the 30-day grace period to lessees shall be penalized with imprisonment of not less than two months or a fine of not less than P10,000, or both.
P1.855M grant awarded to 26 rebel surrenderees in Samar
By DPAO, 8ID PA
April 2, 2020
CAMP LUKBAN, Catbalogan City, Samar – A total amount of P1.855M grant were awarded to 26 former rebels (FRs) who availed of the national government's Enhanced Comprehensive Local Integration Program (E-CLIP) and the Province's Local Social Integration Program (LSIP). The financial grant is a way of helping the FRs to return back to mainstream society as they live normal lives. The activity dubbed, "Peace Towards Prosperity Initiative", was conducted in separate ceremonies held in Matuguinao, Paranas and Calbiga; all in Samar on March 30, 2020.
Said activities were attended by Major General Pio Q. Diñoso III, Commander of the Army's 8th Infantry (STORMTROOPER) Division; Most Rev. Bishop Isabelo C. Abarquez, Diocese of Calbayog; Ms. Anita R. Taran, OIC, Provincial Administrator of Samar; Police Colonel Andre Dizon, Provincial Director of Samar Provincial Police Office; Mr. Judy Batulan, DILG Provincial Director; Hon. Aran D. Boller, Mayor of Matuguinao; Hon. Eunice U. Babalcon, Mayor of Paranas; Hon. Melchor F. Nacario, Mayor of Calbiga; and other military and local government officials.
Additional financial aid under the LSIP and E-CLIP programs will be awarded once the FRs completed the needed requirements.
Major General Diñoso III, in his remark, stated that "We are happy whenever one of your fellow rebels surrenders to the folds of the law. The Communist -Terrorist-Groups (CTGs) deceive and agitate members by injecting ideologies against the government. You are just victims of such deception."
"Seryoso ang ating gobyerno, ang ating presidente, si governor, sila mayor, ang mga kapulisan at kasundaluhan para tulungan kayo. Ito ang magandang dulot ng pagtutulungan at pagkakaisa. Pakiusap lang namin sa inyo na ipaabot din sa inyong mga kasamahang patuloy na nasa kabundukan na handa ang ating gobyerno na tulungan kayong magbagong buhay." Diñoso added.
A former rebel-beneficiary was very much thankful and stated, "Damu an amon pagpasalamat nga guin bubuligan kami san tinuod nga gobyerno kay buwa ngay-an an esplekar san NPA nga sira an nabulig san mga tawo. Ine ngay-an an tama – an aton kasundaluhan an nabulig. Sanglit kita nga mga nagsurender pagburublig kita para mabuligan an aton gobyerno nga magpanawagan san adto pa sa kabukiran nga lumugsad na liwat para sira makatagamtam san kaupayan." (We are grateful to the legitimate government for helping us realize that the NPA's claims of helping the people were all lies. The truth to the matter is – our soldiers are the true ones who help us. Let us then help our brothers who were led astray by the NPA to return to the government so that they too may experience prosperity and return to the mainstream society.)
The intensified collaborative efforts of the government in the enforcement of the Whole-of-Nation Approach amidst the COVID-19 pandemic, is a reaffirmation of its commitment to provide peaceful, resilient, sustainable and economically developed Eastern Visayas.
Duterte's "shoot them dead" order denounced by international human rights group
By ICHRP
April 2, 2020
MANILA – The International Coalition for Human Rights in the Philippines (ICHRP) strongly condemns the shoot-to-kill order of President Rodrigo Roa Duterte on April 1. "We are raising the alarm in the international community on President Duterte's directive to kill unruly violators of the coronavirus quarantine. This pronouncement is a dangerous order that allows authorities to target and kill anyone in a public space. It is also a complete violation of the fundamental rights of Filipinos especially in this time of global pandemic," says ICHRP chairperson Peter Murphy.
President Duterte addressed the whole nation hours after the incidents of unrest and people massing up for food and relief in the country's capital. In his televised speech, his tirade of violent threats included "I will not hesitate. My orders are sa pulis pati military...na pagka ginulo at nagkaroon ng okasyon na lumaban at ang buhay ninyo ay nalagay sa alanganin – shoot them dead," (I will not hesitate. My orders to the police and military…if they caused any disorder, and they fight back and your lives are on the line – shoot them dead).
The same day, 21 citizens were arrested for going out of their homes and demanding the relief promised by the national government. Residents of an urban community in the biggest city in Metro Manila staged a rally asking for food and aid amid the government's lockdown to contain the coronavirus, which in turn has left millions of Filipinos jobless and hungry.
"Our support goes to the poor Filipinos whose only crime is to be hungry and demand what is rightfully theirs. The right to food and basic social services should be ensured especially in times like these," ICHRP asserts. A video circulating in the social media shows citizens demanding for food being violently dispersed by authorities.
"Naintindihan ninyo? Patay. Eh kaysa mag-gulo kayo diyan, eh 'di ilibing ko na kayo (Do you understand? Dead. Instead of causing trouble, I'll send you to the grave)," Duterte added in his recorded address. Recently, the president was given special powers to distribute P200 billion (US$3.9 billion) to more than 18 million poor households. But after a week the aid remains unreleased.
"President Duterte's criminal negligence coupled with brutal measures to address the pandemic is taking its toll on Filipinos. Millions of informal workers have been displaced and right abuses have been rampant all over the country," says Murphy.
"The police and military who have been deployed to enforce social distancing are not trained for this task and have been the very perpetrators of human rights violations," ICHRP underlines. The authorities have been detaining homeless people, putting curfew violators in cages and using torture methods to punish them, and even arresting citizens over "provoking" posts on social media.
Netizens showed their anger online over the president's pronouncement to "shoot them dead" and called for his ouster. The #OustDuterte have been trending in the Philippines for two days now.
The World Health Organization states that "Measures that limit individual rights and civil liberties must be necessary, reasonable, proportional, equitable, non-discriminatory, and in full compliance with national and international laws."