DOLE-8 to assist informal sector workers through TUPAD #BKBK
By NORMA RAE S. COSTIMIANO
March 28, 2020
TACLOBAN CITY – In order to mitigate the economic impacts of Coronavirus Disease-2019 (COVID-19) global pandemic, the Department of Labor and Employment Regional Office VIII will be implementing emergency employment program for the workers in the informal sector.
Per Department Order No. 210 series of 2020 signed by Secretary Silvestre H. Bello III on 18 March 2020, qualified beneficiaries or those underemployed, self-employed and displaced marginalized workers who have lost their livelihood or earnings due to Enhanced Community Quarantine against COVID-19 may avail of the Tulong Panghanapbuhay para sa Ating Disadvantaged/Displaced Workers #Barangay Ko/Bahay Ko (TUPAD #BKBK) Disinfection/Sanitation Project.
Under the TUPAD #BKBK, beneficiaries will work for a period of ten (10) days for the disinfection/sanitation of their houses/dwellings and immediate vicinity of their houses. Beneficiaries will receive wages equivalent to 100% of the prevailing highest minimum wage in Eastern Visayas, which is P325.00 per day.
Aside from the payment of wages, the package of assistance under TUPAD will also include enrolment of beneficiaries to group micro-insurance and conduct of Basic Orientation on Safety and Health thru dissemination of brochures. DOLE will likewise provide the cleaning solutions to be used in disinfecting and sanitizing their dwellings.
TUPAD #BKBK under D.O. 210 may be implemented by Regional Offices either through direct administration or through Accredited Co-Partner (ACP). Proponents/ACPs must prepare and submit Letter of Intent, TUPAD Work Program and Summary List of Beneficiaries.
DOLE-RO VIII was initially downloaded only P10million for the implementation of the program. Regional Director Yahya A. Centi during a meeting with senior officials of DOLE-RO VIII directed to implement the program the soonest possible time.
"Considering that most of our informal sector workers have lost their income now because of this COVID crisis, I urge everyone to do your part so that we will be able to deliver the needed assistance", said Centi.
TUPAD is one of the flagship programs of DOLE which aims to contribute to poverty reduction and inclusive growth. It is a community based (municipality/barangay) package of assistance that provides temporary wage employment for the displaced workers, underemployed and self-employed workers.
Church group reiterates appeal to PH government: Listen to the UN, release prisoners now!
Press Release
March 28, 2020
QUEZON CITY – Church group National Council of Churches in the Philippines (NCCP) reiterated its call for the urgent release of political prisoners, those that are sick, with chronic or terminal disease, the elderly, pregnant and nursing mothers, low-risk offenders, and those that are due for parole or pardon, as advised by the United Nations High Commissioner for Human Rights (UN OHCHR) Michelle Bachelet on March 26. "Let's take it from the UN. There is an urgent need to address the catastrophic risks in prisons by releasing prisoners, especially now that the country is confronting numerous challenges due to this pandemic," Bishop Reuel Norman O. Marigza, NCCP General Secretary, said.
The Bureau of Jail Management and Penology has recorded 394% congestion rate in prisons in the country, which by itself poses grave, potential and unmanageable outbreaks.
"As the number of positive COVID-19 cases spike up, the most Christian thing to do is to leave no one behind. Don't forget those in prison, especially human rights defenders facing trumped charges, who have staunchly worked for social justice and human rights. They need compassion, they need justice and they need protection. They should be released under humanitarian grounds," the General Secretary said.
This is after UN OHCHR Michelle Bachelet called on the governments to take urgent action to ensure health and safety in prisons and places of detention. "In many countries, detention facilities are overcrowded, in some cases dangerously so. People are often held in unhygienic conditions and health services are inadequate or even non-existent. Physical distancing and self-isolation in such conditions are practically impossible," Bachelet said.
"The government needs to quickly address the need to decongest detention facilities and prisons. We could start with the vulnerable groups – the sick and elderly, low-level prisoners, and political prisoners or those detained because of their political beliefs or by simply expressing dissent," Bishop Marigza said.
"It is also deeply distressing that in a time of a public health crisis, authorities fixate on threats of imprisonment as punishment to disobedience. This does not only exacerbate the situation in our detention facilities, but also fails to address the urgent humanitarian needs of the people," Bishop Marigza ended.
The National Council of Churches in the Philippines is the largest aggrupation of mainline Protestant and non-Roman Catholic churches in the country.
DTI, DA, LGUs to ensure Price Freeze during quarantine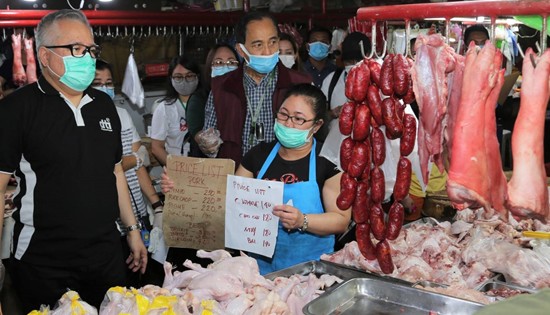 By DTI-OSEC-PRU
March 26, 2020
QUEZON CITY – Department of Trade and Industry (DTI) Secretary Ramon Lopez and Department of Agriculture (DA) Secretary William Dar said they are working closely with local government units (LGUs) to ensure the proper implementation of the price freeze on basic necessities.
The two officials made this assurance after they found many sellers in violation of the price freeze, as mandated in the Joint Memorandum Circular (JMC) No. 2020-01 issued last 18 March 2020. Secretaries Dar and Lopez went around Farmers Market in Cubao on 26 March 2020 for a price inspection.
Following the tripartite release of the JMC by DA, DTI, and the Department of Health, the prices of all agricultural and manufactured basic goods, essential medicines and medical supplies, were frozen at their prevailing prices for sixty (60) days from the declaration of the State of Calamity on 16 March 2020, unless sooner lifted by the President.
Sec. Lopez explained that the marked-up prices were due to the challenges faced during the first few days of implementation of checkpoints in different LGUs. He assured, however, that this has already been addressed in the Inter-Agency Task Force (IATF) on Emerging Infectious Diseases meetings.
"We are continuously coordinating at the local level, with the help of Interior Secretary Año, to ensure the harmonized implementation of the IATF guidelines on the unhampered movement of cargo. Improvements have been reported since Friday of last week and we expect the continuation of this for the following days," said the trade chief.
He added, "After talking to sellers and market masters, we have learned that there are suppliers who sell these goods at the current retail price. In effect, sellers are forced to increase the prices to still gain some profit. This is why we are calling on traders and suppliers to sell goods at a reasonable price in consideration to our local sellers."
Secretary Dar noted that farmgate prices for products such as chicken are already below the cost of production, so suppliers should not sell them at such high prices. To address this, DA coordinated with market masters to provide them a list of suppliers that are providing reasonable prices.
Additionally, Secretary Dar urged city chiefs of public markets to implement the Local Price Coordinating Council mechanism, which allows local enforcement units to strictly ensure the price freeze in their respective areas.
During the inspection of nearby supermarkets, such as Wellcome Farmers Plaza and Puregold Araneta, Secretary Lopez was glad to see that these establishments were in compliance with the price freeze. He and Secretary Dar also observed that these supermarkets had sufficient supply on their shelves.
"With the improvements in the unimpeded movement of cargo, we can also see the improvements in the grocery stocks of essential food and non-food products. That's why we reiterate our call for people not to panic buy because we see that supplies are slowly being replenished," Sec. Lopez said.
International Red Cross and Red Crescent Movement appeals for 800 million Swiss francs to assist world's most vulnerable people in fight against COVID-19
Press Release
March 26, 2020
GENEVA – The International Red Cross and Red Crescent Movement on Thursday launched a revised emergency appeal for 800 million Swiss francs (823 million US dollars) to help the world's most vulnerable communities halt the spread of COVID-19 and recover from its efforts.
While COVID-19 is already a global pandemic, it is still possible to reduce its spread and the number of lives lost by improving access to critical resources.
IFRC President Francesco Rocca said: "This pandemic is putting at risk entire health systems, and the situation will worsen in places where those are weak or inexistent. A strong community response is critical to stop the virus. COVID-19 affects everyone equally, but migrants and displaced people, those who are homeless, and those in disaster-prone areas are among those most exposed to infection, least able to access health care, and most impacted by loss of income. They must not be forgotten. We must strengthen the support to our Red Cross and Red Crescent volunteers who are on the frontline of this response."
The International Red Cross and Red Crescent Movement consists of three parts: the International Committee of the Red Cross (ICRC), the International Federation of Red Cross and Red Crescent Societies (IFRC), and 192 National Red Cross and Red Crescent Societies.
- The IFRC is appealing for 550 million Swiss francs (566 million US dollars) to support National Red Cross and Red Crescent Societies in health care, prepositioning of goods, risk communication, lessons learned from global network of local responders, cash grants for families, and mitigating impacts of large outbreaks). Out of the 550 million Swiss francs, 150 million Swiss francs is for IFRC to support National Societies in need, while the remaining 400 million Swiss francs will be raised by National Societies domestically.
- The ICRC is appealing for 250 million Swiss francs (256 million US dollars) to respond in places of conflict and violence, to support medical facilities and places of detention, curb the spread among and ensure medical access for displaced people and detainees, and to support National Red Cross and Red Crescent Societies in their response.
ICRC President Peter Maurer said: "The international community must increase support now to the under-resourced communities crippled by conflict, or risk allowing another humanitarian catastrophe to unfold on top of the countless others war-torn communities have endured. Viruses know no borders; this is a global problem that will only be solved by global action."
Work already being carried out by the Movement includes support to National Societies to increase their health care services, community engagement and pandemic preparedness activities for vulnerable populations. This includes the reinforcement of supplies in medical facilities, expanding sanitation and disease prevention programmes including in places of detention, and mitigating the socio-economic impact of the outbreak by ensuring communities maintain access to basic services. Support will also be provided to States to implement WHO guidelines to detect COVID-19 early, isolate and treat cases, and trace contacts.
Both organizations warn that stemming the pandemic's rapid global spread requires a coordinated and society-wide approach, including funding and support across state and national levels. The impacts of COVID-19 will be felt everywhere, but the most vulnerable people are at especially high risk. Governments, individuals, communities, institutions and donors must work together at all levels to mitigate the health crisis's devastating impacts.
The International Red Cross and Red Crescent Movement is the world's largest humanitarian network. Its community-based volunteers and staff help the world's most vulnerable people, including those living in countries with under-resourced health and social welfare systems; people recovering from recent disasters; migrants and displaced people; those in conflict zones and who face ongoing violence; people in urban slums; detainees; and people suffering from the socio-economic impact of COVID-19.
SB Corporation opens P1B loan facility for MSMEs affected by Covid-19 lockdown
By DTI-ROG-SB Corp
March 24, 2020
MAKATI CITY – To support micro and small businesses affected and cushion the economic impact of the spread of Covid-19 virus in the country, the Small Business Corporation is setting up a P1 billion Enterprise Rehabilitation Financing facility under the Pondo sa Pagbabago at Pag-asenso (named Covid19 P3-ERF).
The facility will be implemented once the Community Quarantine declaration is lifted by the National Government and/or respective Local Government Units.
Trade Secretary Ramon Lopez explained that the P3-ERF facility is part of the economic relief program of President Rodrigo Duterte for small businesses greatly affected and further marginalized by the Covid-19 virus epidemic.
The SB Corporation, an agency under the Department of Trade and Industry, said the ERF loan fund is open to micro and small enterprises with at least one year continuous operation prior to March 2020, and whose businesses suffered drastic reduction in sales during the ensuing epidemic.
Micro enterprises with asset size of not more than P3 million may borrow P10,000 up to P200,000 and small enterprises with asset size of not more than P10 million may borrow a higher loan amount but will not exceed P500,000.
The loan shall be used to help the enterprise stabilize or recover from its losses. Specifically, the following purposes are qualified: 1) Updating of loan amortizations for vehicle loans or other fixed asset loans of the business; 2) Inventory replacement for perishable stocks damaged; and 3) Working capital replacement to restart the business.
Interest rate shall be at 0.5% per month (discounted basis); and grace period on payments shall be given until such time that the economic crisis has abated.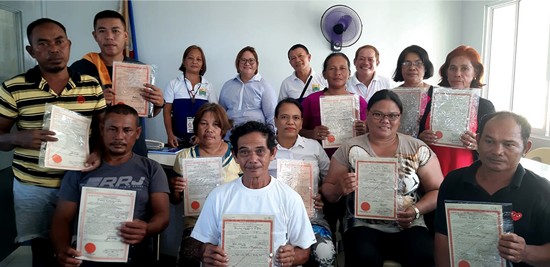 The agrarian reform beneficiaries (ARBs) show their Emancipation Patents (Eps) and Certificates of Land Ownership Award (CLOAs) after the distribution. With them in photo are Zumarraga Mayor Myrna Tan (standing, 4th from left) and Municipal Agrarian Reform Program Officer (MARPO) Evelinda Barbasa (standing, 3rd from left). (photo Engr. Jessie Iso)
DAR distributes CLOAs to Samar islanders
By JOSE ALSMITH L. SORIA
March 21, 2020
ZUMARRAGA, Samar – Eighteen landless farmers from this island-municipality in the province of Samar turned landowners as they received Emancipation Patents (EP) and Certificates of Land Ownership Award (CLOAs) from the Department of Agrarian Reform (DAR) on March 12.
Zumarraga Mayor, Myrna Tan, handed the 24 land titles to the 18 agrarian reform beneficiaries (ARBs) in a simple ceremony at the town's Sangguniang Bayan Session Hall. She was assisted by Municipal Agrarian Reform Program Officer (MARPO) Evelinda Barbasa.
Barbasa disclosed that the EPs and CLOAs, distributed to the ARBs under the government's Comprehensive Agrarian Reform Program (CARP), covered a combined area of 22.8012 hectares of corn lands and coco lands situated in the Barangays of Tubigan, Canwarak, Maputi, and Pangdan.
She added that the EP-CLOA distribution was part of a weeklong celebration in commemoration of the town's 157th founding anniversary.
CARD implements one-month moratorium for clients
Press Release
March 21, 2020
SAN PABLO CITY – The financial institutions of CARD Mutually Reinforcing Institutions (CARD MRI) have suspended its microfinance operations from March 17 to April 12, 2020. This is in response to the recent declaration by the Philippine Government of an enhanced community quarantine due to the COVID-19 outbreak.
While the obligation for weekly loan payments are lifted until the resumption of its operations, CARD Main Bank Branches will remain open so that clients can perform transactions such as deposits and withdrawals. These bank branches will open at 9:00AM and close at the latest 3:00PM, as there are branches which are locally required to close earlier than 3:00PM. Likewise, bank clients can still transact through ATMS, Digital Cash Machines, and the konek2CARD app. Savings withdrawals can also be facilitated by konek2CARD agents of CARD Banking Group.
"This is our effort to show our sympathy and concern to our clients in these trying times," said Dr. Jaime Aristotle B. Alip, CARD MRI Founder and Chairman Emeritus. "We understand that our clients would face liquidity problems and potential losses. It is through implementing moratorium that we can support them."
Continuous Support
CARD MRI Managing Director Flordeliza Sarmiento also added that other essential services will still be provided. "COVID-19 is a serious health threat thus we know that this is the time when we are needed by our clients and staff the most. Our clinics and laboratory are still open for our clients and staff while our pharmacy, BotiCARD, will remain open to the general public," she explained.
CARD Mutual Benefit Association, the insurance arm of CARD MRI, will also be on moratorium for its insurance contributions but will still process and disburse claims benefits. Clients may settle their claims in CARD MBA Provincial Offices and the main bank branches of CARD Bank, CARD SME Bank, and CARD MRI Rizal Bank.
CARD MRI is a group of institutions that aims to eradicate poverty through microfinance and other development-oriented programs. Of its member institutions, those offering the moratorium are CARD, Inc. (A Microfinance NGO), CARD Bank, CARD SME Bank, and CARD MRI Rizal Bank. CARD MRI has 6.7 Million clients, 19,027 staff, and 3,241 offices nationwide. Considered the largest in the microfinance industry, CARD MRI is an important catalyst in the country's economy down to the community level, as it provides capital that enables poor households to engage in microenterprises as well as generating jobs directly and indirectly.
United as one
CARD MRI also joins other members of the two largest microfinance networks in the country, Alliance of Philippine Partners in Enterprise Development (APPEND, Inc.) and Microfinance Council, in the battle against COVID-19.
Insurance services and claims of these microfinance institutions (MFIs) remain uninterrupted.
Further, these MFIs will continue paying for the salaries of their more than 50,000 staff during this period of community quarantine.
True to their collective vision of ending poverty in the Philippines, the microfinance industry vows to fulfill its commitment to serve the most vulnerable population even in challenging times like the COVID-19 outbreak.
Release the sick, elderly, and "low-level" prisoners amid COVID19 crisis - NCCP
Press Release
March 20, 2020
METRO MANILA – Church group National Council of Churches in the Philippines supported the appeal of Kapatid, a group of families and relatives of political prisoners, to the government to release the sick, elderly and "low-level" prisoners. The NCCP said releasing them is a Christian and compassionate gesture in the midst of the pandemic especially since massive testing in the country is still not in place.
Bishop Reuel Norman O. Marigza, NCCP General Secretary, expressed grave concern for the prisoners amid the rising number of COVID 19 cases in the country. Bishop Marigza said, "Current measures in prisons are clearly insufficient. Without massive testing, the overcrowded prisons in the country is a health disaster waiting to happen. We cannot simply accept what the Bureau of Corrections is saying that prisons in the country are still free of cases of COVID 19 even though tests were not administered there. Before disaster strikes, set them free!"
According to Bureau of Corrections January statistics, its prison facilities are overcrowded by 310 percent as 49, 114 inmates occupy prisons that have a maximum capacity of 11, 981 persons. Justice Secretary Guevarra has already admitted that a single COVID-19 case inside could cause "calamitous effects".
"Besides, the call for release is selective, only those who will definitely suffer like the sick and the elderly and of course, the prisoners of conscience who have been wrongfully imprisoned because of their political beliefs", Bishop Marigza added.
The call for the release of prisoners came in the wake of Iran's gesture to free thousands of its prisoners. The heavily congested prisons in the country are full of detainees that come from the poor, especially after the government's campaign against illegal drugs.
The National Council of Churches in the Philippines is the largest aggrupation of mainline Protestant and non-Roman Catholic churches in the country.
Gravel road completed at barangays Buenavista, Ranera and Janipon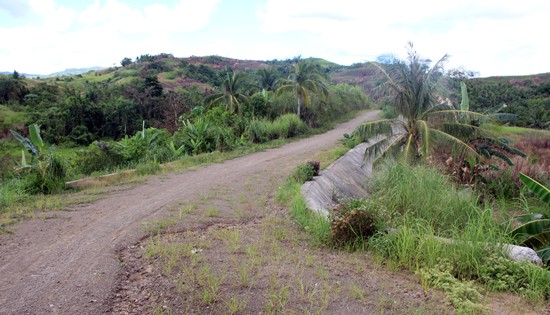 By GISSELLE G. PARUNGAO
March 18, 2020
CALBAYOG CITY – A gravel road amounting to P50 million was completed traversing three Barangays of Buenavista, Ranera and Janipon at San Jorge, Samar.
The only means of transportation for residents of said barangays would be by boat and usually, only one trip is scheduled going to and from Buenavista as Barangay Captain Raquel Duena, from Barangay Ranera narrated. From there, that's the only time that they can travel on a paved road to San Jorge, Samar and other parts of the area. This in turn creates hardships for residents of the barangays in terms of health matters because of travel time and availability of boats.
Travel costs and time are also a problem of farmers to transport their harvested root crops, rice and vegetables grown from the barangay which is their means of income to the nearest marketplace in San Jorge.
Students also have a hard time going to school especially those attending their secondary education since the nearest school is situated in the Municipality of San Jorge. They would walk long hours to reach the school.
All these issues and worries are now gone as an opening road with a length of 2.86 kilometers with a width of 8 meters was developed. The scope of work includes two box culverts to preserve the creek that crosses through the said road. Riprap is also included on areas with steep slopes to prevent soil erosion and collapse of the structure.
Travel time through boat will consume almost 2 hours while using the gravel road will only take less than 1 hour to and from Barangay Buenavista to Janipon.
This road opening was drawn from the General Appropriations Act of 2018.
P46.97M Macalpe bridge in Caibiran town starts construction
By DPWH-Biliran
March 18, 2020
NAVAL, Biliran – The Department of Public Works and Highways (DPWH) Biliran District Engineering Office (DEO) has started the construction of the P46.97M new permanent bridge at Sitio Macalpe in Brgy. Cabibihan, Caibiran, Biliran.
The site of the said project was previously an existing concrete paved road but was totally washed out during the onslaught of Tropical Storm (TS) Urduja on December 16, 2017.
David Adongay Jr., District Engineer said that the project is now in full swing under contract with L.M. Baltonado Construction.
"The project is now on-going in the preparation for the foundation works of the bridge," revealed Adongay.
"The site is critical for sudden landslide specially during heavy rains, thus the contractor was instructed to fast track the project to avail the good weather condition," he added.
According to Adongay, there is a need to construct for a new permanent bridge on the said section because a large volume of water crosses the roadway especially during rainy season.
The project involves the construction of a 4-lane bridge with a width of 13.4 meters with a total length of 20.0 meters or a total area of 291.43 square meters. This project has a target completion date on June 25, 2020.
When completed, this project will provide a structure that can accommodate big volume of rainwater, minimize vehicular accident as well as provide convenience in transporting agricultural and aquatic products to market centers.
This bridge is essential in going to the only Provincial Hospital and Port of the Province and some tourist sites within the island. It will serve more or less 3,000 travelers along Naval-Caibiran Cross Country Road (NCCR).
Presently, DPWH-Biliran DEO maintains a total of 35 national bridges within its jurisdiction with a total length of 1,250-linear meter of both asphalt and concrete surface. The completion of the new Macalpe Bridge would be an addition to this total length of bridges.
Save the Children Philippines urges health support for vulnerable groups who face more risks to COVID-19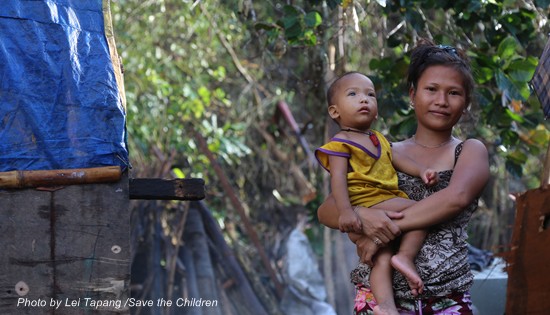 Press Release
March 18, 2020
QUEZON CITY - Save the Children Philippines is calling on health and local government authorities to prioritize deprived and marginalized families and their children who are more at risk to Coronavirus acute respiratory disease 2019 (COVID-19) due to their lack of access to health services.
The call was made after President Duterte announced on Monday the implementation of Luzon-wide Enhanced Community Quarantine. The order imposes a strict home quarantine and suspension of mass transportation for one month from March 17 to April 17, 2020 to prevent further spread of COVID-19. There are now 142 confirmed cases of COVID-19 in the Philippines as of Wednesday (March 17, 2020) with 12 deaths.
The Child Rights-based group also raised concern on the first case of COVID-19 transmission to a 13-year-old girl in Quezon City. The girl, who is the country's 135th confirmed case has no history of travel to other countries affected by COVID-19.
Atty. Alberto Muyot, Chief Executive Officer of Save the Children Philippines, said while COVID-19 threatens the general public, there are communities more vulnerable to suffer further socio-economic marginalization due to the impact of the viral disease that has been declared a pandemic by the World Health Organization.
There are more than 15 million (DOLE, 2018) parents and caregivers who rely heavily on the informal economy or whose earnings require them to use public transport, sell items and render services in crowded places or streets.
The elderly, particularly those with pre-existing conditions, along with children and adults with disabilities, indigenous people, and the urban poor are also vulnerable to the COVID-19 spread. The conditions of these vulnerable communities such as food insecurity, malnutrition and inadequate delivery of basic service compromise their resistance to diseases and predispose them further more serious health conditions.
"Children whose parents need to stay in high density areas to earn a living, or those living in hard to reach areas with no access to clean water are among the most vulnerable to the COVID-19," said Atty. Muyot.
Children and families who belong to indigenous peoples are vulnerable to the COVID-19 spread due to their limited access to health and other social services, facilities, technologies, and do not have enough opportunities to cope also need urgent support from the local government units and health authorities.
"We call on the government to give these vulnerable groups priority assistance, and also engage them in decision-making processes for their response, recovery, and preparedness," said Atty. Muyot.