Amidst COVID-19 scare, DOLE-RO VIII awards P490K livelihood assistance to Abuyog farmers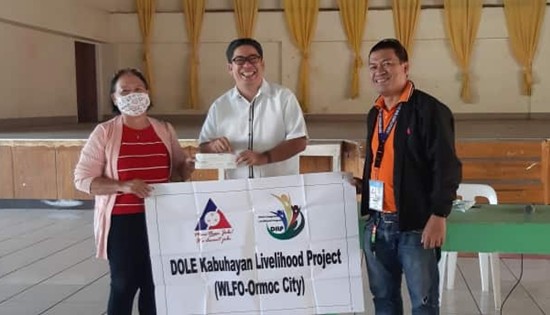 By NORMA RAE S. COSTIMIANO
March 18, 2020
TACLOBAN CITY – The Department of Labor and Employment Regional Office VIII (DOLE-RO VIII) continues to deliver its programs and services to the people of Eastern Visayas amidst the Coronavirus Disease-2019 (COVID-19) scare that haunts not only the region but the entire country.
DOLE-RO VIII through its Western Leyte Field Office has successfully released on March 18, 2020 livelihood assistance to the barangay local government unit of Malaguicay, Abuyog, Leyte amounting to P490,300.00.
Said livelihood aid was charged against the DOLE Integrated Livelihood Program (DILP) funds of the agency and will be utilized for the implementation of the Swine Production Project of Malaguicay Integrated Farmers Association with forty-one (41) members.
Present during the simple awarding ceremony were Hon.Lemuel Gin K. Traya, LGU-Abuyog Mayor, Mr. Francisco B. Archin, PESO Manager of LGU-Abuyog, Hon. Luciana L. Lutiva, Barangay Captain and Mr. Rosilito T. Ygaña, Senior Labor and Employment Officer.
Mayor Traya thanked the DOLE for the effort shown in awarding the livelihood assistance despite the COVID-19 scare presently affecting the transactions of all organizations and establishments.
"From the bottom of our hearts we would like to thank DOLE for being sincere in helping our constituents, not letting the COVID stop you from delivering your programs and services. Thank you for bringing this assistance in such a time like this. We surely appreciate it", said Mayor Traya.
In response, Mr. Ygaña gave his message in behalf of DOLE Regional Director Yahya A. Centi.
"In behalf of DOLE-RO VIII, I would like to say that we at DOLE will remain committed to the continued delivery and implementation of our programs and service for the benefit of Eastern Visayas. We really hope that we will all do our part for these livelihood funds to go a long way so that our efforts will not be in vain", said Mr. Ygaña. (with reports from Rosilito T. Ygaña)
Revetment completed at Brgy. Burabod, Sta. Margarita, Samar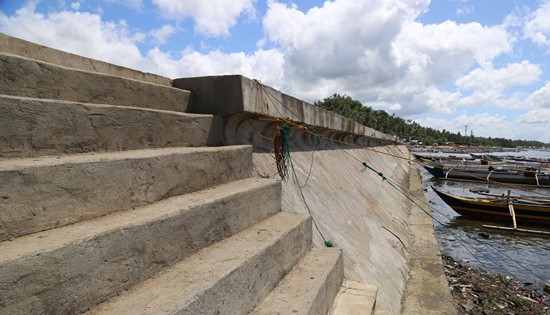 By GISSELLE G. PARUNGAO
March 17, 2020
CALBAYOG CITY – A revetment is completed at Barangay Burabod in Sta. Margarita, Samar with a total allocation of P99 million under the 2018 Local Infrastructure Program.
Revetments are used for coastal erosion defense in areas where crashing waves may otherwise deplete the coastline and create infrastructure collapse. The revetment spans 650 meters along the Daang Maharlika Highway in Barangay Burabod that protects the road as well as passing motorists from rolling waves.
This structure is built with steel sheet pile and hand laid rock embankment with a height of three meters and designed like a curved wall to imitate the crashing waves because it will prevent the wave to overtop the wall and it also provides additional protection of the wall.
The built revetment is 40 meters away from the national road due to a tide embankment in progress.
DPWH-8 regional director inspects big implemented projects in Biliran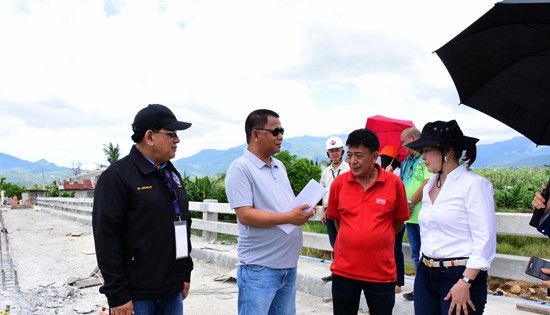 By DPWH-Biliran
March 17, 2020
NAVAL, Biliran – Officials of the Department of Public Works and Highways (DPWH) Regional Office VIII headed by Regional Director (RD) Nerie Bueno inspects on-going Regional Office (R.O.) implemented projects in Biliran on March 12, 2020.
Among the projects inspected are the on-going construction of Cabibihan Bridge in Caibiran town, construction of Mother Mary Bridge at Brgy. Larrazabal and widening of Anas Bridge at Brgy. Atipolo, both in Naval town.
Also inspected are the newly started constructions of Catmon (P86.5M) and Caraycaray (P100M) Bridges which was damaged during the onslaught of typhoon Urduja on December 16, 2017.
During project inspection, Bueno meets with the project engineers (PEs) of the R.O. implemented projects to discuss the problems they encountered during the implementation.
For projects sustaining high negative slippages, Bueno instructed P.E.s to make a work plan to fast-track the implementation of projects.
With the full operation of cash-based budgeting, DPWH R.O.-8 is closely coordinating with its contractors to speed up the implementation of various infrastructure projects that is due for completion this year.
Meanwhile, the Biliran Bridge which is subject for rehabilitation was also inspected by the Regional Director.
David Adongay Jr., District Engineer of DPWH-Biliran District Engineering Office (DEO) said that funding for the rehabilitation of the said bridge was already requested to the Regional Office amounting to P10M.
RD Bueno's inspection was conducted with District Engineer Adongay Jr. and Assistant District Engineer Alfredo Bollido with section chiefs of DPWH Biliran DEO together with Engr. Adelina P. Gomez, Engr. Angelita Obediencia, and Ms. Agnes M. Baronda, all from DPWH Regional Office VIII.
Tarabucan Central Elementary School a recipient of the two-storey building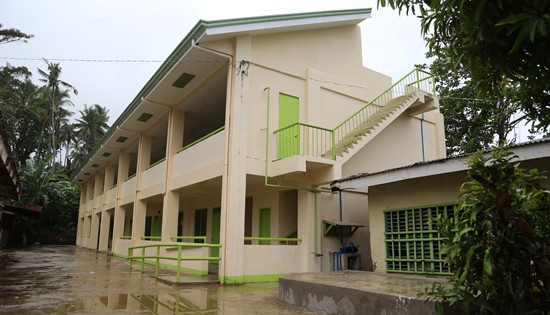 By GISSELLE G. PARUNGAO
March 16, 2020
CALBAYOG CITY – Tarabucan Central Elementary School is now the recipient of the new two-storey, six-classroom school building built by the Department of Public Works and Highways -Samar First District Engineering Office in convergence with the Department of Education. This building has a revised contract amount of P18.6 million from the Basic Educational facilities Fund of 2018.
"The school is a flood-prone area and most of the time, teachers are having a hard time in vacating school documents or files every time there is a heavy rainfall, to other areas of the school", said school principal Nimfa Doroja.
This problem is now a glimpse of the past because teachers and students alike are enjoying the comforts of the new classrooms. It is now occupied by two sections from Grades 2 and 6 as well as one class from Grade 3. The sixth room on the second floor of the building is used as the ICT room so that computers will be safe in case flooding occurs.
CARD MRI hosts Media Study Tour in Laguna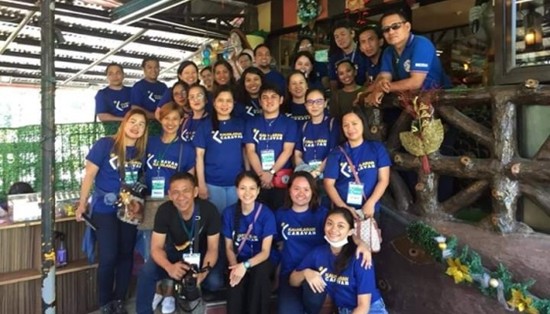 By JEFFREY C. TANDINGAN
March 13, 2020
SAN PABLO CITY – The CARD MRI Publishing House hosted a study tour on the microfinance and community development programs of CARD Mutually Reinforcing Institutions (CARD MRI) on March 5-6, 2020 in Laguna. This was participated by a total of 10 media practitioners from Northern and Southern Luzon.
Said CARD MRI Publishing House President Marilyn M. Manila, "The study tour is our innovative way of presenting to our media partners our other social development services apart from microfinance." She also explained that media practitioners have contributed a significant role in disseminating accurate information about CARD MRI's mission in pushing its charge in eradicating poverty and uplifting the lives of its millions of clients.
The Kaunlaran Caravan Visit
The study tour is an opportunity for media practitioners to experience firsthand CARD MRI's community development programs and to gather factual newsworthy information on microfinance and beyond.
The schedule of the study tour coincided with Kaunlaran Caravan, a quarterly activity wherein CARD MRI community development programs and services are are offered.
"Through this activity we want our media partners to witness our actual efforts that benefit our growing clients in rural communities in the country," Manila added.
The study tour also allowed the participants to attend a center meeting, a CARD methodology that enables clients to meet on a weekly or monthly basis for collection of loan payments and savings. The center meetings are also the venue where Credit with Education (CwE) is conducted. These are learning sessions wherein clients are provided information and knowledge on various topics such as proper handling of finances, disaster preparedness, health and wellness, among others.
The participants were also able to interview CARD MRI's successful microfinance clients including Myrna Manalo, a taka maker from Sta. Maria.
Media Briefing
A media briefing was also facilitated were the invited media practitioners had the opportunity to ask questions to the key management staff of selected institutions. One of the executive officers present during the briefing is Elma Valenzuela, CARD MRI Rizal Bank President.
"CARD MRI ensures that our products and services are tailored-fit to the needs of our clients. This is why we are investing on innovation and technology so that we can offer services that are accessible and convenient for the people we serve," said Valenzuela in response to one of the regarding new technologies that CARD is now offering.
Through the Media Study Tour, CARD MRI Publishing House hopes to continue its fruitful partnership with media practitioners in providing the public with development-oriented information. Since 2013, CARD MRI has held 15 study tour for media practitioners.
2 CNTs killed, 1 high powered firearm seized in Pinabacdao, Samar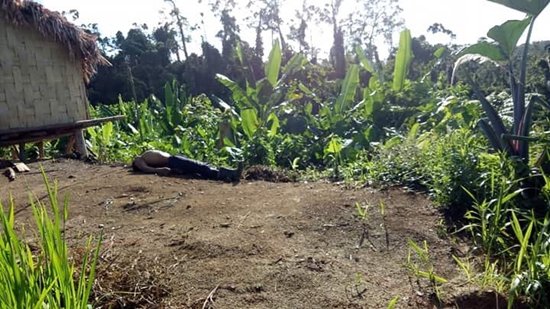 By DPAO, 8ID PA
March 12, 2020
CAMP LUKBAN, Catbalogan, Samar – The troops of 46th Infantry (Peacemakers) Battalion, Philippine Army killed two members of the CPP-NPA Terrorists (CNTs) in a 25-minute firefight that transpired in Brgy. Canlobo, Pinabacdao, Samar at around 8:15 in the morning of March 11, 2020.
The Focused Military Operation (FMO) is in response to the report of the locals on the presence of more or less 10 members of the terrorist group under alias DALTON who were foraging and extorting in the area that resulted to a more or less 25-minute firefight. The firefight yielded to the killing of two members of the NPA and seizure of war materiel including one M16A1 rifle, one bandolier with magazines, one backpack, electrical wires, one battery, solar panels and two cellular phones. However, one military personnel sustained a gunshot wound that caused his death.
It is worth mentioning that on March 6, 2020, Salvador Nordan alias Badok, a notorious Communist NPA Terrorist Leader, was killed at Brgy. Guba, Catarman, Northern Samar, while on March 5 and 7, 2020, the 78th Infantry Battalion had a series of encounters with remnants of Front 42, Sub-Regional Committee, under Communist NPA Terrorist Leader Roberto Opo alias Resty/Migo/Lowie in Brgy. Pancho Villa, Sogod, Southern Leyte. The series of encounters resulted the recovery of one M1 Garand rifle, ammunition and food stuff.
"We will continue to conduct focused military pursuit operations through legitimate use of force against these CPP-NPA Terrorists (CNTs) that threaten the safety and well-being of the populace. The residents of Pinabacdao are already tired of the lies, abuse, deceptions, and extortions of these terrorists. It is unfortunate that the CNTs continue to endanger the lives of the locals causing injury to the utmost peace and living conditions of the whole community." Lt. Col. Rhomel R. Langcauon, Commanding Officer of 46IB, remarked.
Maj. Gen. Pio Q. Diñoso III AFP, Commander, 8ID stated that "Tuloy-tuloy na ang pasok ng mga impormasyon galing sa ating mga kababayan na sawa na sa mga pangingikil, pananakot at karahasan ng mga teroristang NPA. Ang dati nilang tinuturing na ligtas na pinagtataguan ay pinagtuturo na ng dati nilang mga kasamahan at mismong mamamayan."
"Ipagpatuloy lang natin ang pagtutulungan ng lokal na pamahalaan, mamamayan, pulis at kasundalohan. Sa pamamagitan ng Executive Order 70, tuluyan na nating mawawakasan ang Local Communist Armed Conflict dito sa Silangang Bisayas."
"Aming pinapaabot ang taos-pusong pakikiramay sa pamilya at pagsaludo sa kabayanihan ng ating magiting na Stormtrooper na nag-alay ng buhay sa ngalan ng serbisyo para sa ating mga kababayang Samareño." Diñoso added.
CARD MRI RBI holds Community Health Day during Kaunlaran Caravan in Sta. Maria, Laguna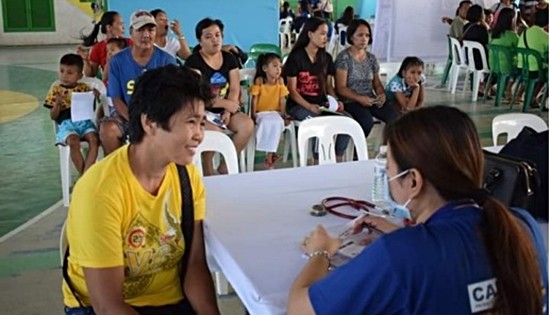 By JEFFREY C. TANDINGAN
March 12, 2020
SAN PABLO CITY – "We are in the business of poverty eradication," highlighted Ms. Elma Valenzuela, president and chief Executive Officer of CARD MRI Rural Bank, Inc. during the Kaunlaran Caravan held on March 6, 2020 in Sta. Maria, Laguna.
Aside from financial freedom, Ms. Valenzuela reiterated the importance of physical health and wellness of CARD MRI's clients during her speech.
Through the caravan's Community Health Day (CHD) initiative, optical, dental, and medical check-ups were held in collaboration with CARD MRI's Microfinance and Health Protection (MaHP) Unit and other partner doctors and clinics.
The free optical service, for example, was made possible through the help of Aguila-Mendoza Visual Care Clinic who also provided quality frames and lenses, sold at affordable prices during the program. On the farthest side of the town's covered court, children and adults availed the free dental checkup. Some also availed free tooth extraction, in which only P35 has to be paid for anesthesia.
Medical consultations, breast examination, and checkup on women's reproductive health were also conducted by partner doctors. Dr. Michelle Anne Dy-Menil of the MaHP unit also led a timely awareness and prevention discussion regarding the recent Coronavirus disease (COVID-19) outbreak.
"Ang Coronavirus ay isang virus na maraming-maraming klase," said Dr. Dy-Menil, who discussed about the types of coronaviruses, among them MERS-Cov, that can be contracted by both humans and animals through close contact. With this, proper handwashing with soap and water, sanitation, and an avoidance to physical contact like hugging or kissing, both humans and their pets, must be observed. Alongside this, Dr. Dy-Menil encouraged the attendees to avoid the discrimination against nationalities that contracted COVID-19.
To experience the full benefits from the health program, CARD MRI RBI members and non-members also had the chance to purchase vitamins, antibiotics, and other doctor prescribed medicines discounted at 20% through BotiCARD, Inc., CARD MRI's pharmacy that offers safe and affordable generic medicines.
Free massage, haircut, manicure, and pedicure were also organized to further enrich the total wellness of the community.
A total of 448 clients, including members, their dependents, and non-members, were served during the Community Health Day. Among these, 210 attendees benefited from the medical checkup including four pregnant women.
Nationwide price freeze on basic necessities in effect amid COVID-19 emergency
By DTI-CPG
March 12, 2020
MAKATI CITY – The Department of Trade and Industry (DTI) announces nationwide price freeze on basic necessities pursuant to the Price Act or Republic Act (RA) No. 7581.
Section 6 of the said law states that prices of basic necessities shall be frozen at their prevailing prices for sixty (60) days or until sooner lifted by the President whenever there is a declaration of a state of emergency, calamity, or other similar conditions.
Proclamation No. 922 which puts the country under a State of Public Health Emergency due to the Coronavirus Disease 2019 (COVID-19) outbreak triggered the implementation of a nationwide price freeze.
"The DTI is closely coordinating with other government agencies, manufacturers, and retailers of basic goods to ensure availability and continuous supply in the market. Retailers are reminded that there should be no price movement on these goods while the price freeze is in effect," says DTI Secretary Ramon M. Lopez.
Basic goods that are under the jurisdiction of the DTI include canned fish and other marine products, locally manufactured instant noodles, bottled water, bread, processed milk, coffee, candles, and laundry soap, detergent, and salt.
The DA covers basic agricultural goods such as rice, corn, cooking oil, fresh, dried and other marine products, fresh eggs, fresh pork, beef and poultry meat, fresh milk, fresh vegetables, root crops, sugar, and fresh fruits.
Essential drugs are under the DOH while firewood and charcoal for the DENR. Household LPG and kerosene, on the other hand, are under the DOE.
All these basic goods are placed under price freeze for 60 days with the exception of household LPG and kerosene whose prices shall be frozen for fifteen (15) days only as provided in the Amended Price Act or RA 10623.
Meanwhile, on ensuring price reasonableness, DTI-Consumer Protection Group (CPG) Undersecretary Atty. Ruth B. Castelo assures the public that, "The Department continues to intensify its monitoring and enforcement activities on the prices of basic goods in the market, including N-95, N-88, and other similar face masks."
It can be recalled that since the phreatic eruption of Taal Volcano, the DTI included face masks in its monitoring which remains relevant to this day as the country addresses the outbreak of COVID-19.
Business establishments found to have violated the price freeze shall be imposed with a fine amounting to P5,000.00 up to P1,000,000.00 and/or imprisonment for a period of one (1) year up to ten (10) years.
Consumers are enjoined to report business establishments that sell basic necessities beyond the price freeze by calling the One-DTI (1-384) Hotline or sending an email to, ConsumerCare@dti.gov.ph.
DPWH Samar I build flood control structures along Sinidman River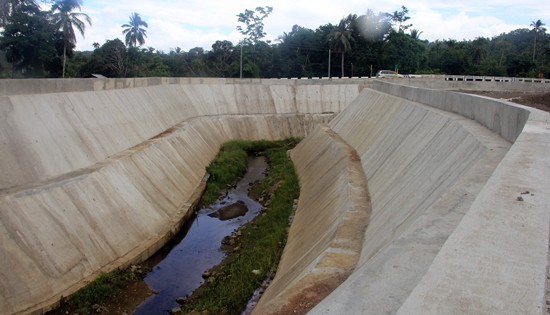 By CHENZI MAY D. UY
March 12, 2020
CALBAYOG CITY – Samar First District Engineering Office (DPWH-SFDEO) has completed the construction of 240-linear-meter flood control structures along Sinidman River in barangay Sinidman Occidental, Calbayog City.
Sinidman Occidental is an identified flood-prone barangay. According to Barangay Captain Romeo P. Olojan, in 2018, super typhoon Usman caused floodwaters to rise up to fifteen (15) feet. Ricefields and close to ninety (90) households in Purok 1 and Purok 2 were severely affected at the time. Moreover, an almost kilometer-long section of Daang Maharlika was flooded, causing travelers on the Calbayog-Catarman route to be stranded.
"When it rains heavily, our barangay is the first to get flooded because all the surface water from the Sinidman Oriental (upland) comes down and overtops our river," Olojan explained.
The chieftain hopes more such structures will be built along the entire stream so as to eliminate the flooding risk completely.
The P35-million flood control project is part of the GAA 2019 infrastructure program of SFDEO.
Samar First District Engineering Office allocated with P2.3B from GAA 2020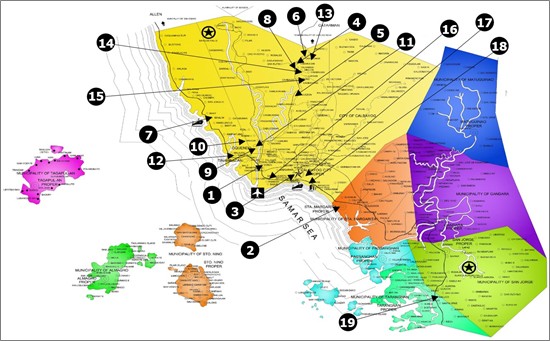 By GISSELLE G. PARUNGAO
March 10, 2020
CALBAYOG CITY – The Department of Public Works and Highways has received a total appropriation amounting to P2,335,680,000.00 from the approved General Appropriations Act of 2020.
There are about seventy-five (75) projects to be implemented by the district which will comprise the GAA for CY 2020.
To preserve the infrastructure investment made along national road, the project identified focus more on rehabilitation/construction/widening on both national and secondary roads amounting to P1,232,902,000.00 while an allocation of P366,278,000.00 was granted to projects that will prevent flooding in low-lying areas.
Local Program also received P696,500,000.00 whereas, convergence and special support program received P40,000,000.00 to build roads leading to tourism destinations and infrastructure/s in support of national security which is beneficial to the people of the 1st District of Samar.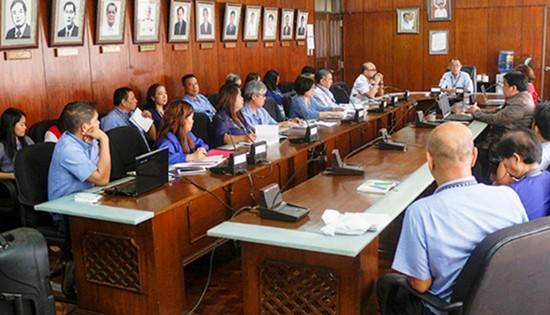 NMP Executive Staff, Section and Unit Heads during the Audit Entry /Exit Meeting with the SOCOTEC Auditors.
NMP retains its ISO 9001:2015 certification
By National Maritime Polytechnic
March 10, 2020
TACLOBAN CITY – Following a rigorous audit conducted by the SOCOTEC Certification Philippines, the National Maritime Polytechnic Quality Management System (NMP QMS) retains its ISO 9001:2015 Certification as it passed the 2nd Surveillance Audit held on 05 March 2020 both at its main office at Brgy. Cabalawan, Tacloban City and liaison office with address at 2nd Floor ECC Building, 355 Sen. Gil Puyat Avenue Makati City.
NMP's quality procedures, manuals and other systems documentation were reviewed by Ms. Olivia Eco and Mr. Ringo Pabua, SOCOTEC auditors, as against the requirements set forth by the standard. The auditors looked into NMP's several processes which include registration and certification procedures; course delivery; assessment / examination; documentation; performance monitoring and assessment; provision of resources; performance evaluation of suppliers and other administrative support services during the audit.
During the exit meeting, Ms. Eco, audit team leader, expressed her appreciation for the NMP's established QMS, as well as the strong support and demonstration of leadership of the top management for the continual improvement of its QMS.
She likewise relayed her positive observations on the significant developments since her last visit in May 2017. These include collaboration/ partnership with different manning and shipping agencies, acquisition of additional equipment, establishment of extension offices, remarkable set-up of NMP's training facilities coupled with excellent equipment maintenance activities and auditees are very competent and knowledgeable.
Finally, the audit report disclosed that there were no non-conformances noted, but somehow some observations were raised which NMP may look into as an opportunity for continual improvement. With the said findings, the NMP QMS was recommended for continued certification.
"We acknowledge the concerted efforts of the entire workforce in passing the audit. Rest assured that NMP will remain dedicated to further improve its systems, processes and procedures", said NMP Executive Director Joel B. Maglunsod.
Likewise, NMP OIC Deputy Executive Director shared "All the efforts and hard work of NMP employees have paid off. Congratulations to all of us."
As an Agency that commits to continuous enhancement of seafarers, maintaining ISO Certification of its QMS confirms the Agency's relevance in carrying out its mandate of upgrading the qualifications of Filipino seafarers and providing maritime industry researches.
Over the years, NMP aggressively pursued for the establishment of its QMS in compliance with the requirements of the Standards of Training, Certification and Watchkeeping Convention (STCW) 1978. Its first ISO Registration Certificate was obtained in April 2000. Since then, the NMP QMS has undergone continuous certification and surveillance audits, passed and was eventually re-certified over the years under ISO 9001: 1994, ISO 9001: 2000, ISO 9001: 2008, and the latest in 2018 under ISO 9001:2015.
It can be recalled that in 2009, NMP received a special recognition from the Office of the President for being one of the forty (40) government offices across the country to be ISO-certified. Also, in 2015, the Agency earned a commendation from the Department of Labor and Employment (DOLE) for continuously improving the efficiency and effectiveness of its Quality System.
Meanwhile, in its effort to sustain its mandate in providing quality service through upgrading and specialized training programs, NMP continues to maintain and upgrade its facilities and its pool of competent instructors. Those Interested to take the training courses may visit the NMP website @ www.nmp.gov.ph or visit the agency's Facebook page (www.facebook.com/ nmptrainingcenter) where all updates and relevant information on NMP programs are available.
Interested stakeholders who wish to validate the authenticity of their seafarers-employed with NMP issued certificates may visit www.verify.nmp.gov.ph or download the NMP App at Google Play Store for android phone users. Likewise, those interested in NMP research undertakings may visit the NMP website and access the e-Research Information System Portal which is designed to disseminate NMP completed researches, present the Research Agenda, and engage the industry stakeholders to collaborate in the research activities.
Further, NMP encourages OWWA registered seafarers to avail of the NMP-OWWA (Overseas Workers Welfare Administration) Seafarers' Upgrading Program (SUP) and Skills for Employment Scholarship Program (SESP) which entitles the beneficiary to receive financial assistance for training costs from the OWWA.