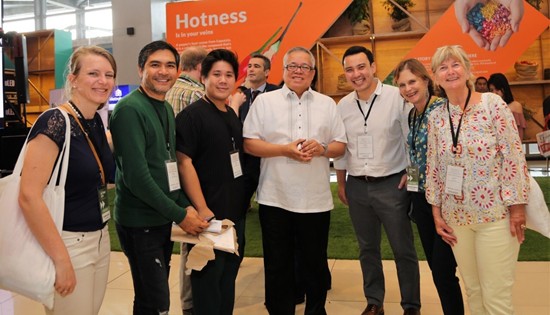 From L to R: Silva Cacao Chief Cacaopreneur Katrien Delaet, Auro Chocolate Davao Operations Manager Louie Cena, Auro Chocolate Co-founder Mark Ocampo, Trade Secretary Ramon Lopez, PTIC Commercial Counsellor Ben Uy, Chocolate Historian & Author Valentine Tibere, and Silva Cacao Founder Ms. Sylvie Guillaume.
DTI lauds arrival of Filipino cacao beans in European markets
By DTI-OSEC-PRU
April 21, 2020
MANILA – Department of Trade and Industry (DTI) Secretary Ramon Lopez congratulates Auro Chocolate for being the first Philippine company to provide a major shipment of cacao beans to the European market. On 16 April 2020, the container shipment of Mindanao-sourced, premium cacao beans arrived at the port of Antwerp, Belgium.
The shipment, which brought 20,000kg of cacao beans to Belgium, is composed of five different cacao varieties, including the Paquibato Origin, winner of the Cocoa Excellence Award in 2019.
"We are very proud of Auro Chocolate for their success and even more excited for what this would mean to our cacao farmers," said Sec. Lopez.
The trade secretary added that the shipment not only meant the introduction of Philippine cacao to renowned markets in Europe but also signified the strengthening of country pride, especially for Filipino farmers, to the Western trade.
Last May 2019, the Philippine Trade and Investment Center (PTIC) Brussels, in partnership with the Center for International Trade Expositions and Missions (CITEM) and the Regional Operations Group (ROG), facilitated European cacao and chocolate experts to attend the International Food Exhibit (IFEX) and visit cacao farms in Mindanao. Among the delegates included Silva Cacao, the Antwerp-based company responsible for bringing the shipment to Belgium.
Silva Cacao General Manager Katrien Delaet expressed confidence in the introduction of diverse flavors of Philippine cacao to European chocolate makers.
"I am sure that chocolate makers can't wait to start working with these cacao beans. By adding their own magic, chocolate makers can bring out the best of the flavours in each cacao quality – from fruity, to floral, to nutty, to woody, to caramel, and much more. Chocolate lovers all over Europe will be in for a surprise!" Delaet said.
She added, "We are very grateful that the PTIC helped paved the way for us to learn more about Philippine cacao. We discovered amazing qualities. And with this award for the Paquibato cacao, the Philippines is in the top 20 best cacaos worldwide, and even in the top 5 in Asia. Never before has a Philippine cacao won this award; it is indeed a recognition of the premium cacao produced in the country."
Meanwhile, PTIC Director and Commercial Counsellor Benedict Uy expressed hope for the business community amid the COVID-19 pandemic.
"While current business climate in Europe is dampened by the COVID-19 issue and lockdowns, we share the optimism and eagerness of the business community, including the Belgian and European chocolate makers, that things will be well again in the coming months," he said.
Sec. Lopez added that the good news serves as a silver lining and an inspiration for the agricultural sector despite the harsh impact of the global pandemic.
Chicken production in Eastern Visayas surge by 6.9% in the fourth quarter of 2019
By PSA-8
April 21, 2020
TACLOBAN CITY – The volume of chicken production in Eastern Visayas increased by 6.9 percent during the fourth quarter of 2019. It went up to 16,673 metric tons (MT) in the fourth quarter of 2019 from 15,602 MT in the same quarter of 2018.
Eastern Visayas production accounted for 3.2 percent of the country's total chicken production during the fourth quarter of 2019. It ranked eighth among regions with the highest chicken production in the country.
The chicken population in Eastern Visayas dropped by 15.8 percent, from 2,524,559 birds as of 1 January 2019 to 2,124,681 birds as of 1 January 2020.
All provinces contributed to the decline in chicken population, except for Northern Samar and Southern Leyte which posted increases at 16.8 percent and 4.5 percent, respectively.
Among provinces, Leyte recorded the highest chicken population at 831,095 birds as of 1 January 2020. It comprised more than one third (39.1 percent) of the total chicken population in the region. Southern Leyte ranked second with 438,709 birds, accounting for 20.6 percent of the region's total chicken inventory. Eastern Samar, meanwhile, registered the lowest inventory of chicken with a 4.1 percent share or 87,268 birds.
Among the type of chicken, only layer chickens posted an increase at 7.9 percent, from 452,613 birds as of 1 January 2019 to 488,322 birds as of 1 January 2020. Northern Samar recorded the highest increase at 67.1 percent, followed by Southern Leyte at 8.0 percent. Leyte posted the lowest increase at 2.0 percent. Meanwhile, Eastern Samar, Samar and Biliran declined by 41.9 percent, 19.2 percent and 12.3 percent, respectively.
Broiler chickens dropped tremendously by almost half (46.8 percent) of its inventory, from 472,666 birds as of 1 January 2019 to 251,348 birds as of 1 January 2020. This was largely attributed to the zero or no inventory of broiler chicken in Samar Province due to downtime period on 1 January 2020. Eastern Samar recorded the highest decrease at 91.7 percent. Likewise, Leyte's broiler population, which shared 57.0 percent of the region's total broiler population as of 1 January 2020, also declined by 5.6 percent. Southern Leyte's broiler chicken population, on the other hand, expanded by 90.5 percent. It increased to 61,540 birds as of 1 January 2020 from 32,298 birds as of 1 January 2019.
The number of native/improved chickens also went down by 13.4 percent, from a total inventory of 1,599,280 birds as of 1 January 2019 to 1,385,011 birds as of 1 January 2020. All provinces contributed to the decline in the inventory of native/improved chicken in the region.
About 65.2 percent of the chicken population were native/improved chickens. Layer chickens accounted for 23.0 percent, while broiler chickens comprised 11.8 percent.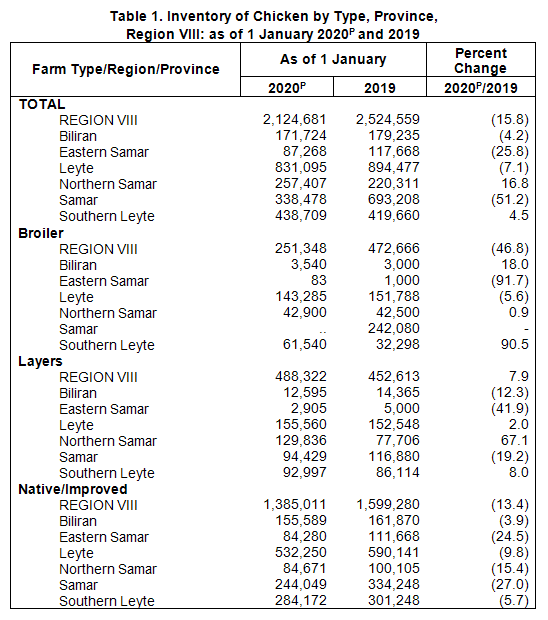 DTI mobilizes FabLabs to surmount COVID crisis
By DTI-ROG
April 20, 2020
MAKATI CITY – The Department of Trade and Industry-Regional Operations Group (DTI-ROG), spearheaded by Undersecretary Blesila Lantayona, and DTI-Region 7 have activated its network of fabrication laboratories (FabLabs) in Central Visayas to produce personal protective equipment (PPEs) in the fight against the Coronavirus Disease 2019 (COVID-19).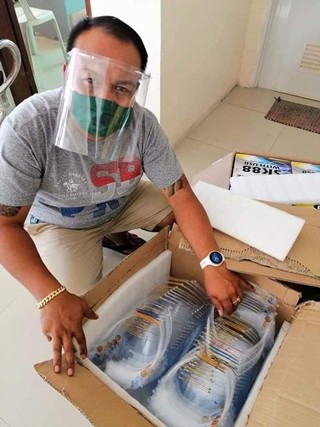 A team of volunteers, faculty members and staff at school-based FabLabs in the region have designed and produced personal protective equipment to contribute to the much-needed supply of PPEs in the region.
Central Visayas has eight FabLabs three located in Bohol, Negros Oriental and Siquijor, and five in Cebu.
"As of April 16 this year, FabLabs in Central Visayas have produced 24,358 face shields, 4,093 cloth face masks, 359 medical gowns, and 20 aerosol boxes. All eight fablabs in Central Visayas have been busy for the past month producing PPEs," Philippines' FabLab Champion and DTI-Region 7 Assistant Regional Director Maria Elena Arbon reported.
Arbon also said that FabLabs in Central Visayas are part of a network of FabLabs in the Philippines working closely together with their stakeholders, and partners in both government and private sectors, to respond to the needs amid the pandemic outbreak in our country.
"Overall, Fablabs in the Philippines produced 46,055 face shields, 23,104 cloth face masks, 1,201 medical gowns, and 217 aerosol boxes as of April 16, 202. We are still accepting donations of raw materials for the production of the PPEs," said Arbon.
Director Arbon encourages everyone to visit the following google site, https://tinyurl.com/FablabPHResponse, to link themselves to a FabLab near their vicinity and ask for any assistance that the laboratory can do. This is also a way for local suppliers of raw materials to get in touch with FabLabs in their area so these facilities can continue with the mass production.
DTI-ROG Assistant Secretary Asteria Caberte, who pushed for the funding of the project and boosted morale of volunteers, informed the public that FabLabs are not the only DTI-assisted programs responding to the COVID crisis.
"We have DTI assisted MSMEs such as Uniform Solutions, Tubigon Loomweavers Multi-purpose Cooperative, LAMAC Multi-purpose Cooperative and Alter to Enhance Clothier that are also mass producing cloth face masks. These cooperatives and business enterprises are repurposing their manufacturing capacity to meet local demand. We have always encouraged those we have assisted to exercise their corporate responsibility and give back to the community in whatever way they can," Asec. Caberte added.
A fabrication laboratory is a technical prototyping platform for innovation and invention that allows local manufacturers and creatives to make prototypes and products such as equipment, machinery and electronic gadgets; create scale models, illustrate graphic designs and mass-produce products, among others. A fab lab is typically equipped with an array of flexible computer-controlled tools that cover several different length scales and various materials, with the aim to make "almost anything".
FabLabs in the Philippines are closely aligned with the global open-source maker culture, and the free and open-source movement, and shares philosophy as well as technology with them.
The International FabLab Network is an open, creative community of fabricators, artists, scientists, engineers, educators, students, amateurs, professionals, of all ages located in more than 90 countries in approximately 1,500 FabLabs. From community based labs to advanced research centers, Fab Labs share the goal of democratizing access to the tools for technical invention and product innovation.
Workers calls for post-lockdown health and death insurance coverage for new potent workplace hazard 2019 coronavirus disease
By Associated Labor Unions
April 20, 2020
QUEZON CITY – The country's biggest group of unions the Associated Labor Unions (ALU) is calling the Employment Compensation Commission (ECC) to include in their work-related compensation programs and services the hospitalization and death benefits insurance to government and private employees who might be exposed to a new, potent and dreaded workplace hazard COVID-19 inside work establishments and while performing job function.
The COVID-19 employment insurance coverage is important because of the great danger and hazard it poses to returning employees once the Enhanced Community Quarantine is lifted, the group insists.
The ECC is a quasi-judicial corporate entity attached to the Department of Labor and Employment (DOLE) created to implement the Employees' Compensation Program by providing package of benefits for public and private sector employees and their dependents in the event of work-connected contingencies such as sickness, injury, disability or death.
It is tasked by law to develop and implement effective occupational safety and health policies and programs for the promotion of a healthy working population and provide workers and their dependents with benefits and rehabilitation services in the event of work-connected accident, injury, illness and death using a part of the fund from monthly remittance collected by the Social Security System (SSS).
According to the labor federation, the insurance coverage must be in force as soon as the community quarantine is lifted and employees are allowed to return to their places of work.
ALU National Executive Vice President Gerard Seno said the it is important for ECC to classify COVID-19 as a 'dreaded disease' so that formal government and private sector employees who will return to work following once the enhanced community quarantine lockdown order is lifted on April 30th are protected.
"We urge the ECC board to immediately issue a resolution providing insurance coverage for employees in private and government sectors as safety net for workers who might be infected or exposed to the COVID-19 hazard risk on the way or from work and or have been exposed inside the work establishments," Seno said.
The call was made as ALU and other stakeholder labor groups helps the Department of Labor and Employment (DOLE) draft a COVID-19 occupational safety and health (OSH) guidelines which would serve as the standard protocols for employers and employees in preventing, controlling and managing COVID-19 in workplaces once employees are allowed to go back to work.
Seno said the OSH guidelines must be in place on or before the resumption of work so that workers who will return to work will not be unnecessarily exposed to COVID-19 while in transit and while inside the workplace.
"These guidelines protocols are important for workers working in hospitals, clinics, media stores, restaurants, hotels, public transportation, malls, offices, banks, factories, among others. If these OSH standards are not being followed, thousands of workers, including their family members and co-workers, will be exposed to COVID-19," Seno said.
CNT leader killed, high powered firearm and explosive seized in Calbiga, Samar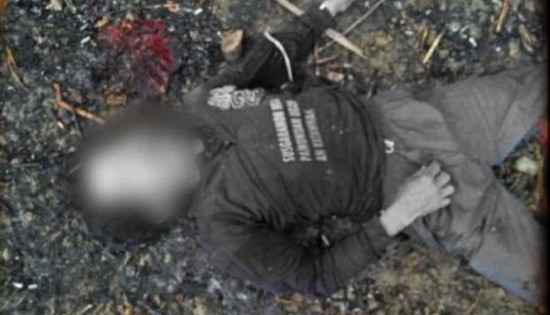 By DPAO, 8ID PA
April 19, 2020
CAMP LUKBAN, Catbalogan City – Elements of the 46th Infantry Battalion, 8th Infantry Division, Philippine Army encountered more or less five fully armed men believed to be remnants of a Communist NPA Terrorist (CNT) group operating in southern part Samar resulting to the death of CNT leader Noel Galvez alias Bani in a 3-minute firefight at the vicinity of Brgy. Buluan, Calbiga, Samar at around 5:15 in the morning of April 18, 2020.
There was no casualty in the government forces while the enemy, aside from the killed CNT leader, one (1) M14 rifle loaded with ammunition and one (1) Improvised Explosive Device (IED) with estimated weight of seven kilograms were seized.
The gunfight was the result of the timely report of some concerned civilians pertaining the presence of the CNTs led by Galvez harassing the populace.
The same group of CNTs was responsible for the murder of former rebel Ildefonso Nablo Jr alias Marwan last April 9, 2020.
Lieutenant Colonel Rhomel R. Langcauon, Commanding Officer of 46IB lauded his troops for the successful community security operation. He also thanked the vigilance of the community for the timely information provided to the security forces.
Colonel Camilo Z. Ligayo, Commander of 801st Infantry Brigade stated, "The neutralization of Noel Galvez alias Bani will bring a strong and clear message to the rebels that the government is serious in ending local communist armed conflict in Eastern Visayas."
"We will pursue these terrorists with the help of the community until they run out of ground to retreat to", Ligayo added.
Discontinuation of DOLE cash assistance sow confusion, demoralization & consternation among millions of displaced workers
By TUCP
April 17, 2020
QUEZON CITY – Millions of locked down rank-and-file workers felt betrayed by the discontinuation of cash dole out provided by the Department of Labor and Employment (DOLE) to incomeless employees displaced by the government imposition of Luzon-wide extended enhanced community quarantine lockdown shutdown of all work establishments and business operations beginning March 15th last month to minimize local transmission of novel 2019 coronavirus disease (COVID-19), according to the country's biggest workers group Trade Union Congress of the Philippines (TUCP).
The DOLE on Thursday announced the suspension of five thousand peso financial assistance under the Covid Adjustment Measures Program (CAMP) for formal sector workers effective April 15, 2020 following near depletion of the program's P1.6 billion budget.
A statement from the DOLE said the program has disbursed P1.2 billion which benefitted 236,412 employees of 10,663 work establishments since they begin the payout on March 23 or eight days after the total lockdown. The DOLE said there were 1.4 million work establishments and enterprises have rendered reported they were affected by the expanded ECQ.
"Because of this cash assistance stoppage, jobless ordinary workers and their families are confused and felt betrayed right now. Millions of locked down workers particularly those who have yet to receive the cash grant are feeling betrayed by the stoppage of their only lifeline cash assistance. Displaced workers felt they were pushed into lockdown, deprived of their jobs, kept in the dark corner and left out amid hunger, poverty and fear," said TUCP president and TUCP Party-list Rep. Raymond Mendoza.
The labor group said the Inter-Agency Task Force must immediately, widely and clearly explain the matter with the ordinary workers and avoid confusion.
"To cure the gaping widespread confusion and insecurity, we urged the government to clarify the matter immediately and clearly to the millions of displaced workers particularly those who have yet to receive the CAMP cash assistance," Mendoza said.
The TUCP said there at least 4 million rank-and-file workers were rendered jobless by the government imposed lockdown to minimize local transmission of COVID-19.
Higher risk of online sexual abuse and exploitation of children during quarantine
SaferKidsPH promotes child online safety in support of the national COVID-19 response
Press Release
April 17, 2020
MANILA – SaferKidsPH, a consortium of Save the Children Philippines, The Asia Foundation and UNICEF, and funded by the Australian Government, is expanding its efforts to protect children against online sexual abuse and exploitation during the COVID-19 enhanced community quarantine (ECQ).
While online platforms are used for positive learning and socialising, they can also expose children to cyberbullying, online sexual abuse and exploitation, and other forms of harm. These risks are greater during the quarantine period, as children spend more time online, with or without the guidance of a parent or carer.
Starting April 15, SaferKidsPH in collaboration with the Department of Information and Communications Technology, the National Telecommunications Commission, Smart Communications, and Globe Telecom will launch an SMS campaign focusing on practical child online safety measures that can be used during the COVID-19 ECQ. Mobile subscribers will be invited to visit the platforms of SaferKidsPH and UNICEF for more information.
During this enhanced community quarantine, children could be at a higher risk of being exposed to online predators. But this is not the only threat. Unfortunately, most cases of online sexual exploitation of children in the Philippines involve parents or family members as facilitators. As the country bunkers down to battle the COVID-19 pandemic, more children could be subject to exploitation in their own homes.
Brigadier General Alessandro C. Abella, Chief of the Philippine National Police-Women and Children Protection Center (PNP-WCPC), said that during the lockdown, his staff will continue to receive, monitor, and respond to online sexual abuse and exploitation of children-related reports. "Even in the midst of the COVID-19 crisis, the PNP-WCPC continues to be aggressive in its fight against online sexual exploitation of children," he said.
For more information on how to stay safe online and how you can help stop online sexual exploitation of children, please visit www.saferkidsph.org. You may also follow SaferKidsPH on Facebook, Instagram, Twitter, and YouTube.
For further support, you can call the following helplines:
1) PNP Aleng Pulis - +63 919 777 7377
2) Action Against Human Trafficking - 1343 within Metro Manila; (02) 1343 outside Metro Manila
3) Bantay Bata - 163
4) UP-PGH COVID-19 Bayanihan Operations Center - 155 200 or https://publicservice.up.edu.ph/uppgh-bayanihan-na.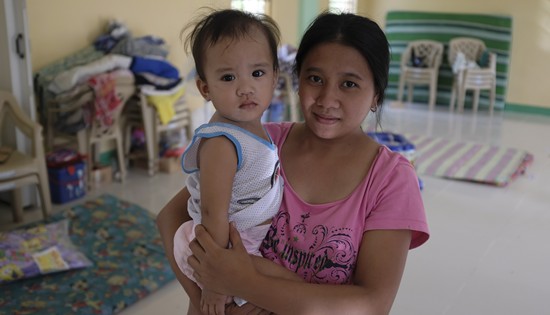 Aubek with her child, Raiven, inside the evacuation center where they are staying in Irosin, Sorsogon. (LJ Pasion/Save the Children)
Save the Children Philippines to LGUs: No Milk Formula in the time of COVID-19
By Save the Children Philippines
April 17, 2020
MANILA – Save the Children Philippines is urging local government units (LGUs), private groups, charitable organizations and individuals to adhere to existing laws that prohibit the distribution of infant formula or breastmilk substitute as part of relief goods to encourage breastfeeding among mothers, ensure good health and adequate nutrition of infants and young children.
Atty. Alberto Muyot, Chief Executive Officer of Save the Children Philippines, said nutrition and health support to children, pregnant and lactating mothers must be integrated into the national and local government response during the COVID-19 pandemic including the promotion of breastfeeding.
Several cities and municipalities have been distributing milk formula as part of relief goods to their constituents, which raised concerns of breastfeeding advocates.
"Children suffer the worst impact of the COVID-19 pandemic due to rising levels of poverty, ill-health, and malnutrition," said Atty. Muyot. "We call on local governments to support parents and guardians by encouraging mothers to breastfeed, and provide access to affordable and healthy food."
He said donations of infant formula in times of disasters, calamities, and emergencies including pandemic are strictly prohibited under the Milk Code or Executive Order 51 of 1986, the Expanded Breastfeeding Promotion under Republic Act 10028, and the Republic Act 11148 or Kalusugan at Nutrisyon ng Mag-Nanay Act which is being implemented nationwide. Save the Children Philippines joins the Department of Health and the National Nutrition Council in calling all LGUs to strictly adhere to these laws and guidelines, especially during emergencies like the COVID-19 pandemic.
These laws mandate local government units to establish milk banks during emergency situations to provide access to breastmilk when mothers become sick or not able to breastfeed their babies. The milk banks will provide a venue for lactating mothers who wish to donate their breastmilk.
Dr. Amado Parawan, Health and Nutrition Advisor of Save the Children Philippines said breastfeeding during the COVID-19 pandemic is highly encouraged to strengthen the immune system of babies, protect children from respiratory and gastrointestinal illnesses, prevent malnutrition, and ensure bonding between the mother and her baby. He said breastmilk is safe and ensures babies grow up healthy, and increases IQ.
"Breastmilk is the best source of nutrition for babies and there is no milk formula that can provide the same optimum health and nutrition benefits to infants and young children," said Dr. Parawan.
He added that colostrum – the first milk formed after the delivery of the newborn contains antibodies that protect the newborn against diseases. Recent studies also state that colostrum has properties against diseases caused by viruses.
He said mothers, even those infected by COVID-19, can still continue breastfeeding while limiting the baby's exposure to the virus by using respiratory precautions. Mothers who have been infected by COVID-19 may choose to breastfeed, but they must wear a facemask and wash hands thoroughly with soap and water. "There are no clear scientific studies that the Coronavirus can be transmitted through breastmilk," said Dr. Parawan.
Also, mothers who are sick can choose to manually express breastmilk to maintain milk supply. These mothers should wash their hands properly before doing breast milk expression.
Dr. Parawan said expectant mothers should eat healthy food, maintain personal hygiene, and take iron folic supplements. Breastfeeding mothers must have a support system through their husbands, partners, and other members of the family.
He reminded pregnant mothers to go to birthing facilities, lying-in clinics, and infirmary with a midwife, nurse, or doctor as many hospitals are crowded with COVID-19 patients. He also advised mothers giving birth to seek help from health and nutrition workers and breastfeeding support groups when facing difficulties in initiating and continuing breastfeeding.
Save the Children Philippines advocated for the passage of First 1,000 Days law or RA 11148, which mandates exclusive breastfeeding for babies up to six months and continued breastfeeding up to two years while starting complementary feeding.
"Children, including pregnant and lactating mothers, are most vulnerable during COVID-19 pandemic, and local government units should prioritize their health and nutrition," said Dr. Parawan.
NPA insists to inflict chaos over COVID-19 pandemic in Nothern Samar
By DPAO, 8ID PA
April 12, 2020
CAMP LUKBAN, Catbalogan City – The troops of the 20th Infantry Battalion of the 8th Infantry Division, Philippine Army, while conducting community protection patrol in response to a report from concerned civilians on the presence of armed group, were fired upon by about ten (10) Communist NPA Terrorists (CNTs) at the vicinity of Brgy Diit de Turag, Silvino Lubos, Northern Samar at 9:45 in the morning, today, April 11, 2020.
The 5-minute firefight urged the CNTs to retreat and took the north direction of Brgy. Ynaguingayan, Pambujan, same province. The troops seized one Huawei touch screen cellphone, one backpack, fourteen live ammunition of M16 rifle, one live ammunition of M14 rifle, and subversive documents. There is no reported casualty in the government side while it is still undetermined on the enemies' side.
It can be recalled that on April 6, 2020 four improvised explosive devices (IEDs) were recovered in the vicinity of Brgy. Hubasan, Calbiga, Samar with the CNTs' intent to victimize frontliners conducting COVID-19 prevention efforts.
In the morning of April 7, 2020, about 30 CNTs swooped down on Sitio Bangon, Barangay Guinmayohan, Balangiga, Eastern Samar and took the relief goods intended for the locals.
While in the afternoon of same day, more or less fifteen (15) CNTs harassed and forcibly took foodstuffs from the populace of Brgy. Lakandula, Las Navas, Northern Samar resulting to an encounter where one soldier was wounded.
It is worth mentioning that on March 19, 2020, President Rodrigo R. Duterte declared a unilateral ceasefire with the CPP-NPA-NDF as the Communist Party of the Philippines ordered its armed regulars on March 26, 2020 to observe a ceasefire with the government.
These willful series of attacks by the terrorists are violative of the unilateral ceasefire between the state and the CPP-NPA.
The terrorists are purposely casting the sufferings of the residents caused by the COVID-19 pandemic by orchestrating attacks that induce fear to the whole community.
Colonel Zosimo A. Oliveros, Commander, 803rd Infantry (Peacemaker) Brigade, in his message said that "The violence concerted by the CNTs are causing tremendous effect to the community while the peace arms of the government are focused in alleviating the crisis brought by the corona virus. Your army, however, assures the public that we will, at all times, defend the citizenry and will remain steadfast to grapple against the terroristic acts of our enemies".
"We convey our utmost gratitude to the concerned citizens for providing us information of the whereabouts of our enemies and we plea that you will continue to work with us to prevent the enemies from causing harm to the whole populace", Oliveros added.
CPP-NPA aggravates COVID-19 crisis situation in Northern Samar
By DPAO, 8ID PA
April 8, 2020
CAMP LUKBAN, Catbalogan City – The 20th Infantry Battalion, 8th Infantry Division, Philippine Army received a report from a concerned civilian pertaining the presence of an armed group believed to be Communist NPA Terrorists (CNTs) harassing the locals of Brgy. Lakandula, Las Navas, Northern Samar. The CNTs were forcefully collecting foods and other basic commodities while the village is on General Community Quarantine (GCQ) due to COVID-19 which prompted the military to conduct Community Protection Patrol and engage in a firefight more or less fifteen (15) CNTs on April 7, 2020 at around 2:50 in the afternoon.
The encounter resulted to the wounding of one soldier while there are undetermined number of casualties of the enemies as evidenced by bloodstains found in the enemy's escape route.
It can be recalled that on March 19, 2020, President Rodrigo R. Duterte declared a unilateral ceasefire with the CPP-NPA to which the CPP ordered the NPA on March 26, 2020 a similar ceasefire with the government as the nation grapples with the COVID-19 pandemic.
"While the entire nation is battling the contagion, the CNTs are taking advantage of the ceasefire by regrouping and arming themselves to orchestrate an attack against our government forces. The enemies are intimidating the populace who are already experiencing fear and uncertainty due to the GCQ by forcibly extracting food causing thereby scarcity of resources in the far-flung communities.", stated Major General Pio Q. Dinoso III AFP, Commander of 8ID.
"This deliberate violation of the ceasefire by the NPA will not hamper the delivery of the urgently needed medical, health and economic assistance as well as the movement of the people. Your Army assures the public that we will not drop our guard in securing the people and to work with the government to bring back normalcy in our lives that are derailed by the dreaded virus", Dinoso added.